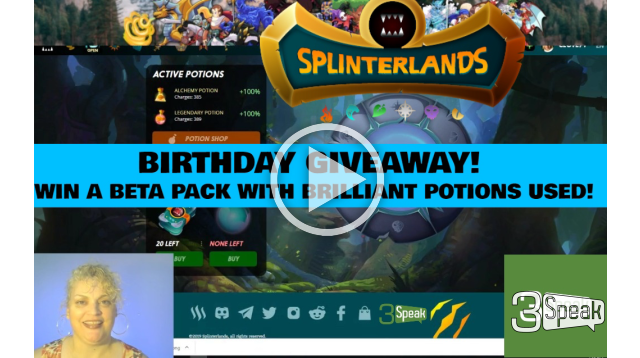 ---

Hi everyone! Tomorrow is my birthday on October 11th! I want to share some Splinterlands Beta booster packs with 5 lucky winners. I will make another video tomorrow and open up the packs live on the video and use my brilliant Gold and Alchemy Potions on the winners pack! You will have a almost 2% chance of getting a nice gold or legendary card! I will send you all 5 cards right away as soon as I open them up. Simply drop a funny Splinterlands meme or maybe some cool Splinterlands artwork you have,etc. Anything Splinterlands related is cool with me. I will post another video tomorrow with the winners! Make sure you post your Splinterlands posts on my previous video- Splinterlands Curation. I look everyday on the previous day's comments to see if there is a good post to upvote there. See you all again tomorrow! Make sure to subscribe if you have not yet for more Splinterlands content! There are lots of ways to earn free crypto in Splinterlands!

Splinterlands Discord HERE
Facebook GroupHERE
Splinterlands Official Facebook Page HERE
Splinterlands Telegram HERE
Immortal Gods IG - HERE
YouTube Splinterlands Content - HERE
Splinterlands 3Speak Community - HERE
Splinterlands Dtube Content - HERE


May the Monsters be with you.
Chris Love @clove71
Splinterlands Rep.

If you are new to the game- contact me In Discord or Telegram for a free Splinterlands starter set promo code!
---
▶️ 3Speak