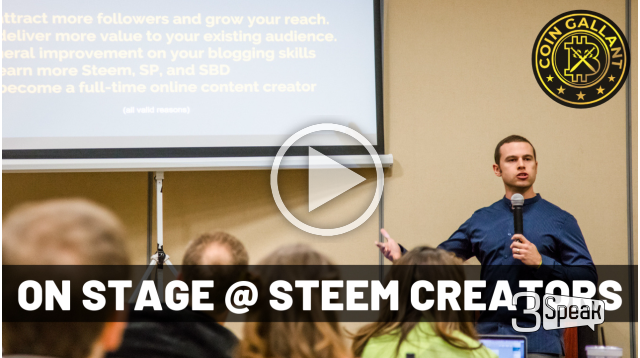 ---
How to Quickly Develop Your Steem Authorship
4:23 - Why Develop Your Steem Authorship
5:24 - Step 1: Crush Your Fears
9:29 - Step 2: Study Your Audience
13:50 - Step 3: Work on Your Delivery Style
16:56 - Step 4: Flow of Fresh Ideas
19:29 - Step 5: Impact Factor
22:09 - Step 6: Unique Angle
25:25 - Step 7: Seek Support
Last year I spoke at a blockchain event in Vegas for the very first Steem Creators conference. I'm really proud of where I've come because I used to be extremely shy and full of anxiety, but now my passions have evolved to impacting lives as a public speaker and content creator.
The content inside this presentation proves valuable to the Steem community today in 2019. I had such an amazing time at this conference getting meet my fellow Steem friends in person and develop our relationships even further. We went on a couple exciting excursions while down there including indoor skydiving.
When we get to the end of our lives, it won't necessarily be our possessions we remember, but the experiences along the journey. Thank you for tuning in and I can't wait to see you in the next one. Cheers.
P.S. Mineshift Elite Mastermind Intensive is coming up next month. Go to https://coingallant.com/mastermind for more details.
---
▶️ 3Speak