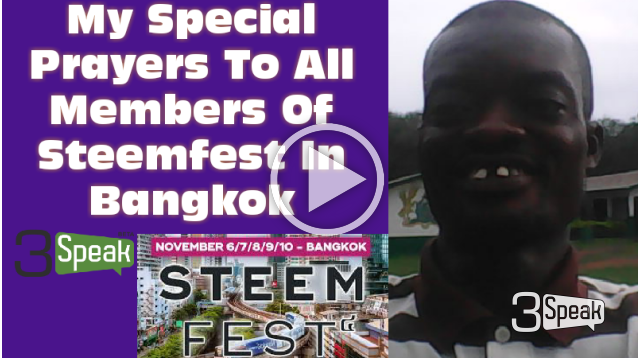 ---
Hey guys!, SteemFest is around the corner coming 6th November 2019 in Bangkok.
As you are all aware the expectations are very high in the moment of gathering and great adventure, full of fun making and sharing of Steen experiences, meeting some prominent people in steemit block chain like, @andrachy, @starkerz, @theycallmedan, @aggroed and many more steem lovers and investors all around the World.
I always believe in one things in such purposeful moment and great gathering, that is "Prayers." Having our first ever Church in the Steemit BlockChain is a great blessings to intervene, with God Almighty on our side to prevent any calamities that are bound to occur in this 2019 SteemFest. So, we have are founder of SteemChurch and Spiritual father, well inspired by the word of God- The Legendary @sirknight and many more prayer groups, @wilx and gospel preachers to stand in and pour prayers requesting the Almighty God to grant us favor in this gathering.
Though I cannot make it date with my steem lovers, pioneers and mentors to this august occasion and important gathering- SteemFest 2019 in Bangkok, but I am there with you in Spirit, collaborating with @steemchurch, we are supporting you with prayers, Numbers 6:24-26: "Lord bless you and keep you, Lord make his face shine upon you and be gracious unto you. Lord turn his face towards you and give you peace."

May the Lord Almighty give you travelling mercies and take total control of everything you will decide to do in Bangkok and return you back safely to your various destination. May this SteemFest bring honour and positive to SteemBlockchain, Amen!

Subscribe To My 3Speak Channel Here
---
▶️ 3Speak