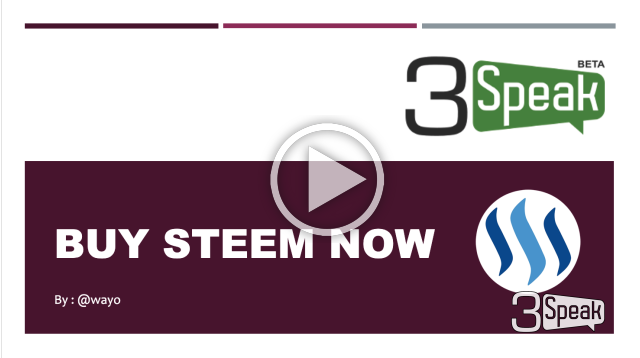 ---
While I (@wayo)was studying more and more about steam (for preparing a cases study). I reached couple of noticeable key events, very popular among Steemians. These events are price rise of Steem (@steemit)since its initiation in January 2016. In this video I concentrated on only events of price rise to keep it short and to convey my message.
These Key Events are as such.
First price rise on 20th July 2016 - $4.34/Steem
Second price rise on 20th June 2017 - $2.43/Steem
Third price rise on 21st December 2017 - $3.87/Steem
Forth Price Rise on 04th January 2018 - $7.28/Steem (Major event so far)
Fifth Price Rise on 29th April 2018 - $4.08/Steem
Now if you notice there has been no rise in the prices of Steem in year 2019, no major event. Who is to blame ??? We can't blame anyone, but instead we can put collective efforts and Buy Steem and also encourage everyone to buy Steem. We can make this very happening place for everyone and basic income to all those Genuine Curators and content creators.
To make a start here is the campaign created by @clixmoney Please go this campaign to follow the instructions and together we can help contribute for Steem price rise. Please find the URL mentioned below for the campaign created by @clixmoney
URL: https://steemit.com/threespeak/@clixmoney/jxhnvvxi
Please be noticed @threespeak.
---
▶️ 3Speak