Titan Coin (TTN) is a new innovative payment currency which has been created with the primary aim of overcoming the limitations of many other coins out there. Besides enabling users to send/receive cryptocurrency at any time and anywhere, the main focus of Titan Coin (TTN) is on keeping digital payments secure, instant and completely transparent.
Next-Generation Blockchain Technology
Quick Transactions
Global Payments System
Low Processing Fees
POS and SH256 Advanced Security
Wallets Available on All Technologies
Social Platforms To Engage People
What Makes Titan Coin the Legend of Cryptocurrencies?
NEXT-GEN BLOCKCHAIN TECHNOLOGY
One of the things that set Titan Coin apart from other digital currencies is its next-gen blockchain technology. We have developed our own blockchain that employs a Hybrid POW and Dynamic POS structure, along with SHA256+ GROESTL (Dual Algorithm system) as a backbone for verifying and securing transactions.
POWER-EFFICIENT MINING
The Blockchain of Titan Coin (TTN) uses a hybrid PoS/PoW structure and rewards miners fairly. The hybrid consensus mechanism means less energy consumption while mining Titan Coin. Mining Titan Coin is more profitable, economical and eco-friendly than other crypto-currencies.Mining TTN Coin is more profitable, economical and eco-friendly than other internet currencies.
DECENTRALIZED PAYMENT NETWORK
Titan Coin (TTN) uses peer-to-peer blockchain technology to facilitate global digital transactions without any central authority or middleman, which not only reduces the cost of transactions but also improved the security. Titan Coin is a decentralized digital currency which cannot be controlled or managed by any single entity. The users of the Titan Coin are its true owners.
What Makes The Titan Coin Different?
There are different types of digital coins in the crypto world, each created for different uses, and with different values, and no matter how new a cryptocurrency is, there are cryptocurrency enthusiasts who want to own that cryptocurrency and see how well it performs on the market, and at other times crypto investors add the new coins to their portfolio. One of the new coins in the crypto world is the Titan Coin (TTN), and the coin was created to aid instantaneous payment across borders, in any part of the world.
There are so many things that are unique about the coin, including the fact that it is using the latest hybrid blockchain technology, the transaction protocol uses a dual algorithm system to perform quick transactions, and it has a Proof-of-Stake (PoS) protocol that pays users 2.5% every year.As with a lot of cryptocurrencies looking to make the use of the coin interesting, Titan Coin (TTN) has a bonus on Android App Download. This will encourage users of the coin to use the coin, and also attract more users to the platform.
Download Android App & get 100 Titan Coin (TTN) Bonus
All New users to the Android platform automatically gets a bonus of 100 Titan Coin (TTN)
Refer & Earn 20 Titan Coin (TTN) Bonus.
Titan Coin Has listed on Below Exchanger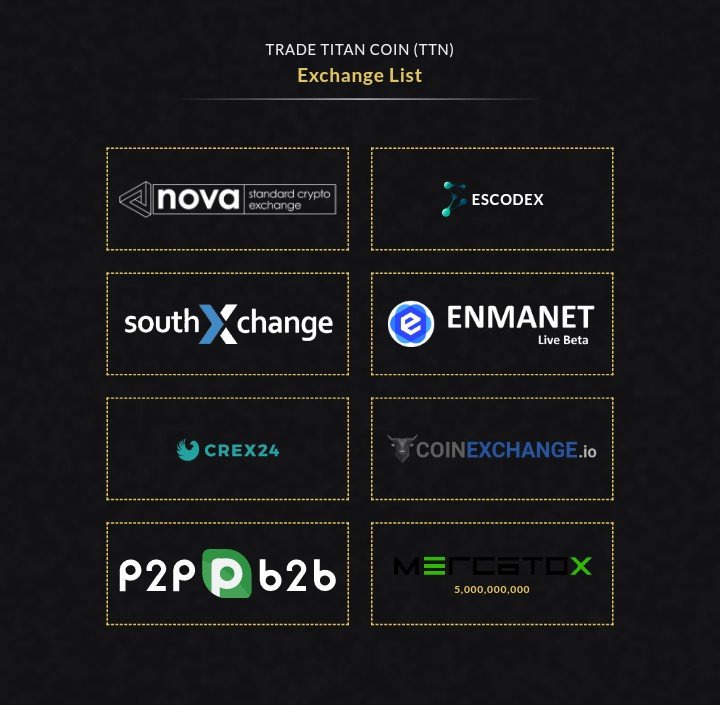 For more inquiries please refer to Titan Coin Officiall website and official groups.
Titan Coin Website : https://titanprojects.co
Facebook : https://mobile.facebook.com/Titan-Projects-2289176678004486/?_rdc=1&_rdr
Twitter : https://twitter.com/ProjectsTitan
Telegram Group : https://t.me/TitanCoinOfficial
Linkedin : https://www.linkedin.com/company/titanprojects
Medium : https://medium.com/@titanprojectsco
Reddit : https://www.reddit.com/user/Titan_Coin
Youtube : https://www.youtube.com/channel/UCFpgYwnrn6GOdqH4WxAHdrw?app=desktop
Author : https://bitcointalk.org/index.php?action=profile;u=1627371