Introduction


Technology is evolving everyday, new innovations brings disruption and replace the old one. Technology has transformed humans from an uncivilized state to civilized state. Thanks to a new revolutionary technology called Blockchain. It's immutable, incorruptible and unhackable nature makes it more superior than any other existing technology. Blockchain has the capability to transform every sphere of our society, that's why the world is giving a very special attention to adopt it in every business workflow.
The Micro Small and Medium Enterprises (MSME) is a heart of every countries economy. The MSME sector has emerged as a dynamic sector of countries economy over the last five decades. MSMEs contribute enormously to the socio-economic development of the country. MSME have a large share of jobs, production and exports. MSME is must needed tool for every developing country to keep the growth according to the rapidly changing business conditions.
MSME plays a very important role in the growth of countries GDP and is a primary source for creating employment. Every country define the role of MSME according their countries business segments and needs. Because MSME helps them to sustain the economic growth in today's business environments.
Problems


As we all know everything is not so sweet as it seems. Even though being a most necessary tool in the countries economy many factors are hindering the true growth and potential adoption of MSME in real world. Some of the important challenges are given below,
• One of the most important factor which is hindering the growth of MSME is the lack of effective utilization of data. You may wonder how? Right! But you can notice that most of the small scale businesses such as hair salons, restaurants, vegetable shops, retail shops, B2B&B2C and, etc are offline and doesn't collect the important data about their customers. Or even if they collect they don't know how effectively they can utilize it to maximize their sales. Mostly because merchants are not expertise and doesn't know how to utilize the data or they don't have set of equipments to collect and process the data. Only big corporations like giant e-commerce are collecting the data and dominating the market.
• Financing is the backbone to start any business. But banks are skeptical in lending to MSMEs due to lack of money flow. After the financial crisis banks have made strict rules to provide loans. MSMEs lack in proper documents, good credit history and legal papers to get loans. And even after securing all these conditions high borrowing costs are beyond their limits to pay. Rural areas still doesn't have a proper financial institutions which makes the situation worst.
• Most MSMEs lack in new market networks due to this they face low order volumes which results in low production. Thus MSMEs fail to take advantage of scaling economy. Unlike large corporations who have large market networks and have septate departments dedicated to proper marketing, financing and business expansion. Here MSMEs struggle to compete with global markets and offer products at competative prices. Even after taking many initiatives by government to provide loans to MSMEs but still the credit gap problem is not solved.
• And finally the biggest reason of MSMEs slow growth is that lack of trust. Banks, suppliers doesn't trust MSMEs and ultimately customers also do not trust. Thus with lack of financial support, highly competative market conditions makes the situation worst for MSMEs. MSMEs need to rebuild their reputation in the market to build a trusted relationship with banks, customers and suppliers.
But now thanks to a blockchain startup which aims to address all the above mentioned issues with the effective utilization of blockchain technology by creating a project called Tokoin.
Project objective


The main mission of the Tokoin project is to create a trustworthy platform which aims to provide a identity reputation for MSMEs in the existing competative market. The platform helps to exchange the valuable data to meet the business and financing requirements. Adoption of blockchain technology helps to bring trust, transparency, security and to eliminate intermediaries. This paves the way for overall growth of MSMEs and in turn contributes to growth in countries economy.
Principle of operation


In order to build a trusted identity reputation for MSMEs Tokoin uses several parameters. Tokoin creates a digital identity profile for MSMEs on the blockchain ledger, this identity profile helps to build the reputation. To create the identity profile Tokoin collects all the necessary non financial data and KYC details. All the collected data stored and processed on blockchain to create the unique digital business ID.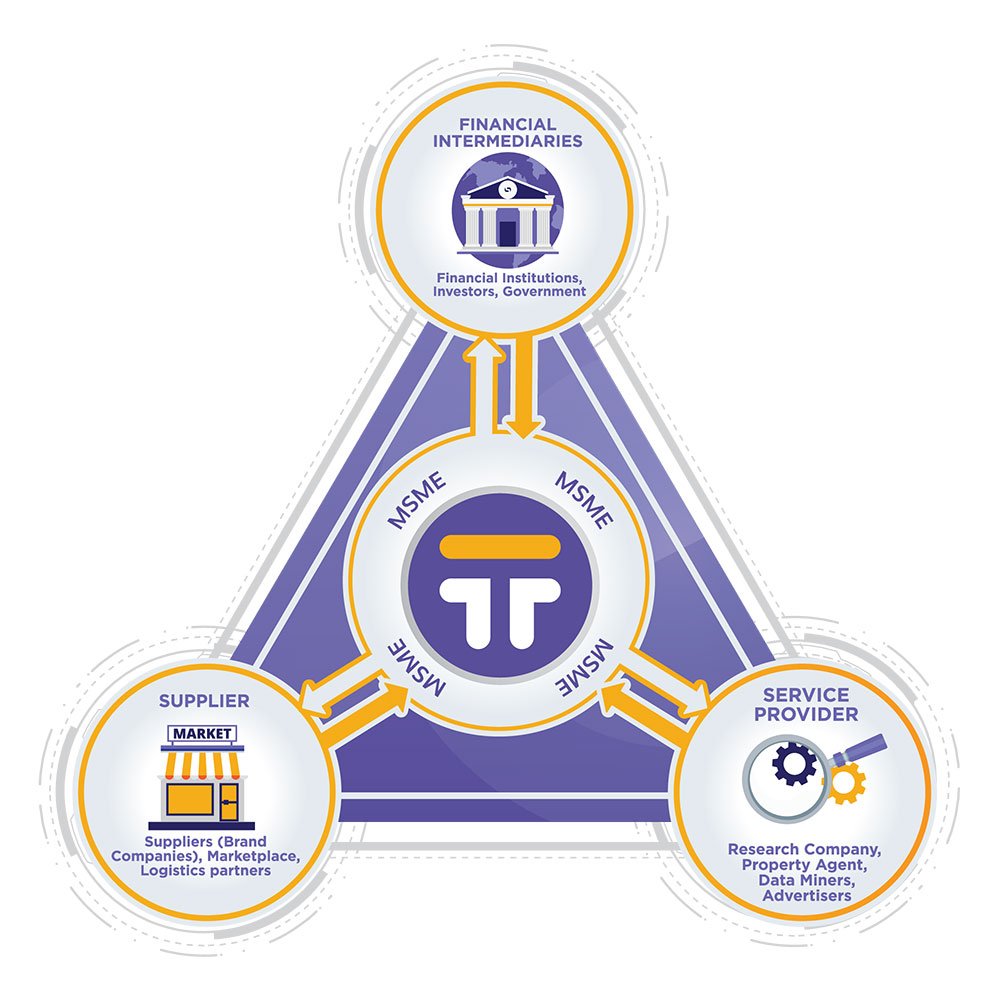 Thus the created digital identity profile acts as a trust line between the MSME, banks, suppliers and service providers. With this MSMEs can unlock all the potential opportunities which are previously unavailable. MSMEs can easily get loan from banks based on digital identity profile. With digital identity profile MSMEs have a reputation which give banks a credibility source and the identity profile fulfills the document requirements to approve loan. With this MSMEs get financing to expand the business. Suppliers and service providers get access to all the information about MSMEs reputation in just one click, this helps them to take further decisions.
Immutable blockchain network records, processes and verifies all the business transactions, trading activity and clients buying behaviors. All these data helps to build a reputation in which all the market participants have trust and believe.
How it works?


Tokoin ecosystem offers better business partnerships between MSMEs and financial sectors. Tokoin records business behaviours, transactions, user feedbacks and process these valuable data to build a true reputation for MSMEs. Financial sectors will the reputation information to provide fundings and helps MSMEs to grow and contribute in countries economic growth. Tokoin partnership with many institutions open endless opportunities for MSMEs.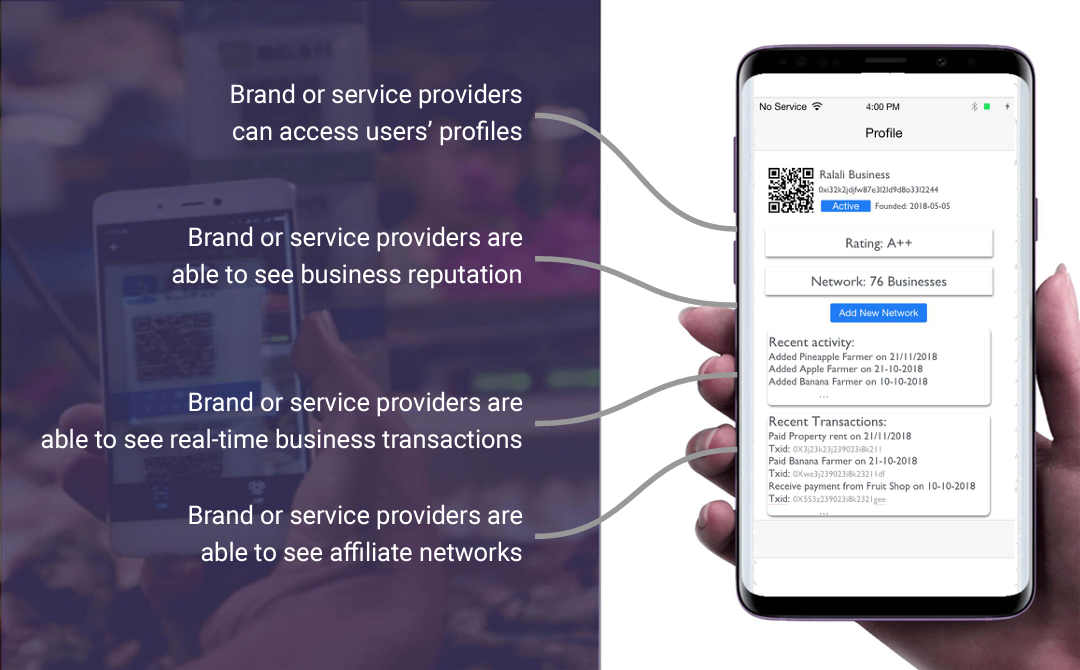 In order to provide a valid and trusted reputation for MSME Tokoin creates Digital business ID. This ID has been created based on several factors and business record data. The data includes KYC details, business sales, cash flow, customer interaction, business behaviours and in depth analysis. Tokoin records and track the valuable data, stores and process it on decentralized blockchain network. Blockchain helps to maintain transparency and trust level in the overall ecosystem.

Tokoin ecosystem has several market partners such as financial intermediaries like banks; service providers like advertising & consulting agents and suppliers like brands, companies & logistics. Tokoin maintains the trusted and secured relationship between all the market participants. Every participant play his role effectively which gives fruitful results.
Advantages


Tokoin poses several advantages for the effective growth of MSMEs, some of which are given below:
• Tokoin aims to address all the issues faced by MSME with blockchain technology.
• Tokoin treats the business data as a valuable asset, it collects and process the data efficiently which ultimately help MSME to grow it's business.
• Tokoin help MSME to build the trusted and valid reputation by creating a digital identity profile. The identity profile reflects the true potential of the MSME and it's business capability.
• The Tokoin's digital identity gives confidence for MSMEs to get loans from banks by fulfilling banks requirements easily. Financing help MSMEs to expand their business and contribute in countries economic growth.
• A trusted reputation allow MSMEs to compete with large corporations by effectively utilizing the valuable business data.
• Tokoin help service providers to early learn about their clients.
• It is worth to note that Tokoin maintains the healthy relationship between all the market participants which is extremely good to overall growth.
Tokoin platform uses it's open internal token called TOKO. It is a ERC20 based utility token used to perform platform operations. Total 2 billion tokens are minted and 700 million available for token sale and project has set it's hardcap at $25 million and softcap at $8 million.
Tokoin partnerships
Tokoin has made various partnerships with different institutions to expand its service access to all over the world. Tokoin's business partnerships will bring a huge growth in the MSME sector. With this Tokoin offers a valuable platform for the overall growth. These partnerships will in turn helps to grow the countries overall economic growth. Tokoin has already made huge partnerships to achieve the overall growth.
Conclusion


It is good to see such a real blockchain project is solving global fundamental problem. Tokoin help MSMEs to build their trusted reputation. With digital business ID MSMEs get benefits which are previously unavailable. MSMEs can easily get loans from banks and expand their business. With Tokoin MSMEs can get all the potential benefits and grow their business with efficient utilization of data. Tokoin Dapp will definitely revolutionize the MSME sector and contribute in the countries overall economic growth.
Finally I would suggest you to read the official whitpepaper of the project for more details. This project needs much public attention and I wish all the best for this great project.

Learn more about Tokoin:
Website: https://www.tokoin.io
Read Whitepaper: https://www.tokoin.io/whitepaper/Whitepaper.pdf?id=05f5c9d62d22ae24ea82
ANN thread:
Telegram: https://t.me/tokoinglobal
Facebook: https://www.facebook.com/TokoinOfficial
Twitter: https://twitter.com/TokoinOfficial
Medium: https://medium.com/@tokoin
Instagram: https://www.instagram.com/tokoinofficial
LinkedIn: https://www.linkedin.com/company/tokoinofficial/
Reddit: https://www.reddit.com/user/TokoinOfficial
YouTube: https://www.youtube.com/channel/UCOncpHAzRWWjx6HBp4wAhbg/featured
About Author:
Bitcointalk username: Abhijeetcg
Bitcointalk profile link: https://bitcointalk.org/index.php?action=profile;u=1676105;sa=summary
ETH address: 0x96e95a1F40cf5a50178053740ADE18046815362d