Trade IO is a very unique exchange in the sense that it is fully customizable as per your requirement. Apart from that, they provide a range of financial services and programs catering to the different sectors of cryptocurrency investment i.e. ICO services, Affiliates, Airdrops, Early Bird offers, OTC Trading etc. Most of the exchanges eat away your profits with high fees on every trade. Trade IO simplifies that problem by charging minimal fees on withdrawals, and simple 0.1% taker fee and free maker fee. Today we are going to touch their special service for OTC Trading and analyze how it is beneficial for the seasoned traders dealing in huge investments starting from $1000 to more than $5M.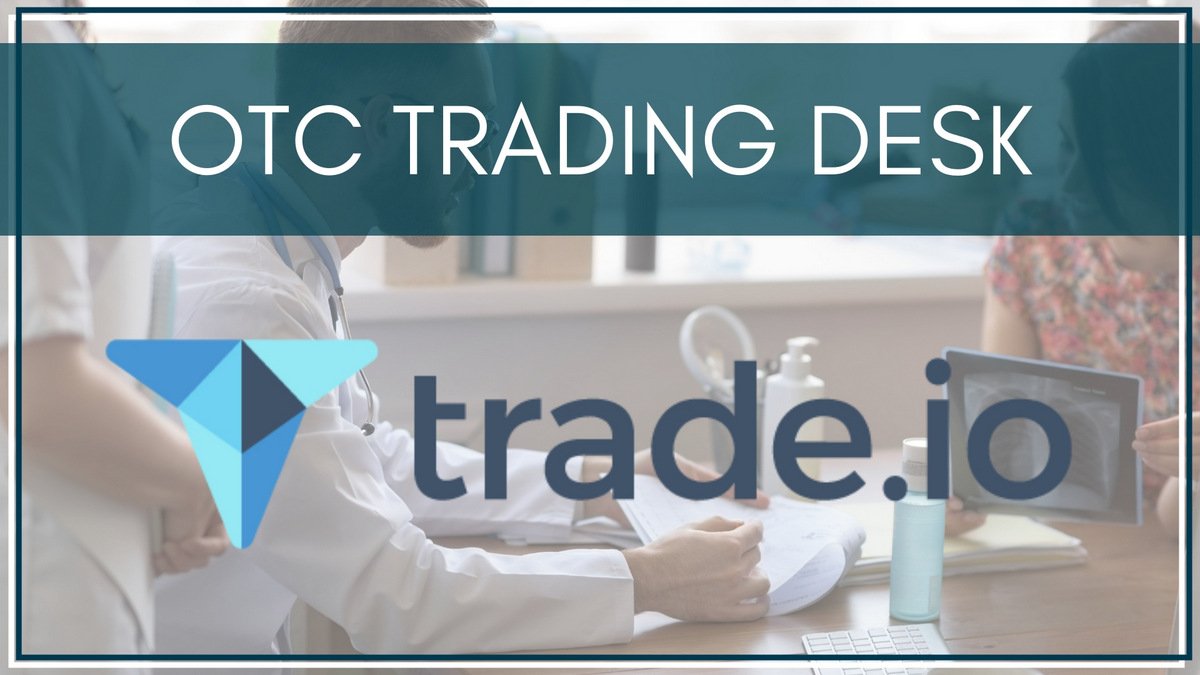 What is OTC Trading?
Over-the-counter ( OTC ).. or off-exchange trading is done directly between two parties, without the supervision of an exchange. It is contrasted with exchange trading, which occurs via exchanges.
Source: https://everipedia.org/wiki/lang_en/Over-the-counter_%28finance%29/
This simply means that trading will be done between two parties over a phone call or an Email instead of doing it directly on any of the exchanges. This will help in maintaining the liquidity and the current market price. An OTC account has to be created with a broker and the trade details will have to be given so that buyer and seller shake hands on a common page. It's faster and more secure than the usual trade where price fluctuations can change the whole game within seconds especially in the crypto space where we experience volatility.

Trade IO's OTC Trading
Customized solutions for traders wanting to buy or sell blocks over 1,000 USD
Source: https://trade.io/en/otc-trading
Trade IO offers simple customizable solution for its clients who want to invest heavily in the cryptocurrency assets such as Bitcoin, Litecoin, Ethereum, Ripple, Bitcoin Cash etc. You can connect with the OTC desk via phone, email, Skype, WhatsApp or Telegram by mentioning your basic details and the asset you want to buy. You will then get a quote from their team which can be analyzed, customized and approved by both the parties before the trade happens.
Benefits of OTC Trading With Trade IO
Experience: Trade IO team has over 30 years of experience with OTC trading and risk management experience across multiple financial assets as mentioned on their website. This will help traders get the best quotes in the market available after reduction of all risks possible. Traders can depend on the OTC desk for the background research done before the deal happens.
Personal Account Manager: A manager will be available dedicated to a particular client and solving all their issues plus queries regarding any trade happening in their account. You will get support at every step of the trade.
Quick Settlement: Thanks to the availablity of the team, all finalized trades will be settled within a single day or two depending upon the external factors. Quick turnaround time improves the client experience.
Security: All trades done via Trade IO OTC are highly secured and private. Your personal and financial information will be kept hidden and it will not be leaked. Clients will always have full control on their accounts.
Trade More, Save More: There is a very simple commission structure which Trade IO's OTC uses to charge the clients. Under 50K USD, commission is 5%. It will drastically drop when you trade in higer volumes, 50K to 5M USD is only 0.2% and over 5M USD is 0.1%.
Desk availability details:
Monday - Friday
12:00 GMT - 22:00 GMT
*Limit orders will only be worked during desk hours
*No stop loss orders accepted at this time
For general inquiries, you can email otc@trade.io, or contact one of our dealers below:
David Hannigan
Skype | ab679902
Telegram | dhannigan

References
Disclaimer
The information contained within this post shall not be taken as a financial advice. I am not a financial advisor and none of your investment decisions should be carried out based on any information presented here. You can lose all of your money by investing. The information presented in this article is for educational and entertainment purposes only.

Note: @adollaraday has been added as 5% beneficiary in this blog using @steempeak.