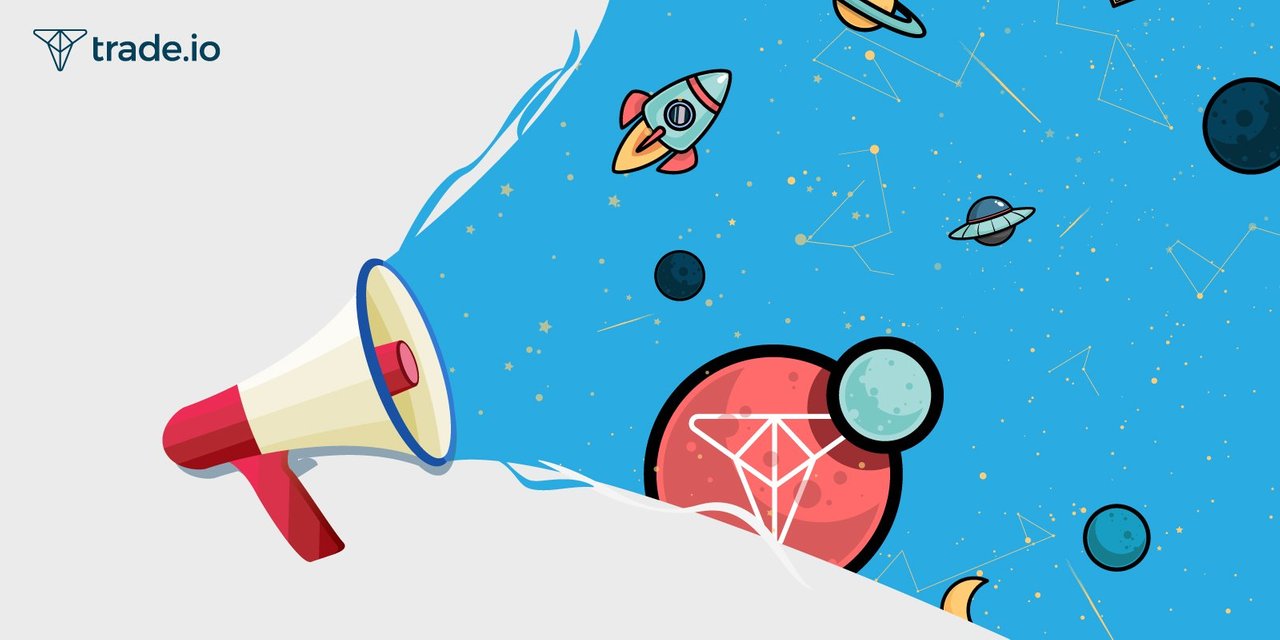 image source
In technology development, Trade.io has innovated a lot in improving the quality of the platform. My latest access shows that there are innovations that have been adopted by this platform, including by managing in a carefully thought out protocol adoption. System management and management of the development of the trade.io platform have demonstrated a considerable transition to the world of crypto exchanges.
There is no doubt that the trade.io platform is an exchange platform that is very easy to use, rules that are not too troublesome, an easy transaction process, moves as fast as lightning and of course with very minimal costs or maybe even without the slightest expense in the deposit process.
That's why I feel very happy to be able to introduce this platform to you. Have you registered a trade.io account? If so, maybe you will really understand how this platform works. I myself really enjoy the adventure while on the platform.
Trade.io has a security protocol that is sophisticated enough to be able to stem hacking attacks. In other parts, interface transactions are also very friendly and can be tailored to the wishes of each individual. This platform is designed to meet the needs of better crypto transactions.
Crypto which is very popular on the current platform is BTC and ETH. Both cryptos have a very dominant transaction value on the platform.
Even though the platform currently looks not so perfect in accordance with the vision and mission of the project development. However, with various offer packages that are quite unique, it will make a good perspective on the platform. With various aspects considered, trade.io looks very committed to providing a very spectacular service to all its users.
---
Enjoy Various Features and Profitable Services
Platform development is not merely focused on platform performance but significantly. Moreover, in regulating market management which is also an important center of attention in the development of the platform.
Trade.io does not only offer Over The Counter (OTC) services. That's why trade.io is very different than other platforms you've used. Users can make quite profitable investments through Liquidity Pool services, Affiliate Programs and various other benefits, especially crypto prizes.
One discourse that is very popular on this platform is investing in the Liquidity Pool service. In this service, users can contribute by donating Tiox. The minimum amount of Tiox at stake in this service is 2,500 Tiox, equivalent to 600 more STEEM, based on current prices. In this service, each business actor will receive profits from the investment at stake in the program.
You can enjoy the benefits with just a little work. The staked Tiox can be withdrawn at the desired time. That means that the Tiox which is donated to the whole program is still yours and you can control it completely.
Or maybe you chose to put Tiox on the program all the time without limits.
Read more! https://liquiditypool.trade.io/
---
TRX, MIOTA, XRP, and XSG Will Immediately Listing
In addition, as I've explained in a previous review that there are many offers that you can enjoy on trade.io. Trade.io is increasingly committed to issuing development on protocol adoption and expanding crypto adoption into the market.
After previously successfully entering $ ATOM into the market, now trade.io plans to add four cryptocurrency that will be registered immediately on the platform.
The announcement has been widely publicized through tweets. This of course sounds like pretty pleasant news. Moreover, for myself, I am very interested in investing in the platform. The latest crypto will be available on the market and can be traded with their partners.
The latest trading pair includes one of the crypto which is at number 200. Cryptocurrency that will be coming soon on the platform is MIOTA, Ripple (XRP), Tronix (TRX), all three of which are popular coins which occupy the 20th best place in trading. and SnowGem (XSG) that might sound very foreign. The four types of crypto will soon be traded on the market.
If you have these four types of crypto assets, it's time for you to move them to trade.io. Maybe it will soon be said after the four were registered in the castle. "Wait, Do, and Enjoy".
According to my analysis, the addition of the four cryptos will immediately increase its liquidity. Besides that the addition of a new crypto pair will add the latest coin list on the platform to accommodate user requests. Finally, there will be many individuals to trade on this unique platform.
Following are the new trading pairs planned by trade.io. Pay attention, study, and take action at this initial stage.
XSG - USD
XSG - BTC
XSG - ETH
XSG - Zcash
TRX - USD
TRX - BTC
TRX - ETH
MIOTA - USD
MIOTA - BTC
MIOTA - ETH
XRP - USD
XRP - BTC
XRP - ETH
In the final section I want to emphasize that the trade.io platform offers a variety of services that are quite profitable for you to enjoy. One of them is the OTC service feature that provides trading services. If you are a beginner trader, don't worry about trading on trade.io. The trade.io platform is specifically designed with a display that is quite simple and easily understood by all levels of traders.
If it's less convincing, you can try to enjoy platform performance in trading by registering first. The process of registering an account is very easy, just a few steps. Or maybe you choose to enjoy the platform in demo mode and see firsthand how this platform works.
The last thing you need to note carefully is, the more you transact on Trade.io, the less you will pay fees.
I hope that XRP, MIOTA, TRX and XSG will soon be listing to enjoy more choices of trading. You will trading on the platforms if you have the confidence to immediately try the platform out.
---
For More Information
DISCLAIMER :
This is not financial advice, nor a guarantee or promise in regards to any result that may be obtained from using the above content. The information provided here is for informational and entertainment purposes only. It should not be considered as financial and/or investment advice. No person should make any kind of financial decision without first consulting their own financial adviser and/or conducting their own research and due diligence.
Thank You

---

---

---
---