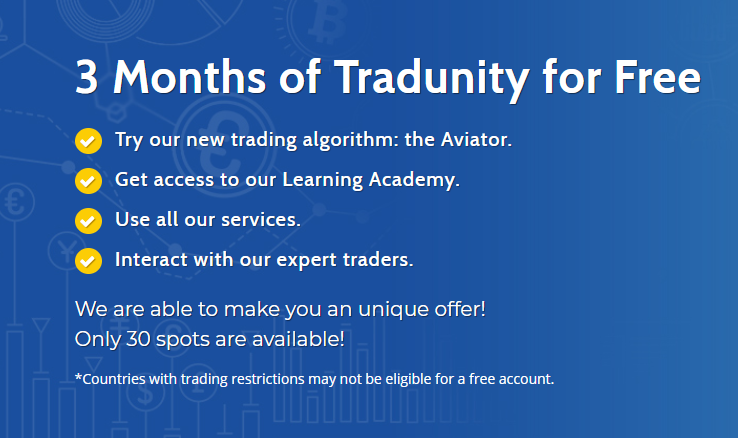 I want to give a shout out to a couple of guys that I have been working with in the crypto space.
They are Dan & Dmitriy, founders of Tradunity.com.
Dmitriy is a professional financial & crypto market trader, with over 12 years experience. If you use TradingView you´ll know him as DLavrov where he is currently Nº3 in the "All Time" Top Authors list.
Dan is the quiet one, the computer scientist, the mathematical tech guy, the bot builder.
Between them they have built a trading scalping robot for the Forex Markets that they call "The Aviator". This is run in partnership with the regulated Forex broker firm AxiTrader.
The Aviator is what I want to talk about here to my fellow Steemians.
Dan & Dmitriy are offering 3 months free use of The Aviator`s automated trading signals for 30 users only.
Why are they doing this?
The reason is to help them test and improve the bot for when it goes live on the open market in 3 months as a product/service via Tradunity, so it`s a kind of beta testing if you like.
Why would you want to help test The Aviator?
Well there are a couple of very good reasons why you might want to take this offer up. The obvious one is that this is a trading bot and the point of the bot is to make money, so you can expect profits on the funds you added to your Axitrader broker account. Of course, again as this is a bot these profits are made automatically so there is nothing for you to do, the bot does all the heavy lifting. Another great reason to jump all over this is that you also get 3 months free access to the Tradunity Pro Package. This includes all features and services shown below.

Click to Enlarge
If you ever had inspiration to become a better trader in not just the crypto markets but the Forex and financial markets this is an invaluable access to have, here are just some of the courses that you will have available.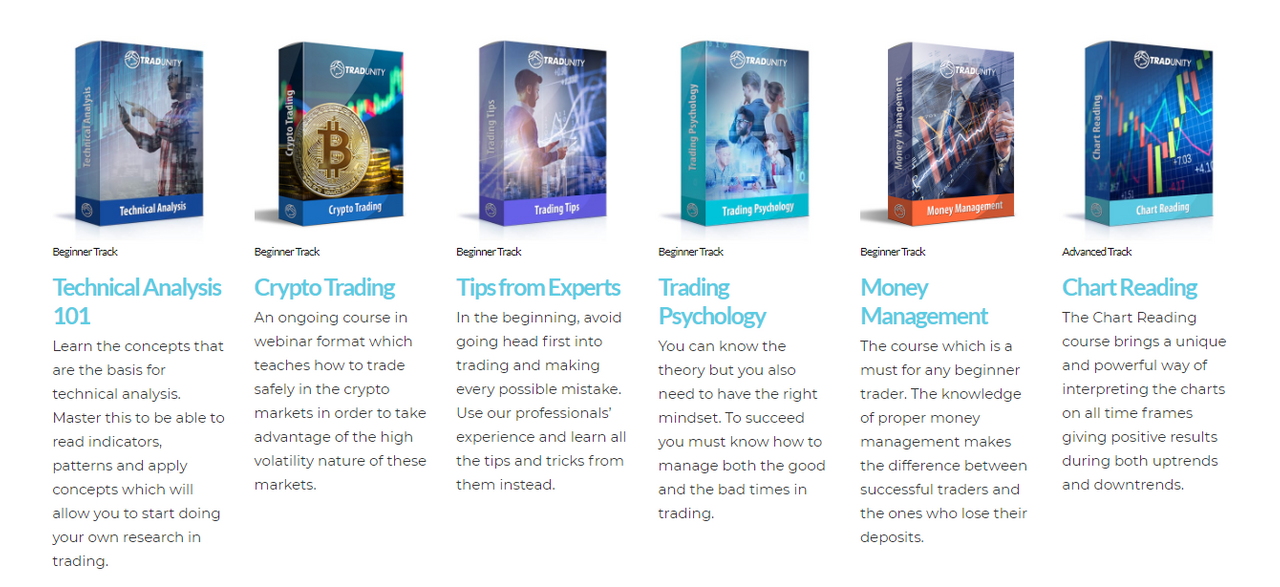 Click to Enlarge
Dan & Dmitriy have told me that for the 50 users who help to test The Aviator there will be bonuses and special offers once the 3 month free period has finished, as a thank you to the early adopters/testers.
What are the risks?
If you sign up and fund your broker account with a minimum of $1,000 usd before close of the Forex Market on the 31st of May you will be entitled to a $300 usd cashback deal on any loses for the first 30 days. So, in that case it is extremely low risk. If you are not able to fund your account in time for the cashback deal, or you fund your account with less than $1,000 usd then it`s it is going to be hard to quantify the risks. What I can say is that Dan & Dmitriy have been testing The Aviator for months prior to this beta testing and they manged to obtain a 45.3% profit gain over a 3-month period, see below: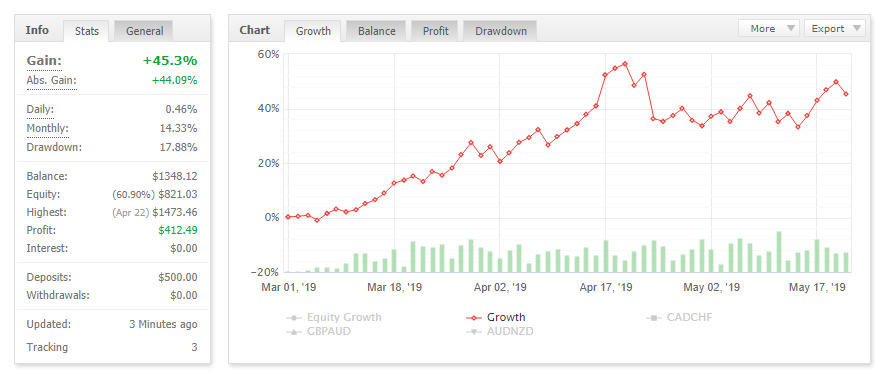 Click to Enlarge
But of course, with any trading past history does not predict future outcome, and therefore this is not a 100% guaranteed money making bot. Please note, to take part in this offer you are not giving money to anyone, you are only funding your own trading account via a registered insured broker, (Axitrader).
How do you get the bot and set it up?
It is a very simple process. The first thing you need to do is sign up to request this offer, here`s the link: https://tradunity.com/strial/
Once you have been accepted, then it´s 3 easy steps:
1: Open a pro account with Axitrader and fund your account with the minimum of $500 usd. You will have to verify your personal details to open a pro account, this will be the usual KYC thing.
2: Subscribe to copy the Aviator trades. Basically what this means is to link your AxiTrader account with the Traduntiy System Interface.
3: Once you have them linked you can then copy the signals by using The Aviator, and you`re good to go!
It`s straight forward, and there is help if you have any questions via their discord channel.
I am there pretty much around the clock so if you have any questions about this just hit me up and I'll be happy help.
Can you show any results now?
Yes of course, I have been using The Aviator since start of the Forex Markets on Monday 27th May and here are the results so far: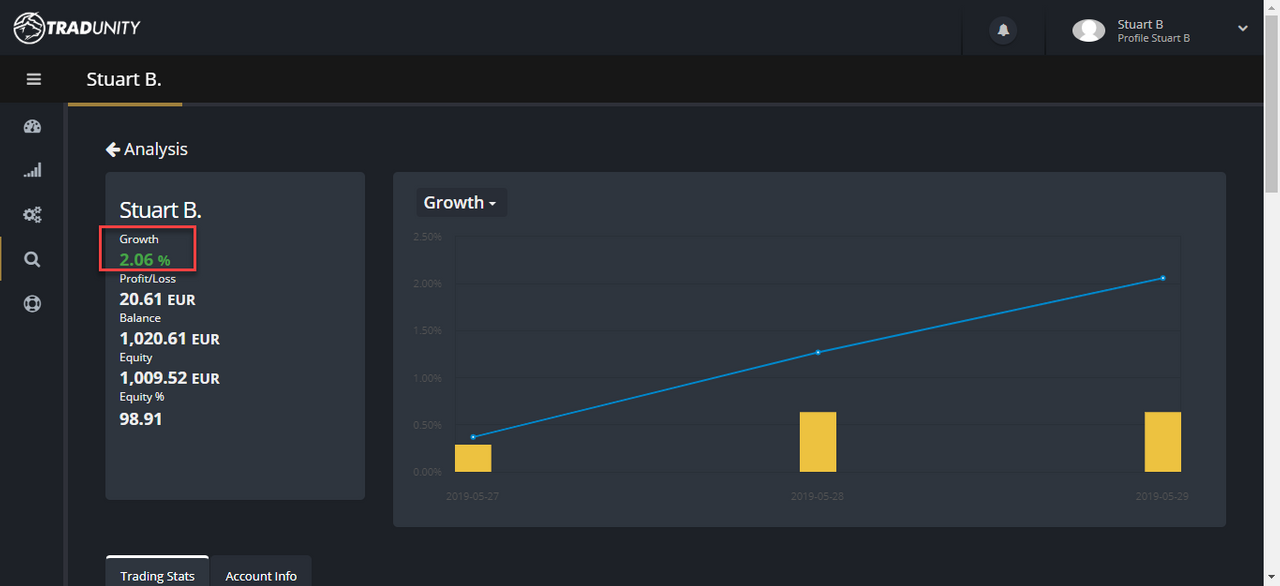 Click to Enlarge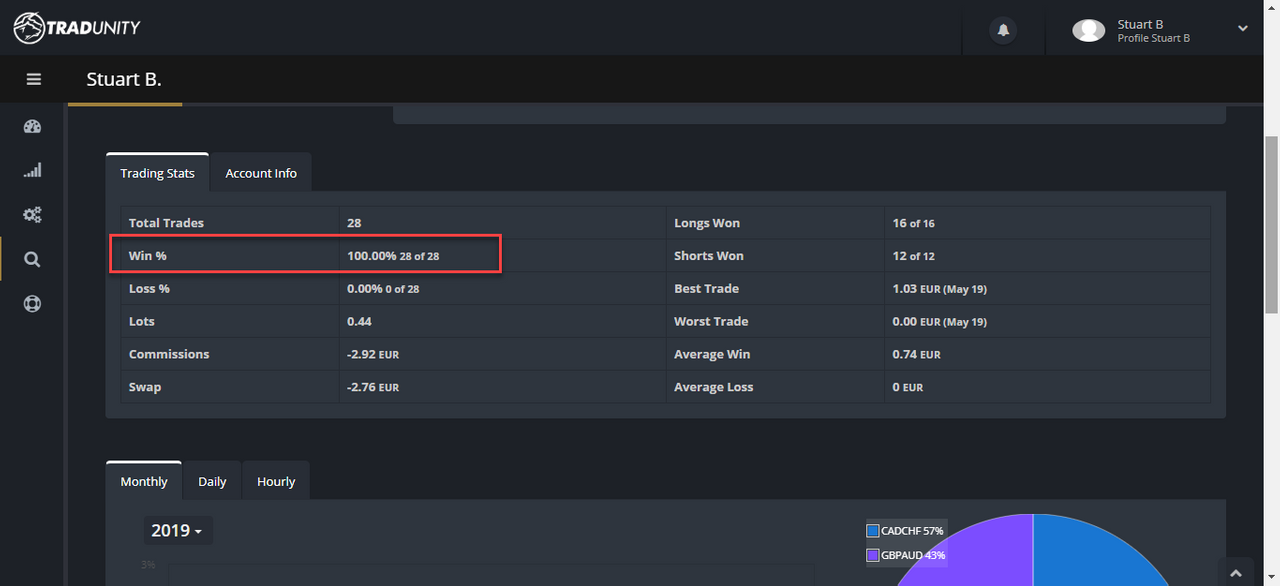 Click to Enlarge
The Aviator has made a 2.06% profit. Won 28 trades of 28 trades (100% win rate).
These stats are over a time period less than 72 hours.
I will post a video showcasing this interface to showcase it better and to display the stats in video format.
Well there you have it guys, something that might be of interest to a few of you out there. Again, if you have any questions get in touch via discord and I'll be happy to chat with you there.