Hey y'all!
Around 13 days ago I have noticed a pump pattern with AlphaCAT. I wrote a small Steemit-post about it as seen here: https://steemit.com/money/@cryptofriendly/alphacat-acat-analysis
Just by looking at the chart you will notice the pattern. The pumps are highlighted in red.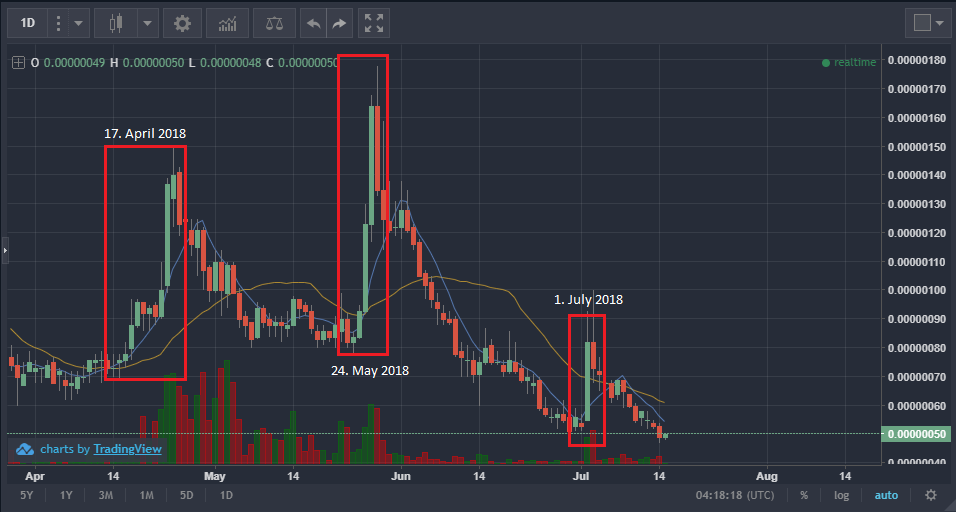 The pattern showed itself after AlphaCAT was listed on the KuCoin Exchange. The first pump was on the 17th of April 2018, the second pump on the 24th of May 2018. The difference in days is 1 month and 7 days.
To confirm this time frame, we will be looking at the third pump which happened on the 1st of July 2018. The difference to the second pump is 1 month and 6 days.
I'm very bullish on my next date prediction. The fourth pump will happen between the 6th - 7th August 2018.
Cheers & have a good one!
Mike
Legal Disclaimer: I am not a financial advisor nor is any content in this article presented as financial advice. The information provided in this blog post and any other posts that I make and any accompanying material is for informational purposes only. It should not be considered financial or investment advice of any kind. One should consult with a financial or investment professional to determine what may be best for your individual needs. Plain English: This is only my opinion, make of it what you wish. What does this mean? It means it's not advice nor recommendation to either buy or sell anything! It's only meant for use as informative or entertainment purposes.