Disclaimer: This is merely a trading idea based on some observations. Please do not take this as a recommendation of any sort. Please speak with a professional before making any financial decisions.
We are currently in an interesting environment for Gold, Platinum and Palladium. This may be a good setup for a spread trade.
Looking at the first two charts below, we can see that platinum priced in terms of gold and palladium is historically cheap.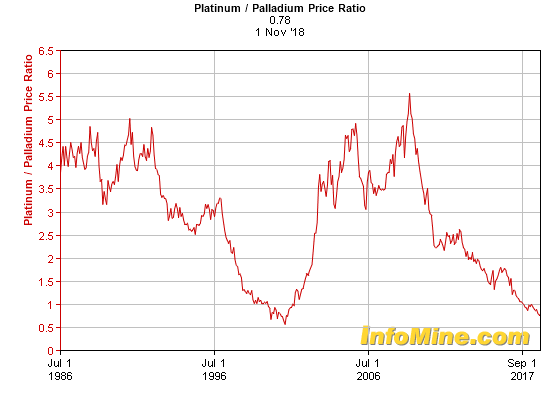 *Platinum/Palladium: Courtesy of InfoMine.com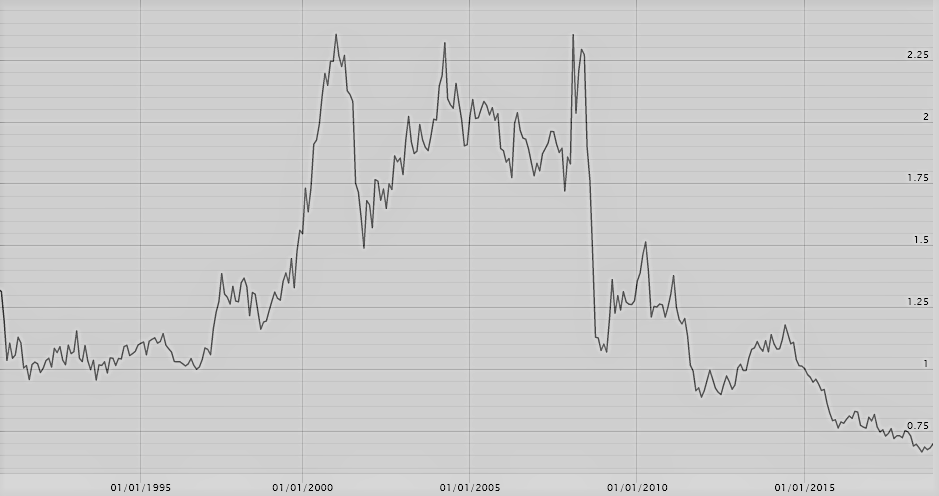 *Platinum/Gold: Courtesy of BullionByPost
First, what are the fundamental reasons for the divergences?
Platinum has mainly an industrial need from the automobile industry. It is used in catalyc converters for air pollution control.
-The future of electric cars vastly undermines the future need for platinum... Hence the downtrend.

Palladium, which has a similar industrial use to platinum, is also used in catalyc converters... Yet, palladium is mostly sourced from Russia. Palladium has had a supply squeeze before... Hence the previous Platinum/Palladium drop.

Gold, has had a bid since the financial crisis and the global central bank monetary response.
Now, what are the fundamental reasons for a potential reversal in platinum?
I wouldn't touch Palladium at all. It could squeeze much higher for geopolitical reasons involving Russia or it could dramatically reverse if tensions ease or car manufacturers switch over to platinum.

With rising interest rates in the United States, we could see the Gold bid decrease due to increases in risk free yield and a strengthening dollar.

Here is an interesting thought. Rising rates are a response to a strengthening economy, which theoretically would correlate with strong automobile demand. Therefore rising rates shouldn't hurt an industrial metal like platinum the same way it would hurt a monetary metal like gold.
The Trade
Here are some correlations based on the daily closing prices of GLD, PPLT, & PALL.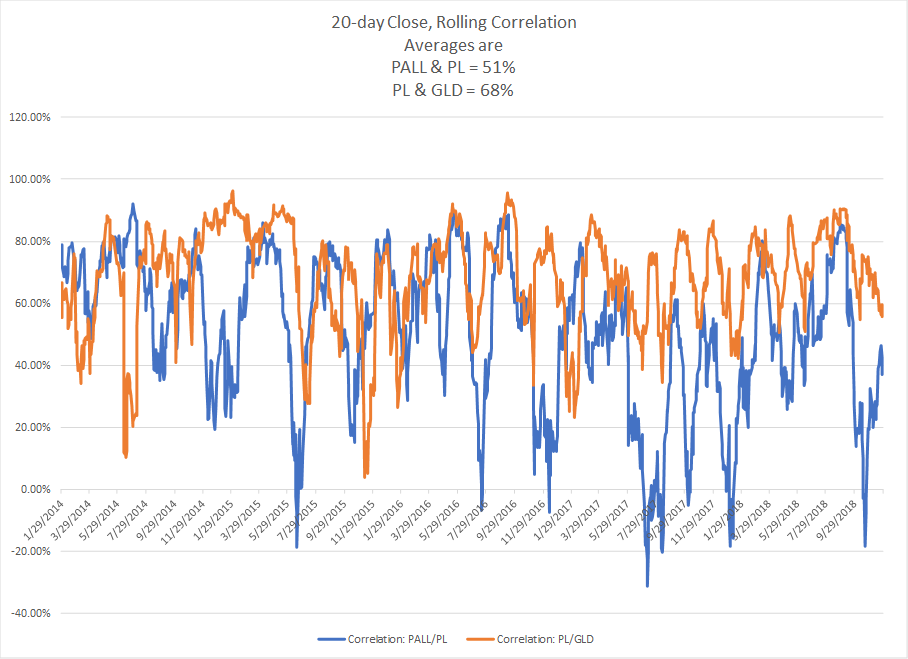 Gold and Platinum have a decent correlation of about 0.68 which makes them good metals to spread against one another.
Platinum and Palladium have a correlation of about 0.51 which is interesting to note as an indication... Especially since Platinum is historically semi-cheap, yet Palladium is at all time historical highs....
Either platinum will eventually follow or palladium will come back to earth.
The smart trade here is to short Gold and long Platinum.
What we need to do is scale the position for volatility adjusted dollars. We want to isolate the spread movement, not the outright price of either gold nor platinum.
What I did below is take the standard deviations of a 20 day closing price rolling window (vol) of both gold and platinum, then charted platinum vol over gold vol.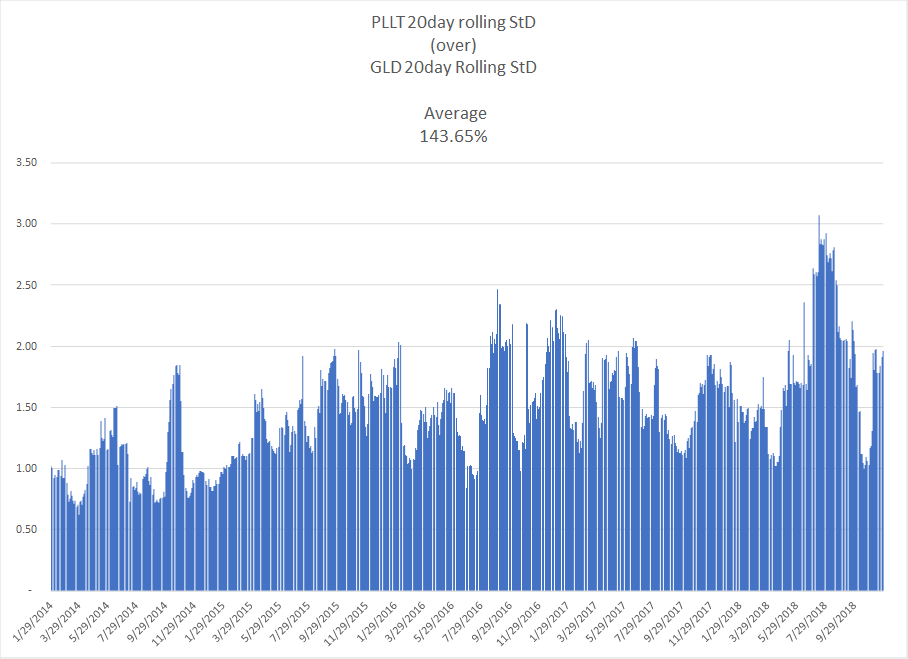 As we can see platinum is 143% the volatility.
Therefore, I believe the logical spread is $2 long Platinum for $3 short gold.
Next I charted the 20 day rolling close distributions (vol) of platinum, palladium, gold and the 2x3 spread.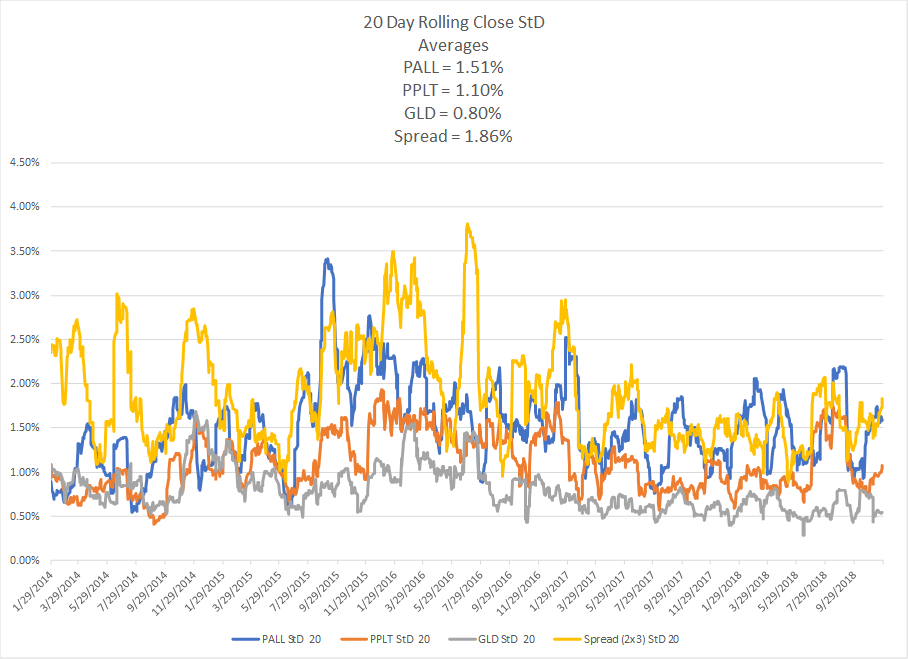 Looking at the chart above we can see that the spread volatility is comparable to the outright investments in the metals.
This is a tolerable volatility for a position that has 5 legs, 2 platinum versus 3 golds.
This lower volatility allows us to give the position the chance to work out and HODL it for the longer term.