Who doesn't consider themselves a foodie nowadays? With so much delicious food on every single corner of the world it's hard not to be a food lover. I grew up in a big city (Chicago) where we literally had anything we wanted to eat within a few minutes away. From Pasta to Indian, to a healthy acai bowl, everything was just a short distance from me. Now that I travel full time it's hard to find anything I want to eat at my fingertips, especially without sacrificing the taste.
So what to do when you travel full time and you consider yourself a foodie? Go on as many food tours as possible! I love experiencing food in their original country exactly how it was intended to taste. And the best part about food tours is that they usually take you to the hidden gems of the city (and we all know how much I love hidden gems), and they can give you the best recommendations for the rest of your trip. So here's my experience with the best food tour in Paris, the Marais Food Tour by Original Food Tours.
Let me warn you right away by telling you, you are about to look at a whole lot of delicious food, my stomach is nearly exploding all over again thinking about how much food this tour offered. Not a bad thing, but I sure do wish I was back in France eating all of this deliciousness all over again. And my goodness, when I tell you "the best food tour in Paris" I sure mean it. Here's why.
About the best food tour in Paris
The tour started at 11:30 sharp where we met our wonderful tour guide and intermingled briefly with each other. Our guide explained to us a brief back story about the company, the tour, and what we what to expect from the day. Before we did any tastings our guide explained that everything we were going to taste today is "natural" not necessarily diet friendly, low fat, sugar-free, or any other fad you can think of, just food in its natural form, without any preservatives. What an awesome idea for food tours, natural is good for you!
Let the appetizers begin
We started our walking tour at a boutique Salmon shop called
J. Barthouil: Saumons Fumes & Foies Paris
. This was a beautiful family owned shop with some of the freshest smoked salmon I have ever tasted (and I've traveled to the
Nordic countries
). Our guide explained a brief overview of how they smoke their salmon (without giving away any secrets, since this is an ancestry recipe) and we were able to try a farmed smoked salmon, as well as a wild caught smoked salmon. We then did a blind test of two different
salmon pastes
that no one knew what they were. The pastes were delicious and they went well with the crackers that they came on. I can see serving them as an appetizer at a party.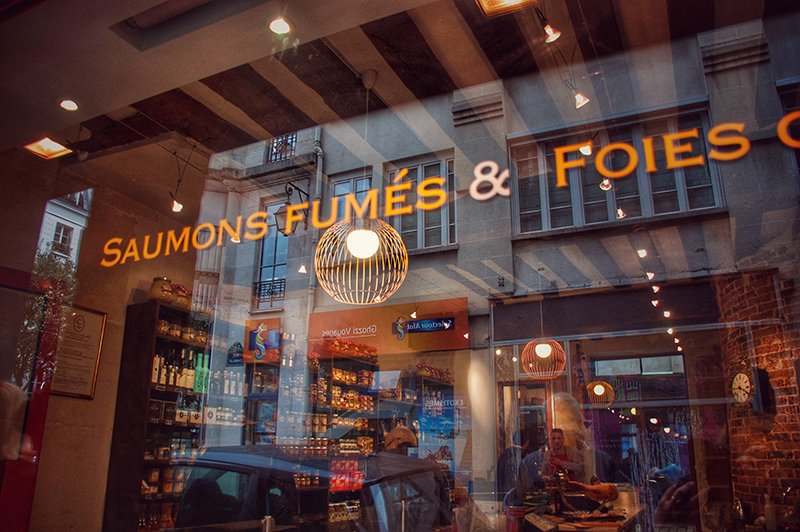 We continued our walking tour into the oldest market in all of Paris, Marche des Enfants Rouges. Here we got a little bit of a restroom break and got a chance to walk around the beautiful market while our guide prepared our next snack. The market was extremely hectic and had a variety of different food stalls, fresh fish/meats, flowers, and cheeses. We were about to snack at the cheese stand. Upon arrival, there were glasses of wine as well as 5 different cheese prepared with a baguette. Our guide did a phenomenal job explaining the different cheeses, what similar taste we would be familiar with, how they're made, what region they come from, and other cheese informational I never imagined learning. My favorites were the soft cheeses, similar to a brie, but were unpasteurized.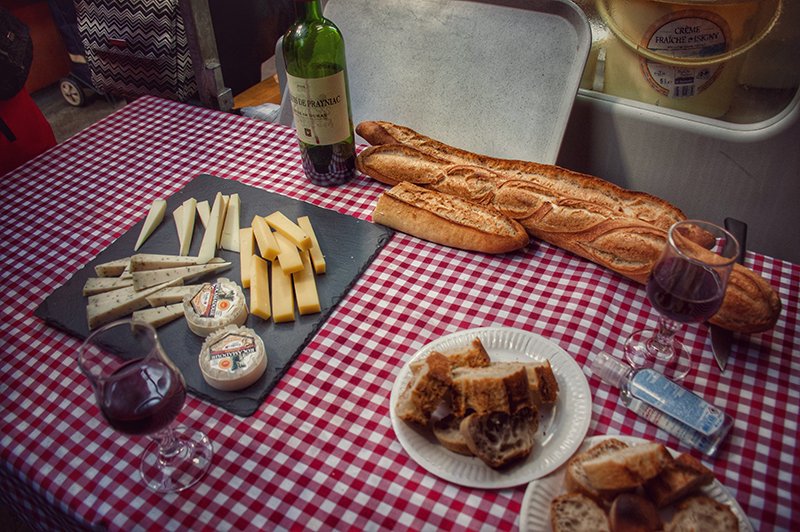 Following are wine and cheese pairing were some meat samples. De Cochon is a lovely tiny butcher shop where we were greeted with open arms and tons of meat hanging over our heads. This would have been meat heaven to any meat lover, unfortunately, I'm a pescatarian so I didn't feel that excited as some of the others did on the tour. The butcher explained the different types of meat we were trying and how they were prepared, along with some back stories of how this type of preparation came to be. We tried three different slices of meat and everyone loved every single one of them. Even though I don't eat meat I still had a bite of each and I enjoyed the one that closest resembled an Italian prosciutto.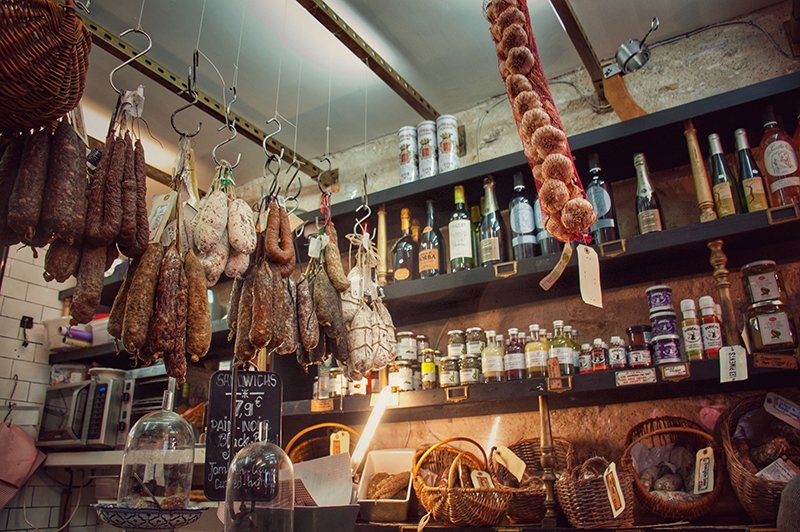 And now a palette cleanser
After all that salmon, meat, wine, and cheese it's definitely time to cleanse our palettes.
Edwart Chocolatier
was voted the best Chocolatier in 2016 and was one of my favorite stops on the tours. This was definitely one of the coolest chocolate tasting experiences I've ever done, and I've done a
few of them
in my time. We got a chance to meet the creator of the wonderful chocolates, Edwin himself. He explained his process but also talked to us about his importing of the cacao bean from different countries and how this affects the chocolates that he made. He got to know each and every one of us personally just by asking us a few simple questions, and at the end, hand picked a specialty chocolate for each and every one of us. For the adventure lover like myself, he chose an incredibly delicious dark chocolate praline with coriander. What an incredible personalized touch!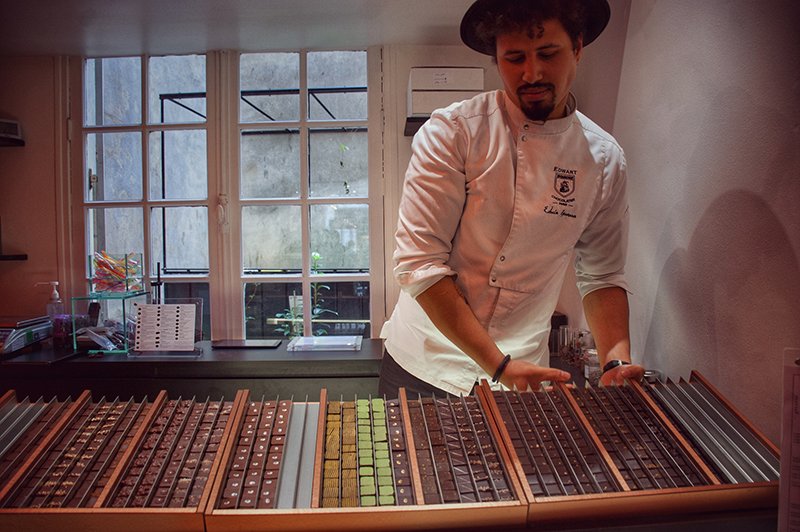 Our main course is here.
Whenever I go on a food tour I always imagine it being samples of a bunch of different foods from that particular country. Since Paris is extremely diverse in their cultures,
Original Food Tours
does not do that. We were brought to
L'Alivi
a beautiful Corsican (coming from the French island of Corsica) restaurant where we didn't try just a sample of food, we sat down and had a full meal. This is a great time for all of us to interact while trying some traditional Corsican wine and a traditional dish of the day. For the meat lovers it was a Sheppard's pie-like dish with lamb and for the veggies, a dish similar to a pizza, with veggies, cheese, and mushrooms, both accompanied by a side salad.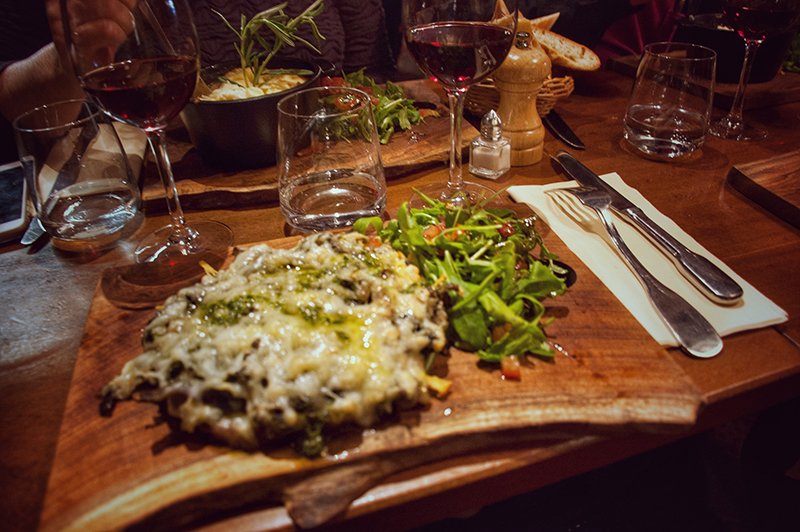 You would think that we would be done with the tour after our full meal, possibly adding a stop for dessert, but were only halfway through. Lots of food, right? I told you.
So what's for dessert?
French pastries are probably my favorite pastries EVER, and
Popelini
might even be my new favorites spot (too bad it's all the way in Paris). The chou chou is what this boutique pastry shop is known for. It is a light pastry with an éclair like dough, containing different fillings inside. There are nine permanent flavors, five additional per each collection, and a surprise flavor each month. I went with the praline flavor, a perfect mix of nuts and cream topped with homemade praline bites and heaven in every bite. PLEASE PLEASE PLEASE do not miss this spot on your next trip to Paris, and express ship me one back!
Tip:
You have to eat the pastry upside down or otherwise the filling will fall out.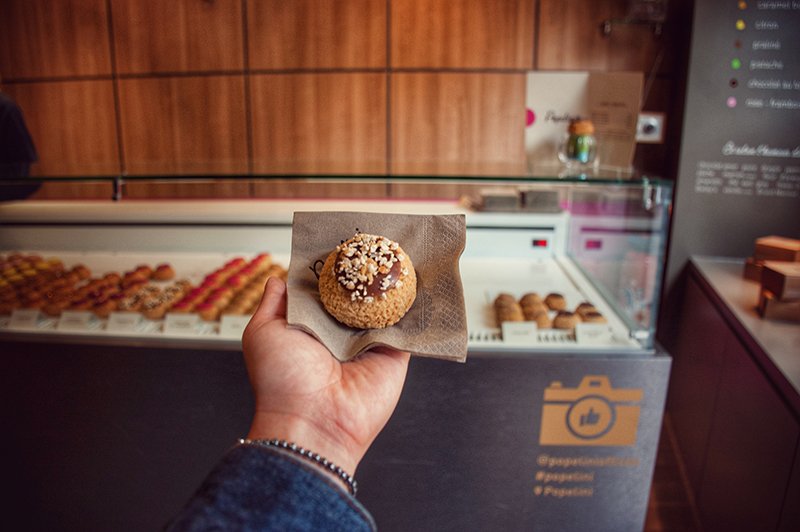 Next is La Chambre aux Confitures a lovely little shop that sells handmade jams/honey/caramels and more. This was a fun spot for us because we were doing another blind taste test and it was fun for the group to try to guess the flavors. Our guide picked up 5 different jars and we had to guess what flavors were in each. Each jar had 3-5 different flavors that we were familiar with but couldn't exactly pinpoint. We came very close to fully guessing one of them, but we couldn't guess it all. This was also a great spot to purchase some souvenirs to bring back home.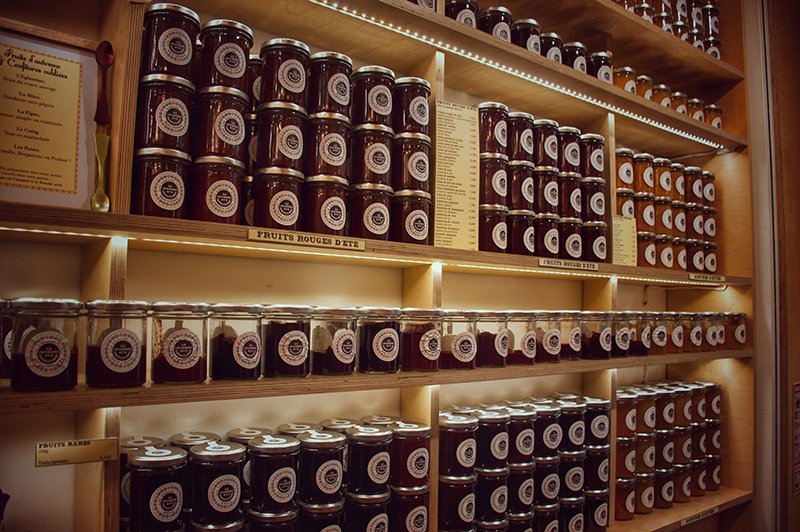 When is the food going to stop?
No stop to Paris is complete without stopping at the famous
L'as du Falafel
. A famous Mediterranean stand located in the Jewish quarter of Paris with some of the best falafels and queues outside that last forever. Thankfully because we were on the tour, our tour guide was able to pick up a take away box right away without having to wait in line. The falafels themselves were incredible with a homemade sauce, and just enough for each of us to get a couple bites out of. At this point, we were all extremely full so we were grateful there wasn't more to eat!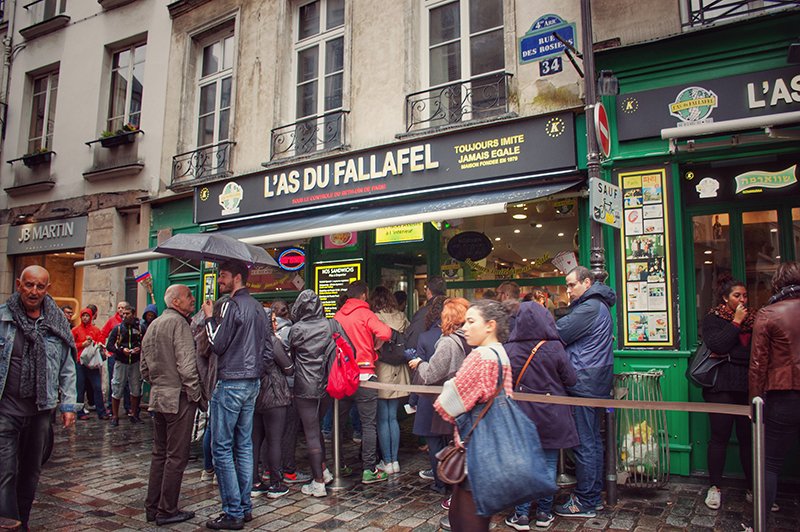 And last but not least.
Another delicious palette cleanser to end the wonderful tour. This time at
Une glace a Paris
, a homemade ice cream shop voted Best Ice Cream and Sorbet in the World. Each flavor different, like something I've never tasted before, ranging from carrot-ginger to toasted coconut. And of course, we had to try a typical Madagascar Vanilla, just so we can compare flavors to something everyone is familiar with. Full of rich flavors and textures with every scoop, I can see why it was voted best ice cream in the world. YUMMMM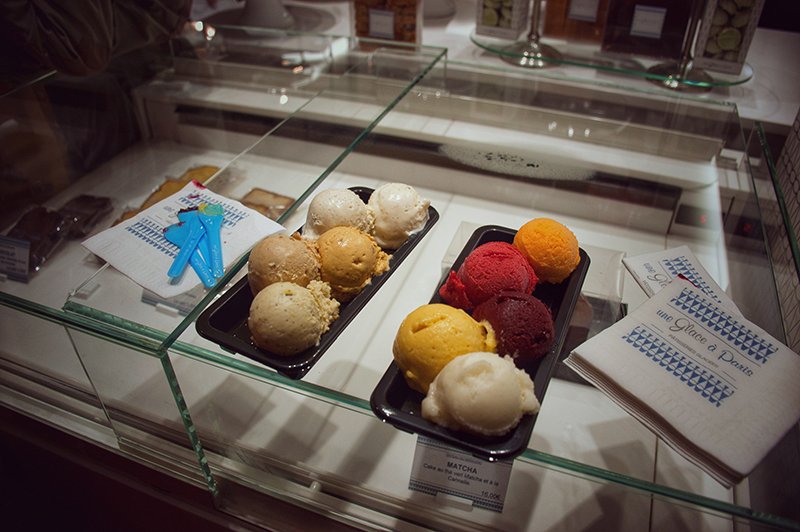 Overview
The varieties of different foods that we tried were beyond incredible and the explanations our guide gave us were amazing. We got to walk the city, get some history, and really enjoy the day with someone that is extremely passionate about the foods from his country and wants his tourists to know the best spots. Hands down 10/10 and the best Paris food tour ever!
Xoxo Ania Travels 💜