I sure love being on the water, so whenever I go on a cruise I get extra excited because I get to spend a few days traveling, and being on the water. I also love the ease of being on a cruise, because I travel full time for a living, it's nice to go somewhere for a week, still travel to multiple destinations, but only have to lug around your stuff once. And cruises have absolutely everything you can ever imagine on them plus more.
So most recently I went on the Royal Caribbean Navigator of the Seas. It's one of Royal's biggest ships and it's definitely worth all of the hype. I was on this beautiful ship for 9 days leaving from Miami to the ABC islands (Aruba, Bonaire, Curacao). This was my experience.

The ship itself
I have been on a few different ships with a few different cruise lines before, but this ship blew me away with its beauty. The ship itself is massive and very elegant. The interior has a lot of glass with beautiful chandeliers everywhere and you couldn't help but feel classy from the second you walked on. The wooden trim of the entire ship was very solid and added some spark to the class.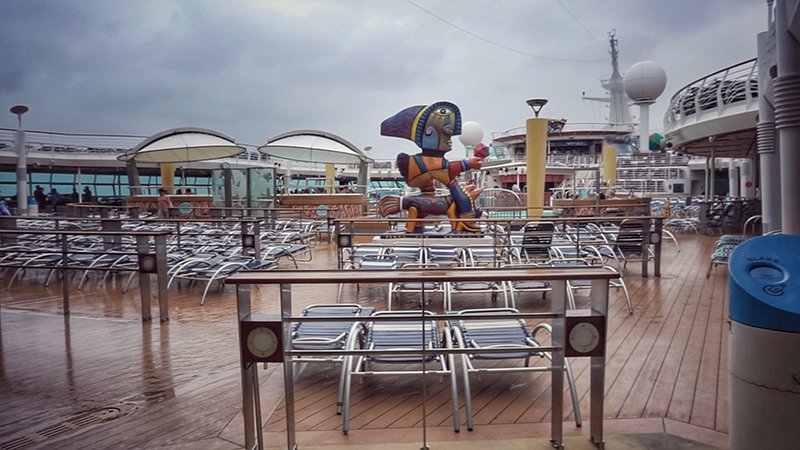 When you walked outside into the pool area you were transformed into a whole new era. The outside has a roman/ancient look to it and makes you feel royal and important. I guess that is the name of the cruise line right? I was also very impressed with their stores (I'm not a big shopper, but this was impressive) when you walk across the ship it looked and felt like you were walking across a high-end boutique mall. I was very impressed with this ship from the second I got on.
The stateroom
This was my first time in an ocean view vs a balcony room (and once an interior, but never again) and I was pleasantly surprised with how big and cozy the room actually was. I loved the wooden finishes in the room and the royal blue accents that were spread throughout the room.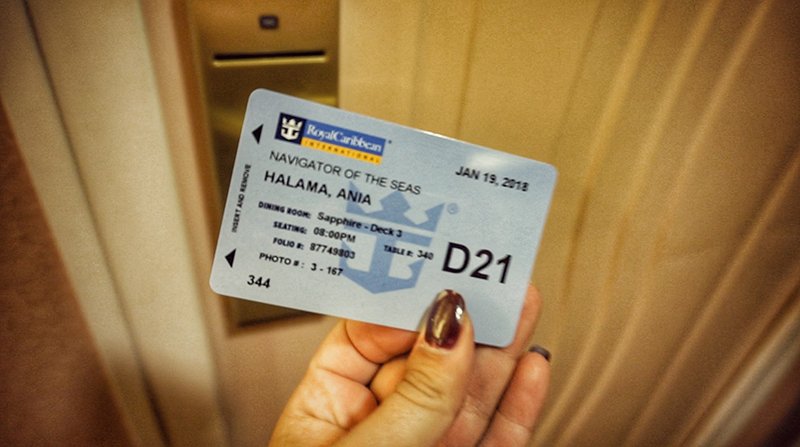 There was a ton of room in the middle between the bed and where the bathroom starts, I was even able to get some stretches done in the morning. I would even go as far as to say this ocean view was bigger than some of the balcony rooms that I've been on.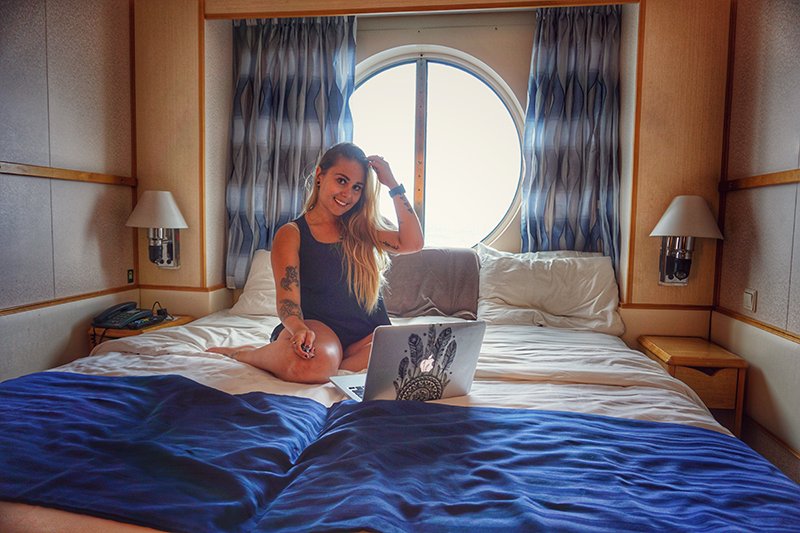 As always the bathroom was pretty small, but I really liked that the shower had a full closing door, I've been on some ships that just have a curtain and on a moving ship that's not the best idea.
I love food! And any opportunity to eat and dine I'm all over. The Navigator had some great food options for everyone. I really loved that they had healthy options, as well as cuisines from all over the world. Here are some of my favorites: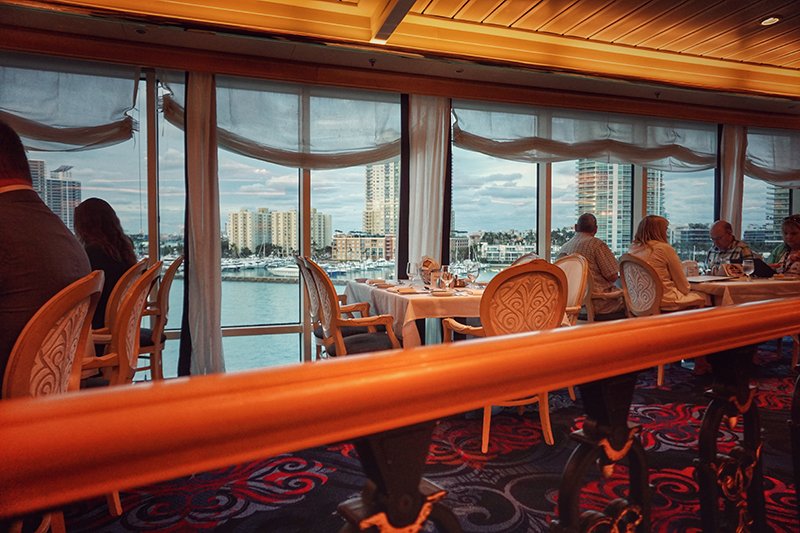 The Windjammer is the main dining area that is opened for breakfast, lunch, and dinner. This is where you don't need reservations, is a buffet type line, and they have an assortment of different goodies. What I loved about the Windjammer is that they had a gluten-free, vegetarian, and sugar-free corner for those that are watching what they eat.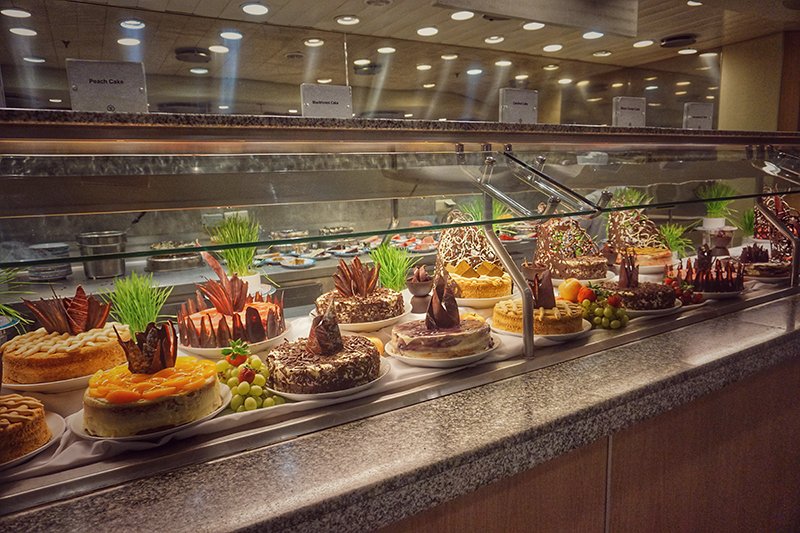 I'm a huge sushi fan, so when I saw that this ship had a sushi restaurant I just had to go. Izumi Japanese is a specialty dining restaurant on the ship where you have to pay a little extra for your meal. The service was very attentive and the restaurant was very classy. I went there on a formal night so I was already dressed up and felt right in place. They had an assortment of different sushi rolls but I only tried one, the champagne sushi roll. Put champagne and sushi together and I am one happy girl.
The second specialty dining restaurant I ate at was called Sabor. This was a Mexican restaurant and had all the fun Latin flavors. This was a set price of $22 + 18% tip and it included an appetizer, main course, side, and ALL of the desserts that they make. The food was very good and I loved the combination of Caribbean fish with Spanish flavors that the chef had made. I also really liked that they make specialty margaritas at this restaurant. I tried an avocado margarita, which I've never seen anywhere else on a menu, and it was delicious.
Entertainment
Entertainment on ships is so much fun, I've seen some of my best shows ever on cruise ships. They're jam-packed with excitement, keep you singing and dancing along, and some even have you sitting on the edge of your seat wanting more. The Navigator of the Seas had a wide range of shows this time around.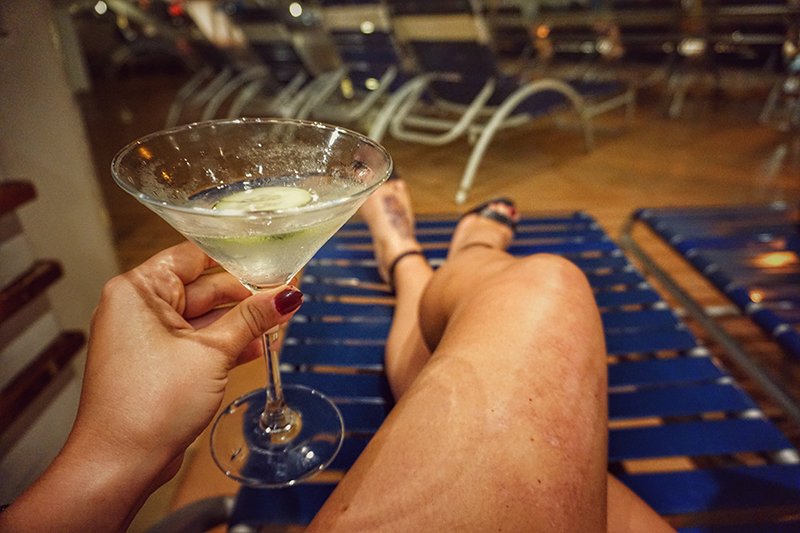 Some of my favorites were the Broadway shows (I saw two different ones) where they sang an array of different music that spans the decades, from Tina Turner to Mama Mia to Motown. The singing and dancing combination was unbelievable.
The Ice Capades were my absolute favorite though. I've always been fascinated by figure skaters and to be able to see them all up close in dazzling costumes skating away to wonderful music with amazing choreography was amazing. And to imagine all of that was done in the middle of the ocean on a moving ship is even more fascinating to me.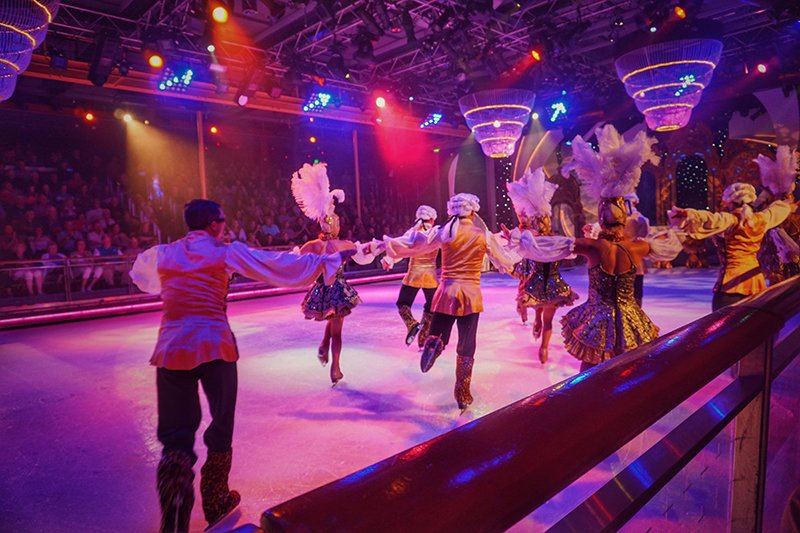 The Navigator also had a Circus parade on the ship. Where dozens of performers walked around in fun beautiful costumes, exciting music and performed, cheered and flew through the air as everyone clapped from the sidelines.
And finally one of the nights on the ship they had a special juggler performer. I really am impressed at these people doing everything that they do on a rocking ship. I can barely walk sometimes and these people are dancing, ice skating, and juggling. The juggler that they had was actually on X Factor and was voted one of the best jugglers ever. He was bringing back juggling and making it fun, and this guy sure made it fun. This guy had comedy, entertainment, and juggling down to an art.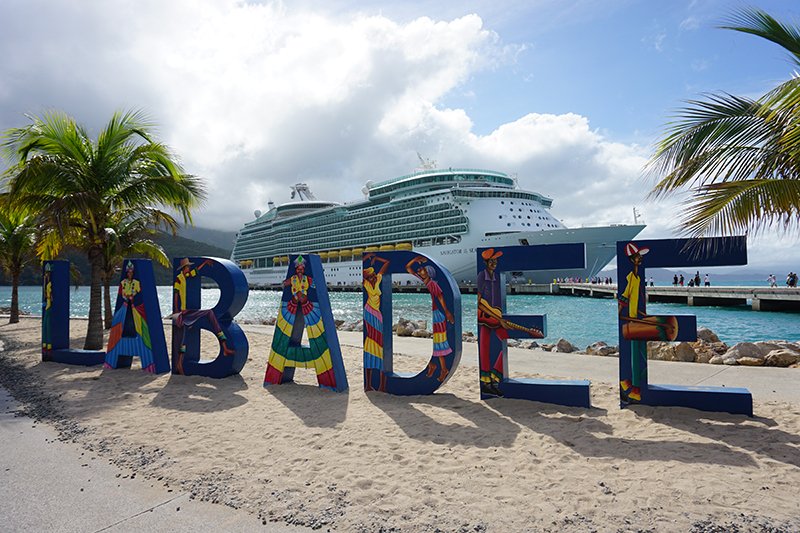 Other activities
Of course, there are other activities you can do on the Navigator of the Seas as well. Some of my favorites on this ship were the Wave Runner, a stimulated wave and you can try either surfing or body boarding. And all the different dance classes. I love dancing, and learning new dances, and this was a great way to go there and meet other cruisers.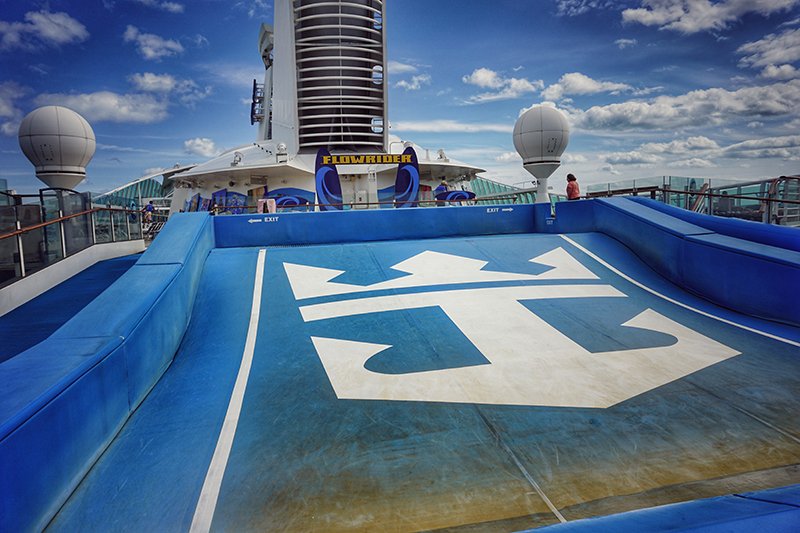 The Navigator had a ton of different classes you can take then show off your moves at the nightclub, I really enjoyed taking the salsa lessons. But my absolute favorite part of the entire ship was the Thriller dance class (be sure to watch my video to see us perform the dance). We had two different classes where we learned the dance and on the final night of the cruise performed the dance in front of 600 people. I loved this!

Not only good for vacationers
The Navigator of the Seas was great in so many ways, but my favorite things about this ship is that it had great wifi! Because I wasn't vacationing, I was working while cruising I was really looking for a ship that can provide good wifi for my nomadic lifestyle. This ship definitely provided that. Fairly reasonably priced too, around $15 per day, and I was able to get work done,
upload youtube videos
, even stream netflix. I actually loved this ship so much that I booked another cruise going trans-Atlantic to Europe in April. Till next time Navigator of the Seas.
Xoxo Ania Travels 💜
"Long term travel is not an act of rebellion against society; it's an act of common sense within society" – Rolf Potts
Twitter Page, Ania Travels
Facebook Page, Ania Travels
Instagram Page, Ania Travels
Pinterest Page, Ania Travels
YouTube Page, Ania Travels
© 2018 AniaTravels.com All Rights Reserved