Does anyone know the name of the following feeling?


You visit to a place you never been to before, usually an old ruin or an abandoned site, there is nothing particularly stunning about it, but you suddenly feel an intimate connection with this place and the atmosphere surrounding it... As this emotion envelops you, with it comes a surge of existential reflection, melancholy, a sense of peace and the desire to stay in that place... It seems to be something that many people experience, often when they travel abroad, and especially when they visit historical sites... Often times the place where this emotion dwells is secluded and affected by a natural decay, such as a moss-covered weathered stone. Also this feeling can be amplified by a cloudy overcast, that causes the place to appear more solemn but also more alive as the colors become more vivid, and the air smells fresh... It's not just the place, it's also a moment in time, which seems to evoke some sort of deep connection. Given any different time, lighting and company, the place wouldn't have the same kind of effect... and trying to recreate it might not be that easy...


I was inspired to write this after reading @LLfarms' post:
Discovering Unseen Beauty in Historical Places | Kalemegdan Photography Adventure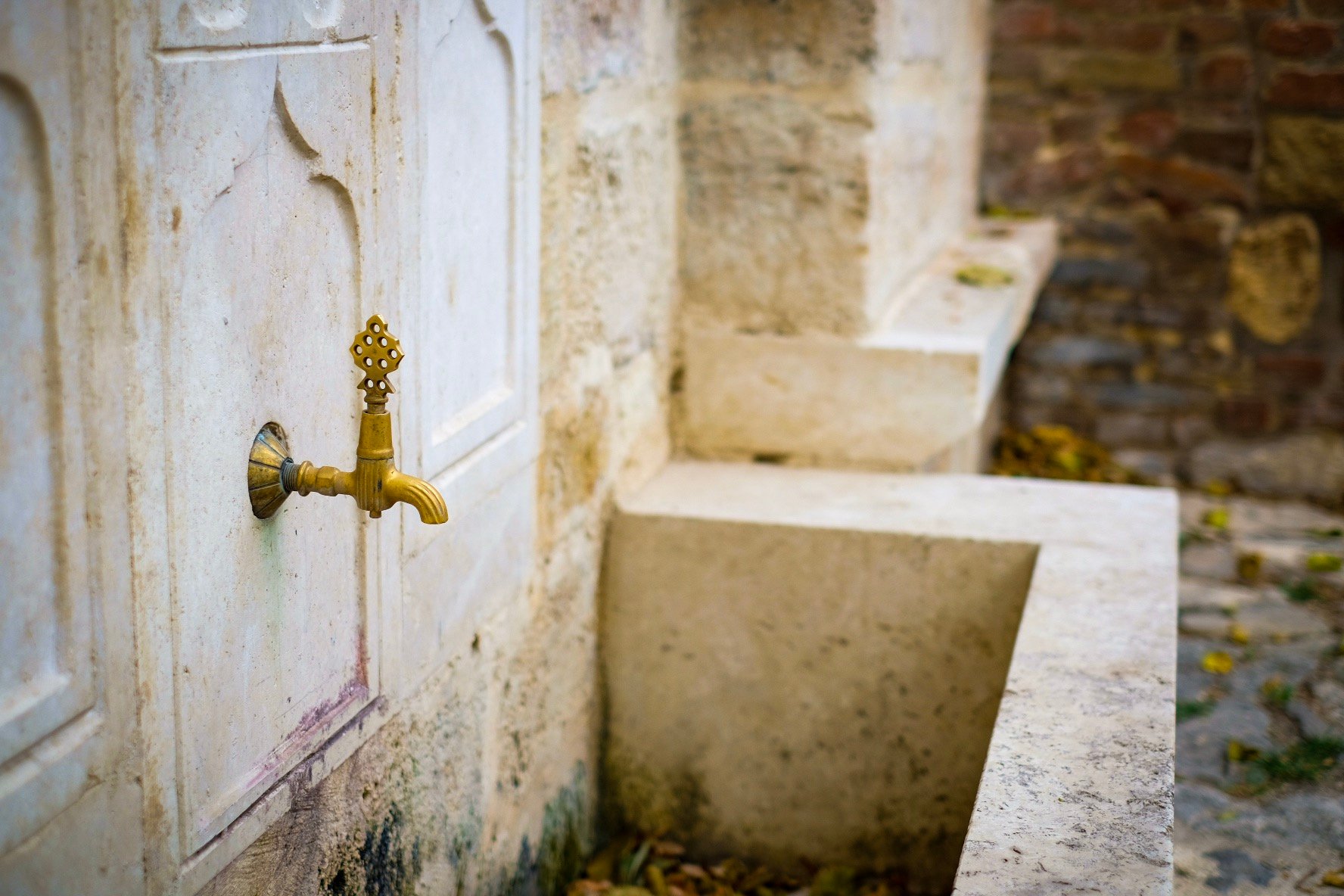 In her post she describes how she came across this place while exploring sites in Belgrade, and was drawn to the mysterious beauty of a fountain. To anyone but her this place might seem like an ordinary historic site - a small, limestone fountain from the days of the Ottoman Empire - but to her, there was something rather special about it at the exact moment that she was there... and as a talented photographer she was able to capture the special atmosphere of this place in a way that made me instantly recognize the emotion she felt and recall my own encounters with places like this...
---


Perhaps it's not a coincidence that we both had similar experiences particularly around the same region of Europe, Her in Serbia next to a Turkish monument, and mine was by an abandoned house on the Aegean coast in Turkey.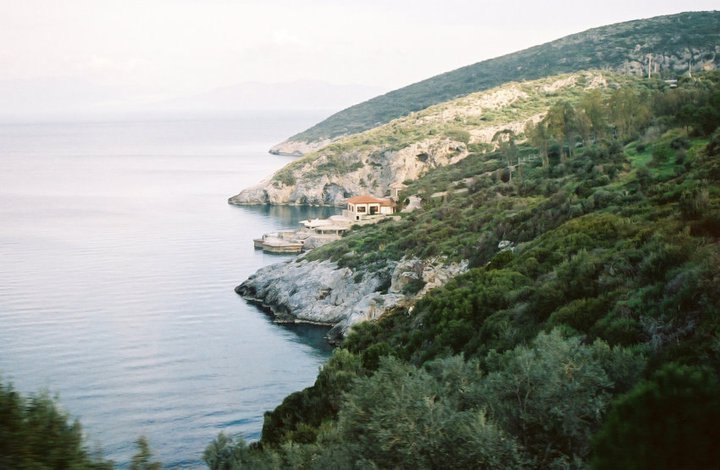 My friend Marsha and I discovered it while we stayed for two nights in Kushadasi... On our first day there, we spotted what seemed to be an abandoned house from the cliff where our hotel was located, and agreed to go down there because it seemed like a curious site to check... Right about the sunset time on our second night, we walked from our hotel, by the perimeter of the coast, and after about 20 minutes of walking along the main walkway, we turned to a steep paved path that lead down to the shore... We weren't sure if we took the right turn, until we started seeing the outlines of the little house through the eucalyptus trees...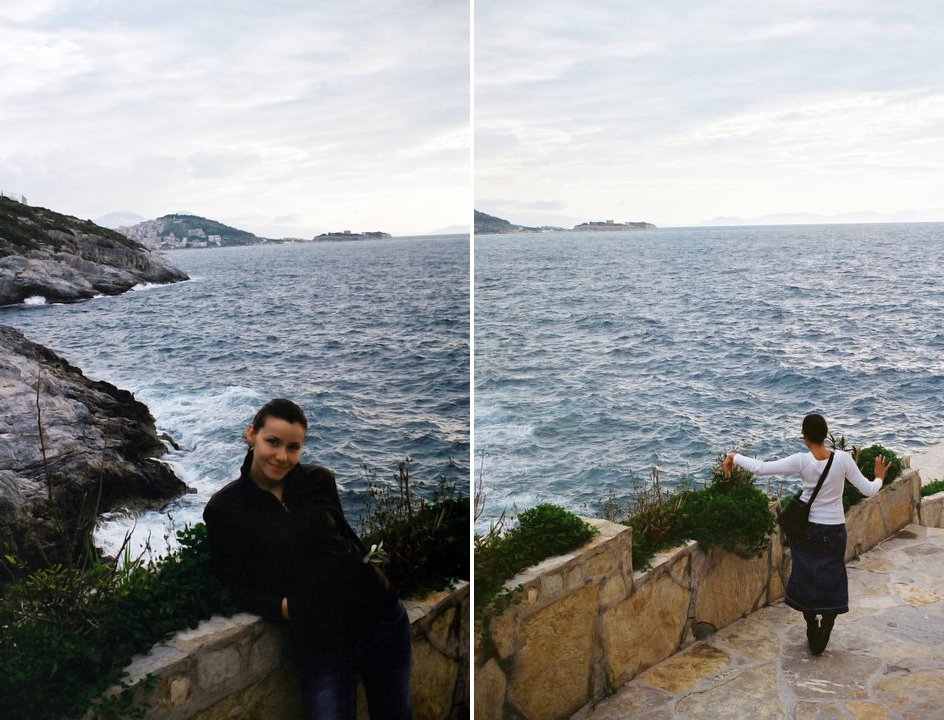 As we approached the house we could feel the solitude of this place, it was someone's abandoned paradise surrounded by a rather violent tide of waves that day... There was a gorgeous view of the Greek islands scatered across the horizon, illuminated by the golden streaks of sunlight... And no one but us to appreciate it...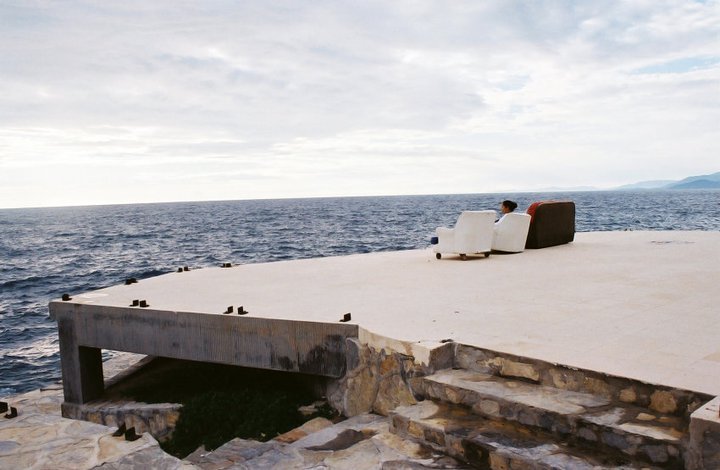 It had a wide empty platform that led right to the water, and we were surprised to find three broken armchairs placed right by the edge, facing the sea... It was a perfect place to stop and appreciate life, this very moment and a connection with the simple things that go on forever... Eventually we had to leave, and we were both melancholic about it... but the deep connection with that place remains in the photos and in our minds...
Some moments cannot be recreated... but new ones will happen unexpectedly if you explore, and stop to appreciate simple moments.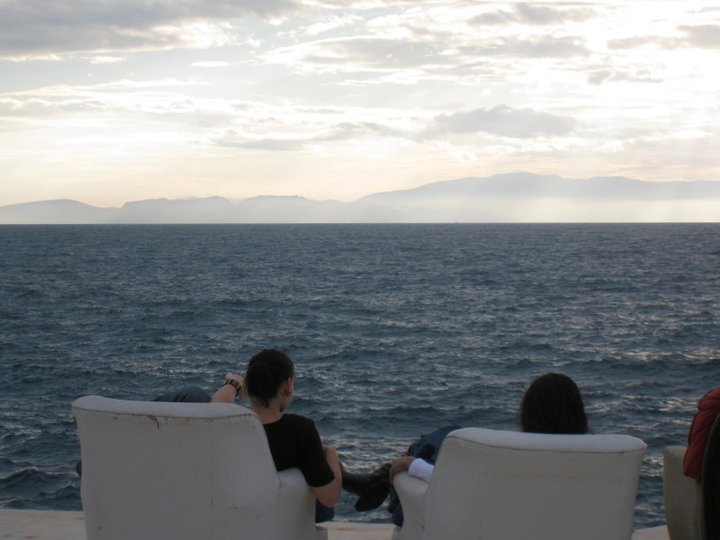 Thank you for letting me take you to this one special place...
---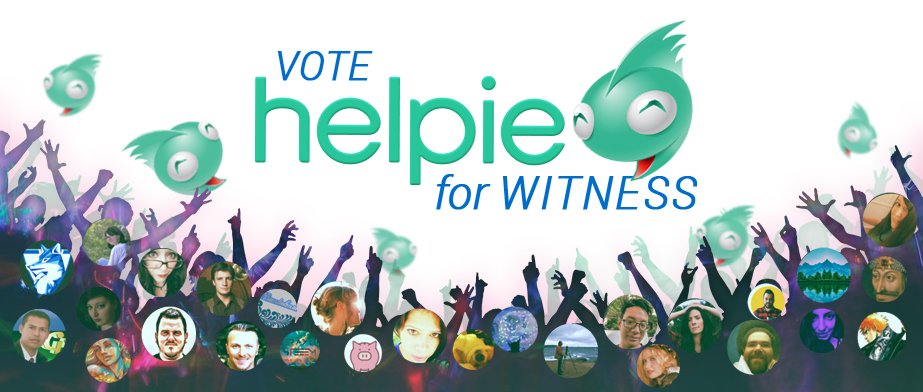 ---
Originally posted on A N K A P O L O. Steem blog powered by ENGRAVE.