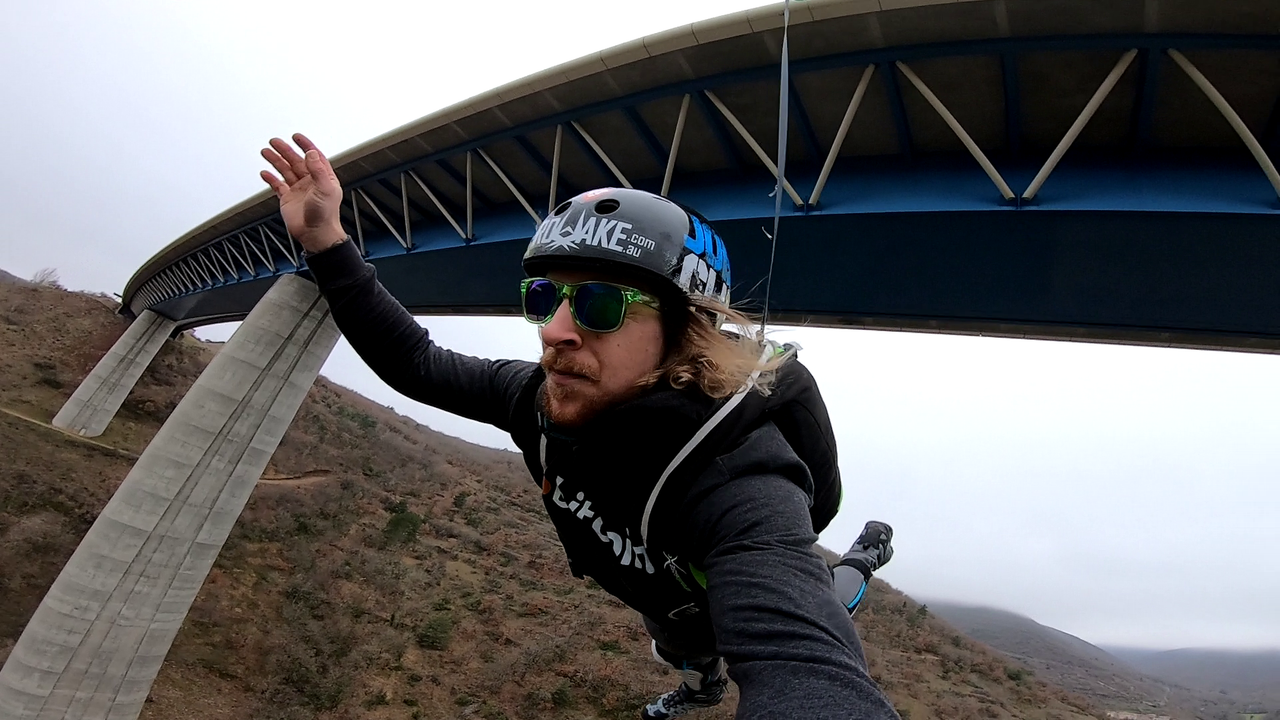 Like most base jumps, they begin with either a long walk, a steep hike or a ladder climb.
At this location we have an early start with a 20 min walk uphill and then finish off with a 5 min steep hike, so as far as effort goes, it will break a sweat but its bearable if you are doing it all day.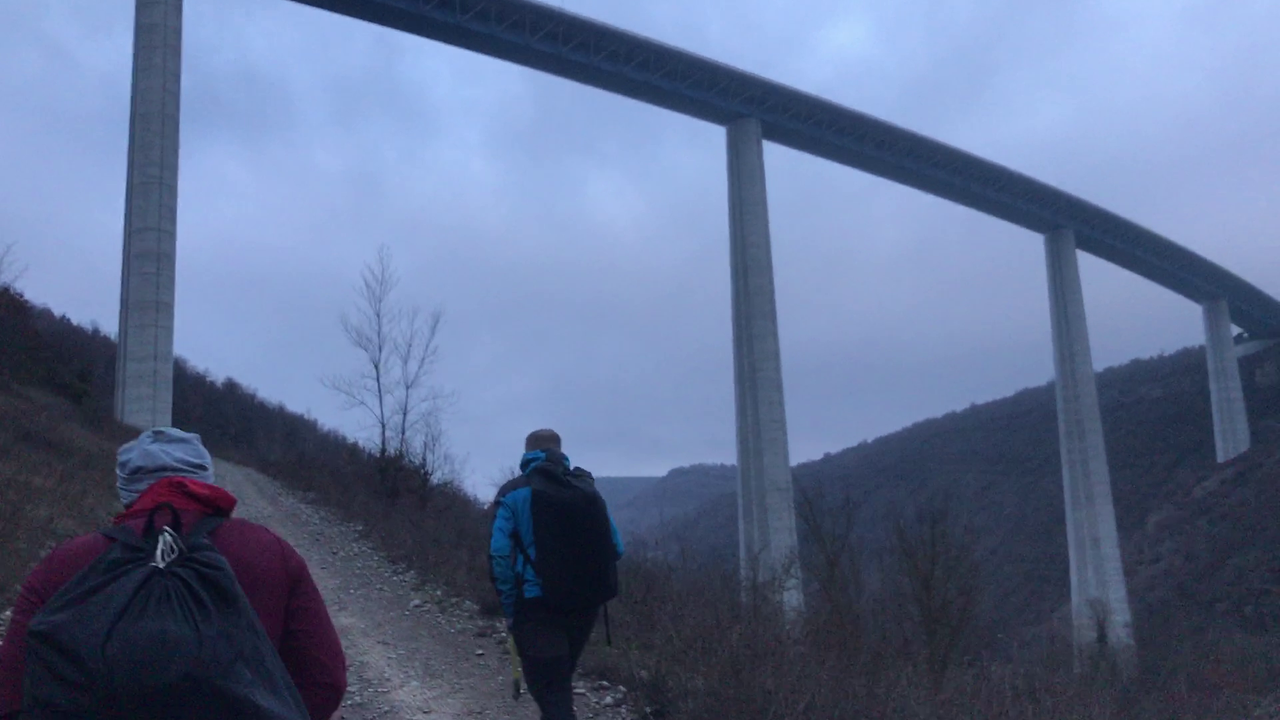 We are doing this in January, so its ideal as you warm up quick. I don't think I'd fancy doing it multiple times in July/August though. It would get old pretty quick.
It was early morning, and overcast, but we did have a break between clouds that let the sun shine through for a couple of minutes before disappearing again.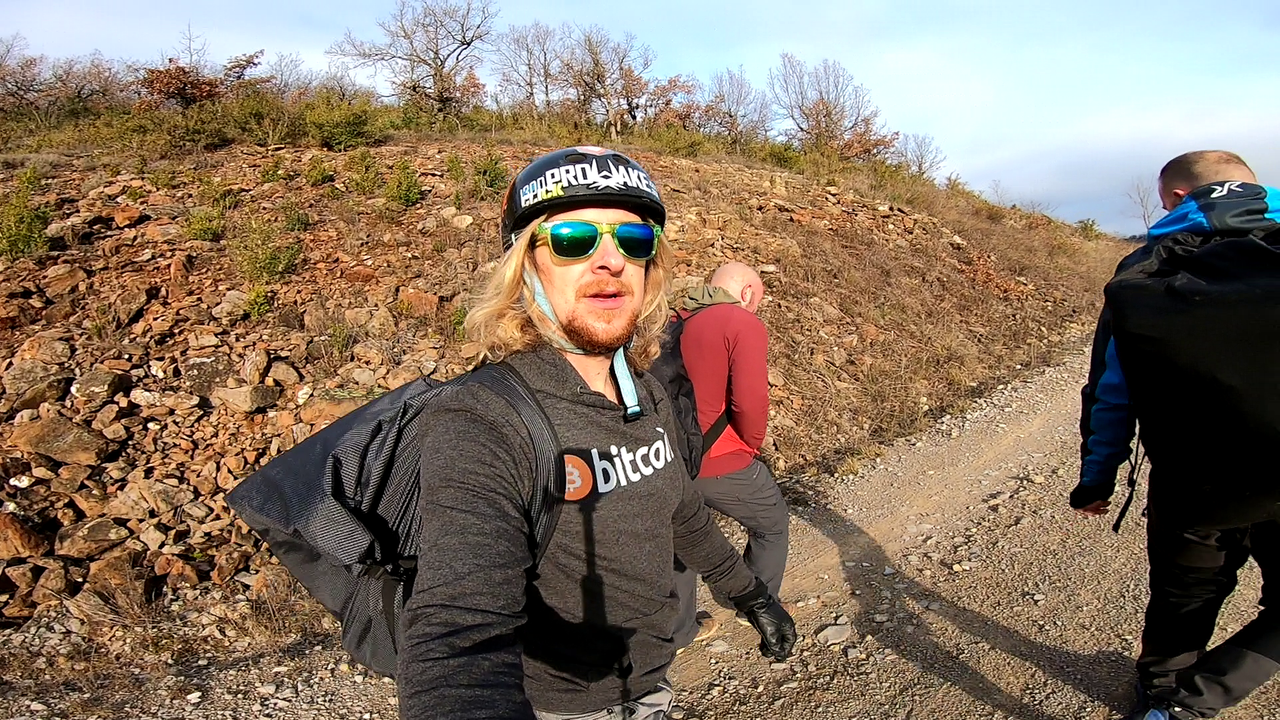 I can't document the exact route to the top of this bridge, but this is what it looks like when you get to where you need to. It's pretty spectacular.
From the ground it doesn't look as high, but from near the top, when you see those enormous pillars, you realise very quickly that its higher than you think. Its a perspective thing, its always playing games with your eyes haha. For me, when we are about to jump it doesn't look high, in fact it looks lower than a bridge we jump in Croatia that is 100ft lower! Its bizarre.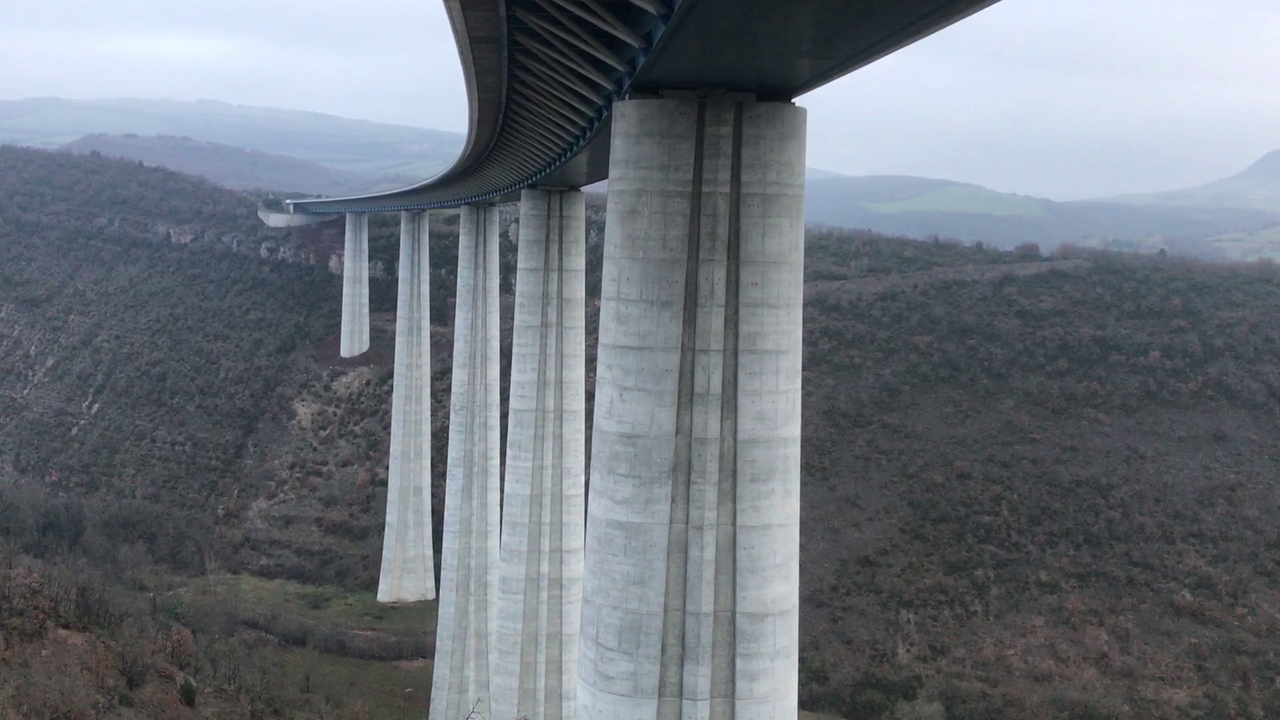 Biquette!
Biquette is a local goat that lives under the bridge, I had heard stories from base jumping friends about this goat, so I was excited to meet him.
He was waiting for near the top, and he came walking straight over to us when we arrived.
He is very friendly, but we have been warned he likes pilot chutes (the mini parachute we throw that inflates in order to extract our canopy).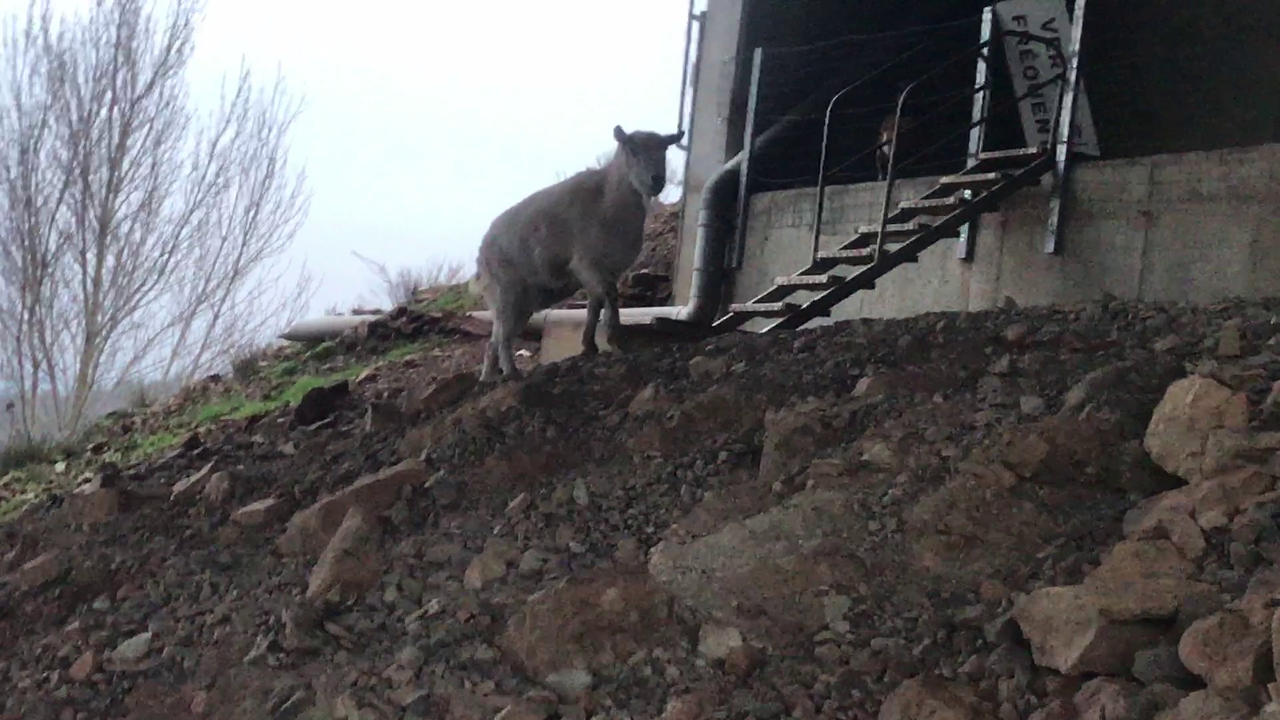 Biquette has a mate, but this goat was a little shy so we didn't approach it. Eventually he/she did come over and say Hi though.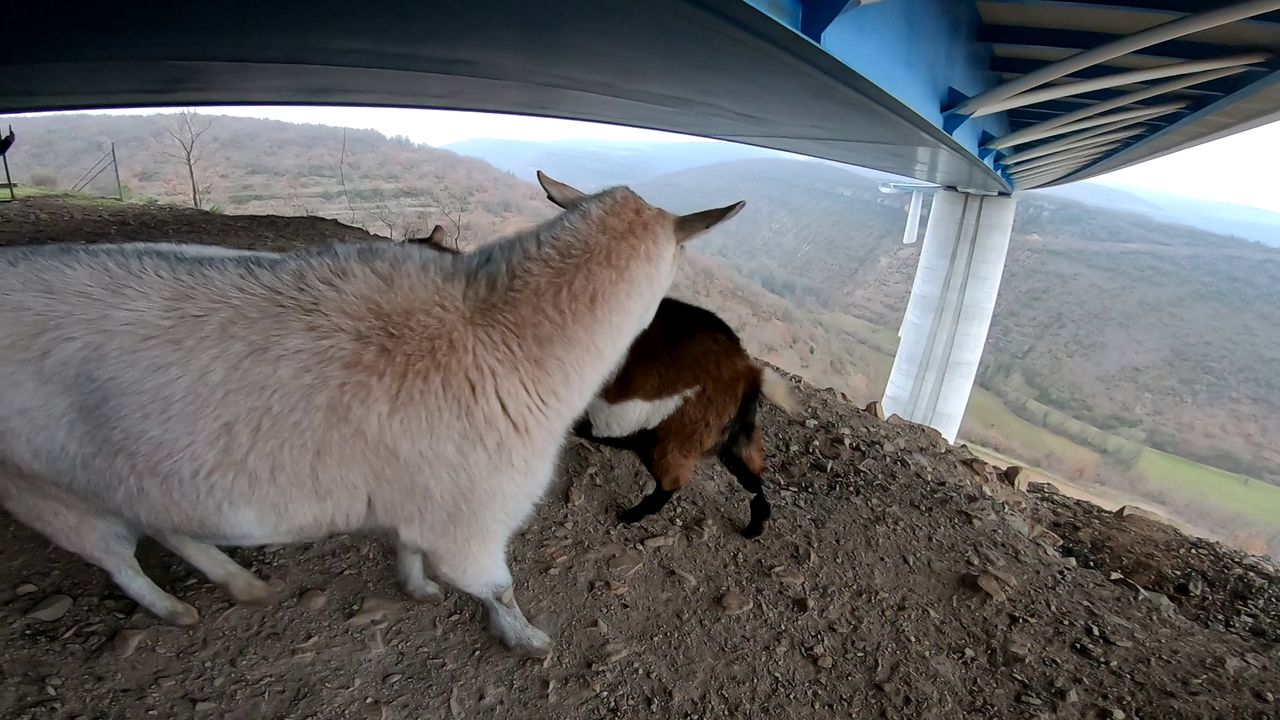 Had to be done.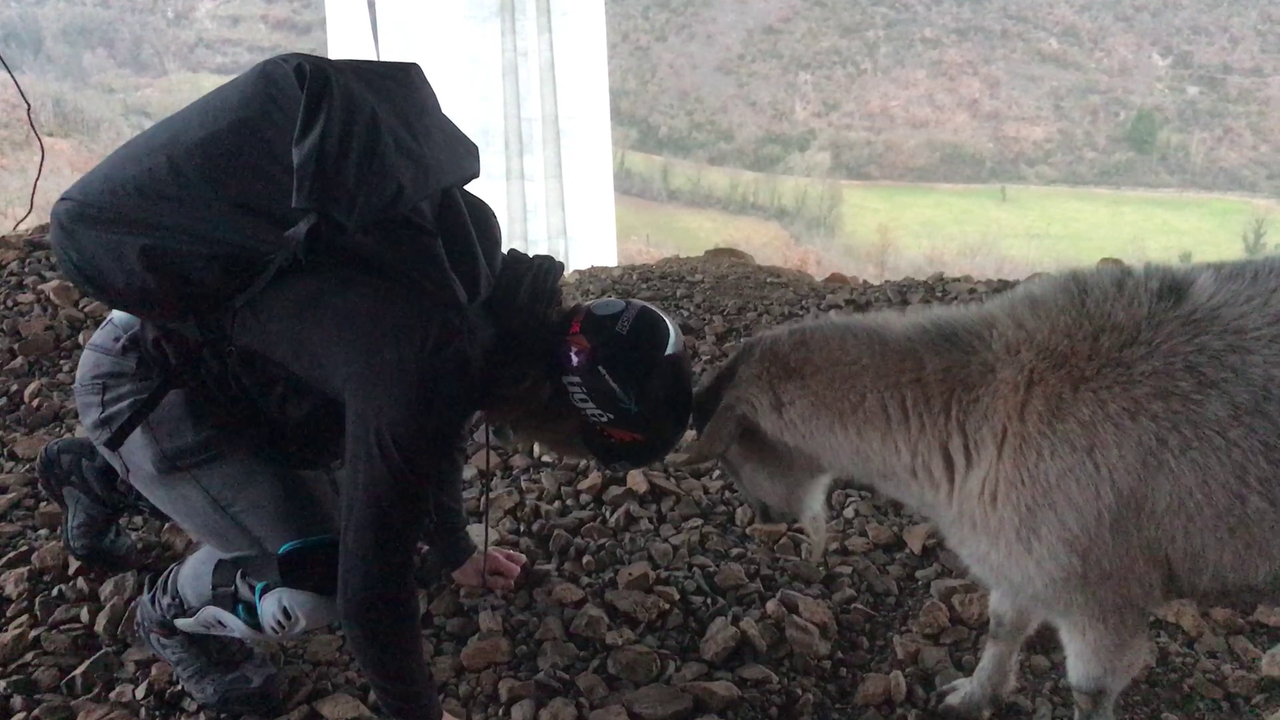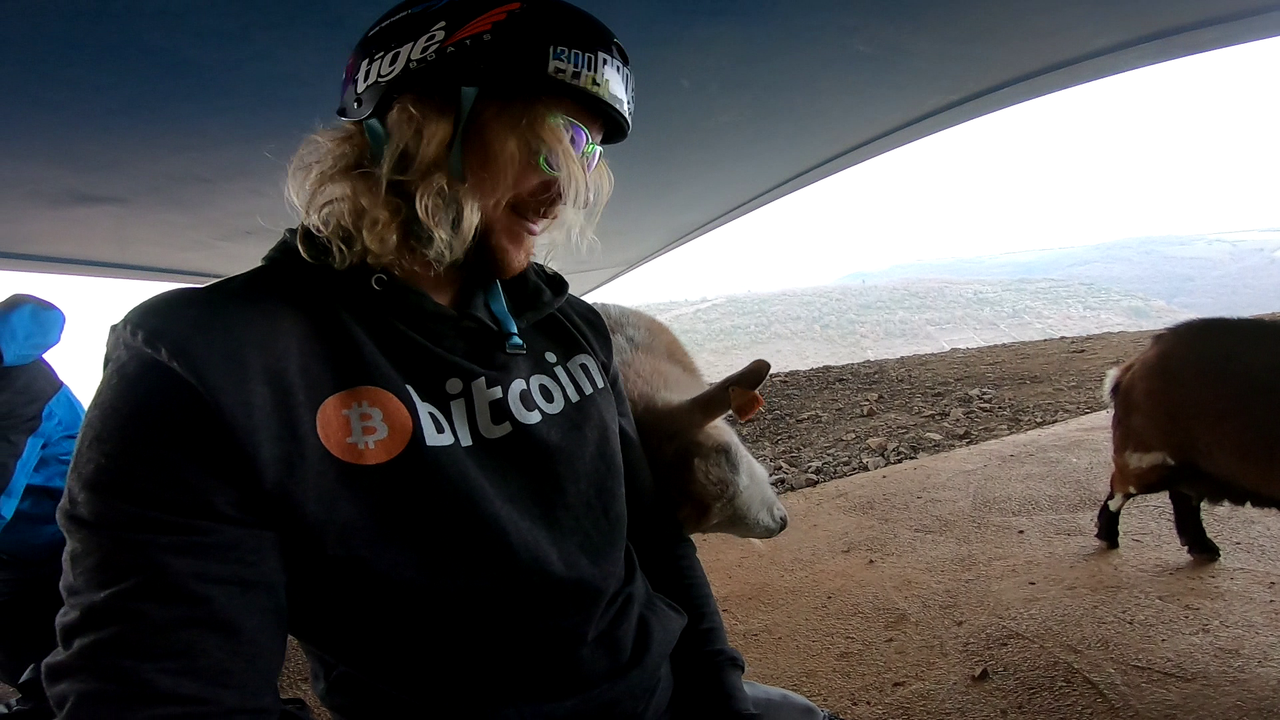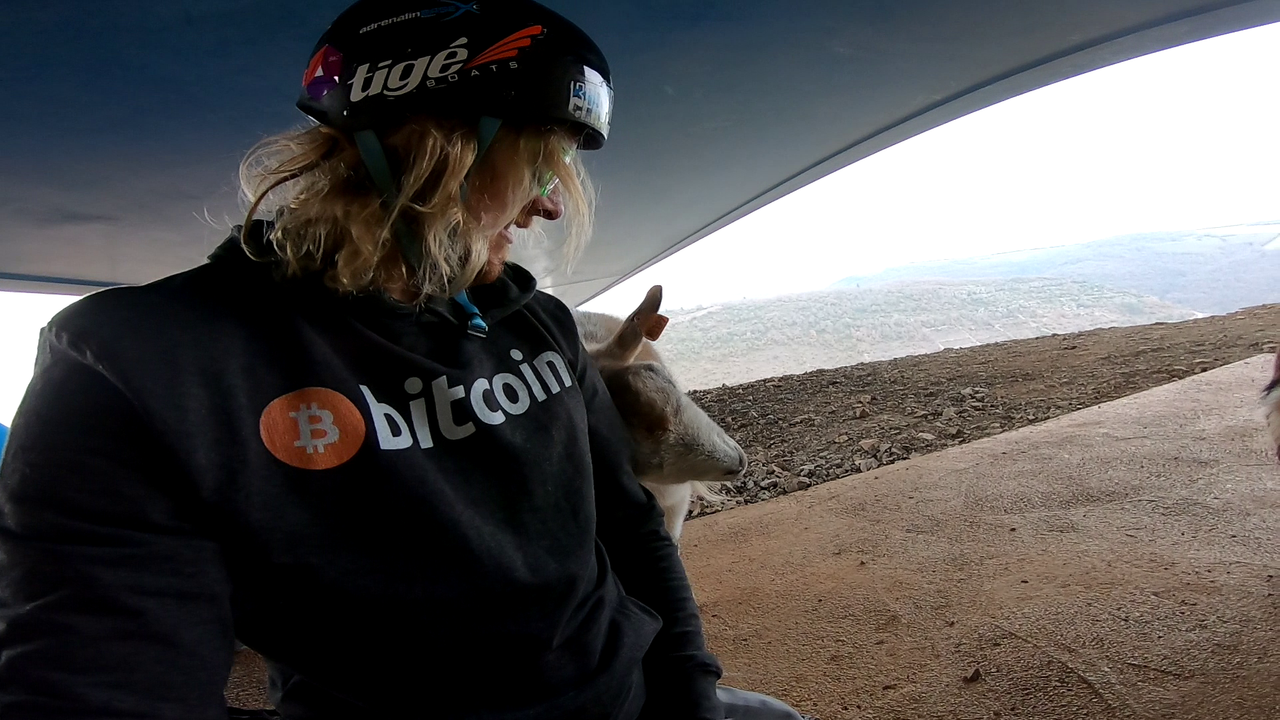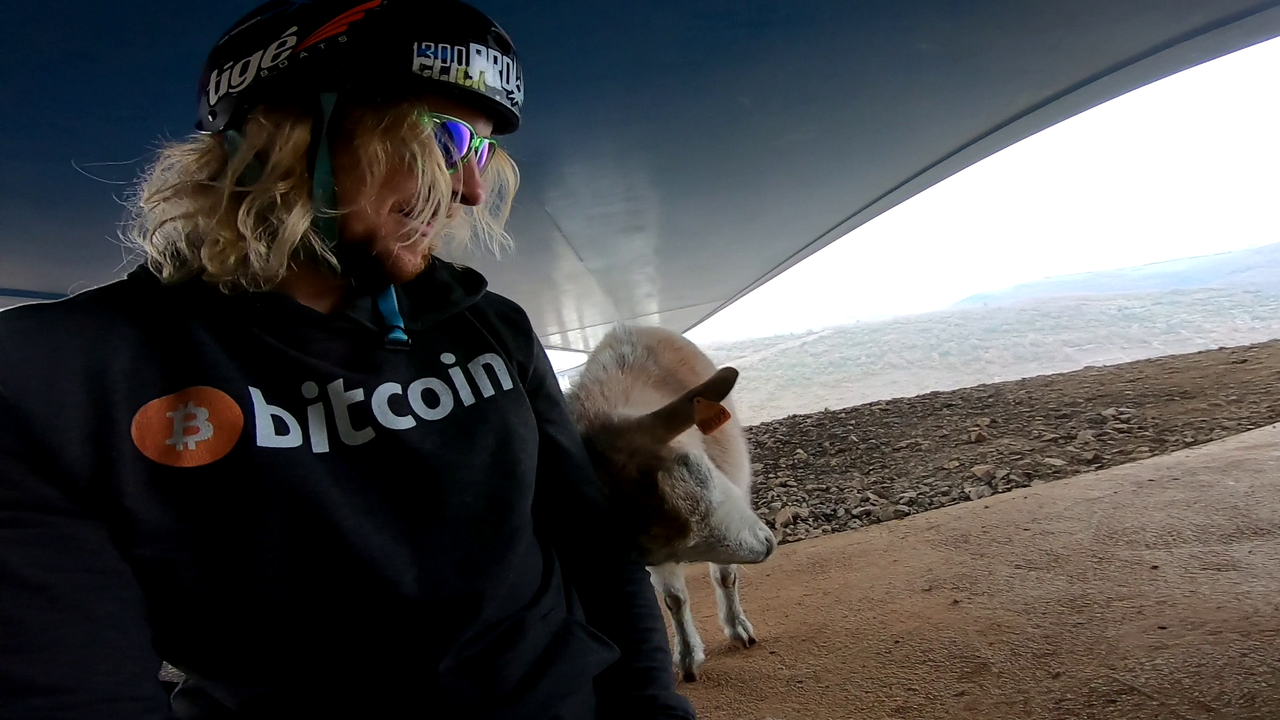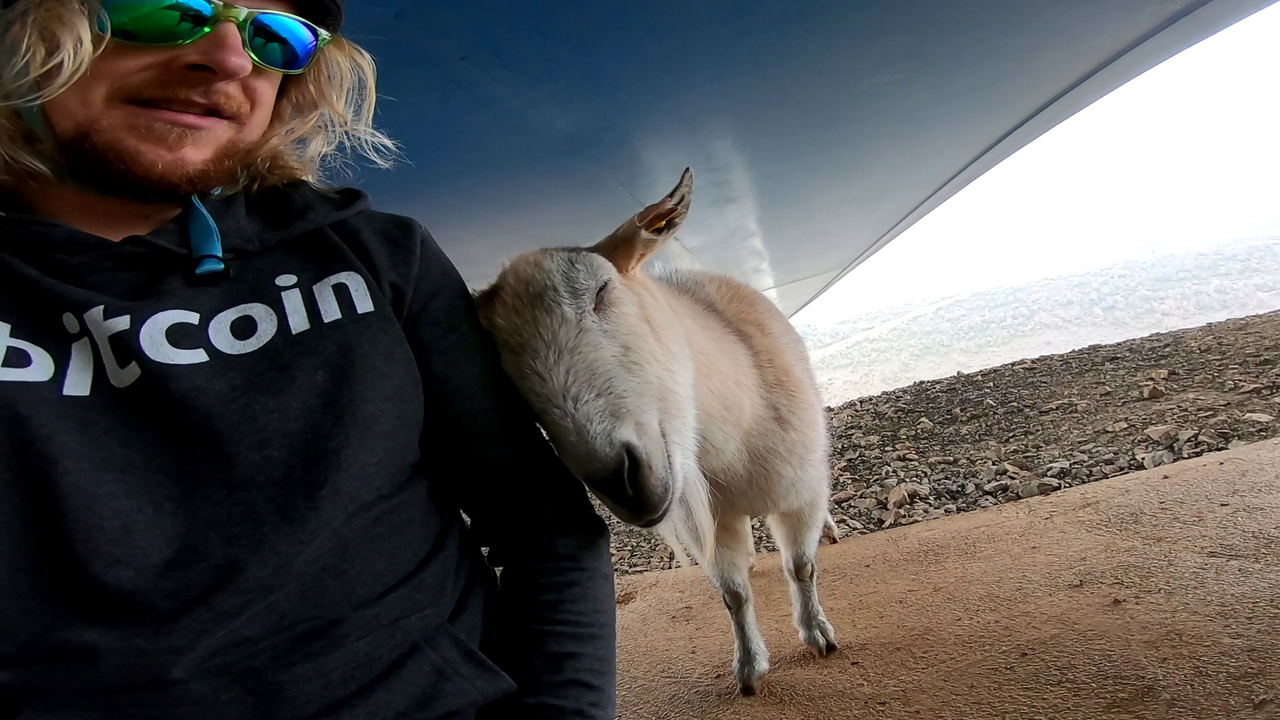 Ok enough of that, time to gear up.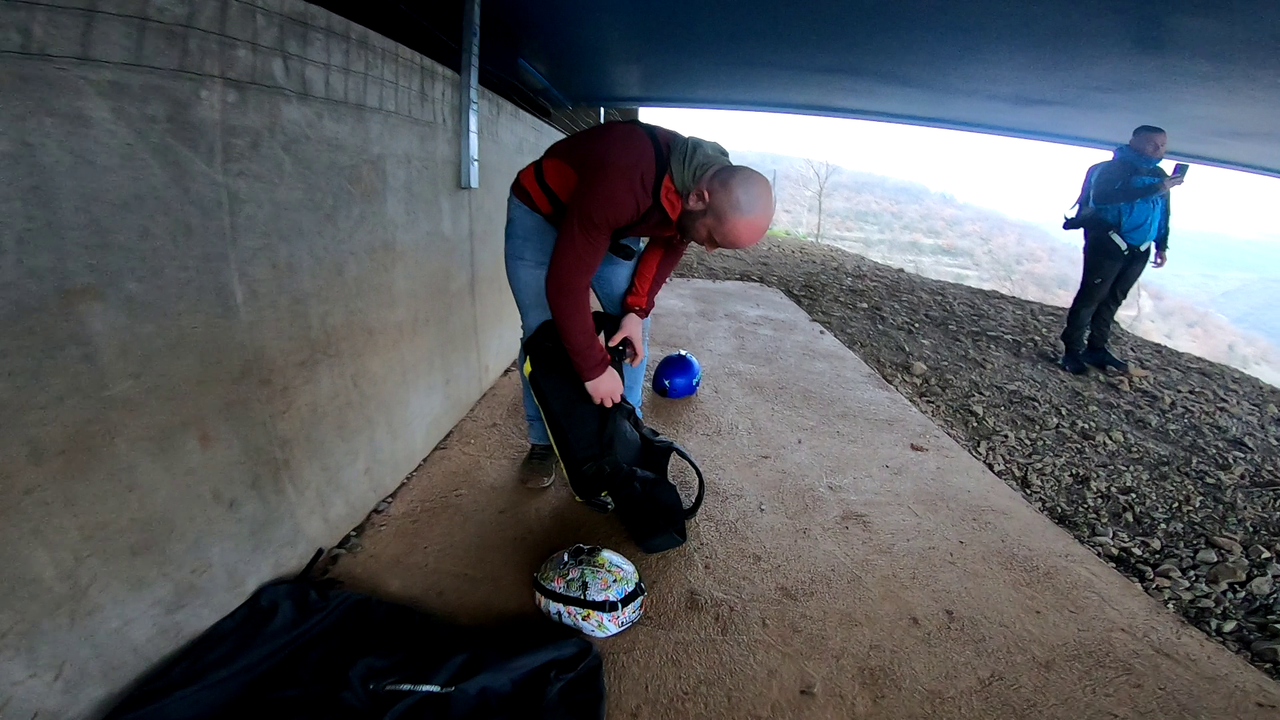 Well, trying to...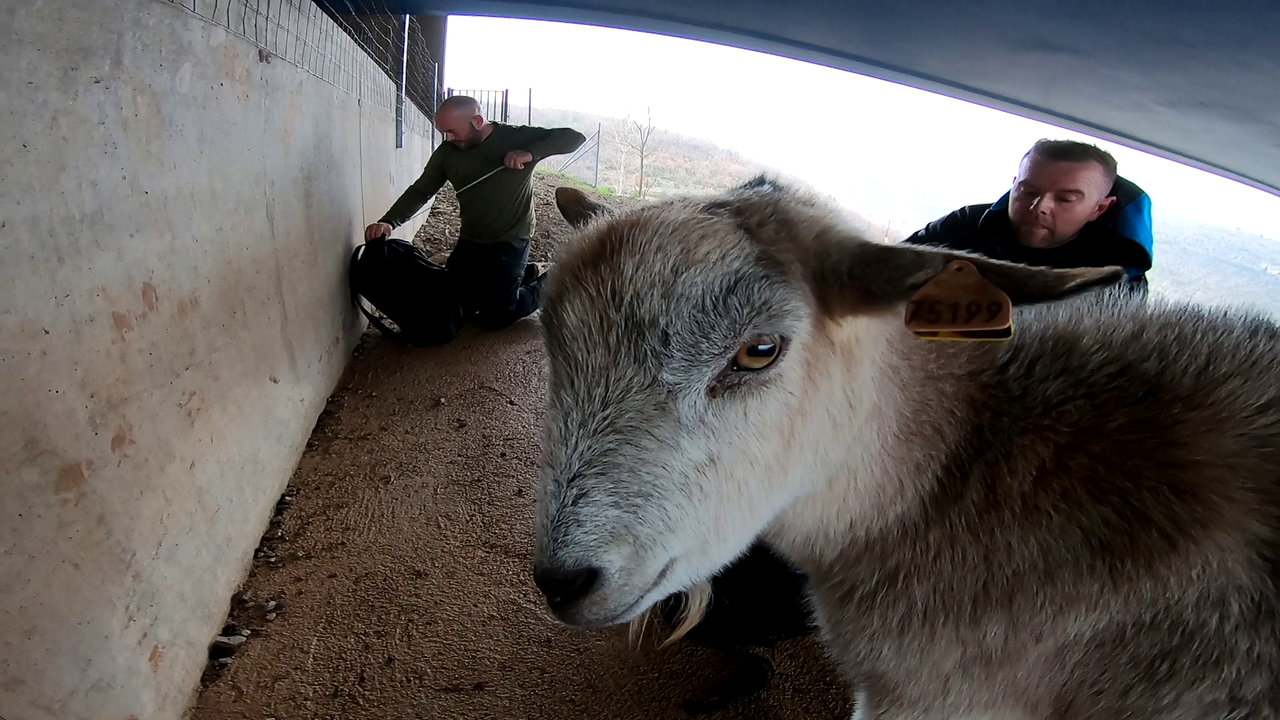 The walk out to the exit point.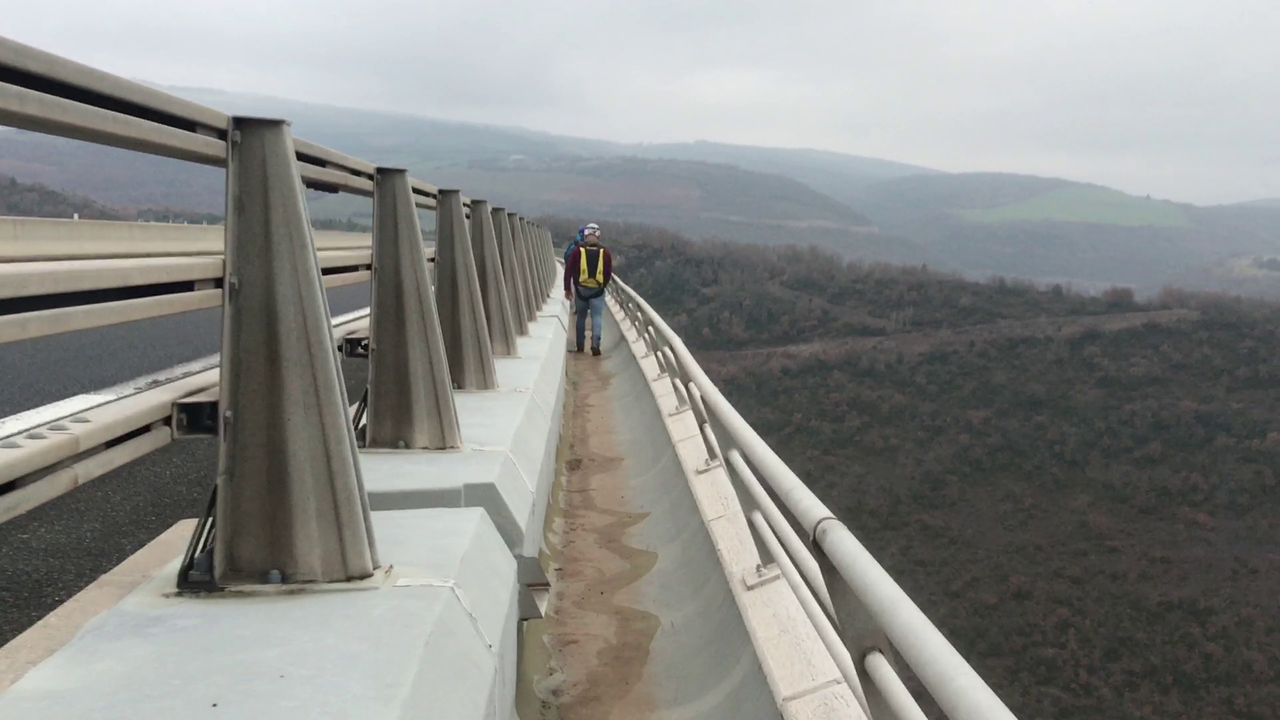 Pin checks before climbing over. Something we always do when possible. It's not always possible if you are the last jumper, but most basejumpers would accept a pin check if they were offered one.
What I did here is 'prime' Gary's pins for him as his container is a tight fit (he has put on weight recently haha) and he doesn't like the way the round part of the pins sit underneath the flap. It just gives him peace of mind and allows the pins to release a little easier. I am not a fan of having pins primed myself, but everyone is different.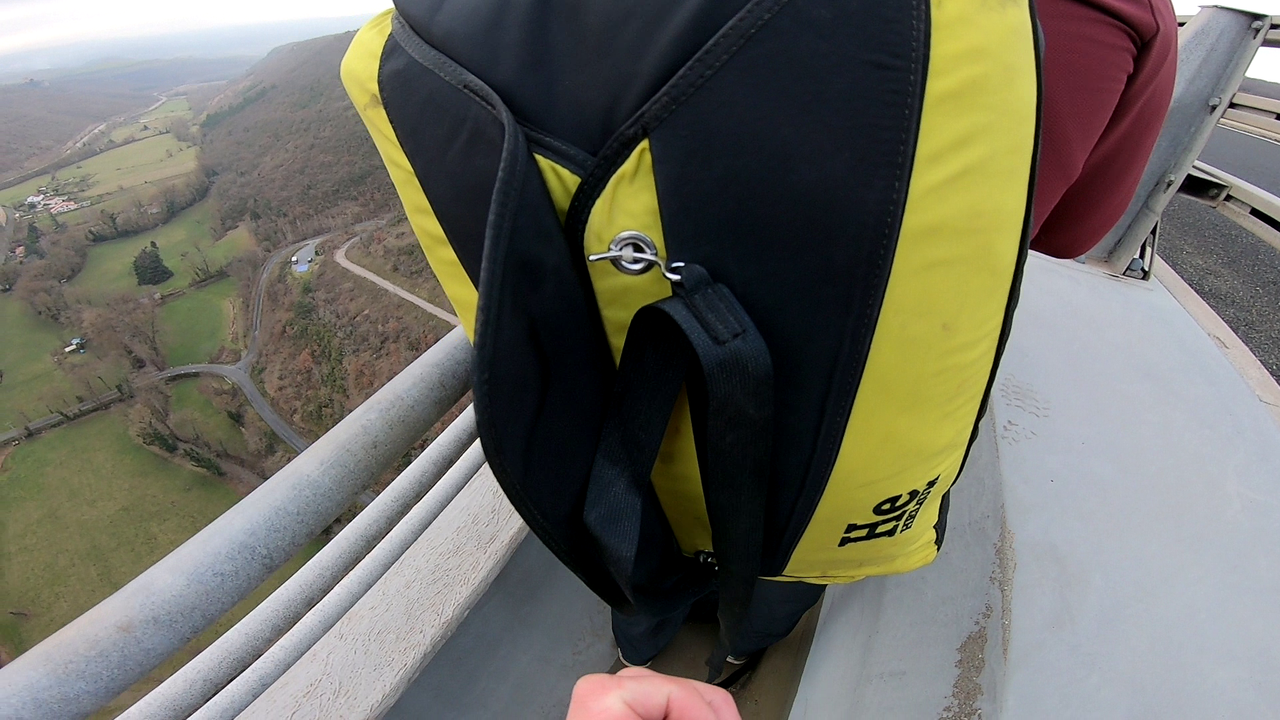 Shaun is getting ready for his handheld freefall, and Gary is just keeping an eye on his bridle to make sure it is routed correctly and with no potential snags in the way. You don't want your pins to pop early, so you want to make sure you have enough slack, but not too much that it could cause a bridle wrap.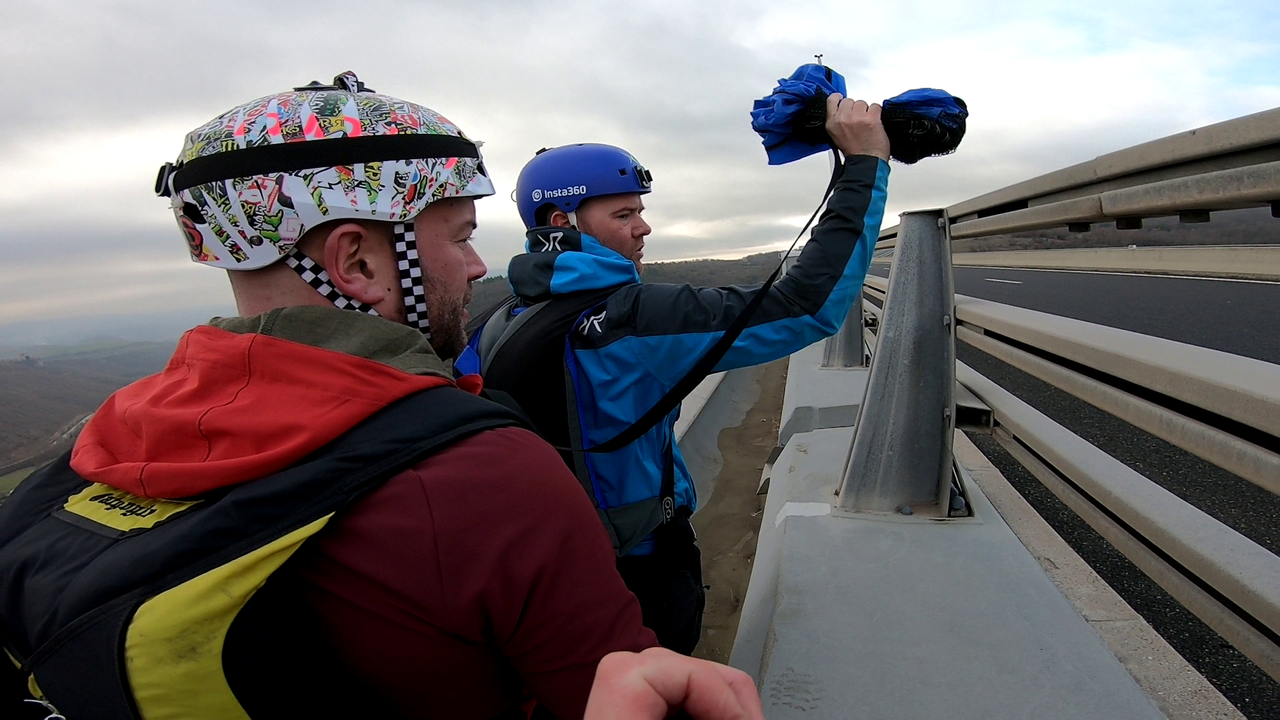 While Shaun is going handheld, I will be using a static line, as we plan to do a 3-way.
Gary will go in the middle of Shaun and I and freefall 'stowed'.
I have tied in and climbed over the rail, and this is my view as I wait for the other two to get into position.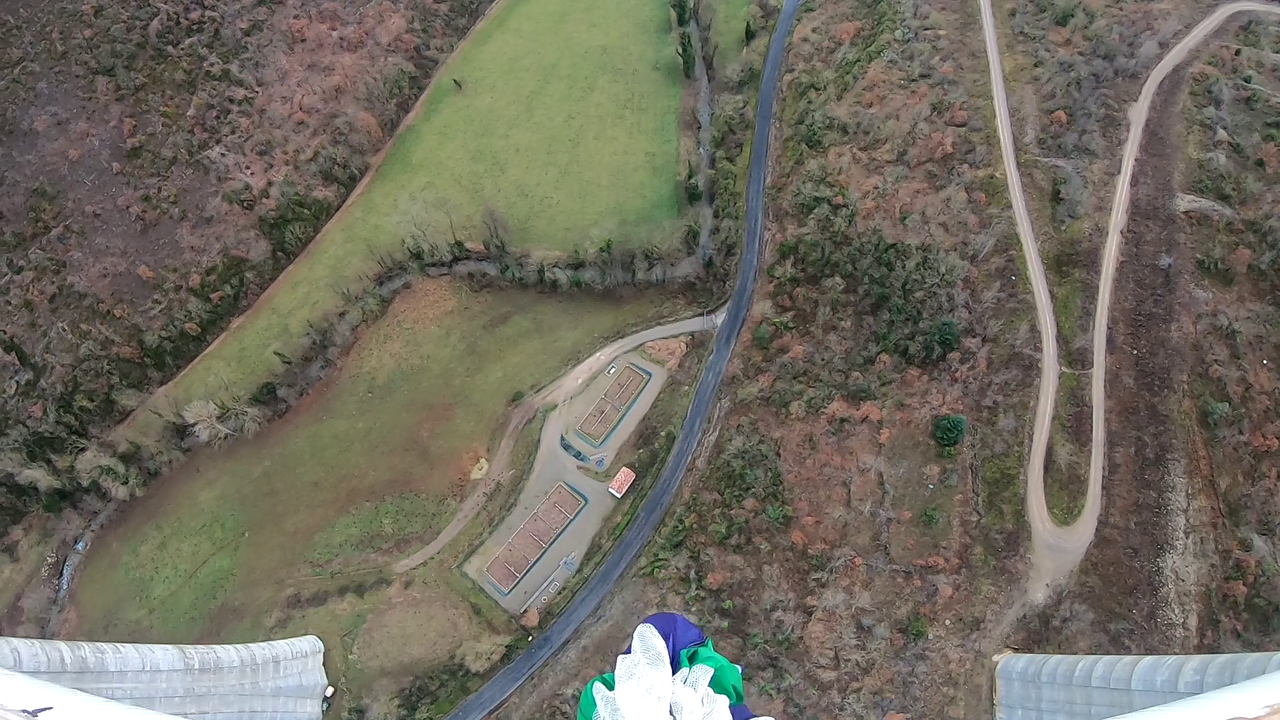 Approx 430ft to the ground.
Not a huge ledge for my boots, but also not the smallest I have stood on either.
I am sitting on the rail, which is nice as a lot of bridges don't have this luxury.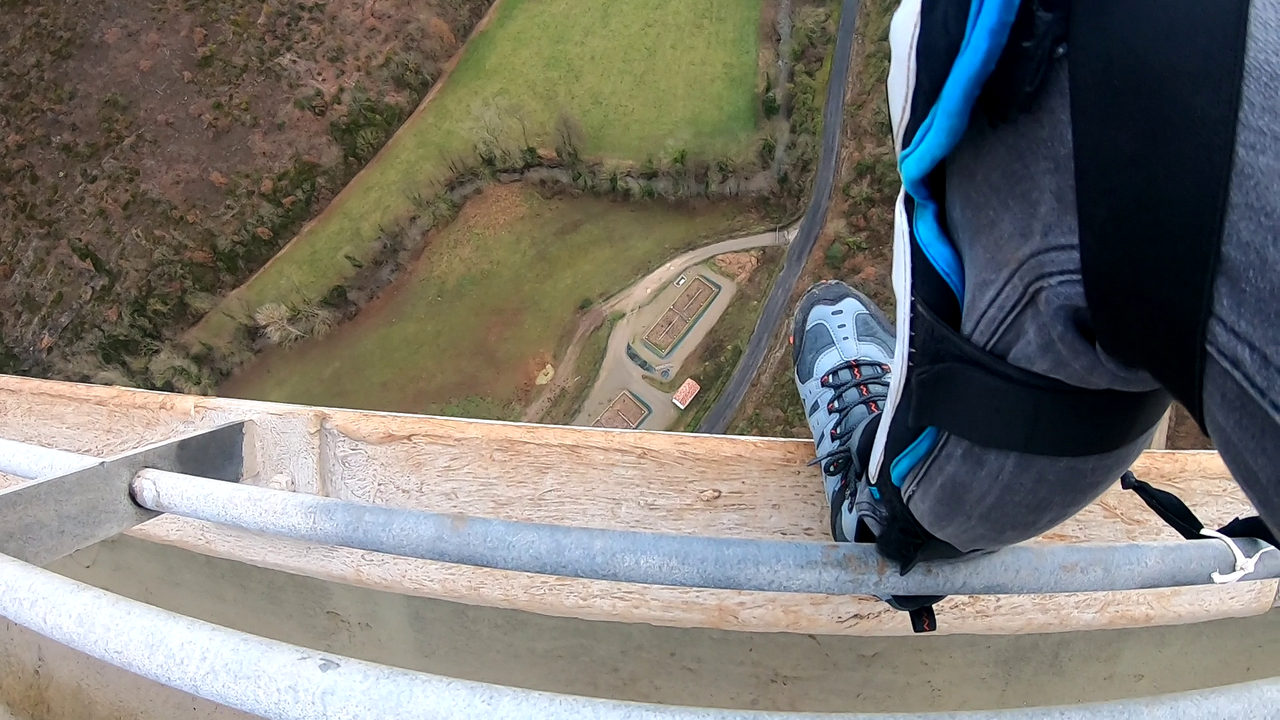 Ok so Gary is ready, and as I can't see Shaun on the other side of Gary I will wait for Gary to do the count, and we will all jump together.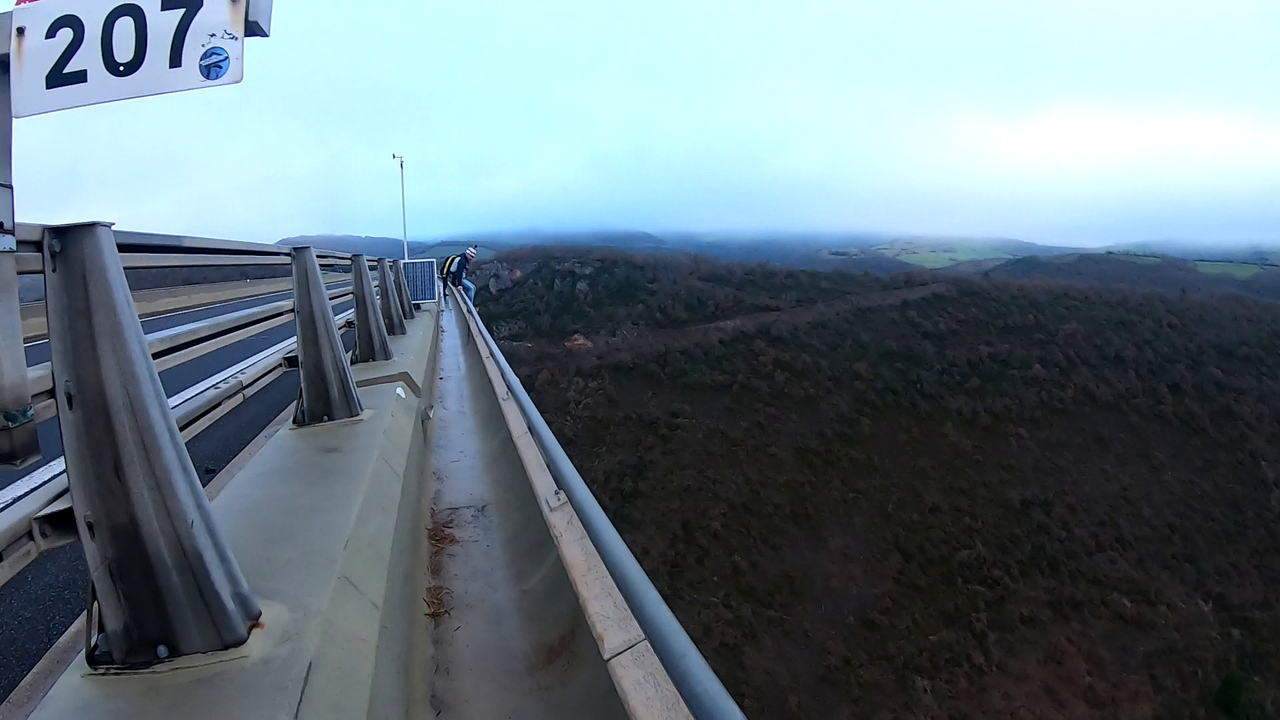 3, 2, 1 see ya!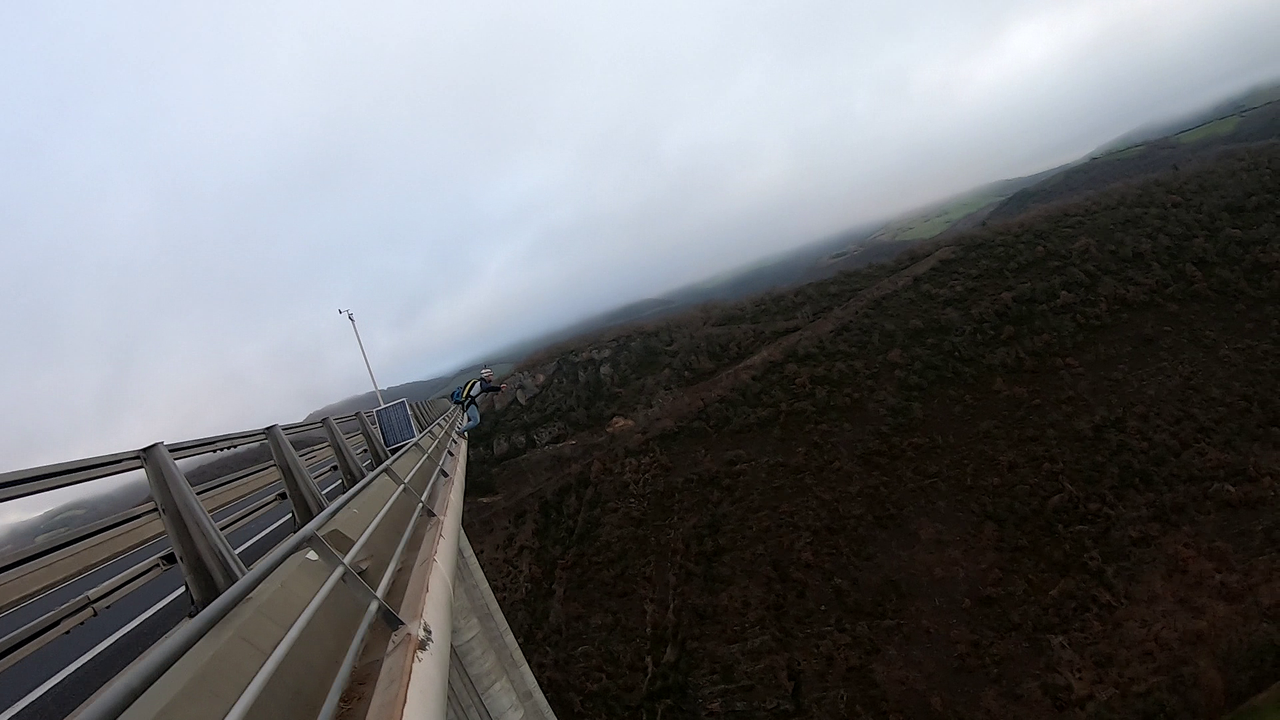 You can see Shaun in the distance about to throw his pilot chute.
As this is a 3-way, we want to minimise the chance of a canopy collision so we have done this by doing the following:
. Creating horizontal separation (we put a large gap between us along the bridge).
. Creating vertical separation (I will be the highest canopy in the sky as my canopy is coming out first)
- because I tied in, the bridge is basically helping my parachute come out right after I step off the ledge.
- shaun's canopy will open next after mine as he took a freefall longer than me.
- gary's will open the lowest as he has stowed his pilot chute in the BOC (bottom of container), which means he has to
reach around and pull it out, to start the process of getting his canopy out. It is similar to what Shaun is doing as they
are both freefalling, but Shaun is holding his pilot chute, so he has the advantage of just throwing it, as oppose to Gary having to reach around to the BOC and pull it out.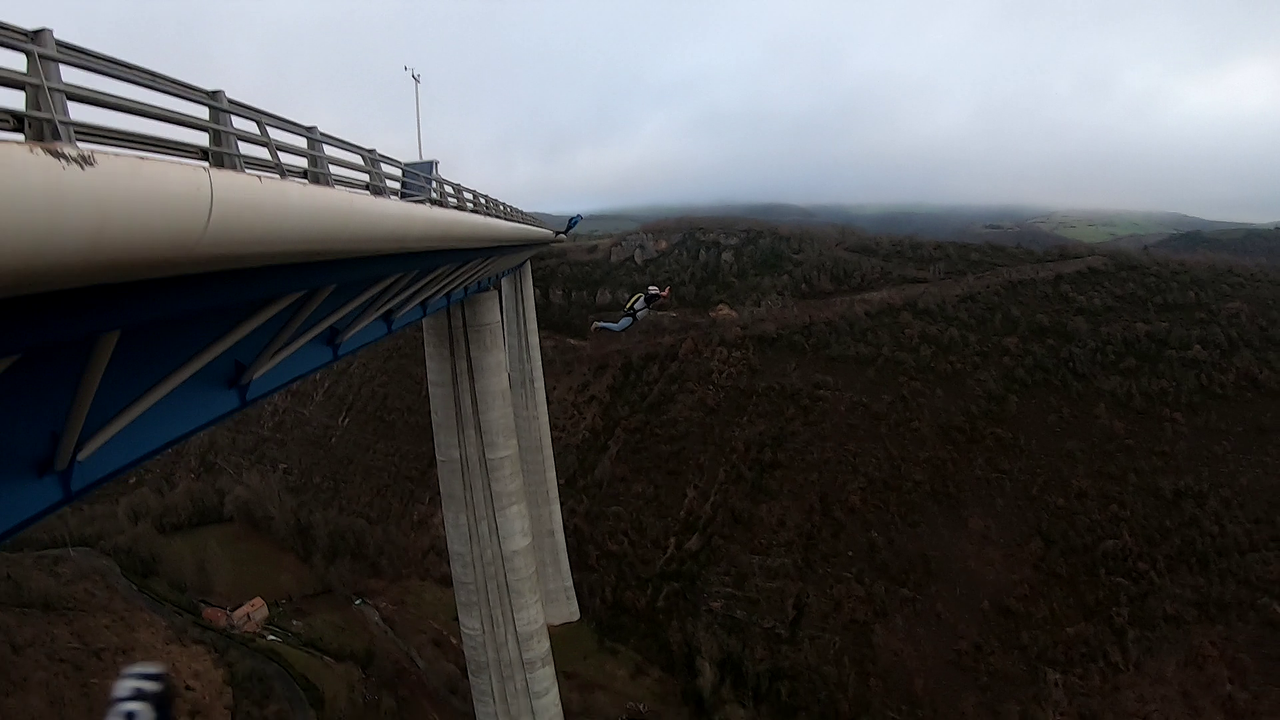 There goes Shaun's pilot chute and you can see Gary's arm reach around, he has his hand on his pilot chute but holds it there for a second before pulling it out, just to make sure we have good vertical separation.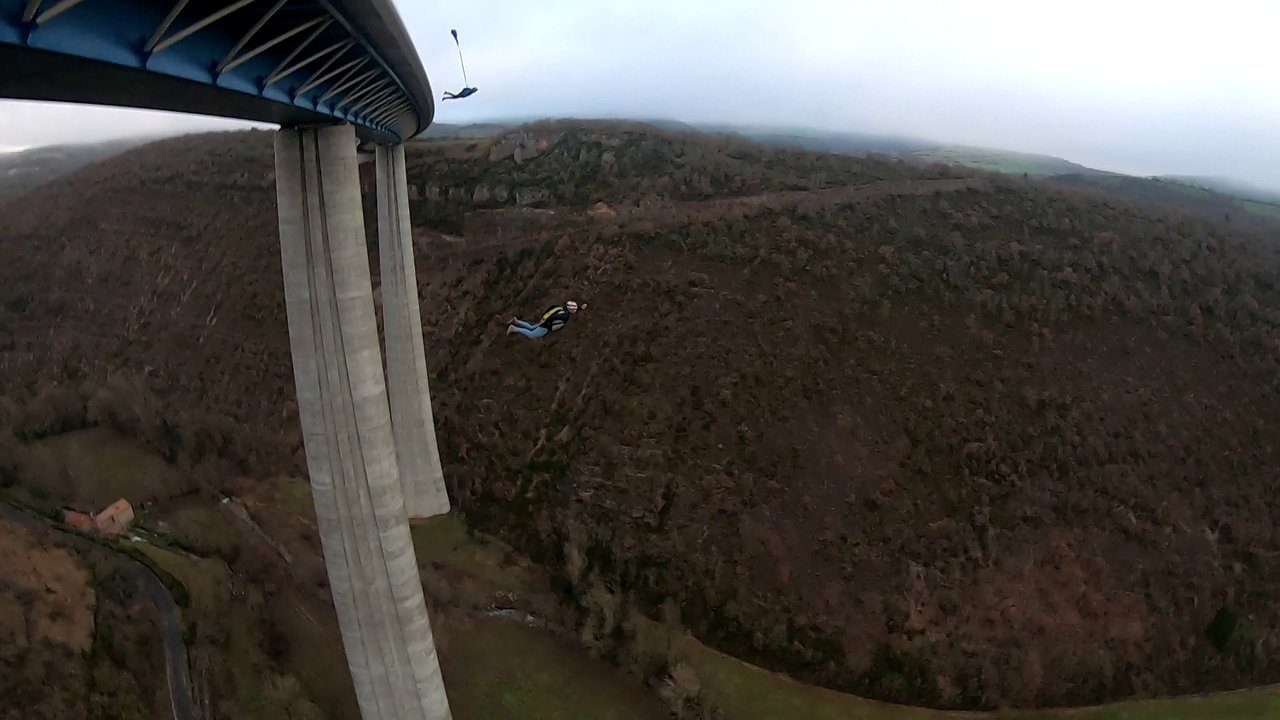 Now you can see Gary's pilot chute is doing its job by inflating and creating enough drag to extract his parachute, and you can see already that our vertical separation is spot on!
Remember my canopy is out, so by the time Shaun's comes out it will be lower than me.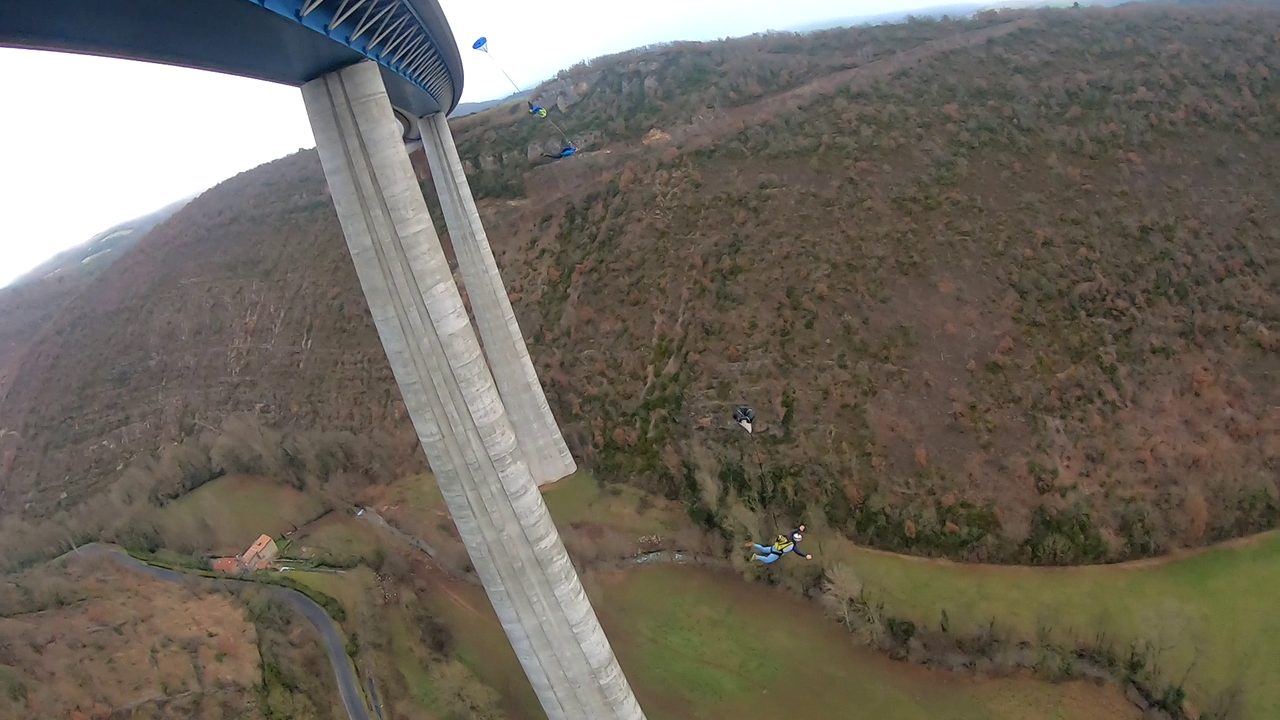 We all get on-heading openings. Mine opened on-heading, I was using a GoPro wrist mount for my camera, so was able to have it facing the others. My head was facing them anyway as if I did happen to get a left 90 degree opening, and one of the other two got a right off-heading opening, we would still need to react quickly.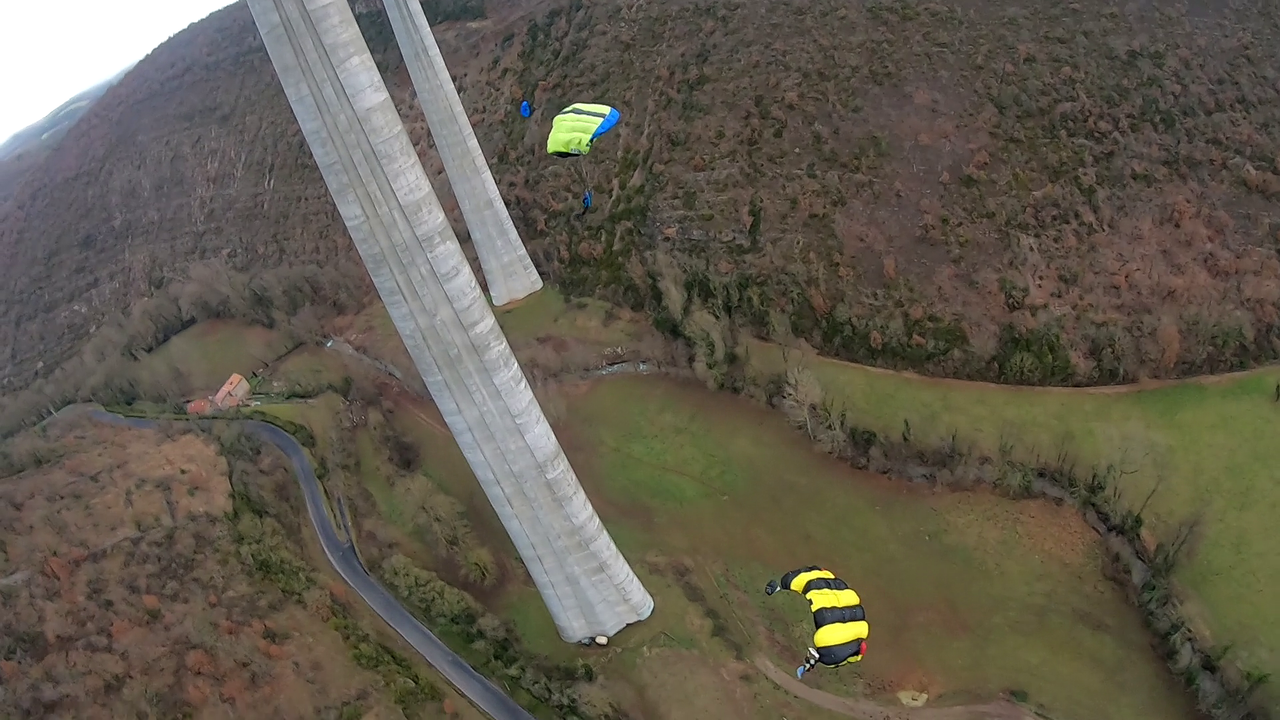 Nice safe jump, we all landed in our designated landing area, which the Farmer allowed us to land in.
We spoke with the farmer when we were packing before the jump, he told us where to, and where not to land. Pretty decent to be fair, he had a horse in his field and said it was still ok for us to land there.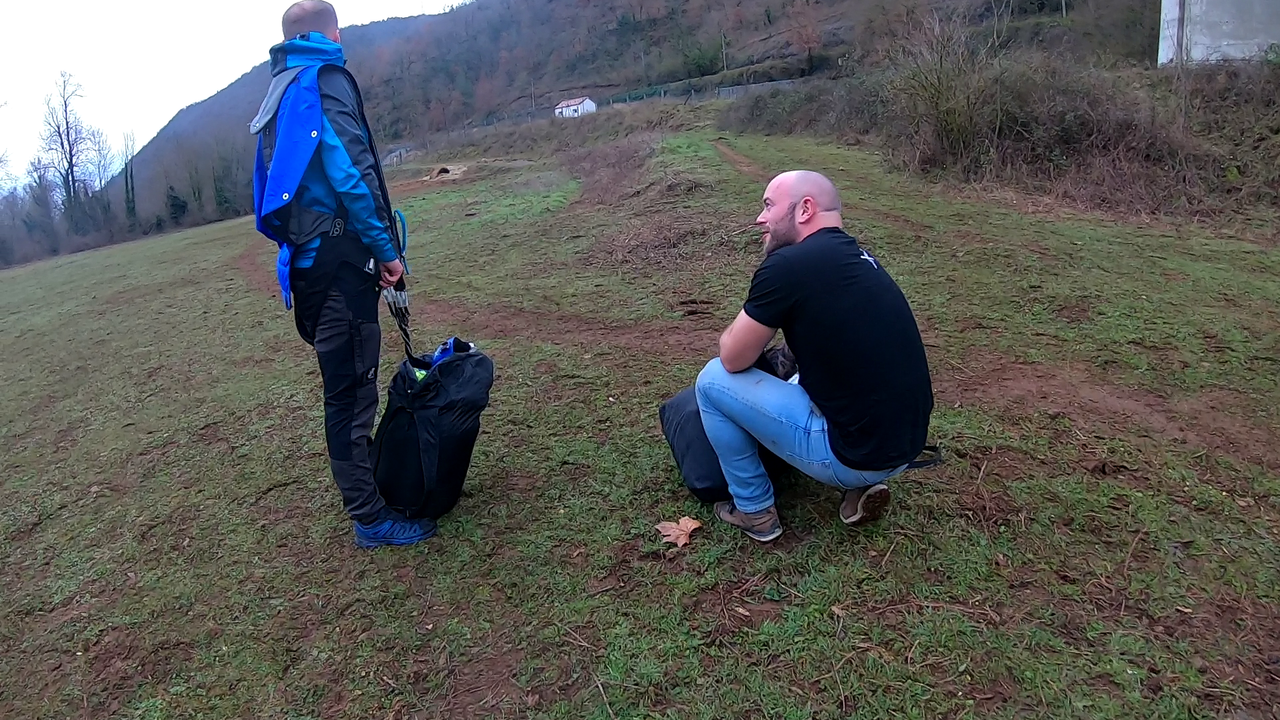 Back at our AIRbnb we get packed again for another jump. We decided it was a good idea to pack in private, away from the bridge so that we didn't attract any unwanted attention.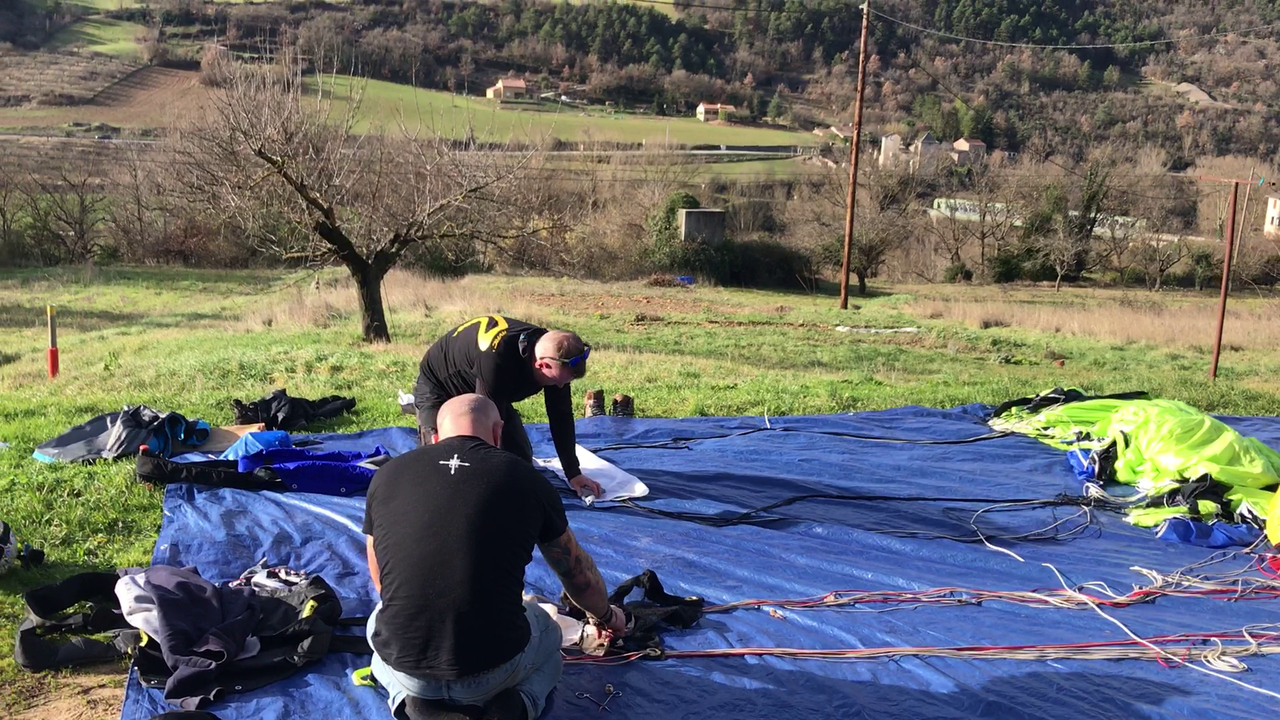 Pretty cool AIRbnb actually, nice log fire, great location for us and it was a nice family we stayed with. The kids watched us pack our parachutes, they were amazed by it haha.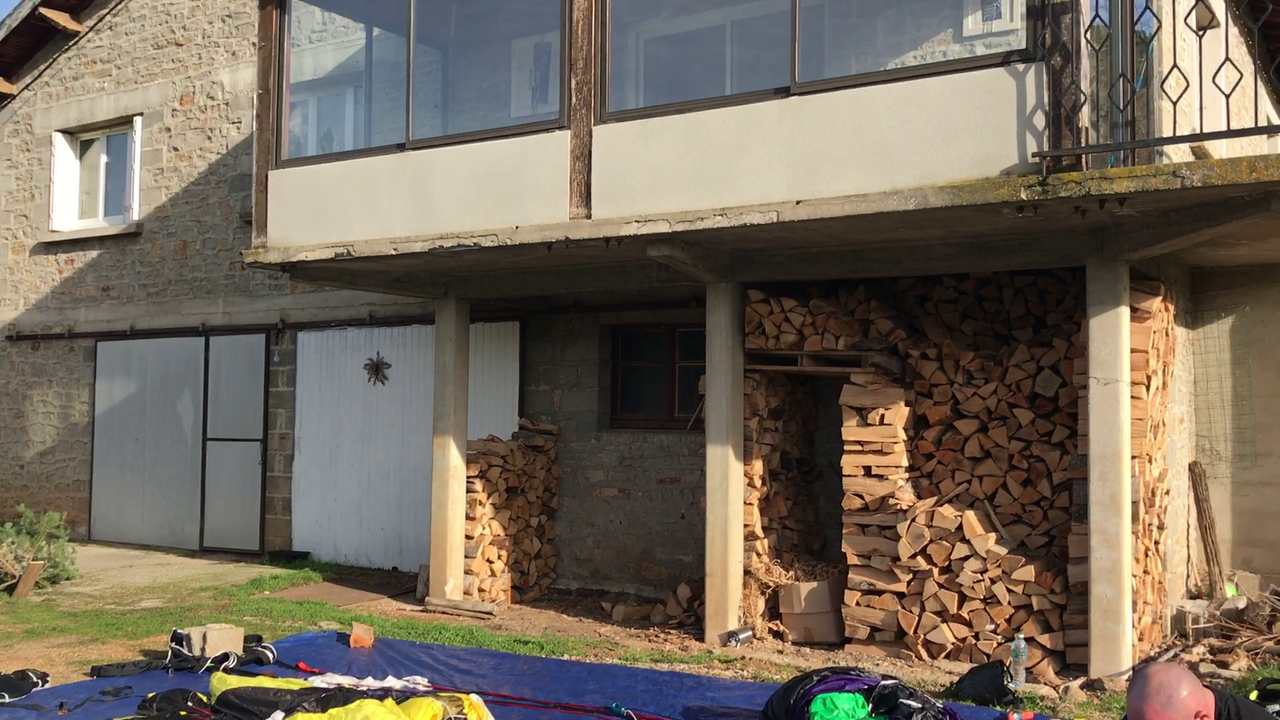 Back to the bridge!
This time I took a freefall.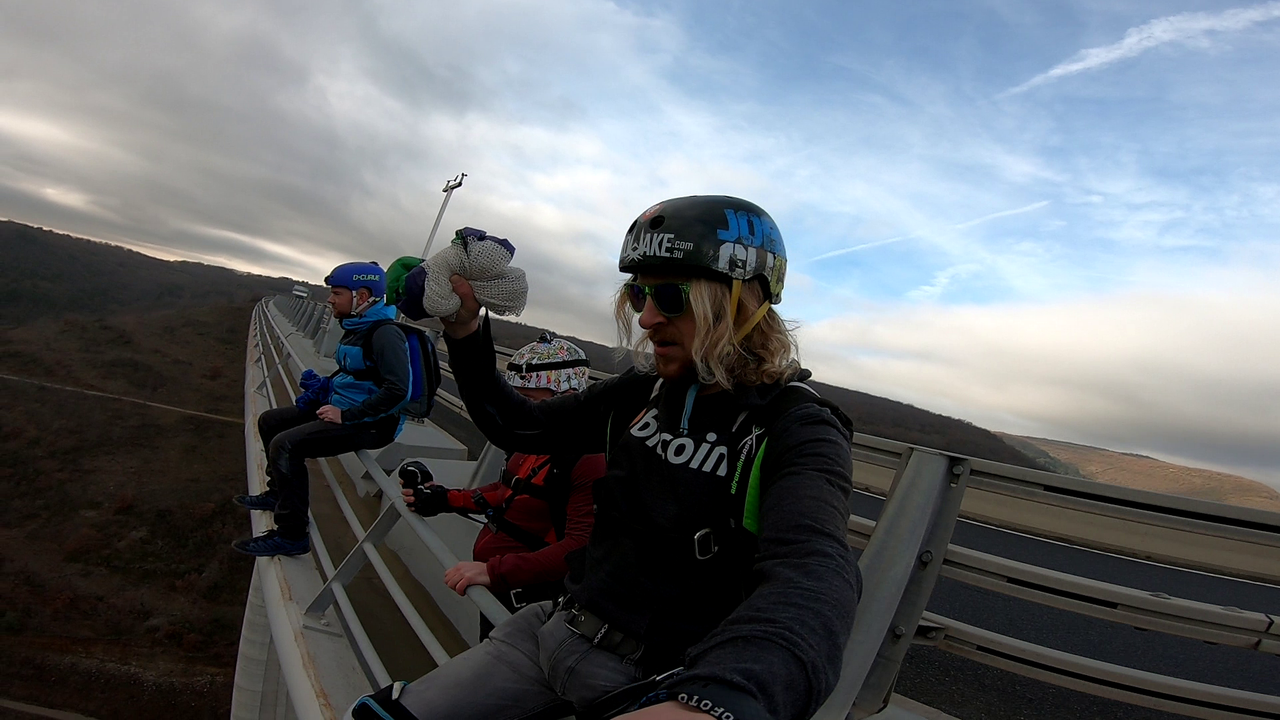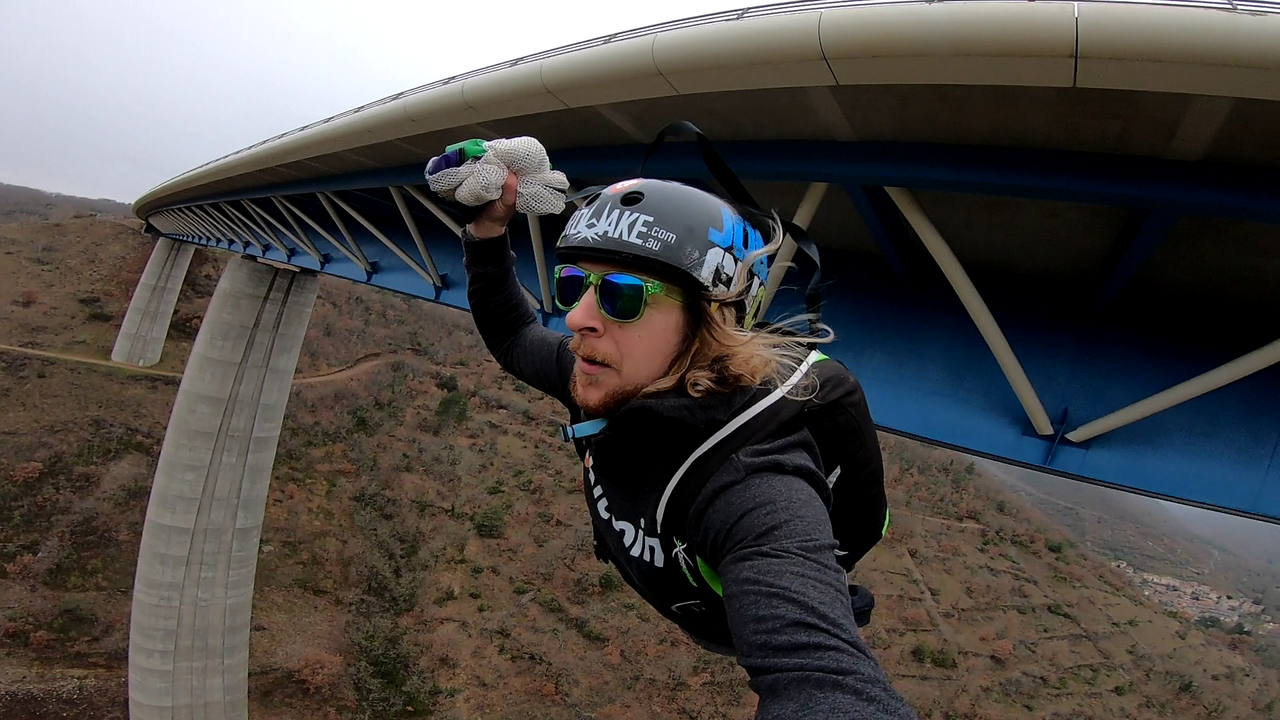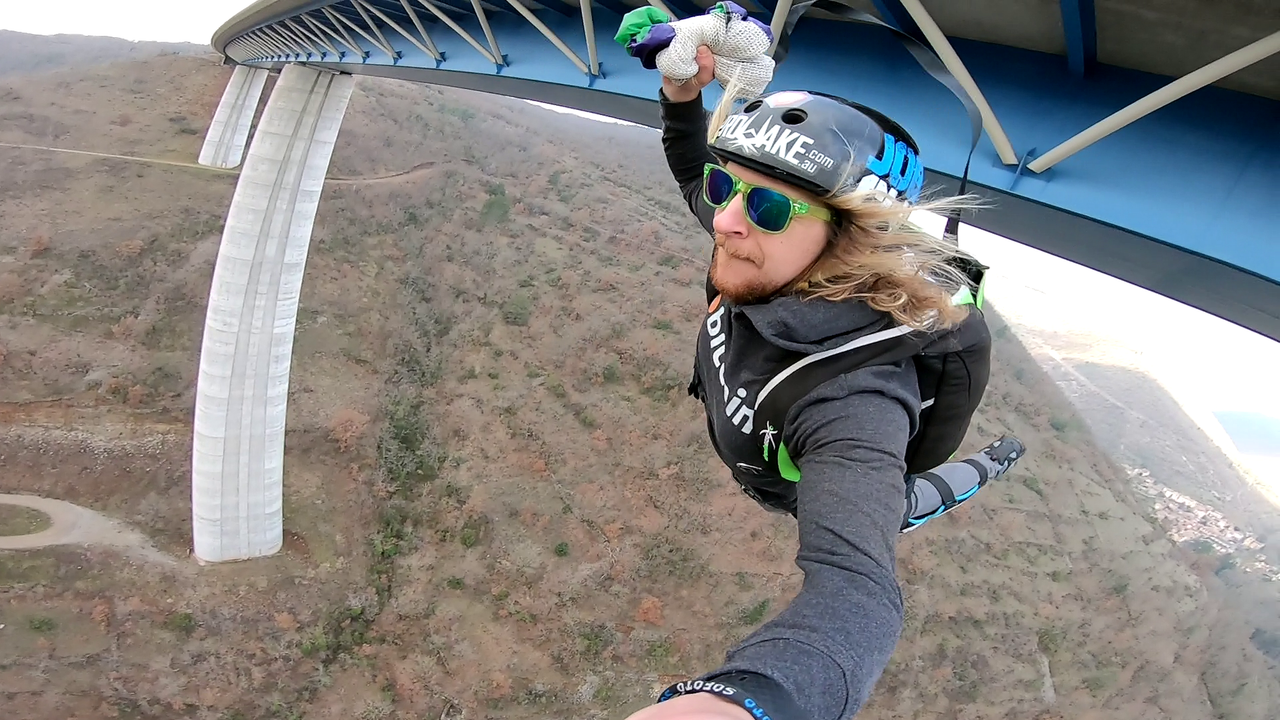 I love my purple and black OSP canopy from Atair, its my baby and looked after me so far in my BASE career.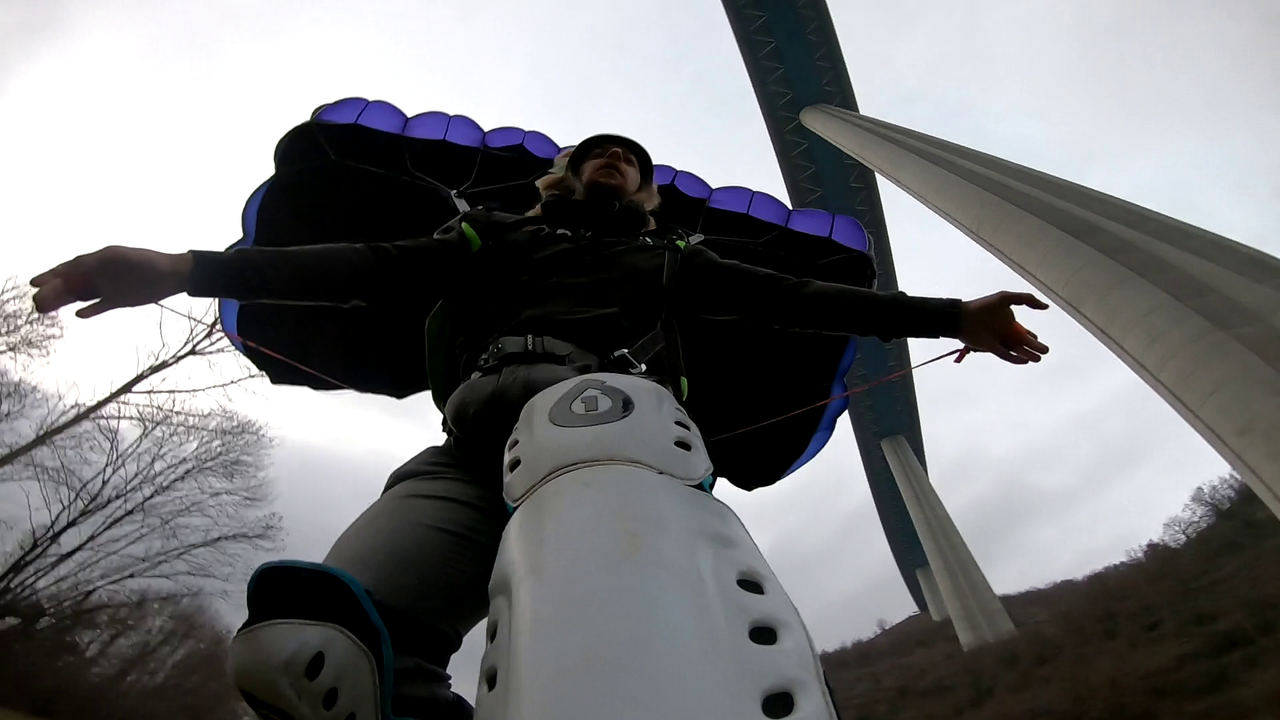 Shaun was nervous about PCA' ing Gary off the cliff we had planned the next day, so he practiced a PCA off the bridge.
IF he was to buggar it up and drop Gary, it wouldn't matter as the bridge is high enough that Gary's parachute would open anyway.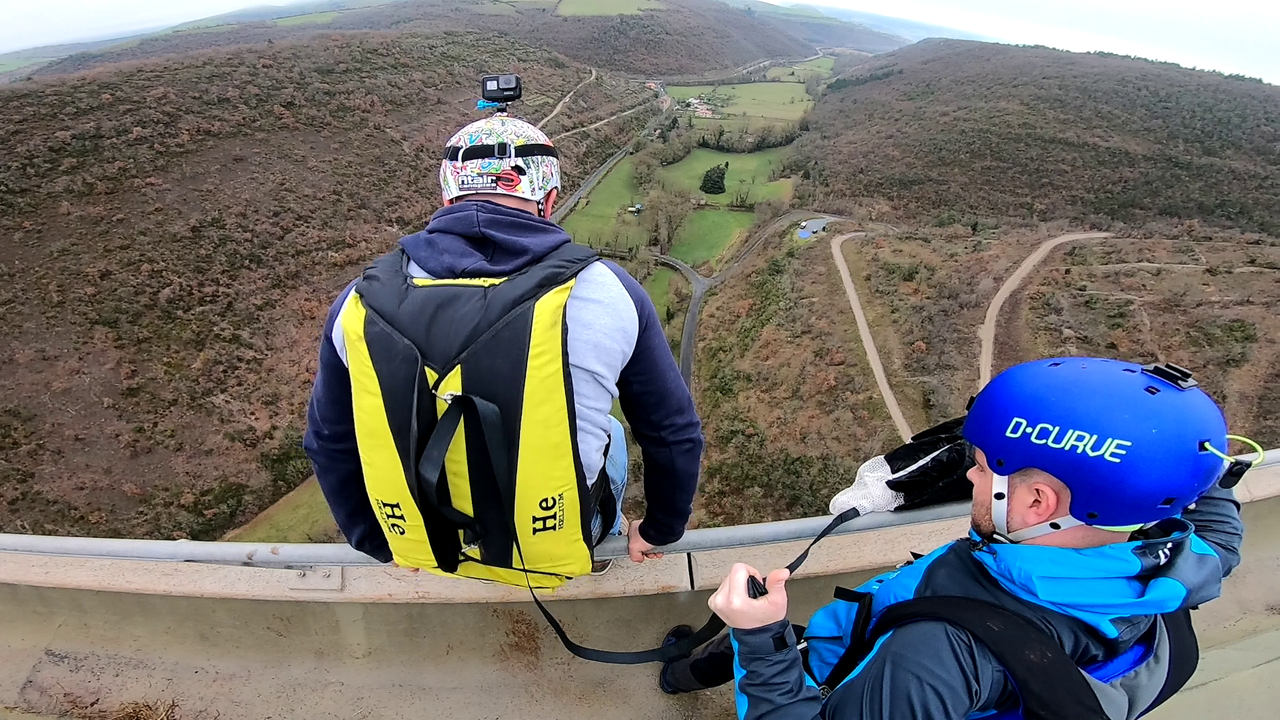 The PCA Shaun gave Gary was good. For a better explanation of a PCA, see my post from yesterday.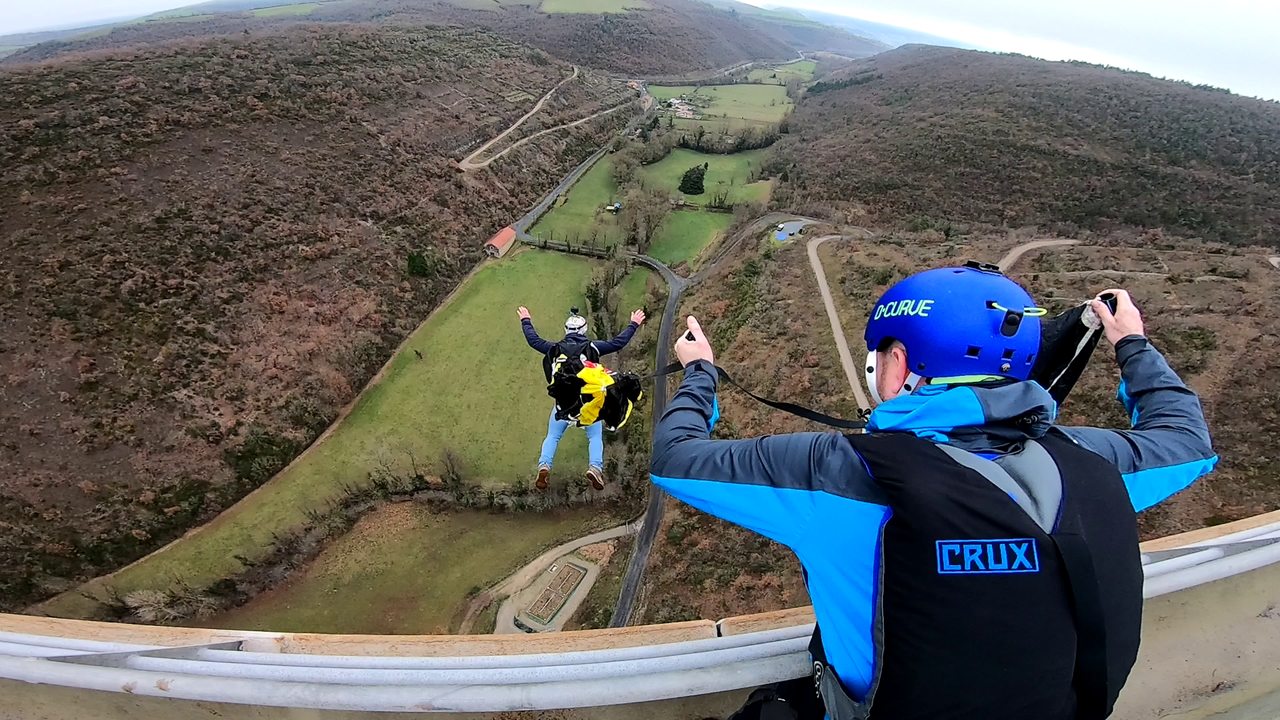 Shaun takes a nice 2 second delay on his freefall.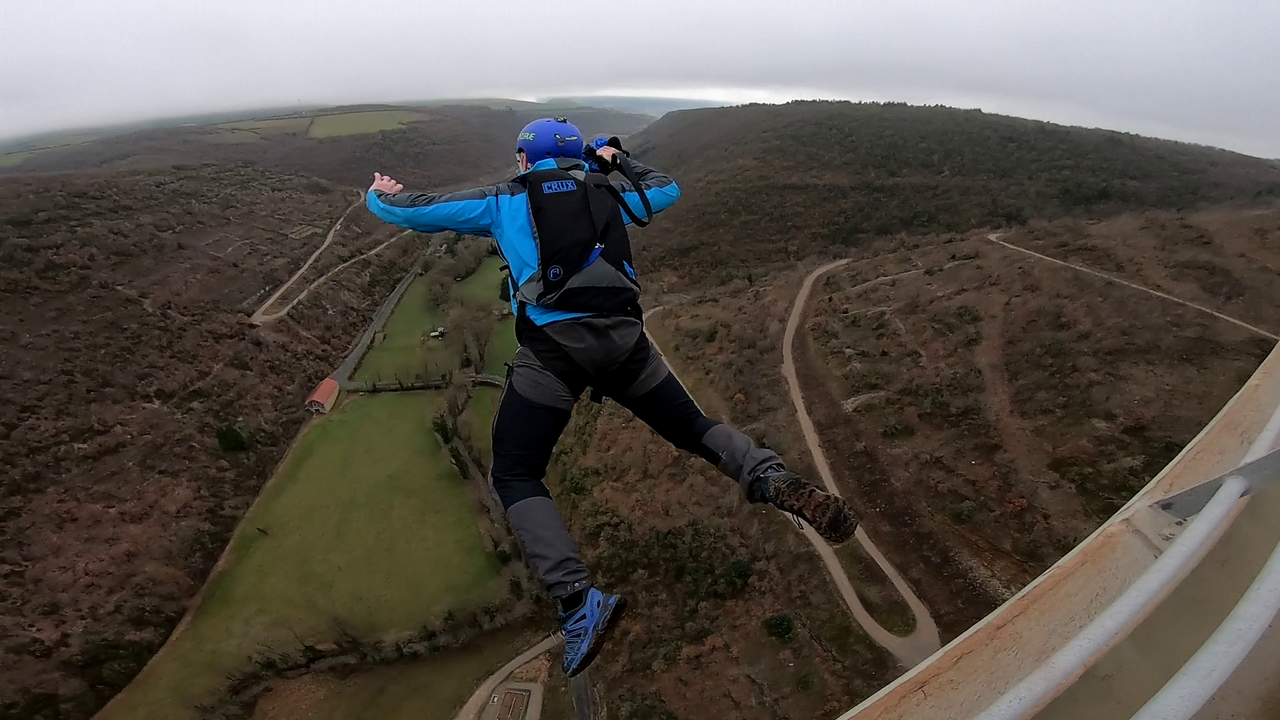 Solid 2 seconds before he throws is pilot chute.
This is really fun to do as you experience more of a ground rush.
You wouldn't want to take more than 3 - 3.5 seconds though otherwise the opening will be very hard.
I can only get away with 3 second delays maybe 3 times a day and then it starts to hurt, then I drop it back down to 2 seconds.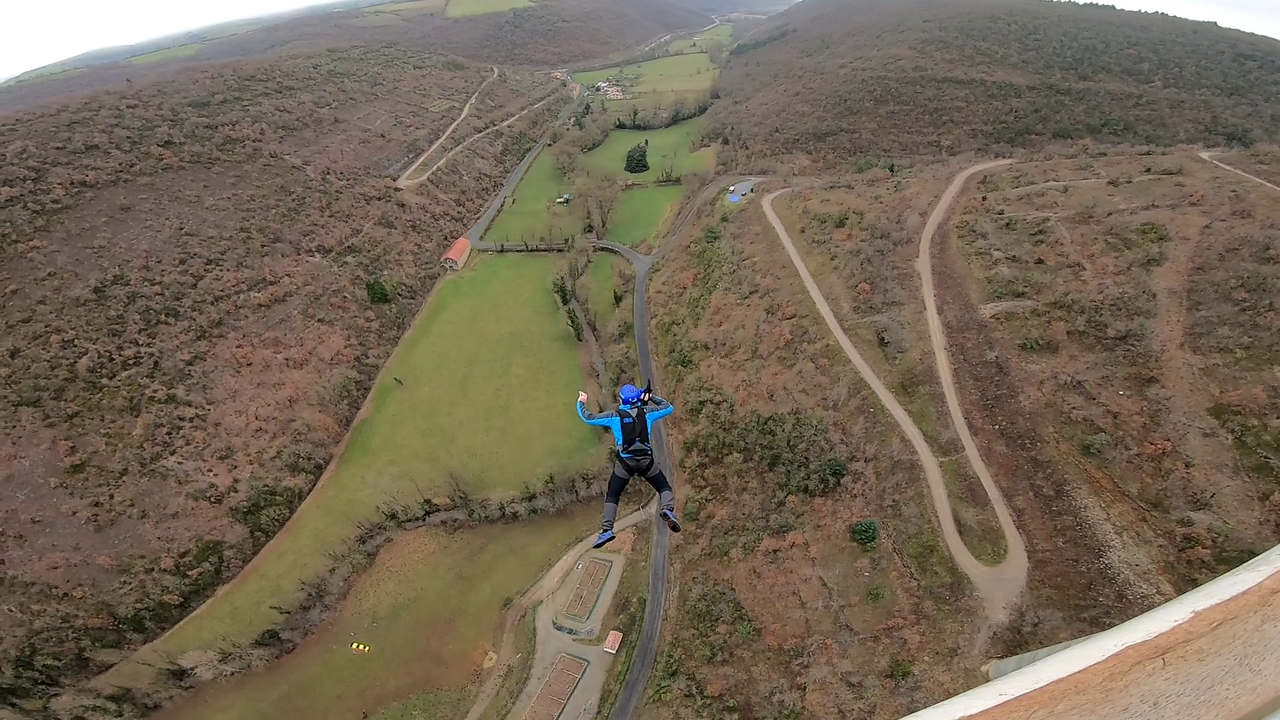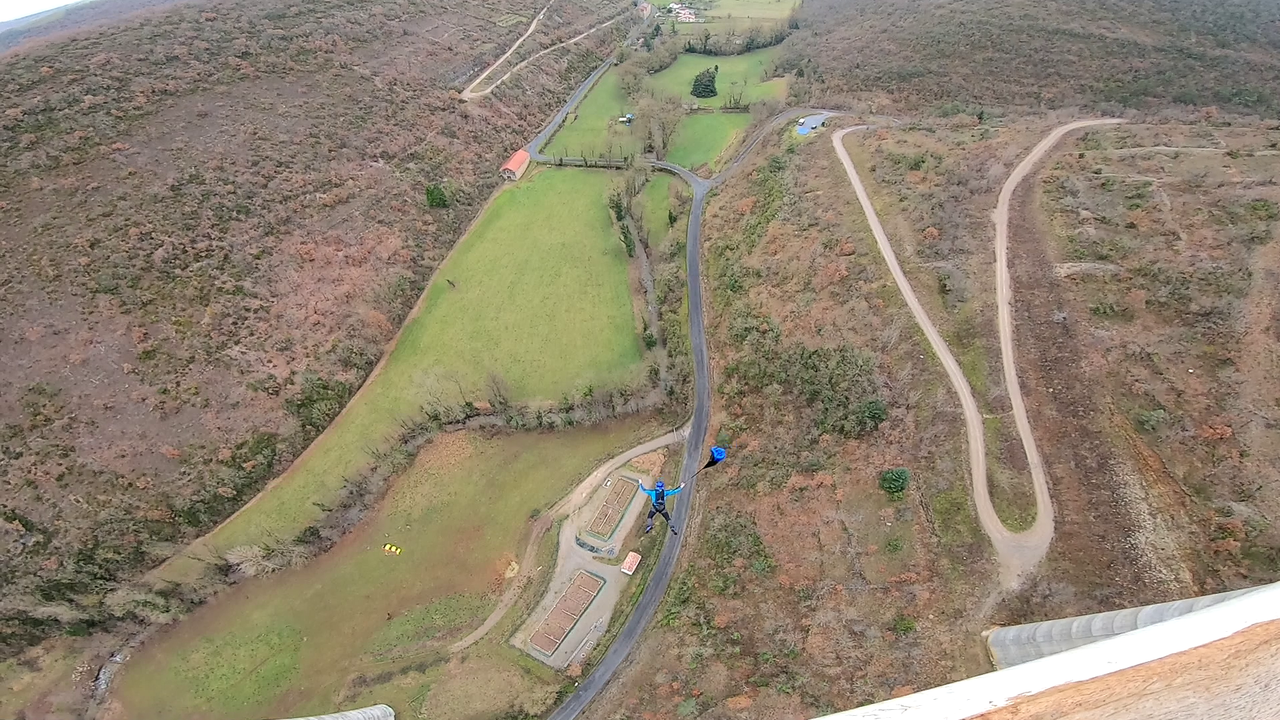 And, it opened, woohoo!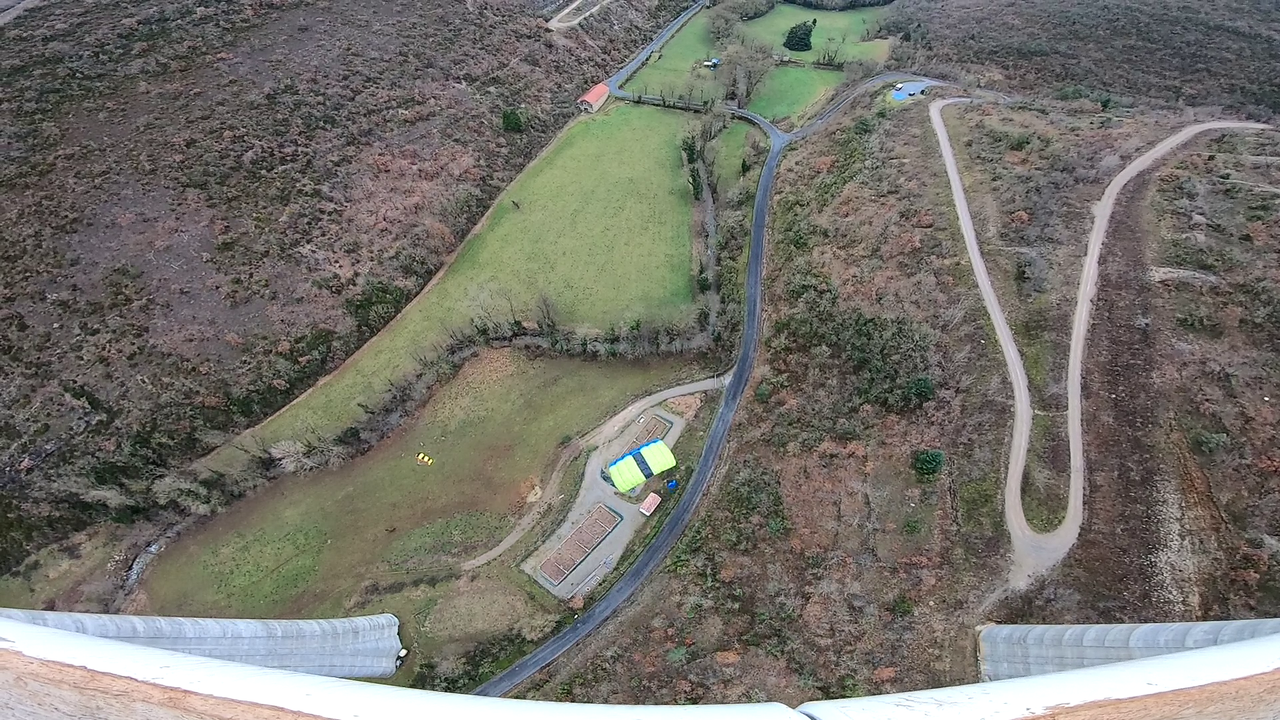 Any basejumpers reading this, the landing area here is not the LZ we landed in for the rest of the trip. We landed in this one as it was before the farmer had told us we could land in his one. He advised that this one here if caught, the cops may wanna fine us.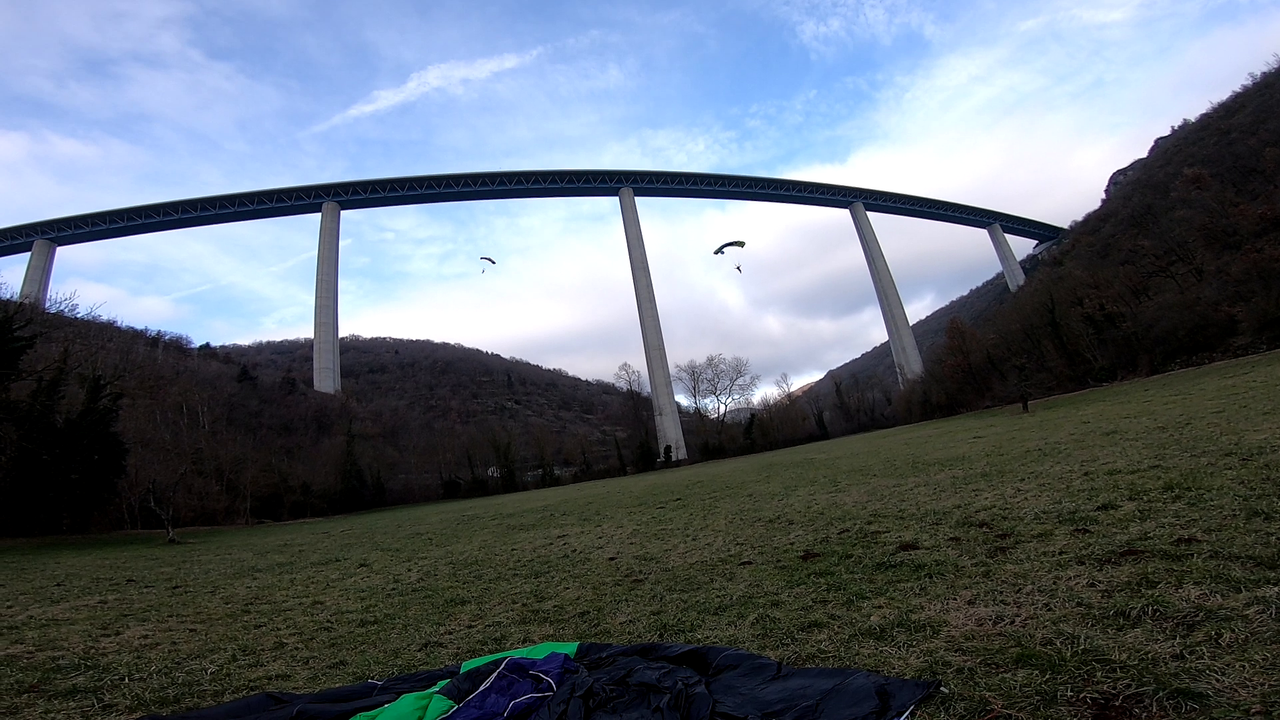 Hope you enjoyed the read.
We smashed out a bunch more base jumps off the bridge, but I thought this is enough content for this post :-)
I HAVE POSTED A VIDEO, BUT STEEMIT READERS SEEM TO PREFER WRITTEN CONTENT, WHICH IS WHY I DID THIS POST.
I AM NOT A BASE JUMPING INSTRUCTOR. IT IS FOR ENTERTAINMENT PURPOSES ONLY. DO NOT GO AND ATTEMPT TO JUMP OFF A BRIDGE BECAUSE YOU SAW MY POST. AND CERTAINLY DO NOT TRY TO FIND THIS BRIDGE AS THERE ARE HUNDREDS IN FRANCE AND YOU MAY FIND ONE THAT LOOKS SIMILAR BUT MAY BE A LOT LOWER AND THEN YOU COULD GO SPLAT.
@curie @steemit
#freefall #terminalvelocity #skydiving #basejumper #skydiver #frothing #fullfroth #frother #adventure #life #adrenaline #extremesports #adrenalinesports #gopro #travel #rockon #summereveryday #summer #sliderdown #subterminal #base #basejumping #basejump #europe #321cya #seeya #fullsend #atair #adrenalinbase #osp #lifeisforliving #vanlife #lifesforliving #antenna #earth #steemit #bungeebase #life #travel #nature #outdoors #bungeejump #france #millau