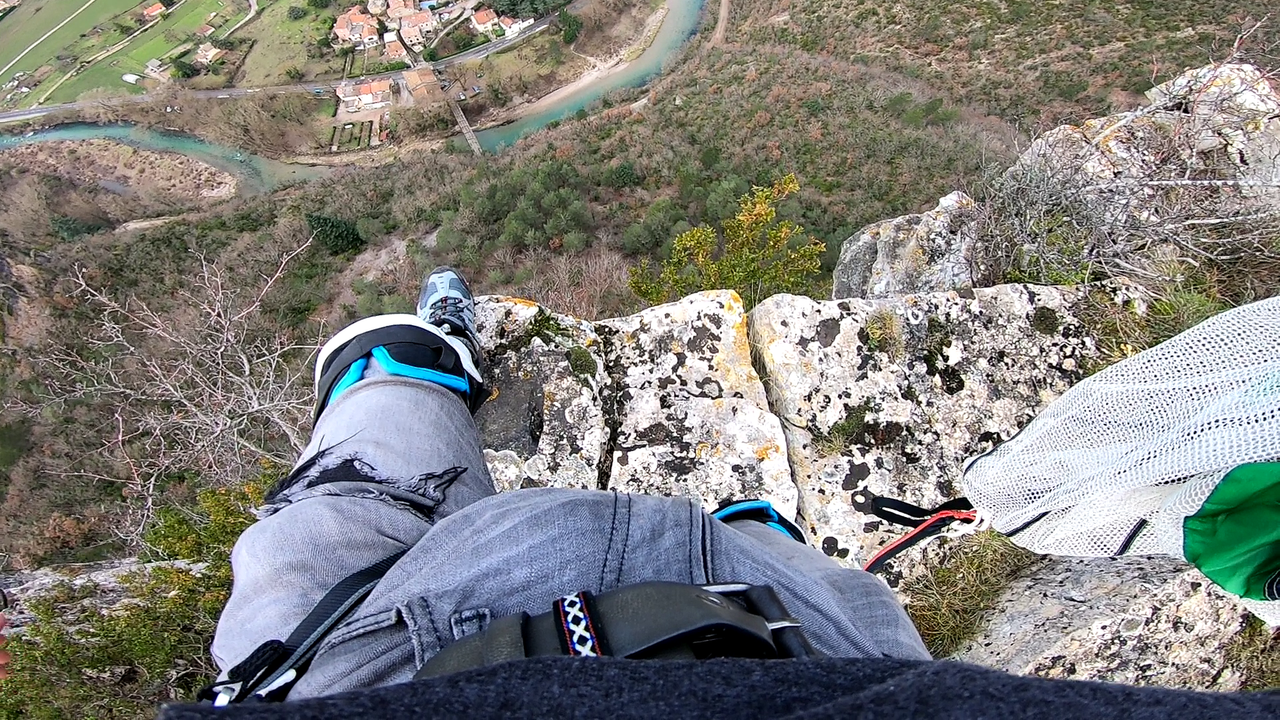 We were told about this cliff by a local friend. Access to the exit point is a mission, I don't think anyone other than a basejumper would have been to this exit point.
I cannot reveal the location for obvious reasons, but lets just say its off the beaten track!
After a 40 min hike, we reach the exit point and had a look about.
It's a beautiful view, you are surround by valley mountains, and a really blue river below.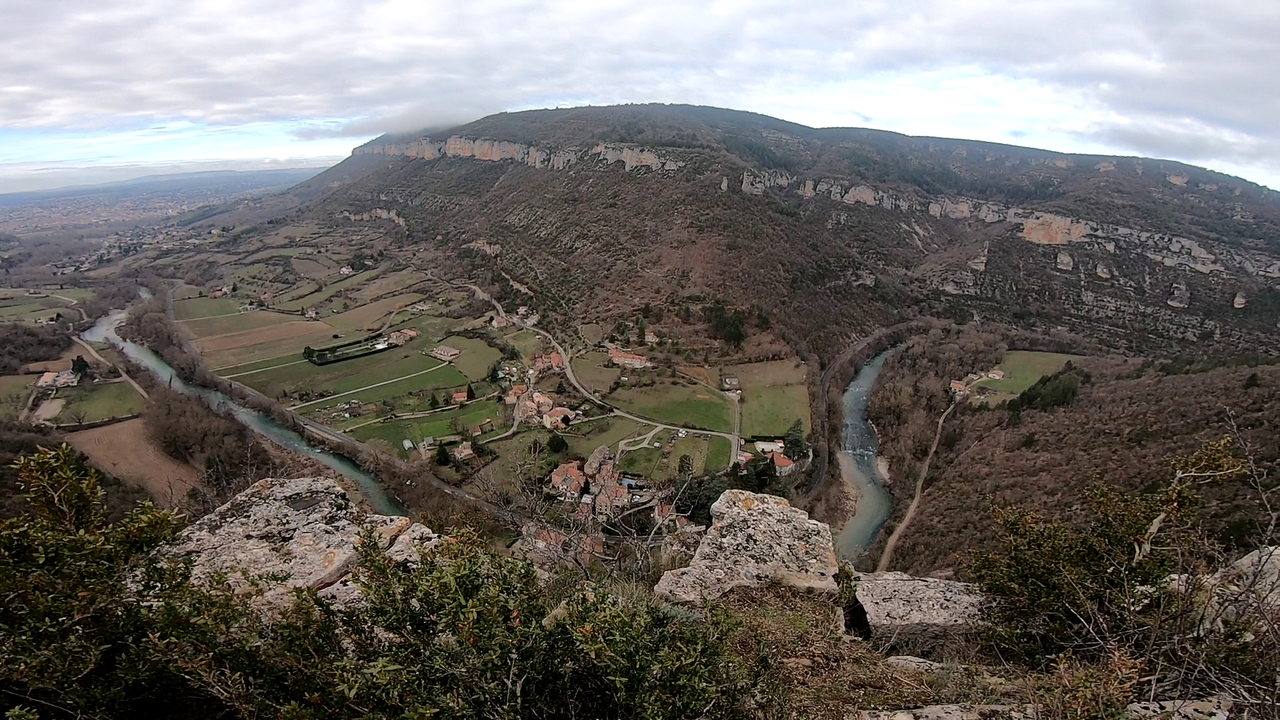 I always get a little nervous on cliff exits, hence the no smile haha. I'm fine once I'm geared up, but I like to get my rig on asap before going near the edge.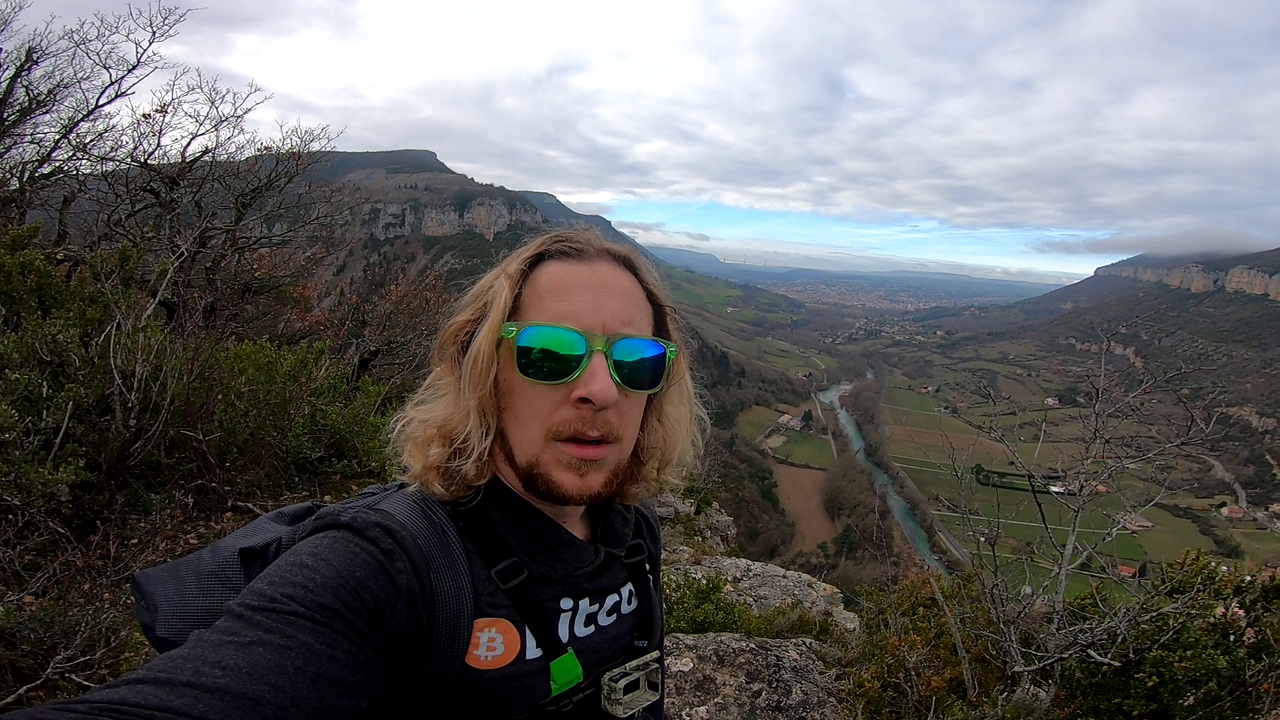 Although this cliff is just about high enough to freefall, its not worth the risk, for these reasons:
. No mobile phone reception
. No sight of anyone in the village, its a ghost town
. Trees below on a very steep slope
So getting rescued if we got an off-heading and hit the cliff would have been a nightmare. Even getting help to get rescued would prove to be difficult!
First base jumper is up, he has asked for a PCA (pilot-chute assist), which means I will use his bridle to pop his pins and extract his canopy. The chances of an off-heading are extremely unlikely, it means he will have his parachute out very quickly, which will give him more altitude to play with.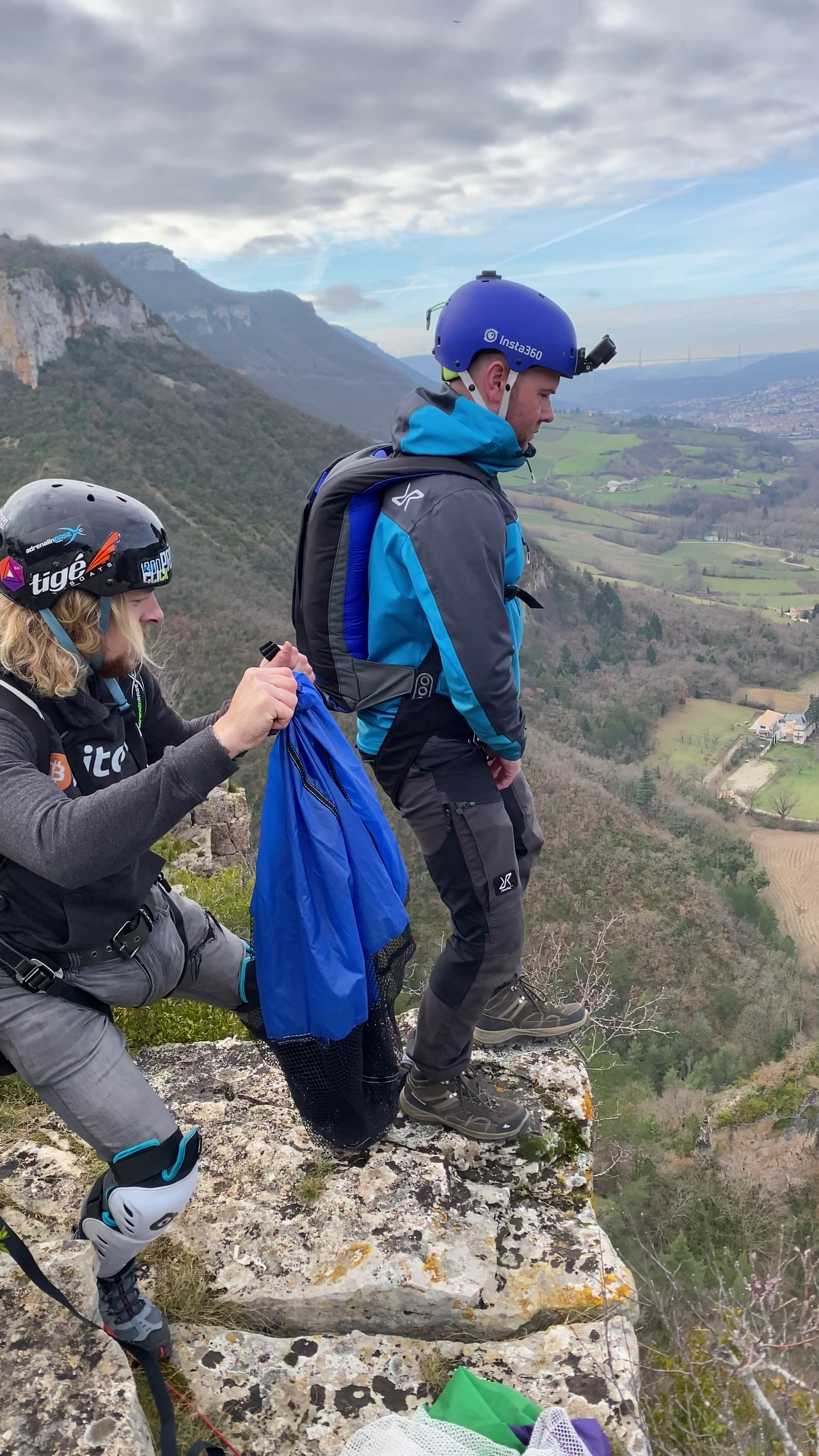 I wont go into any more details on the PCA as I am not a base jumping instructor, and I do not want to be responsible for anyone trying it after reading this post. Most FJC's (First Jump Courses), will cover how to PCA.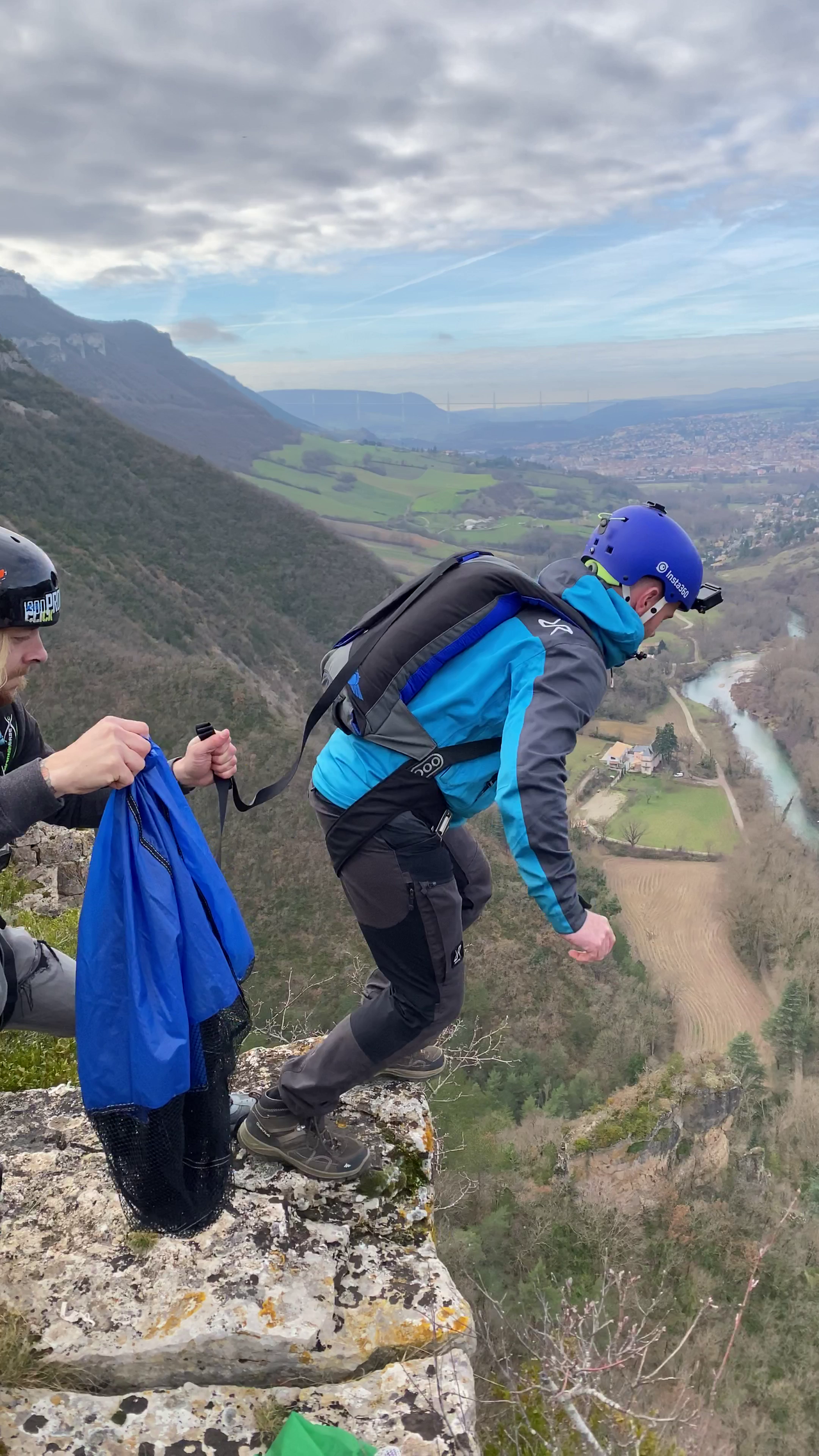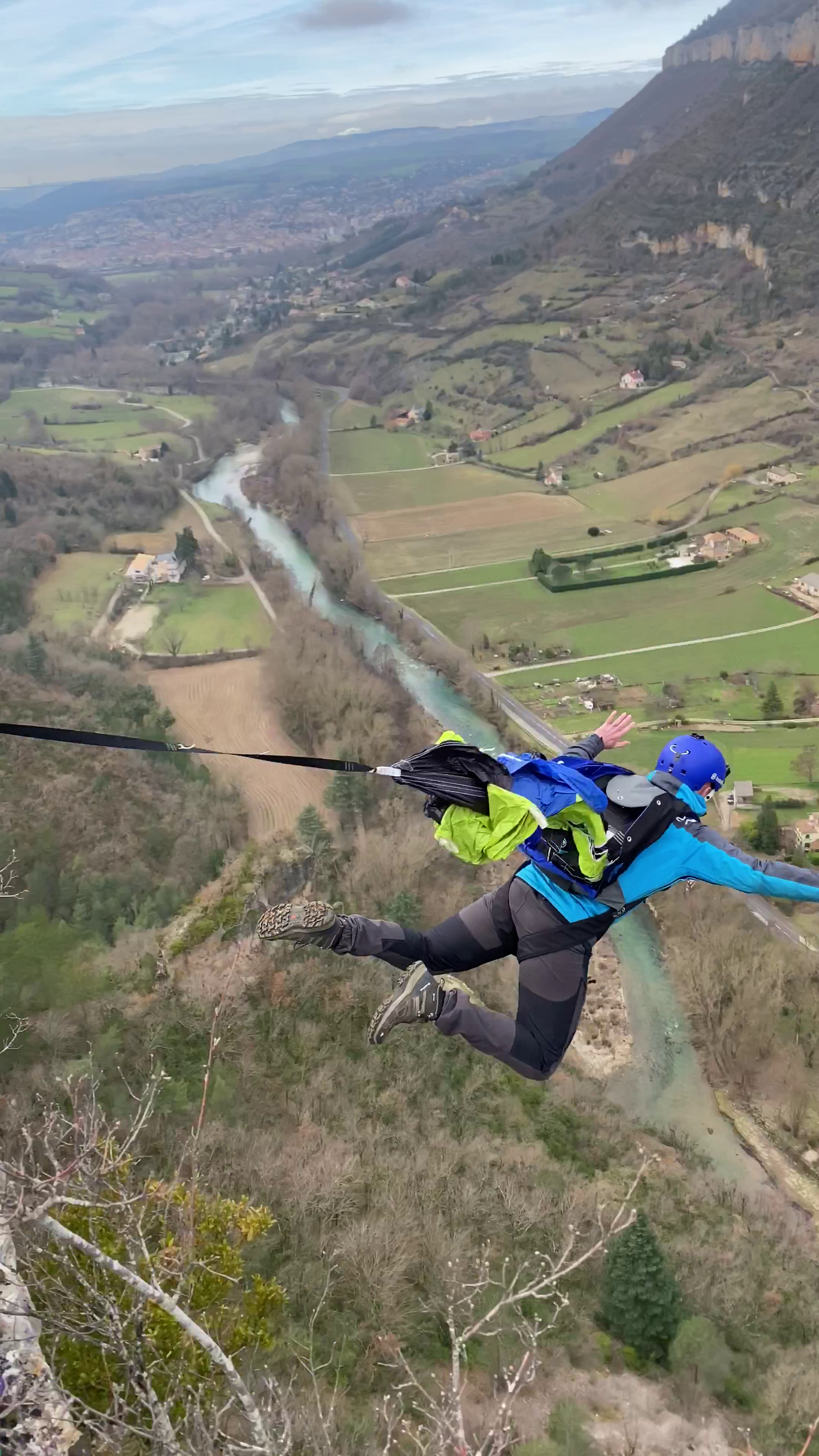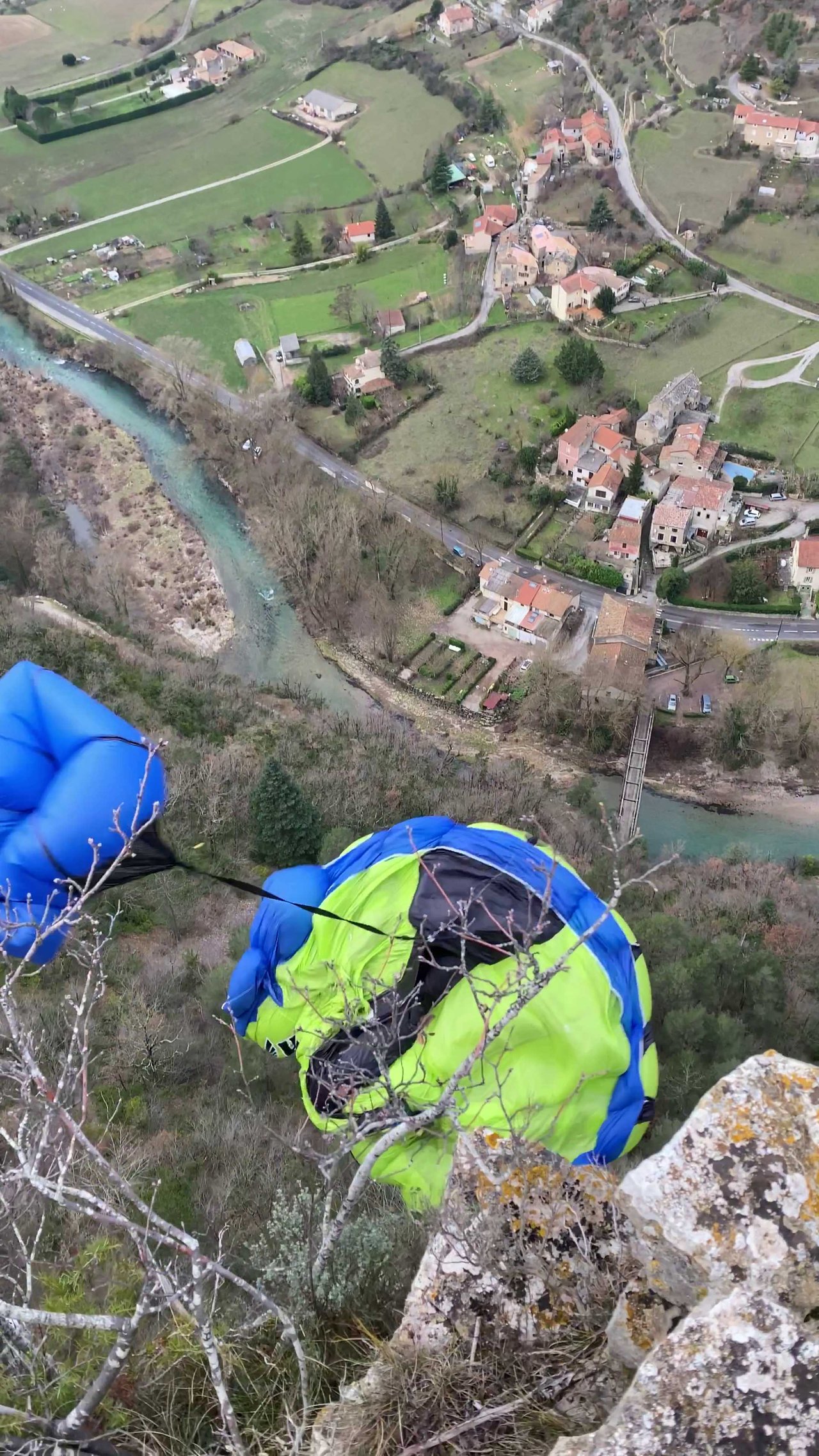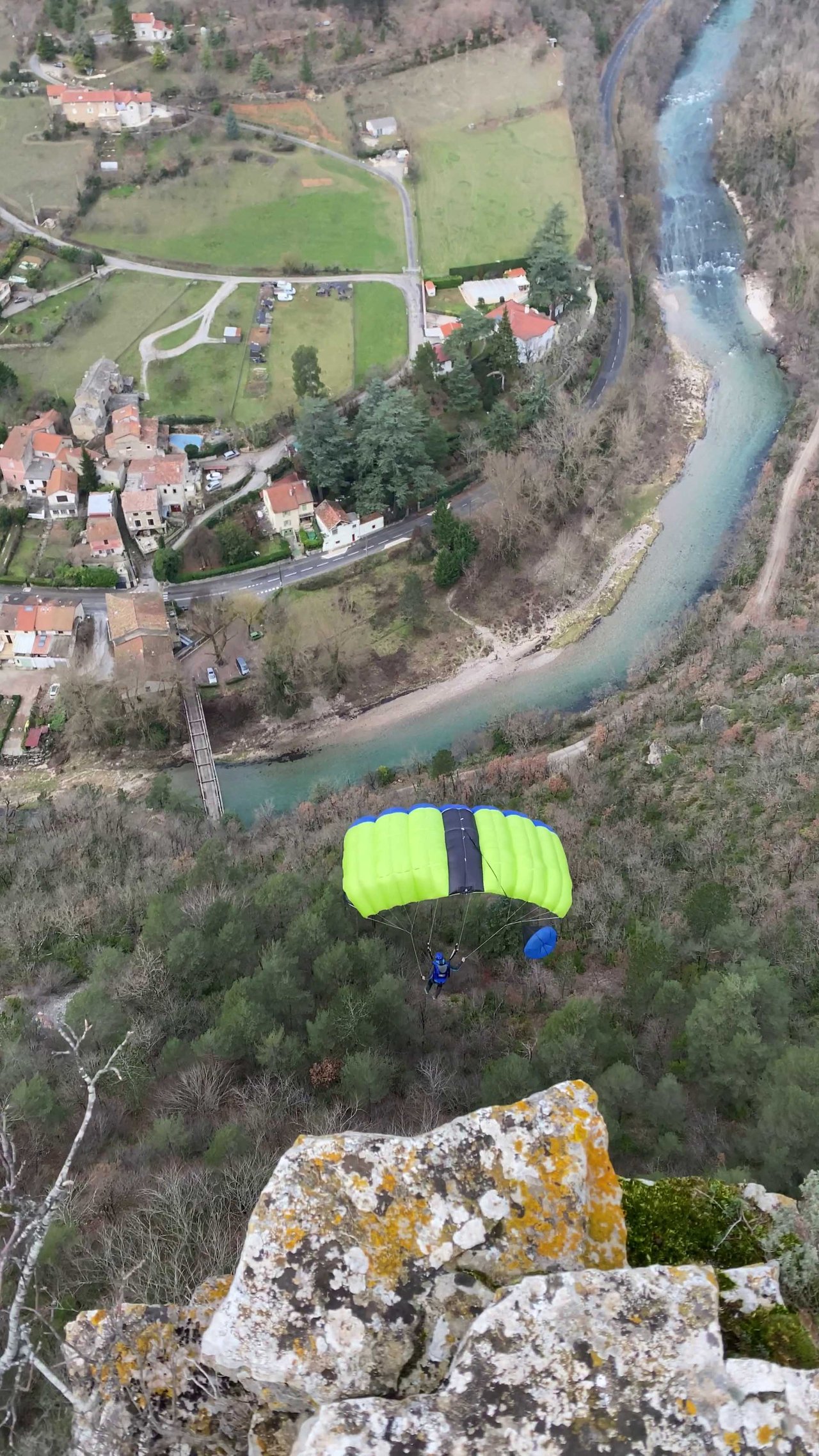 Now that he is under canopy, I start getting ready myself.
I am using a static line method, so I have break cord tied to my pilot chute from a tree, this means once I jump, essentially the tree is extracting my parachute for me.
Again, I won't go into details, but you can see from the photos what happens.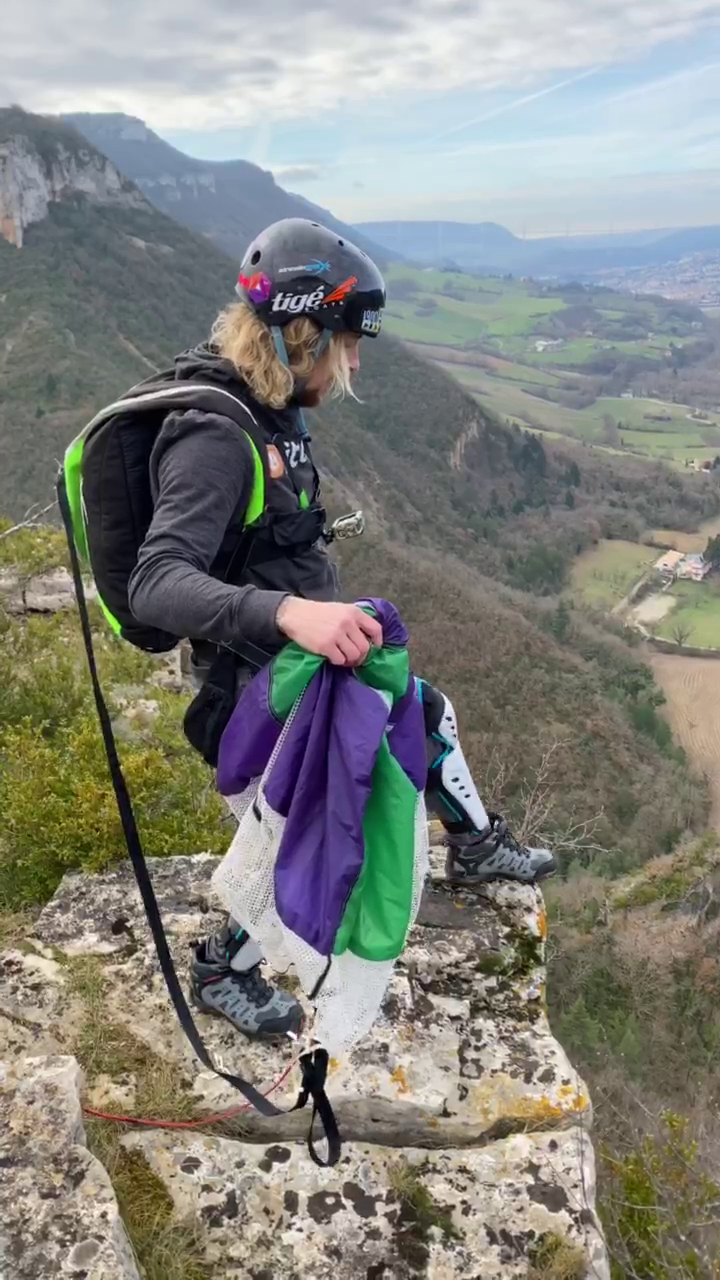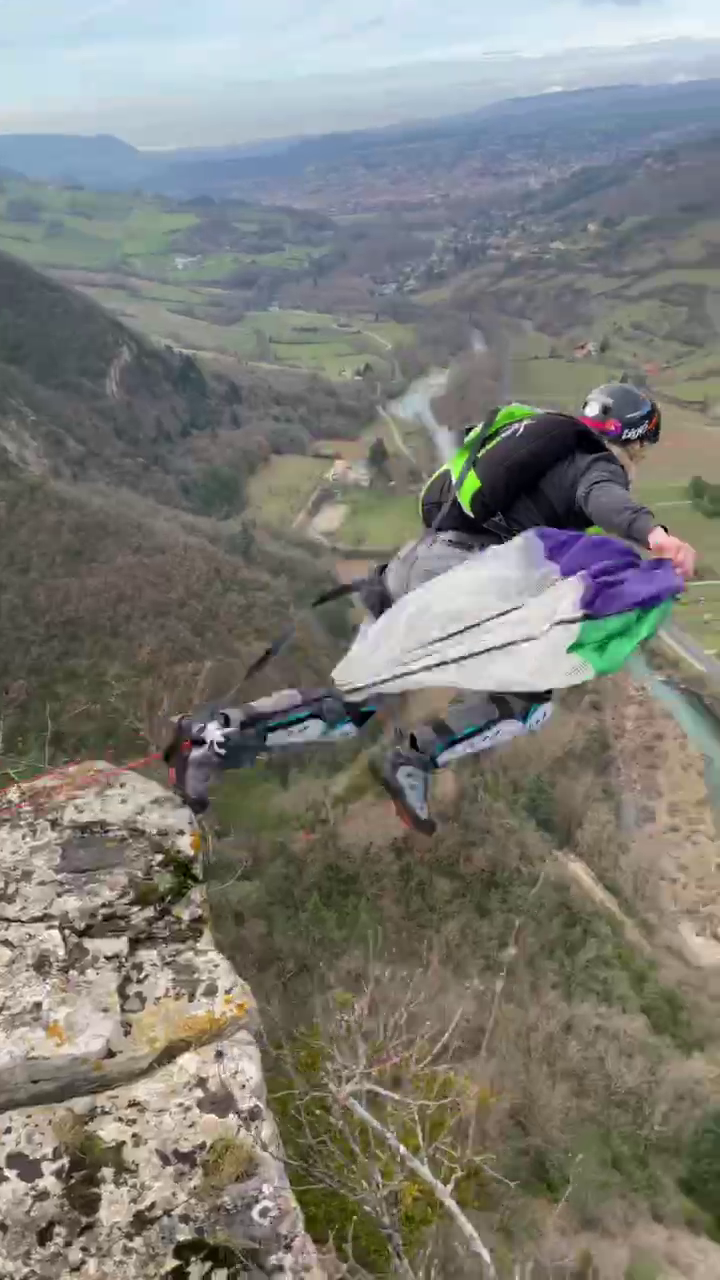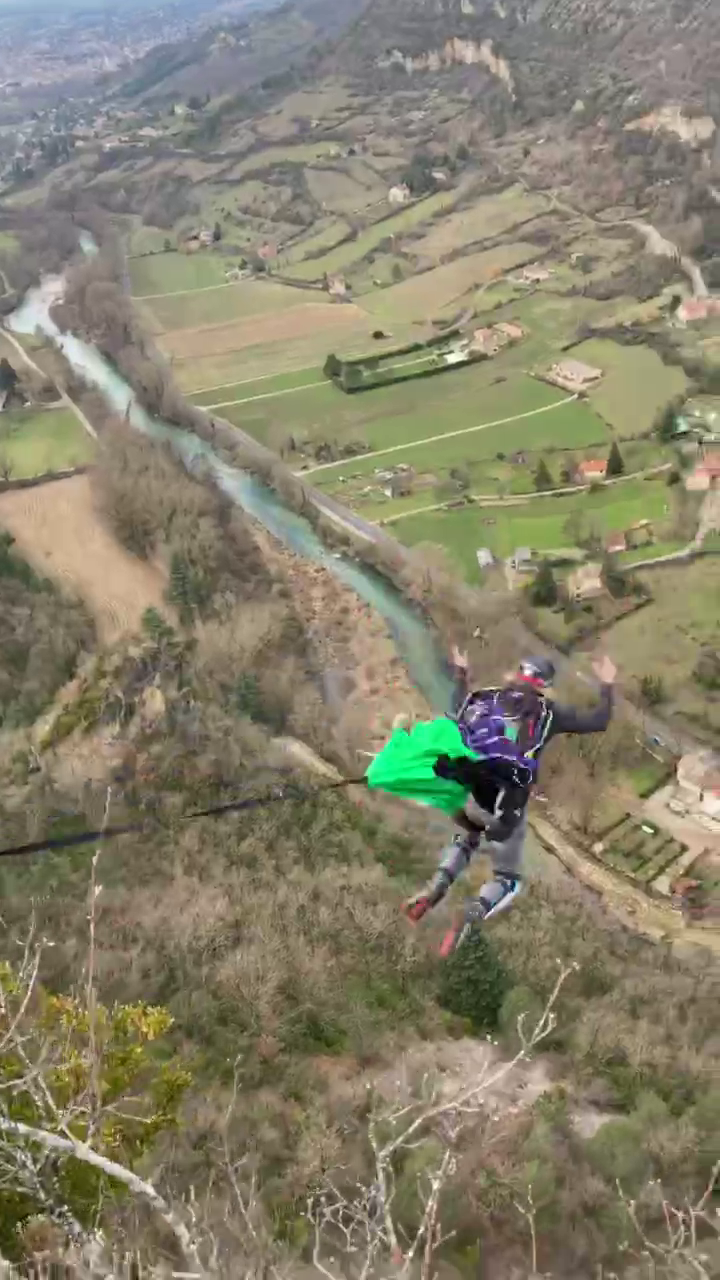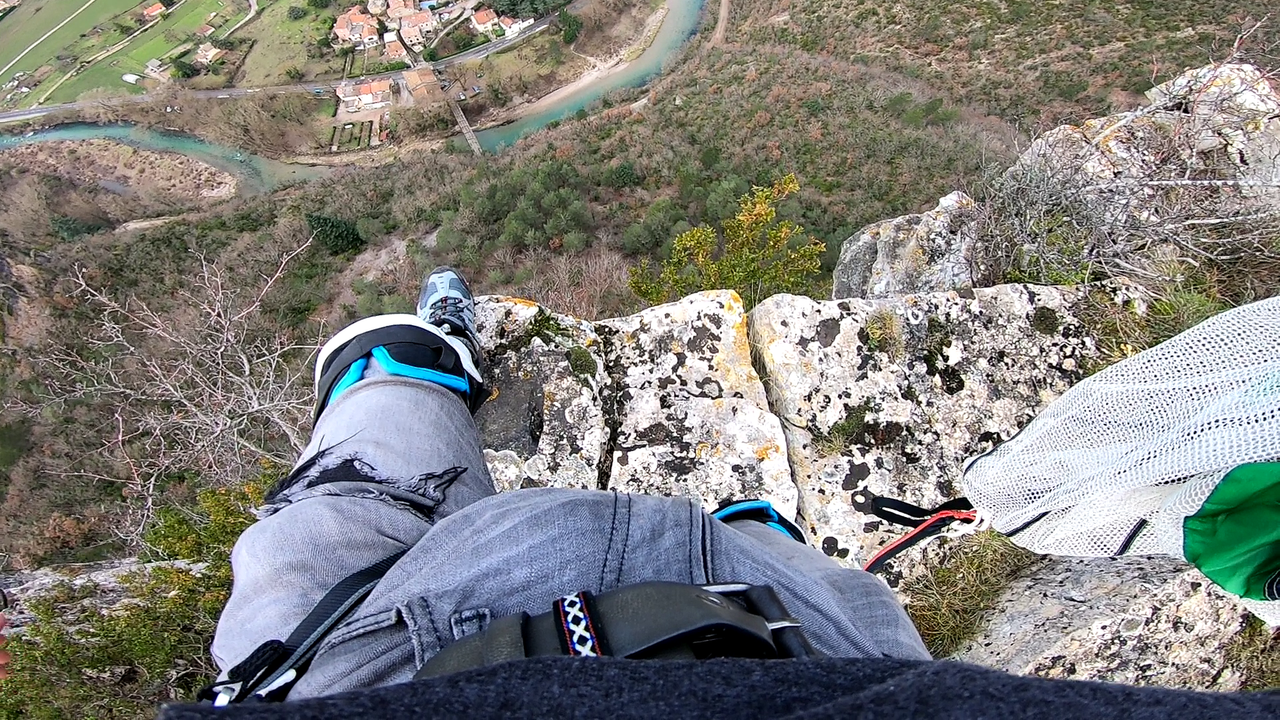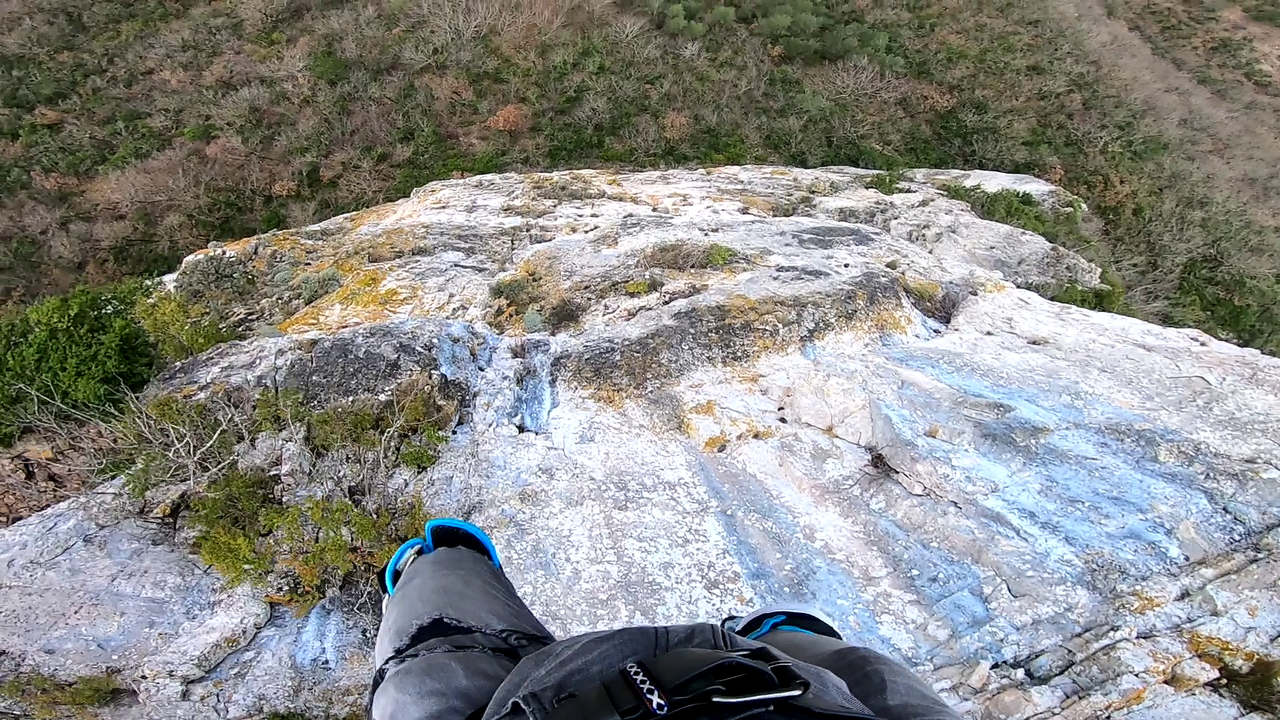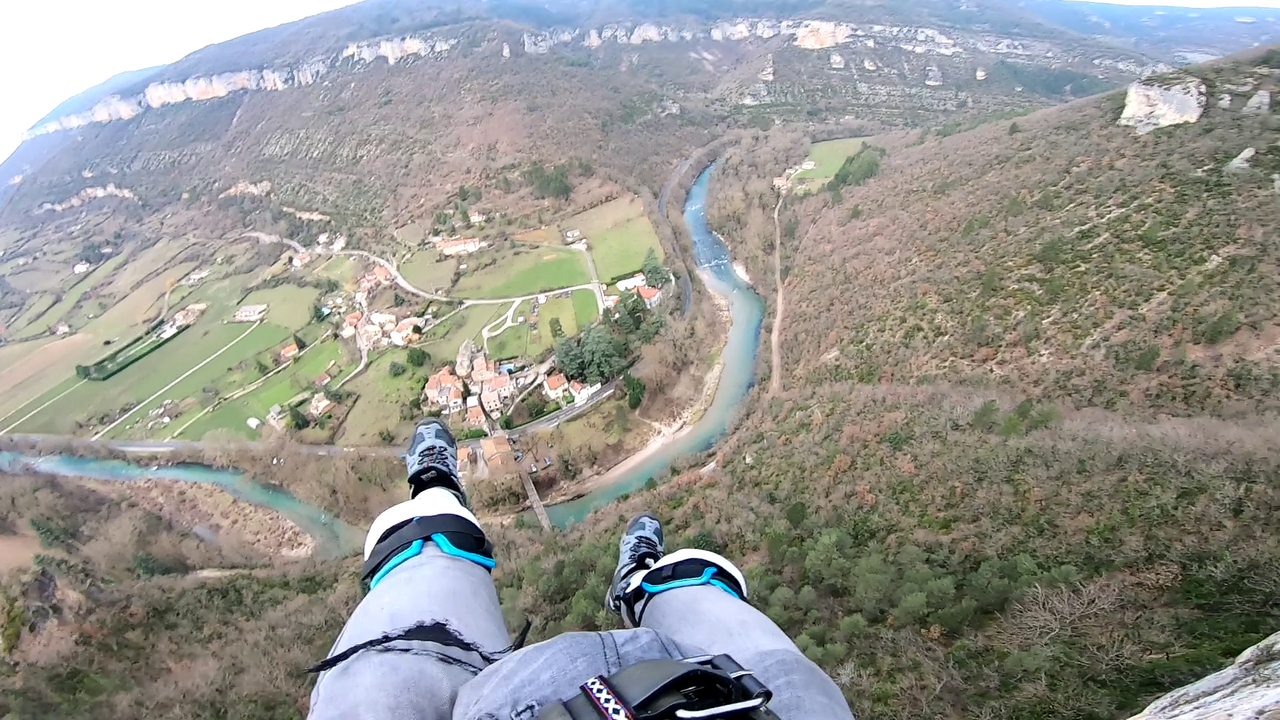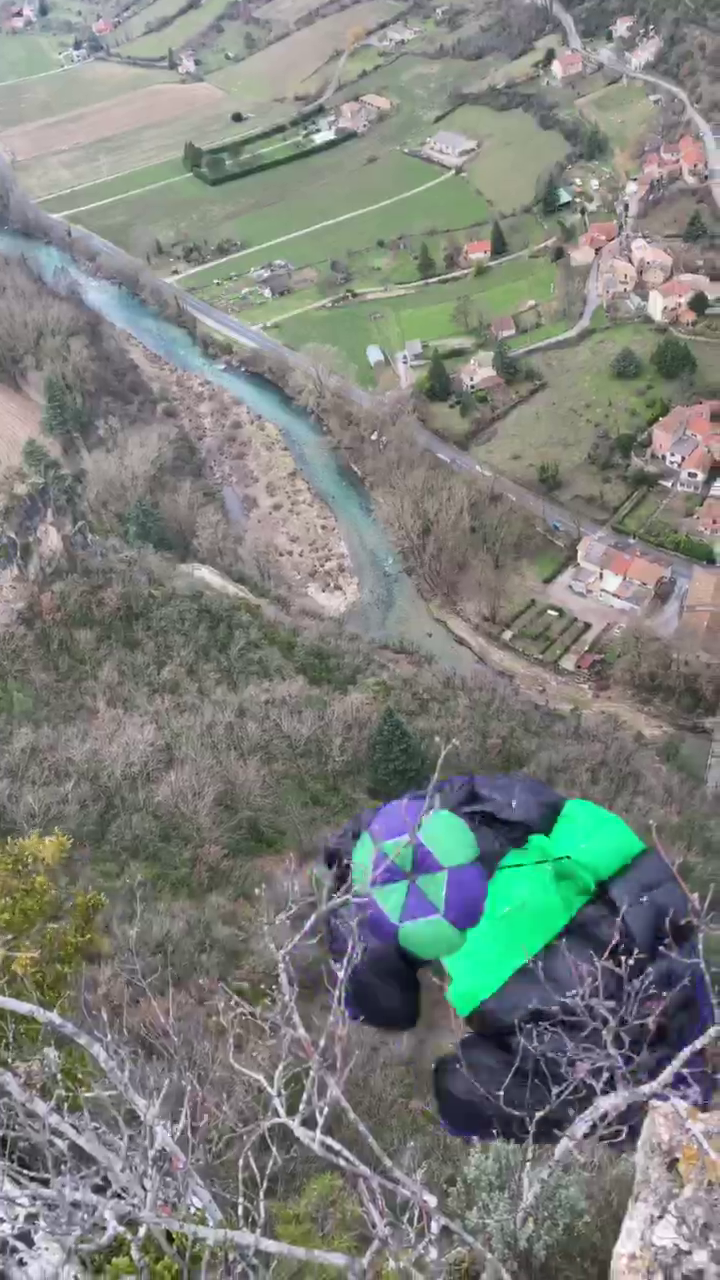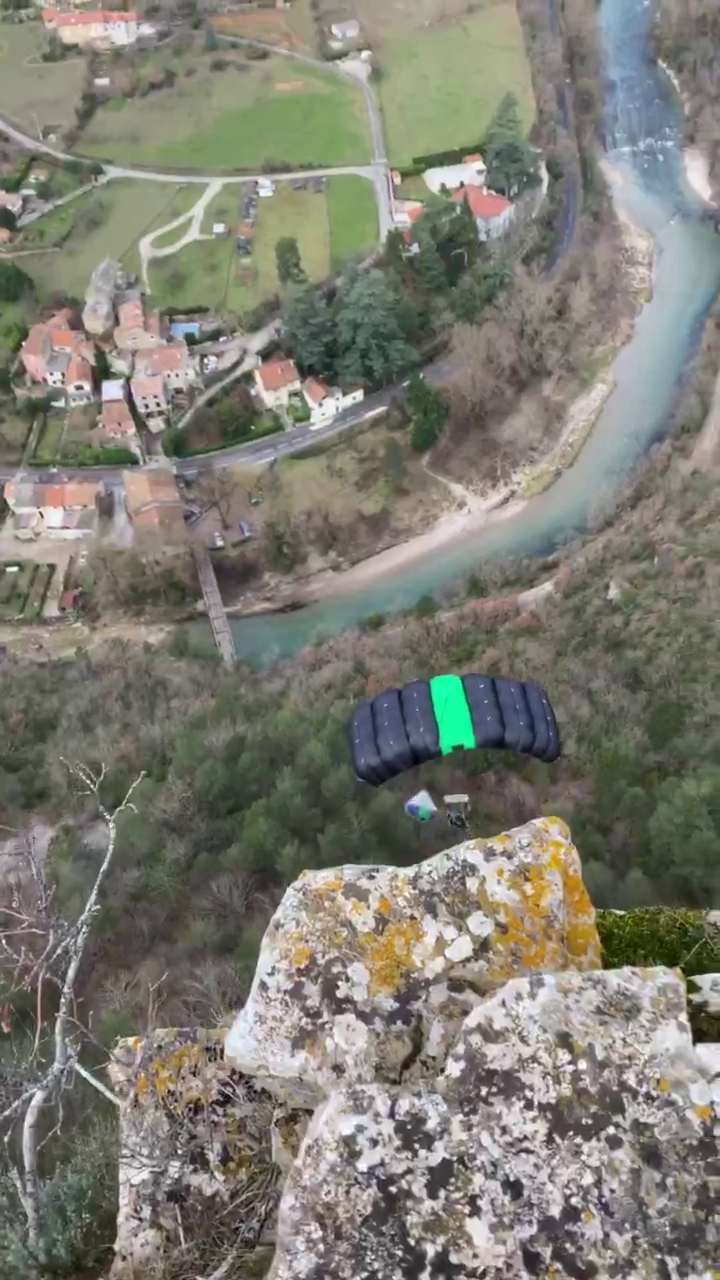 My view while under canopy.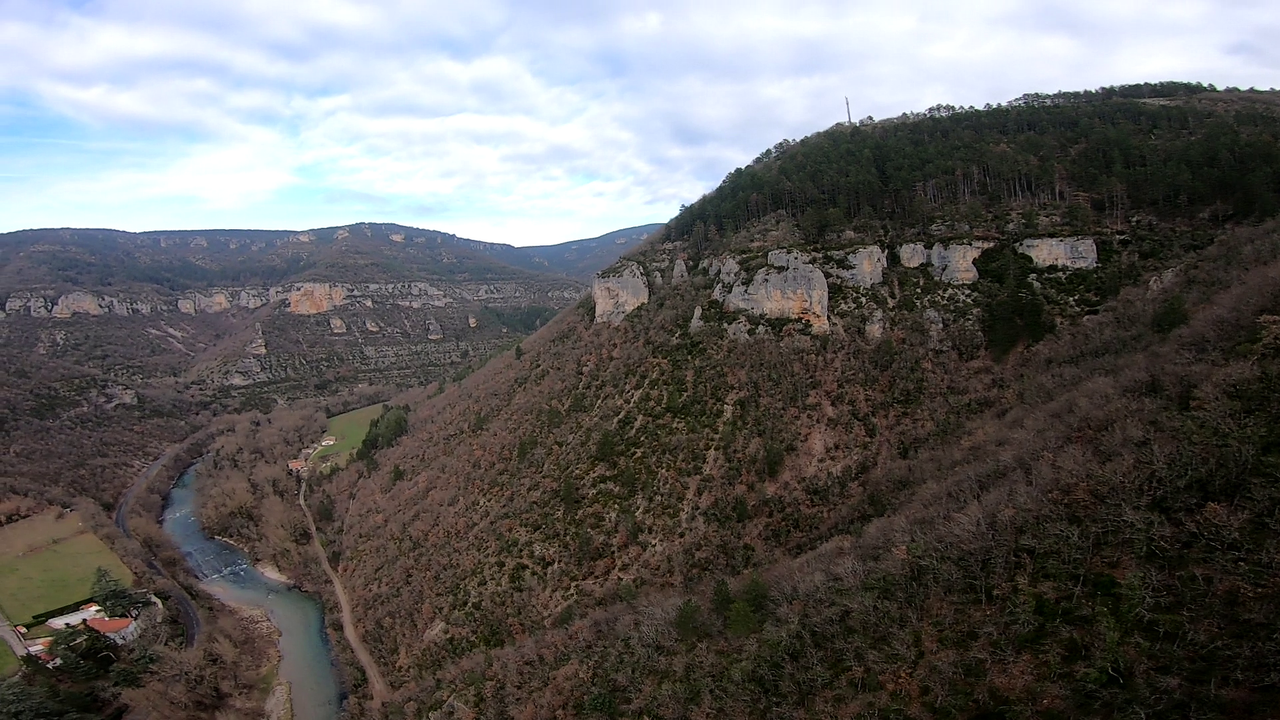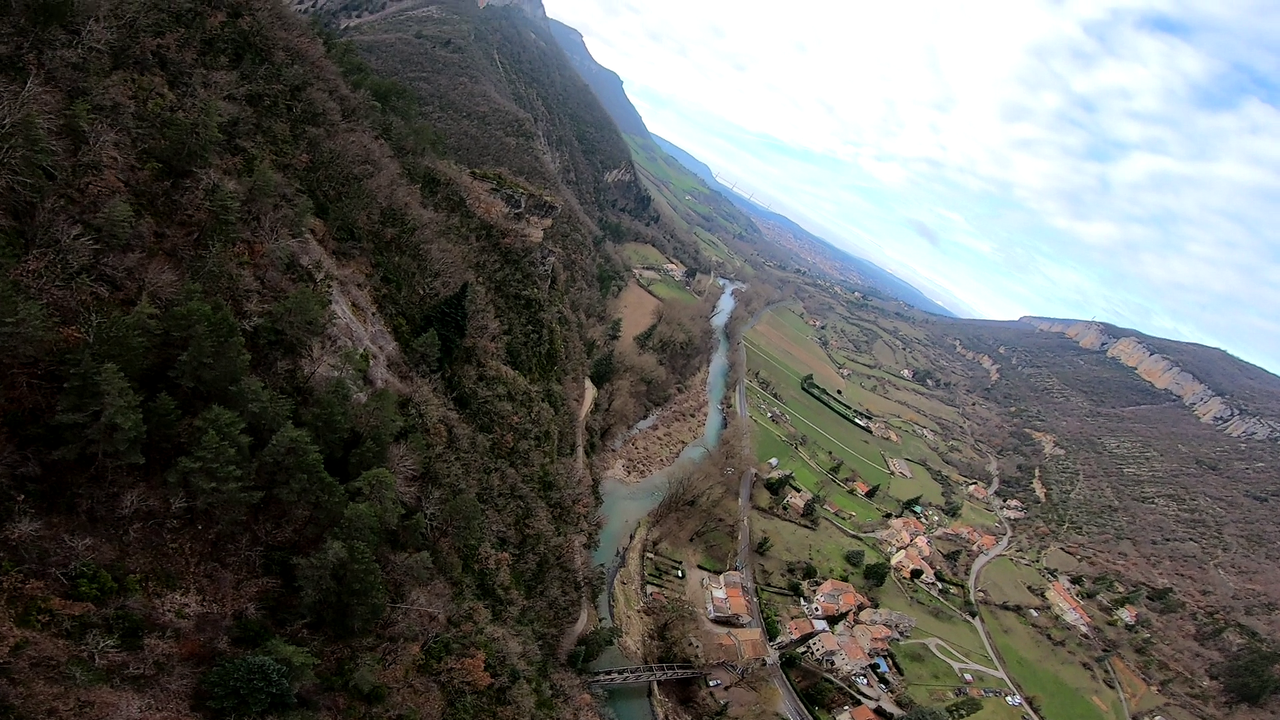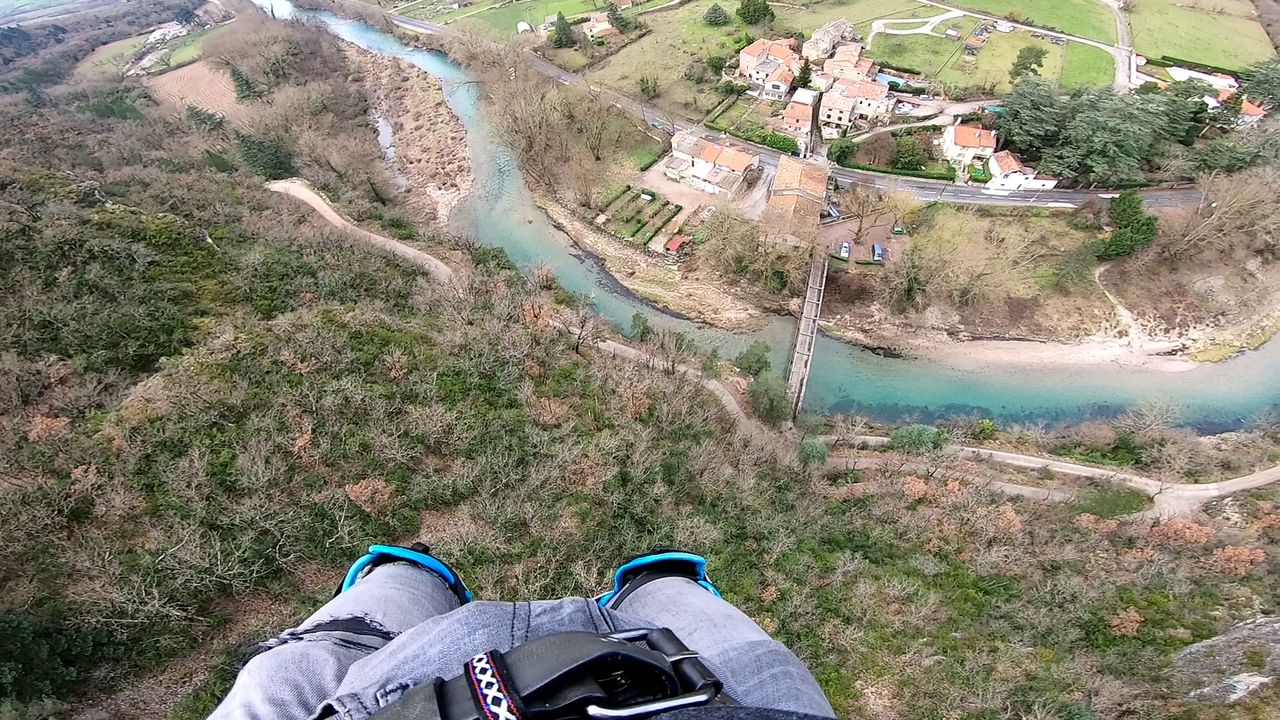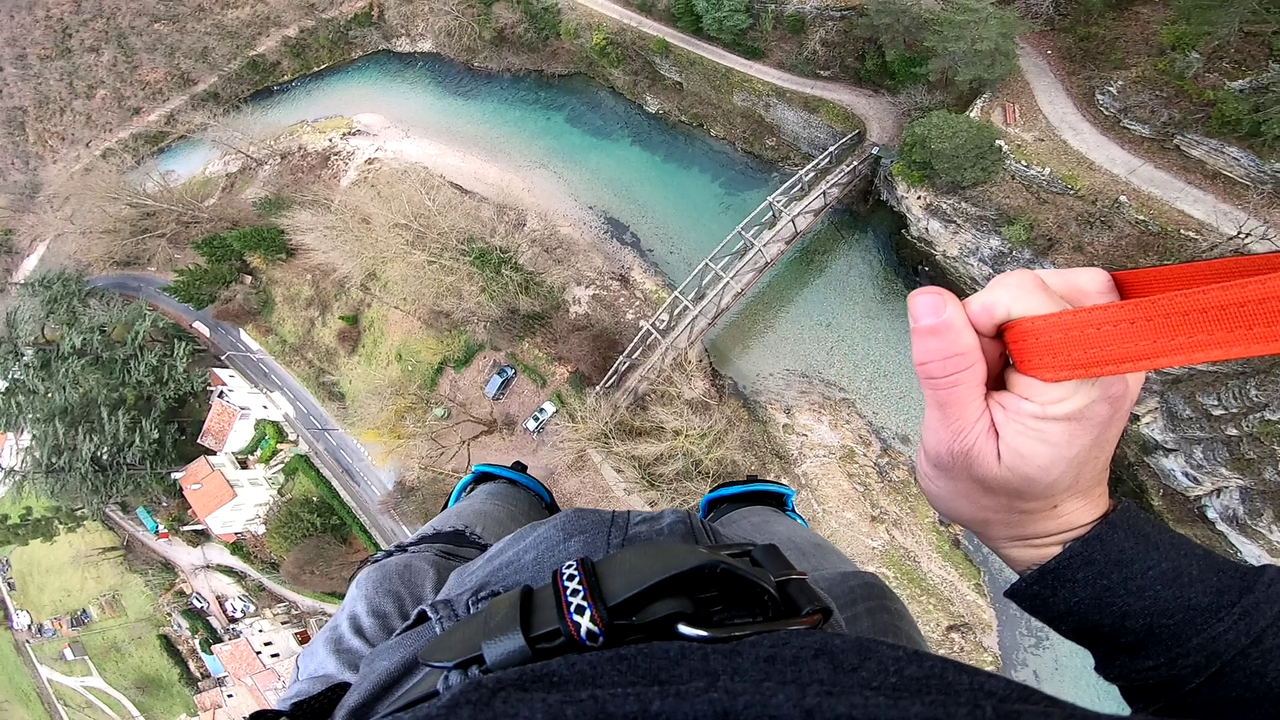 The LZ is a little technical, we have this little beach area as a landing strip next to a fast flowing river, and a bridge at the start of your final.
The river has parts that are waist high and parts that are over head height, so if we land in it, a drowning is more than likely. So, be current and know your canopy.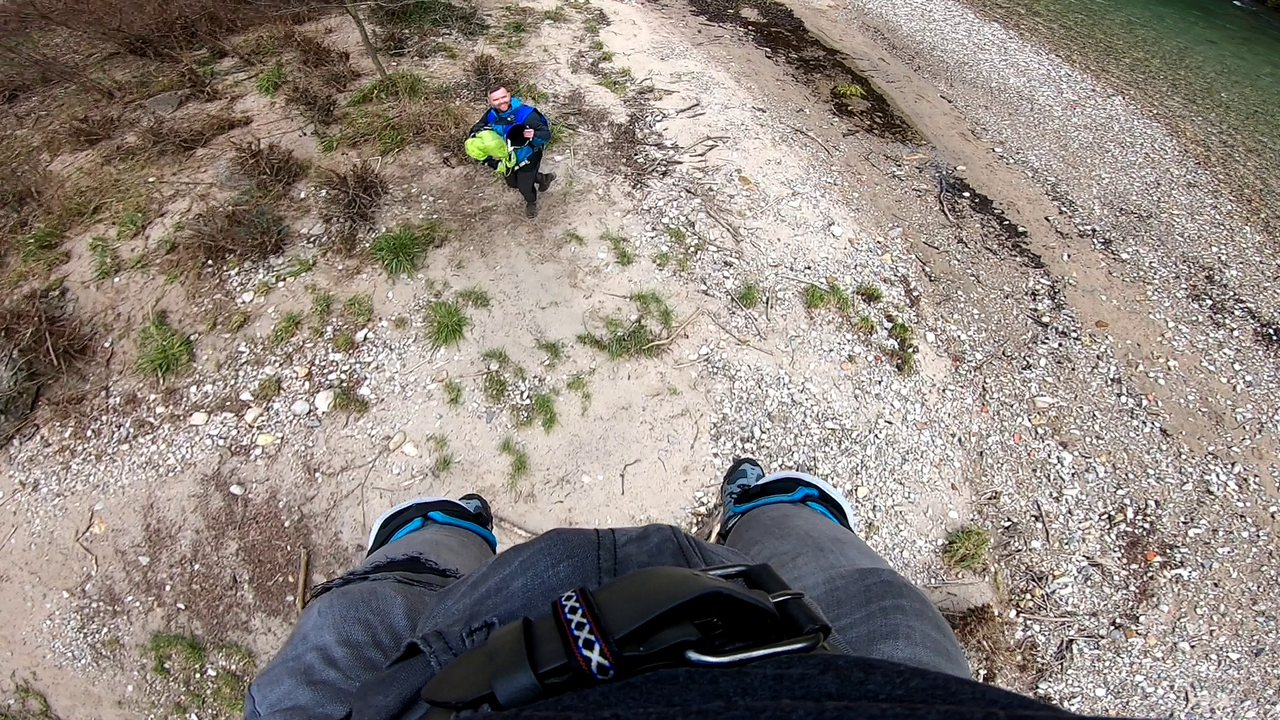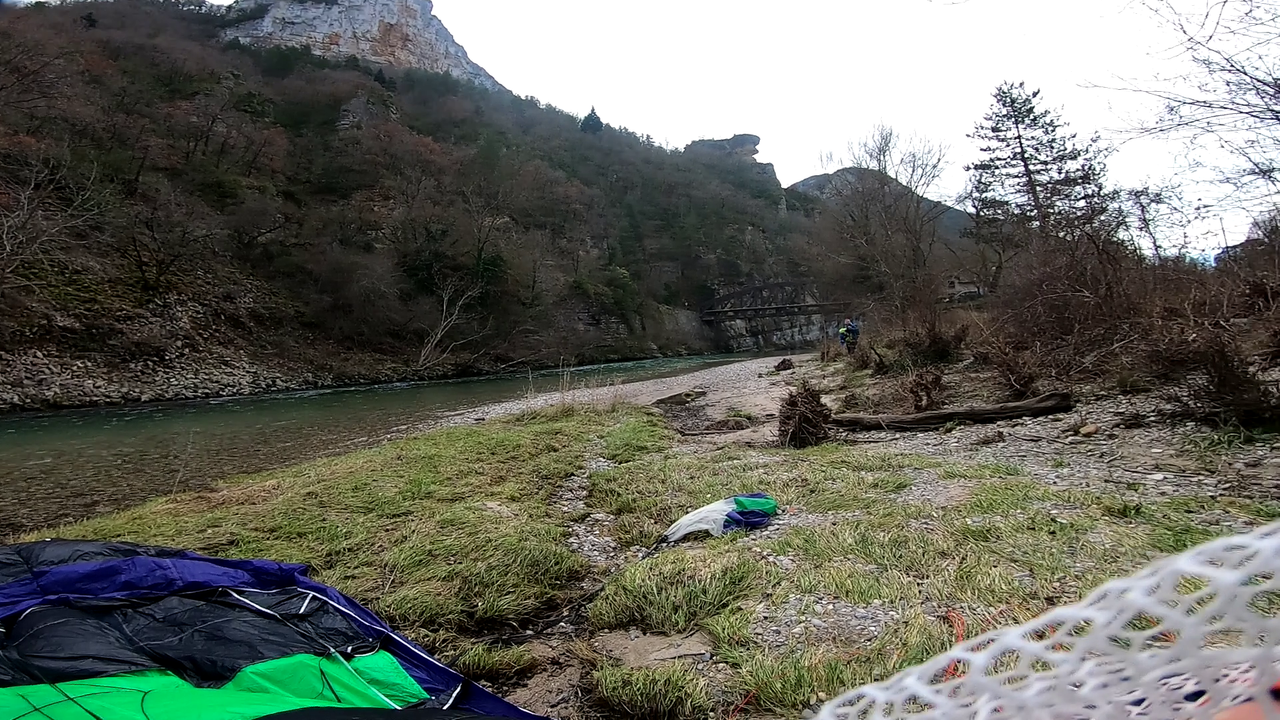 Here is Gary, Gary didnt wash off enough height, came in too high and not on brakes...Gary landed in the trees!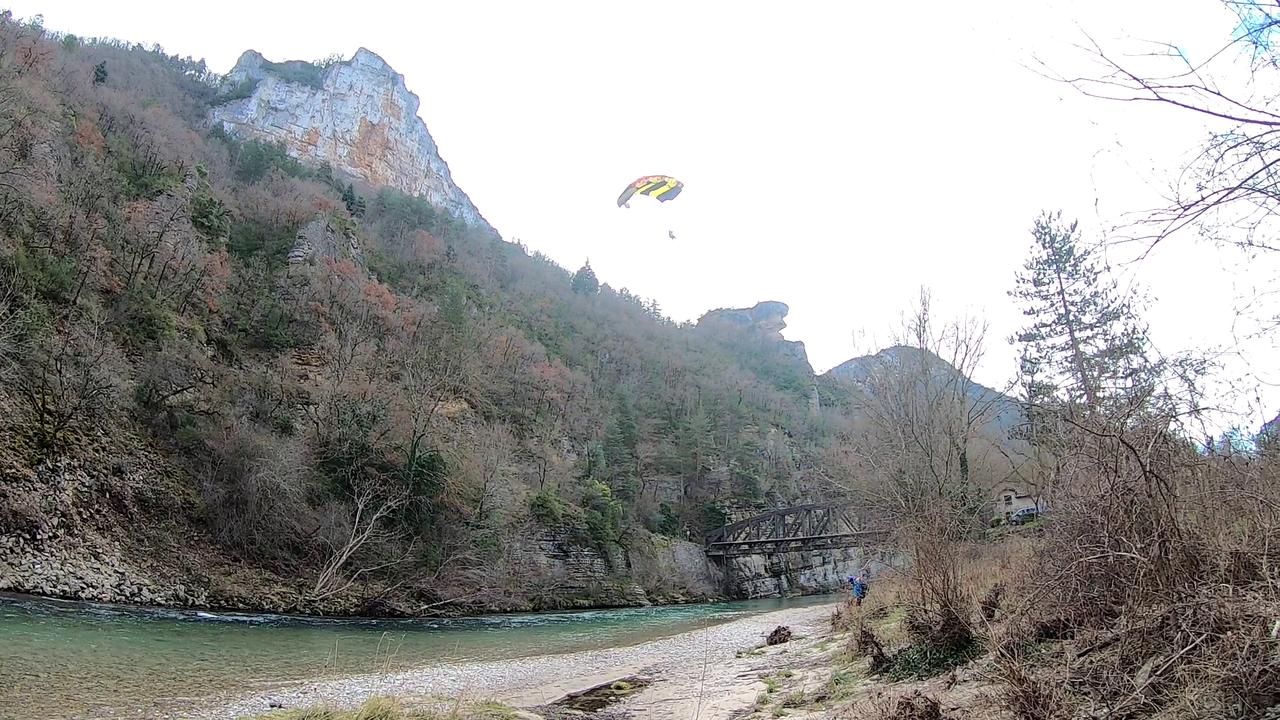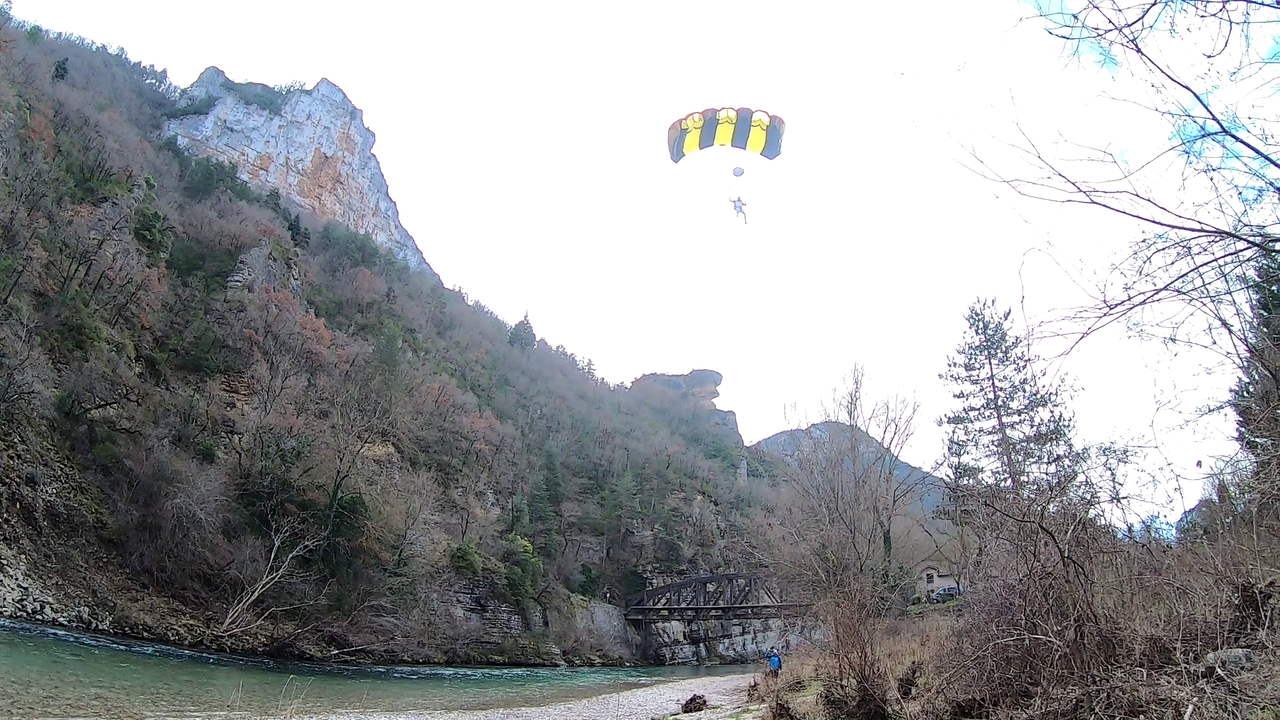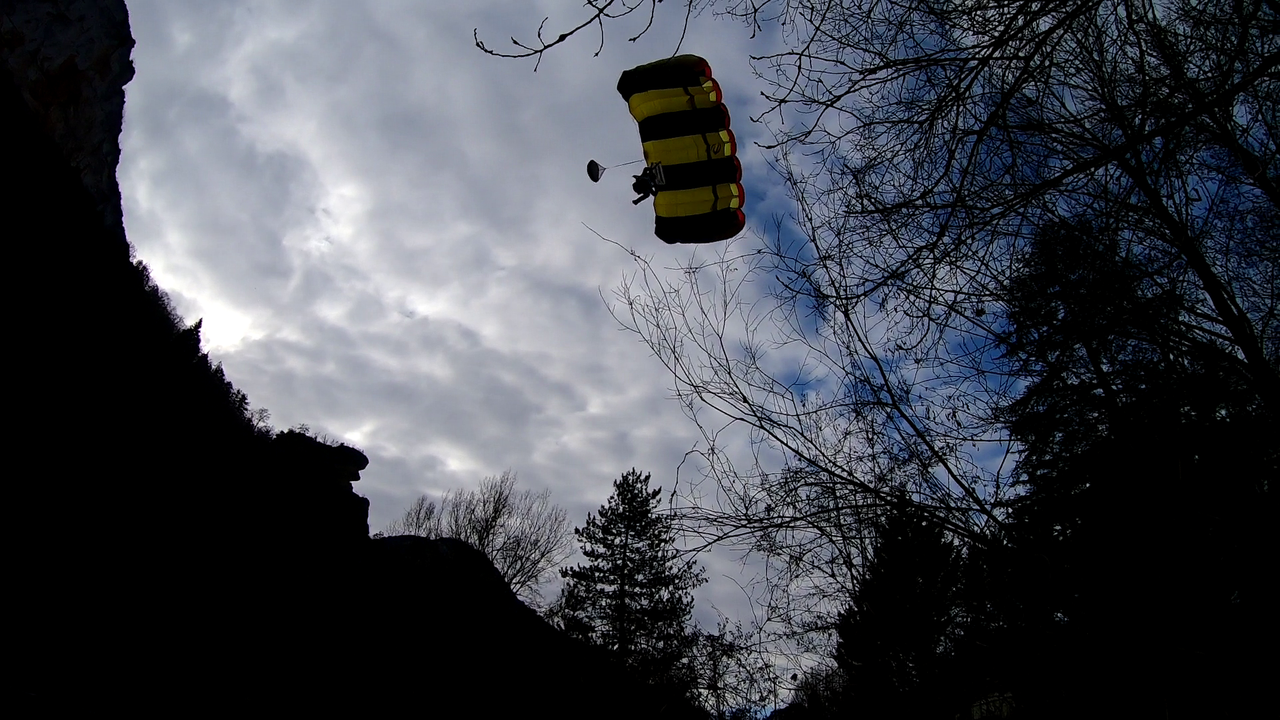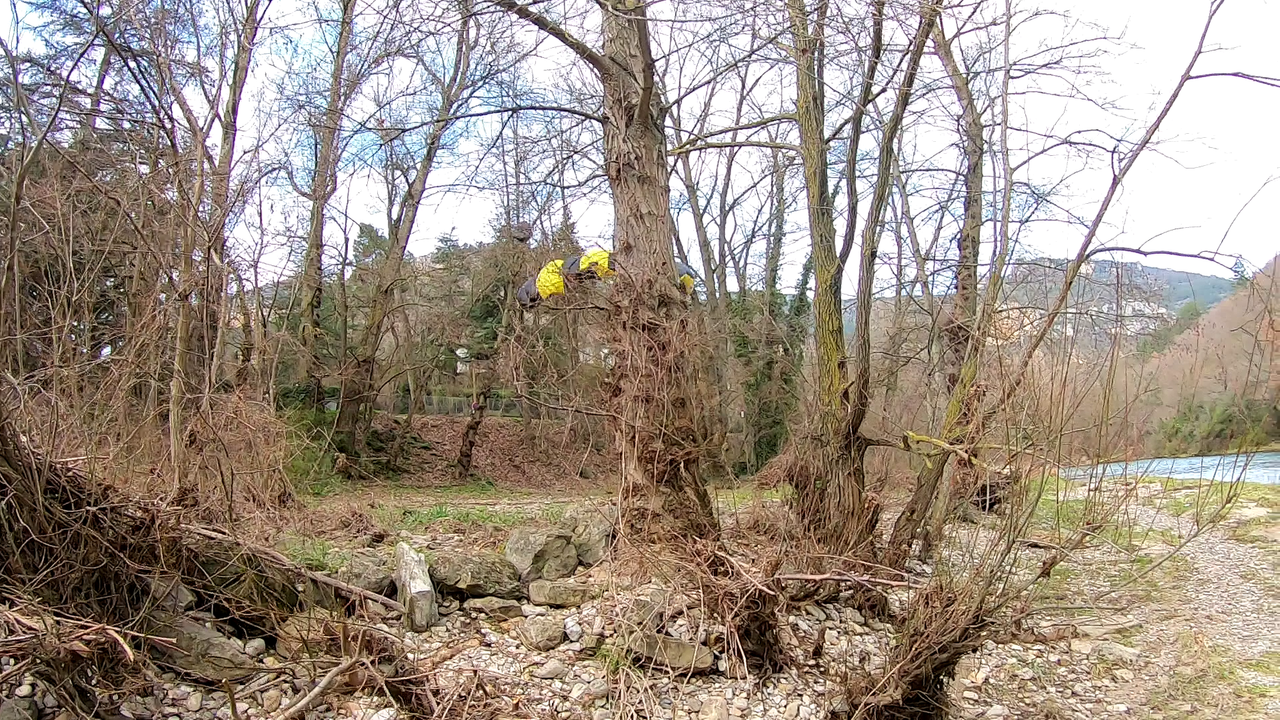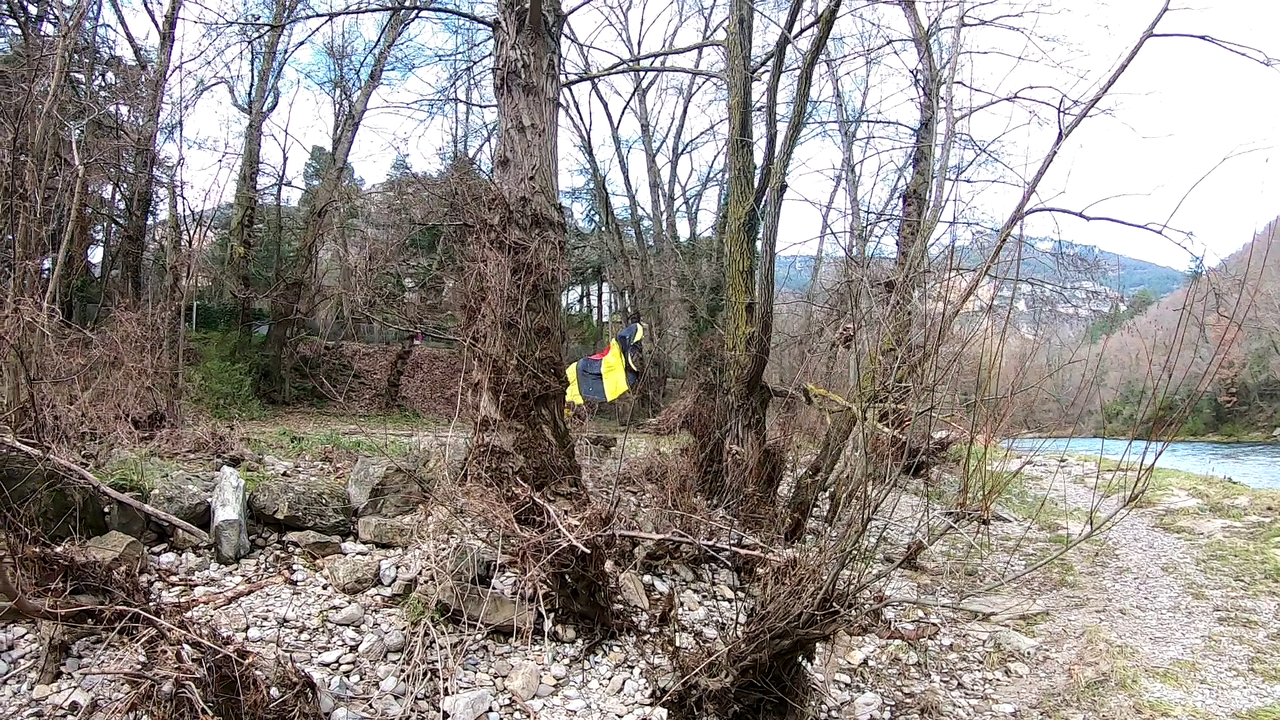 He landed ok, and his canopy was not damaged, phew!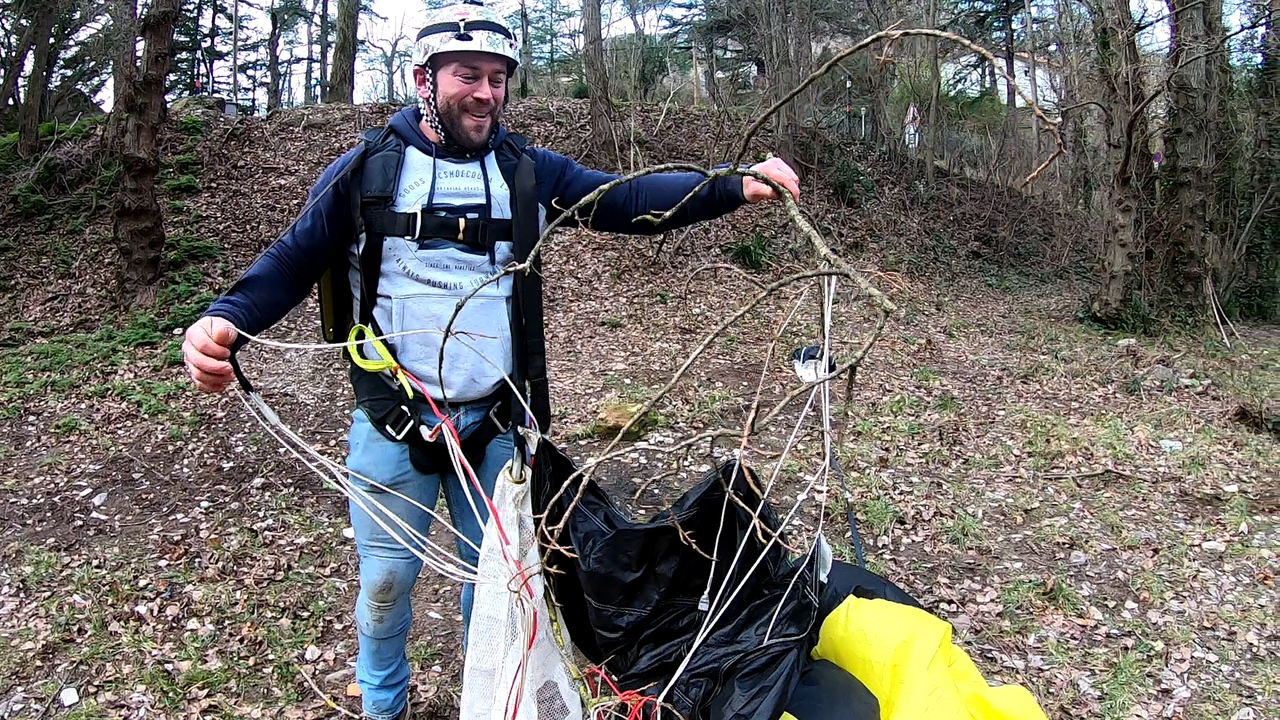 We joke, but he is alive, so thats what is important. He had no other option at this stage than to ditch it in the trees, as its a better option than the river.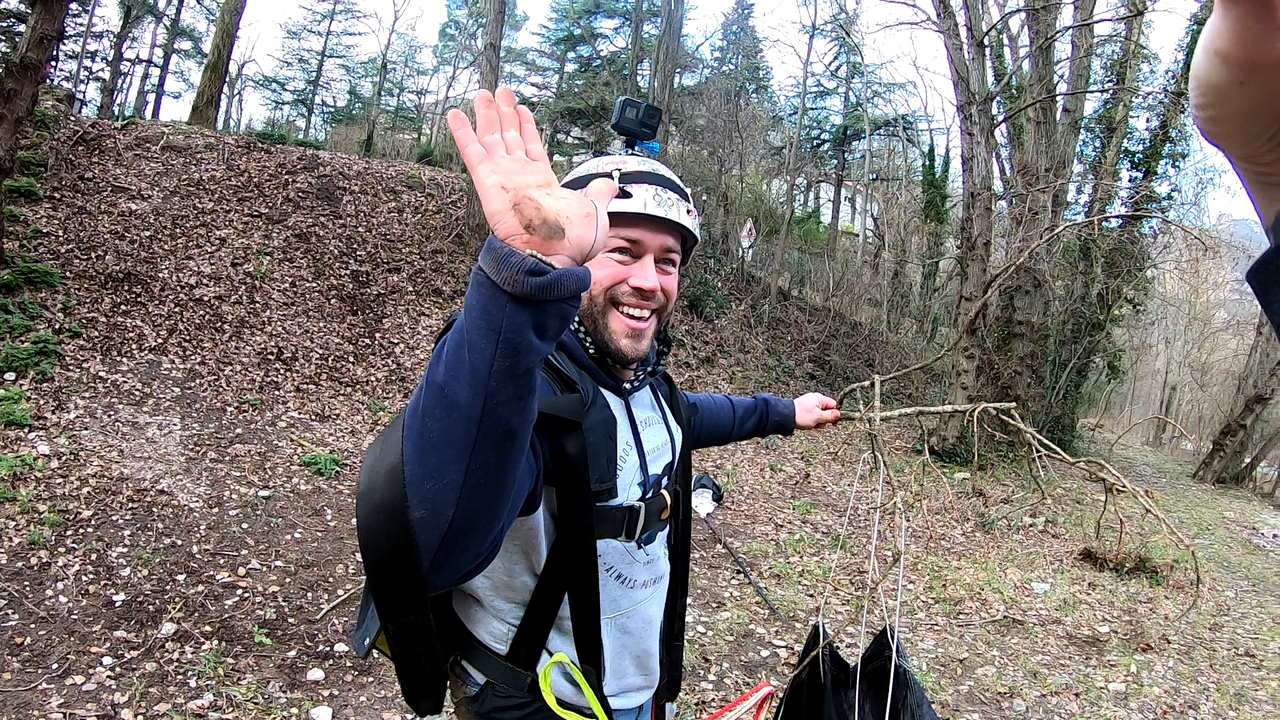 I HAVE POSTED A VIDEO, BUT STEEMIT READERS SEEM TO PREFER WRITTEN CONTENT, WHICH IS WHY I DID THIS POST.
I AM NOT A BASE JUMPING INSTRUCTOR. IT IS FOR ENTERTAINMENT PURPOSES ONLY. DO NOT GO AND ATTEMPT TO JUMP OFF OBJECTS BECAUSE YOU SAW MY POST. AND CERTAINLY DO NOT TRY TO USE SKY DIVING EQUIPMENT IF YOU ARE DUMB ENOUGH TO ATTEMPT IT.
@curie @steemit
#freefall #terminalvelocity #skydiving #basejumper #skydiver #frothing #fullfroth #frother #adventure #life #adrenaline #extremesports #adrenalinesports #gopro #travel #rockon #summereveryday #summer #sliderdown #subterminal #base #basejumping #basejump #europe #321cya #seeya #fullsend #atair #adrenalinbase #osp #lifeisforliving #vanlife #lifesforliving #antenna #earth #steemit #bungeebase #life #travel #nature #outdoors #bungeejump #france #millau