The ride back to Chiang Mai was just as wild as the ride there. Lena and Moritz had to catch a plane to Phuket the next morning, so we had only one more evening together.
We used it to go on the Wat Phrathat Doi Suthep, a temple on a hill next to Chiang Mai with a marvellous view over the city. Our initial plan was to watch the sunset from up there, however as we figured out on our way there, the hill sits in the west of the city. Thus the sun set on the other side on the hill. Our great skill in messing up sunset activities was proven once more. Nevertheless we rode up to the temple and enjoyed the last rays sun. It was the first time for me to have a city at night in front of my lens, so I made countless long exposure shots messing up most of them. Eventually I stopped testing the patience of my friends and we went back down to Chiang Mai.
After our farewell we went each to our respective hostel.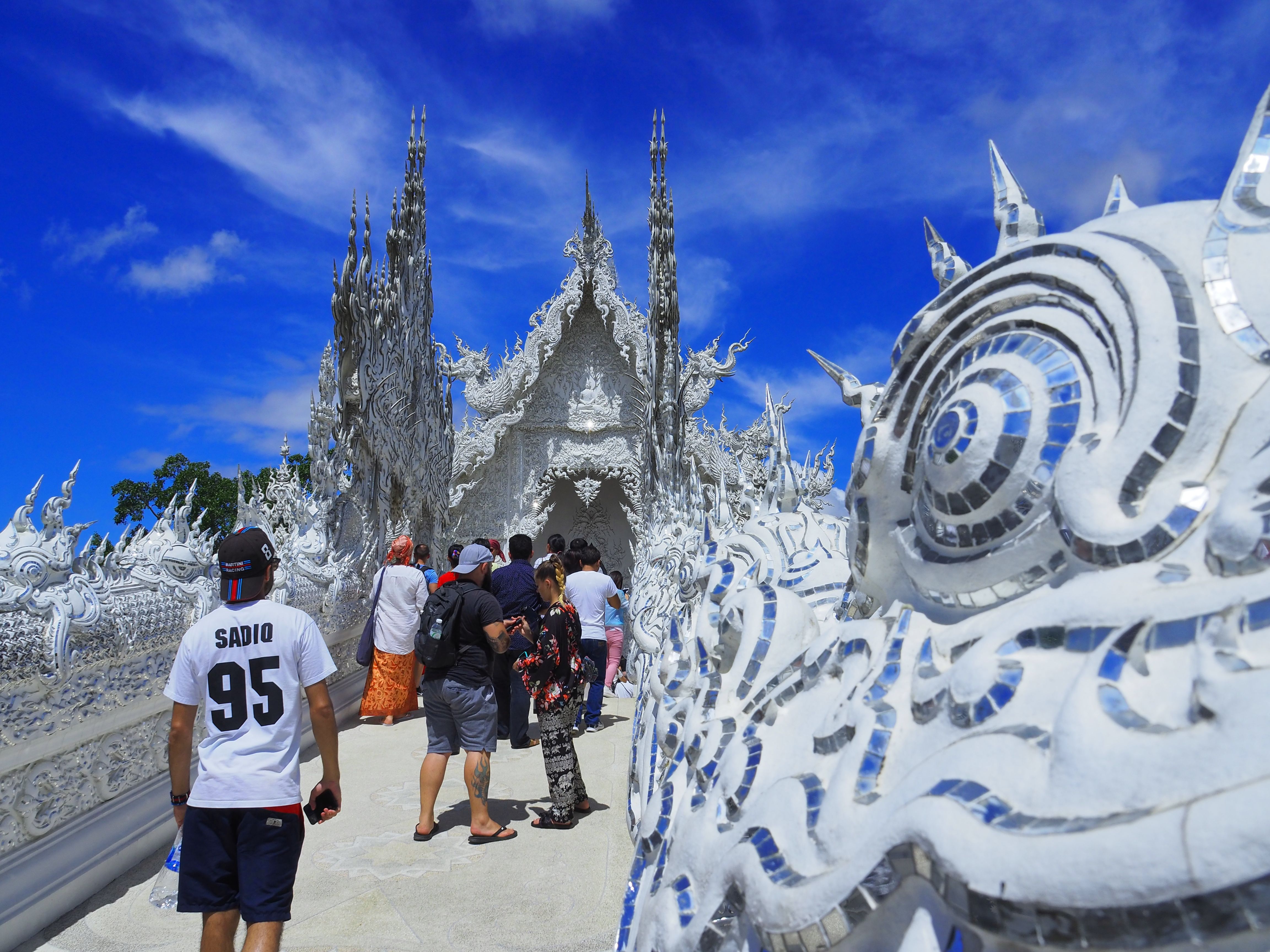 Amaan on his way into the white temple
1/1600 Sek. f/8 14 mm ISO 250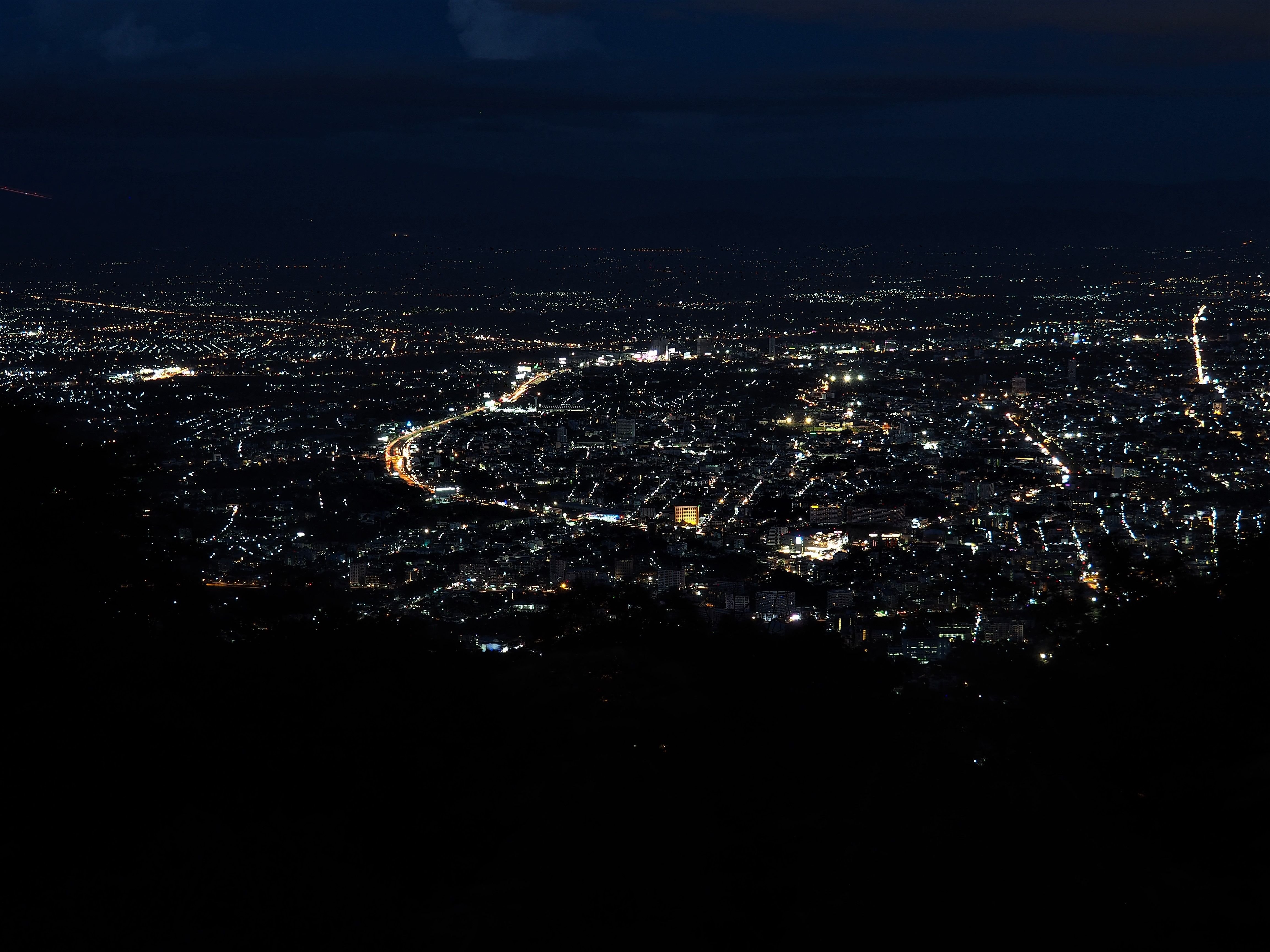 Chiang Mai at night
5/2 Sek. f/5,6 31 mm ISO 200
I didn't like the hostel I was staying at very much, so I got the next bus to Chiang Rai. I went for the cheapest one as always, but it turned out to be a bad decision. The cheap bus both started and stopped out side of the cities, so I had to get a taxi to and from the bus making it just as expensive as the luxury bus, which would have driven me from door to door.
As you know if you read some of my previous posts, I hardly ever book hostels in advance. It was the same in Chiang Rai, I had just looked up a few nice hostels beforehand and walked to the nearest one. It was pretty hot, so I was happy I didn't have to walk any further as they had a bed for me.
I must have looked pretty wrecked, because the guy who checked me in also gave me a complimentary glass of iced water.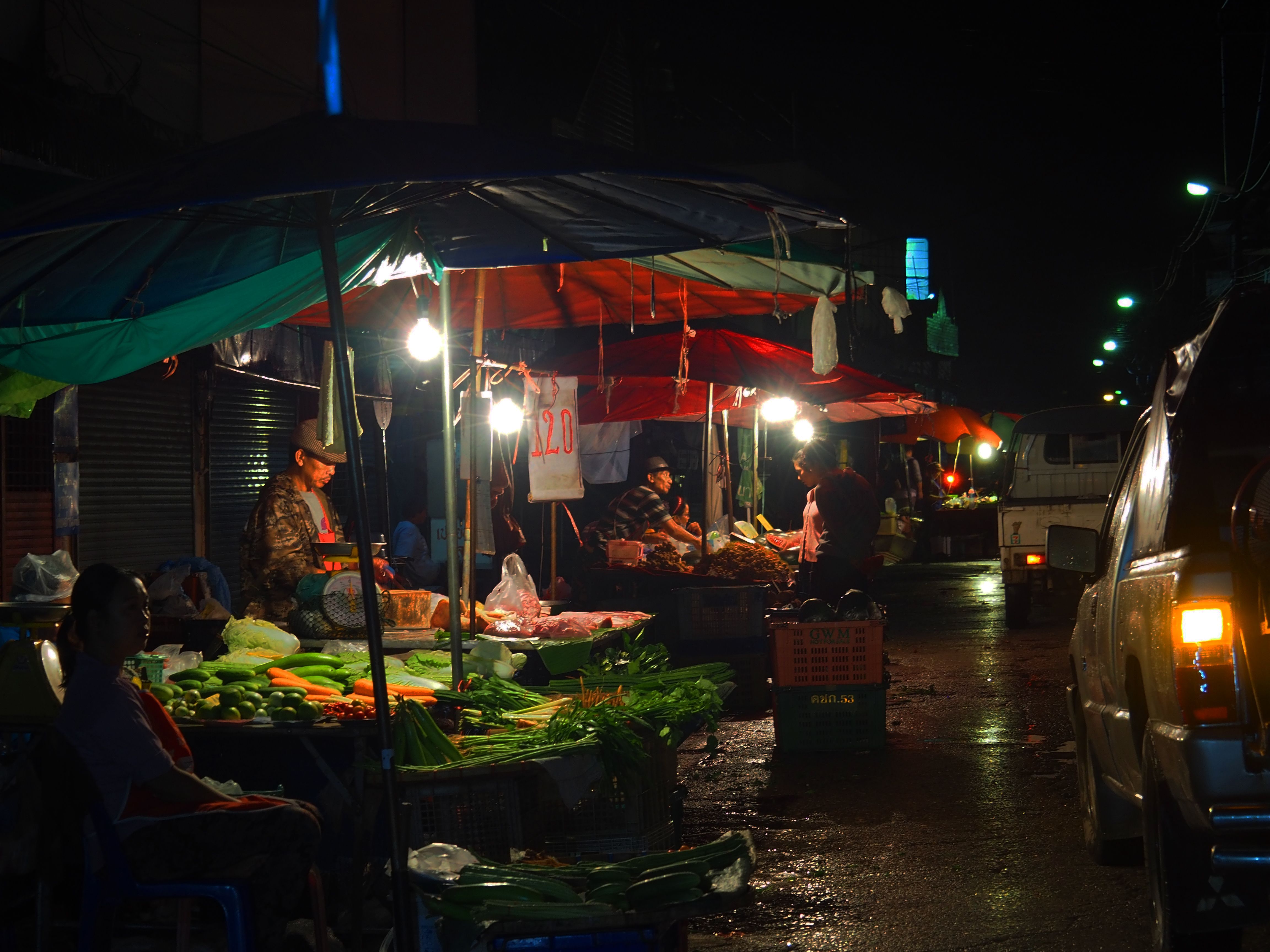 One of the night markets
1/8 Sek. f/5,6 49 mm ISO 800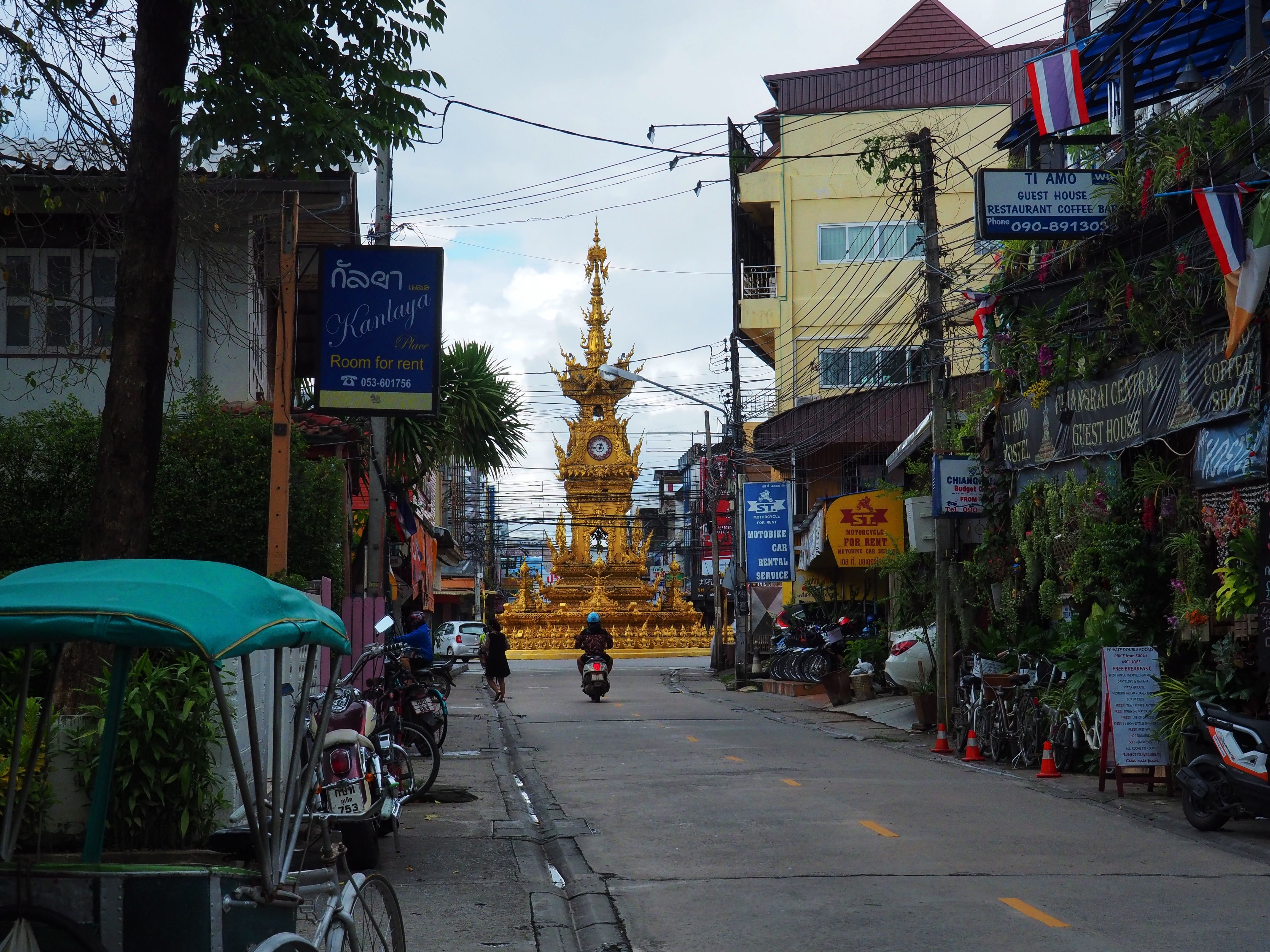 Typical Chiang Rai scene
1/1250 Sek. f/8 29 mm ISO 800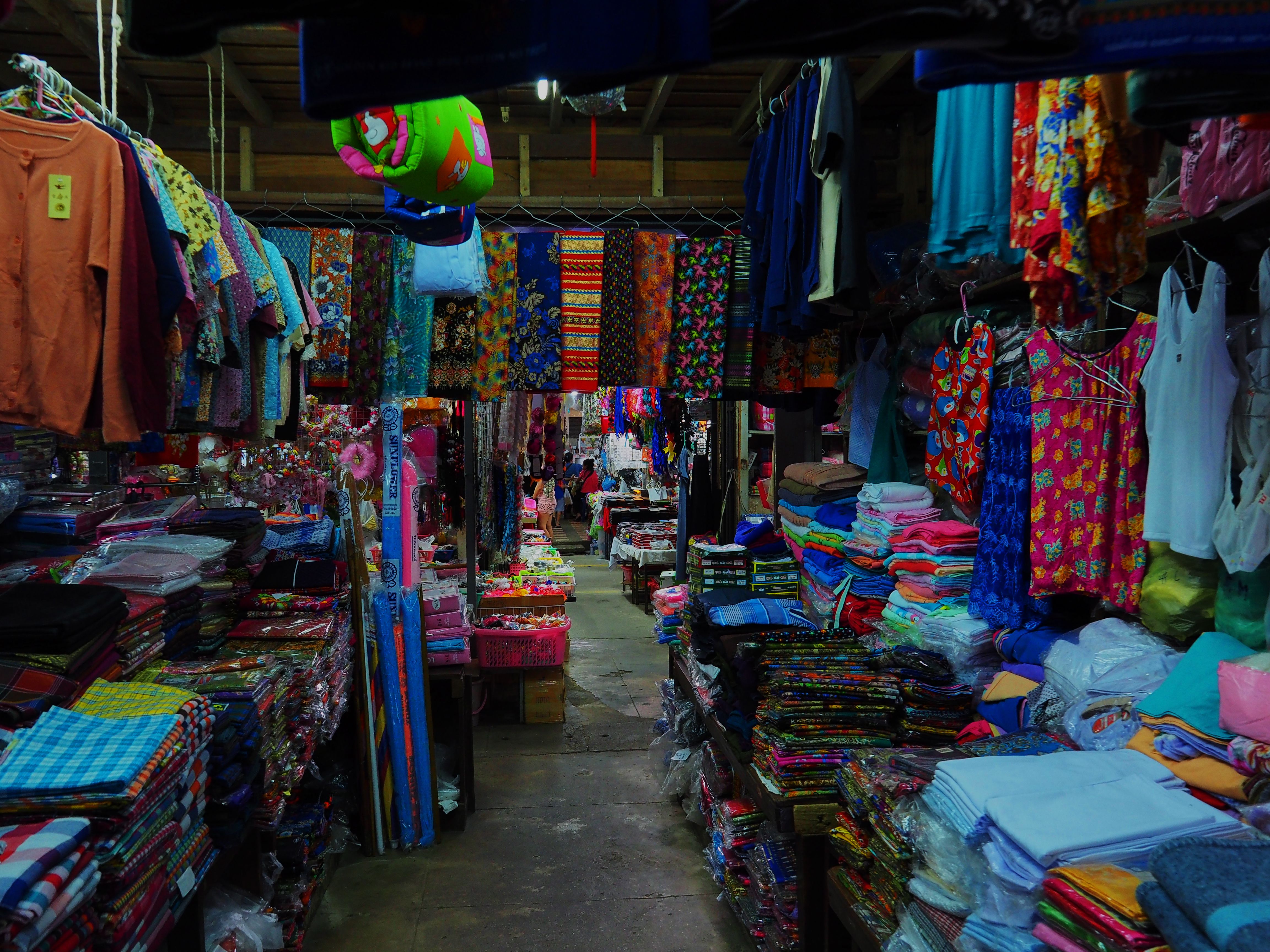 Inside the big market
1/13 Sek. f/6,3 14 mm ISO 640
The next few days where pretty dull. The AC in the bus had made me pretty sick, so I spend most of the time in bed. After a few days of watching Netflix on my phone and only going to the next 7-eleven for some food, I felt a little better. Around that time another guest arrived at my hostel. He introduced himself as Amaan, a guy from Saudi Arabia, who studied in Great Britain. Being a very open and sunny person he motivated me right away to get out of the bed and do something! We went for some quite good dinner at the night market.
The next day I felt that I still needed some rest, but I was tired of laying in bed the whole day, so I made plans to rent scooters the next day and drive around with Amaan.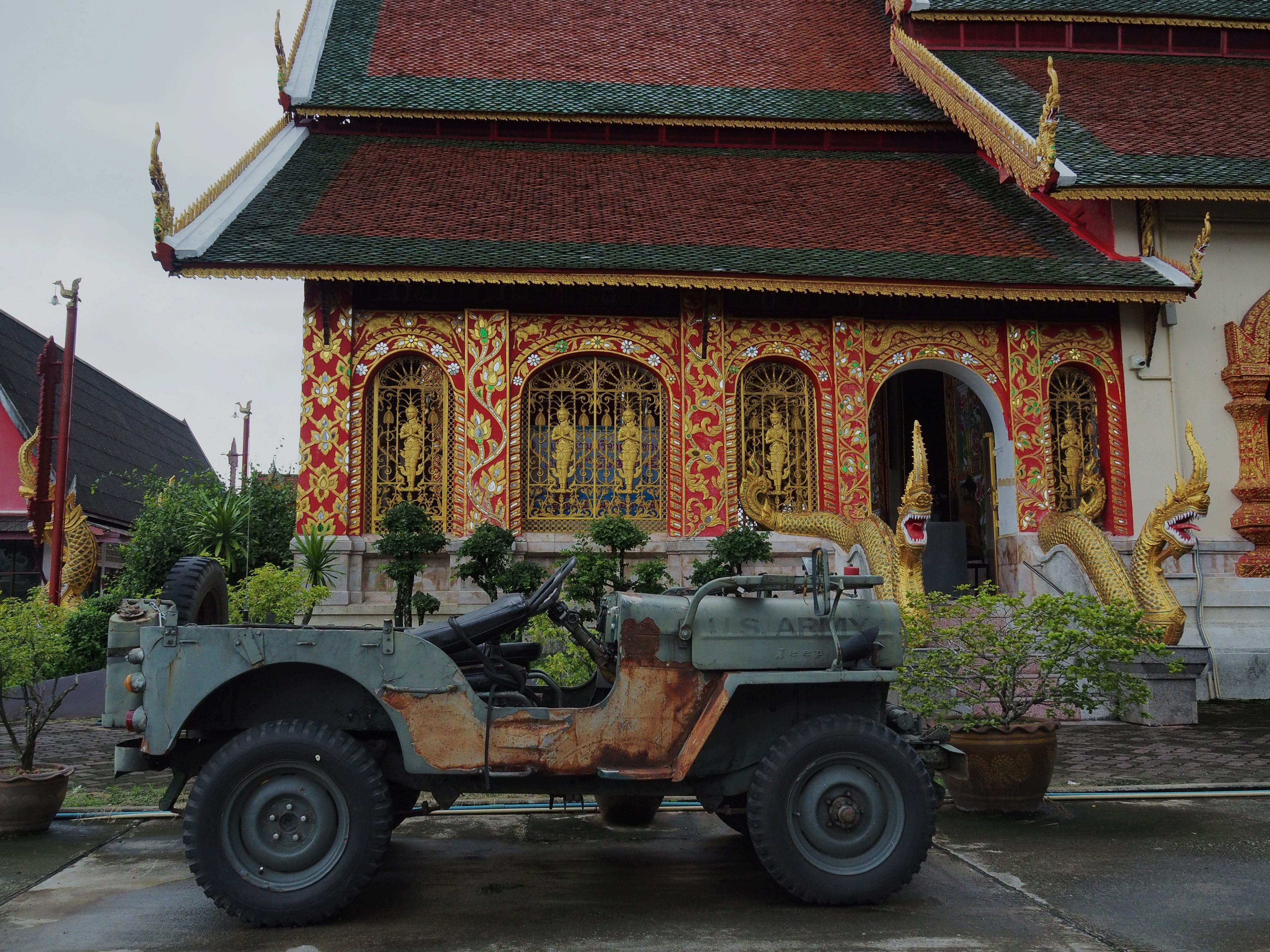 This cool thing was standing on temple ground, which seemed a little ironic. It looked like an original from the Vietnam war.
1/1250 Sek. f/7,1 14 mm ISO 800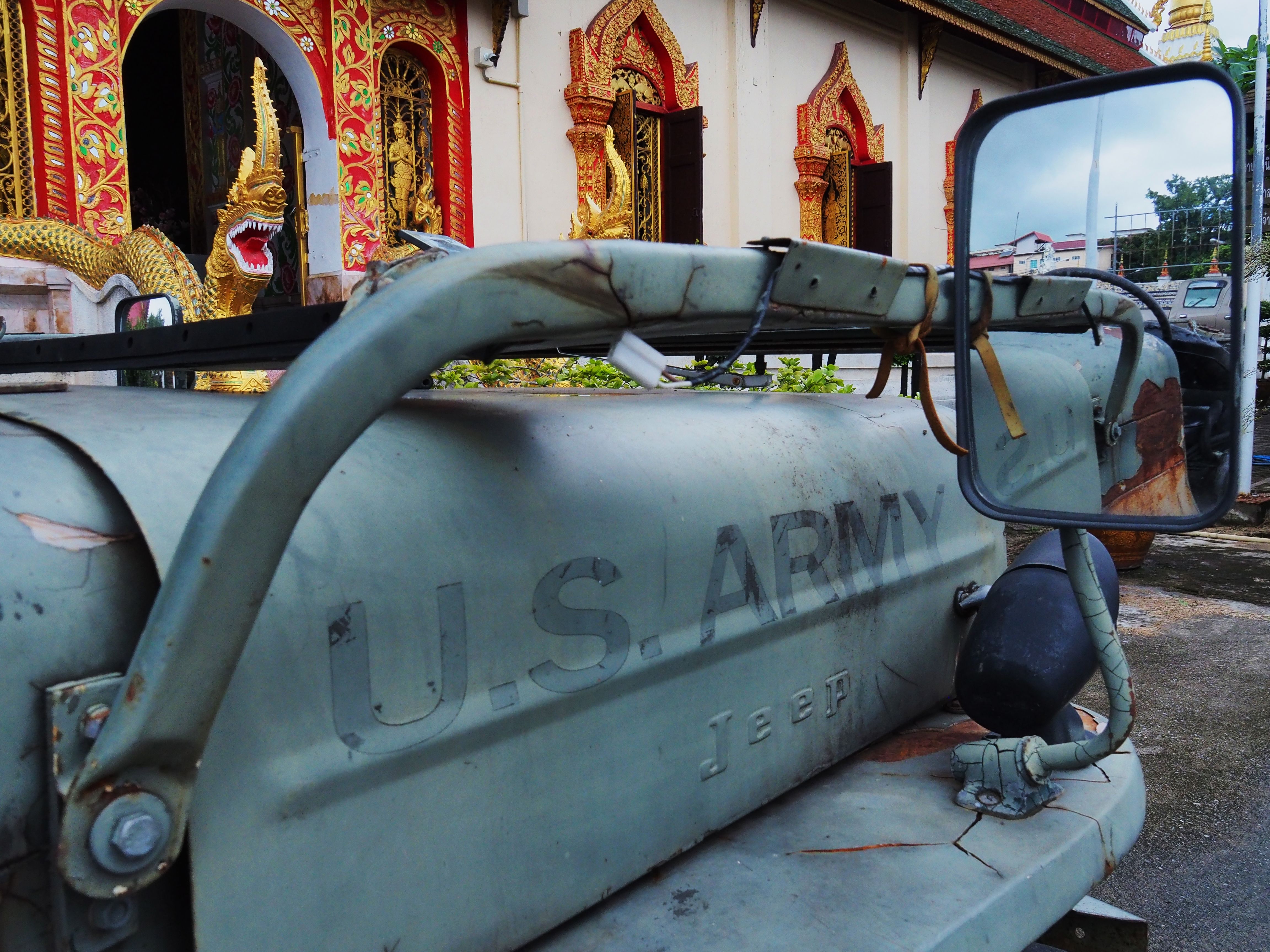 Another perspective
1/800 Sek. f/8 14 mm ISO 800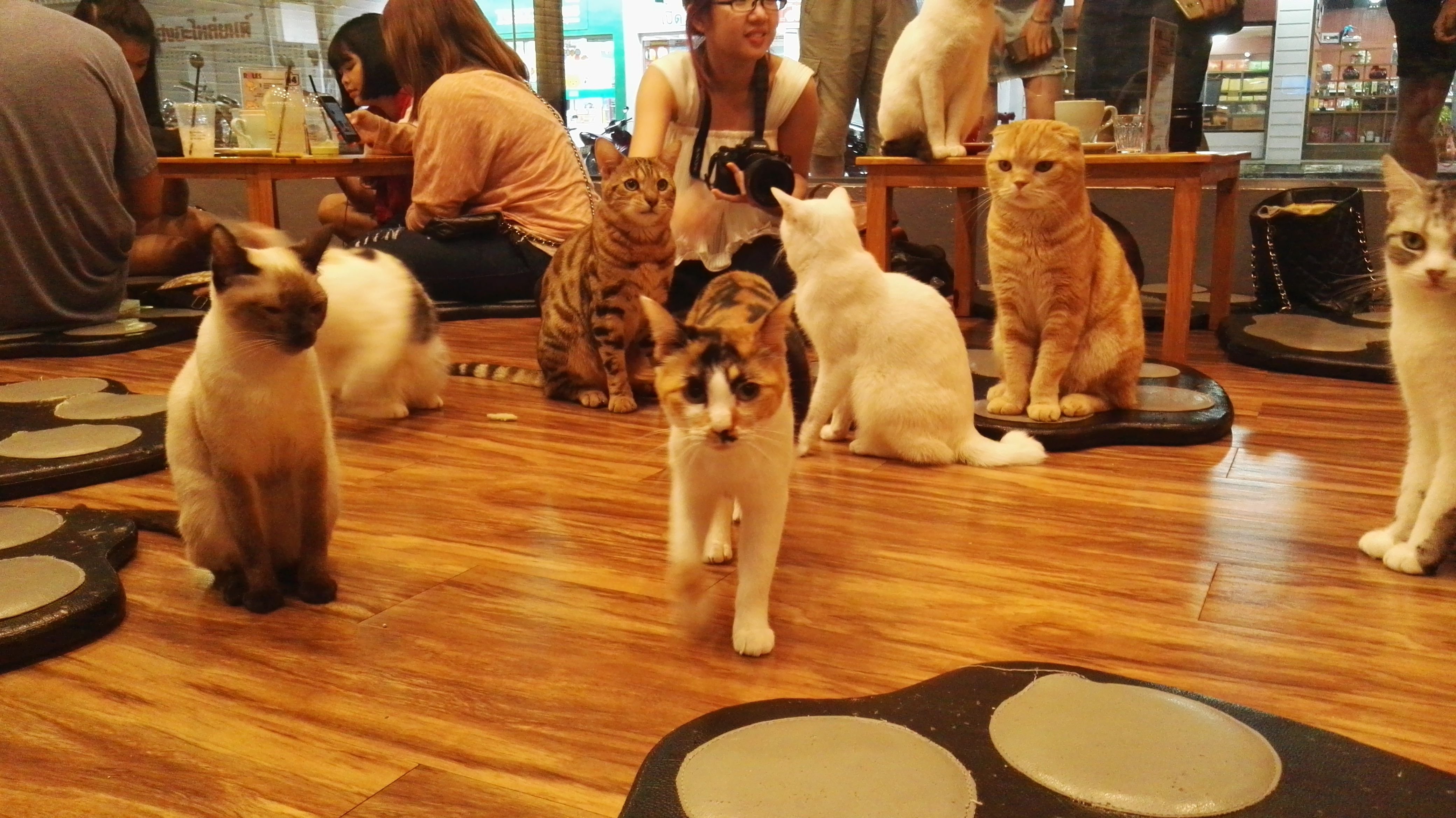 We also visited a cat coffee shop. Unfortunately I didn't have my camera with me so this is just a picture from my phone
I had asked the very friendly guy at the reception for some tips and he marked all the cool places on my "maps.me". So Amaan and I only had to choose where to go. We opted for the famous white temple, an amazing piece of art, which is still in progress and will always be. I won't tell you about the outside of the temple, as I could never describe them better than my pictures, but inside cameras where forbidden.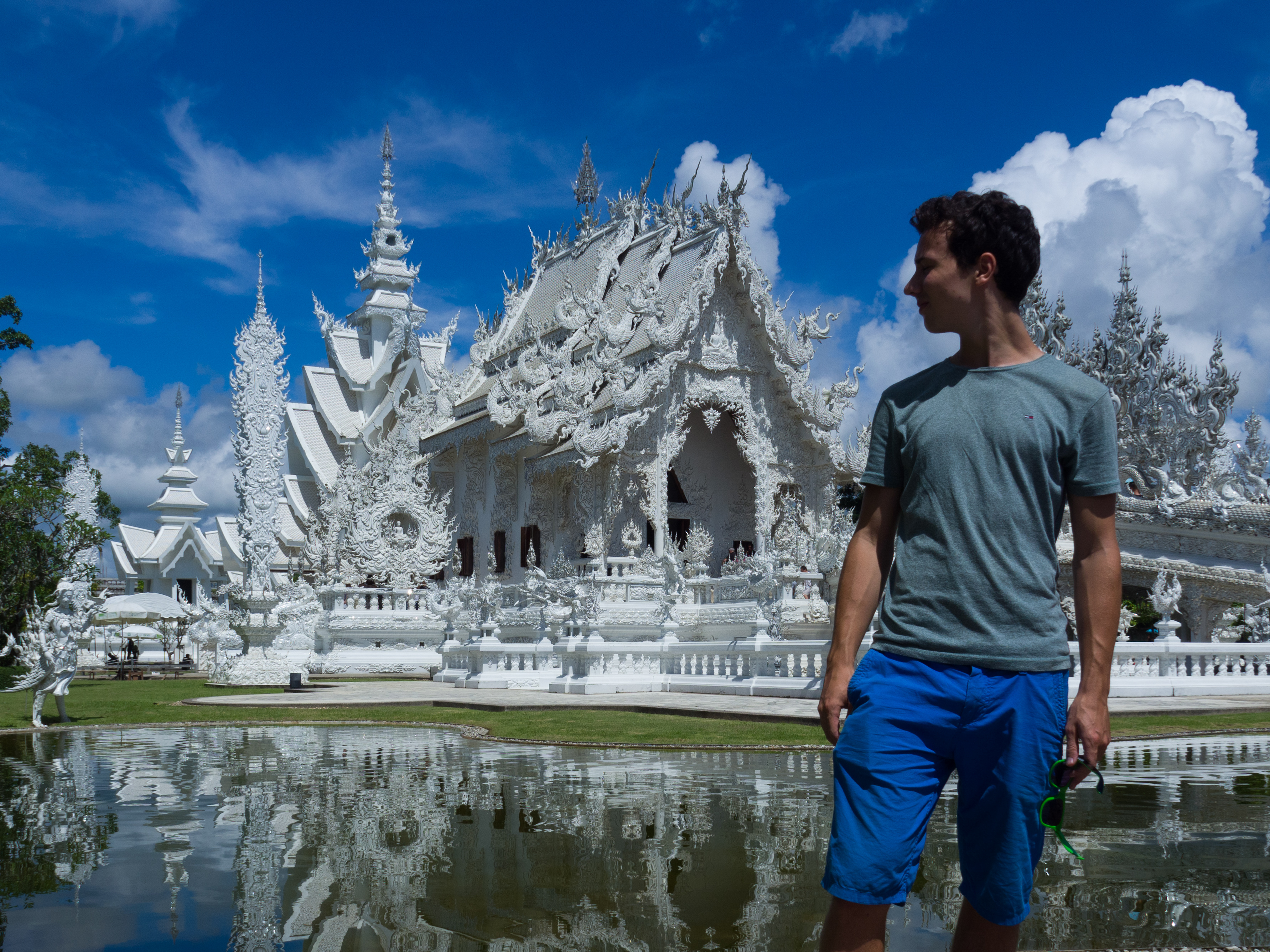 You may recognise this one from my profile picture, now you know where it's from
1/1600 Sek. f/8 14 mm ISO 250
The sideview. The white of the temple looked great against the blue sky!
1/1600 Sek. f/8 15 mm ISO 250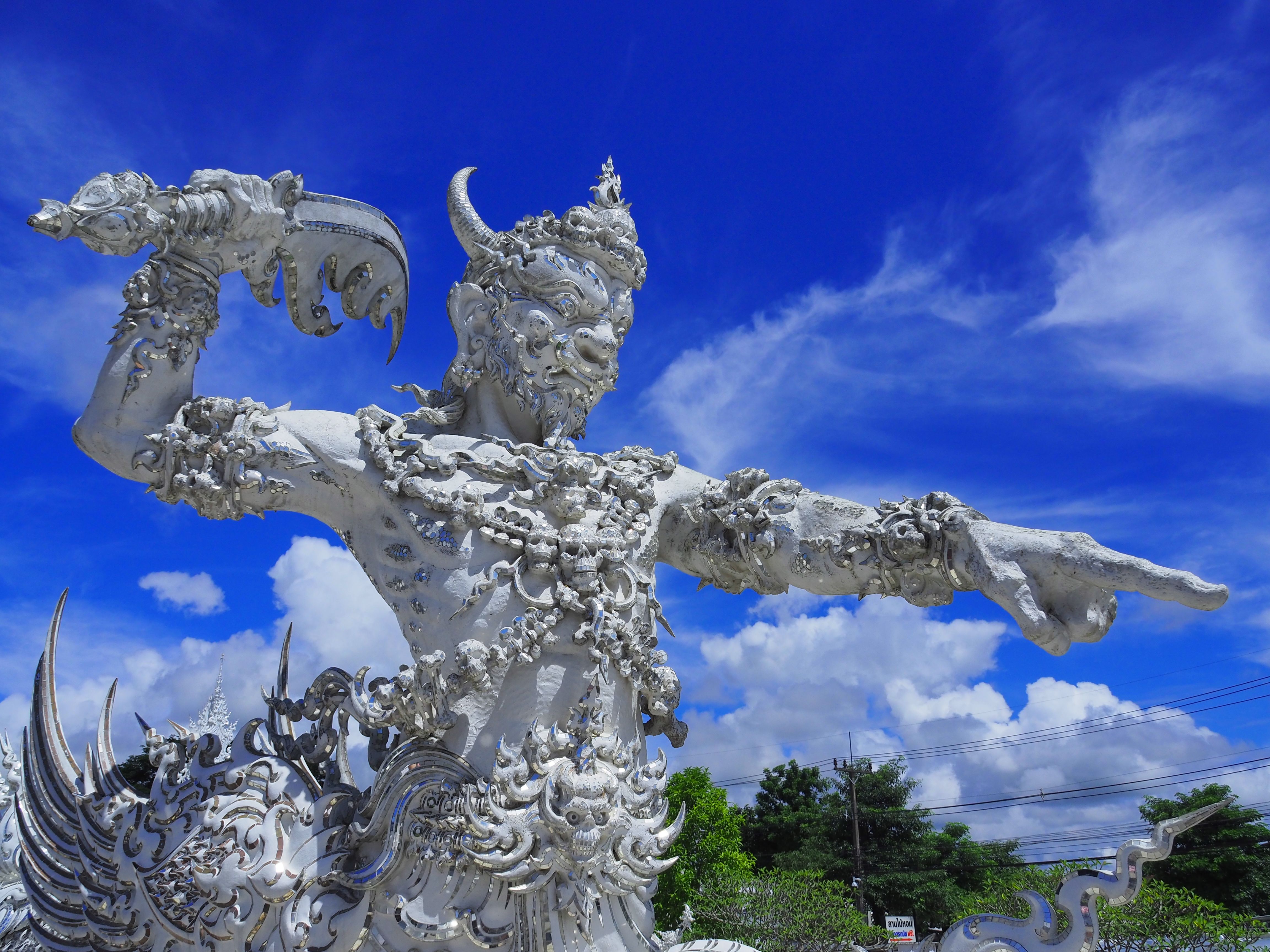 Just a warrior protecting the temple
1/1600 Sek. f/8 14 mm ISO 250
One of the walls inside where painted with all the evil in the world. Weapons, fighter jets, Darth Vader, Michael Jackson and Mickey Mouse are only a few examples of what can be found there. In between there where a lot of Buddha images to guard the world from so much evil.
While you could argue about whether the pictured characters where really evil, the beauty of the temple was not for debate.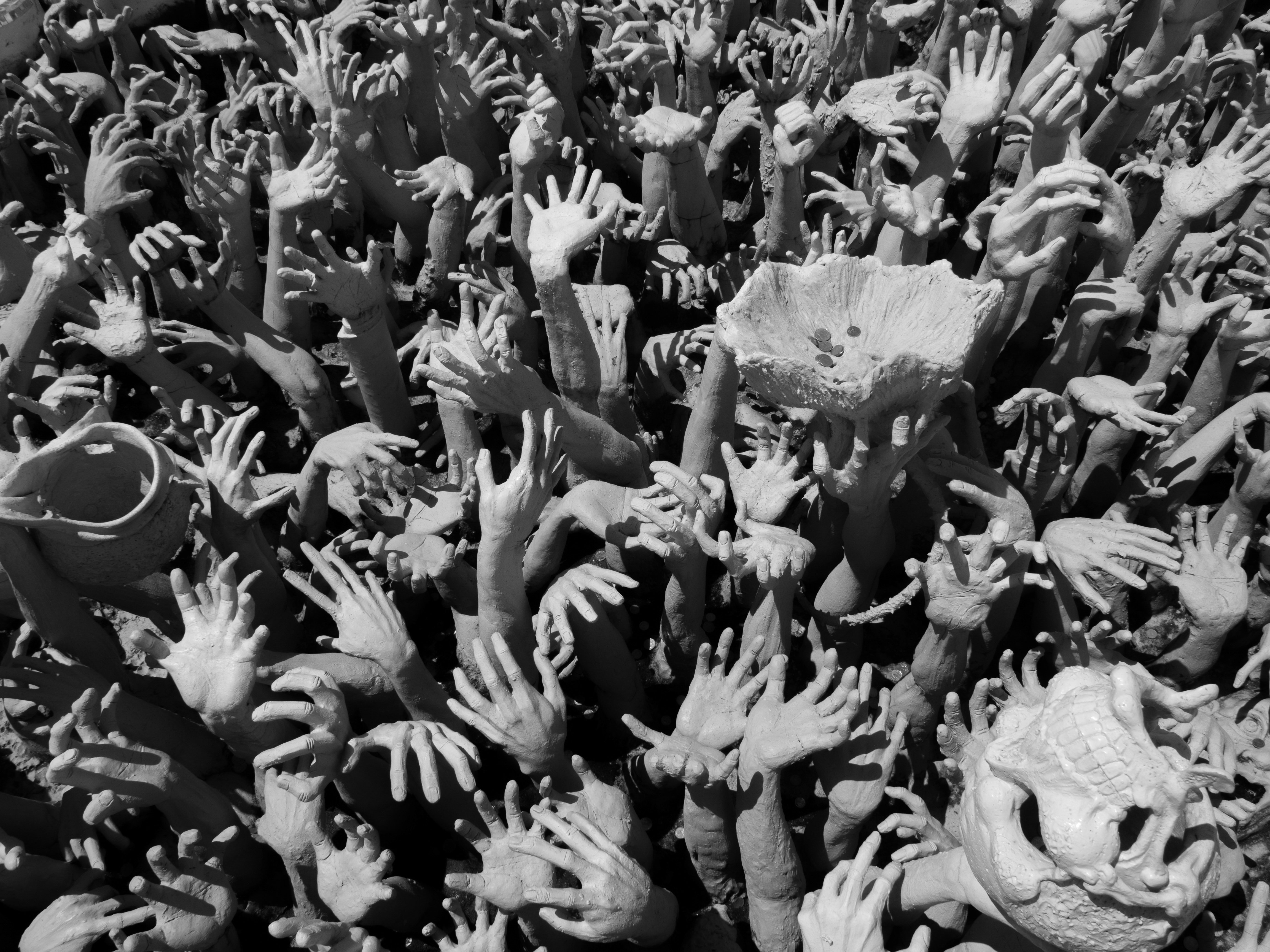 In order to get inside the temple you first have to go across a bridge over these grasping hands
1/1600 Sek. f/8 14 mm ISO 250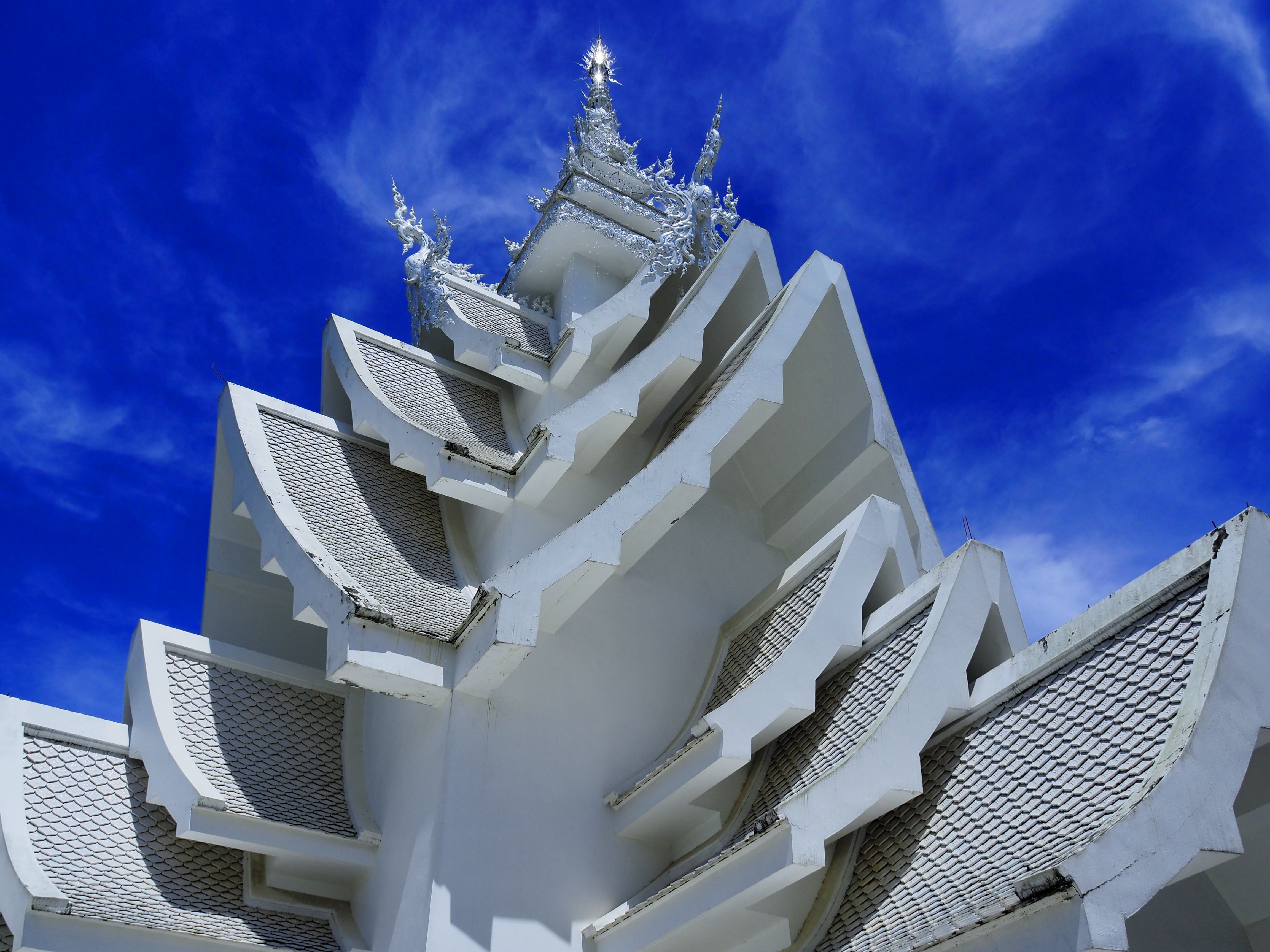 Last one I promise
1/1600 Sek. f/8 14 mm ISO 250
After that we rode back the long straight road beneath the glowing sun. Once we where back in Chiang Rai we only stayed for lunch and made our way to our next destination a waterfall.
According to maps.me it was a one hour ride, however we frequently stopped for pictures and videos. Once we rode over a stretch of road that was enclosed with rice fields on both sides. There Amaan tried to launch his drone (a DJI Spark) to make some epic footage of us driving through the fields. Sadly the position was marked as a "no-fly-zone" so it didn't work properly.
When we got closer to the waterfall the landscape began to rise and fall steeper and steeper. It didn't take long and we where deep into the hills, which where beautifully covered with lush green jungle. I tried to make some videos with my action cam, but it got all foggy on the inside..
I will try to cut the best pieces together and post it on dtube.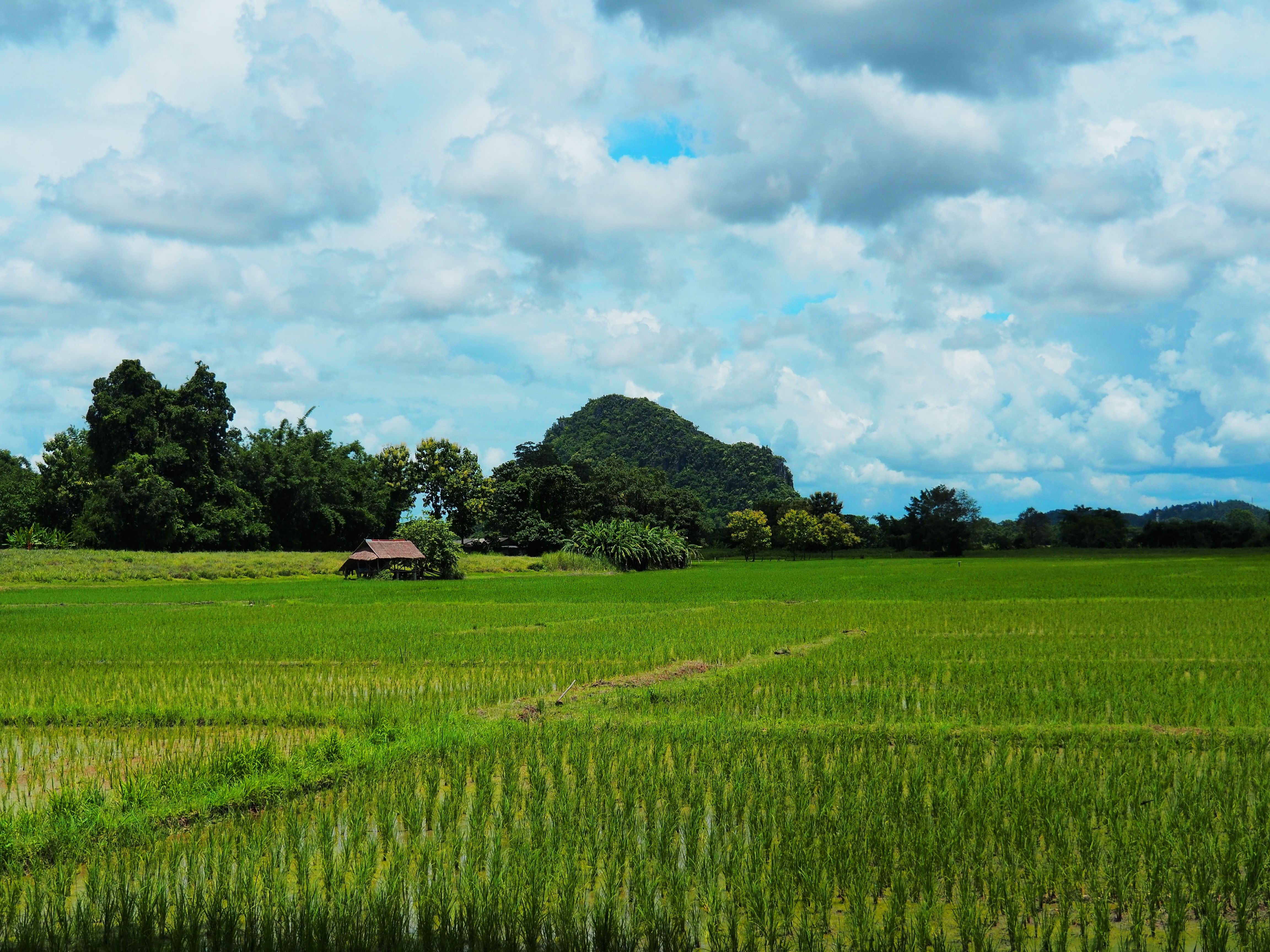 This is what a "no-fly-zone" looks like according to DJI
1/3200 Sek. f/5 25 mm ISO 250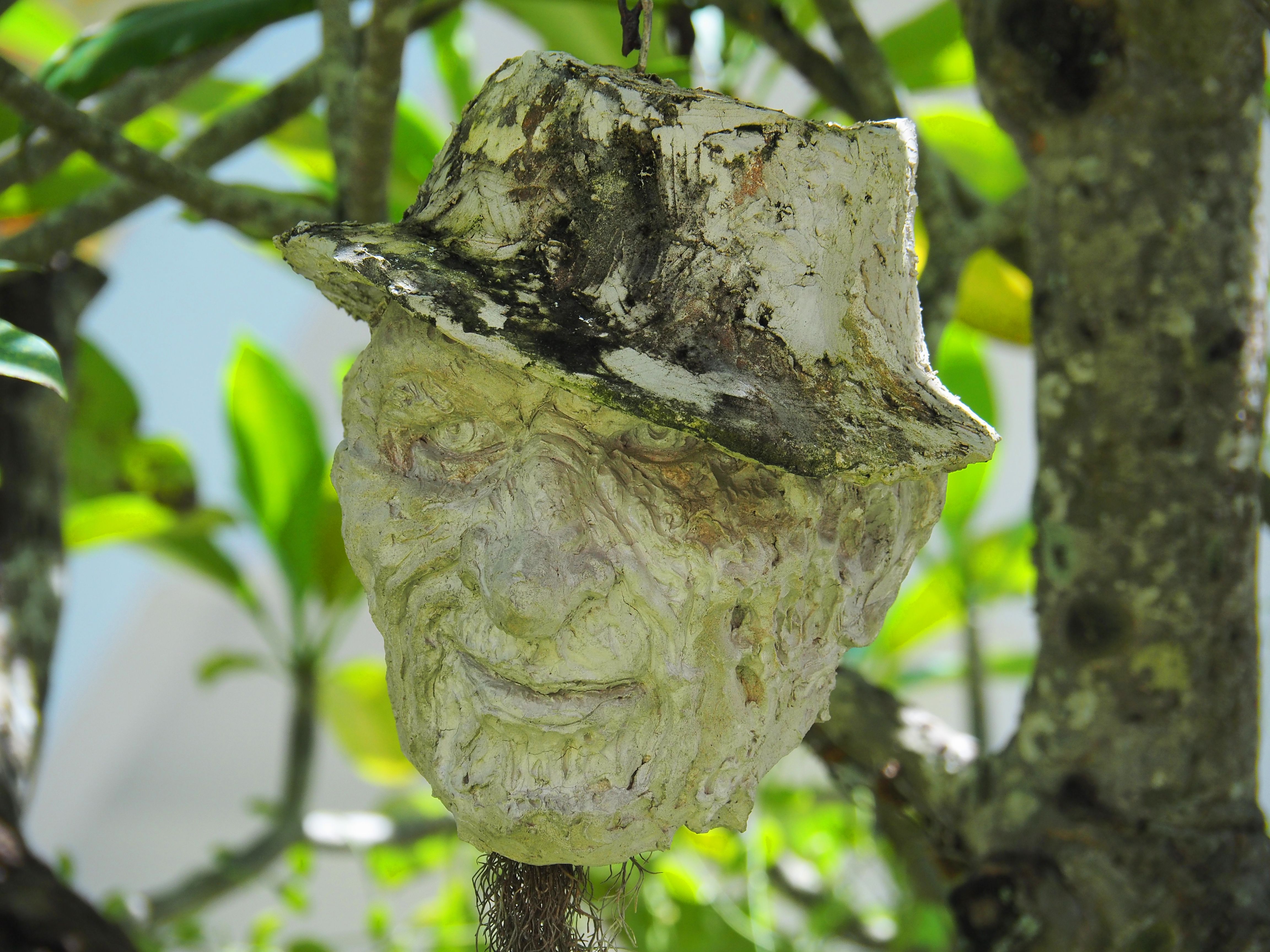 On the grounds of the white temple there where trees with head hanging from the branches. Most of them famous bad guys. Gollum was also there.
1/400 Sek. f/5,6 120 mm ISO 250
About 5 minutes before we reached the waterfall there was a huge puddle of mud across the whole street. Our scooters where made for the street so Amaan, who went first crossed very carefully. I followed him, just as cautious, a little too cautious as my bike threatened to get stuck in the mud on the last metre. I turned the throttle a little harder to get out and WHAM! there I laid in the mud wheels spinning in the air.
Luckily I was barely going walking speed when I crashed, so I only scratched my knee and the scooter only had some mud on its side.
When we reached the parking spot and hiked the last 10 minutes into the jungle we found that the waterfall had been worth the ride. It was a big waterfall of about 17-18 metres in the middle of the jungle. On the bottom it had a nice little pool in which you could stand and wash yourself. And so we did, sweaty from the ride and me muddy from the fall.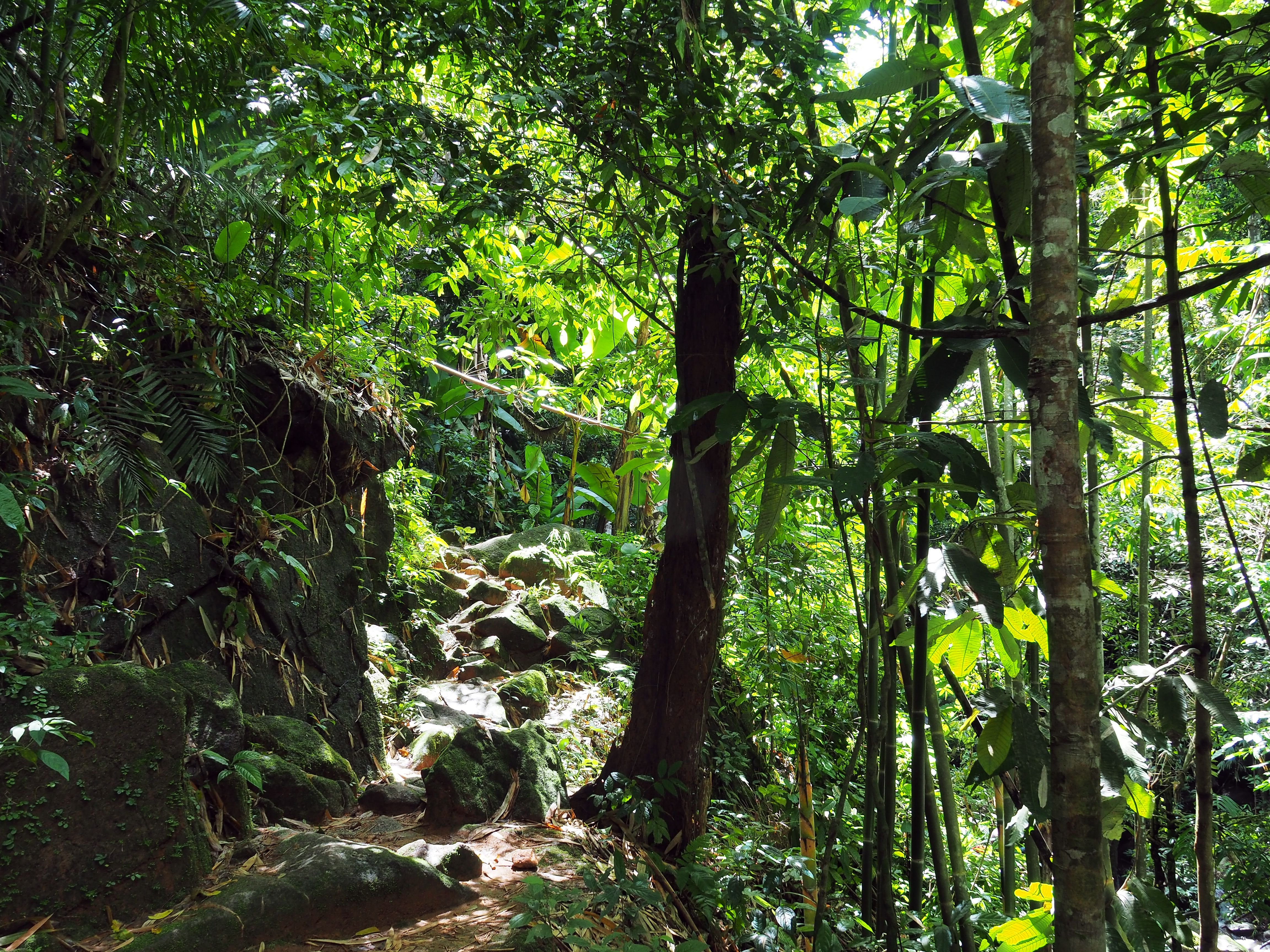 The path to the waterfall
1/25 Sek. f/7,1 14 mm ISO 250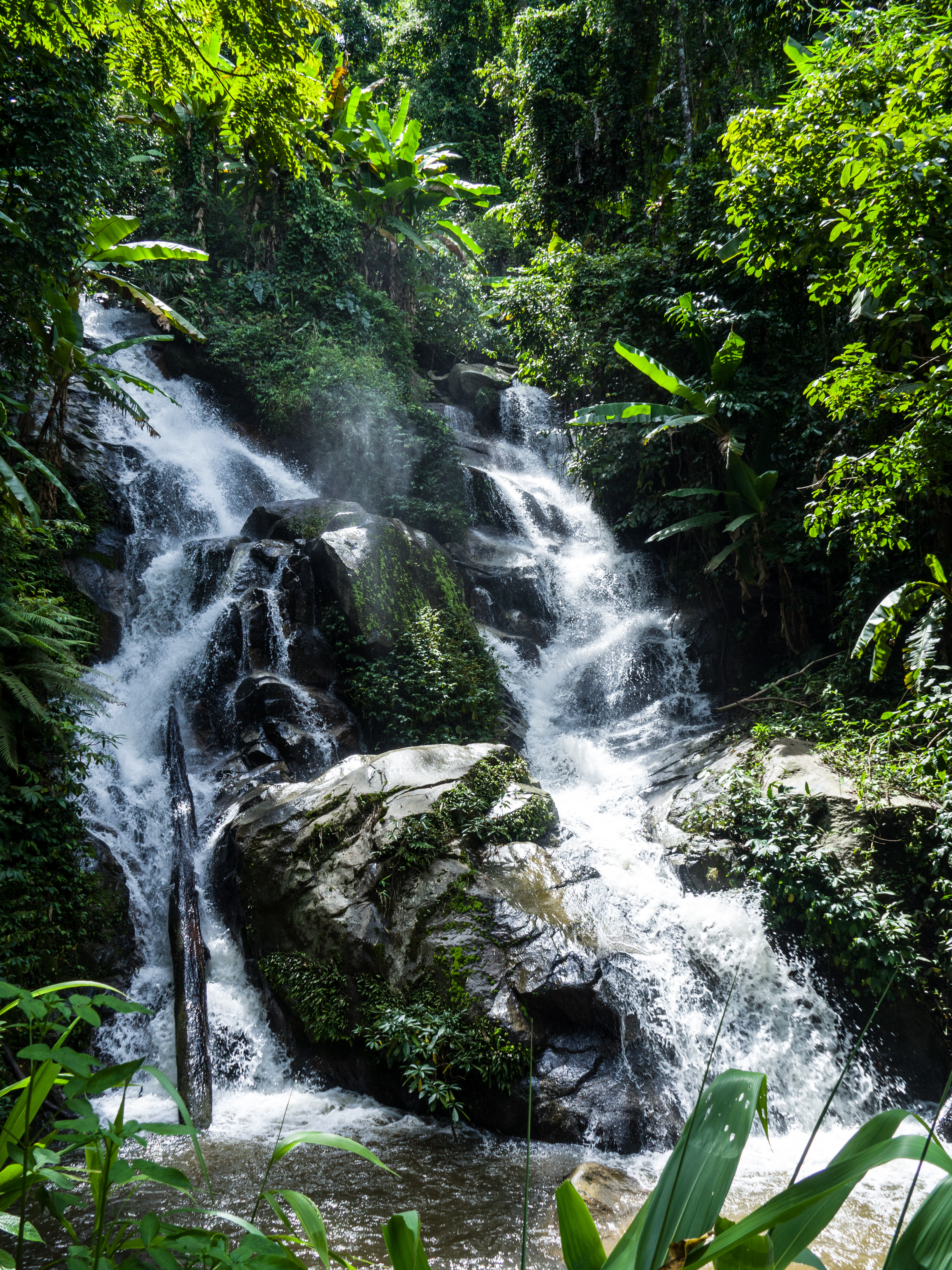 It was just a gorgeous as it looks and higher than it seems, for scale look at the tree trunk on the left side
1/200 Sek. f/7,1 14 mm ISO 250
On the way back, our scooters barely making it up the steep roads, we where much faster. We had already booked a bus back to Chiang Mai so we only had time to change and have a quick meal before getting into the luxury bus. (Yes I learn from my mistakes)
Back in Chiang Mai (for the third time!) I had an amazing time bathing with elephants, going to a cooking class and also had to go to the hospital. More on that next week ;)
---
All shots in this post were made with my Olympus OMD EM-10 Mark II with a 14-150mm lens in manual mode.
If you want to learn more about my travel through southeast Asia you can read the previous posts here:
There is a new chapter coming each Thursday
If you want to know more about me check this out:
---
Thank you for reading and feel free to upvote, resteem & follow me :)