Another Bus
The bus was supposed to pick my friends up between 8am and 8:30 and me between 8:30 and 9am. Of course my luck with buses struck again and I got picked up at 8:30 straight, but Moritz and Lena weren't in the bus. I got a little worried, that they missed it but it turned out that the driver simply mixed up his schedule. As I had found out earlier these buses were infamous for making people sick. Some people even claimed that it was unusual for a ride to go without at least one person puking. Nonetheless I hoped to get a few minutes of sleep on the bus.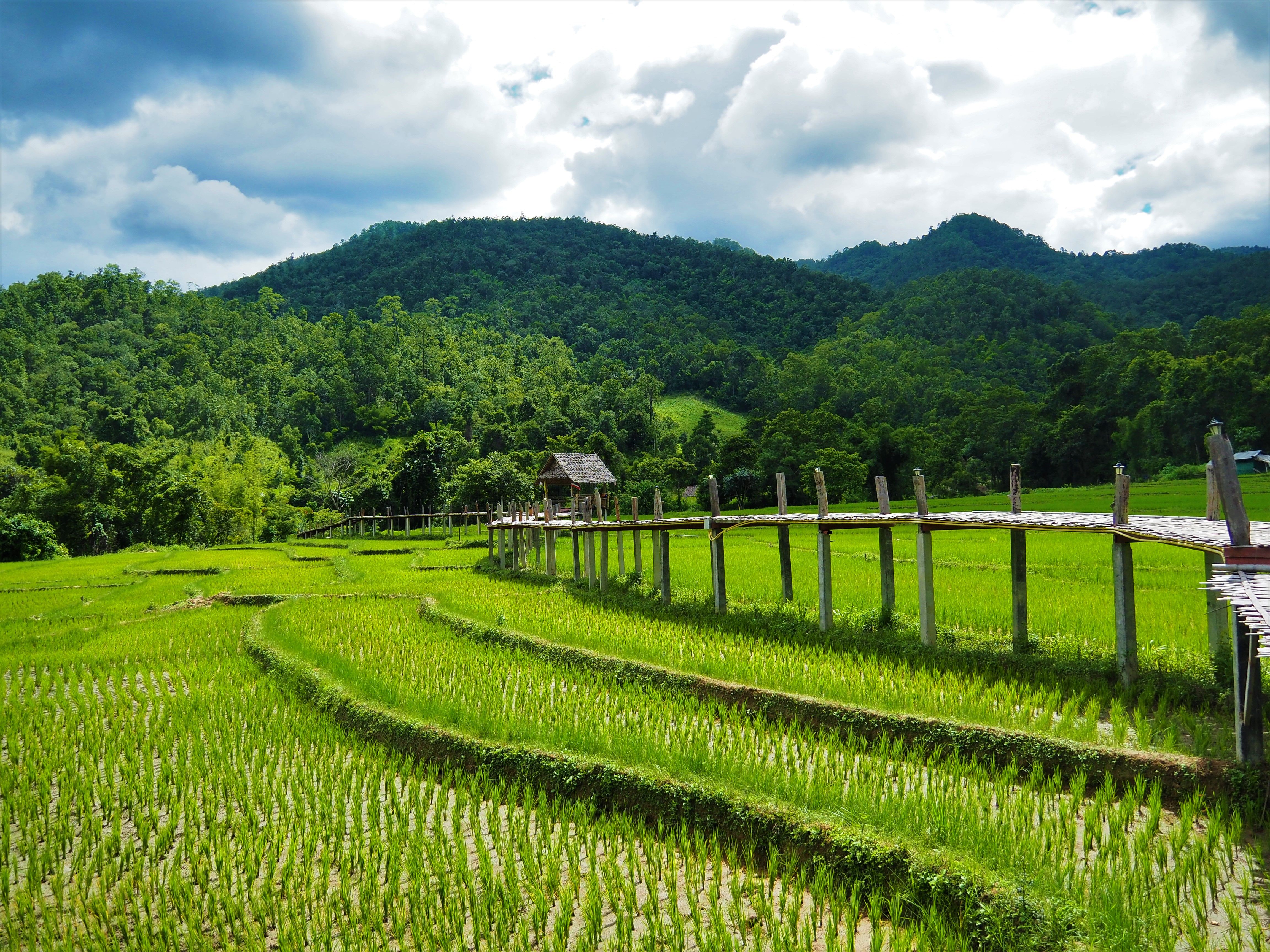 The Bamboo Bridge in Pai
1/2000 Sek. f/4 14 mm ISO 250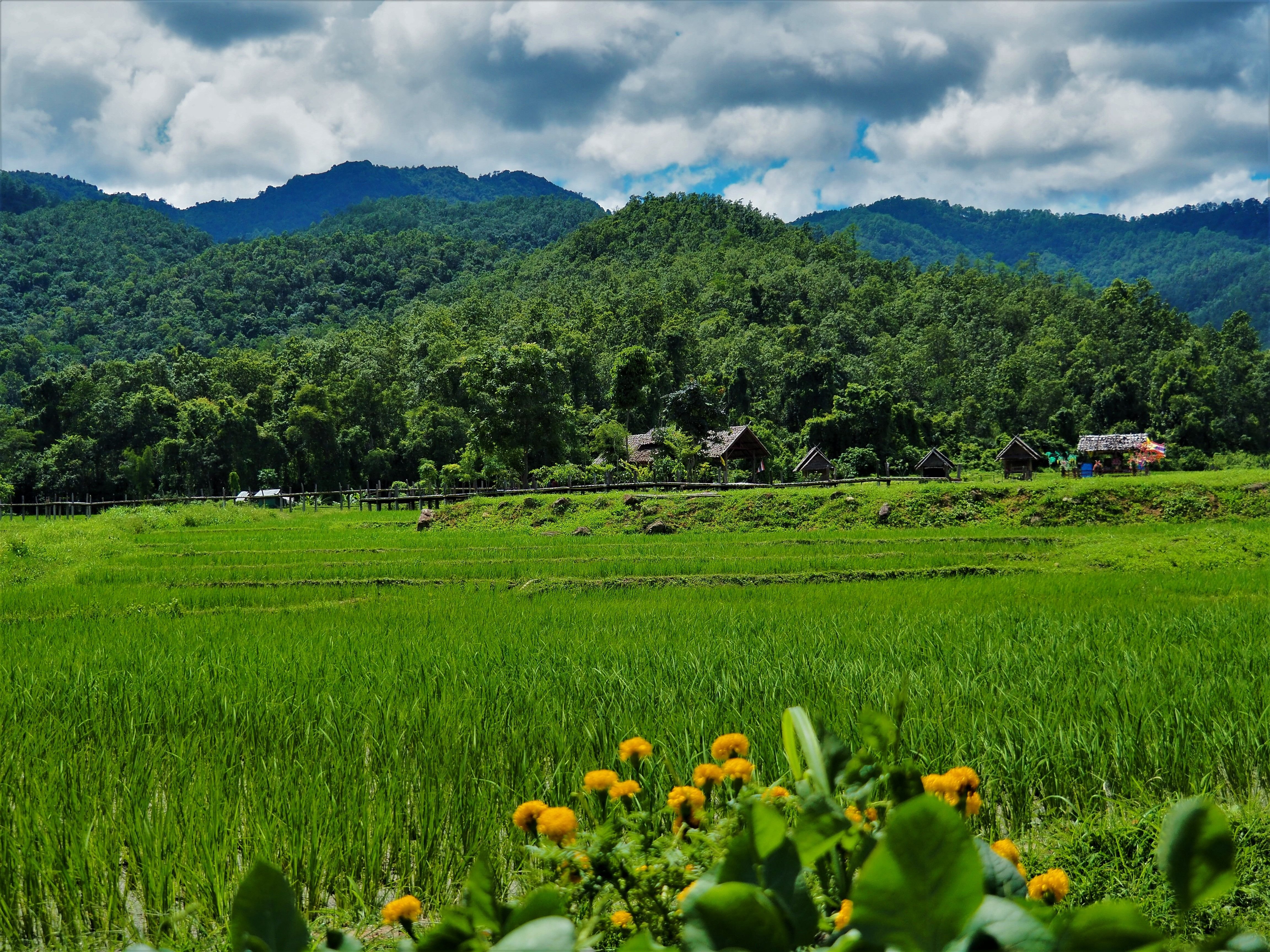 The views never ceased to amaze
1/2500 Sek. f/4,7 25 mm ISO 250
Sitting in the back of the bus I began to understand pretty fast. The beginning was just ordinary flat straight street, but in order to get to Pai one has to climb some mountains. However when the streets got steeper and the turns sharper the bus driver showed no intentions of getting slower. Sleeping was no longer an issue, I had to keep myself from falling off the seat instead.
After the roller-coaster ride through the mountains we arrived in Pai at about noon. Moritz and Lena weren't on such a tight budget as myself, so they had gotten themselves a nice bungalow in a resort right out of town. I just went to the place next to it, a very nice and cheap hostel with a lot of nice places to chill.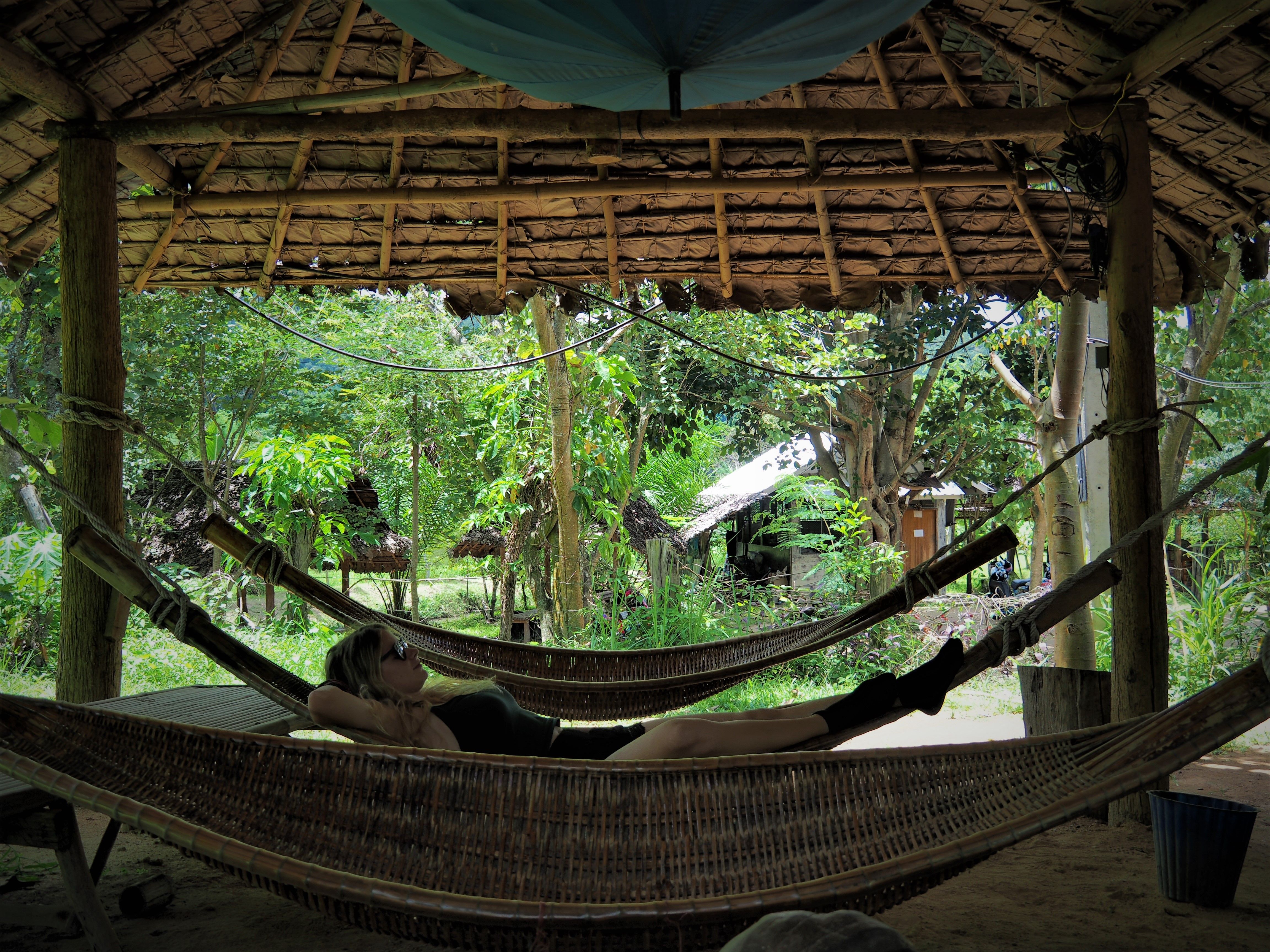 Perfect location to shoot some Instagram pictures to make everyone else jealous
1/160 Sek. f/4,5 16 mm ISO 200
When you go to Pai you ether come for the Hippie-vibes (and the accompanying substances) or you come for the great nature around it. We hadn't come for drugs so we had to get some scooters since none of the nice places were in walking distance. The problem was, that Moritz and Lena both had never driven a scooter before and my first time was just two weeks before in Myanmar.
We tried to keep the risk as low as possible, so we just got two scooters and either Moritz or Lena was sitting on the back of mine while the other one drove alone.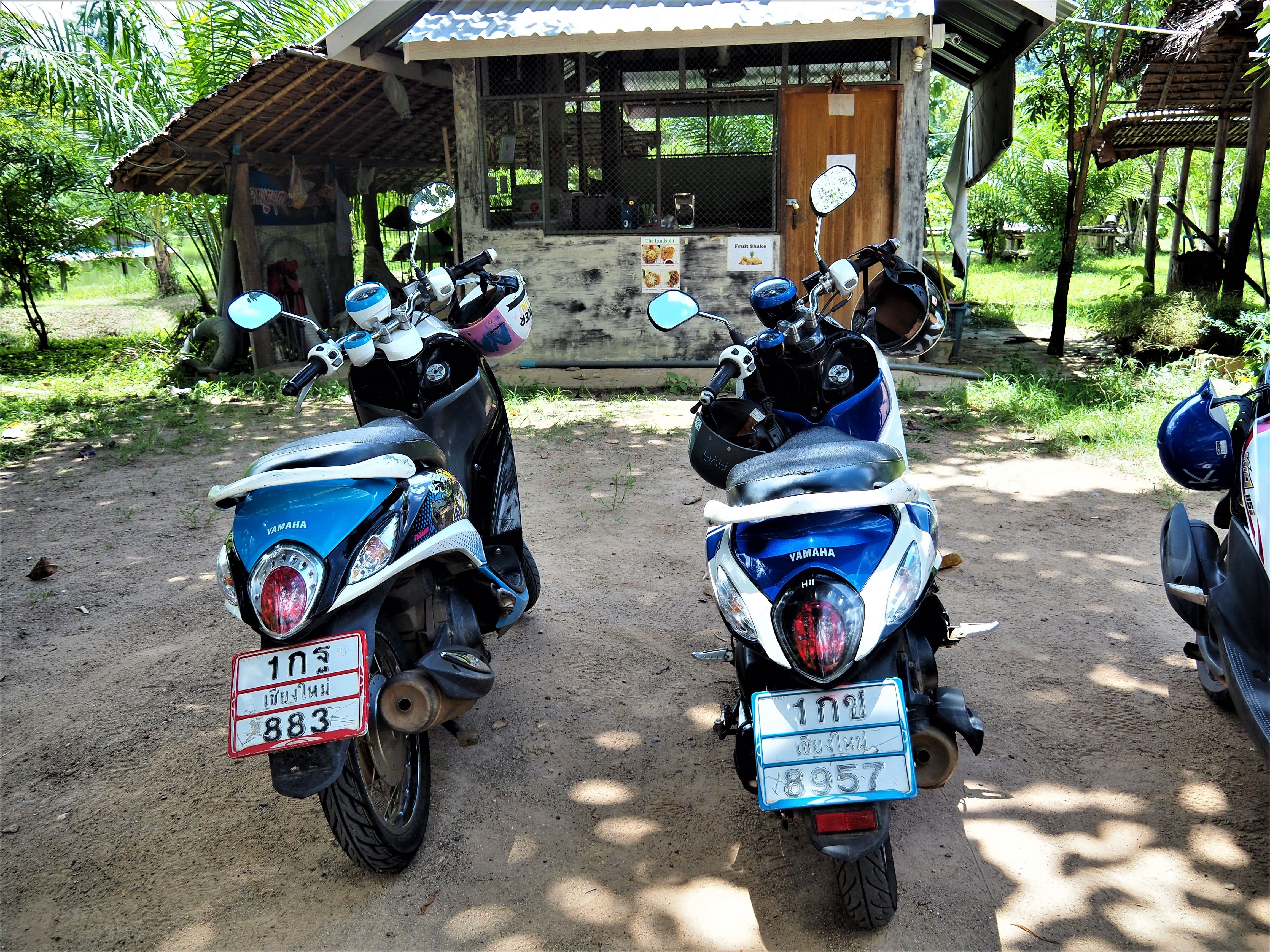 Our trusty horses
1/320 Sek. f/4,5 15 mm ISO 200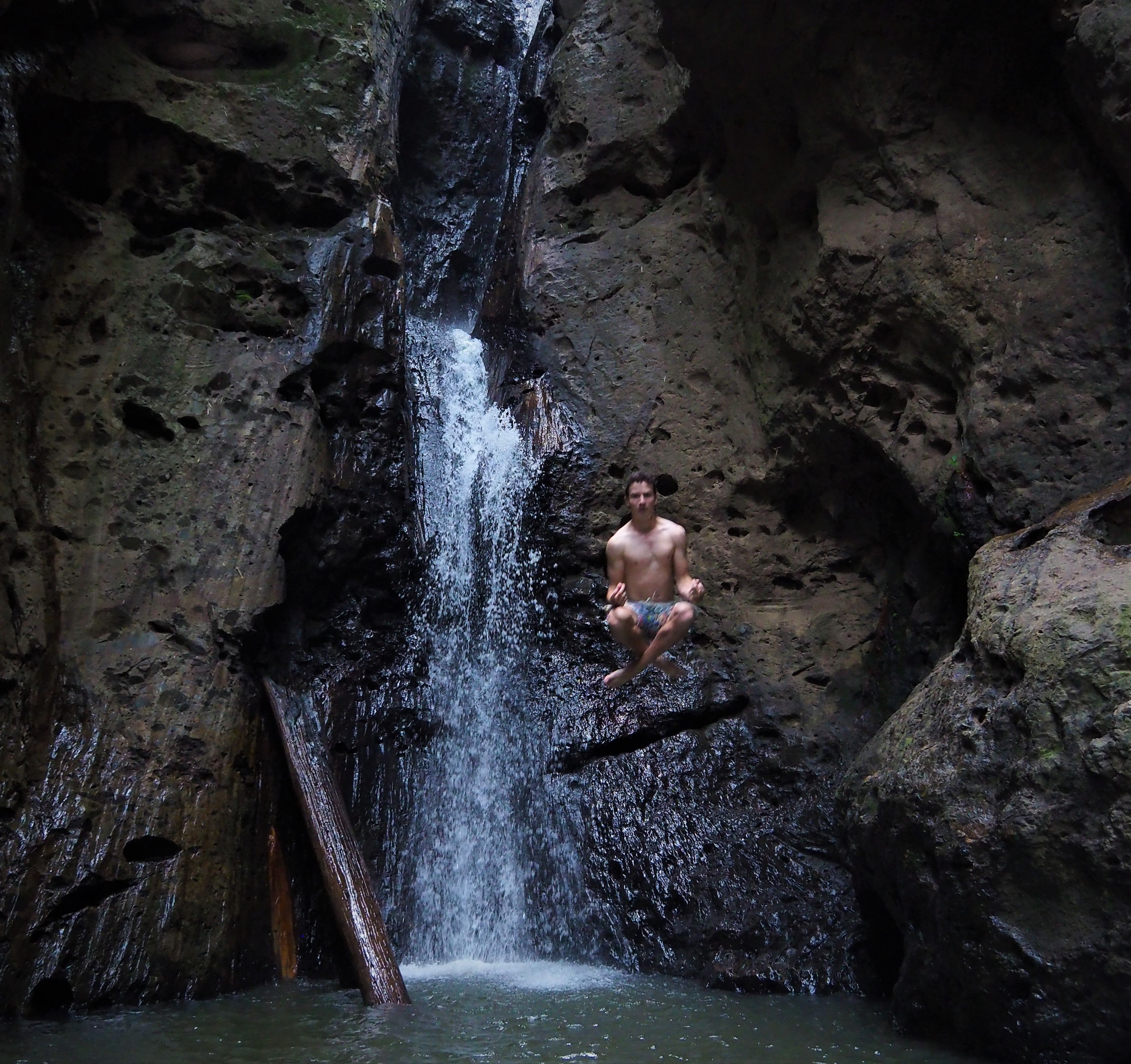 Me at the Pam Bok waterfall. Unfortunately I set the shutter speed too slow so it's blurry
1/250 Sek. f/4,5 14 mm ISO 1600
On our first day as a #scootergang we visited the Pam Bok waterfall and the Bamboo bridge. But before we got to the waterfall we came across the "Landsplit". It's a place where someday out of nowhere the earth split apart leaving a huge crack in the field of a farmer making it impossible to farm the land. The farmer however found a neat solution to his huge problem: He started growing bananas, sweat potato and some other fruits in a small scale on the remaining land and offered it for free to the tourists, who came by his land on their way to the waterfall. In return he only asked for a small donation. To this day I am amazed, that this worked out so nicely. He is running it so well, he had his own entry in my guide book!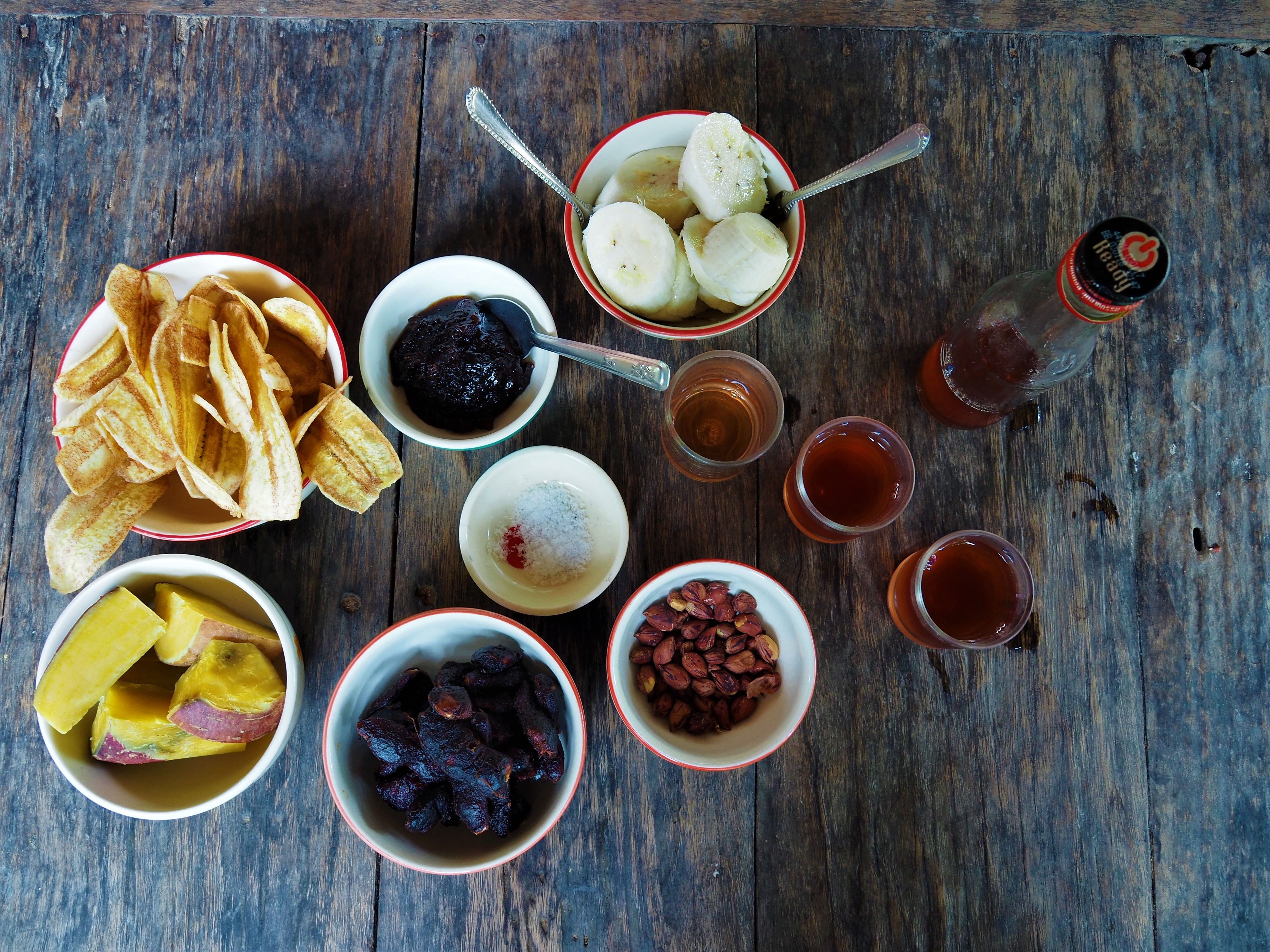 Dried banana, pineapple jelly, flower wine, sweet potato, peanuts and tamarind at the Landsplit
1/13 Sek. f/5,6 14 mm ISO 200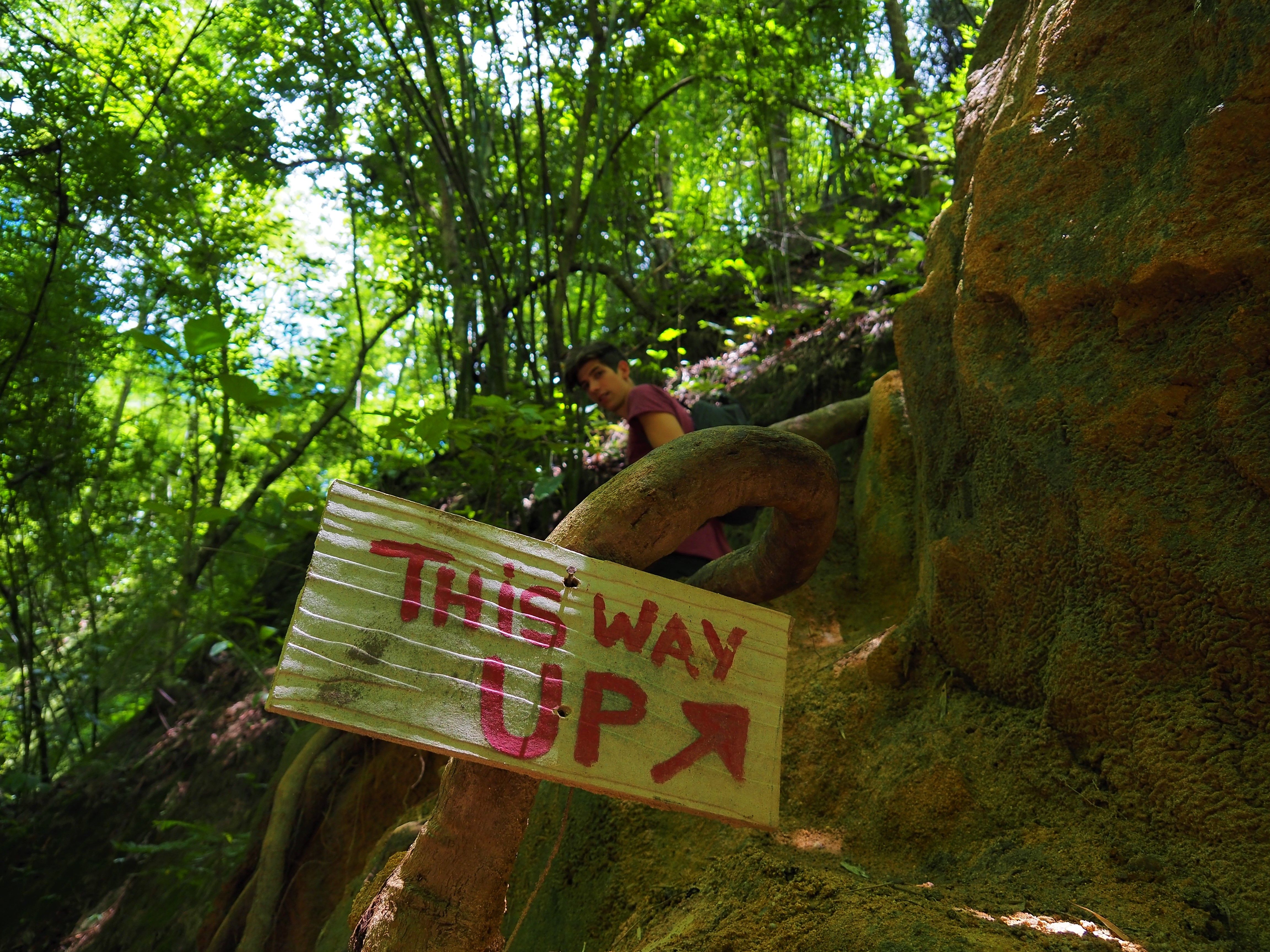 We also went for a hike through the landsplit
1/80 Sek. f/4,5 14 mm ISO 200
The waterfall and especially the bamboo bridge where unbelievable beautiful! I won't even try to describe, let the pictures speak for themselves.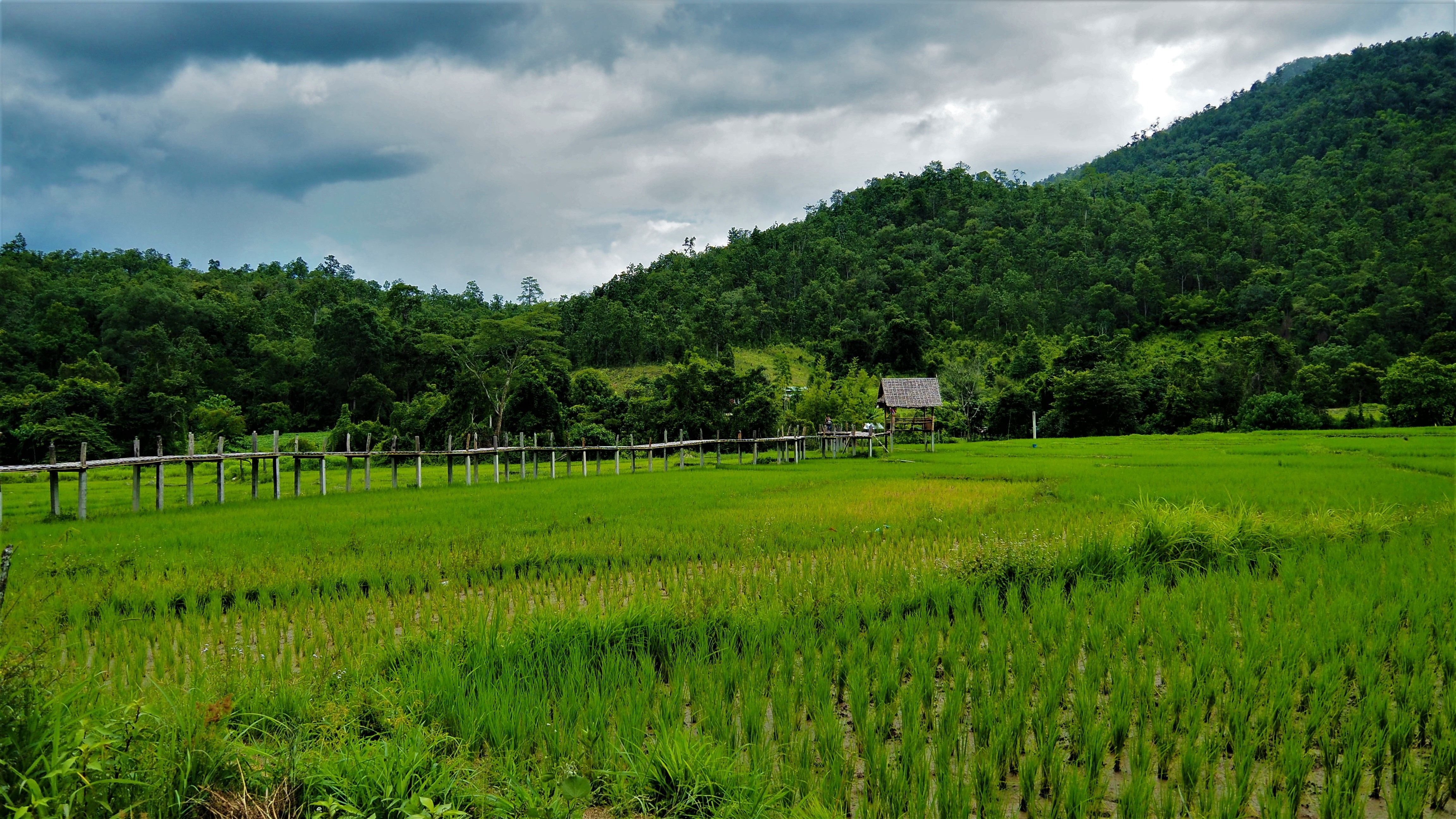 In case you need a new background, this is 16:9 ;)
1/1600 Sek. f/4 14 mm ISO 250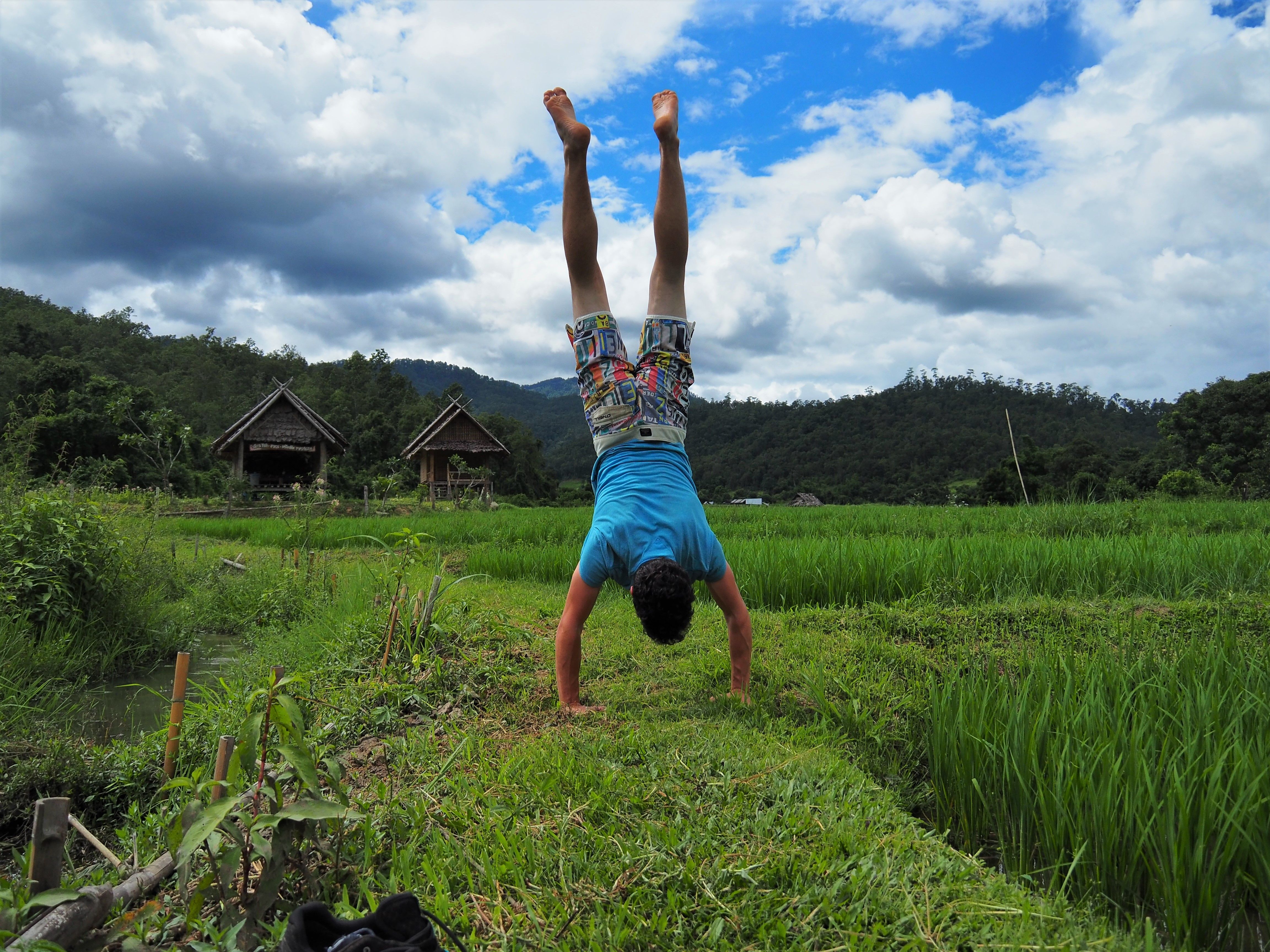 My sorry attempt of making a handstand to mess up the beautiful scenery
1/4000 Sek. f/4 14 mm ISO 250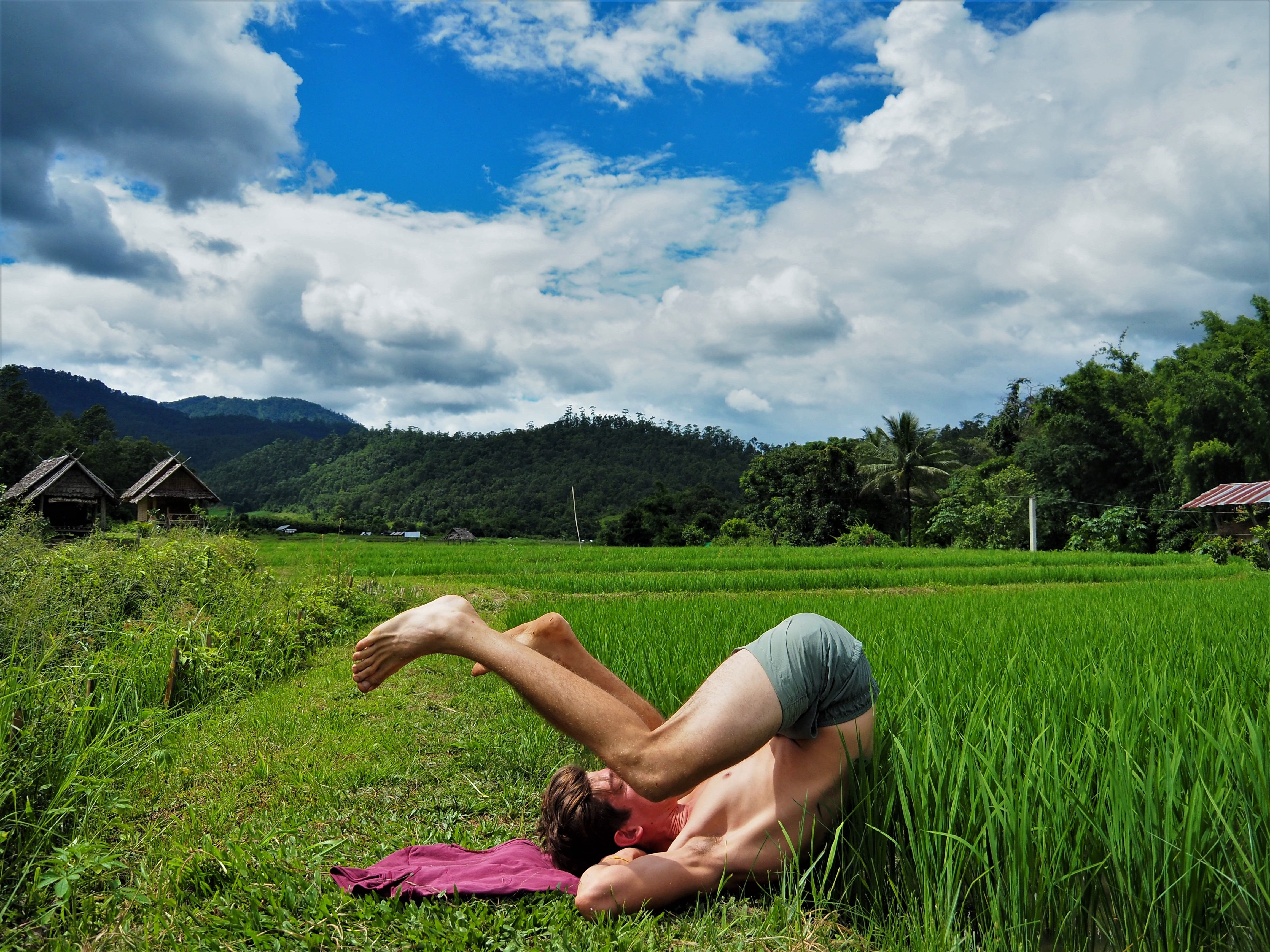 Moritz managed to fall into the rice field trying to do headstand
1/3200 Sek. f/4 14 mm ISO 250
Getting lost in the dark
In the evening we tried to catch the supposedly amazing sunset from the "Pai Canyon", but it was raining the whole time so all we saw was the rainy landscape getting darker and darker. Amazed by the strange structure of the canyon, (I would call it inverted canyon) we wanted to explore it a little more despite the rain.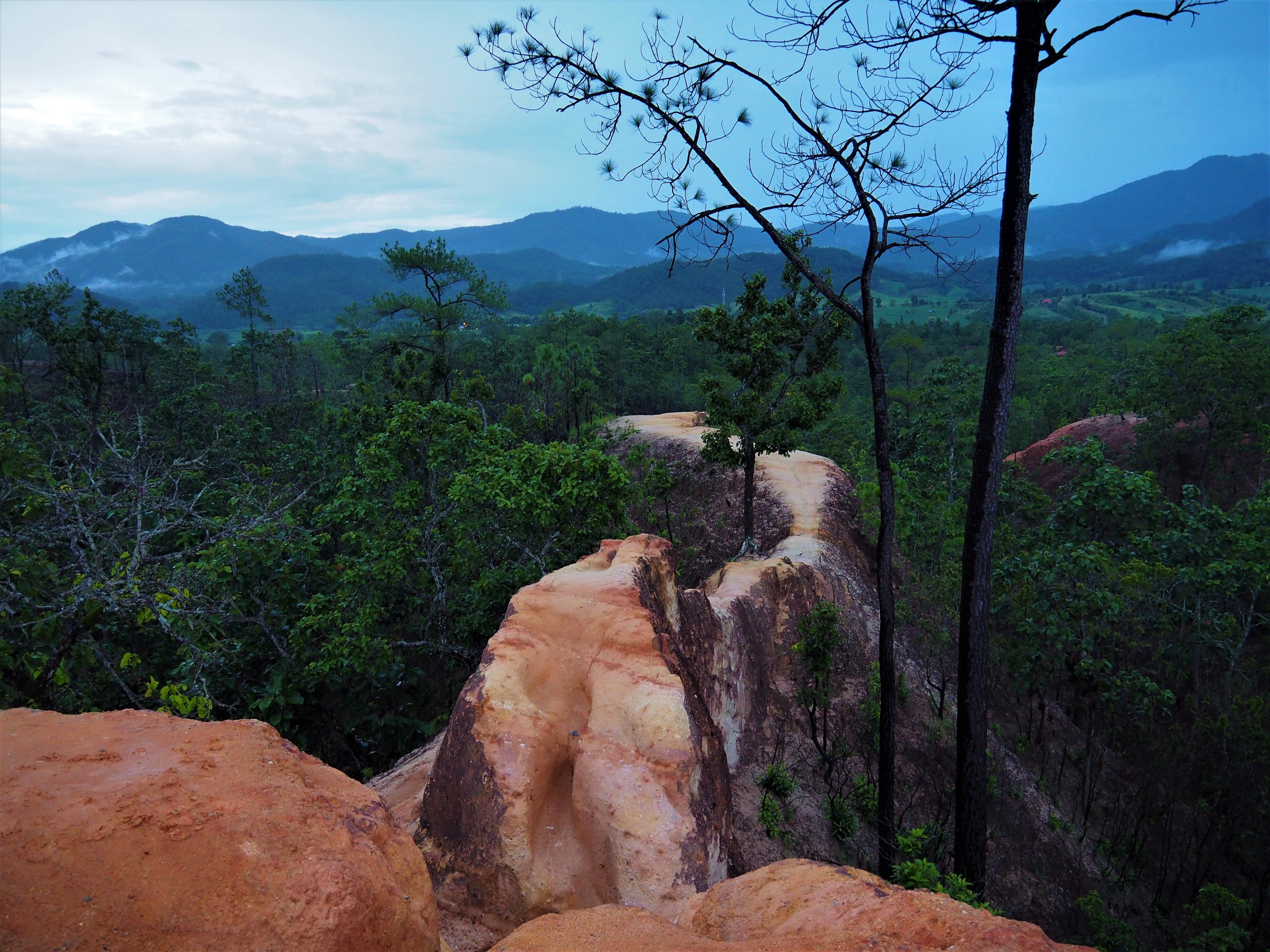 Maybe you understand now why I call it inverted canyon
1/15 Sek. f/4 14 mm ISO 640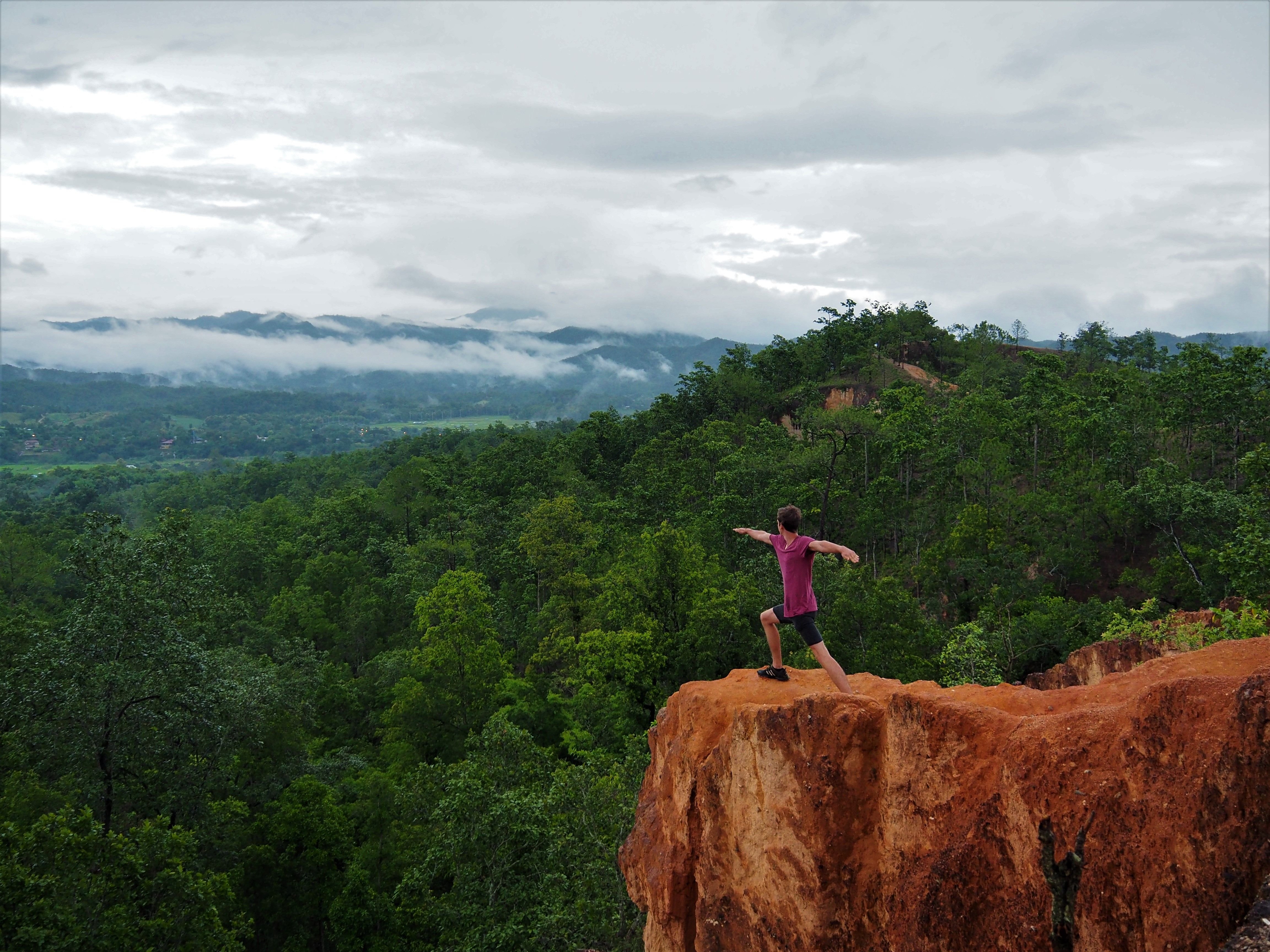 Moritz making the Yoga pose "Warrior"
1/20 Sek. f/4 14 mm ISO 640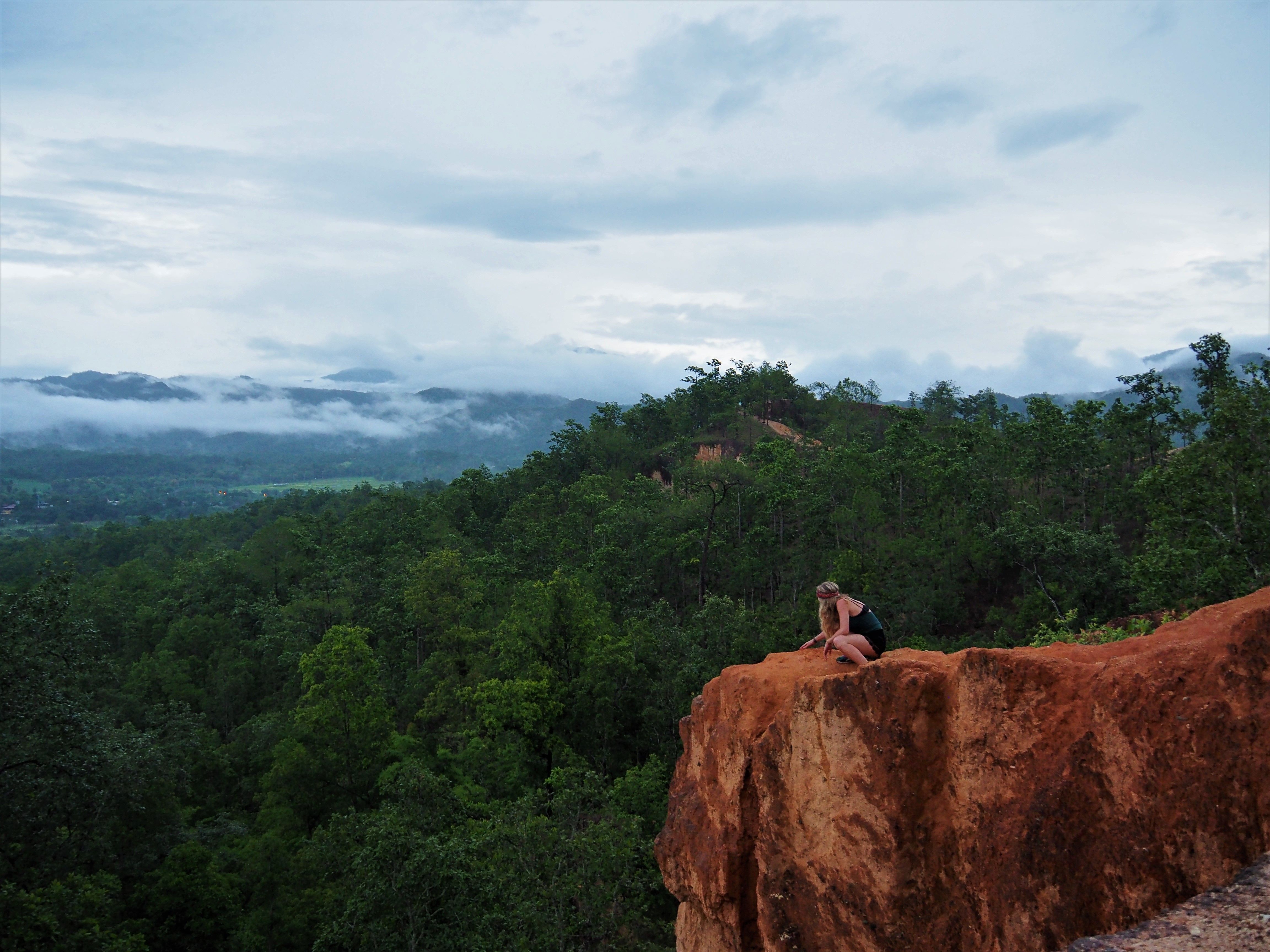 Lena making the not so Yoga pose "Gollum" (honestly I have no idea what she is doing)
1/30 Sek. f/4 14 mm ISO 640
Not wanting to come back the same way we came we agreed on circling back. In order to do so we had to follow the canyon down and go up again somewhere else. As we followed the path back up, I started to wonder why the walls to our sides where getting higher and higher, but the path kept flat. Eventually we ended up in a dead end and realised: We had been following a dried up creek the whole time!
By now the sun was long gone and it was starting to get really dark. In the increasingly heavy rain we scrambled up the side of the canyon sliding down every now and then with our phones as the only light source.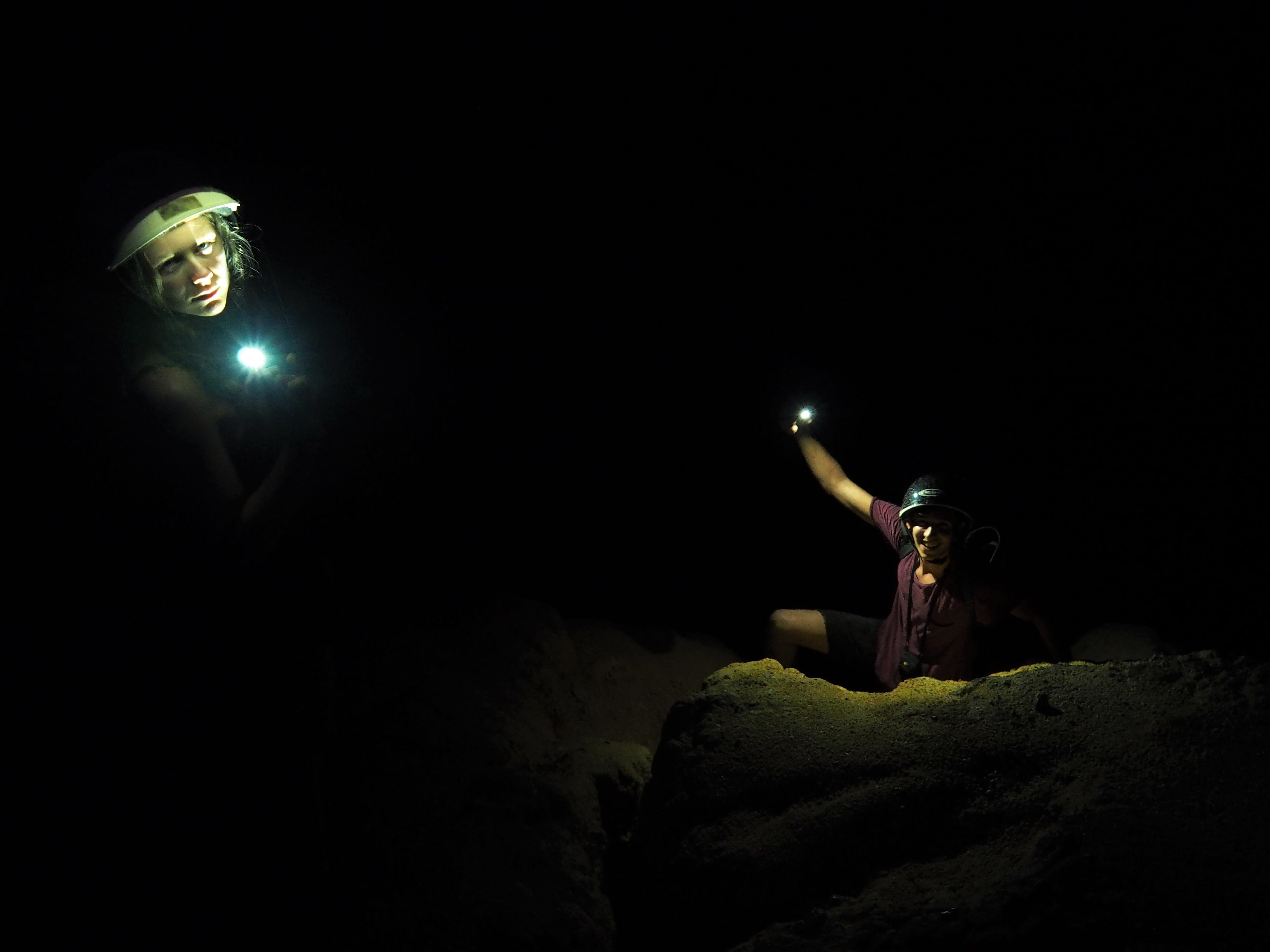 The upside of getting lost in the dark: Cool pictures!
3/10 Sek. f/4,5 14 mm ISO 1250
I have to admit, it was great fun! Back at the drenched bikes we ran into the next problem. One of our scooters just wouldn't start! We all tried several times but the lock seemed to be broken. After what felt like forever in the dark rain we turned to a Thai, who was just walking nearby. We actually just wanted to ask her for her phone to call the renter, but she understood right away what was wrong. Of course she had to try as well, so we let her. She tried and it didn't work. "See it's broken", what was I was about to say, but that very moment she tried again and suddenly the scooter came to life!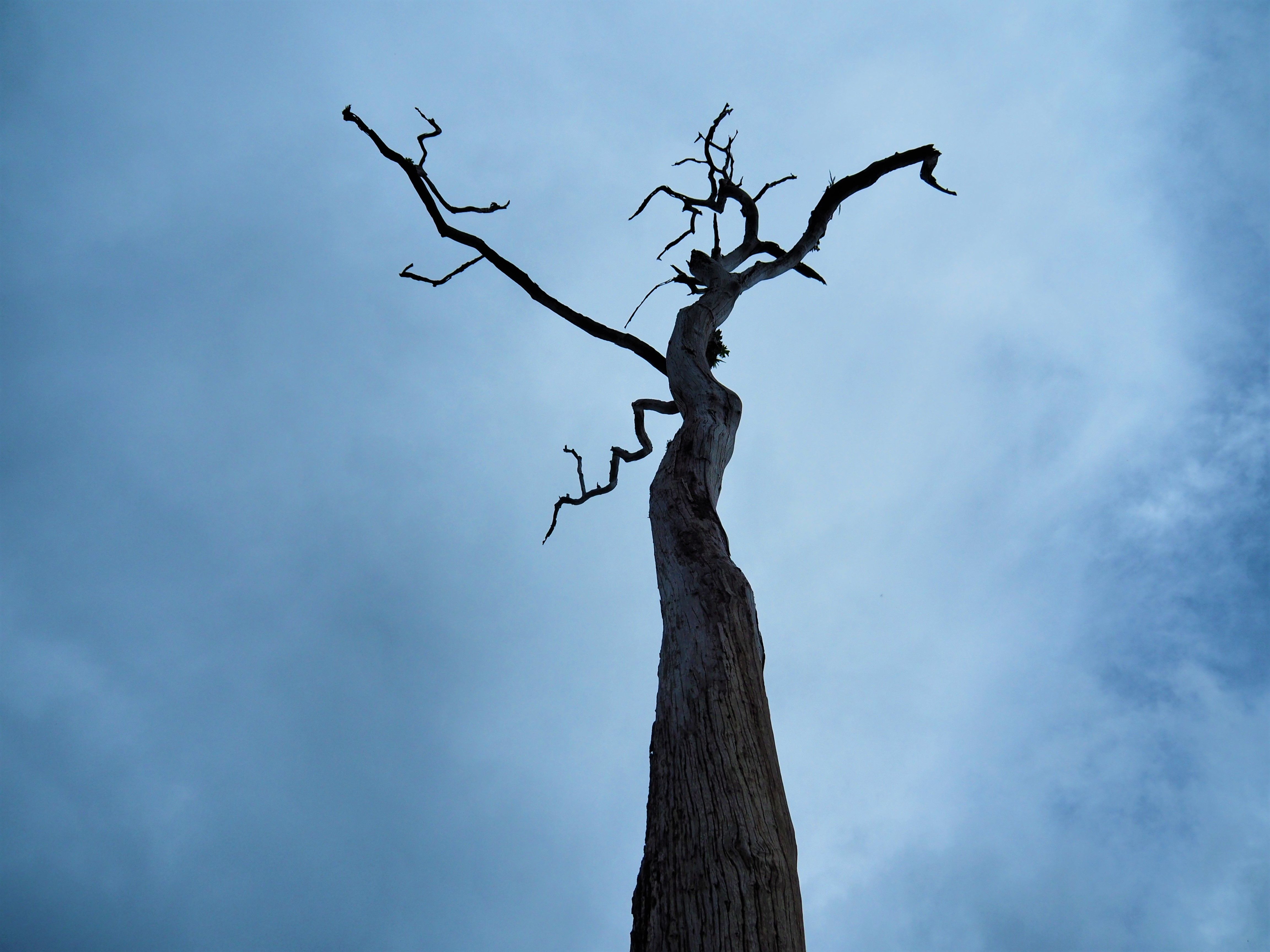 Some dramatic vibes
1/4000 Sek. f/4 14 mm ISO 250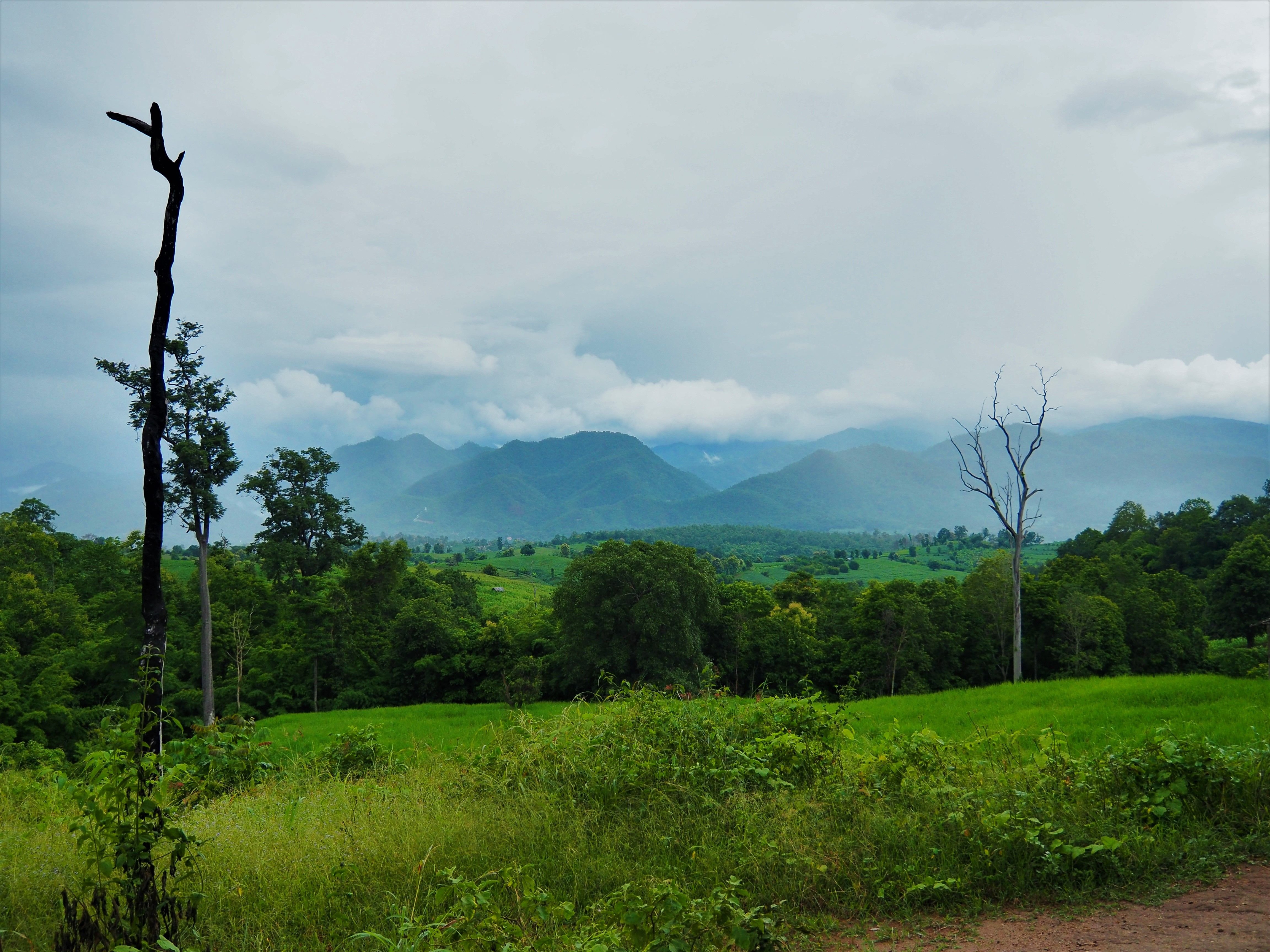 Cloudy weather
1/1000 Sek. f/4,2 18 mm ISO 250
It turned out that most Thais know their way around motorbikes, not surprisingly given the amount of bikes driving around in Thailand.
Having so much fun on our first day on two wheels we rented the bikes for another day right away. This day we wanted to check out anther waterfall, but it was a little cold and overcast when we got there so none of us wanted to go for a swim. As if someone was trying to drive that point home ten minutes after we arrived it started to rain like crazy. Under the roof of a food hut (calling it restaurant would be quite a stretch) we waited the rain out. Lena made friends with a cute dog there. Until she realised, that he was only so kind to her because he wanted her food.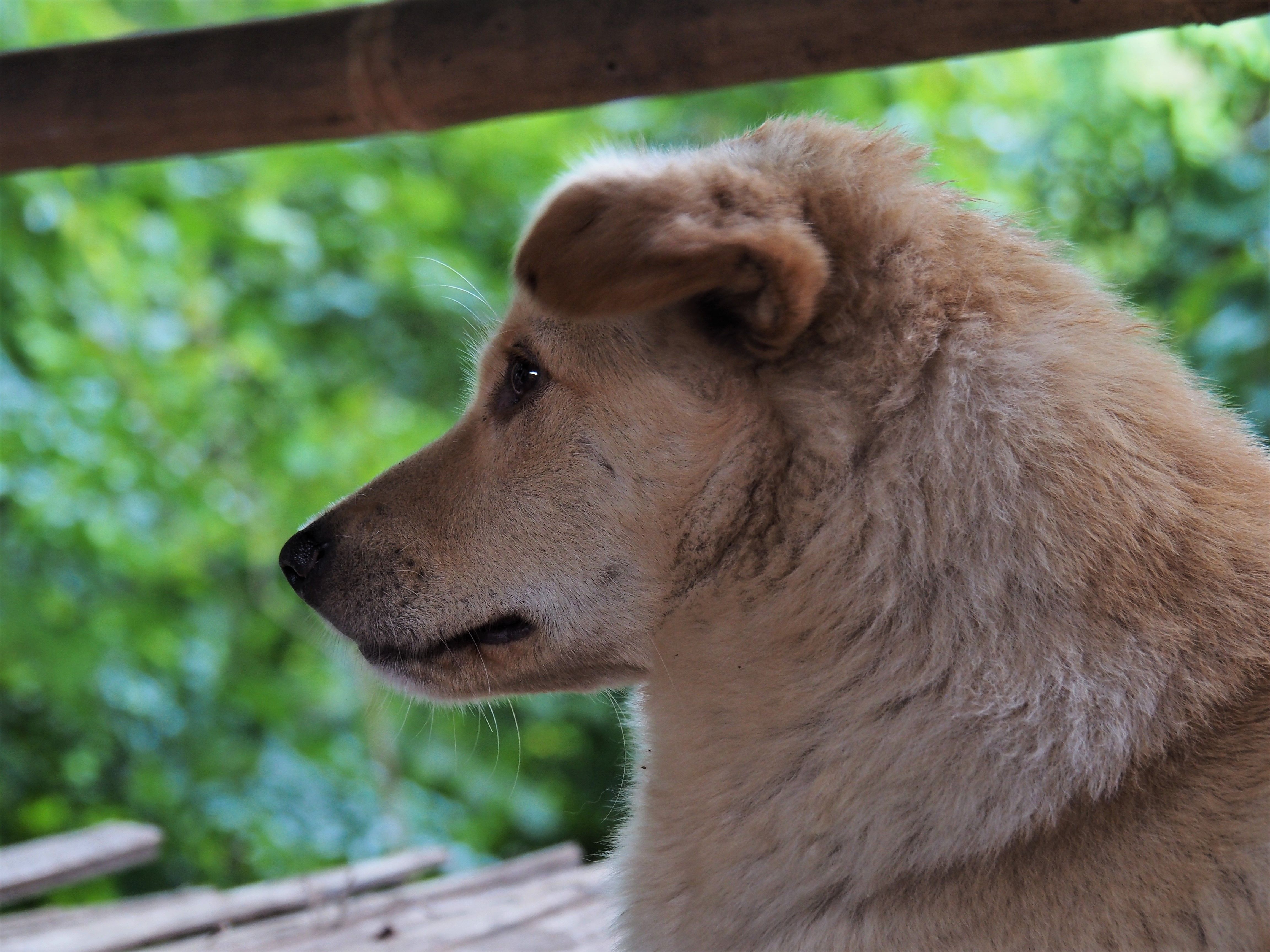 Lenas friend
1/80 Sek. f/5,5 58 mm ISO 500
The hippie commune
After the rain we visited a huge white buddha on the edge of Pai sitting on the hillside and watching over the valley. The view was great! Trying to get to yet another waterfall we came across something that made me think we traveled back to the 70s. Beyond a bridge made of a few tree trunks there was a place with improvised huts and tents with lots of people dancing away to quite strange music.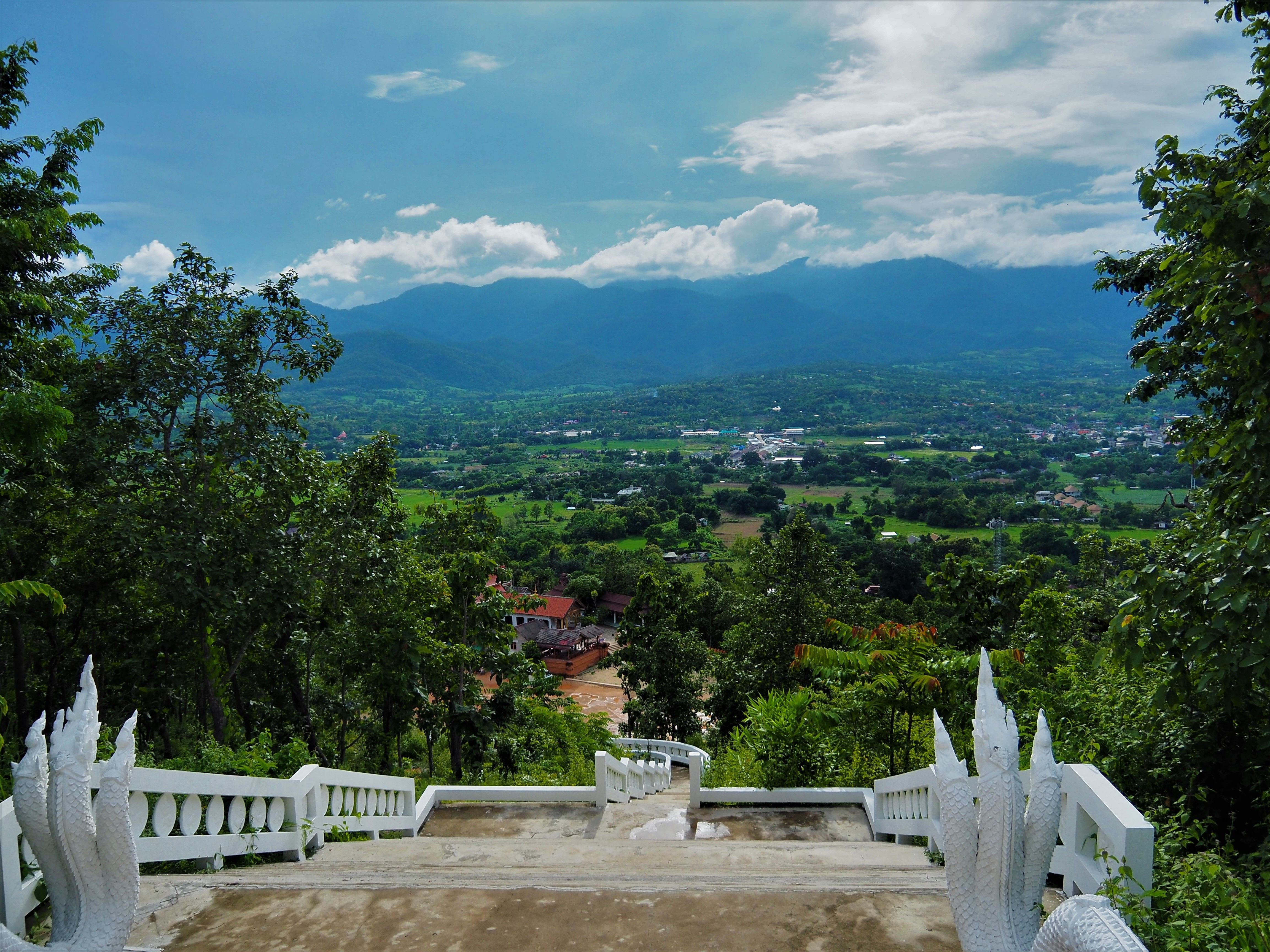 Looking down from the big white Buddha
1/1600 Sek. f/4 14 mm ISO 200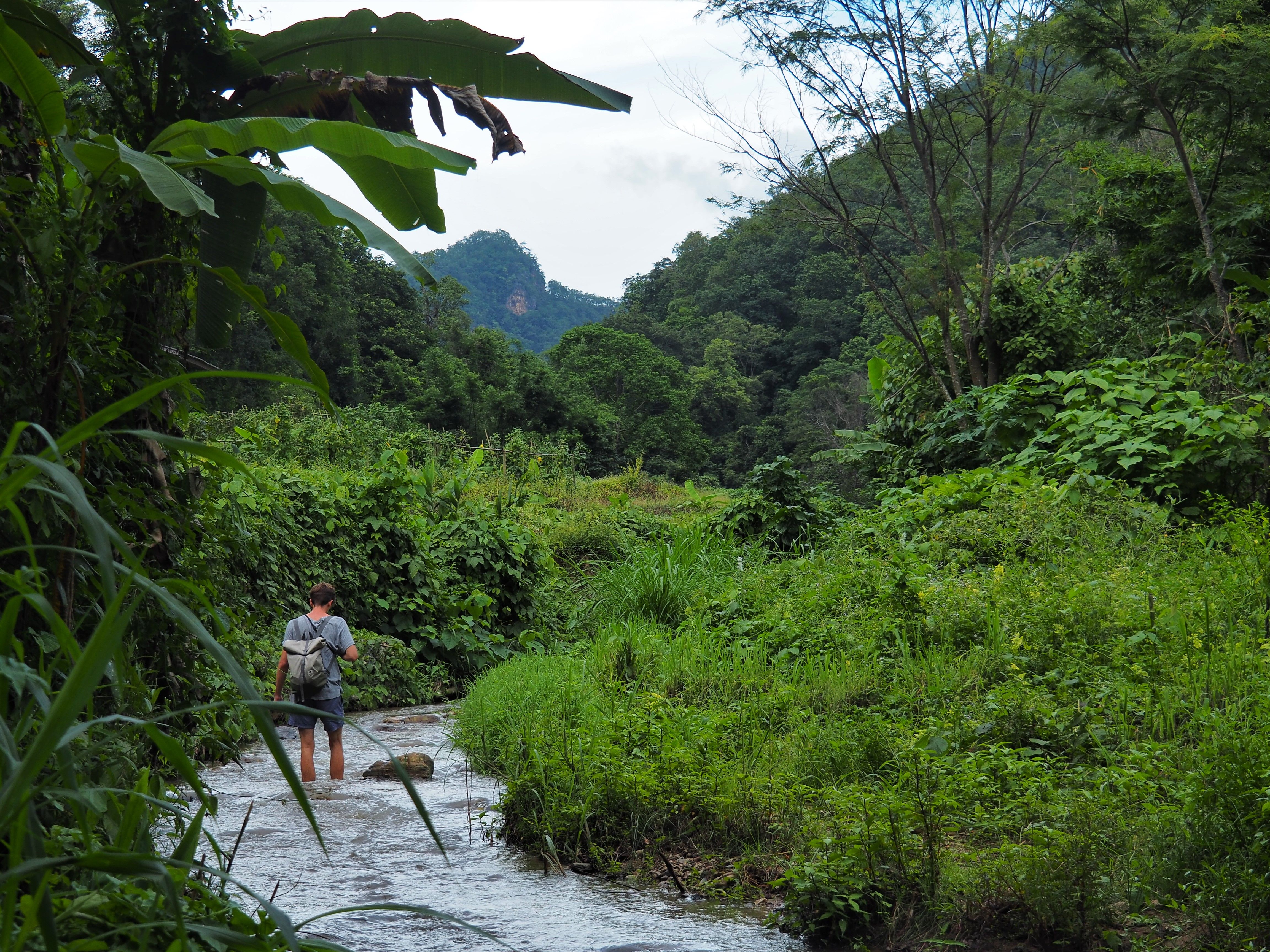 Exploring close to the hippie commune
1/160 Sek. f/5,1 34 mm ISO 200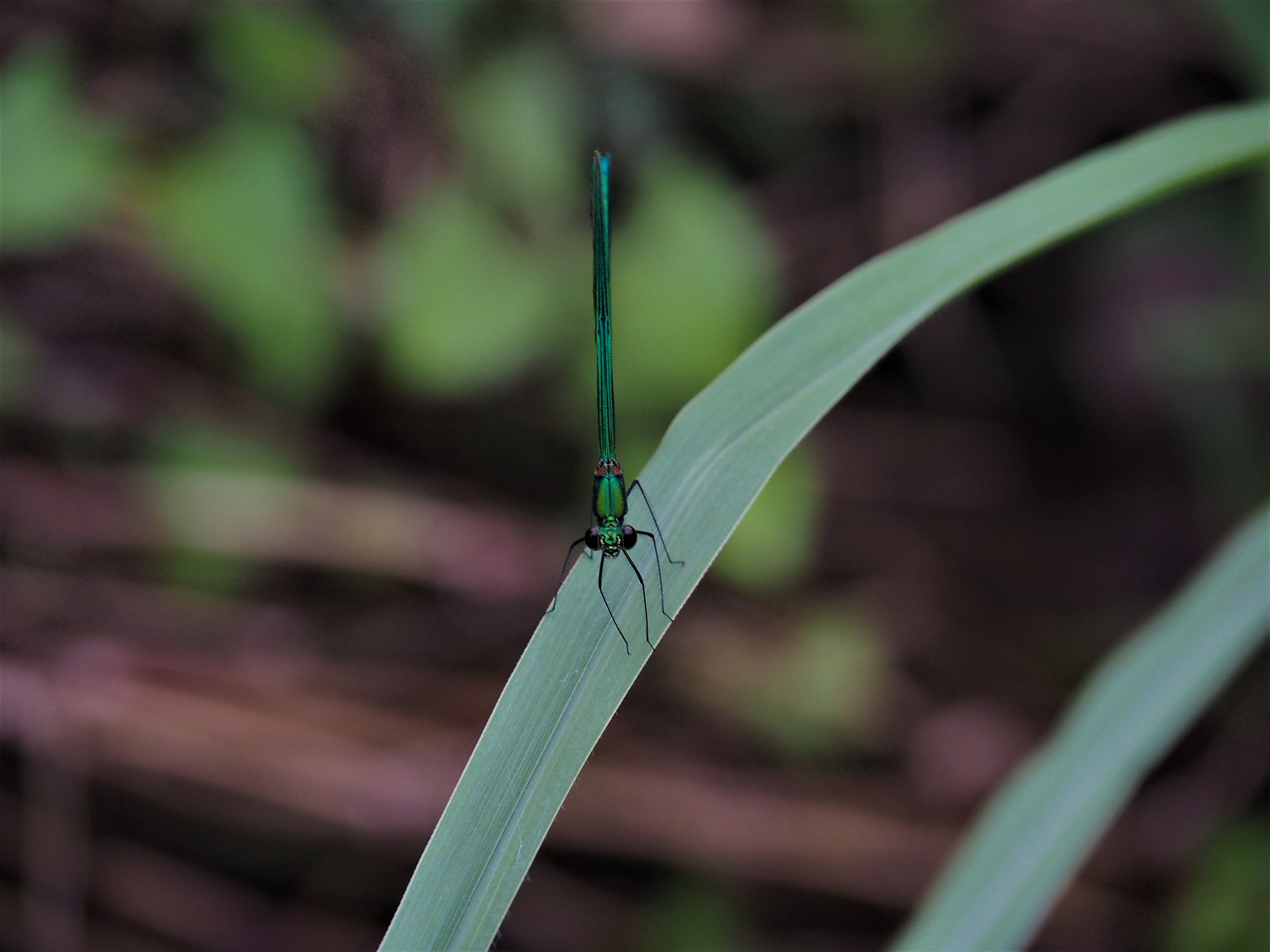 These little devils where so fast. I nearly fell into the river trying to get this shot
1/160 Sek. f/5,6 150 mm ISO 500
Sadly Lena and Moritz had to catch a flight the next morning from Chiang Mai, so they couldn't stay any longer. I joined them on the bus back to Chiang Mai, I still had quite a list to go through in my limited time so I couldn't afford to stay here for a week like a lot of people do.
Next week: Chiang Mai and Chiang Rai, the cultural capitals of Thailand.
Stay tuned ;)
Had to go through more than 350 pictures for this post thats why it got a little late this week
---
All shots in this post were made with my Olympus OMD EM-10 Mark II with a 14-150mm lens in manual mode.
If you want to learn more about my travel through southeast Asia you can read the previous posts here:
There is a new chapter coming each Thursday
If you want to know more about me check this out:
---
Thank you for reading and feel free to upvote, resteem & follow me :)