MEGAPOST:
This is the last post of my series, but there was a lot more to cover than I expected so this is post is a little longer than usual, enjoy!
The night in the bungalow was a lot calmer than I expected. The swimming bungalow was not moving or swaying at all, because it was swimming on a calm lake without any waves. I stepped out of the bungalow and took a refreshing dip in the cool water.
I had woken up early enough to catch the sunrise, however it was a little cloudy so there was not much to be seen with regards to the sun. But the calmness of the lake in the dawn with the fog retreating into the forest had something incredible beautiful and soothing.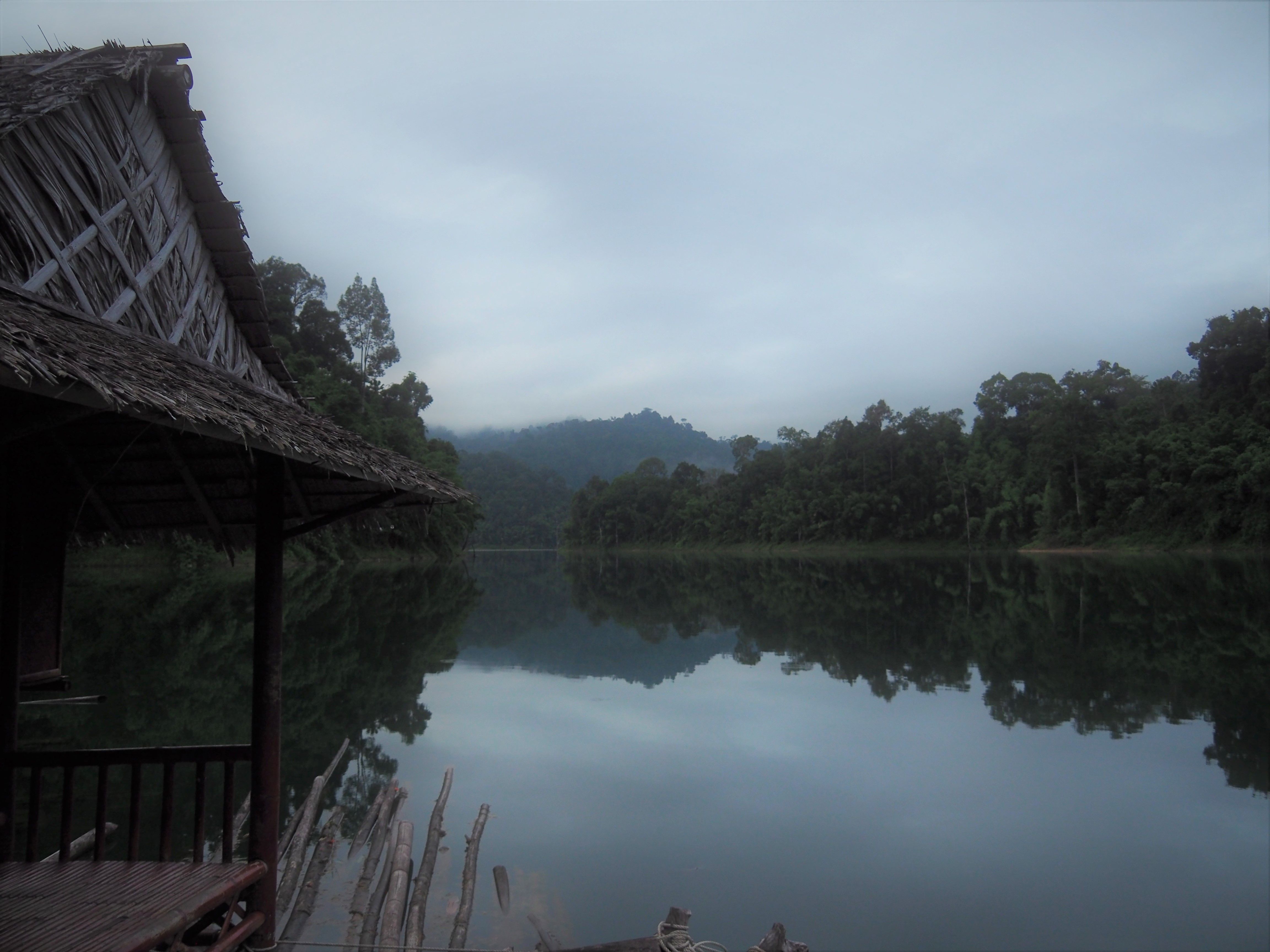 The view I woke up to, absolutely calm waters and not a sound to be heard from the jungle
1/250 Sek. f/4 14 mm ISO 200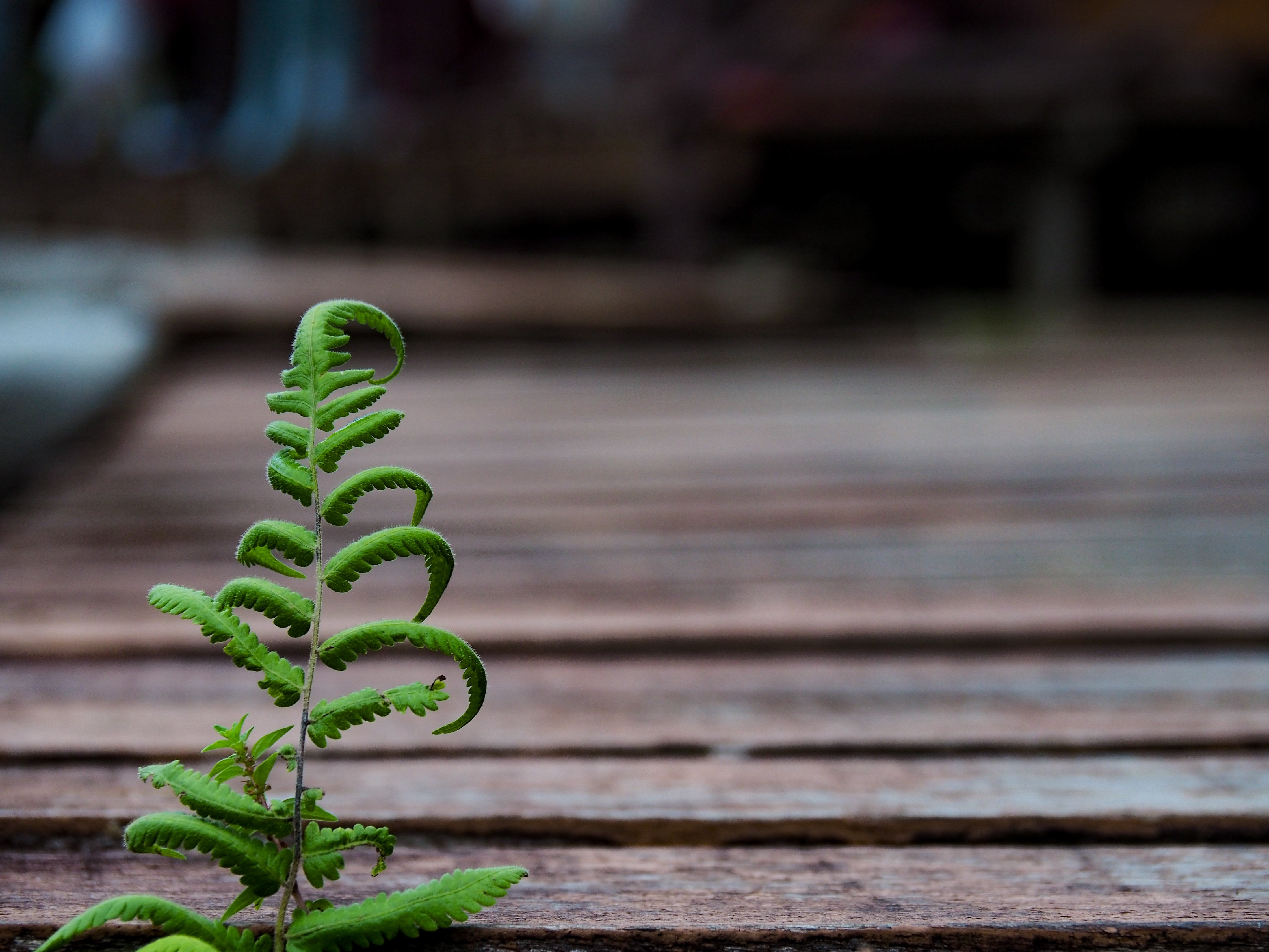 It's the small things that make a beautiful day, like this fern growing on the jetty despite all odds
1/125 Sek. f/5,5 90 mm ISO 200

1/640 Sek. f/5 31 mm ISO 200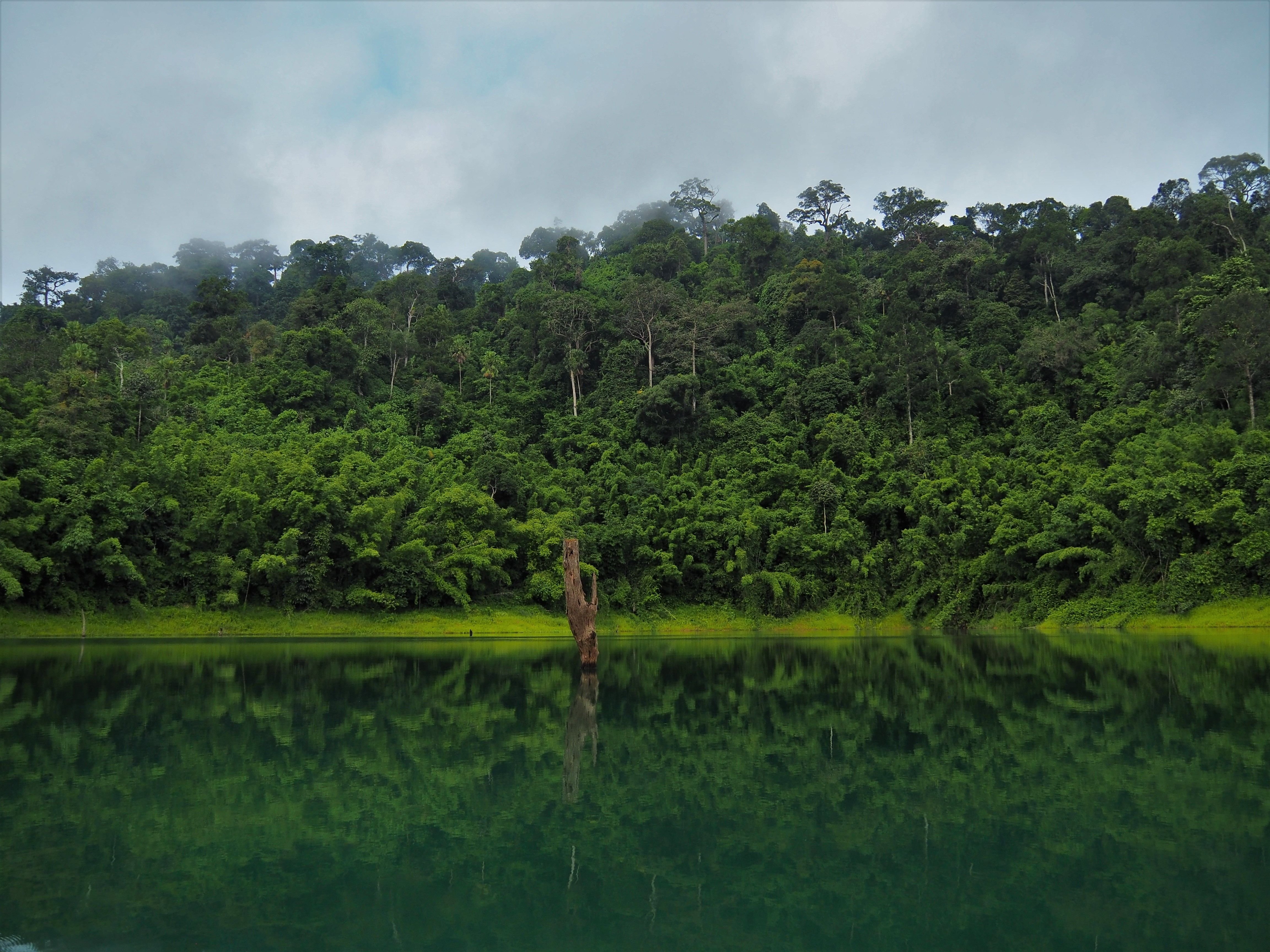 The calm water made for some unbelievable reflections
1/800 Sek. f/4 14 mm ISO 200
We made another morning safari, where we saw some wild gibbons and other monkeys looking for food. The jungle was starting to wake up as we made our way down the small channels with only half of the normal speed to not scare the animals away. To understand the next part I have to tell you something about the history of the lake. It was created nearly 40 years ago by building a huge dam. It is used to power a huge region in the south of Thailand. At the creation of that huge lake 13 villages were flooded (the villagers were moved first of course). At the same time vast stretched of forest were drowned as well. Thus, now 38 years later those tree are still standing, dead and drowned with there tops poking through the surface of the water.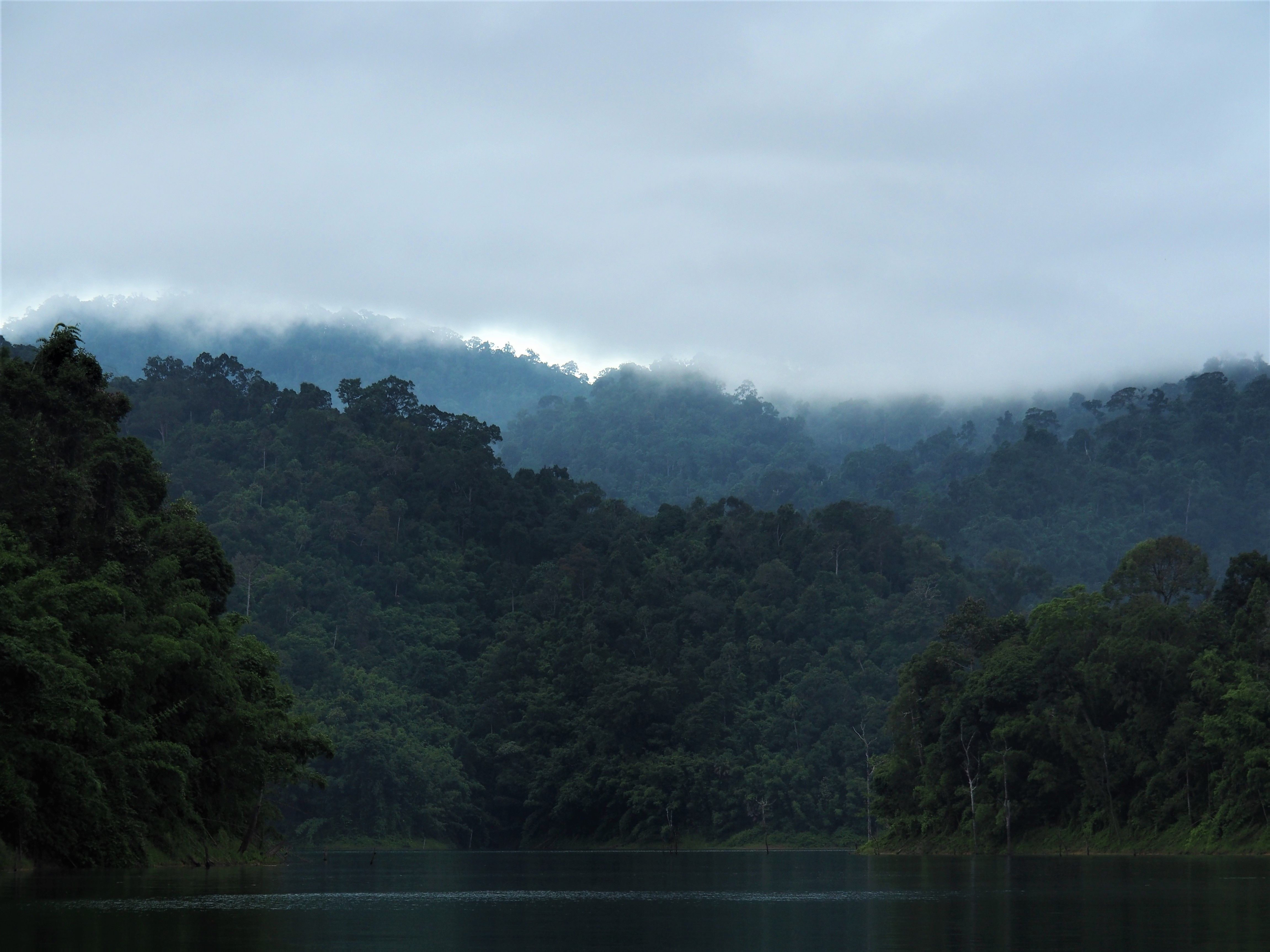 The morning mist made us all be very quiet as we just enjoyed the views
1/250 Sek. f/5,5 52 mm ISO 200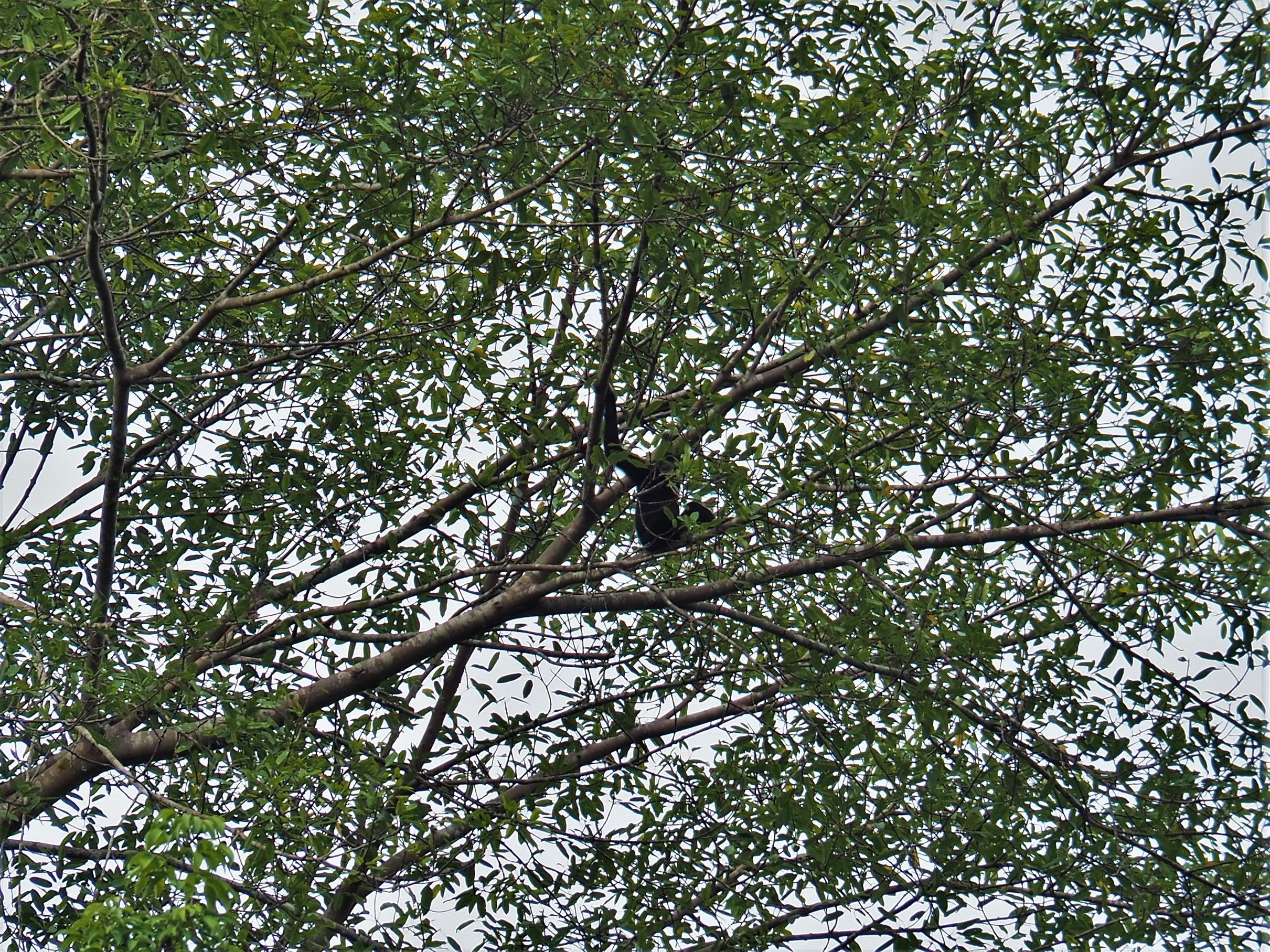 The gibbons were spotted by our guide a few hundred metres away, I could hardly spot them when even when our boat was right beneath them
1/200 Sek. f/5,6 150 mm ISO 200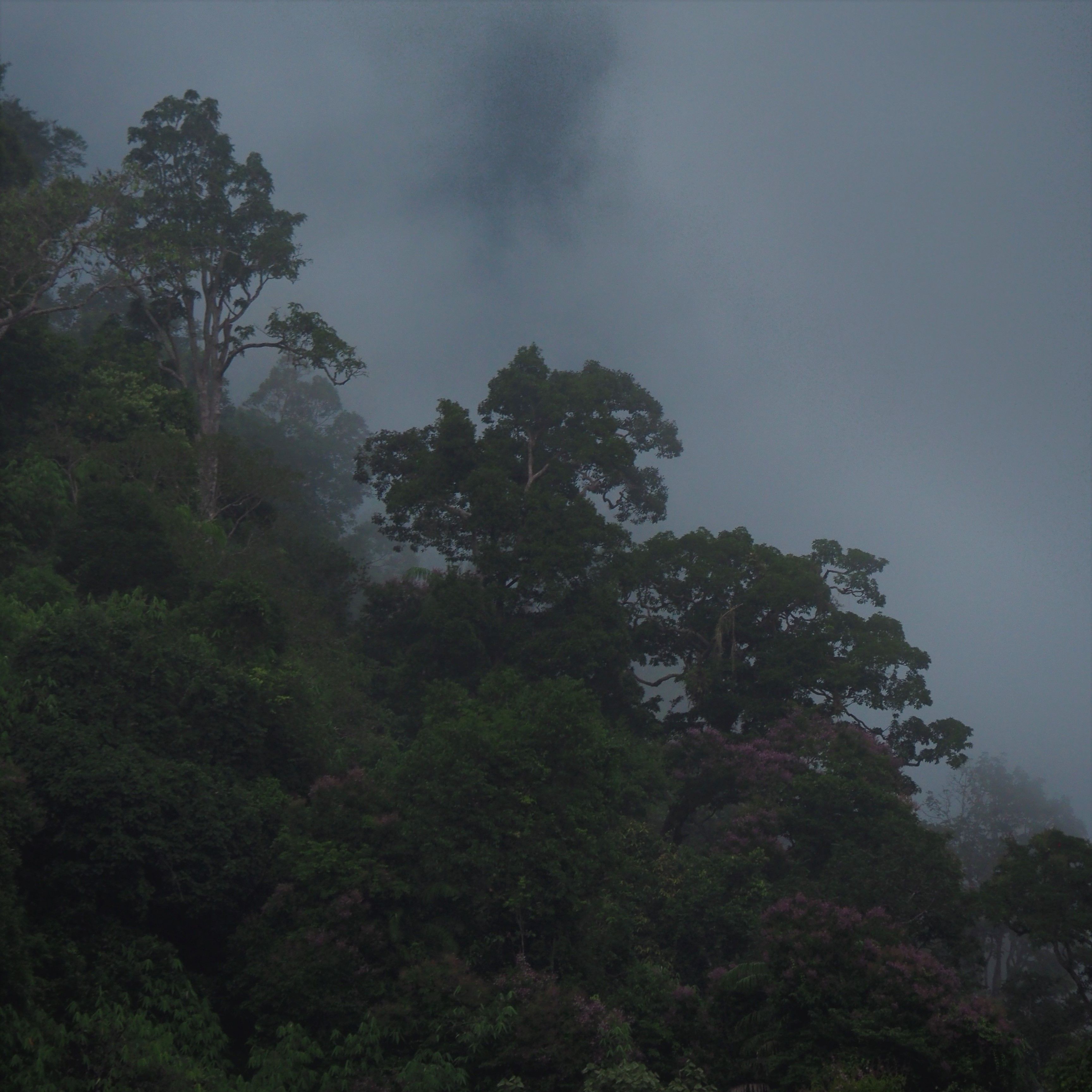 More moody jungle
1/160 Sek. f/5,6 150 mm ISO 200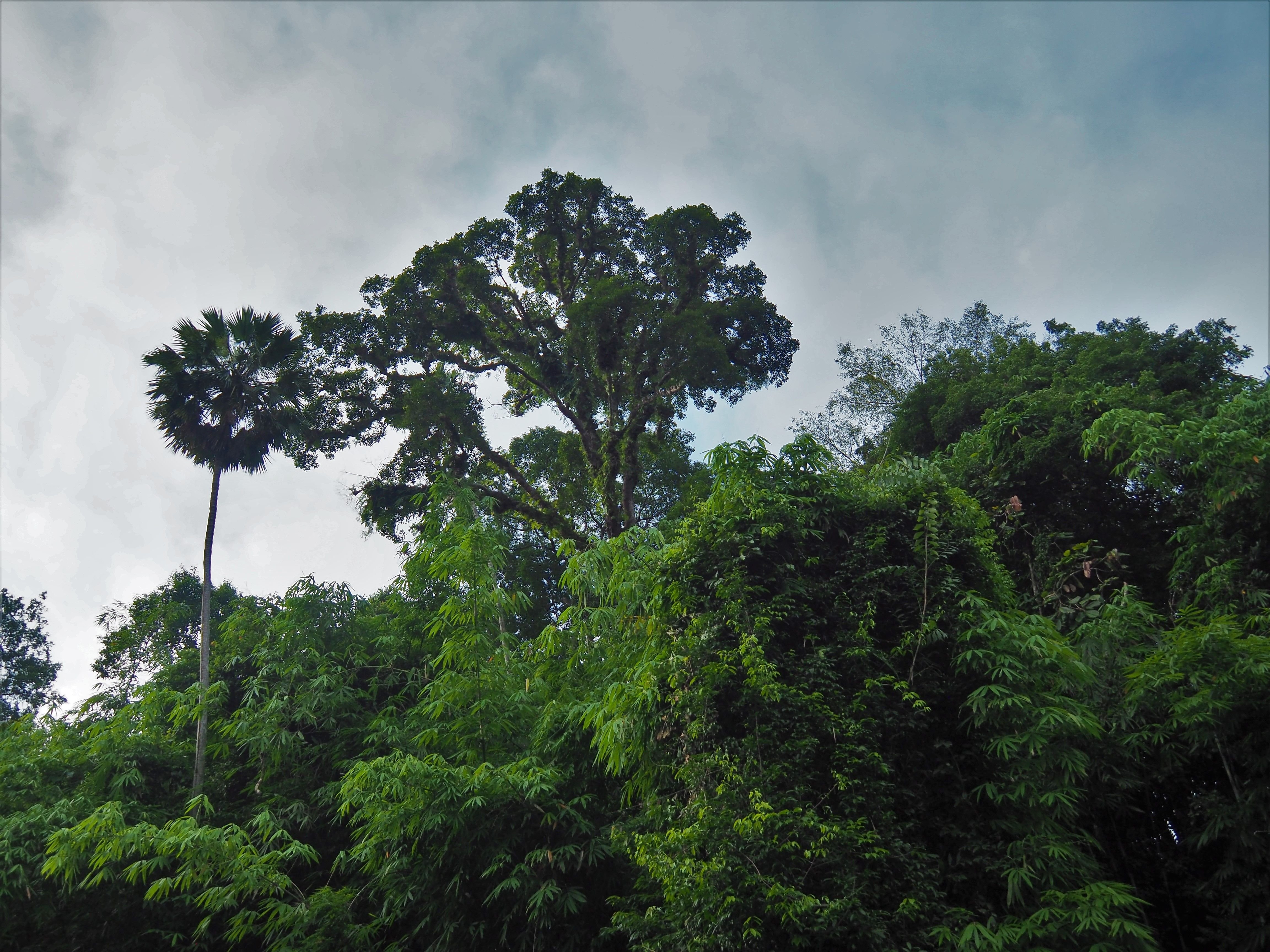 I was constantly on the lookout for animals, but it was always the guide who spotted them way before anyone else could
1/800 Sek. f/4 14 mm ISO 200
It was exactly these trees that made the lake so special. Them poking out of the water while the calm lake was starting to uncover from the morning mist made me feel like I was in some fairytale.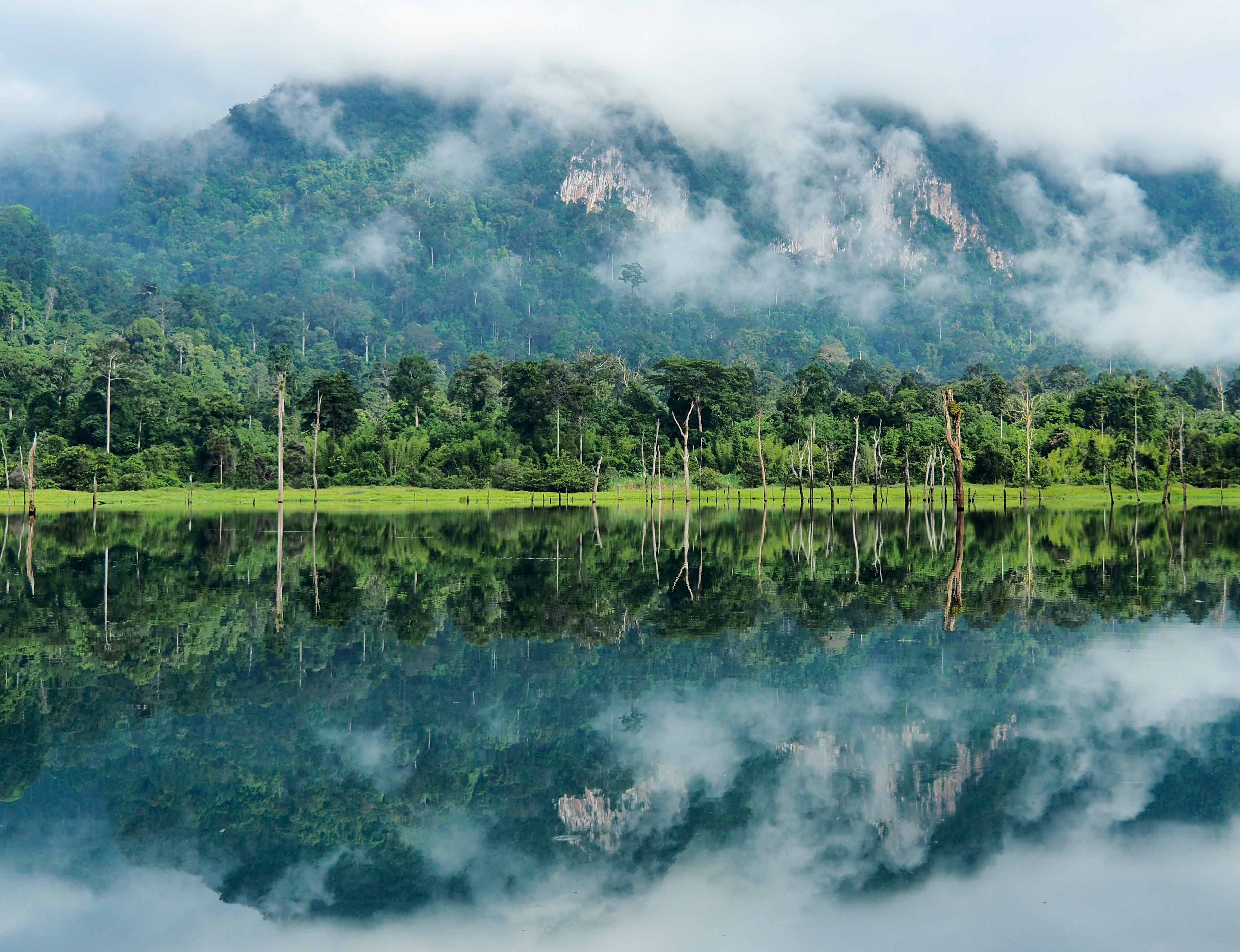 The trees as the only silent reminder of what lies beneath the waters
1/800 Sek. f/4,7 25 mm ISO 200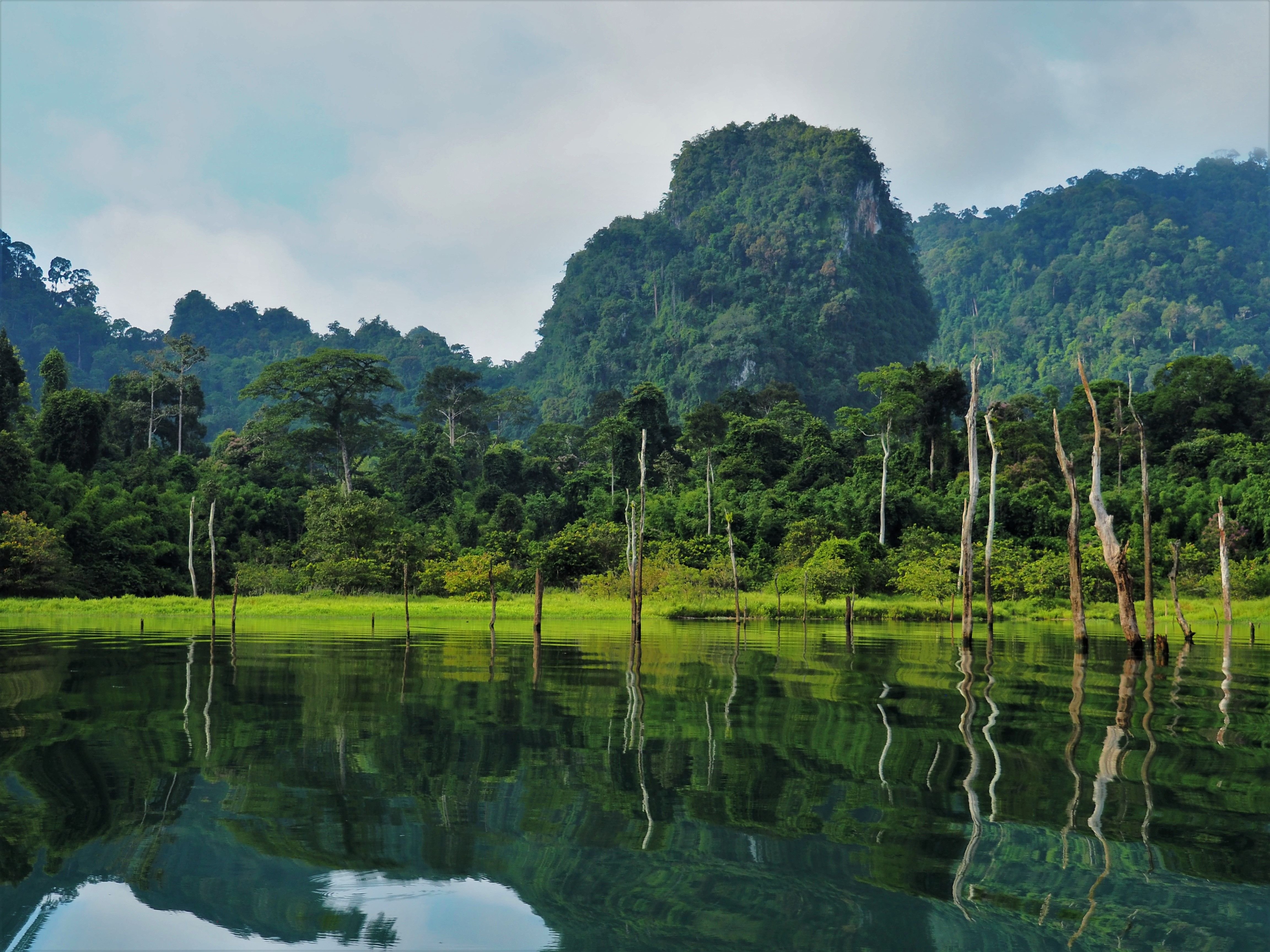 Everything was lush and bursting with life (well except for the dead trees)
1/320 Sek. f/7,1 29 mm ISO 200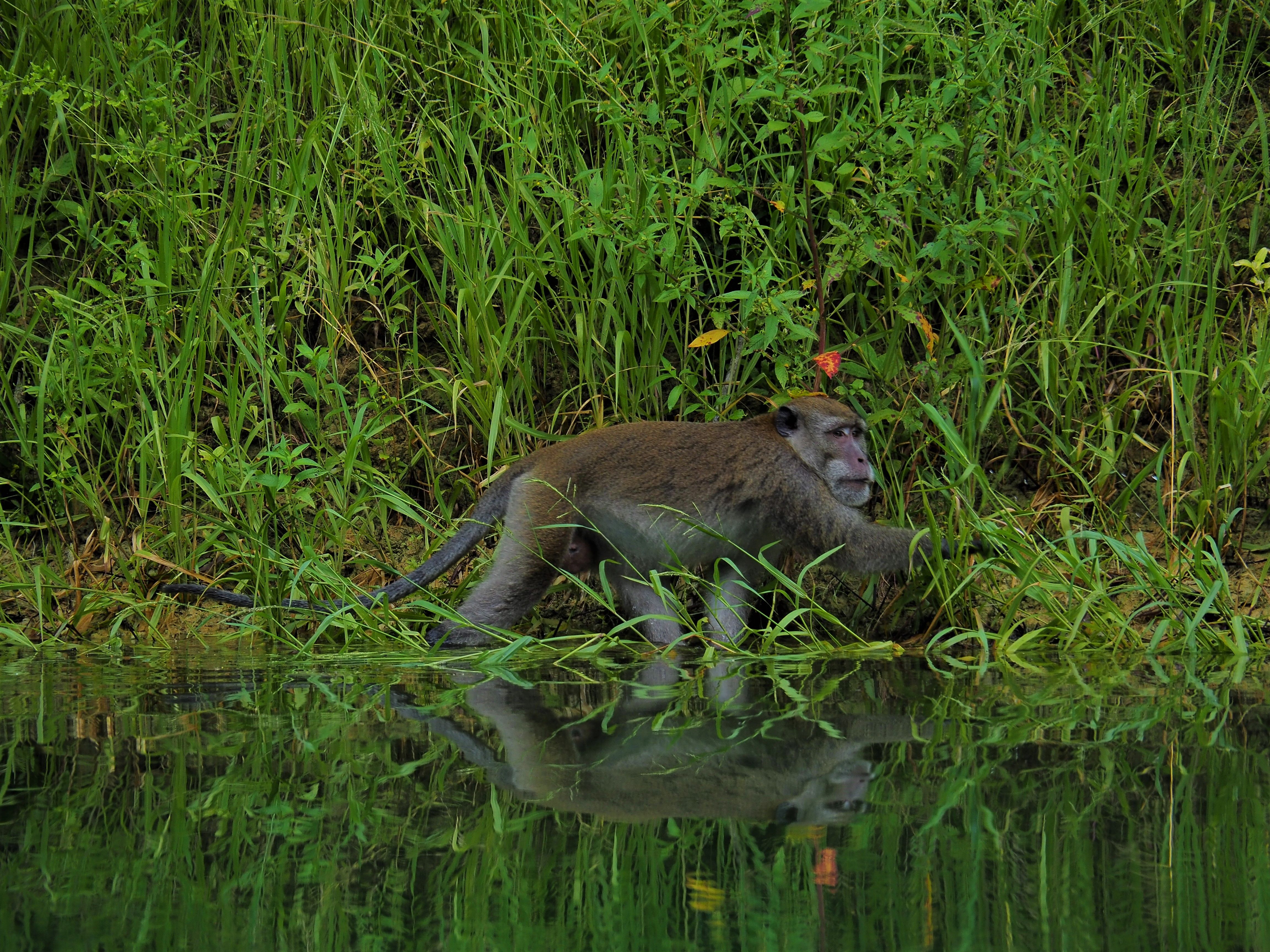 The monkey did not mind us at all, this one was looking for some snails for breakfast as our guide told us
1/250 Sek. f/5,6 150 mm ISO 200
After the morning trip we had breakfast and got our stuff from the bungalows into the boat. We made another trip over the lake, this time not through the narrow channels, but across the vast main part, with shores made of huge mountains. We made a small not so thrilling trip into a small cave. After that we made stop at the 4 rocks, which are 4 boulders which all stand in one line standing on their own. Right beside these rocks there was an especially large dead tree sticking out of the water, about 15 metres up from the surface of the water there was one lonely branch with a rope tied to it. Apart from that the tree had no branches whatsoever.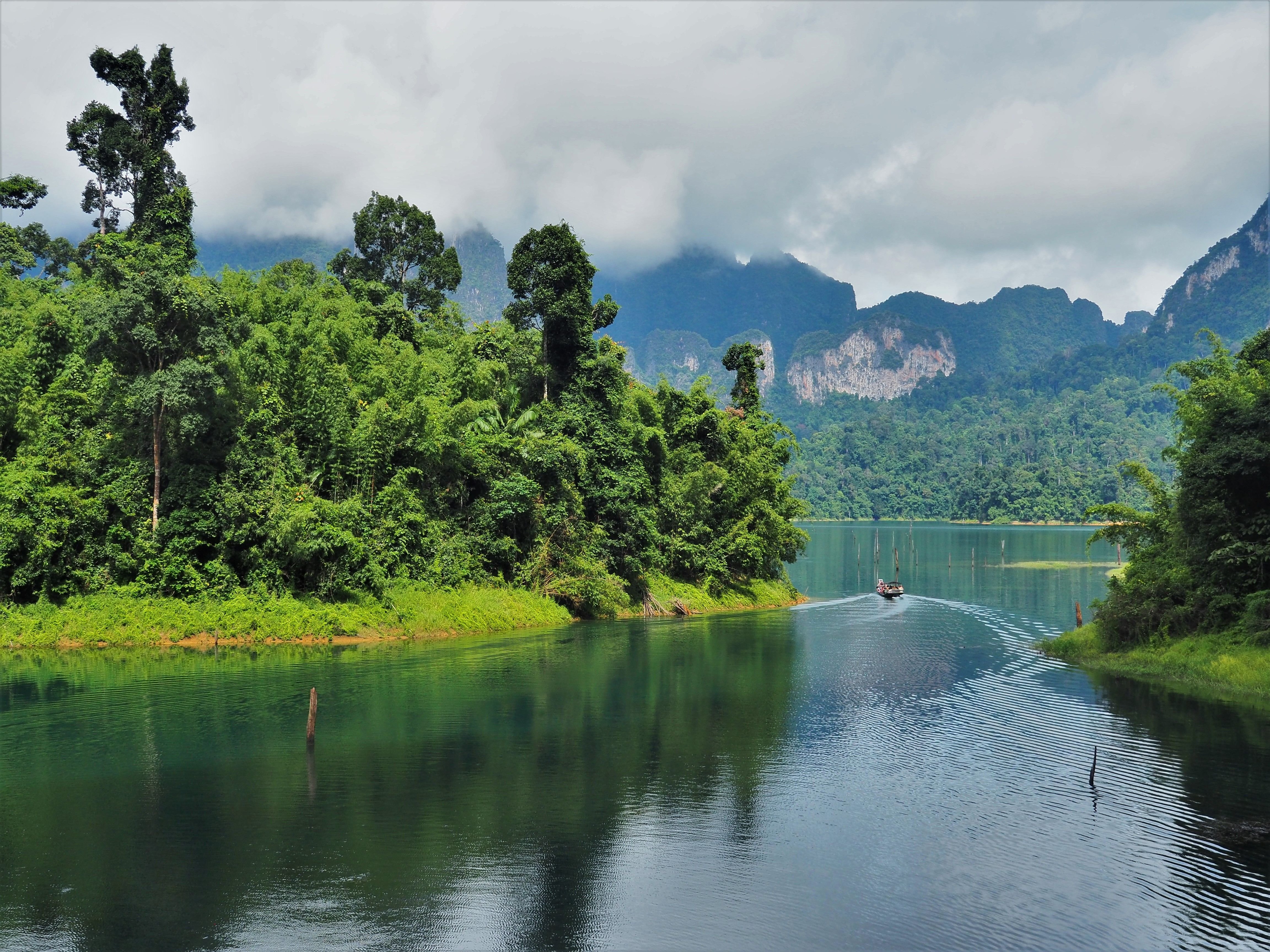 Looking out of the cave upon the lake
1/400 Sek. f/7,1 20 mm ISO 200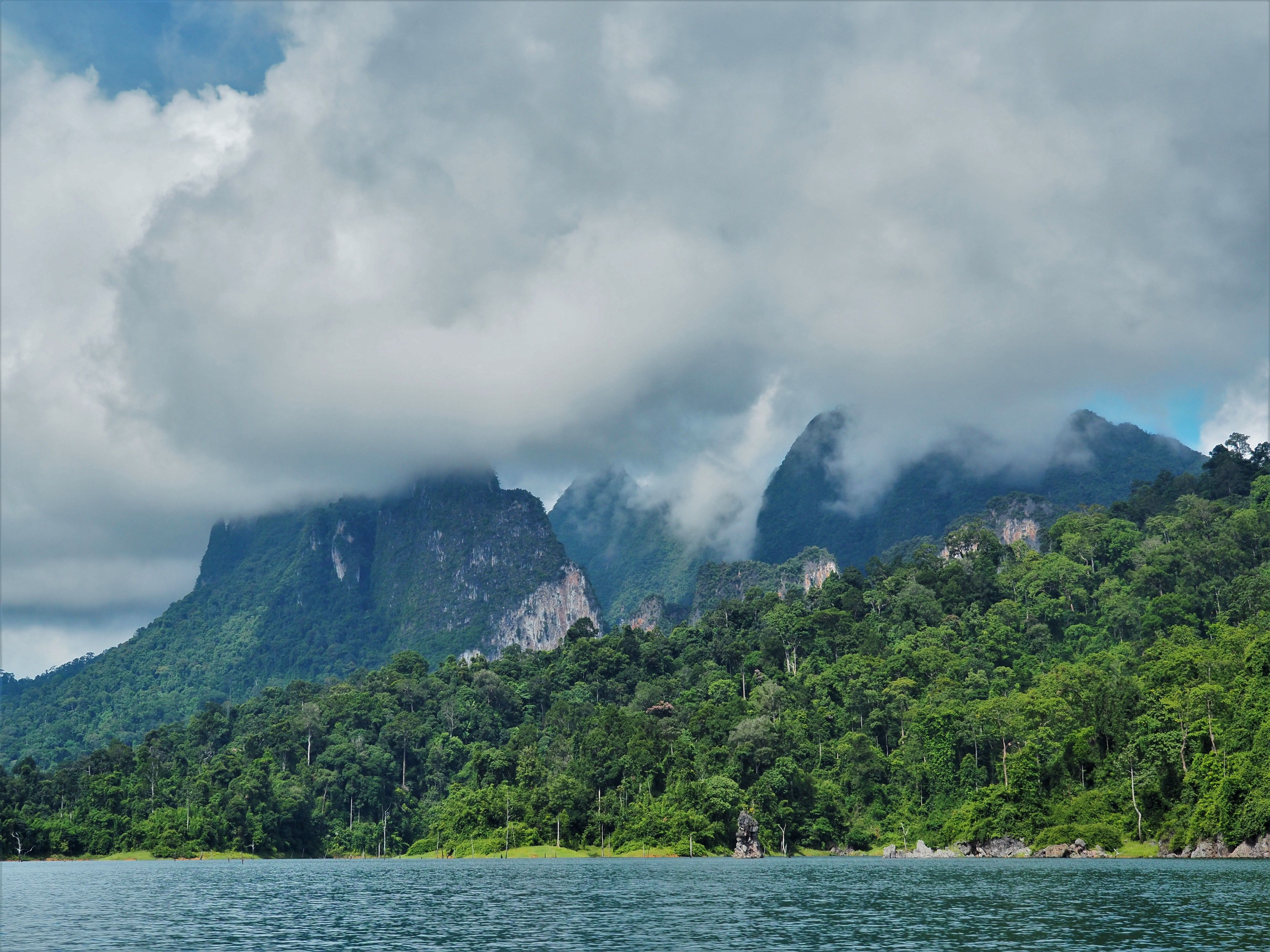 Strongly reminded of the "cloud mountains" in Avatar
1/640 Sek. f/7,1 22 mm ISO 200
There anyone who wanted could take a swim and jump from the rocks. Our guide promised anyone who made it up the tree to buy them a beer. Of course a few people jumped in right away, me among them, to try their luck. The two German guys gave it a try. One failed even getting out of the water while the other fell of after about a metre. They where both strong men, so most people turned around when they saw them fail. However I was always good at climbing a rope or a pole, so I thought I might still have a chance. I gave it a try and also fell of after about one metre. Still determined I had to try it one more time, I edged myself up bit by bit and suddenly I found myself half way up the tree. Turns out going rock climbing occasionally pays of sometimes. With my heart racing, I managed to climb up the last part of the tree and reach the branch. I had to step over 15 metres of nothingness about 1,5 metres wide to get to the rope. After that last stunt I was finally sitting in the rope swinging above the water. I had really earned that beer!
(Unfortunately I don't have any pictures of that tree and the girl who made a few pictures of me on it never sent them to me :( )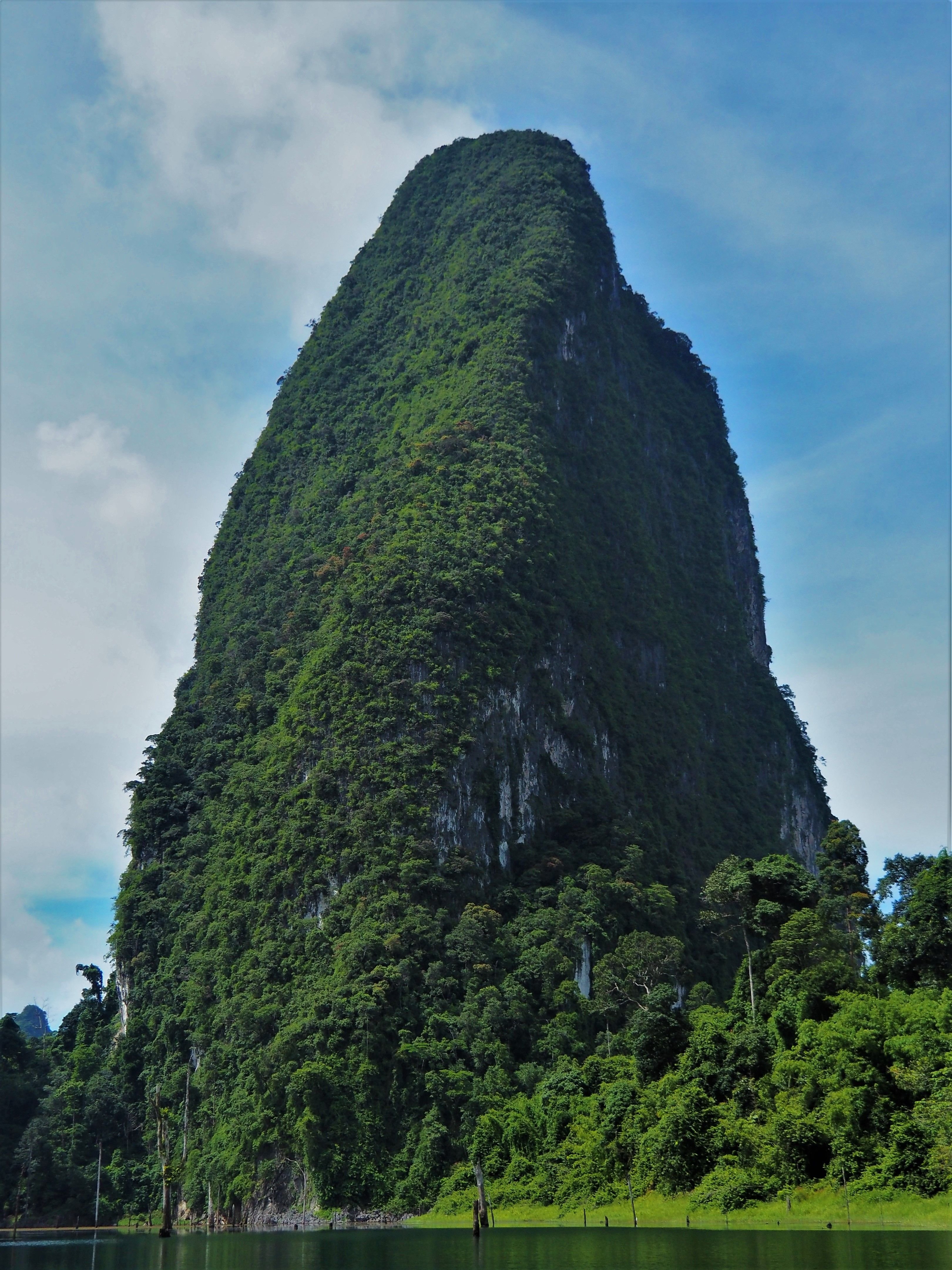 Mountains steep like this one were still covered with plants, this one impressed me especially!
1/4000 Sek. f/4,3 20 mm ISO 500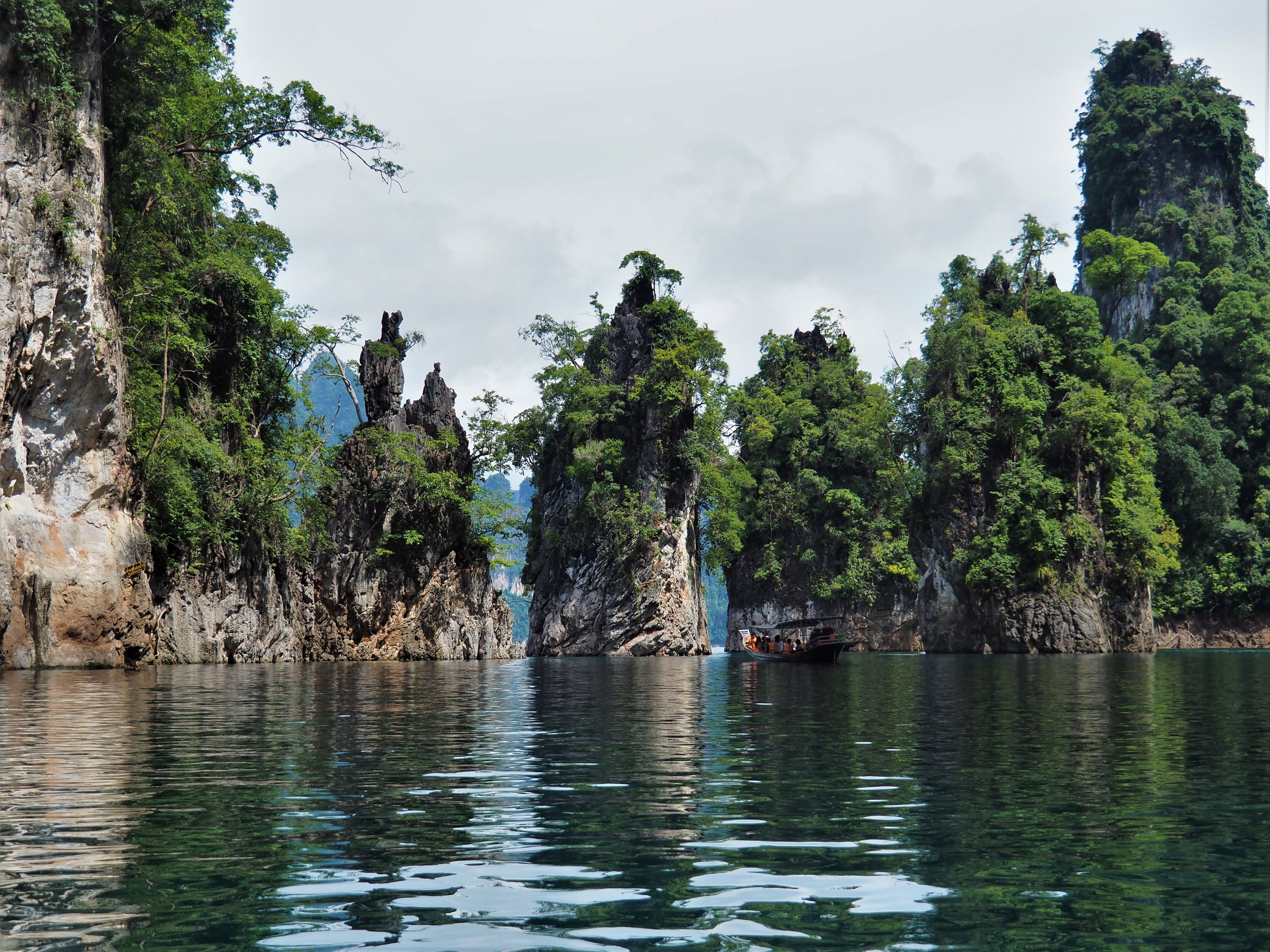 The 4 rocks
1/2000 Sek. f/4,9 29 mm ISO 500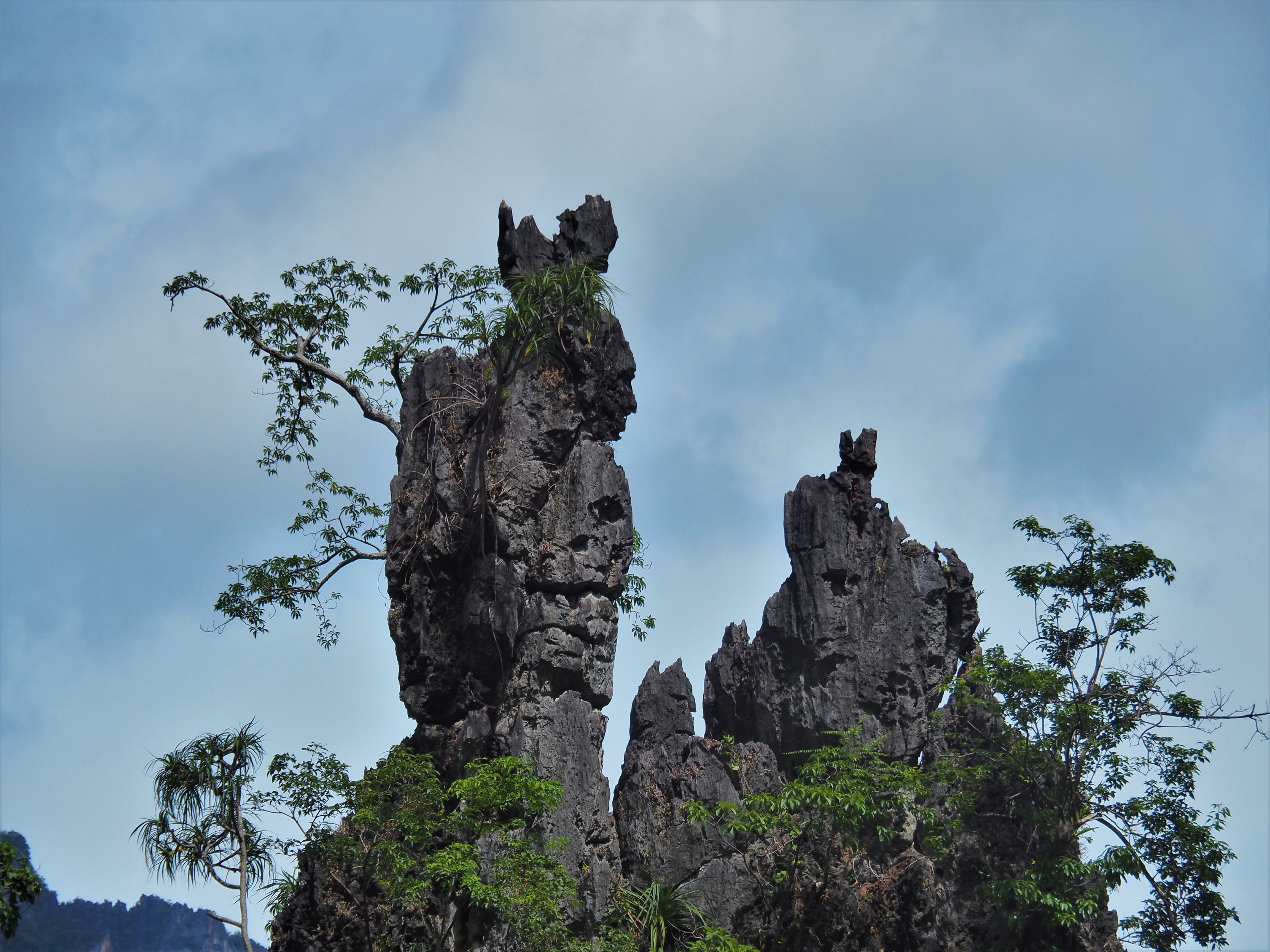 This was one of the 4 rocks, the left top is called (American) Indian with backpack, if you look close enough you will understand why
1/2000 Sek. f/5,5 75 mm ISO 200
We also tried the jump off the rocks, but they proved to be so sharp that no one wanted to to it more than once. On the shore we ate our lunch (some fried rice with bananas) and noticed something rustling in the bushes. Some monkeys drawn to us from the smell of our food where peeking through the leaves. We threw them some bananas, which they snatched up and ate in the save shadows of the forest.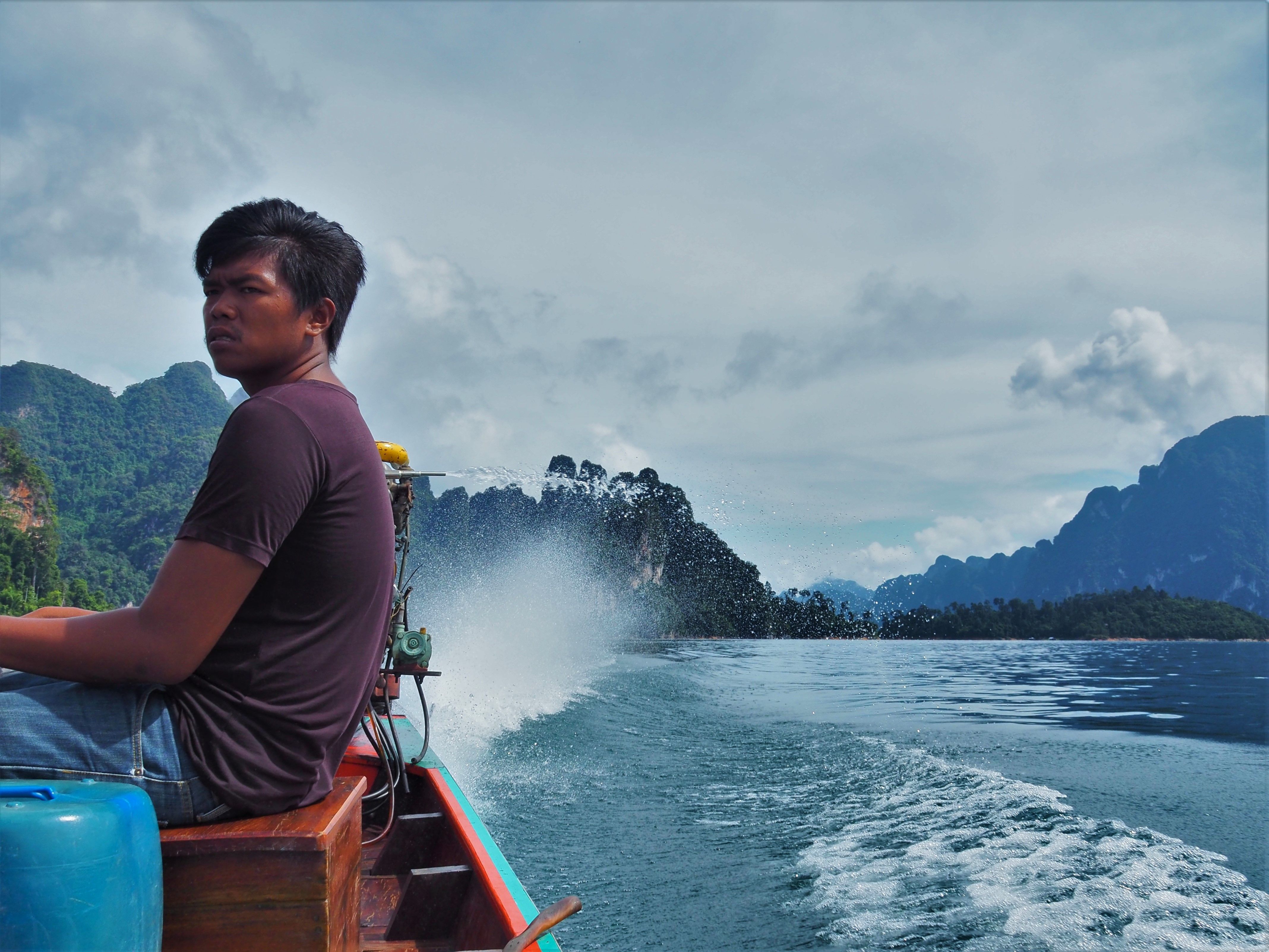 Our highly focused captain, steering our boat
1/1000 Sek. f/7,1 14 mm ISO 200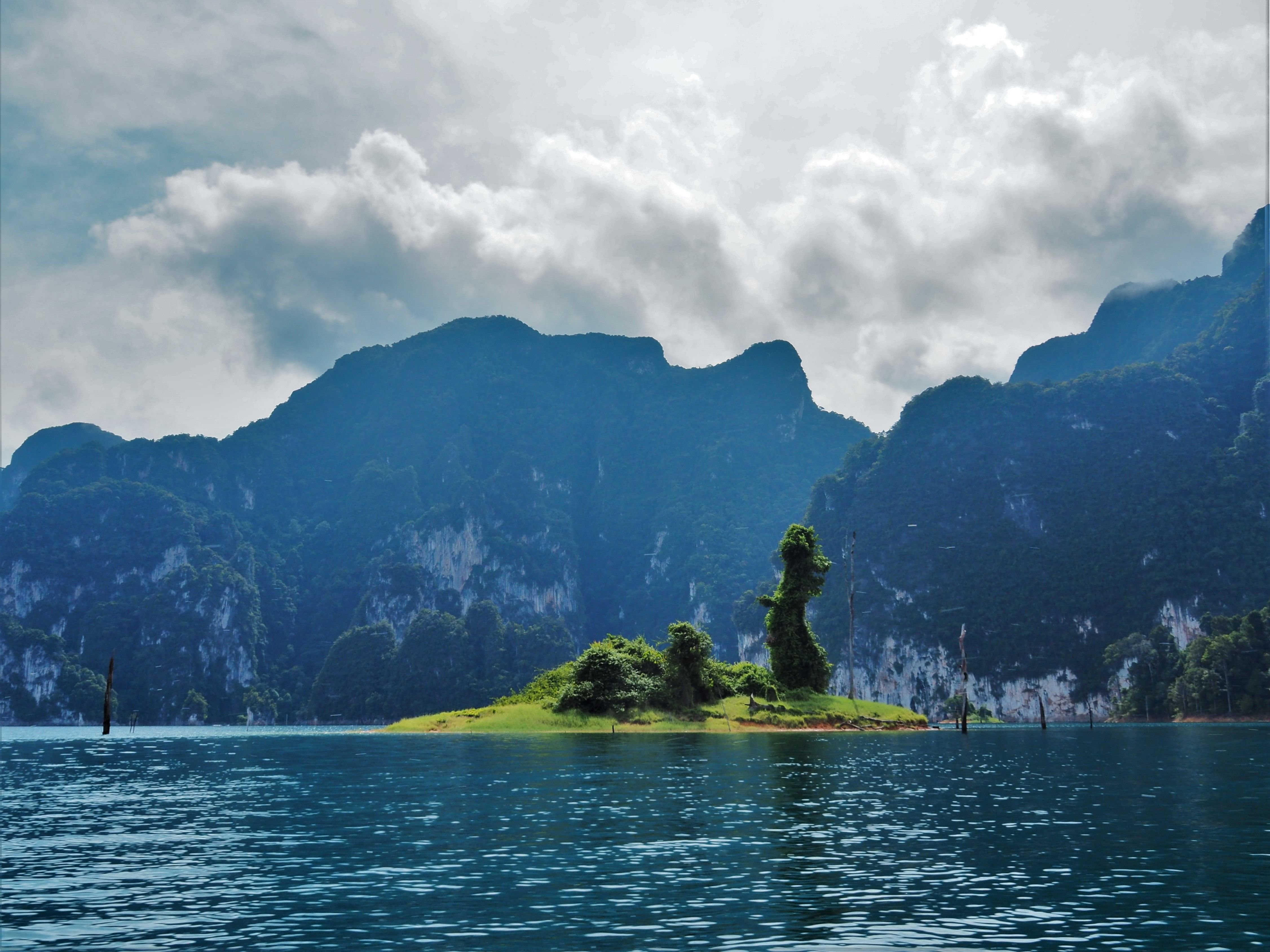 It's over soon I promise, the views were just too amazing to not be shared
1/640 Sek. f/7,1 15 mm ISO 200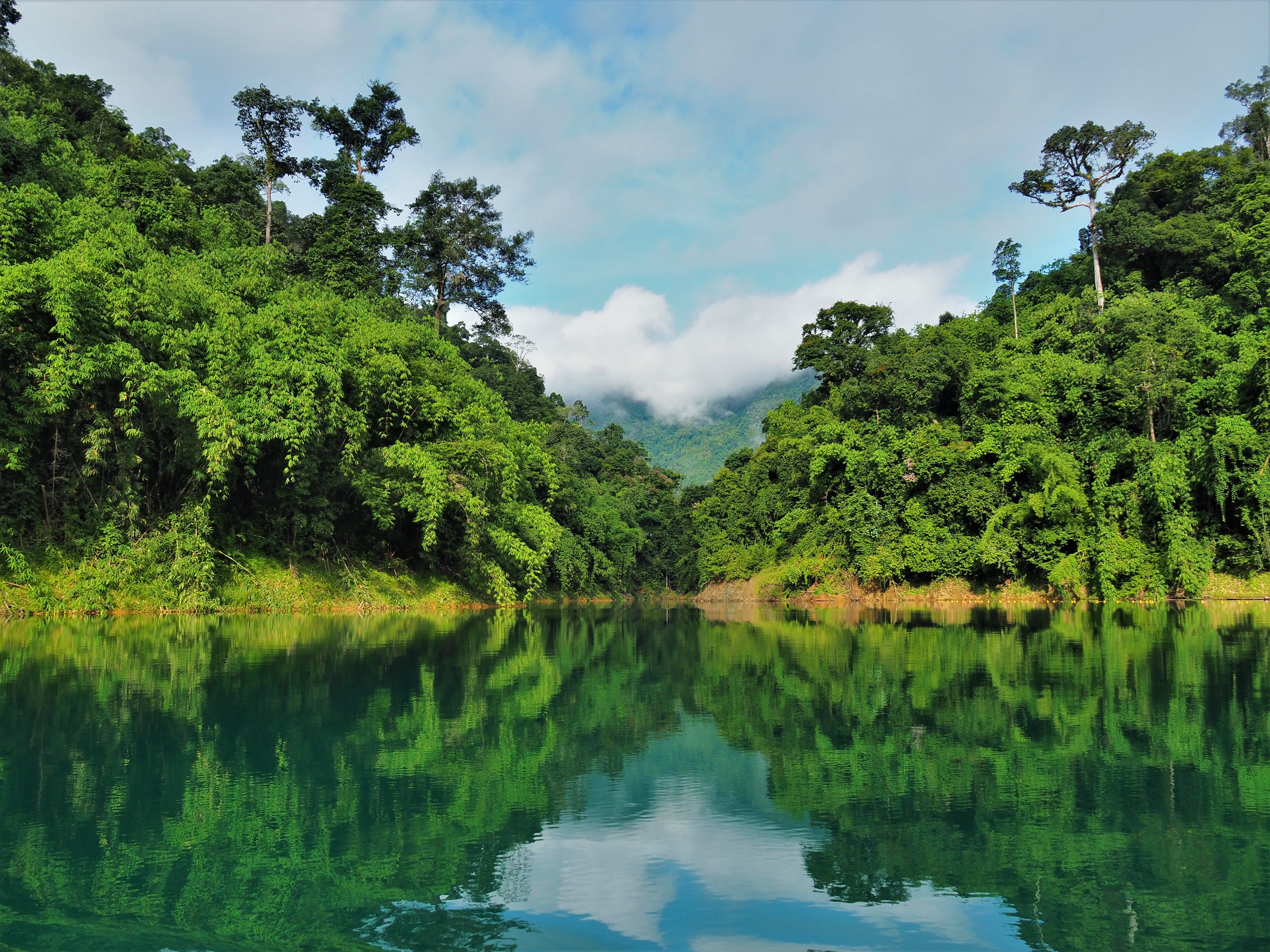 Last one, this was the view right from our bungalows
1/400 Sek. f/7,1 14 mm ISO 200
Exhausted but happy we left the national park by boat and got driven back to our bungalows. Most of us fell asleep in the car. We arrived in the late afternoon. I had booked a night bus to Bangkok at the night I arrived from Phi Phi, so I had a few hours to kill until my bus came. Me and the German boys chilled on the front porch of the resort. Reading some books and going trough some pictures while laying in hammocks, this was truly a great way to end the trip.
The unbelievable friendly guy from the resort offered me a ride to the bus station, how ever as the time came closer for me to leave some heavy rain clouds were building so he brought me there half an hour early to not get caught by the rain since he was taking me with his bike. The plan did not really work out as we were bought soaked when we arrived at the bus stop, I felt sorry for him as he had to drive back through the rain.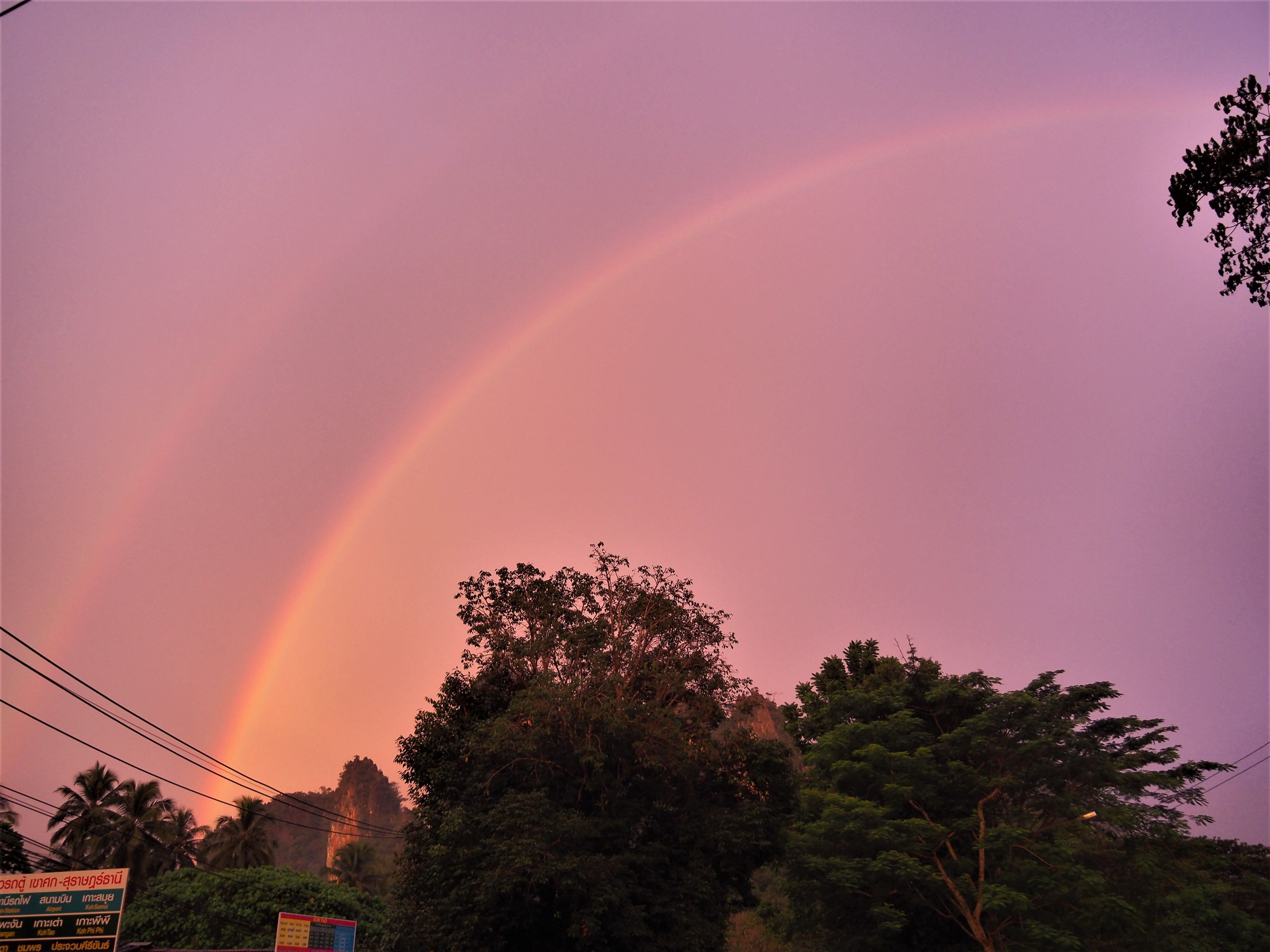 This is how the sky looked, I am serious it was all violet and pink with a double rainbow
1/15 Sek. f/4 14 mm ISO 200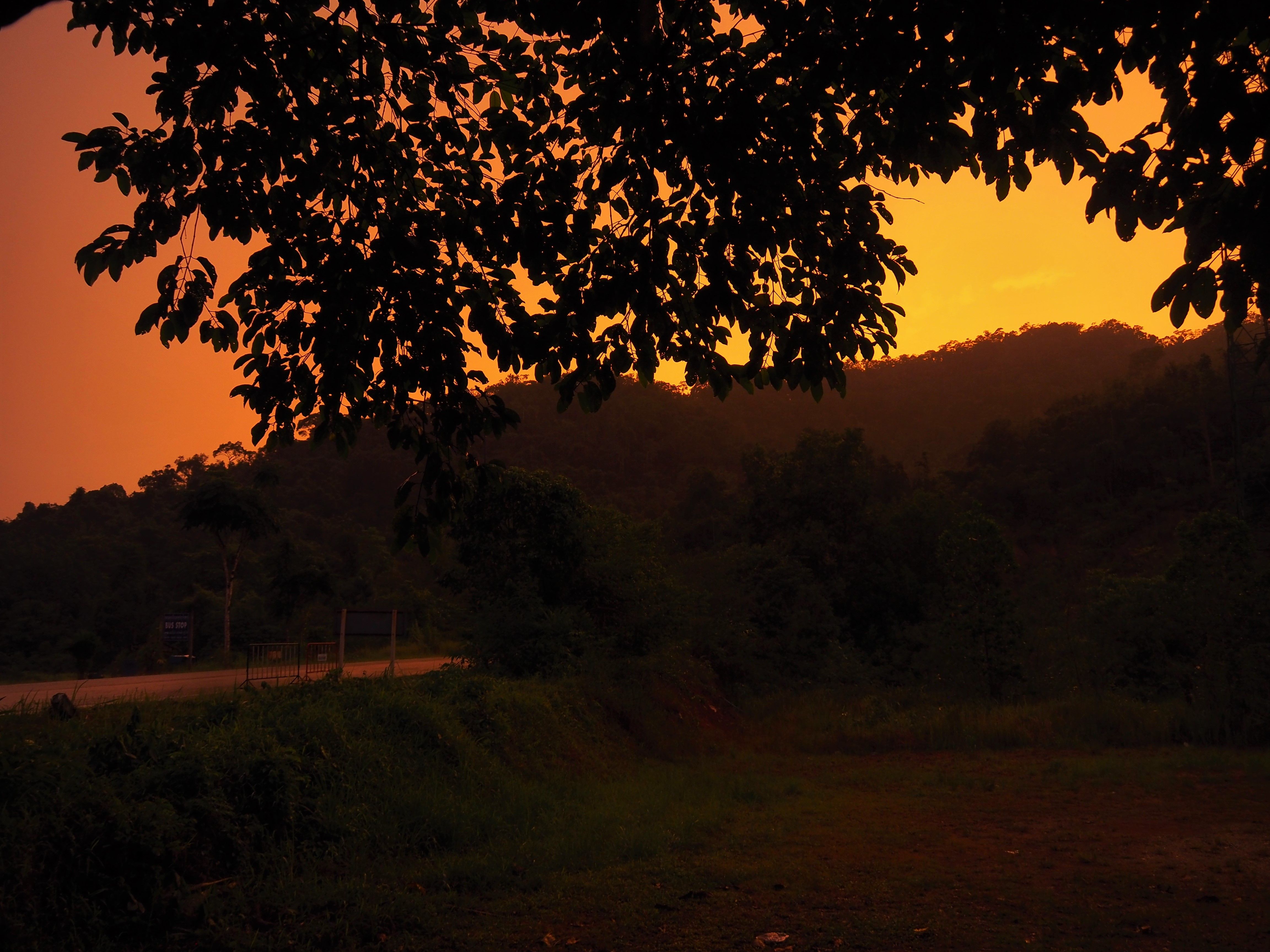 A few minutes later the whole sky went like some fancy LED-light from violet to orange, it was surreal
1/30 Sek. f/4 14 mm ISO 200
At the bus stop I was completely alone and the heavy rain in combination with the sinking sun made for a surreal atmosphere. The whole sky was orange to pink and everything was drowned by the noise of the rain. I was standing there under the roof of the bus stop, and felt like I was on an island all alone. Some fireflies where buzzing around in the field behind me despite the rain and bats where feasting upon the loads of insects which gathered around the glow of the street lamps. It was starting to get dark and the bus should have arrived half an hour ago by now. Eventually it did arrive, I ran through the rain and jumped in, already soaked from the few seconds in the rain. I didn't have any choice when booking the bus so I ended up booking the luxury liner which huge comfy seats and some snacks included. To my surprise we stopped around 11pm (the rain had stopped) and everybody got off the bus. Me not knowing what was going on since everything was announced in Thai also got off and looked around. I didn't want to get into a restaurant because I did not want to spend even more money. Standing there for 2 minutes I noticed people going up to the restaurant right at the bus stop, showing their tickets and being admitted inside. Curious I got my own ticket and tried the same. To my surprise they did let me in and I was ushered to one of the many round marble tables with marble stools around them. On the table there where several kinds of food and people simply took what they wanted and ate, afterwards you just leave and don't have to pay anything. Pleasantly surprised I ate until I nearly burst (because hey, free food) and got back into the bus just in time for it to leave.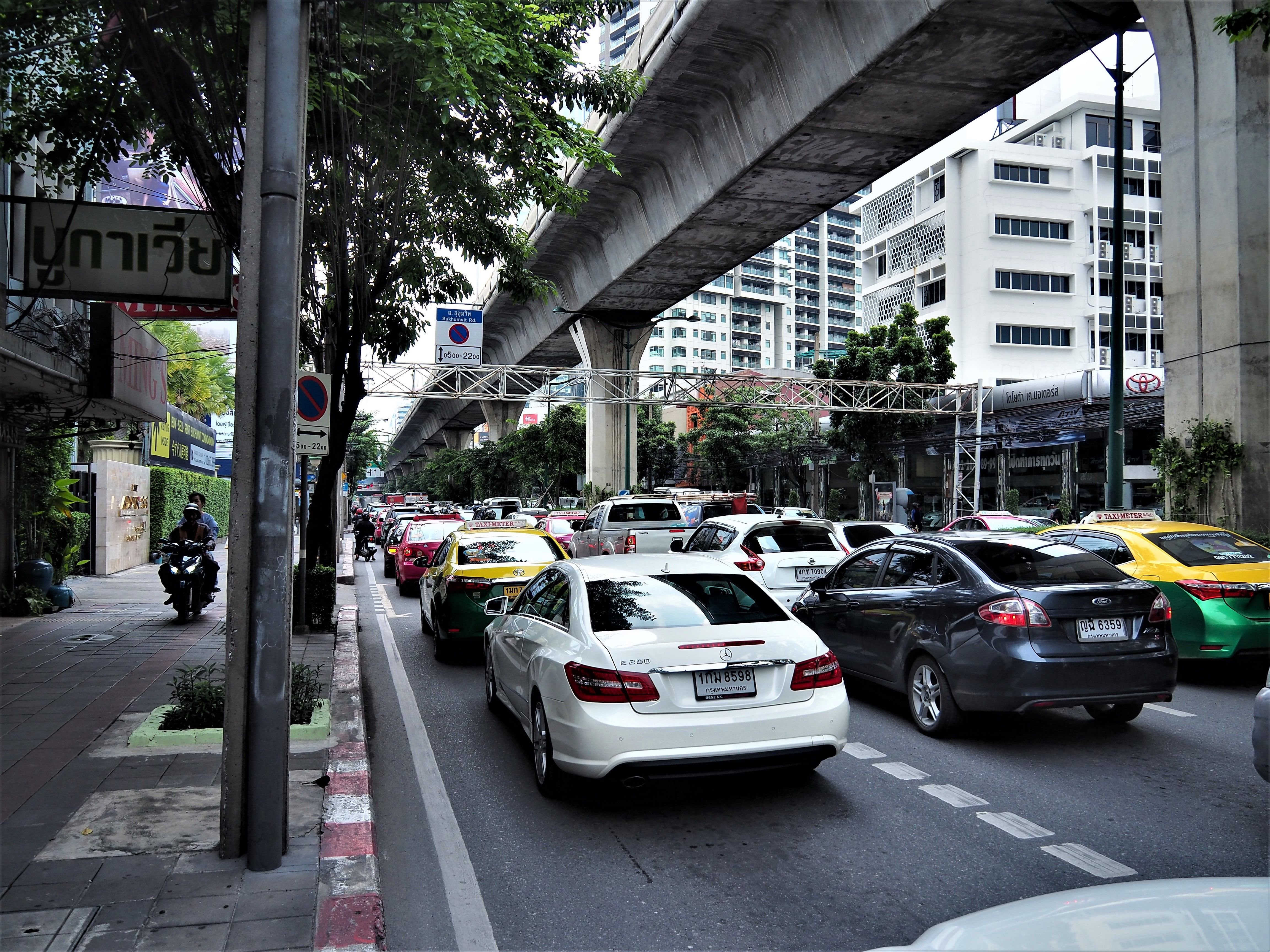 Back in Bangkok, back in the noise and traffic
1/400 Sek. f/4 14 mm ISO 200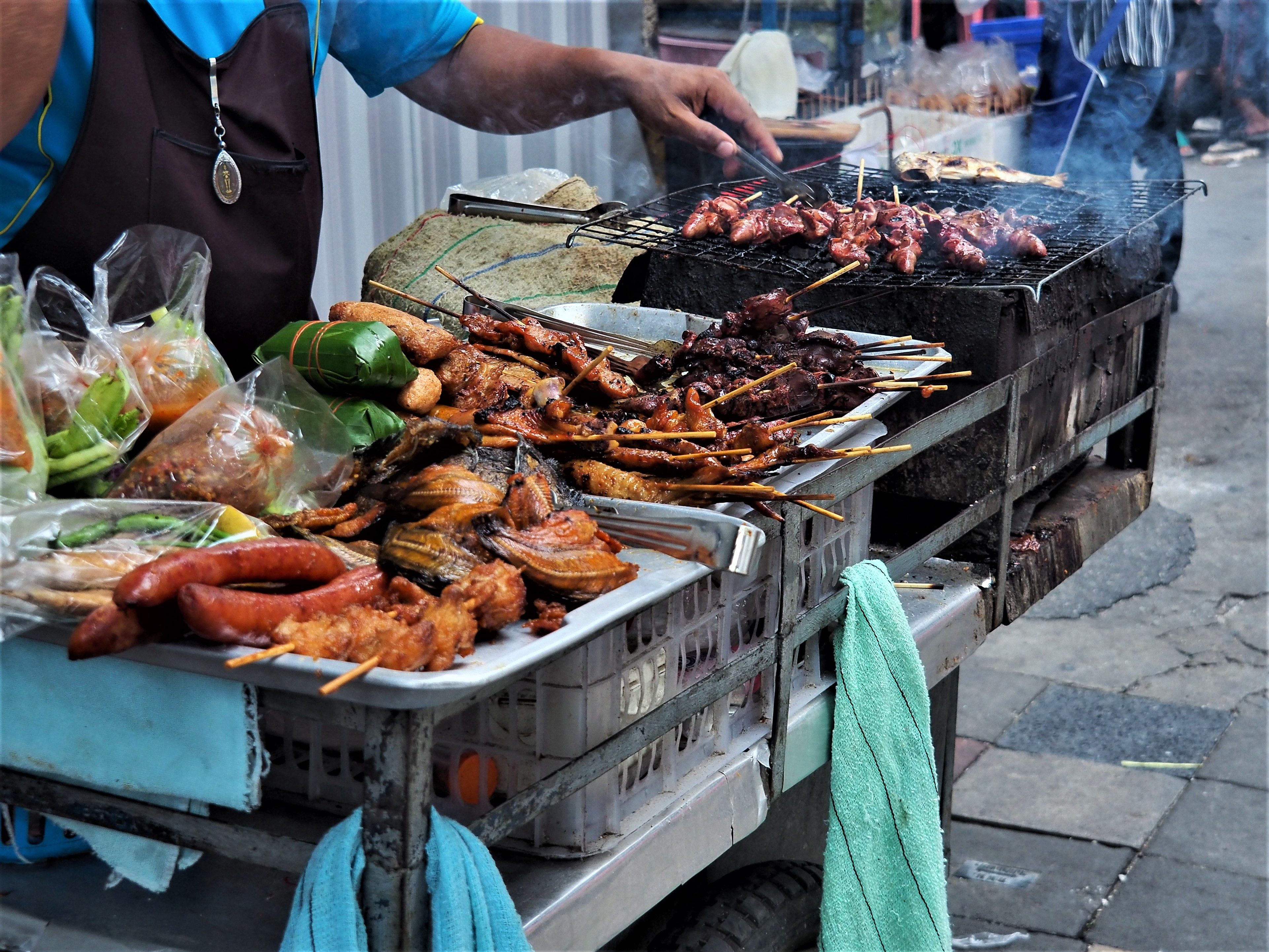 Back in Bangkok also means back to the awesome street food!
1/125 Sek. f/4,7 25 mm ISO 200
I arrived in Bangkok extremely well rested due to the huge comfy seats which could nearly be put in a flat position. Not very surprisingly the bus did not stop in the city centre, but several kilometres outside. As always when I got off I got overrun by taxi drivers offering to bring me to the city for horrendous prices. Annoyed by the hassle, I told them all the go to hell (well packed into some nicer words) and went to the local bus station. To my great relief there was a bus going exactly where I wanted to find a hostel for about 1/100th of the price the taxi drivers asked for. Another 1,5 hours later I arrived at the hostel that was recommended by my sister. Unfortunately they did not have any spare beds, so I went to the next best hostel just next door.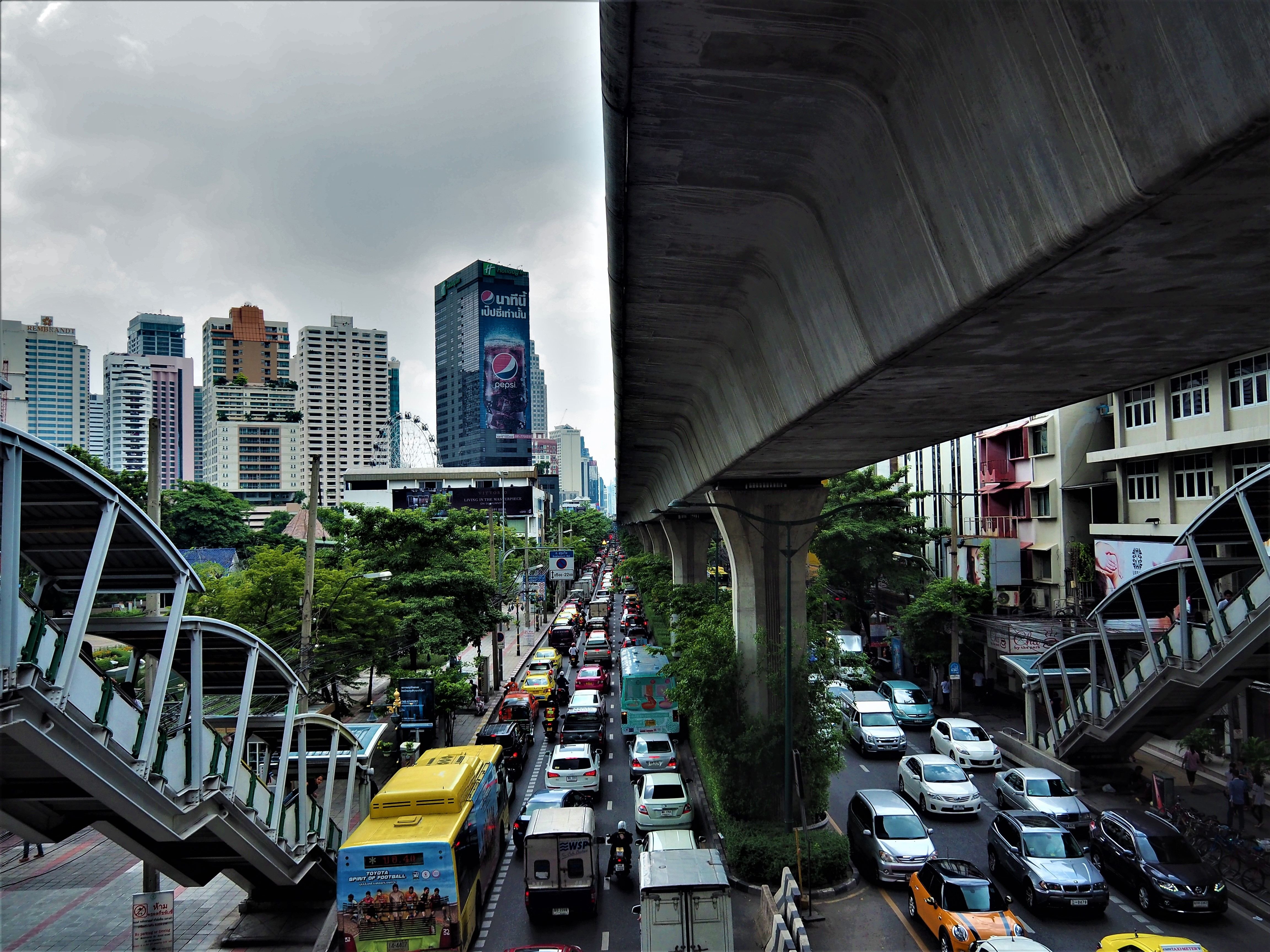 I went a little over the line with post processing on this one to give a better feeling of the harshness and size of the city
1/800 Sek. f/4,1 15 mm ISO 200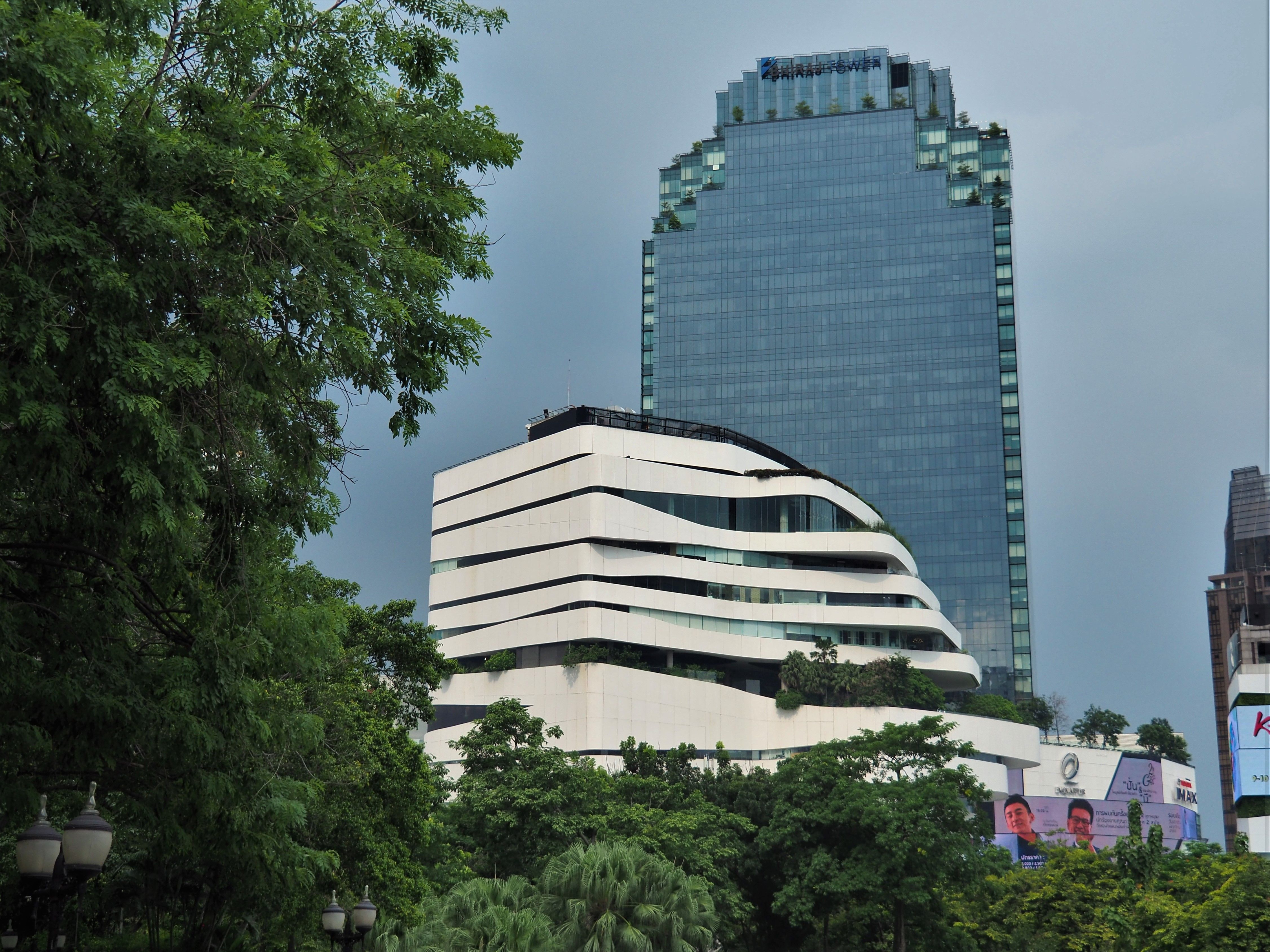 One of the many mall in my neighbourhood, all aimed on rich people, so nothing for me
1/1600 Sek. f/4,5 22 mm ISO 200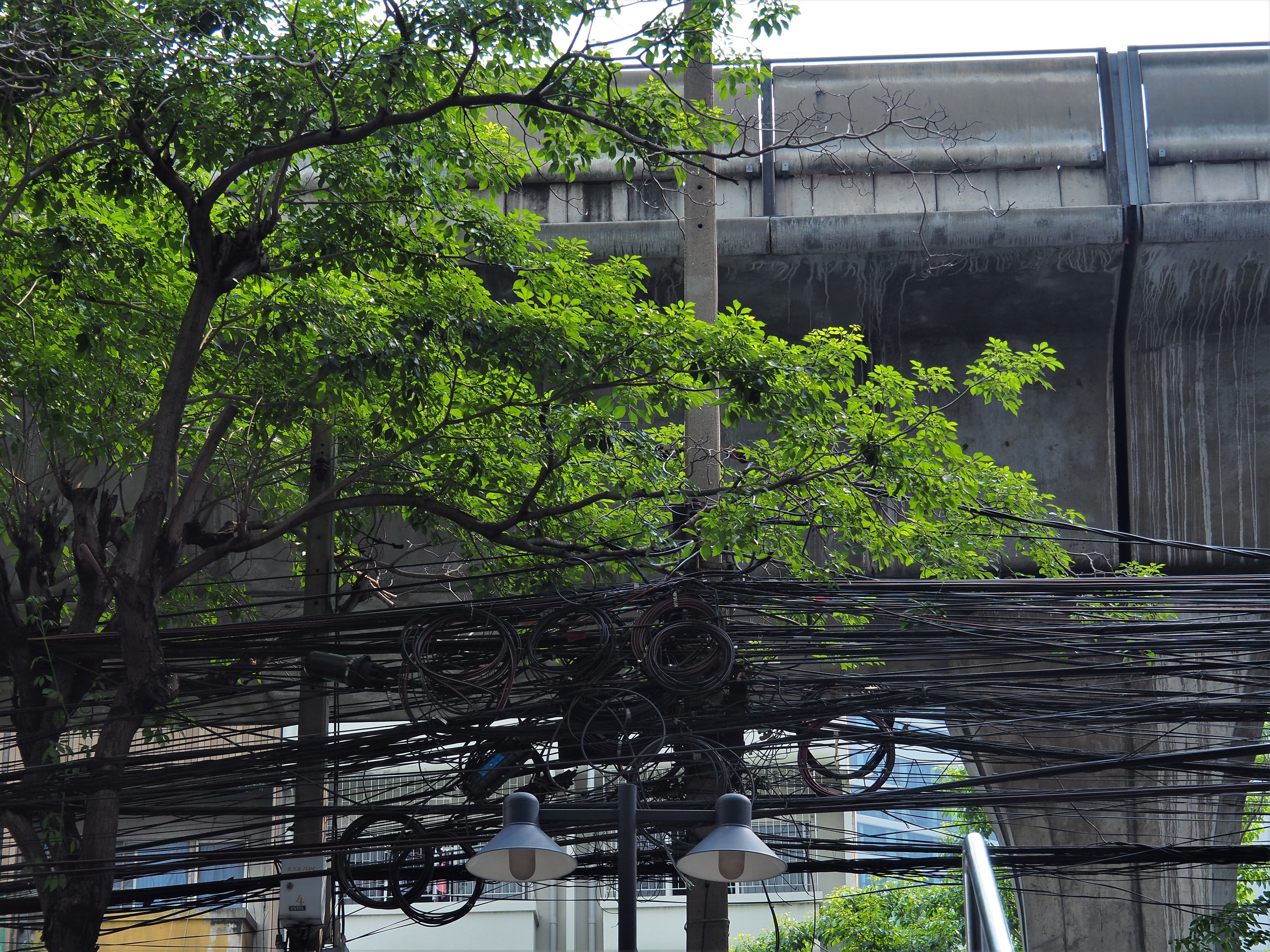 As an electrical engineer, this was really hurtful to look at
1/200 Sek. f/5,4 45 mm ISO 200
I had 3 more days until my flight to Austria left, but my travel enthusiasm had received a crushing blow when I got into Bangkok. All the noise, stress and smell were shockingly intense after the calmness of Khao Sok. I spend most of my time reading and watching Netflix, only exploring the immediate surroundings, such as a few shopping centres and a small park.
I was also on a extremely small budget, because I had miscalculated the price of the tour in Khao Sok and did not want to withdraw money again because of the rather large fees.
When the day came that my flight for home left I was really looking forward to home. I got up at 5am, caught the first metro and had a relaxing flight to Doha, the place where I had my layover. From Doha to Vienna I flew in a huge 747, but to my surprise there were less than 20 people with me on that plane. I could lie across 4 seats and sleep properly the first time on a plane.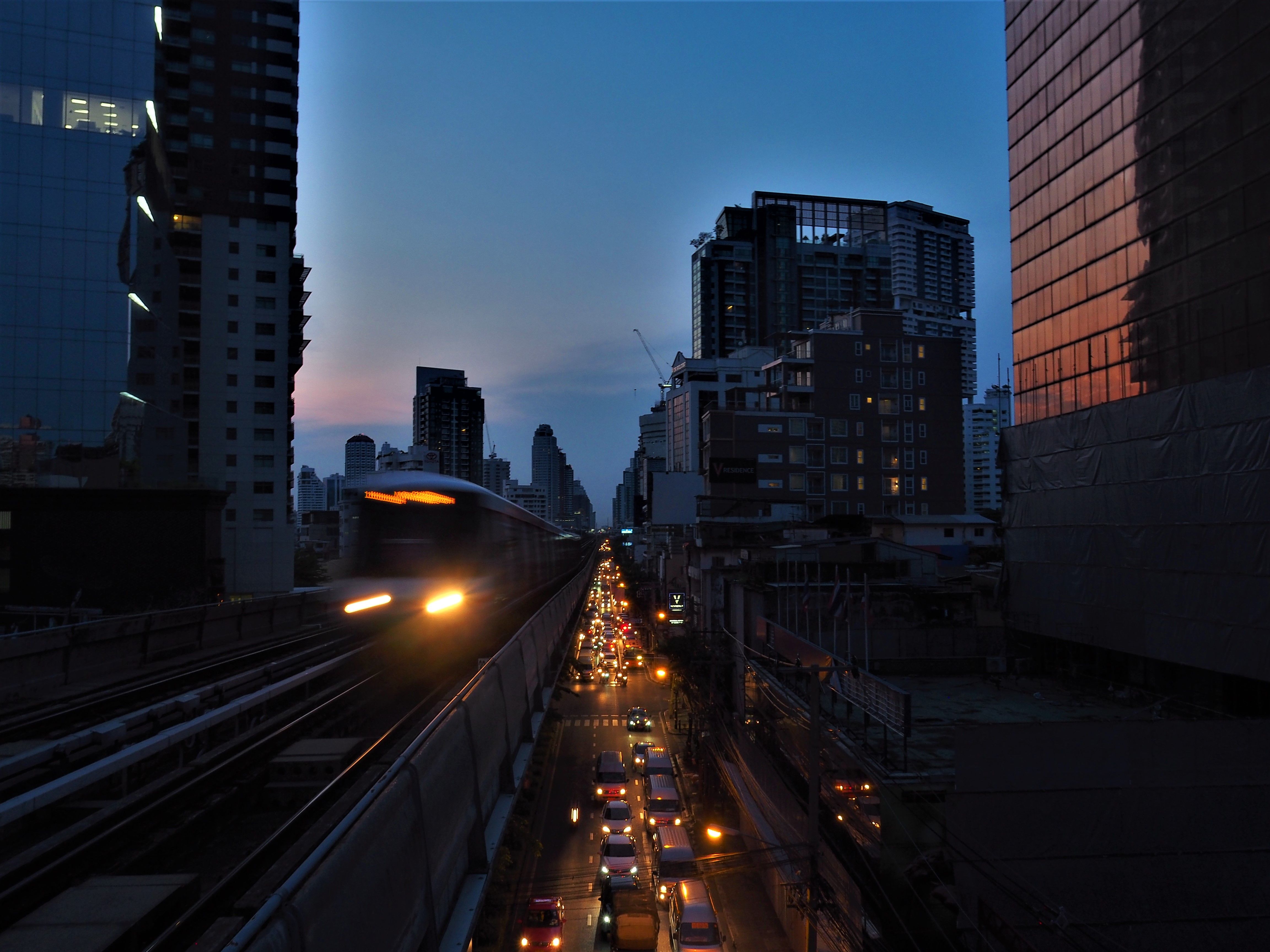 The last picture I took while in Bangkok, nearly missed my train because of it
1/4 Sek. f/10 14 mm ISO 200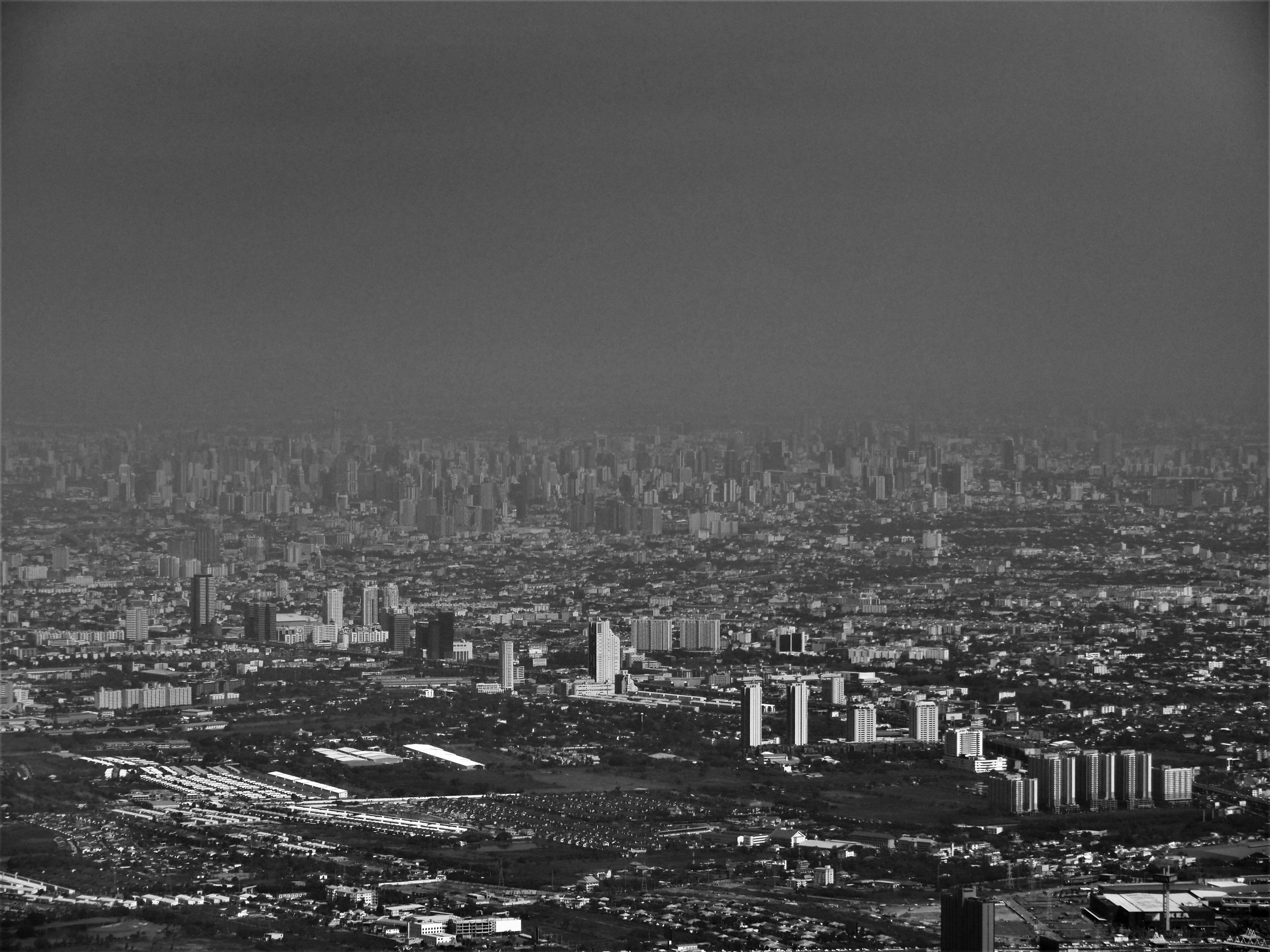 Last look on Bangkok, from the plane
1/2500 Sek. f/5,5 67 mm ISO 200
By 20:30 I finally arrived in Vienna and was picked up by my family. Who were just as happy to see me as I was.
With these words my story about my journey through Southeast Asia concludes. I hope you enjoyed reading just as much as I enjoyed writing it!
I have several more journeys I would like to tell you about so stay tuned for next week!
---
All shots in this post were made with my Olympus OMD EM-10 Mark II with a 14-150mm lens in manual mode.
If you want to learn more about my travel through southeast Asia you can read the previous posts here:
There is a new chapter coming each Thursday
If you want to know more about me check this out:
---
Thank you for reading and feel free to upvote, resteem & follow me :)