With my friends off to Austria (our home country) I was once more all on my own. I decided to pay the famous Kho Phi Phi island (spoken Ko Pee Pee) a visit because some of my travel friends had recommended it. Since it is an island I had to get a ferry to get there. It was leaving at 9:30 from Railay east, which was about 20 minutes by foot from my bungalow. I decided to get going a little earlier because part of my route was a exhausting path from one beach to another which went up and down quite a few metres, through some thick woods and up a few rocks.
When I previously had made my way to the beach I was staying I always started from the beach onto the path. However I hadn't taken in account that the tide was low at that time!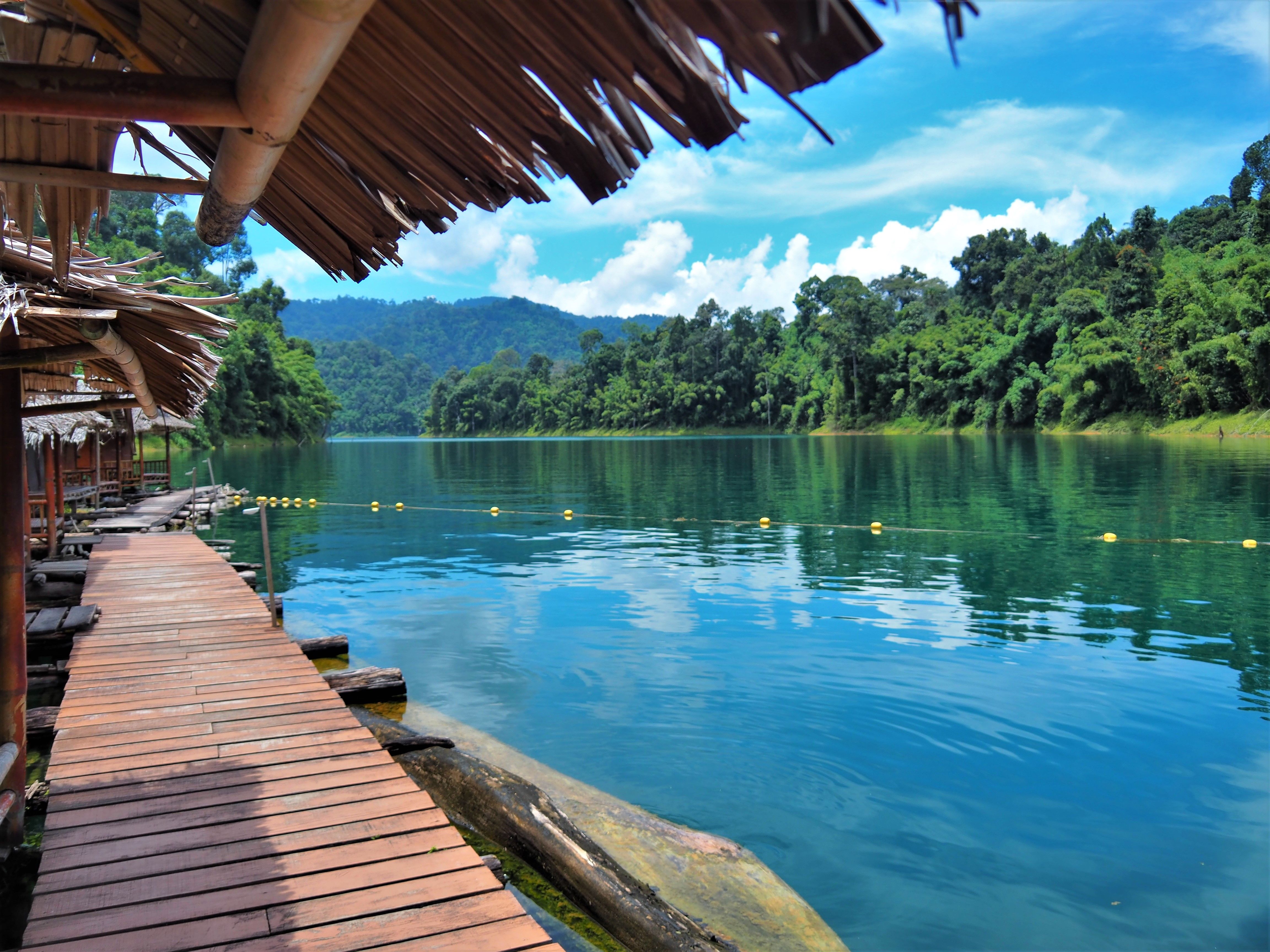 The swimming bungalows in Khao Sok
1/800 Sek. f/4 14 mm ISO 100
So when I made my way to the ferry I found myself standing on the end of the path looking right into the sea. I had to strip down to my briefs and take each of my backpacks (I had a big and a small one) separately. Carrying them above my head the water was going up to my chest. The whole procedure took me about 10 minutes, which left me less than 10 minutes to get from the west to the east beach. This was normally a 15-20 minutes walk so I got my clothes back on and ran the whole way with my heavy backpack on my back and flip flops on my feet.
Needless to say the sea was not the only reason I was wet and salty when I got to the peer. Breathing heavily I arrived just in time, only to come upon a bored woman who took my ticket, handed my a sticker to identify as a passenger and told me to wait.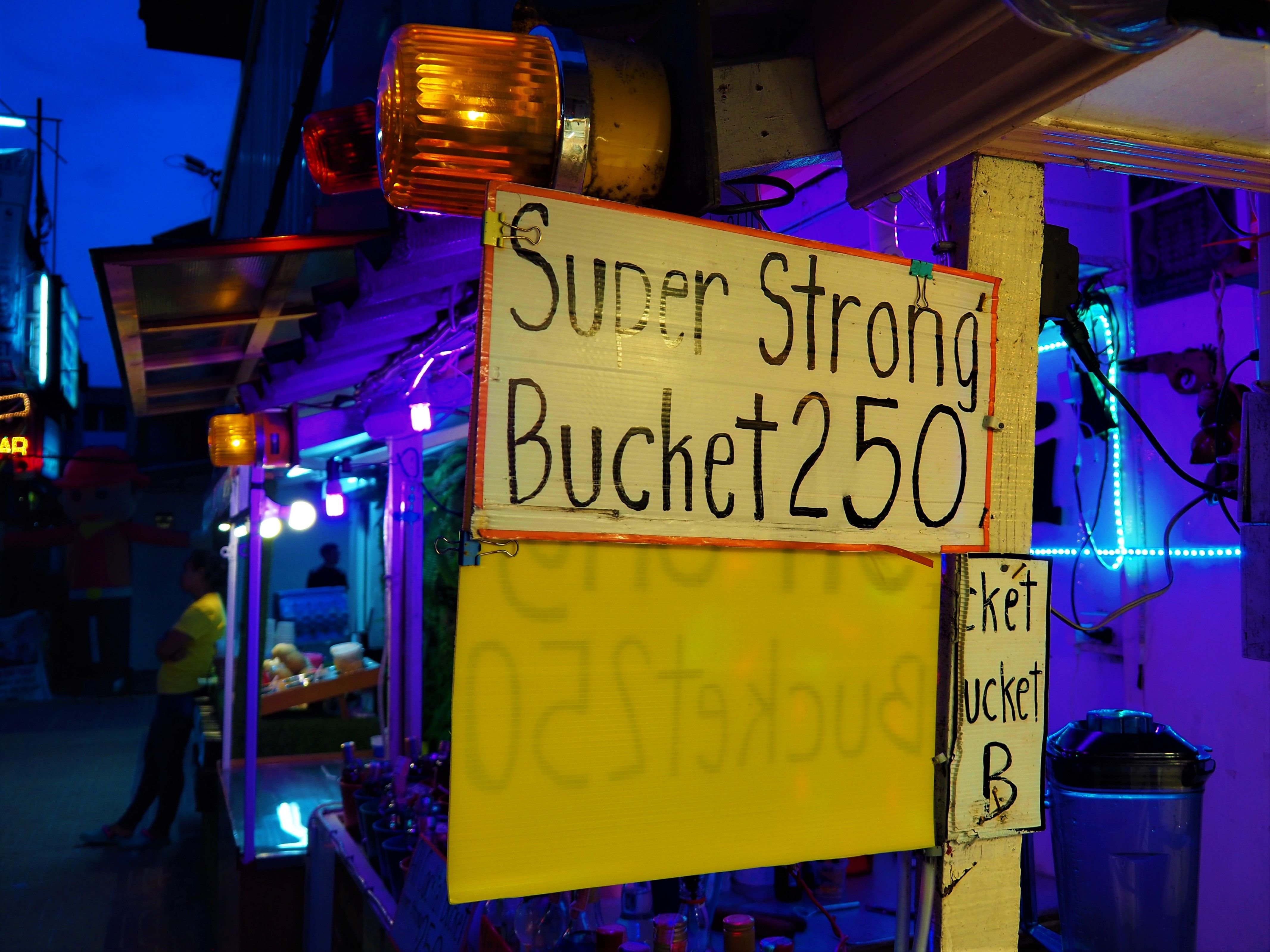 I think this picture describes Kho Phi Phi better than any of the beautiful beaches you see on the advertisements
1/40 Sek. f/4 14 mm ISO 240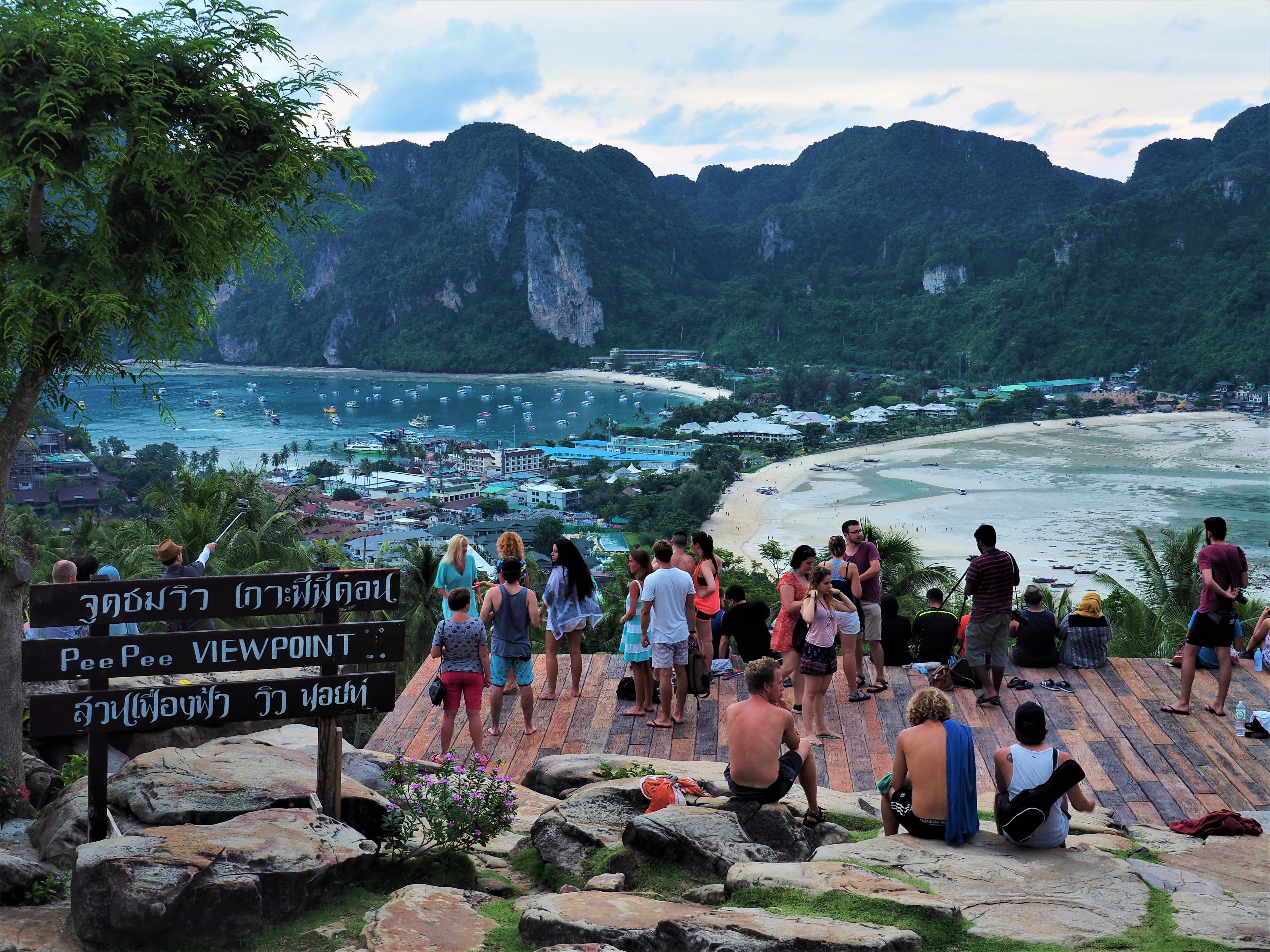 Even the rather remote viewpoint was starting to get crowded towards the sunset
1/50 Sek. f/8 25 mm ISO 200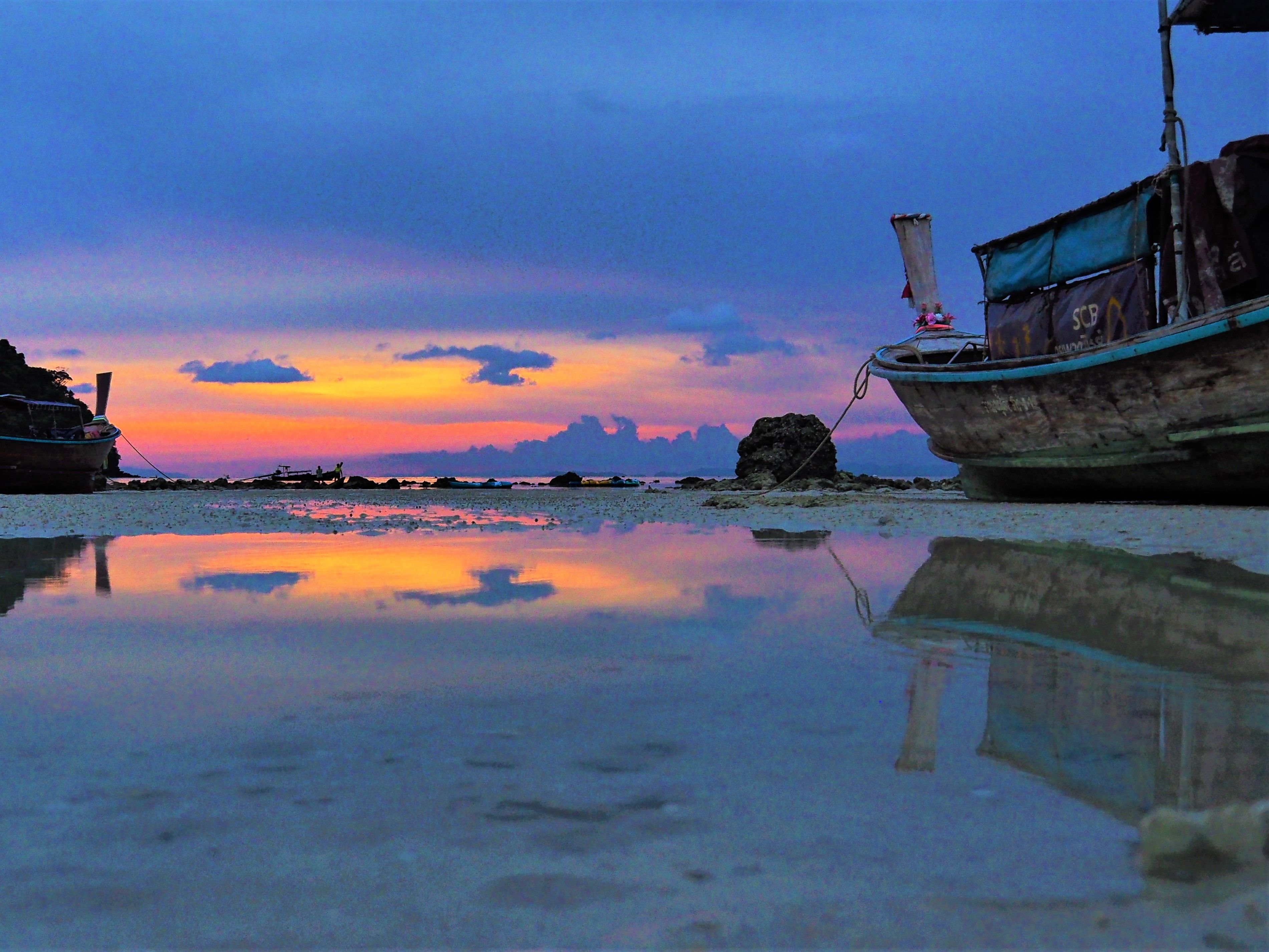 I managed to get a few minutes of calmness when I walked all the way out on the beach while the boats laid aground during the low tide
1/400 Sek. f/5 18 mm ISO 640
Of course the boat didn't leave for another half an hour and it started to rain. To say I was frustrated would be a great understatement as you might imagine. After a rather boring boat ride we arrived at the famous Kho Phi Phi (the movie "The beach" was filmed on it's sister island). I had been warned, that the island was very popular among "party tourists", but I was still shocked when I got there. On every street there where signs promoting cheap "buckets" which where filled with vodka or other high-proof alcohol, there was always music booming in the distance and the whole beach was littered and packed with people.
I once more got the cheapest hostel and stayed there for a while. I decided to flee from the noise and went up to the viewpoint to maybe catch the sunset. Even up there I could hear the music blasting up from the beach. Disappointed I decided to head to my next destination on the following day.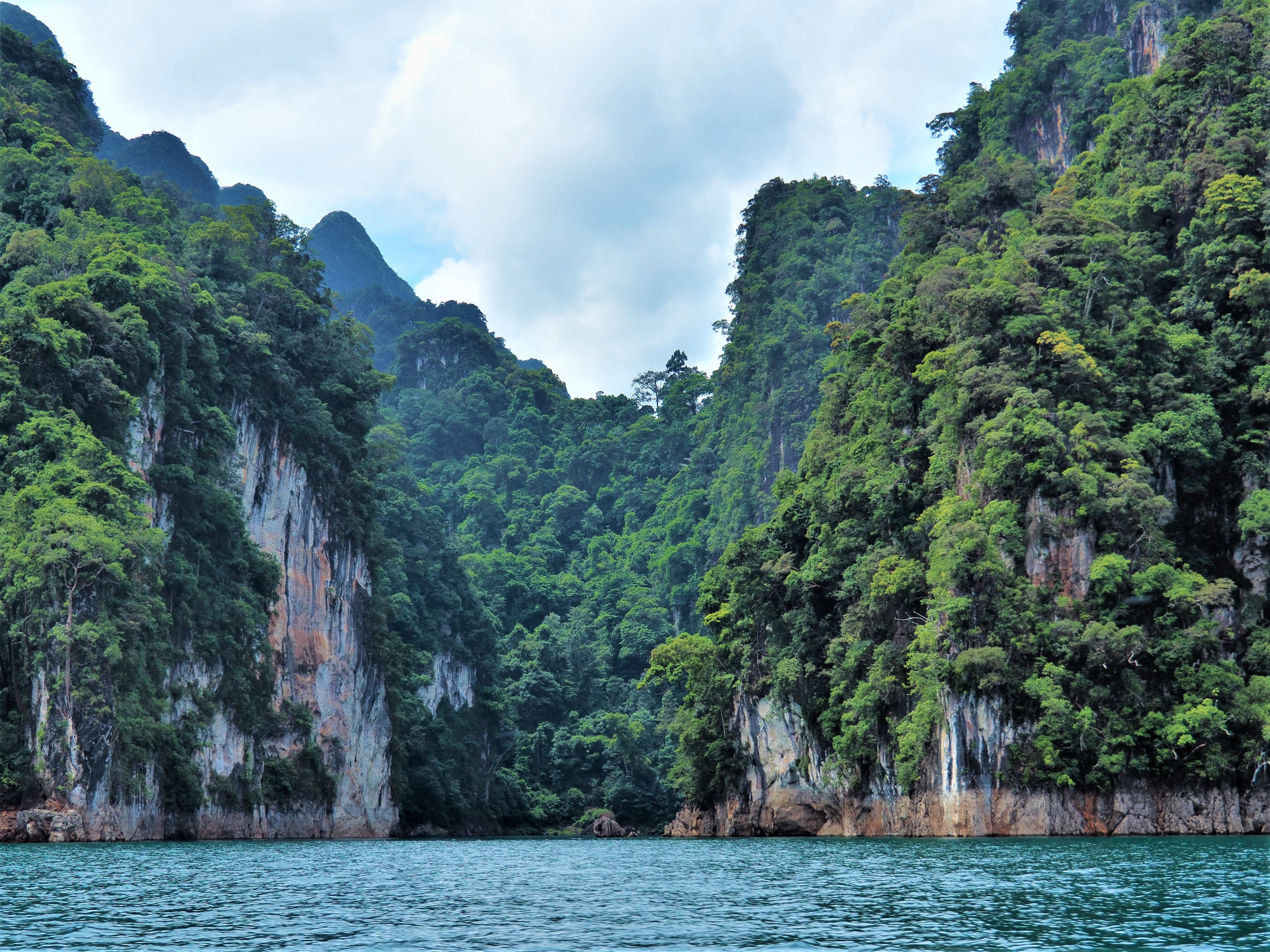 I was constantly amazed by the amount of green to be seen even on these steep cliffs
1/500 Sek. f/5,1 34 mm ISO 100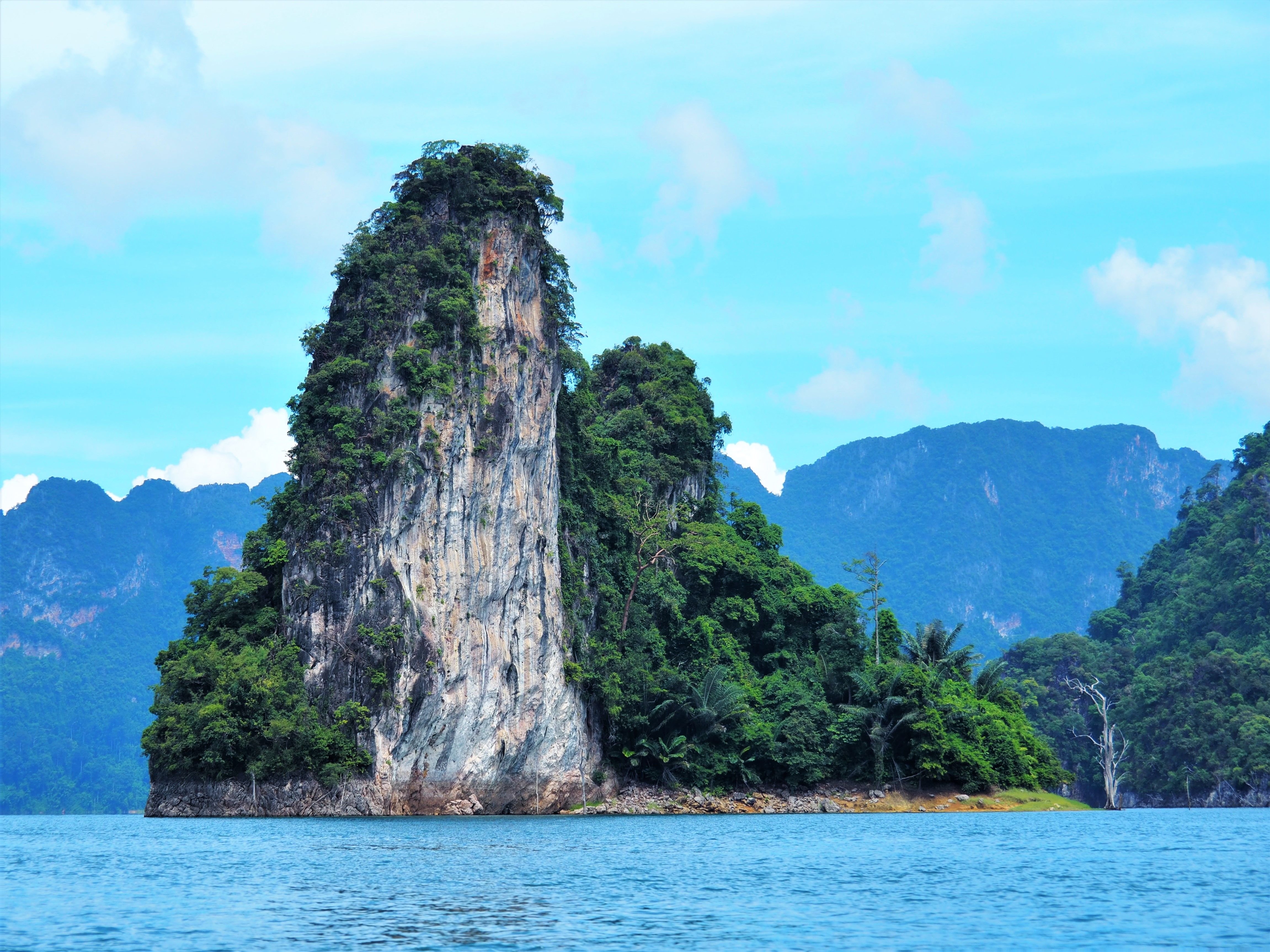 These beautiful rock formations once where coral reefs
1/400 Sek. f/5,5 54 mm ISO 100
My next stop was Khao Sok, a national park which consisted mostly of a huge artificial lake which powered most of the area around Phuket and Krabi. However in order to get there I had to take a ferry to Krabi and then get a 6-hour bus ride to the park. According to the travel agency where I booked the whole package I should arrive around 6pm. If you read a few of my other posts it won't surprise you that I had once more troubles with the bus. When I got to Krabi and found my bus driver it turned out that I was the only one to go to that destination. To still make money from the trip the agency told the driver to pick up several people and bring them to their destinations, making a HUGE detour. I arrived around 11pm at my hostel. Of course I hadn't booked in advance because I would have plenty of sunlight to walk around and find one that still had vacant rooms if my first choice was booked up. Luckily they still had a room (more like a small hut) for me, so I checked in. My time in Thailand was already coming to an end and my flight was going from Bangkok so I had not very much time at the national park. With that in mind I booked a tour for the next day right upon my arrival. Prior to arriving I was thinking about exploring the national park on my own, however as the very nice guy at my resort told me, it's pretty much impossible to get around in the national park without a boat. Renting a boat on my own would be even more expensive that a tour so I settled for a two days tour which seemed the best value for money.
We weren't the only ones starting our tour that day
1/50 Sek. f/22 14 mm ISO 100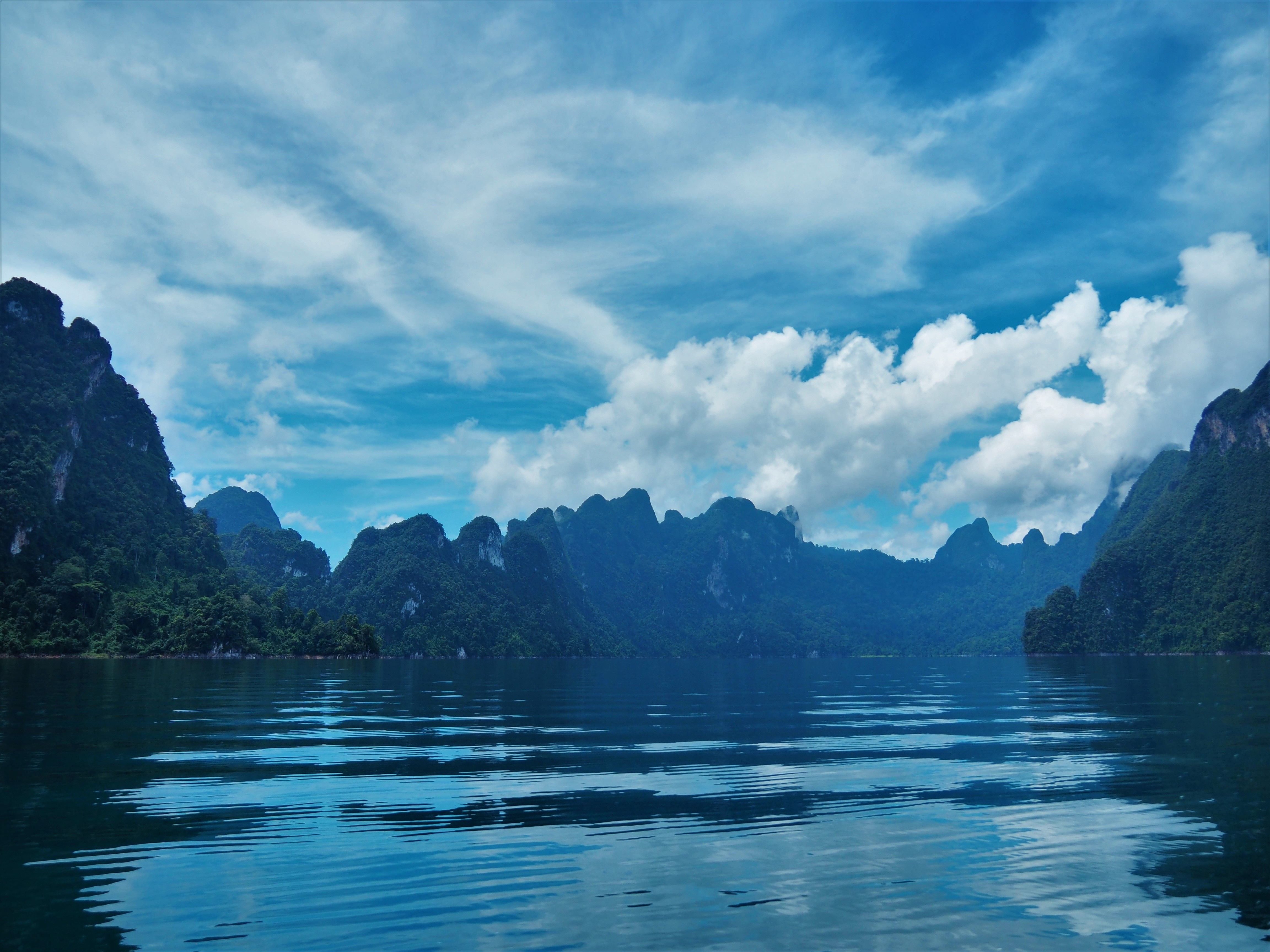 It's hard to imagine the vastness of the lake just from pictures, I think this one gives the best feeling. Can you see how it gets blurry in the back just because of the sheer distance?
1/1600 Sek. f/4 14 mm ISO 100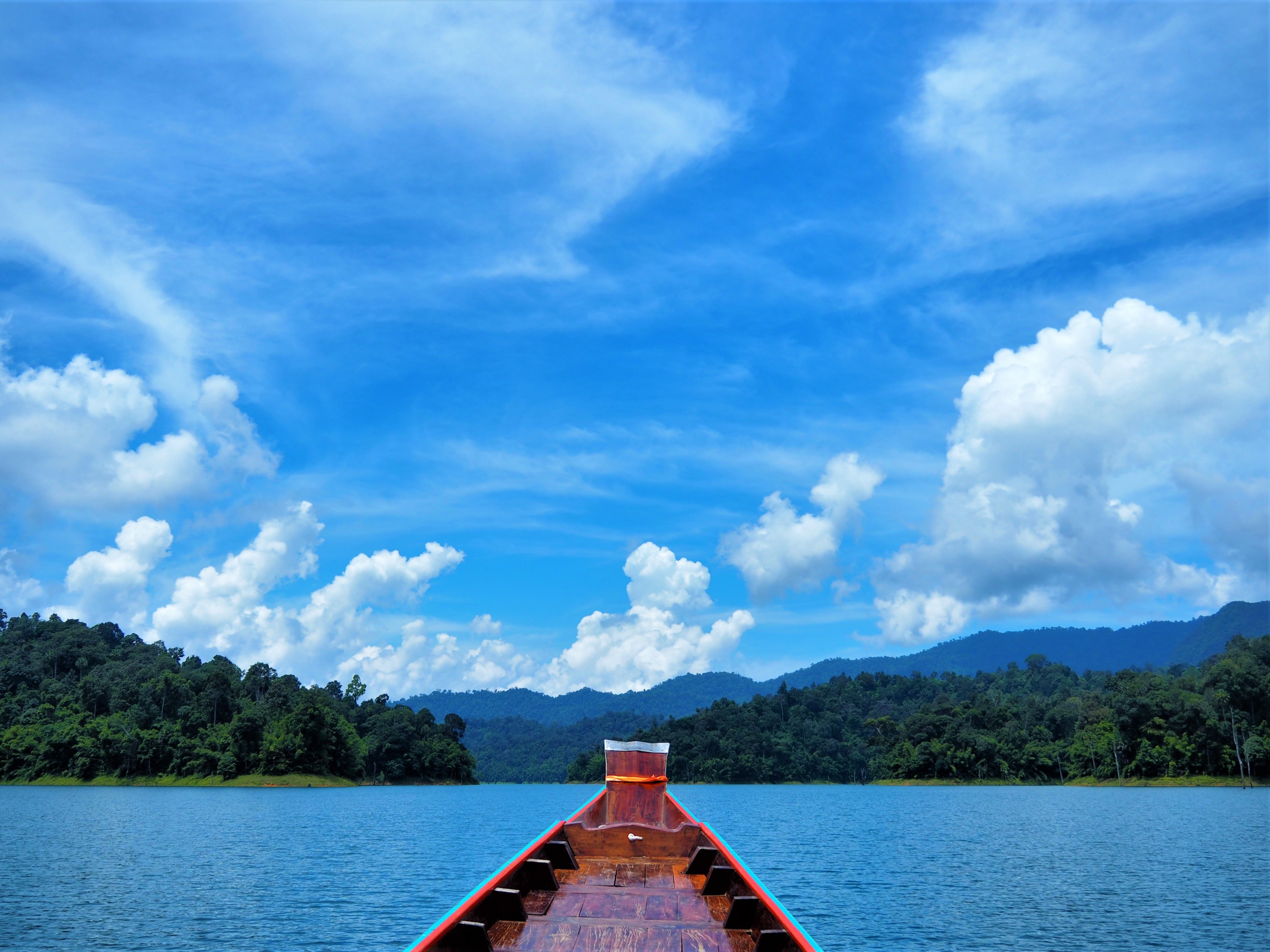 The weather was kind to us most of the day
1/1250 Sek. f/4,1 17 mm ISO 100
A very friendly guide picked me and two other guys up the next morning. They turned out to be German and much to the amusement of the other guy one of them was also named Paul. We picked up a couple from another resort and drove to the entrance of the park (with a small stopover). There we met with the rest of the group: another couple and two girls. We got onto a boat and rode for over an hour across the lake. It was huge! With the rocks sticking out I was strongly reminded of "Avatar". We arrived at our stay for the night: the swimming bungalows! After lunch we went for a hike into the jungle. Going through several rivers and creeks my shoes where drenched from start till the end. We made halt two times to bathe of the sweat and finally arrived. Our goal had been a cave with a creek running through it. We all got some headlamps and went exploring. It was great! In the end we arrived at a waterfall within the cave, which looked truly amazing, unfortunately I don't have any pictures of it because water and electronics don't go well together (also it was way too dark).
Normally the tour would have gone even deeper into the cave, but the current was too strong due to the recent rains, so we had to turn around.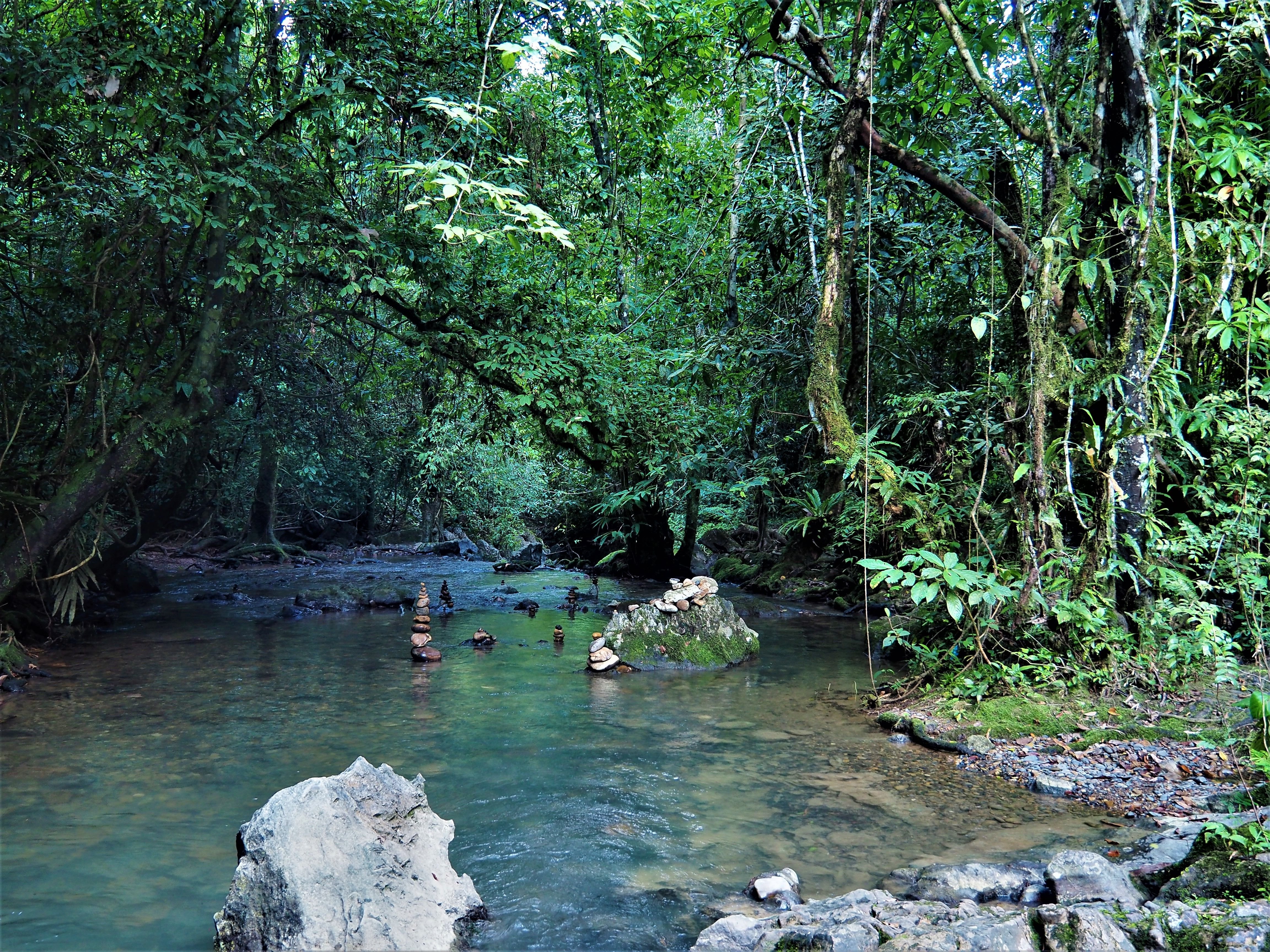 This and many other rivers we had to cross
1/30 Sek. f/4,1 17 mm ISO 400
Some rain clouds were already starting to built up dramatically
1/1250 Sek. f/4 14 mm ISO 100
In the evening we made another "safari" as the called it. We got onto the boat and rode to a spot where monkey appear regularly. To our disappointment they did not show up that evening. We turned around, to go back to the bungalows, our boat lying very close to the water as always when we made a sharp turn, when suddenly WHAM! the whole boat jumped and swayed heavily. The tail of our longtail boat had snapped! This was the only mean of propulsion (apart from one tiny paddle) the boat had and there where huge rain clouds building up above us. To our unbelievable luck, it was one of the few days, that another boat was at the same spot watching for animals. They took us onboard and pulled our wrecked with it's shocked captain behind.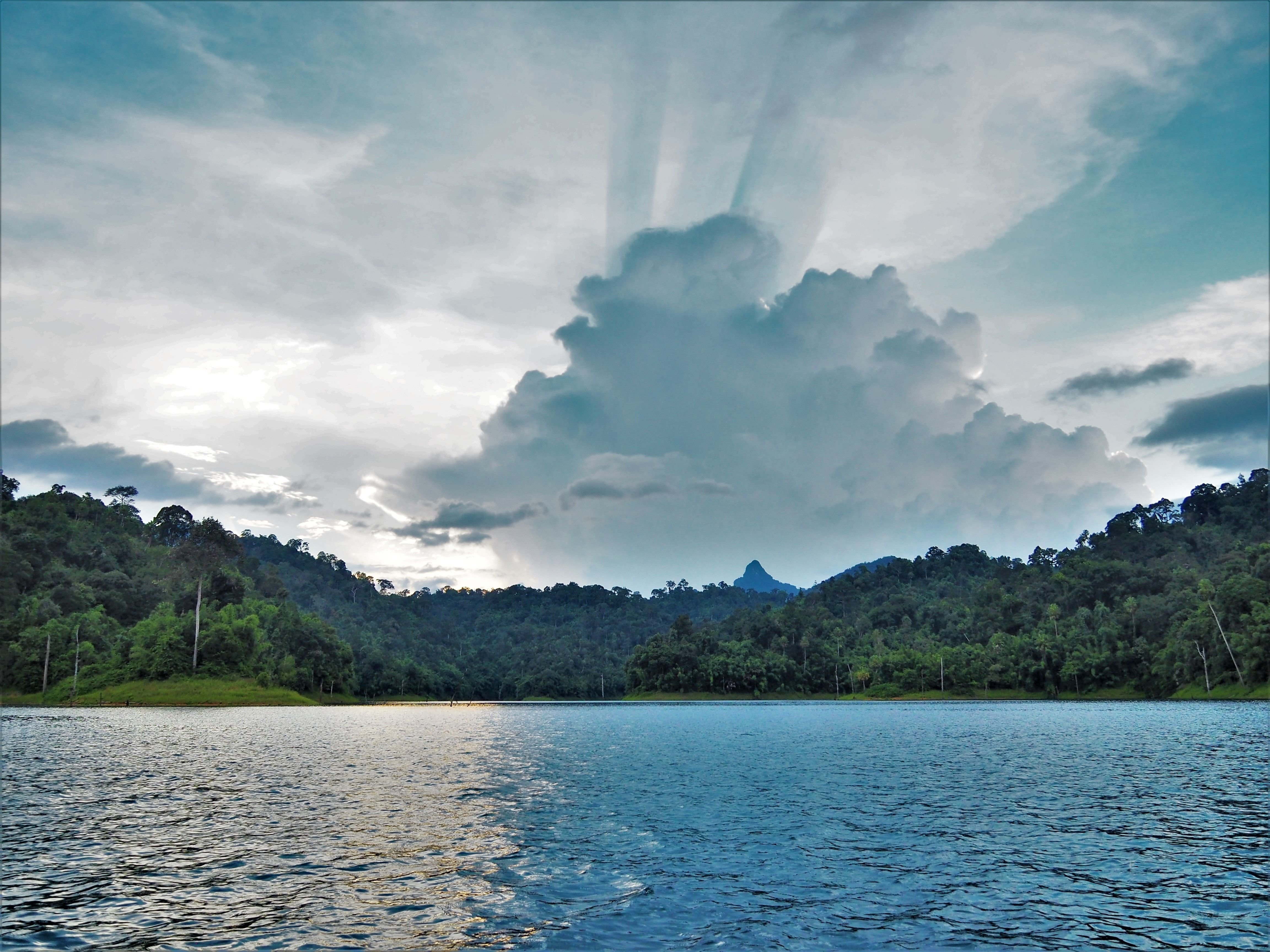 The building rain clouds cause some great shadows by the sinking sun
1/640 Sek. f/4 14 mm ISO 400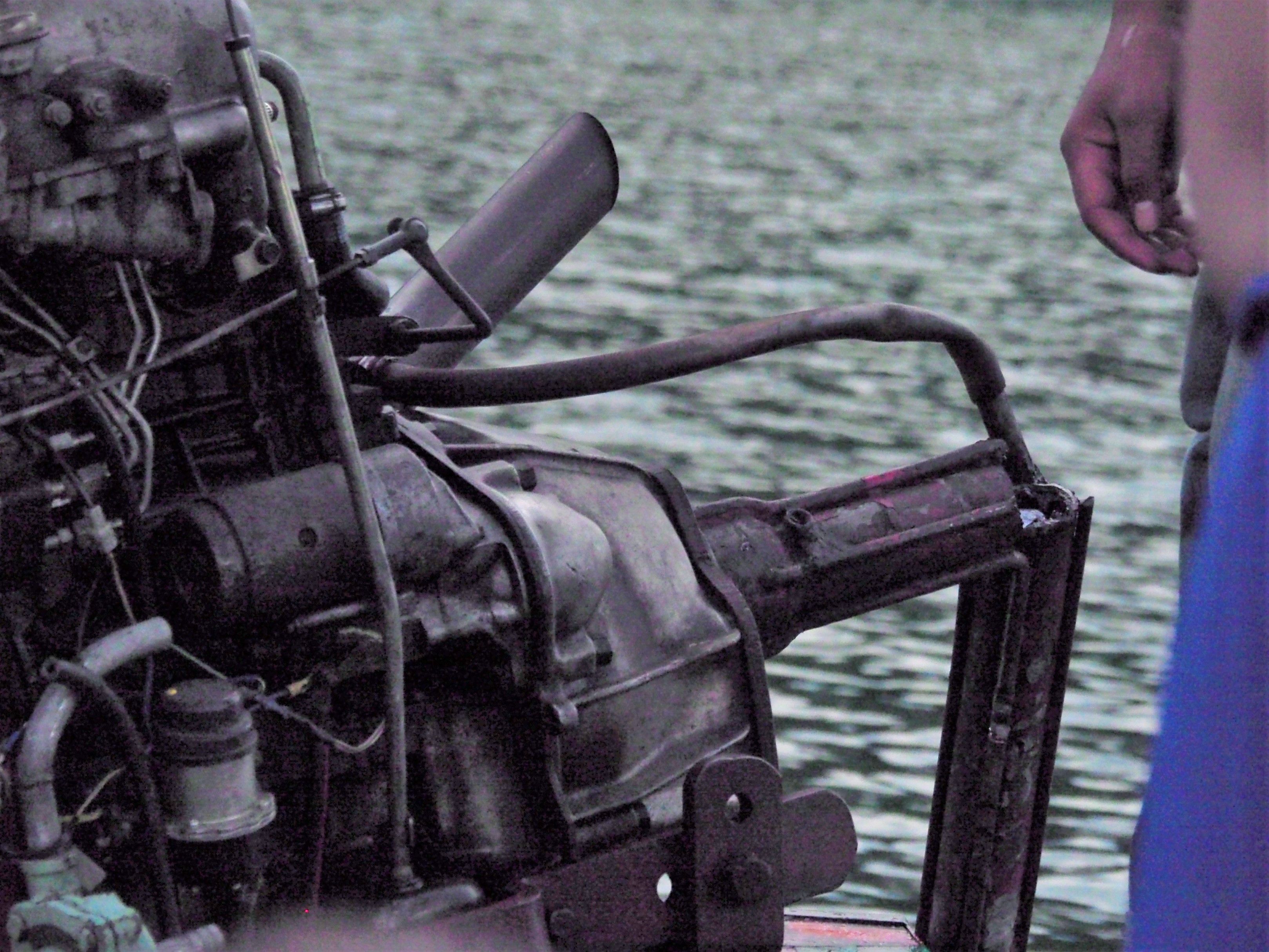 The broken tail made the boat drift helplessly over the water
1/1000 Sek. f/5,5 75 mm ISO 200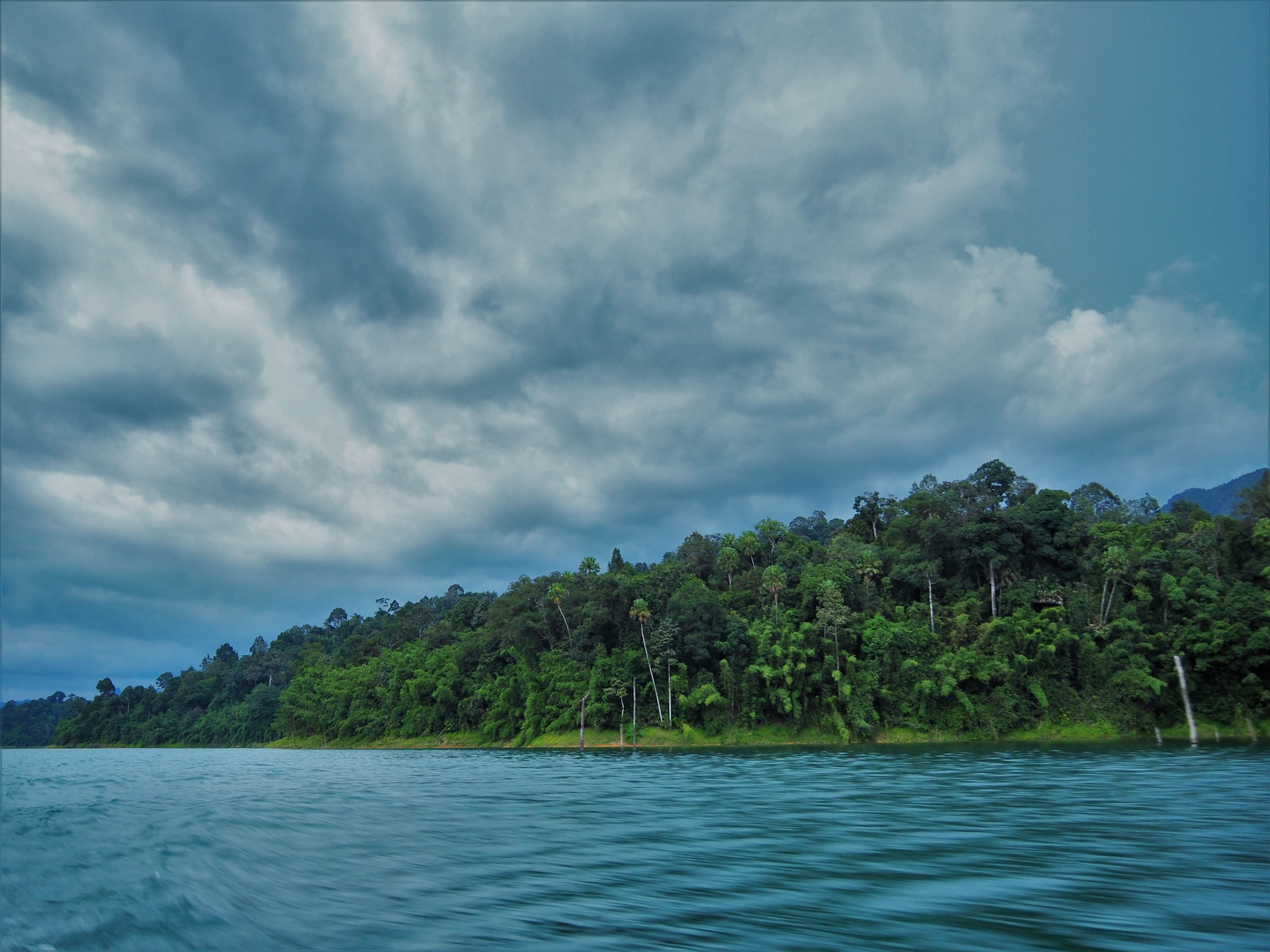 Racing back to the safety of our bungalows
1/15 Sek. f/4 14 mm ISO 200
Not even 5 minutes after we arrived at the bungalows it started to rain heavily. We took a delicious dinner and went to sleep early as there was a morning safari planned for the next day.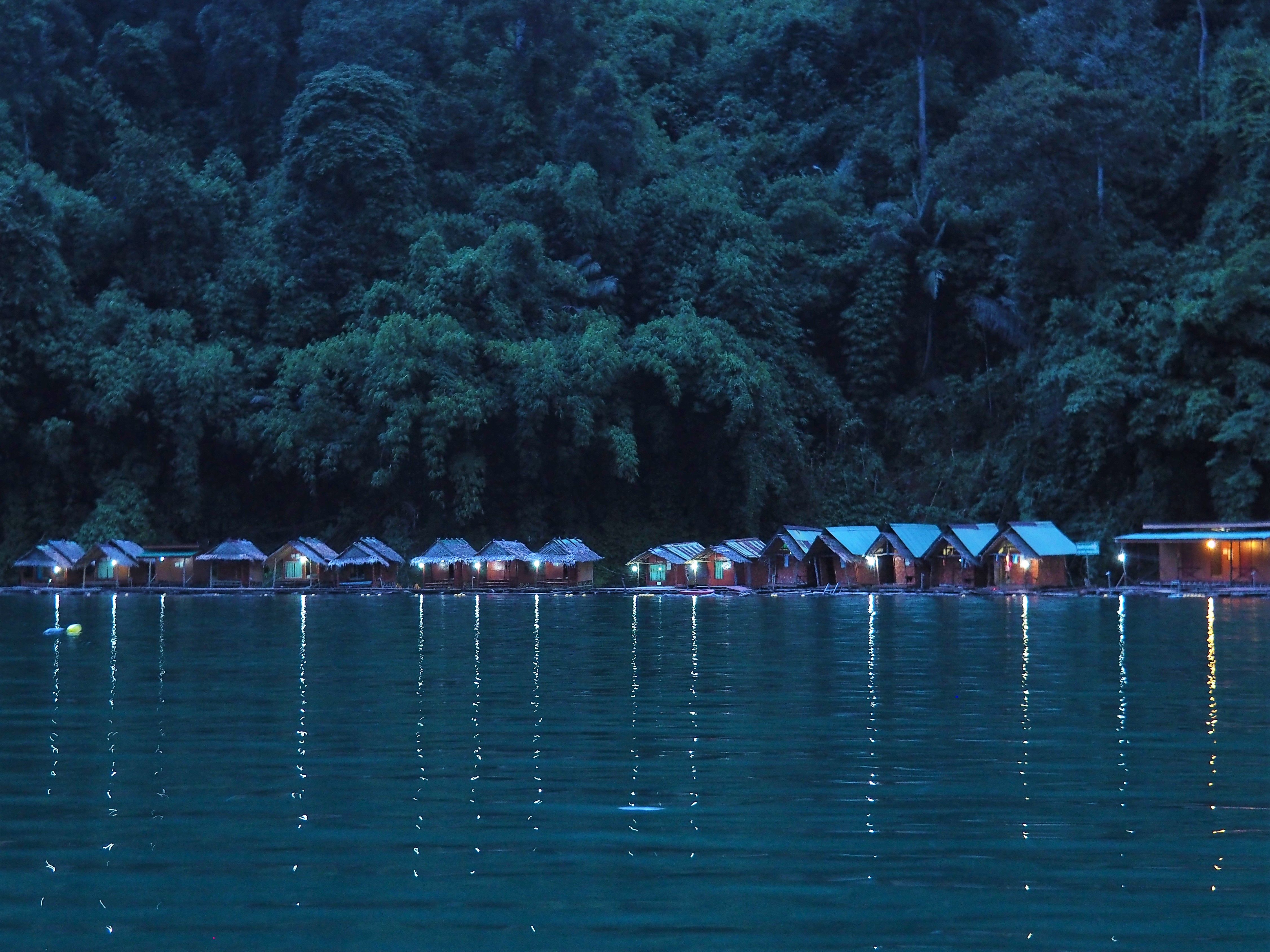 Our bungalows laying in the (still) calm waters of the evening just before the rain started
1/13 Sek. f/5 31 mm ISO 1000
Monkeys, dead trees and Bangkok once more in my very last post for this journey next week. Stay tuned!
---
All shots in this post were made with my Olympus OMD EM-10 Mark II with a 14-150mm lens in manual mode.
If you want to learn more about my travel through southeast Asia you can read the previous posts here:
There is a new chapter coming each Thursday
If you want to know more about me check this out:
---
Thank you for reading and feel free to upvote, resteem & follow me :)