Hello everyone! Welcome back to the next edition in my series of updates on the trip. Yesterday we spent the day in Weimar, and I now have some time to sit down and write. Yesterday morning already feels like it was an eternity ago so I apologize for anything I forget. Let's discuss the day!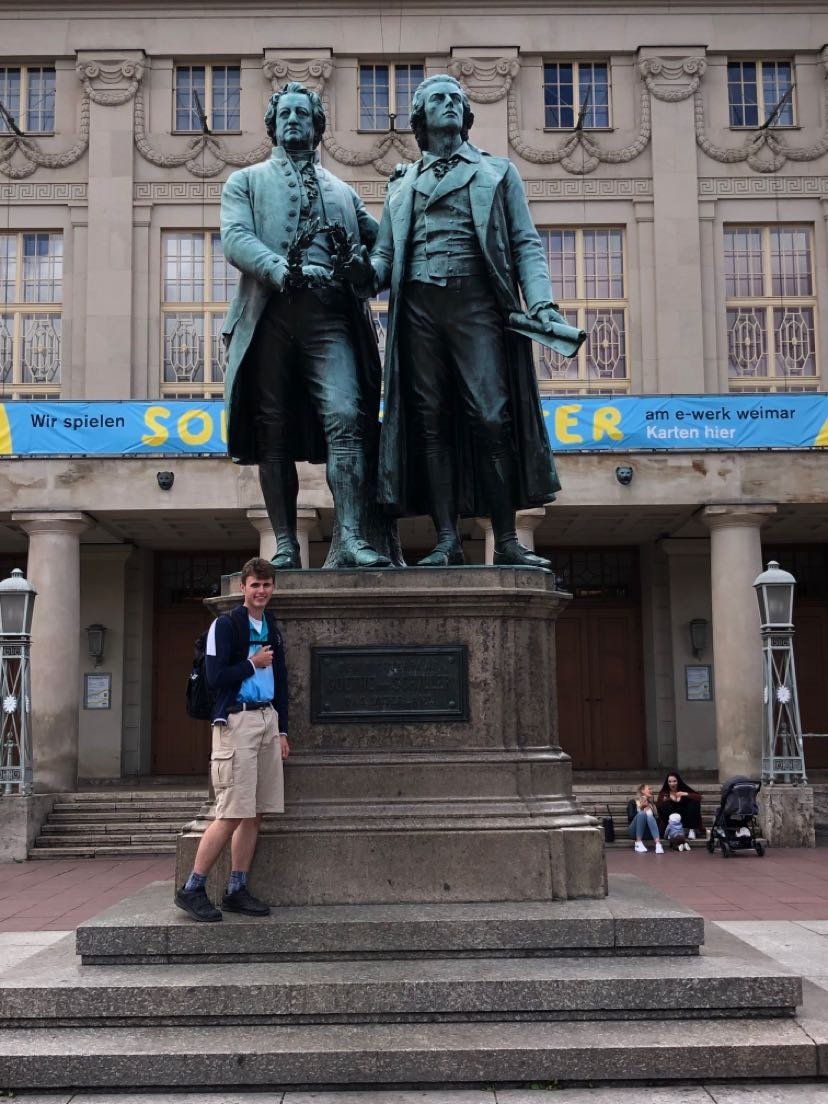 Day 9
Visiting Weimar
Breakfast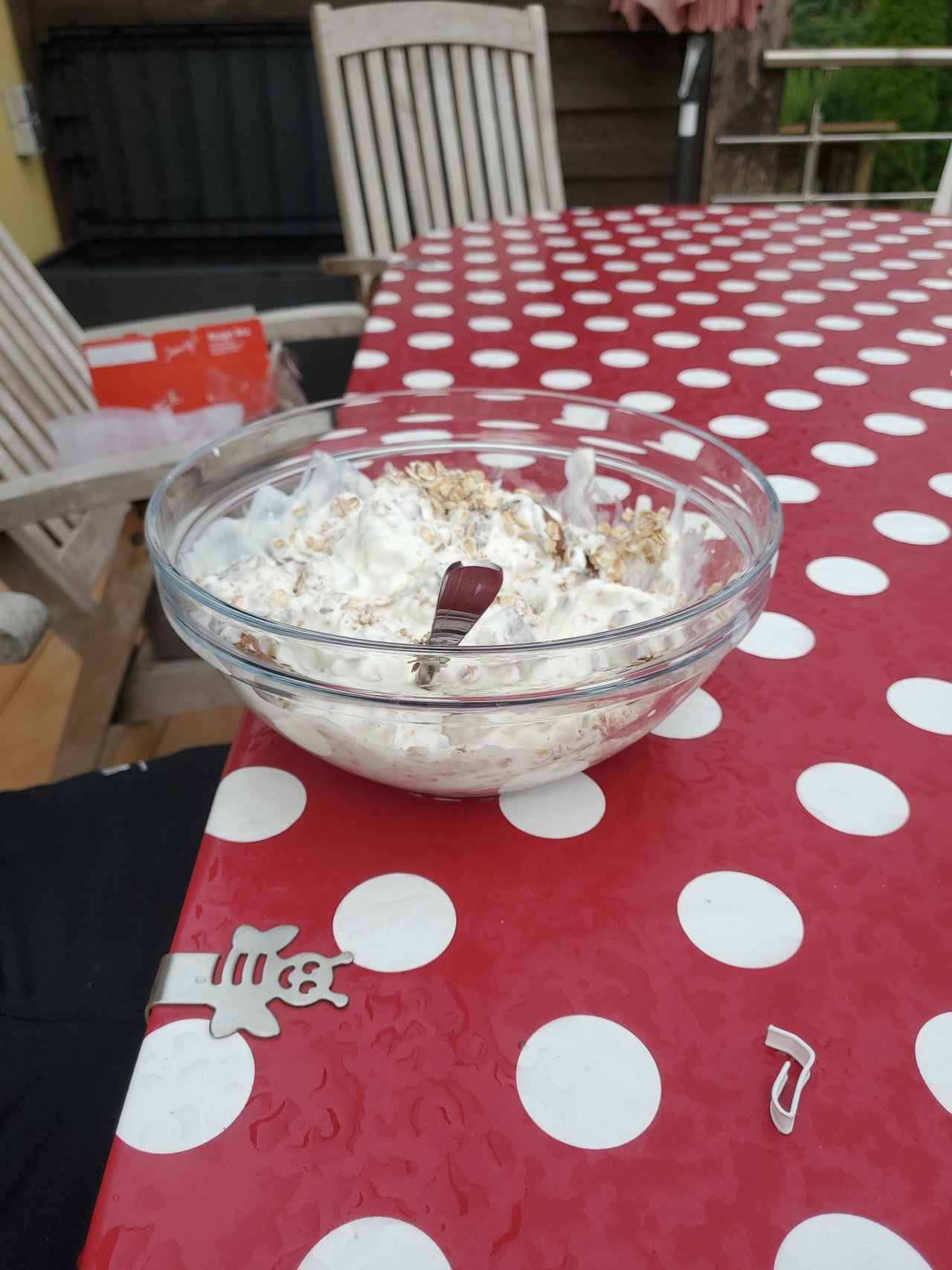 Yesterday, I woke up at 8am, and was finally able to relax a little after getting ready since I finished the article last night. For breakfast, we had Musli, and Hinrich's bowl was big enough to fit the Atlantic Ocean. Somehow he finished it, but admittedly had a stomachache after. We ate outside, but had to move inside because of rain.
Weimar
We left for Weimar around 9am, and decided to take the train. The train ride was shorter than expected.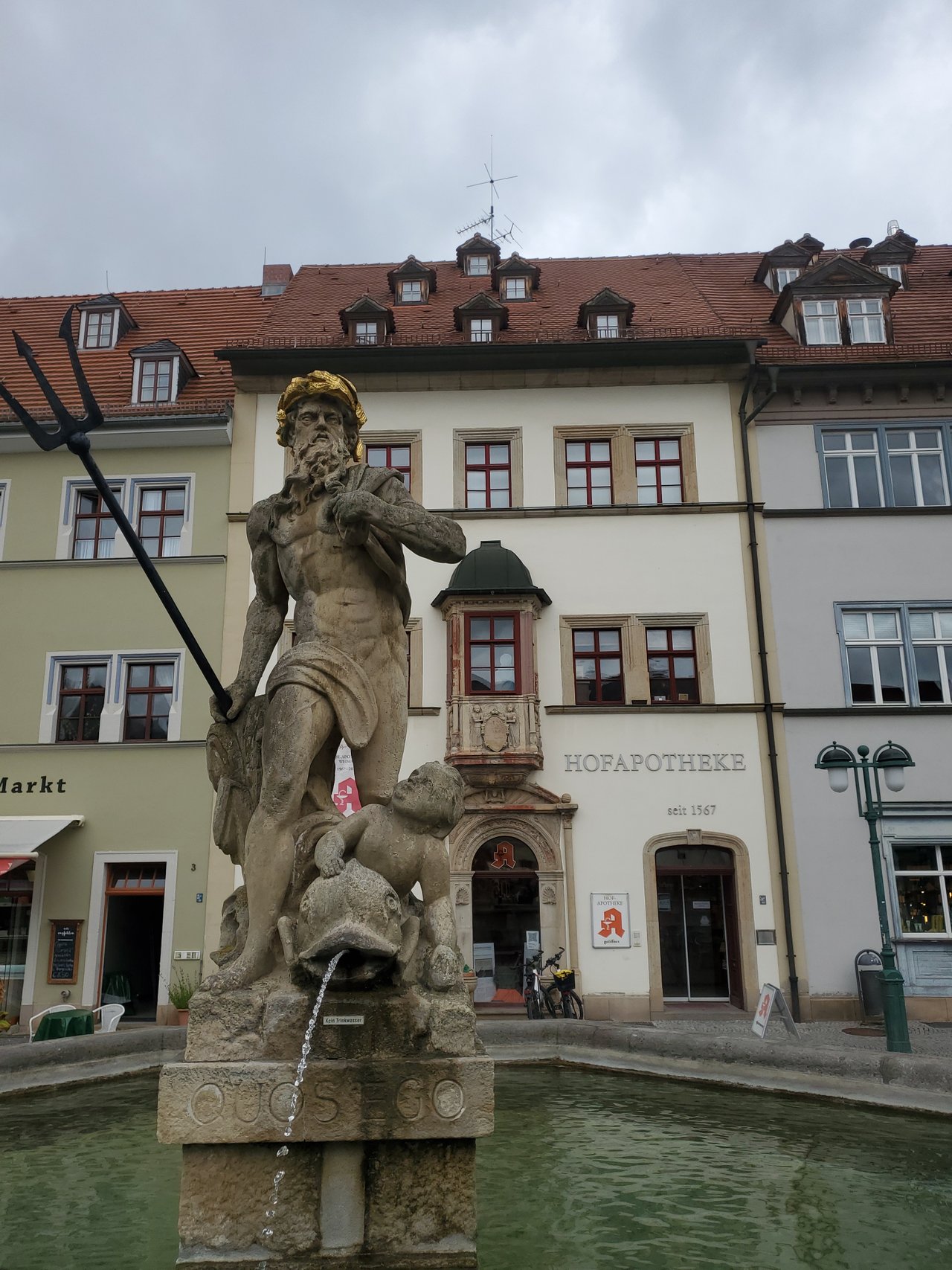 In Weimar there were stone streets outside of the train stations, and people were driving horse drawn carriages giving tours. Hinrich remarked that that's how they trick tourists into spending money, and that the people riding it were obviously tourists. So of course, I tried to take pictures of the horses since I am also a tourist.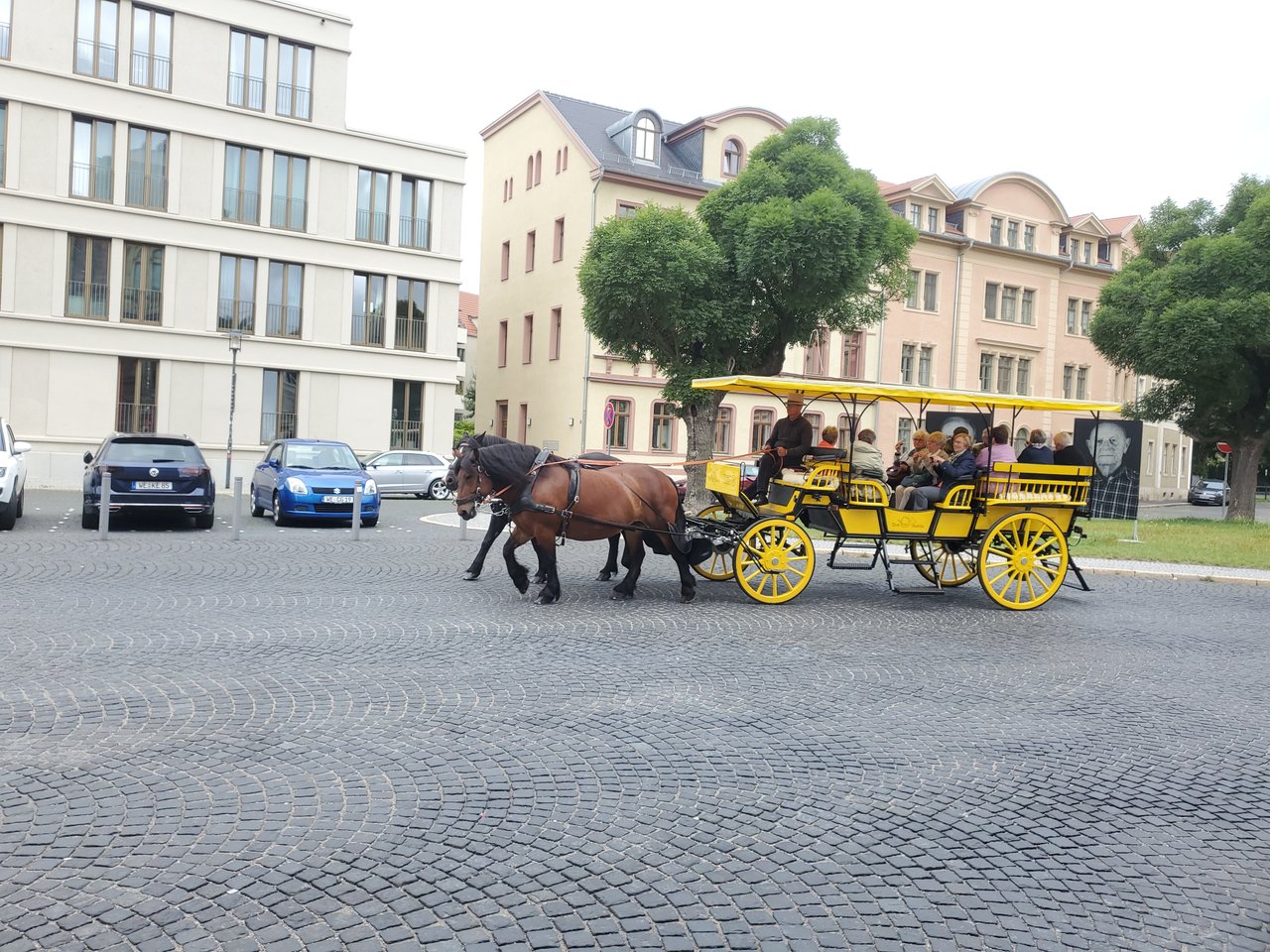 Bach's Statue
On our way to our first destination, we saw this statue if Bach: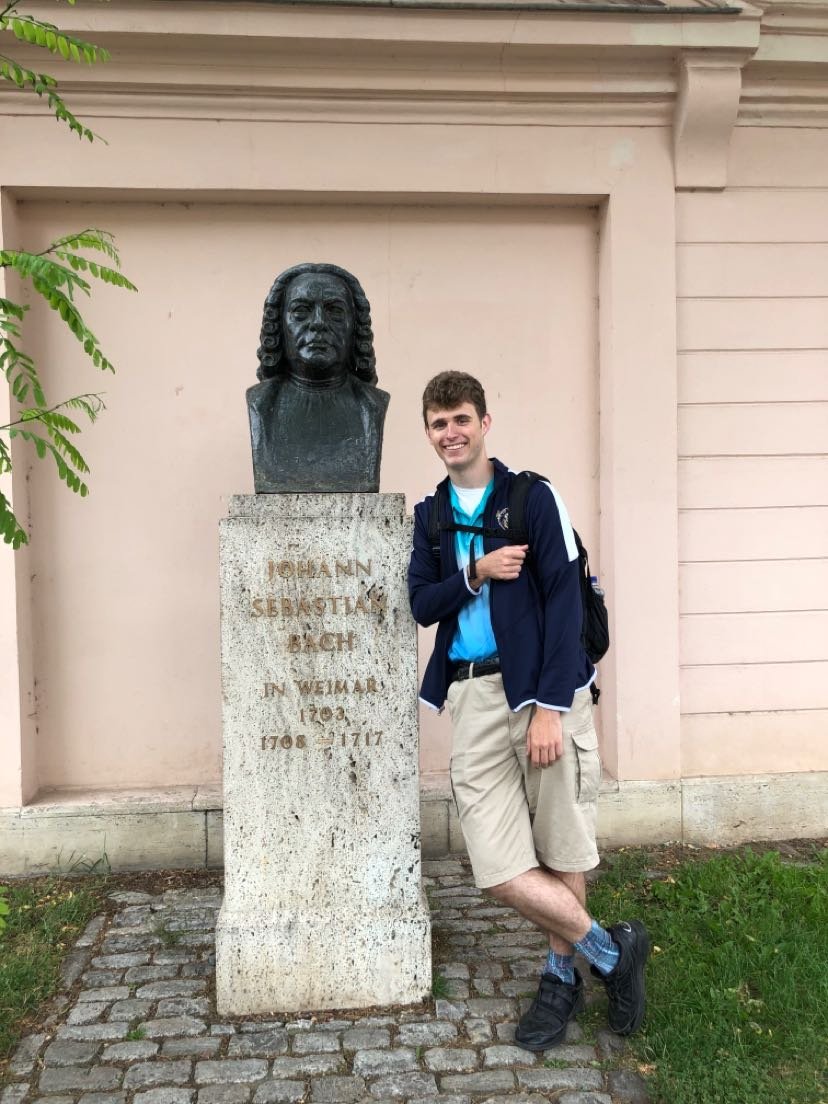 Franz Liszt's House
Our first stop in Weimar was Franz Liszt's house. It was a lot smaller and more humble than I had expected Liszt's house to be. On my way in, a man warned me in German to watch my step. Unfortunately, I understood the message after I had tripped on the step. This caused a little bit of culture shock and frustration for me internally. To sum it up, I was thinking: "I can't even understand the most basic of warnings here." Anyway, the grand piano, and upright piano Liszt played are still there, and, according to Hinrich, are still played on once a year by local students.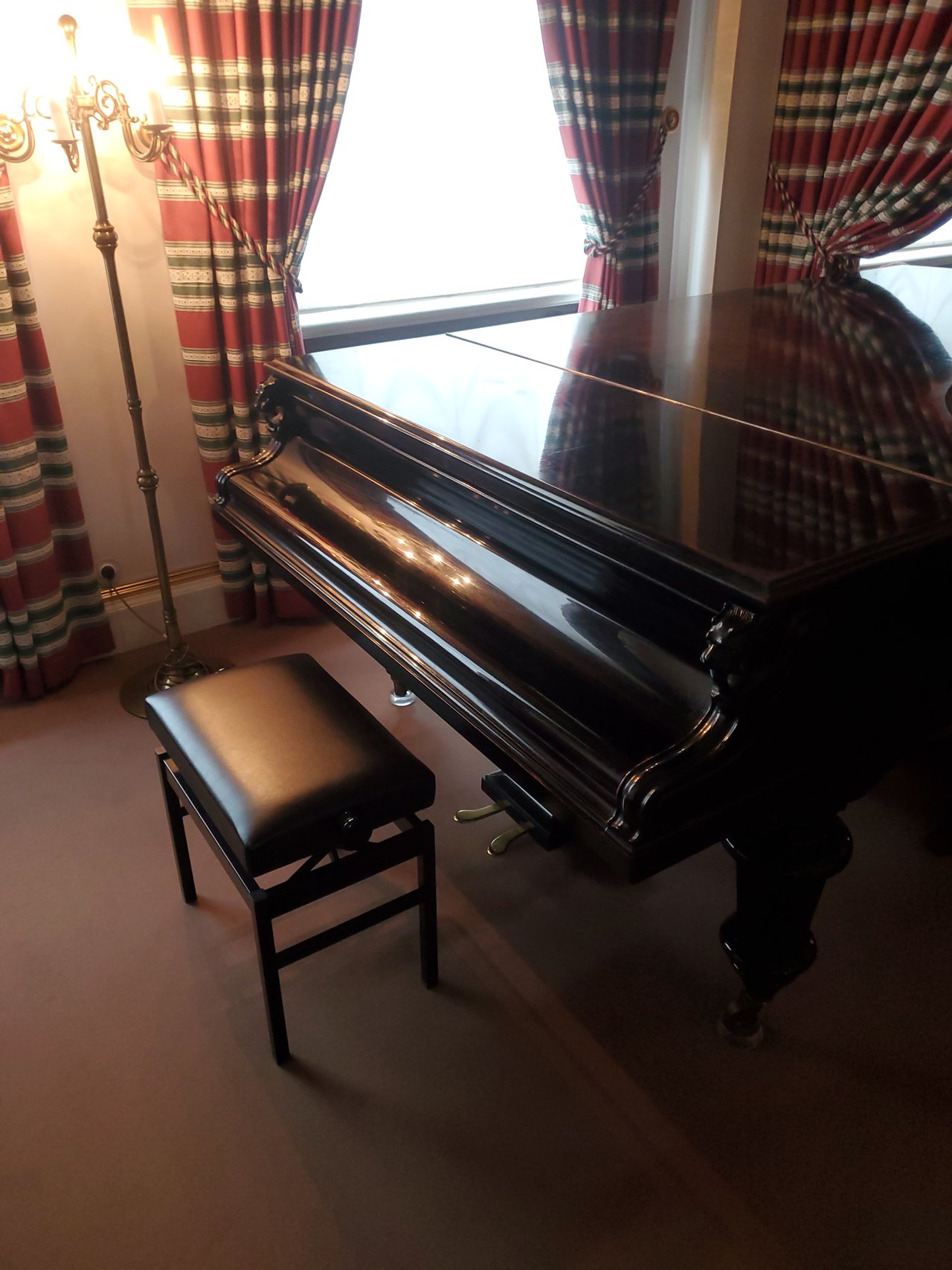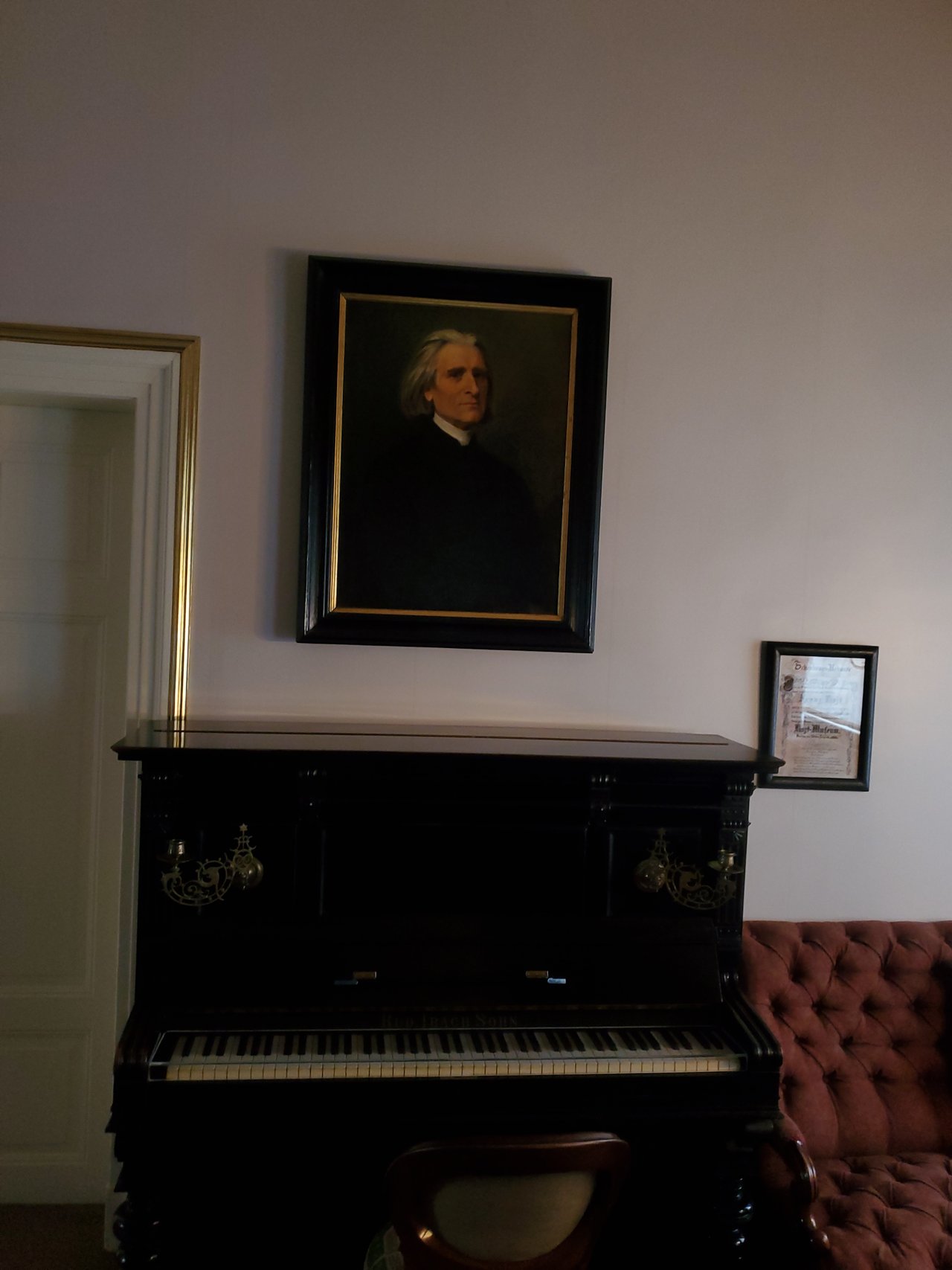 Liszt's house also had a lot of the original decorations. Such as a chandelier, and two paintings depicting scenes from the story of Odysseus.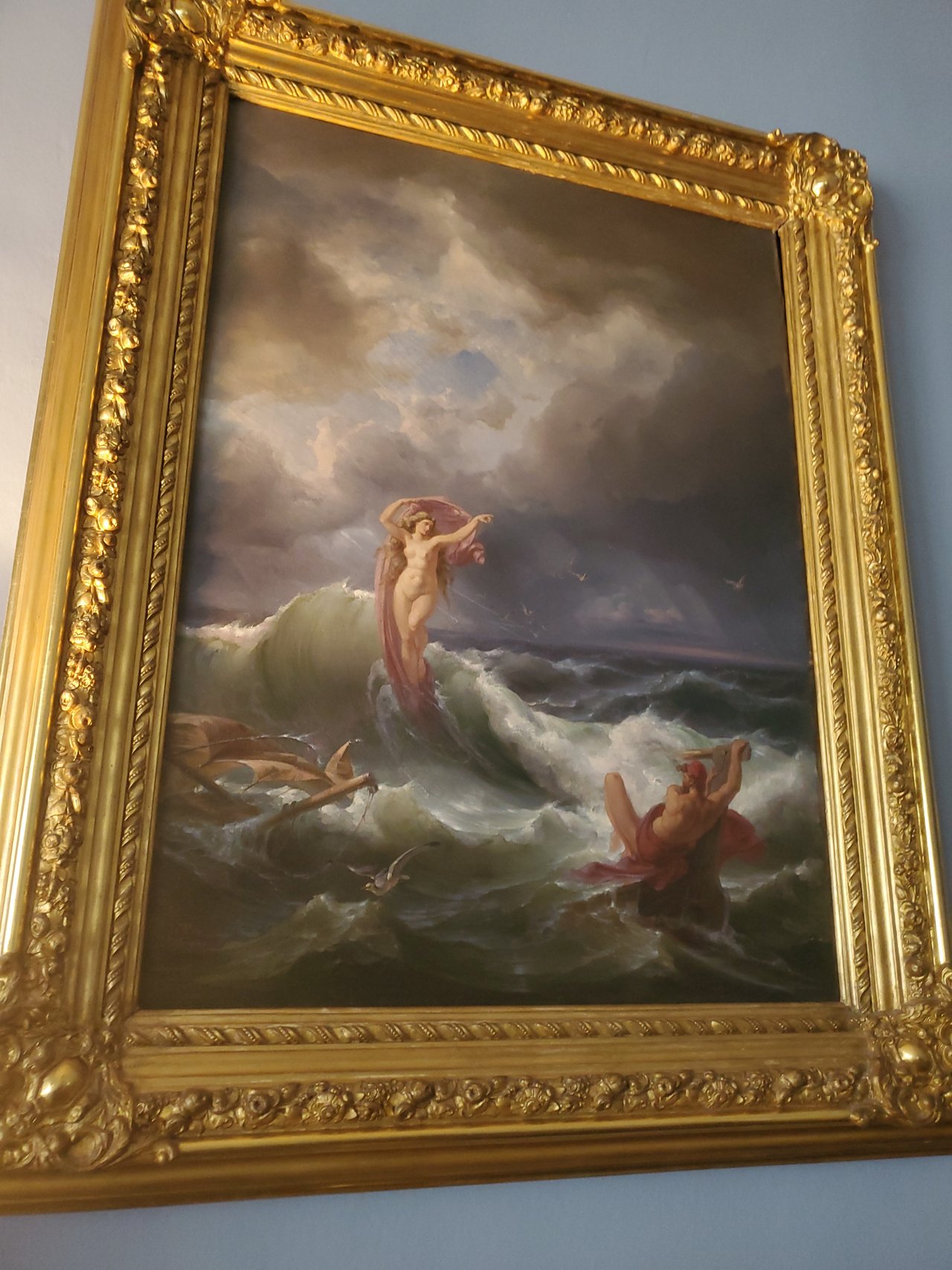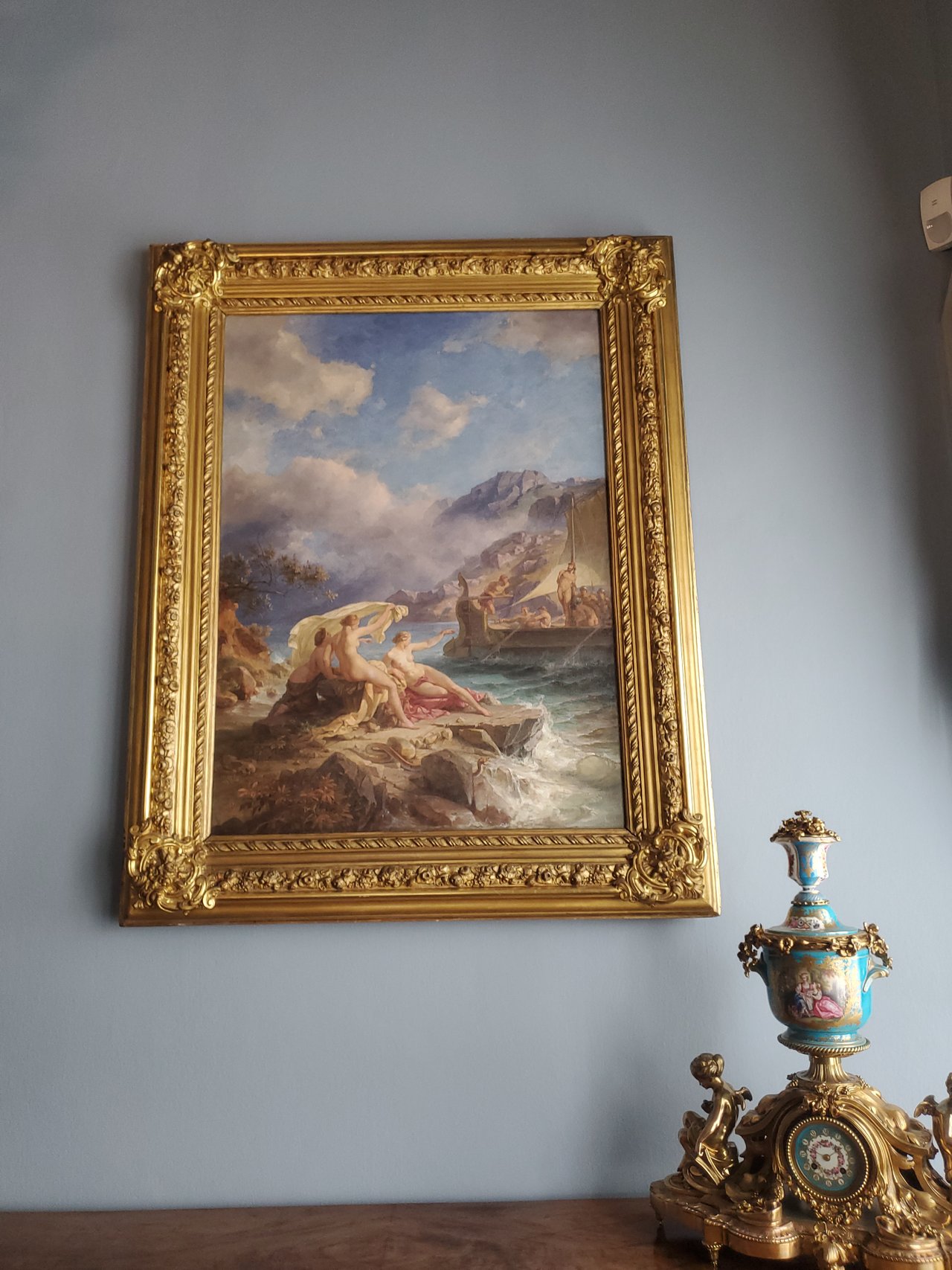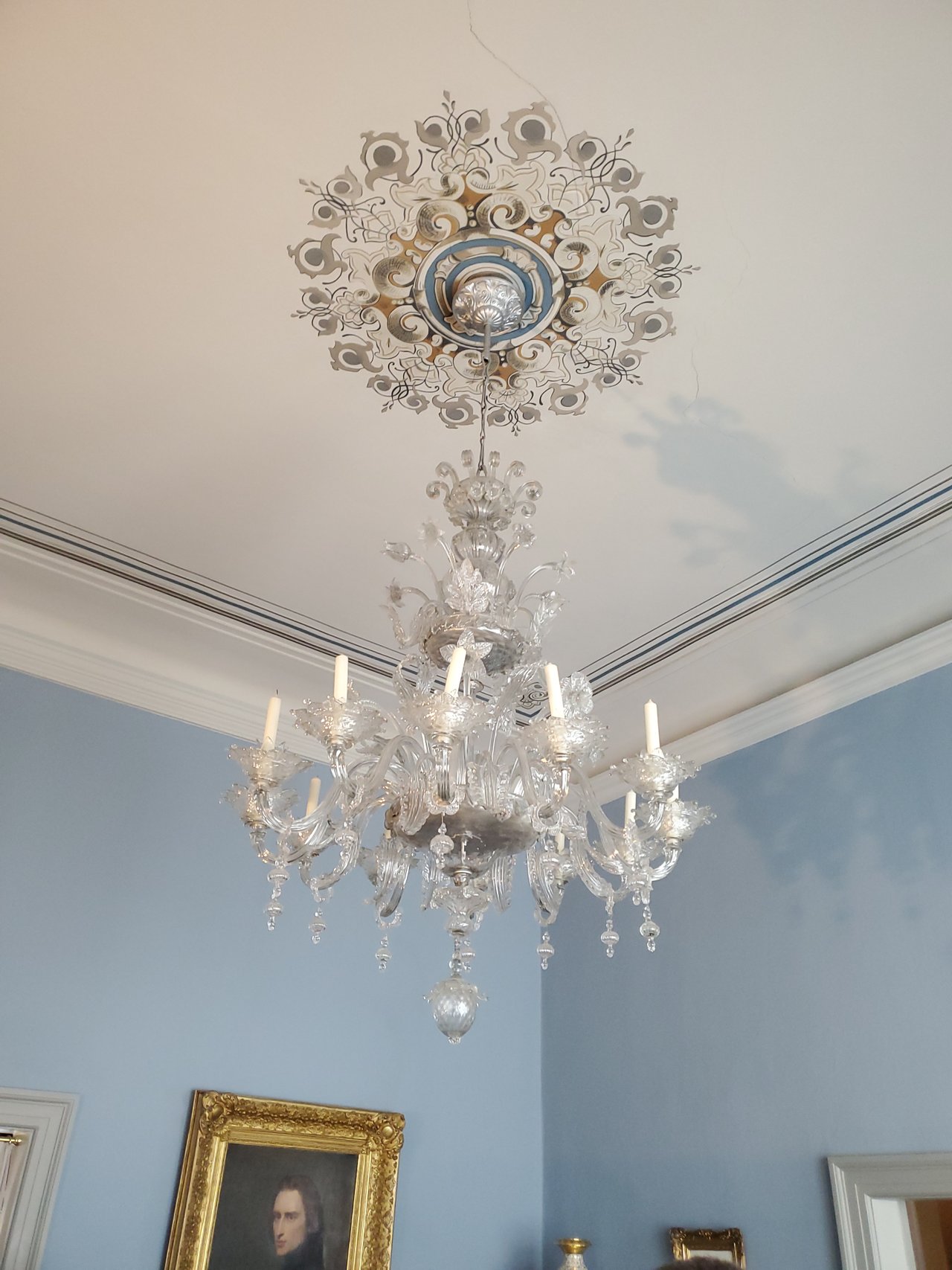 We also saw Liszt's original passport. Since they did not have photographs readily available, the passport described how Liszt looked. For instance, it said he had a big nose. There were also two paintings of Liszt: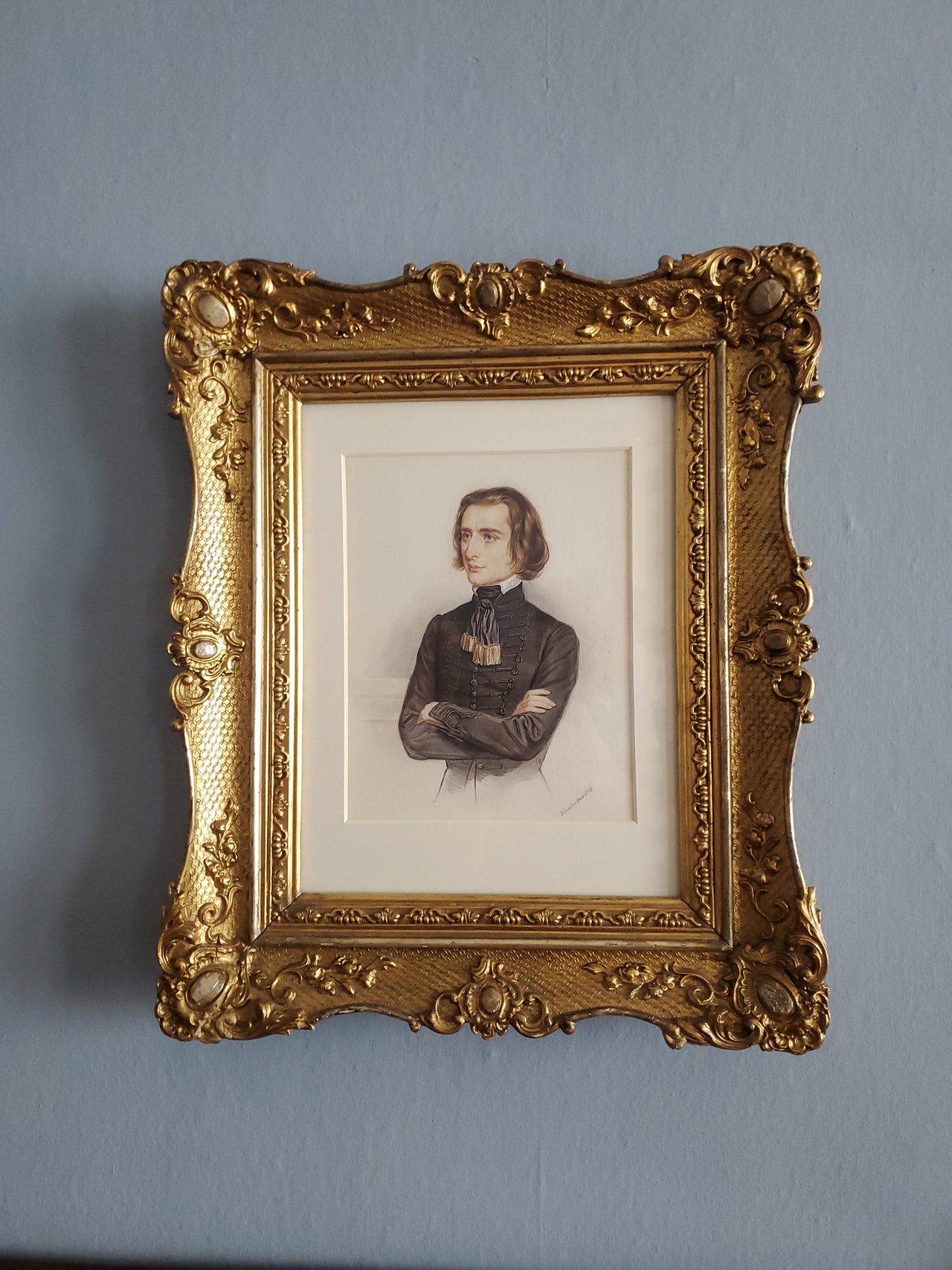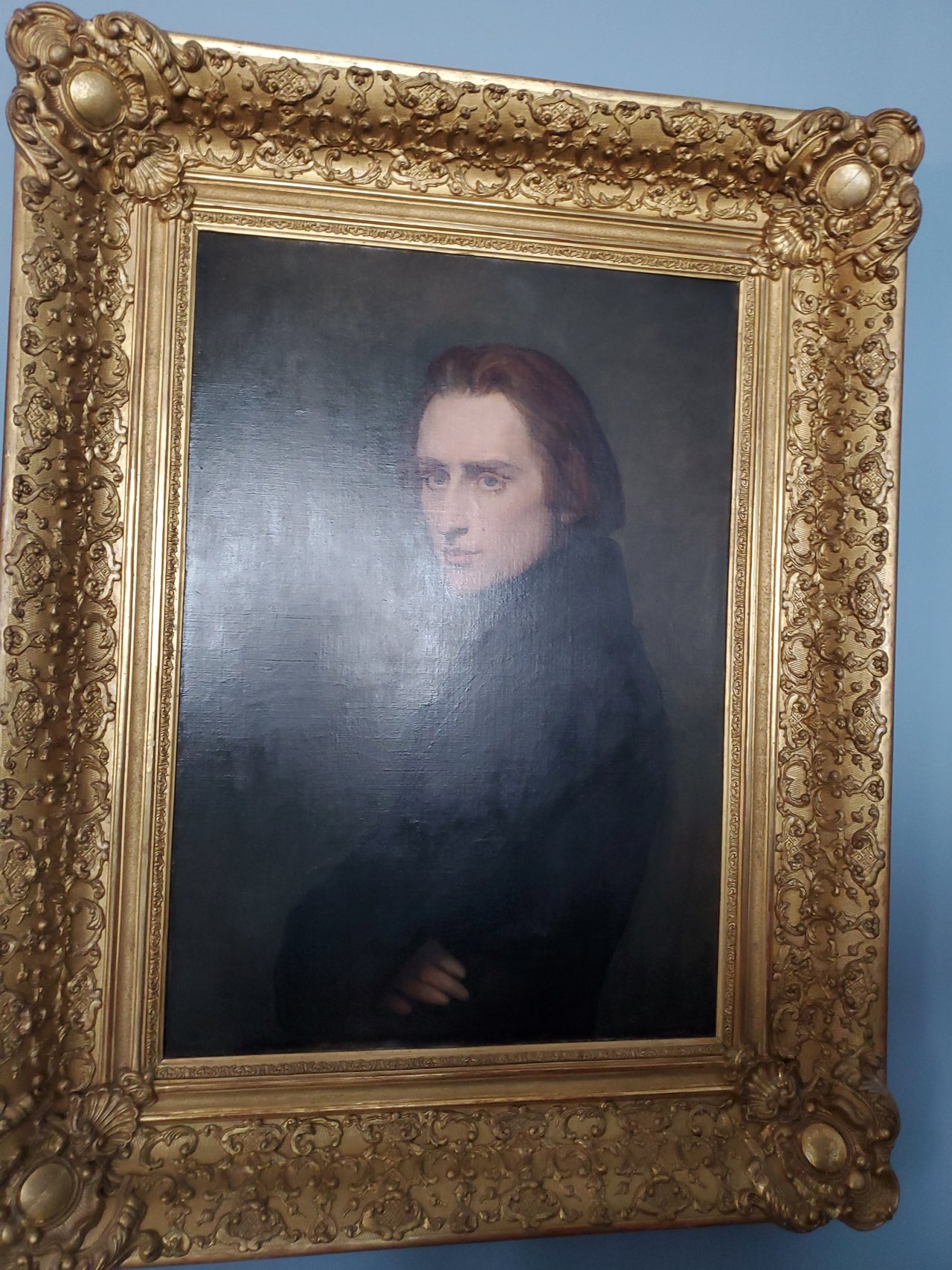 In the last room, we saw Liszt's travel keyboard and a very famous painting called "Long Live Franz Liszt".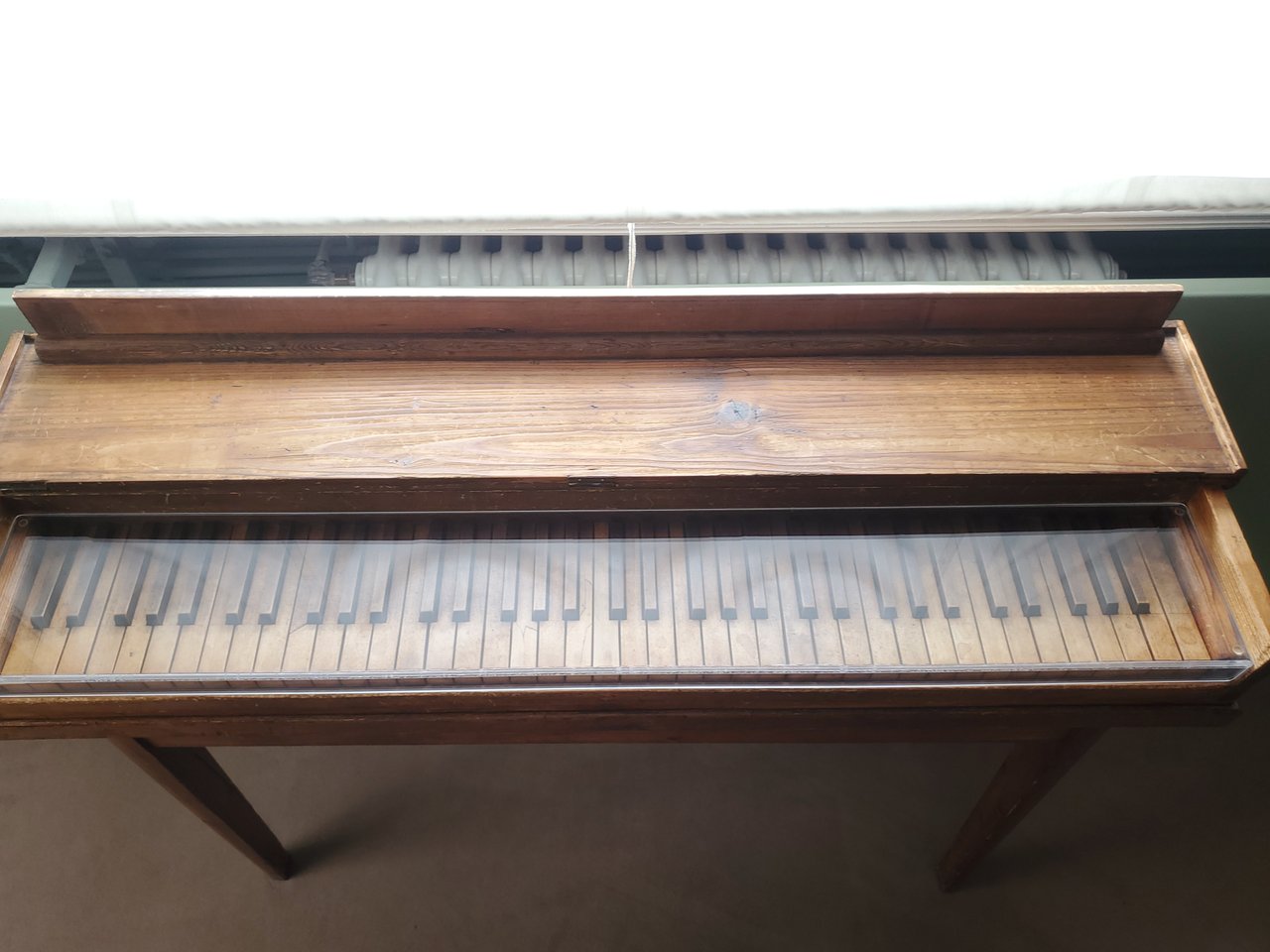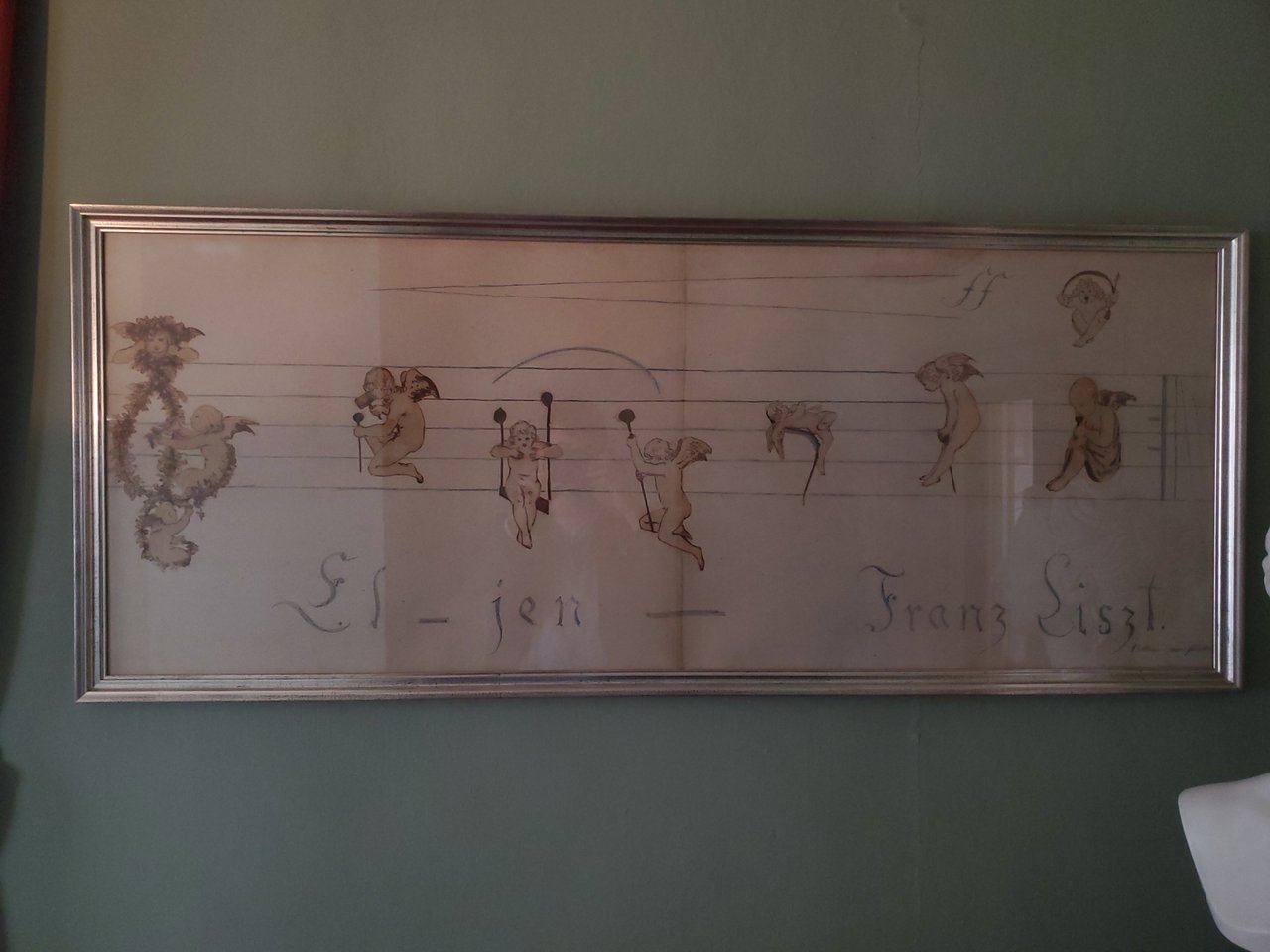 Going to Goethe's House
On the way to see Goethe's house, we saw this statue of Franz Liszt, and probably the best graffiti I have ever seen: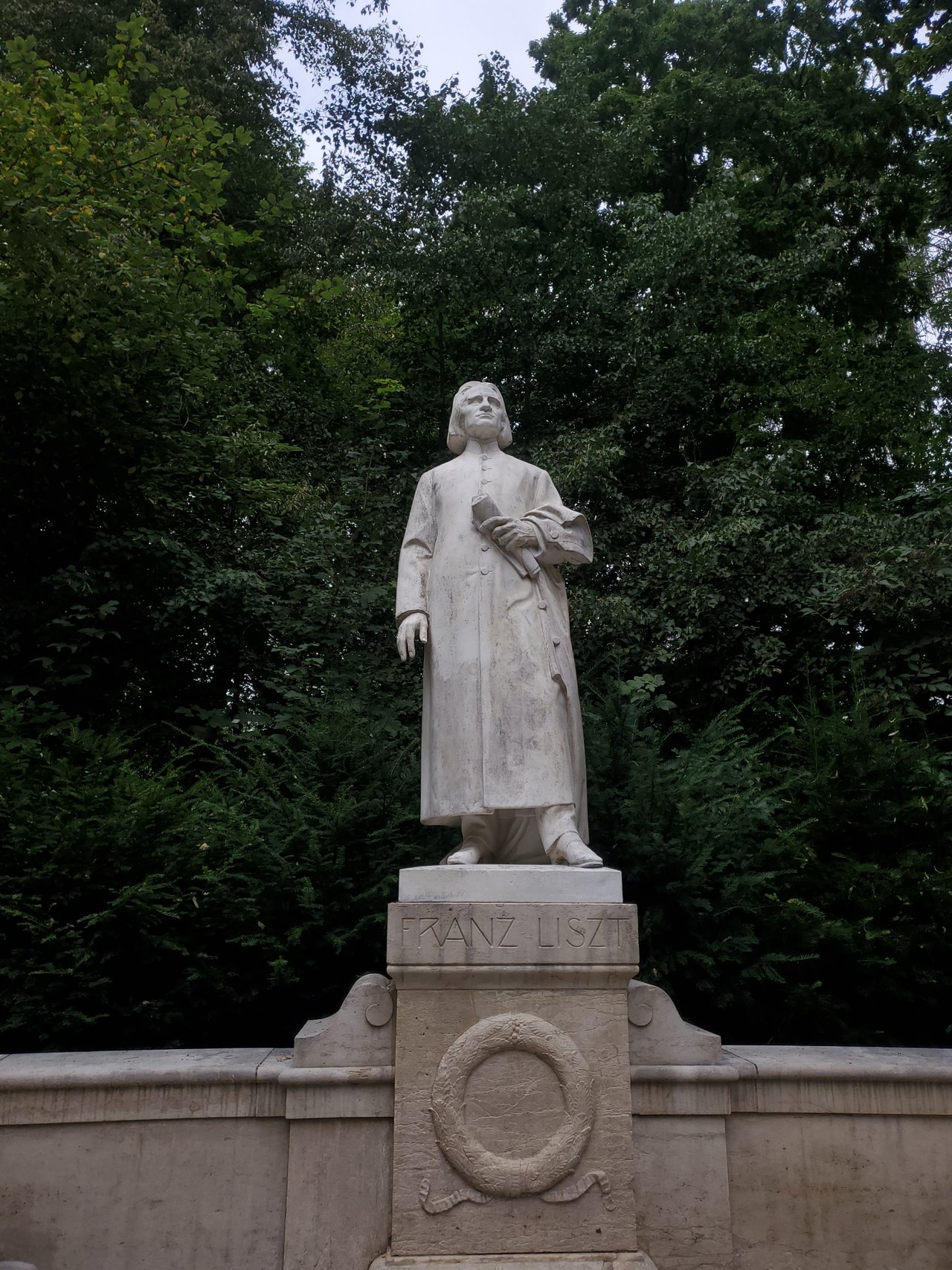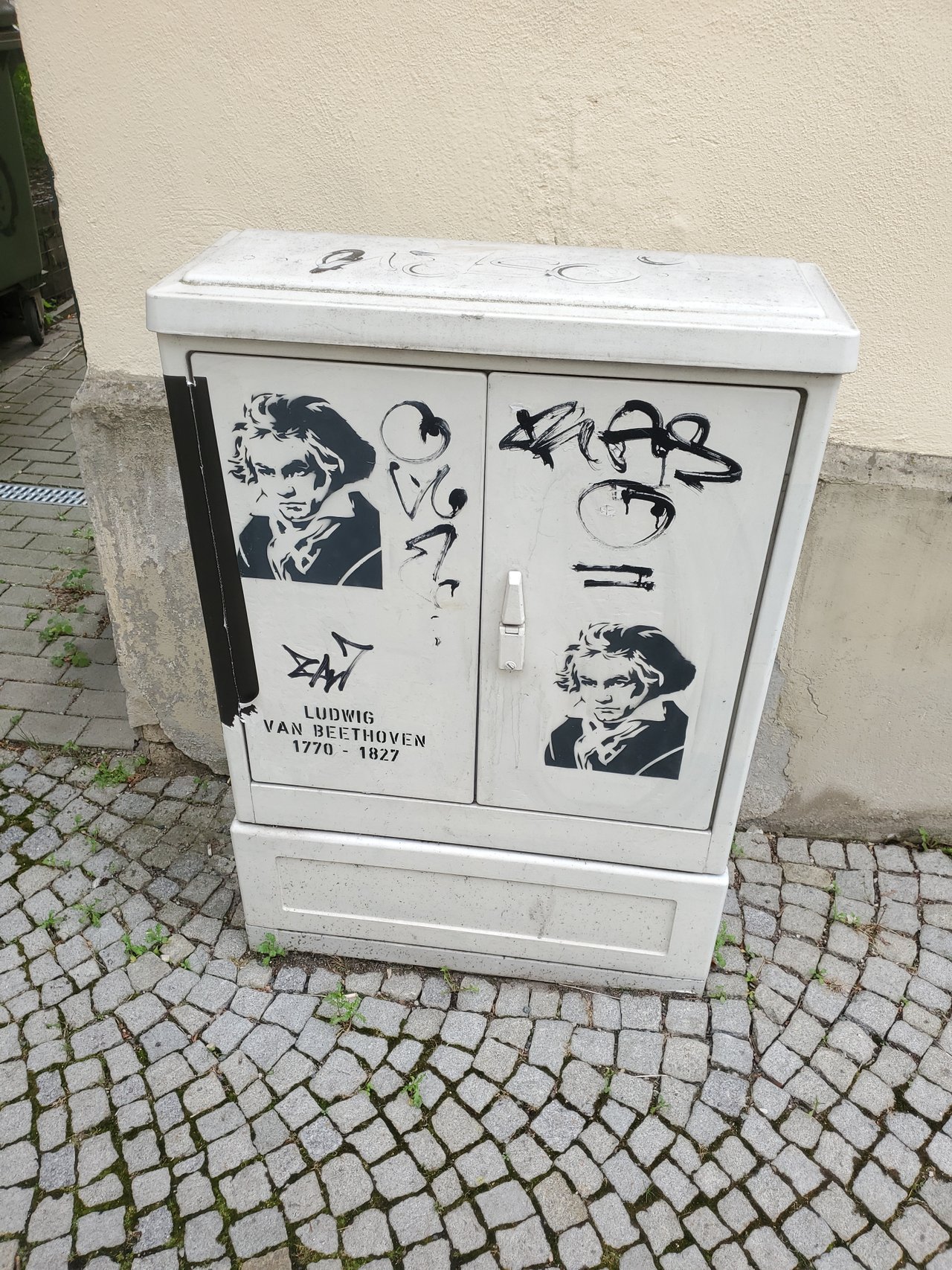 Goethe's house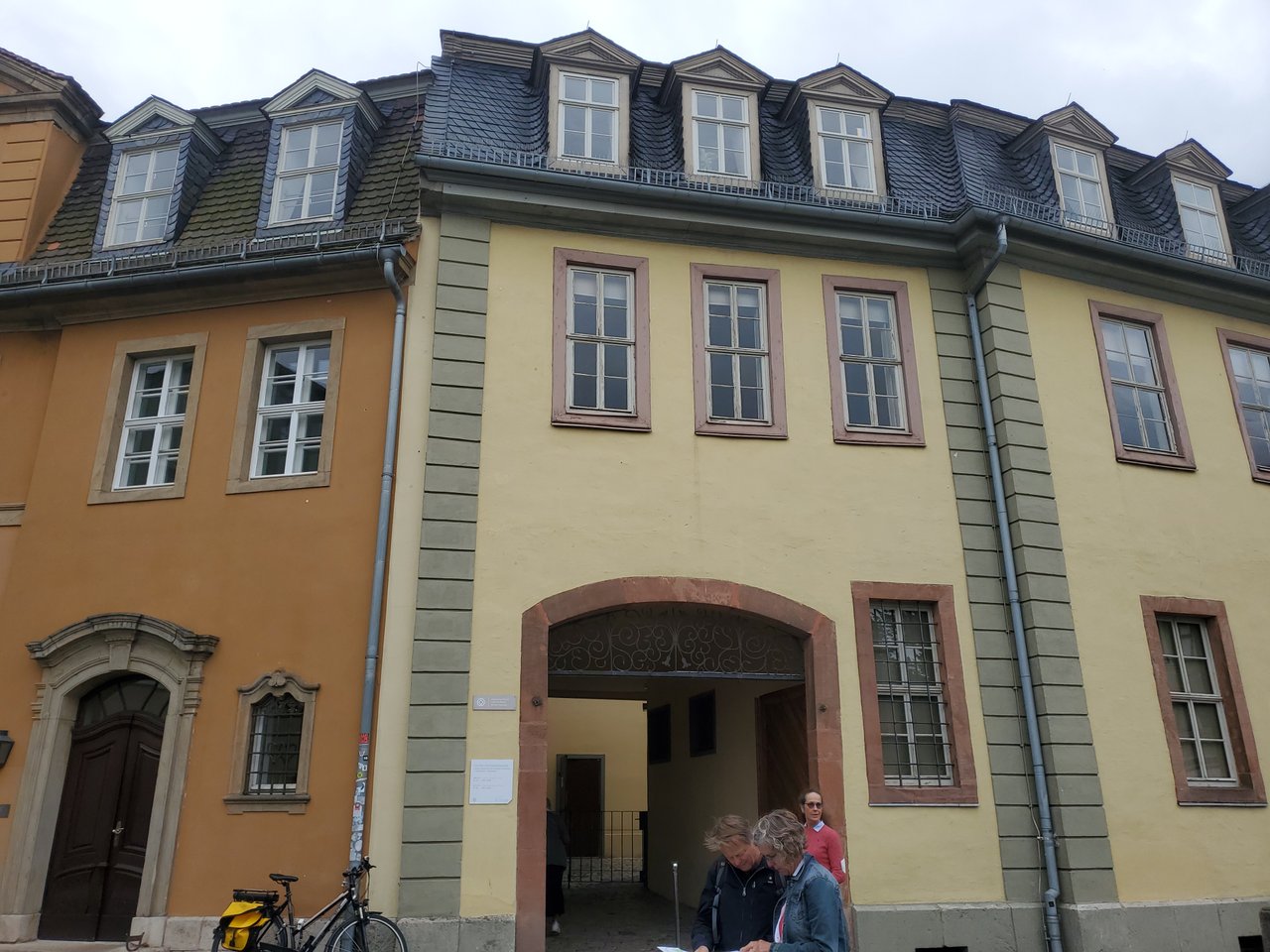 It took us a while to get into Goethe's house because they were having trouble with their system. When we finally did get in, we tried to explain to the lady that I'm a student in the US, but she needed proof. So in a last ditch effort, I opened my student email and showed her one of my notifications about a grade, and she accepted that. So we both got student discounts.
Goethe's house was quite big. As big as I'd expected Liszt's house to be. What I had not expected, was that the house was a gift to Goethe to entice him to stay in Weimar. The house circles around a central courtyard, and was filled with the things that Goethe himself collected. There were paintings, portraits, minerals, a library with over 7,500 books (all of which were being cataloged, and therefore unavailable), and also statues.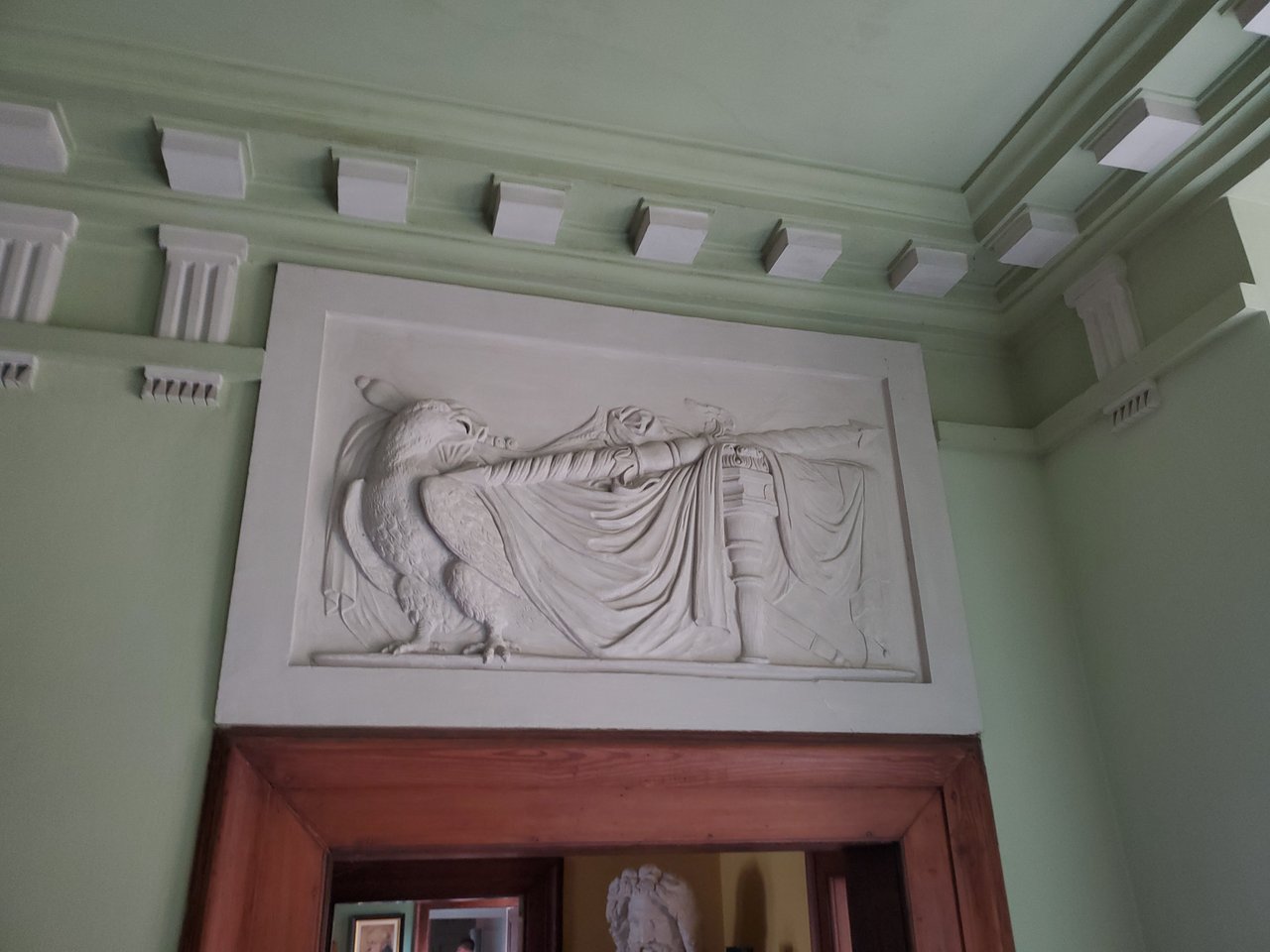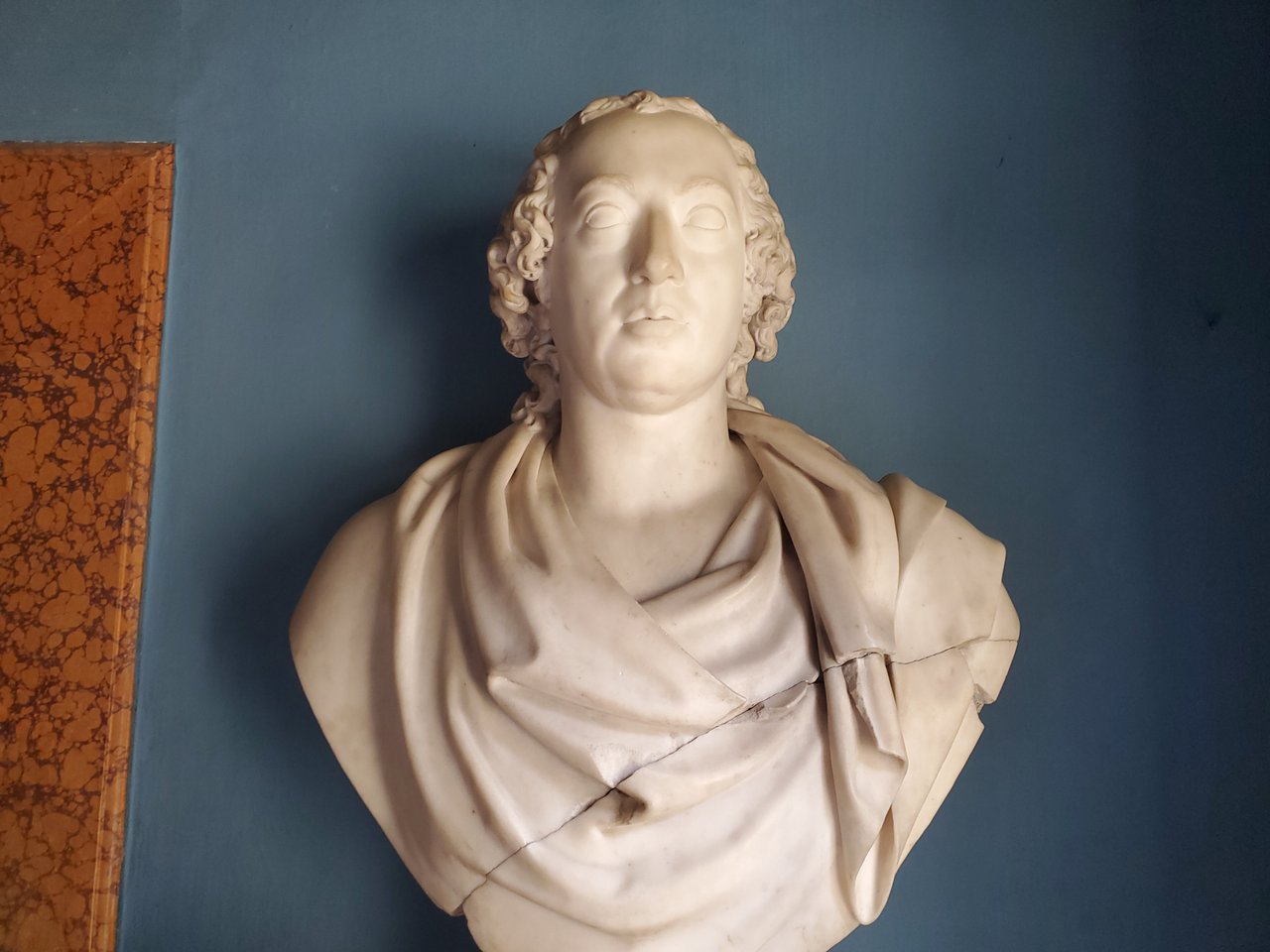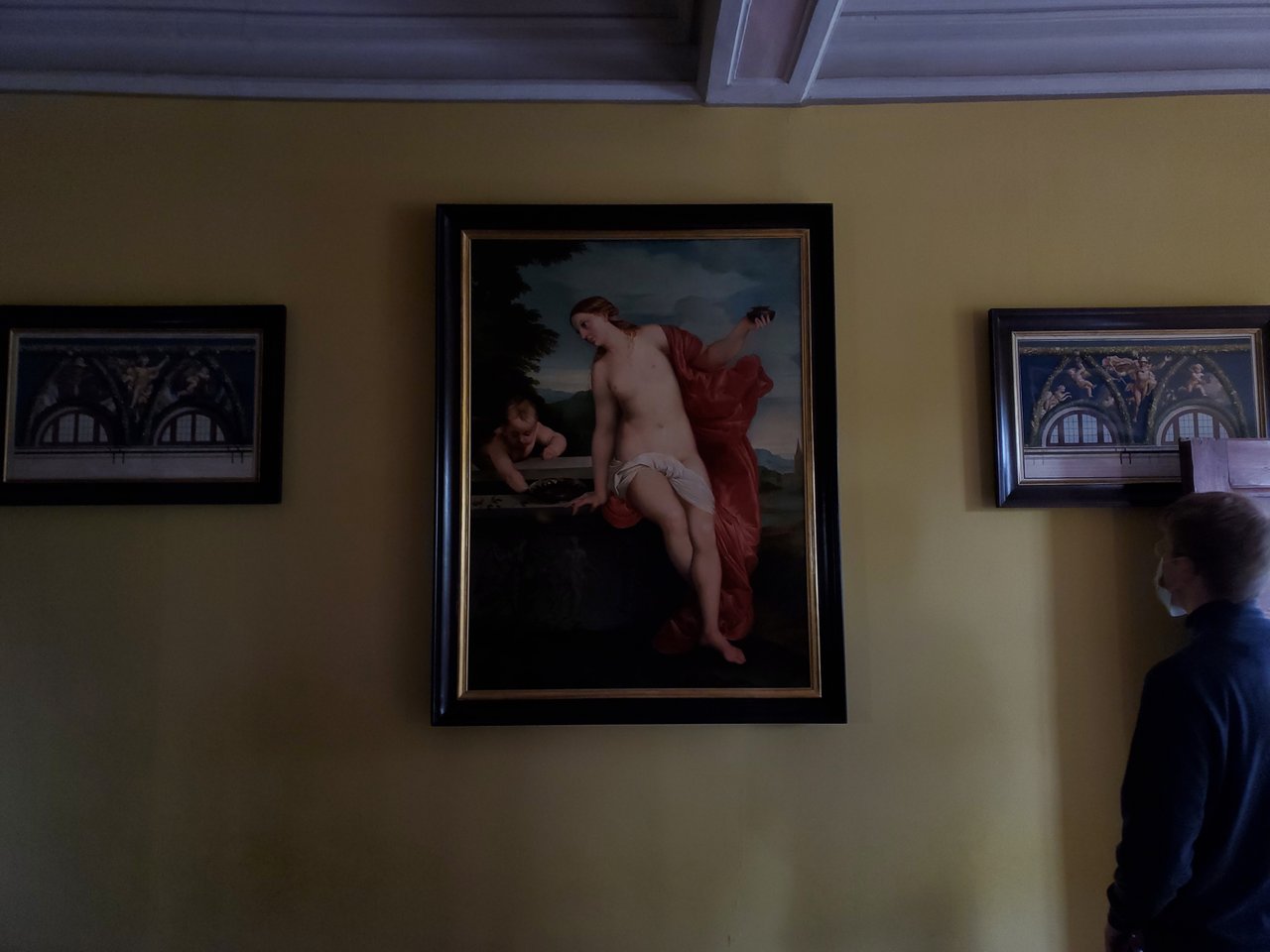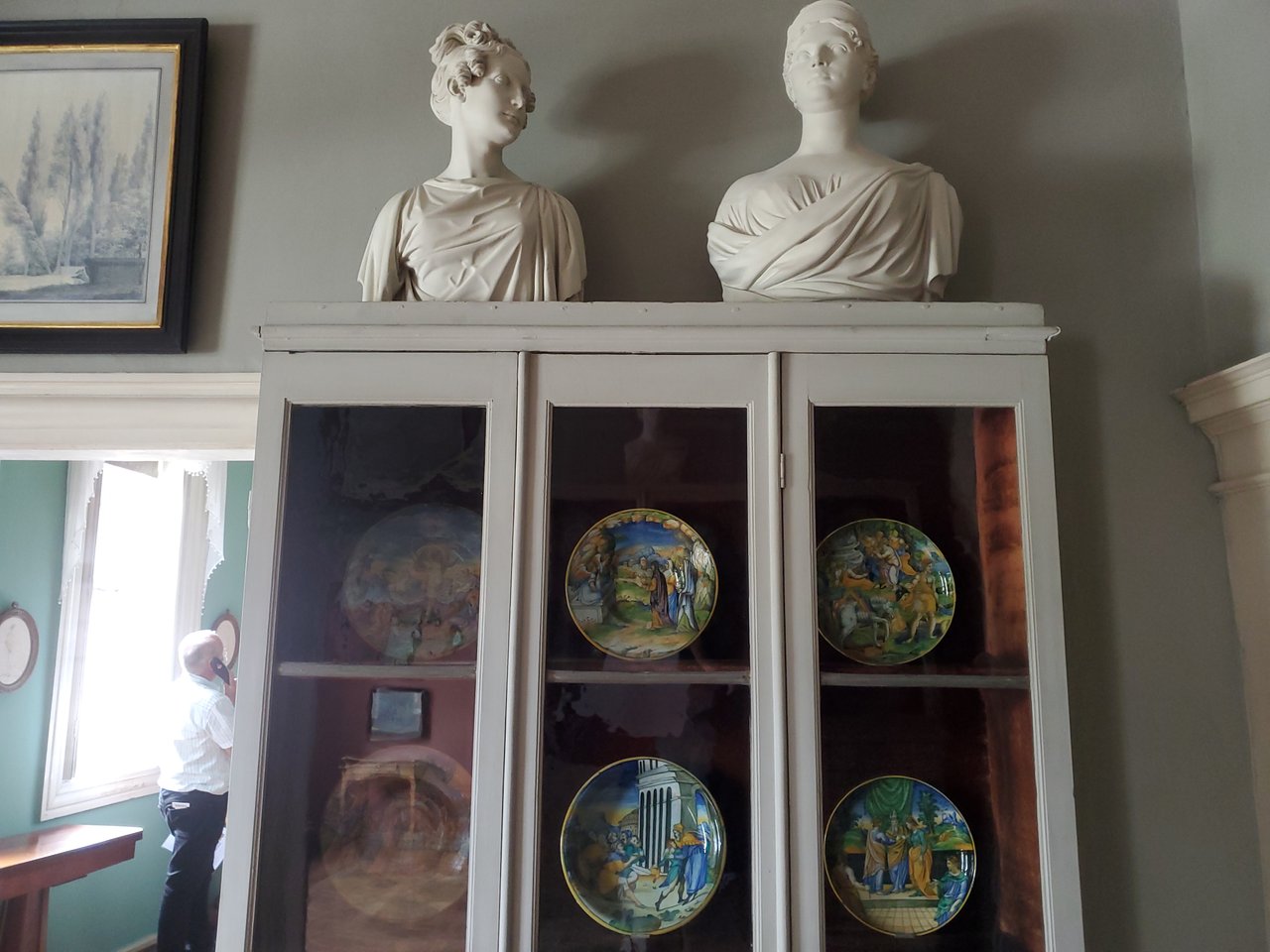 There was even a room with a grand piano. I wonder if Goethe himself played concerts there. If Goethe was a pianist, I think I can understand the reason he didn't like Schubert's setting of Der Erlkönig. Regardless, the room with the piano was quite cool: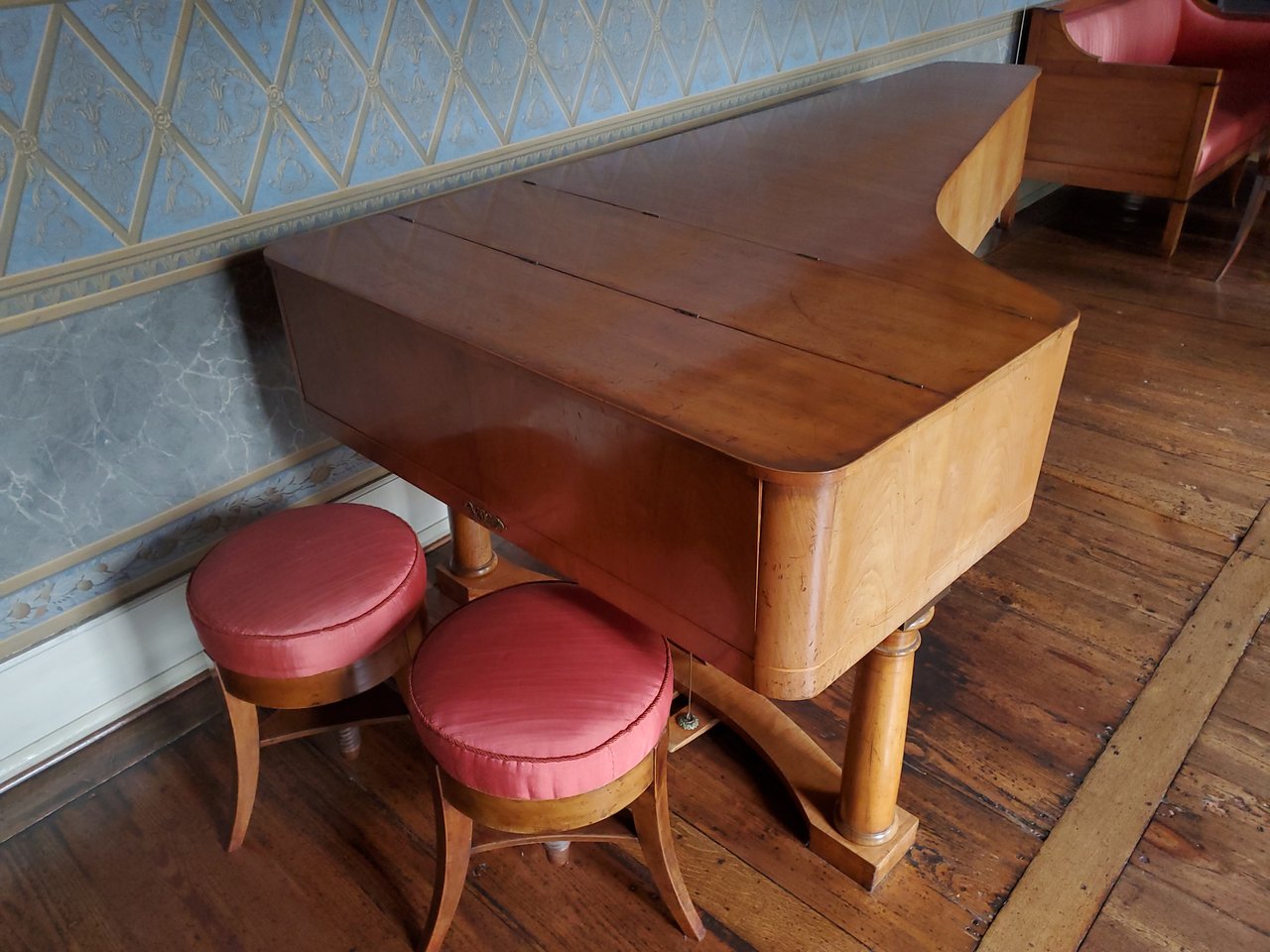 Goethe also had a great view of the town, or his own private Garden from many of the rooms.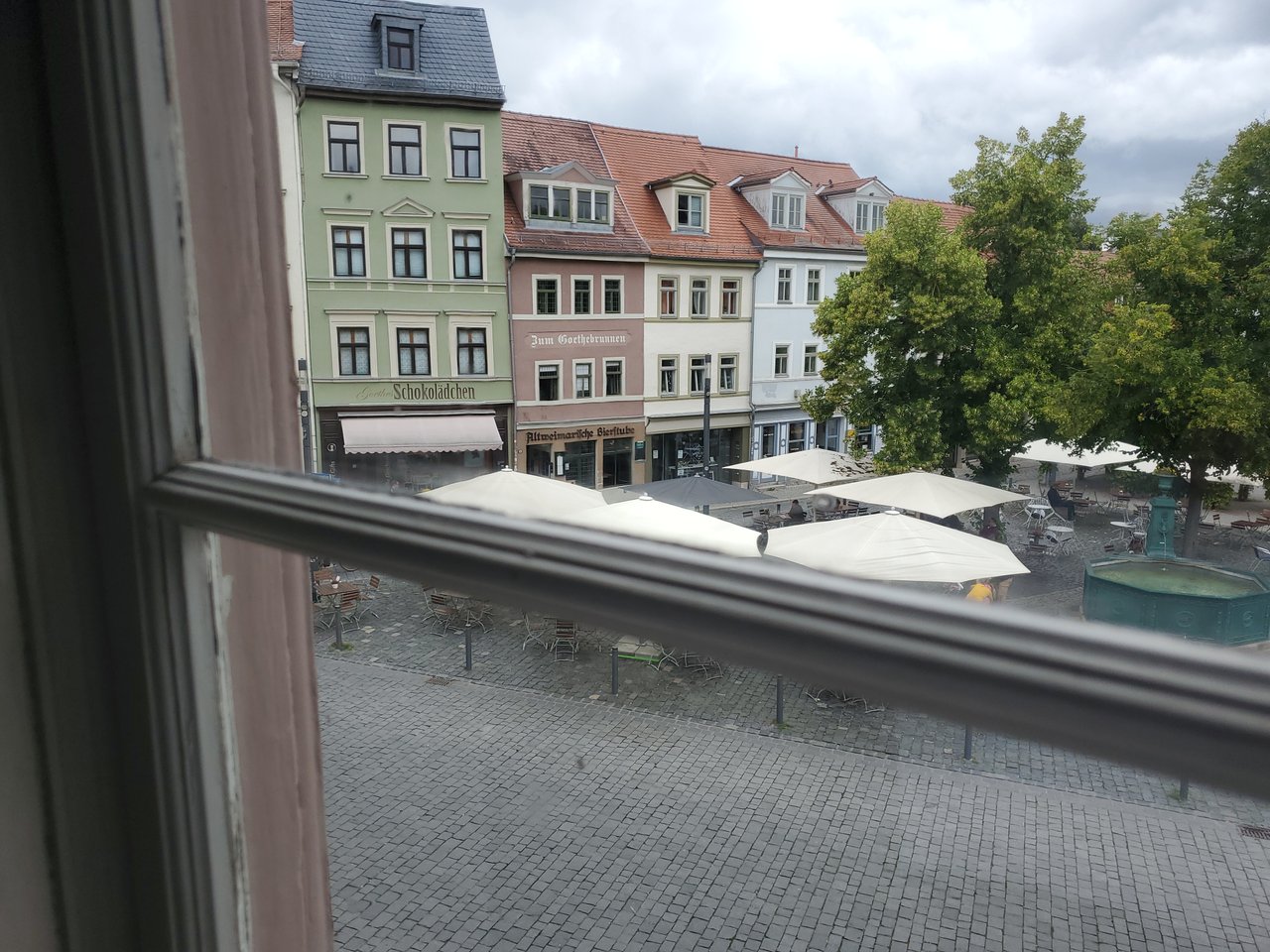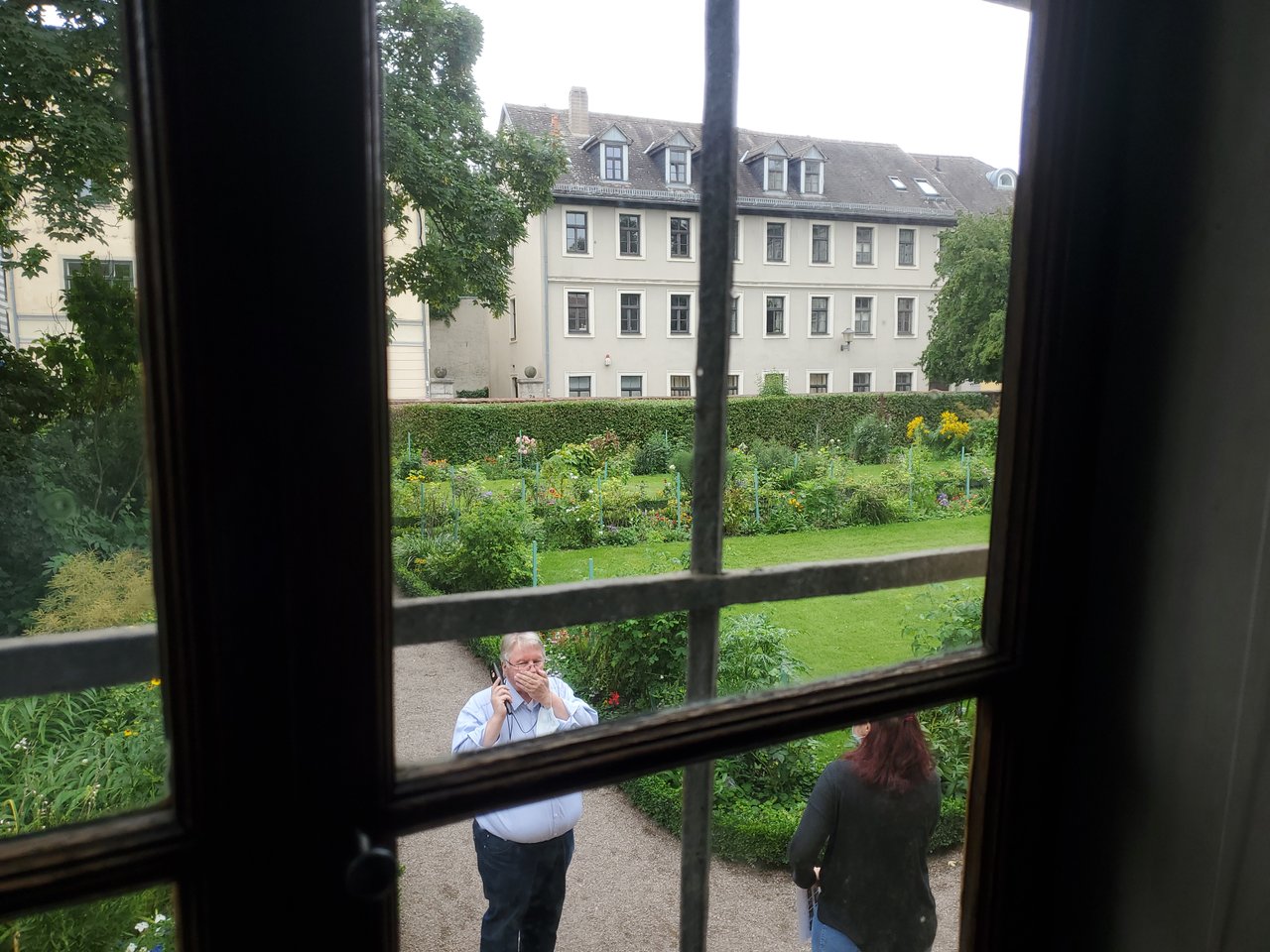 After touring the house, we went to the museum, and learned a lot about Goethe and his beliefs. I won't bore you with all of them, but here are two that I found particularly fascinating.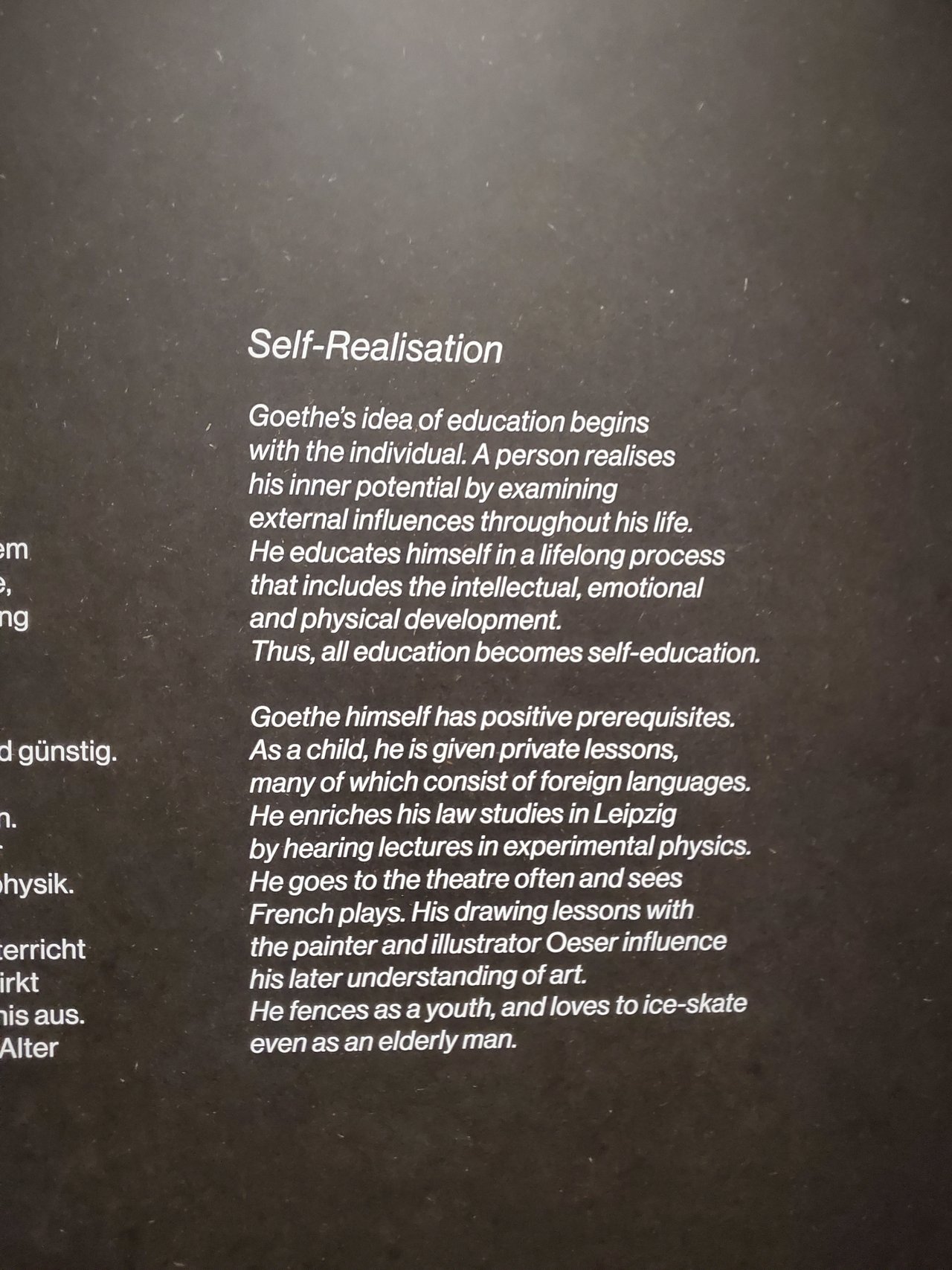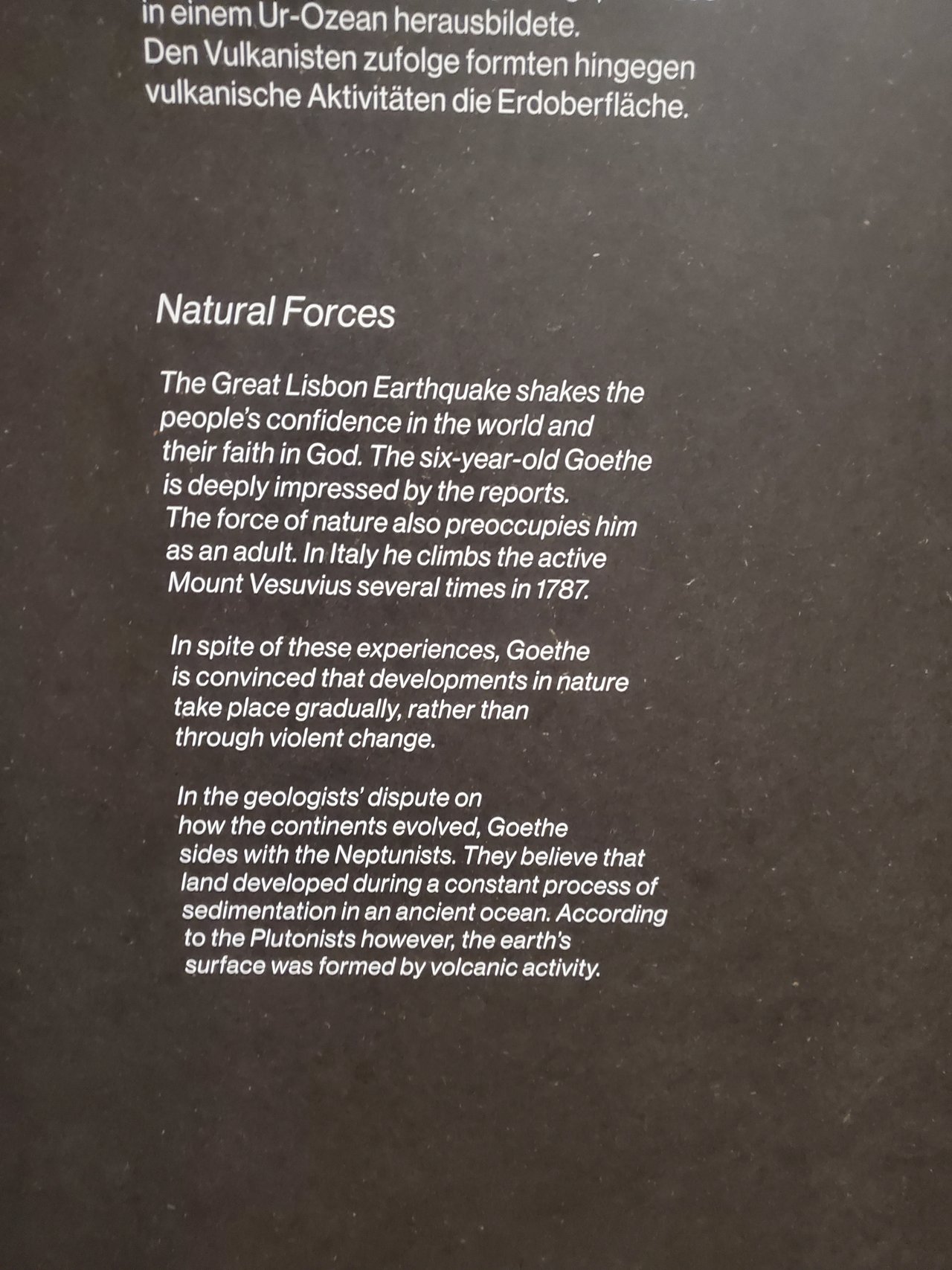 Lunch
After we touted Goethe's house, we grabbed a most amazing lunch. From a local Cafe. We had Schnitzel with Fries, and it was as good as I remembered the Schnitzel being the last time I came to Germany!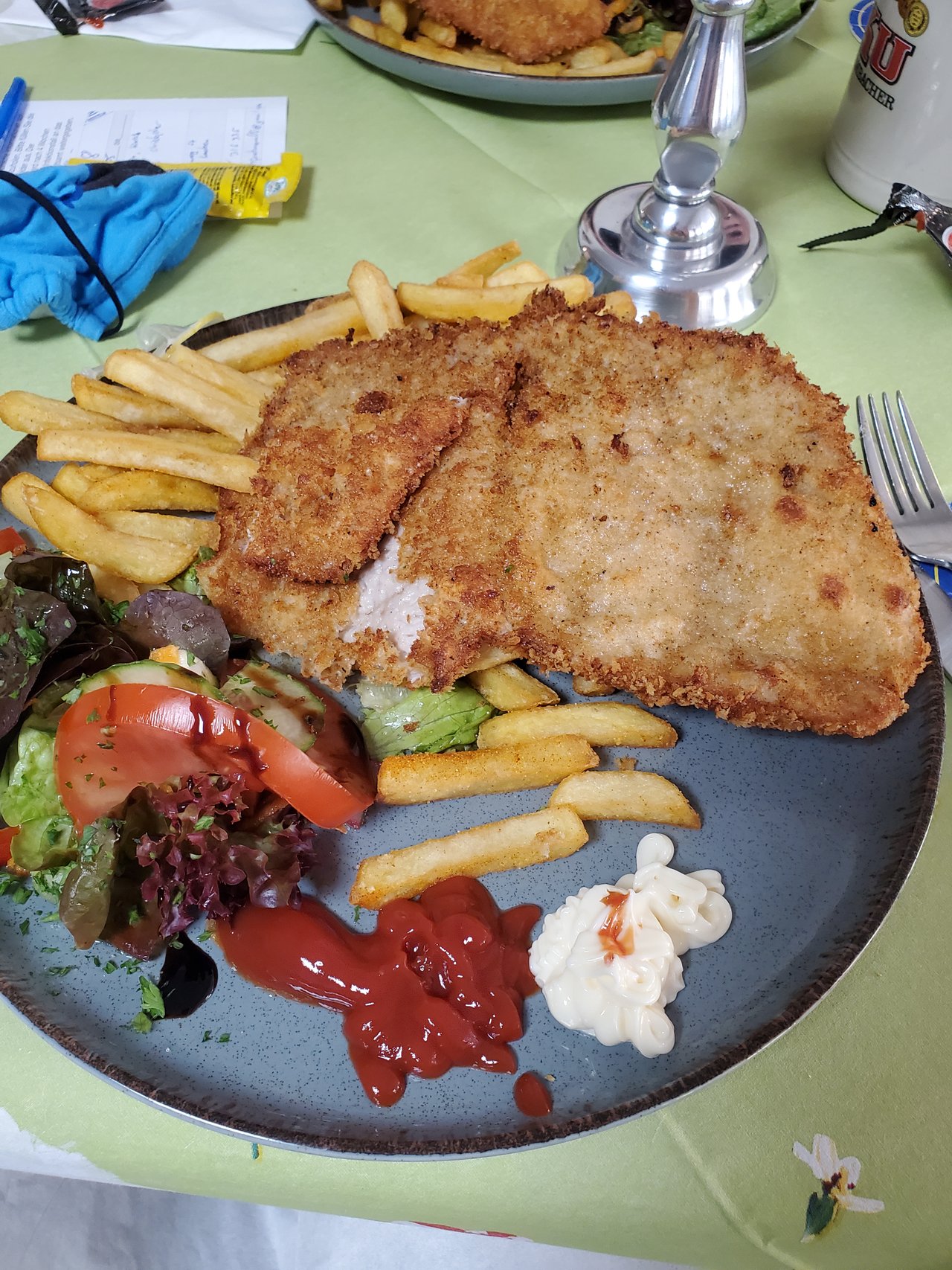 Goethe Statue
After lunch, we decided to make our way to the train station to leave the city, but on the way stopped by the statue of Goethe and Schiller by the theater.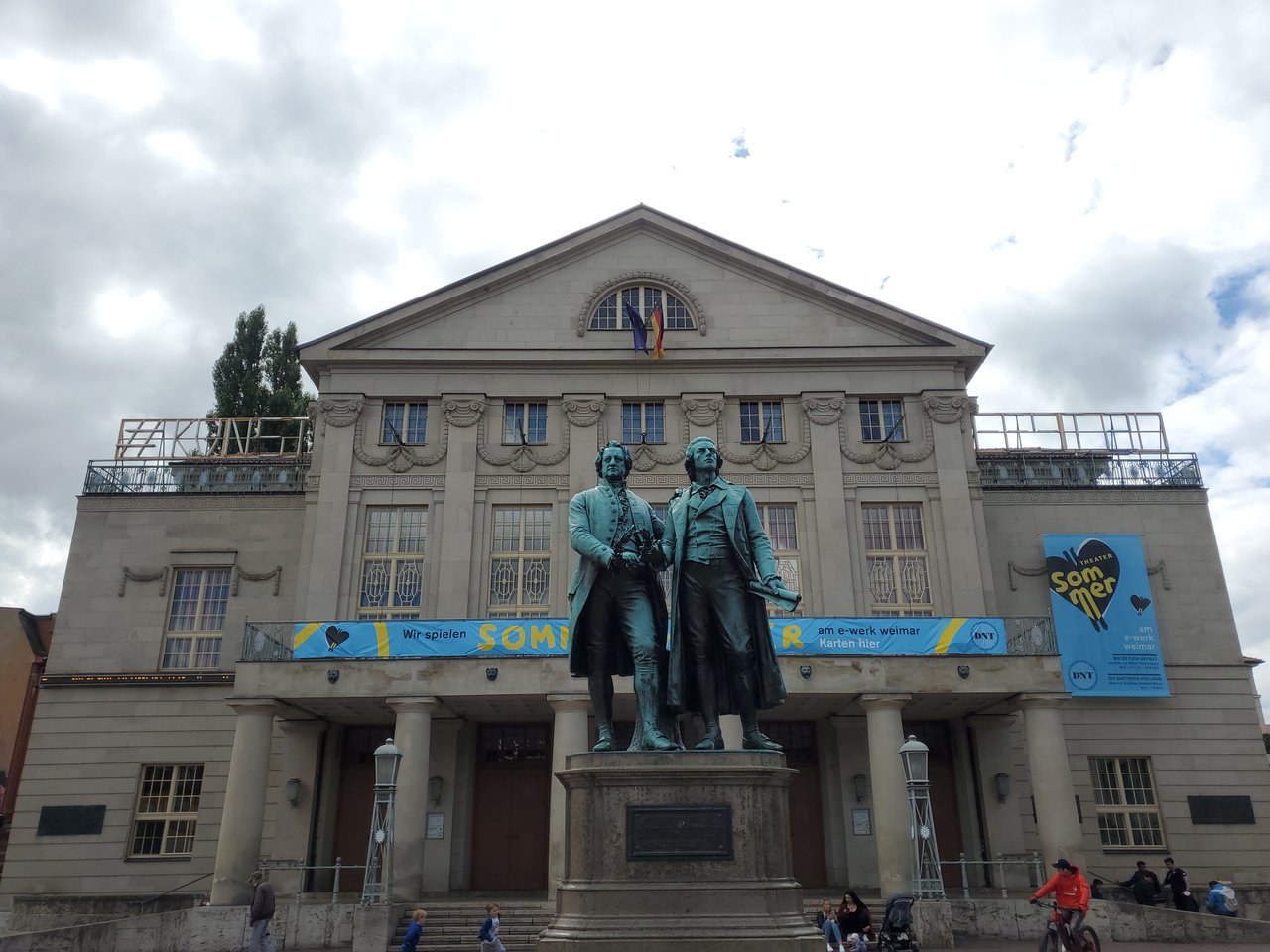 Heading Home
We finally headed home around 3:30pm, and got home around 4:30pm. I took a brief nap, and then we watched TV until it was time to eat dinner. We finished the first season of The Last Kingdom. We had bread for dinner (and I ate a protein bar as well). After dinner, we watched the first episode of season 2, and then went to bed. I decided to wake up early to finish the article.
Conclusion
Thanks for reading this everyone! I hope these articles are not growing stale. I'm at a huge disadvantage formatting them on my phone, but I'm still doing my best with the time I have. See you in the next article!