Escaping the city when summer comes, it is but natural to want to bask under the sun, wiggle your toes in the fine white sand, take a dip in clear emerald waters and if you are a millennial, take an unlimited number of selfies on a sandbar making sure to share each pose on social media.
To all these wishes, nothing can beat Alibijaban Island in Quezon Province [map] in offering just the right dose of serene, carefree, and local charm. This hidden gem is only six hours away from Metro Manila.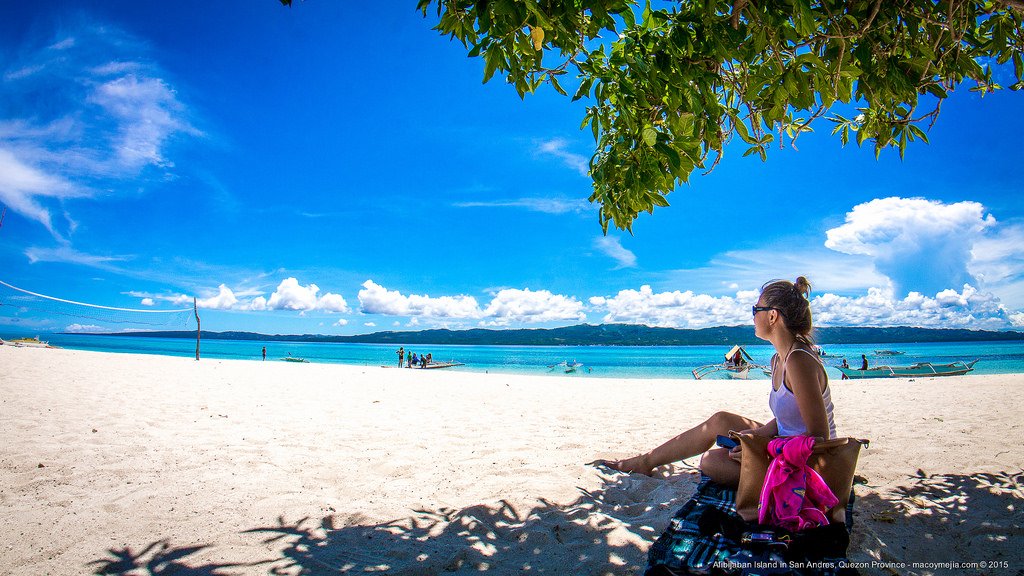 Image source
For this adventure, I went to San Andres, a remote municipality in the south of Quezon province. San Andres has no major establishments, no malls, no hotels or ATMs (before leaving Manila, bring cash in small bills). The communities in barangay Alibijaban rely on fishing, corn, and coconuts and more recently, tourism, so expect to go camping and live on bare necessities (no electricity on the island, limited water supply).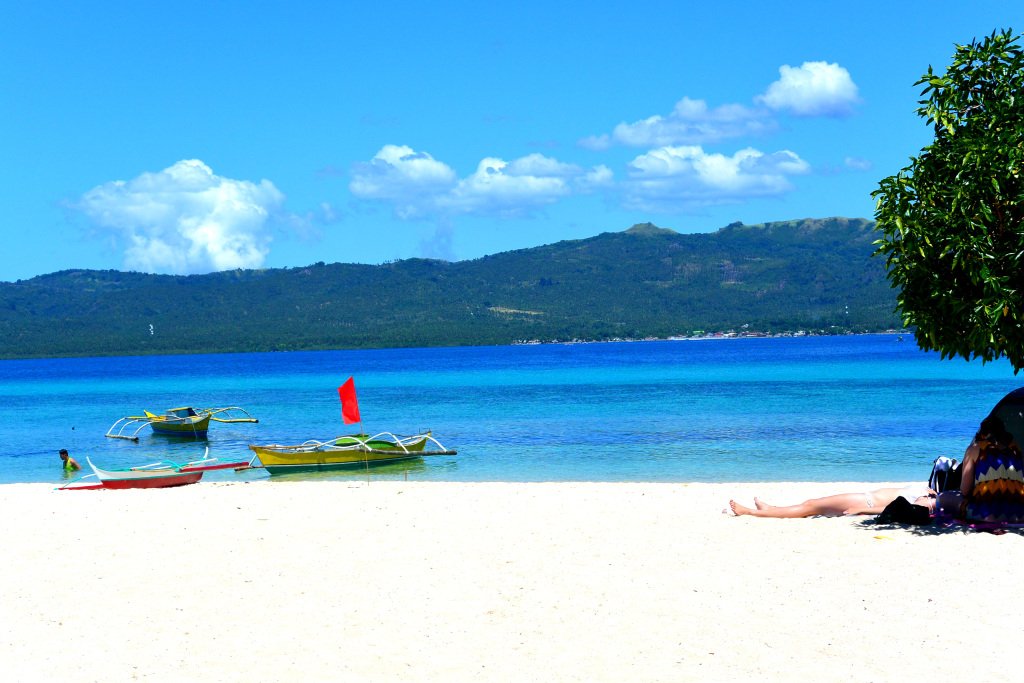 Image source
Sights and Attractions
Fine white sand
Sandbar
Mangroves forest
Swimming
Snorkeling
Stargazing, Sunset, Sunrise
Island Hopping (nearby islands of Burias, Sombrero, Talisayan)
Just seeing the island from San Andres Port, suddenly the bus ride wasn't so bad after all. Alibijaban Island is breathtaking in its quiet simplicity. I got to go frolic in clean waters, swim with fishes and explore a mangrove forest that keeps our coral reefs alive. What more can I ask for?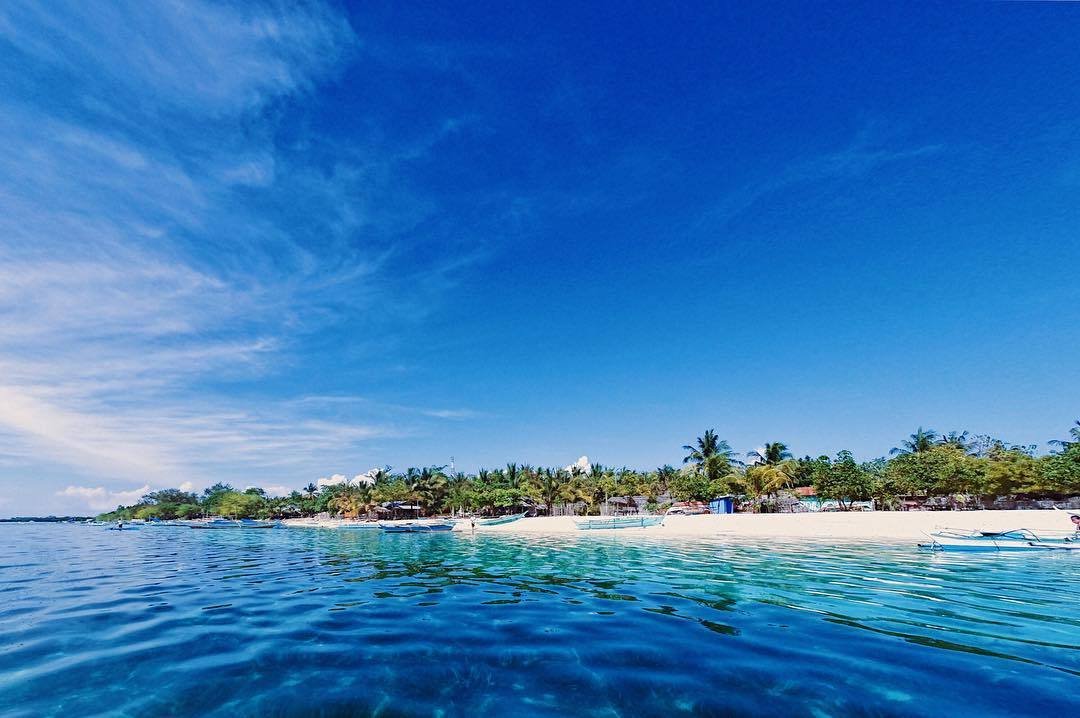 Image source
Getting to Alibijaban Island
If you use a car, travel time is cut to six hours. If you take the bus, travel time is eight to 10 hours. The fare starts at ₱470.
From Manila: There are two bus lines, which can bring you directly to San Andres.
Barney Auto Lines (Air-conditioned and ordinary buses +63 918 584 9200) Alabang - Star Mall ETD at 4:00am, 5:30am, 8:30am, 1:00pm, 6:30pm, 8:30pm, 10:00pm

Superlines Transport (www.superlines.com.ph, Air-conditioned and ordinary buses 414-3319 and 414-3321) Cubao terminal, with three daily trips bound for San Andres
From Lucena City: You can take DLTB, Jac Liner or Lucena Lines as these have regular bus trips to Lucena city. From SM Lucena, there are vans heading to San Andres. Or from the Lucena Grand Bus Terminal, take a bus to San Andres.
Ride a pedicab to get to the port (or you can go to the San Andres public market to buy food and supplies first).
Port fee ₱4
Environmental fee ₱100
The best time to arrive at the port is in the morning because there are boats that will bring you to the island for only ₱40. Locals use these boats to deliver supplies to the island. If they are gone, then you need to rent a boat. The boat ride to Alibijaban Island is only 20 minutes.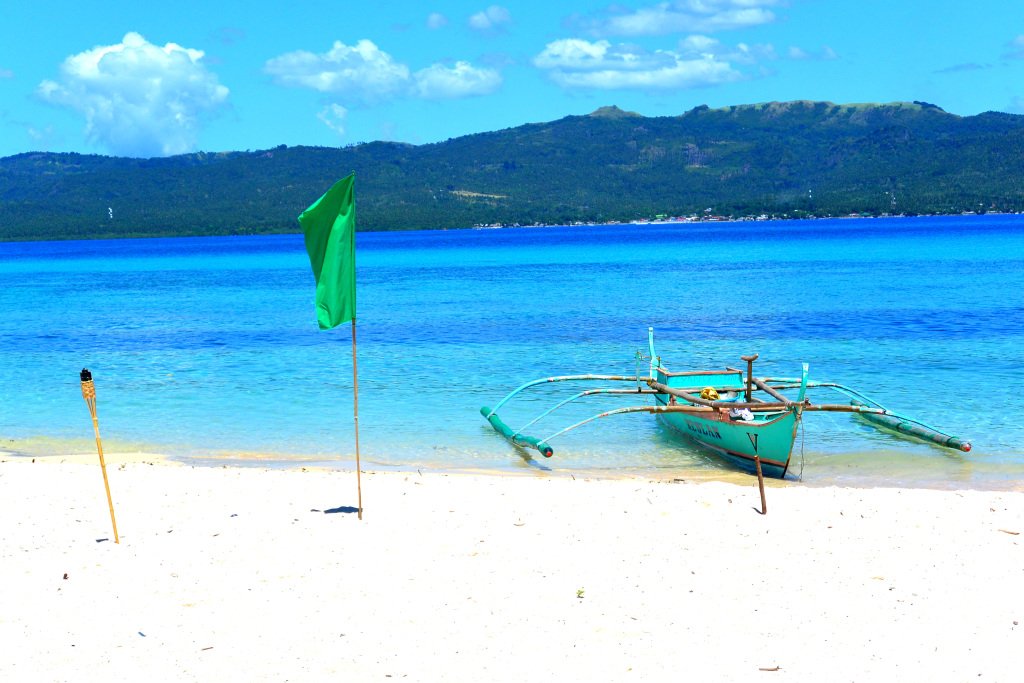 Image source
Who to Call Ahead of ETA -
Kuya Randy
offers boat rental (back and forth) at 09982758413.
₱ 500 for two pax
₱1,500 for four to 10 pax
₱2,000 for 12 to 15 pax
Kuya Randy can also tour you around the island on his boat but since the island is small you can actually walk around from the sandbar to the mangroves in 15 minutes. You get to ask him all your questions about the island and island life. Aside from Kuya Randy, look for Ronnel Lirasan who is also an excellent boatman (he can be reached at 09995733706).
Getting Around the Island
You don't need to bring everything. At the sandbar, you can opt to rent an umbrella or a tent. To get around and go snorkeling, you can hire a motorboat (₱150) or a bangka /unmotorized boat (₱30).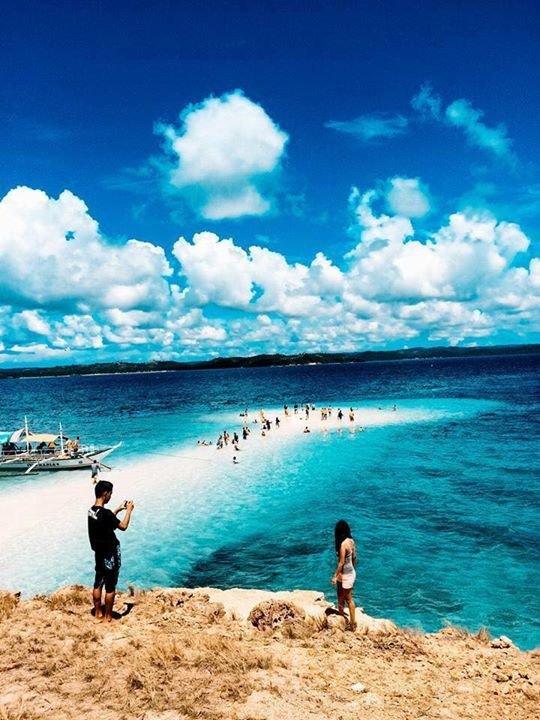 Image source
Food and Accommodations
Island accommodations are sparse but the upside is that the locals who rent them out can also cook for you. As most rustic arrangements are, they don't impose any fees on the cooking services but please be decent and give them something for the trouble of providing you with piping hot home-cooked meals.
ADC Lodging – Rooms with fans or with airconditioners.
Pension House – Rent the entire house.
Kubo – Small huts with and without rooms that are good for three to five people.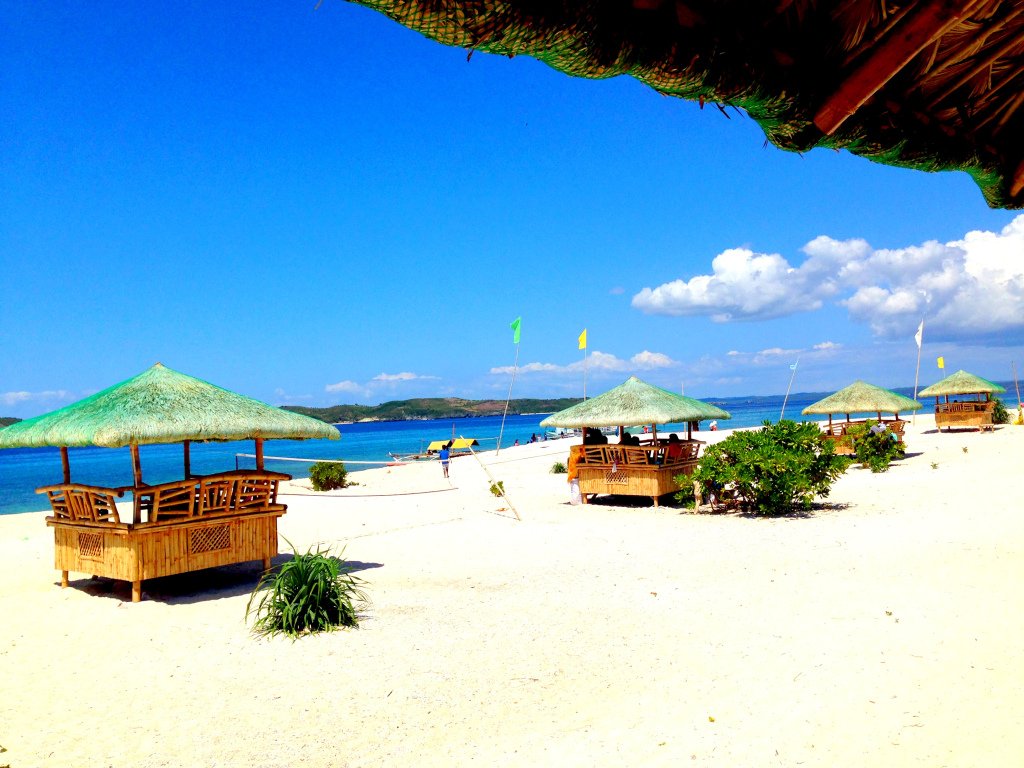 Image source
Key points:
Water is sold for ₱10 per pail or 4-gallon container or ₱150 per drum.
Charging of electronic gadgets will cost you ₱25.
Always get permission from the locals where they allow bonfires
There is one small sari-sari store that sells soft drinks, liquor, snacks and others.
Strong telecoms signals for both Globe and Smart.
Bring Your Own:
Bottled drinking water (if you are unused to untreated water)
Insect repellant (for mosquitoes and sand mites)
Life Vest
Solar powered light and phone charger
Snorkeling gear
Trash bags
Returning To Manila:
Barney Auto Lines buses
To Lucena ETD 9:00 AM, 10:00 AM, 1:00 PM
To Cubao ETD 8:00 PM
To Alabang Star Mall ETD 3:00 AM, 3:00 PM, 6:30 PM, 8:30PM
Superlines buses
For Lucena ETD 3:00 PM, 4:00 PM
For Cubao ETD 9:00 PM
There are also vans bound for Lucena as early as 3:00 AM.
Alibijaban Island is not only a summer getaway. For me, the real attraction is the experience of having less and yet enjoying life more. Go unplug, unwind and be free from the hustle and bustle of city life.

Follow Me:
@cocoland

xxoo
shala