WARNING: The use of images that are not your own on which you claim the ownership will be flagged and/or reported to @steemcleaners - HELPING TO STOP PLAGIARISM ON STEEMIT
---
Hello fellow Steemians!
Welcome to my 7 World's Continents Photo Challenge - African Wednesday - where the winner of the weekly round will be able to participate for the total of 200 SBD!
Today, you can participate by submitting your personal pictures from your travels to the continent of Africa.
See the winner of the last week´s African Wednesday @derangedvisions with the following entry:
Wow, it has been a while since I participated here. This image is from Tanzania when I visited a Maasai church outside of Mtu wa Mbu Village. It was such an awesome experience and the people were so welcoming. We spent the day singing songs, dancing and having a great time with them. Then afterwards, we all gathered for some group pictures and more singing.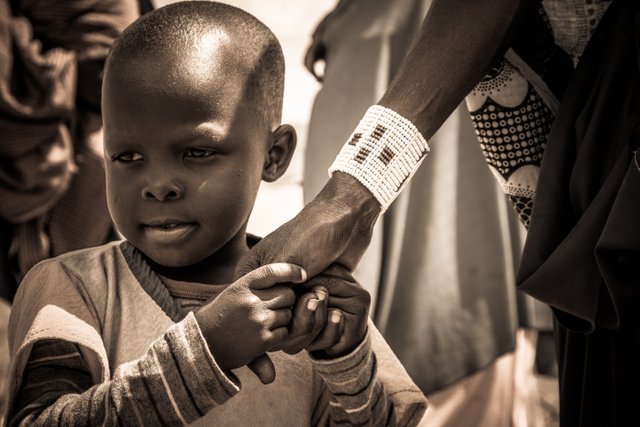 Your entries need to be submitted by 8 AM Central European Time in order to be considered for the challenge with a description of approximately 30 to 50 words. Only use of personal images will be accepted and only one picture can be submitted for a daily photo challenge. Ten winning photos will receive a bigger upvote from me and ten runners-up will get a smaller one.
Chosen from the ten winning entries, the absolute winner of the day will receive extended publicity in my post tomorrow morning. I will also visit his/her blog to upvote one of the most recent posts. The winning picture of the daily challenge will then automatically enter other rounds with the absolute winner gaining approximately 200 SBD in total.
Please see the winners of the previous contests of the week and give them your support if you like their images to be the one winning the weekly price and entering the other stages of the 7 World's Continents Photo Challenge. You can vote for them by upvoting their winner announcement posts below:
7 World's Continents Photo Challenge - Asian Sunday week #93 - winner announcement!
@justdentist Asian Sunday entry:
Good morning Guilin. Guilin and the surrounding area was the highlight of our china vacation. The landscape is so unique with the hills all over the place and the rivers running through. The morning hike was steep but short and this view was the perfect prize:)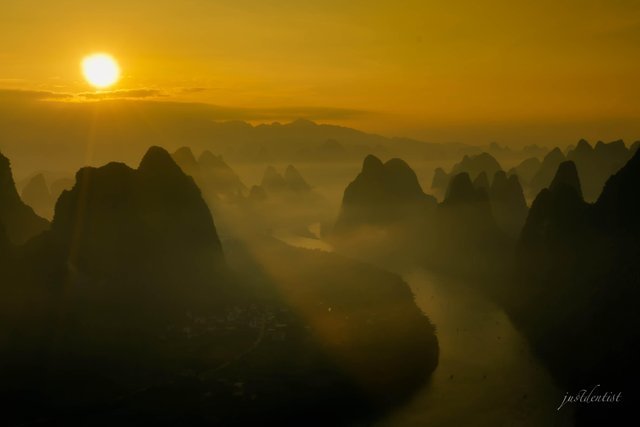 7 World's Continents Photo Challenge – Australian Monday week #93 – winner announcement!
@robbertb Australian Monday entry:
It's quite a challenge to choose one picture from a six weeks New Zealand roadtrip, but I believe this one captures the feeling of freedom and the beauty of nature at it's best. This shot was taken at the top of Ben Ohau at 1500 meters elevation after a challenging hike in 28 degrees Celcius. The reward was amazing as you can see! (Yes, the lakes in New Zealand really are that blue).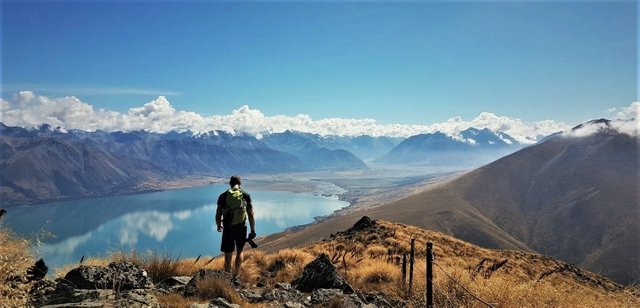 7 World's Continents Photo Challenge – Tuesday of Antarctica and World´s Oceans week #93 – winner announcement!
@dmytrokorol Tuesday of Antarctica and World´s Oceans entry:
Beautiful morning on Playa el Bollulo, Tenerife, Canary Islands. This beach with pitch black volcanic sand is one of the most beautiful on the island. I was mesmerized with the contrast of sand and the water rolling back and creating the white foamy lines. I have spent some time just looking at this natural beauty and noticed the amazing subtle reflection in the middle ground. All I needed is a subject and it was easy to find because there are several rock formations on the beach. I took several shots to find the right balance in all this permanent changing and combined several images (foreground with the leading lines, middle ground with reflection and subject with rock and crashing waves).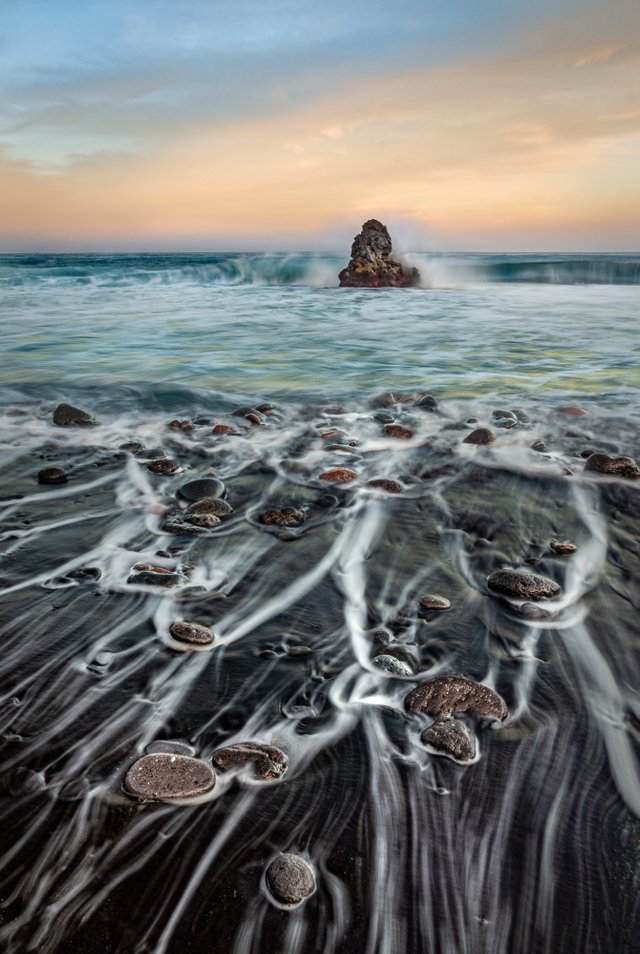 For more information about the 7 World's Continents Photo Challenge and conditions see my original post: 200 SBD 7 World's Continents Photo Challenge - 2018 guidelines – 25/10 update.
---
Please feel free to check out some of my other recent posts.
Appics featured 7 World's Continents Photo Challenge by @dmytrokorol
Collection of some of the most amazing photos from Prague/Czech Republic submitted recently by your fellow Steemians
ColorChallenge - Purple Sunday - @sinochip in 7 World's Continents Photo Challenge!
Prague/Czech Republic - Friday photo challenge - share your personal pictures from your visit to the Czech Republic!
---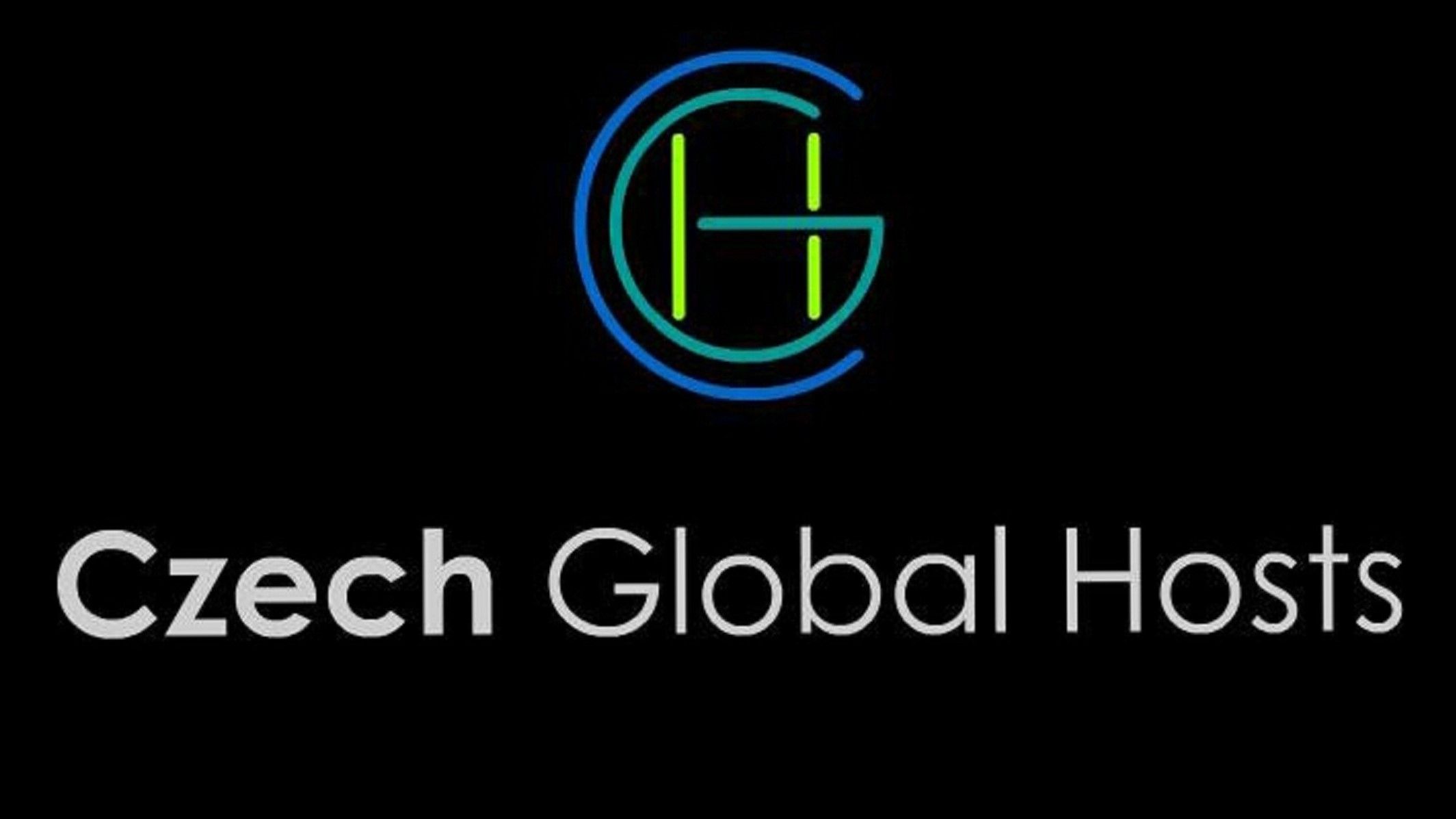 ---

---