The Great Prismatic Fountain of Yellowstone Park, in the USA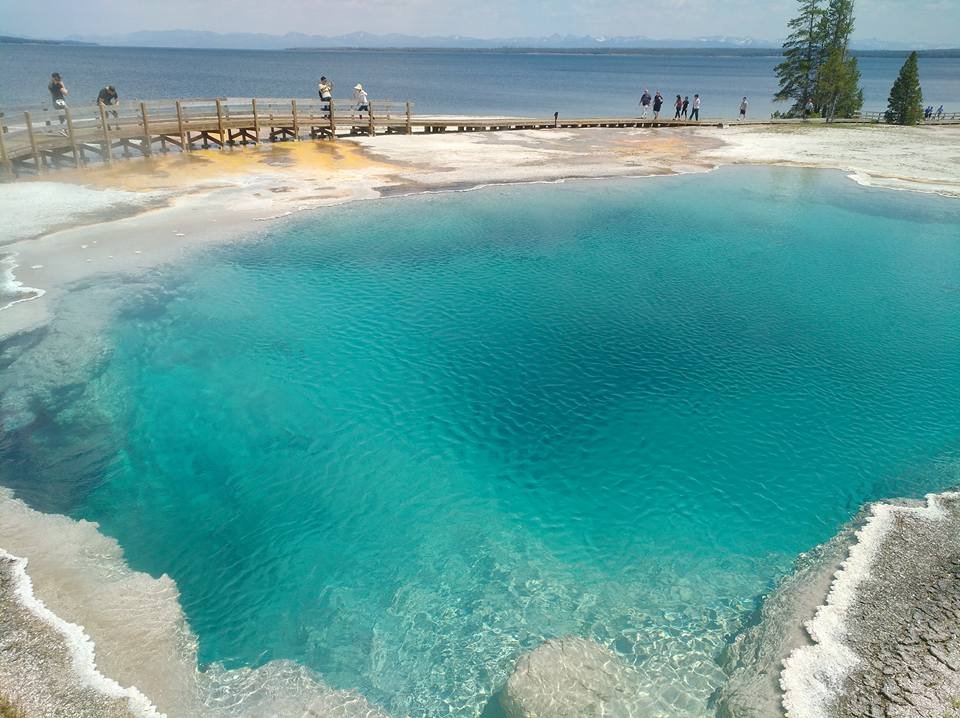 The Yellowstone National Park, the oldest in the United States is one of the most impressive natural spaces in the world. Located mostly in the state of Wyoming, it also reaches large areas of Montana and Idaho. Among other natural wonders you will find hundreds of geysers and hot springs, the most impressive collection in the world. Among them Old Faithful, the most famous geyser on the planet. Yellowstone is on a huge volcanic caldera, the remains of a large volcano that erupted thousands of years ago. It is one of the hot spots of the earth's crust and that is why there are so many geothermal phenomena.
The Grand Canyon of Yellowstone, the lake and the wildlife that includes bears, wolves, moose and buffalo in the valleys of Lamar and Hayden, make this National Park one of the tourist destinations par excellence in the United States. Falls on the Yellowstone River, scenic overlooks and trails in the Grand Canyon, waterfalls and hot springs. Yellowstone is the ideal place to hike, camp, fish, enjoy exhibitions and movies and attend guided programs by ranger.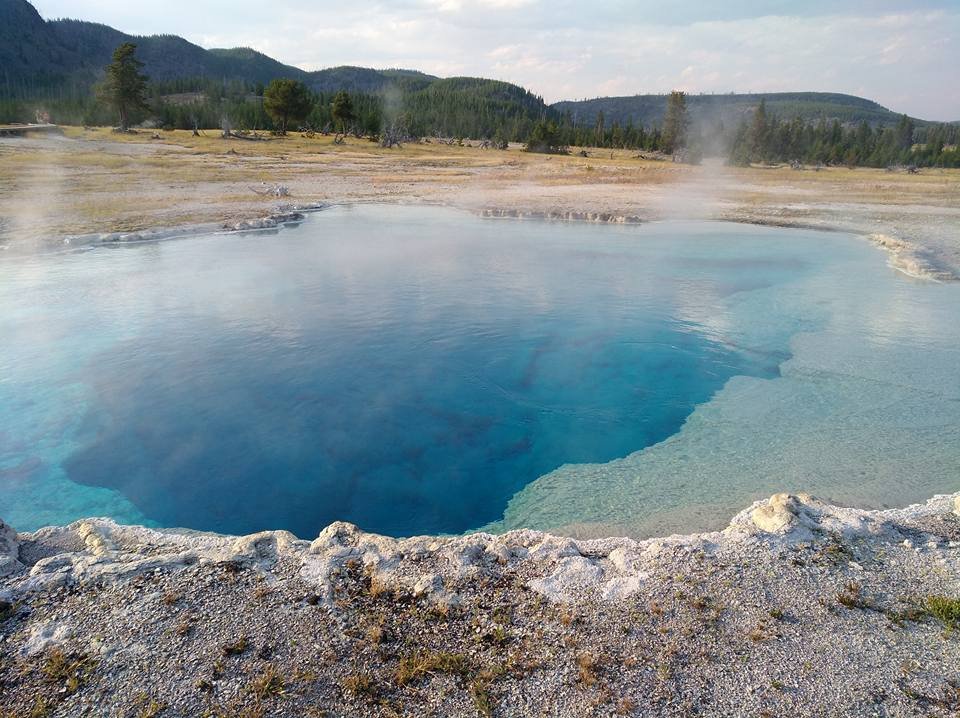 And among all these natural wonders there is one that stands out. The sound, the steam, the colors surprise those who approach the 'Great Source'. A lagoon with a diameter of 80 meters by 90, with waters that are 50 meters deep. But the incredible and unique thing about this beautiful lagoon is that the color of its waters vary from green in winter to red and orange in summer and blue. Clear and bright colors that are due to the pigmented bacteria that grow around its edges and also to the large amount of minerals in its waters.
** This is the largest thermal source in the United States and the third largest in the world **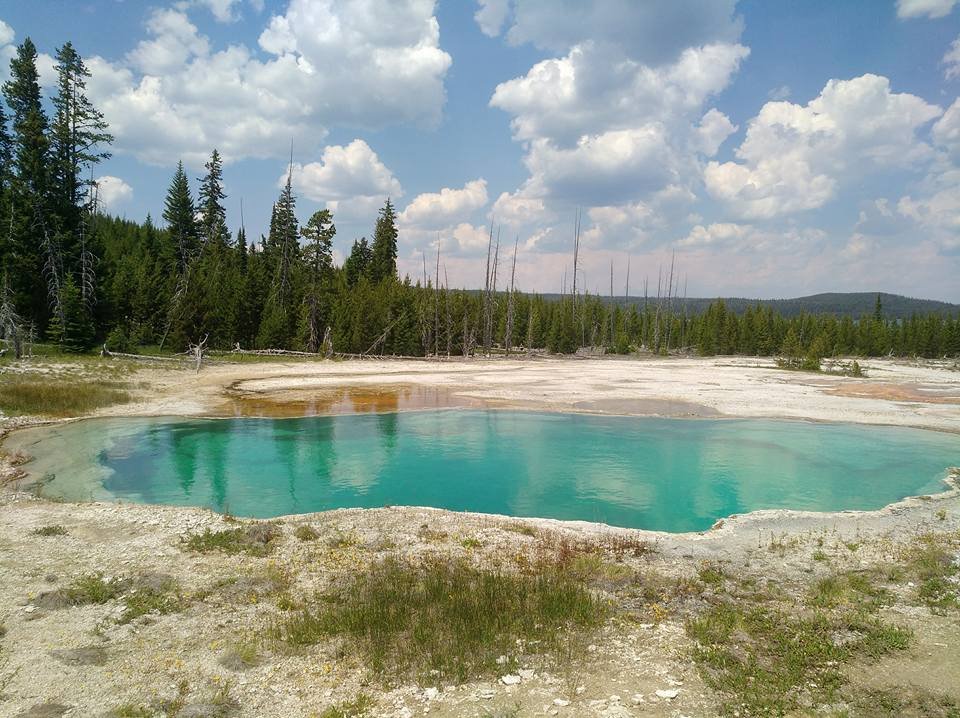 In the park there are wide footbridges that you can cross to admire in all its splendor this natural spectacle. Walking on the Great Prismatic Fountain at ground level impacts with its unreal colors, it is a sight to behold. But it is also highly recommended to climb a small hill from which you will get incredible views.
The water temperature in 'Grand Prismatic Spring' cools as it moves from the center to the margins in spring. And they are the different species of thermophilic bacteria that occupy different areas according to their tolerances to the temperature, those that dye the water of blue color in the center, the hottest part in spring, while the species of algae that inhabit it dye from green to yellow and from orange to deep red water, as the temperature cools and advances towards the edges in spring. The colors match the scattering of the rainbow of white light by an optical prism: red, orange, yellow, green and blue.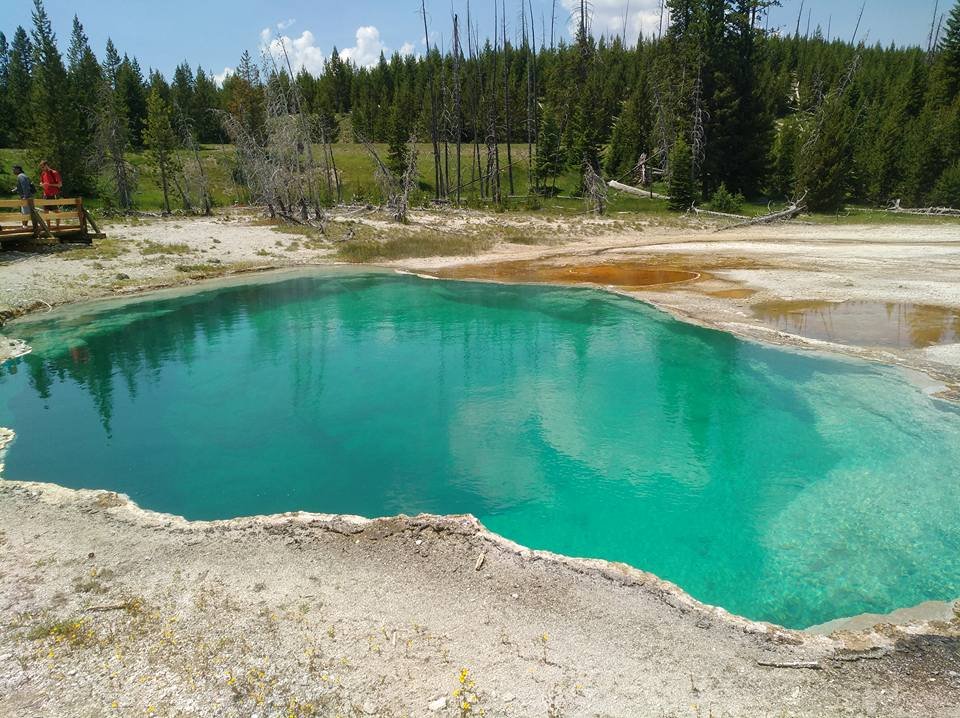 Here are some pictures of my visit to this beautiful place.