Hello guys! So Kodagu had been a trip i'd been wanting to go to, from the time i saw the overly saturated pictures of the fog gently caressing the tea plantations of the hills and all the other places over there. The time finally came when i had the money and the family jewels to do a trip over there but me being me, i didn't quite have an itinerary. I just had a rough idea of what places i wanted to see and so i set out on the chilly morning of 14/1/17 with my noble steed (Bajaj AS150).
BAG: CONTENTS
Warm Clothing: Drawing from the experience that i had in Ooty, i thought it would be in my best interest to take some warm woolly clothing that helped my jingles to not be frozen solid. To my surprise coorg wasn't all that cold, it was pleasant. But i urge you to carry some waterproof clothing since it rained heavily the day i left.

2 liter Water Bottles and ELECTRAL: The water bottles are pretty self-explanatory and the ELECTRAL is a nice way to keep hydrated for longer rides.

Riding Gears: If you're planning on going by bus or any other mode 4 wheeled transportation then you don't have to worry about this, but if you're planning to ride there by bike (which i HIGHLY recommend) then having all your riding gears would help in case on an accident i.e Helmet, Riding jacket, Gloves, Knee guards.
ROUTE: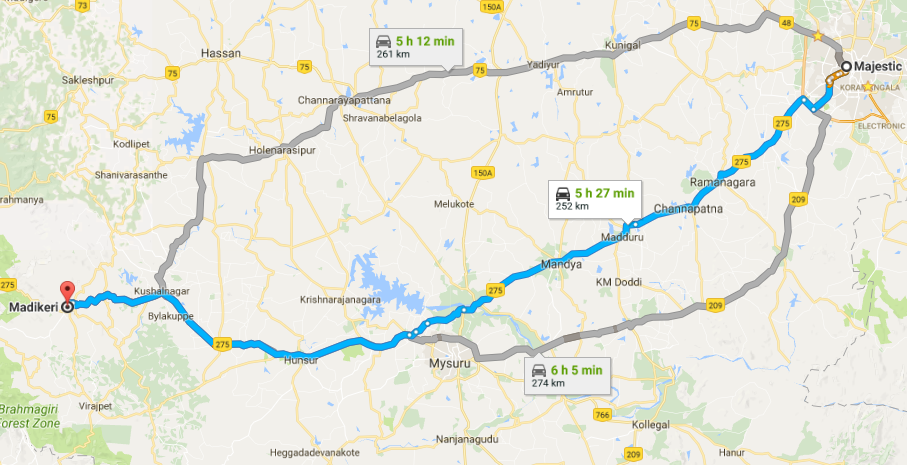 This is the route i followed.
Majestic>Mysore road>Ramanagara>Mandya>Srirangapattana>Bilikere>Detour to Kushalanagar>Coorg (through H275). I set off from majestic at 4:15AM (best time to get out of the city with minimal traffic and it's cool) and reached Kushalnagar by 7:40AM.
RIDING IN THE RAIN: Madikeri being a Hill-Station you can expect it to rain and during the monsoon months it will rain heavily. Here are some of the things i did to make it bearable to ride in the rain.
Riding at a slower pace in the Ghats: This is obvious but as i approached the ghats i had an immediate urge to ride the bike hard not bearing in mind the rain, sand and decreased levels of traction. Add to that these KSRTC bus drivers overtaking in the ghats and it's not going to be pretty. Ride the bike at a slower pace and keep braking earlier and progressively and generally ride passively to take in the scenery.

Buffing my spectacles with shaving cream: For people who ride with spectacles out there, we know how hard it is to ride in Humid conditions when everytime we breathe out the lens gets fogged up and there's 0 visibility! It's a constant pain to keep wiping it. So after some research i found out that shaving cream helps a lot! Add just a smidgen of shaving cream to your lens and keep buffing it with a microfiber cloth until its clear and repeat for both sides. The shaving cream has a hydrophobic element in it to prevent fogging up!

Wiping the bike dry: Once done and you're at your hotel, wipe down the bike with a dry cloth to prevent corrosion and the bike will also be clean!
Places to visit near Kushalnagar:
Kushalnagar in itself does not have a lot of places to see but there are a few worth stopping for.
Namdroling Tibetan monastery: This is a small Tibetan settlement in Karnataka among others. I made it to the monastery at 8:25am after having my breakfast at a nearby hotel, right in time when all the tourists started flocking towards the temple. The place is very beautiful with Tibetan symbolism and Architecture, Statues and Huge gardens. The one thing i regret not doing is joining the prayer when all the Rinpoches started praying. If you're interested in being a part of this prayer, take permission and enter the prayer hall before the prayer starts (nobody's allowed inside once the prayer starts) and meditate.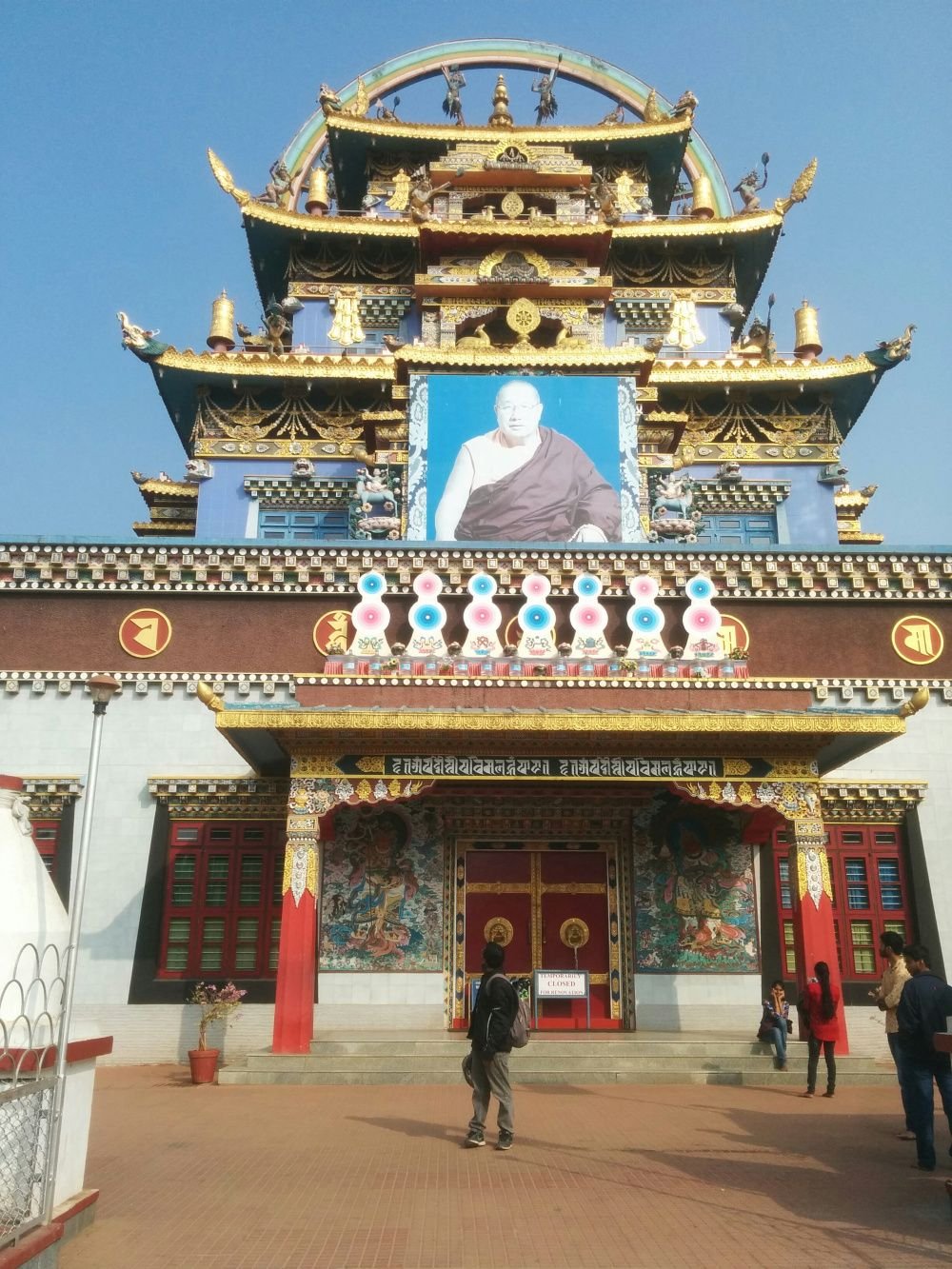 The Inside of the Monastery with the 3 avatars of Lord Buddha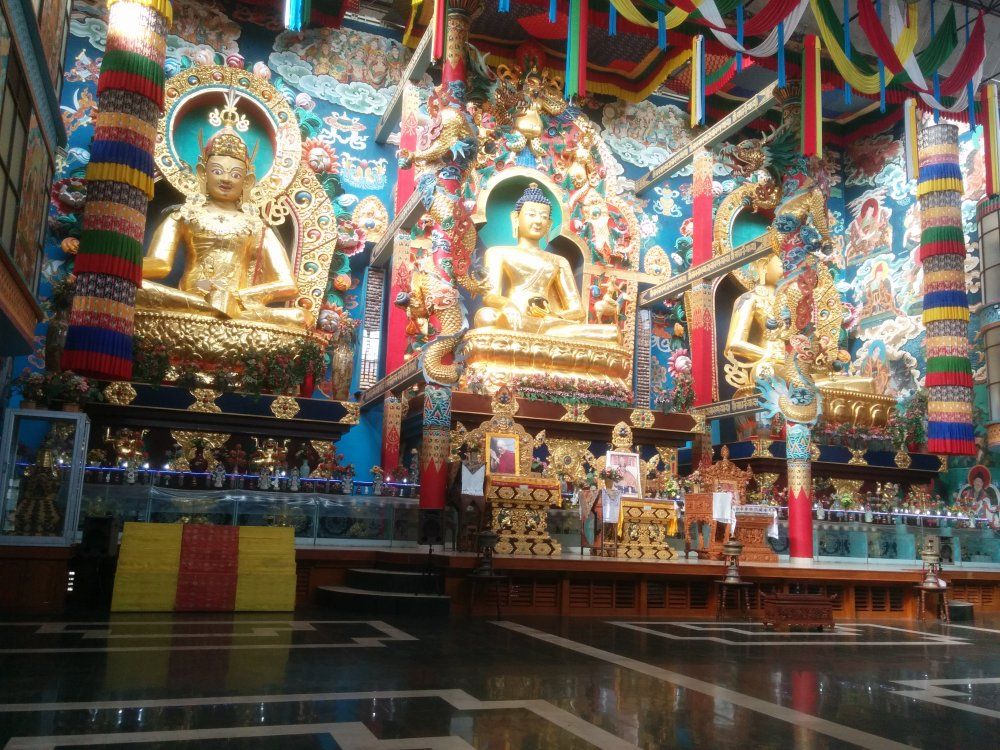 The Wall Paintings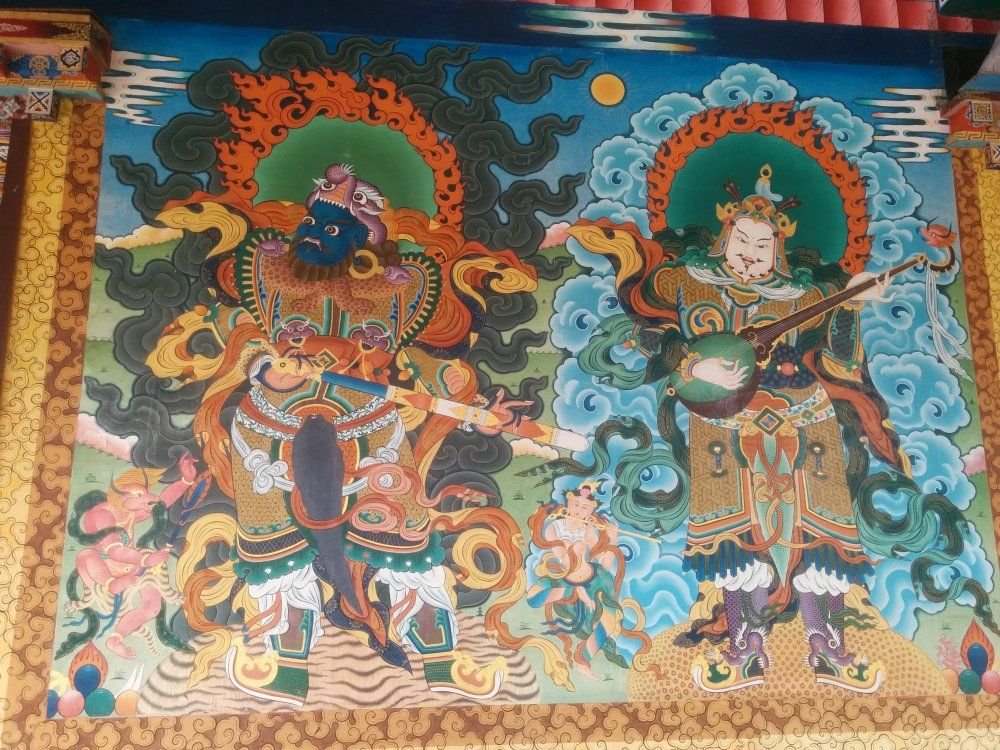 Overall an Uplifting experience at Nodreling! Hope i can visit once again and sit for the prayer session!
Nisargadhama resort: After being spiritually enlightened at Nodreling, i headed towards Nisargadhama. It's a resort which is 3kms away from Nodreling, the moment you step into the place you are gently welcomed by Loud and Annoying tourists waving around their selfie sticks and dslrs and blocking path just so they can take a Picture for their FB or Instagram DPs. Frankly it was too annoying to be calm at once place so i wandered around but there wasn't much to see. The Kaveri river flows through the resort and you can do boating, archery and zip-lining if you're into them but personally for me i'd enjoy some peace and quiet.
Places to visit in Madikeri
I left kushalnagar at 1:23 pm and set off towards Coorg, The route i took was the H275(Very scenic but it's a single lane road) but it slowly dawned on me that i had set the Destination to madikeri and not coorg, So i decided to find a hotel there and stay there for the night and set off to places near Madikeri. (DO NOT USE GOOGLE MAPS when you're in madikeri ask the locals)
Raja's seat/ Viewpoint: I visited this place on the same day i visited Nodreling and Nisargadhama. It's not far from the Madikeri town and a place scenic place to sit back and relax which is what i did for 3 hours eating my Nippat masala.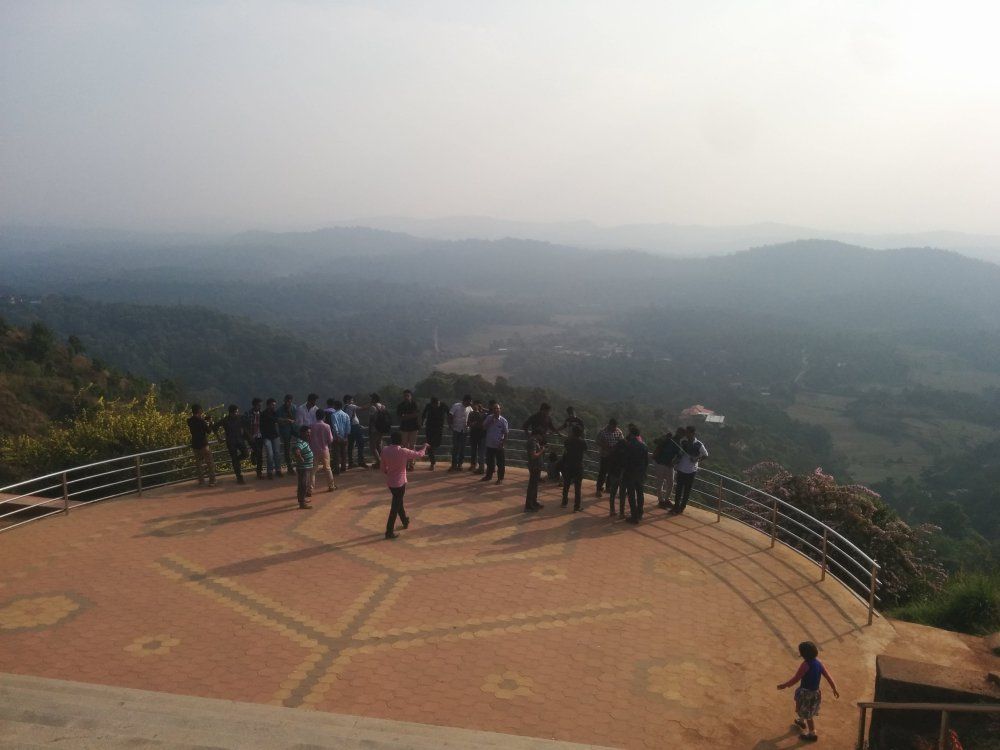 Abbey falls: The long flowing corners and hair-pins are a dream to ride on while going to abbey falls, there was water when i had gone but in the summer months it'll all be dried up so you can plan it out before leaving.

Mandalpatti: By far the best place in Madikeri, I urge you to visit here the moment you reach Madikeri. It's 18kms from the Madikeri town and it's an off-roader's paradise! There are Mahindra Thar and Gypsy 4×4 which will take you to the end of Mandalpatti but i decided to take my bike and boy! was it fun.
Off-roading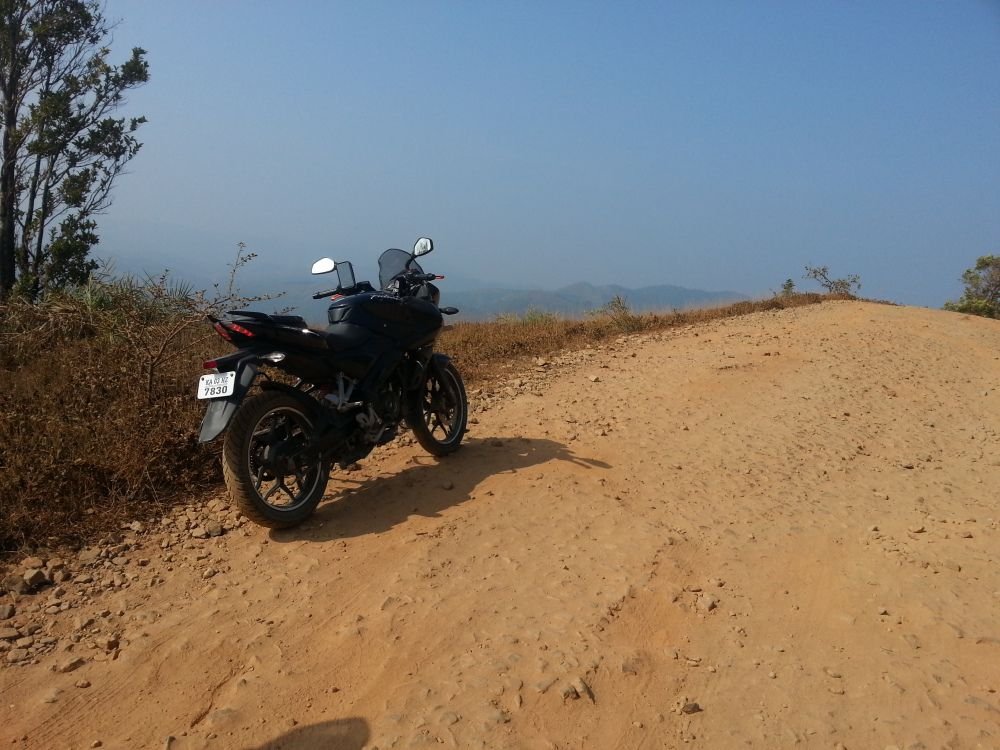 Decided to park her here and trek to the top of one of the hills.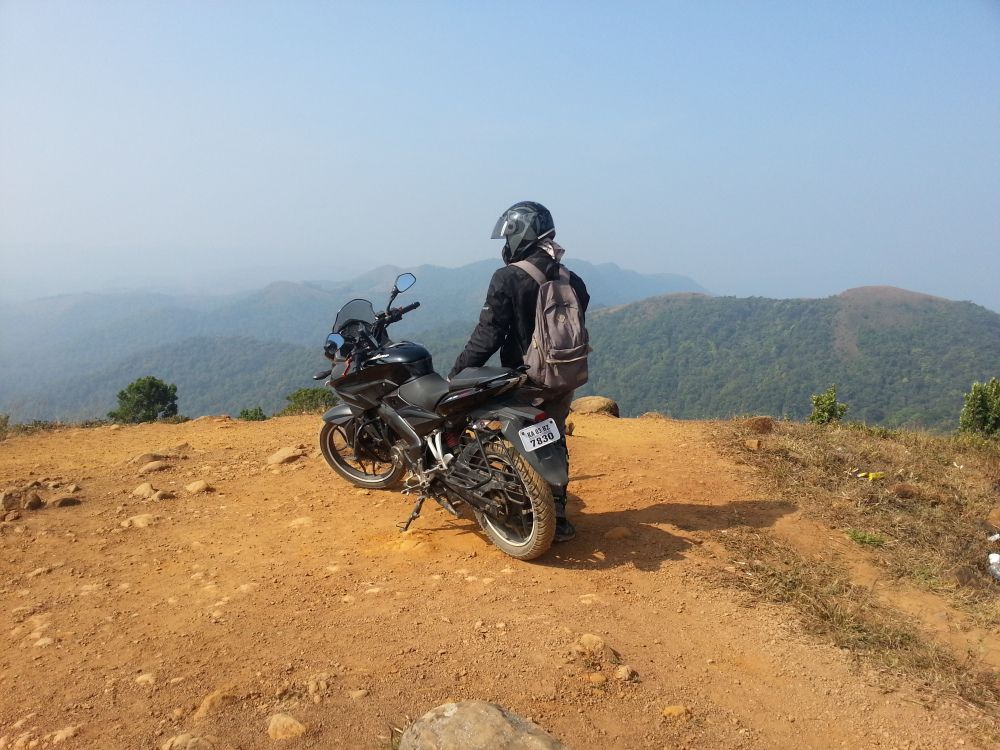 Top of the Highest hill in Mandalpatti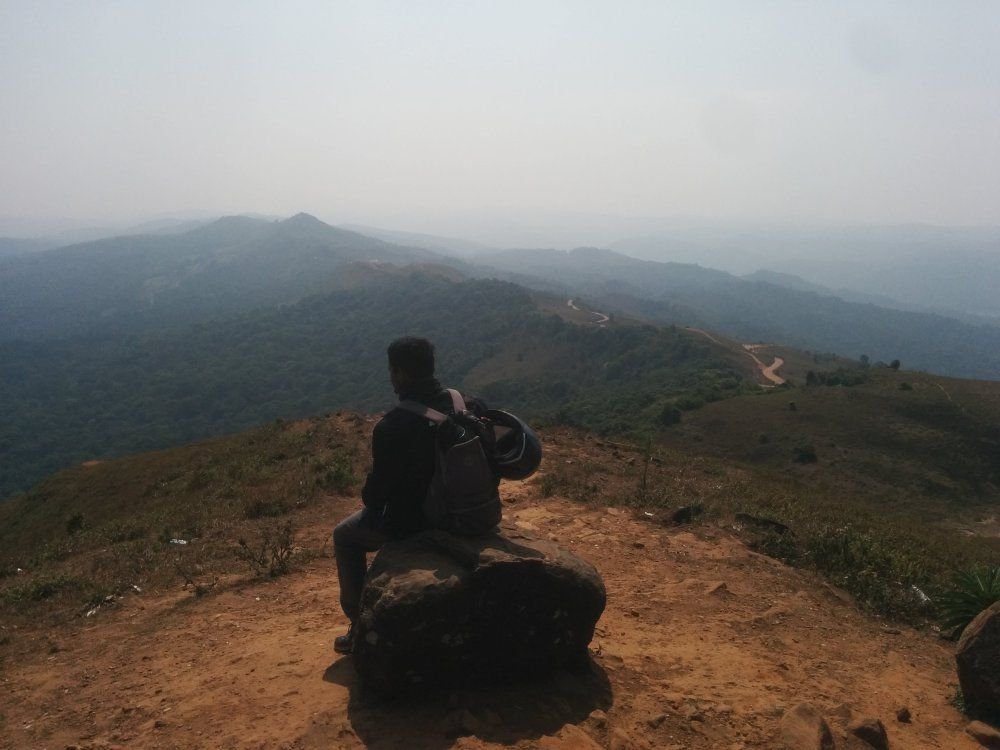 Live-streaming from the top of the hill.
So overall, it was an awesome journey of Self-discovery and calmness. When you're away from technology for so long it's feels nice and you sleep better at night. "Digital Detox".
I usually post all my travel stories on my blog, ( https://theantisocialhamster.wordpress.com/ ) but i've decided to try out Steemit. Cheers!