Hello fellow Steemers! Kumaraparvata was a trek i was yearning to do after completing most of the small one day treks near Bangalore and this was my first trek that lasted two days and i was pretty excited to see how i'd hold up with trekking through all that varying terrain. All in all this was one of the best treks i have done.
A) Summary of the Trek
Difficulty: Difficult ( For beginners)

Trail type: Mix of grasslands, rocks and forests. Steep in some places

Duration: 2 days

Base Camp: Bhattru mane (5kms from Base of the mountain, you can camp at the top of the mountain as there was incident with forest fires and the forest department has banned any camping activities)

Best season: October to February

Water sources: Springs will full of water post-rain season as you approach December, the streams will dry up.
B) Our plan:
Get a KSRTC bus at 9:00pm (normal seats) till Kukke Subramanya.

Breakfast at Neo-mysore restaurant and start trekking my 6:45am to avoid mid day sun.

Reach Bhattru Mane at 10:30am and have breakfast, set off from Bhattru mane at 11:45am

Reach Sheshaparvata at 2:45pm

Reach the forest near the Main peak and have food and water.

Reach Kumaraparvata peak at 4:30pm and rest

Start descent by 5:30pm and try to reach Bhattrumane by 8:30pm

Pitch tent near one of the viewpoints for the night and wake up next day and start descent from Bhattru mane to starting point.
Sounds like a good plan? Kind of.
C) Here are some tips to help you better enjoy your trip:
BEST MONTHS TO TREK: The best months to trek KP are from the end of October to the beginning of Feb. The summer months will be too hot to trek but if you can make it to the peak you will have the best view of the Night sky. Monsoon is just a pain not only do you have to deal with leeches and rain, the forest dept wont allow anyone to trek to the top because of high winds and rainfall.

DOUBLE CHECK YOUR TENTS(RENTED): We had rented tents from a place and while receiving the tents, we didn't check the supporting poles. We had supporting poles for a 3 man tent but we had rented a 2 man tent so that was problematic later on.

FOOD & WATER: There are many restaurants at the bottom where you can have your breakfast but once on top of the mountain you can either carry Bread and Biscuits or eat at bhattrumane (A plate costs 100rs , recommended) and as for water there's a tap near bhattrumane where you can fill up your bottles, be sure to carry atleast 2 litres once you set off from there.

WARM CLOTHING: If you're planning to trek during the winter months get better insulation for your body and while camping don't leave any of your stuff outside because of the Mist it'll get wet.

FOREST DEPARTMENT: There's a Forest Department Check post near bhattrumane you'll have to go there and write your name and pay them 200rs per person in case you get lost and they have to come find you. The path is clearly marked and there will be other trekkers so it's hard to get lost.
D) Here's a Expertly drawn map of the whole trek so that you can have a better understanding of the trek.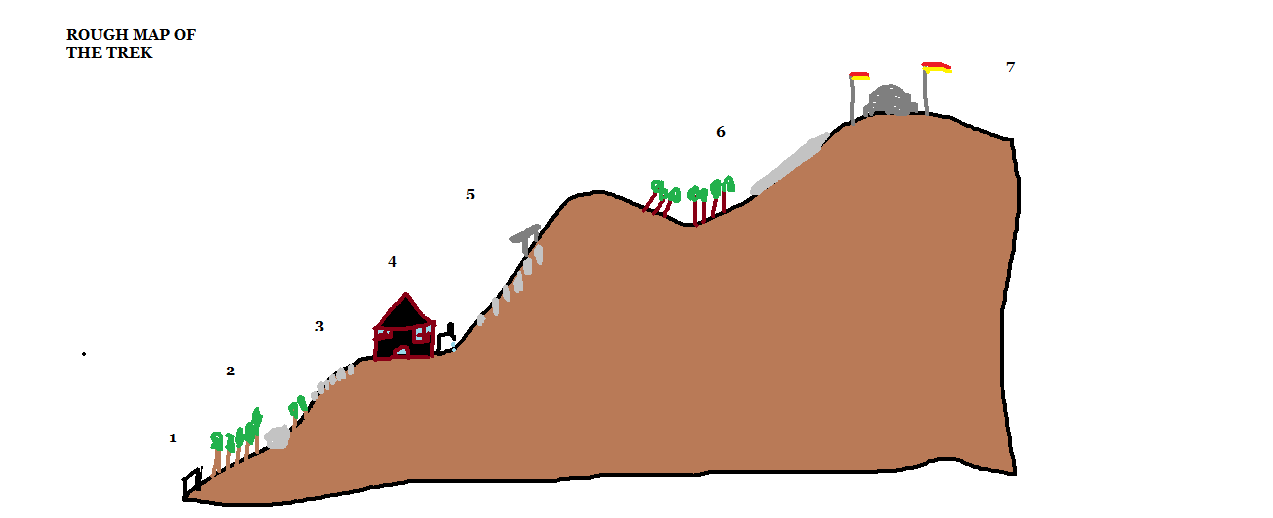 Part 1-3 (Forest trails): The grey parts in the drawing are the parts that usually sap all your energy they are steep ascents through rock terrain

Part 4: This is bhattrumane and will be you base camp, You get Food, water and place to set up camp and gaze at the stars.

Part 5: This will be the hardest part of the trek, it'll be a steep ascent to Shesha Parvata

Part 6: This part will be the forest you find just before you reach the peak and there's a section where you'll have to climb a single piece rock make sure not to get your shoes wet otherwise you'll be slipping

Part 7: You'll know you would have reached the peak when you find a big stone structure along with flags of Karnataka.
E) Some pictures from the trek
Forest trails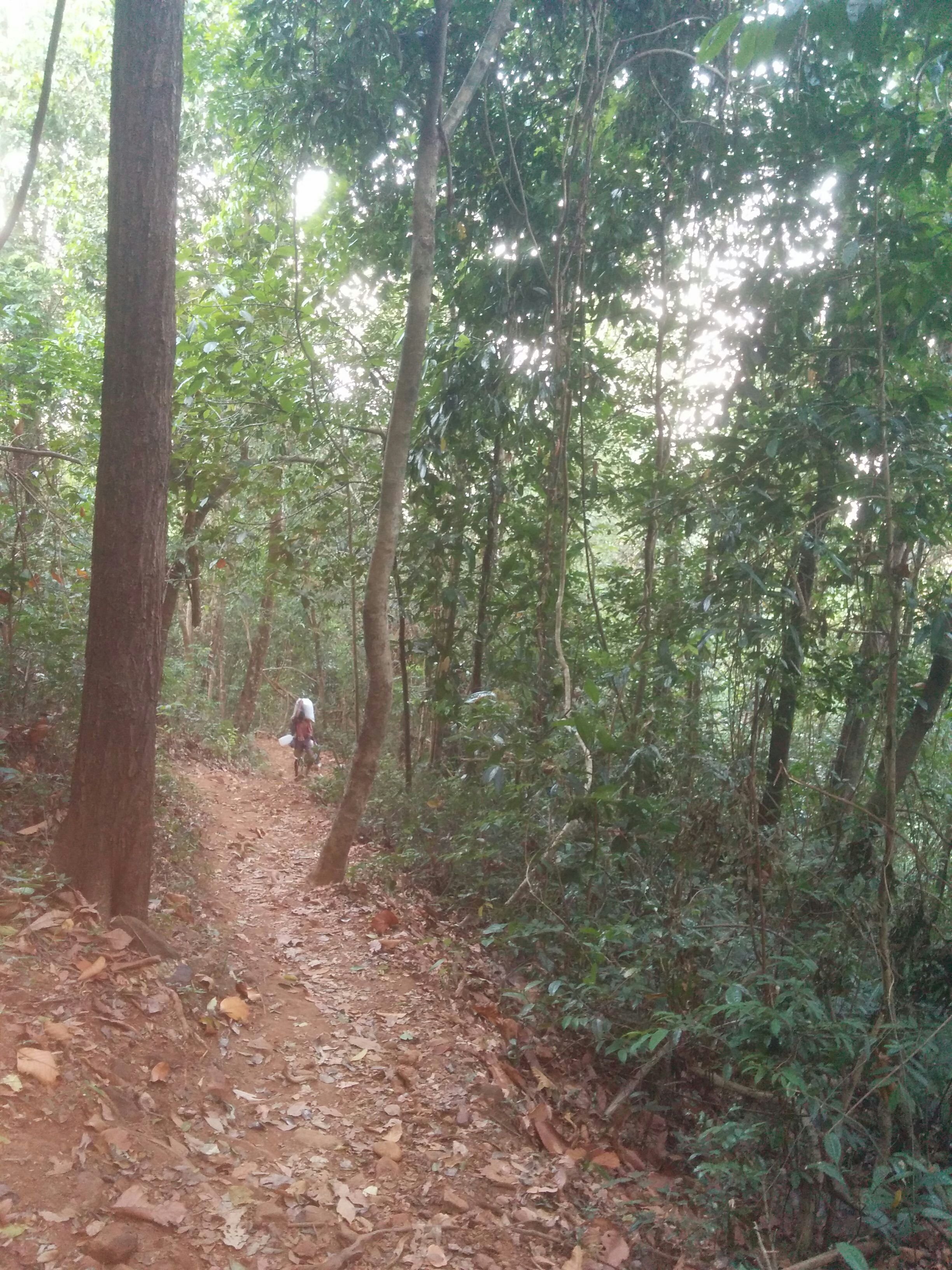 Bhattrumane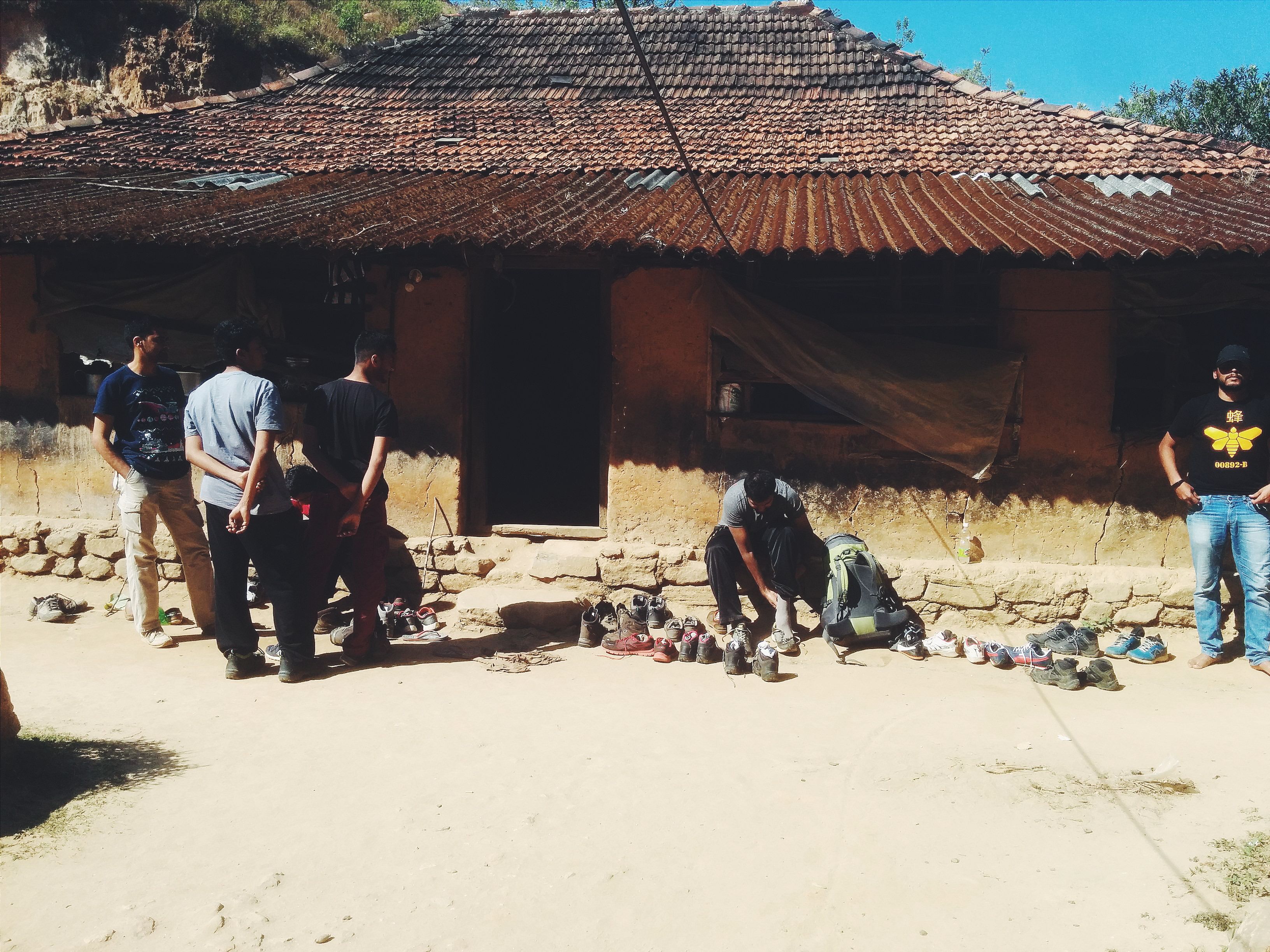 Path from Bhattrumane to Viewpoint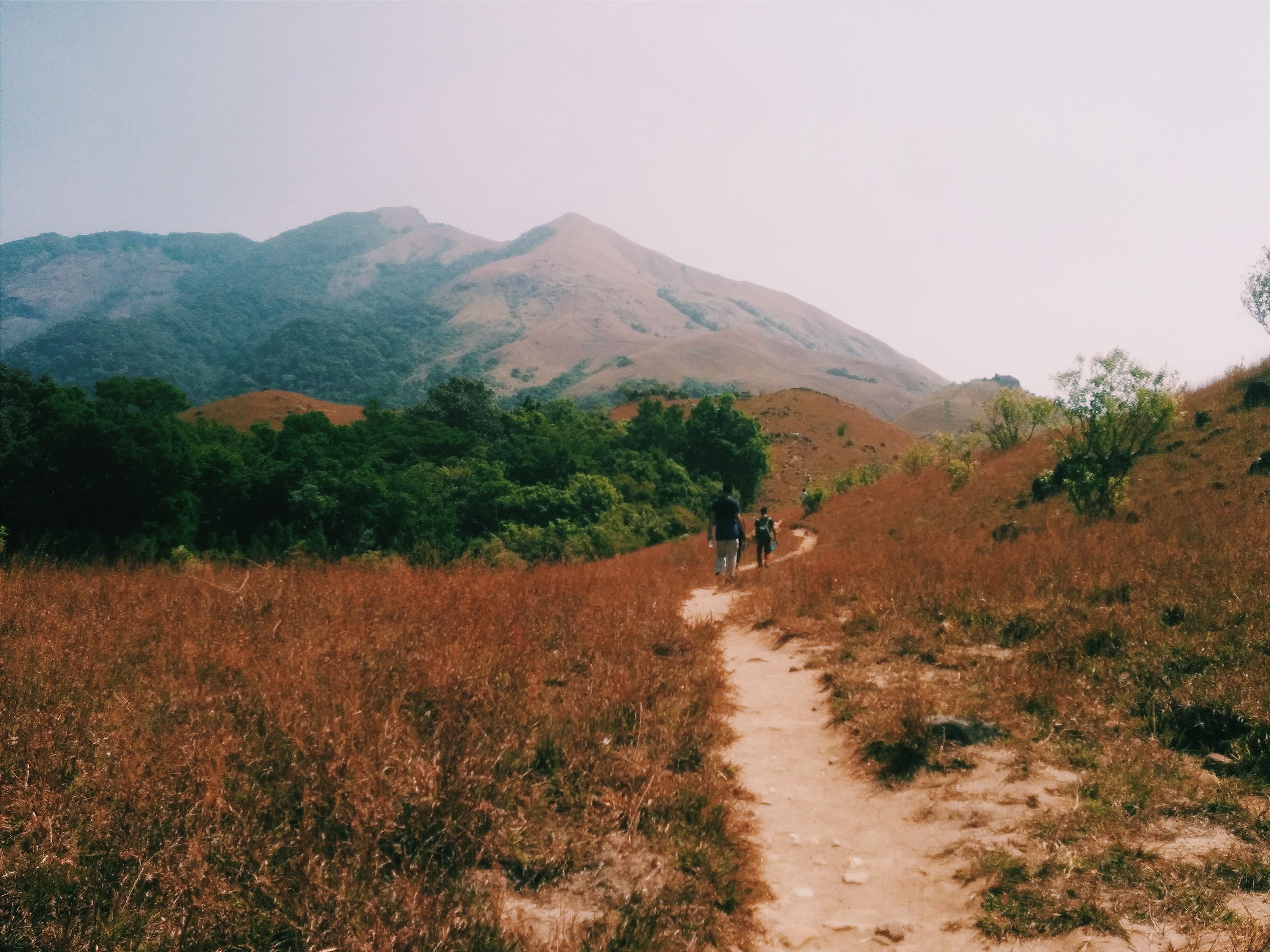 Shesha parvata peak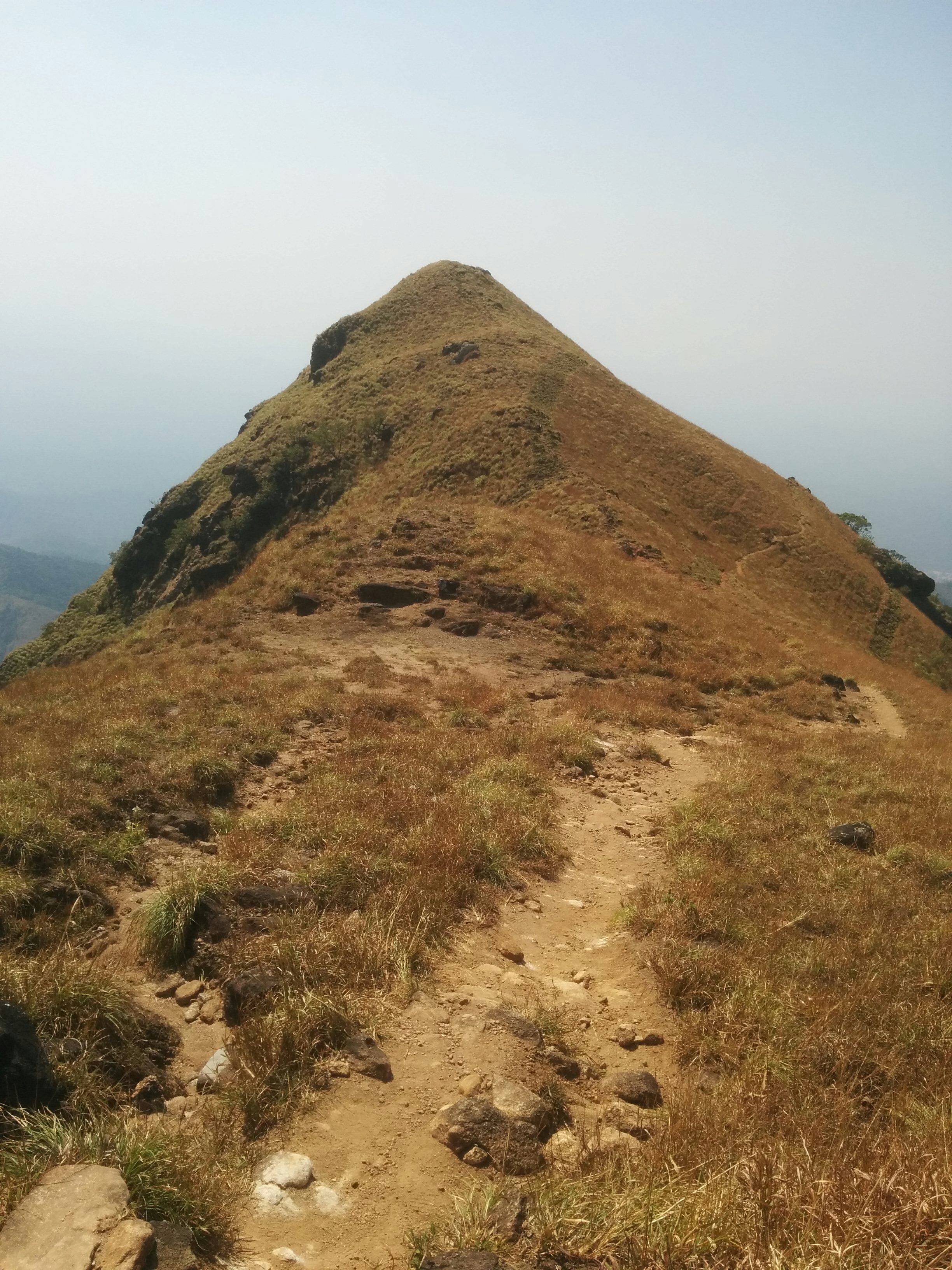 This was a tiresome trek sapped all my energy when i came back to the bottom but was an awesome experience! Hope the tips help y'all in making the trek a bit better!