"learning to give a little lecture does not become a leader, it is not easy to become a leader, it is a gradual development"-Sardar Vallabhbhai Patel
Hello Steemitian, Today I am proudly presenting this post for many reasons, First, the tallest statue of the world in India and I am Indian, Second, it's situated in the Gujarat State of India and I reside in this state, Third, site address, Sardar Sarovar Dam is just a 50 kilometer away from my house.
Usually I read and research a lot before posting any post and it takes two-three days or some time a week to finish the post, but today I am making this post without much read or research just gather the information and some of my known knowledge, that's it, but I have to do this coz this statue is in my neighborhood.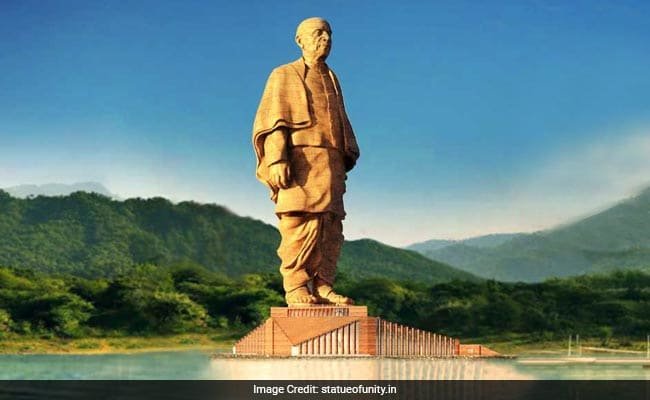 Sardar Vallabhbhai Patel's Statue, Named as Statue of Unity
On October 31, 2018, the Statue of Unity, the world's tallest statue, was unveiled by the Prime Minister of India, Shri Narendra Modi at Kevadiya Colony, Sardar Sarovar Dam, Gujarat, India.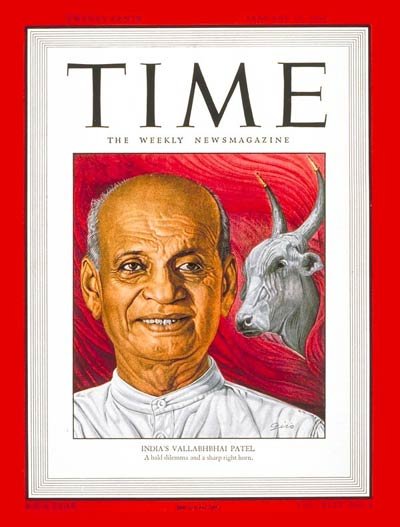 Time magazine issue of 27th January 1947, Cover story was based on Vallabhbhai Patel and with the heading "The Boss", Cover's downside written with "India's Vallabhbhai Patel" and " A Bald dilemma and sharp right horn"
Vallabhbhai Patel
Born- 31 October 1875
Died- 15 December 1950
Sardar is the honorific name given to him, the meaning of Sardar is the leader, He was also known as the Iron Man of India, He was a great leader, freedom fighter, lawyer, and first deputy prime minister of India.
When India got freedom from British in 15th August 1947, at that time India was divided into 562 small-big states of Raja's(King) and Maharaja's(high king), Vallabhbhai was the man who took an initiative to unite all of them in one to make the Republic Of India and he did that without any conflict or without a military action(accept the Hyderabad state of Nizam), that's the reason of this statue name "Statue of Unity".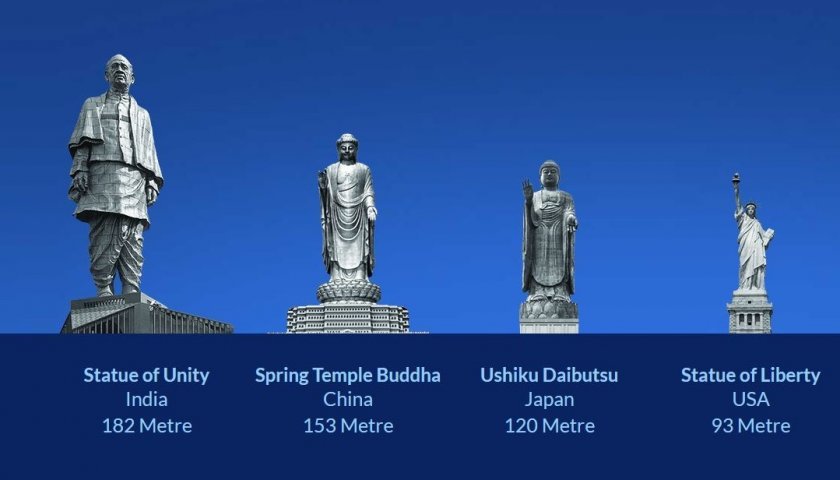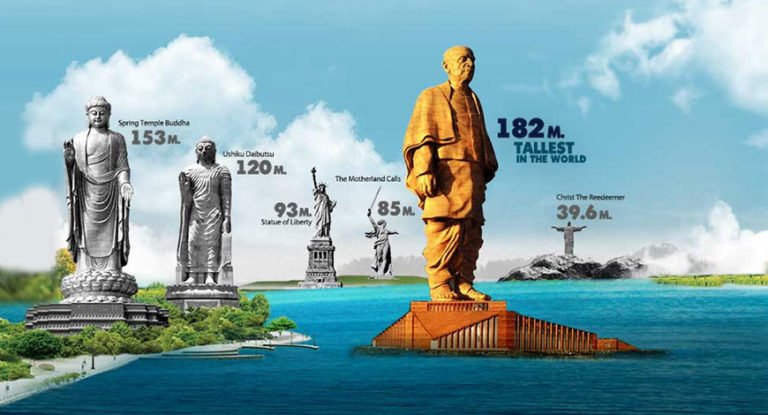 Look at the comparison between statues.
In the Statue, the gallery is made at a height of 193 meters from the level of the river, To reach this gallery, there is an elevator in both leg parts of the statue, Around 200 tourists can stand together and take a view in this gallery. Sardar Patel Memorial is spread over 1900 square meters, 70 thousand tons cement, 6000 tons of steel is used to make this statue, 3550-ton bronze, 25570 Square meters of surface area, 2989 crore INR is the approximate cost, 250 engineer and 3000 workers, made by Larsen and Toubro company.
There are 139 statues in the world which are 30 meters high, of these, 42% are made in India and China.
The highest number of statues in the world is of Lord Buddha and Dr. Bhimrao Ambedkar.
Gandhi's statue is in more than 71 countries.
Other attraction
A museum based on the life of Patel

in the museum there will be 40000 documents related to Sardar Patel, and more than 2000 rare images

Bharat Bhavan an exhibition hall
3 D projection mapping
A tent city with 250 tents

500 people can stay in 250 tents, in that 75 luxury tents, 74 deluxe and 100 standards

Valley of flowers

valley with 17 kilometers of a wide garden on the bank of Narmada river, 230 hectares area will be covered for flowers from around the worlds

Food park
water park
laser show
Lots of other activities which even I don't know right now.
For the foreign tourist, there will be around 100 trained guide will assist in different languages.
Tourist can reach at this site through road, train, metro, flight(nearest airport Vadodara and Surat)
By the way, Surat is my hometown, so don't forget to contact me if you come here to visit this place.
There is a lot to write about the VallabhBhai Patel and about the statue of unity but don't want to make it big and boring.
So guys plan for the trip to India, you won't regret that's my guarantee.
Once again I want to welcome you all to my hometown Surat for the Statue Of Unity.
Thank you all for reading and supporting
@jigsindian