Hello Steemit friends,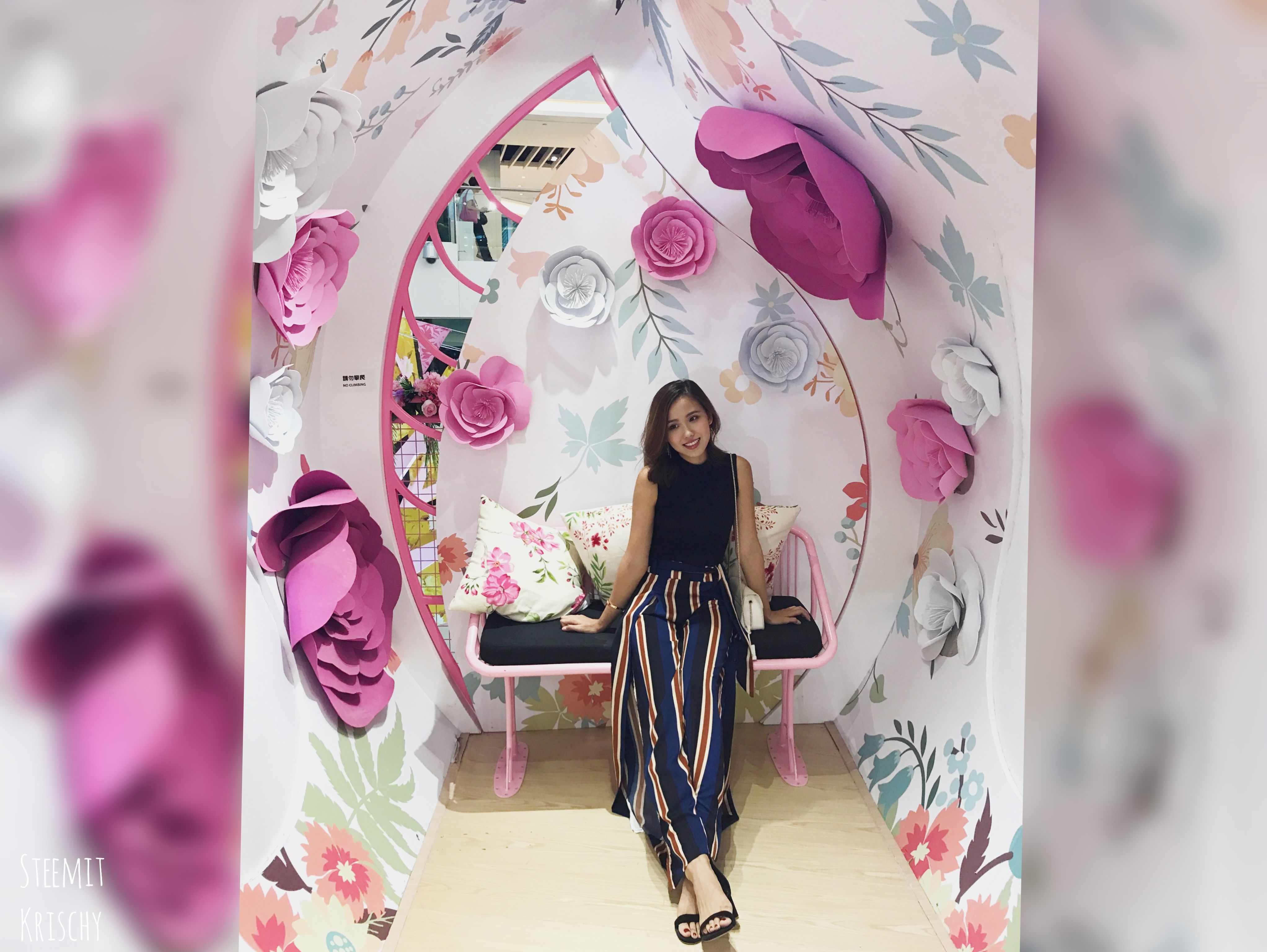 Hope you are doing good today~🌞 Last time, I introduced a popular tea shop and a hotpot restaurant in China with you. Thank you for all your supports. This weekend, my sister and I decided to visit an auntie who lived in Sha Tin and we had some delicious soup dumplings (Chinese: 小籠包Xiao Long Bao) from a worldwide chain restaurant, Din Tai Fung. It was founded in Taipei, Taiwan in 1958 which was a cooking oil retail shop back then. In 1972, they transitioned into a restaurant and earned a reputation for their soup dumpling. Currently, it has 119 branches all over the world, Australia, Malaysia, Thailand, United States, Hong Kong etc. It is recognised as one of the most famous Dim Sum house and has been selected for multiple restaurant rewards including a three consecutive years of Michelin Stars. You probably may find their branches in the city you lived in.
Steemit的朋友大家好🌞 ,上次跟大家去了深圳食了火鍋和喜茶,謝謝大家的支持。今天想跟大家分享一家全球連鎖餐廳—鼎泰豐。鼎泰豐可算是「台灣之光」,相信大家對它都不陌生,說起鼎泰豐馬上會聯想起它們皮薄多汁的小籠包。它曾被《紐約時報》推薦爲「世界十大美食餐廳」之一,更在2010被評為米芝蓮指南港澳版的一星餐廳~鼎泰豐在全球擁有119間分行,澳大利亞,馬來西亞,泰國,美國等地都可以找到它們的分店,可能有一家分店就在你居住的城市附近喔~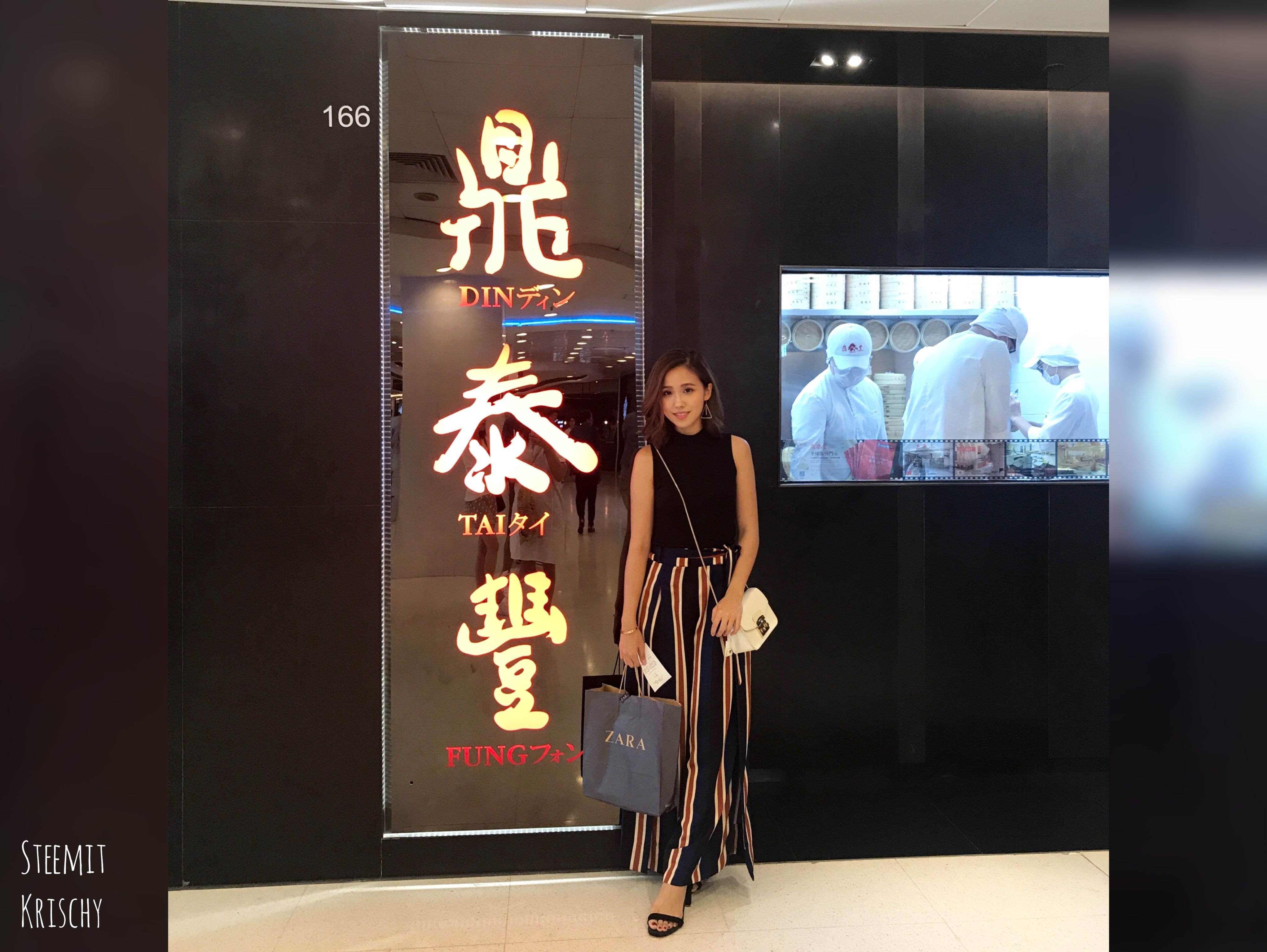 We arrived at the restaurant around 6:30 but it's already packed with people. There are quite a few people milling around the front of the restaurant waiting to be seated. After checking in, we decided have a walk in the New Town Plaza as normally it takes around an hour wait. The waiting times are vary depending on which branch you go. If you want to avoid the wait, it's better check in around 5:45 and get the waiting ticket.
我們大概6:30左右到達餐廳,但門外已經擠滿了等待入座的人,我們排隊取號後就在新城市廣場到處逛逛。如果大家不想等那麼久,可以在他們開店6:00前過來取號。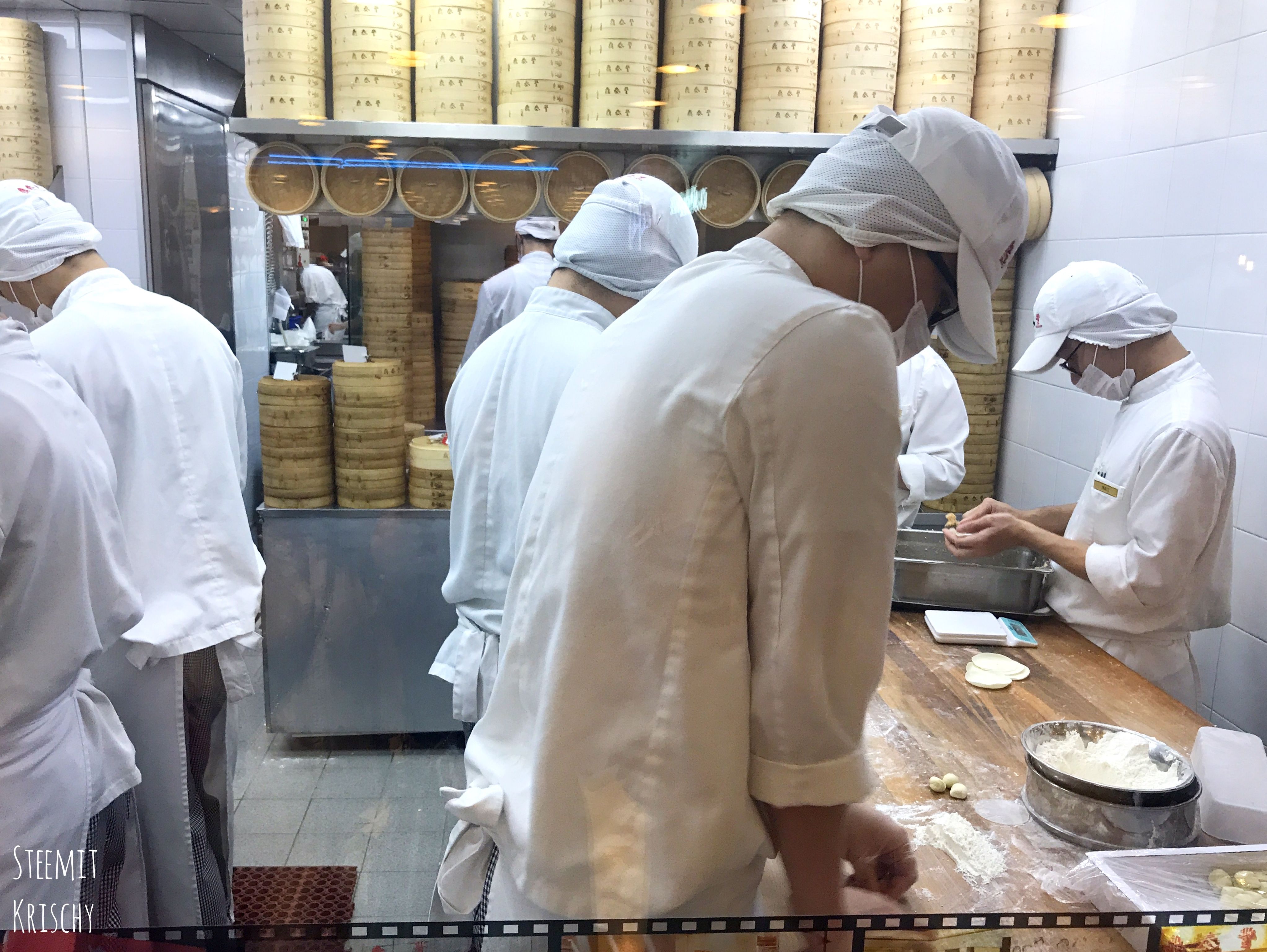 They have a open kitchen at the entrance. The dumplings are made before your eyes~
餐廳的大門外有一個大玻璃,可以看到小籠包師傅各施其職,一個在用擀麵棍滾成圓餅形,一個在包入餡料。

This branch has decorated in modern style with simple decor.
餐廳的裝潢設計很簡潔,並沒有太多裝飾。
---
Let's see what we order today~😋😋😋 我們來看看今天點了什麼菜式和飲料吧 ~😋😋😋

There are a large variety of food that can be chose from. Just for Xiao Long Bao, there are four flavoured, original, truffle, loofah and shrimp, and chicken. They all look so good.
餐廳的菜色很多元化,單是小籠包已經有四種不同口味,原味,黑松露,雞肉和絲瓜蝦仁,它們看起來都很好食。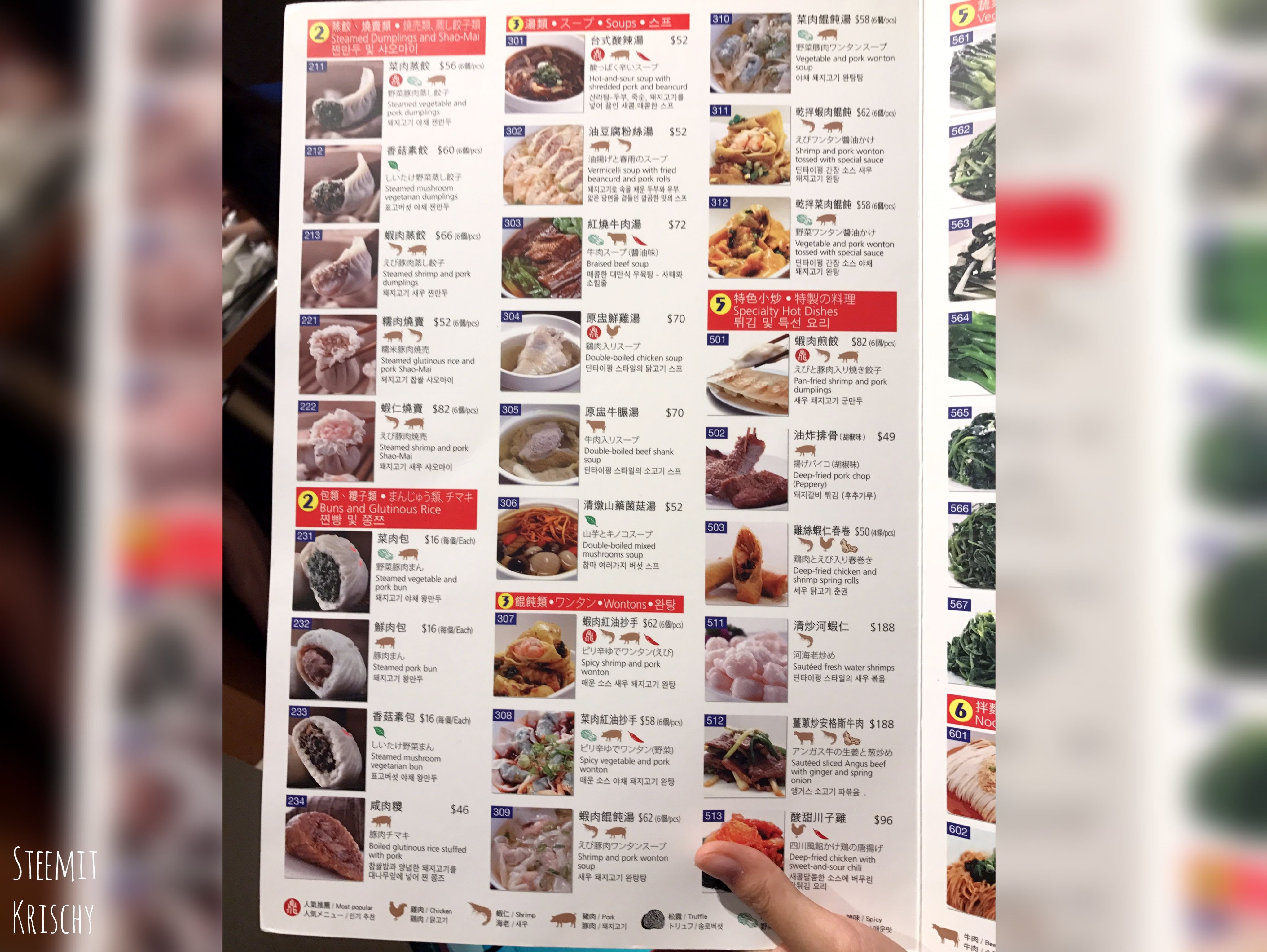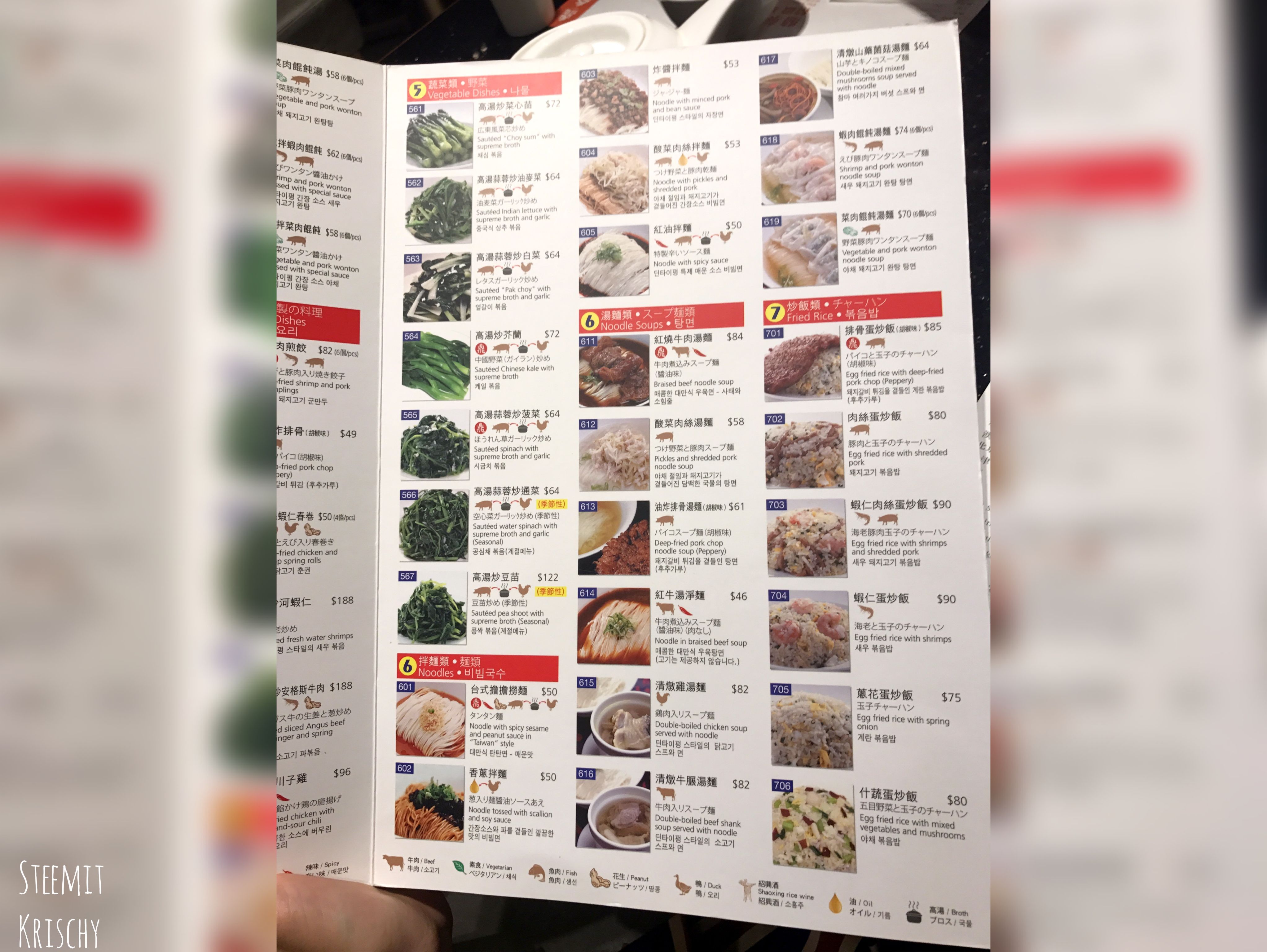 Appetizers~ 前菜😋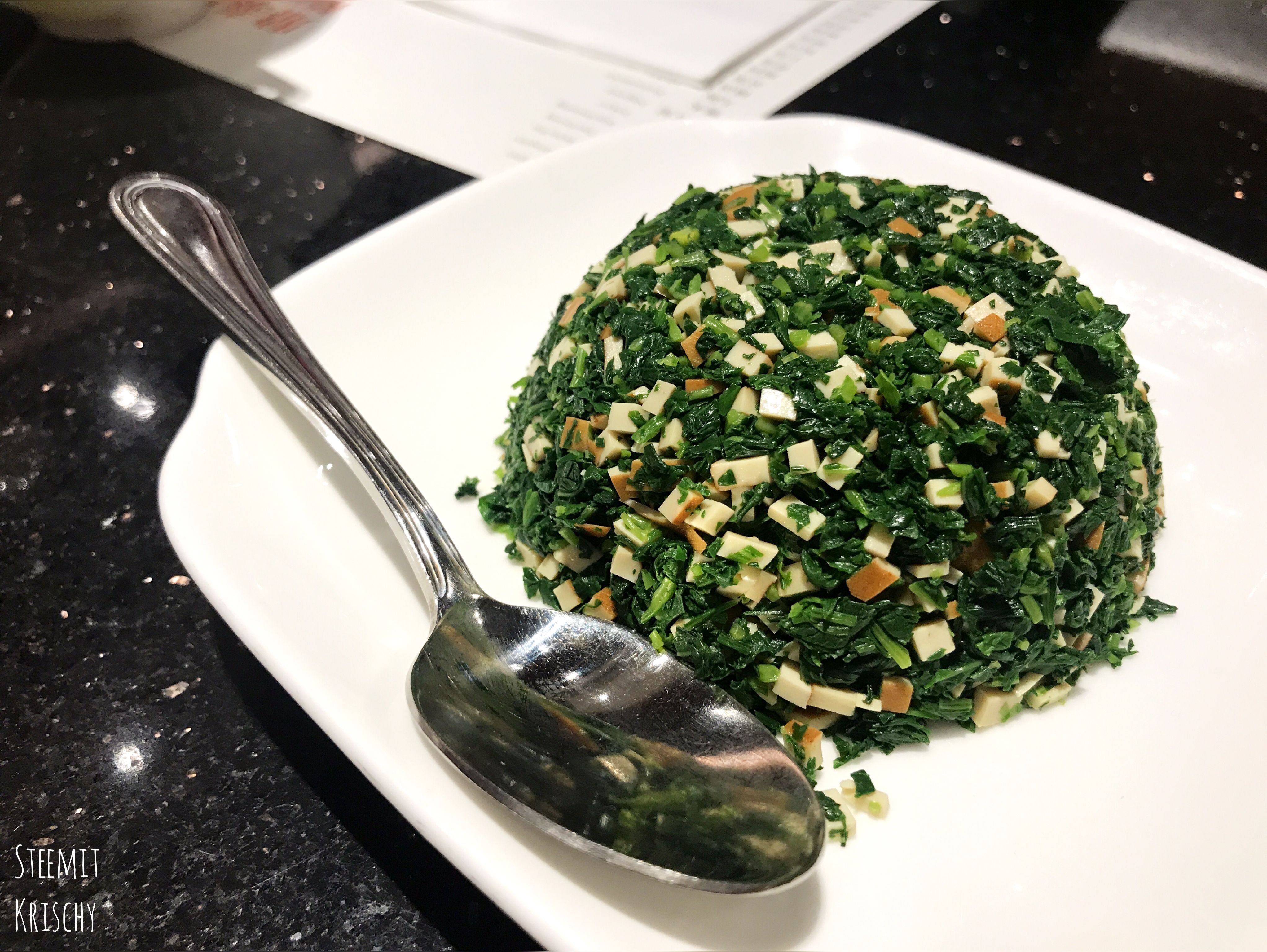 Tossed wild vegetable and beancurd with sesame oil. The vegetables and beancurd are finely chopped. It taste very refreshing~
香干馬蘭頭,吃起來有麻油的香味和馬蘭頭獨特的味道,是我呀姨很愛的前菜,不過我覺得比較清淡。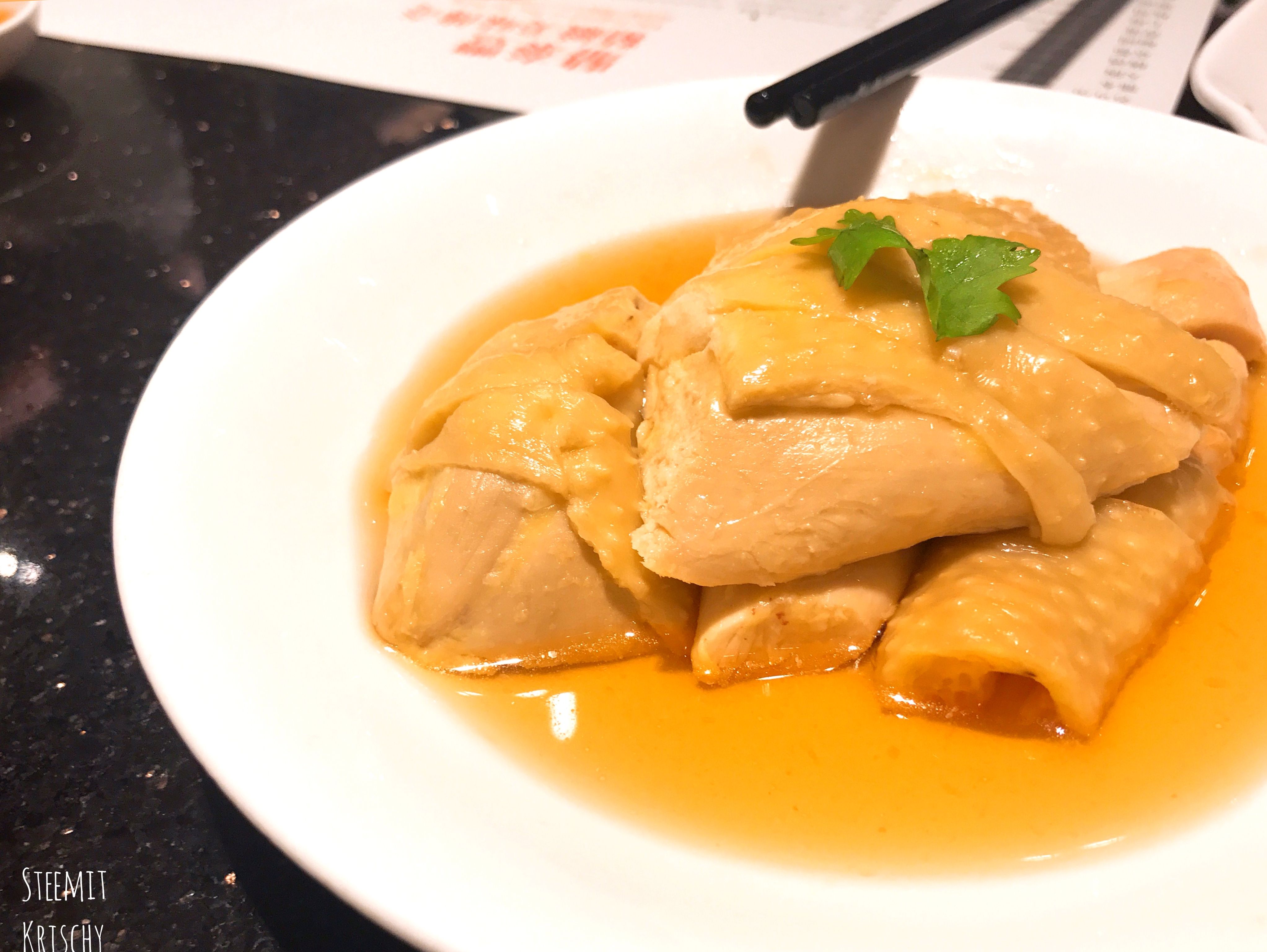 Drunken Chicken in ShaoXing rice wine. It's a dish of chicken that's been soaked in Shaoxing wine. I love this dish a lot, the chicken has a strong but special flavour.
紹興酒醉雞,這個很好食,是我很愛的一道前菜,鮮嫩雞肉的冰涼又充滿濃郁酒香。
Main Dish~主菜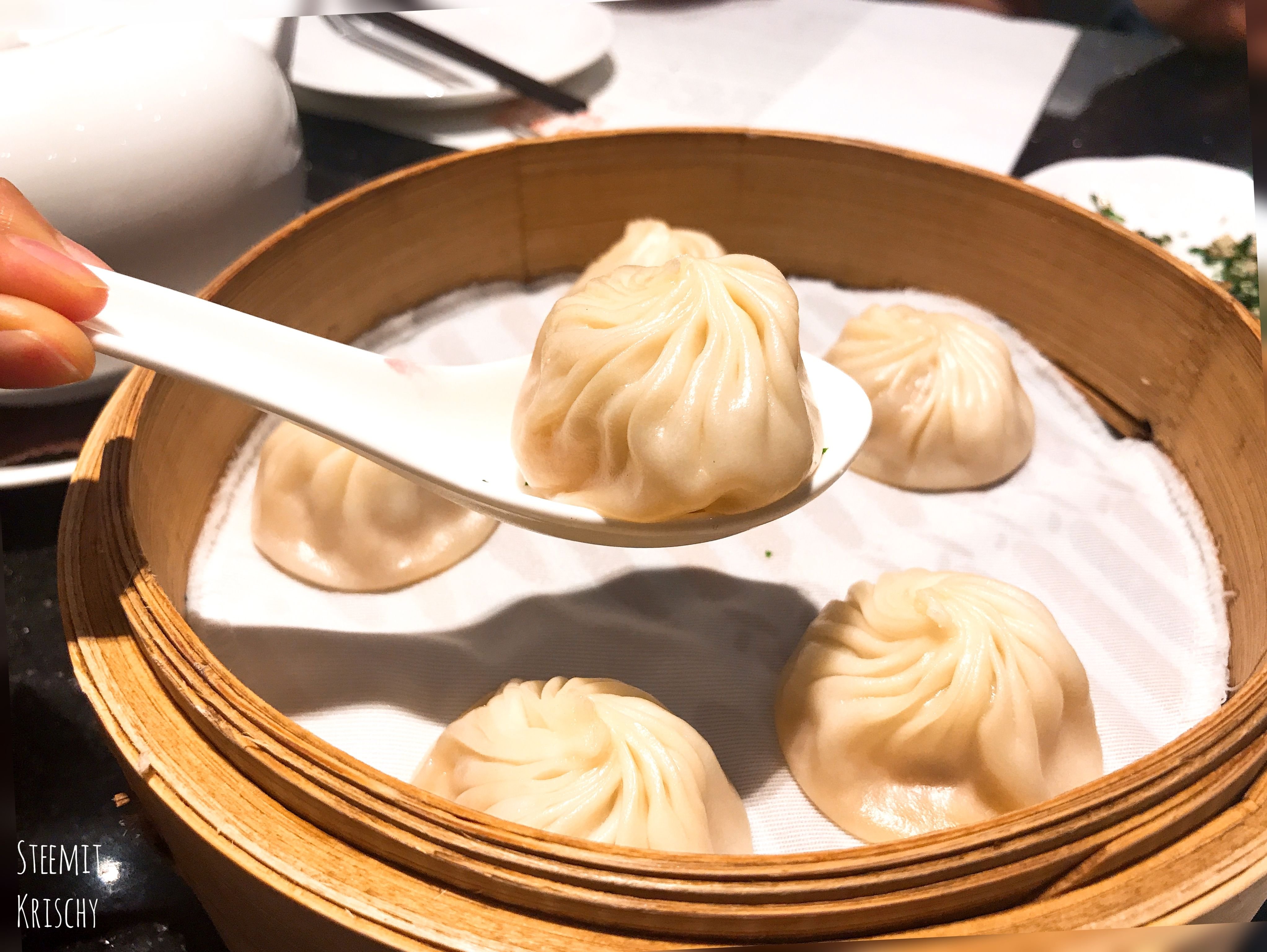 Bite size Chinese soup dumplings (Chinese: 小籠包Xiao Long Bao). A signature dish from Din Tai Fung. We ordered the original flavour this time~
必點的小籠包,我們點的是原味,據說他們的小籠包肉和皮都有特定的比例,「黃金18摺」爲最大亮點,這個小籠包咬開汁濃肉香。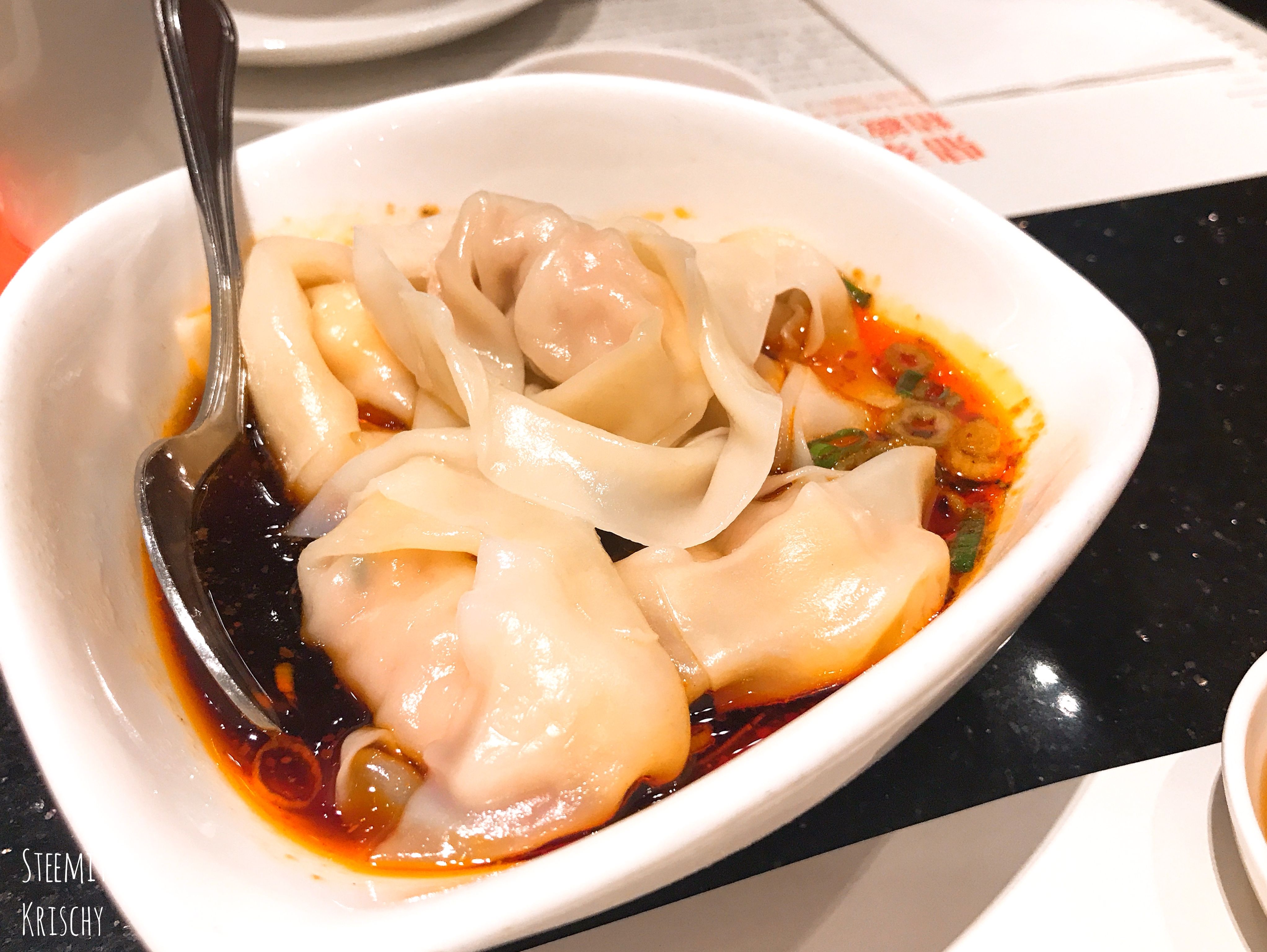 Spicy shrimp and pork wonton. It's a steamed juicy shrimp wonton mixed in special made spicy sauce. This is a must order dish for me other than Xiao Long Bao when I visit this restaurant~ The slightly spicy and aromatic chilli oil compliments the wonton really well. After eating all the wontons, we mix these sauce with the fried rice we ordered below~
紅油炒手也是我很推薦的一道菜,紅油辣醬的部份是整道菜畫龍點睛之處,香而不辣,我們把餛飩食完後,把剩餘的辣醬跟拌進下面的炒飯𥚃。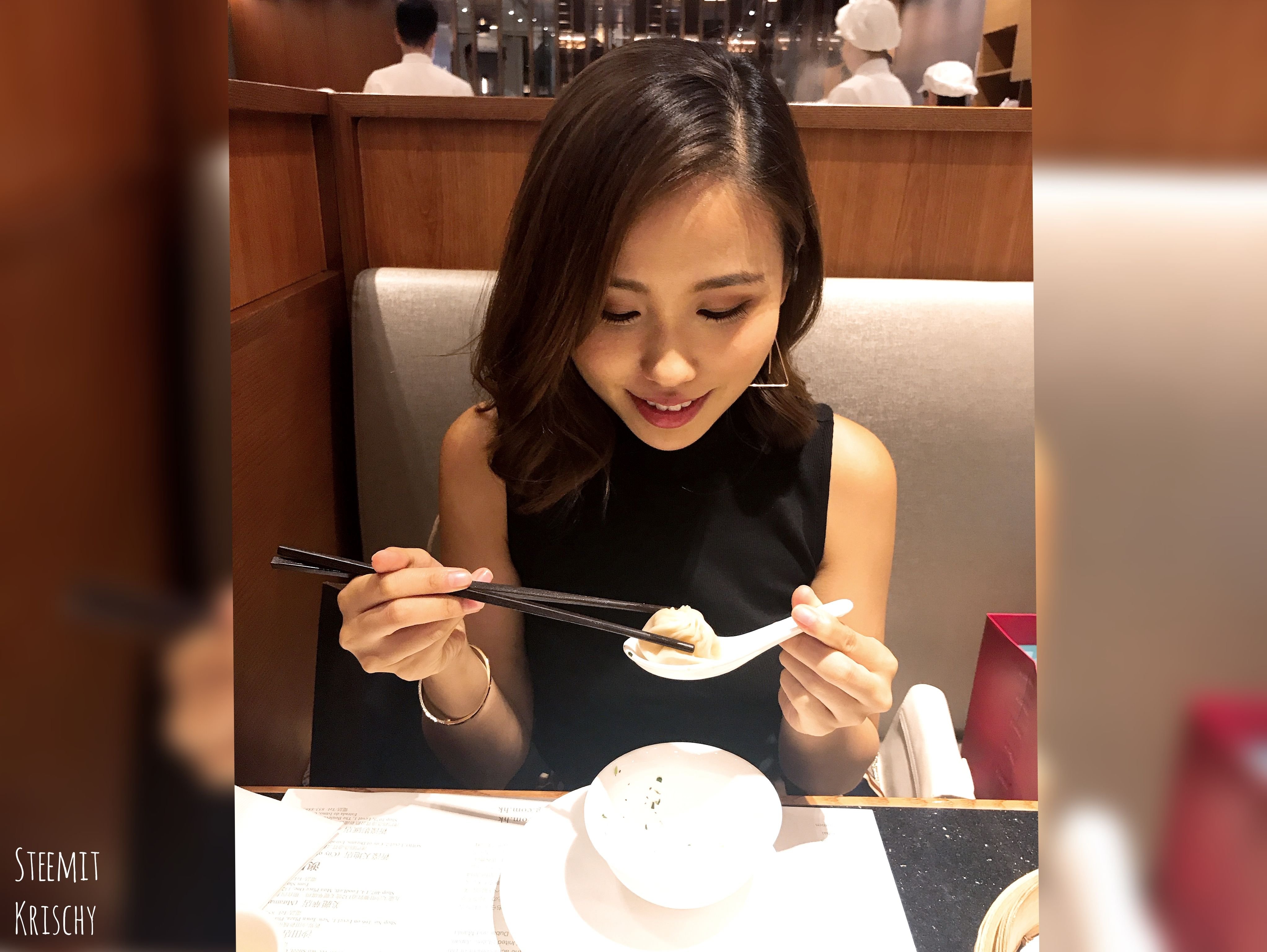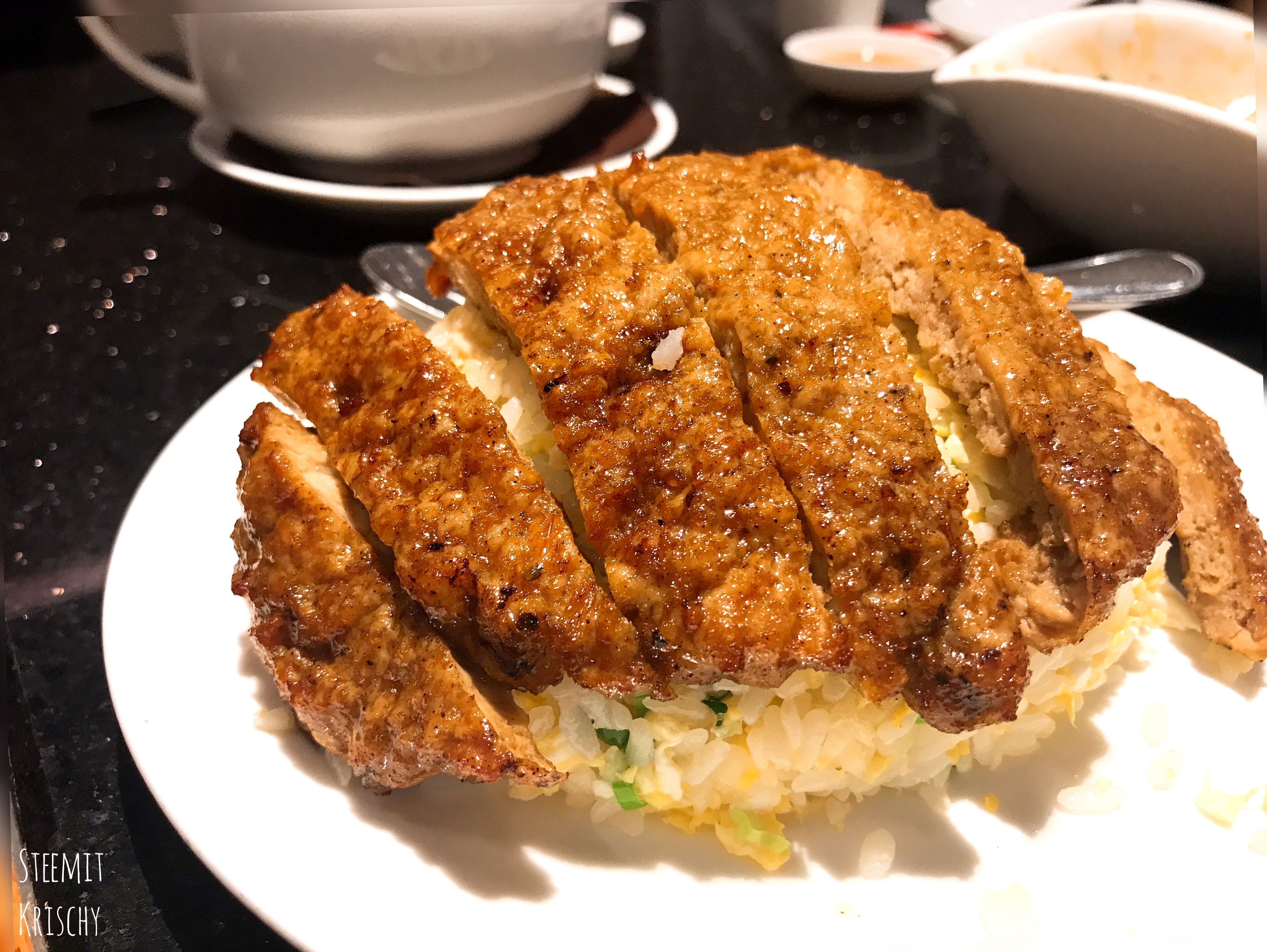 Egg fried rice with deep-fried pork chop. The pork shop is perfectly cooked. It tastes so yummy~
排骨蛋炒飯,這個炒飯炒得粒粒分別,排骨醃製的很入味,一點也不油膩,拌上紅油炒手的紅油,真的很好吃。
---
While waiting to be seated in Din Tai Fung, we walked around in the New Town Plaza as normally it takes around an hour wait. And we found this event, "Let's go Glamping". There are many spots for taking photos and each camping tent cooperate with different brands, Cath Kidston, Aigle and Columbia~ And my favourite spot for taking photos is the tree house as it looks amazing~~
在等候位置的時候,我們在新城市廣場到處逛逛,剛好看到這個以路營為主題的「花見之營」展覽,有很多打卡拍照的擺設。展覽主要有不同的帳篷、樹屋和露營車,由不同品牌參展,分別有Cath Kidston英倫碎花精品營、Aigle法式波希米亞營、Colombia綠野山系探索營。而我最喜歡是樹屋的設計,好夢幻。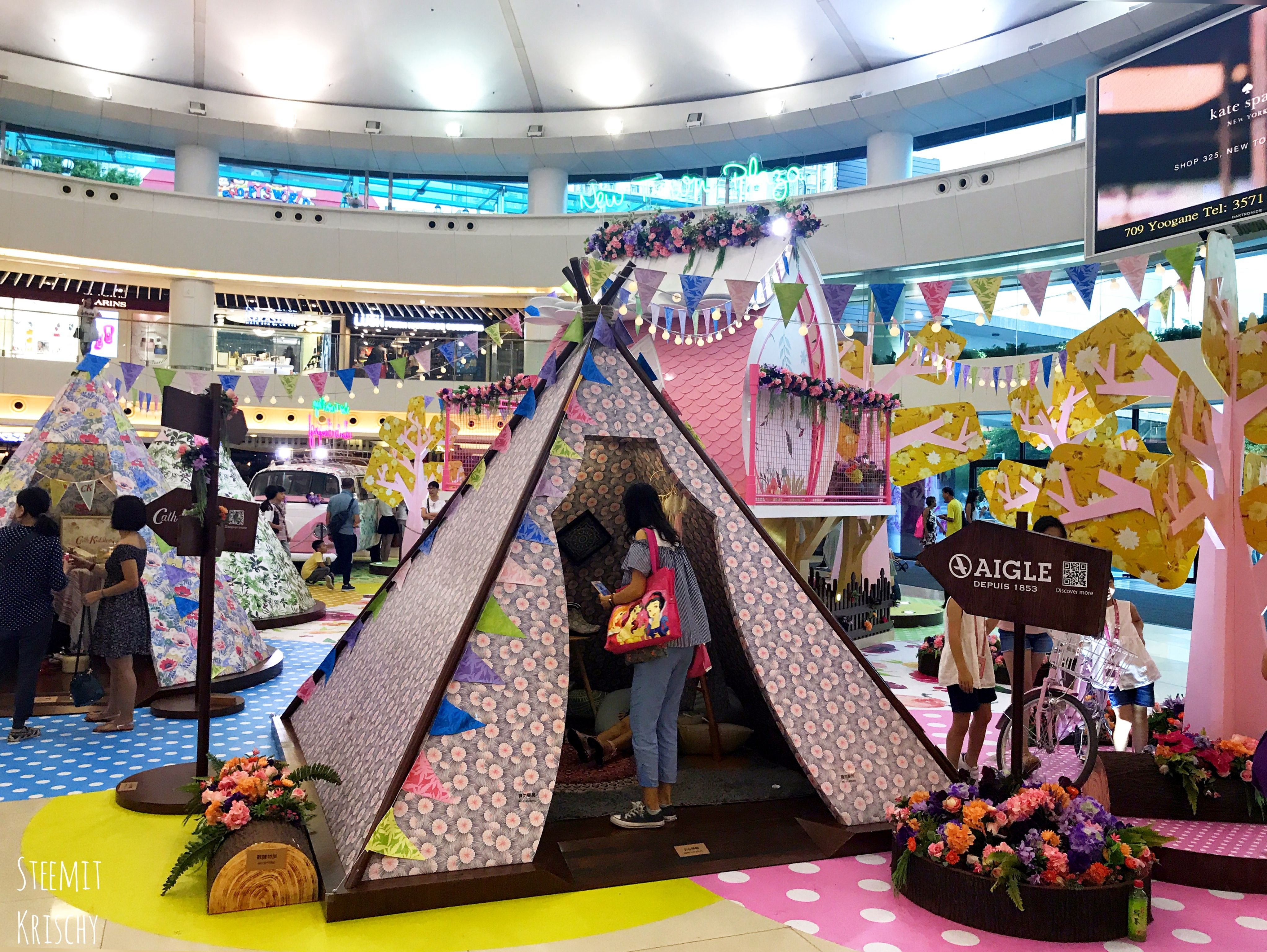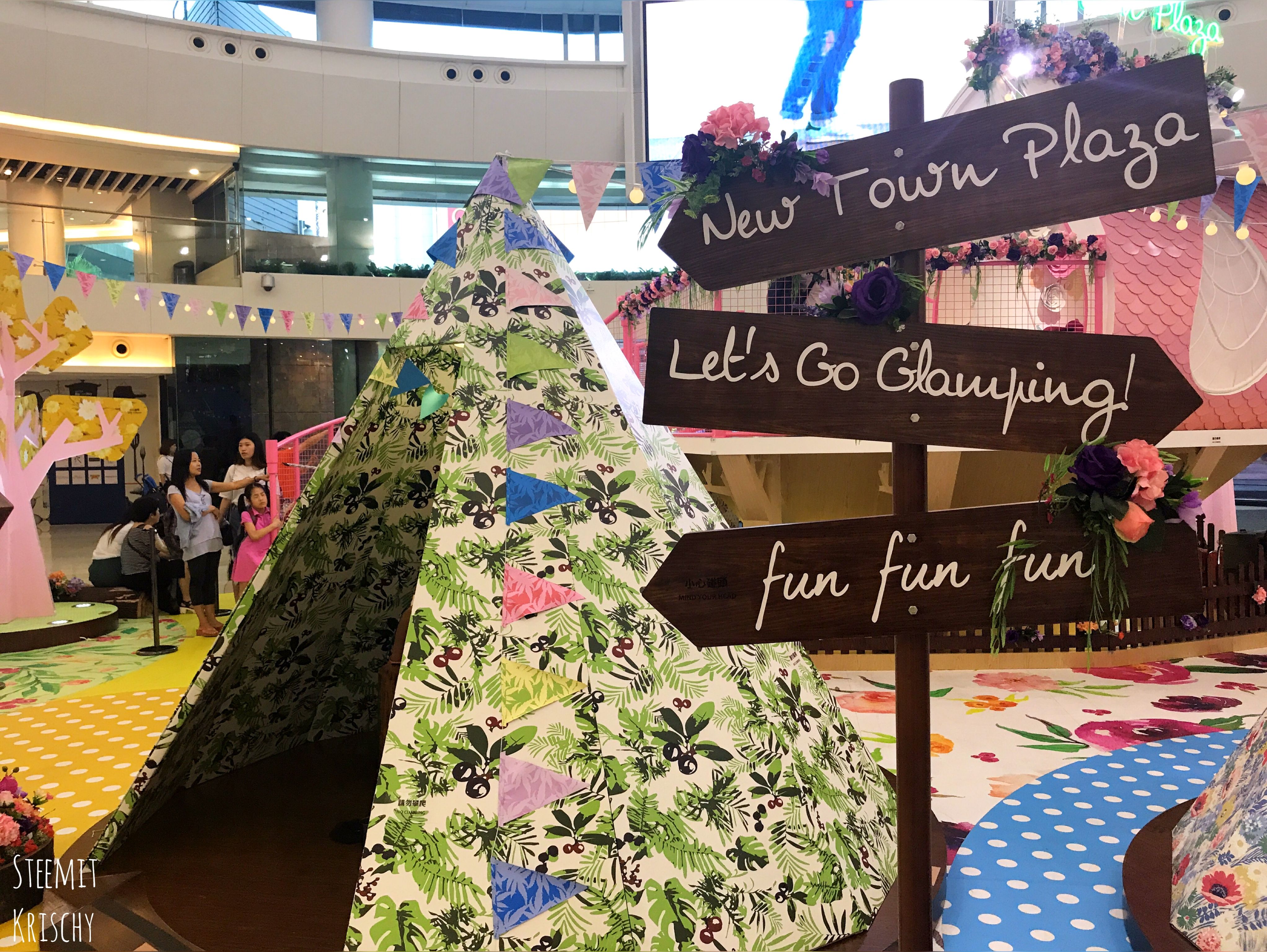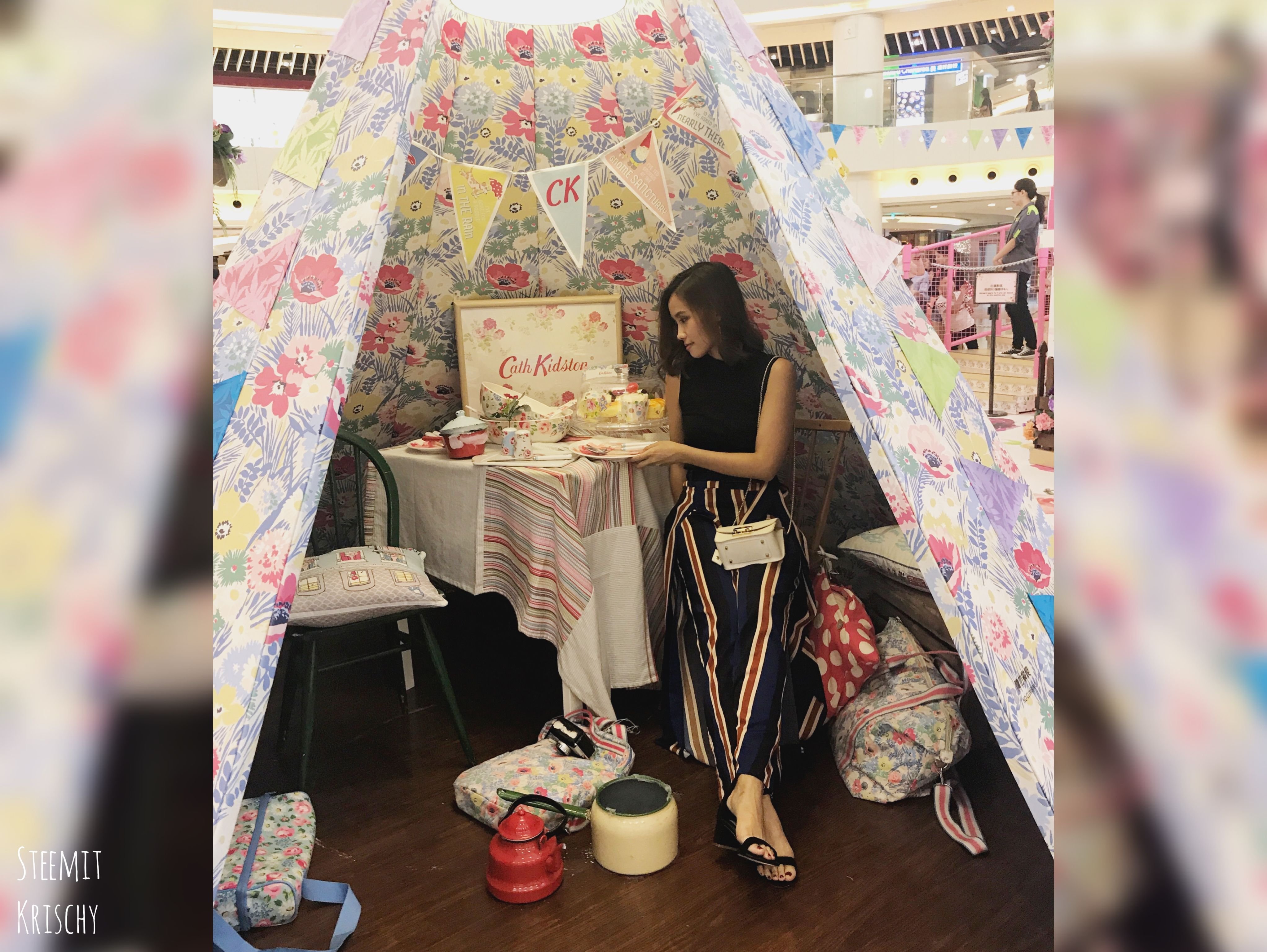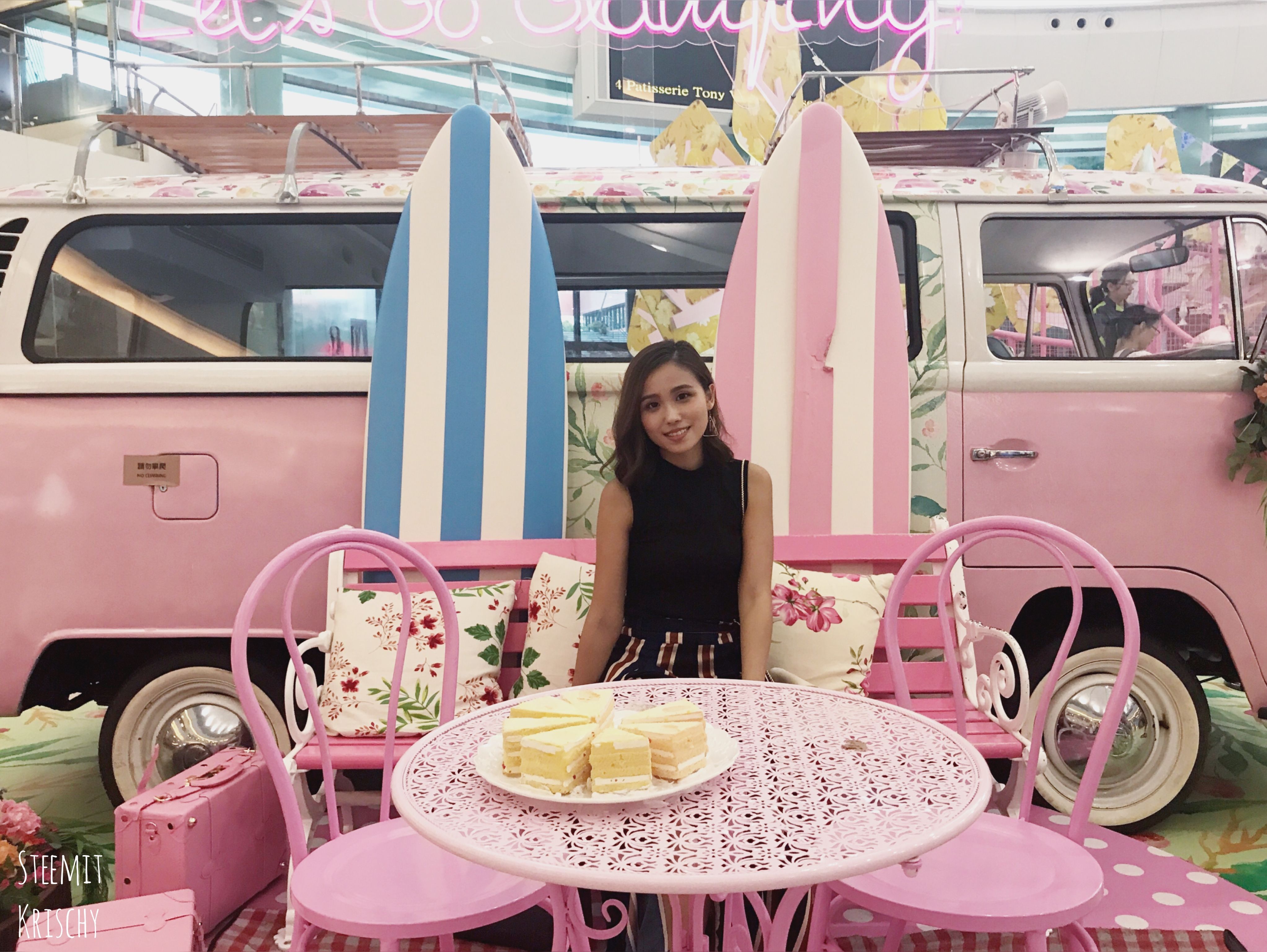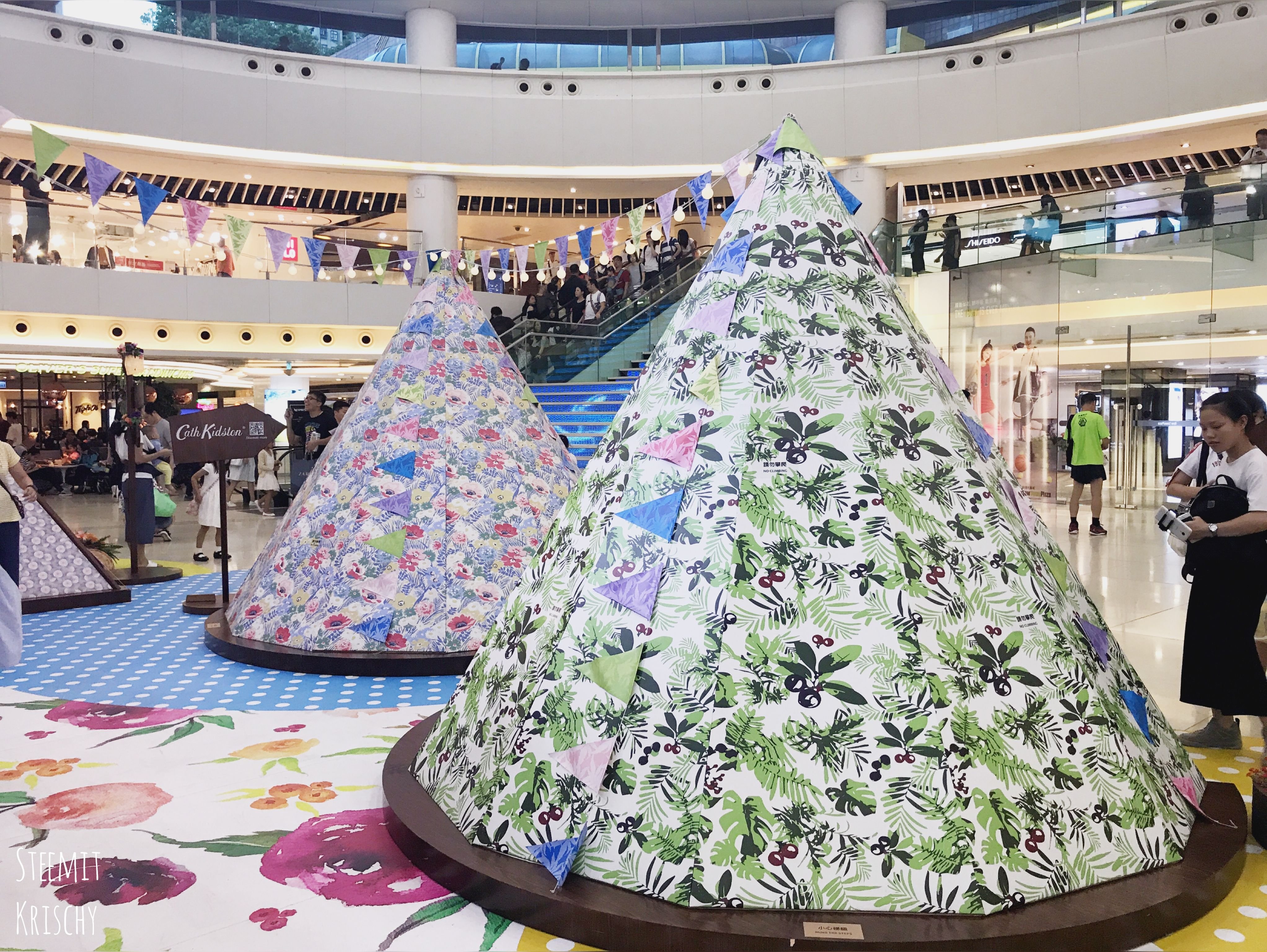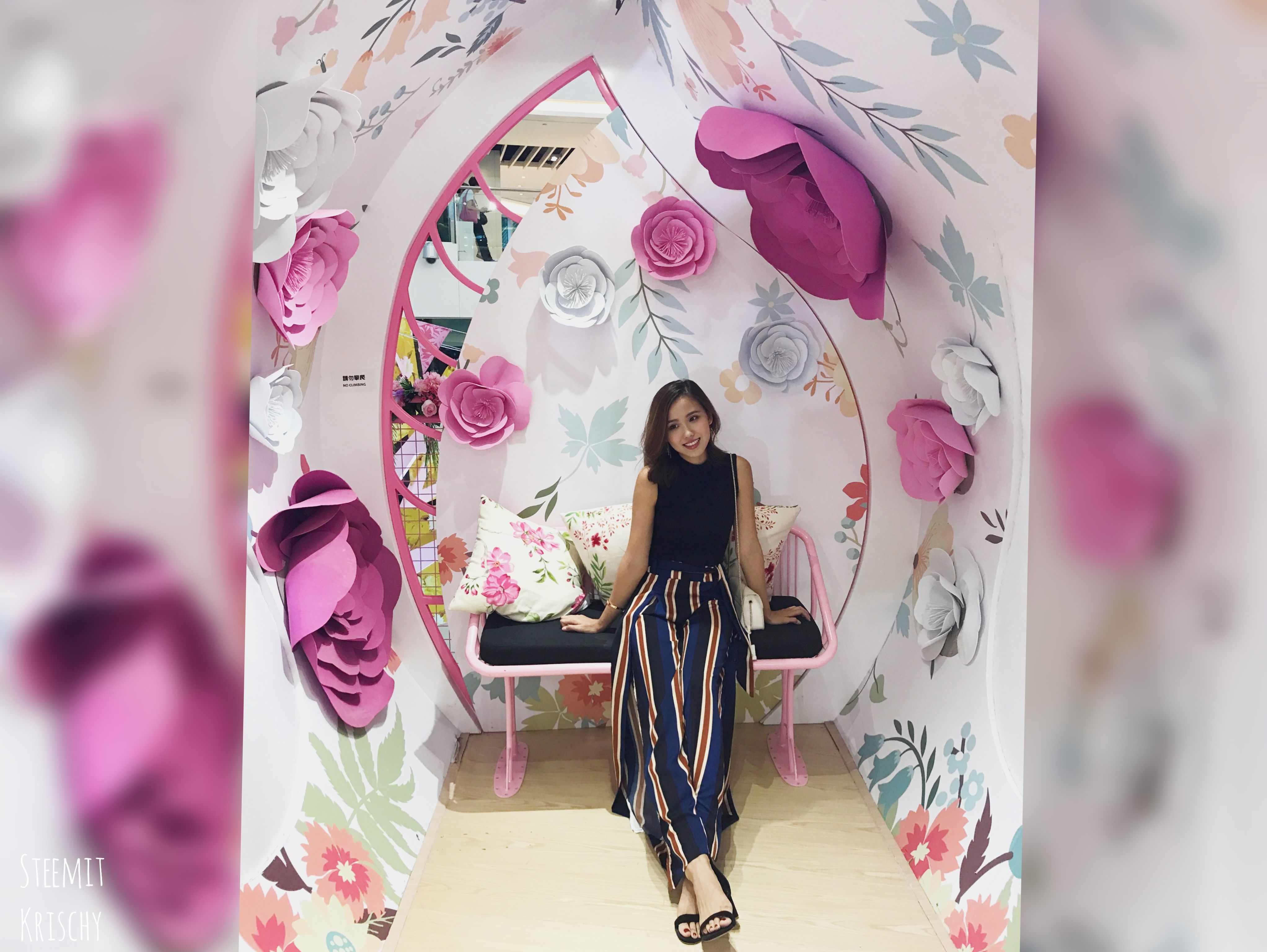 Tree house, my personally favourite :)
樹屋,我個人最喜歡的~是不是很美?
---
Din Tai Fung 鼎泰豐
Address: Shop no. 166 on Level 1. New Town Plaza. Phase 1 . Shatin. N.T
Business hours: Mon-Sun 11:30 - 22:00
---