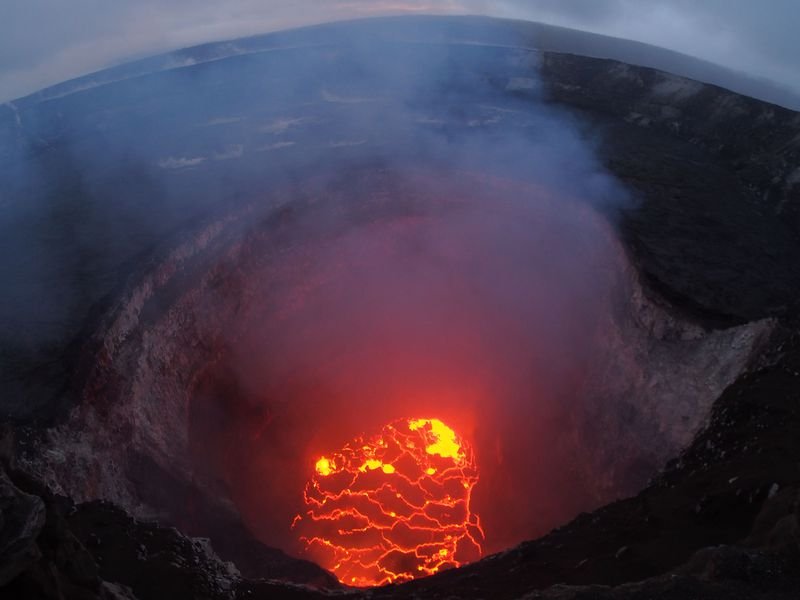 As a travel planner who likes to assess safety when making up an itinerary, I tend to search up warnings relating to weather, political stability and general news around the places I want to visit. Volcanoes, while potentially risky are an amazing feat of nature and I have been to a few over the years. A while back I went to Indonesia and had some of the best holidays ever but chose to avoid Bali at the time due to Mount Agung on the possible brink of eruption. Nothing erupted while I was there but I took a conscious decision to minimize disruption on my trip and got to see the other parts of Indo, including a few other Volcanoes!   

The most recent volcanic activity to catch my attention has been out in Hawaii on Big Island. Kilauea is on the biggest South Eastern Island and has been around for hundreds and thousands of years and has been actively erupting since 1983. I have some friends over in Hawaii and volcanic activity is quite commonplace but there are a few events that impact local life dramatically.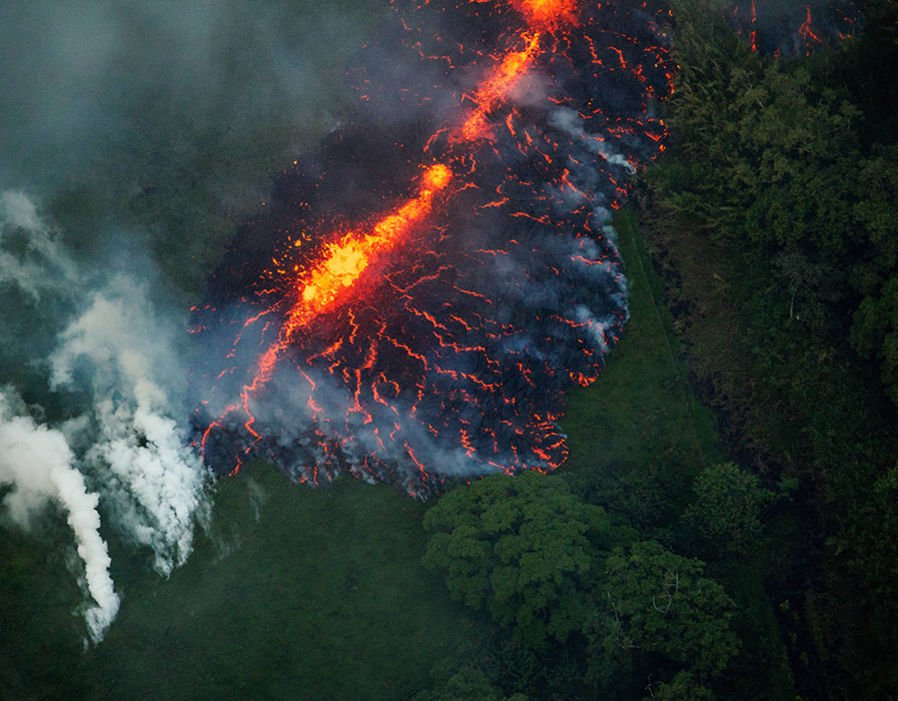 Kilauea identifies as an active (now erupting) volcano. There are a number of terms used to define the state of a volcano that are useful to know. This might influence your travel decision if you seek some lava flowing scenery!
 
Active – A volcano that has erupted in the last ten thousand years and may erupt once more.  
Erupting – It' ready to blow, or is literally exploding.  
Dormant – The volcano has gone to sleep for now but is expected to erupt again at some point
Extinct – As the dinosaurs, the volcano has retired its explosive ways and hasn't erupted for a hundred thousand years and shows no signs of waking up. This isn't to say that it couldn't erupt again in the future but definitely not in the foreseeable future.  

Kilauea has been erupting in small episodes over the years. In 1983 it erupted to create fissures on the corner of Big Island. The eruption took place on the Eastern Rift Zone. Rift Zones are where land plates are diverging from each other; this is where lava can erupt from. The events lasted for months and caused many people to abandon their homes as Lava flowed down to their residence. This has been a continuous trend over the years and last week triggered the 20th fissure to be opened on the Island.  

The US Geological Survey (USGS) changed their alert classification for Kilauea from Orange to Red. Classifications can be founds here:
 
https://volcanoes.usgs.gov/vhp/alert_icons.html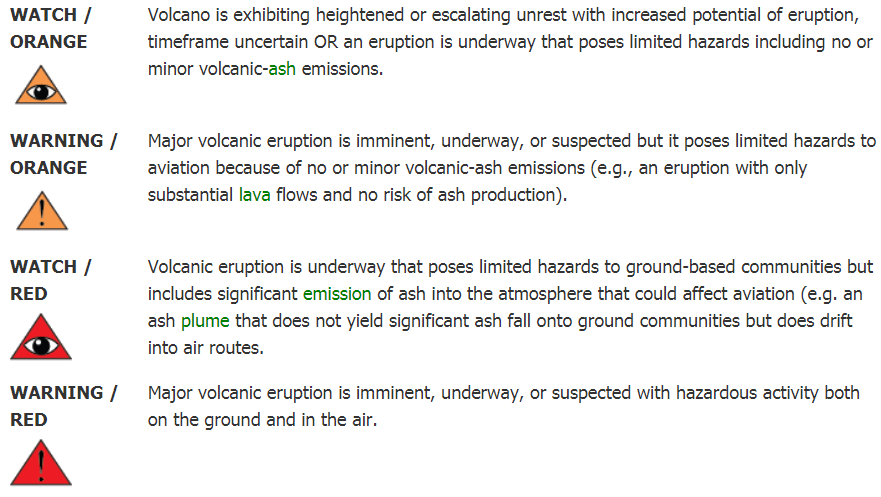 RED is expected imminent eruption that can cause hazards both land and air based. The seismic activity, lava and ash plumes can cause a number of travel issues. Over the last two weeks or so, Kilauea has really ramped up its activity. Thankfully, no fatalities have been reported but Leilani residents were ordered to leave their homes as there would be no time to react should another eruption occur of greater catastrophe.  

Whether you're driving or catching a flight, ash clouds are no joke and anyone needing to go outside should wear the correct protective gear including respiratory masks. While the air quality of the island remains unchanged, areas nearer to the eruption sites carry Sulphur Dioxide and ash. As a side note – Sulphur does not smell pleasant, like rotten eggs and isn't healthy for respiration.

I have been following Hawaii National Park service:
https://twitter.com/volcanoes_nps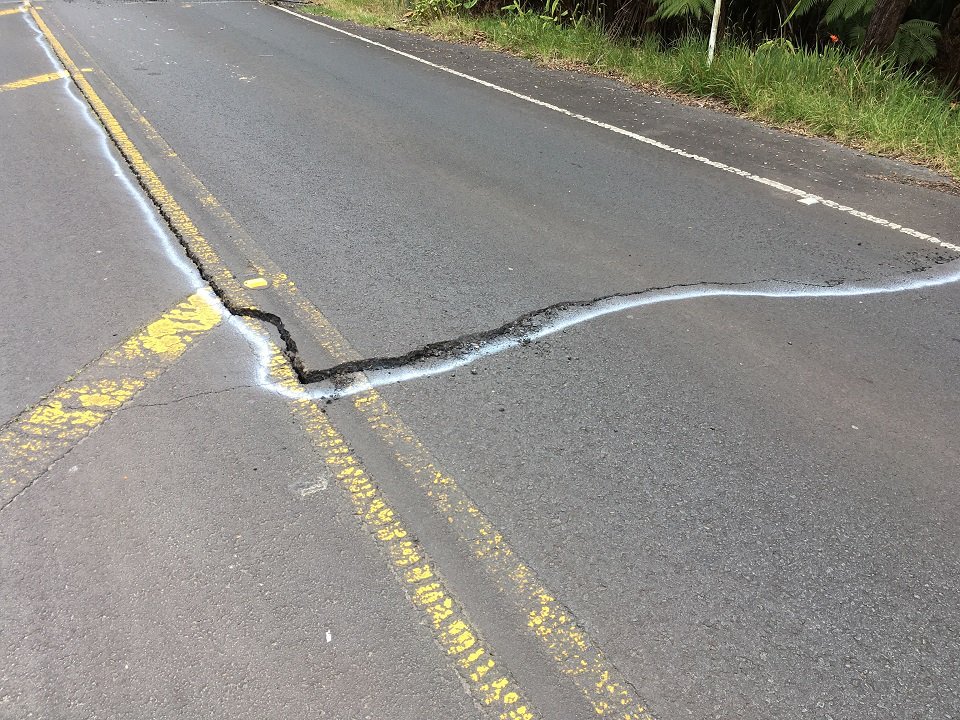 Their latest tweet shows evidence of seismic activity affecting road surfaces.
Credit: @volcanoes_nps Twitter

With all this being said, Kilauea is actually dwarfed by some of the other volcanoes. Mauna Loa is huge in comparison (there are five volcanoes on Big Island). Studies have theorised that these two are linked and draw magma from the same source.

An interesting article on this here: https://www.inverse.com/article/44869-hawaii-volcano-2018-kilauea-mauna-loa
 
For holiday makers planning to travel, no official warning has been given to have trips cancelled but the rising smog is a threat to passing planes now. Personally, I would probably have a backup plan to avoid the potential hazard areas. There are plenty of lovely spots around Hawaii to visit and it's often better to plan for mitigation than face disaster. It has to be understood however that this doesn't form part of the 'Ring of Fire' and will not amount to the catastrophic events that have been witnessed over at Krakatoa.  
 
For those of you out there, I wish the best for your safety and if any local Steemians have some information to share please do so.
 
Thanks for reading - Momosan