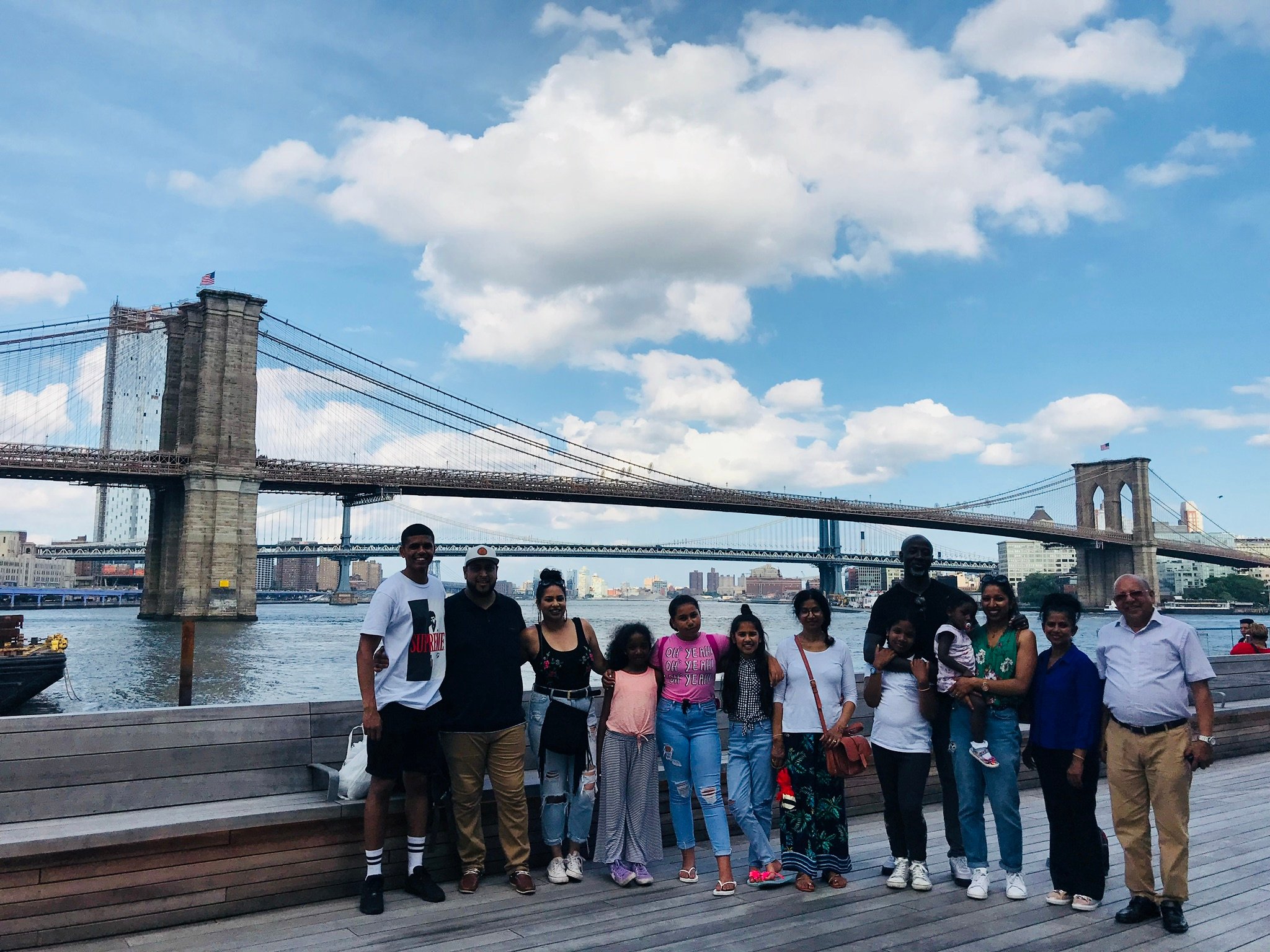 New York City
I've wanted to visit the Big Apple for a while (mainly because of all the movies I've watched set in NYC!) and was super-excited to be able to live that dream! Obviously we have three young kids so our trip was always going to have a different vibe from other single friends who regularly go to New York or friends who visited before they had kids.
Highlights Video
Have a quick look at my highlights video and read on for more info about our trip and the best things to do in New York with young kids.
NYC for Kids.....and Grandparents
So as most of you who already read my blog know that my kids are 9, 7 and 2. Therefore hanging out at swanky bars sipping on cocktails was never gonna happen. Plus if you read my last post https://steemit.com/life/@mummyimperfect/our-american-adventure-part-1-the-wedding-vlog you'll know that we were in the USA with almost the WHOLE family (well most of my mum's side anyway) and we had planned to visit some places together. That meant 14 people taking a day trip from New Jersey to New York City and taking in sights that everyone was actually interested and that were not too strenuous for young kids and grandparents (even though my mum and dad are pretty energetic seasoned travellers).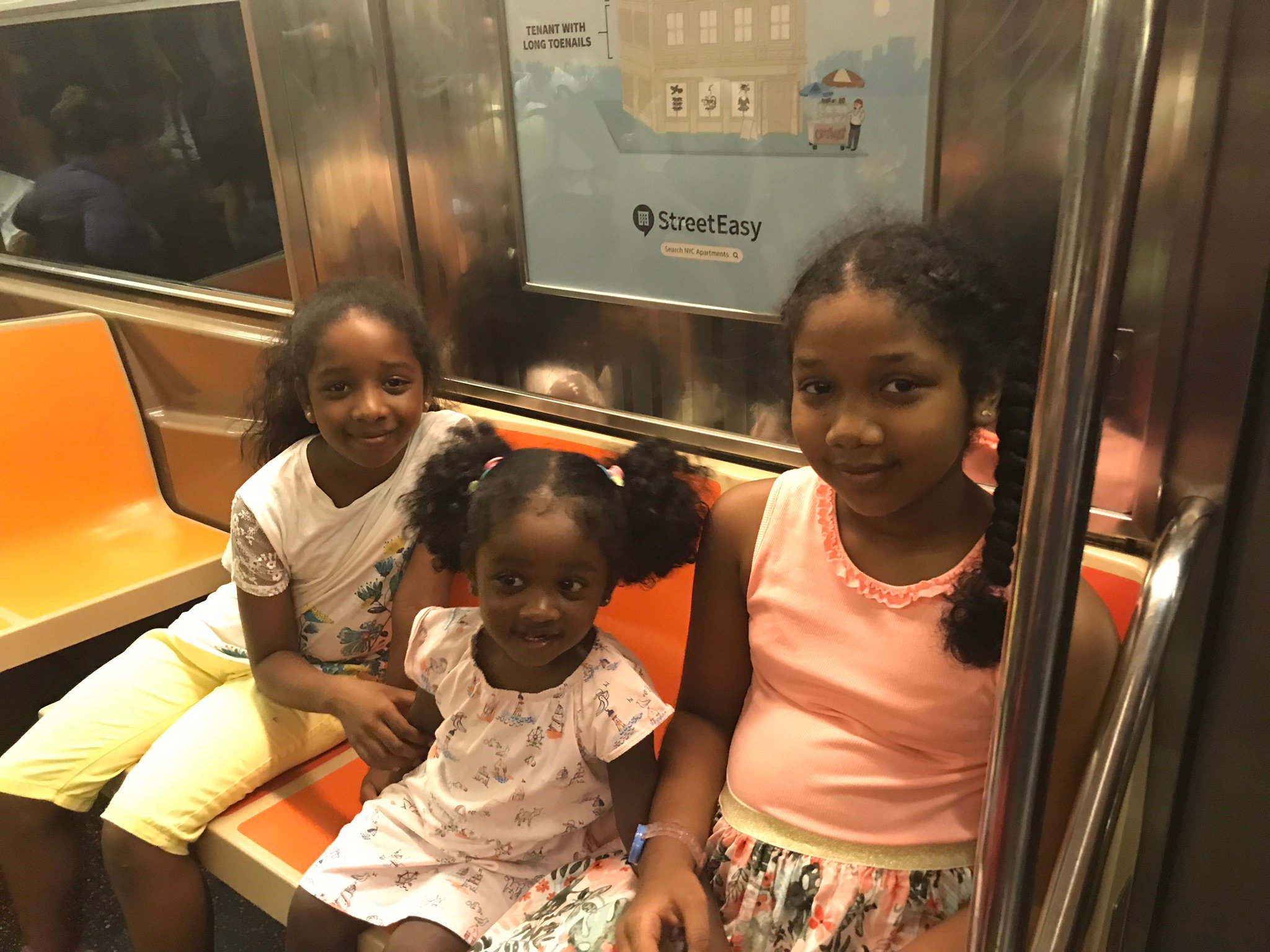 The Subway is not child friendly
The train from New Jersey to NYC took one and a half hours but was a comfortable ride. The subway was another story. NYC's underground train network is not child friendly at all and makes London tube stations look pristine. They smell bad and were really hot and airless. It was the middle of summer but still! We had Mini Me 3 in the stroller and my husband carried it (with Mini Me 3 in it) up and down several flights of stairs. Luckily he's a strong guy but this might pose a problem for others.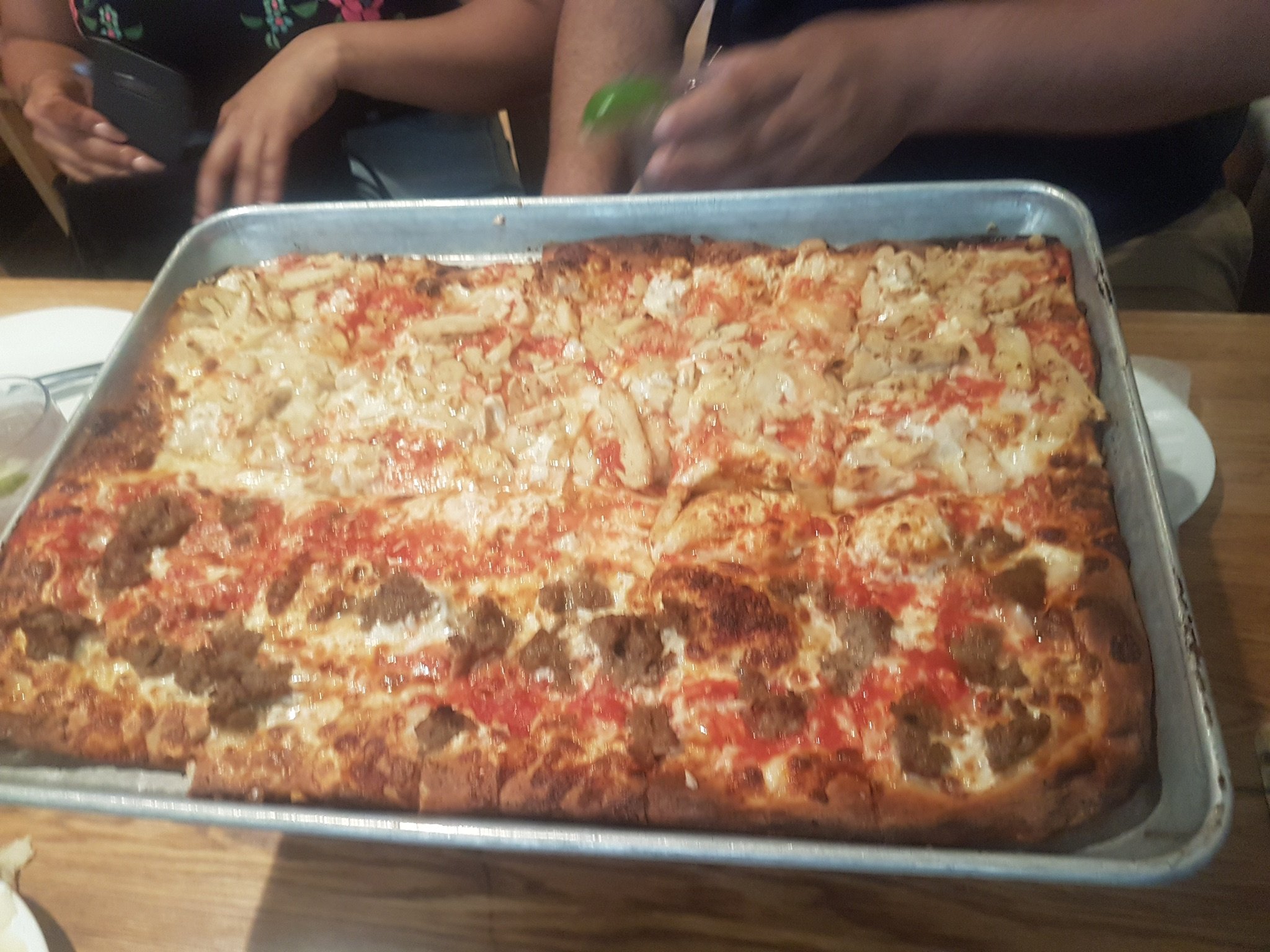 The Statue of Liberty....and the best Pizza ever!
Since there were so many of us our agenda was simple. To see The Statue of Liberty via boat and visit the World Trade Center site. We decided not to go into The Statue of Liberty on the advice of my American cousins as it apparently involves waiting in queues for hours....not great on a hot day with small kids. We ended up paying quite a lot for the boat ride (around $130 for the 5 of us) and I'm not sure it was worth it. It was a nice boat and a comfortable ride with an audio guide tour but you couldn't really hear it well over the engine! There is a free Staten Island Ferry service which apparently gives your great views of Statue of Liberty and Ellis Island and Governors Island. I think that would have been a better option. Near the place where you board the ferry we discovered a really good pizza bar - https://adriennespizza.com/ - on historic Stone Street in the Financial District. Adriennes pizza was the best pizza I have ever eaten in my life! It was so juicy! I can't bring myself to eat dry below standard pizza in the UK now. I literally try to relive the flavour in my mind! They also had other tasty Italian dishes too.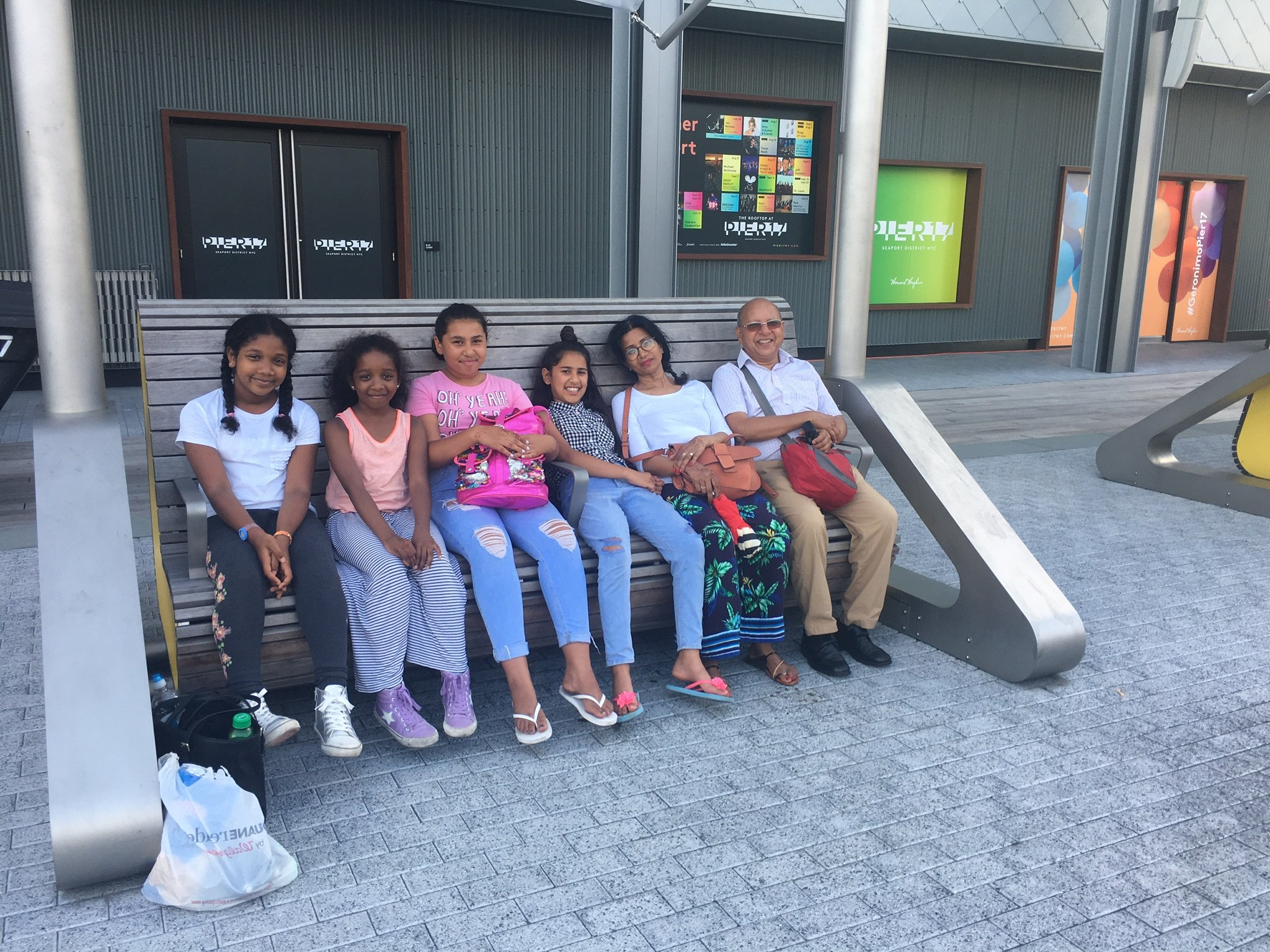 Brooklyn Bridge
We hung out on Pier 17 for a while which had a nice chilled vibe with music playing and rocking benches to relax on. It's houses a new concert venue and is also a great place to take in the fabulous views of the Statue of Liberty and the Manhattan skyline.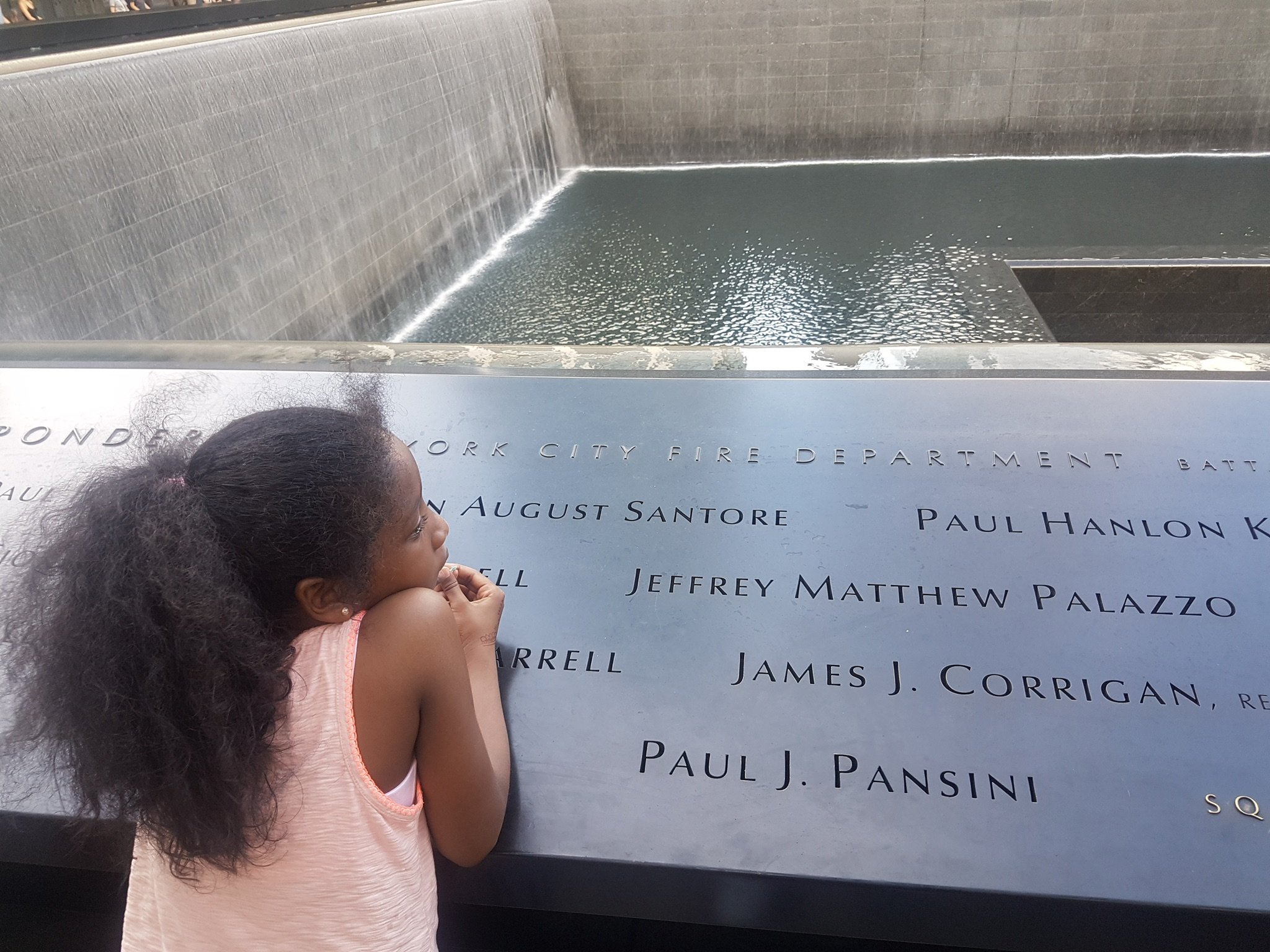 World Trade Center Site
My Dad was the one who insisted that we visit the World Trade Centre Site. And I'm glad he did. There are now two big pools where the twin towers once stood. The names of the people who lost their lives in the 9/11 incident are engraved around the sides of the pools. There were a few fresh white roses placed on some of the names and we were told that this was because it was that person's birthday. Visiting this place made me feel quite emotional thinking about all the people who lost their lives in the tragedy. Whether you think it was a terrorist attack or part of a conspiracy theory there is no doubt that many families have been affected by it. Nothing can bring back those who perished in those towers but I feel like the pools are a respectful memorial. I think Mini Me 1 and Mini Me 2 and my nieces learnt a lot from visiting there too.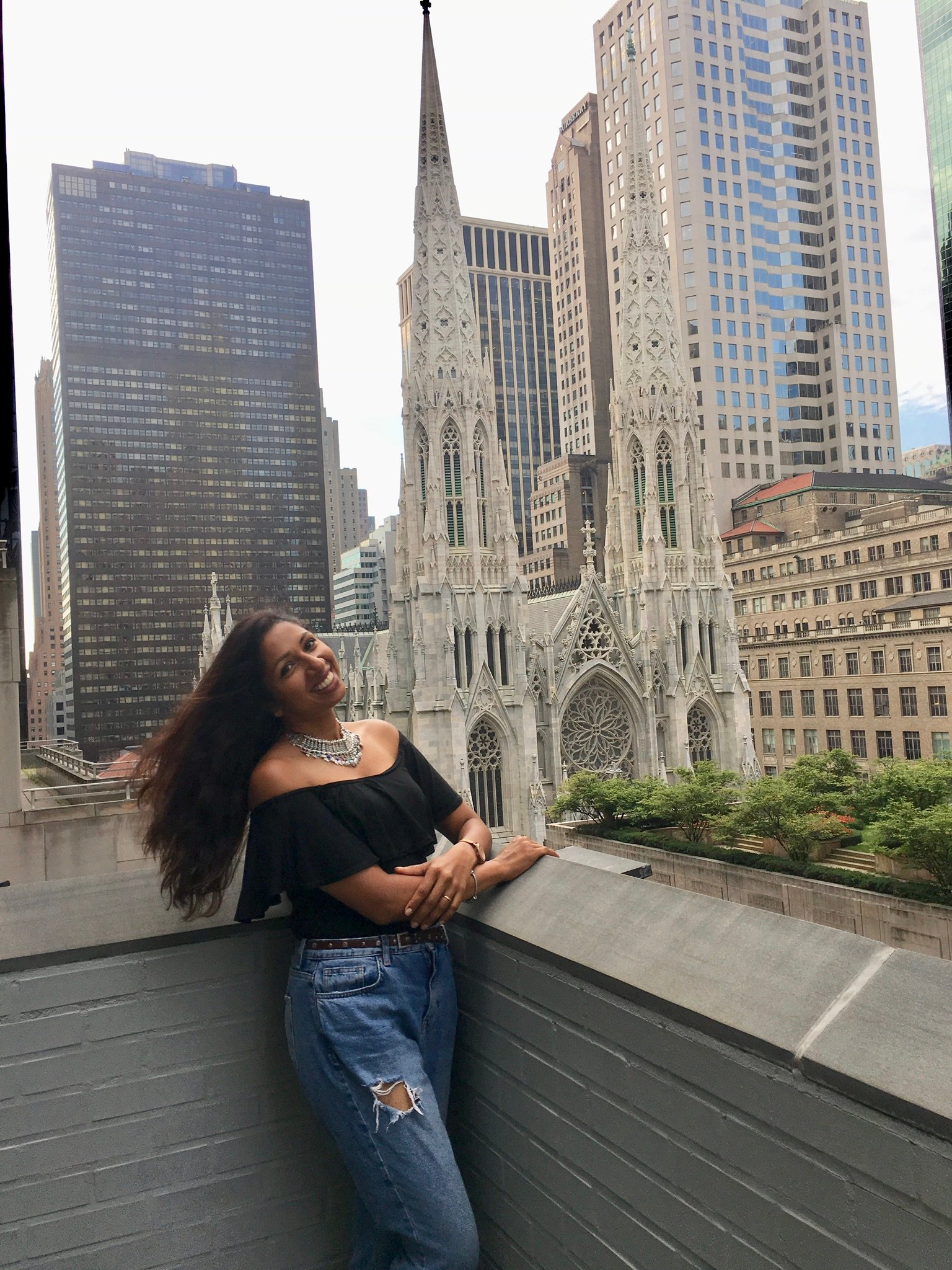 Two nights in NYC
After our big family outing to NYC, my husband and I decided to visit again with the kids and stay in the city for a couple of nights. We had booked a family room in 3 Club West in Midtown Manhattan- http://www.3westclub.com/web/3west/guest-room-information-3-west-club - It was obviously expensive as everything in NYC is, but not as extortionate as many of the other hotels in Manhattan. We liked the fact that it was in a fabulous location, just next to the Rockerfeller Centre and walking distance to Central Park and the Empire State Building. The only downside was the breakfast which was just small boxes of overly sugary cereal and plates of small overly sugary pastries. There was juice, tea and coffee and toast too but if you wanted to eat anything else you had to pay for it....and it wasn't cheap (but what is in New York?!).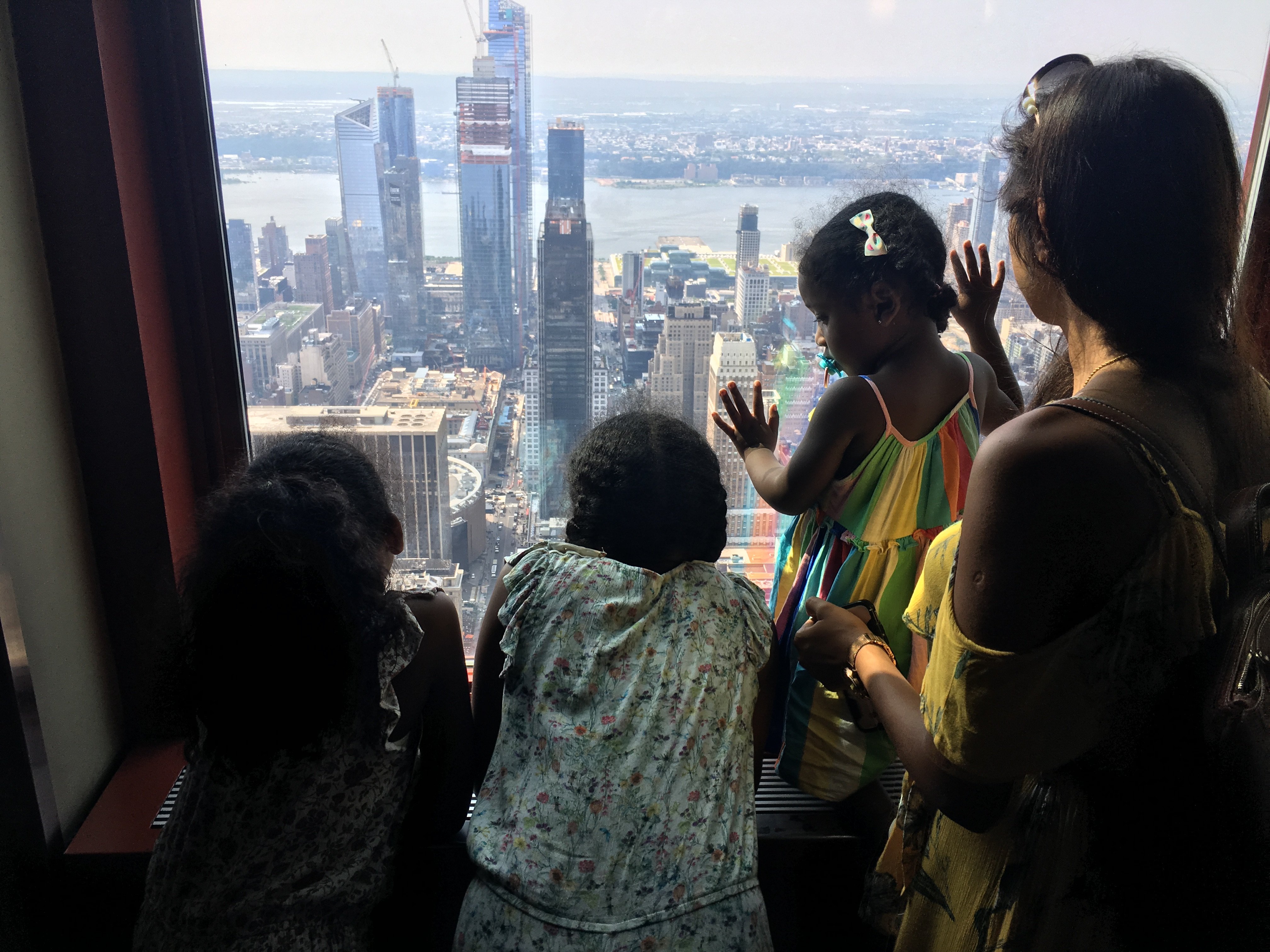 Empire State Building
On our first day staying in NYC we had lunch with my cousin and sister in law then headed to the Empire State Building. It's well worth going to. I've heard that the view is better at dusk or night time but since the kiddos go to bed at 8pm we went during the day. It was a lovely clear day and the view was great. Tickets were almost $140 dollars for the five of us and this included access to the 86th Floor Observatory. If you want to see more of the building, or go the 102nd floor you have to pay extra.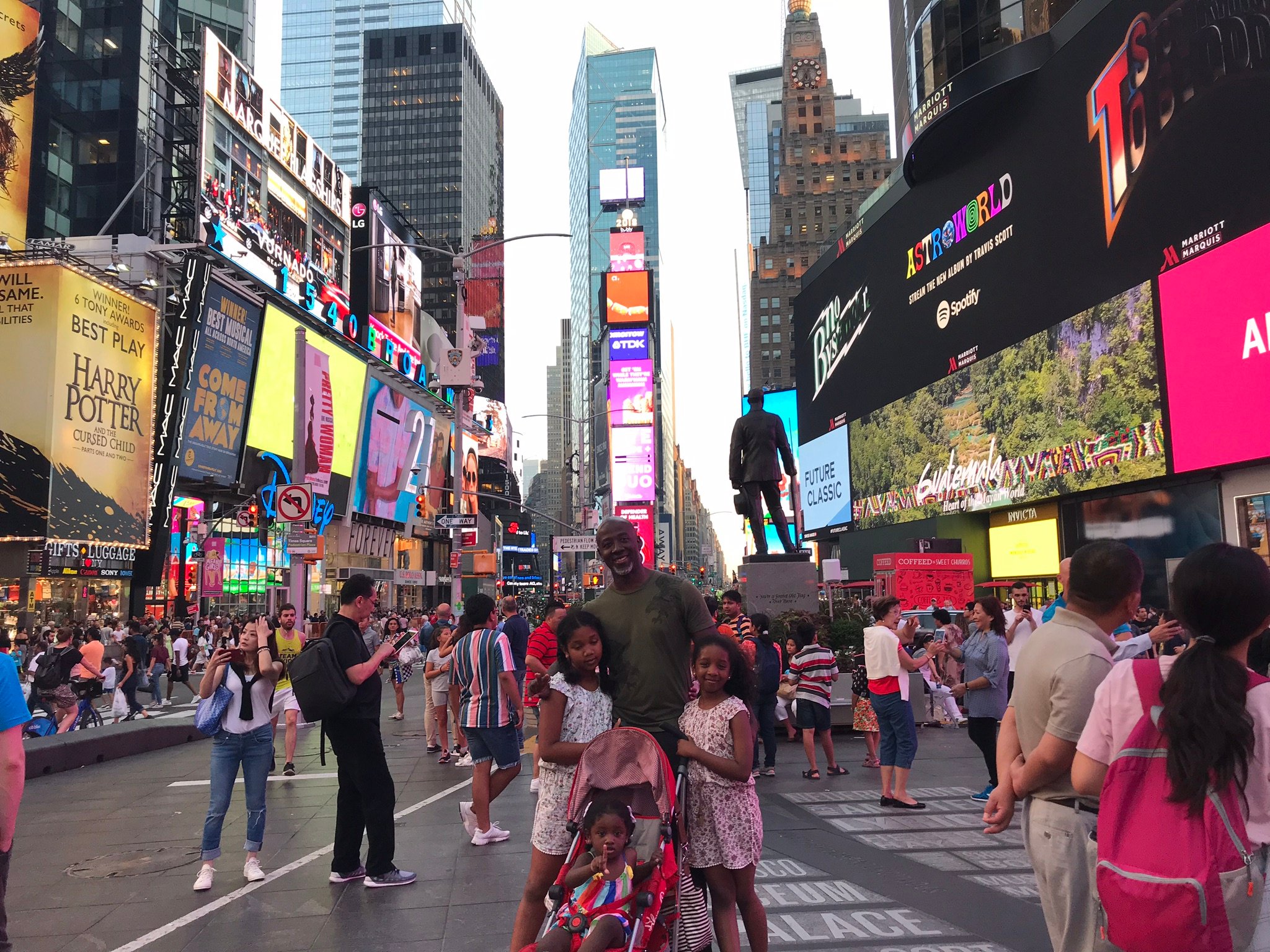 Times Square
One of those places you feel you have to visit in NYC, even though you don't really do much when you get there is Times Square. It's a great atmosphere...for what is just a load of advertising screens. The kids loved it though and made us visit there twice! It's definitely worth going in the evening when the screens come alive.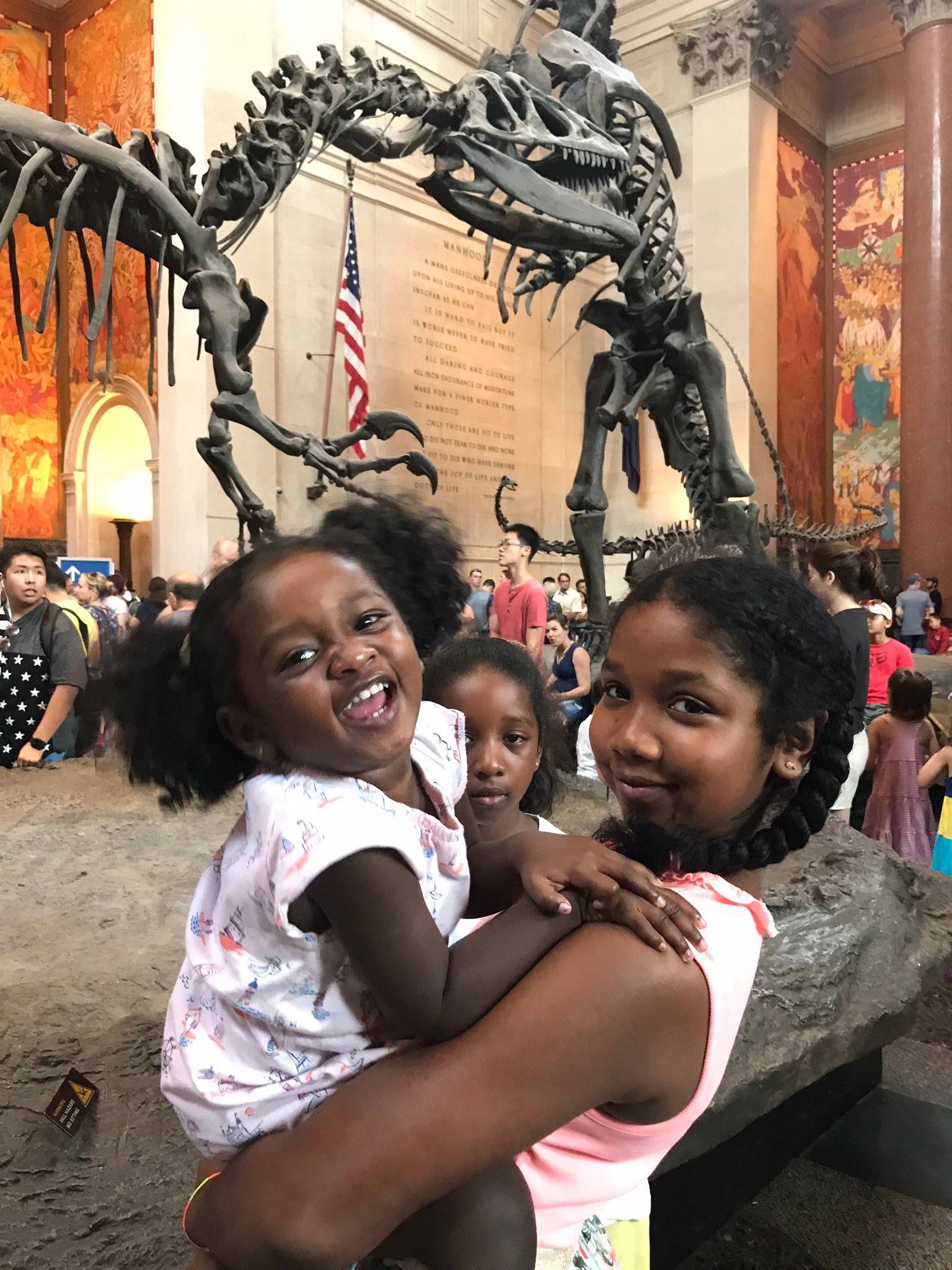 The American Museum of Natural History
This museum is like the London Natural History Museum on steroids. It's pretty good and the kids liked it, although there was only so much info they could take in. We paid around $70 to get in but didn't realise until later that this is only the suggested ticket price.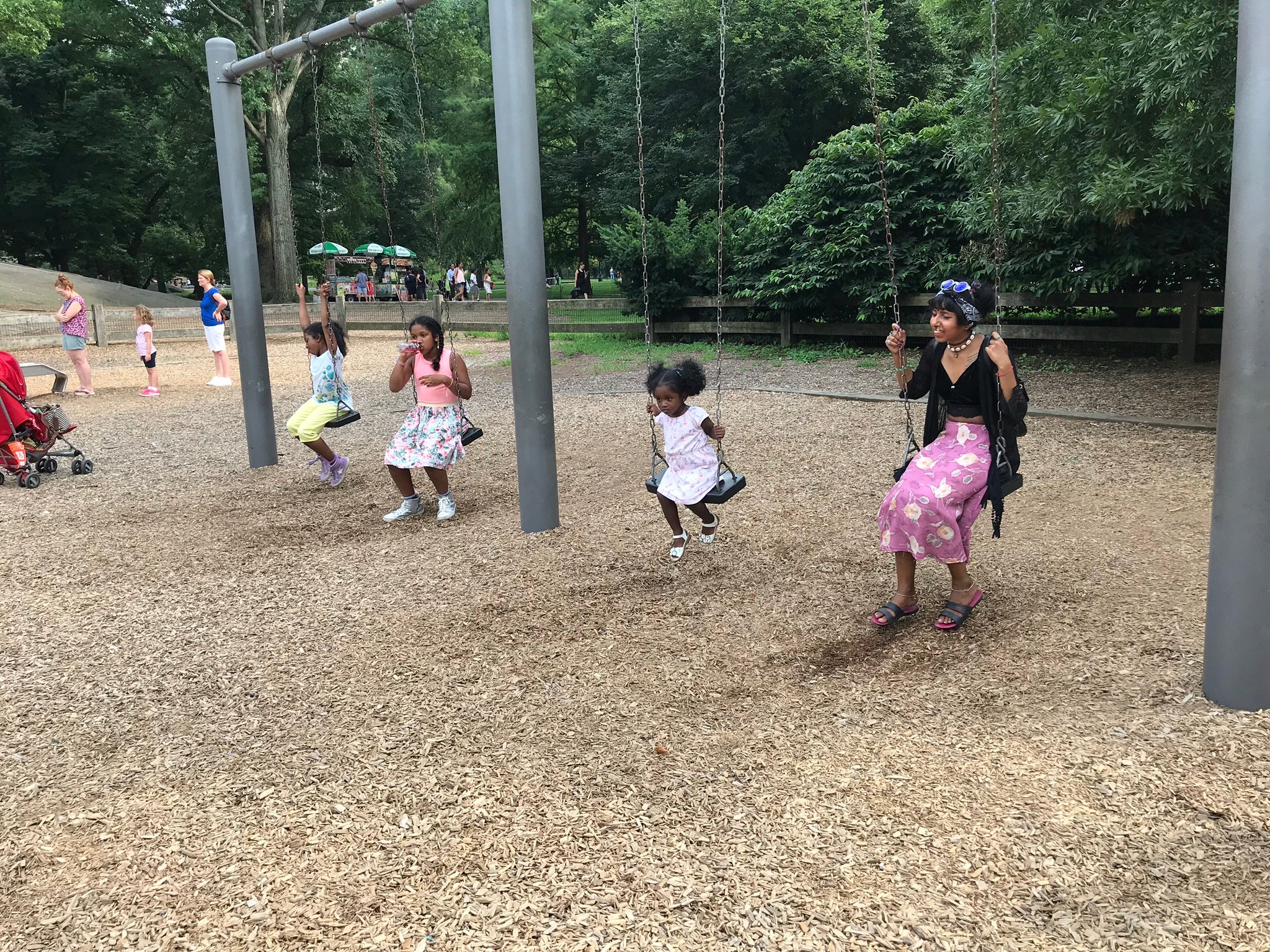 Central Park
The American Museum of Natural History is just on the edge of Central Park. We decided to walk through the park to have lunch near our hotel. We didn't realise how huge the park is! It's gigantic! It was a super hot day so the excitement of being in the park soon wore off for the kids when they started walking! We went back after lunch and hung out there with my little sister who had spent the day at the Metropolitan Museum of Art, also on the edge of Central park.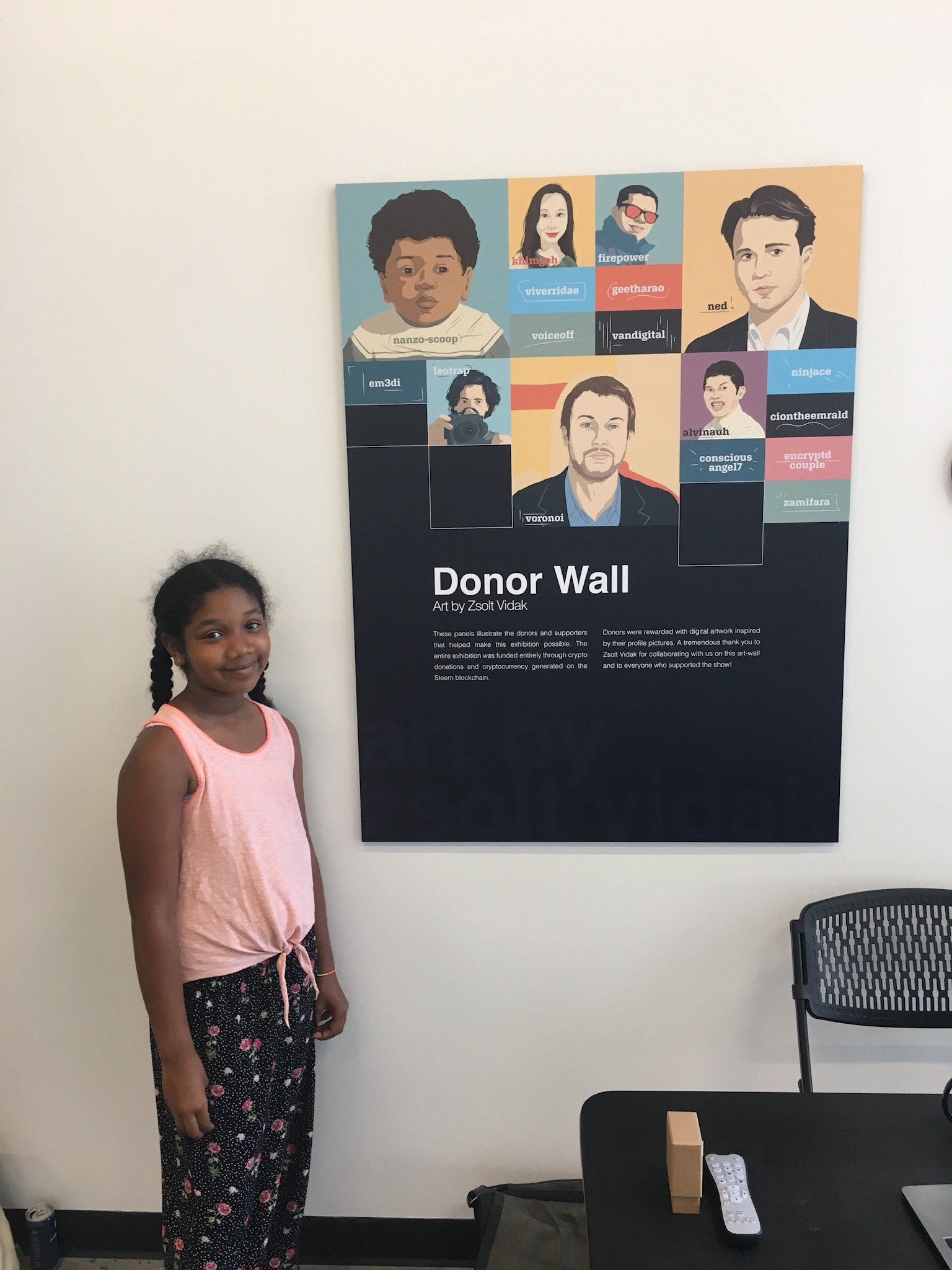 The Crypto Renaissance
On the last day of our trip to New York we ventured into Brooklyn to see an exhibition called The Crypto Renaissance hosted by The Sndbox. The aim of the exhibition was to demonstrate the impact of blockchain tools and resources today. Plus my husband @nanzo-scoop featured in it on the donor wall!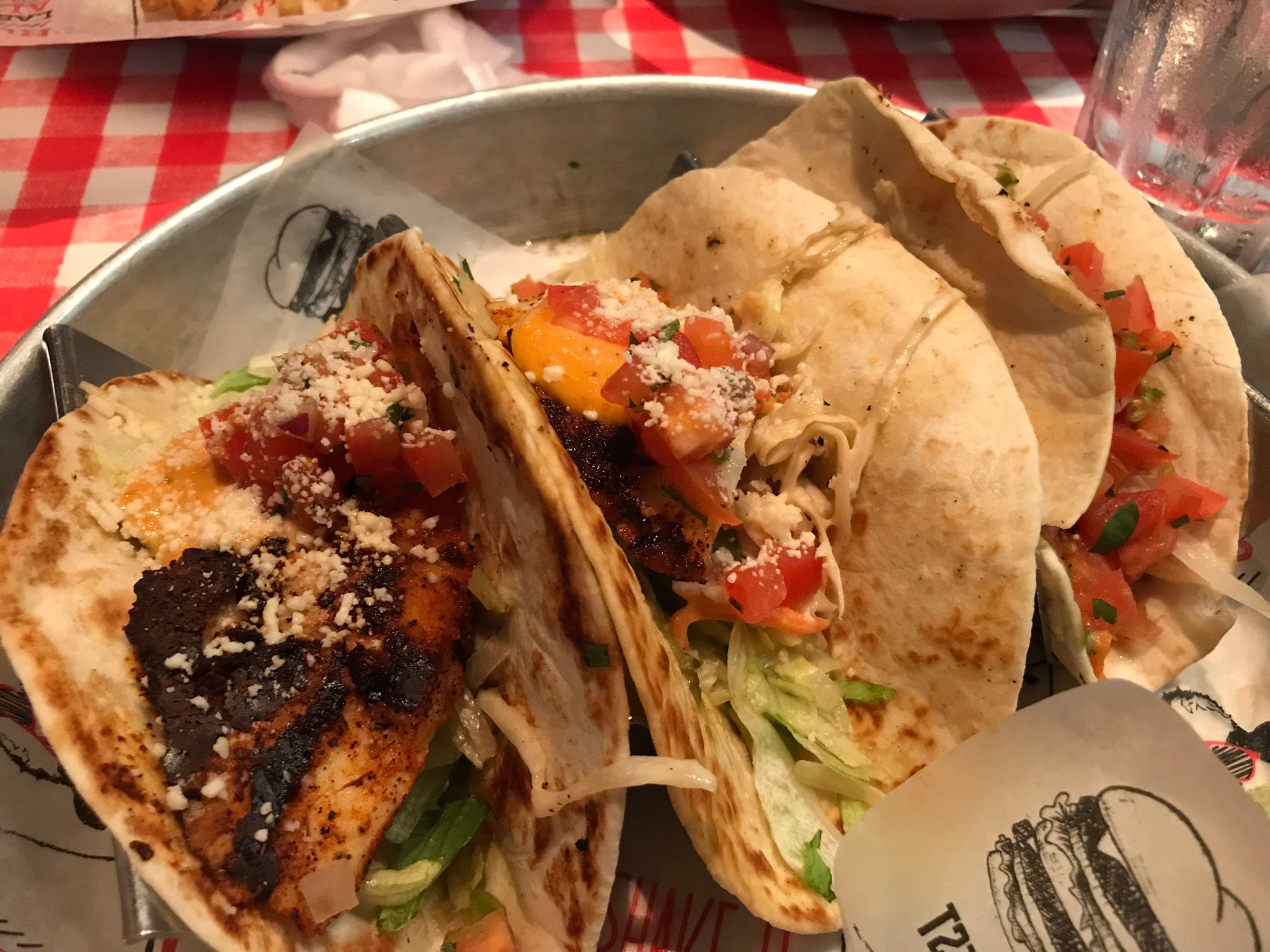 The Food!
You can't come to New York, or America for that matter, and not sample the culinary delights that the city has to offer. I was having a break from my usual healthy regime and had a fabulous time eating my way through NYC. I've already told you about the pizza, we also had some really good Chinese food at a place called Joe's Shanghai - https://www.joeshanghairestaurants.com/ - it was recommended to us by my cousin. We also went to a really good burger place called Bill's Bar and Burgers - http://www.billsbarandburger.com/- which is part of the Rockerfeller Centre building. And when I needed a break from the carb overload a place called Cava - https://cava.com/menu - also recommended by my cousin, did amazing salad bowls and really nice and healthy kids meals too.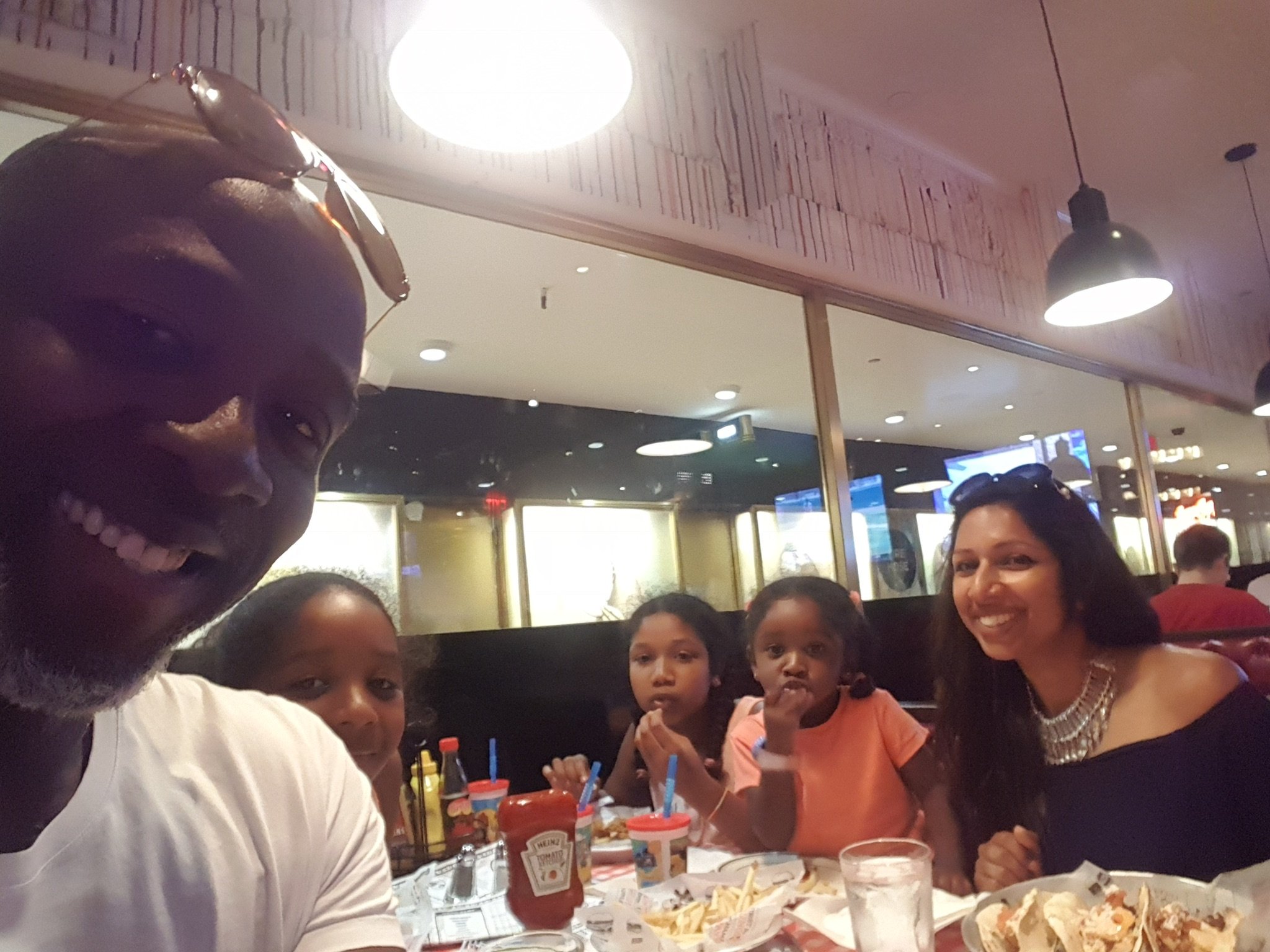 I <3 NYC
On the whole I really like NYC. It's a bit like London but just bigger and taller and more expensive (I didn't know that was possible!). I get a thrill out of watching films set in New York now (even The Secret Life of Pets!) and knowing I've been there. I'd like to go again as there is so much to explore and the kids will be a little older next time. Who knows, hubby and I might even leave them with one of their grandparents/uncles/aunties for a night and hang out at swanky bars sipping cocktails!
MummyImperfect x