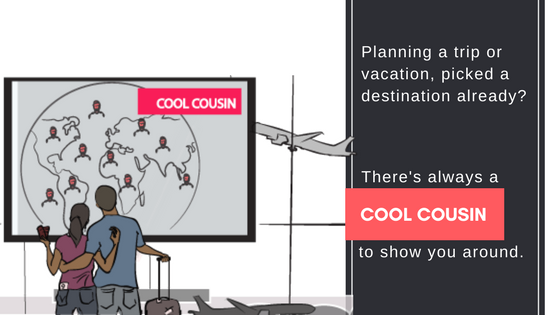 VACATION IS FUN, RIGHT?
If you think you don't need a guide on your first trip to a new city, you might need to think again. For most first time visitors, it's often too late before they discover their reservation was made at an hotel that looks nothing like what was seen online. But what is worse than seeking a new hotel on arrival or having to bear with a misrepresented pre-booked hotel?, I'm guessing that would be wasting the following couple of days seeking directions from strangers and city maps, missing out on a lot of lesser known interesting places and fun events while also probably getting overcharged for simple services (don't believe this?, just don't come to my city). Maybe a few first time visitors get lucky, but the most valuable piece of advice for a leisure trip is to always have a readily available local guide, especially if you want an authentic travel experience or hope to create unforgettable vacation memories.
HAVE YOU EVER BEEN TO LAGOS?
The economic capital of Nigeria has a population of more than 7,000,0000 people and more importantly, hundreds of places to visit for their historical importance, leisure activities, art, food or whatever you want. It's notably super busy and first time visitors might get lost finding their way, spend most of their vacation in city traffic jams or miss visiting really interesting places like the "freedom park" and it's occasional music performance which you would never find online.
With an in-depth understanding of the local terrain, customs, event and lifestyle, a local guide can be the key to a memorable vacation in Lagos, or any city you're not familiar with. While you may be tempted to rely on information sourced online, it is important to keep in mind that a lot of them are generic, shallow, not personalized and often written with business motives. This is where locals shine. They easily provide you with better and reliable information on local hotels, events and provide tours customized to fit your schedule. More importantly, they will give timely information, help with simpler issues like avoiding rush hour traffic and negotiating with local vendors and authorities. They will also facilitate access to places you might never go alone.
SO, WHO'S YOUR COOLCOUSIN?
Now that you're thinking of getting a tour guide, what if you are given access to a large number of willing guides and you can make your choice using factors like shared interest and taste, personal appeal, knowledge displayed and professional approach, wouldn't that be great ? this is where CoolCousin comes in.
With a network of local guides spread around the world, the platform gives you direct access to "cool cousins" willing to provide needed information or other paid extended services whenever you visit their countries. All Cool Cousins have publicly available personal profiles with maps of places of interest. They will provide information or answer additional questions if you need more clarification. The engagement on the platform is designed to help travelers get a richer experience of their destination while allowing guides to earn from their knowledge.
The community uses and monetizes input from both Cousins and travelers. While Cousins earn from information provided, travelers who share the app with friends, provide confirmation of information given by guides, upload pictures and provide advice based on personal experience are also bound to earn beside helping improve the reliability of on-site information.
HOW COOLCOUSIN HELP BUSINESSES.
Since CoolCousin inevitably provides a list of recommended local Businesses, hotels, restaurants, malls, these entities will be allowed to manage their content on the platform, however, promotional contents will be differentiated from organic contents to give users a balanced view of information provided.
WHY THE BLOCKCHAIN INTEGRATION?
Launched in 2016 and backed by venture capital, CoolCousin already caters to more than 500,000 travelers, however the integration of the blockchain is planned to help the platform scale upwards.
The key proposition of the blockchain has always been the decentralization of control and an inevitable increase in trust. For CoolCousin, the lack of a central control means that the community gets to control and determine ranking for listed local businesses leaving no chance to incentivized reviews and biased ratings. With this, users can expect impeccable information and reliable consensus ranking of services and businesses.
More importantly, the blockchain enables the implementation of a quick and secure payment system which removes the hassles of bank control and charges thus creating a seamless and cost effective transaction for travelers.
According to the developers, " the CUZ tokens will enable use of in-app services on the platform. This includes and is not limited to tipping Cousins and getting detailed information". CUZ tokens are also expected to have increased utility as more businesses join Cool Cousin and third party services such as restaurants, bars and events are offered at a discounted rate".
CoolCousin is one of the few tokens with an existing, sustainable and functional platform with traction. You can check CoolCousin out to learn more or participate in the ICO.
cc2018
A submission for an @originalworks contest