The maps lay whisper still as I scan them by torchlight. An occasional dingo howl breaks the silence. Danger stalking the periphery. It is time to move, but where? Both directions a deadly highway. North leads to things I dream of seeing and desolate campgrounds. Reduced safety. Less likelihood anyone will hear me scream. Less chance of crossing paths with someone like Michael.
I look across at his camp. I had promised to say goodbye. It is too early to wake him and I'm awkward with sentimentality anyway. I tip toe over and leave a note containing gratitude and contact details that he will not use. The relationships of nomadic life form quickly and are forgotten with the same speed. After a month on the road this series of collected liaisons no longer sustains me. The spaces of this Outback Australian desert have revealed my truth. I need to escape from people with the same ferocity as I need to be known by them. It is time to return to my clan.
Dawn brings enough light to make the chaos of kangaroos and emus visible. I roll the maps and head out, gravel crunching beneath the tires. Choosing South. A repeat of covered ground. It is the fastest long way home. In Alice Springs the streets are still sleeping. I find an open petrol pump and fill up. Hundreds of kilometres will pass before I see another. I am moving toward relentless hours of paper flat plains.
It is impossible to believe that the earth is curved out here. The only evidence of movement is red sand shifting to red dirt shifting to brown dirt. Rolled abandoned cars lie by the road in decay. Warnings that darting animals, fifty-metre-long trucks and swaying caravans are inevitable and deadly. It is a battle of boredom and fatigue against ever present threat. Decisions on petrol, water provisions and food intake are essential. Poor choices cannot be reversed in the Outback. I lose mobile reception and turn on to the Stuart Highway. The only road home. Google gives her last instruction, "Turn left in 1,212 kilometres." She falls silent.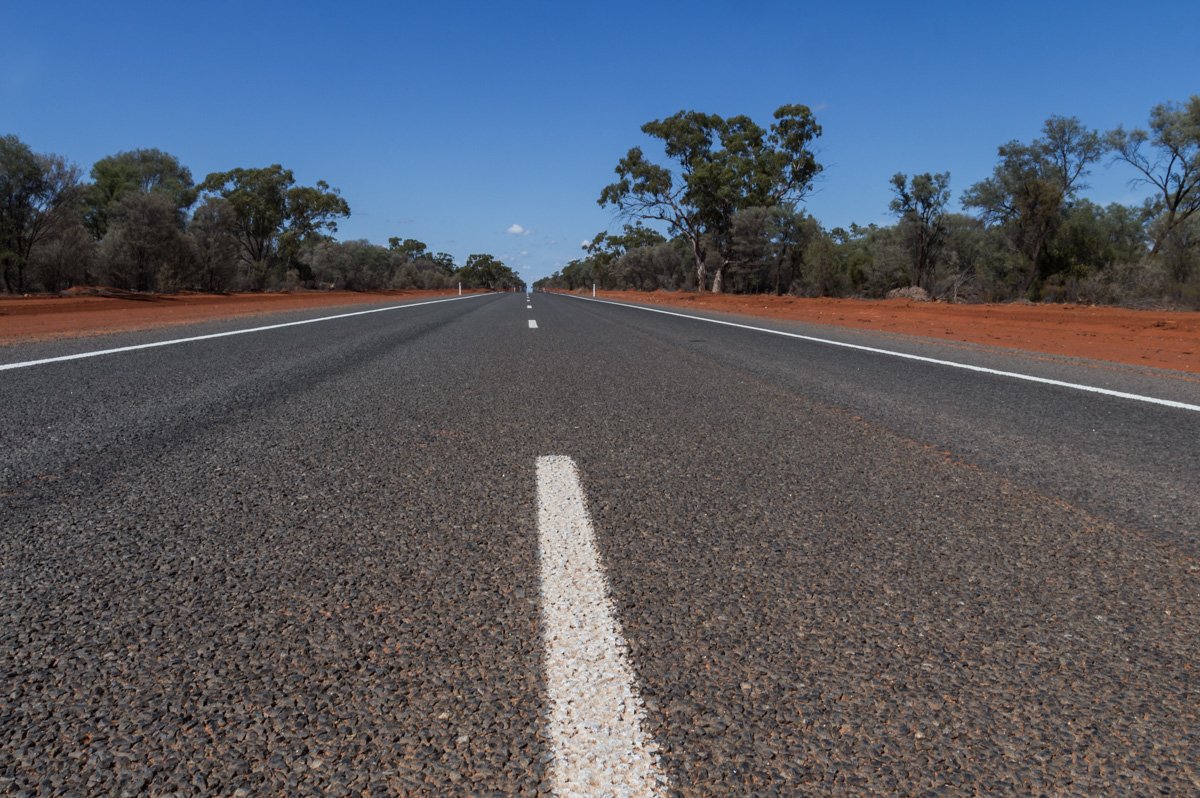 The rolling red dirt roads of Outback Australia
Five hundred of those kilometres pass in a haze of heat. A days' work spent on the road. On the map Marla is a town. That means a pub filled with men who stare and a petrol station. The road signs have been harsh. "Tired people die," they read. The message has seeped into my skin. In the last hour the horizon has started to reveal things that are not there. The twists of True Crime podcasts are no longer breaking this line of tarmac. My playlist is exhausted. The radio spits static. Silence and illusion lie ahead. The light will be fading if I continue to
Coober Pedy
. Dodging roadkill difficult, never mind the living beasts. Camels, roos, cattle, emus, sheep, goats, dingoes. In the order of damage they'll do to my car. I won't make it. Marla is to be my stop tonight.
A storm of patriarchal power strikes as I enter the bar. This isn't a place where you want to feel like the only woman in the world. The Friday horde throw their attention my way. I curse myself for choosing shorts over jeans. Feminism is a luxury, safety is my cause. I keep my smart mouth shut, lower my head and move to the bar. The attendant points to the campground as answer to whether they have accommodation.
An expanse of bitumen and dirt. A man in the corner glares with a coarse smirk. I'll have to run his gauntlet, my camper offers little in the way of a barrier. I consider taking a chance on an empty roadside stop. The attendant watches these things move through my mind. He suggests I take a room. Money is dwindling, there will be none coming in until I make it back. The smirking man begins his approach. A long-haul tomorrow will get me to my turn and take out a night's camp fees. I hand over my fifty-dollar bills, lock the door three times and bunker down.
The morning brings resolve, I will not spend another night at a roadhouse. Port Augusta and the navigator's left turn lie eight hours South. Ten hours with stops. Waiting for the sun to rise I throw back two double-shots of coffee. Then walk to the rusted bin and toss in a handful of pink pills. Anti-anxiety meds. By midday nausea and shaking hands will fill the space where the medication is supposed to be. But I will be wired awake.
Seven hours later I am lodged in brown dirt territory, fighting off autopilot and feeling the effects of withdrawal. The horizon morphs into a convoy of caravans lead by a three-trailer-long truck. The famous grey nomads and road trains of this track lined up. Rolling along at twenty kilometres below the speed limit. I glance at the clock. Sitting behind them means a dance with the dark. Another night on the road.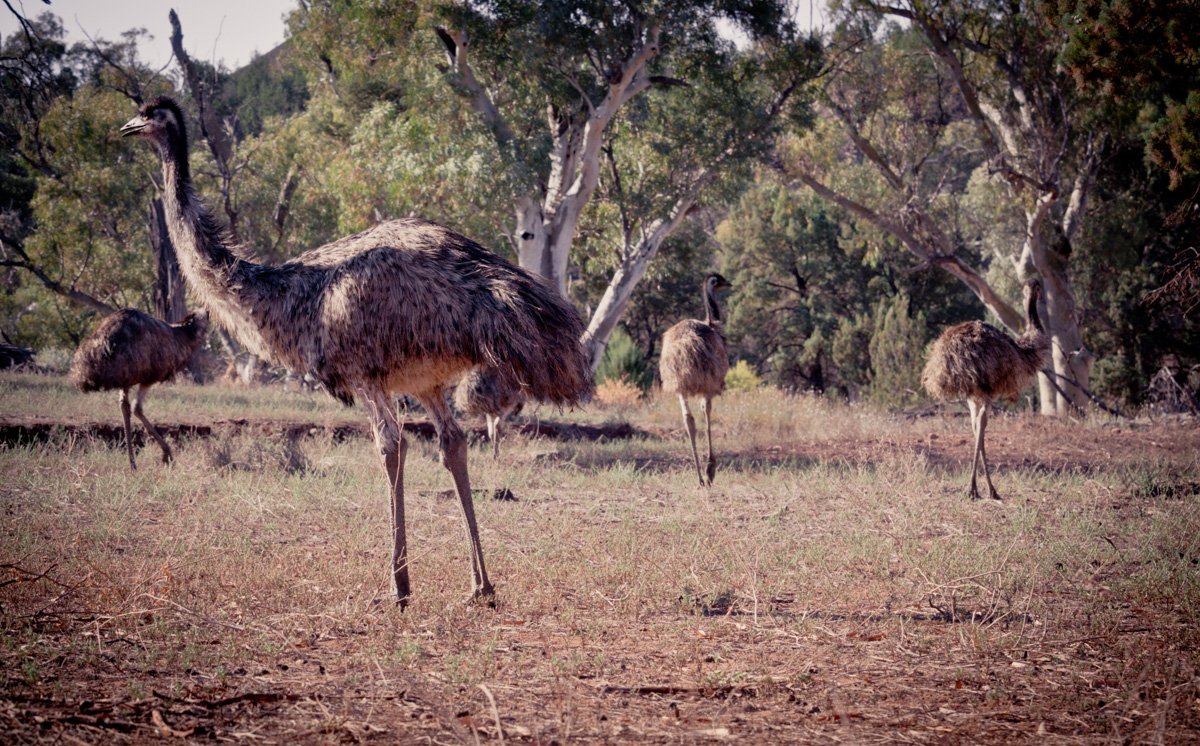 Emus roaming the edge
With a flick of their indicator each van tells me it is safe to push past. There's no view around the seventy metres between this convoy and my goal. We nod in passing. I slot in behind the truck. His indicator flashes. I pull out, hit the accelerator and am head to head with the bloated carcass of a red roo. I glance in the rear mirror. The caravan has closed the gap. There's no way back. I aim for the tail, threading between roo and truck. I miss. Catch the edge of the roo. Impact throws my body and car to the left. Over correction means the ditch. No correction means the side of the truck. I look ahead and see an oncoming car. My breath stops. It doesn't start again. I step off the gas. Correct my course. Gun it to the front of the truck. Horns blare as I slide between the truck and oncoming car.
This is the way of the Outback. Nothing for miles and everything in a moment. The adrenaline forces whoops and hollers from a guttural place. My heart thunders a long time before I settle back into the road. Port Augusta creeps closer. The navigator awakens. "Turn left in 300 metres". The sun begins its descent as I ease in to the turn. Relief runs bone deep. The campground is an oasis of families and friendly faces. I sweep up a bottle of wine and wander my spent soul to the shoreline. A sunset made from fireballs tumbles over the horizon. My phone rings, I see my son's face light up its screen. "Hey Mum," his voice a balm, marking the way home. Only 1,546 kilometres to go.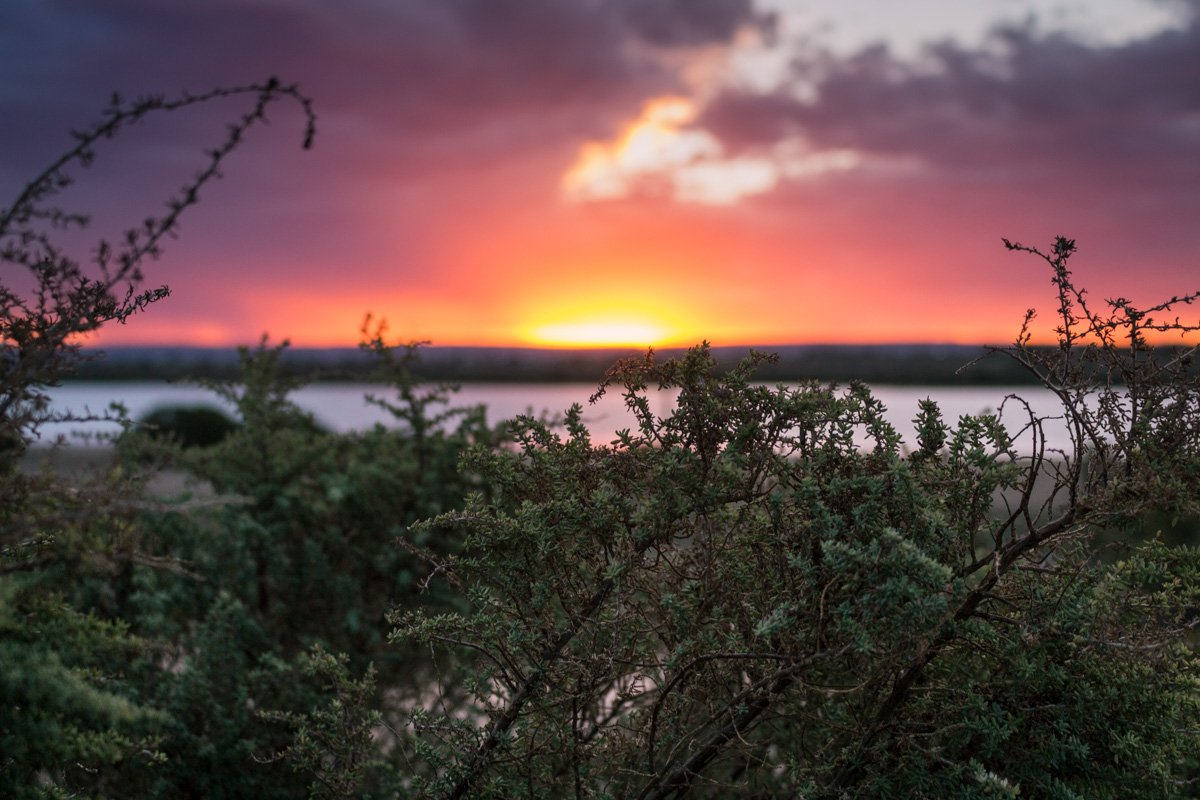 Port Augusta's volcanic sunset
________________________________________________________________________
I also put pictures and words in the following places:
You can find me on LinkedIn
!steemitworldmap -27.304694 lat 133.621510 long Stalking the Edge: life and death in the Australian Outback D3SCR