I forget the movie my boyfriend and I were watching, a movie about a family traveling and camping in an RV. I thought it looked super fun and told him I wanted to also go camping in an RV. His response, "That's not freaking camping, its glamping!". Then, he showed me some youtube videos of actual camping in Maine, and I thought that even looked more fun!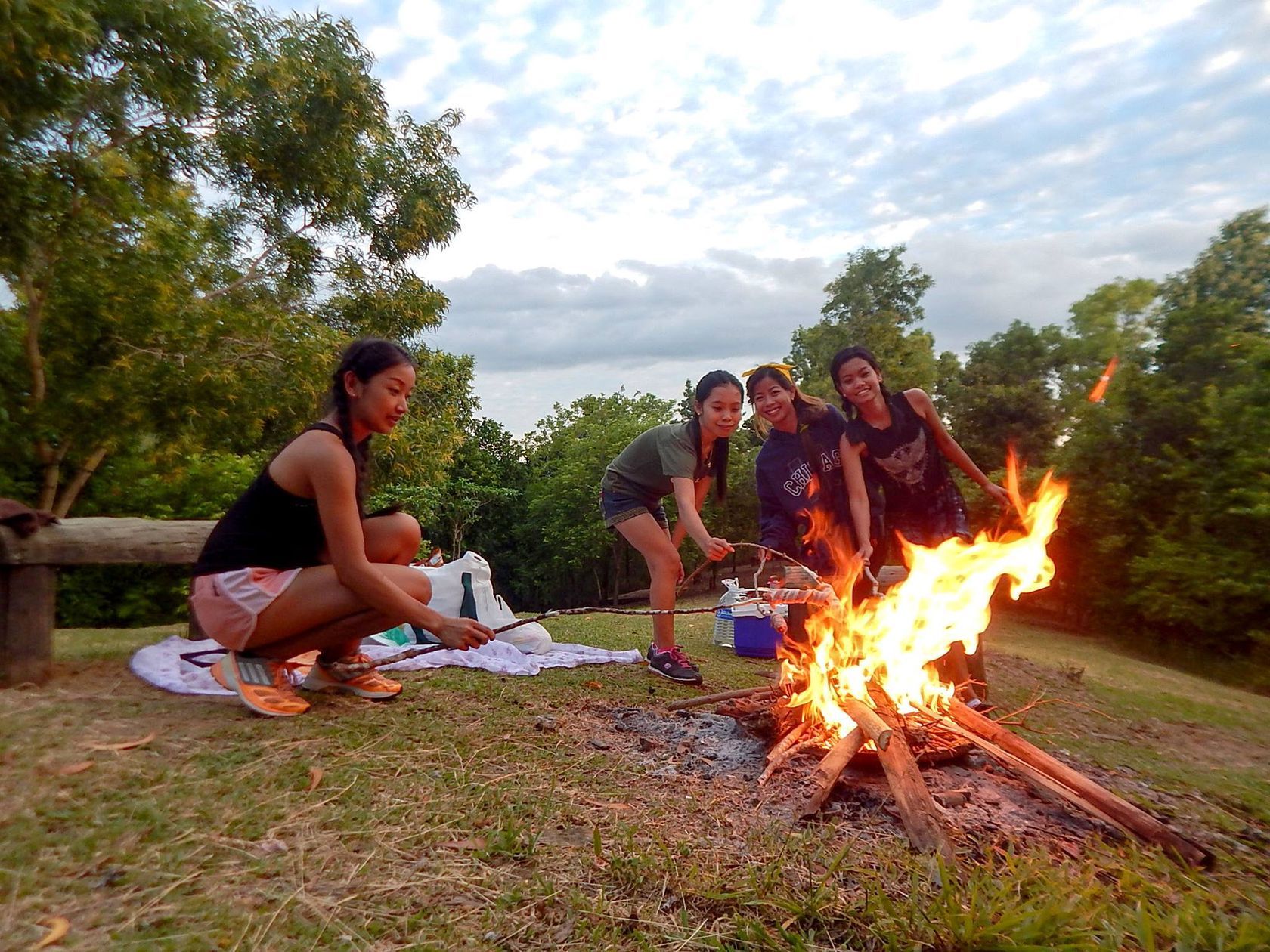 Sure, I have seen movies where people are actually camping, but for the most part, these are portrayed only at campgrounds and such.
The next morning, while I was having my favorite coffee- A triple shot, soy cappuccino, I looked online for camping in the Philippines. I suddenly remembered when my elder sister's first visit in Cebu, we visited this park about an hour and 30 minutes away in Busay, Cebu and they have a campground :D I called up three of my good girlfriends (@emonemolover, @bonjovey & Mel), and asked if they would like to go on a camping. Of course, they are always down to get out of the city!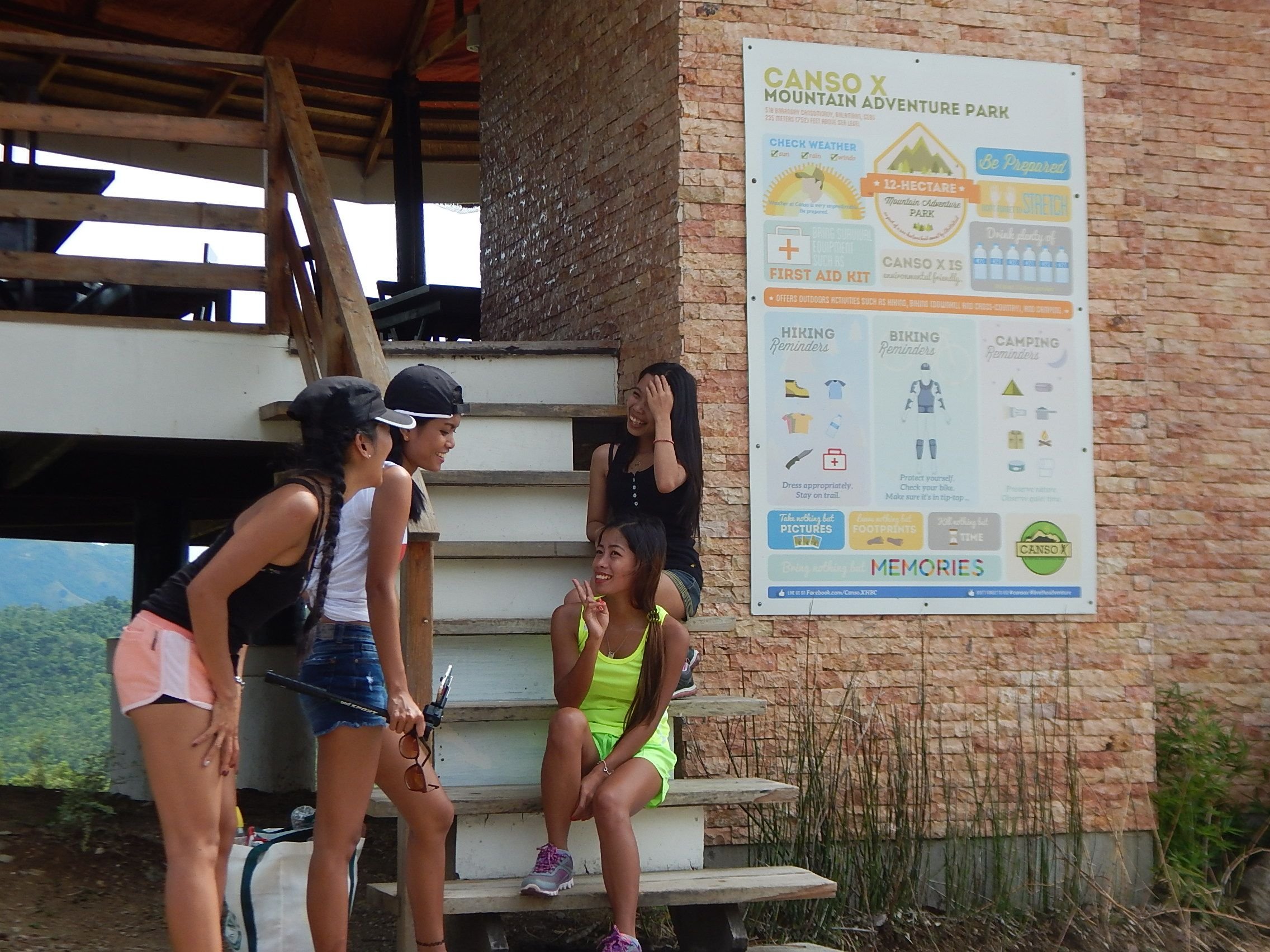 We brainstormed on the things that we would need during the trip such as: flashlights, sleeping bags, lighters, a cooler for our food and drinks, playing cards to kill the time-And of course mosquito repellant for the pesky bloodsuckers. We all went to the mall to go grocery shopping and we got food, snacks, and some beer for the evening campfire. S'mores also? yep!


The campground
Before we left, I called the campground to verify our reservation and I was told to bring our own wood for the woodfire because they don't sell it on site. I am glad they told us that because the town is 20 minutes away by motorbike and it's a hassle if you don't have your own vehicle.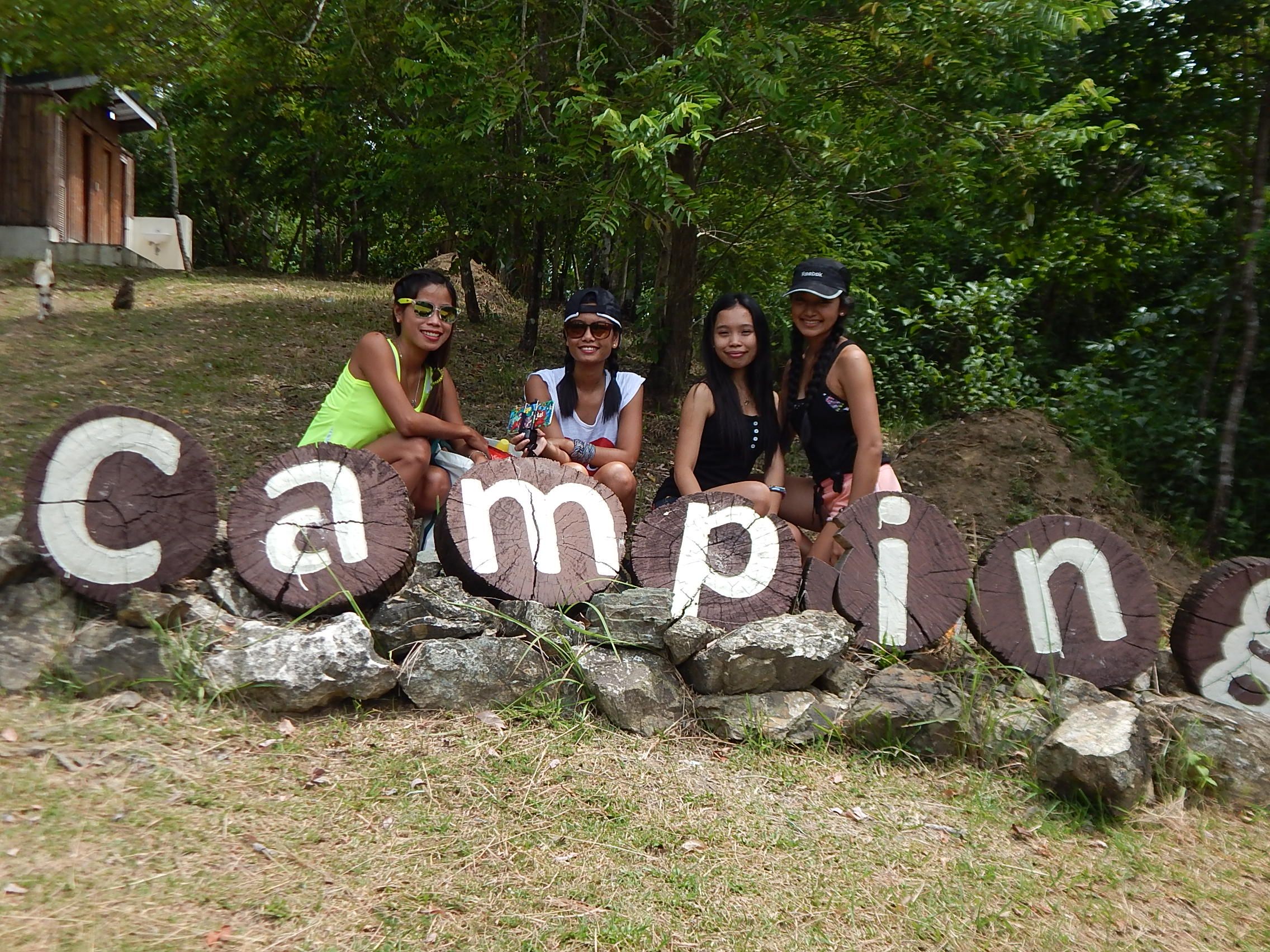 As per usual, we all showed up on the day of departure with backpacks full of things we didn't actually need, haha! The four of us met at Ayala terminal at around 9:30 am and from there we waited for the van to leave a little over than 30 minutes. When we got to the camping site, the receptionist welcomed us with a friendly smile and walked us through the things that we need to know about the site.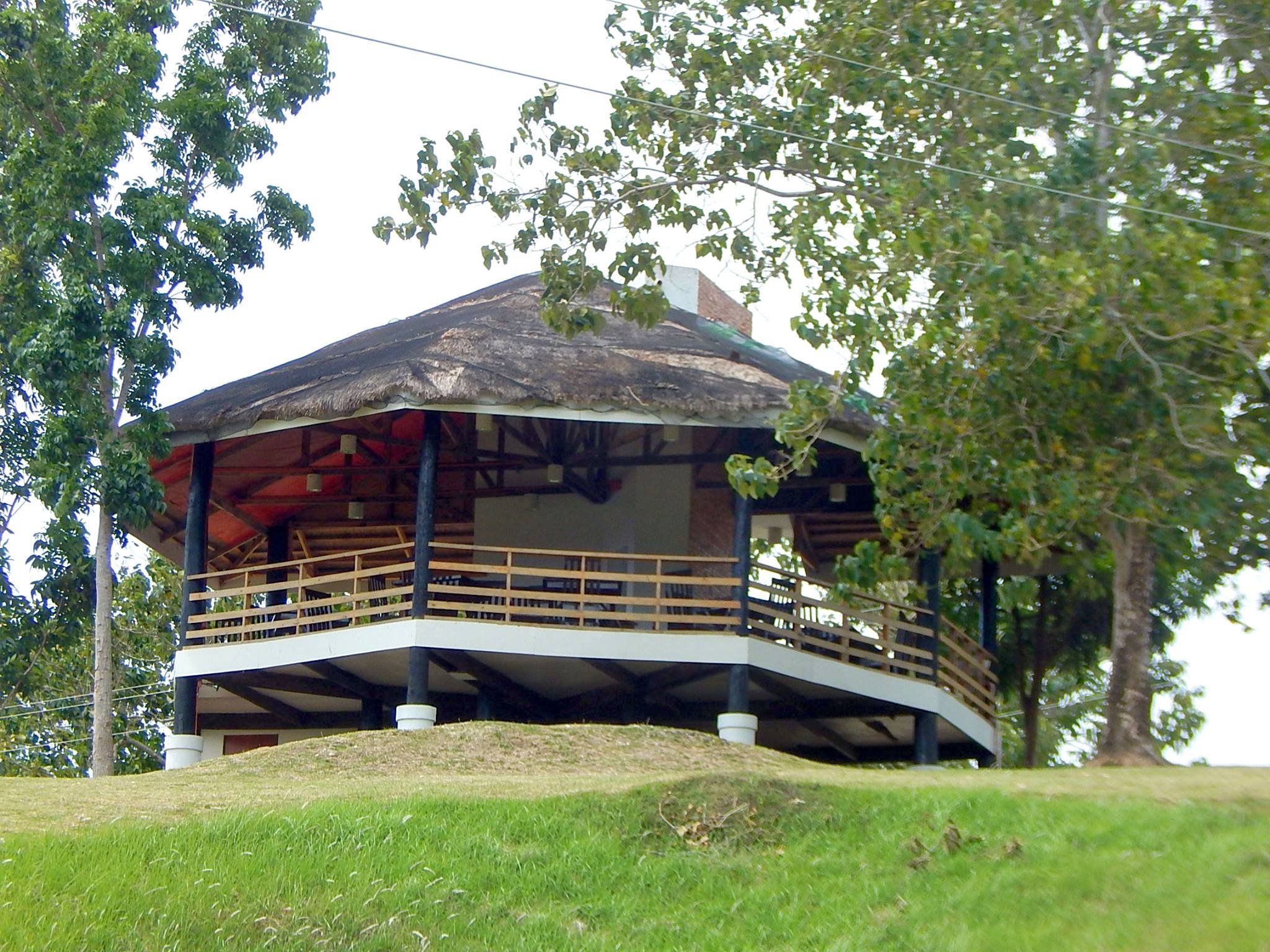 The Restaurant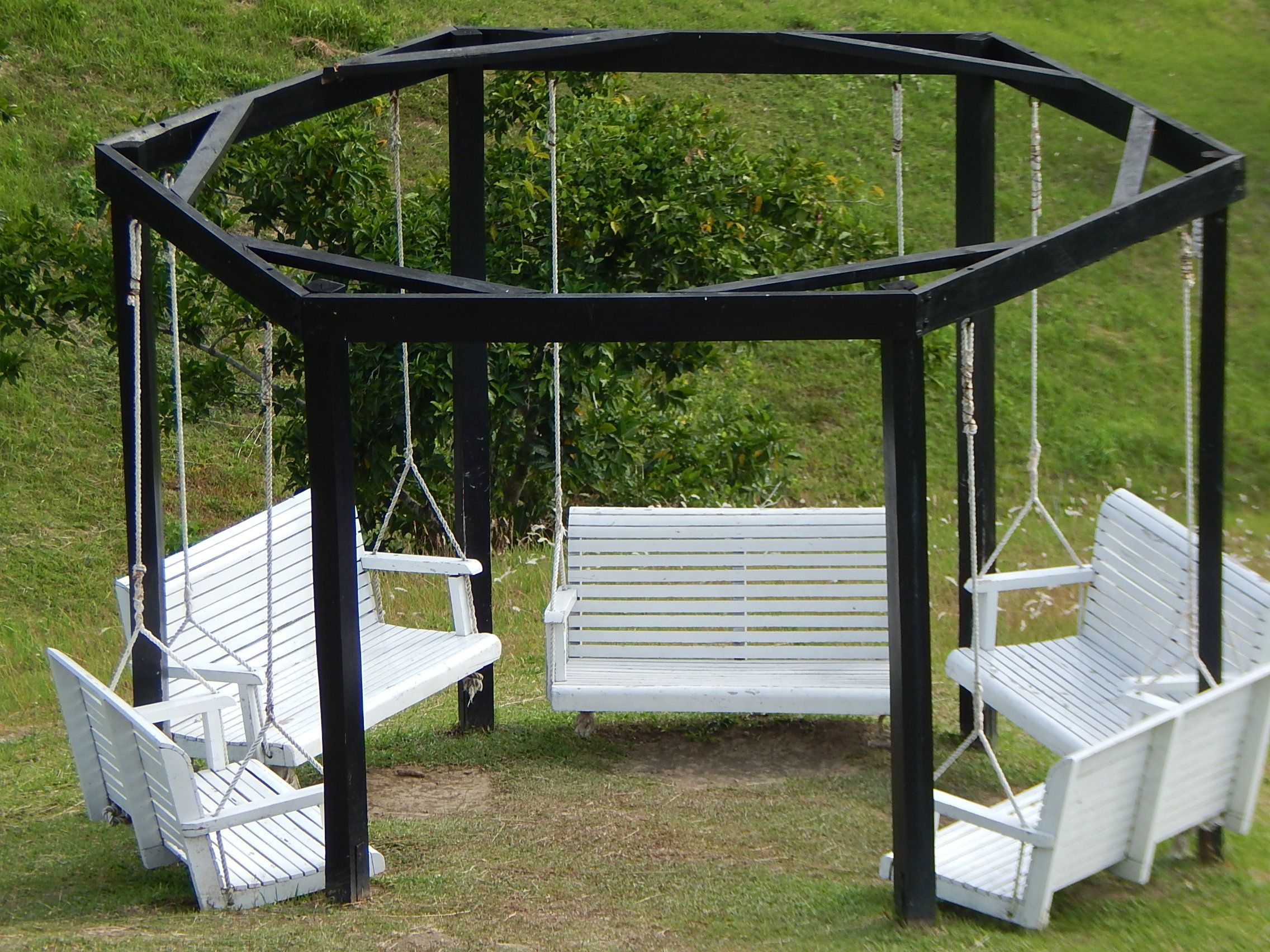 Outdoor Swing Set
He also showed us around and we took some cool photos of the site. They have a bike trail that's laid throughout the entire park with a great complimenting view of the mountains surrounding us. Everywhere you look was green and luscious. They also have a hiking trail but we didn't try any of these activities since we wanted to spend more time at the campground and we were super excited for the evening fire for our smores.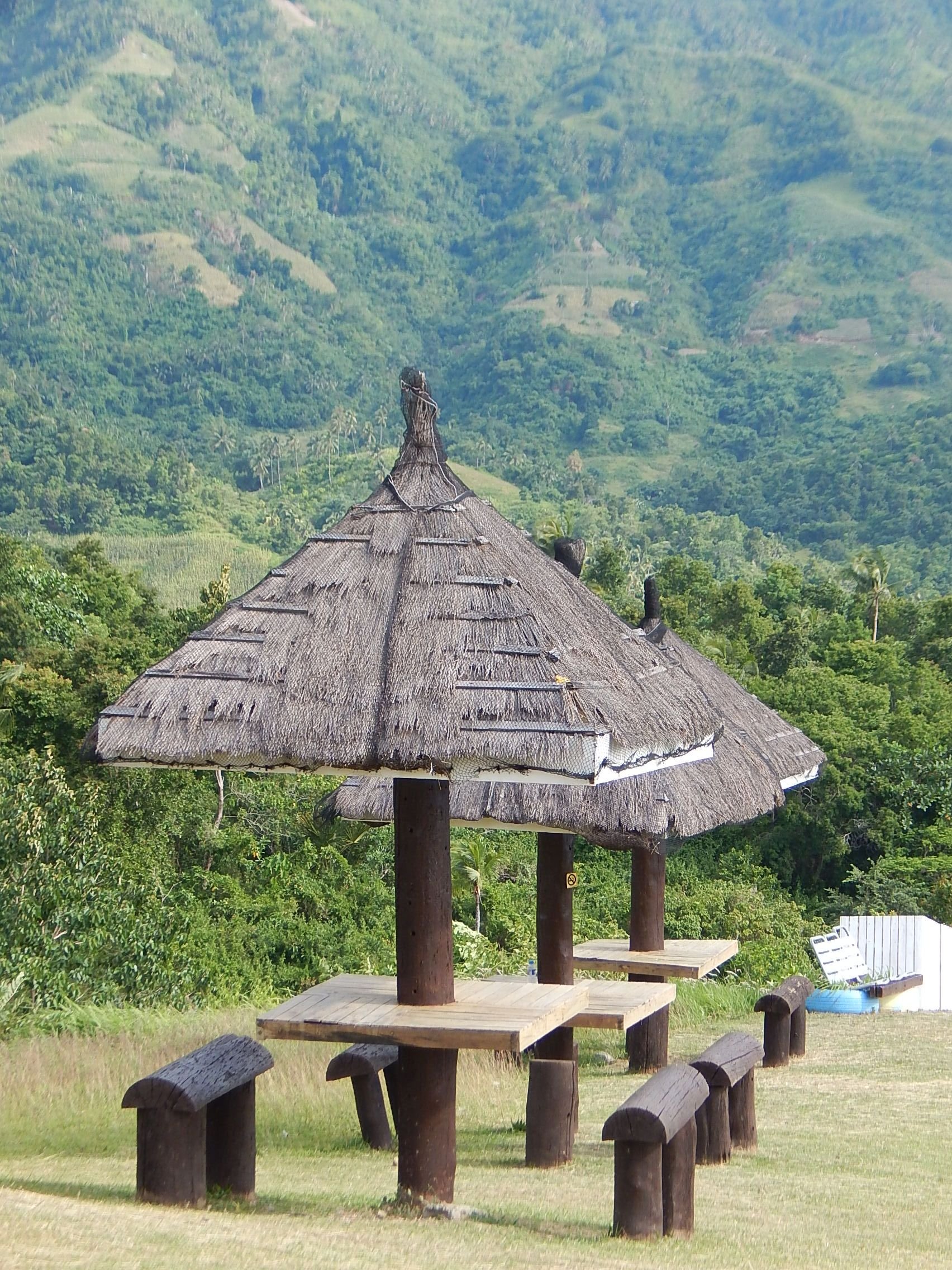 Picnic Tables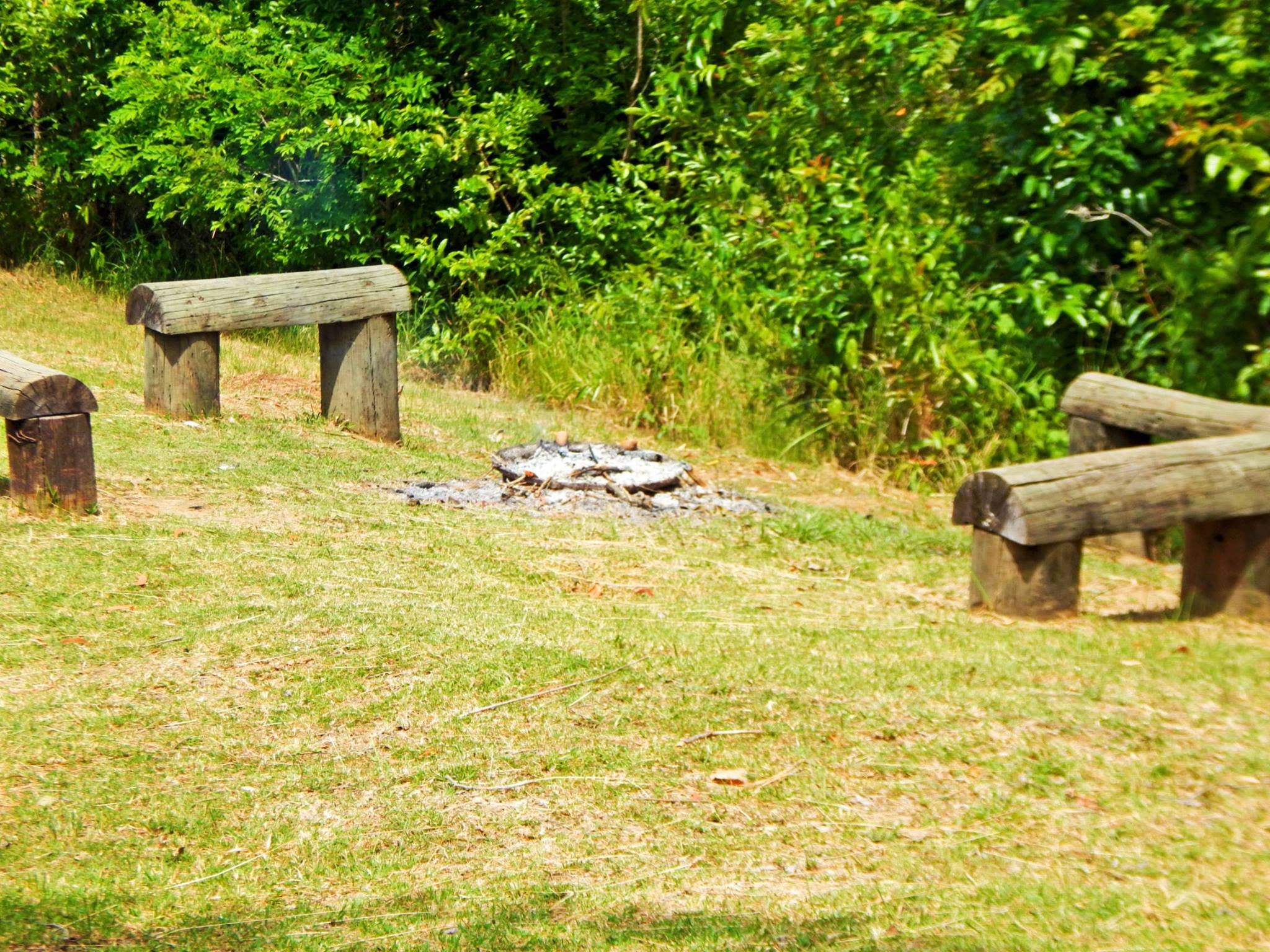 The campfire site
We had pizza for lunch that Lence (@emonemolover) treated us to, and we chatted for a little before we headed to our tent (which was a bit downhill). The tent was perfect for the four us, although it wasn't the glamorous tent I would have imagined- It was comfortable. When I say glamorous tent, I was thought of a dramatic looking tent where there are hanging lights inside and a comfy bed? Lol. Anyways, were able to fit all our bags and still have enough space to stretch out :) There were two bathrooms, one closed door shower and few outdoor showers (how cool was that?).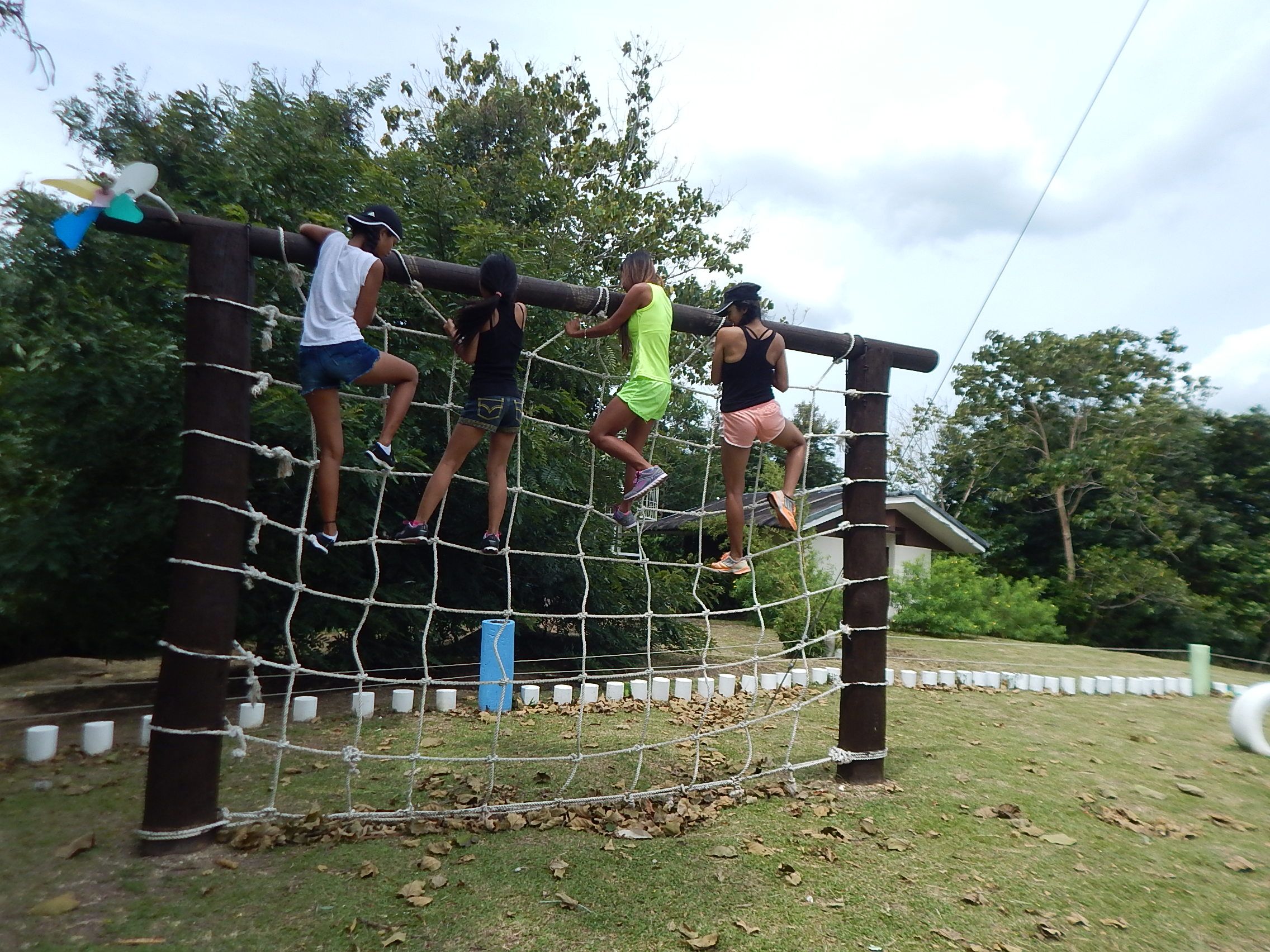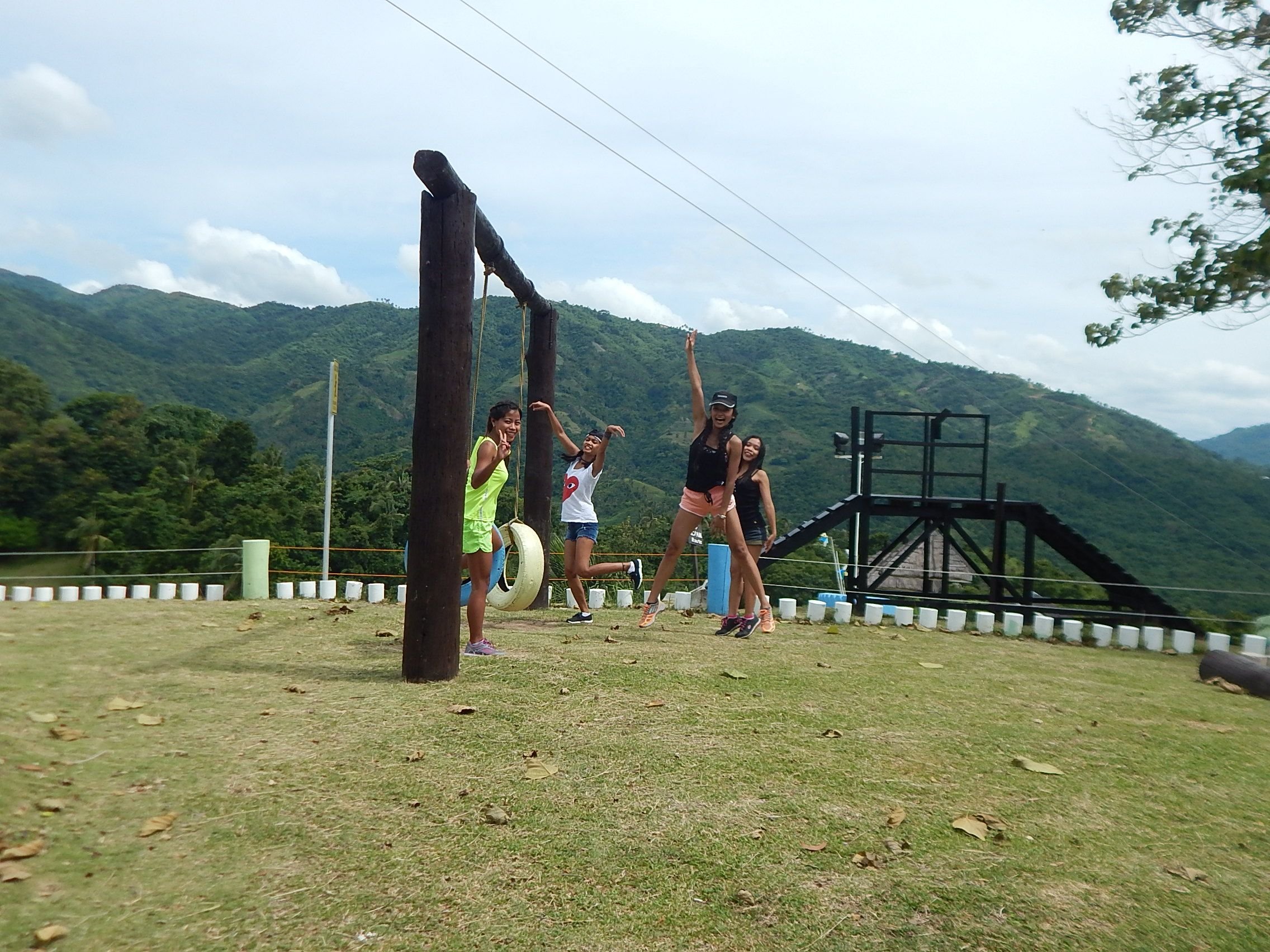 We spent about an hour scrambling on the playground, climbing the ropes, chasing each other which was really fun. Our clothes were full of spattered dried muds from crawling on the ground as if we were on a battlefield. It felt like returning to our childhood, haha! Since we were the only ones there, we weren't too concerned about how goofy we looked- Only the guard dog was judging us. It's one of those rare moments in which you don't care about the rest of the world because you are having so much fun.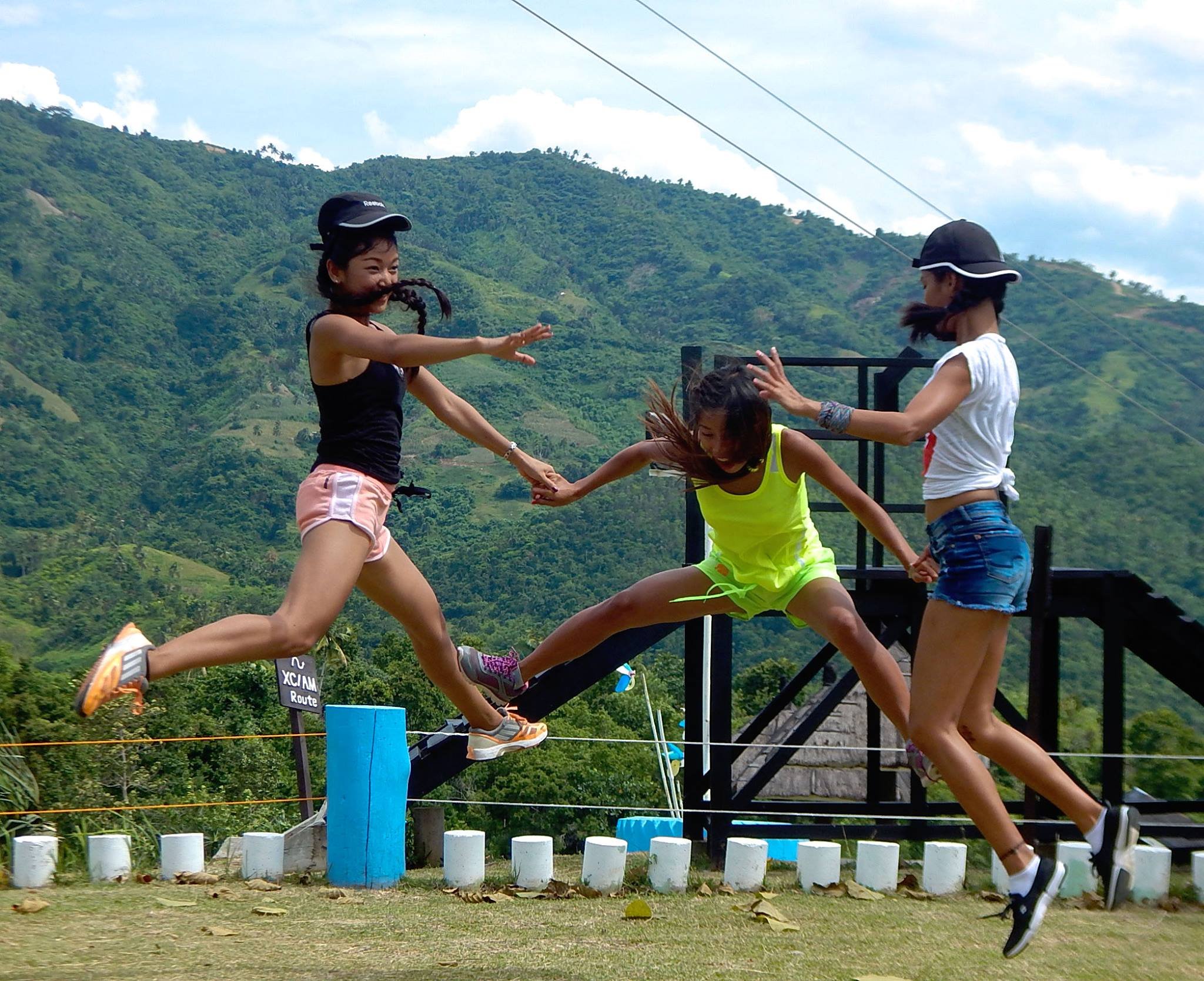 After a while, we sat down to relax and to drink some of the water we brought with us, and realized that we wouldn't have enough for our whole stay and we all got a little worried. We headed down to the receptionist's office and asked if they sold any water but unfortunately, we were out of luck since the clerk told us that the restaurant was temporarily closed for repairs. I thought to myself, if it's safe to drink the tap water at the campsite, why would the employees here buy their water from a water refilling station? So we didn't want to take the risk, (After all, we weren't on Survivor or Alone :) )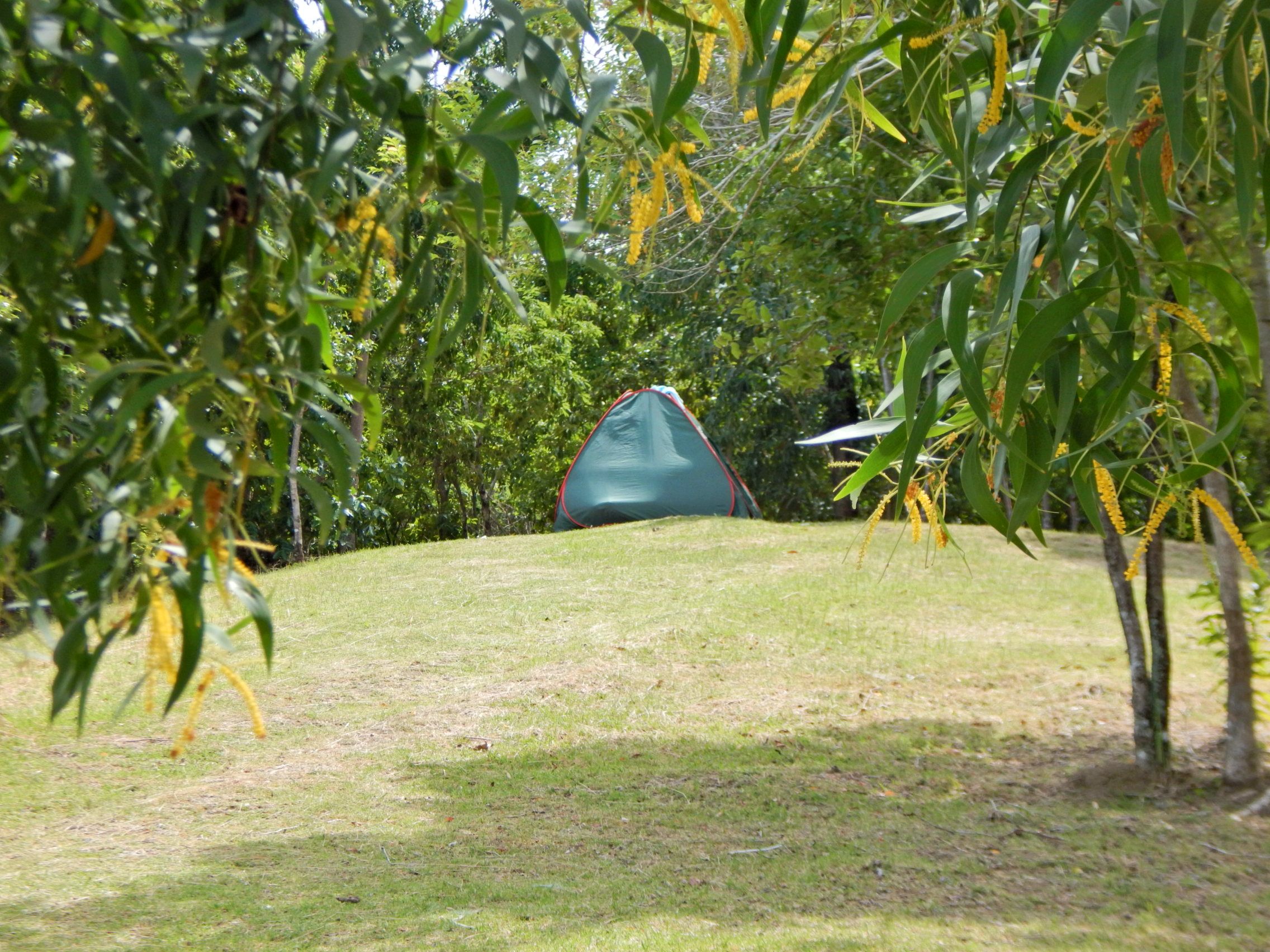 Our tent
We headed back to our tent to check how much water and other drinks we still had, and since we only had one liter of bottled water and 2 alcoholic drinks each, we would still need water for the next day. @emonemolover and I decided to head into the town leaving @bonjovey and Mel at the campsite. We started walking since we couldn't get a ride and after about 5 minutes we hitch-hiked a motorbike who was on his way home but this was before we reached the mall called Gaisano which was the closest place to purchase water. After another few minutes of walking, we happen to flag down a motorbike driver, who was kind enough to offer us a ride to the mall. He even waited for us and drove us back to our site, and since we didn't know exactly how much it would cost us for the whole ride so we just handed him 100 pesos ($2) and we were happy for his help.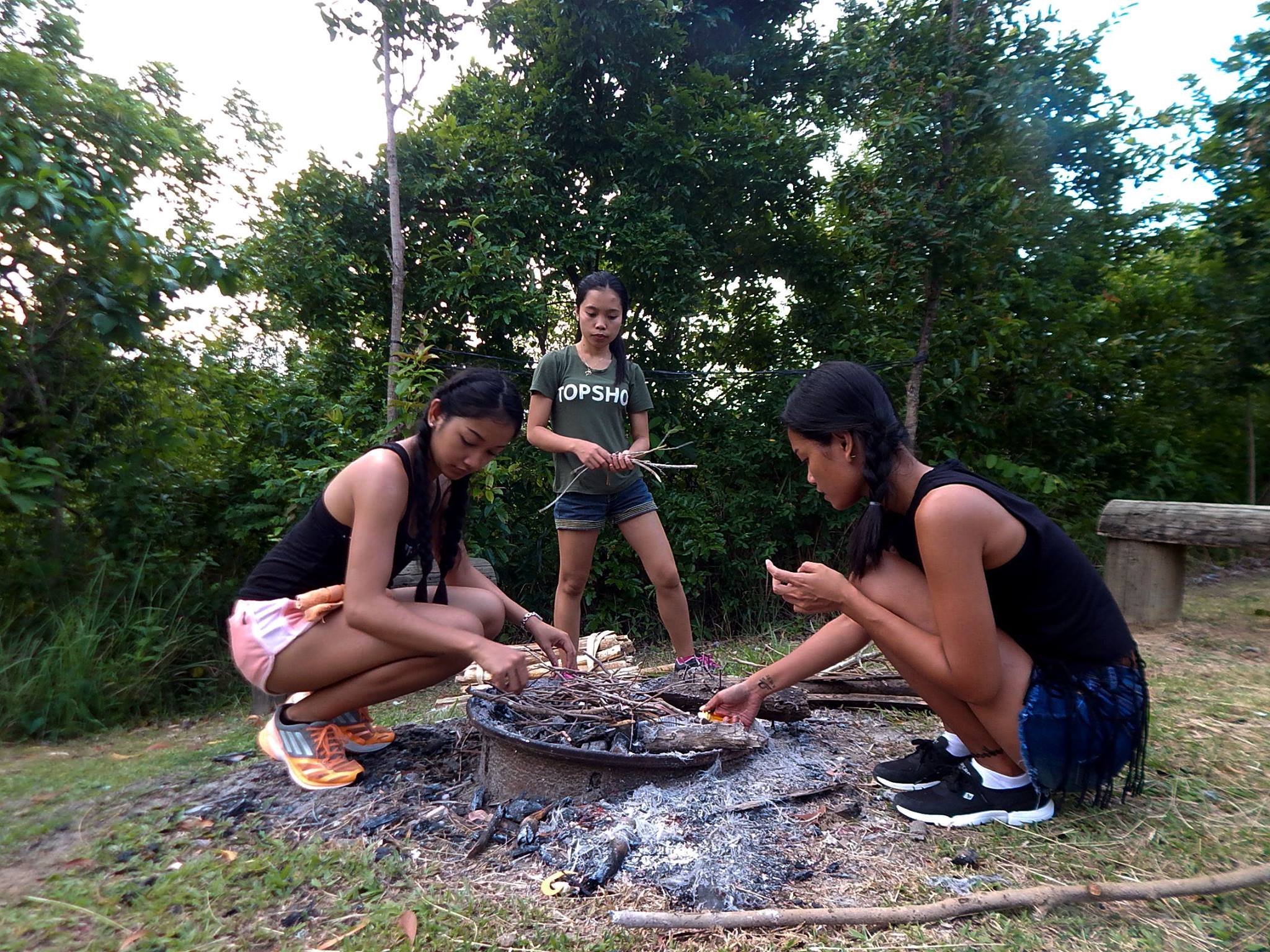 Back at our tent, I could see the relieved expressions on both @bonjovey and Mel's faces. We picked up 5 liters of water, snacks, and more hotdogs to barbecue. By the time we returned, it was already time to start our campfire. We gathered enough twigs to start the fire and put the big wood, soon enough we had a large enough fire to start barbecuing the hotdogs and the Krispy Kreme donuts we brought for dessert. When I told my friends about grilling the donuts, they were surprised that you could grill them, just like I thought the first time I had it when my boyfriend grilled some at home.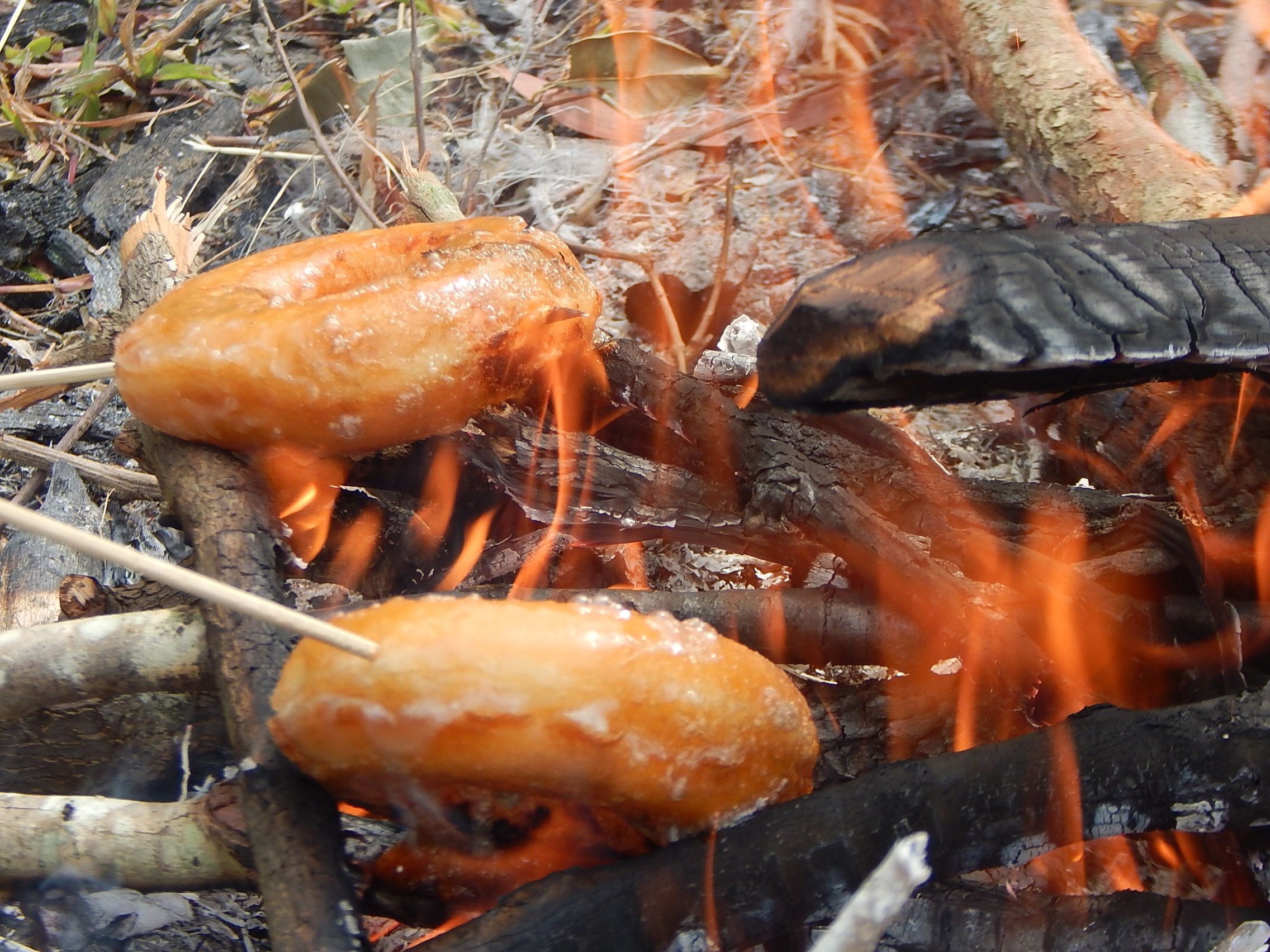 The weather was enjoyable, we played some music and danced around the fire until our knees and feet got tired. Then, we decided to sit on the large logs that were set up on the campground and played "pinoy henyo" which is a charade-style game that I downloaded on my phone.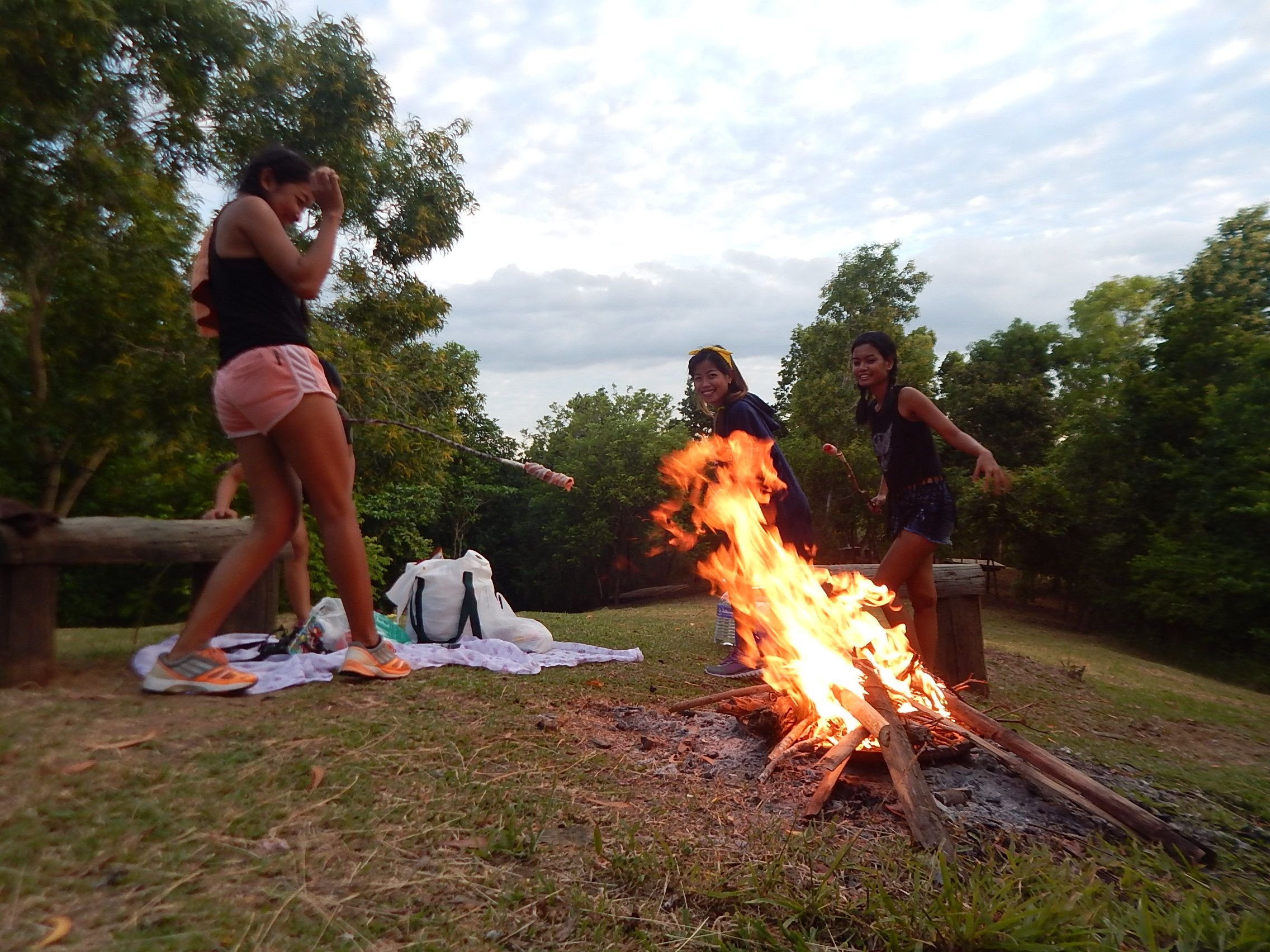 We were excited how we're going to survive the night but at the same time a little bit scared, I wasn't scared for my self but rather for my friends. Knowing it's just us girls, but there's a guard that roams around once in a while and three dogs that were also guarding us. ;)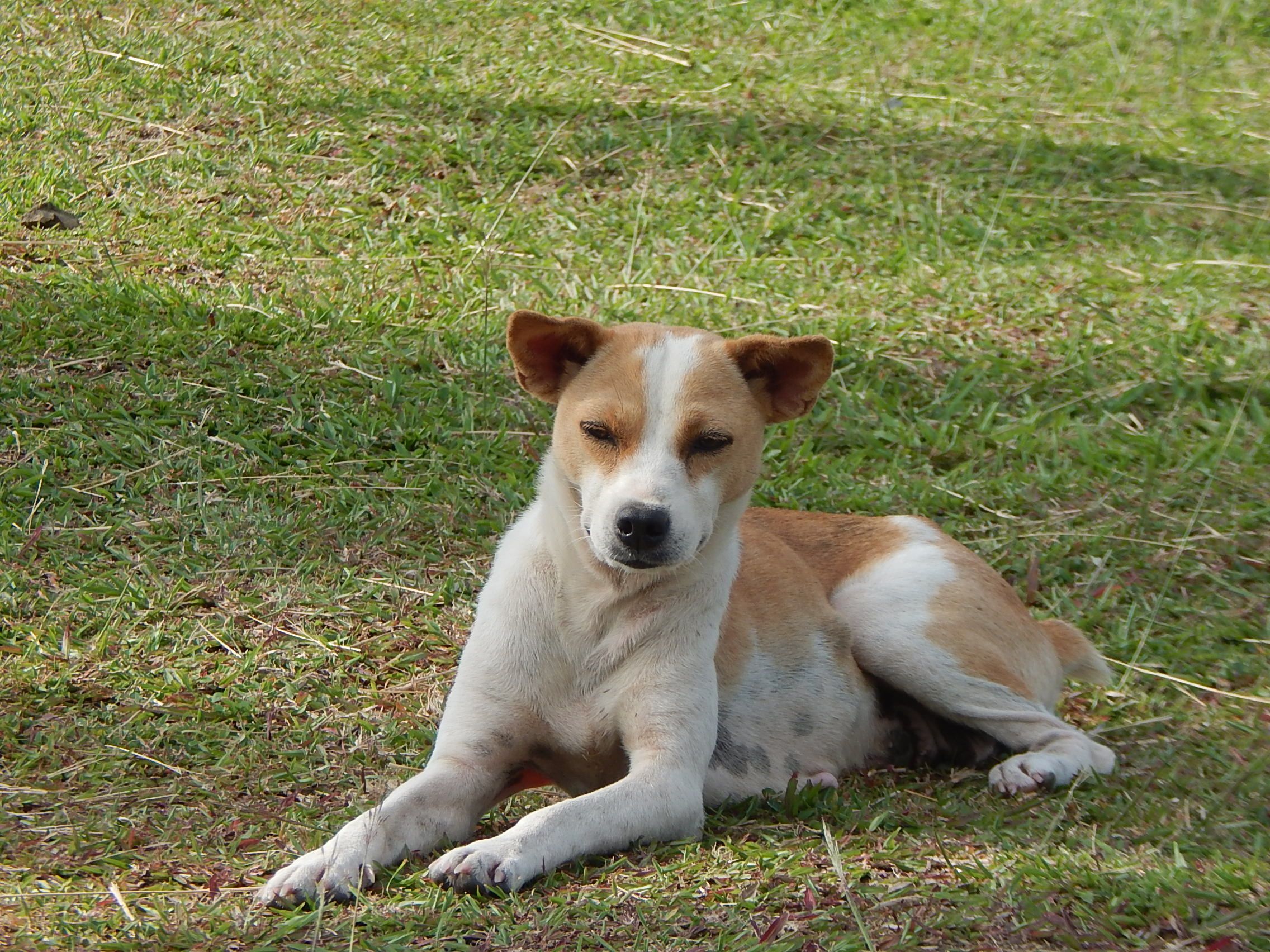 One of the dogs guarding us ;)
I guess we needn't worry about wildlife like bears or wolves in the Philippines :)
After a few hours of laughing and drinking by the fire, We all went to shower, to wash the smoke and sweat off, and we headed back to our tent to play some cards. It wasn't more than an hour before when were we clean and now our faces were already smeared with soot, covered with lipsticks, (lol) as a punishment for someone losing a card game and the four of us happen lose and win somehow. We also spent the night telling our stories with each other, until each of us got tired and fell asleep.
Not long after we fell asleep, we decided to move our tent on a different ground because we were awoken of some noise under the wood slab on which our tent was installed. One of the dogs at the site was playing with @bonjovey's shoes, we were glad it was the dog and not a bear, lol.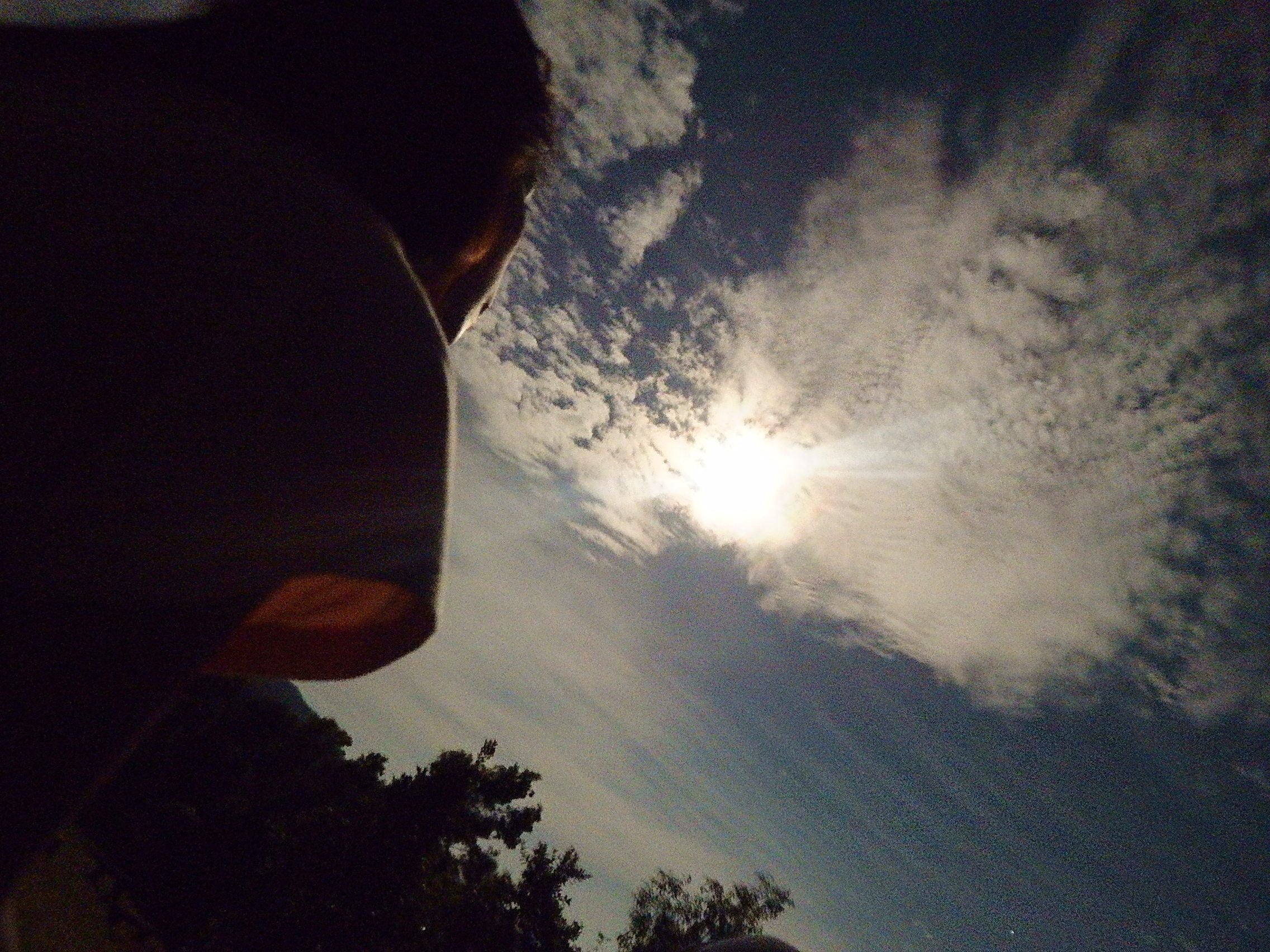 Since we couldn't fall back asleep we decided to lay our blankets on the grass outside of our tent and enjoy the beautiful moon and stars. Everything looks and feels calmer at night-Nothing beats the beauty of mother nature-Especially in the wilderness.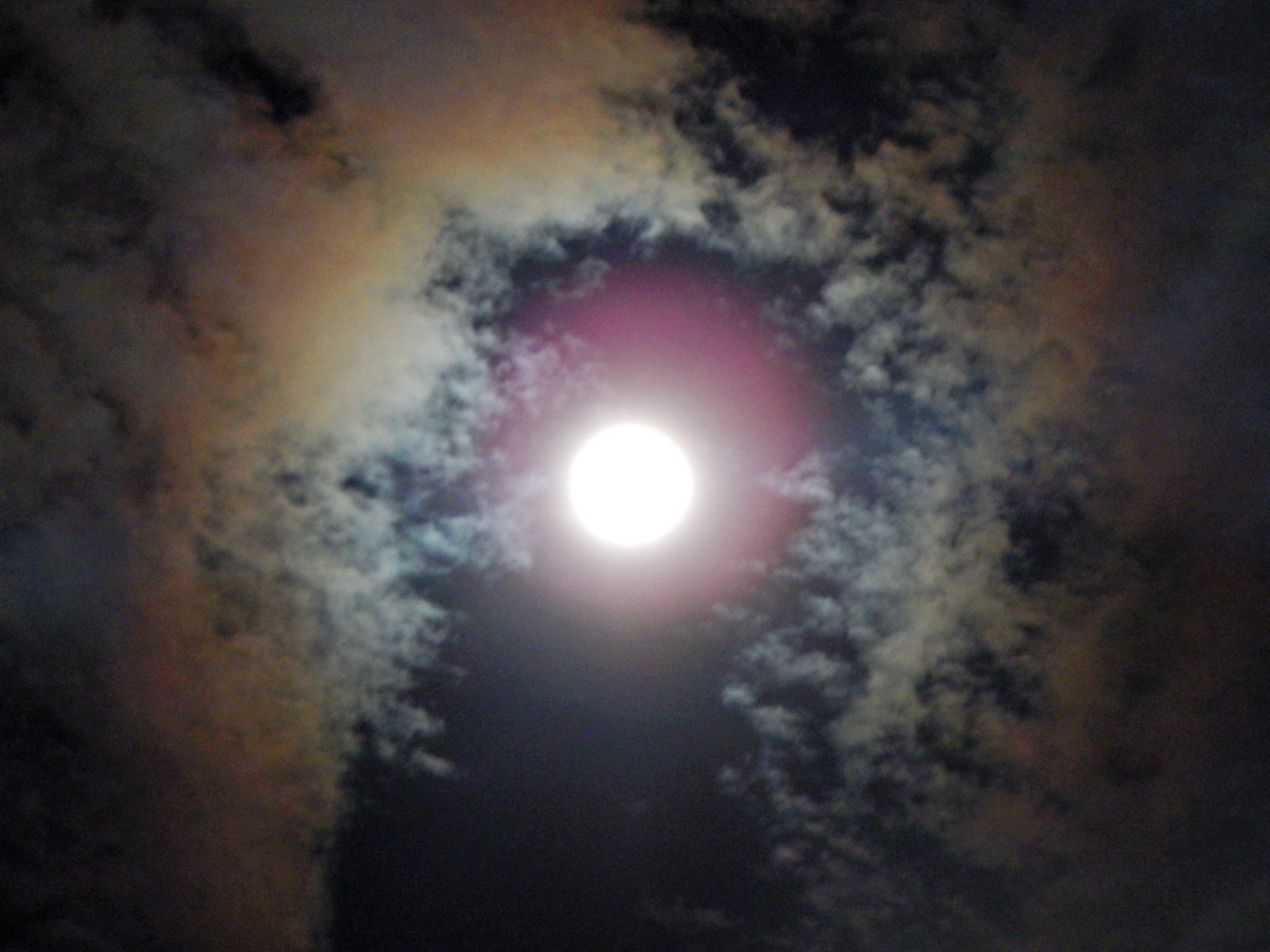 The view of the moon
Before the sun reached it's highest peak, we went for a jog and was able to see more of the landscape of Canso-x. We made our last campfire and barbecued the rest of the hotdogs, donuts and marshmallow for the S'mores.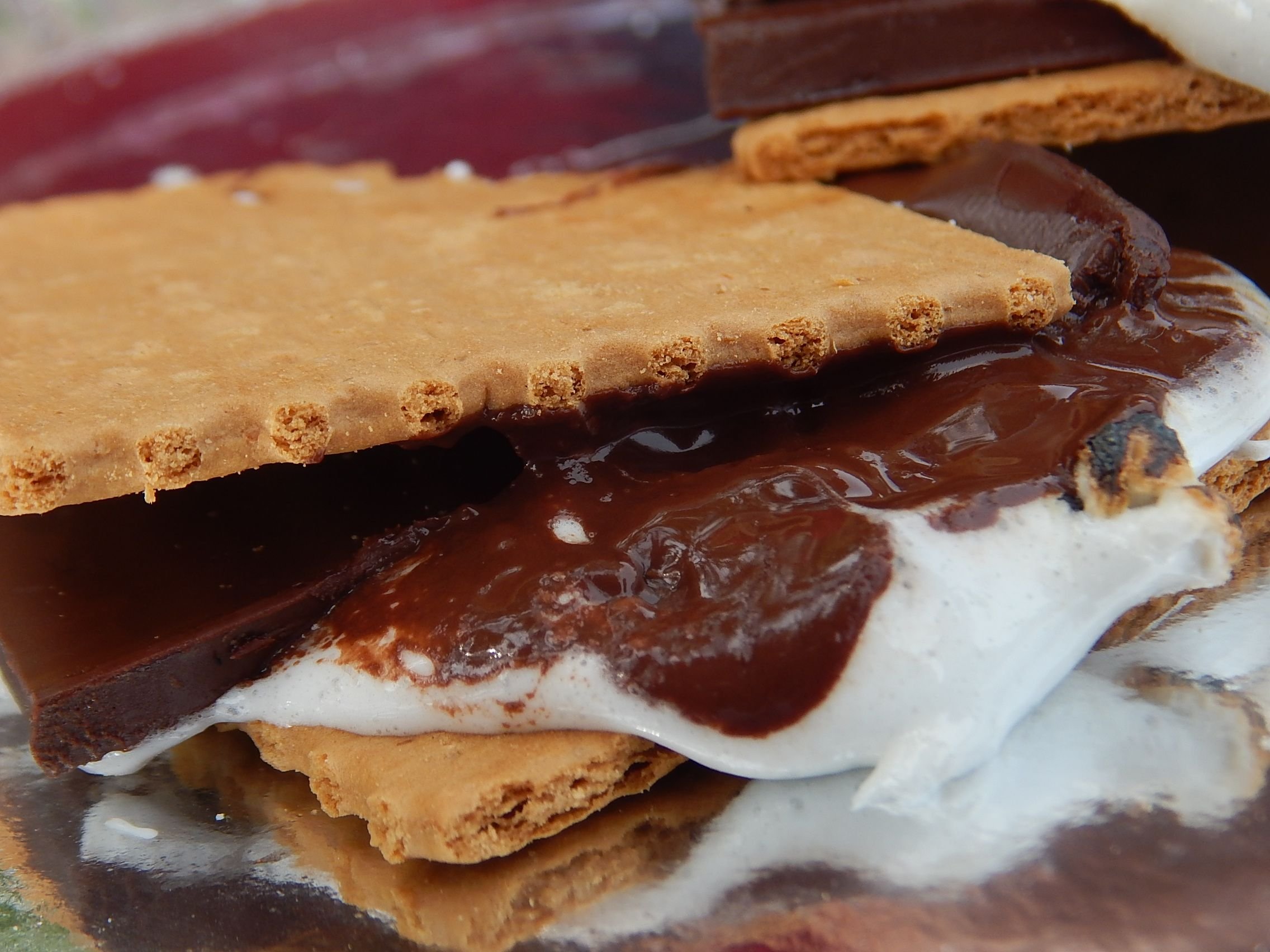 S'mores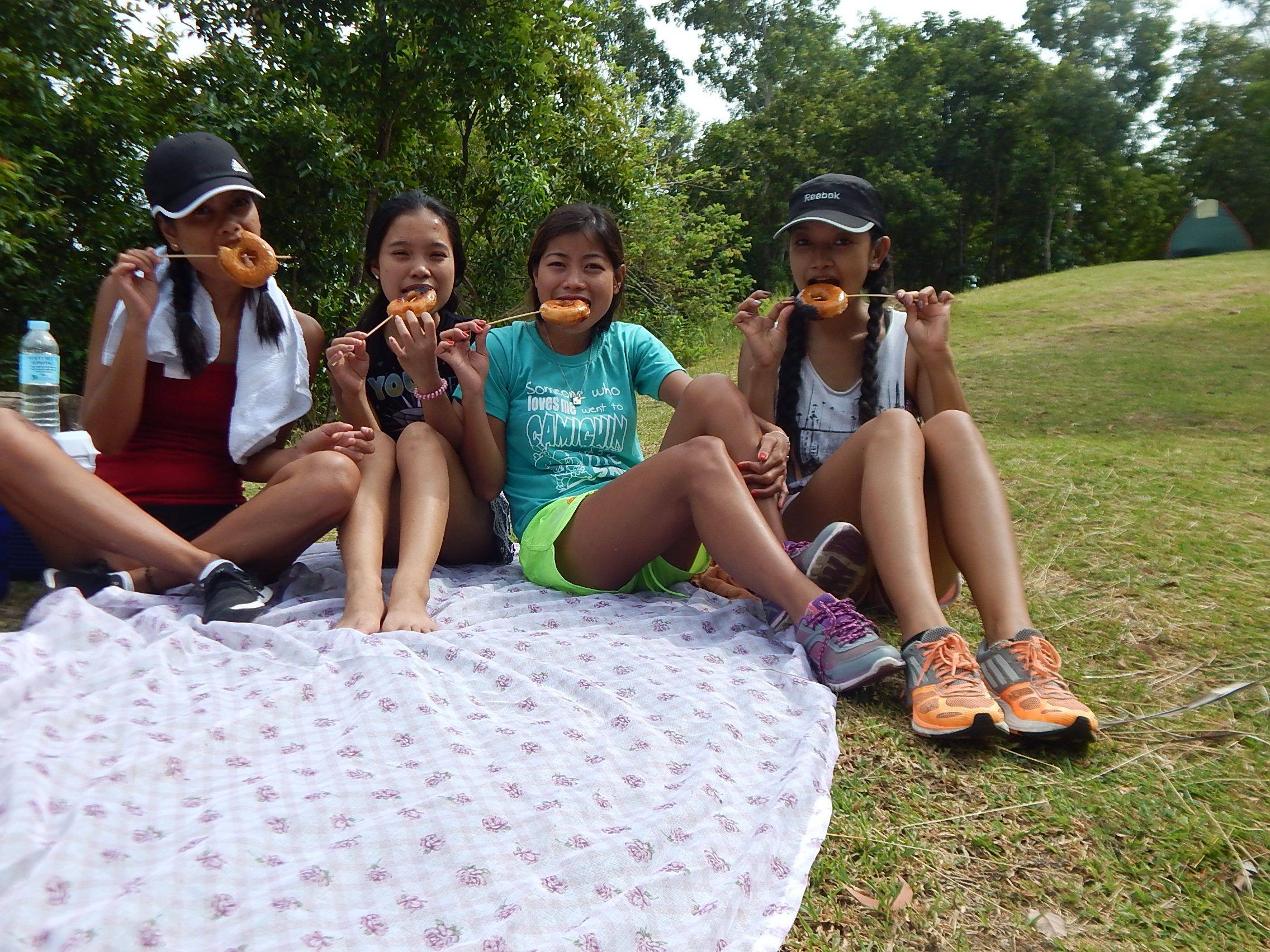 Enjoying our KK grilled donuts! :p
In order to get back to the city, we had to wait on the main road to catch a van and luckily, after about 15 mins of waiting we were able to ride a van. Although we only stayed for 1 night, we had an absolute blast.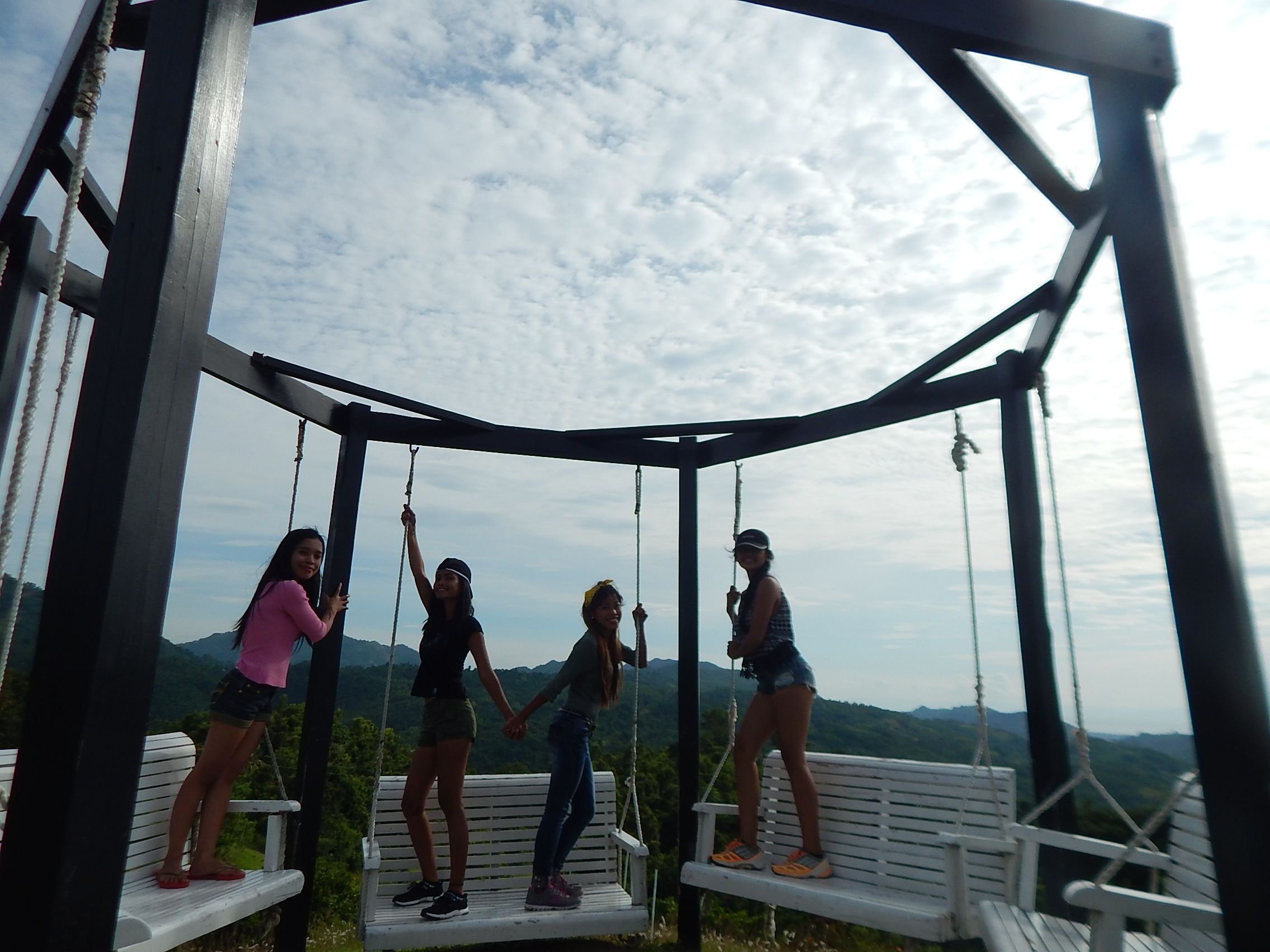 XOXO,
Gilaine