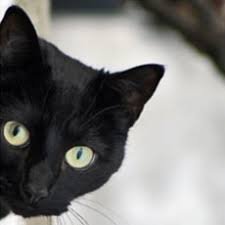 Let it be known that I'm not a superstitious person and at times I have even been known to poke fun at such corni-ness. But there are always certain experiences in everyone's lives that sure make it tempting to keep a shaker of salt handy (salt sprinkled around the house helps keep unwanted visitors away). Living in Southeast Asia can change you. Not overnight per se, but over time and through many unexplained occurrences accompanied by an untold number of stories. I do admit that the level of superstition in this part of the world can be downright silly where every unexplained paranormal experience known to man seems to exist. And why some things might sound absolutely ridiculous, they can also be very eery.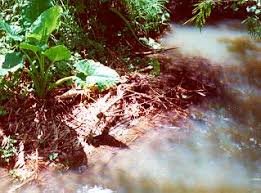 The "White Lady" in the Guam jungle. You can see her, right?
Believe it or Not!
I remember once standing on top of the cliff at Two Lover's Leap in Guam - A local tourist attraction (renamed Two Lover's Point for tourism marketing purposes) that sits atop a tall cliff facing west, over-looking the Philippine Sea. This popular tourist attraction is an ancient site where two young Chamorro lovers supposedly tied their hairs together and leaped some 400 feet to their death after being denied the acceptance of loving each other, by local tradition (short version). Atop the cliff is located a crater-like hole that is tied into a labyrinth of small caves that descend into the huge rock and exit in various locations on the face of the cliff. This is one particular location among others, where the supposed Taotaomo'na, or ancient, haunting spirits, are said to reside. To disturb the Taotaomo'na is a challenge to the paranormal imposition of curses, in and of varying degrees. Many years ago I was told by an elder Chamorro woman who said I should not toss stones into the cave as I might disturb the spirits that live there. While I was taking in the sites on Guam, I found it curiously entertaining to drop small rocks into the cave's dark depths, listening with intent as to determine the depth of the cave. When the flabby side of my right hand swelled to two-times its normal size a day later, my thoughts were that it was the result of an insect or spider bite even though there were no visible signs of bite marks. As that swelling traversed across my hand (to the thumb and back) over the course of the next three days, I began to get worried and considered visiting the doctor. There was no pain whatsoever and as an invincible 20 year-old, I could not justify any urgent need to waste time with any doctor. Within a week the swelling was gone completely, but not before being repeatedly scolded by that same Chamorro elder who said "I told you so!" To this day I can still see her pointing her finger with all-so-serious certainty at me.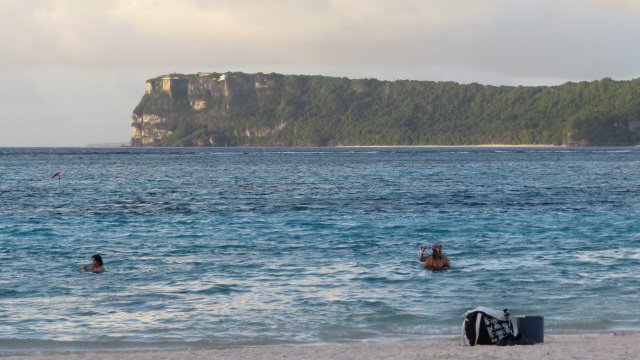 Two Lovers Point, Guam
I have an old friend who lived on Guam when I did and claims to have also suffered the consequences of disturbing the Taotaomo'na when he cut down a tree-limb that was intruding upon his apartment balcony. The old Chamorro man who lived in the apartment below him also warned him of impending troubles related to disturbing the spirits. Like caves, there were certain trees (banyan) that were believed to be known hangouts of the ancient spirits. I learned from my friend about his late-night, out-of-body experience that same week he cut on that tree. I also remember his wife being struck by lightning while inside their living room several weeks later. She survived but suffered 3rd degree burns on her feet where the current exited her body.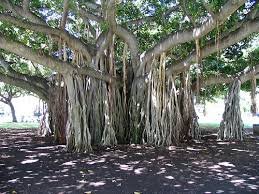 A "Banyon Tree" where tree-dwelling Taotaomo'na live on Guam
Not too long ago, my wife and I joined up with some friends who were visiting Guam from the Philippines. We were standing on the dock at the Sumay Cove Marina taking in the surrounding scenery and enjoying the colorful turquois-blue-green waters of that same inlet when it presented itself for inspection from the depths below. A rather large stingray, nearly 5 feet (tip-to-tip) glided graciously up to the surface, as if it were greeting us, and then slowly descended back to the depths and out of sight. In all my years spent in the tropics, I had never seen a ray like this swim up to the surface before. I'm not saying this is uncommon, just that I had never witnessed anything like it. It was like a message to our visitors – "Welcome to Guam!" We were not only impressed with the sighting, but felt honored to be a part of this unique experience.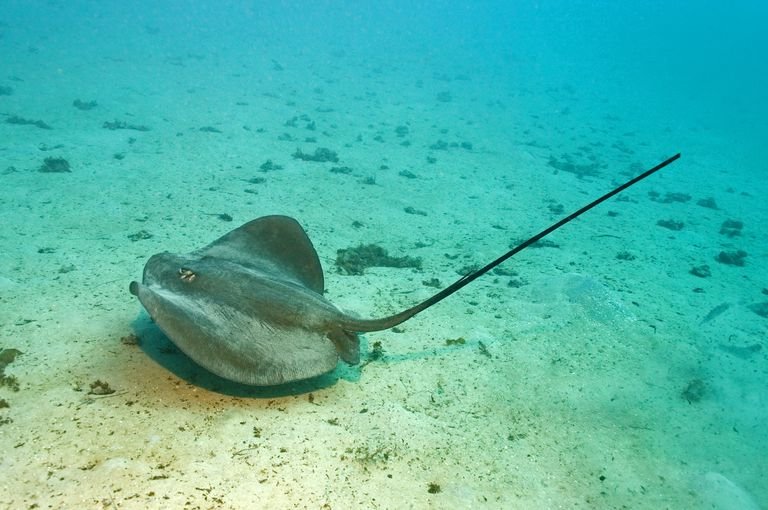 Stingray
It was just a few days later that we were informed by my sister-in-law in the Philippines that her husband (brother-in-law) was severely stung in the foot by a Stingray. The weird thing about it was that he was stung approximately around the same time as our sighting some 1,500 miles away. He is slowly recovering and his foot swelling is half of what it was just a week ago. The irony of it all is that it's just way too eerie to investigate the actual times of these rather simultaneous occurrences… we just did not need (or want) to know. At this point in my life, I just do not need any further affirmations into the world of superstition.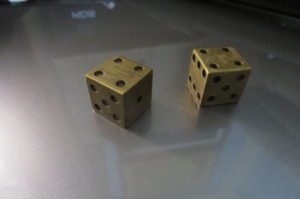 ... and my "Lucky" number is...
All a coincidence you say? You just never know… especially in this part of the world! Personally, I don't hold onto any strange beliefs, although I do claim certain lucky numbers - with which I have never won the lotto. It seems that living with superstitions would just add more complexities to life and besides, I retired in this part of the world to reduce my stress. I like living without them (complexities) and I've gotten quite used to that.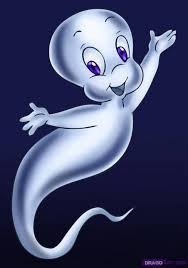 They do have hands!
Besides, I've never known anyone to suffer at the hands of a ghost, so why bring it up? (Do ghosts even have hands?)