This article was written by @susanli3769 / 本文由 @susanli3769 撰写提交
About the authour / 关于作者:
Follow the author @susanli3769 to find the other great articles from him/her.
请关注/追随作者查看他/她的其它优质文章。
Original text/原文如下:
---
First of all, thanks to @someone for giving me the opportunity to guide you to Yosemite National Park.
首先感谢@someone给我这个机会带你们游 优山美地国家公园。
Last summer, we went to Yosemite National Park in California with my elder brother. It was his first time to US. We tried to show him as much as we can during his short stay.
去年夏天,我哥哥初次来美国玩。我和老公带他一起去了位于美国加利福尼亚州的优胜美地国家公园。我们希望在哥哥短暂的停留时间内,能够带他去尽可能多的地方去走走。
We lived in Seattle back at that time. We decided to go to the park by car. It was almost 4hours drive. Indeed, it was a very long drive, but the scenery was incredible and made it totally worth it.
我们当时住在西雅图。我们决定开车去。大概四个小时的车程。 路程确实不短,但那里的风景宜人,让这来回8 小时的时间非常值得。现在就让我带你们去看看吧。
Yosemite National Park covers an area of 747,956 acres and reaches across the western slopes of the Sierra Nevada mountain range.
优山美地国家公园涵盖了747,956 英亩的面积,它延伸至Sierra Nevada山脉。
This was taken from a view point on our way to Yosemite National Park.
这是我们在去国家公园路上的观景台拍的。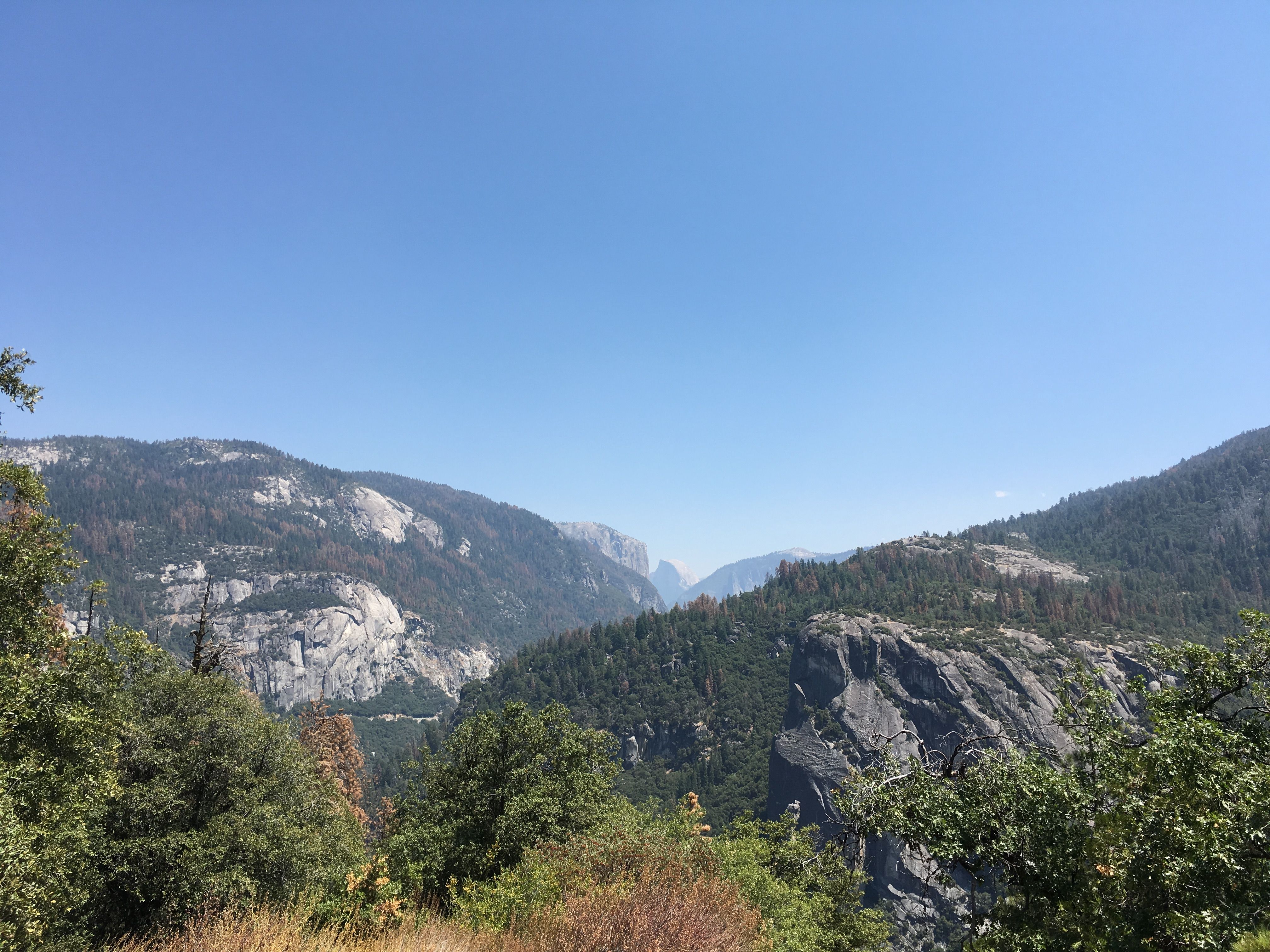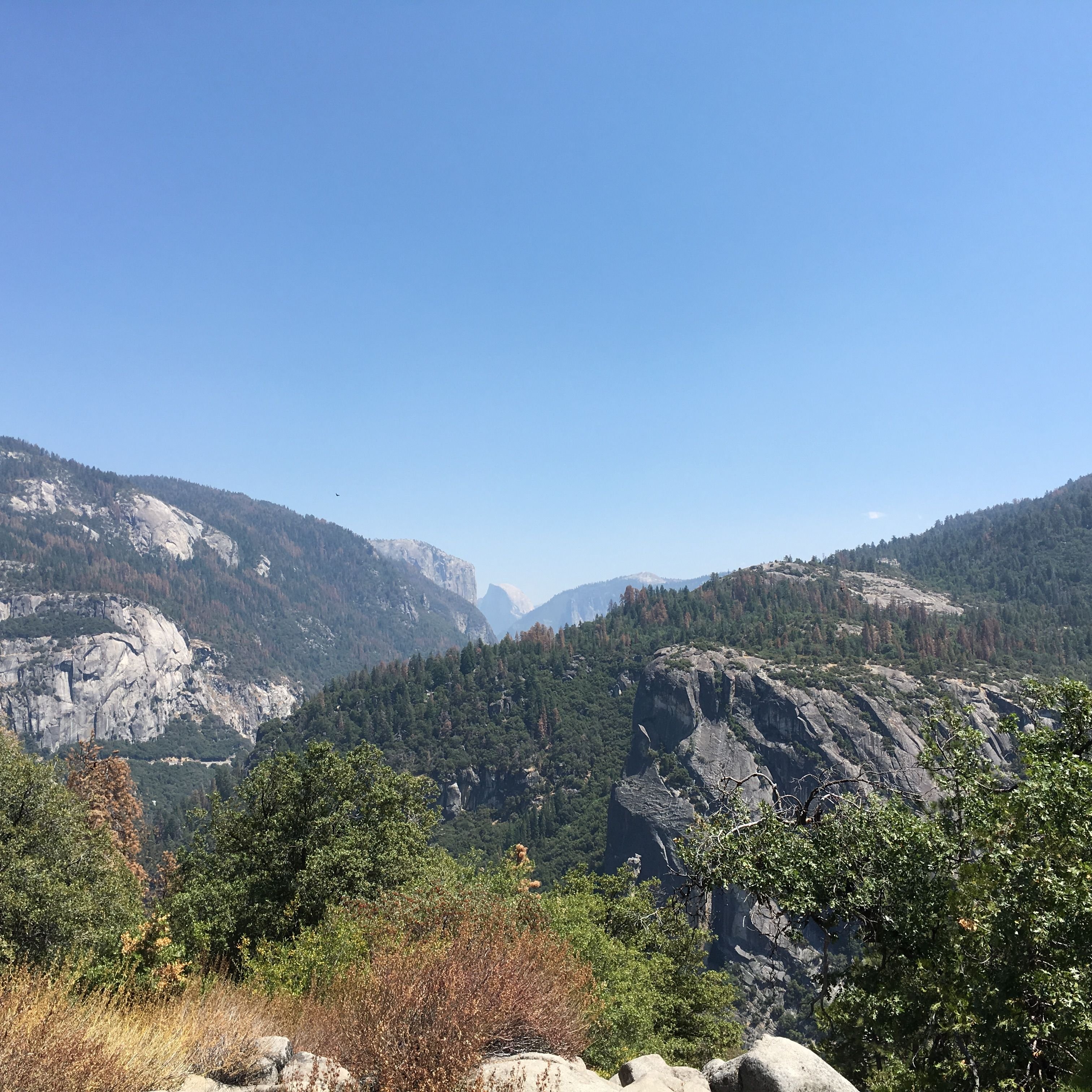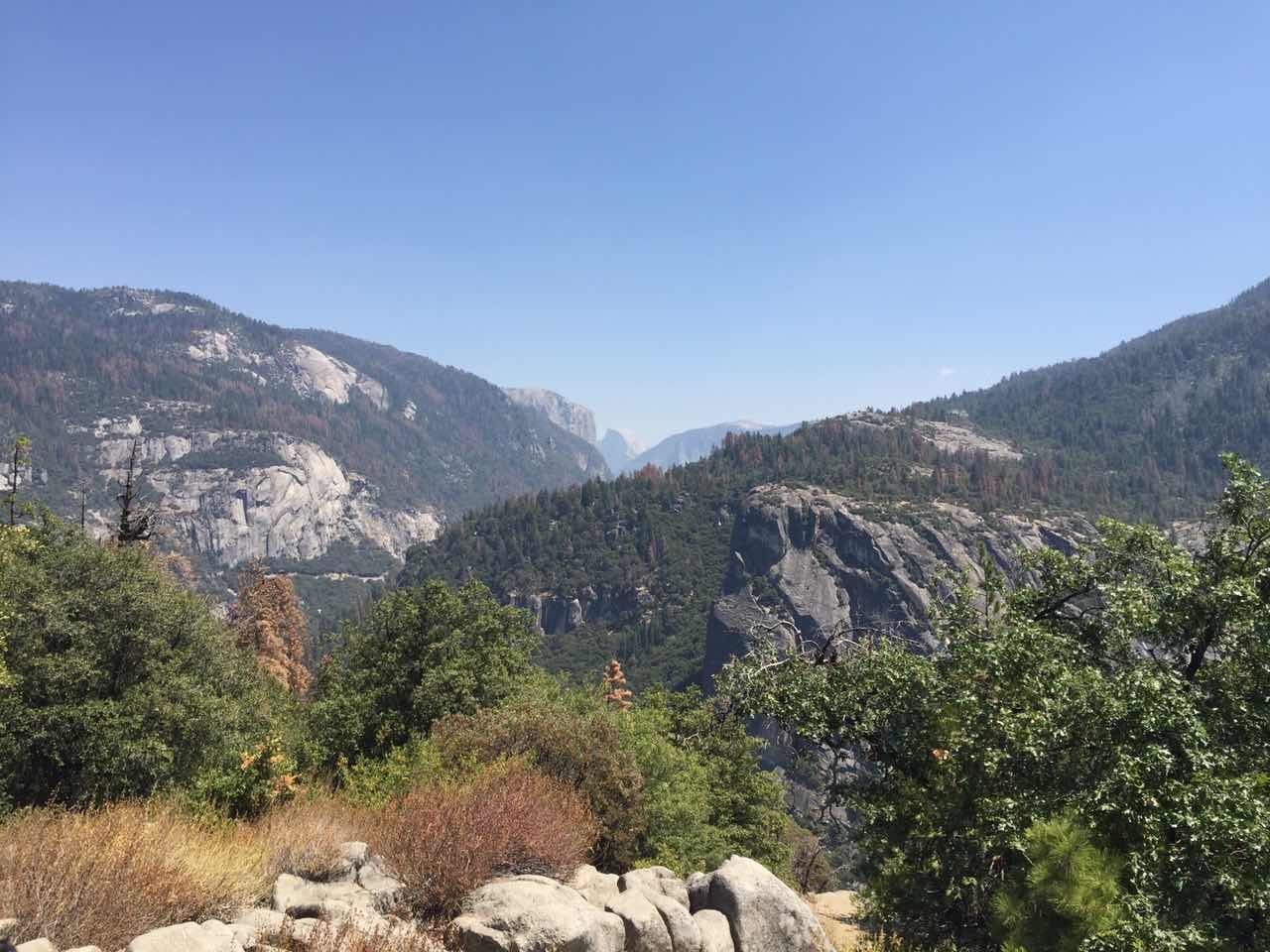 How can we miss this beautiful scenery without leaving ourselves in the photo? My husband and I were still dating back at that time. But our relationship developed very fast and had strong bond. This was our first time to Yosemite National Park too. We really couldn't wait to see what it really looks like.
这么美的景,怎么能不留下靓影留念一下呢?当时我和老公还在热恋中。这也是我们第一次去优山美地。 连路上的风景都这么美,就更期待进入优山美地后的美景了。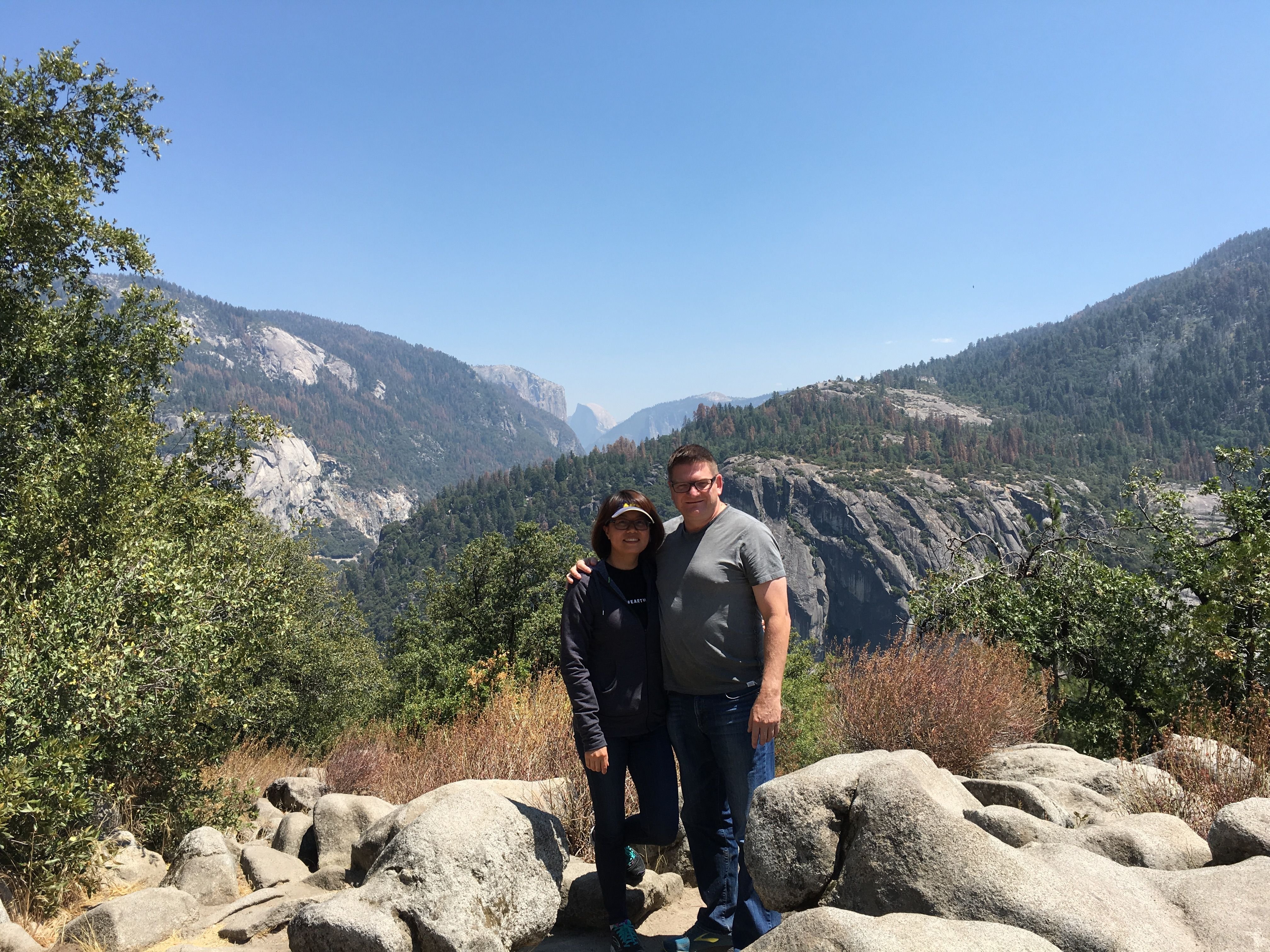 My brother also couldn't wait to leave his mark in this photo.
我哥哥也等不及留下到此一游的证据。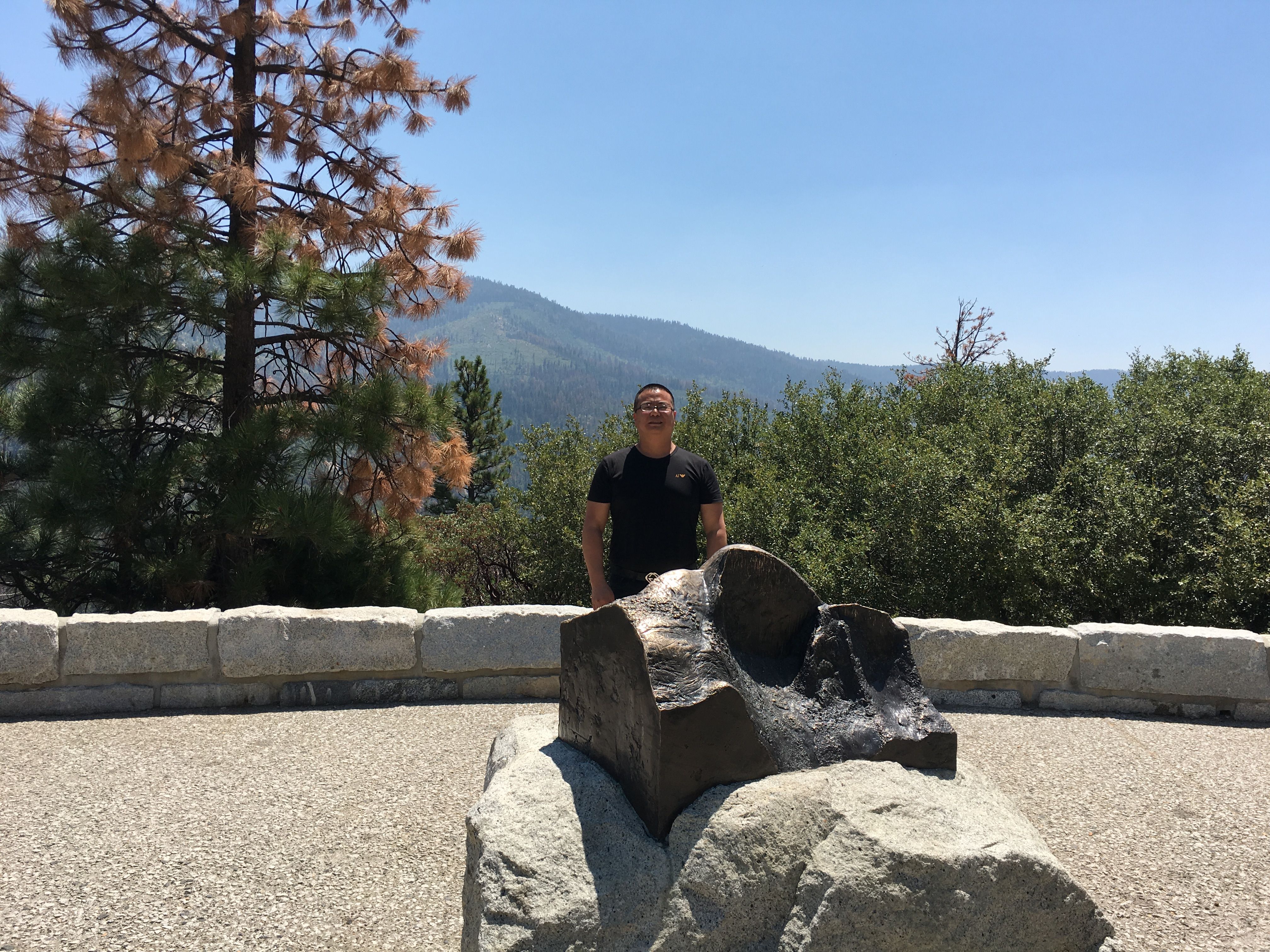 When he was taking the photos, I took a photo of him.
他拍景,我拍人。螳螂捕蝉黄雀在后。虽然比喻不太恰当,但足以表达我们兴奋的心情。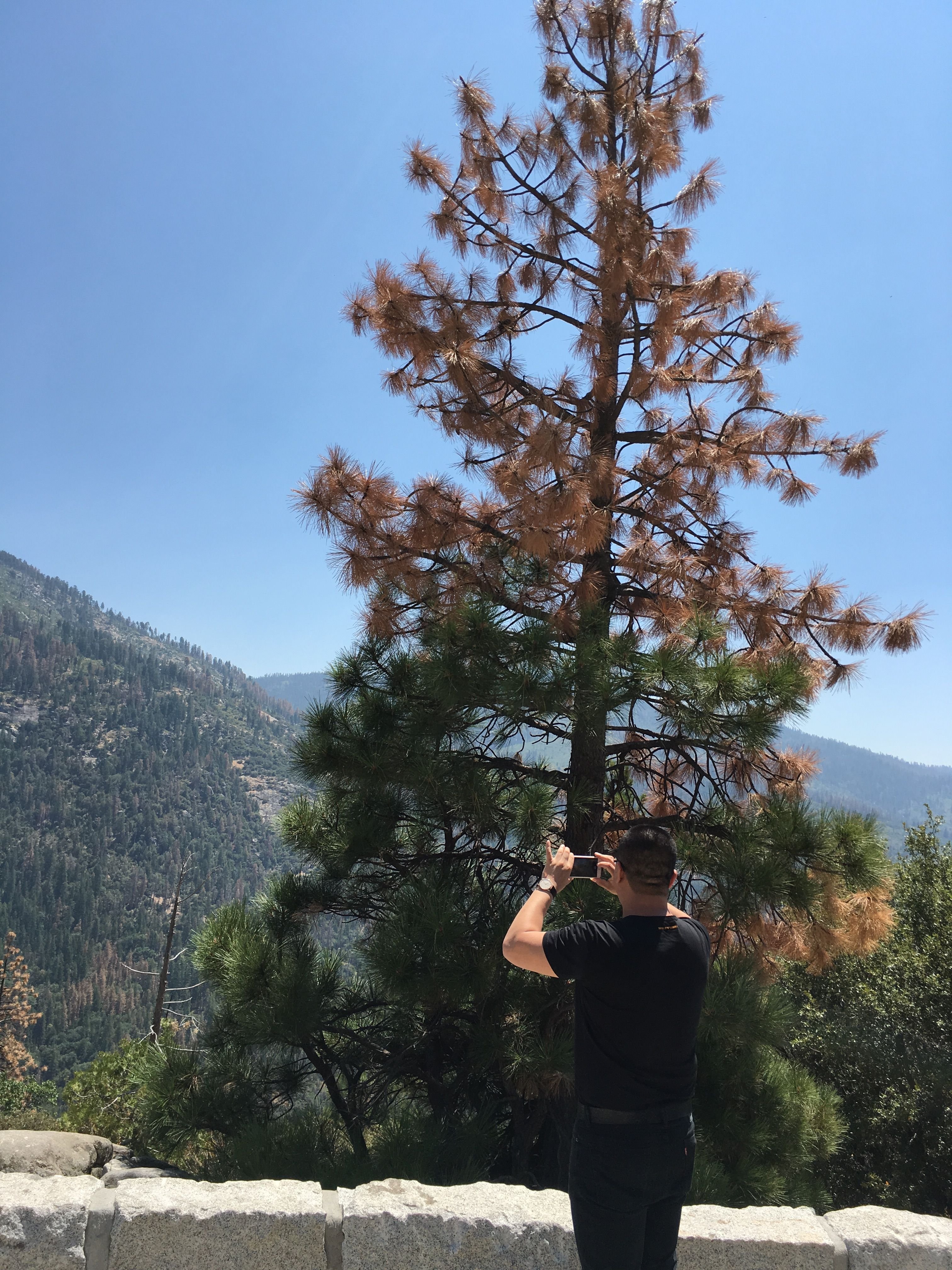 This is Peak of El Captain. El Captain is a very famous mountain and has been one of the most favorite object of professional photographers like Ansel Adam. It was first scaled in 1958. It's famous for its massive bulk of largely unbroken rock and its sheer, vertical face soaring 3,000 feet into the air. Seeing it means we had arrived our final destination after 4hours' drive. We were very excited and couldn't wait to get off the car and explore the beauty of the park.
这是El Captain 的顶点一瞥。El Captain是非常出名的山脉,是很多著名摄影师如 Ansel Adam不可缺少的题材。 它于1958 年测量的。 它的出名之处在于它是由一大块完整的巨石组成。 它的绝对垂直海拔在3,000 英尺高。看到它就知道我们已经到了公园的中心了。 大家都非常兴奋,迫不及待地下车游览。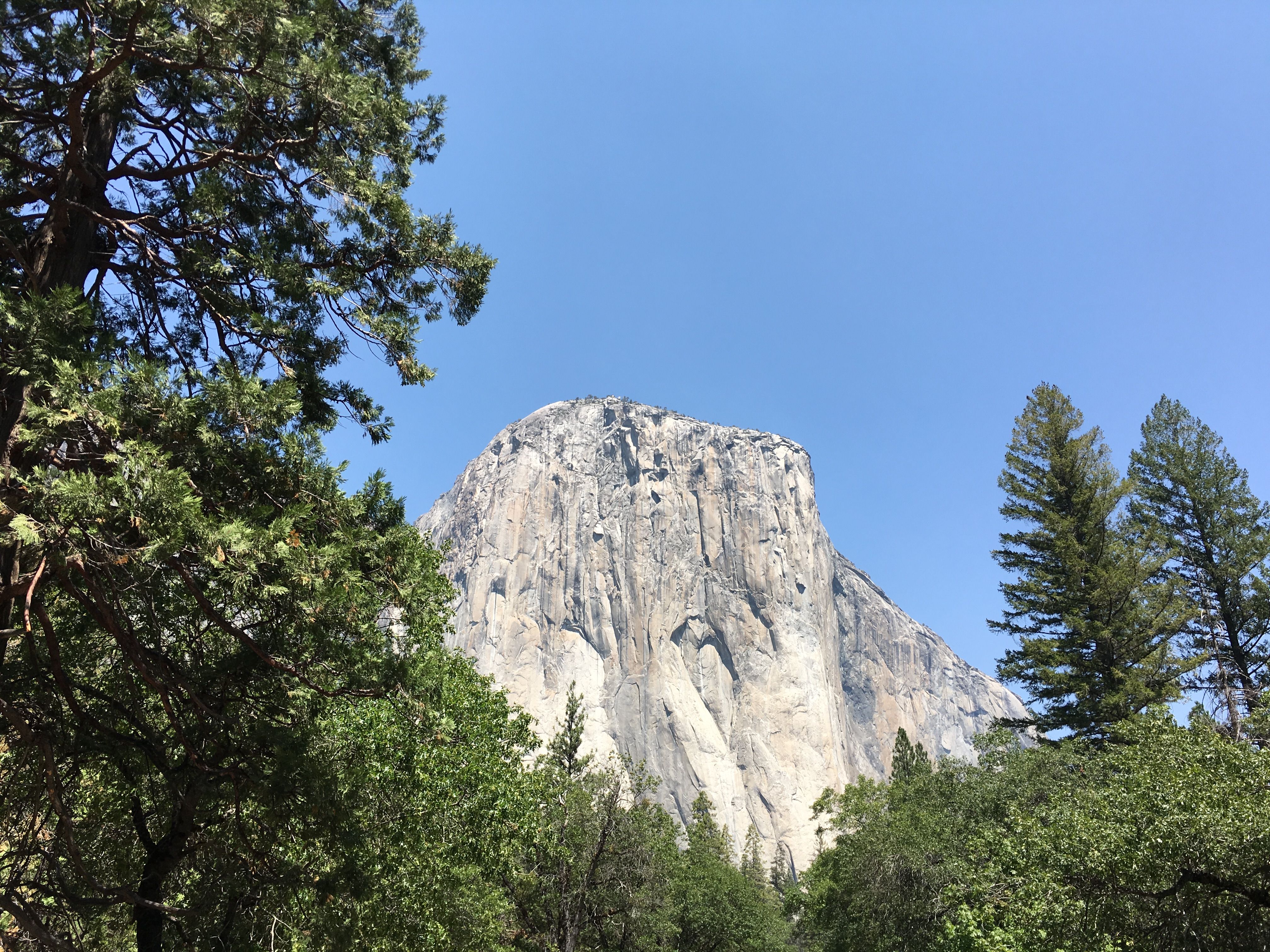 Standing by the huge mountain, you will realize how small we are, and how big the mountain is. From far distance, we could vaguely see that few people were hiking on the peak of the mountain. We didn't go all the way up as it would take few hours for us to get there. Both my brother and husband were not fond of climbing mountain, they were satisfied with taking photos with the mountain to prove that they were there.
站在巨山脚下,我们不经感叹人类的渺小和大山的伟岸。 从远距离,我们隐约可以看到有些人在山顶上爬着。 由于时间关系,我们没有上山。我哥和老公都没有要爬山的意愿。他们能够把这宜人的风景拍入他们的相机中已经非常满足了。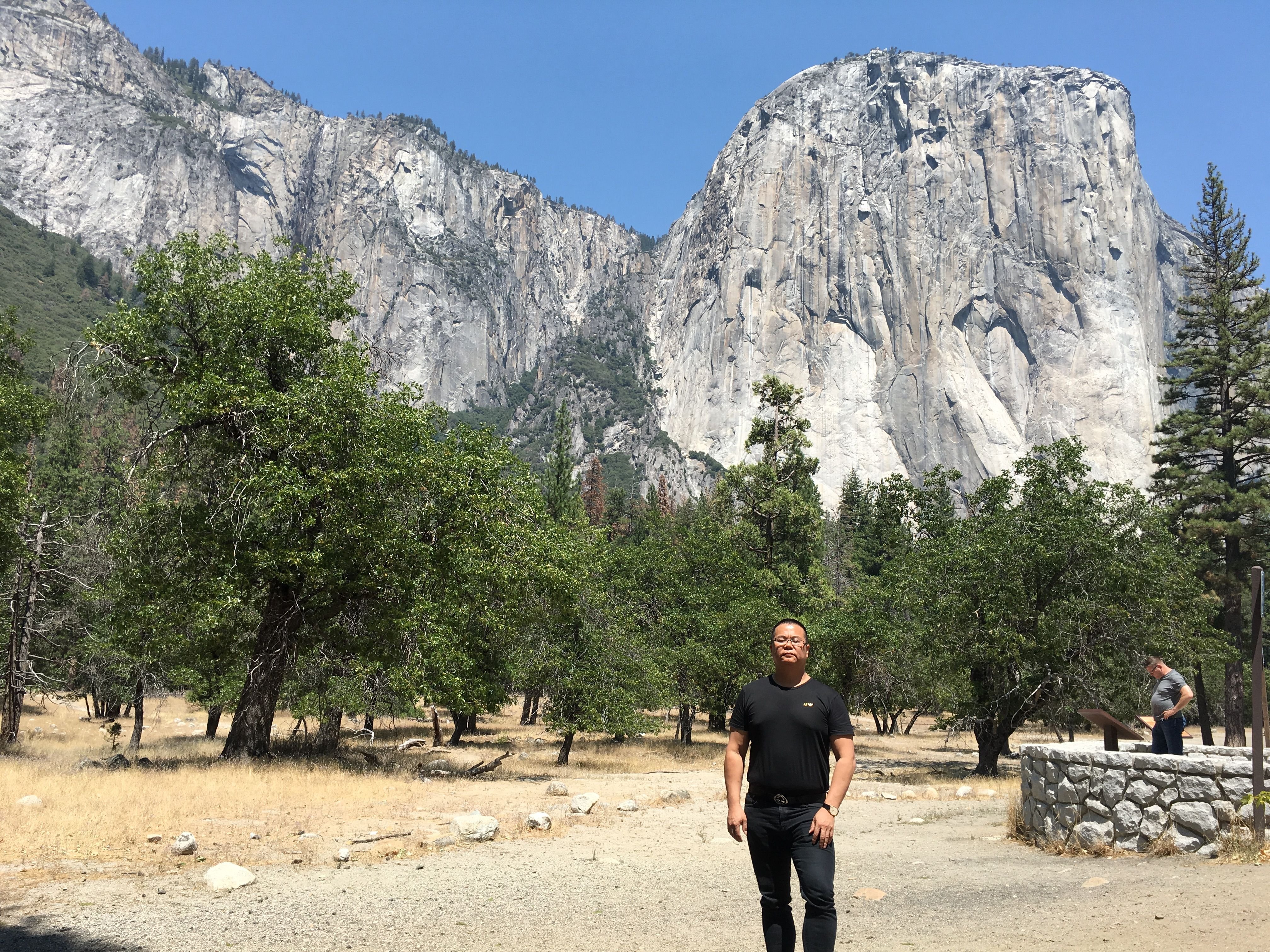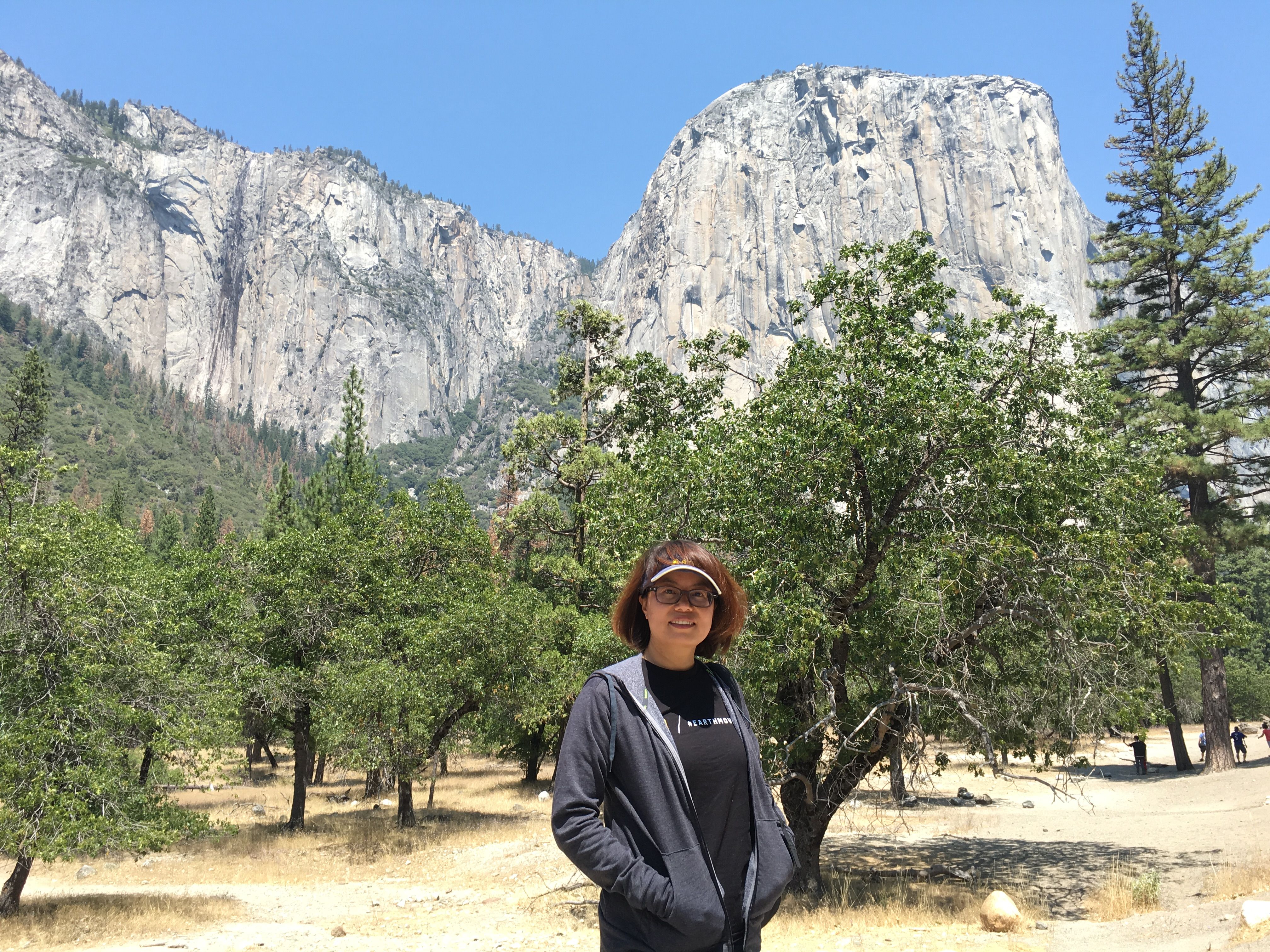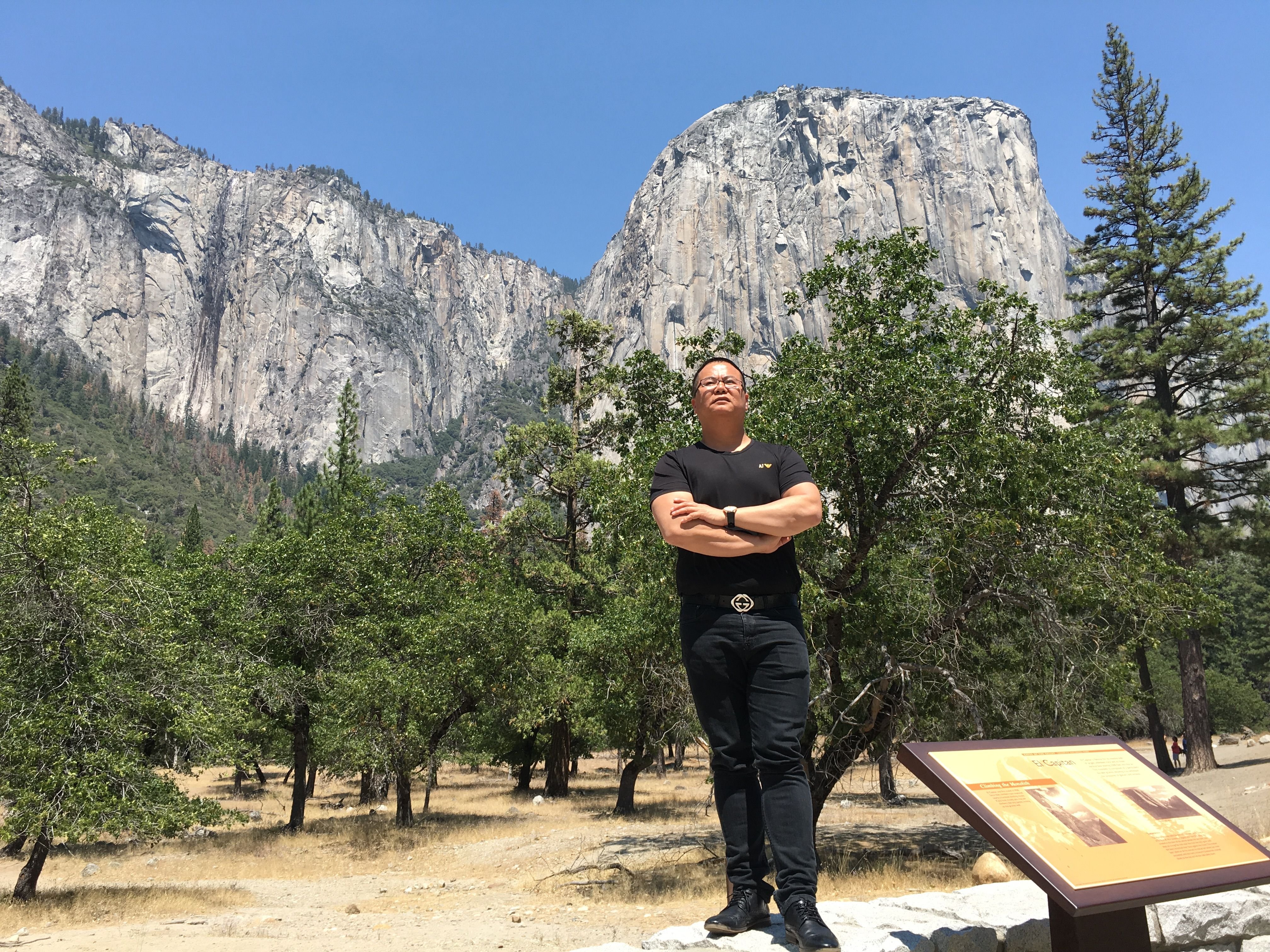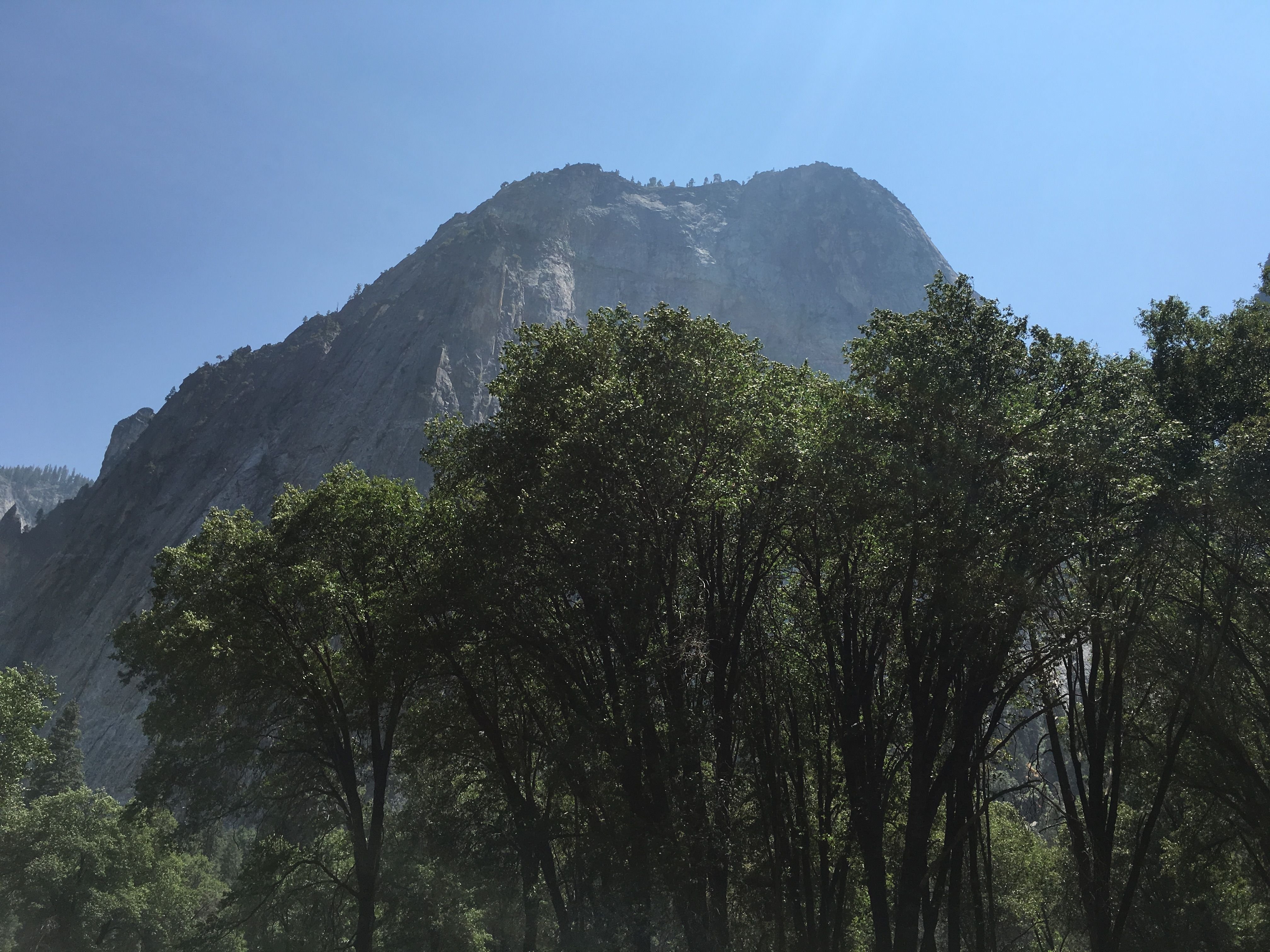 Yosemite's awe-inspiring granite formation has made the park so famous. Sample of most of their 16 granites have been carried to that area by glaciers according to the instruction on the board that my husband was reading behind the scene.
依照看板说明, 优山美地为什么那么出名主要是因为它由多种花岗岩组成。 这16 种花岗岩都是冰川运动的产物。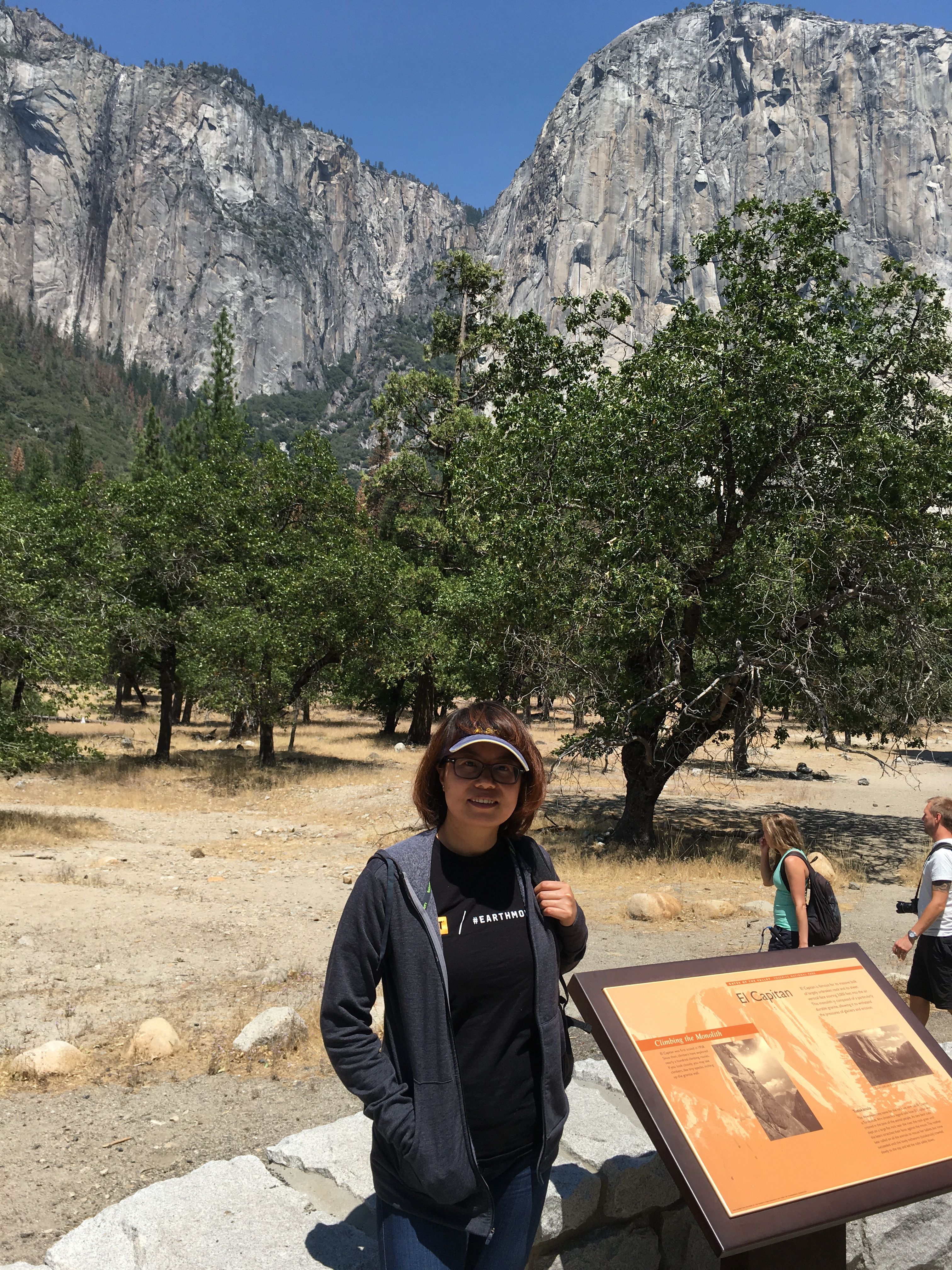 The waterfall is a famous resort too, water flies from thousand yards of mountain, looks very uniserial and beautiful. It was pretty dry summer so the water was not too much, but can you imagine at rainy season, how great it looks?
这里还有迷人的瀑布。 飞流直下三千尺。看上去非常飘渺和虚幻。 去年夏天那里少雨,所以水流的速度不是很大。 完全可以想象在雨季的时候那情景是怎样的震撼。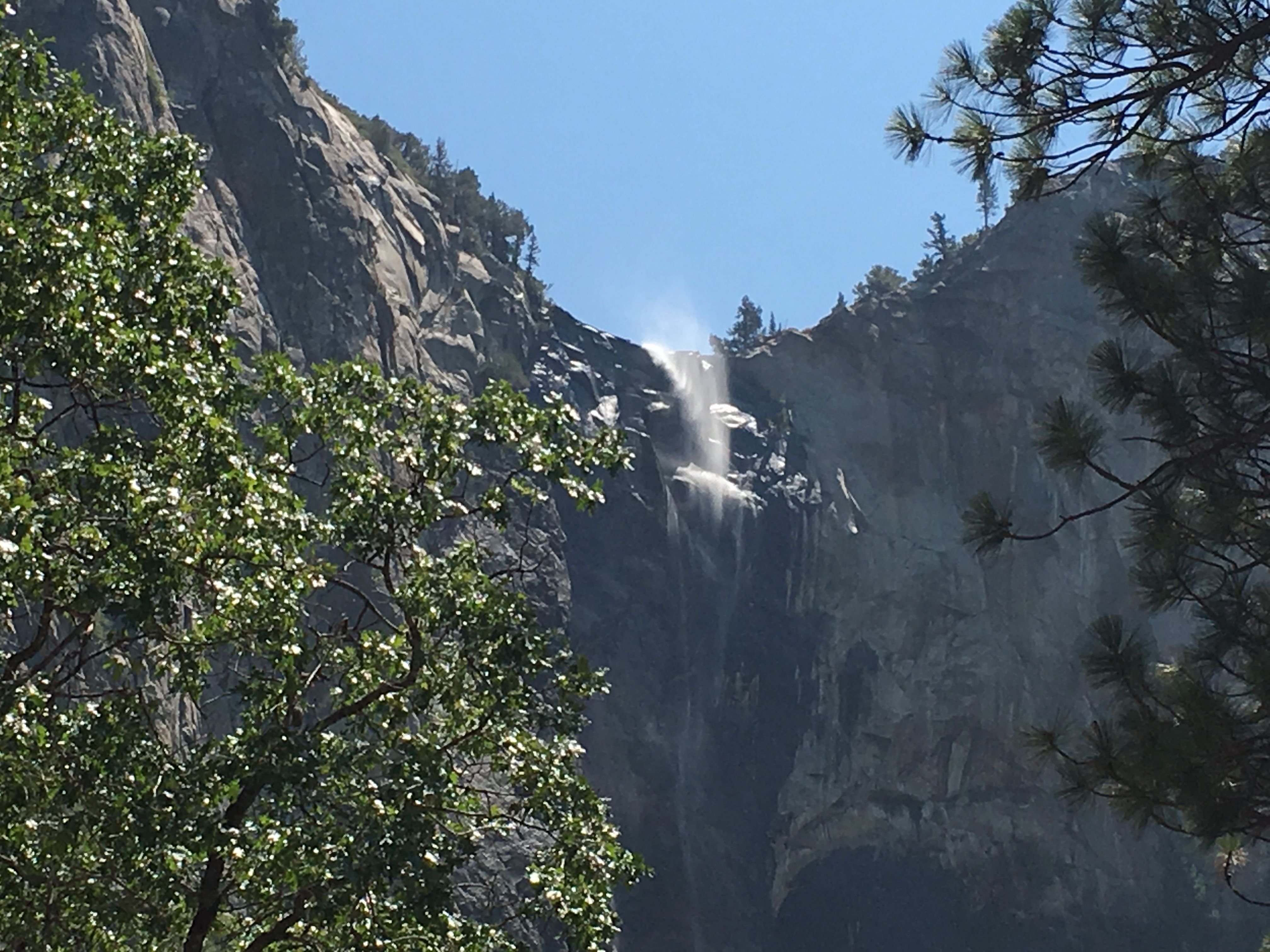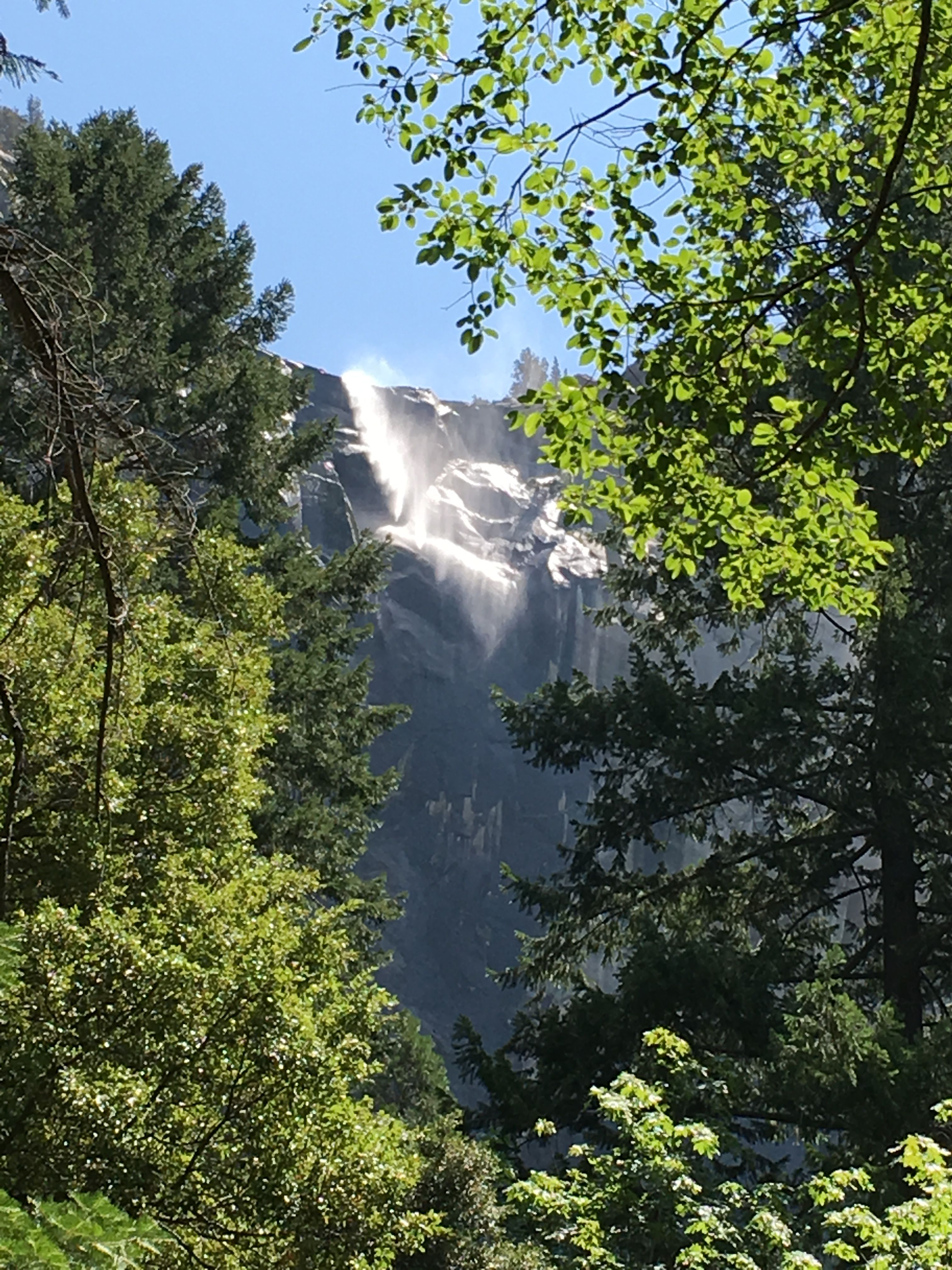 We walked into the wood, and saw a winding tree, can't help but taking photo with it.
去游完瀑布,我们走进树林。这也是那里的特色之一。看到这颗蜿蜒的大树了吗?大家都情不自禁地和它留影。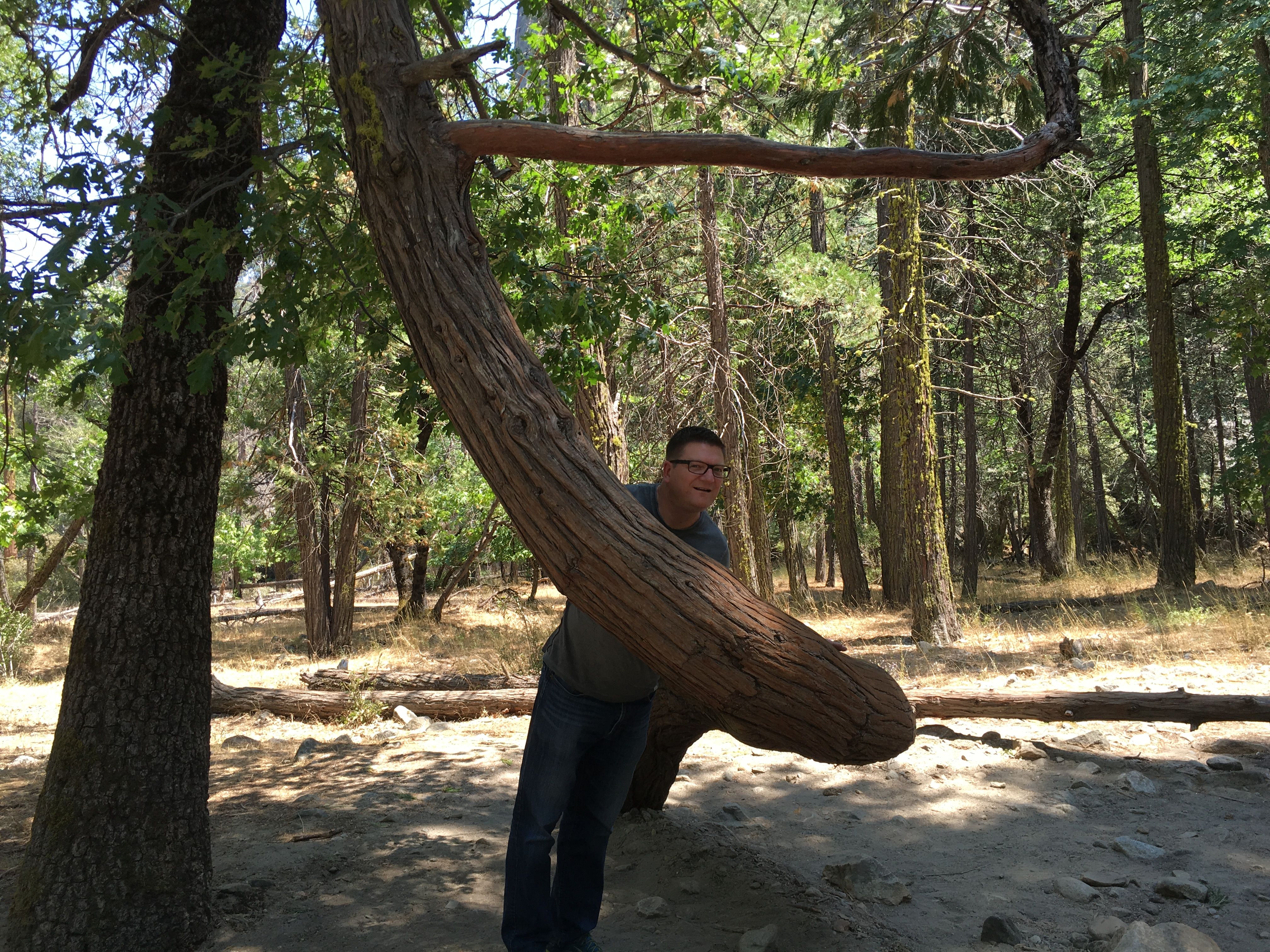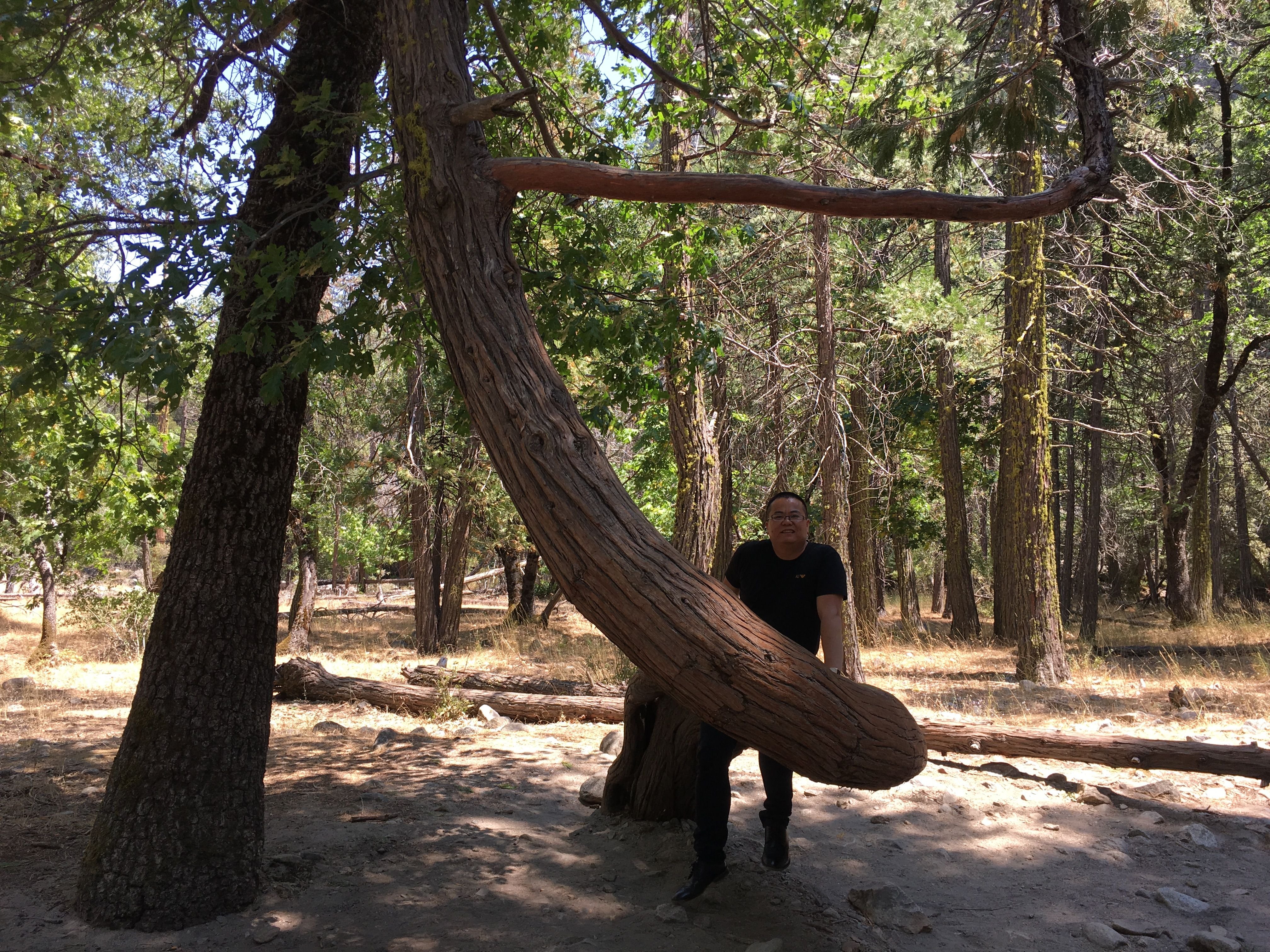 Look at this giant tree that is few hundred years old, my husband and brother can't hold it all.
这是一颗多大的树呀!好几百年的历史。我老公和哥哥都不能把它抱过来。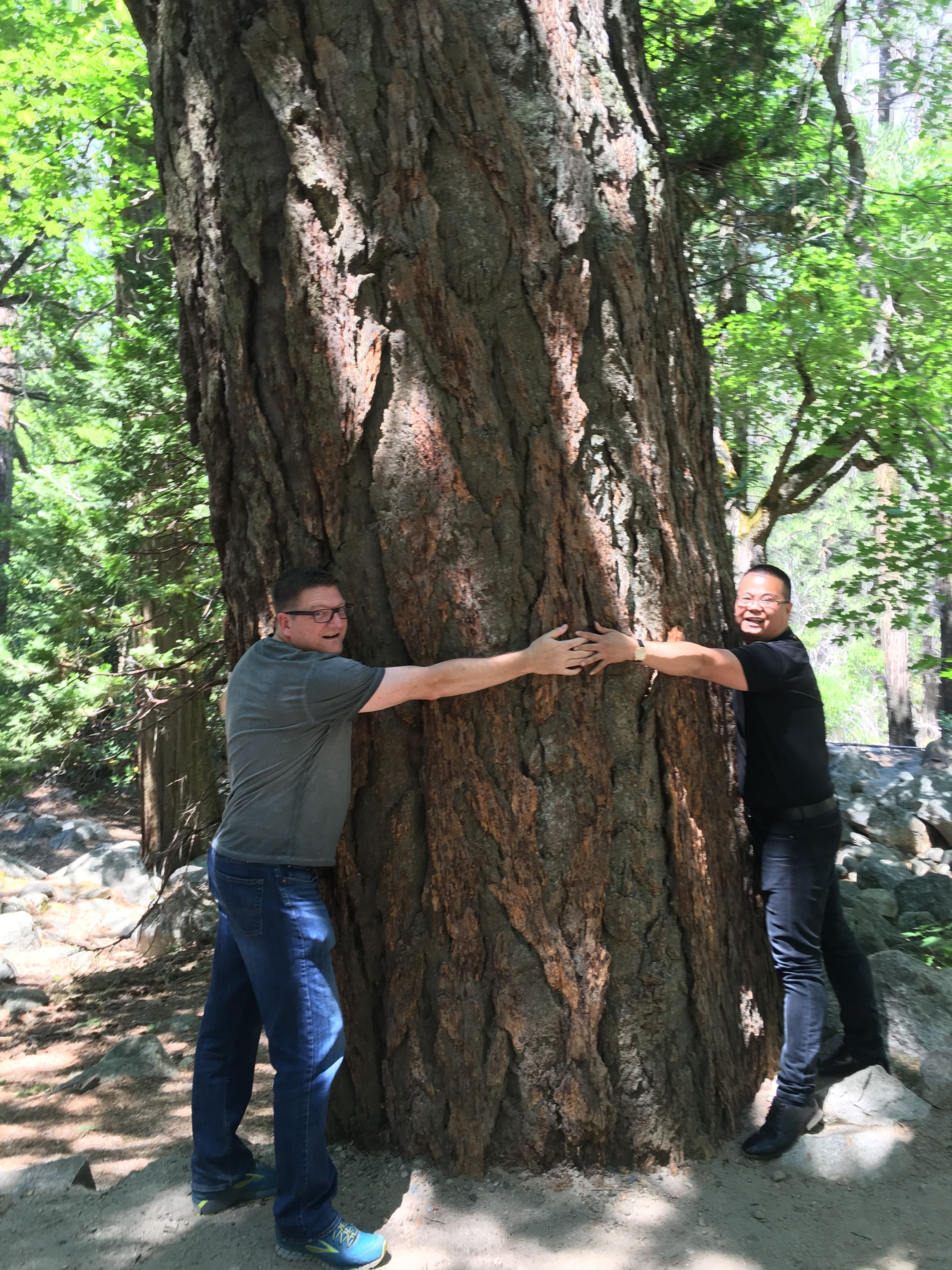 We had a great day at the National park, as we didn't plan to stay there for overnight, we had to leave before sun set. I saw many breathtaking photos from online about sunrise and sunset at Yosemite National Park, too bad we couldn't witness it by ourselves, but isn't it giving us another reason to go back?
这真是开心愉快的一天。 由于我们计划是当天来回,所以没有看到日出/日落的风光。我在网上有看到一些图片,那真是让人窒息的美。不过,这不也正好给我们留下一个再去的理由吗?
Let's all for now. Hope you enjoy my guide.
讲解到此暂告一段落。希望你喜欢。
---
Some of my hobbies
我的一些兴趣:
https://steemit.com/life/@susanli3769/7-some-hobbies
https://steemit.com/gardening/@susanli3769/7-gardening-hobby
I like doodling and am learning drawing. Here's some of my recent works in Steemit-
我喜欢画画,现在正在学习中。这是一些我的近期作品:
https://steemit.com/cn/@susanli3769/learning-drawing-ears
https://steemit.com/drawingchallenge/@susanli3769/drawing-challenge-5-my-left-hand
https://steemit.com/cn/@susanli3769/learning-with-frank-fradella-hand
https://steemit.com/cn/@susanli3769/spiral-folds-part-2
https://steemit.com/drawingchallenge/@susanli3769/drawing-challenge-4
https://steemit.com/cn/@susanli3769/learning-with-frank-fradella
---
Author @susanli3769, Posted By @someone