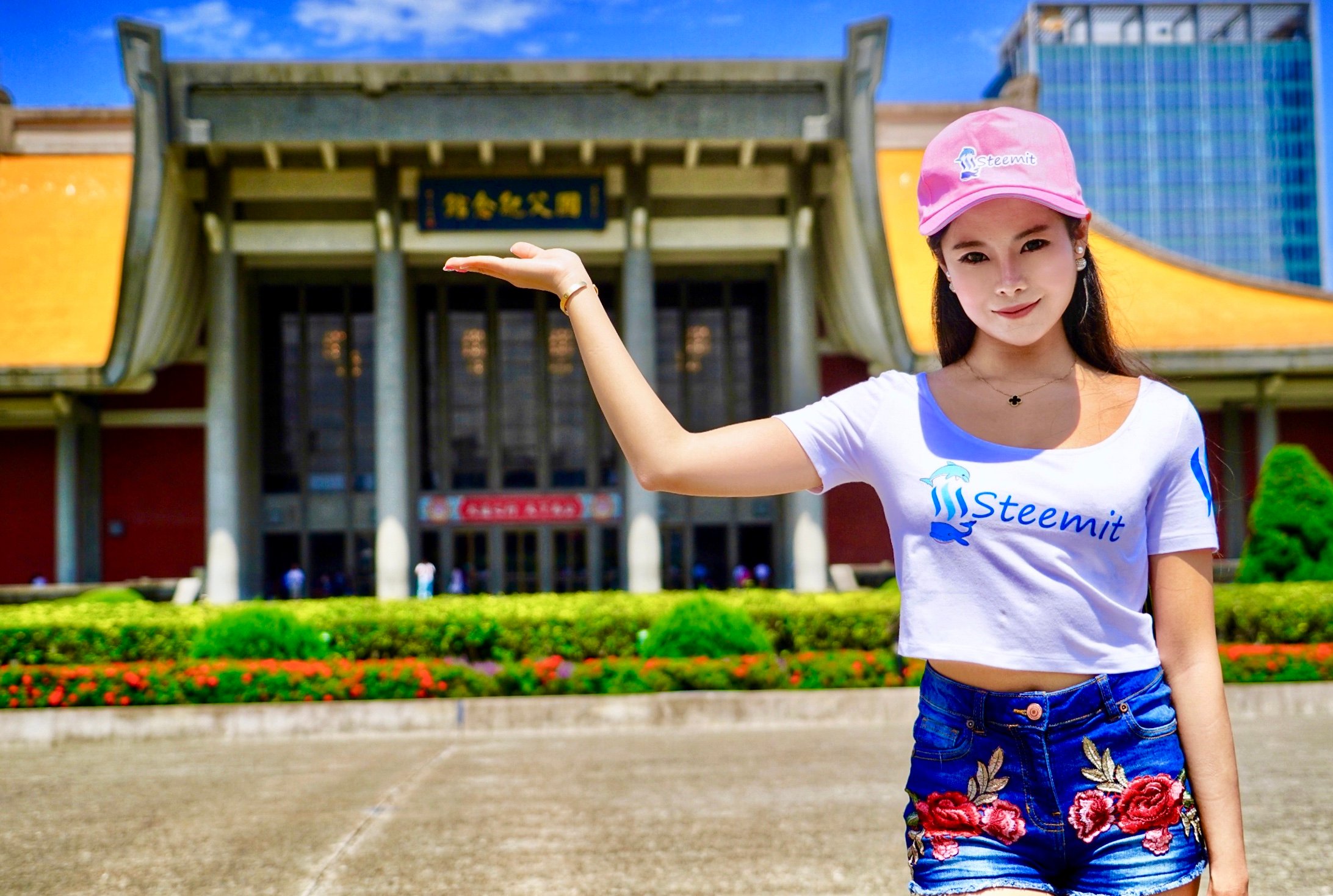 Dear Steemit Friends:
Good day to you all. I am so glad to be here presenting a new adventure. Today we will explore some of the impressive and beautiful cultural sights to be found in Taipei, the capital city of Taiwan. You will know from previous blog posts that I have a long history of visiting the country of Taiwan and I am always still amazed about how much more there always is to see. Taipei is an extraordinary capital city. It sits at the cutting edge of modern industry, boasting a skyline of impressive modern skyscrapers and record setting buildings, while maintaining much of its cultural heritage and 'local' feel of its many food markets.
If I had to choose just one capital in the world to spend more time in, Taipei would definitely be high up on the list of possible choices. It is quite easy to get around and feels very accessible to a tourist like me - though I am starting to feel at home since I have spent quite some time there in between my explorations of the country. In the past I have often returned to the capital having explored the more rural areas of Taiwan but don't always have much time to relax. So in this post, let's take a bit longer to get around town and have fun! Are you coming with me?
National Sun Yat-sen Memorial Hall
---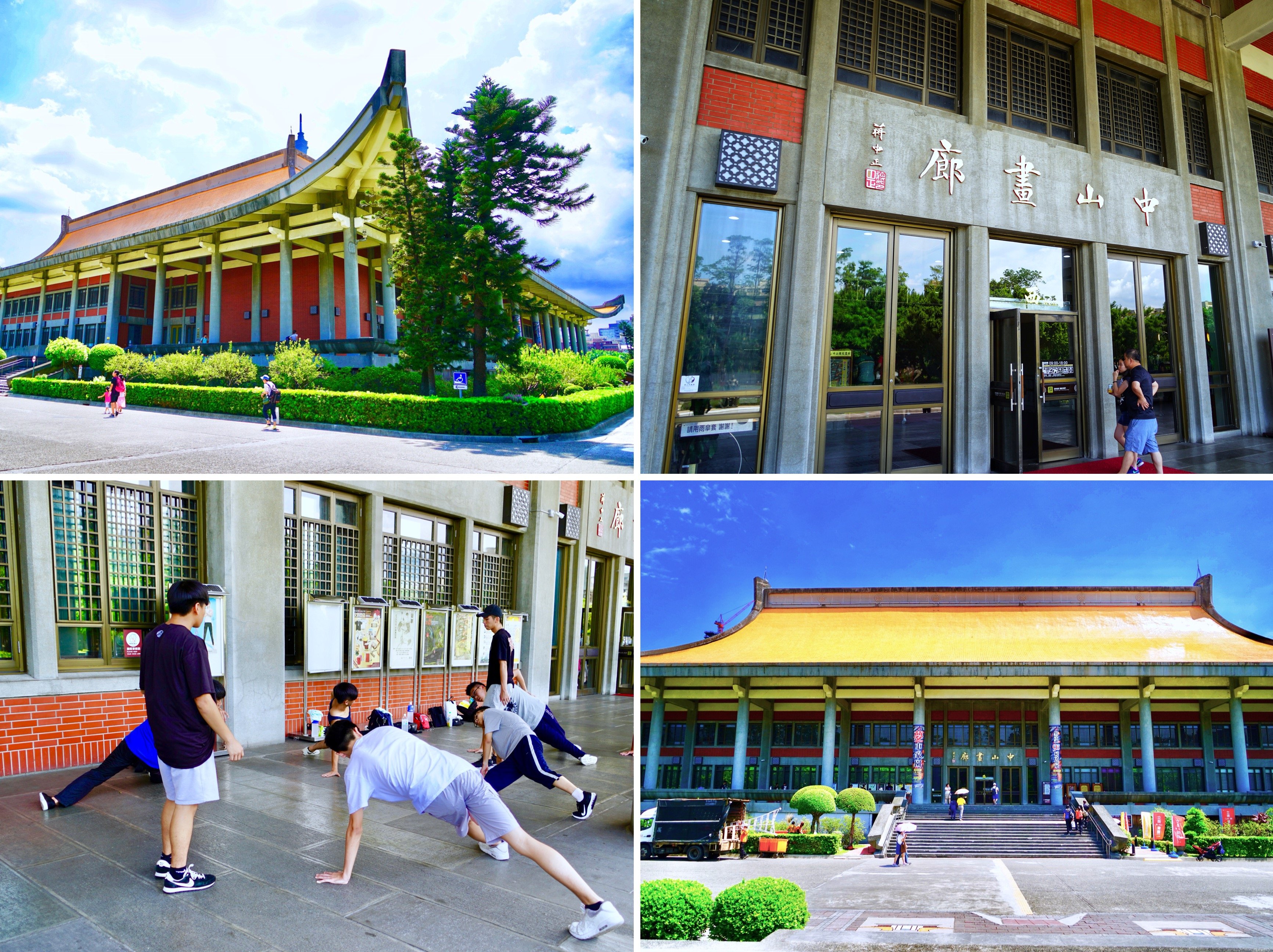 The National Sun Yat-sen Memorial Hall was built in 1972 in memory of Dr. Sun Yat-sen who is the founding father of the modern nation of the Republic of China. He was a man of many talents, being qualified as a medical doctor but also being considered a great writer, calligrapher, philosopher and revolutionary! He is quite unique because his memory is revered in both mainland China and in Taiwan - seen as a strong uniting force of good.
The National Sun Yat-sen Memorial is used for a number of purposes which include cultural, social, historical and educational pursuits. The main building is huge, covering 29,464 square metres and has space for many different activities, exhibitions and tourist attractions. You can see here, some people even found some nice space to exercise together in the shade!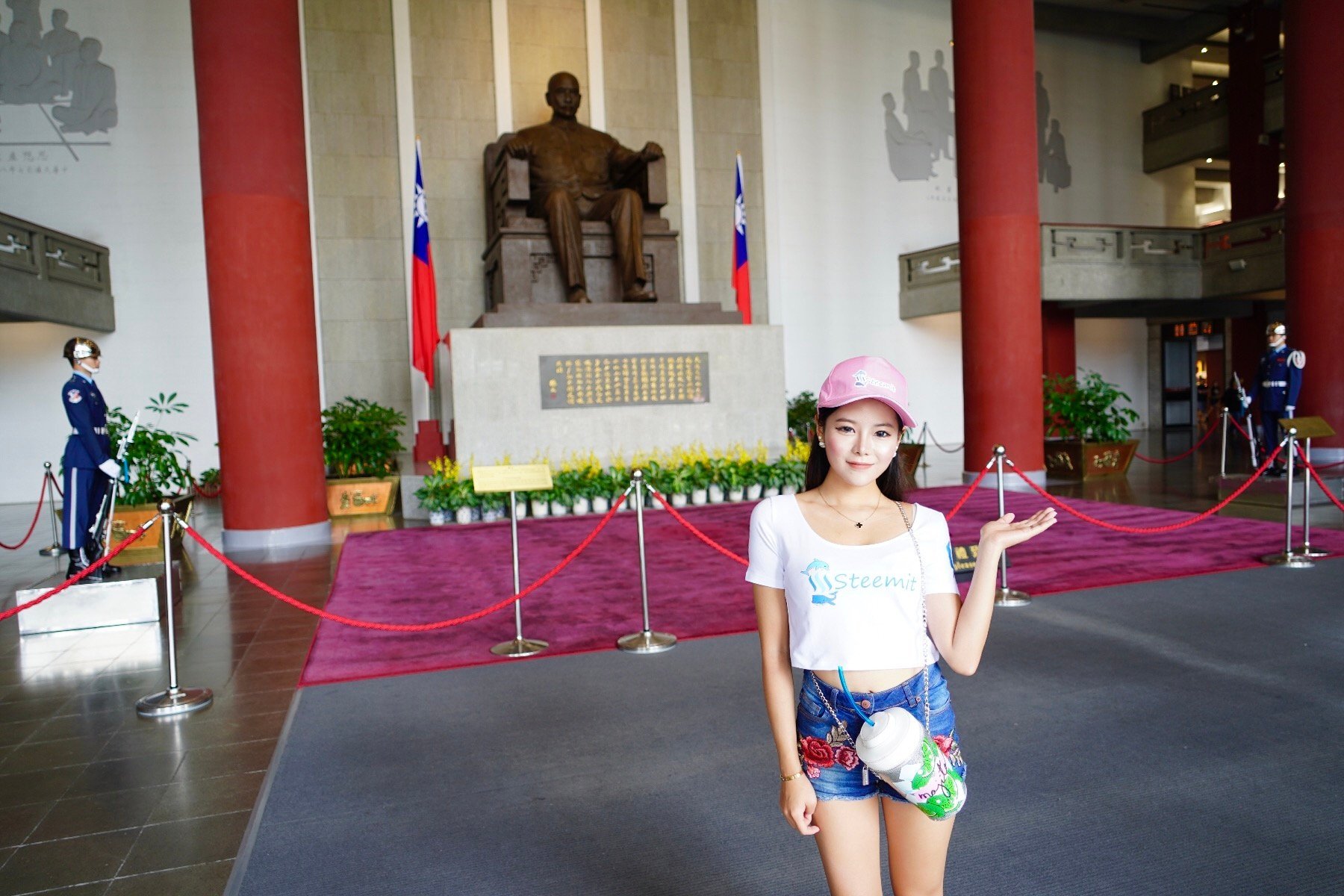 Within the main hall there is an extensive exhibition about Dr. Sun Yat-sen and his life. It has many artefacts and relics of his life as well as details of his contribution to the revolution that eventually became what we know as modern China. The huge statue of him shows the importance of his legacy. Within the Memorial Hall there is also a fascinating museum with more details of his life and times.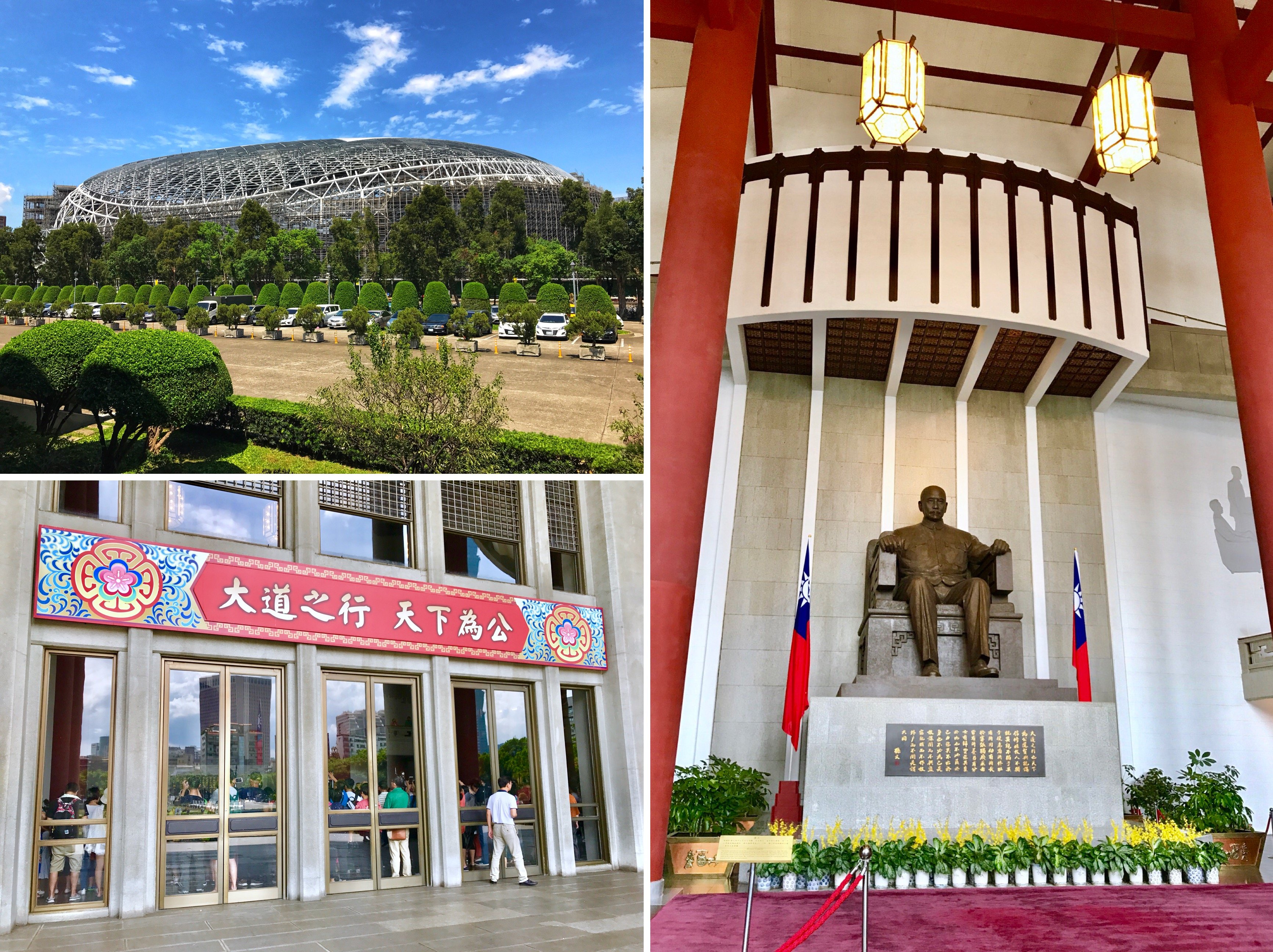 The impressive Taipei Dome on show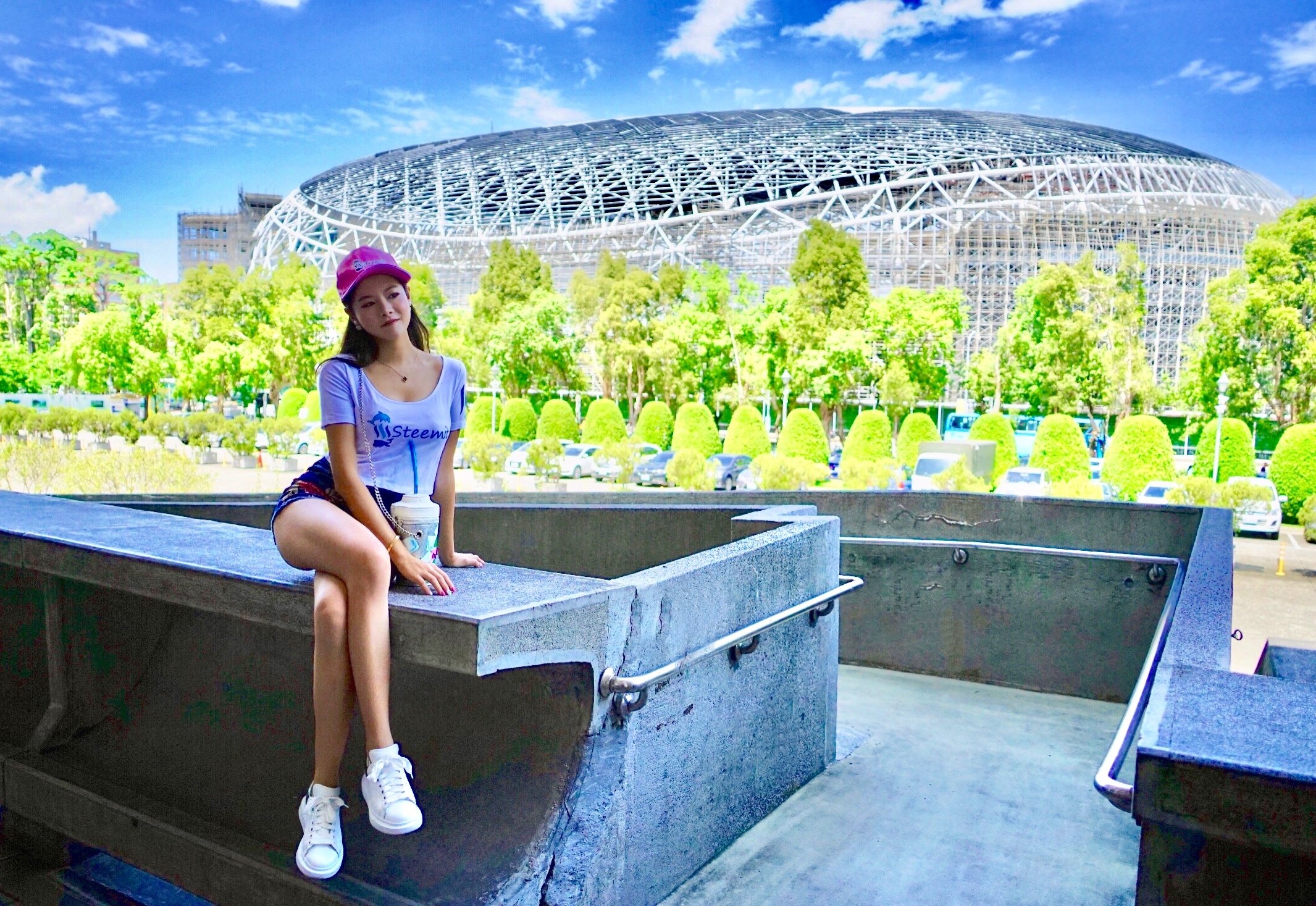 Located just next to the National Sun Yat-sen Memorial Hall is the massive Taipei Dome. The Taipei Dome was begun in 2011 after a 4 year delay in the construction's start. The goal for the building is for it to become a multi-functional arena and venue. However, it has suffered from much controversy since the start of its construction. All work on the project was halted in 2015 due to concerns about the safety of the structure.
The Taipei Dome reminds me of the 'Bird's Nest', the national stadium build for the 2008 Beijing Olympics, which shows how impressive the dome is as a structure if it even comes close to that giant structure. Maybe some of you will remember the Bird's Nest stadium?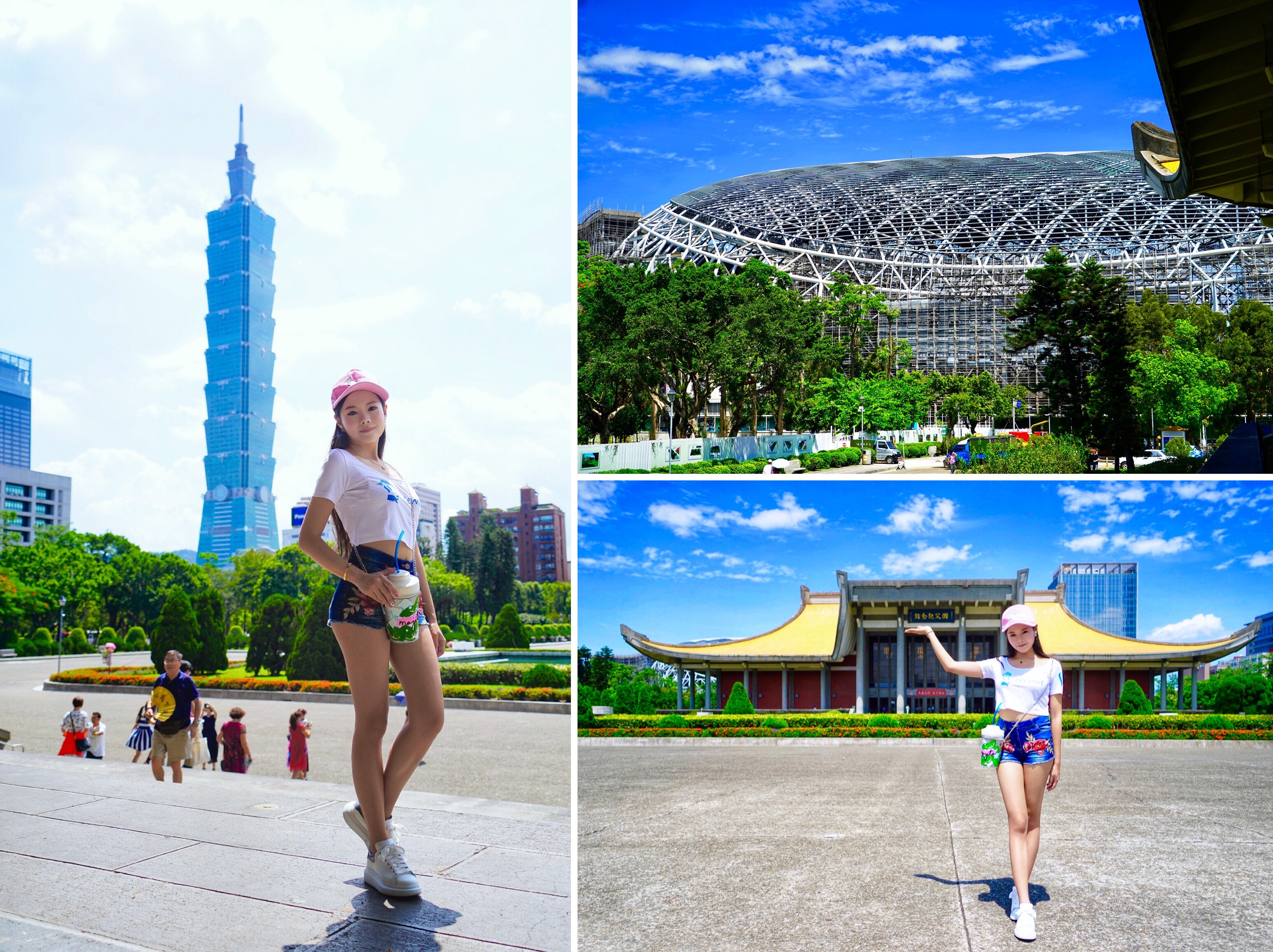 Before going to explore the interior of the Memorial Hall I was struck by the juxtaposition between these three buildings. Taipei 101 was the tallest building in the world for a short period of time, before being knocked off the top spot by the Burj Khalifa in Dubai in 2010. The Taipei 1010 was a crowning achievement and source of much national pride for Taiwan and its people - and it still is! It represent's Taiwan's modern achievements as a small nation who can compete on the world stage with even the largest and most influential powers in the world.
The National Sun Yat-sen Memorial Hall, on the other hand, celebrates the past rather than looking to the future. It memorialises many of the people and acts that took place over the last century of more to get the country to where it is today. It's beautiful being able to see both buildings, in clear view of each other, with such different messages about the nature of Taiwan's capital and its values.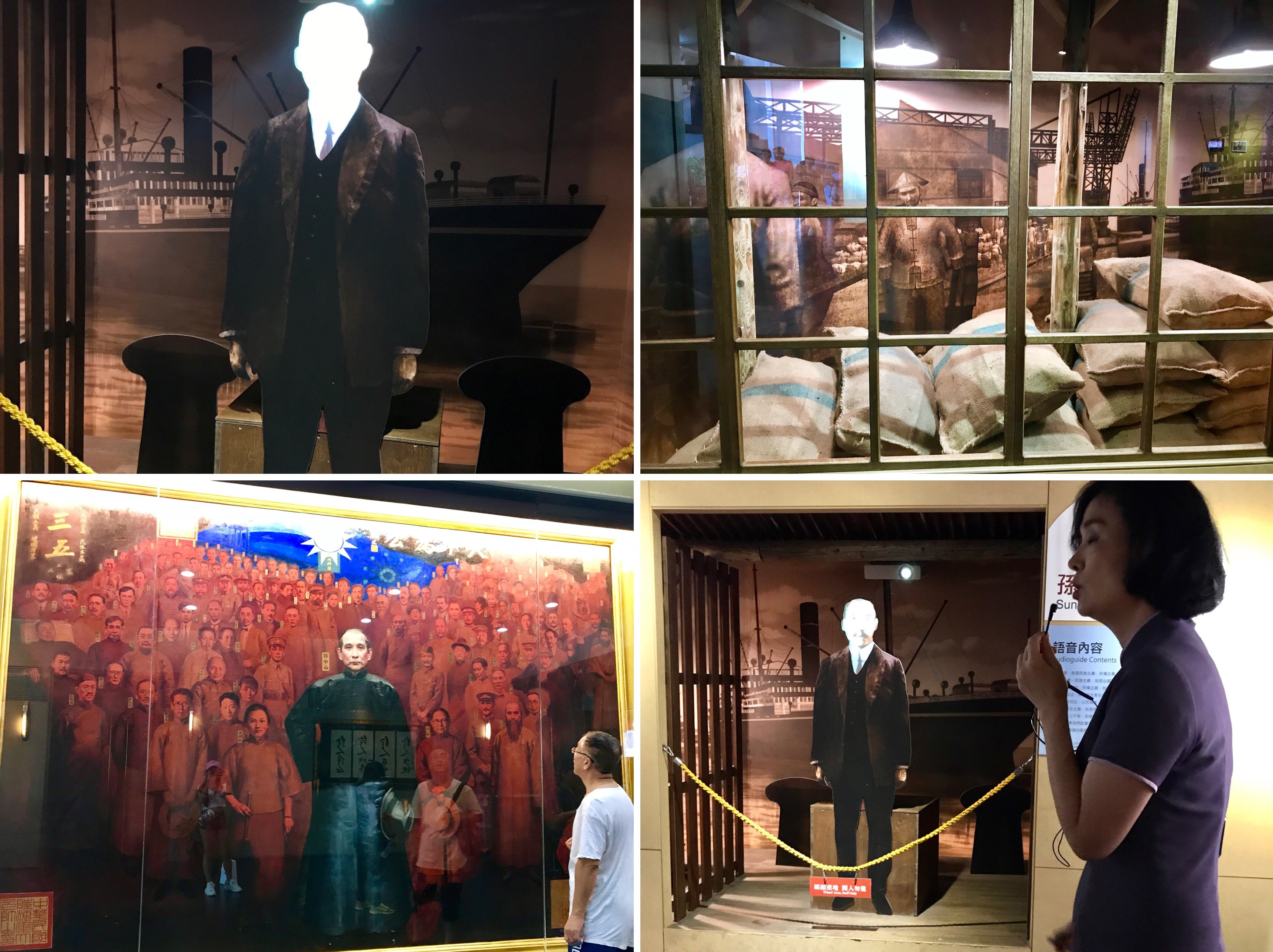 Venturing inside to the exhibition halls, there is an overwhelming amount of information and relics about Dr. Sun Yat-sen and his life. It's all quite fascinating. I was very impressed by the level of detail presented as well as the knowledge of my guide who gave us a tour of a large part of the hall.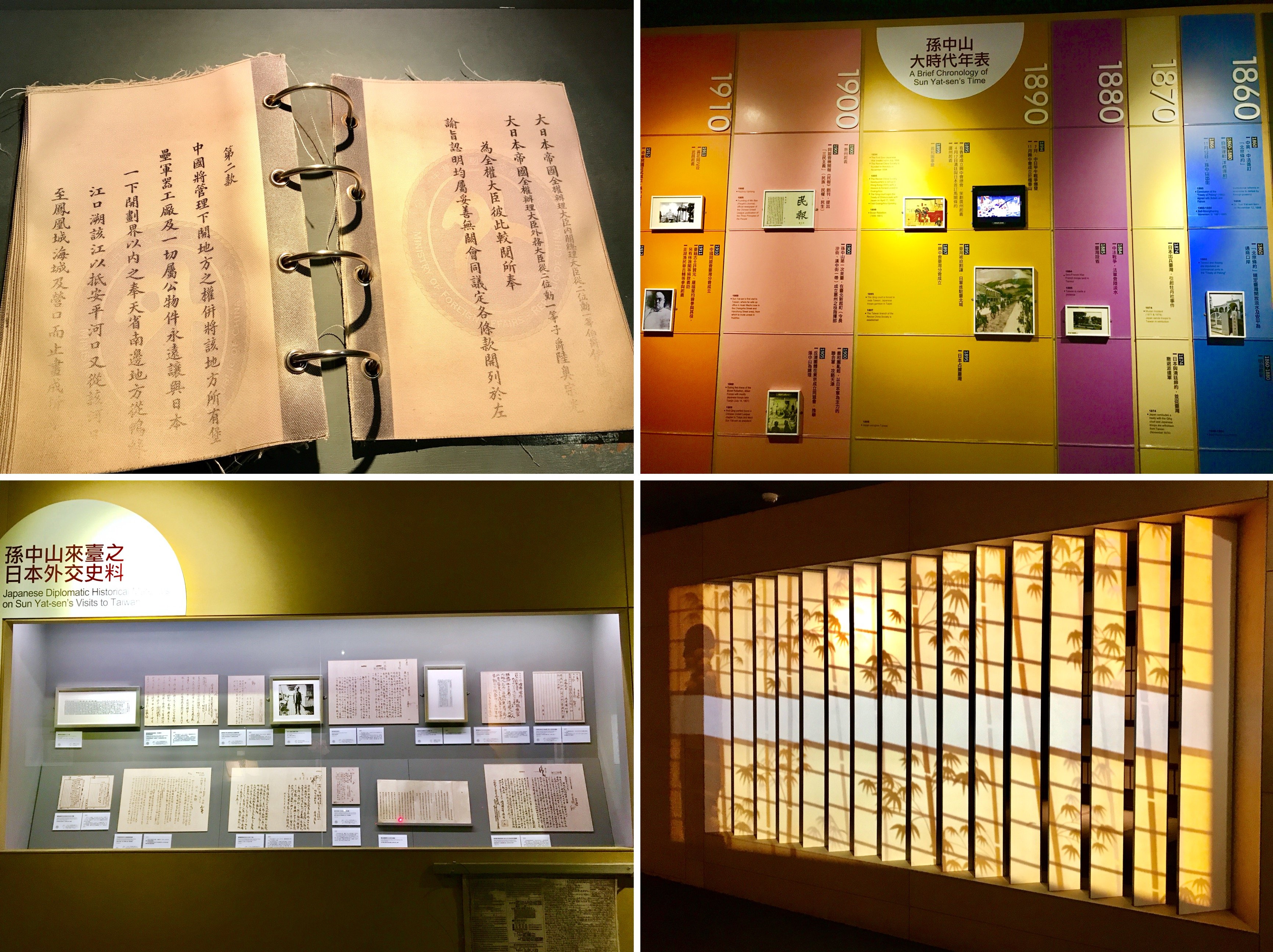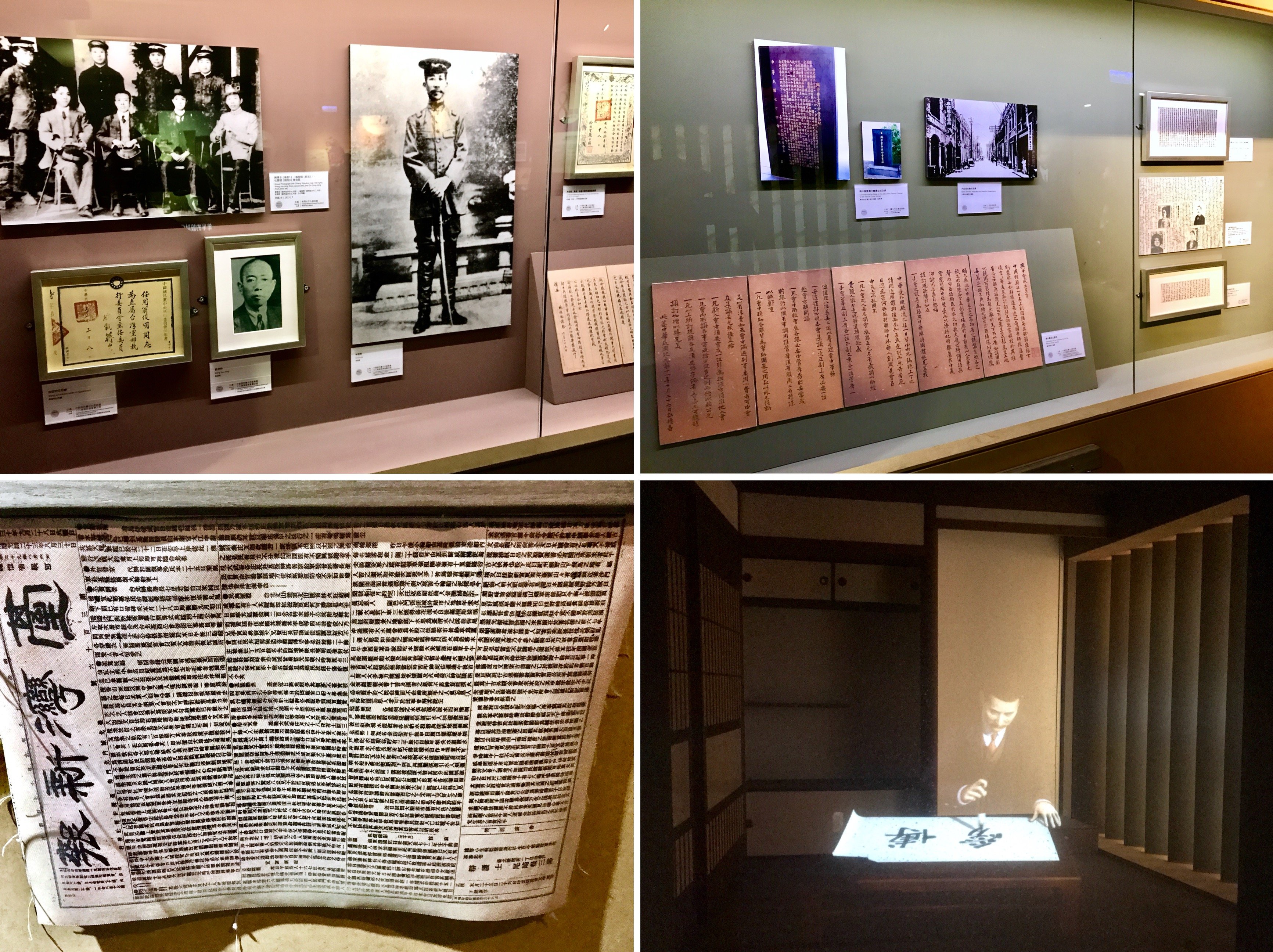 They had everything from hand written documents to old photos to timelines of his life. I imagine you could have spent hours here if you read every piece of information but after a while I felt I was getting information overload. It was most interesting to learn about his early life and I really enjoyed being able to follow along with the time line that eventually lead to the development of what we now know as the Republic of China. For one man to be so influential on our modern world is quite humbling!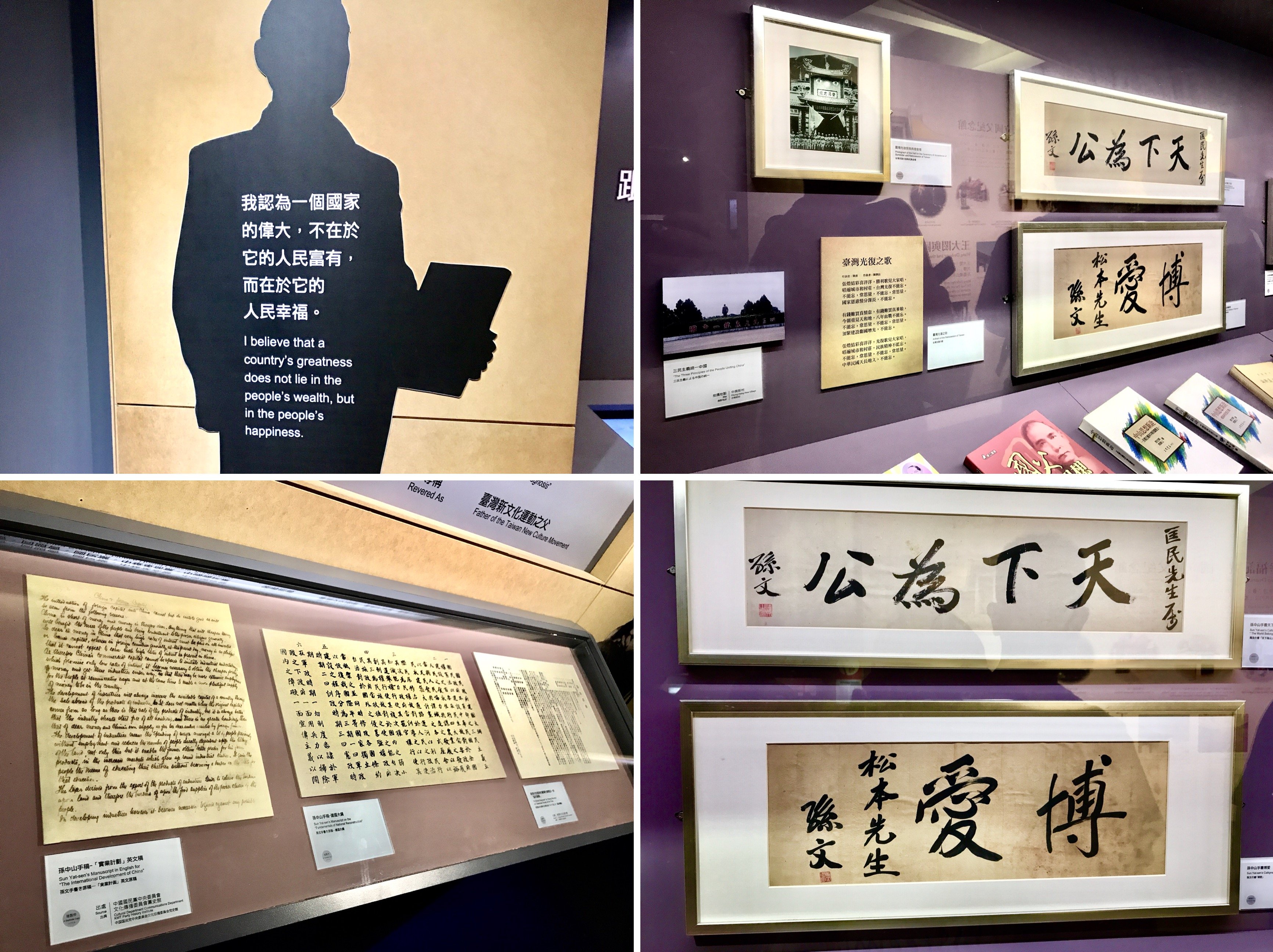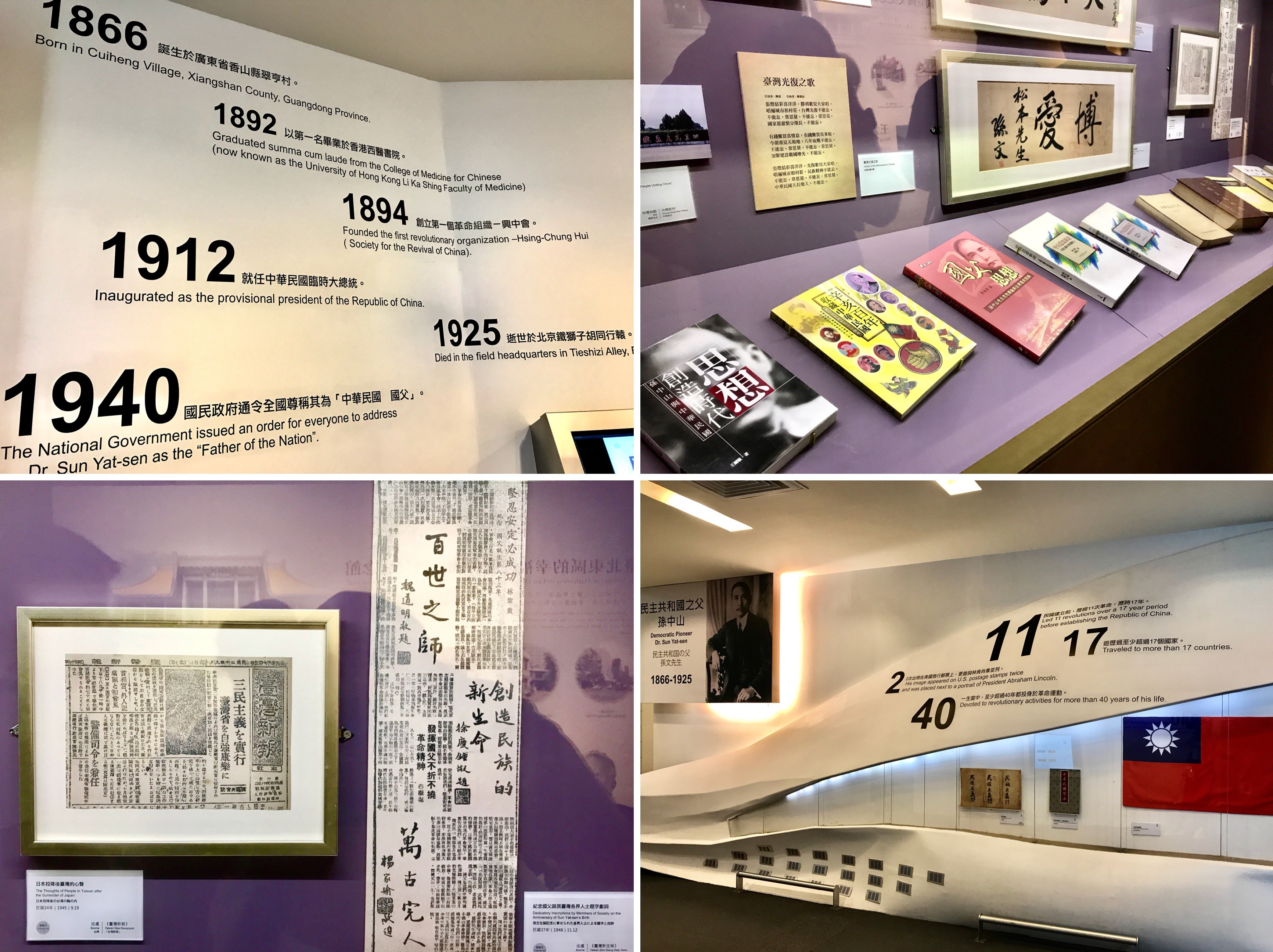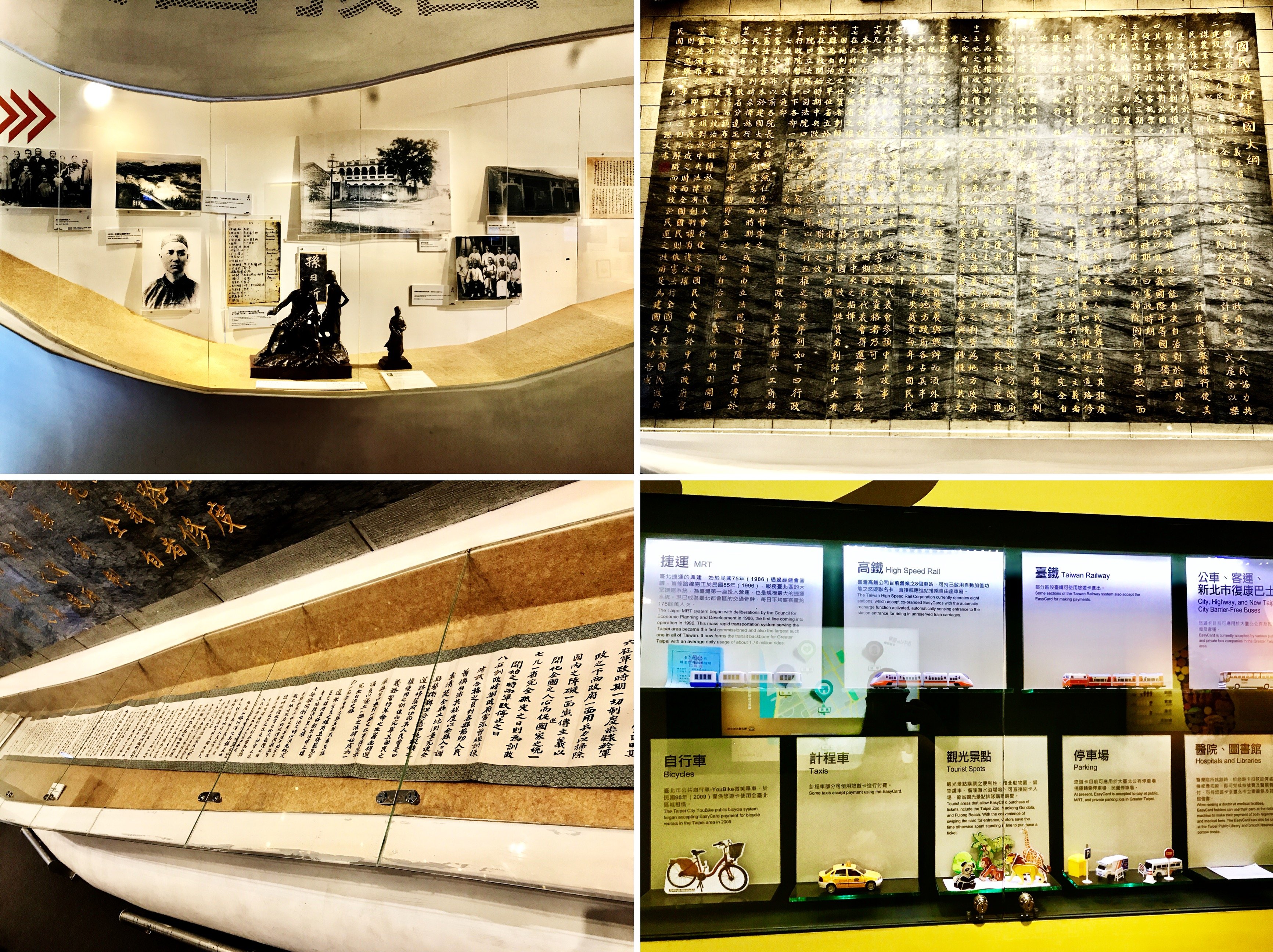 Many fragile documents have been painstakingly restored and are now well preserved behind glass for future generations. I think it's quite fascinating to imagine the person who wrote these words. Handwriting is so personal to each individual and seeing ink put to paper helps you imagine how his hands once touched this parchment as he took time to sit and write down his thoughts and ideas. Parchment that we now look at today, his legacy remembered and recorded.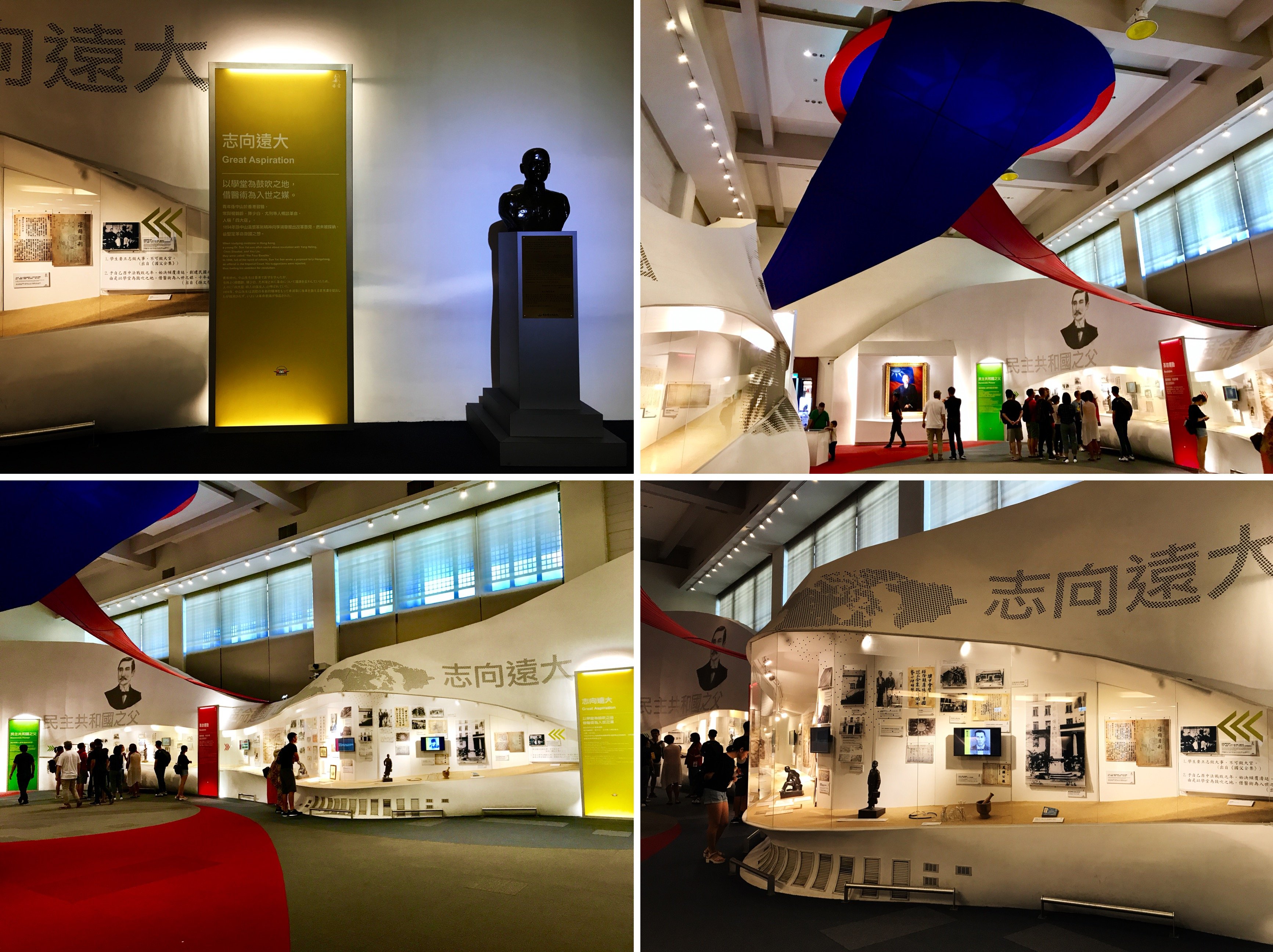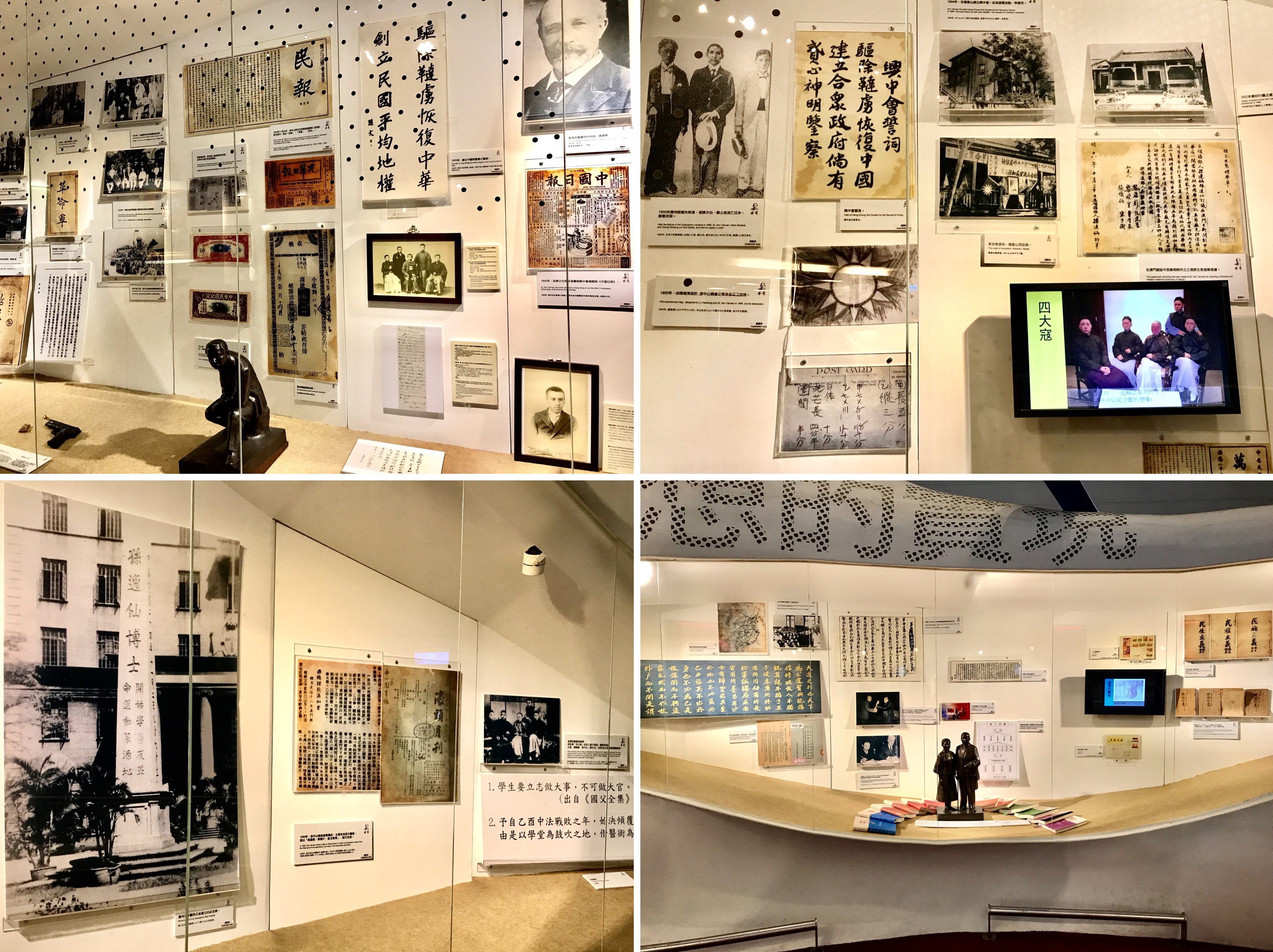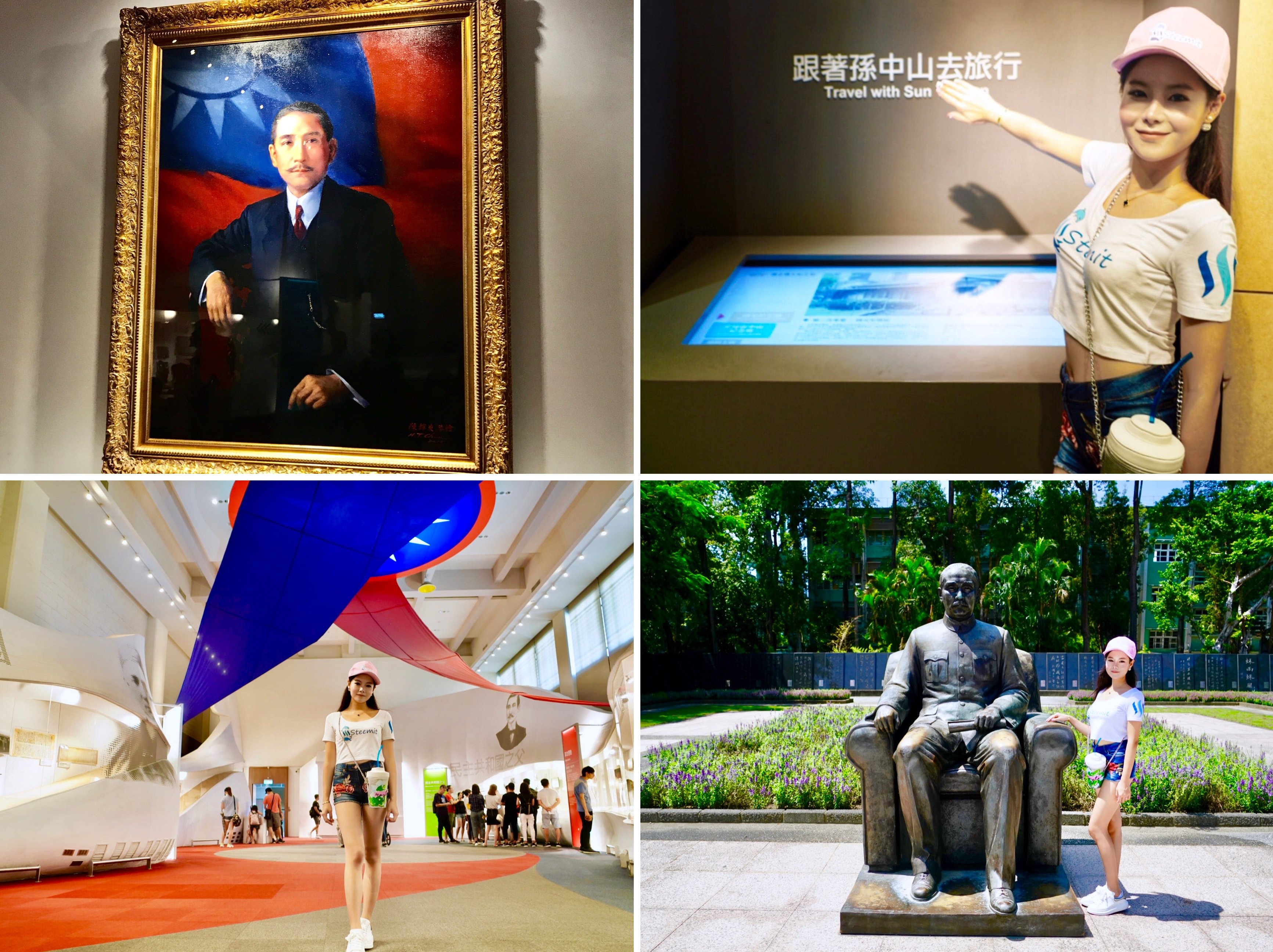 From the outside, the Memorial Hall has quite an archaic design. It looks like old fashioned architecture that you might not imagine was built in the 1970s. However, inside the exhibition has seen refurbishment and is impressively bright and modern. It shows that Dr. Sun Yat-sen's memory is still revered and honoured here in Taiwan.
Exploring the grounds of the Martyr's Shrine
---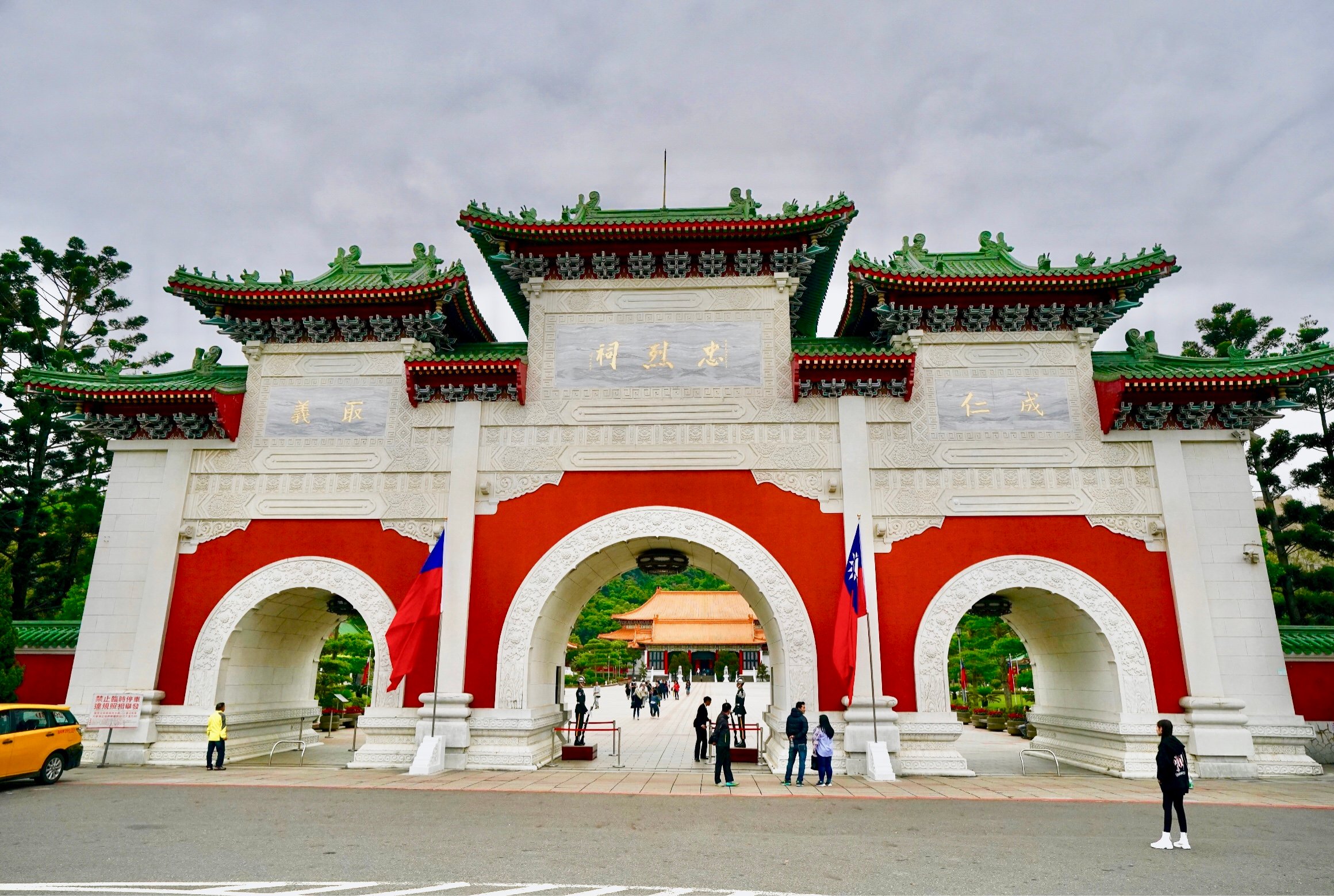 Next stop, the Martyr's Shrine. This grand shrine was built to honour the hundreds of thousands of soldiers who died in the history of the island both during Japanese occupation and during upheaval between Taiwan and China. The architectural style is quite reminiscent of the famous Forbidden City in China. It is of course, a lot smaller, but beautifully impressive non-the-less.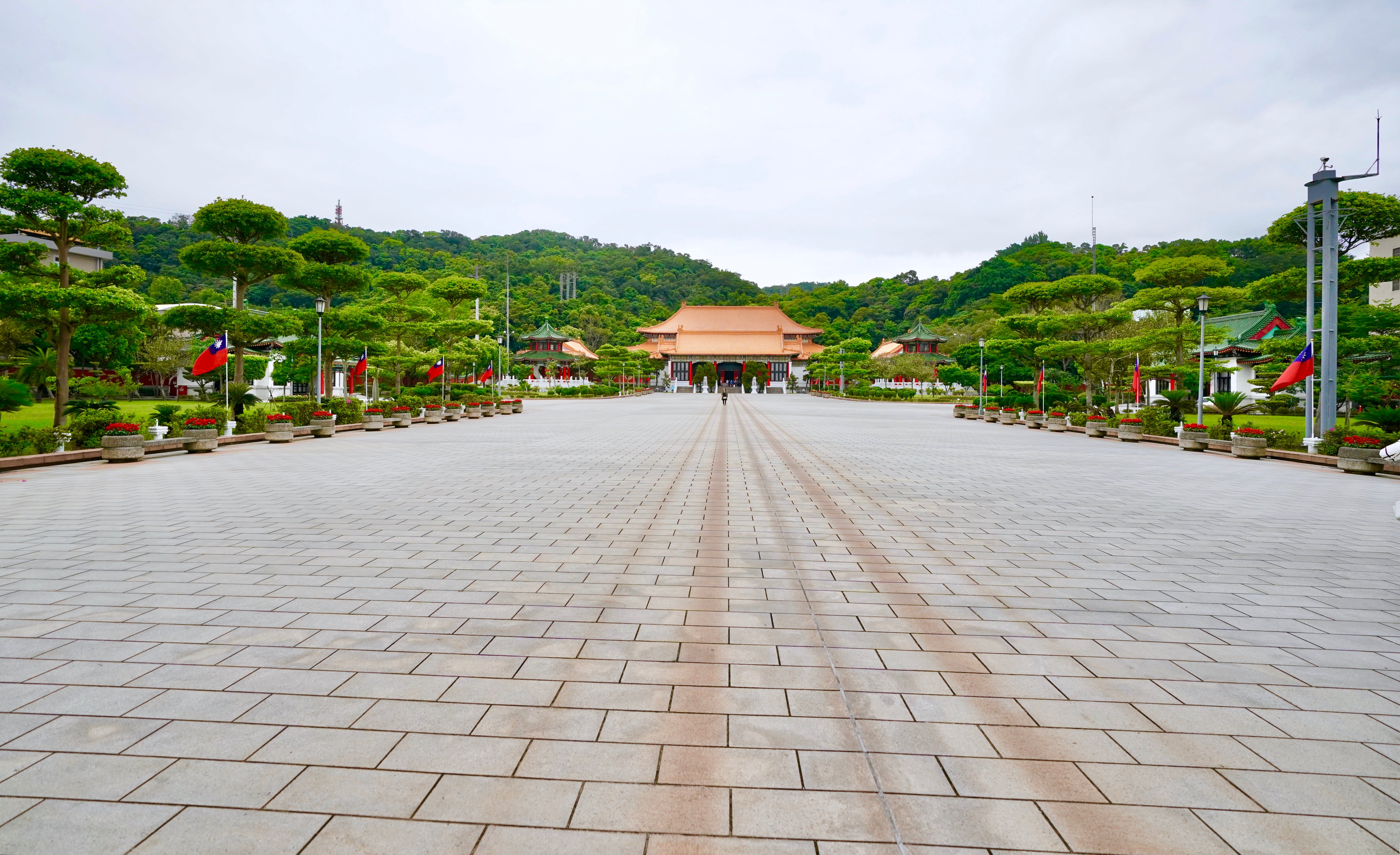 Though the shrine here looks like it could be set in the middle of the countryside, it is in fact quite accessible from central Taipei via either train or taxi. The natural surroundings add an extra sense of solemnity to the location. In a city where space is at a premium and new buildings are constantly being built, the preservation of nature to surround the Martyr's Shrine makes it feel and look incredibly special. The greenery contrasts beautifully with the bright coloured roofs of the pavilions.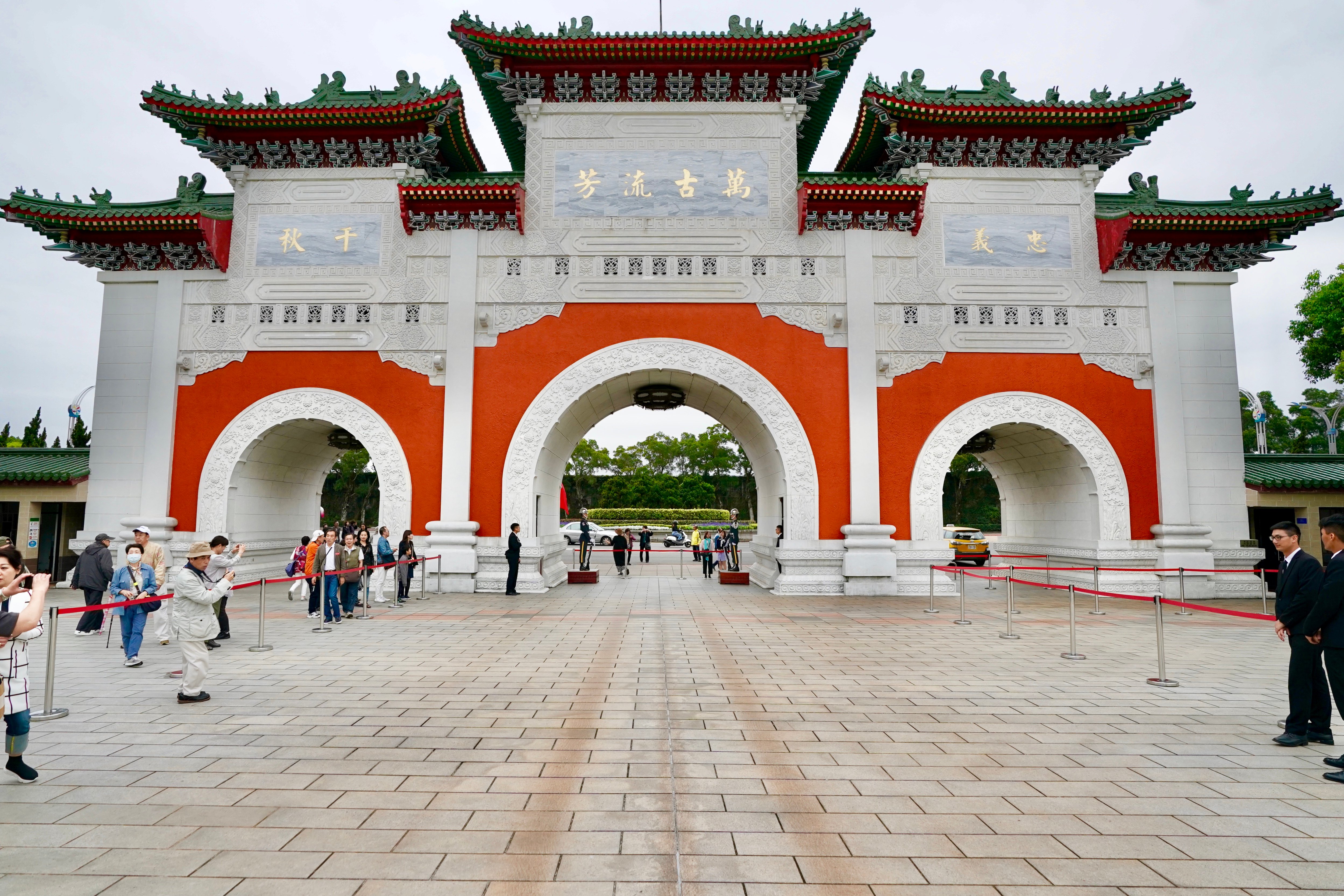 The dramatic entrance to the shrine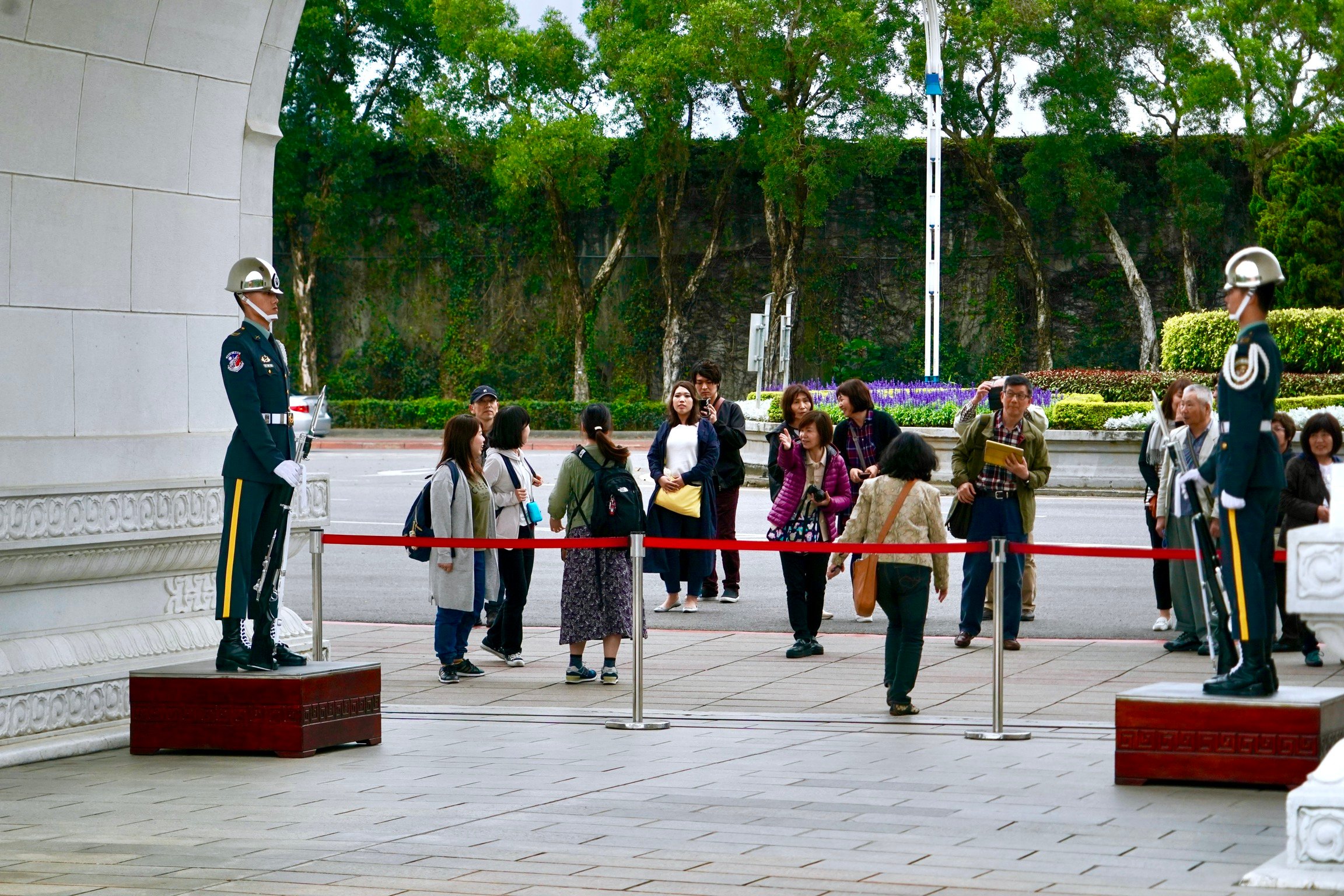 The shrine is guarded out of respect be ceremonial soldiers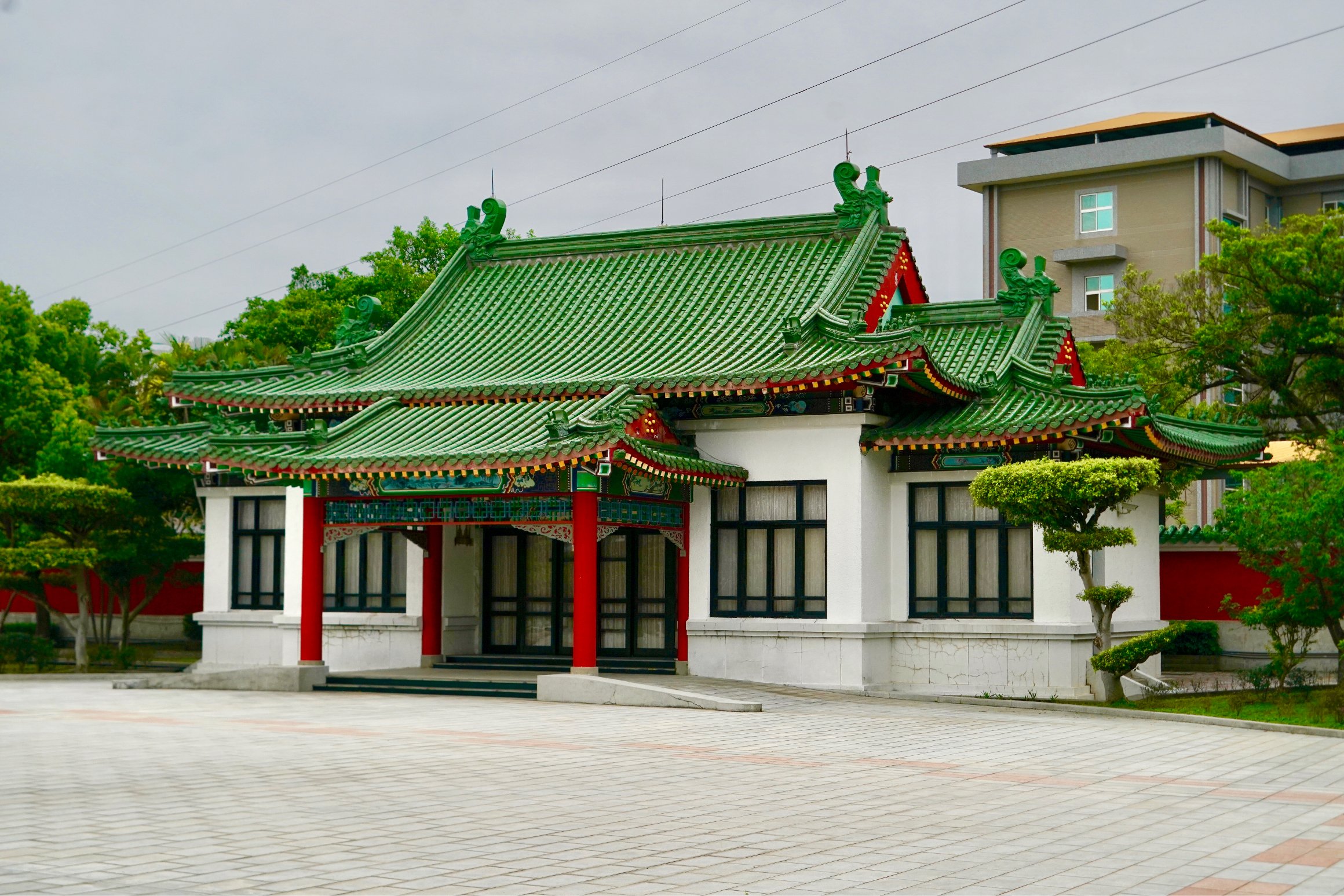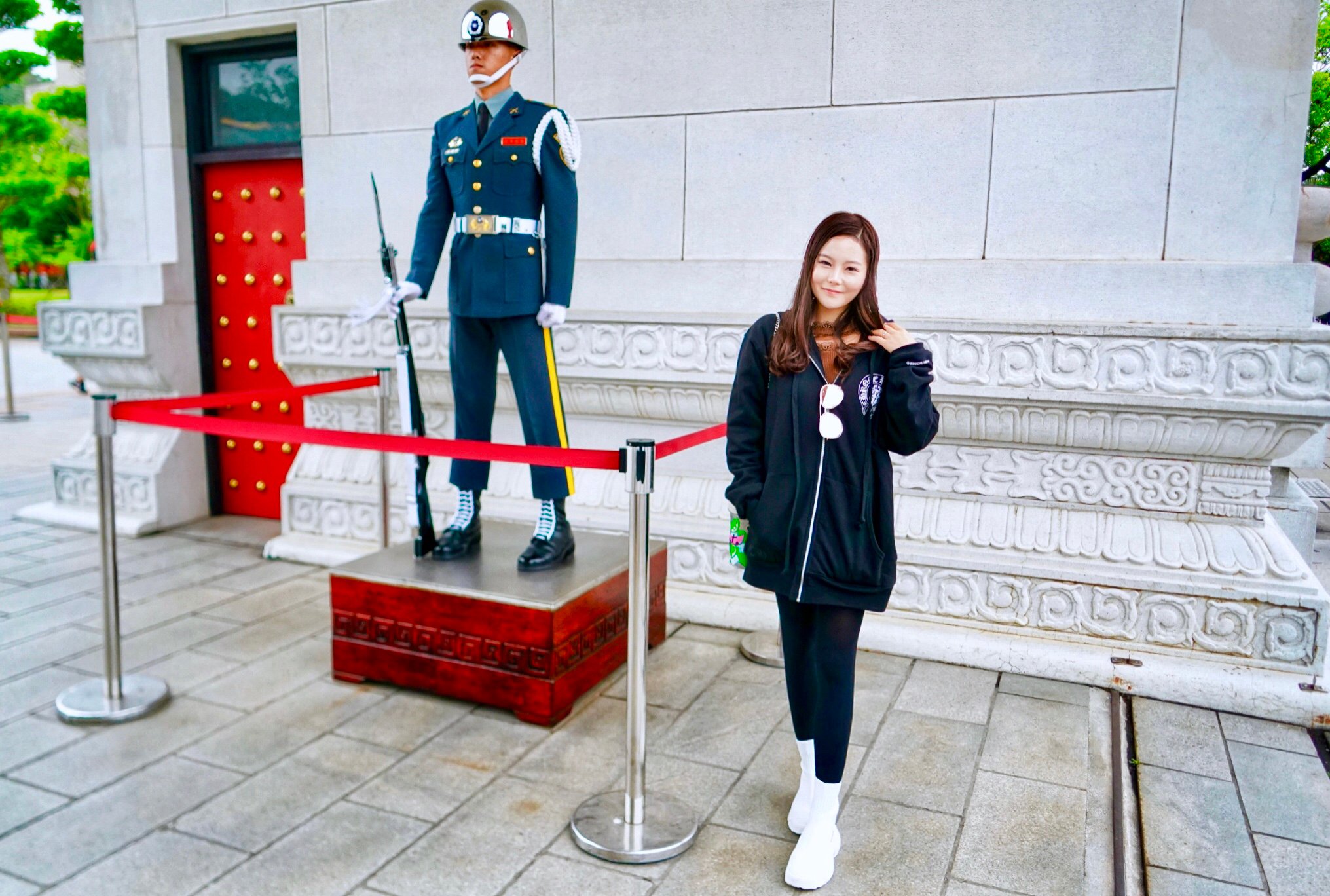 Following a similar tradition to the guards posted around London in the United Kingdom, the ceremonial guards stand statue still during their guard duty in their impressive ceremonial dress uniforms. There is much respect given here to the shrine and those who fell in the various military battles. Every single hour, on the hour, there is an impressive changing of the guard ceremony which gives a certain gravitas to the duty. It is quite a tourist attraction, though of course very solemn too!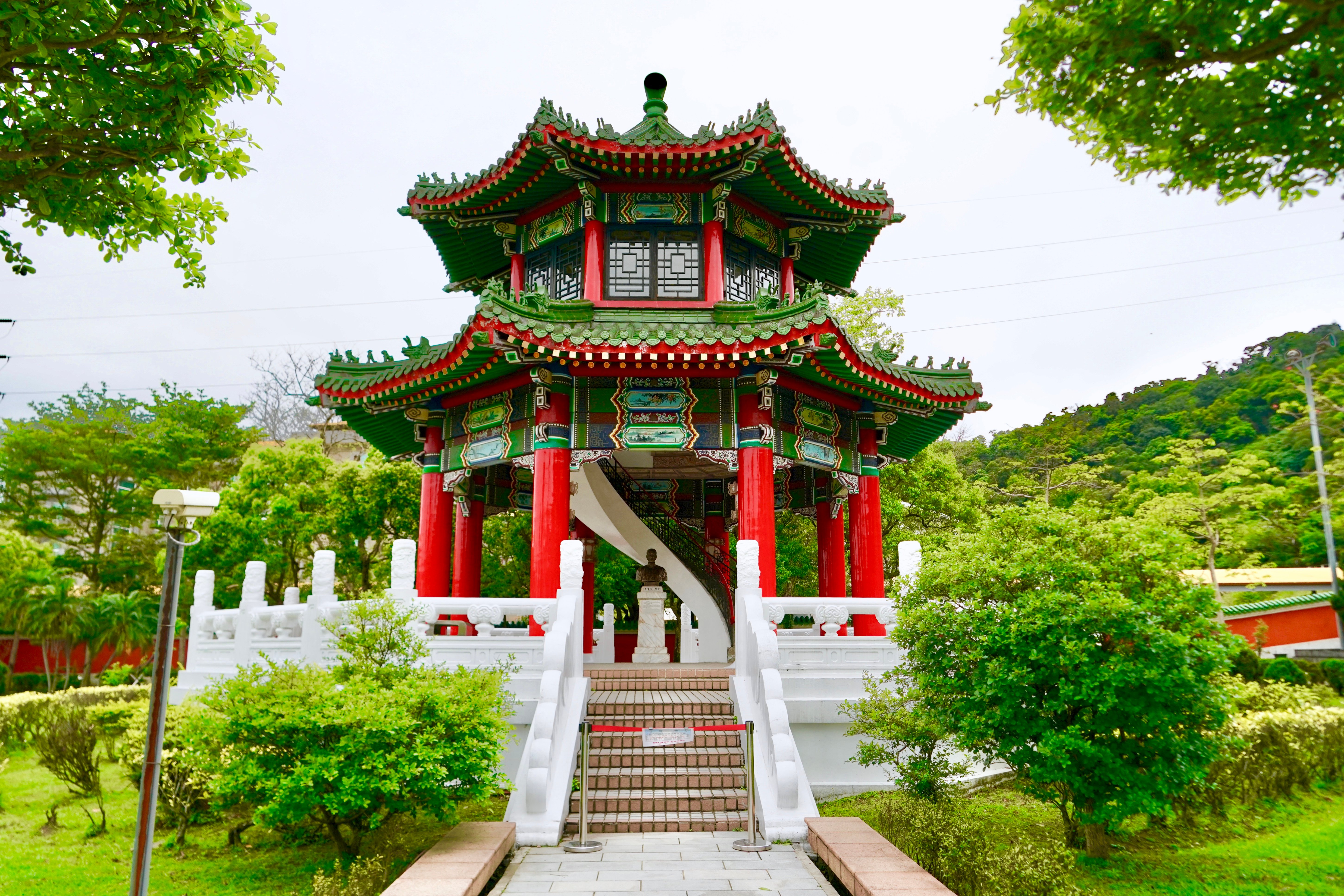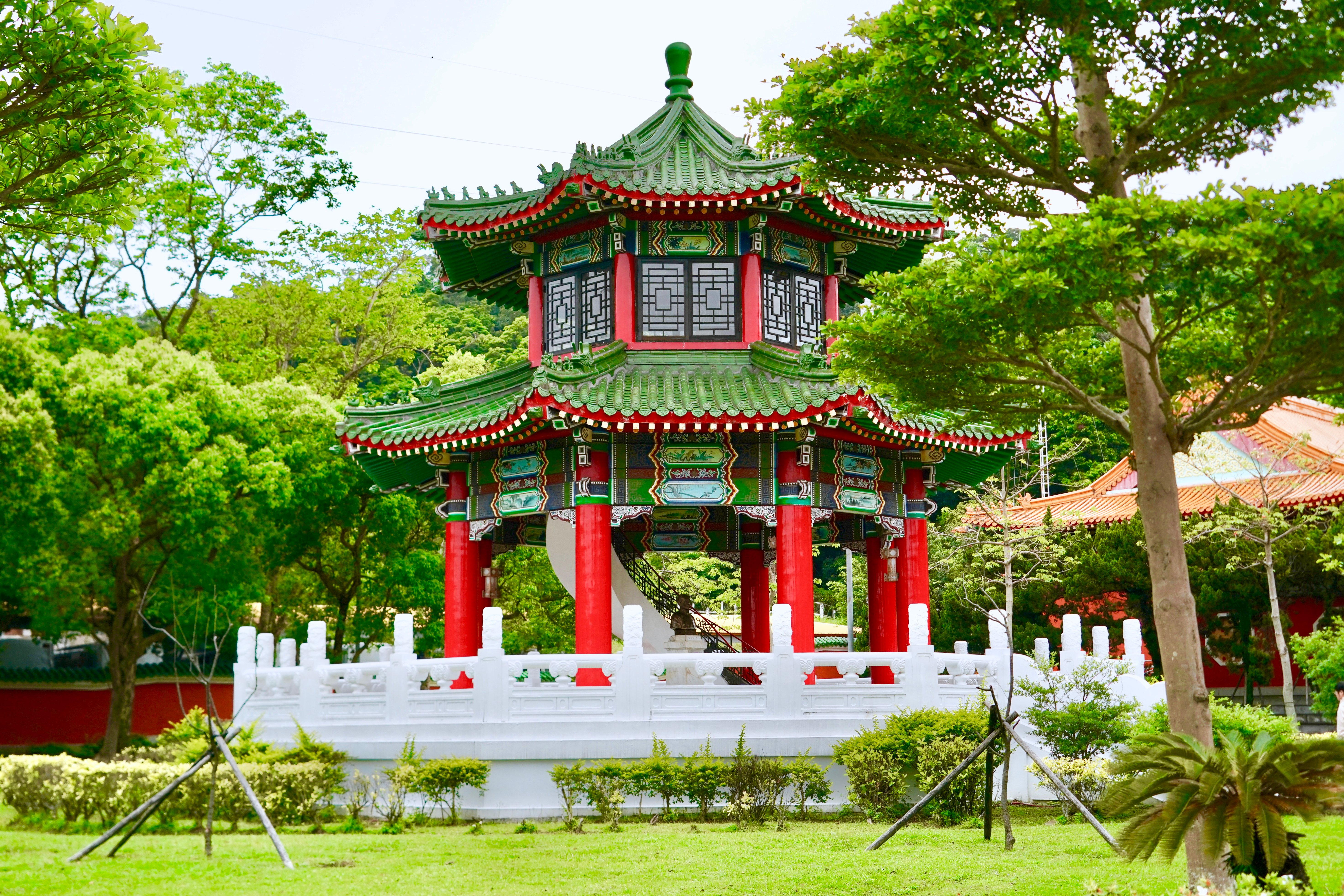 When I arrived at the shrine, I had just missed the important changing of the guard so walked around the grounds to pass the time. The grounds are beautifully maintained, with many little shrines dotted around which give memorial to many different people and soldiers. The designs are quite beautiful and classical. Since most tourists aim to arrive for the changing of the guard, and leave quite shortly afterwards, it was very quiet! Such a beautiful place to walk and reflect and think and enjoy nature.
The main shrine holds over 390,000 tokens that each represent a soldier killed during action. Their memory is honoured not only in the building of this shrine in 1969, but in its continued maintenance is touching.
Watch the changing of the guard with me!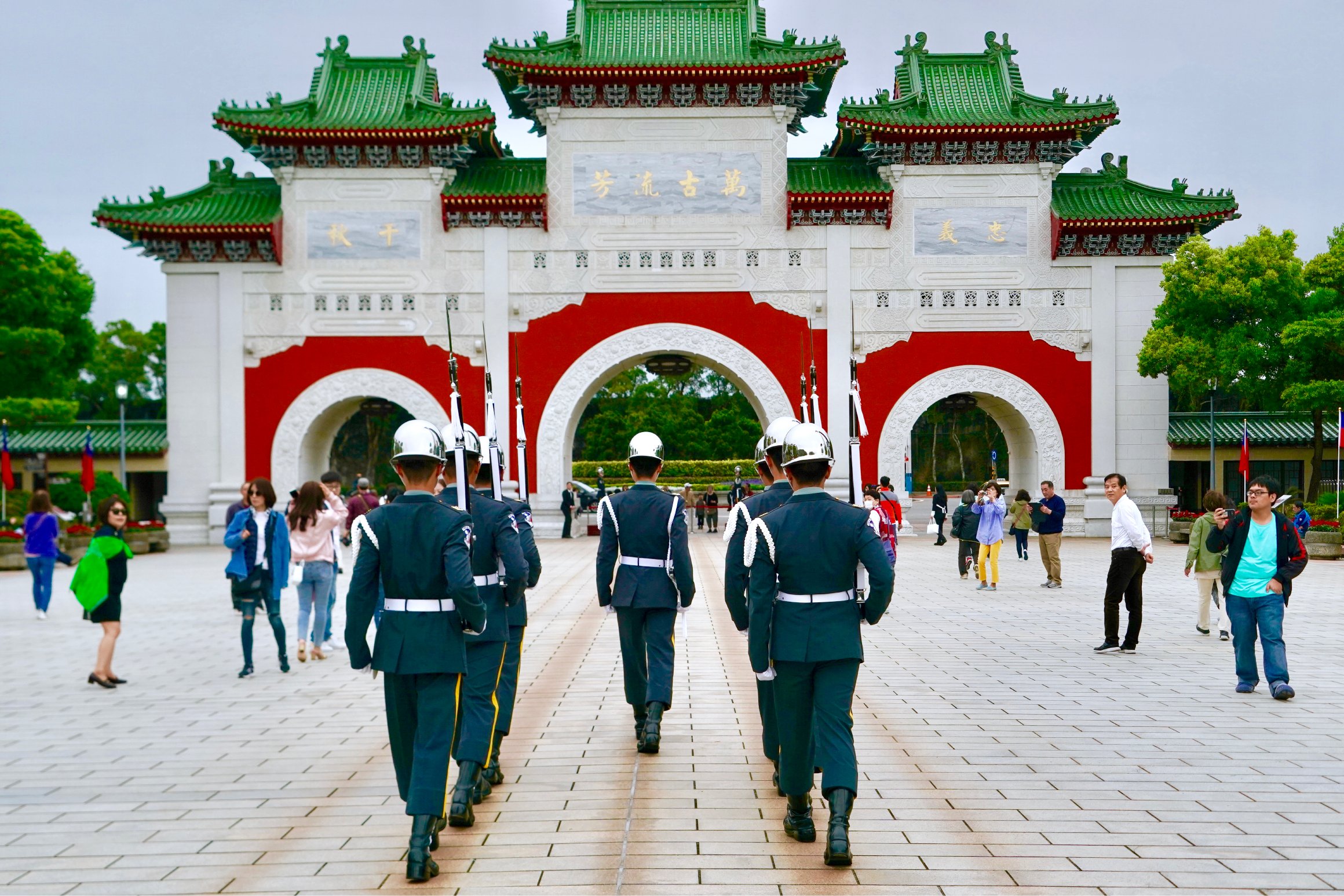 I can't well describe the accuracy and occasion of the changing of the guard at the Martyr's Shrine so I took a lot of pictures for you all to enjoy and follow a long! Space is cleared of tourists for the guards to perform their march to relieve their colleagues but we were allowed to watch and even take photos - which is lucky!
As you look through these pictures with me, look at the ground. This changing of the guard has been going on the hour, seven days a week, for decades. And as you look at the floor you'll see that the guard's route is so accurate and well drilled that their boots have worn away the brick in three lines at their feet! That is really quite amazing to think of the long term dedication and history of this practice. Much respect to them and those people whose memories they guard.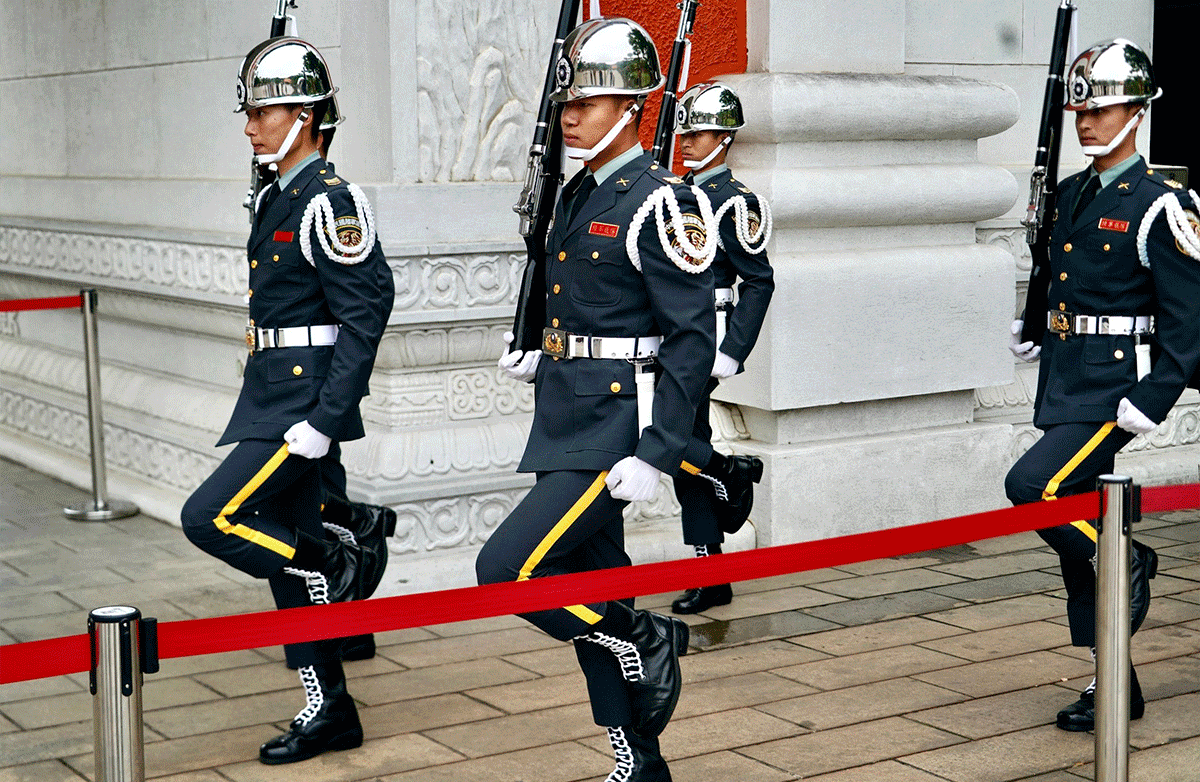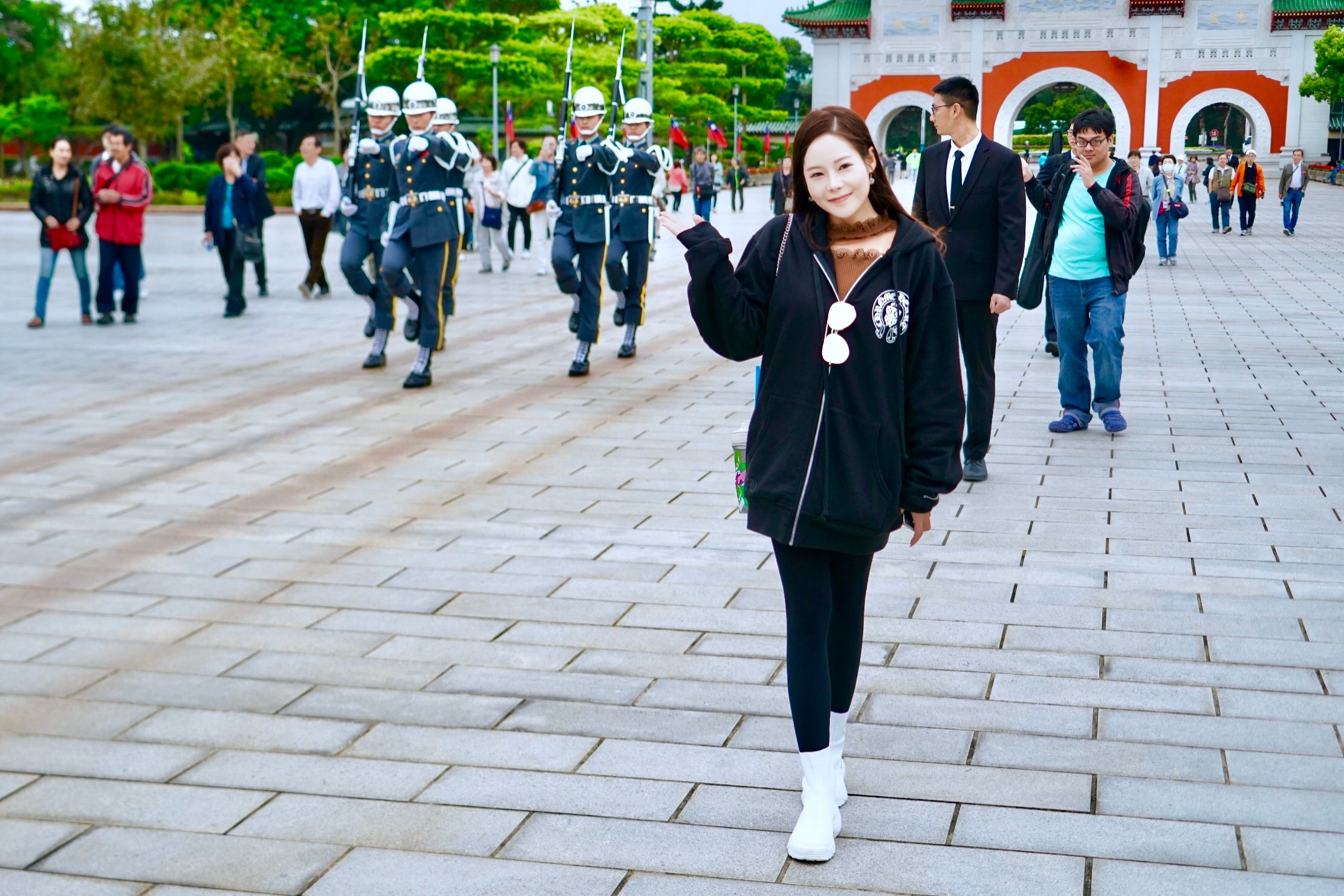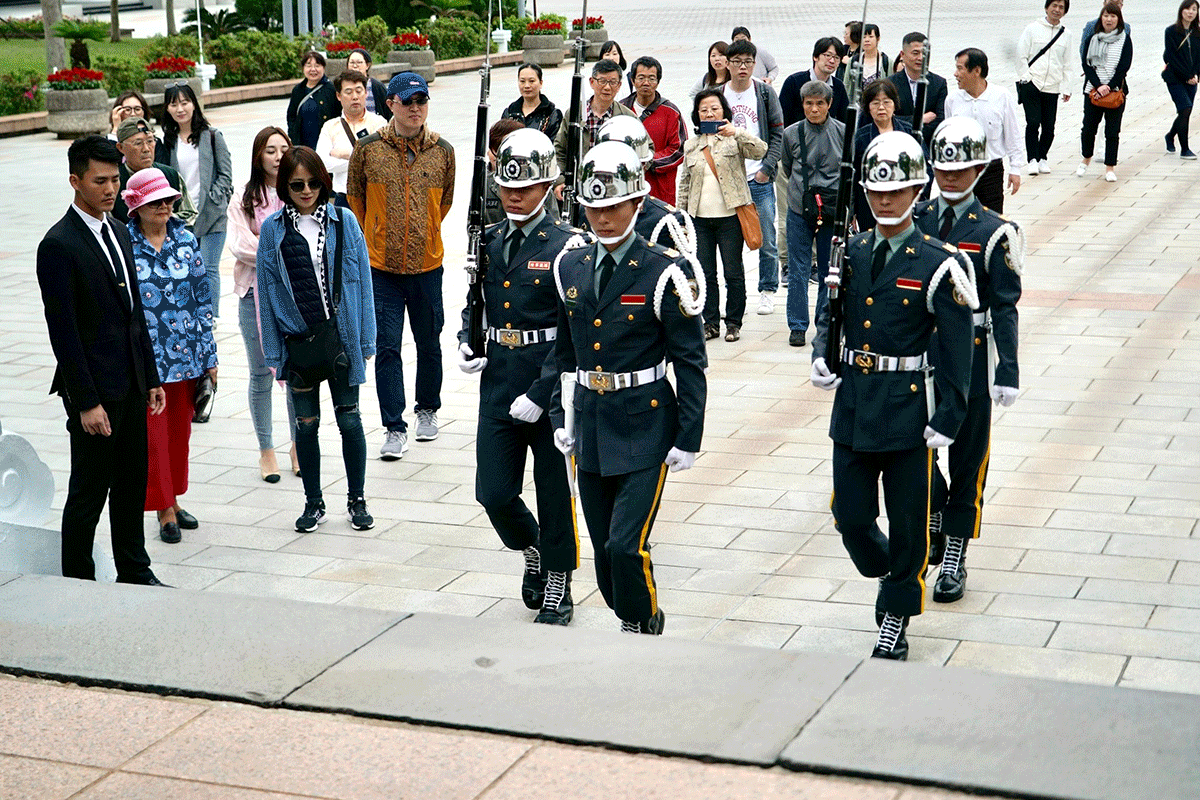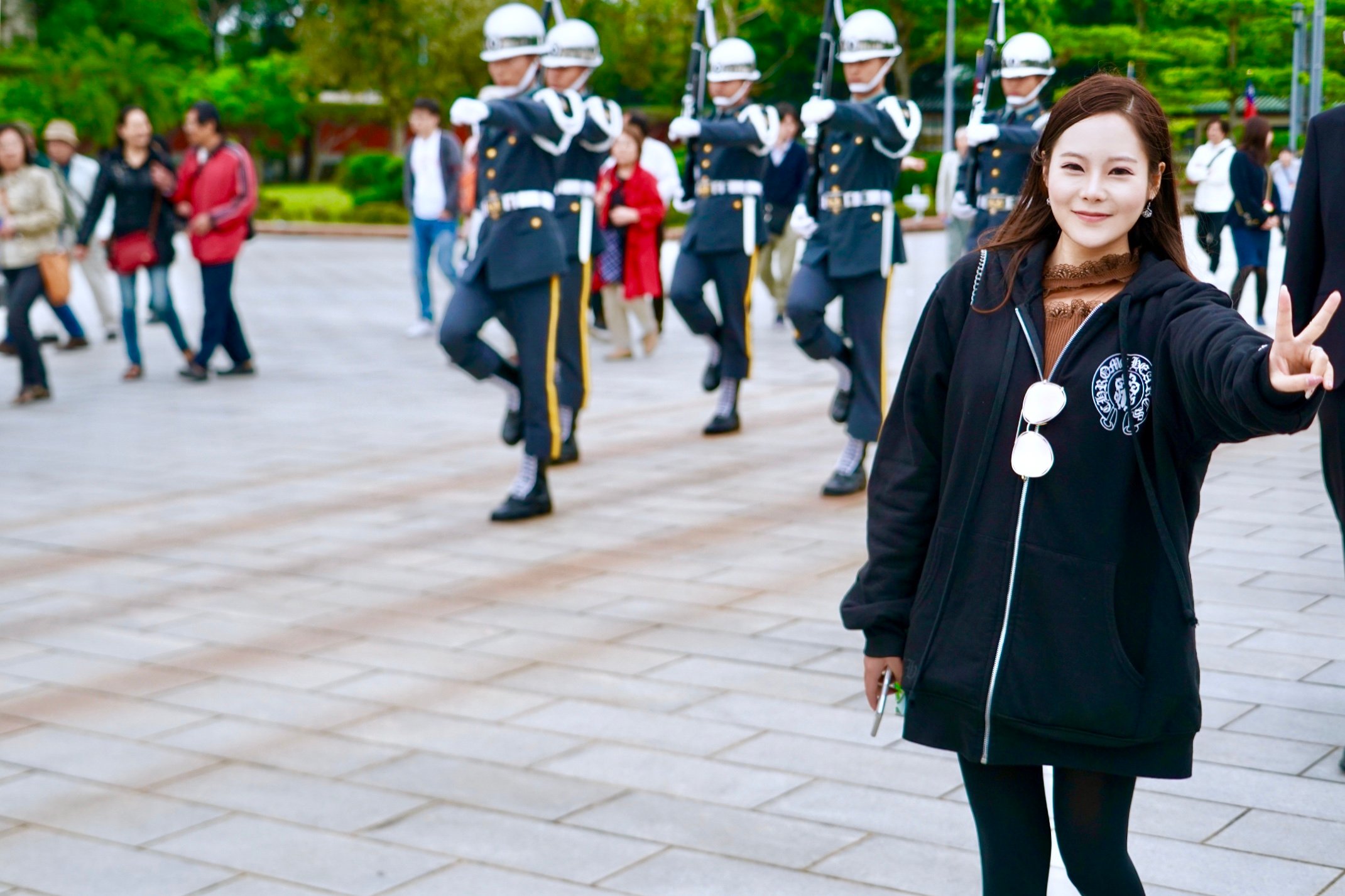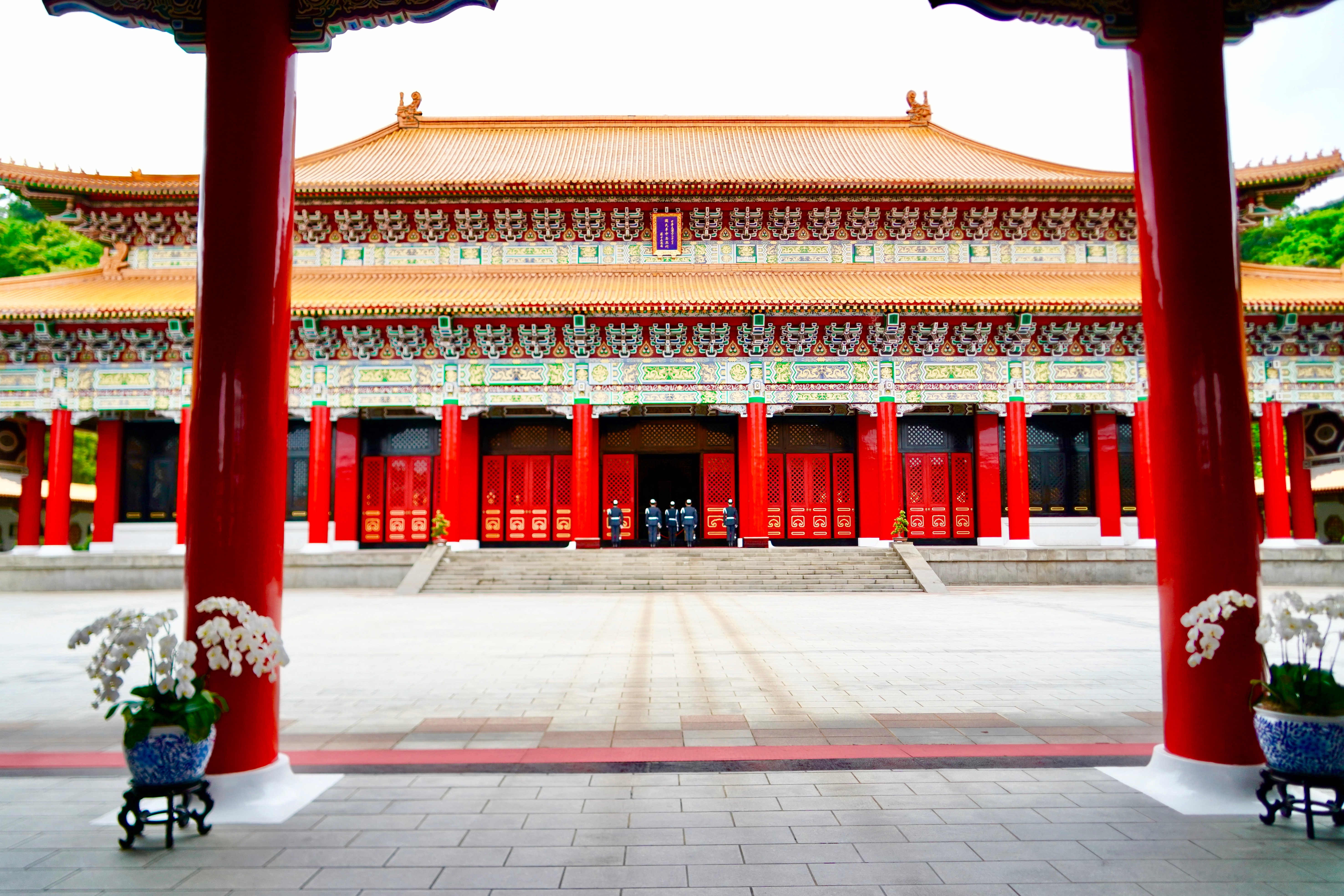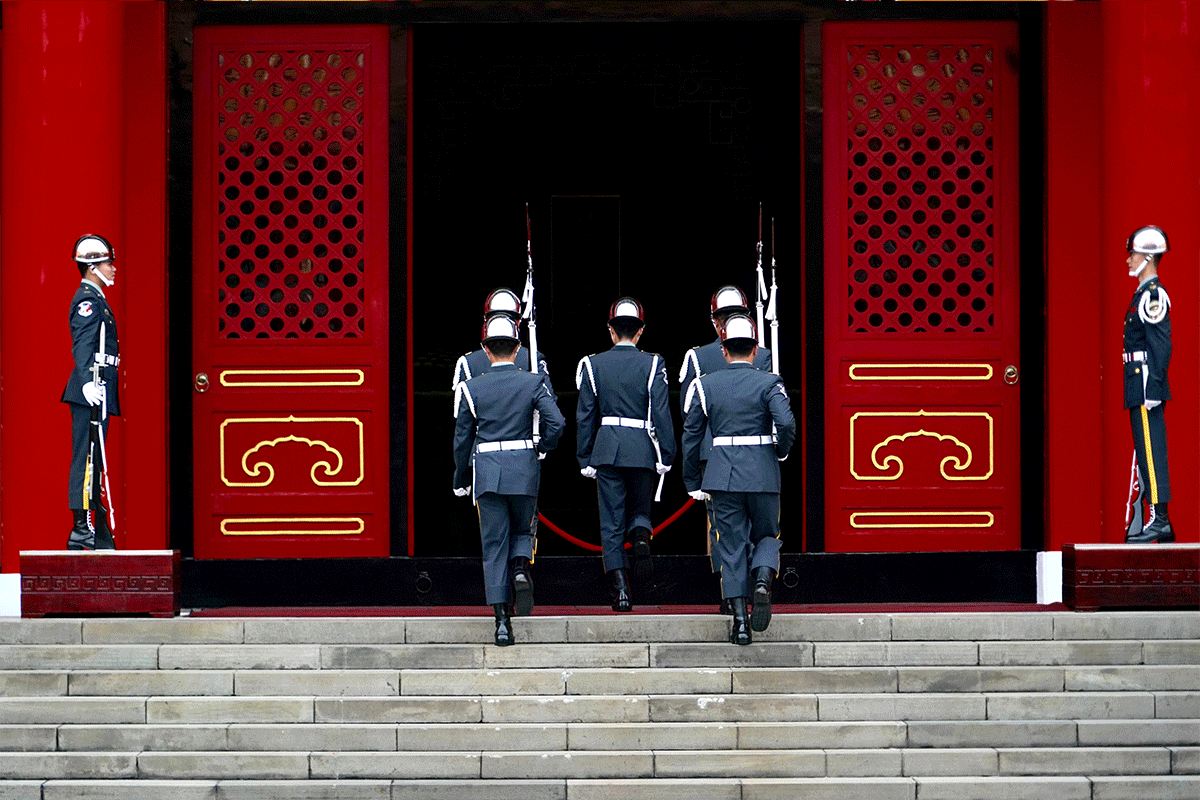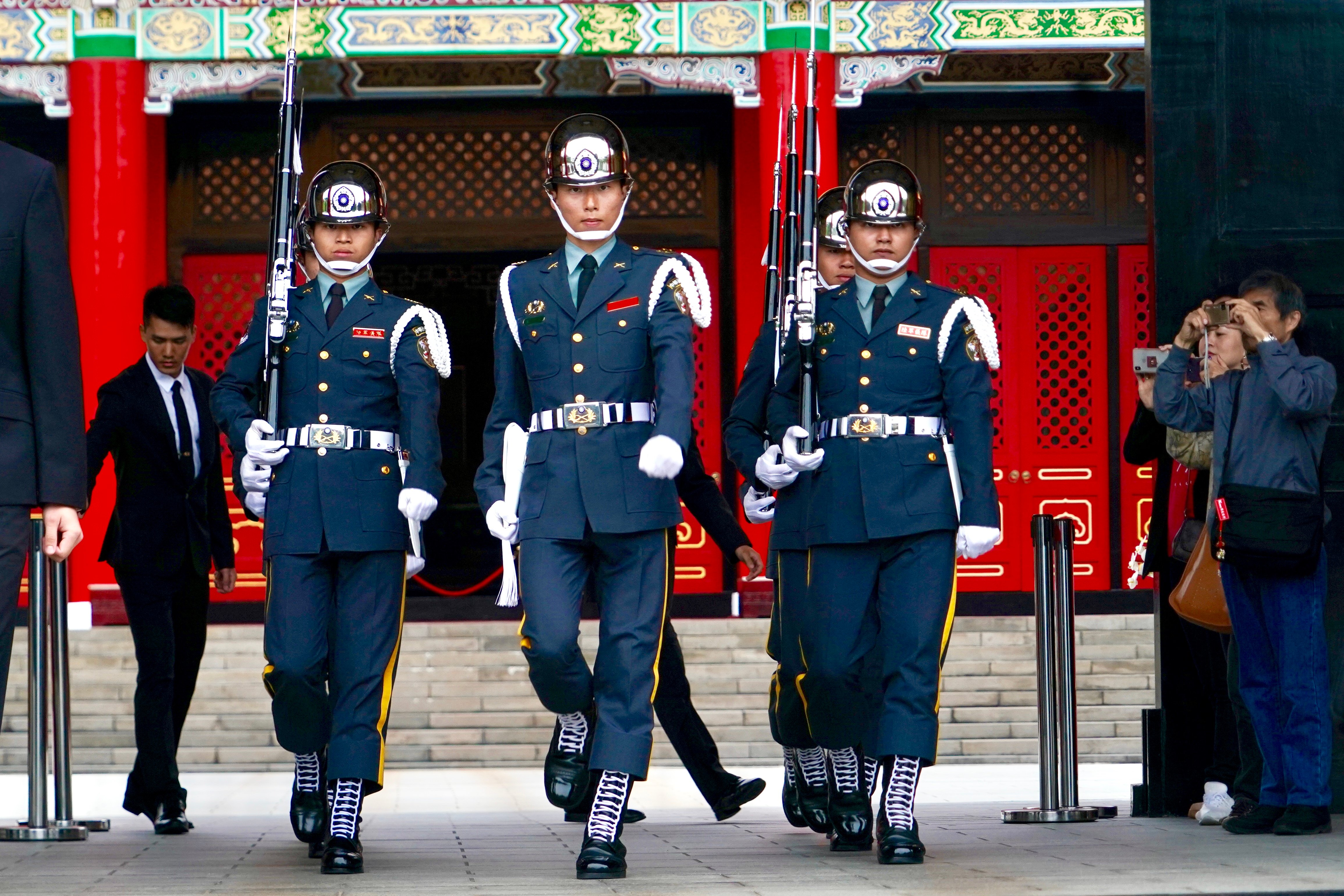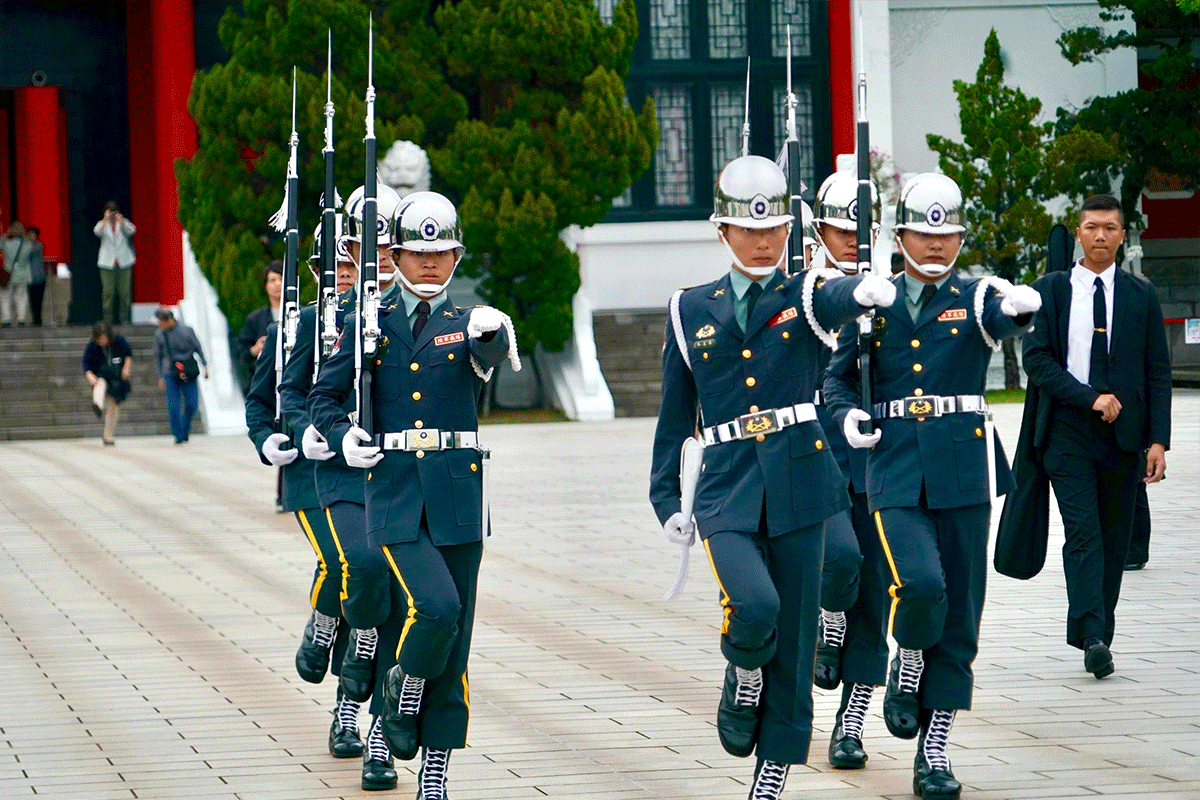 The historic Grand Hotel of Taipei
---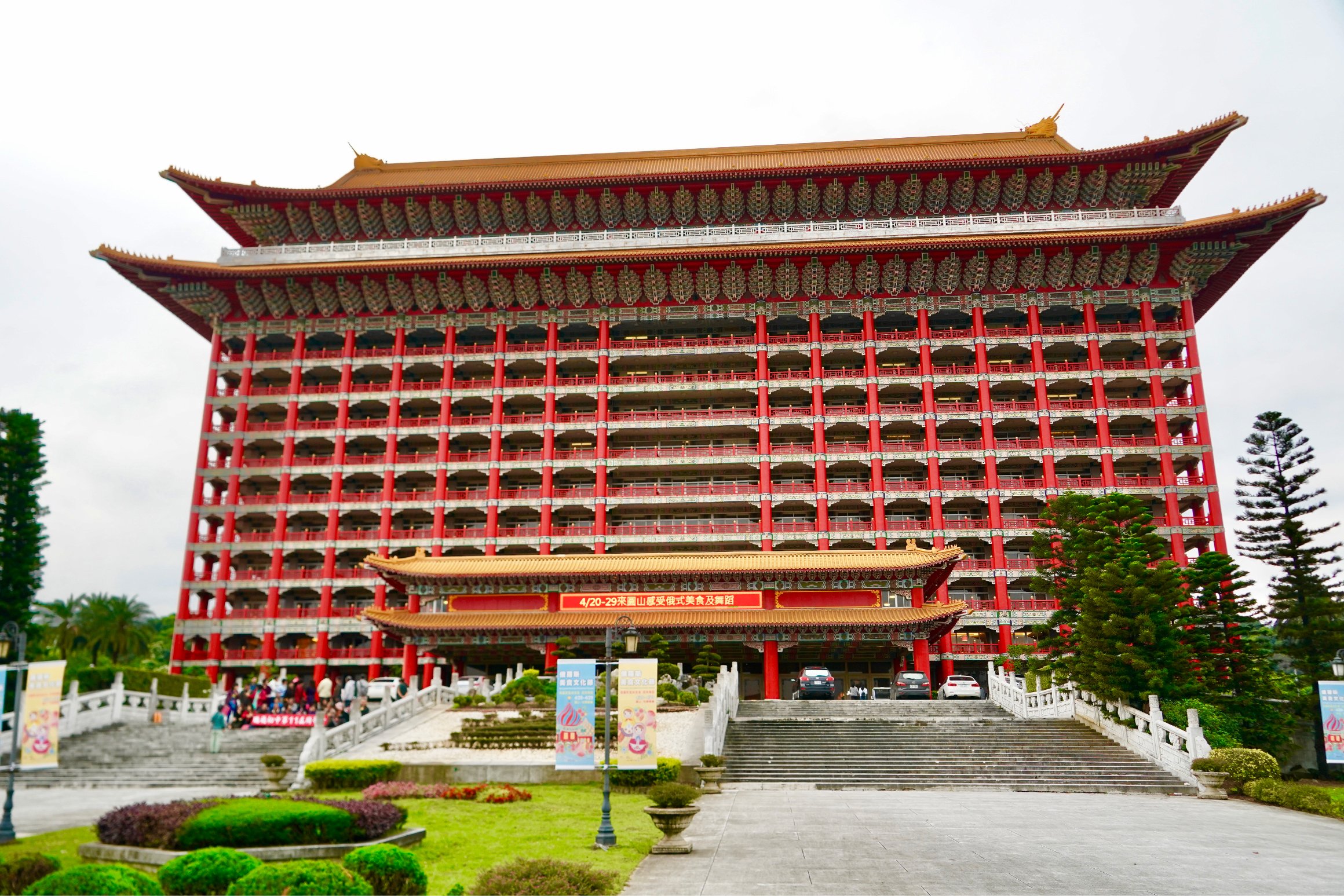 The iconic Grand Hotel of Taipei is a landmark that can be recognised all over the world. At 87m high, it is one of the tallest Chinese Classical Buildings and was the tallest building in Taiwan for 8 years following its completion in 1973. First conceived in 1952, the goal was to create a high class hotel that would serve as a place to proudly accommodate foreign dignitaries and other important guests - this level of hotel was completely lacking in Taipei at the time. Though various parts of the hotel were built and used before 1973, it was 20 years until the iconic grand building was finally finished.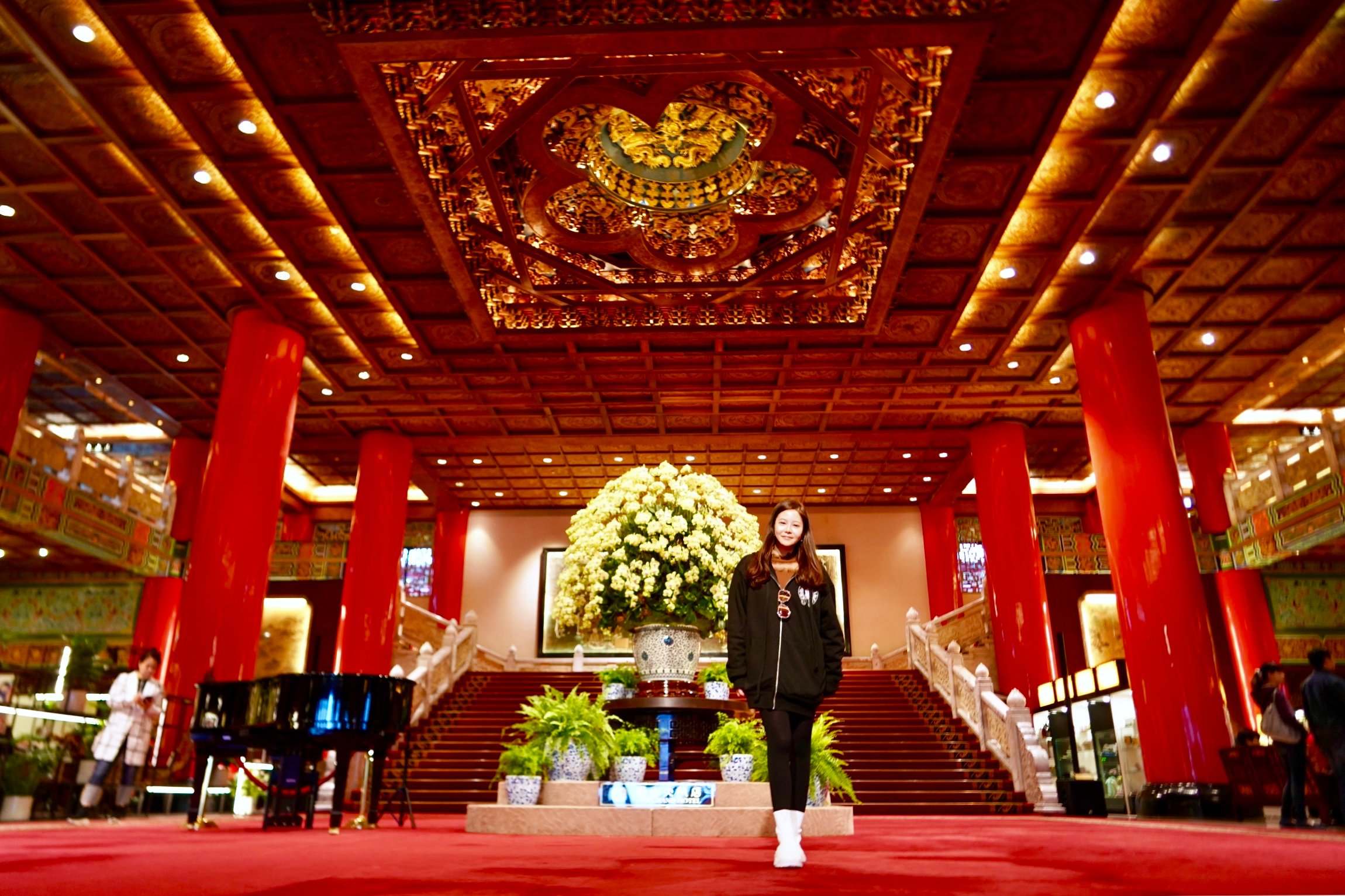 'Grand' is the right word. The goal of impressing visiting politicians must have been truly achieved with this incredible hotel. I felt completely dwarfed even in the entrance hall. There are 490 rooms spread across eight floors. Each floor is decorated differently, each done to represent a different Chinese dynasty.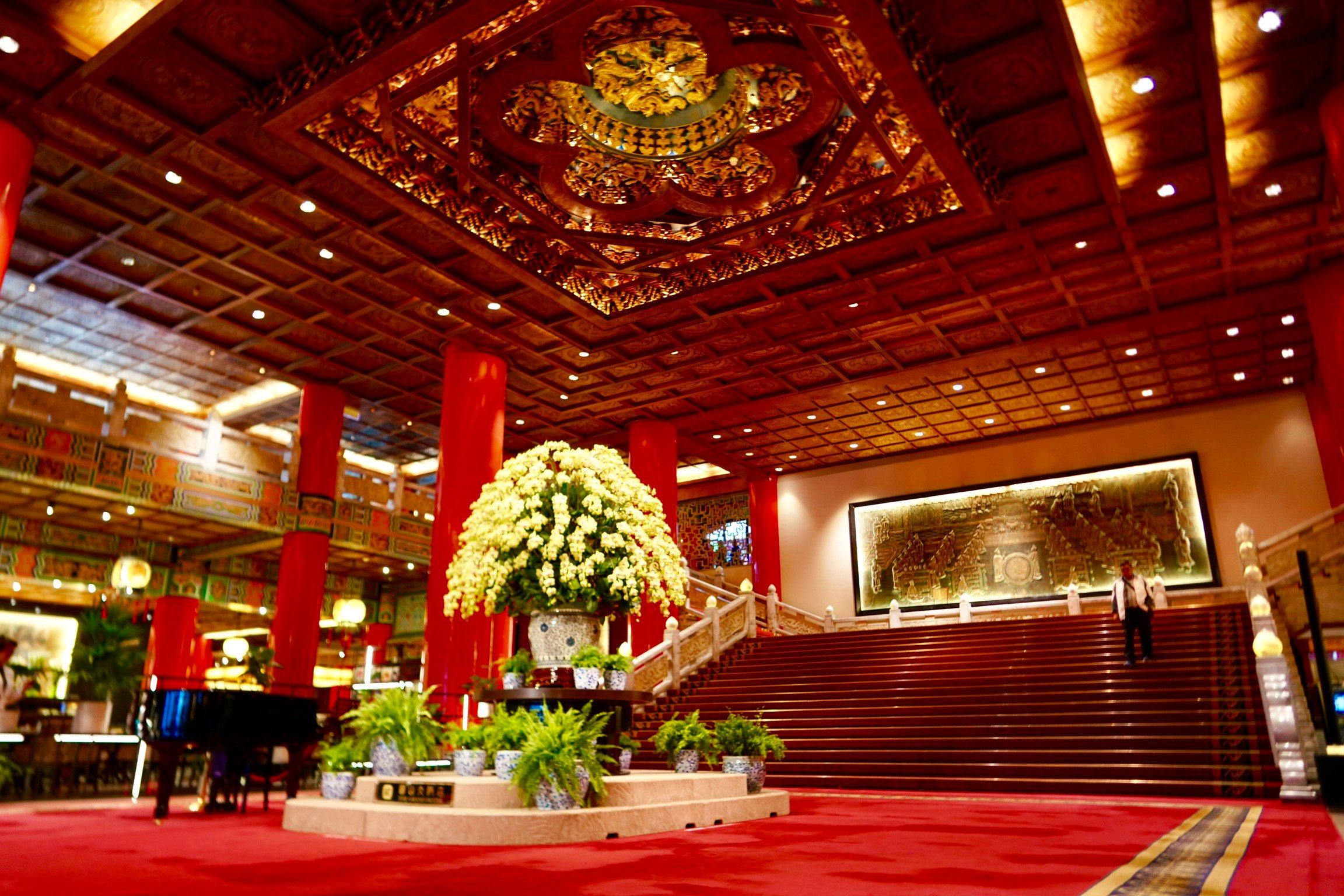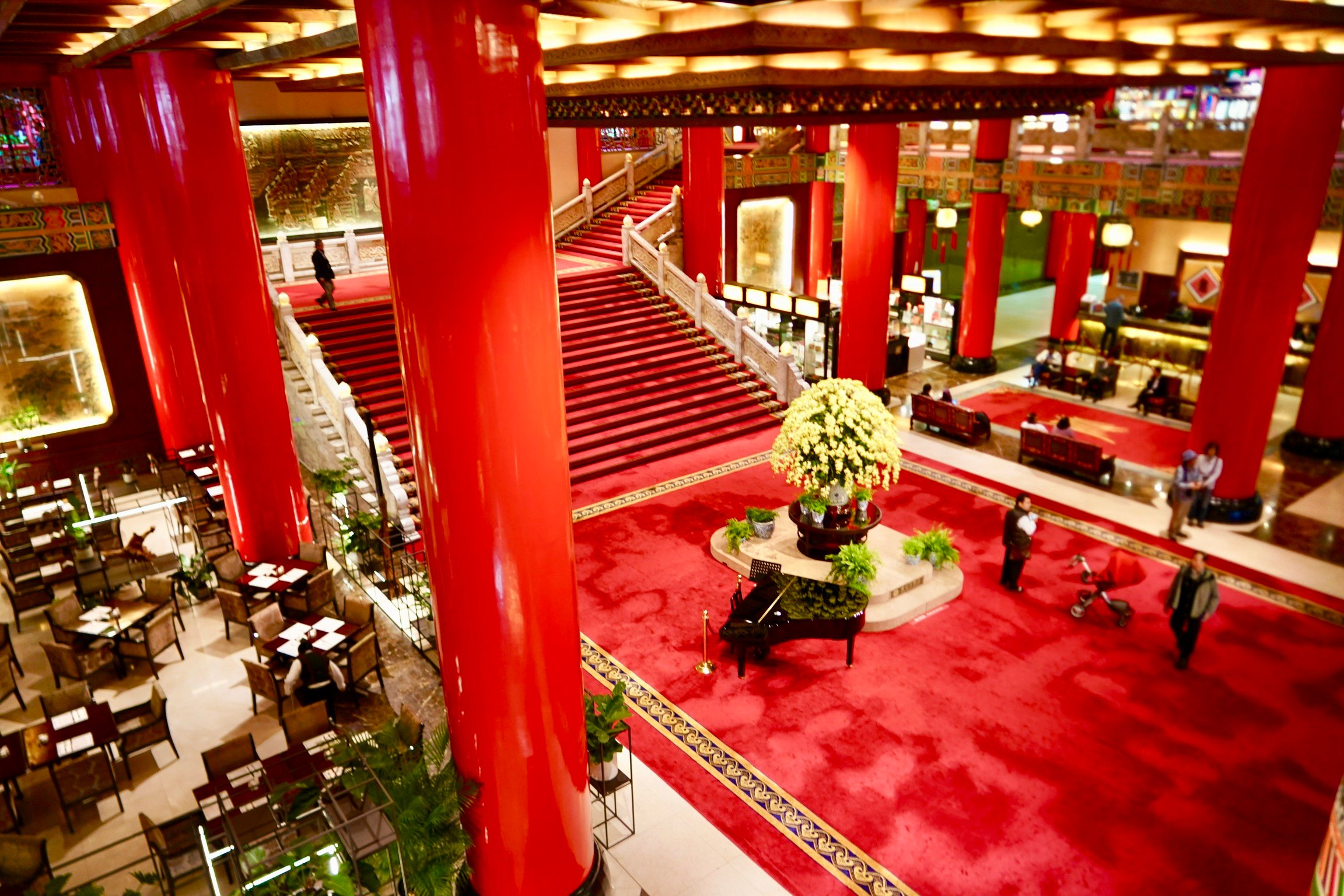 The dramatic red decor, Chinese lanterns, lion motifs and ornate carvings and massive pillars make the Grand Hotel a true wonder. According to rumour, their top presidential suite costs over $5000 per night to stay in. I suppose since the entire hotel is designed to impress presidents, it would a most amazing room!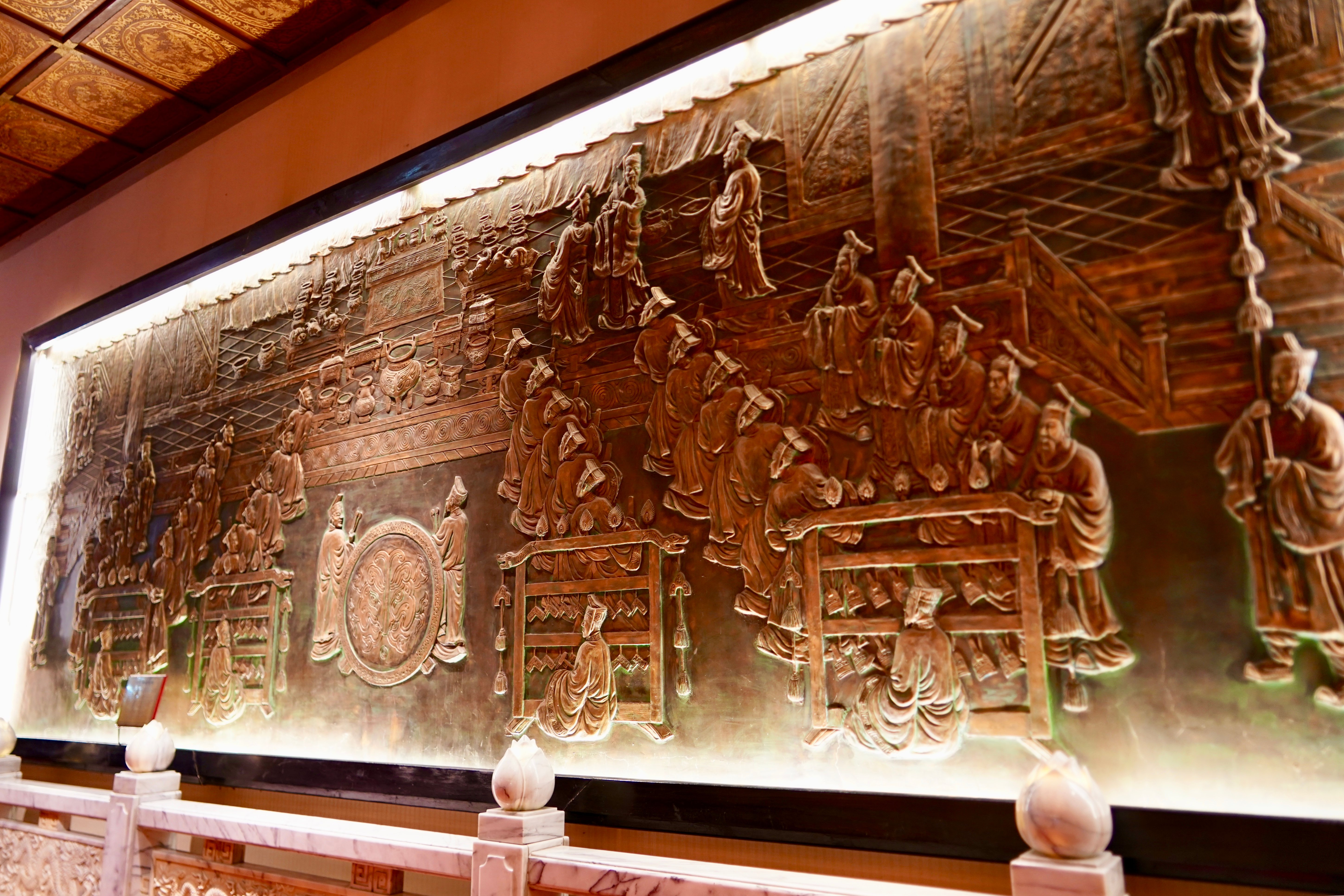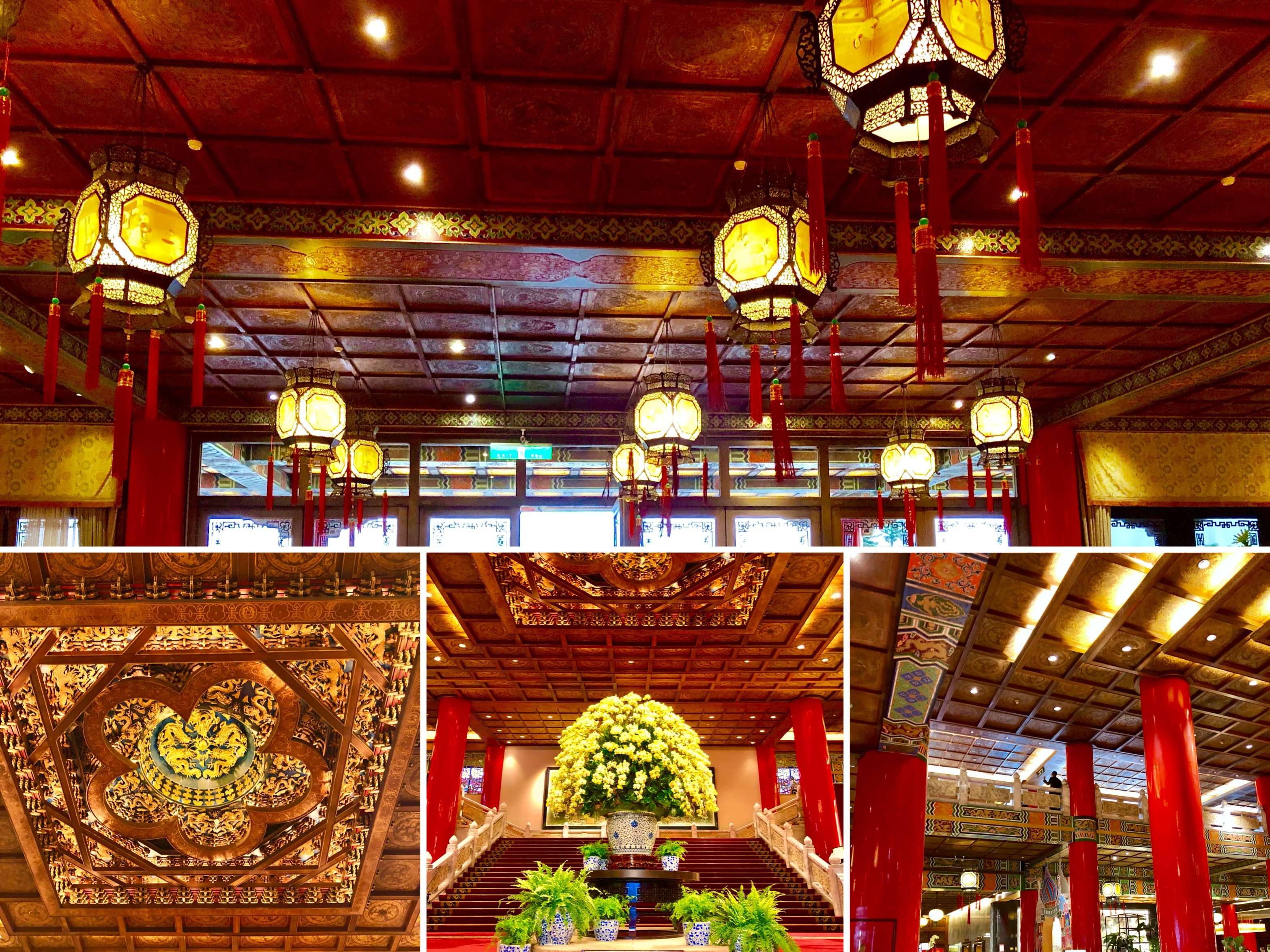 Wow, I have to say even looking back at that time I'm tired! It was such a special trip to explore the different cultural locations of Taipei and nice to find some time to finally see some of the amazing places that I've seen and heard about but was too busy to see. Today, we saw a lot of quite classical Chinese architecture. From the large halls of Sun Yat-sen Memorial Hall, to the solemn and well respected beauty of the Martyr's Shrine to the extravagance of Taipei's Grand Hotel, each was built in similar styles but with different purposes in mind.
The Memorial Hall was built to honour the life of one man, who so shaped modern China and Taiwan's futures. A testament to the time one man spent on earth and the large impact it had. Martyr's Shrine honoured the often nameless thousands who lost their lives, partly in pursuit of that very man's dream - the respect given them no less than given to Dr. Sun Yat-sen with the beautifully kept shrine to their sacrifice. Finally, the Grand Hotel is a nod to Taiwan's past and its future. A commitment to staying relevant on the world stage - while keeping traditions a central theme to its grandeur.
I always like to try and pick a favourite part, you know me! And for me, it was the part I spoke least about here - the changing of the guard. There was something so fascinating that after all of these decades, honoured soldiers still stand vigil over their fallen comrades. Their dedication never wavers. Each changing of the guard is just as sharp. Just as important. Their dedication and professionalism to respect the fallen is literally worn into the stones they walk on. Perhaps I had so few words to say because descriptions would fall short - you can see their duty on their faces in the photos and in their posture in every single picture.
I hope you all enjoyed visiting some of the classical architecture of Taipei with me today. I have really enjoyed being able to revisit it and hope you'll join me in the comments below for a good catch up with each other! If you've enjoyed my blog then do make sure you've got that follow button pressed and give it a like so that we can share it with others too. All my best!
Check out my video !!

亲爱的朋友们,好久不见啦,你们还好吗?最近天气渐渐变冷,在这个万物气息变慢,缓缓入梦的寒冬,你是否会想念那个阳光明媚,蓝天白云,绿草如茵的夏天,今天我就带着大家沐浴在台北火辣的夏日阳光里,继续游览台北的孙中山纪念馆。这座纪念馆在台湾的发展史上可是有着重要的历史意义,让海峡两岸有了不可分割的姻缘,绝对是来台湾旅游不得不看的人文历史景观。孙中山纪念馆的兴建是为了纪念国父孙中山先生的百年诞辰,它是全台湾最有名的文化纪念设施。
孙中山纪念馆
开馆初期,纪念馆主要展出国父革命史迹相关文物,并提供部分展演活动。这座纪念馆占地面积广阔,郁郁葱葱的绿意伴随着一湾垂柳迎风摇曳的秀美湖水,还有音乐喷泉,假山流水,风景清幽,一片令人心旷神怡的景色,如今的纪念馆也同时担当了另一个角色,那就是综合性休憩的公园。全区包括纪念堂、翠湖、中山公园、中山碑林和中山公园广场。作为岛内最大型的国家级表演场地,许多文艺表演或颁奖典礼比如金马奖,都选择在这里举行。当然这里也是台北市民不可或缺的重要文化社教中心,吸引来不少户外运动爱好者和大学生文艺社团来这里举办活动,刚到门口的时候,我就看到不少充满活力的街舞社团员在走廊的阴凉处练舞,动感的音乐非常有感染力,让人深深感受到年轻无极限的生命力,我也很想要过去和他们一起跳。
再说说这个非常吸睛的博物馆建筑,纪念馆由每边14支灰色大柱支撑,顶起翘角像大鹏展翼的黃色大屋顶,这金黄色的屋顶,好像阳光一样灿烂,又好像是充满旺盛生机的向日葵,永远向着太阳致敬,仔细观察这座建筑,却发现它其实古意盎然,整体的结构上有着非常明显的中国传统宫殿式建筑风格,恢宏大气,黄色屋檐下透出鲜红色的砖瓦,周围铺满了绿油油的青草,仿佛一副色彩明艳的油画展现在我的眼前。别着急,还有更大的惊喜,一转身向背后看去,原来广场对面就是台北的地标——台北101大楼,而我也好像是意外发现了一个与101大楼合影的最佳场所。
国父纪念馆分成前后两大部分,前为中山雕像纪念堂,后为表演厅。来到中山雕像纪念堂的中央,可以仰望孙中山先生高高在上的铜像,我抬头细细的瞻仰,只见他目光如炬,表情凝重,沉稳内敛,两边是他的座右铭,而铜像两边各站了一名卫兵,由台湾陆海空三军仪队轮派担任。来参观孙中山纪念馆的一大特色,当然就是观看每日整点的换岗仪式,这次正好时间合适。只见卫兵气质动人,训练有素的动作,以及坚定的眼神,自信的表情都给我留下了深刻的印象,整个换岗过程持续了15分钟,如果时间比较充裕,是非常值得观看的。
孙中山先生对于海峡两岸的民众来说,都是非常值得敬仰的政治人物。博物馆的房间里陈列了孙中山先生的墨宝,同时还免费配备了专人进行讲解,吸引了不少游客驻足凝听,在这里,我找到了他所提出的三民主义的真迹,还有许多思想著作和真理名言的真迹,真的是非常值得细细品味的。作为清末民初的医师,政治家,革命家和哲学家,中华民国的奠基人,国民党的创党人,中国近代民主革命的伟大先行者,孙中山先生对于中国近代的历史发展有着不可磨灭的贡献。
国民革命忠烈祠
下一站我们来到了位于台北圆山的国民革命忠烈祠,它建于1969年,位于圆山大饭店山下不远处,是台湾最大的忠烈祠。在建筑前方的广场两侧,装点着清幽的皇家园林式布景,而中间主要的建筑则模仿了北京故宫的太和殿,典雅而精致,散发着古韵。这里是崇祀国殇位阶最高的场所,同样也是国际人士来访时,向殉难英烈致敬的代表场所。这里供奉了从辛亥革命、东征北伐抗日,历次战争牺牲的33万将士官兵的灵位,可以找到张灵甫、张自忠等人的牌位。来到门口,我和门前站岗的小哥哥合了影,看看他帅气威武的姿势,每天保持这么多个小时,非常辛苦呢。在国民革命忠烈祠,还有一个最有意思的现象,平日里游客稀少,一片安静祥和的气氛,而每每到了临近整点的时分,门前就会神奇般的准时出现游览车,游客们急匆匆下车,原来是来赶着看驻守在这里的仪仗队表演交接班仪式。运气不错的我这次又赶上了,和孙中山纪念馆不同的是,这里的换岗仪式可以让游客近距离观看,没有拉着保持安全距离的红绳,于是我有机会走在官兵的身边,一步步跟随着士兵前行,感受仪式庄严威武的时刻,只见五位士官迈着整齐有序的高抬腿大正步,在肃穆凝重的气氛下,缓缓步入广场,并与站岗卫兵换岗,完成一系列的验枪行礼动作,还有精彩的花式操枪表演,看的在场的游客目不转睛。
圆山大饭店
刚才提起了圆山大饭店,看完了换岗仪式之后,就顺路去了台北这家地标性中国风饭店参观一下。这家酒店成立于第二次世界大战之后,是早年间台湾首屈一指的大型国际性饭店,在过去这里不仅是贵族宴客的高级场合,更是负责敦睦邦交的国家招待所。整个酒店有着宫廷建筑风格,记忆着数不尽的辉弘往事,仿佛是这座岛屿的影子,沉淀了沧桑的历史。在台湾,没有一座酒店可以像圆山大饭店这样,有着充满了传奇色彩的故事。
圆山大饭店的原址曾经是日治时期日本人的台湾神宫,曾经的圆山饭店门禁森严,神秘感十足,1995年一次意外失火让酒店内的两条地下逃生密道曝了光。西侧密道长约180米,该密道可通往后山剑潭公园,然后可驱车前往士林官邸,而东侧密道则没有滑梯,出口处是北安公园。这简直就像是皇家的宫殿,机关甚多,充满了变幻莫测的奥秘。圆山大饭店建立在剑潭山山头,突出于台北盆地之上,在风水学上处于极佳的地理位置,这里凌驾于城市之巅,也是欣赏台北夜景的好去处。圆山大饭店有着歇山式的饭店屋顶,近观这14层的建筑更是可以看到很多的龙形雕刻,据说共有大大小小的"龙"22万余条,所以这座饭店也常常被人称赞为龙宫。除了龙形之外,还可以发现石狮子和梅花这些极具中国建筑风格的图案出现在建筑细节各处。
在现代的城市里,这种独有的中国式宫殿外观建筑就好像穿越时空出现在你眼前一般。门口气势恢弘的高大牌坊,上面写着圆山大饭店五个字,紧接着后面的高翘飞檐,红墙黄瓦,宏伟而气派,让我误以为走进了北京的故宫。建筑上采用了大量的龙形雕刻,据说共有大大小小的"龙"22万余条,圆山饭店也因此被称为"龙宫"。步入饭店满眼大红色还有金黄色,这些极具视觉冲击力的色彩,也是最具中国古典特色的颜色。两旁是几十根朱红圆柱,宫灯高悬,富丽堂皇,对于色彩和图案的大胆运用仿佛让我以为是走入了张艺谋的电影里。大堂的天花板也特别的美轮美奂,造型优美的梅花形藻井,梅花正中有五龙戏珠,象征着"五福临门",藻井内侧刻有23条金龙和16只凤凰,寓意龙凤呈祥。饭店分为正楼、金龙厅、翠凤厅与麒麟厅等部份,就算没有入住的打算,也可以到酒店内部的三家餐厅尝尝鲜,粤菜,中西料理,还有中式古典的下午茶点心,都可以一一品尝。
今天的景点游览就要告于段落了,希望大家享受这段台北的人文历史之旅,之后还有更多关于台湾的幸福旅行日记在等着和大家分享噢。