Dear Steemit friends: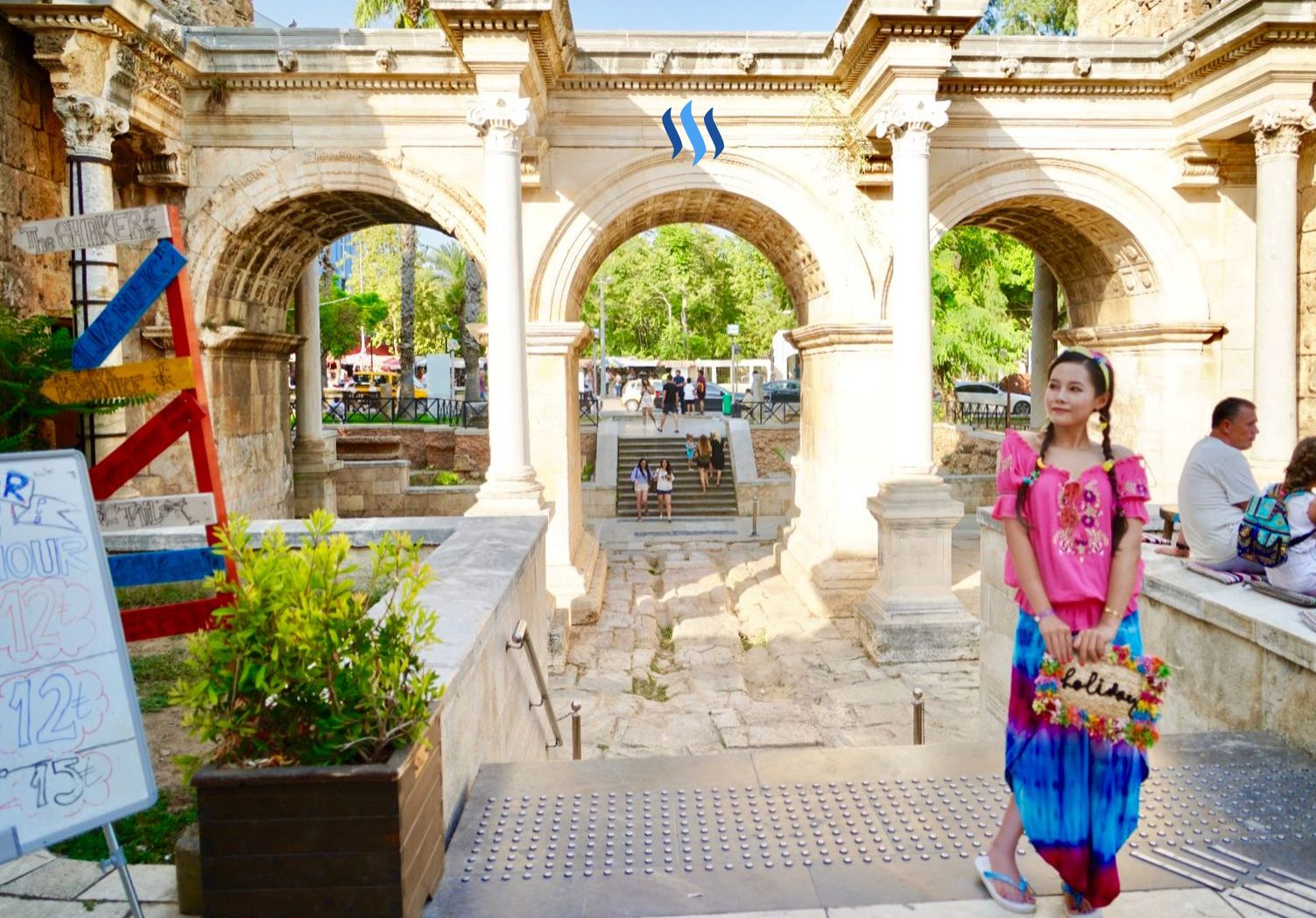 In my last post about Turkey, we had the pleasure of visiting a restaurant not only known for it's culinary distinction, but also the charm it inherits from being a surviving landmark of the ancient city of Kaleiçi. The restaurant i'm referring to is of course Seraser and for those that missed my review, you can find that here.
Today, we'll be taking a tour around Kaleiçi, enjoying it's landmarks, resonating with it's culture and trying to get a sense of it's multi-epoch history. Though most people know Antalya for it's touristy, resort vibe, those looking for some tradition and heritage, will find Kaleiçi to be defiant of such labels.
Admittedly, my original plan when visiting Antalya was to stay at these resorts, there isn't anything wrong with some relaxation after all. Occasionally, you stumble across a treasure without looking for it, as if a gift from a spiritual tour guide, a hint if you will. I'm glad I could experience that moment of divine intervention, if not for that, I would have sat oblivious to Kaleiçi, sipping cocktails contently beside a pool inside a soul-less resort, missing out on this demure but mesmerising town.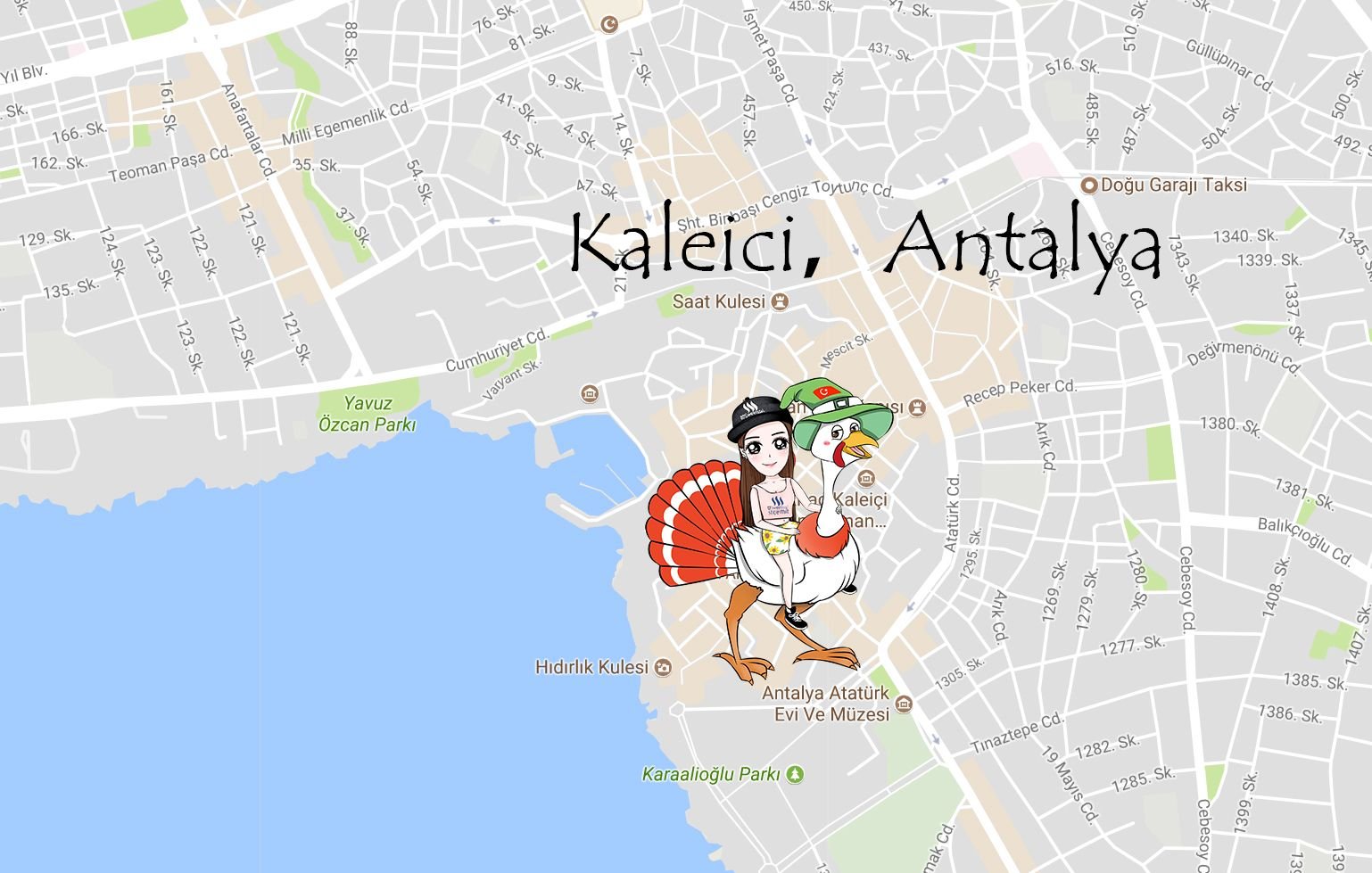 I lived to the west of Kaleiçi, in downtown Antalya. There are buses that run from downtown to the ancient city, but a taxi will set you back around 30 TL (~8 USD) and will save you a great deal of time. From the map above, you'll notice that the Kaleiçi area is located along the Mediterranean coast, fronted by a harbour. This is in-fact a harbour that dates all the way back to the Roman era.
Kaleiçi means "Inside the Kale (Castle)" and for much of it's history, was surrounded entirely by the city walls. From the drop off point of the taxi, you get a magnificent view from the high ground of the ancient town. One of the recurring characteristics of Turkish cities are the tall spires marking the location of local mosques. In Kaleiçi , it's no different. Tall protruding towers stand tall above the Ottoman style houses below, serving as a sacred place of prayer. It is almost hard to believe that the town was once predominantly Christian, as most Roman occupied settlements were.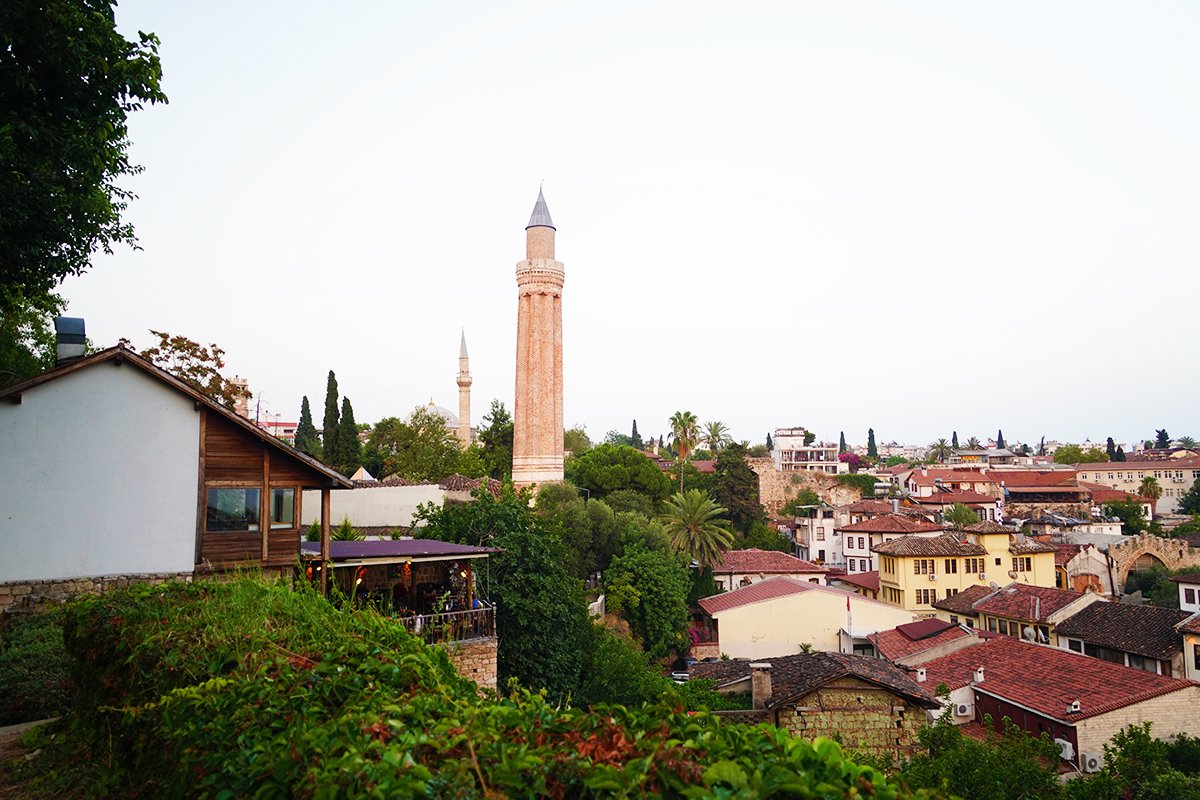 Red roof tiles dominate view of houses across the plain, with trees growing beside them, some to greater heights than the buildings beside them.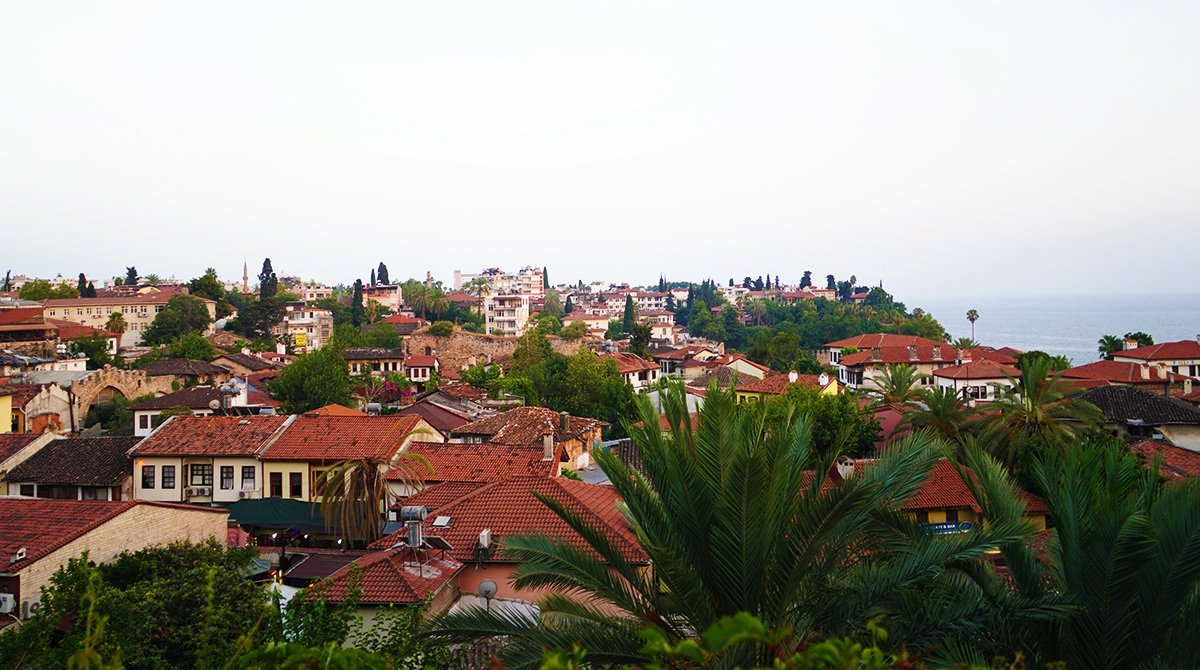 Outside the walls, I found this lovely stand dedicated to helping stray animals, particularly cats. They had built these mini cat houses and offered passerby's the chance to feed the homeless kitties. Me being a true cat woman, I just had to stop by and greet these friendly felines.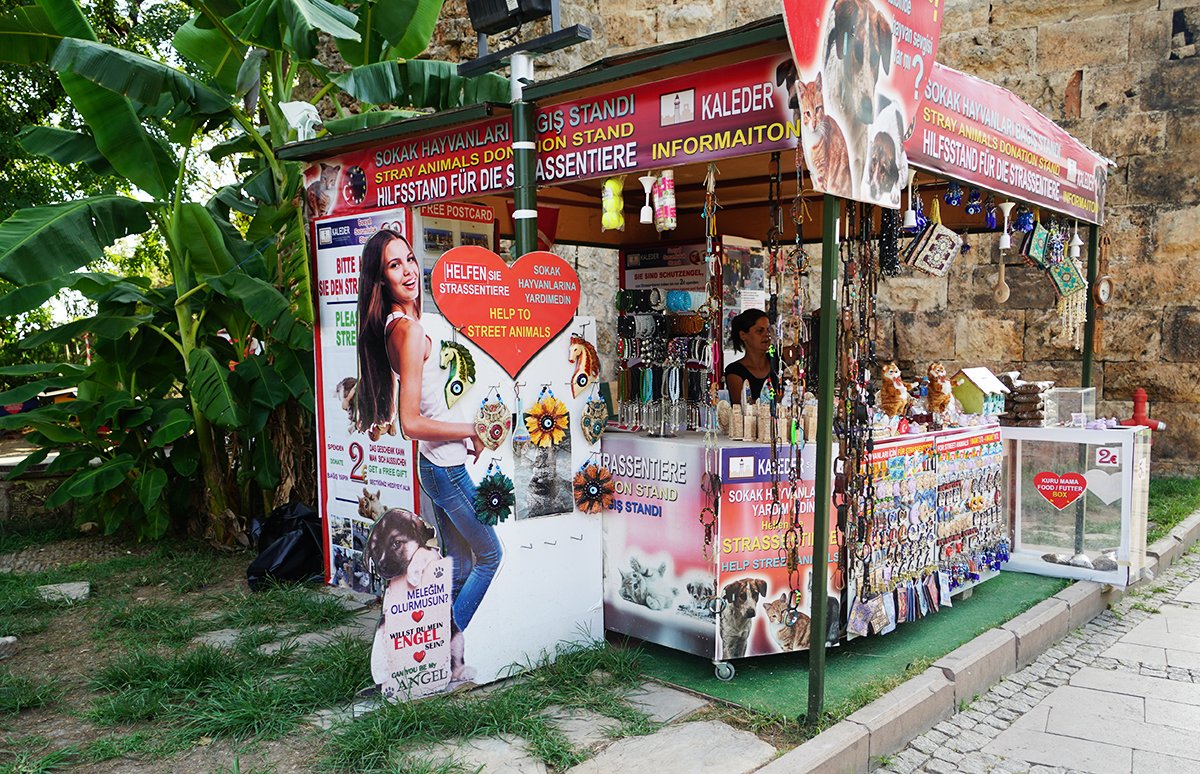 Just behind the stand were the mini cat houses. Each about the size of a baby crib, and all in various contrasting colours. Most of the cats were sleeping but to my surprise, a few friendly ones came to greet me and receive some snacks. My favourite was definitely the white one, she reminded me a lot of Milky!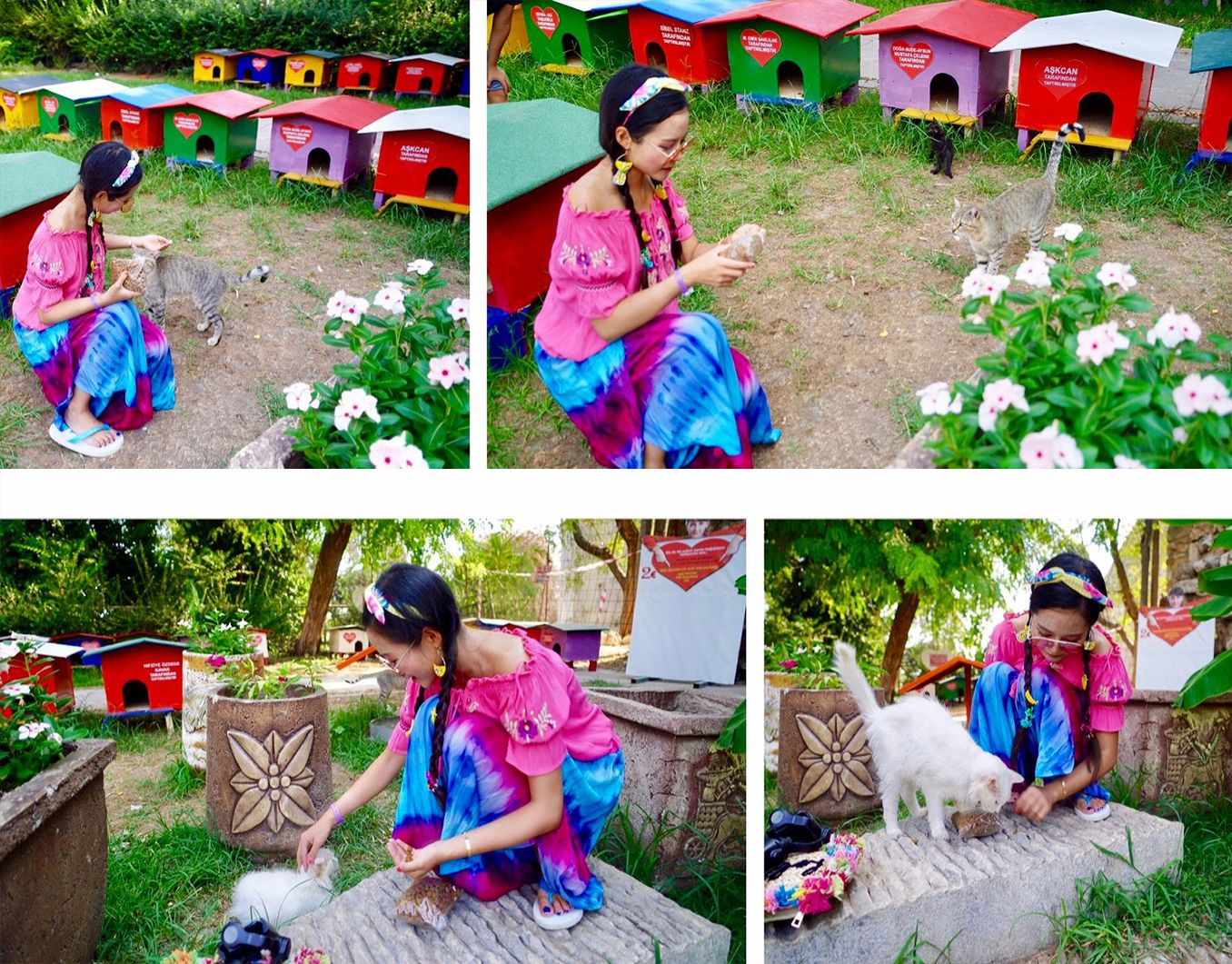 I was very impressed to find the cats roaming out in open space. I know from experience that domestic cats tend to be cautious and don't feel comfortable out in the open. Clearly, these cats have been living independently for quite some time.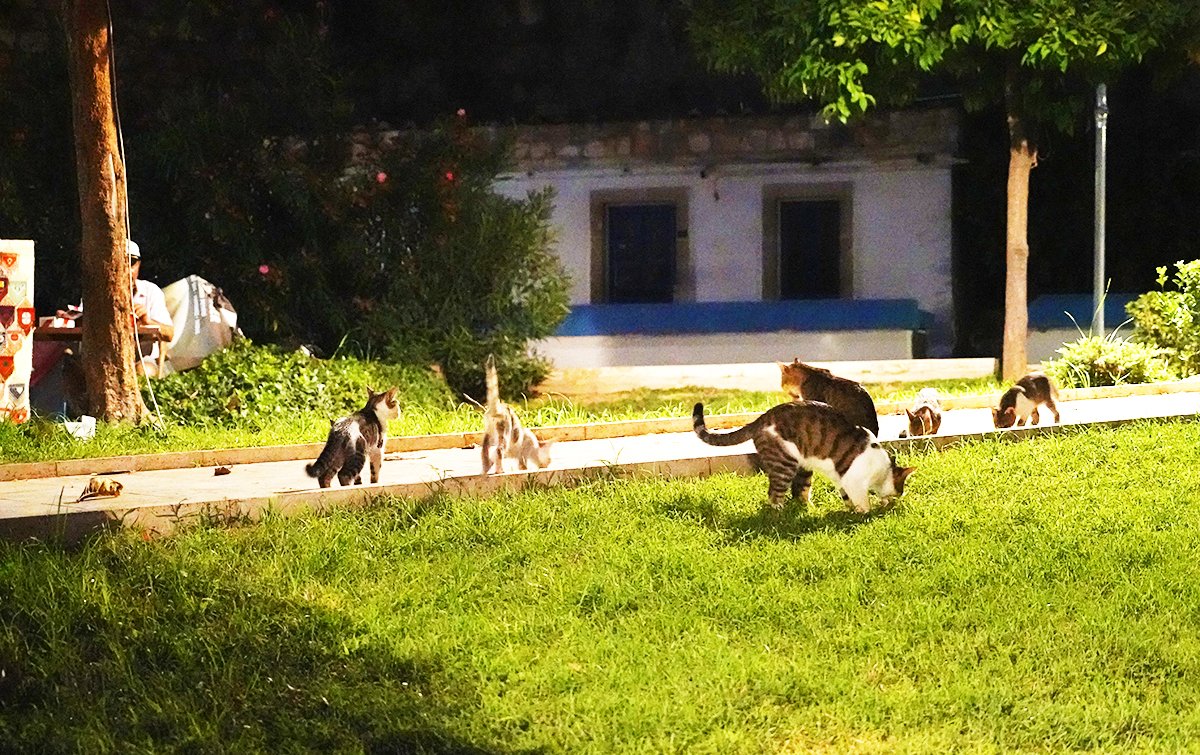 There are many routes into the old town. This 'Bazaar' entrance is just one of them. The souvenirs you see are pretty typical of the goods you will find within.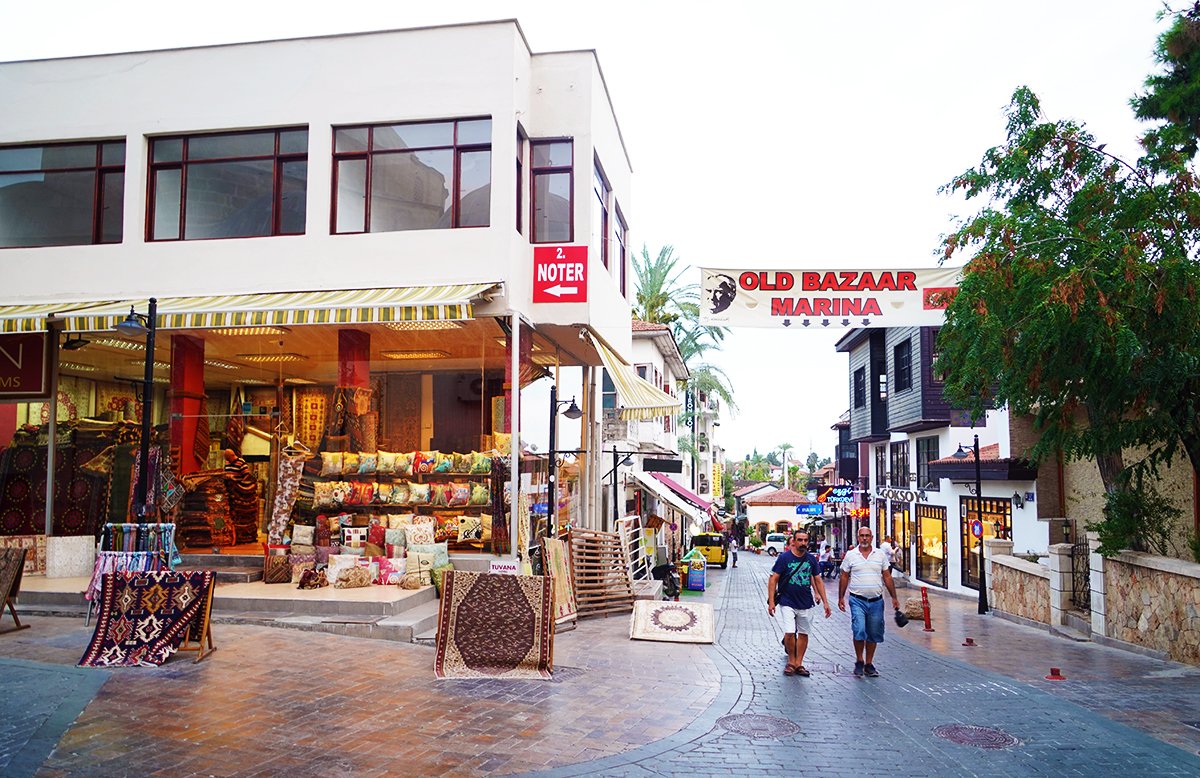 Although these horse carriages are not allowed within the city walls, they can go around the outside perimeter of the city, taking you from the clock tower all the way to Karaalioglu Park.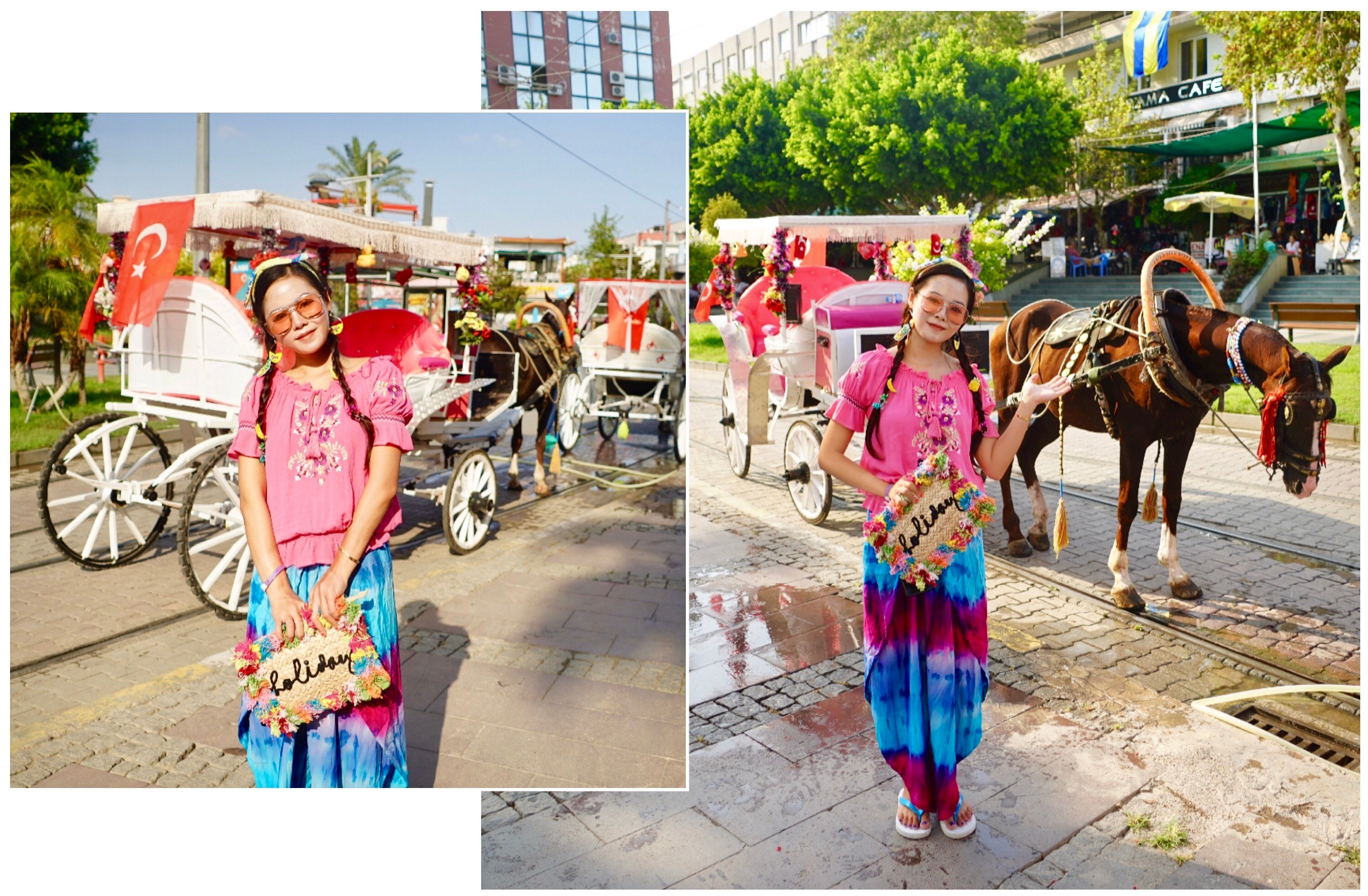 This was one of the most amazing displays of umbrellas I have ever seen. So many different colours, neatly arranged in rows covering the entire street. Either side, we have Turkish kebab shops, cafes and mobile phone stores.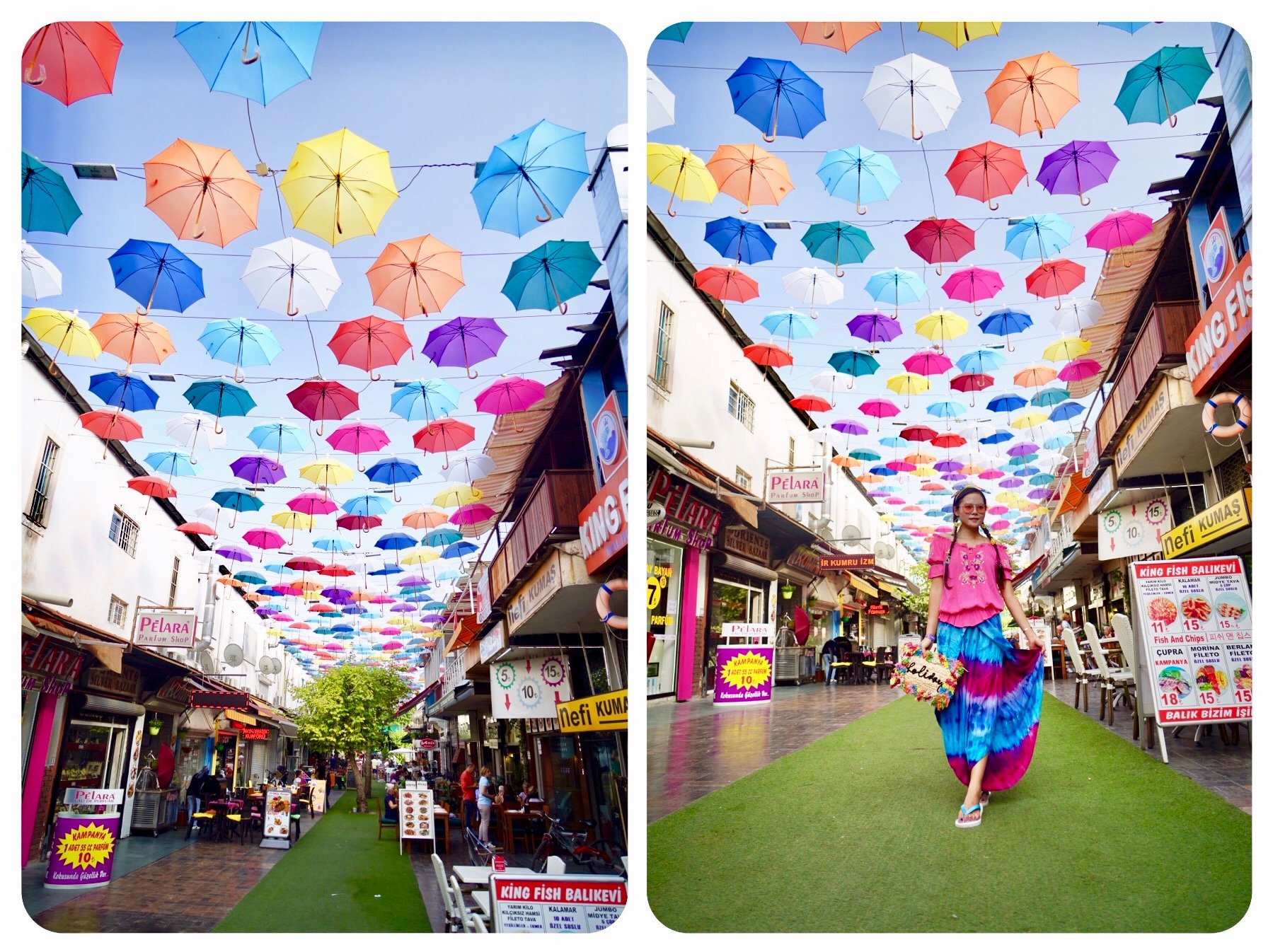 This is a the Hıdırlık Tower as seen from Karaalioglu Park. According to records, the tower was built in the second century by the Roman Empire who were the rulers of the city at the time.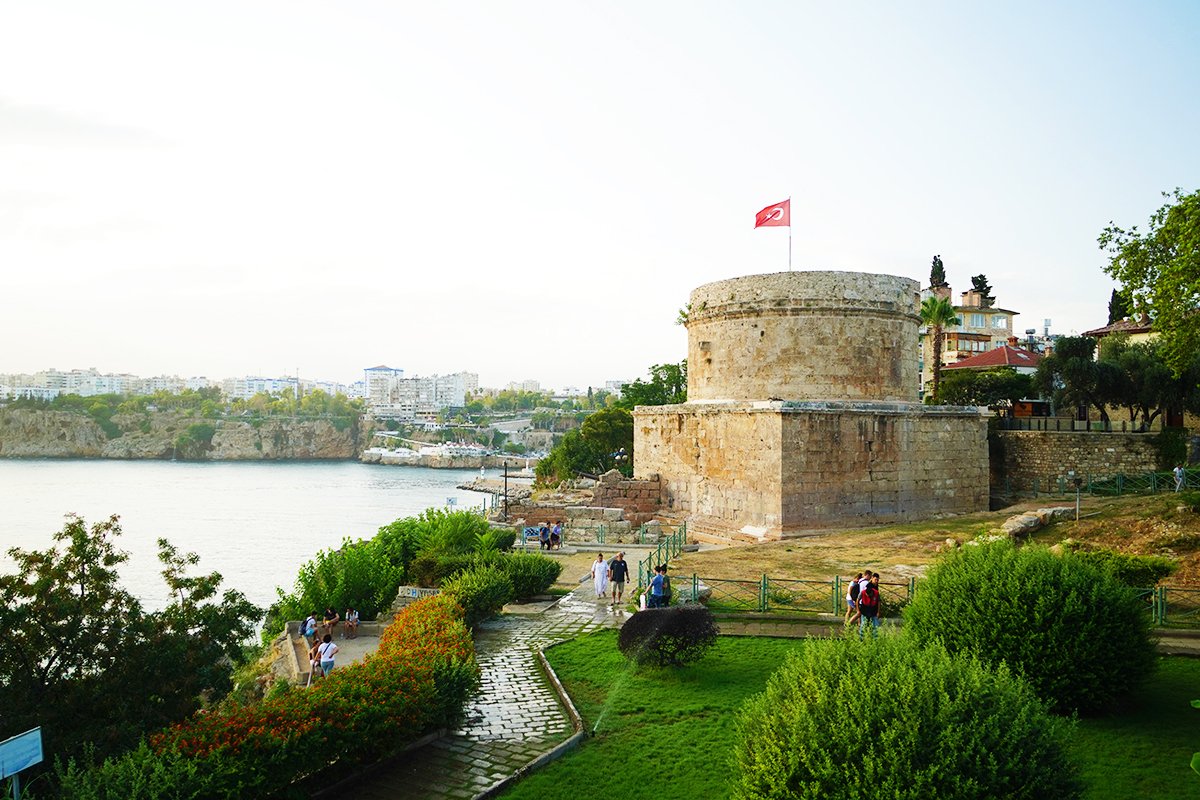 Originally, it was built as a square shape, but then turned into a circular tower in the same century it was built. Nowadays, it is used as a light house, but as late as the last century, it was still used as a fort.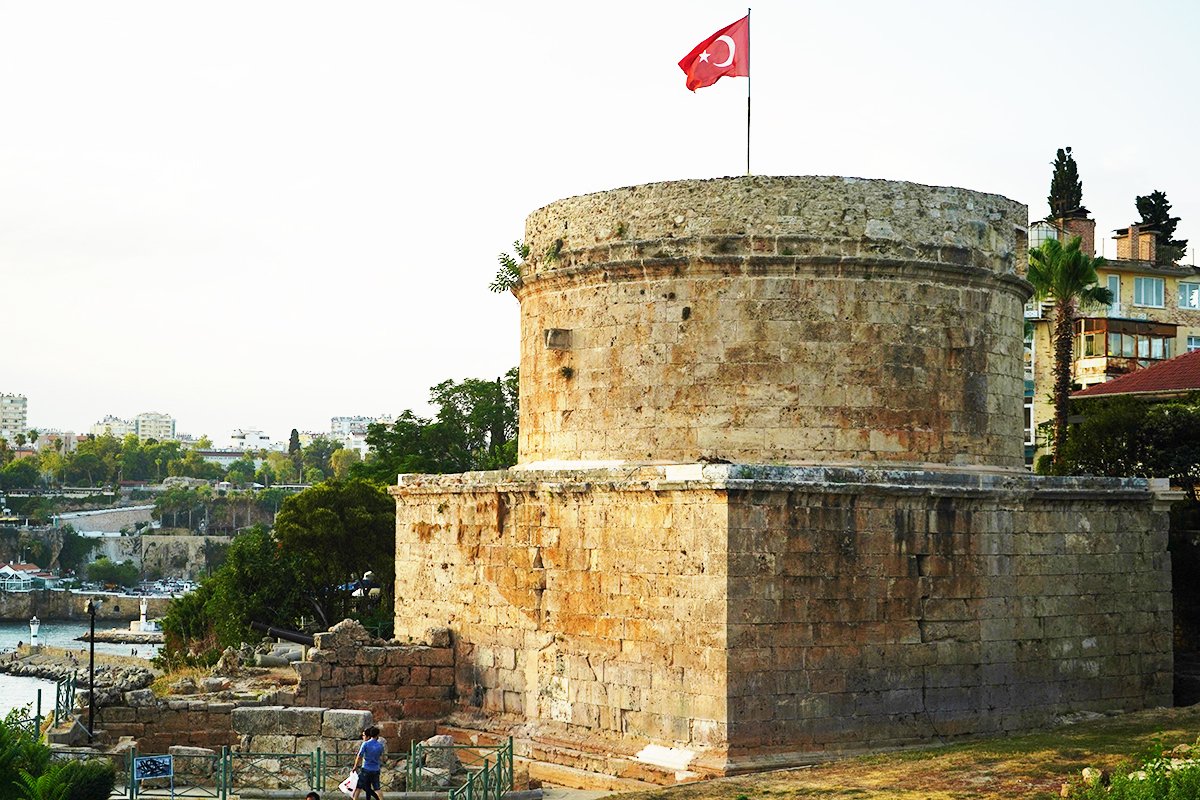 Once inside the ancient city, we're presented with a myriad of locally produced goods, the most recurrent would be these beautifully hand made rugs.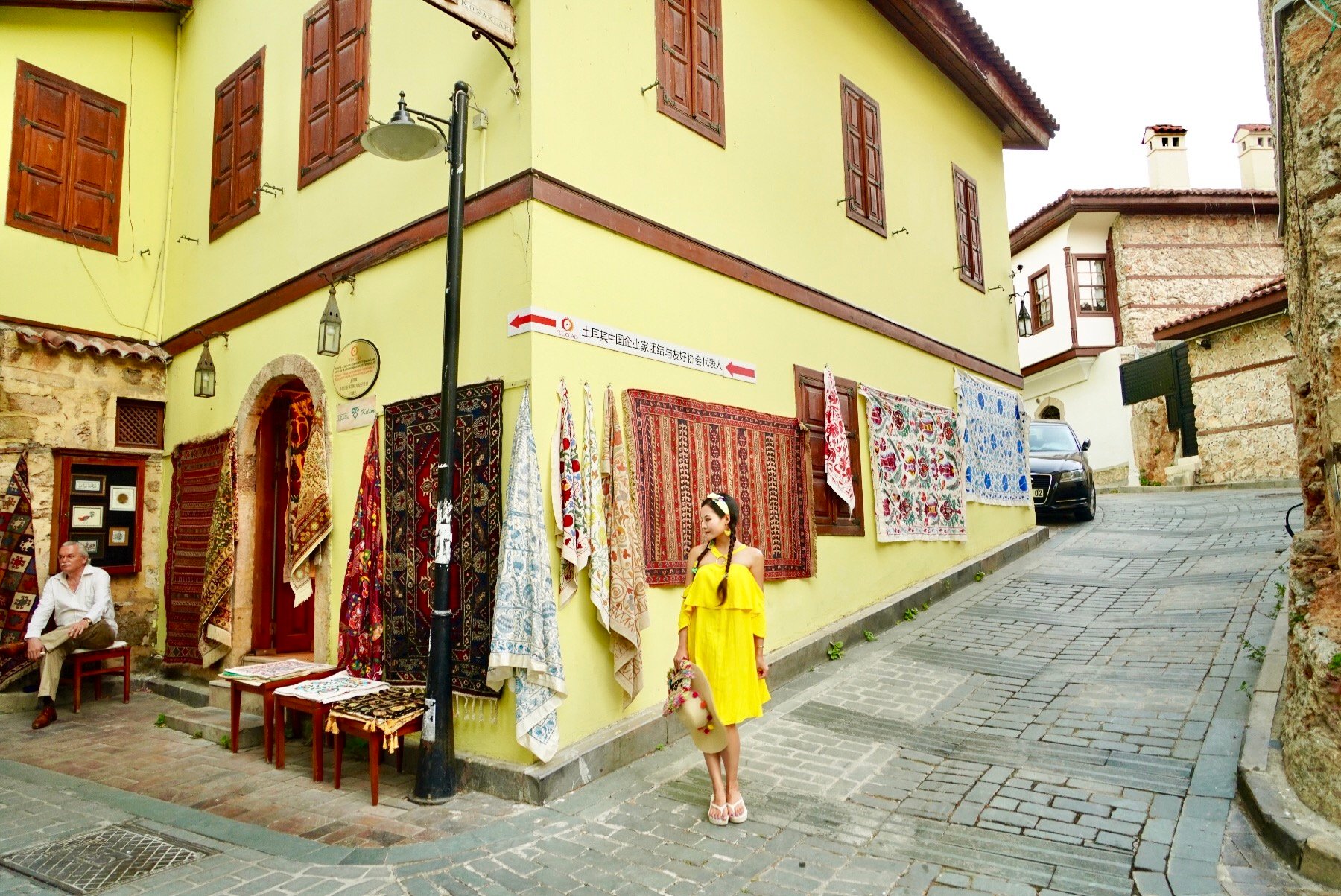 They're beautifully detailed, and double up as decoration for the brightly coloured walls they hang on.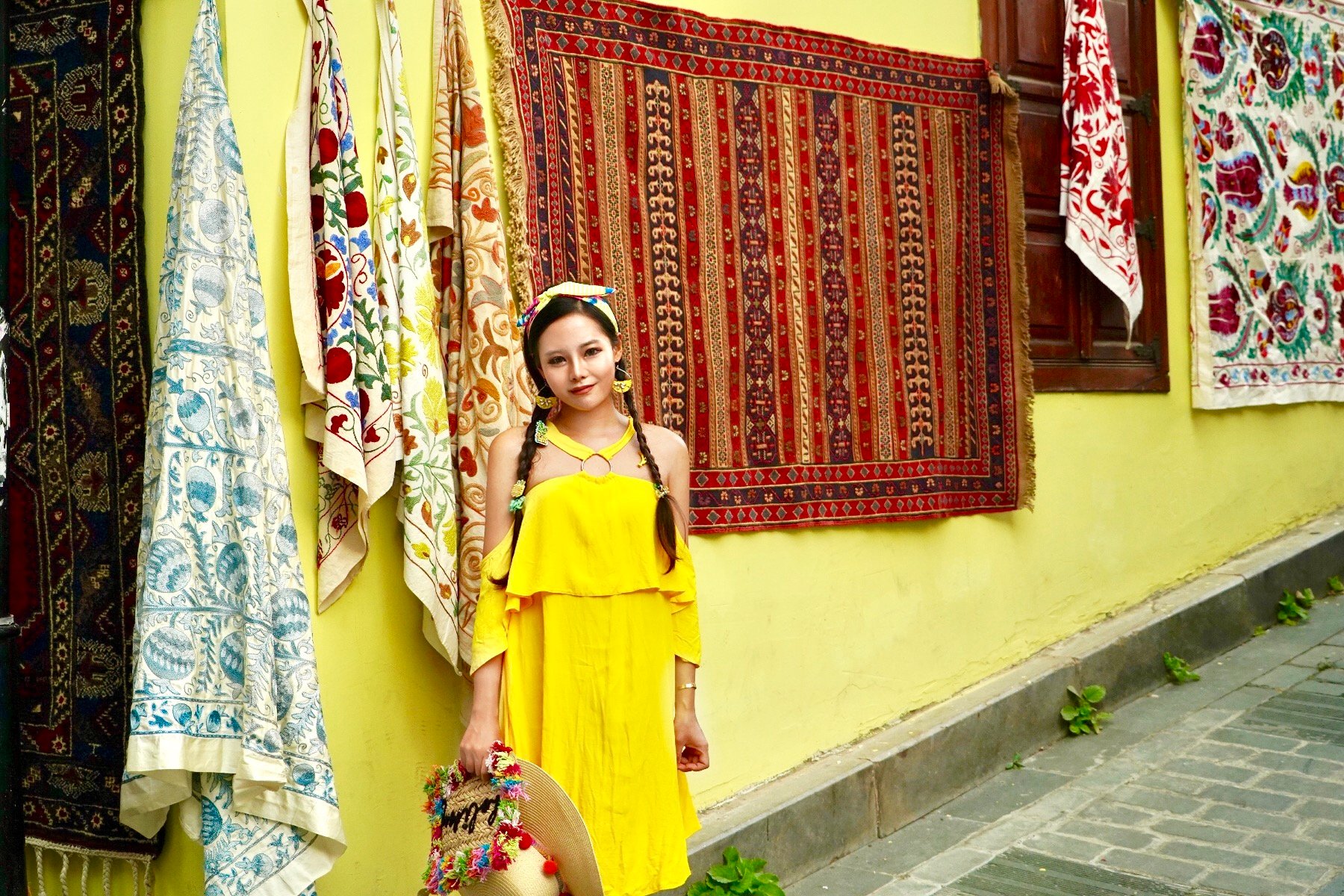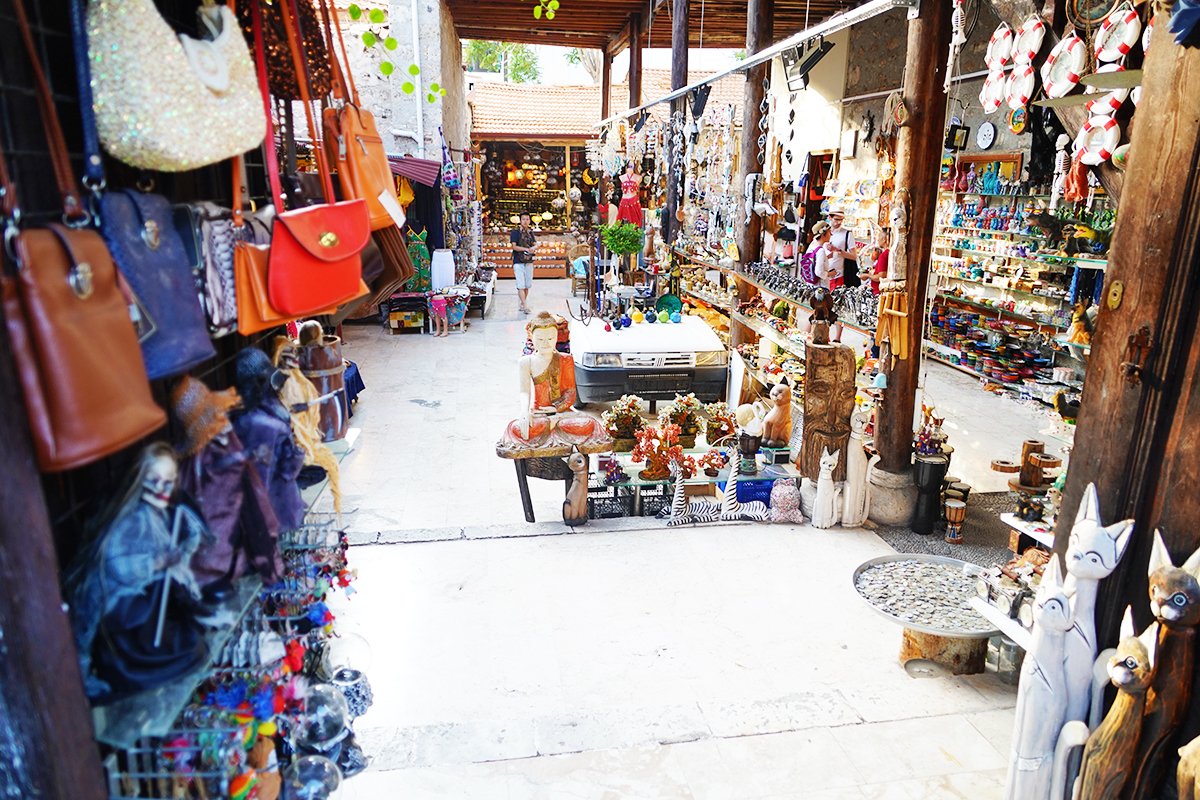 Wandering deep into the narrow cobble stoned streets, less and less imagination is needed to see how the locals go about their daily lives, in-fact, I get the sense that the ancient dwellers lived a similarly quaint lifestyle. If only schedule permitted, I could sit inside these cafes and restaurants for hours, days even, and simply be content.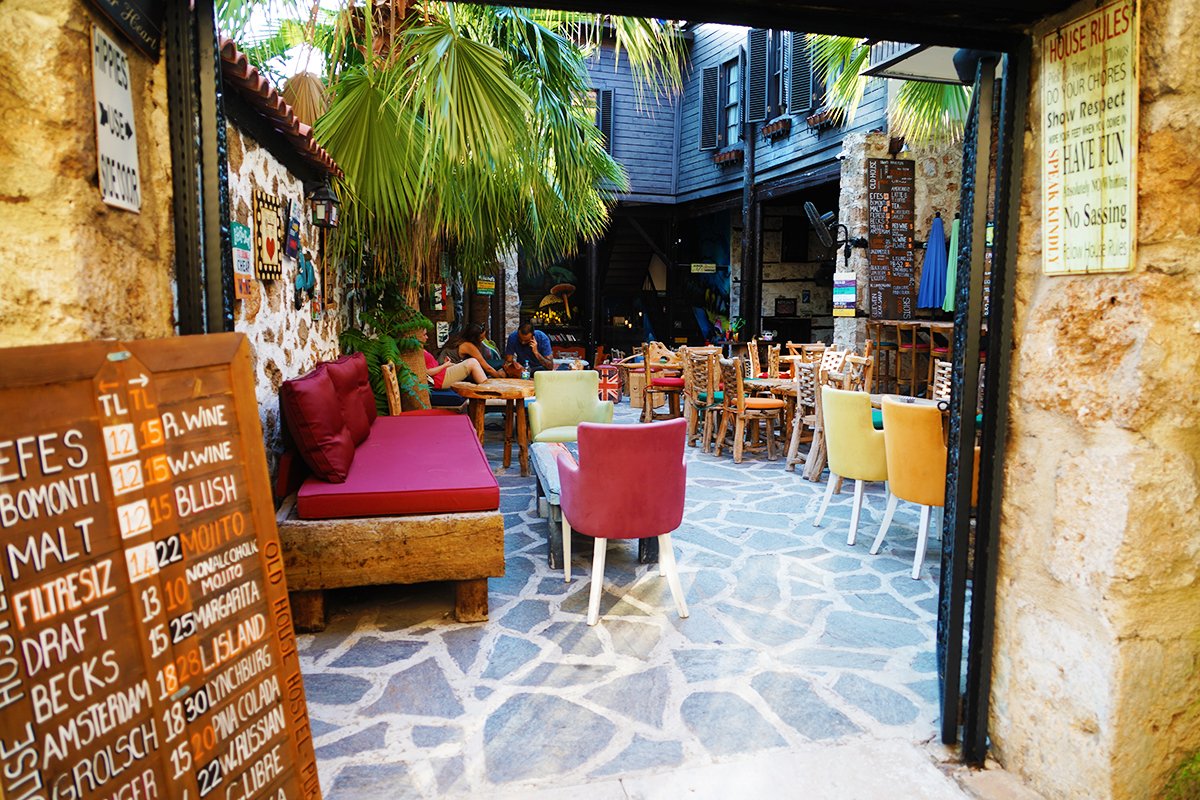 Some of the streets had neatly manicured plants growing on the walls. Ivy, forming artistic and delicate leaves with almost random growth patterns that leave you wondering if they were placed there or did nature bury it's seeds within the walls?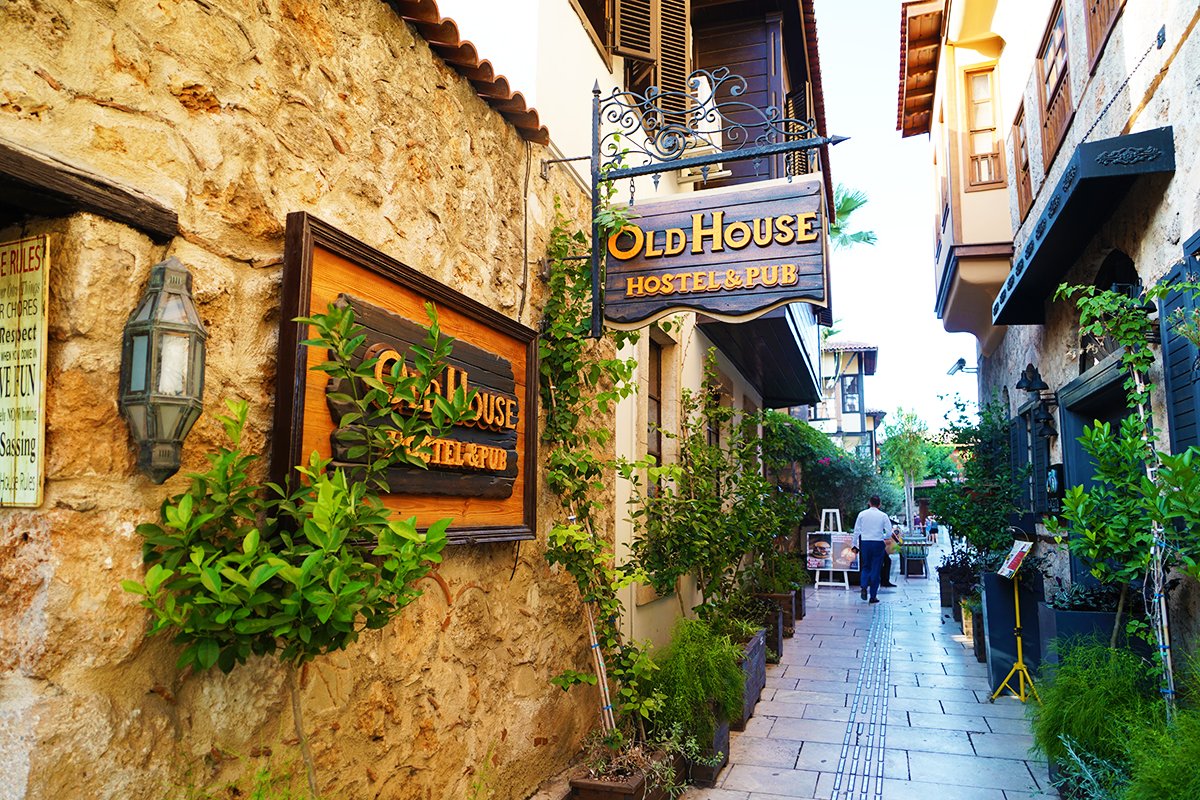 You would expect with so many stalls around, shop keepers would be pestering you in an effort to sell you their wares. Quite the opposite. I was warmly greeted with each passing and that gave me a lot of confidence to admire their work. I was twice a visitor to this town, and on more than one occasion, the shop keepers had recognised me as I passed by their stalls. Sometimes they'd ask me where i'm from, and upon answering, they'd greet me with "Ni Hao". Such a joy!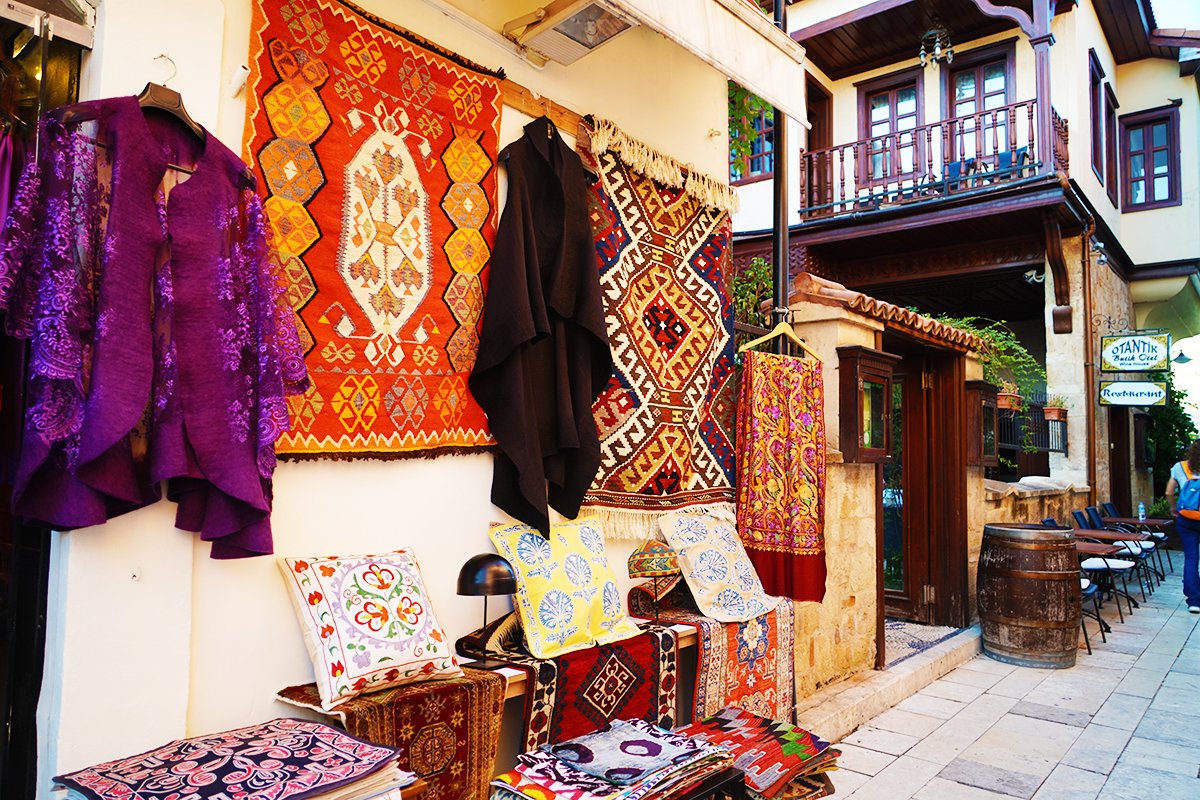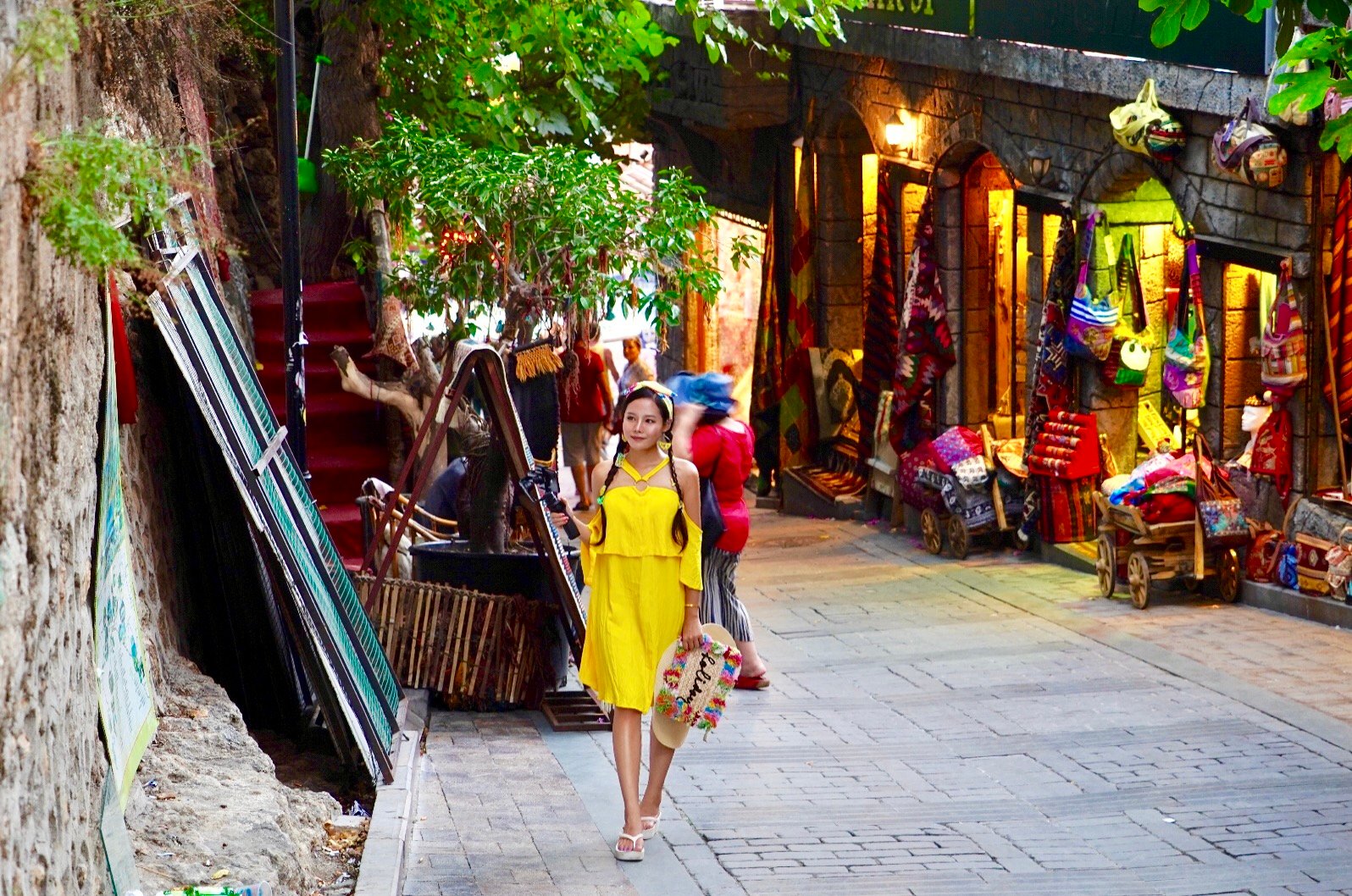 This is the Broken Minaret of the Korkut Mosque. Originally built as a Roman temple in the 2nd century, it was later converted into a Byzantine church in the 600's. During the Seljuk Turkish Empire invasion, the church was used as a mosque and the minaret was added. During the 14th century, it was once again converted back into a Church. It was only until the Ottomon's rise to power in the 15th century where it became and stayed a mosque until it was destroyed in the 19th century by fire.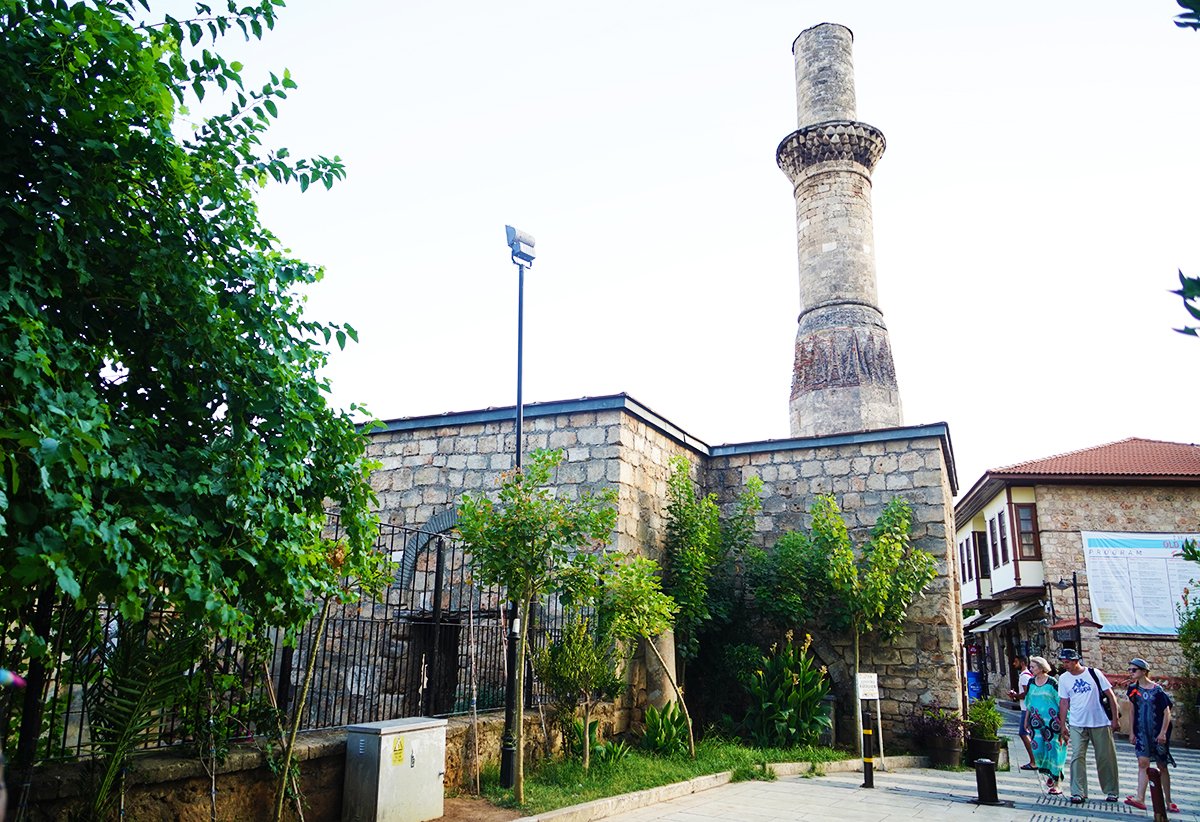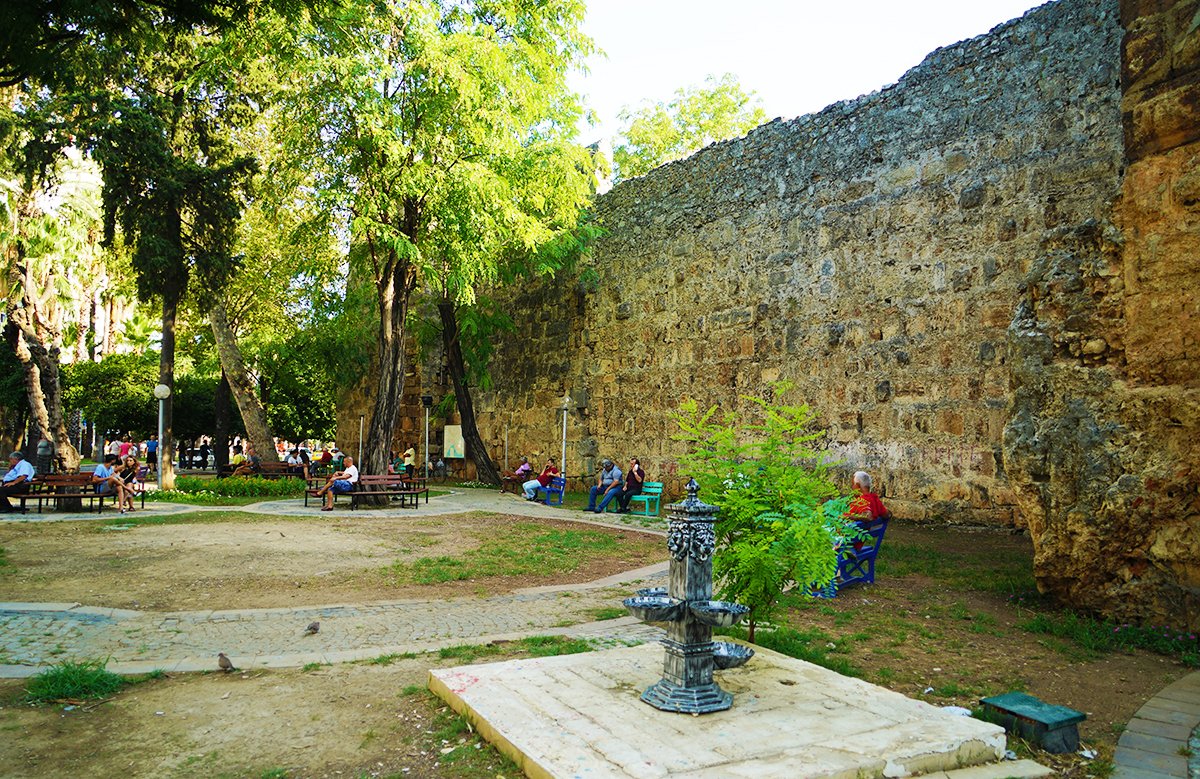 Hadrian's Gate
This is located in Antalya's city centre, right on Ataturk Boulevard. Built in 130 AD to commemorate Emperor Hadrian's visit. It serves as the main entrance to Kaleiçi from which you will gain access to the meandering narrow city streets. As I mentioned before, legend has it that the Queen of Sheba passed under these very gates!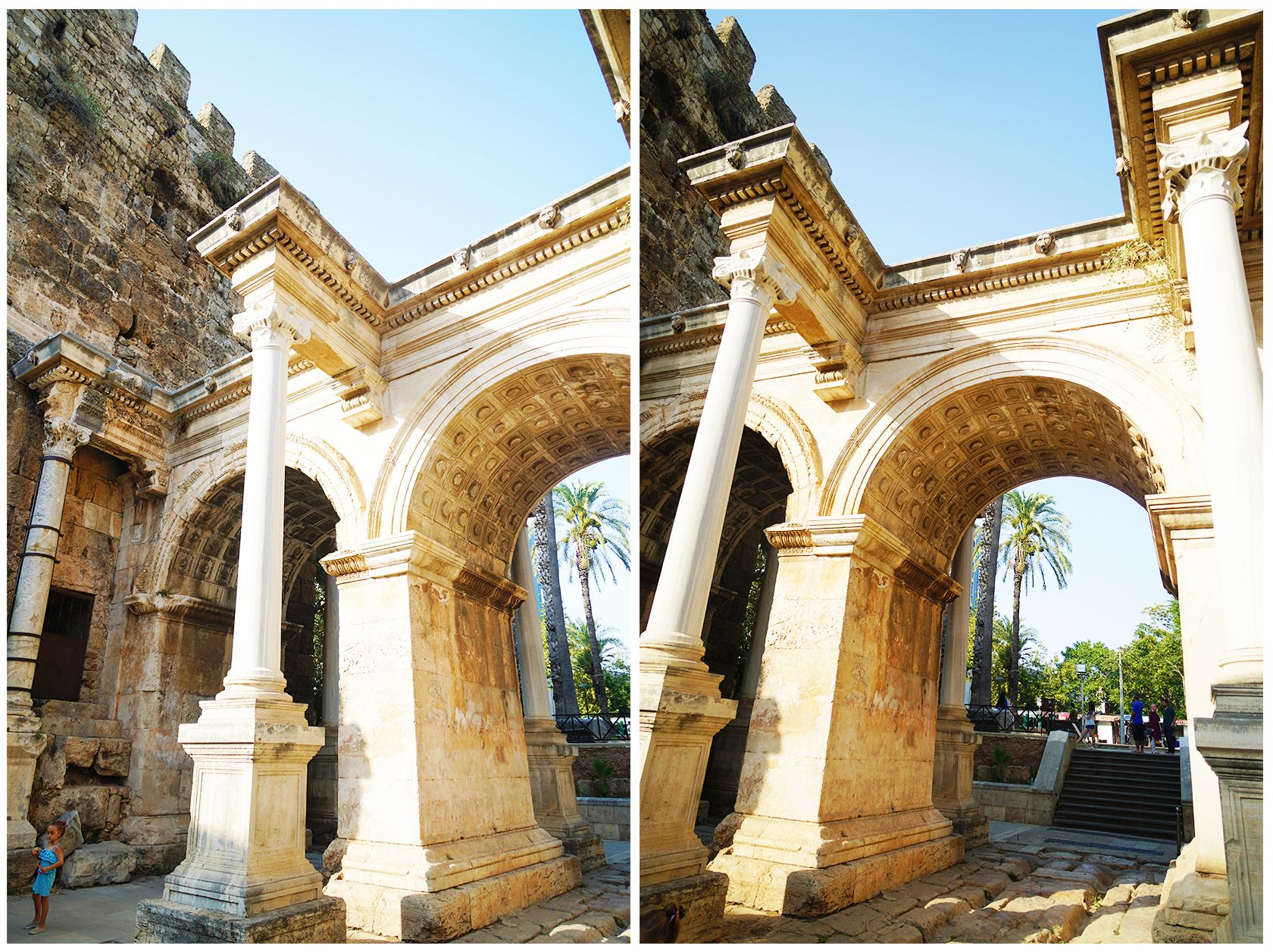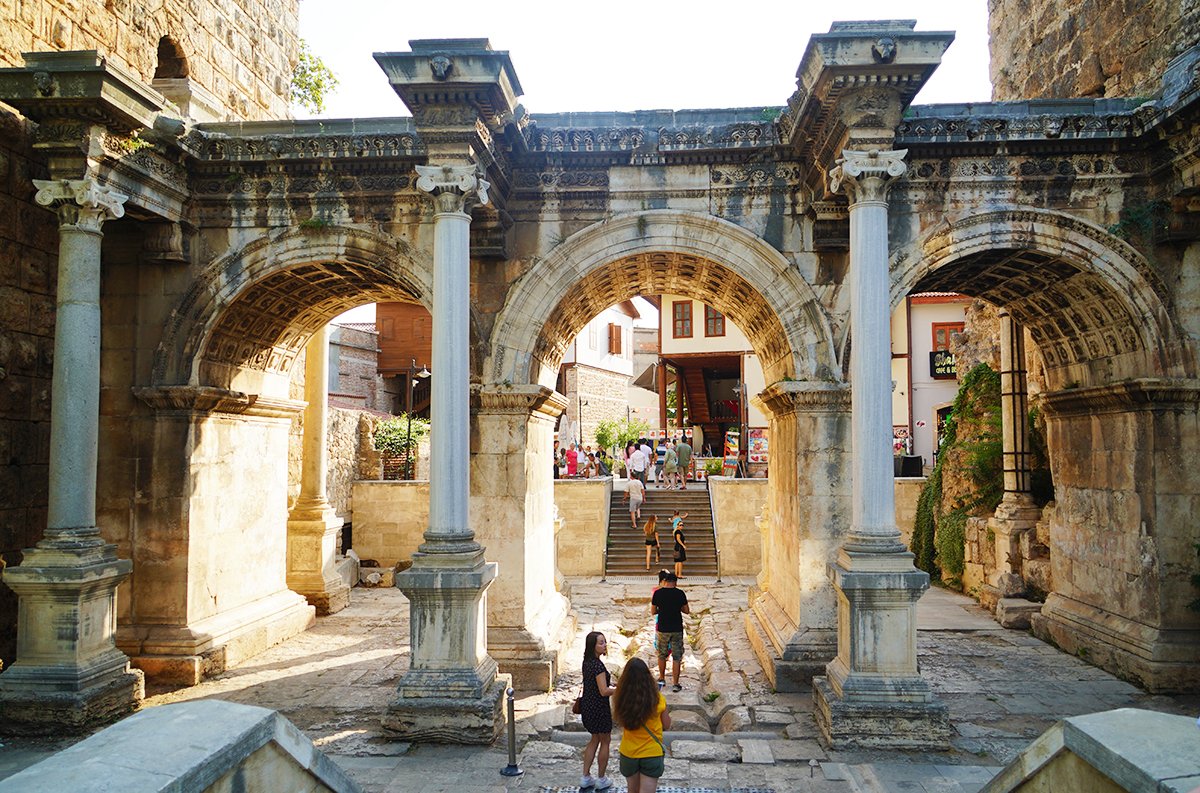 Right on the other side of the gate, there's a Hadrian's Gate Cafe with it's own fresh juice stall. It's a good idea to take a breather and refuel with refreshments before venturing further. On this particular day, the temperature was in the mid 30's, so some freshly squeezed juice and pineapple was great!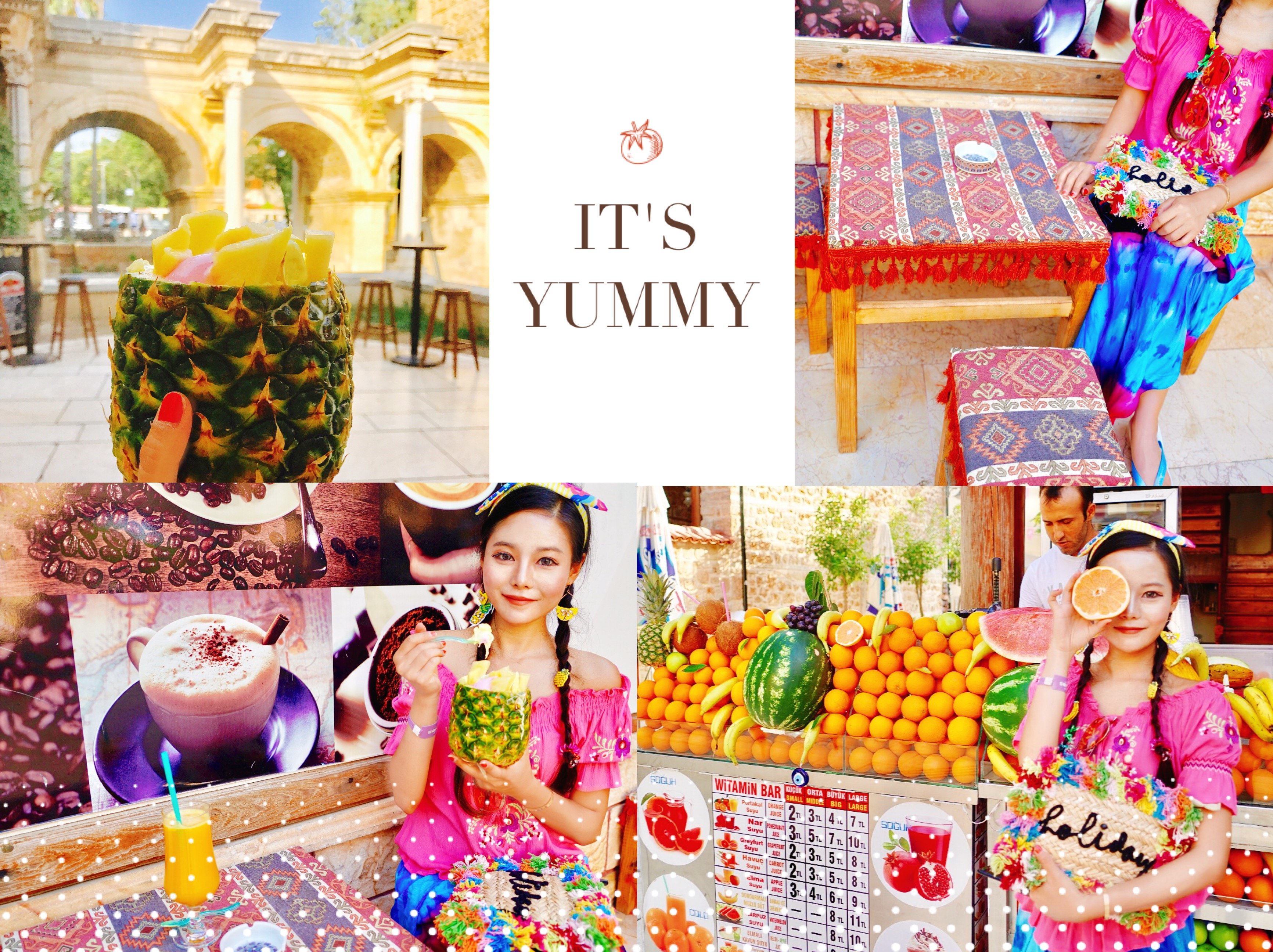 Some parts of the old town have quite open spaces...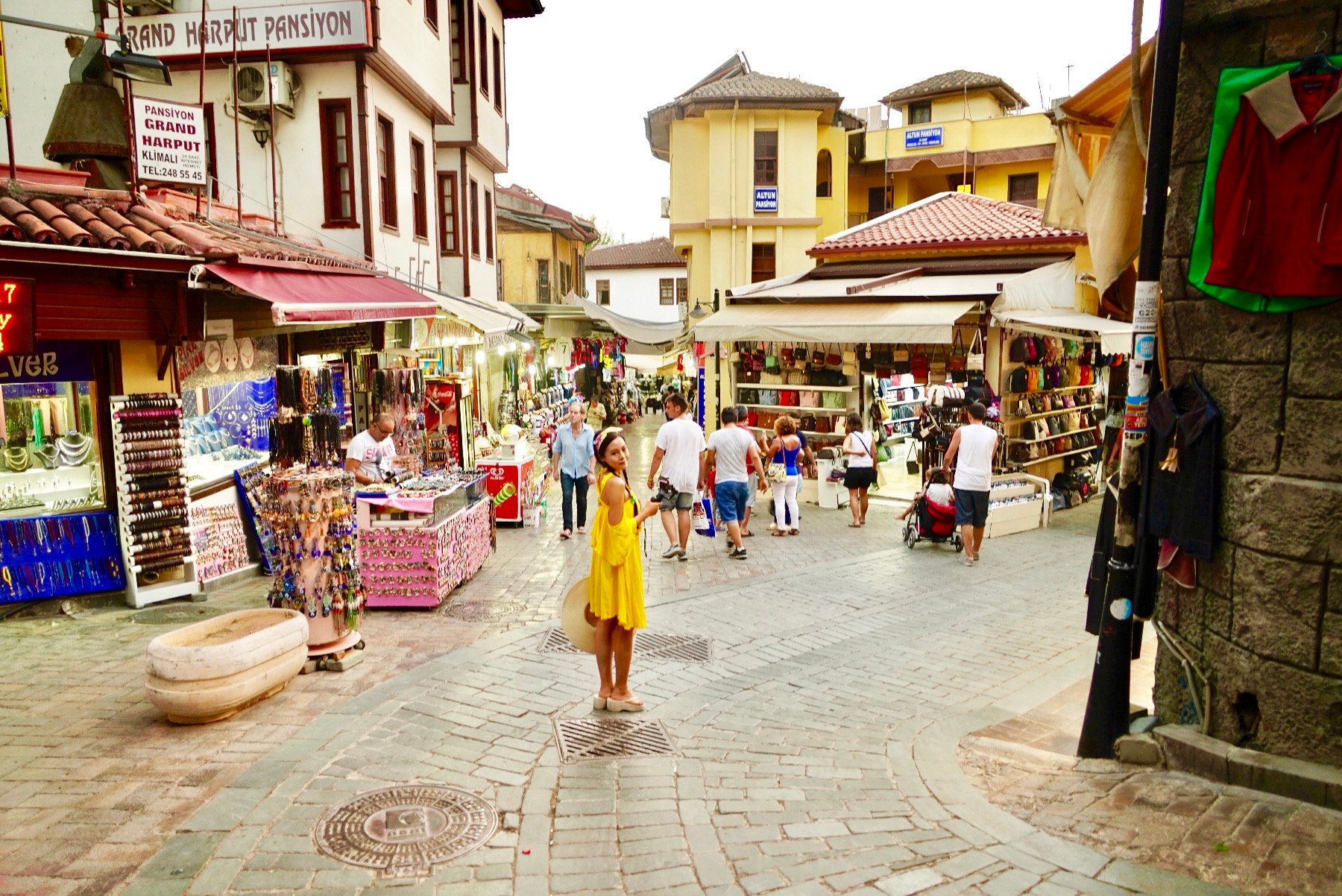 Whilst others are very narrow and filled with blossoming flowers and plants.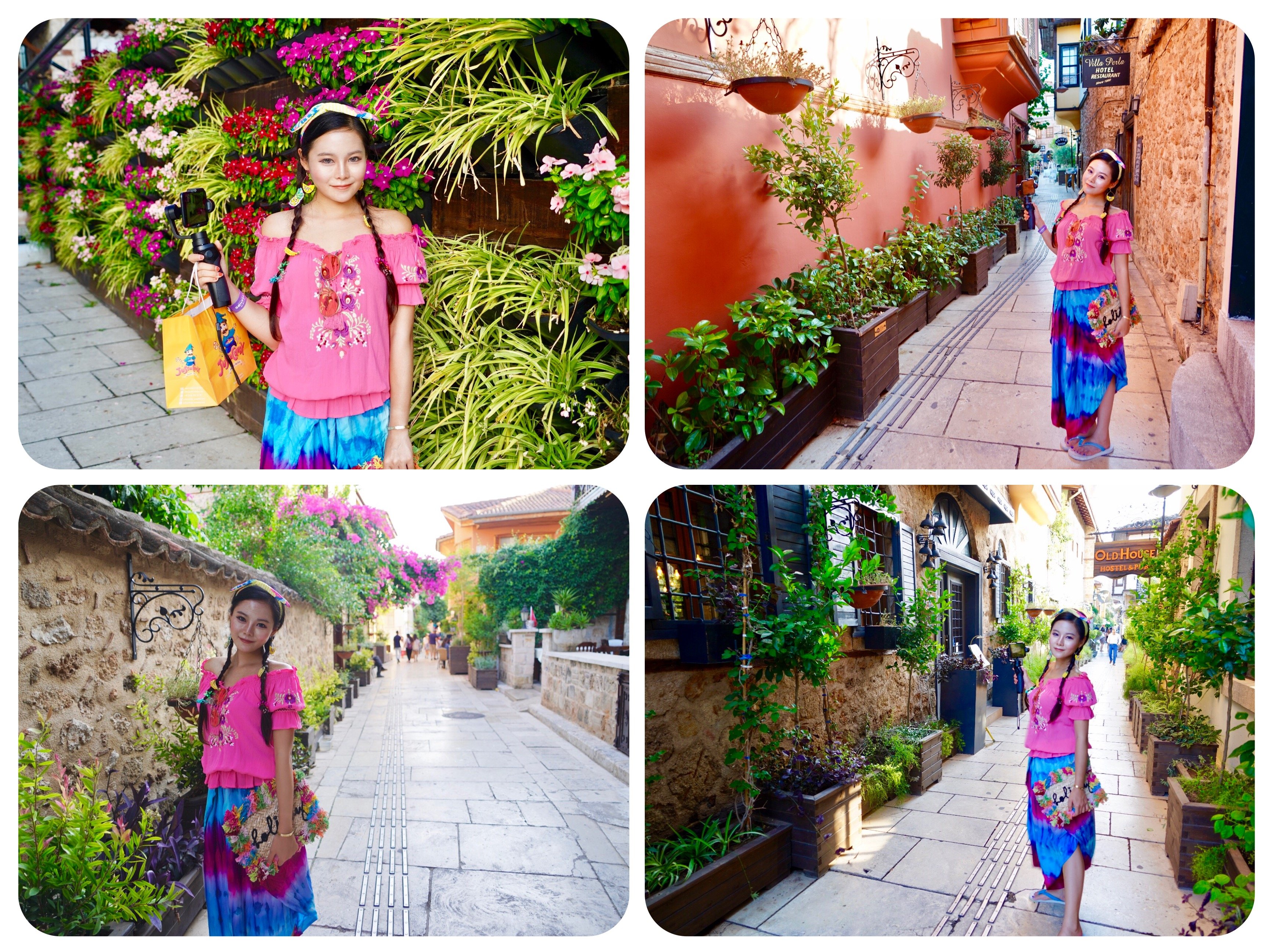 I love how these Ottoman style houses blend in with the nature around them. They look a lot like what I imagine the Terrace houses at Ephesus would look like, built with uneven heights of floors and raised patios. It's also obvious that the locals have made an effort to paint their houses in suitable yet different colours from each other, the only colour they share in common is red, for the roof tiles.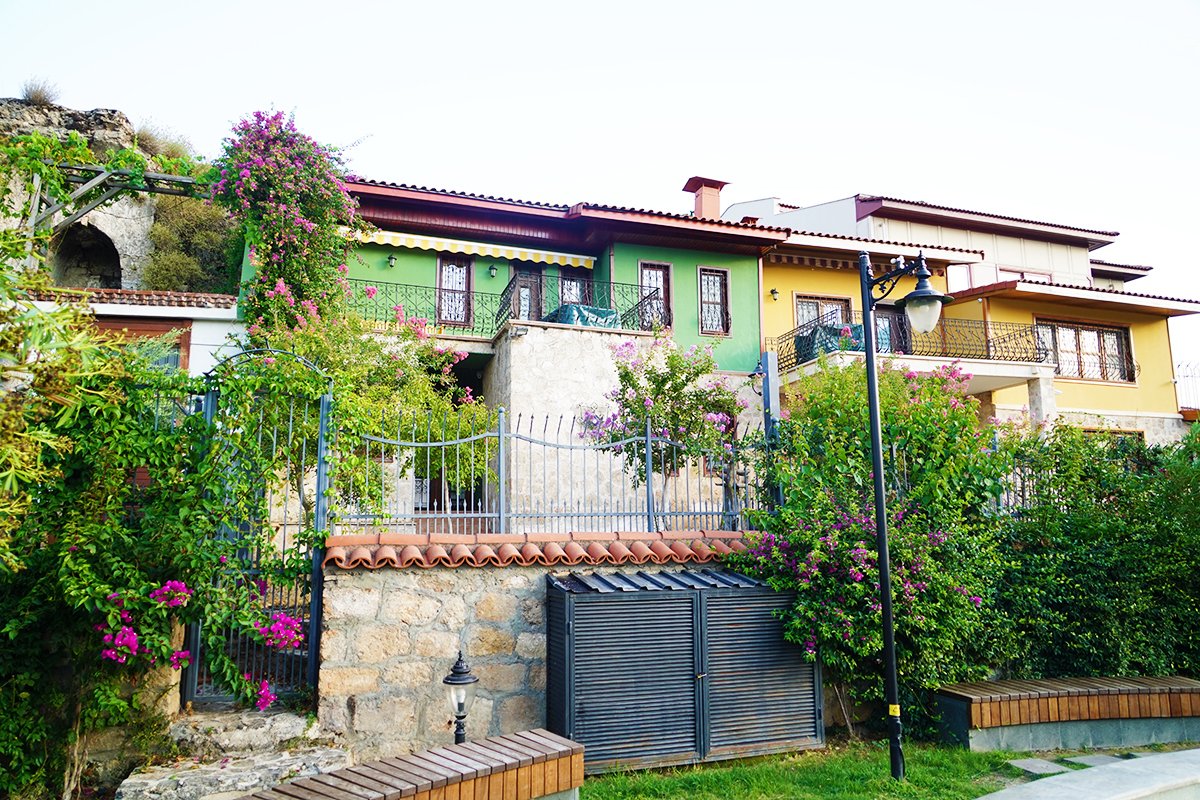 In the public area, a garden with some lovely wooden sculptures of rams.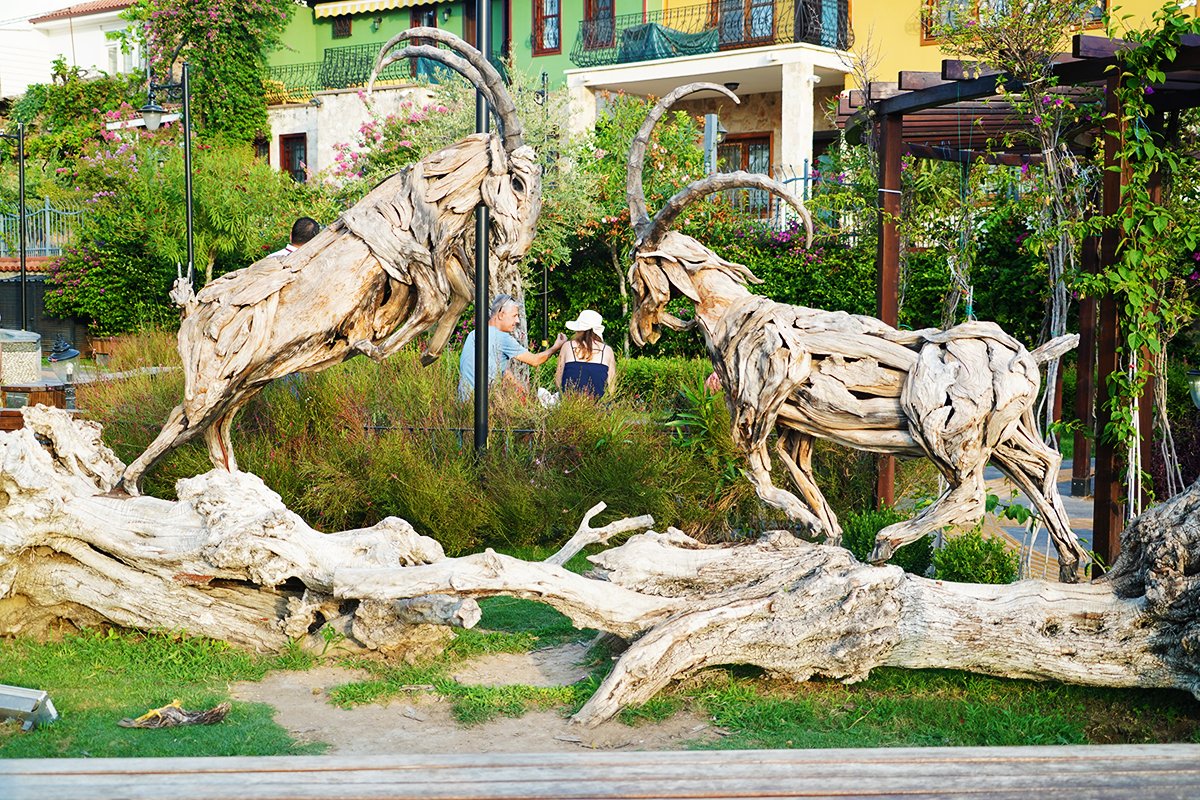 Shopping for Turkish style scarves..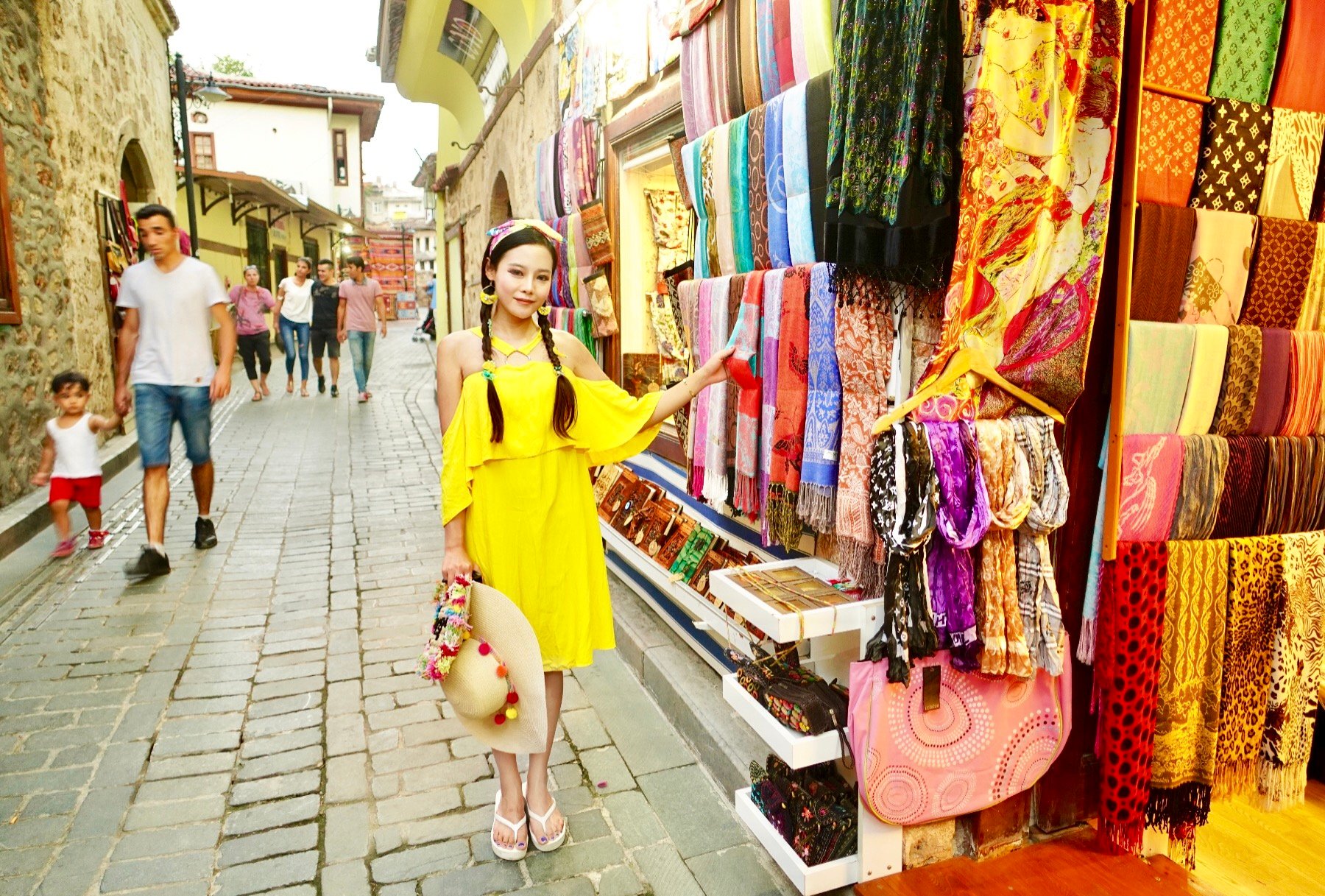 Pottery with beautifully painted designs..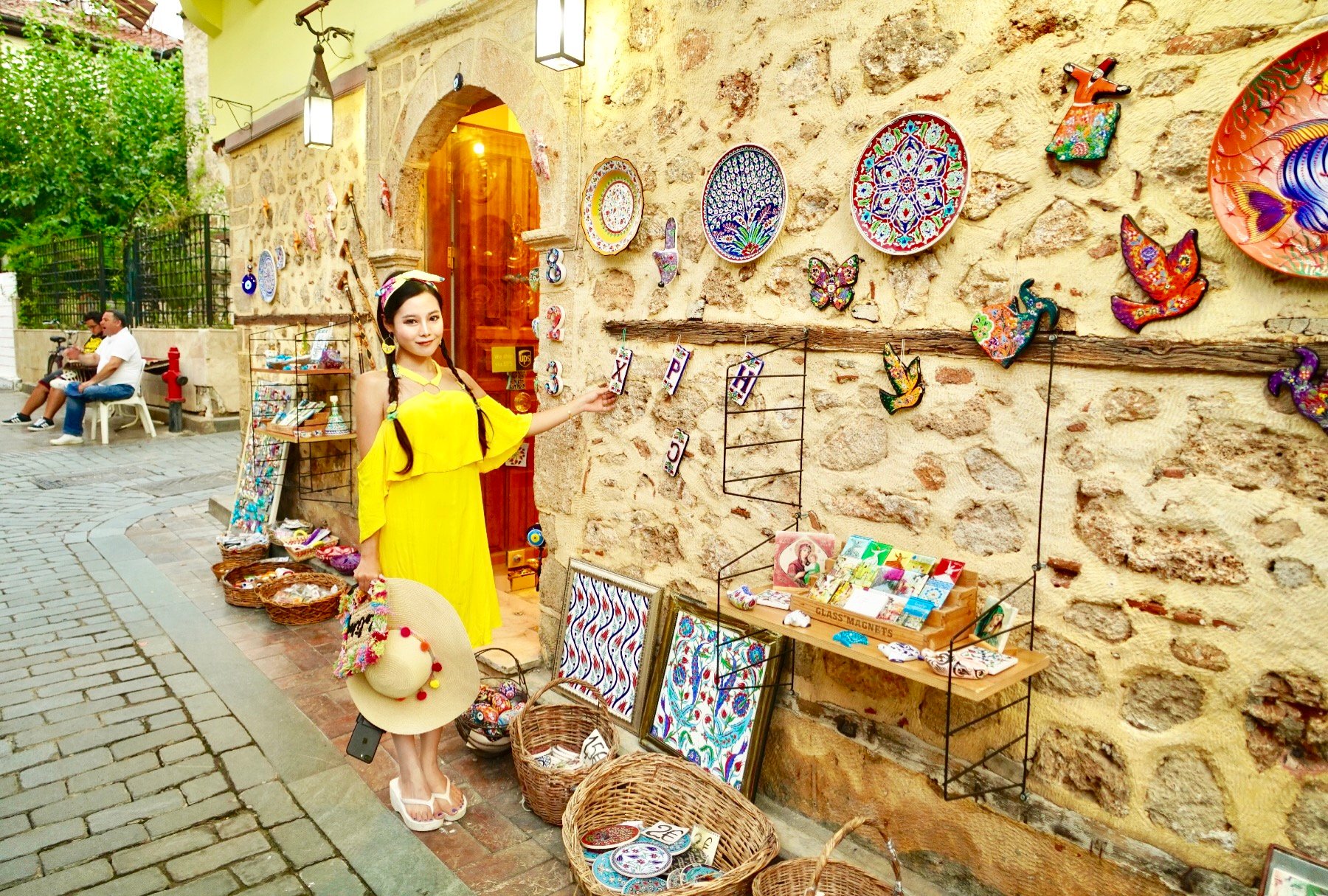 Cloth bags with very Turkish style designs..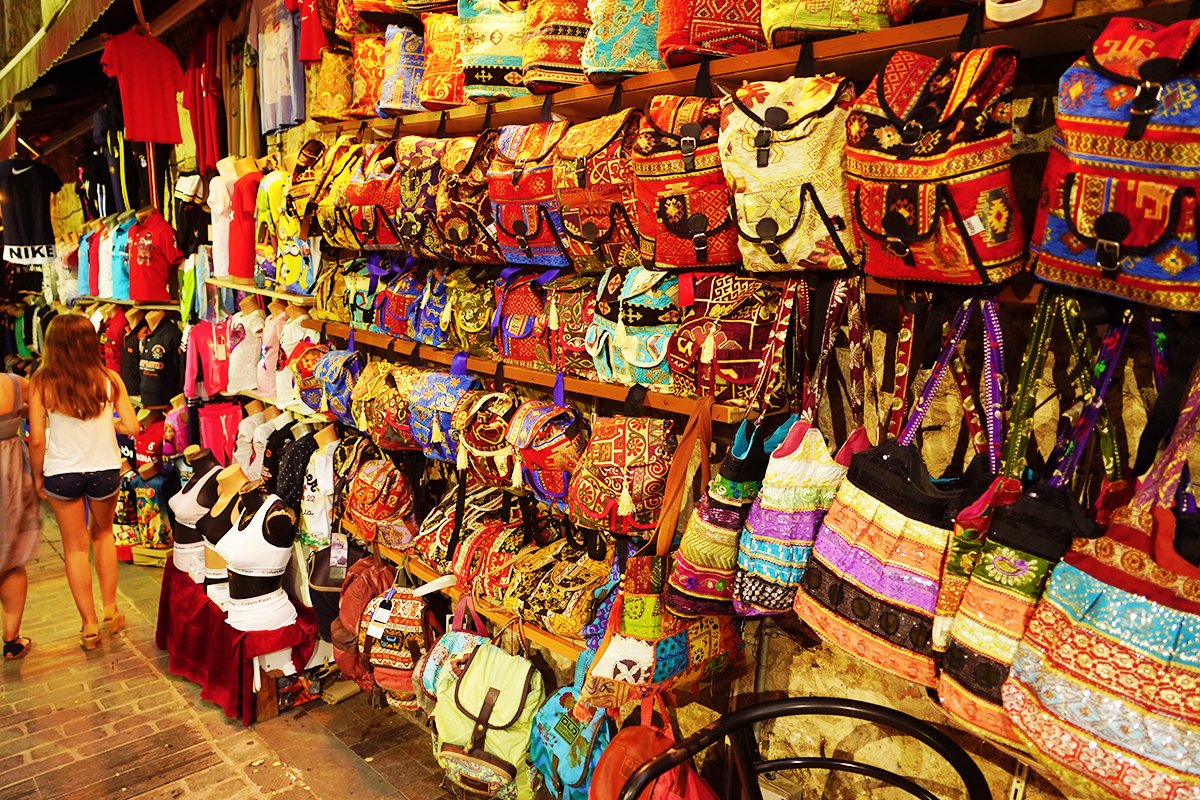 Endless souvenirs to choose from..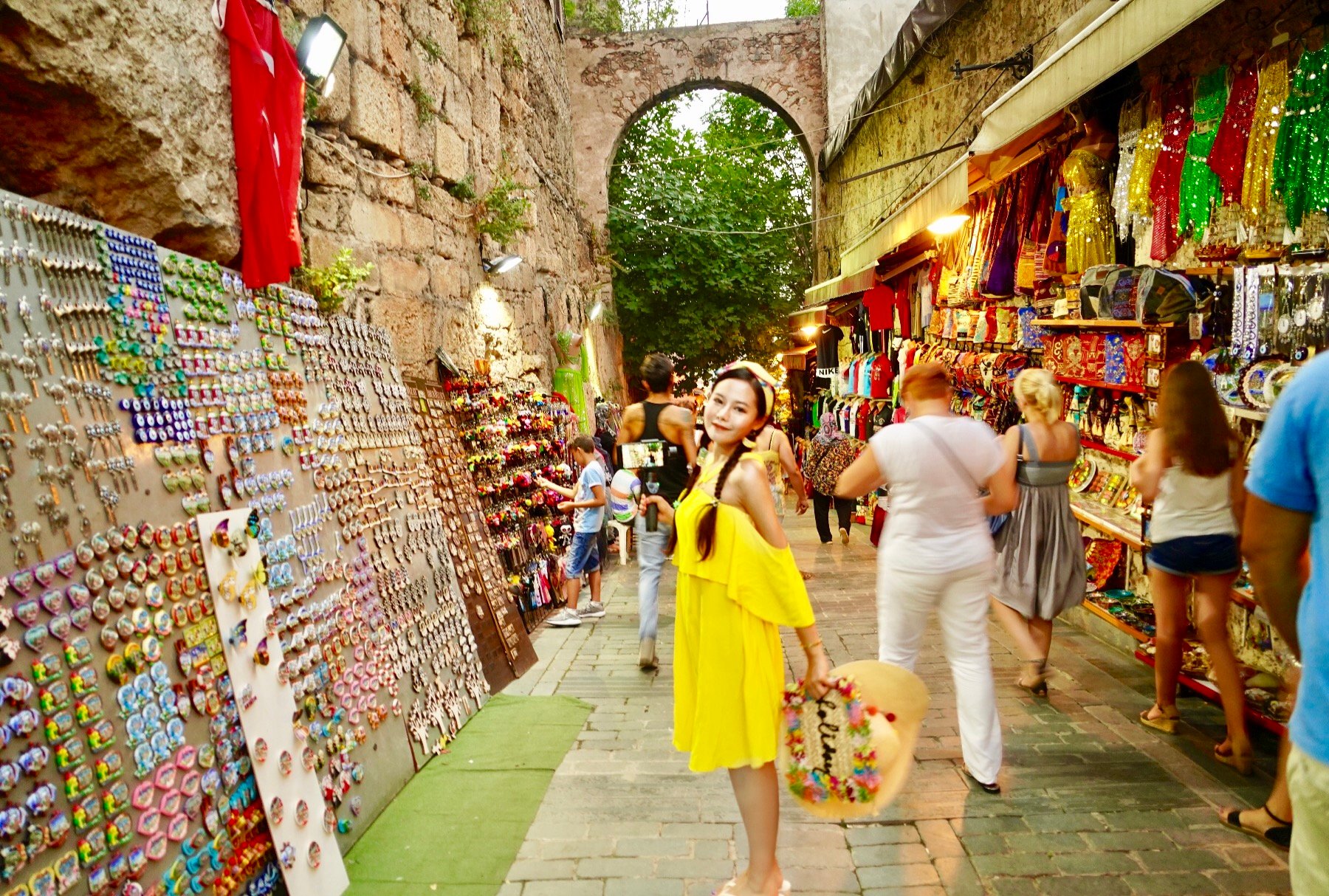 There are even stalls selling counterfeit goods.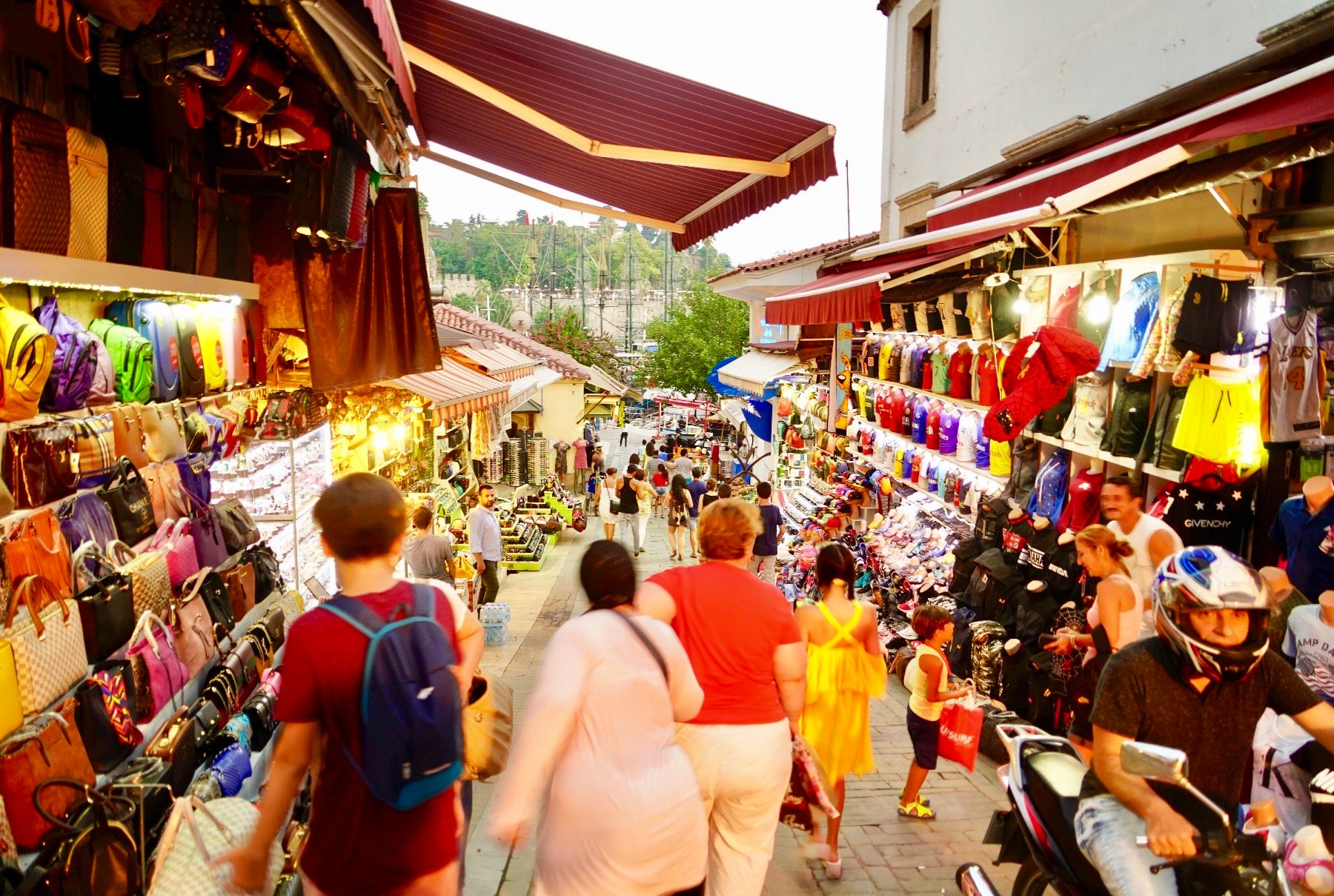 This candy shop really caught my eye, not only for it's child like colours, but also the two cute little girls outside who came over to greet me. They reminded me a lot of myself when I was their age. Always fascinated with colourful things, and anything that tastes Sweet.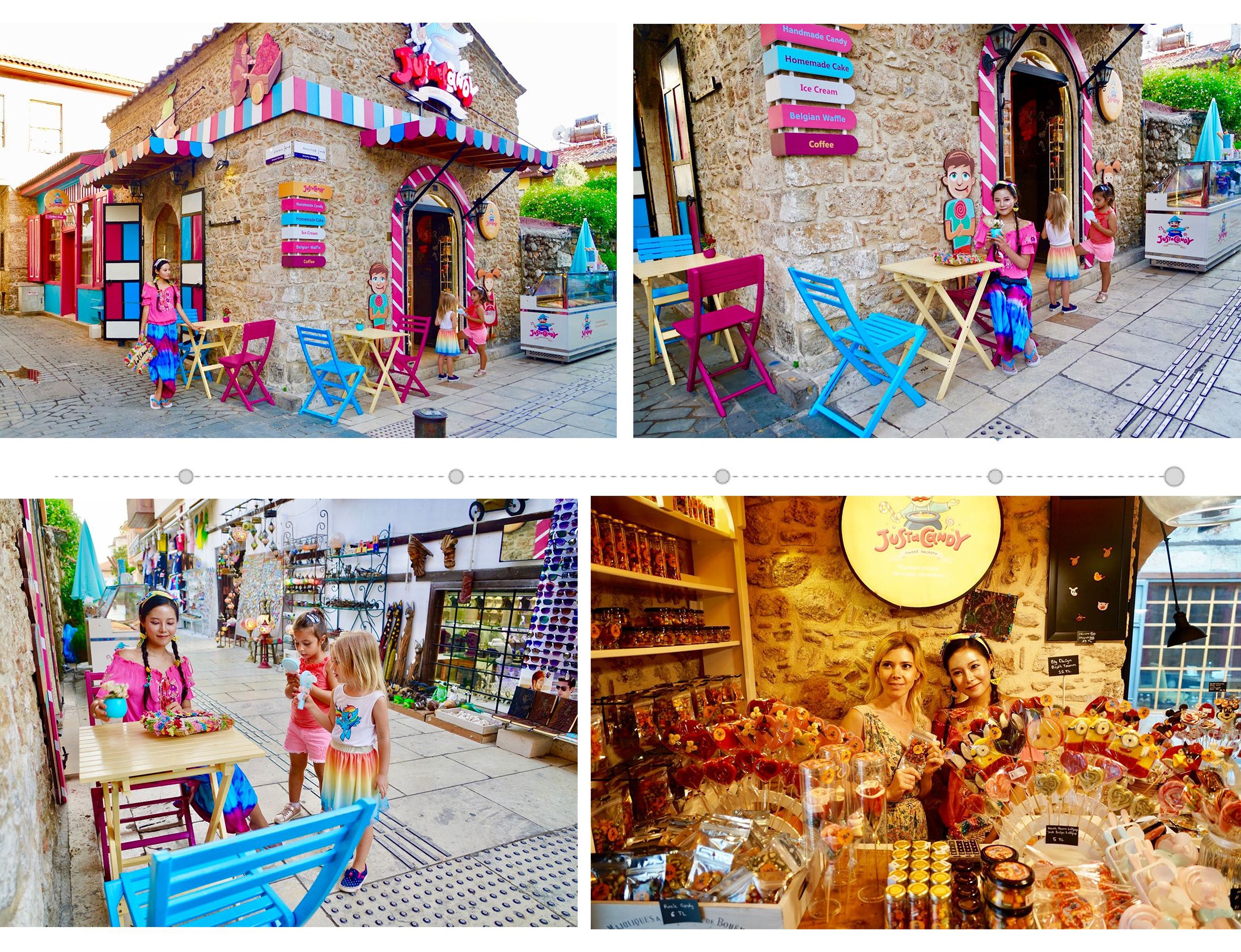 Old Town Harbour
This is an ancient Roman Harbour which served as the city's main artery from the second century BC, right up to the late 20th century. It was only until a new port was built near Konyaaltı Beach. Nowadays, this historic harbour is used by tour boats and yachts which will take you on short day trips to nearby scenic landmarks.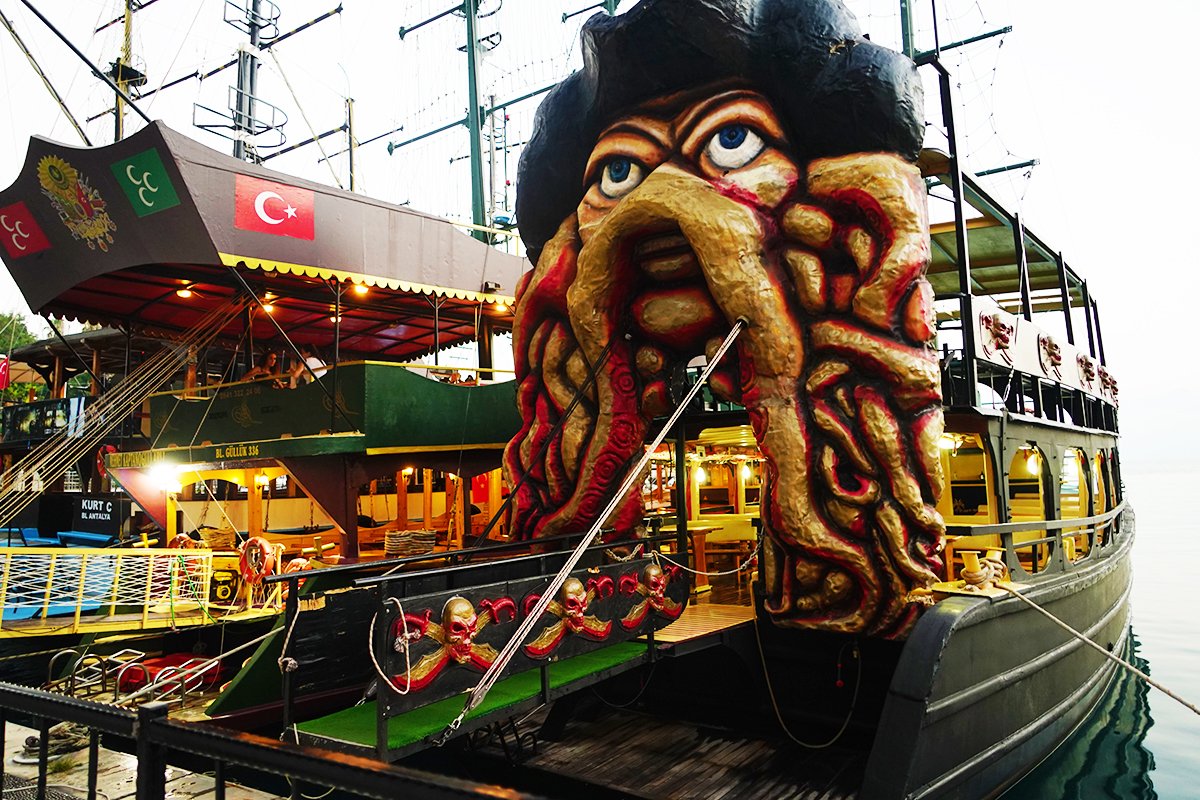 Most of the tour boats have been made to look like pirate ships, some even having quite dramatic designs on the sides and back.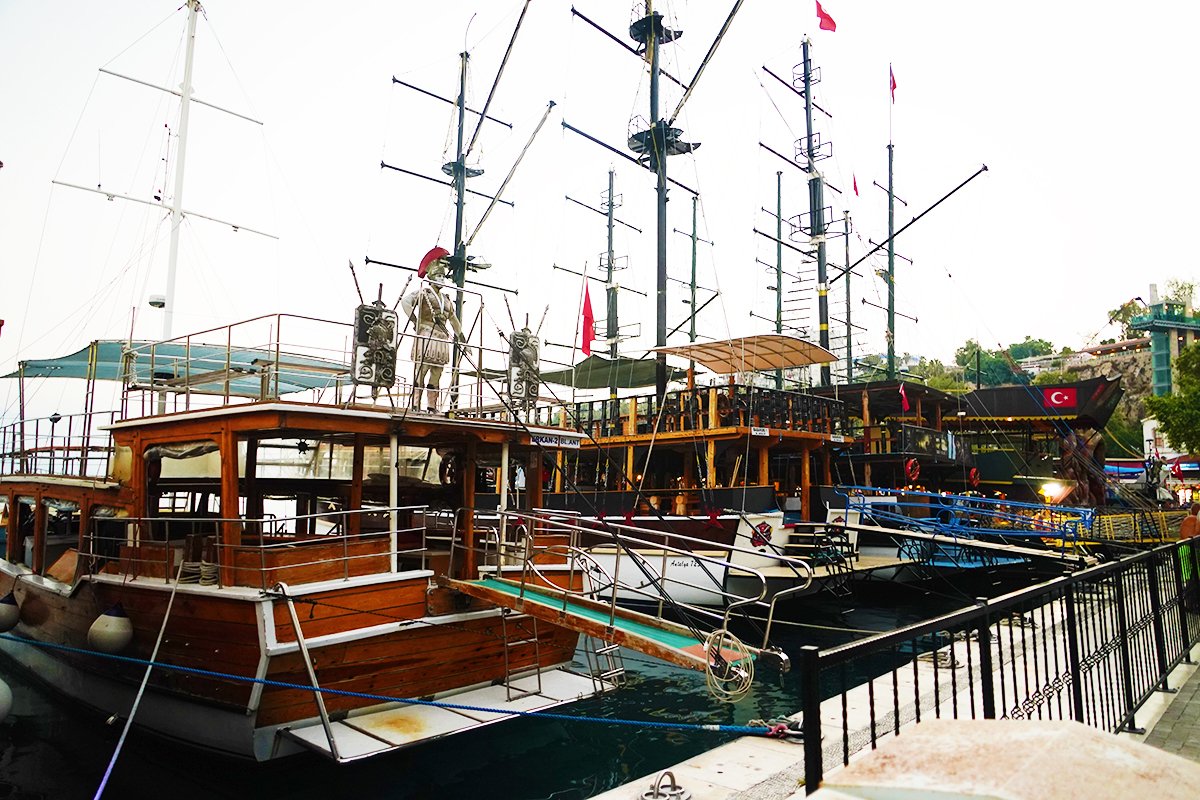 By evening time, the pier becomes a popular place to watch the Sunset.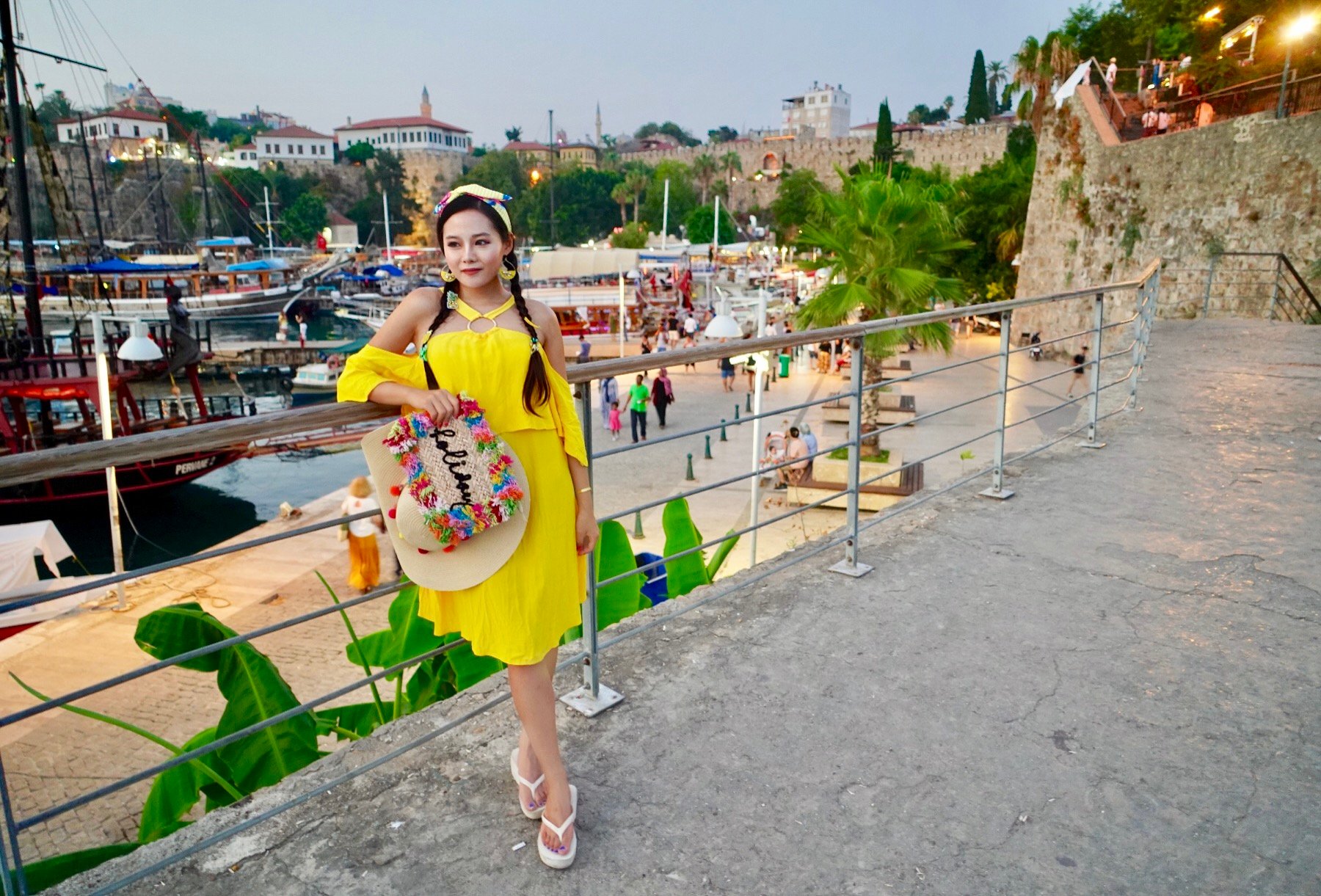 Just around the corner, there are private beaches, and even a hotel.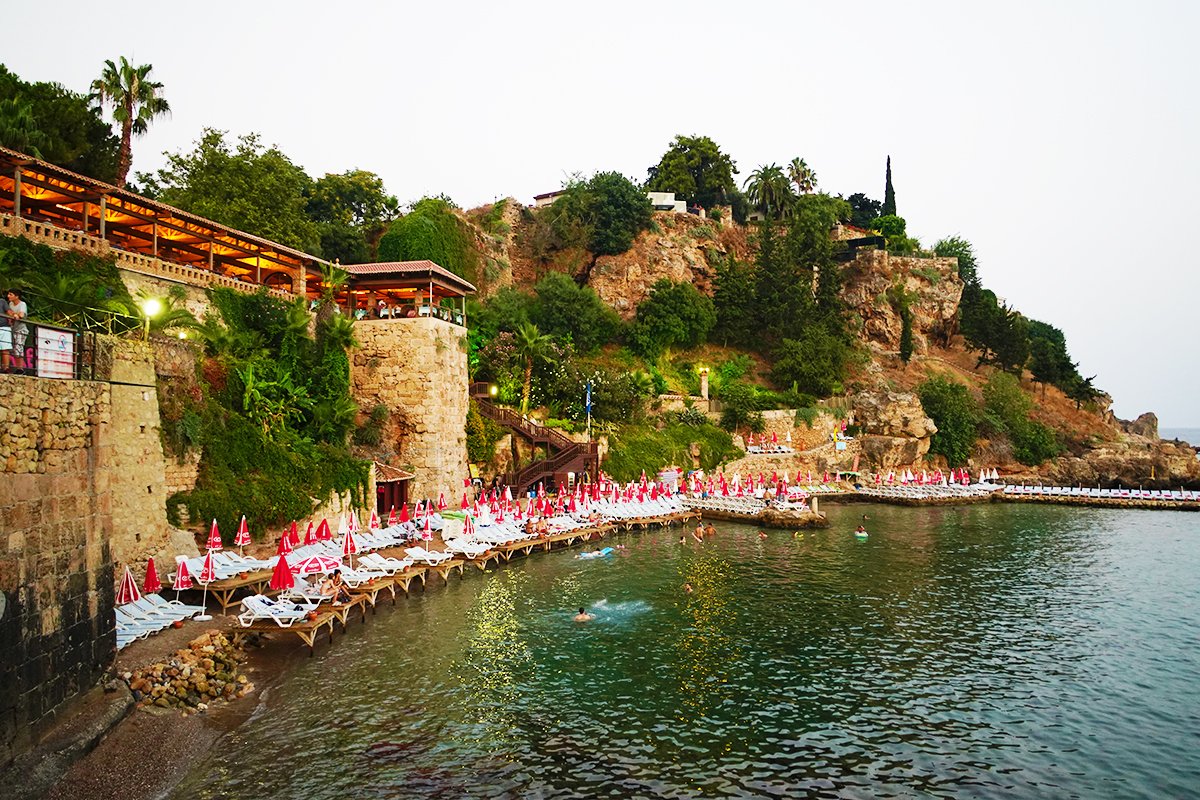 This is what it looks like after sunset. In the distance, you can see some laser lights being shone at the sky.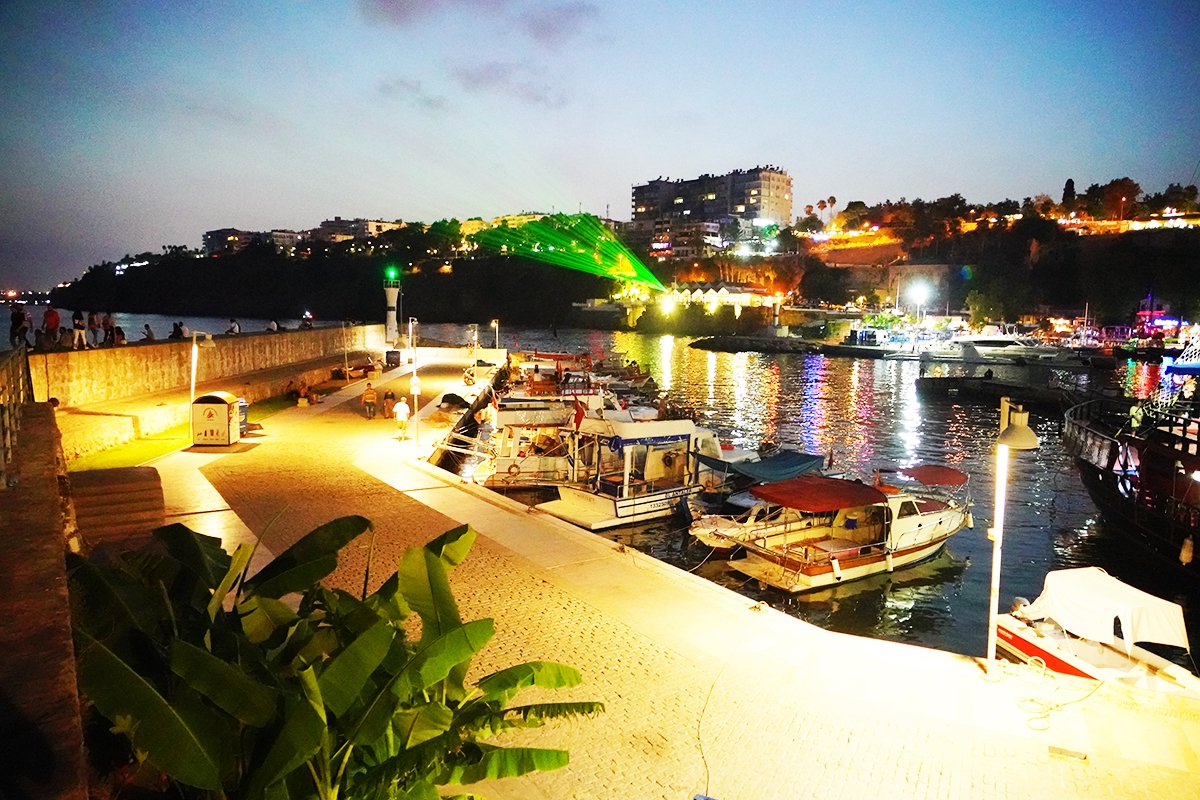 The green laser lights are actually projecting writing to the mountain face on the other side.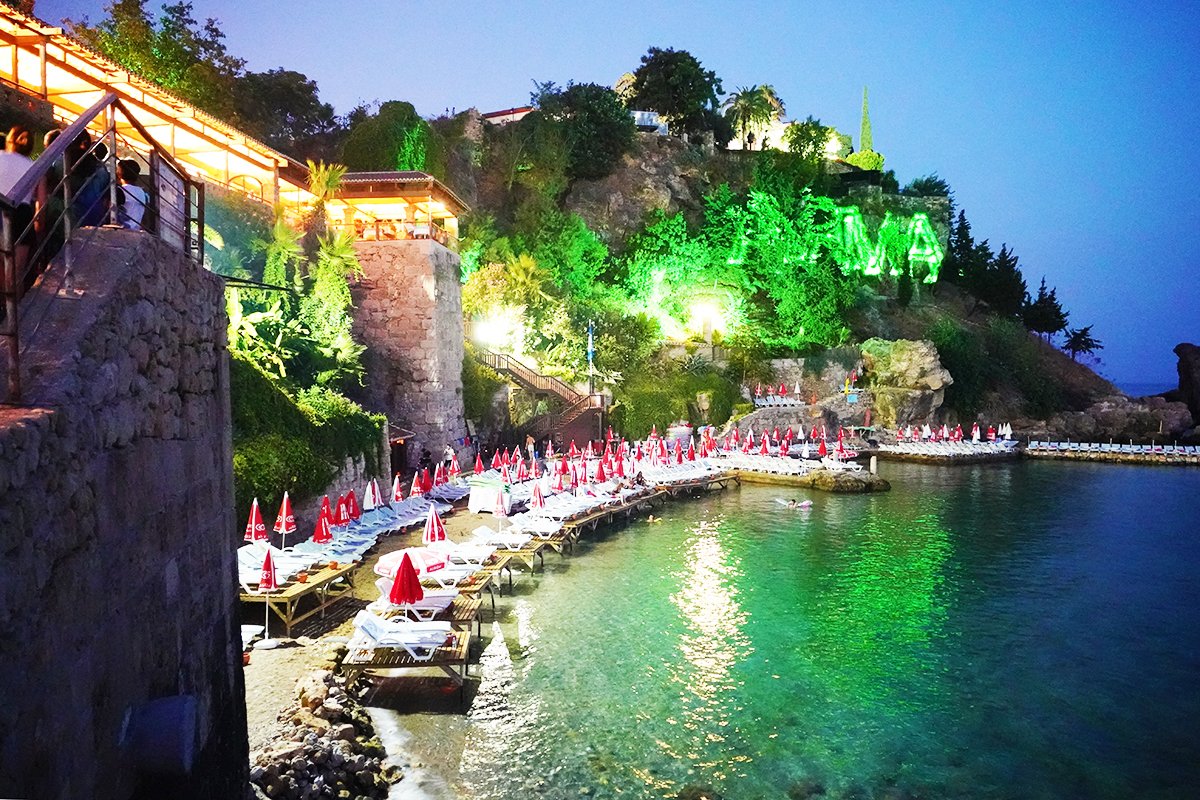 The ships light up, and the whole harbour becomes quite the light show. It's a perfect time for a romantic dinner, or just a casual stroll with much better temperatures to work with!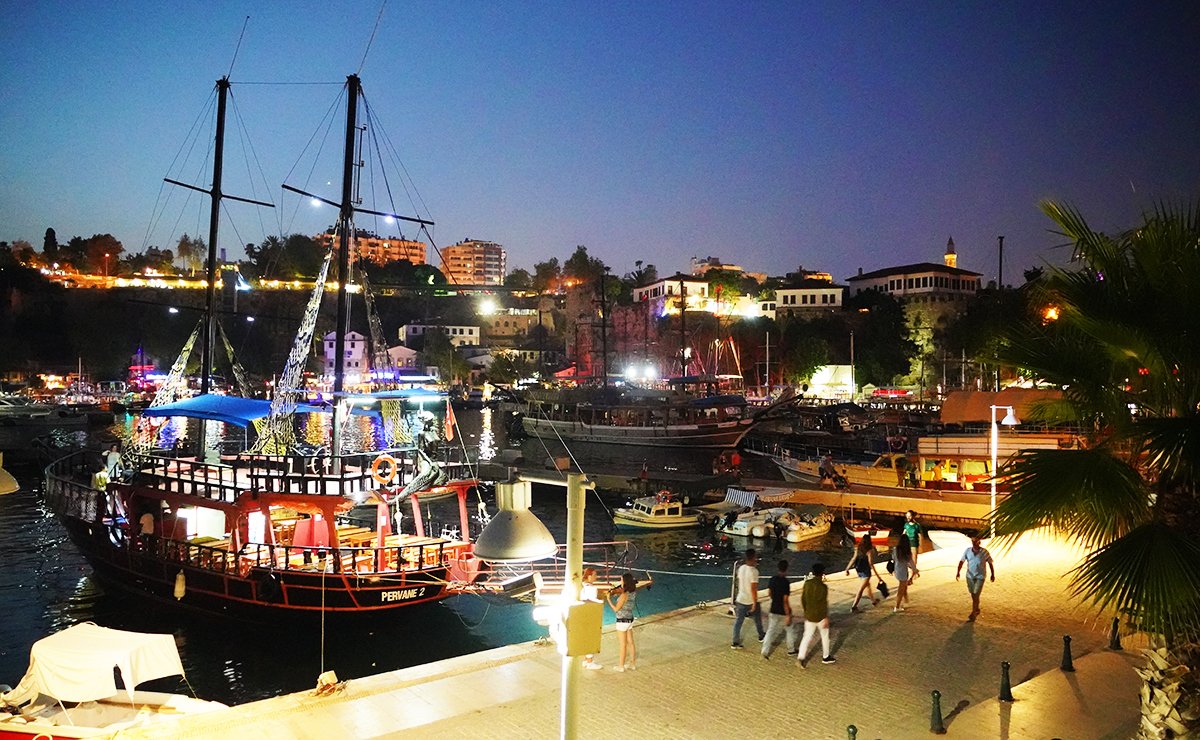 Saat Kulesi (Clock Tower)
This was built during the reign of Ottoman Sultan Abdul Hamid II. This first picture is when I entered the old town, and the second is when I left!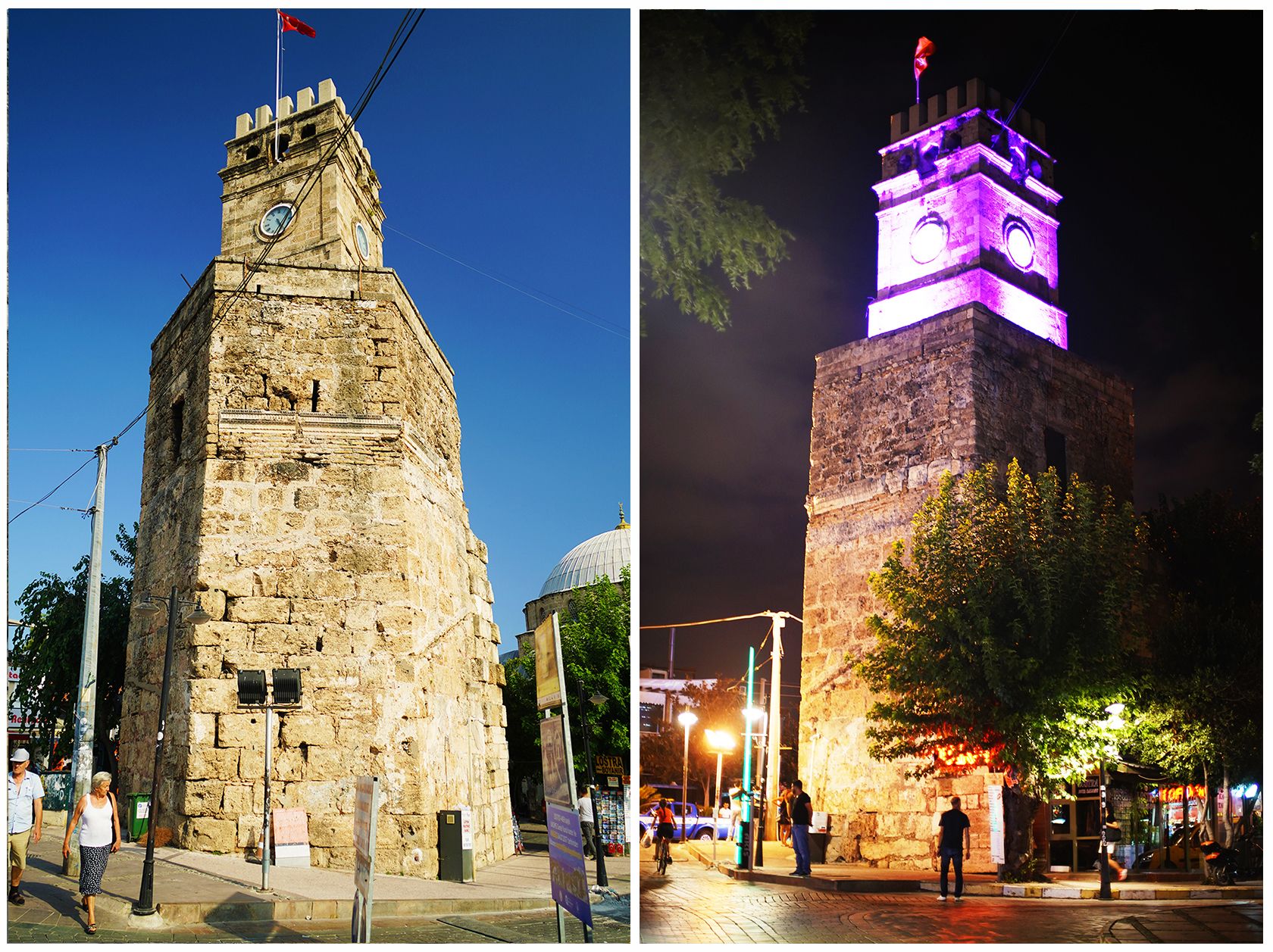 Check out my short video of Kaleiçi
---
Thank you for taking the time to join me on this quick tour of Kaleiçi. We had a faint idea of what it was like before from our visit to Seraser, but who would have known the historical city had this much to offer. It turns out Antalya isn't just about those modern resorts after all.
Please upvote this post if you enjoyed it, and please follow me if you wish to stay up to date with my latest activities. Please also leave a comment and let me know what you think!

每到一座新的城市,我最喜欢去寻找这座城市生根的地方,也就是城市发展的源头——老城区,漫步其中,感受其最原始的城市状态,倾听整座城市在多年风雨洗礼后的生命篇章。记得在上篇土耳其游历故事里,我带大家感受了藏匿在安塔利亚老城区,神秘的伊甸园餐厅——Seraser餐厅,享受了一把地中海风味温情浪漫的烛光晚餐。但是也许你对安塔利亚这座城市仍然陌生,这座城市并没有像伊斯坦布尔那样耳熟能详的名字,但这座城市却是更有它独道的韵味和细腻的故事。安塔利亚位于土耳其西南部,是地中海沿岸最大的土耳其城市。曾经因为它秀美的自然景观和丰厚的人文历史,还有淳朴的民风和花园般的城市风貌,它的外国游客数达到全球各城市的第四名,一向是游客们最爱的度假胜地。
卡雷奇的沿海老城就是我们今天要一起探索的目的地,它是安塔利亚的旧城区,最大的特色便是那铺满历史年轮的古老石头城墙和房屋,蜿蜒的街道与充满古典韵味的民居,这里的风景美到让你情不能自禁,搞不好下一秒你就会爱上他。老城里的一条条小巷子像极了咱们的胡同,脚踏古老的地砖,悠闲的散步其中,总有一种亲切感伴随。走进古城,就立刻感受到那精致的奥斯曼式建筑的魅力和古罗马帝国的残迹。站在老城的高处巡视远方,就能看到那豪迈霸气的长笛状唤礼塔,历经700多年的风吹雨打,如今是这座城市的意象地标。唤礼塔的周围整齐的排列满密密麻麻的可爱红顶小屋,沐浴在地中海的灿烂阳光下,屋顶的红显得更加璀璨,搭配上屋子边蔚蓝的地中海海水,美不胜收,简直让我不敢相信眼前这正是拥有2000多年历史的旧城区。
在街边的小卖部,发现了可以有机会在爱心驿站里喂养流浪猫,我立刻买了猫粮,和可爱的小猫玩起来。爱心人士为流浪猫搭起了可以遮风避雨花花绿绿的小屋子,流浪猫看见我就像看见了老朋友,一点也不见外。路边停泊着情调十足的马车,相必坐着马车在古城游荡一圈又会是另一番感受吧。这五彩缤纷的太阳伞花棚搭成的美食街简直是拍照圣地。渐渐的时间已经到了黄昏的时段,水边的亥得利塔被金色的太阳光辉笼罩着,美极了。古城里每一道曲径通幽处,都是一个让你惊艳到说不出话来五光十色的市集,买卖各种土耳其特产,纪念品,手工艺品还有那些价值连城的古董。
古城最著名的,也是旧城区入口的哈德良门格外引人注目,它是一座造型典雅充满古韵的凯旋门,从罗马时期至今,已经过去2000多年,风韵犹存。据说这座门是为了纪念哈德良皇帝驾临而修盖的。走近了会看到,三道拱门和轻盈的门柱上都雕刻着精美的图案,周围残留着部分古城墙。因为这道门的地理位置十分显著,听说不少老城区里的家庭旅馆都会以这道门作为辨识方向的标志呢。穿越这2000多年的拱门,就仿佛时光倒流,满眼尽是奥斯曼帝国的风光。拱门里外的风景也是迥然不同,时尚现代与古典传统碰触出了两个世界。在这里还发生了个小插曲,这走过拱门的地砖石块,被每日来来往往的行人踩得光滑极了,我拿着Osmo录像,一个不留神就滑倒,摔破了膝盖。为了安慰自己受伤的膝盖,我决定在门边上的咖啡馆,吃一个当地特有的菠萝冰激淋。冰激淋的美味化在嘴中,甜在心头,立刻让我忘记了疼痛。
继续前行,我们来到一个可以观望地中海的公园,里面有精美的小鹿树根雕,衬着背景鲜艳颜色的楼房,风景绚丽多姿。接着我走进了一家和自己衣服颜色超级搭配的糖果店,店里的小女孩特别喜欢我,过来和我示好,并和我玩起来。夜晚将近的游艇旧港灯火辉煌,热情的音乐声响起,水边的烧烤餐厅忙了起来。港口边停泊着大大小小装扮各异的轮船,有的和电影里的海盗船一摸一样,有的装扮成土耳其特有的民俗风格。这些船只白天的时候可以带你海上垂钓或去远方的山谷和瀑布参观,如果我有更多的时间留在老城,真想跳上船远航。在这里,我还惊喜的遇到了本地人的港口边浪漫求婚和生日庆典,生日的祝福语被餐厅的激光打在对岸的山体上,热闹的场景让我舍不得离去。今天的安塔利亚老城之旅就告于段落了,希望大家很享受这份快乐,之后还有更多有趣的游记故事要和大家分享。