Dear Steemit friends :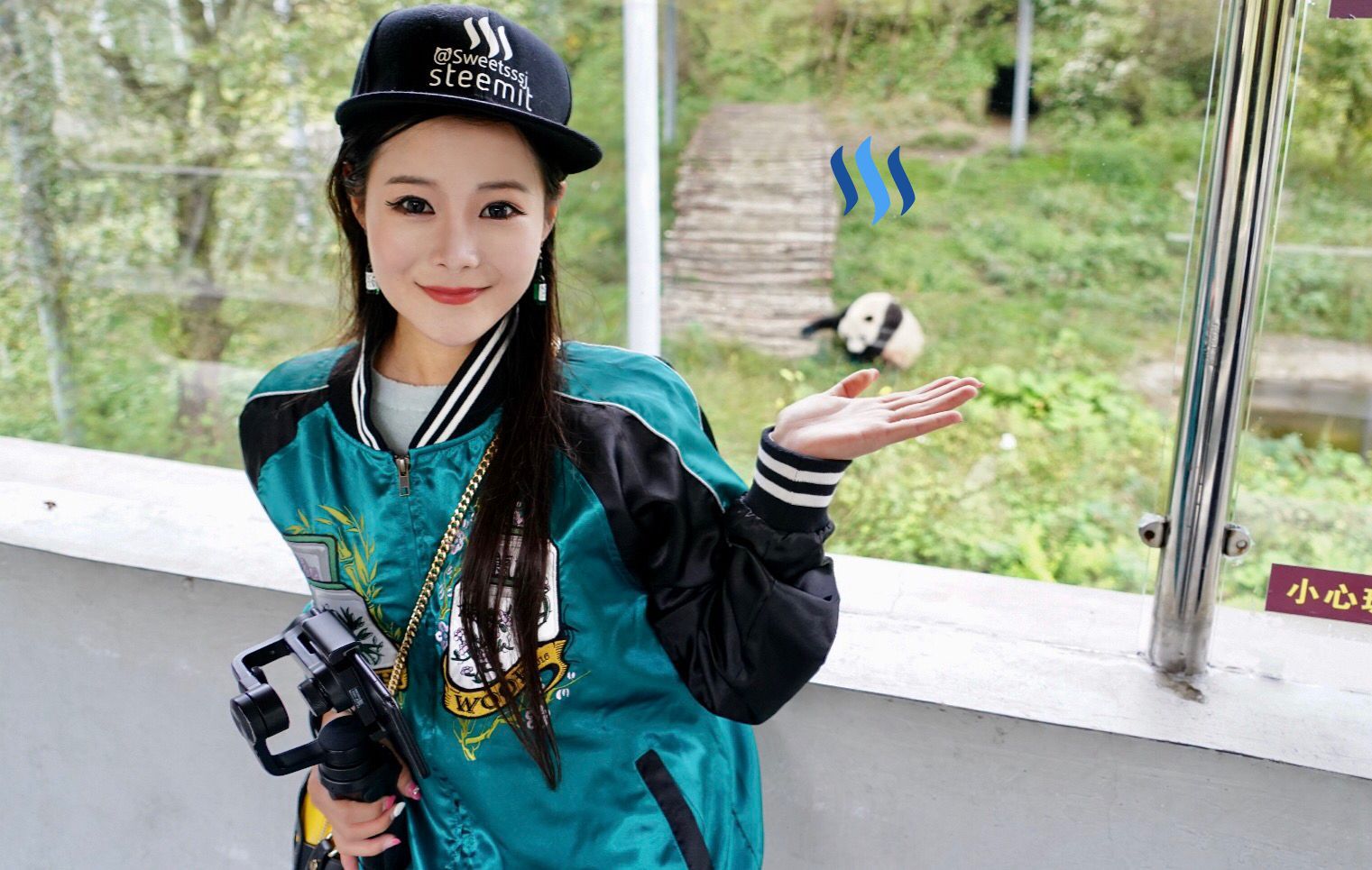 Some of my fondest memories whilst travelling, come from my close encounters with nature and wildlife. If you've followed me for a while, you'll remember my encounters with Sharks, Sea Lions, Swimming Pigs, Leopards,Iguanas and many more!
It's no coincidence that my family of cats have had a big role in shaping my adoration of animals. But as much as I could just stay at home and keep my cats busy with company, I'm always curious to see more animals living in natural environments. Some of them extremely rare, to the point that they are protected animals and considered country treasures.
I decided to visit a special place known for it's soaring mountain peaks, and vast stretches of untouched deciduous forests. Crucially, they are the home to China's most endangered animals, and some of the last places in the world where you will ever see these animals.
The place is called Qinling or Qin Mountains (秦岭). The Qin Mountains are a vast mountain range in the south of the Shaanxi Province and serve as a natural border between the North and South of China. My visit will take me to the main Qinling village, where a special reserve has been set up. Originally to help preserve and protect the dwindling numbers of endangered species, the Qinling conservation has had a very positive effect on the area and is now drawing attention from people all over China.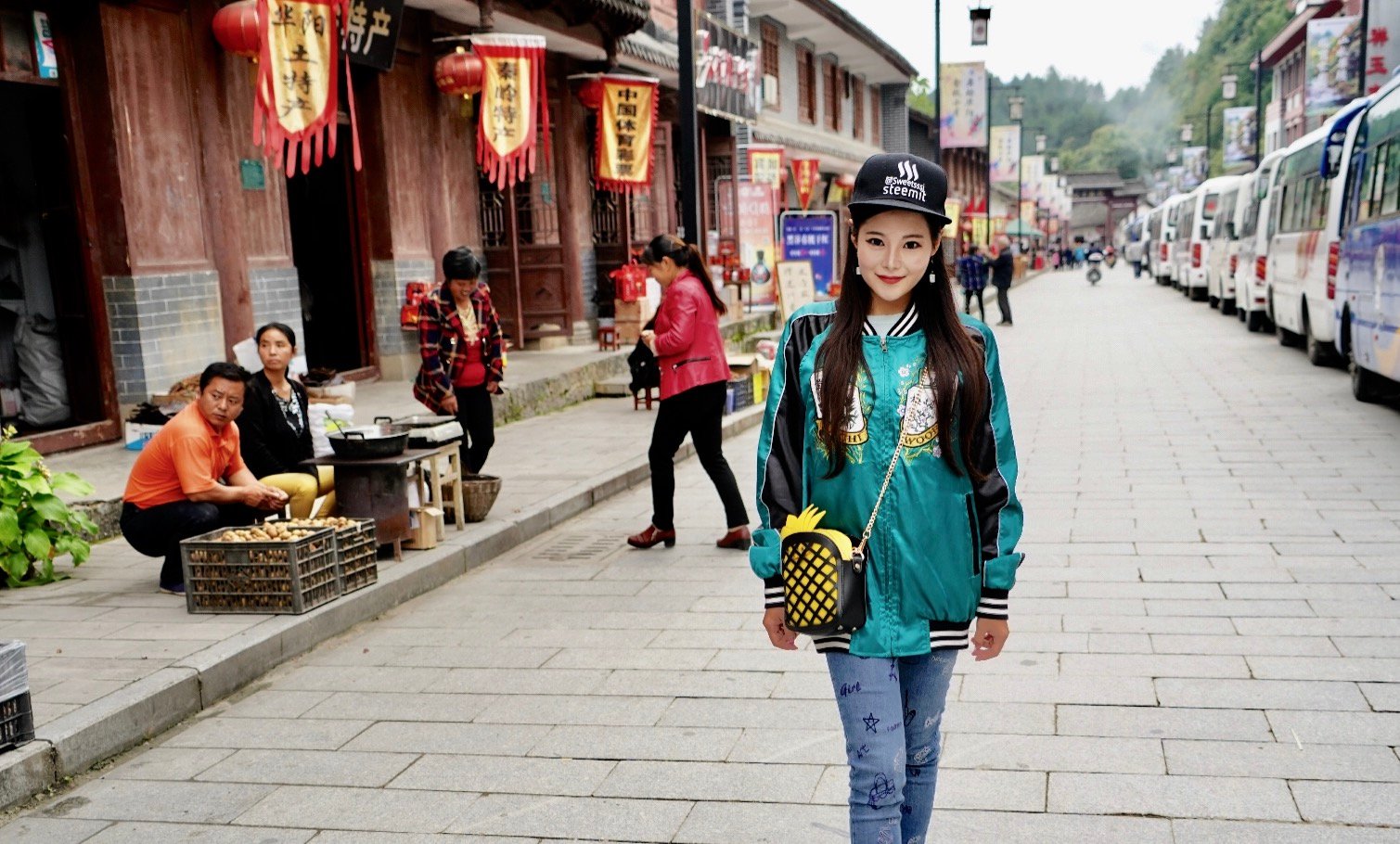 The village is quite hard to reach - there are no train services, the only method is by car. Setting off at Xi'an, it took over 4 hours driving through mountain roads, passing through what felt like endless numbers of tunnels.
Once inside the village, I realised that for the most part, this village has been left untouched. It's modern amenities extend as far as the 90's looking hotel which I stayed at. Everything else, looked liked early nationalist China, the houses were mostly made from wood, and along the main street, many people would sell little snacks and food which are naturally found in the mountainous region.
The first order of the day, and probably the most popular, is the Giant Panda tour.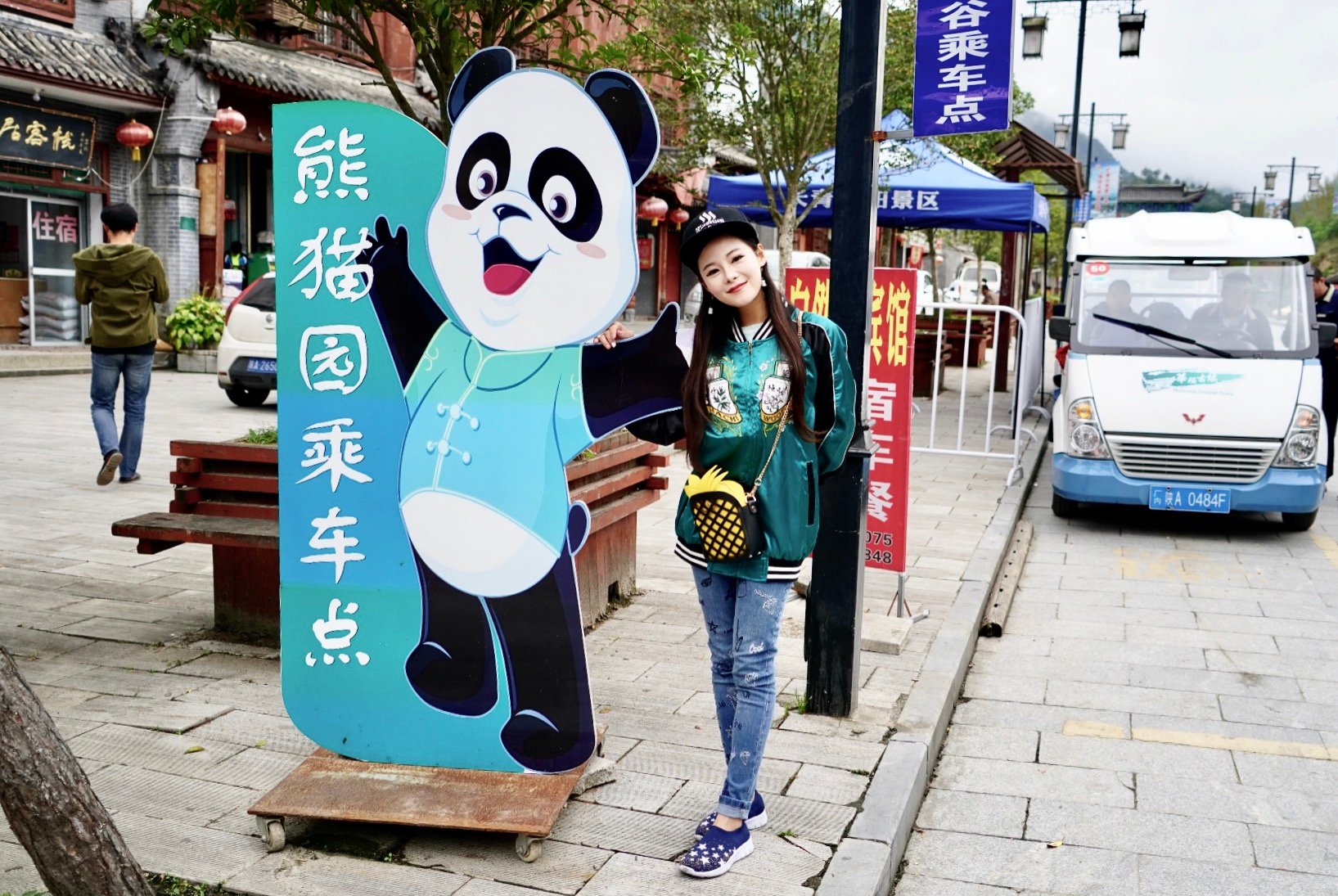 The shuttle buses will take off every 30 minutes or so, and drive you along some spectacular scenery en route to the Giant Panda area.
A lot of effort has been made to preserve the natural landscape, most of the landscaping and buildings blend in perfectly with the natural surroundings.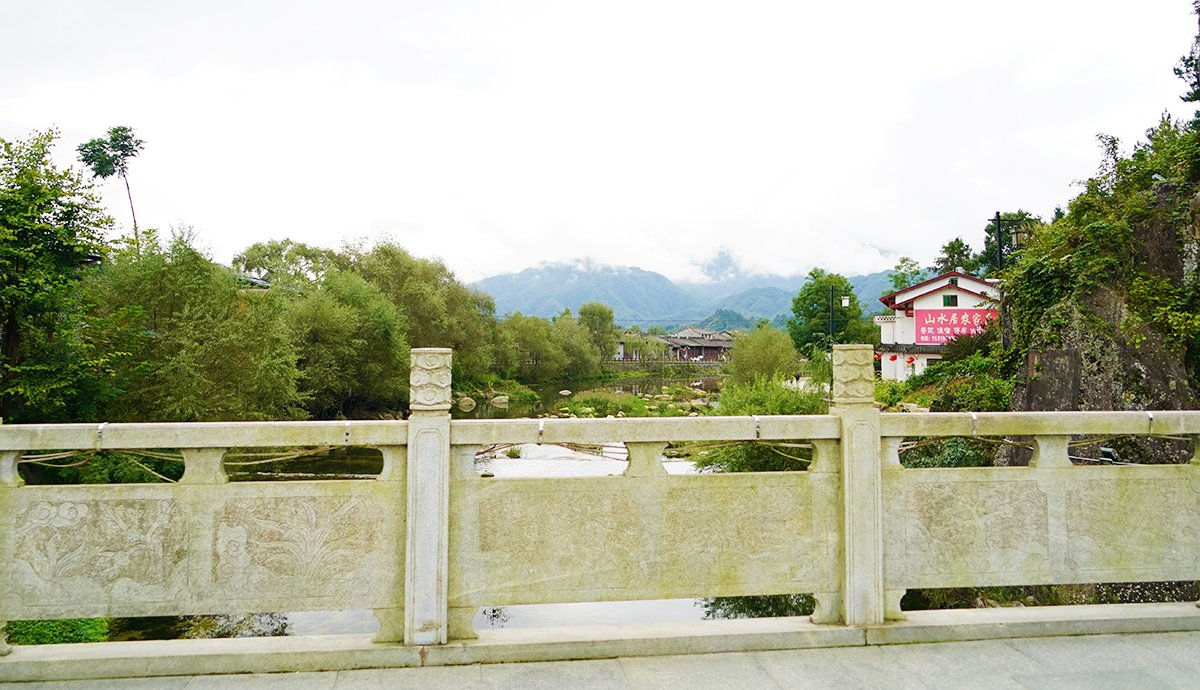 The canals were used for transporting harvest between villages, it was only until recently that they began using road vehicles for this purpose.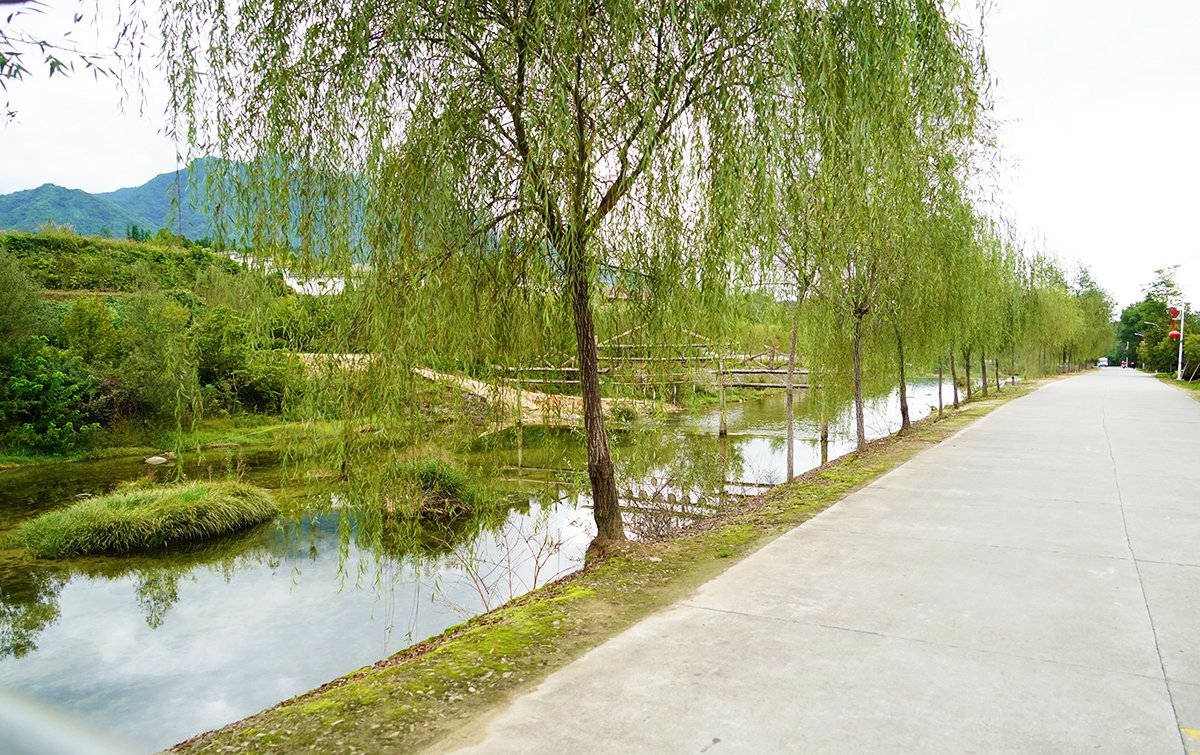 Believe it or not, most of the houses you see here are inhabited by villagers. In contrast, their days' seem really long. The majority of time is spent sowing for the harvest, or preparing food.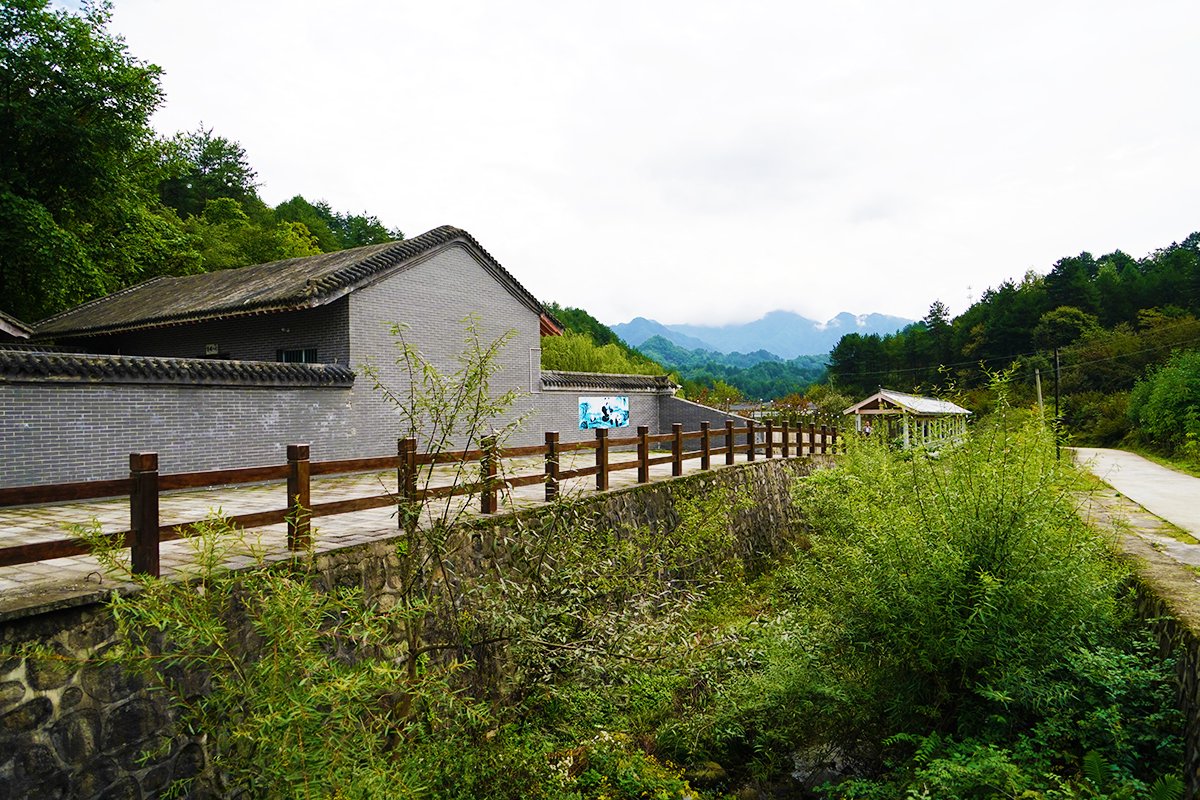 Just a quick 10 minute ride, and we've arrived at the Panda viewing area. The large stone with the red characters alert us to the impending Panda Bear cuteness overload, whilst the mountains piercing through the clouds remind us that we are entering "bear" territory!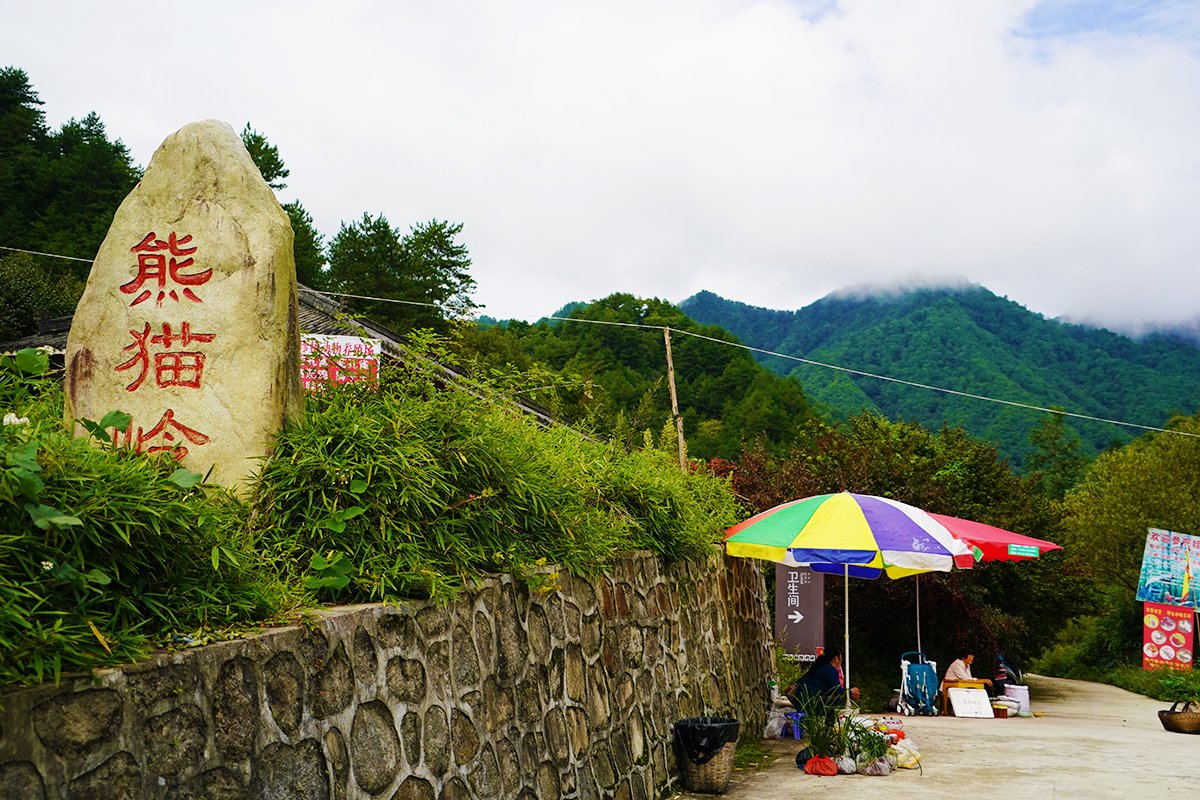 Each of the viewing areas for the animals have their own statues such as this very giant sized Panda. (Looks a bit like Po from Kung Fu Panda right?)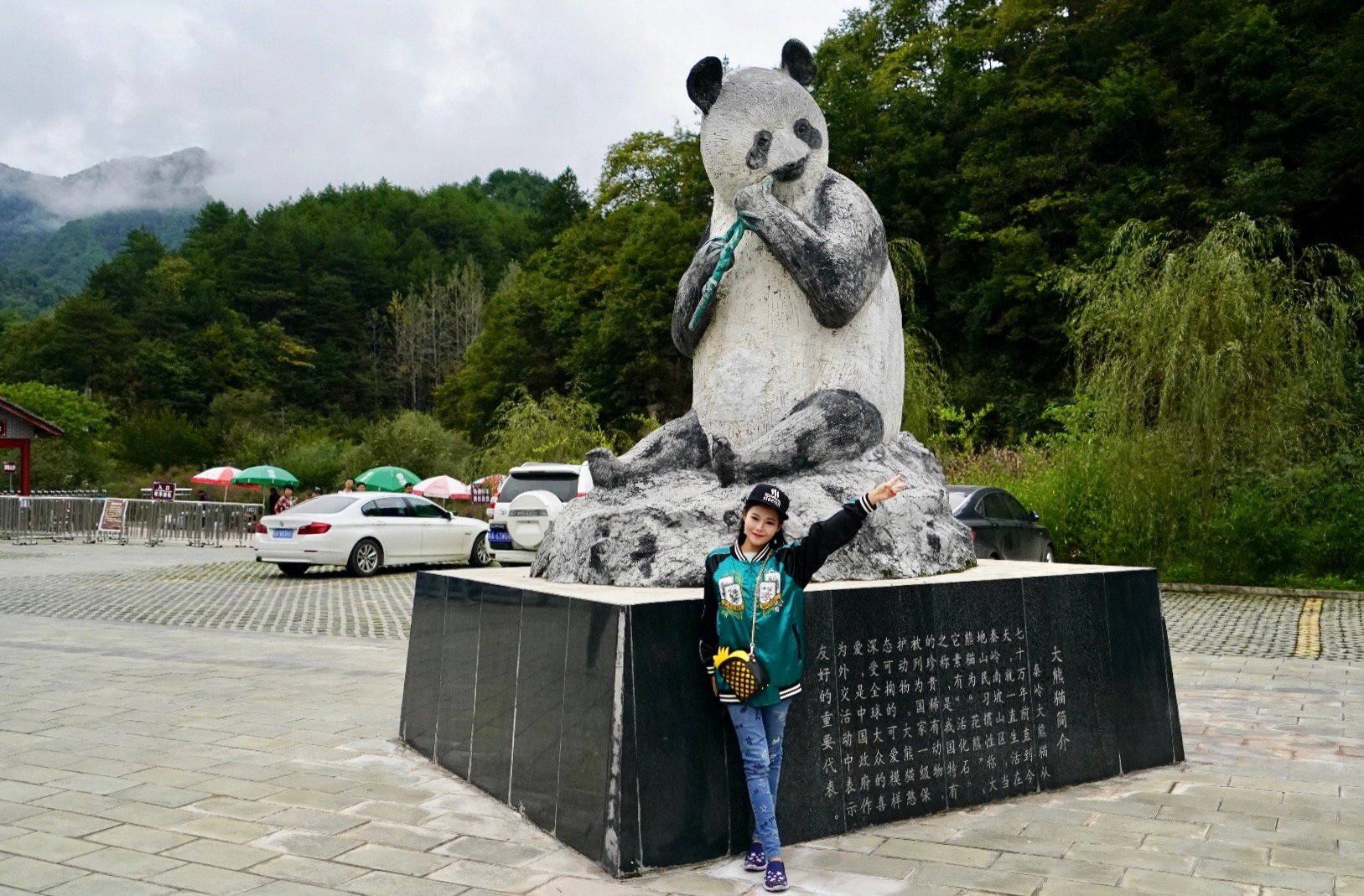 Panda bears are native to south central China and were considered an endangered species. In Chinese, the Panda is called 大熊猫 or Big Bear Cat, and this is because from a looks point of view, they have a lot of characteristics of a bear and cat. Their status as conservation reliant vulnerable means that without these conservation efforts, the Panda bear population would have continued to decline.
In the wild, Panda bears have a very short period of time to breed. (3 days) And thus, it is a challenge for them to reproduce very quickly.
In captivity, breeding programs have had mixed success, depression in captivity was cited as one of the reasons that many of the Panda's refused to mate. However, as of today, there are more than 230 Panda's living in captivity inside China, and a further 49 outside. Many a result of successful breeding.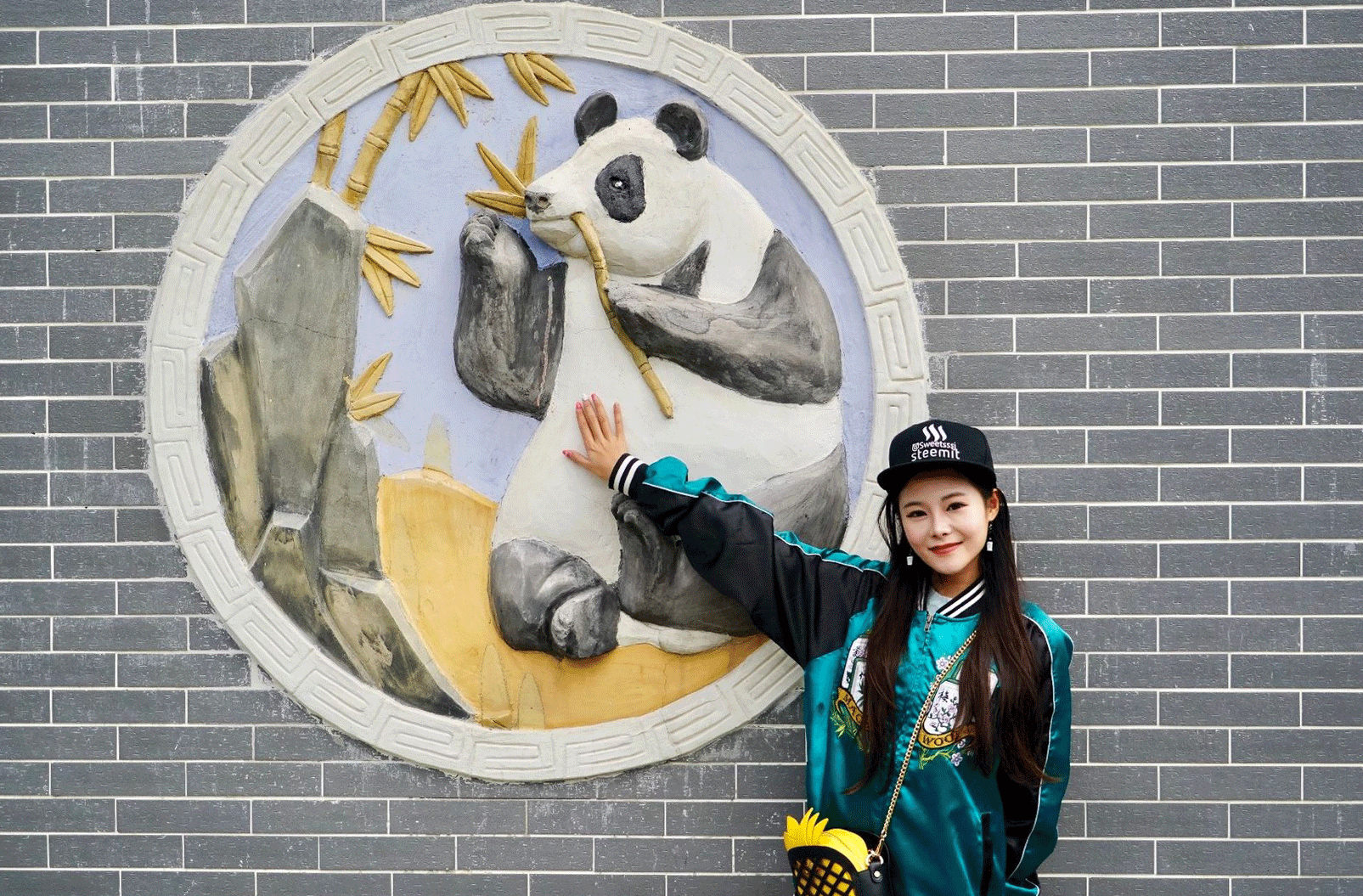 And here we are, the Giant Panda of Shaanxi. In the mountains, there are reportedly around 2000 or more Panda's. A figure that has increased significantly over the years.
Even though the Panda is considered a bear and classified as a carnivore, it's primary diet is bamboo shoots. In fact, the Panda has such a large body mass that it needs to eat more than 10 kilograms of Bamboo shoots every single day. Given the relatively low energy content of the bamboo shoots, Panda's have adjusted their behaviours to conserve energy. For instance, they are not social creatures, and prefer living in isolation as adults. Panda's also tend to avoid walking up steep slopes.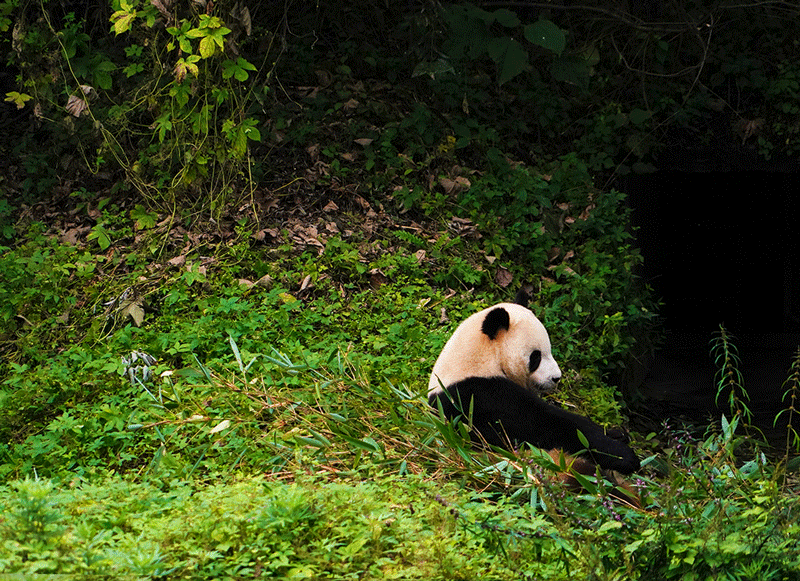 This Panda was out of character and climbed up to give us a good view of his back!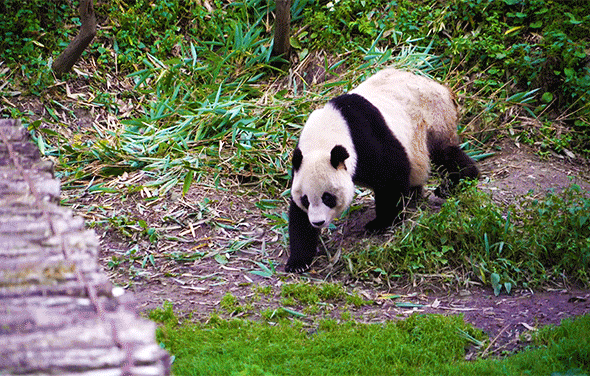 Giant Panda's all have very round faces because of their jaw muscles used to crush the bamboos. However, there is a saying that Shaanxi Panda's have rounder faces than their Sichuan counterparts.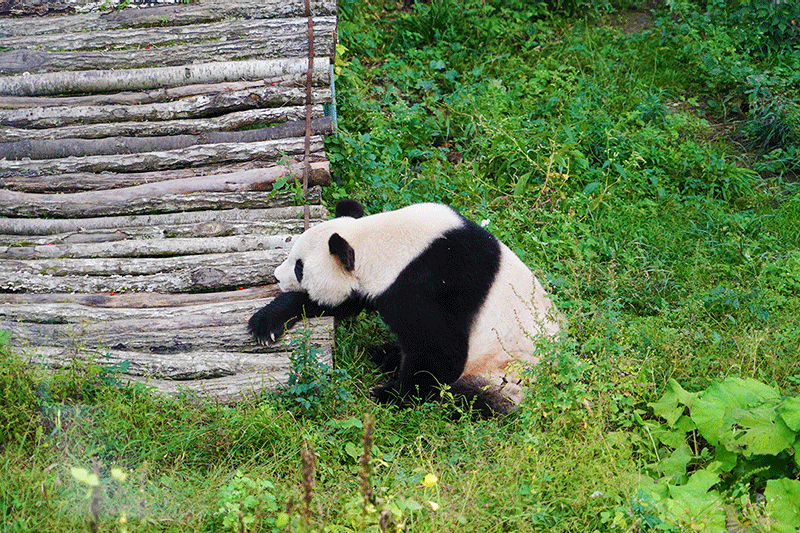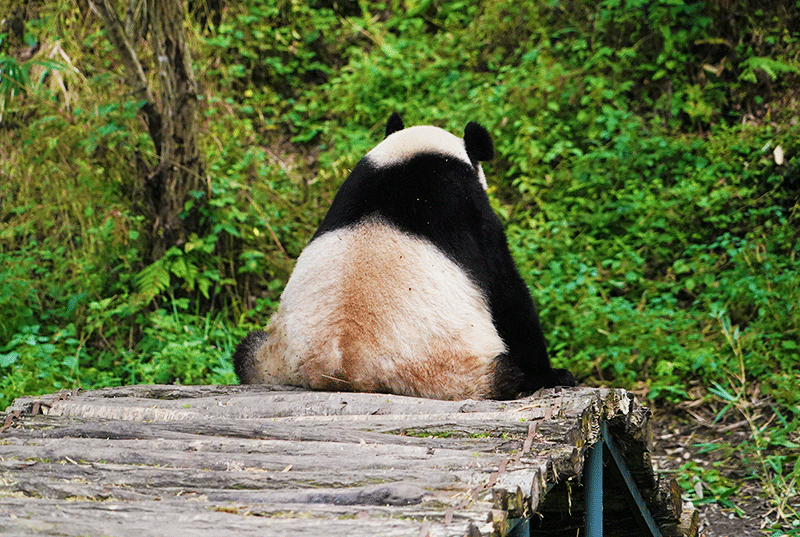 The Giant Panda moves very slowly because of it's slow metabolic rate, and low energy content diet. However, it is very good at storing fat. This is because of it's mostly sedentary lifestyle. (Kind of reminds me of a lot of us these days!)
Despite their lazy demeanour, Panda's are able to travel vast distance to find habitats which can sustain them. During summer, the Panda's migrate to the Qin Mountains, higher up where the Bamboo shoots have more nutrition. In the Autumn they return to the valleys to eat the leaves which are richer in calcium.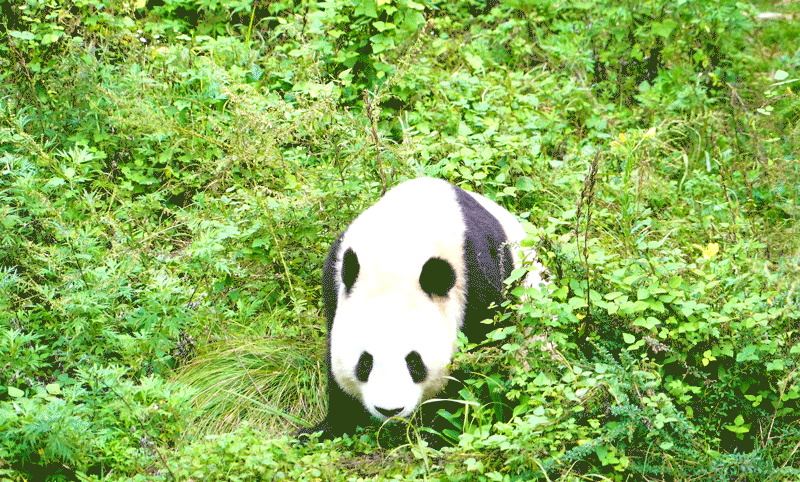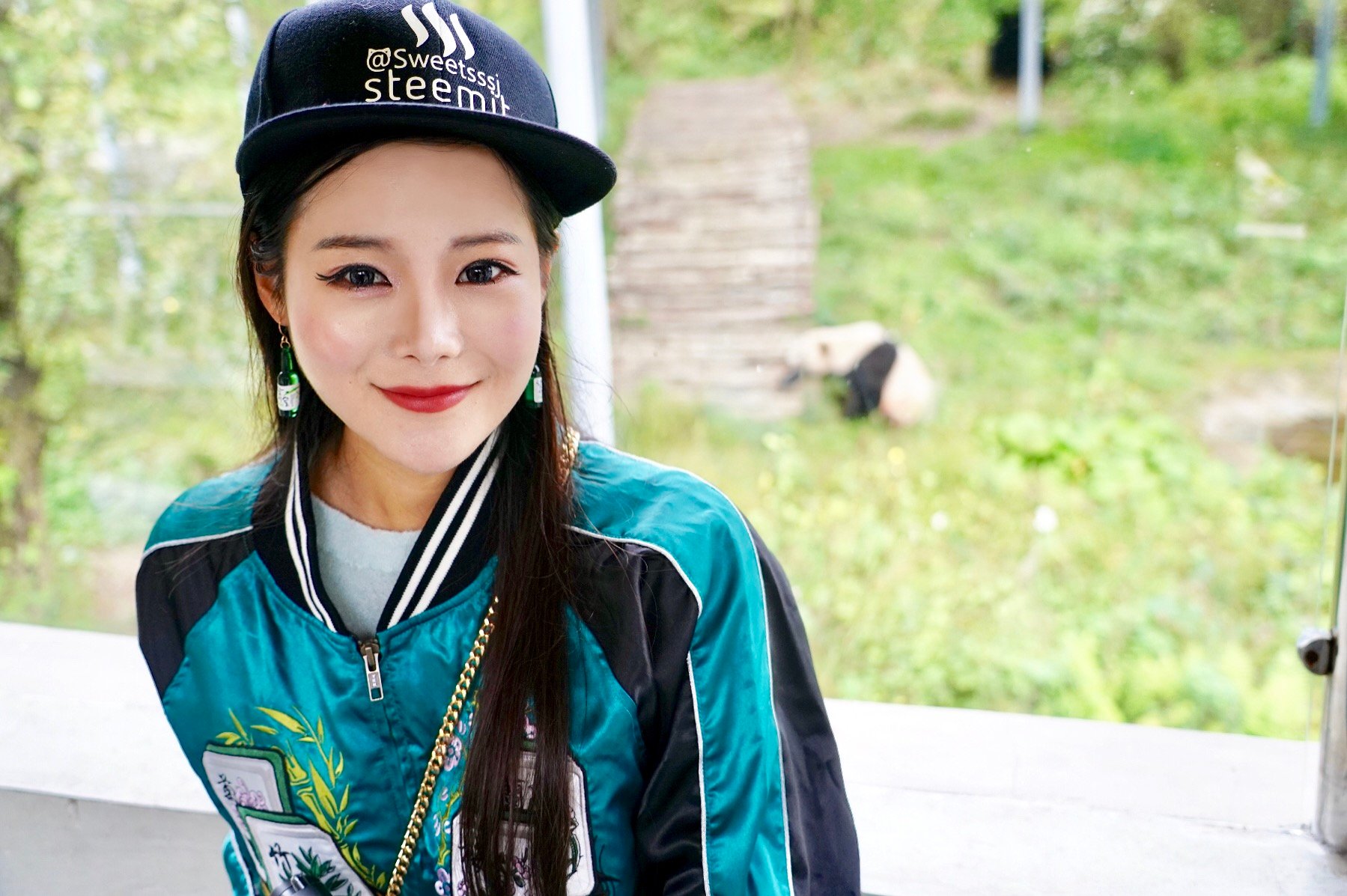 This was the highlight of my visit, the Panda rolled onto it's side and then onto it's back, using it's paws to scratch it's tummy. It's so cute, and reminds me of my cats who like to do the same!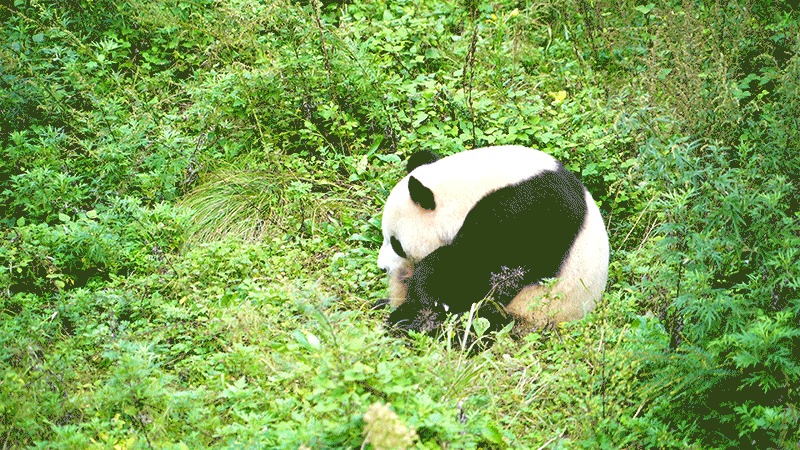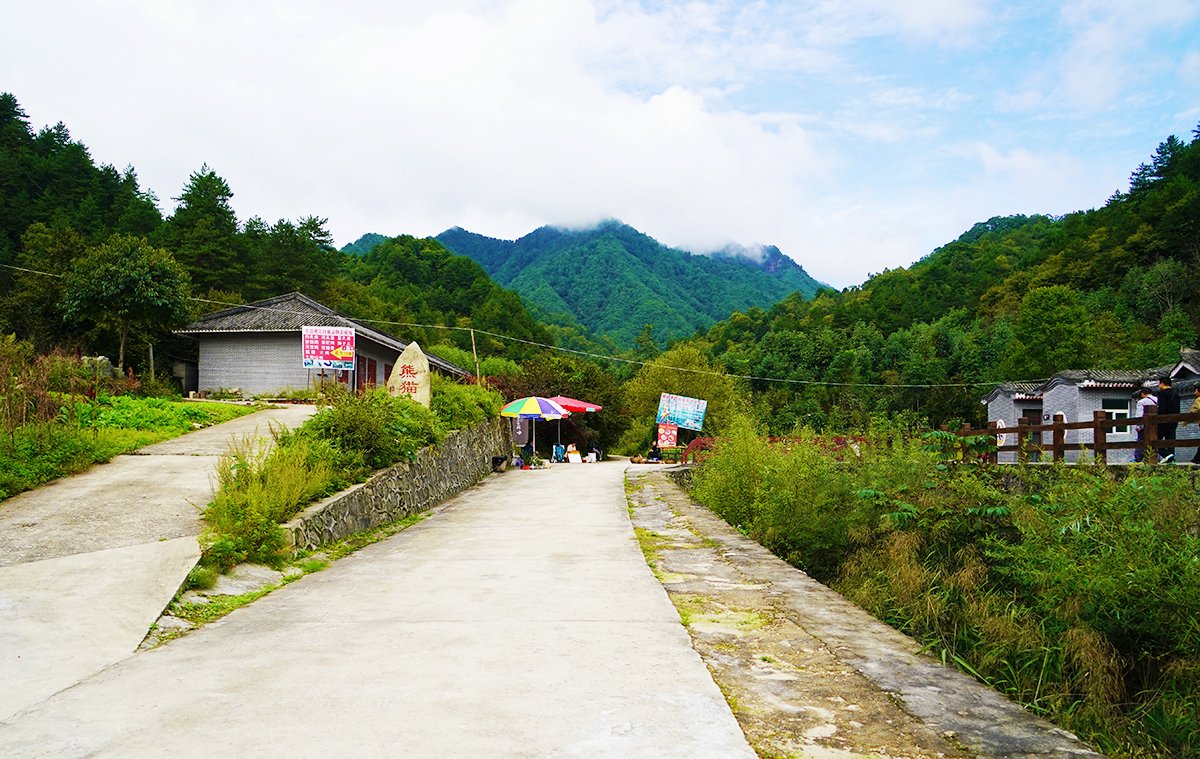 This I believe is a dragon fruit. Characterised by it's scaley pink texture, it was just one of my strange exotic looking fruits lurking in the lush vegetation of the forest.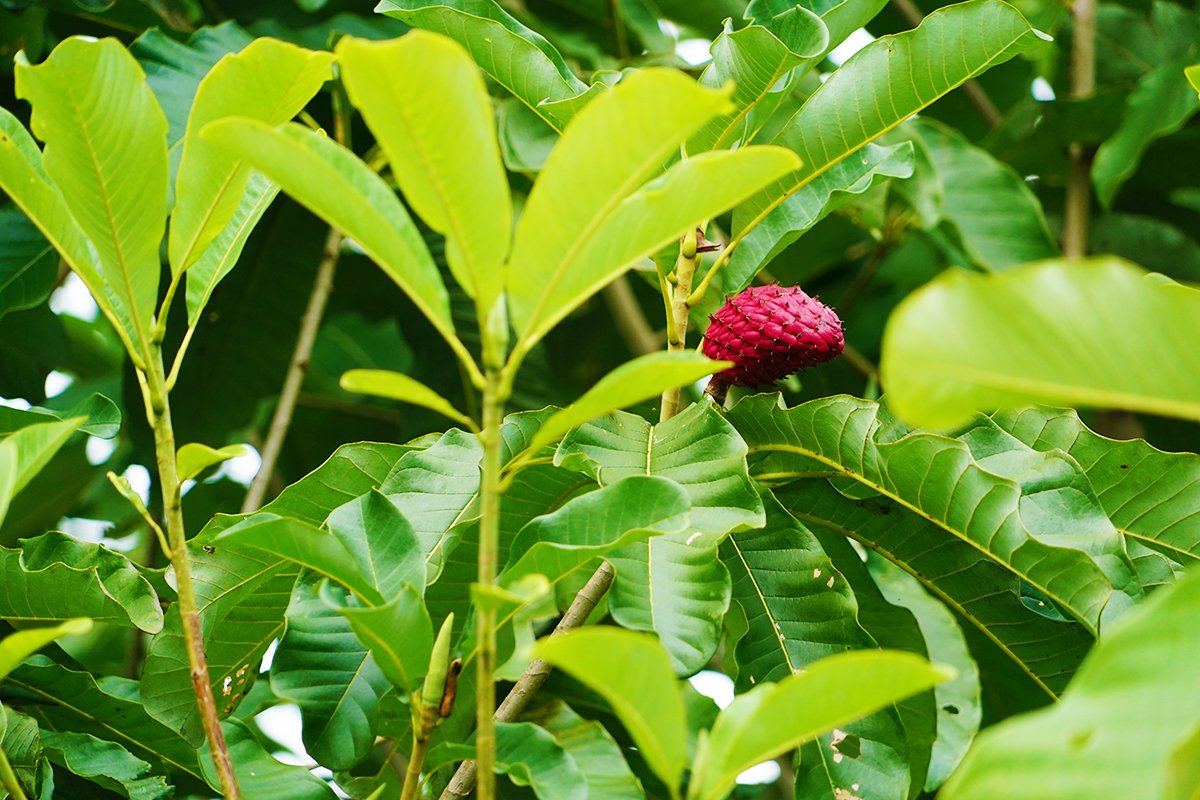 By the exit, there are a number of villagers who were selling their pickings of various fruits from the mountains.
One that particularly interested me was the Purple Wild Banana's.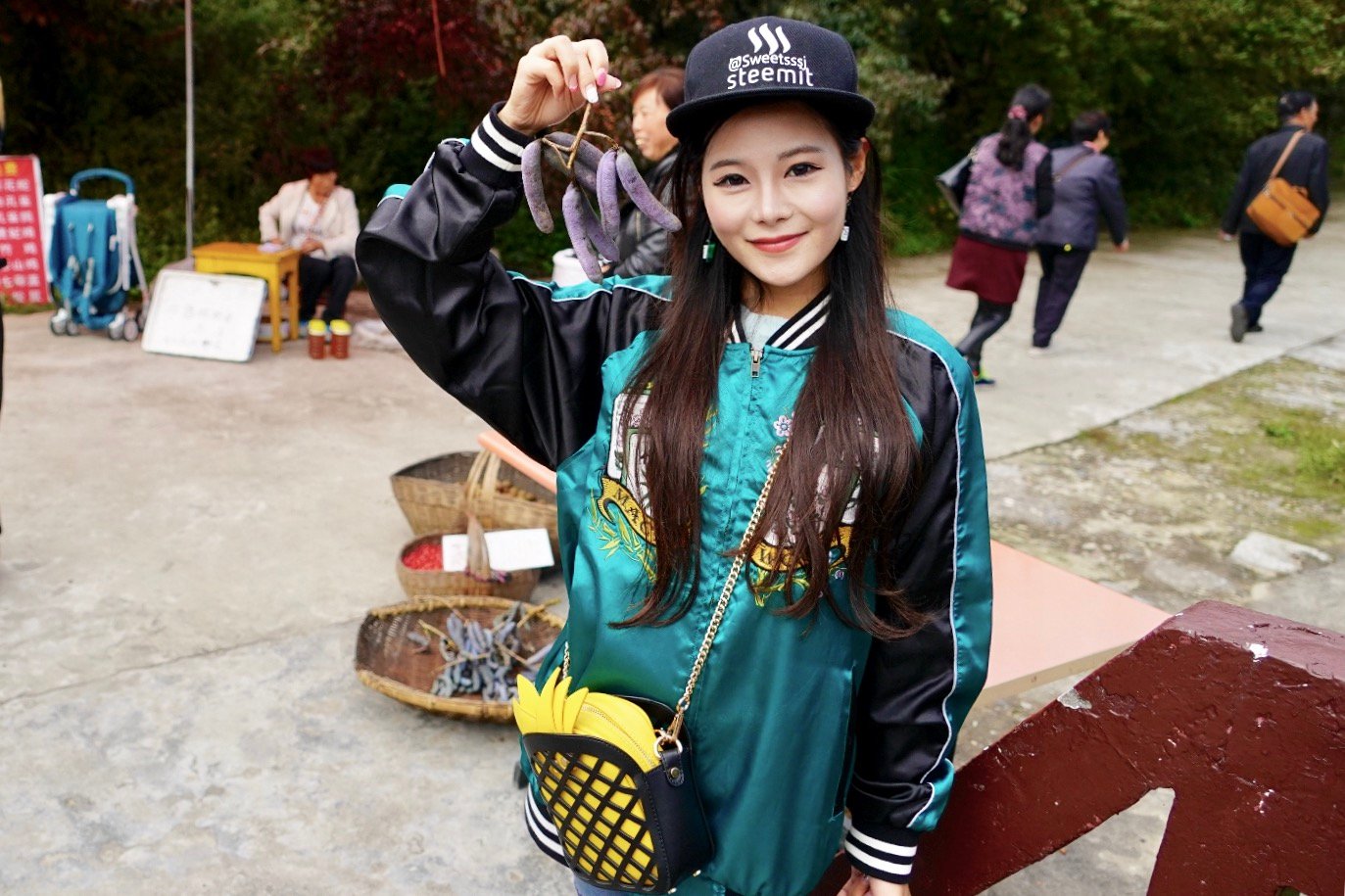 When you open the "banana" up, you are presented with what looks like a Caterpillar larvae. It was then that I realised, they weren't banana'as at all. Perhaps a little from the outside, but in actual fact, these are mostly seeds with a tiny bit of fruit meat in there.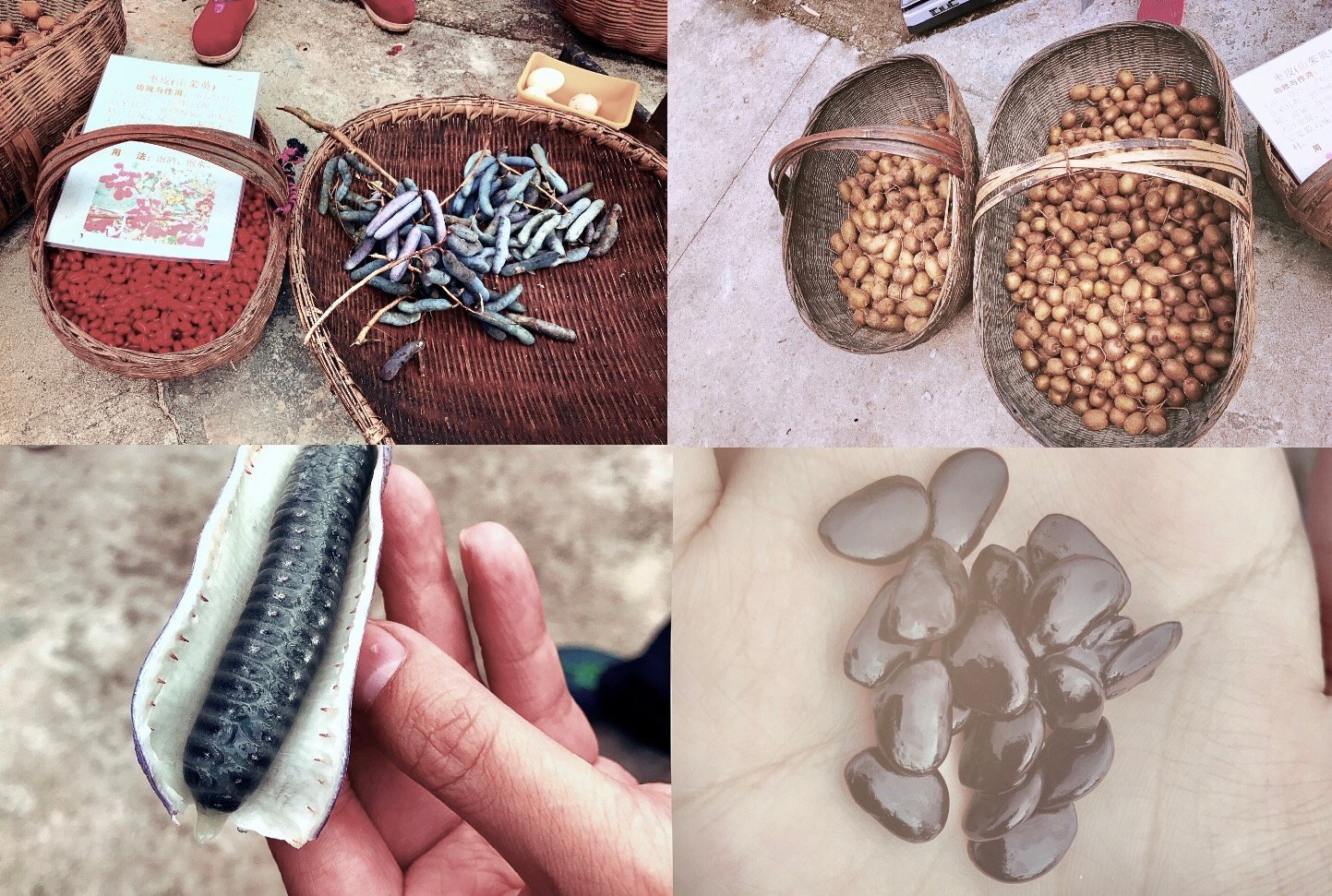 These are some of the other villagers selling their goods. Aside from the Panda souvenirs, it's mostly wild nuts, and fruits picked from the mountains.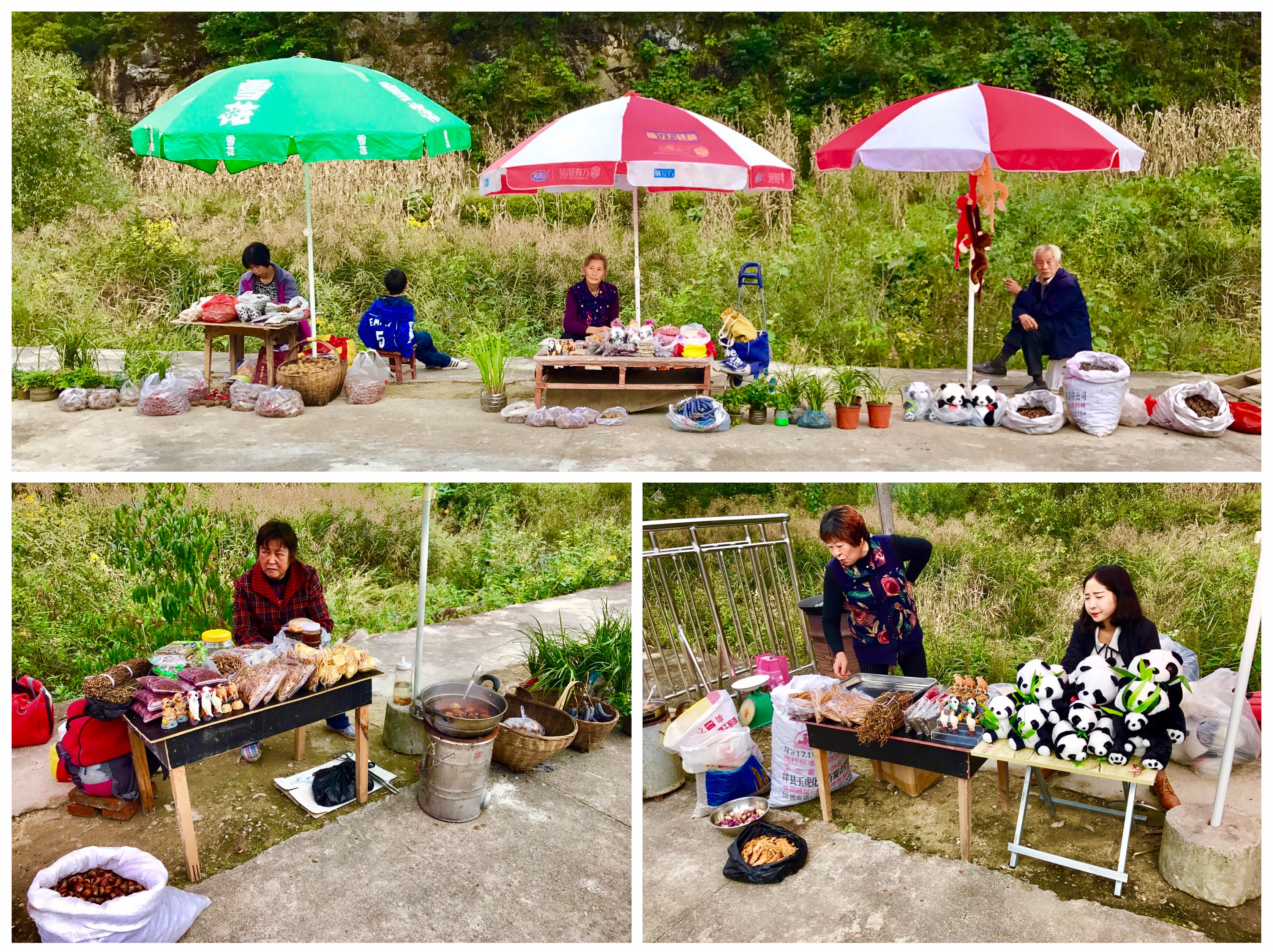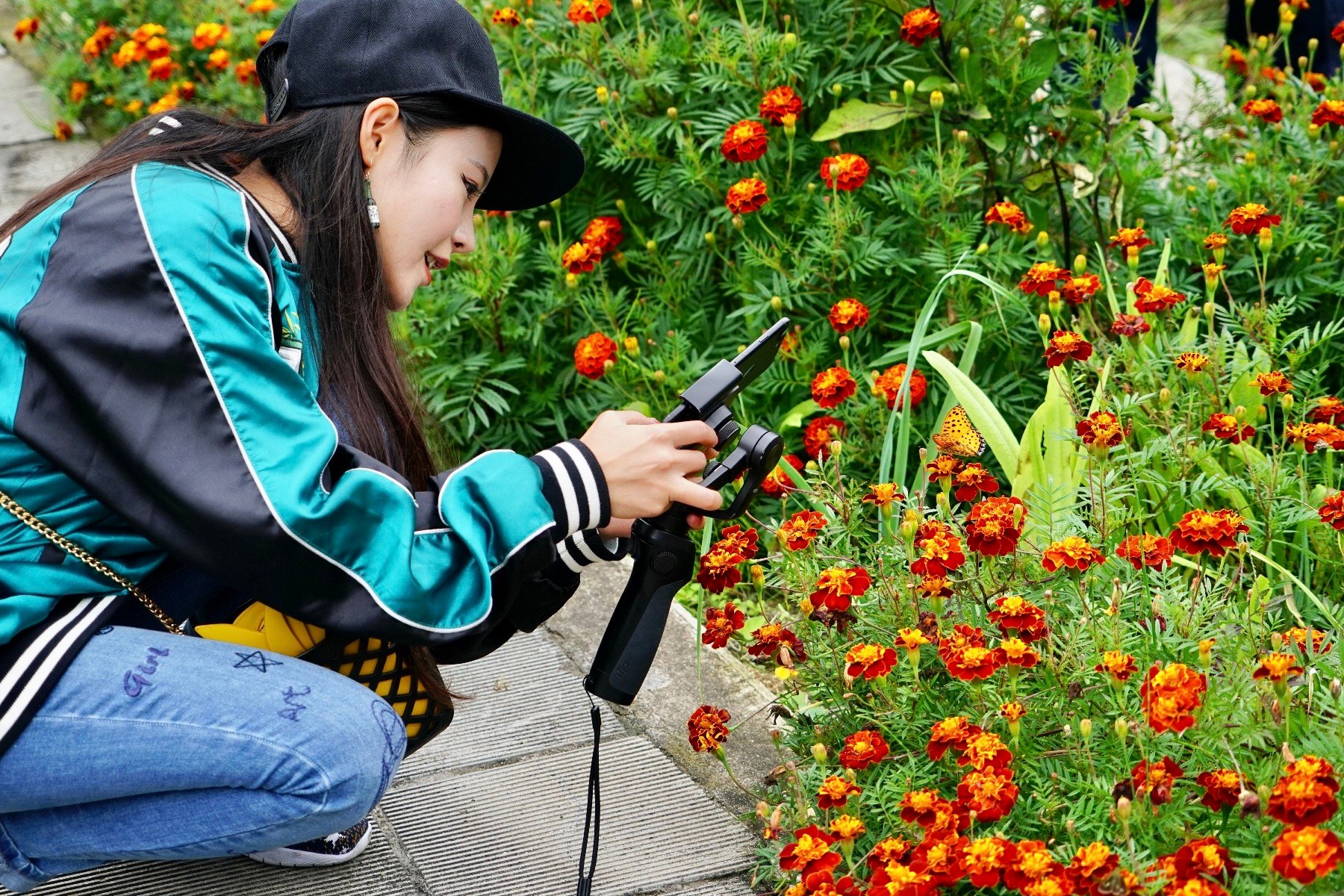 In the city, you will never see flowers as pretty as theses, or exotic butterflies resting freely on them.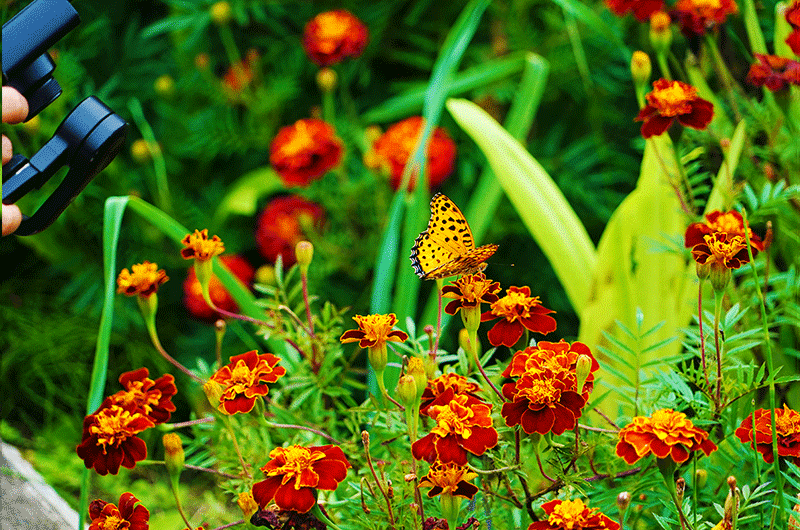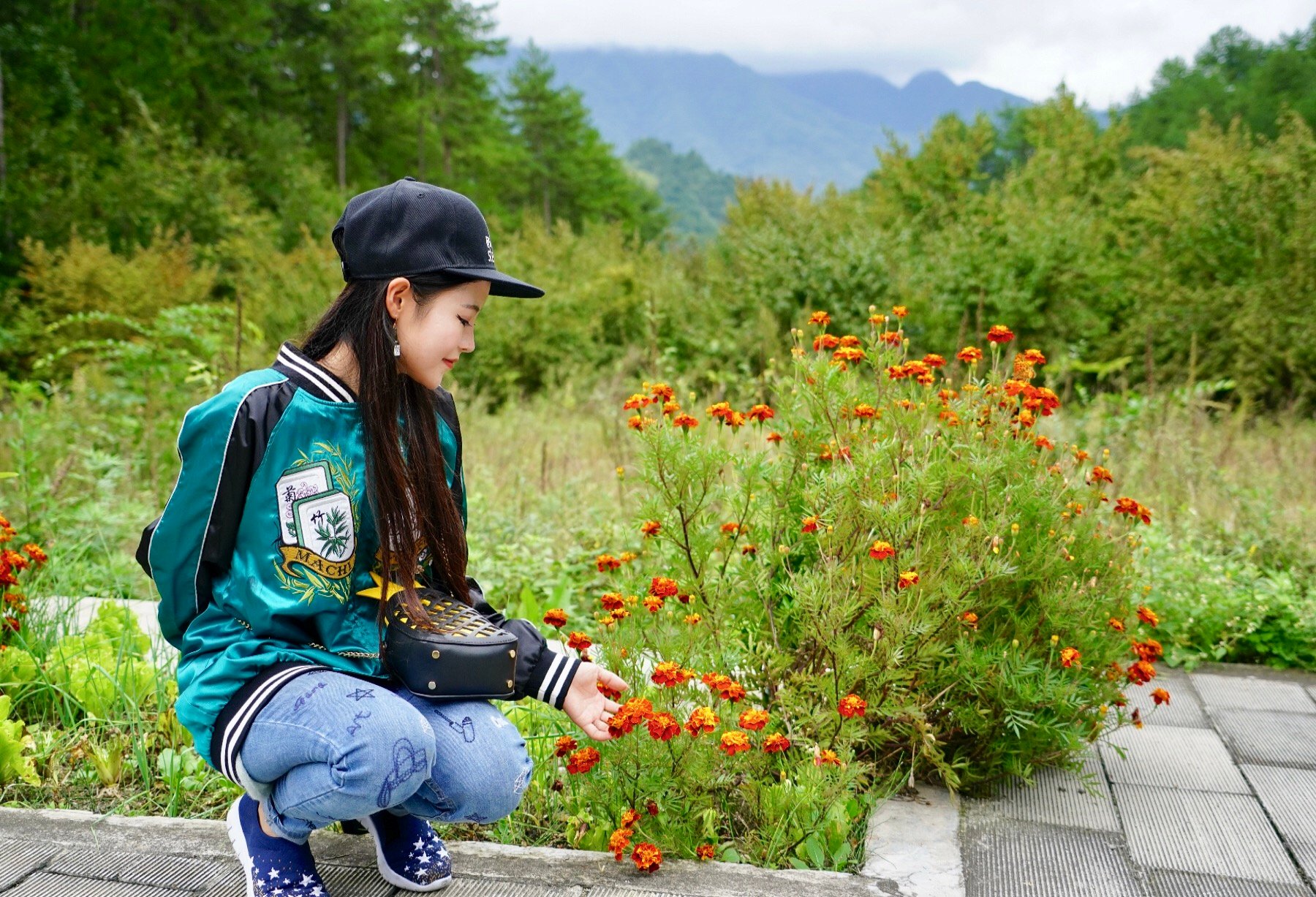 The shuttle bus waits for us at the drop off point, and takes us back to village where we wait for our next shuttle bus.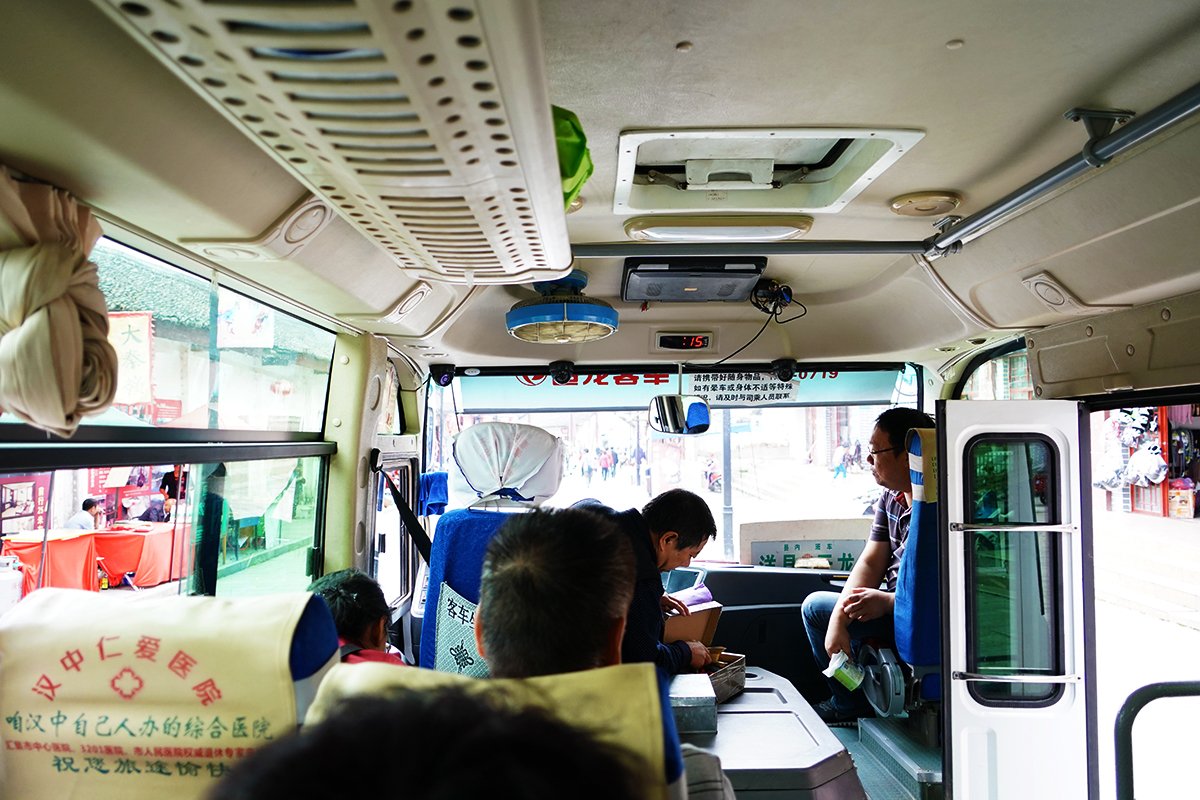 From the traditional Chinese houses, to the vast and expansive mountain ranges, there is almost nothing that isn't worth capturing as a photo or video.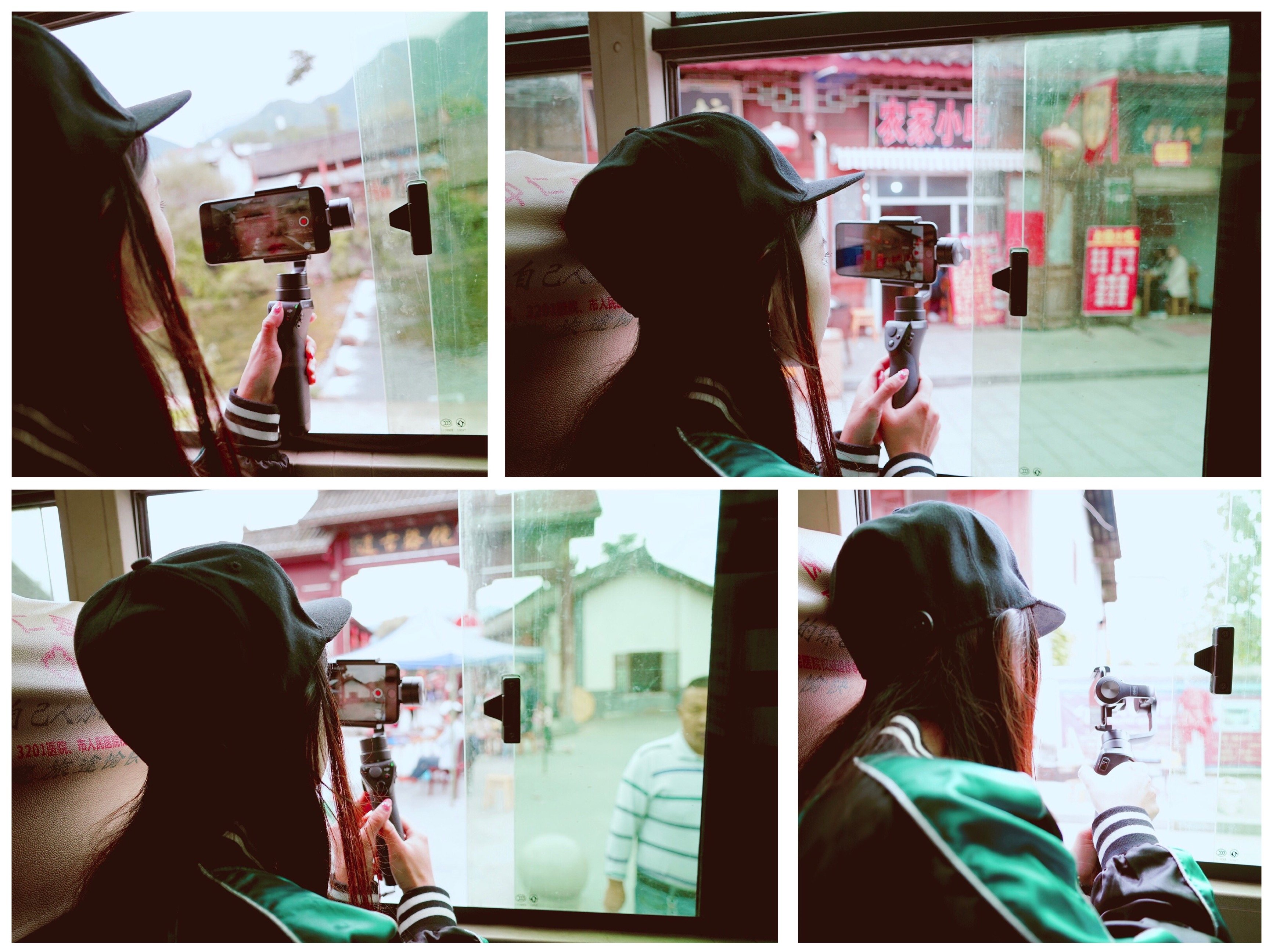 This is one of the main street buildings made mostly out of wood. Outside, there are wooden chairs and tables for guests to eat outside. The China Unicom sign is actually just for decoration. Out here, there is no reception, let alone phone network shops.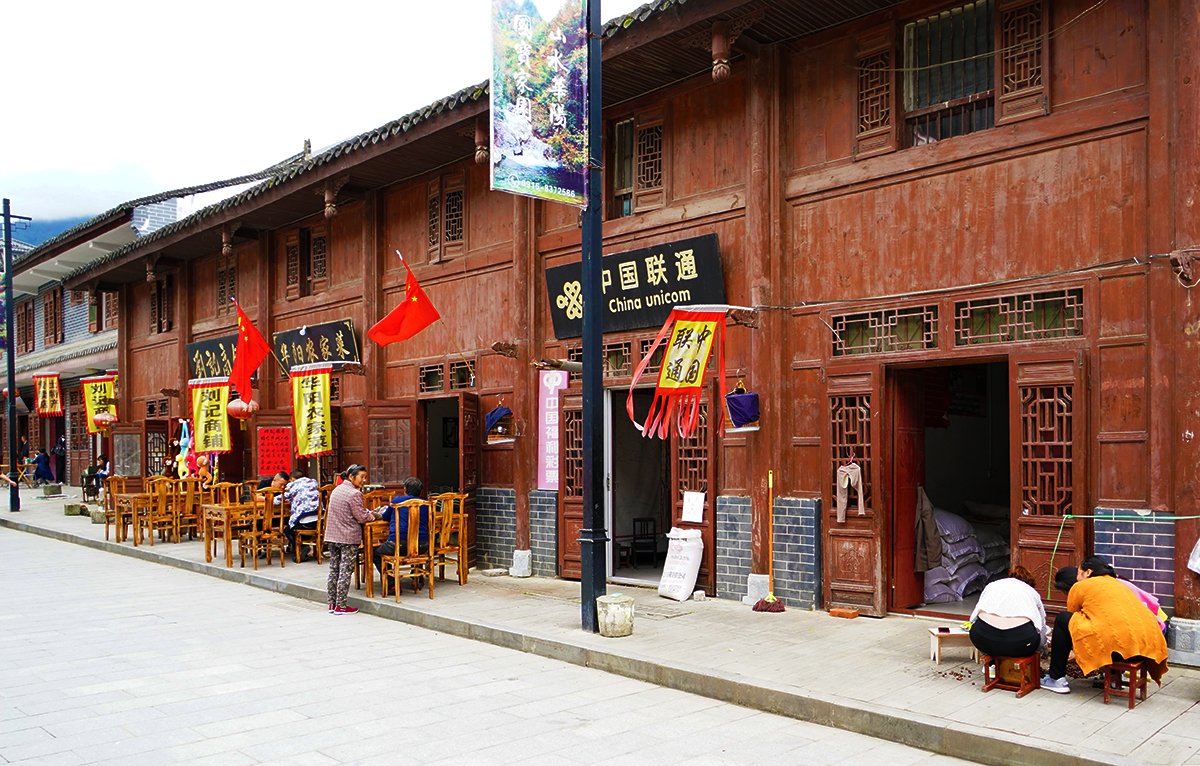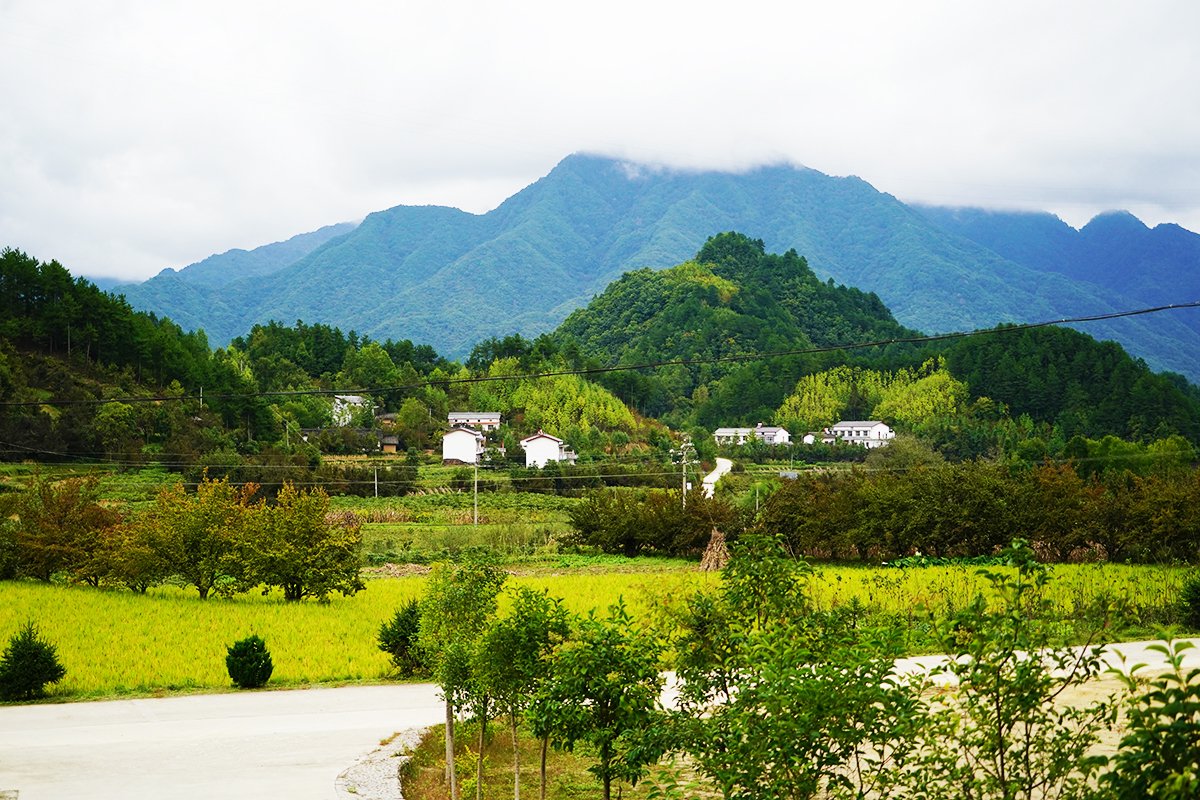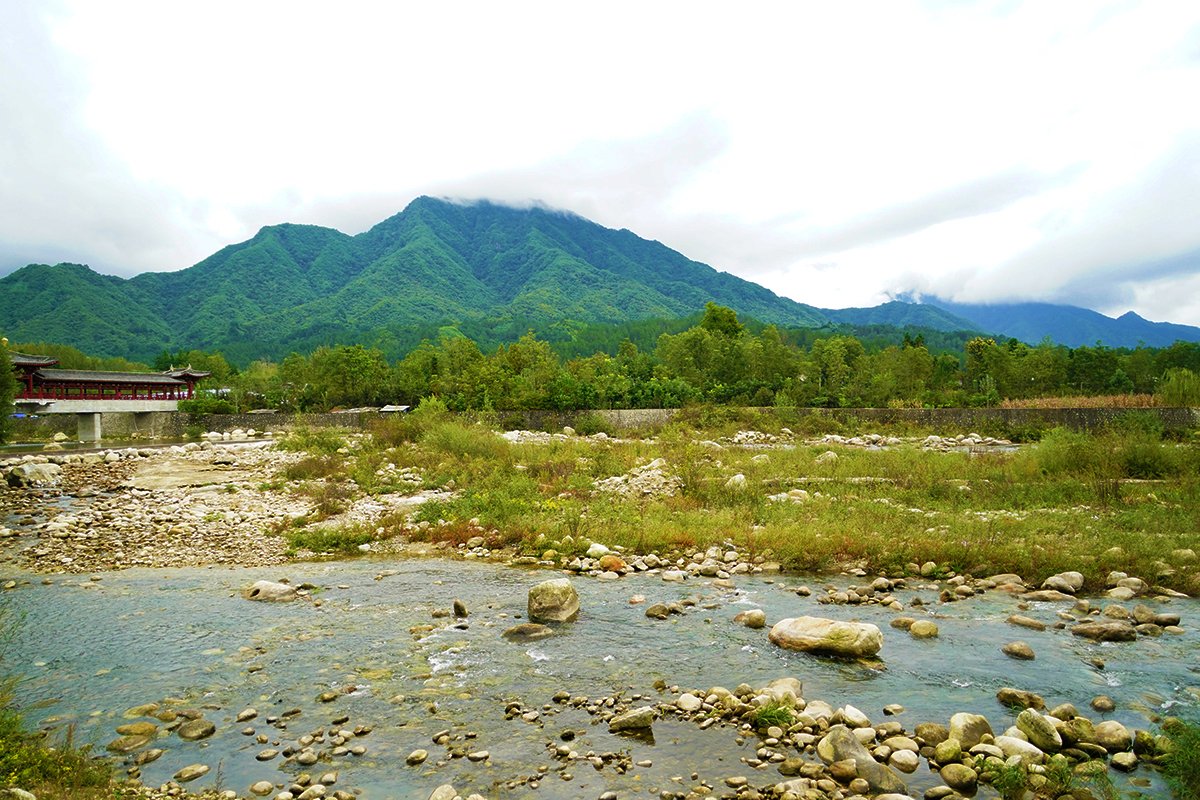 The next animal to visit is one that I never even knew existed. Most people know about the Giant Panda because it is unofficially the symbol of China alongside the dragon. But the Golden Takin is one of the lesser known protected animals of China. Infact, it's conservation status is currently endangered meaning that without improvement, it will eventually become extinct.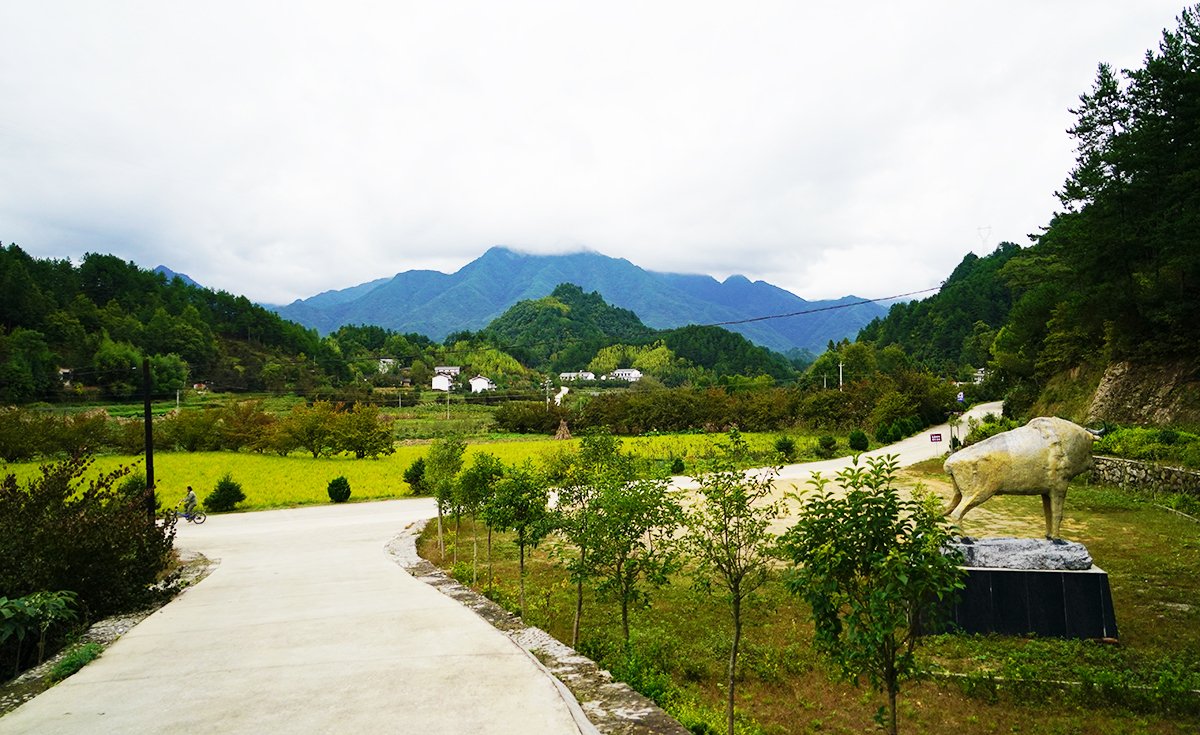 Like the last area, the outside has a statue of the animal. From the statue, you can tell the Golden Taken is a very formidable looking creature. It's front body is very large, and the horns on it's head are very big and pointy.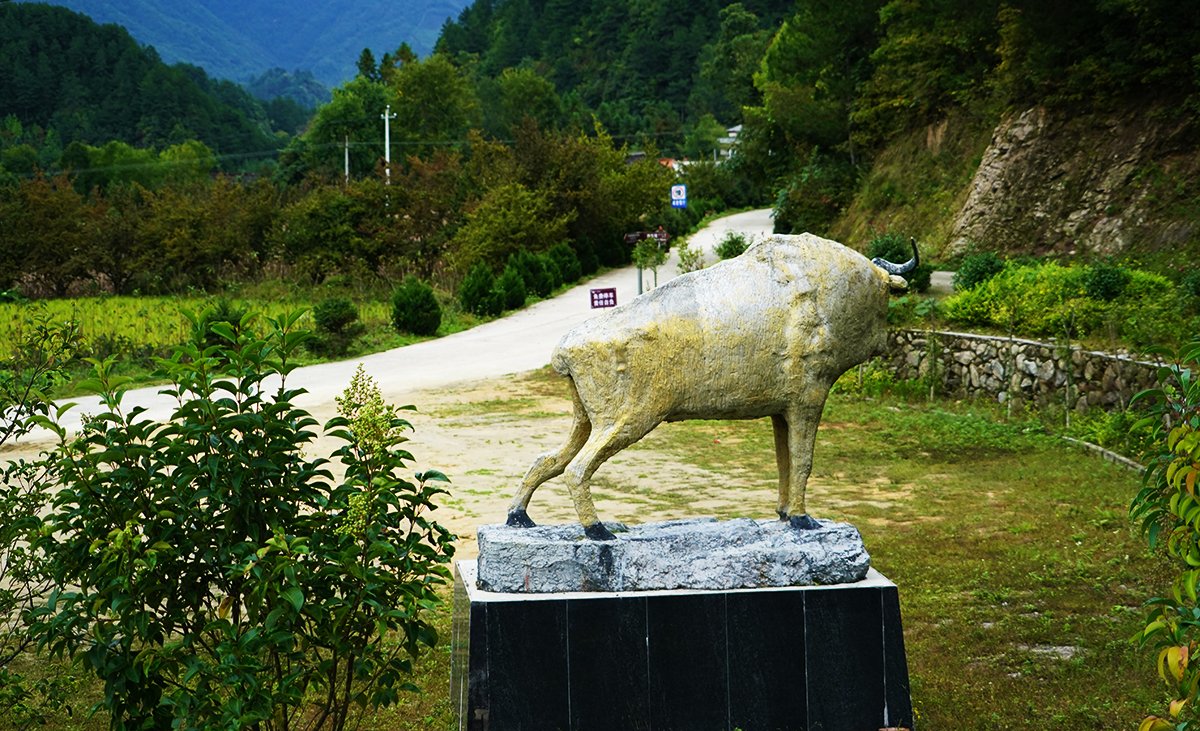 And here it is, the Golden Takin. As you can see it has the features of both a goat as well as an antelope. This is why it is categorised as a goat-antelope.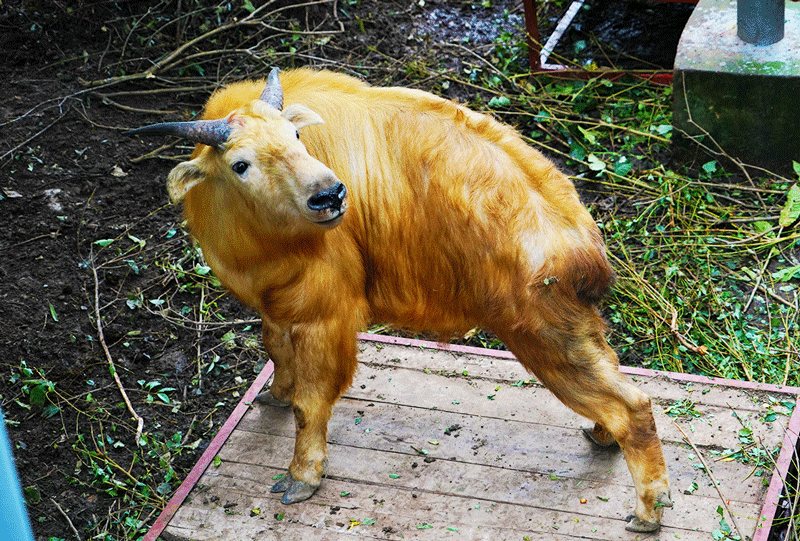 The Golden Takins are much more social with each other, and that is because in the wild, they live together in herds, and migrate up and down the mountains depending on the season.
The smell of the Golden Takin is a combination of horse and musk, and the Takin's themselves use various scents produced by their body's to indicate their social standing.
Using their keen sense of smell, they can also detect pheromones in the skin and unrine of other Takin's. For example, the female Takin's may advertise their sexual status by urinating on their tail. Here, the male Takin is having a smell to see the female's status and mating intentions!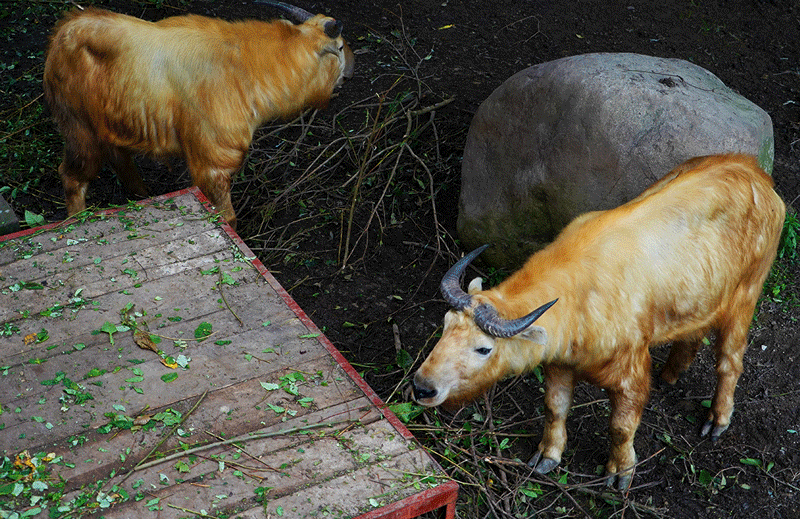 The Golden Takin is also likely the source of the legend of the Golden Fleece which was searched for by Jason and the Argonauts.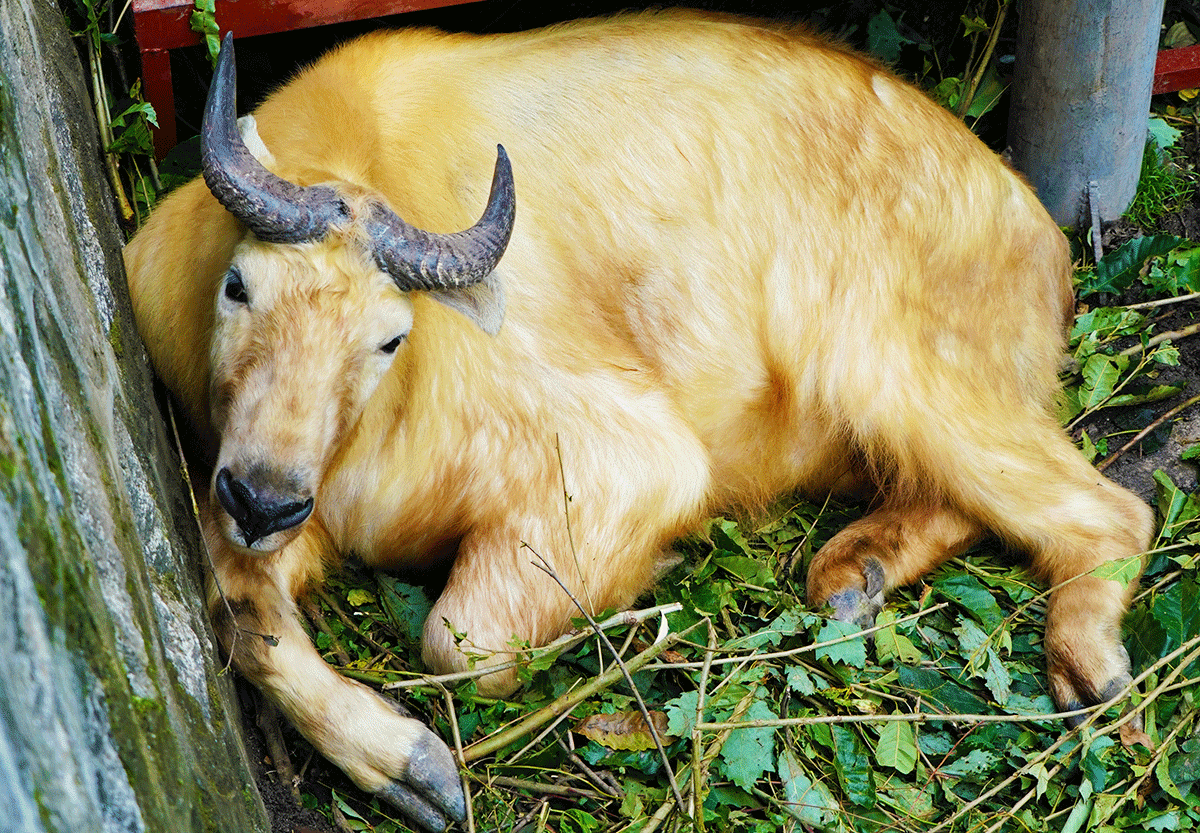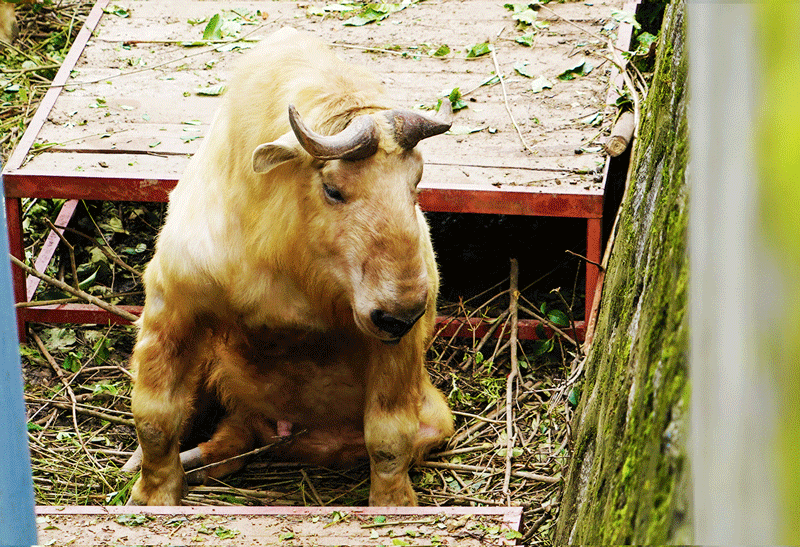 Golden Takins are genuinely beautiful animals, though they spend most of the time up in high altitudes, this hasn't stopped people from poaching them for their fur. If left to their own accord, Takin's have very few enemies, only bears and wolves pose a threat. Even then, they can use their horns aggressively, as well as make very loud roars.
Other times when communicating with each other, very audible bellows can be heard which is supplemented by extensive use of body language, raised neck and chin, upright posture, snorting, and lots of eye contact.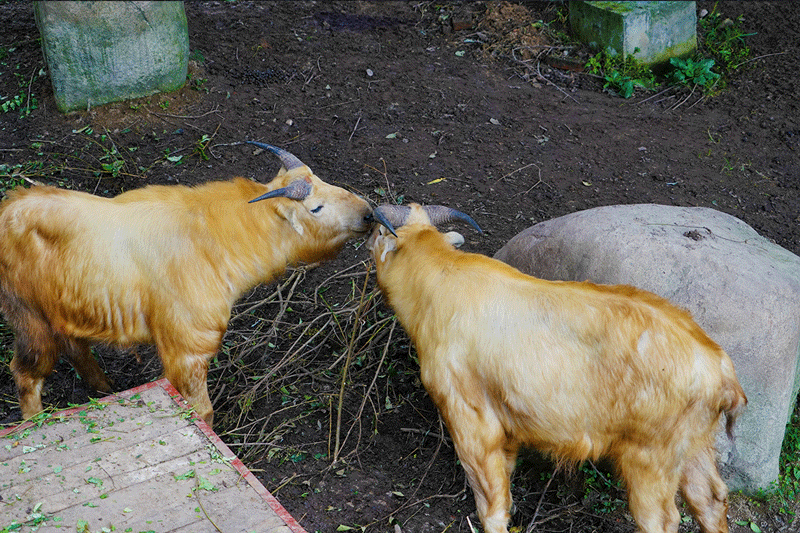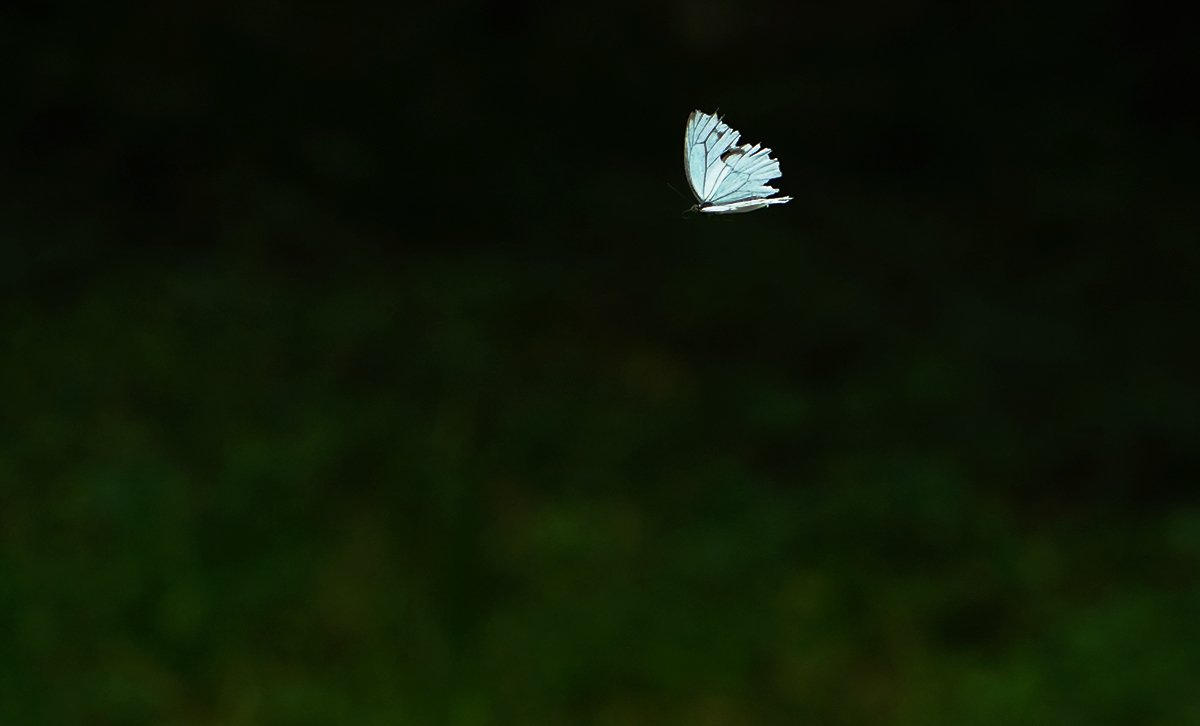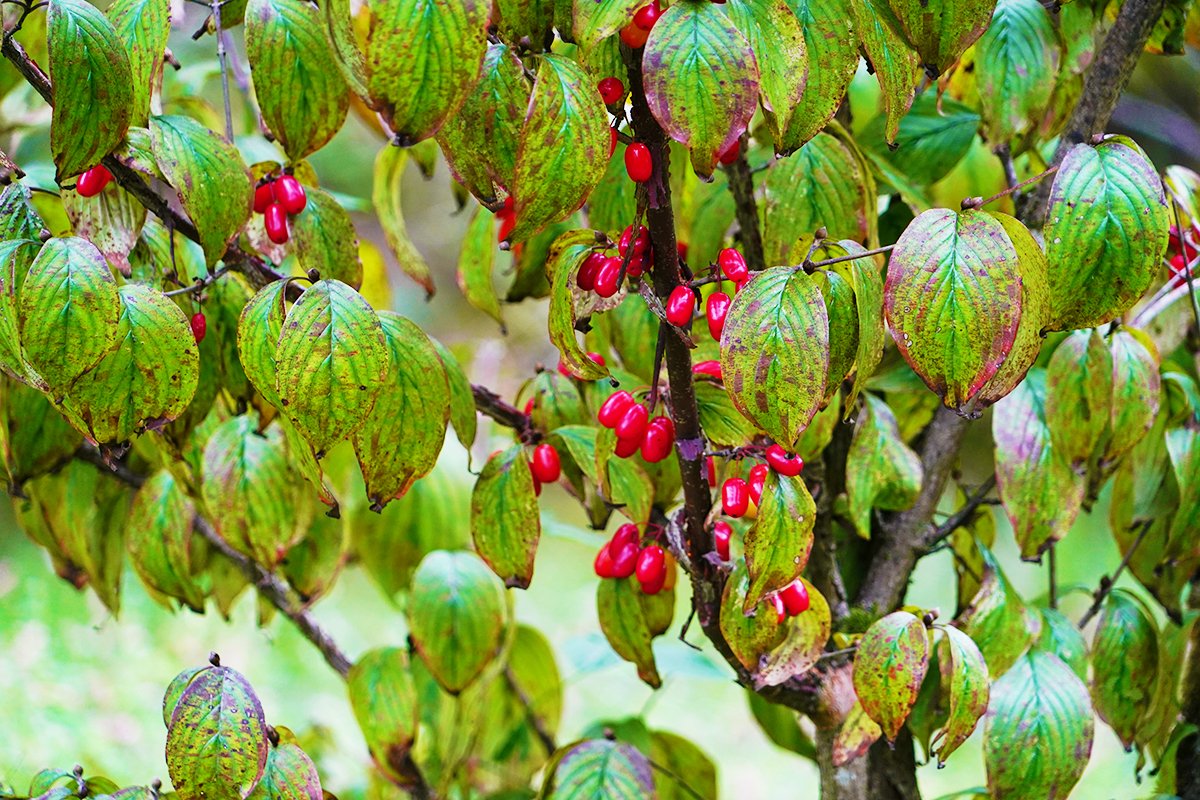 Don't forget to check out my video for some footage of the animals!
---
Thank you for joining me on this journey to the Qin Mountains and getting a close look at some of the rarest animals in the entire world. It is hard to believe that without human intervention, both of these animals (Panda and Golden Takin) would have been pushed to the edge of extinction. Thankfully, the efforts to conserve their numbers and habitat have come a long way, and both are now growing in number each year.
So, which is your favourite? The Giant Panda, or the Golden Takin? Let me know in the comments below!
---
在我的旅行故事里,最让我兴奋不已的环节,当然就是遇见各种各样可爱的小动物了。旅行中它们不经意的出现,接着释放天性的卖萌,这些地球上的小精灵,便给我的旅行回忆录增添了不少意外的惊喜和美好的纪念。说到今天即将与我们见面的小动物,我已经心跳加速,欣喜若狂了,好吧,场面还是要控制一下,请让我矜持的介绍它们隆重登场。
在地大物博,资源丰富的伟大祖国,独有着四种国宝级的保护动物——大熊猫、朱鹮、金丝猴、羚牛。今天我们就要去探寻隐藏在秦岭深山中的四大国宝,并与它们一一见面,首先我们将要遇见的动物朋友,当然就是用卖萌拯救世界的熊猫仔了。大熊猫是一种喜爱吃竹子的哺乳动物,黑白两色的绒毛是它们的经典外套。大熊猫的学名其实叫猫熊,意思是外貌像猫一样的熊。关于它的名字,据说还有个有趣的故事,大家所习惯的熊猫称呼,其实是个错误的名词。解放前,重庆北碚博物馆举行了关于熊猫的展览,解说的牌子上从左往右写了"猫熊"两个字,只是由于习惯,人们认读报刊标题喜欢从右往左读,于是记者们在报刊中纷纷把"猫熊"误写成了"熊猫",熊猫一词就这样诞生,在民间传开,人们说惯了之后,一时很难改口。
大熊猫是世界上最珍贵的动物之一,数量十分稀少,目前在全世界的野生大熊猫已经不足1600只。其实大熊猫已在地球上生存了至少800万年,算是地球这个超大号家园的老房东了,但是由于它们一生中产子数量极少,并且幼仔不容易成活,所以数量还在日渐减少。大熊猫被誉为"活化石"和"中国国宝",属于中国的国家一级保护动物。现存的野生大熊猫主要栖息在中国四川,陕西等周边的山区里,在那里有大熊猫最适合居住的气候和大片的竹林。
接下来我们就一起走进大秦岭山脉,寻找汉中华阳古镇里的熊猫岭。华阳古镇坐落在陕西省汉中市的华阳镇旅游景区,古镇始于秦晋,是历史上有名的古道驿站。小镇道路两旁的古建筑有着极其丰富的民俗风貌和独特韵味,是藏匿于深山中,罕见的明清时期古镇。在感受了一番深山古镇的历史气息后,当然要直奔主题,坐上当地的观光浏览车,做客大熊猫秦岭亚种的家园,探访一下呆萌憨厚的熊猫仔。熊猫的家园果然风光无限好,远处的山朦胧的显现,衬着水清草绿,就像一副清新淡雅的水墨画。萌宝终于出现了,这两只大熊猫性情还算活泼,一看见我们,就摇头摆尾,好多姿势,一会儿悠闲自在的散步,一会拿起竹子就是一顿啃,蠢萌蠢萌的。平时很少有机会接触大熊猫的我,看的好起劲,大呼过瘾。仔细观察,这两只熊猫,一个比一个脑袋圆,身体胖软,走上小桥想给我们表演台步的熊猫,身体摇晃起来却像个果冻,黑白的外套也挡不住它们身上Q弹的小肥肉。
据说秦岭的熊猫和四川的熊猫在外貌上还有些细微的区别,四川熊猫头比较长,近似熊,秦岭熊猫的头圆的更像猫,并且有较小的头骨,额头饱满,较大的牙齿,整体看起来脸更圆,更显憨态可掬,人们常把秦岭大熊猫称为"国宝中的美人"。不一会只见一只熊猫背对着我们,坐在桥上,它的大屁股很像个圆圆的汤圆,胳膊的黑色怎么像汤圆里的流出来的芝麻馅。说时迟,那时快,另一只熊猫突然懒洋洋的往地上一躺,打滚卖萌,肥肥的脸萌的我快要心碎,顿时产生一种快要失控的冲动,好像上前抱抱它。不愧是靠卖萌而活的生物呀,一招一式不用刻意也不用演,怎么样都是天然萌,可爱灵动,讨人喜欢。
和国宝熊猫告别之后,回程的路上看见了很多漂亮的花草,也偶遇了颜色惊艳的花蝴蝶,此刻最能体会什么叫做心花怒放的感觉。山里不知名的植物绿油油的发光,我正好遇上当地村民在卖一种我从未见过的紫色香蕉,好玩极了。村民们喊它野香蕉,我由于太过好奇,也买了一把尝一尝,才发现这其实是山里一种特殊的野果,外型像香蕉,吃起来是酸甜的味道,仔很多。
接下来我们又马不停蹄的赶往下一个国宝动物的家,羚牛是一种分布在喜马拉雅山东麓密林地区的大型牛科动物,有四个亚种,我对它的了解并不多,但是亲眼看到羚牛,才惊讶到原来世界上还有这么漂亮的牛。它的毛色是灿烂的金色,在阳光下闪着油亮的光,更迷人的是它的眼睛,好像会说话。它的体型介于牛和羊之间,但在牙齿、角、蹄子等更接近羊,更像是超大型的野羊。羚牛也是濒危的国家一级保护动物,在世界上的数量不足5000头,分布在秦岭的亚种是体型最大的,长相威武而美丽。今天的探访国家珍稀动物之旅就要告于段落了,之后还有另外两个国宝级动物准备闪亮登场。