One of the big bucket list of things to do while on Crete is to walk the Samaria Gorge. At 16kms long it is Europe's longest gorge and filled with history and scenic beauty. My wife booked a local guide through Air B&B and set the whole trip up before I even arrived.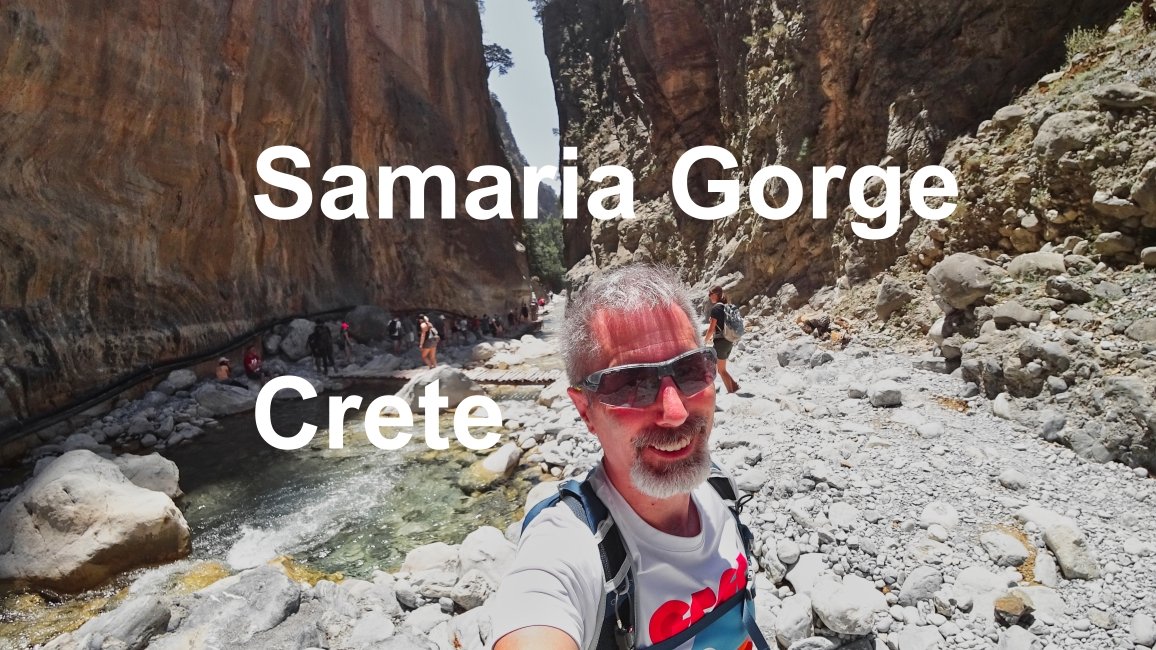 It was an early start to catch a taxi into town to the meetup point. Pari (the guide) arrived on time in an old 4 wheel drive (as expected). I jumped in and off we went. I was her only guest on this trip, so it ended up being a private tour of the gorge.
It was a long drive to the start, winding up through the mountains until we came to a little parking spot with very few cars and just a couple of busses.
I bought my pass at the kiosk and off we went down into the gorge. As expected, it was a lovely sunny day, but not too hot, as we descended sharply. The footing was rocky and slippery, and I was glad of the grip on my Vibrim Five Finger shoes. They worked well in the gorge, and for a change I didn't slam my toes into a rock, not even once. That makes a big difference. Although by the end of the day, my feet were really sore. (no padding on the soles of the shoes)
Pari, my guide, was very knowledgeable, explaining how different herbs were used and the history of the gorge. Her family lived in the village of Samaria until 1962, when the gorge became a national park. She showed me old stone buildings that belonged to her family, and her father's house, which was now a first aid post in the village.
I found it quite hard to keep up with her, as she had quite long legs, and you can't walk fast in 'fives' on rocky ground. So she was constantly waiting (patiently) for me.
In the village I saw the kri-kri (native goats) that were the reason the gorge was turned into a national park – to preserve them. They seemed quite docile, considering they are wild, and not at all bothered by me taking photographs of them.
We left the village and carried on down to 'The Gates' – a narrow section where you can almost reach out and touch both walls at once. This was one of the reasons why the Turks and the Germans failed to conquer this part of Crete. And why the village of Samaria is where freedom fighters hid out from the invading armies.
Eventually, after about seven hours of walking, we reached the end of the gorge and looked out over the Libian Sea. I could see Libia in the far off distance as I sat and drank a well deserved beer, while I waited for the ferry that would take us to Sfakia where we would catch a bus back to the start.
By the time we got back to Chania I was pretty tired. Pari dropped me off in town and I wandered down towards the harbour to meet my wife and friends for dinner, quite happy with the day (except for quite sore feet).
If you ever make it to Crete, spend a day walking through the gorge. Take your time and enjoy it. Wear good shoes (probably not 'fives') and remember to take some money for a beer at the end. It's well worth it.
Check out the video of the day
---
Steemit etiquette
Do write meaningful comments
Do discuss the topic in the post
Do tell me about how we share an interest
Do take the time and effort to actually read the post before commenting
Don't ask for follows
Don't ask for votes
Don't say you have voted for a post and then not vote for it
Don't say you have resteemed a post and not resteem it
Don't write short coments like 'Nice post'
Do be the sort of person you want reading and voting for your own posts.
---
Don't forget to check out my Dad's blog
Who else can tell you stories about impersonating an officer, stealing a military aircraft to go on a booze run, or steal military aircraft and go on an unsanctioned bombing run - and that's all before he turned 18!
Check out @len.george and find out what other madness he got up to!
---
Are you new to Steemit and trying to figure out what it's all about?
Head over to: https://www.steemithelp.net/. It's the best place to get a handle on what the platform is all about.
---