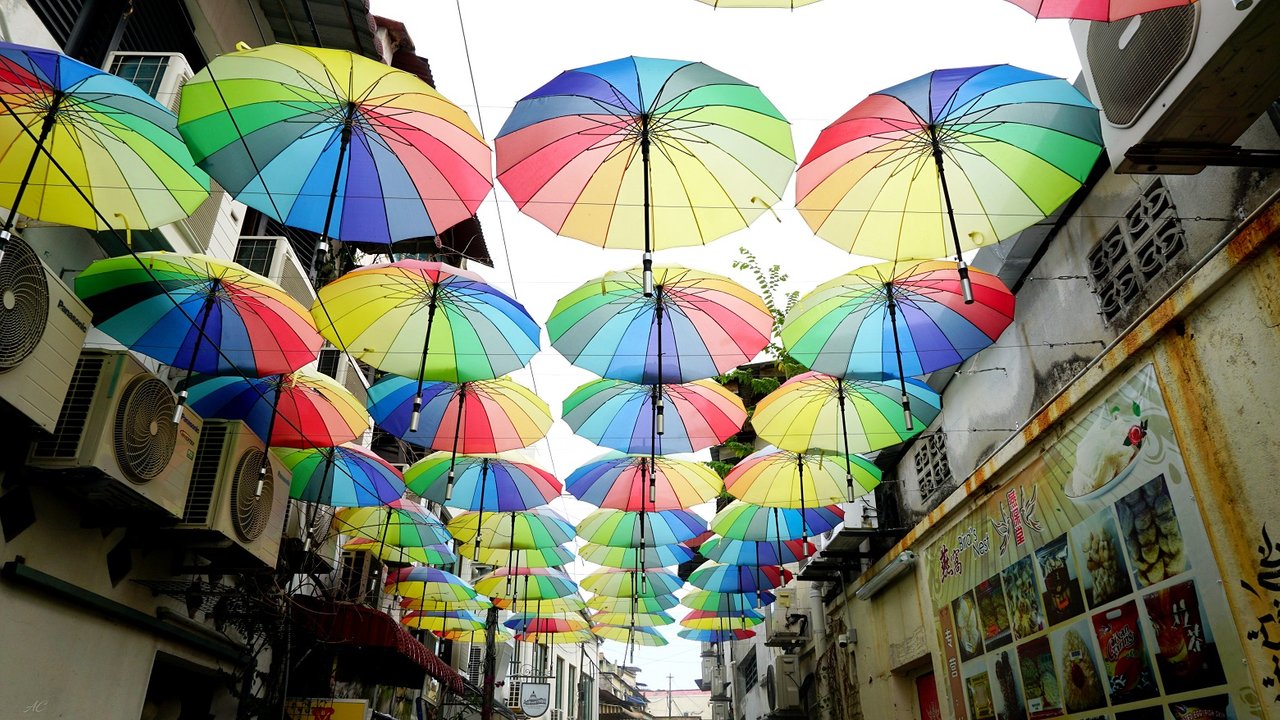 Read "Between Lebuh Armenian and Jalan Masjid Kapitan Keling... " on TravelFeed.io for the best experience
---
I've been baddd...!
I've taken a rather long break from steemit... well, longer than my usual 2-3 days, 4-5 days... more than a week?!! Well, there was Chinese New Year... and RL... and work... and RL!
Not excuses, more as explanations. But I'm back! I may not be posting daily but will try to be a lil more frequent.
Thus, we continue from Penang... - my less than recent trip. I took a ton of photos which I haven't before so I'm determined to give you the pictorial journey as I experienced it during the trip! As brief as I can make it, although it's turning out to be quite a long pictorial journey, a meandering if you like... I quite like that - yes, a meandering!
Am still at the crossroads of Armenian Street (Lebuh Armenian) and Jalan Masjid Kapitan Keling - I actually didn't make it very much further than that! Every step of the way, left or right, forward or backwards... unveils something worthy of my attention... This area is kinda smack in the middle of Penang's UNESCO World Heritage Site which it earned in 2008.
I mentioned before, Penang which is also known as the 'Pearl of the Orient' is many faceted... be it in its temples, with their fine architecture & detailed craftsmanship, mod & trendy street art, varied eye-catching bits of street scenes, its colourful people, the many remnants and reminders from by-gone days, everything seems to be intensified here in Penang. No wonder tourists, local and foreign, flock to it and the arrivals seem to be increasing rather than diminishing.
It's been a long while since I've visited, and the long absence seems to have fueled my interest in all things big and small, new and old along these streets. Quite an effort keeping all other 'admirers' out of sight in my shots!
So, I do hope you'll enjoyyy... the continuance of my pictorial discoveries ~ between Lebuh Armenian and Jalan Masjid Kapitan Keling!


---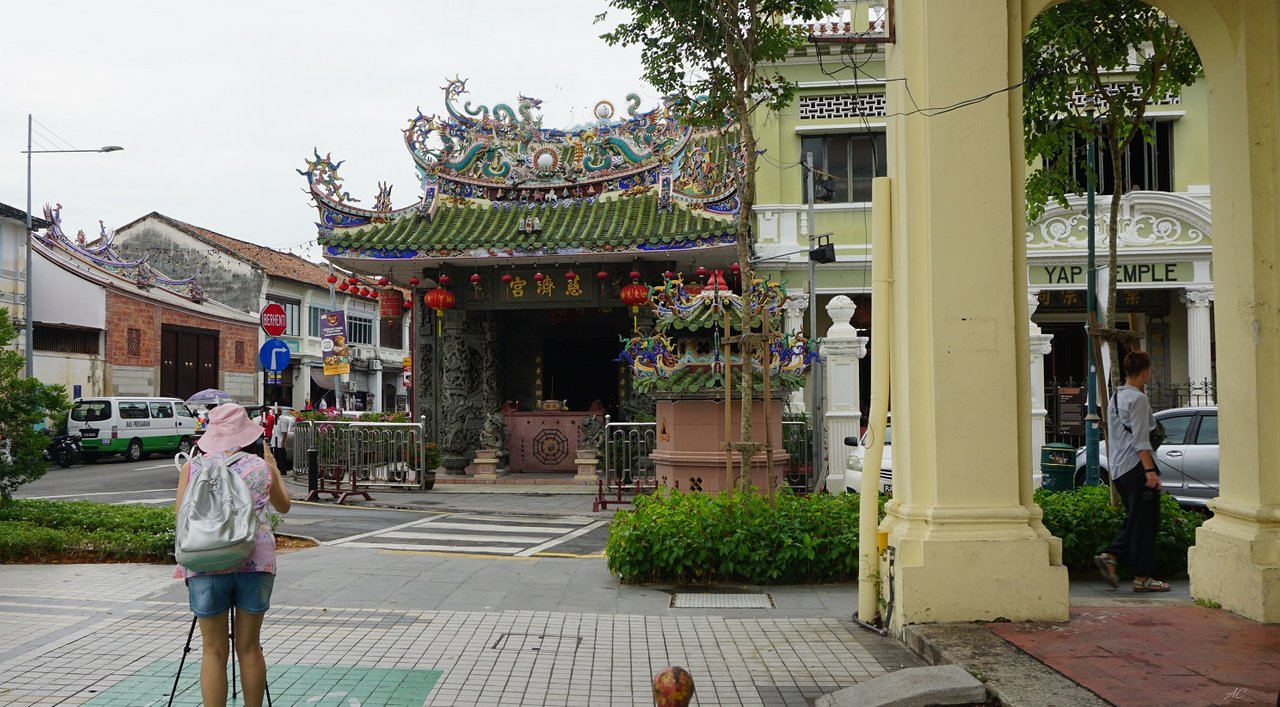 This is where I started...
Yap Temple
Right at the cross junction!
Everything happened right here...
---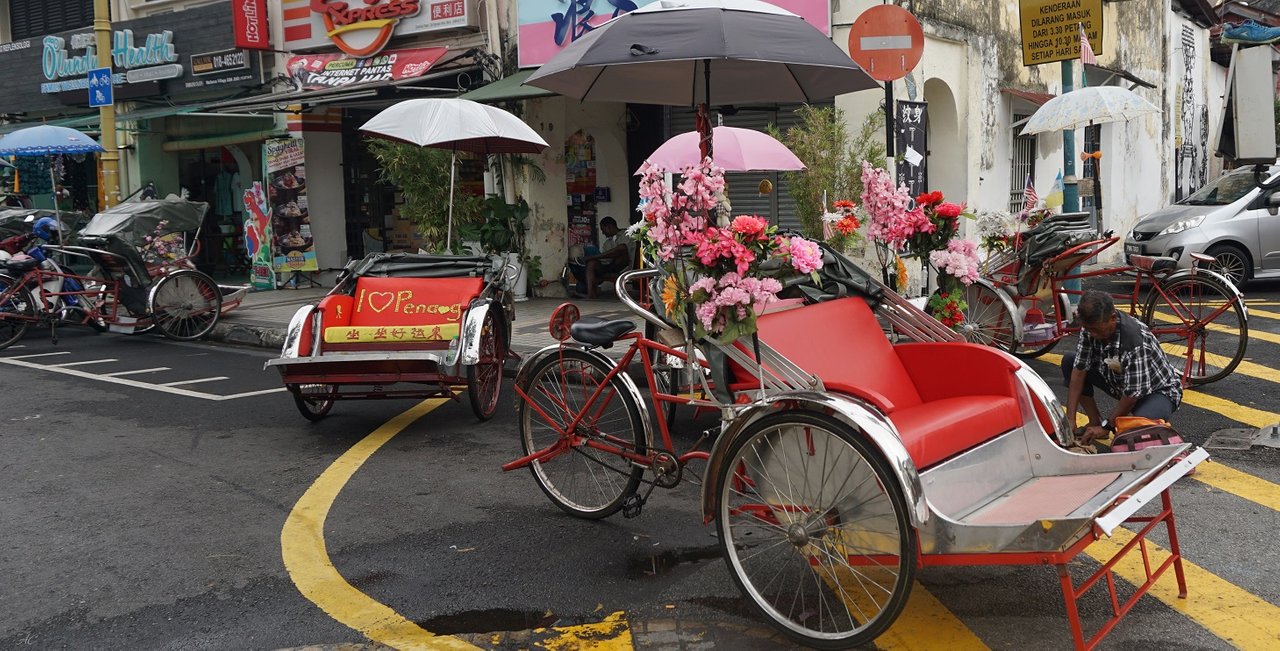 Across the junction, trishaws waited for their customers...
These have been dressed up compared to their versions of earlier days...
I remember a Penangite telling me years ago - trishaws in Penang are Kings of the Road...do not even try to get the better of them even if you are stuck behind a slow rider... or bully them
I wasn't sure what the consequences would be, but I wasn't ready to try to find out either!
---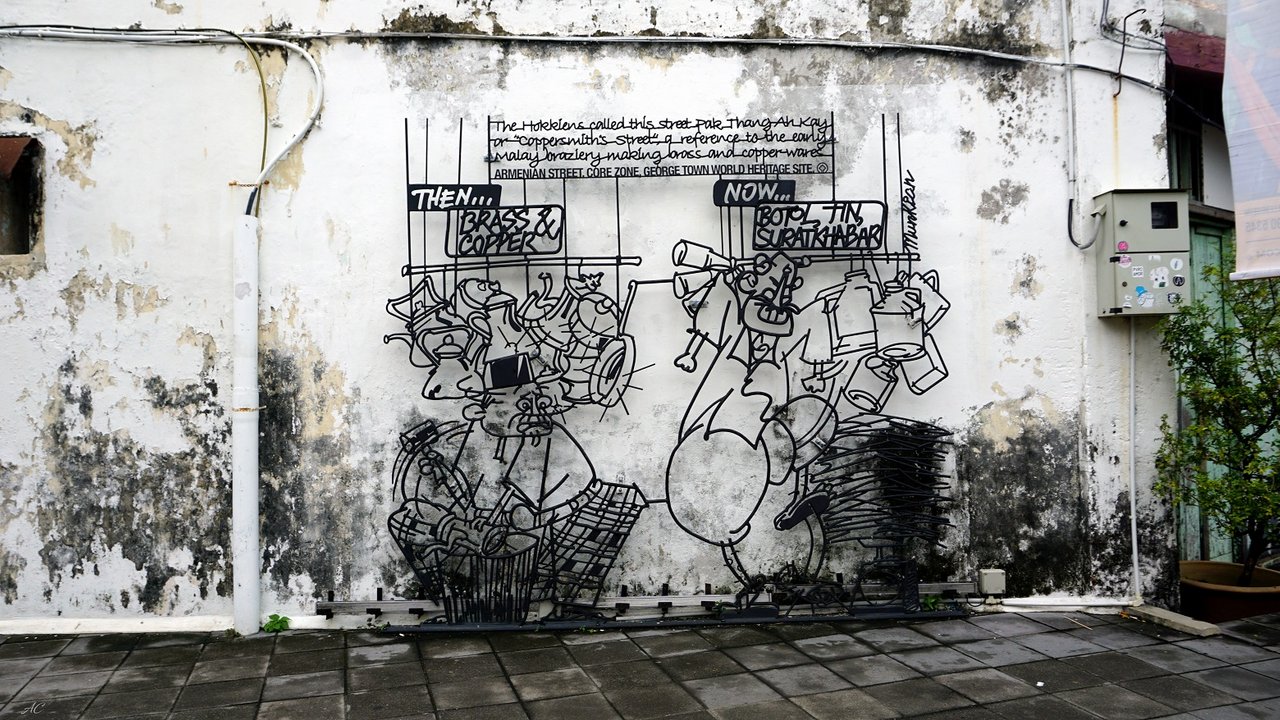 Down the road, an art installation attracted a fair bit of attention...
Comics-style with a bit of history thrown in
Love the character of the back wall - peeling paint, mold and all
I had to wait awhile for my turn to capture this without extra 'models' in it!
---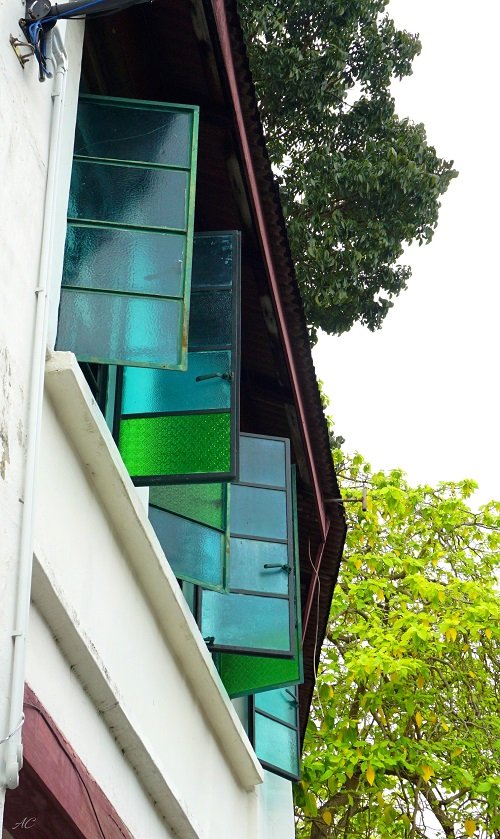 Ahead, and across, I found these coloured glass windows
Mix, match of embossed patterns and textured surfaces
Reminded me of the ones from my childhood...
Haven't seen stuff like this in ages!
---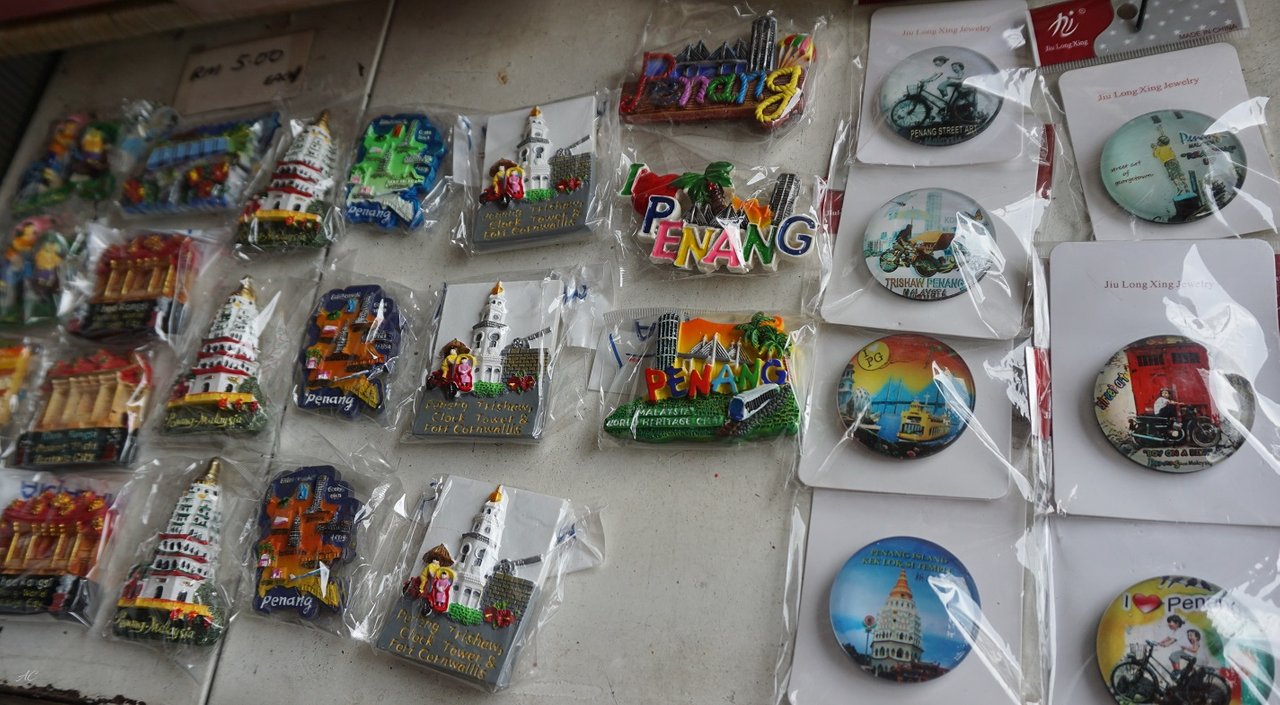 Turn the corner, a souvenir shop sis stopped at, turned up these pieces
Fridge magnets of scenes around Penang
The pagoda styled Kek Lok Si Temple, the Penang Bridge which connects the island to mainland, several well-known pieces of street art done by Ernest Zacharevic too!
---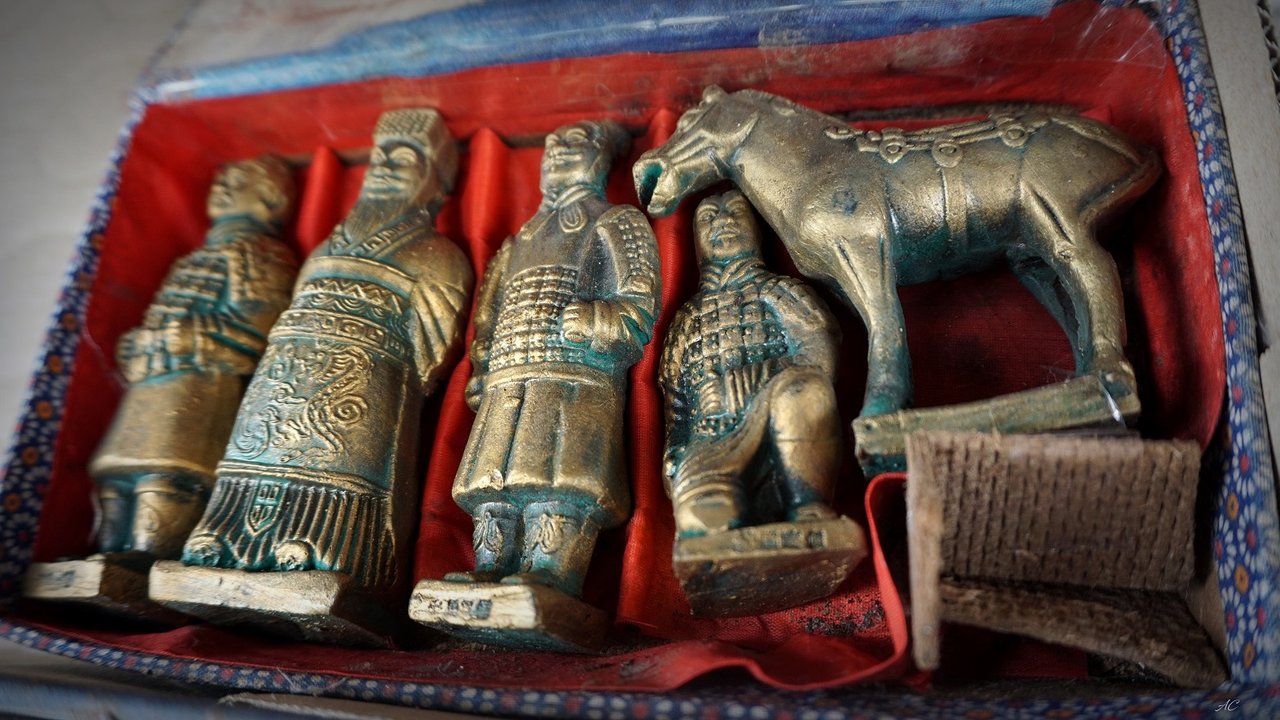 And I found an old dusty box on a lower shelf
With these inside...
Terracotta soldiers! And a horse too!
I guess that's why treasure hunters love browsing through these old shops...
One never knows what one might find...
---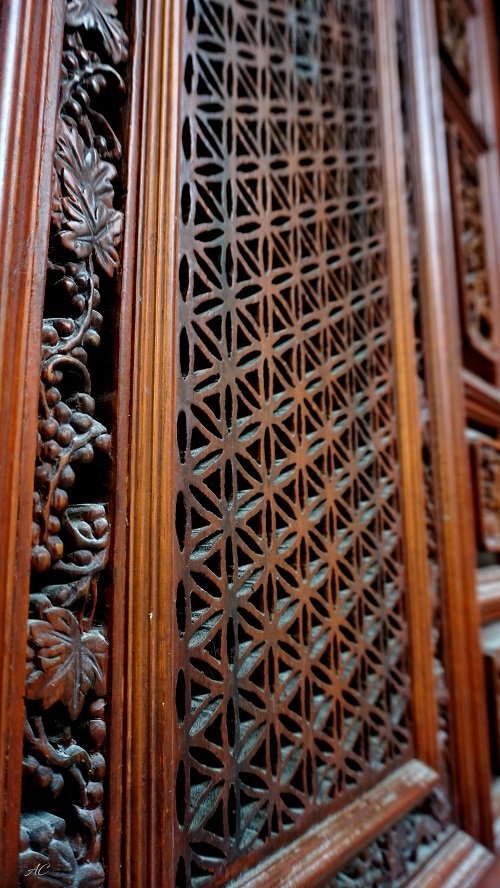 As a photography fan, I can't help but be fascinated with these details on a wooden door
Wooden lattice and "meandering" vines...
(There's that word again!)
---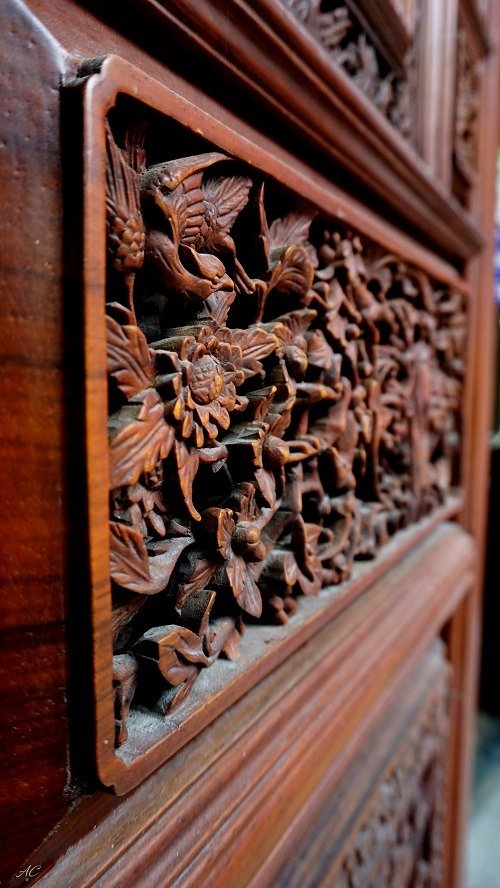 Further down that same door, beautifully carved details of flowers, plants and birds
I wish it wasn't so dusty though
But still does not detract from its beauty
---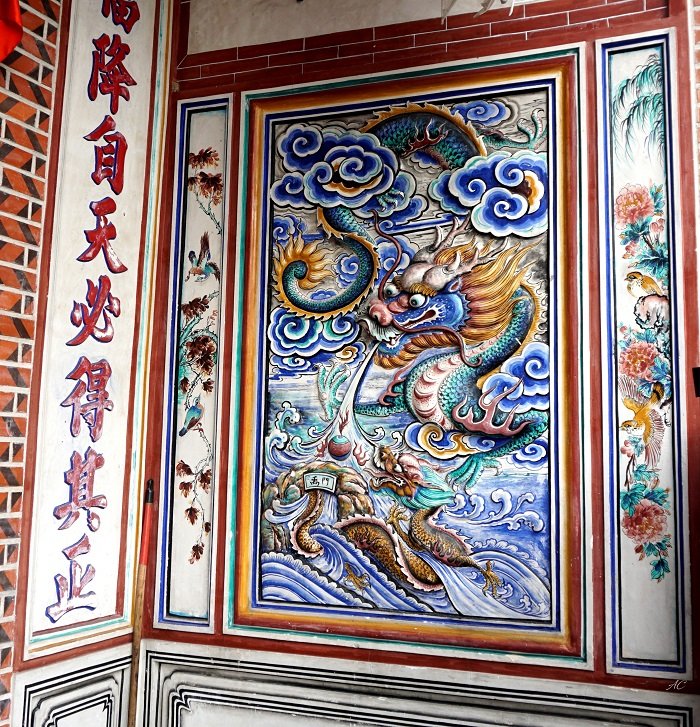 Cross the road again, and I find these panels lining the side walls at the entrance to the Tua Pek Kong Temple
Heavenly dragon with its pearl flies amongst the clouds
---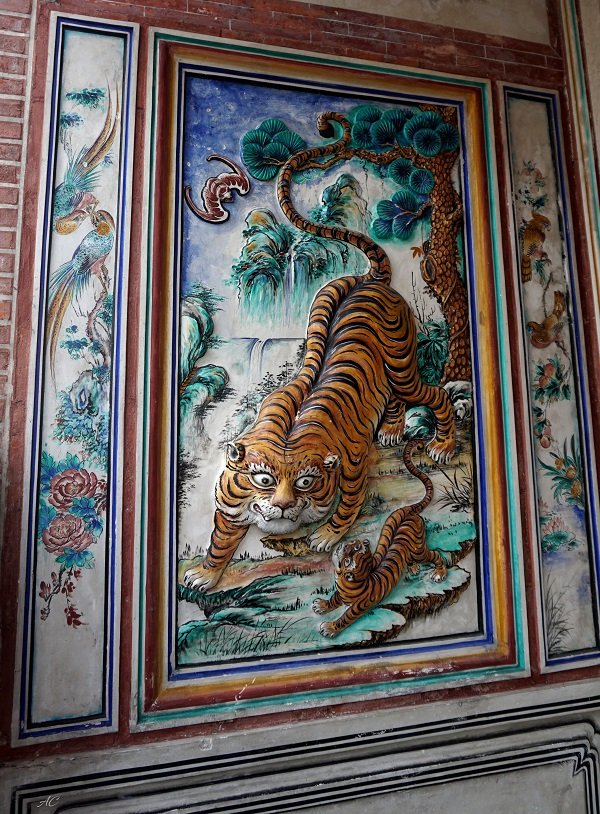 On the left side, a tiger with its cub frolics on earth
Even the two narrow side panels flanking the centrepiece are well-detailed with exotic birds amidst flowering trees
---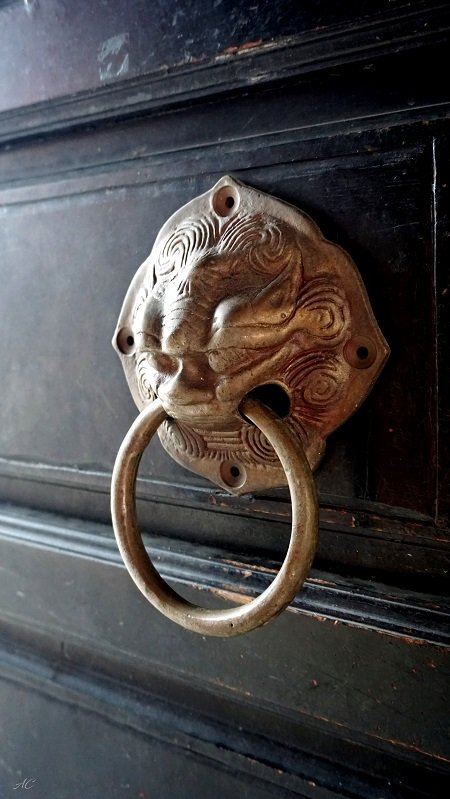 Love these brass door knockers - although there was only one here, a little odd...
---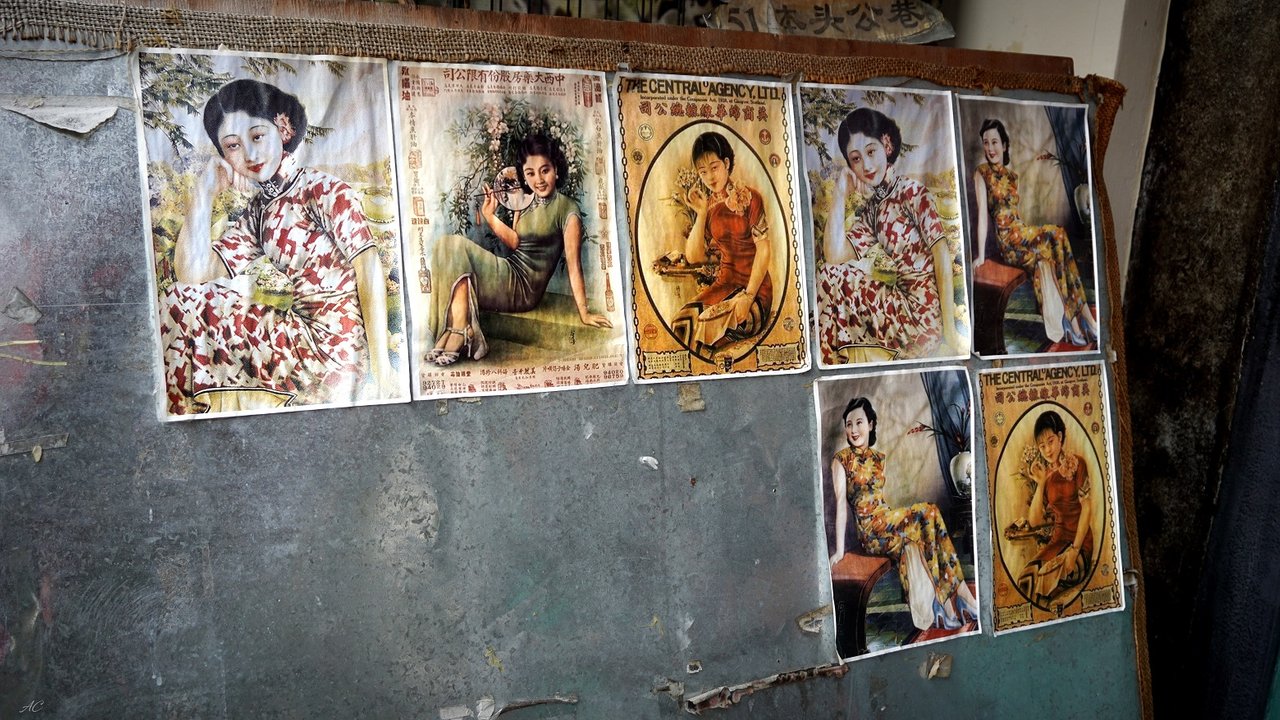 Next door, a fan of these old posters stuck them to a piece of plywood
These ladies in traditional cheongsam used to decorate the tops of my mum's old block of face powder! Not sure if these were advertising the powder or something else entirely!
"The Central Agency Ltd"?
A modelling agency?? From those days???
---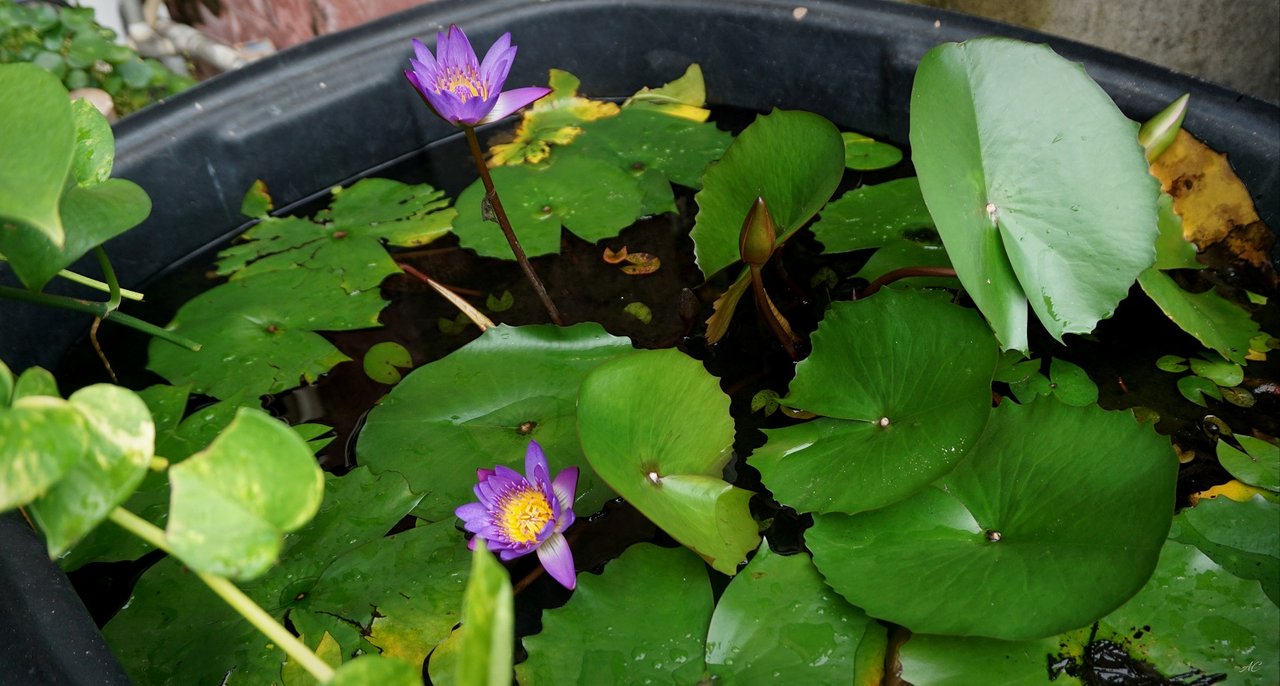 A huge black rubber tub of these lotus plants sat on the sidewalk too
They seemed to be surviving rather well...
---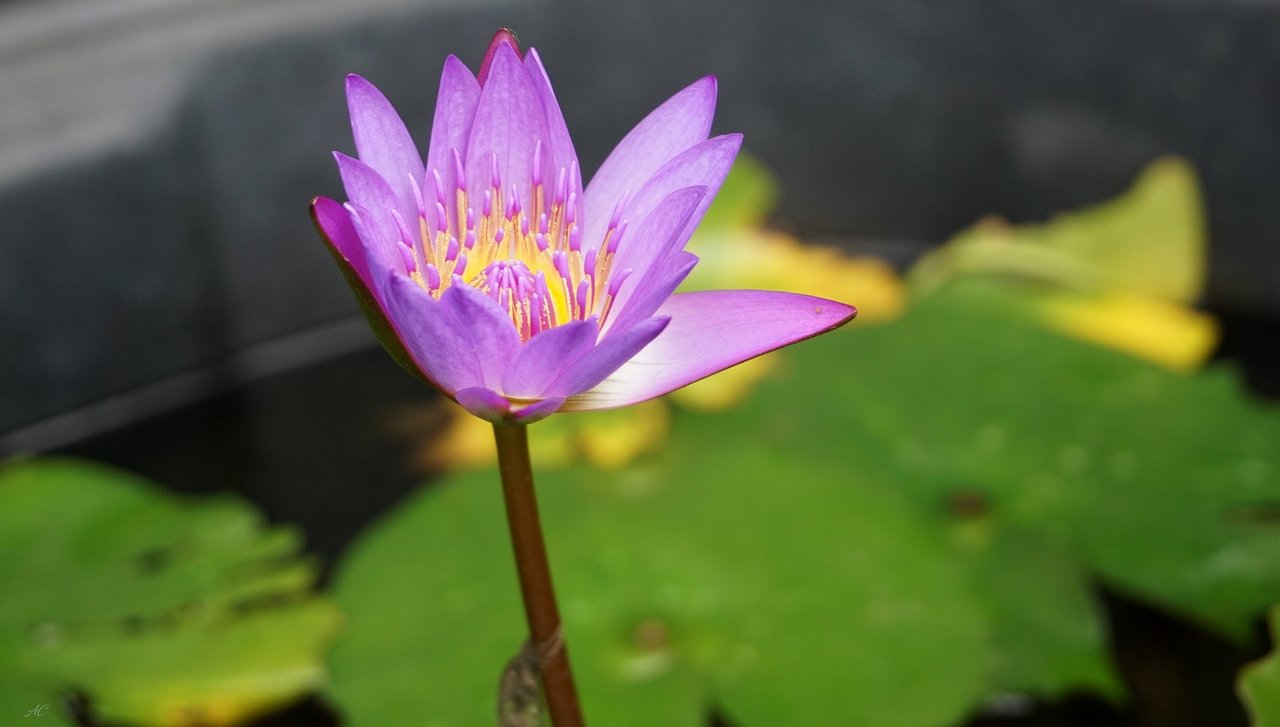 Pretty, huh??
---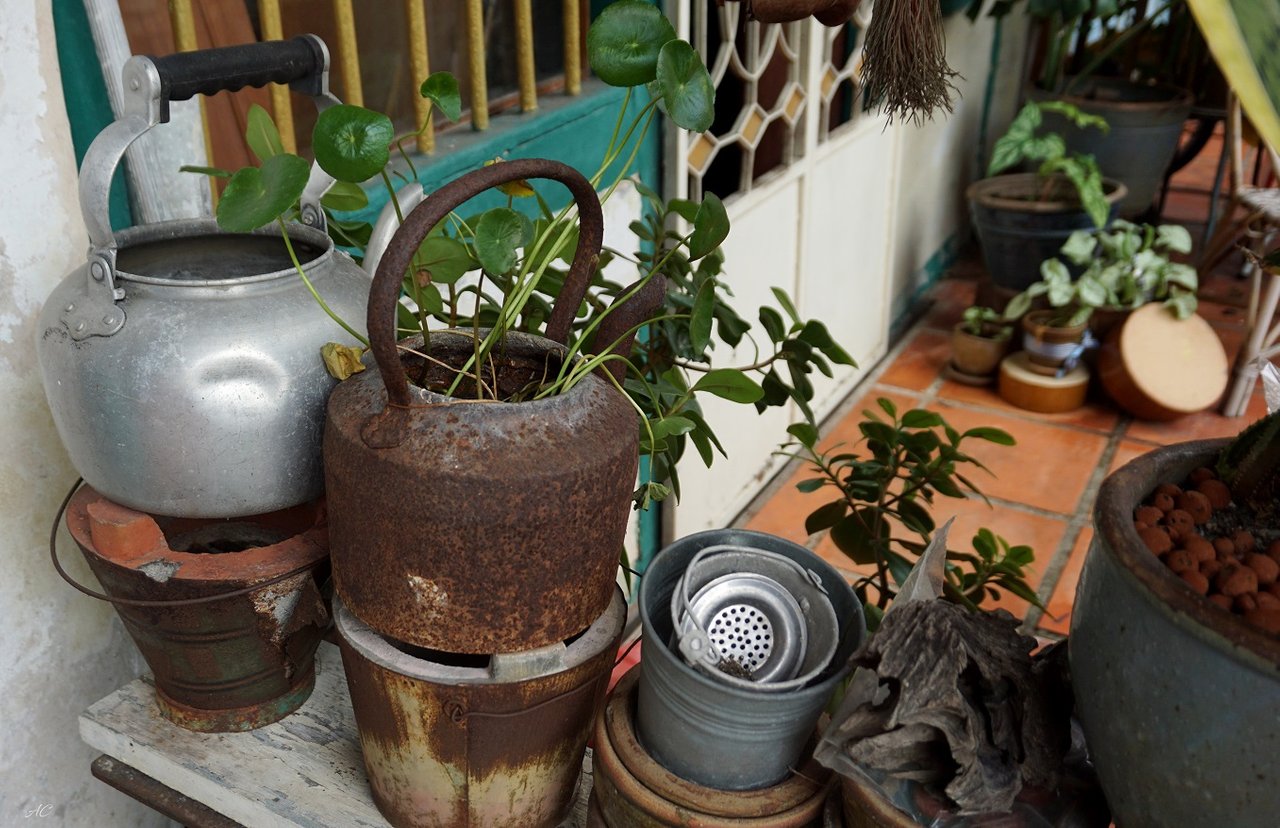 Its neighbour found some innovative use for their old kettles and kitchenware, even some old clay stoves!
---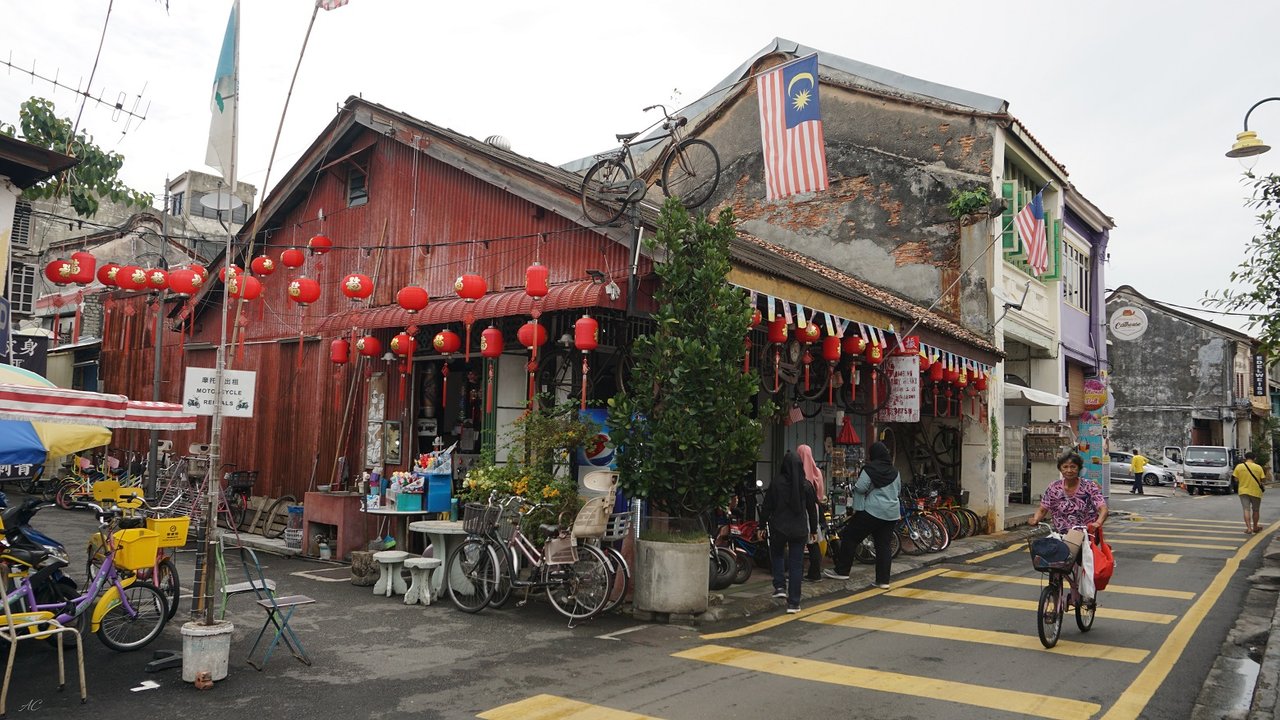 Just to give you an idea of the street on this part of the area...
Walk down that lane on the left and we found more street art...
But not before coming upon this scene, on this side of the street
---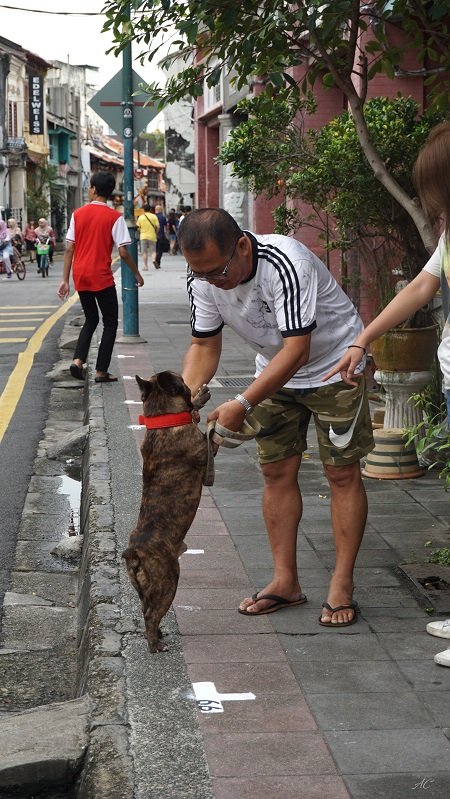 A man and his best friend...
Seemingly ready to do a jig in the middle of the street!
What did I tell you about street scenes here... and its people!
Or inhabitants, human or not!
---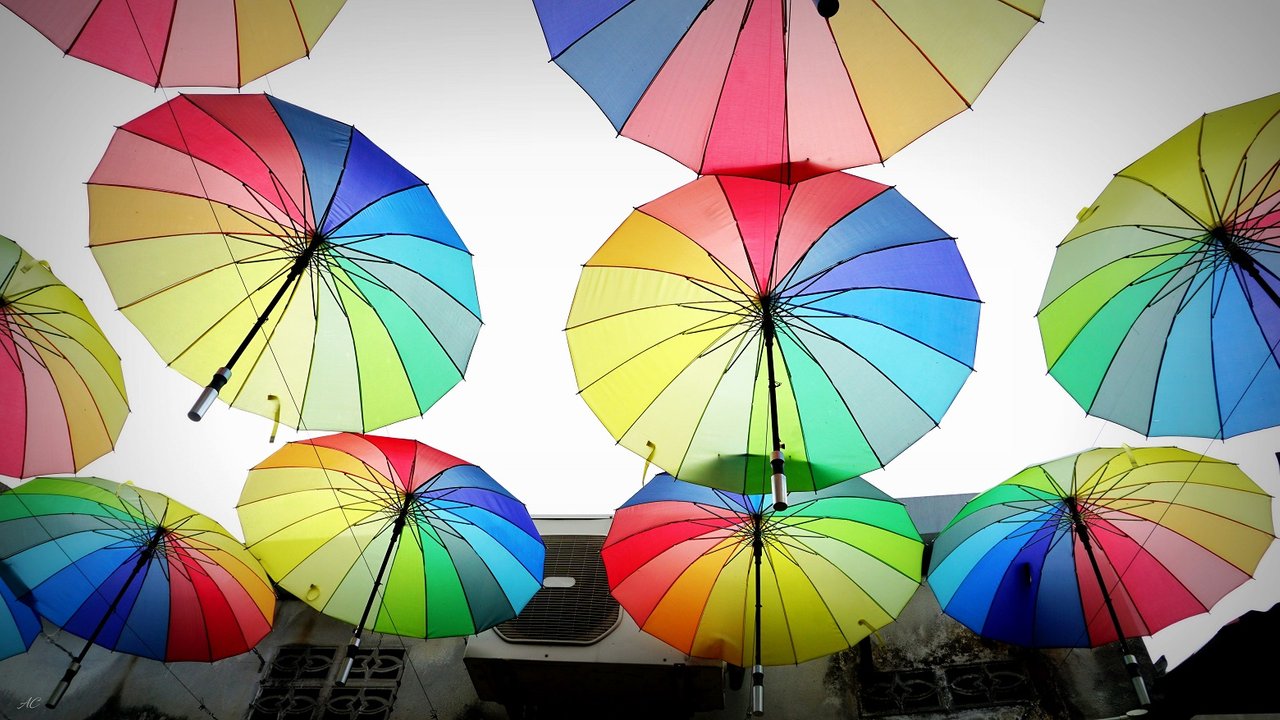 Speaking of colourful...
---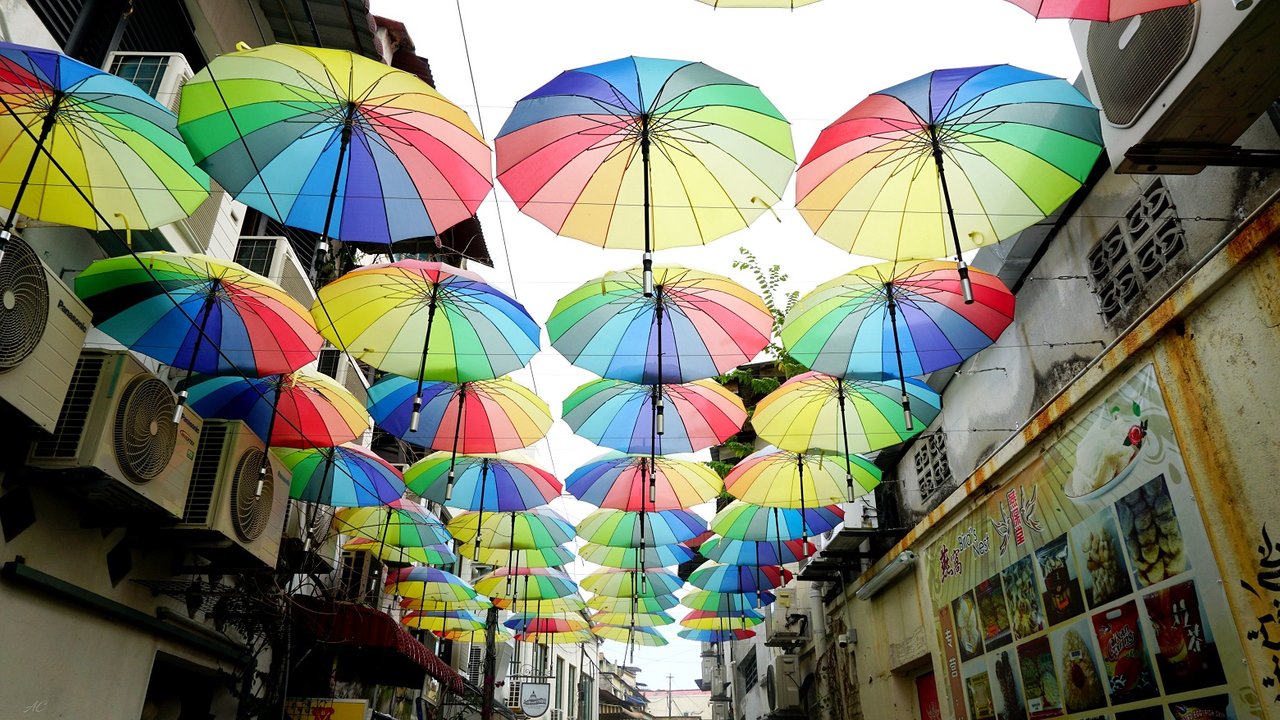 That lane across the road, with the street art...
Had a very colourful "ceiling"...
Of course, everyone there had to have a shot... or TEN, at this spot!
Very instagrammable.....
---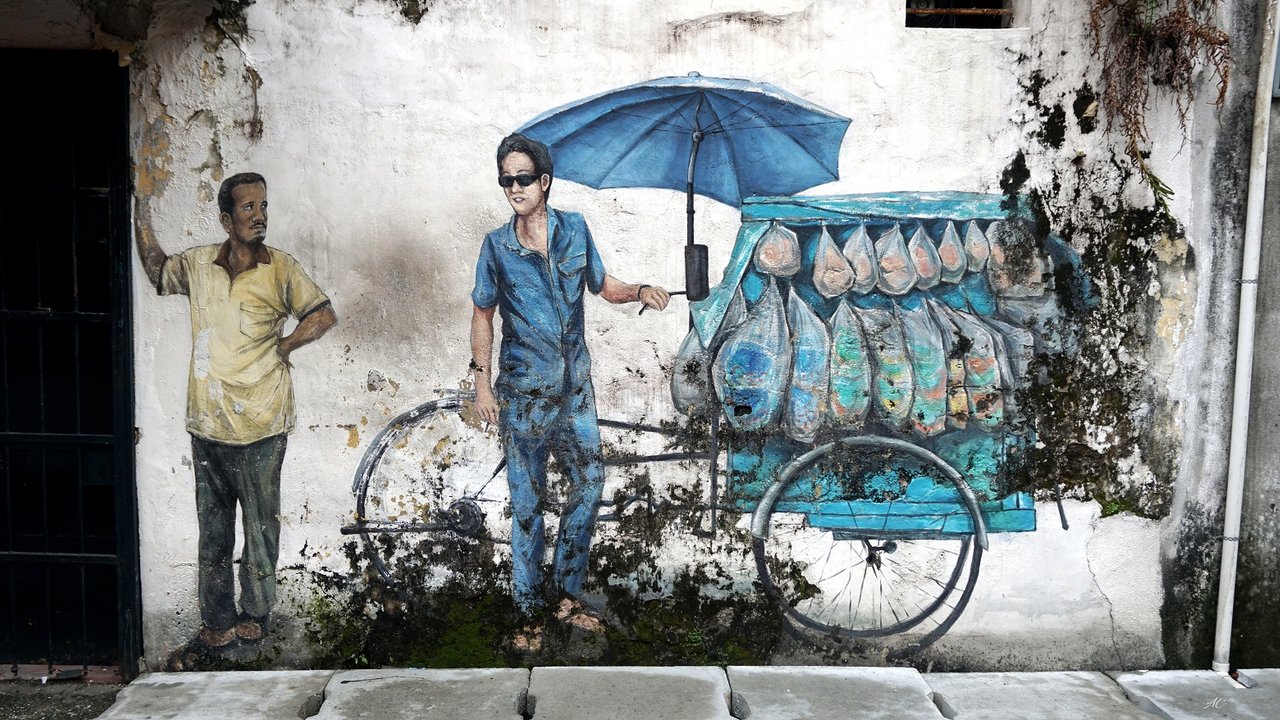 Some of the pieces I found here...
A street hawker, and his customer
---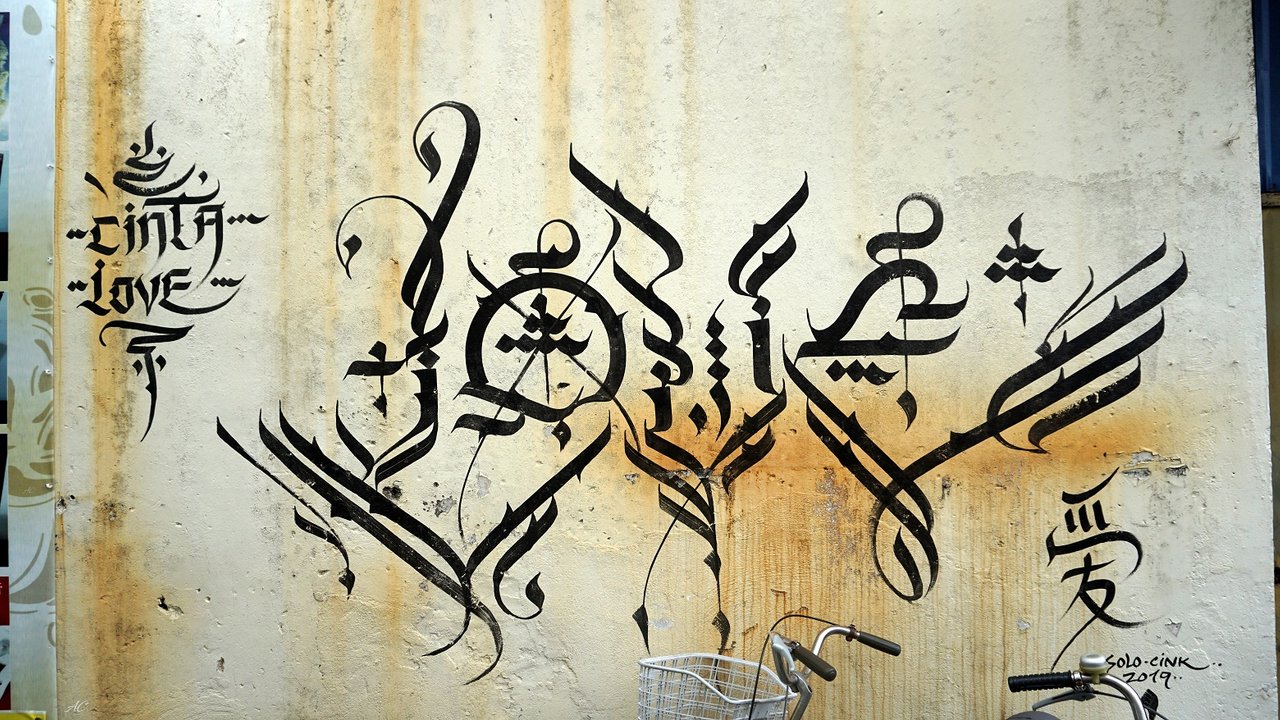 "Cinta"... is "Love"...
---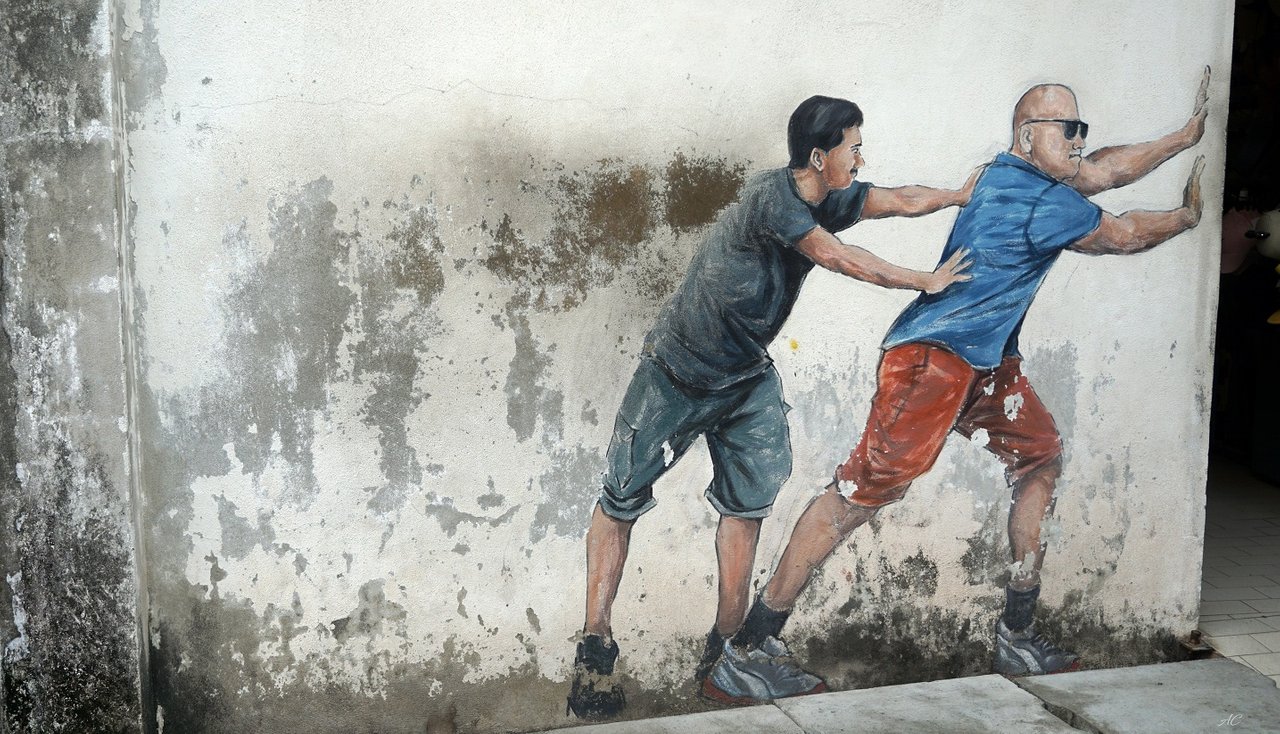 "Wait... Are we pushing... or pulling?"
Kinda funny to see the fans pushing or pulling along in their poses here...
---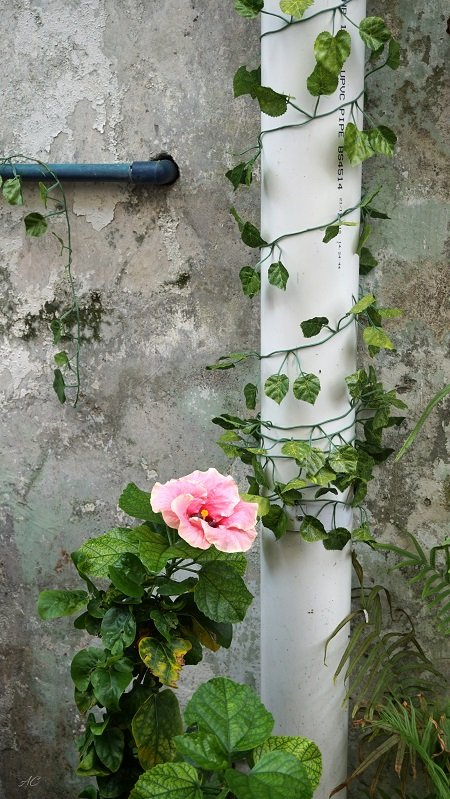 Nature pops up anywhere... even on street art street
A lovely spot of pink!
Provided by a hibiscus bloom...
---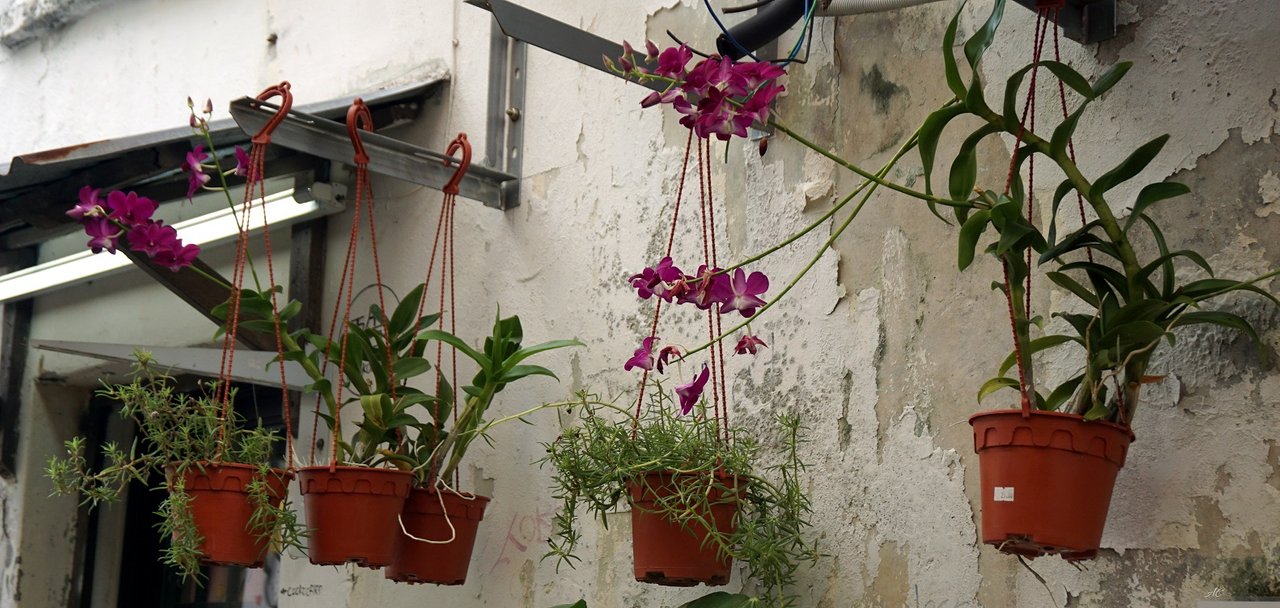 And I found some orchids hanging around too....
---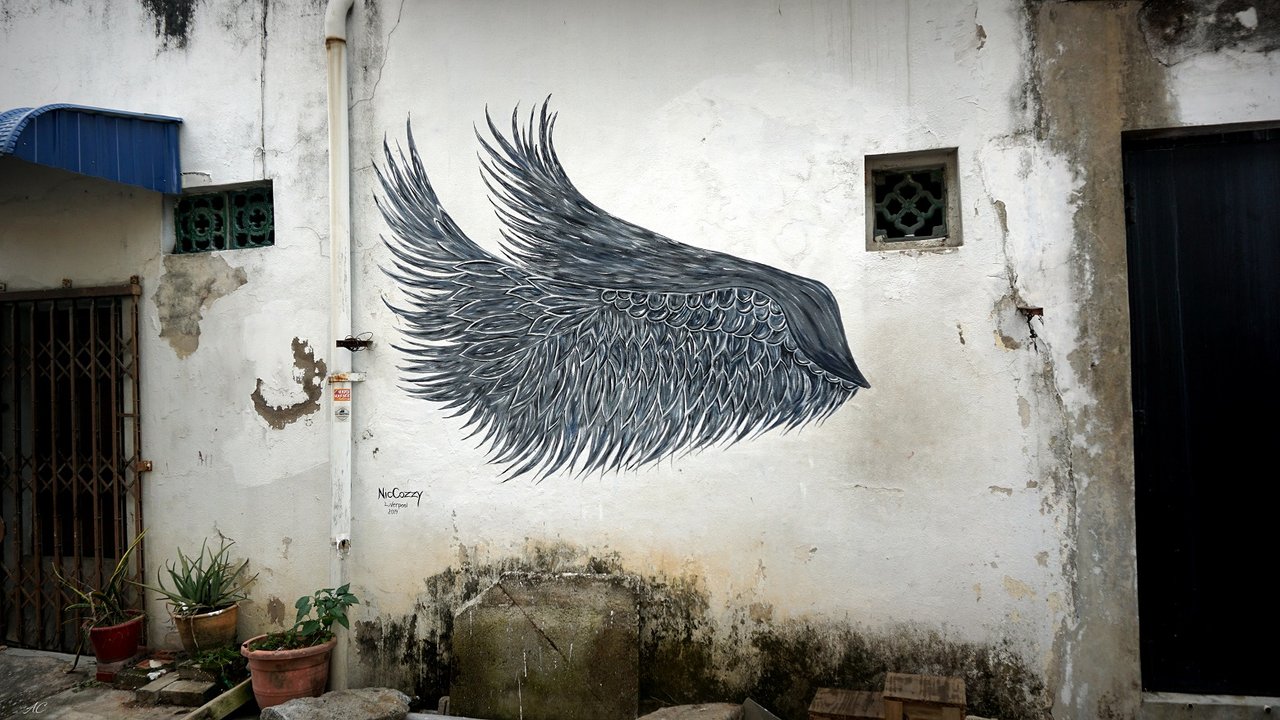 Anyone lost a pair of wings?
Anyway.... what are wings doing in the middle of nowhere...??
---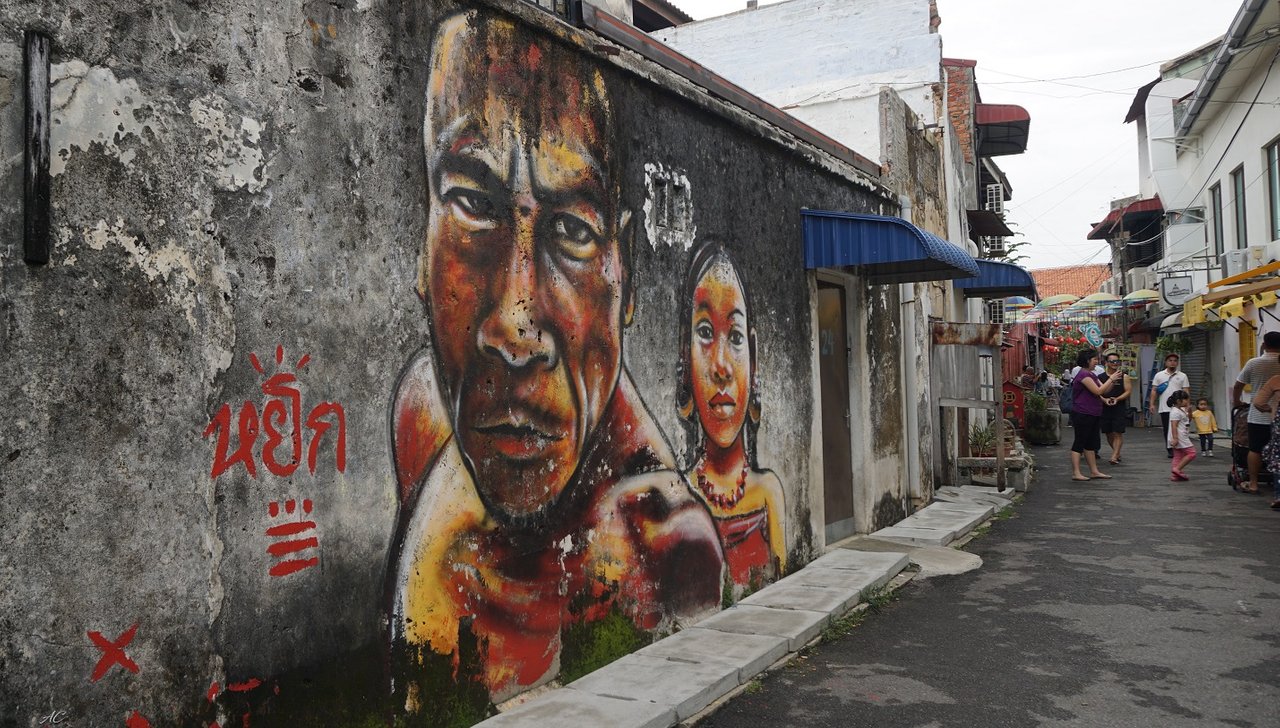 This one seems to be advertising the latest kung fu movie perhaps?
---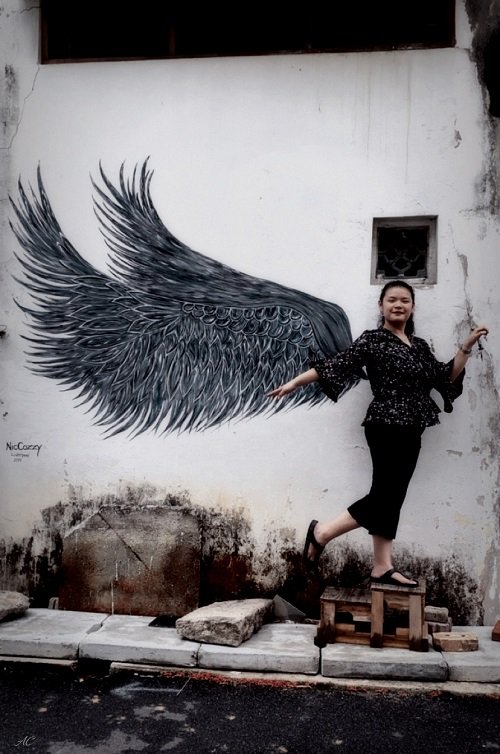 Silly me seemed to have lost my imagination...
This.... is how you use those wings....
Duhhhhh!
---
Captured with SONY A5100 | © image & text original content | click image for fullscreen view
---
---


My recent visit to Penang was an eye-opener as well as a re-visiting of familiar places. Previous posts on my visit:
1 - 'A many faceted Pearl' ~ Introduction post
2 - 'Caturday is alive and well in Penang!'
3 - 'It's the gold that brought me here...!!!'
4 - 'The Crossing (aka The Arrival)'
5 - ' How much is that kitty in the window...? '
6 - 'Clan jetties at dusk' ~ a monochrome introduction
7 - 'Out on the jetties...'
8 - 'Into the details of Khoo Kongsi, Penang'
9 - 'Khoo Kongsi ~ more details, and the interior...'


---



I'm with QURATOR... Are you?

Vote for Qurator as a Steemit Witness
via steemit.com or steemconnect
---
View this post on TravelFeed for the best experience.