Uluru is one of Australia's largest tourist hot spots, Located almost as close to the center of Australia you can get it is surrounded by a whole lot of not much, at least at first glance.
From where we live on the lower east coast in Victoria it is a 2,500 km journey across 3 states to get there with a variety of different landscapes from barren rock deserts to lush forests and farmland.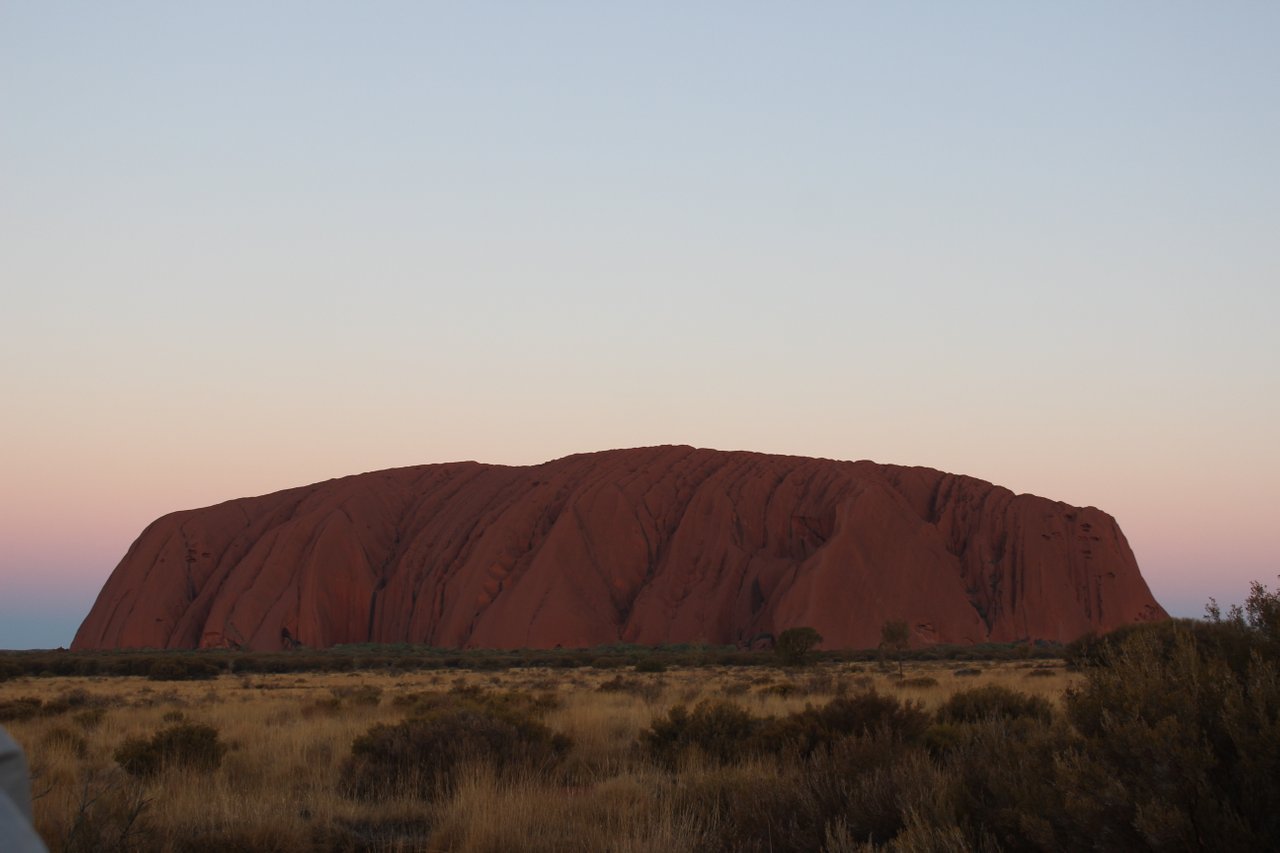 Uluru
Uluru, or sometimes known as Ayers Rock is a giant sandstone formation in the Uluru-Kata Tjuta National park. It is a UNESCO world heritage site and is considered an especially sacred spot amongst the Pitjantjatjara Anangu, the traditional Aboriginal owners of the land.
For years tourists have been allowed to climb Uluru and explore the base around it which is home to many rock formations, watering holes and natural springs. However after mounting pressure from Aboriginal groups and political parties the climb will be closed at the end of October.
This is, unfortunate in my opinion. Whilst I understand it is a sacred place I also believe it is something to be shared and appreciated by everybody. So long as you can show respect and not deface or disrespect the area I personally don't see a problem but, it is what it is.
The Journey
We started out at about lunchtime on Sunday, originally we were meant to be leaving on Monday but we had the car packed, all our stuff ready and were itching to leave so we thought fuck it and jumped in the car and left.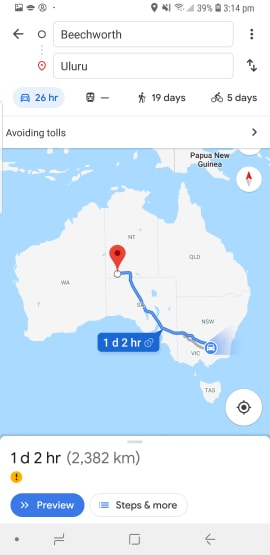 Our plan had been to drive about 12 hours a day for a couple of days and get to Uluru fairly fast as we planned on taking the scenic route home and exploring some of the mountains and forests of S.A. The first day we drove about 6 hours or so and made it to a decent sized town called Mildura which sits on the edge of Victoria and S.A. It's not a bad place but there isn't a lot going on there, mostly agriculture and farming.
Though there wasn't a lot to do or see in Mildura we did get our first glimpse of wildlife that we don't usually see when we witnessed a mob of emu's running parallel to the car through a field. I love emus I find them quite hilarious and they are inquisitive creatures.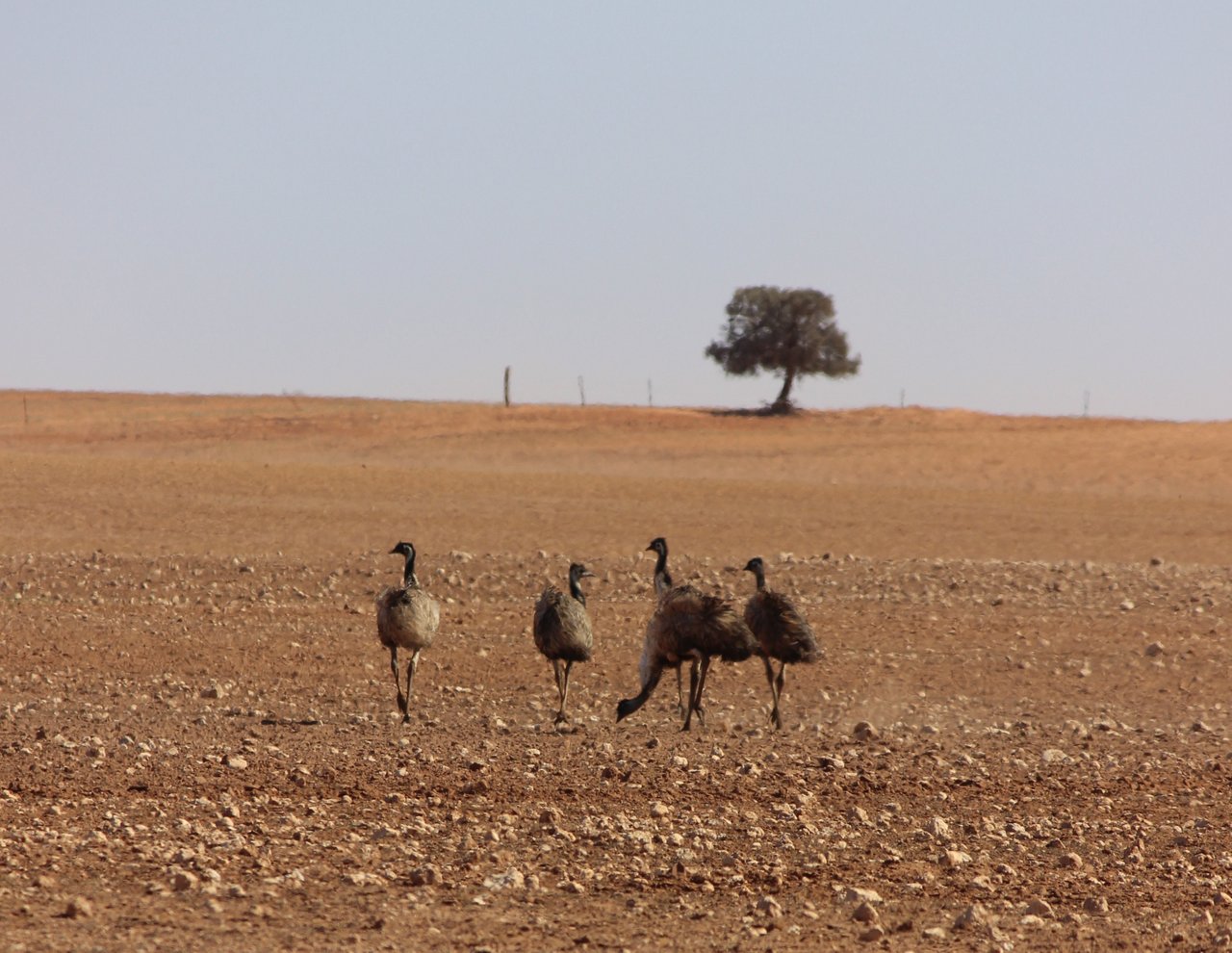 From Mildura we finally started moving North and made our way to Port Augusta which is a smallish town on a bay. We had been hoping to find somewhere to set up camp around here but when we began looking everywhere seemed too cold and windy and just kind of... bleh so we just kept driving. After a few hours we found a nice little spot along a recently dried out riverbed, there were trees, bushes and shade, it was sheltered and the view was nice so we set up camp for the evening.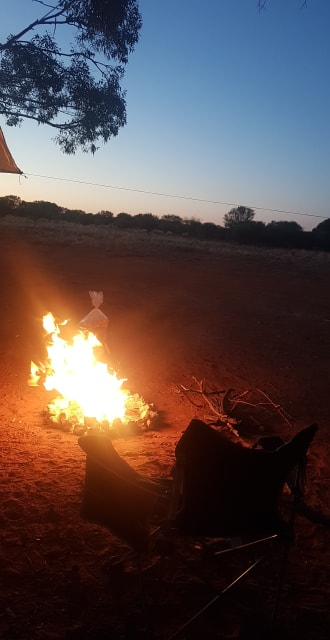 Fairly uneventful night except when 2 feral cats started fighting in the tree outside and Lydia shit herself and climbed inside her sleeping bag thinking it was a demon.
Coober Pedy.
The next main stop on our journey was in Coober Pedy. Coober Pedy is a small town in the middle of nowhere surrounded by sand and rocks and not a lot else. It is a well known Opal mining town and is also unique as most of the buildings including houses, shops and hotels are all located underground.
From the surface it looks like an old almost forgotten town, paint is peeling on all the buildings, signs are falling off, from first glance if it weren't for all the people it would look like an abandoned town, forgotten after years of mining had dried out. In reality it is a still thriving tourist destination with many opal mining companies still operating in the area.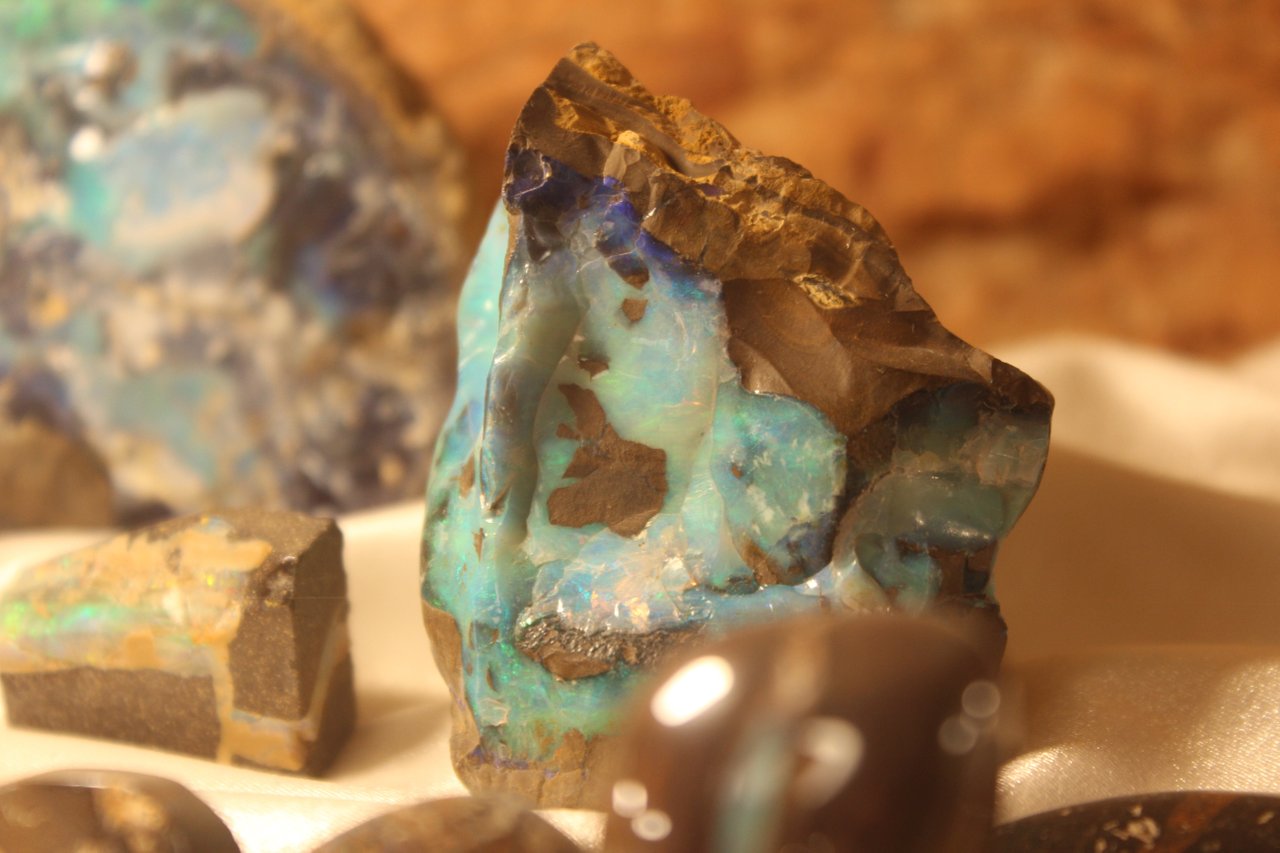 When you near Coober Pedy the surrounding 50-100km is nothing but giant mounds of earth that have been excavated for opal mining. Correspondingly there are also many large holes and you are forbidden from leaving the main road and venturing into the opal fields. One to protect their profits, and two to prevent people falling into the over 1.5 million open mine shafts that are spread across the land.
Coober Pedy underground jewelers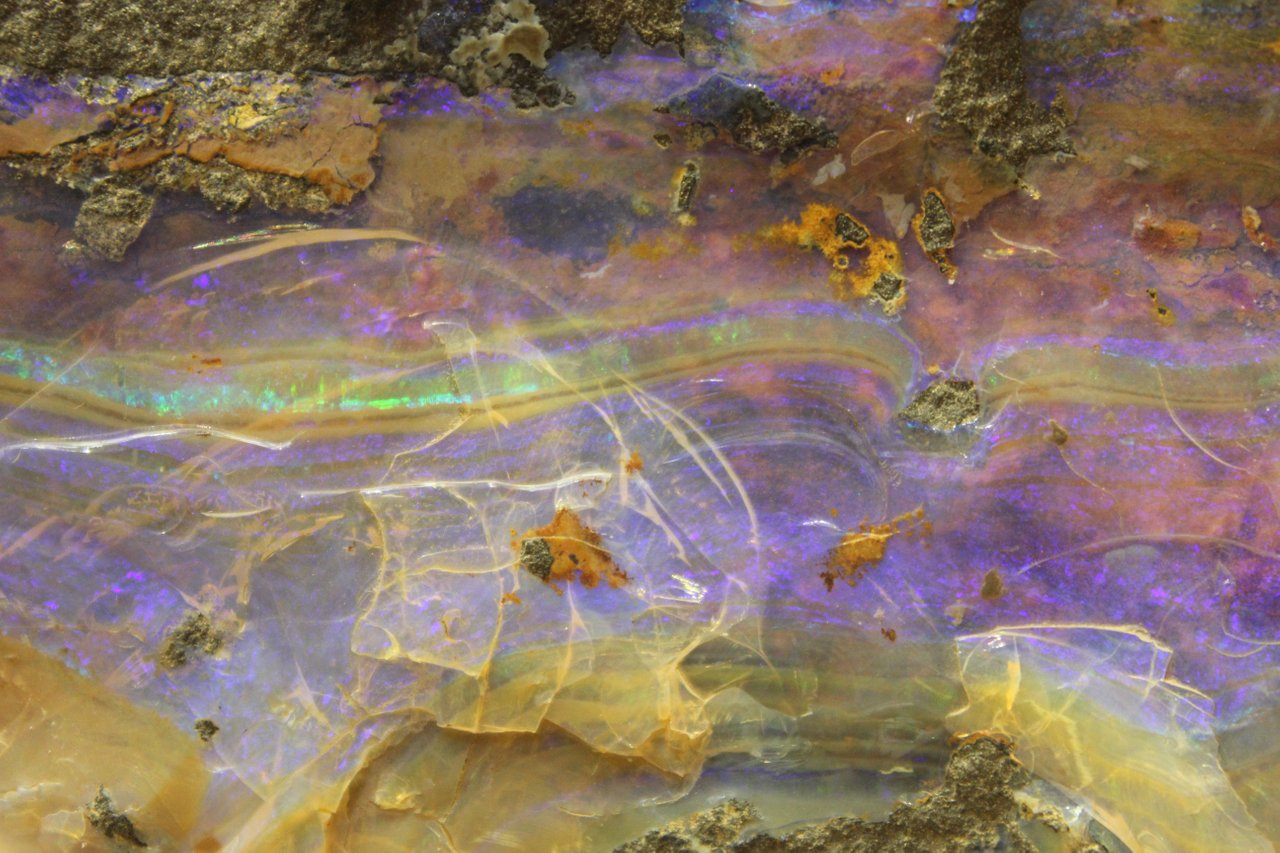 We visited one of the dozens of museum/jewellery shops however what made this one special was that the original building and rooms were all hand-dug by a single women named Faye. Over many years she had taken nothing but a pick-axe and a shovel and dug out an entire underground home to live in. The walls themselves are solid rock with veins of opal and other gems running through the wall. Nowadays the rooms are lined with glass cases displaying the many different varieties of opal as well as selling jewellery made with opal.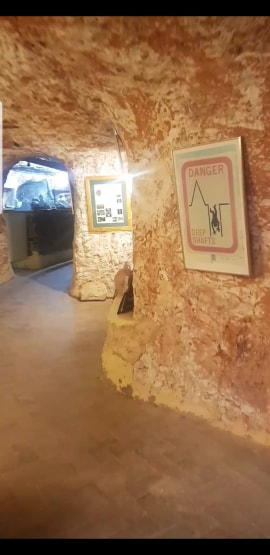 Coober Pedy Kangaroo and wildlife shelter.
Jospehines Kangaroo Orphanage in Coober Pedy is the only assistance for injured wildlife within 800km in any direction. The orphanage was home to many animals including 3 fully grown adult female red kangaroos, a small falcon, a large cockatoo and other species of bird, baby kangaroos and occasionally emus.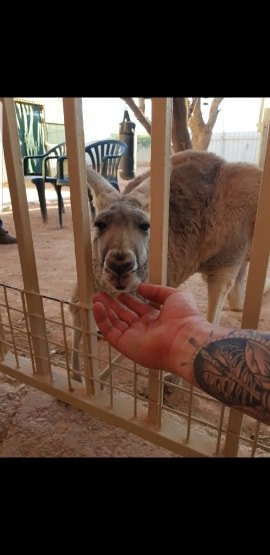 The rules in South Australia are different and once the animals are taken into care by the shelter it is illegal to release them again into the wild, essentially the opposite of Victorian laws. This means some of the kangaroos there had been living at the refuge their entire lives, one was even found as a small baby being eaten alive by wedge-tailed eagles but is now a happy and healthy adult female.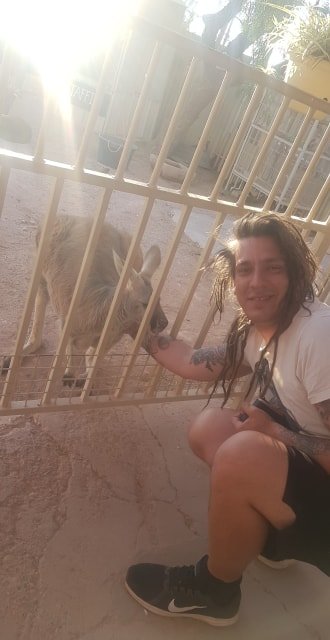 It was nice to see that someone out here was trying to help some of the animals. It is quite a severe drought in Australia at the moment but most of the attention is focused on struggling farmers even though our wildlife is struggling just as much. They had some sad stories about getting a lot of calls to go out to starving and dying emus and kangaroos but there is just nothing they can do to help.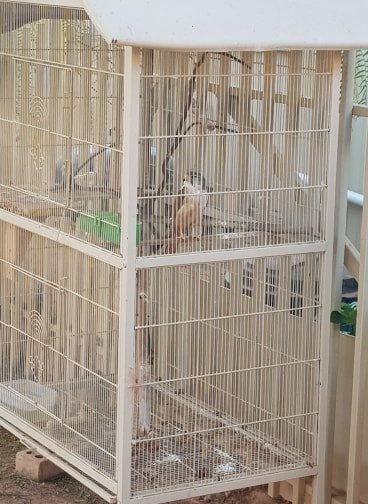 I purchased a necklace from their store that had a little koala holding a pretty opal to give my mum for her birthday. Since the profits assist the rescue it was a double win for me, a donation and mums present in one and the fact its from a rescue probably means more to her than the present itself.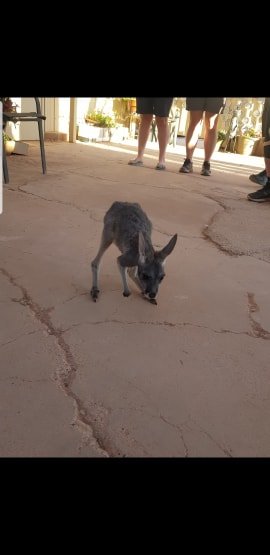 To the N.T!!
From Coober Pedy it was another 4-5 hour drive to the border of S.A and N.T. For 600km there is basically nothing to see, rocks, small shrubs and the occasional dead kangaroo and complimenting birds of prey. Its so barren out here it's hard to imagine anything could survive but the entire way up to the border from Port Augusta are cattle and sheep stations, featuring unfenced roads and livestock wandering across. If the farm animals can survive there must be some source of food and water but to the naked eye it looks like nothing but death and dirt.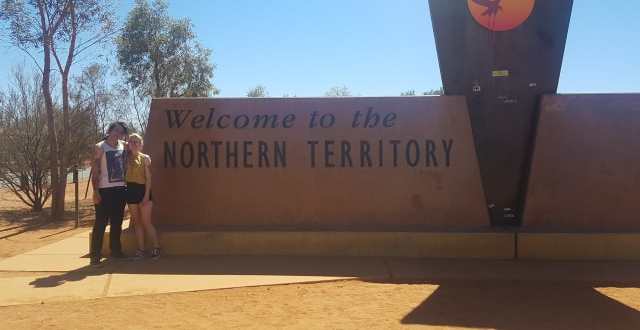 When we reached the border we knew it was only a couple of hours until we reached our destination so we made a quick stop for some snaps and to stretch our legs. We actually met a couple that were riding a tandem bike from Darwin to Adelaide and then back up the East coast, something like a 15-20,000km round trip. On a god damn pushbike, it was insane. We even saw them on the way back through about a week later and they had managed almost 900ks in that time so they were making good time.
That's most of the journey up and to be honest, we didn't see that much or stop in a lot of places for photos, we were too keen to reach our destination but I think that's enough writing for one post. In the next few days ill upload part 2 where we reach Uluru itself and get our explore on and climb to the top, or did we?
Until next time, Peace out.