When we last left you we had just entered the Northern Territory border and stopped for our last break before reaching Uluru itself.

For the next 4-5 hours everything to the left of the car was aboriginal land that you aren't allowed on without a permit and on the right was private property so you basically couldn't stray off the road. Every-time we would see a large hill come over the horizon we would think that's it! but we'd get a little closer and realise it wasn't. So close, so keen.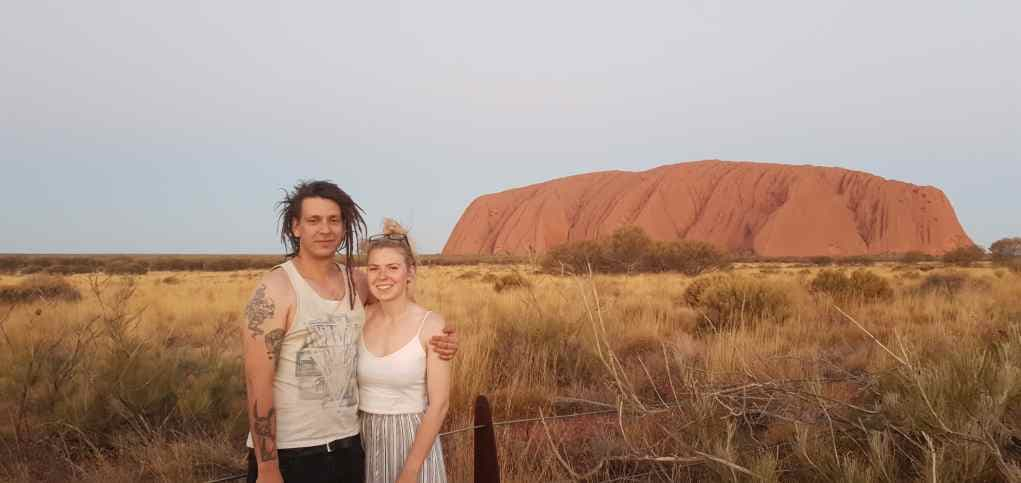 When we finally saw it on the horizon it was obvious, it was hard to see at first as the small shrubs along the roadside kept blocking out the view, every so often we would get a small glimpse of it getting bigger and bigger. Before long it was standing out in the landscape like nothing else around and you could clearly see why people were drawn to it.
Yulara resort
Yulara resort lies about 20km away from Uluru itself and is a small hub in the middle of the desert consisting of 5 hotels, a campground a shopping center and a few restaurants and cafes. Other than that it is bare and empty, I have no idea what the locals would do for fun but it was hot as hell and not a lot of reprieve from the sun, given the tallest trees were about my height.
We made our way to the campground and found a nice little spot under some trees and on the grass! Okay so the grass was pretty dry and dead but it was still the closest thing to grass we had seen for days. The middle of the days are hot even though we are just coming out of winter, most days hit around 35 degrees but then at night the temperature would drop close to 0, this aided in our decisions to try and do most of our activities during the morning before it got too hot.
By the time we set up the tent got all our stuff set up and went and met Lydia's parents it was pretty much dinner time so we ate at one of the restaurants and decided to go and see the sunset onto Uluru. When we got to the viewing area the sun was just beginning to go down but already there was at least 200 people watching.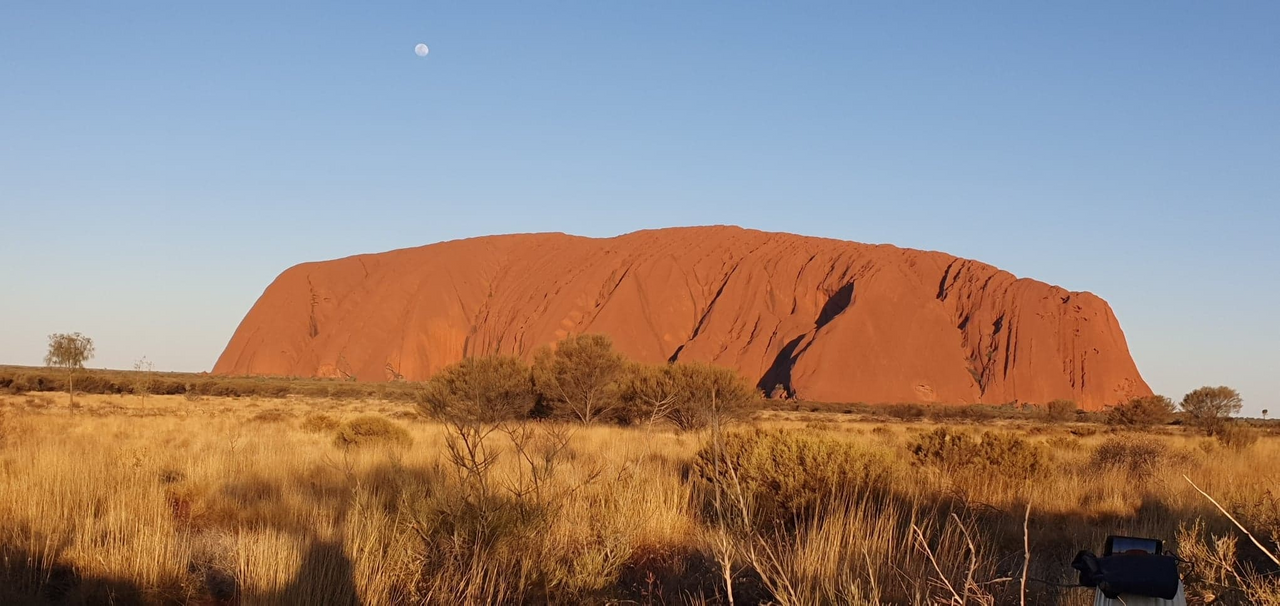 It's amazing to watch, you see it change colour in front of your eyes as the sun gets lower and lower on the horizon.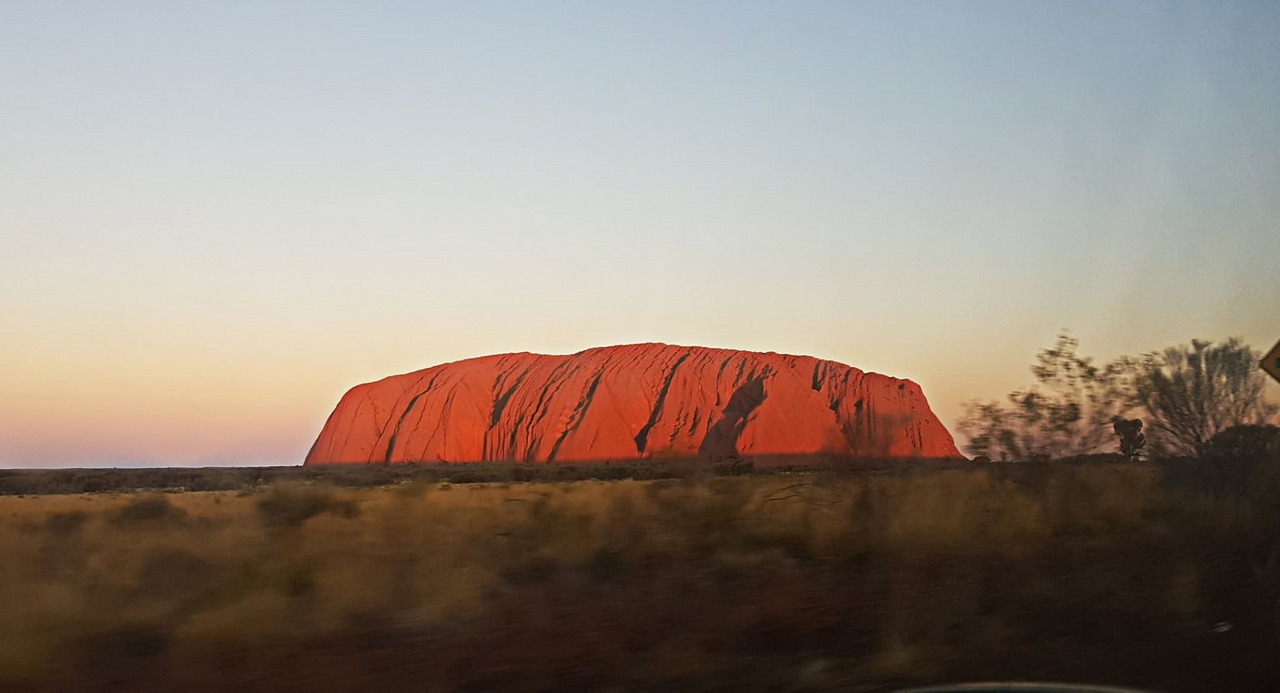 From the side we were on the sun sets against Uluru from behind us so you can see the shadow of dusk creep forward over the desert in front of you and slowly engulf the rock.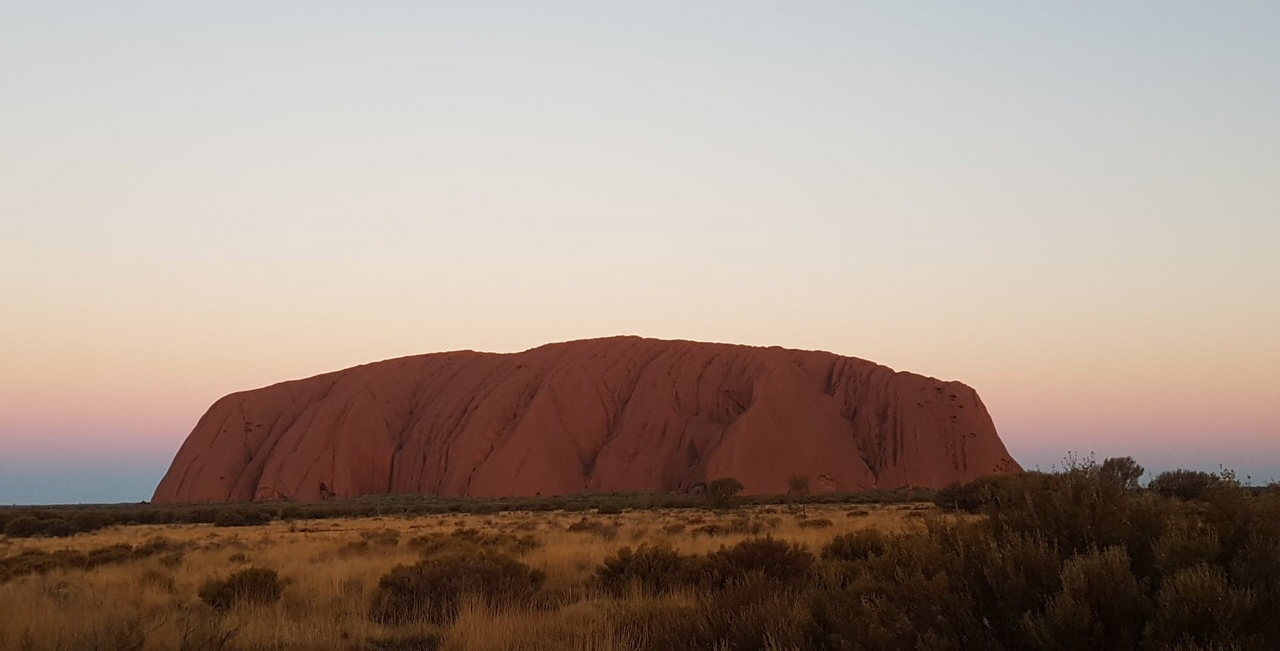 We waited until it got dark and then headed back to our campsite and relaxed for a few hours enjoying the stars and the fact we could relax for a few days. We planned out what we were going to do for the next few days and it was decided we would hire some bikes and ride the base. Since it's about 12km the whole way around we figured a bike would be a bit faster and more enjoyable, walking 12kms in the heat and having to carry backpacks with cameras water sunscreen etc would of been more effort than fun so, bikes it was.
Ride around the base.
We left as early as possible to start our ride to try and beat the heat, we rented the bikes for 3 hours ad set off toward the base. This was the first time we had seen it up close and it really is enormous, standing 348 meters tall or over 1,100 feet, measuring 3.6km long and 2.4km wide it truly is a monolith.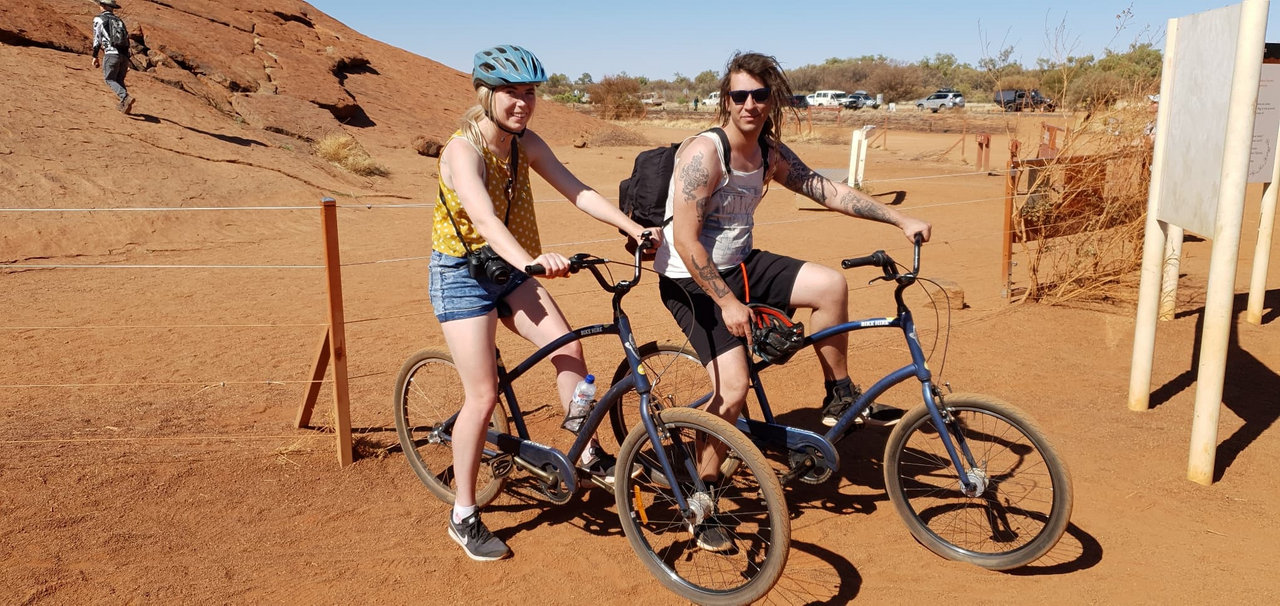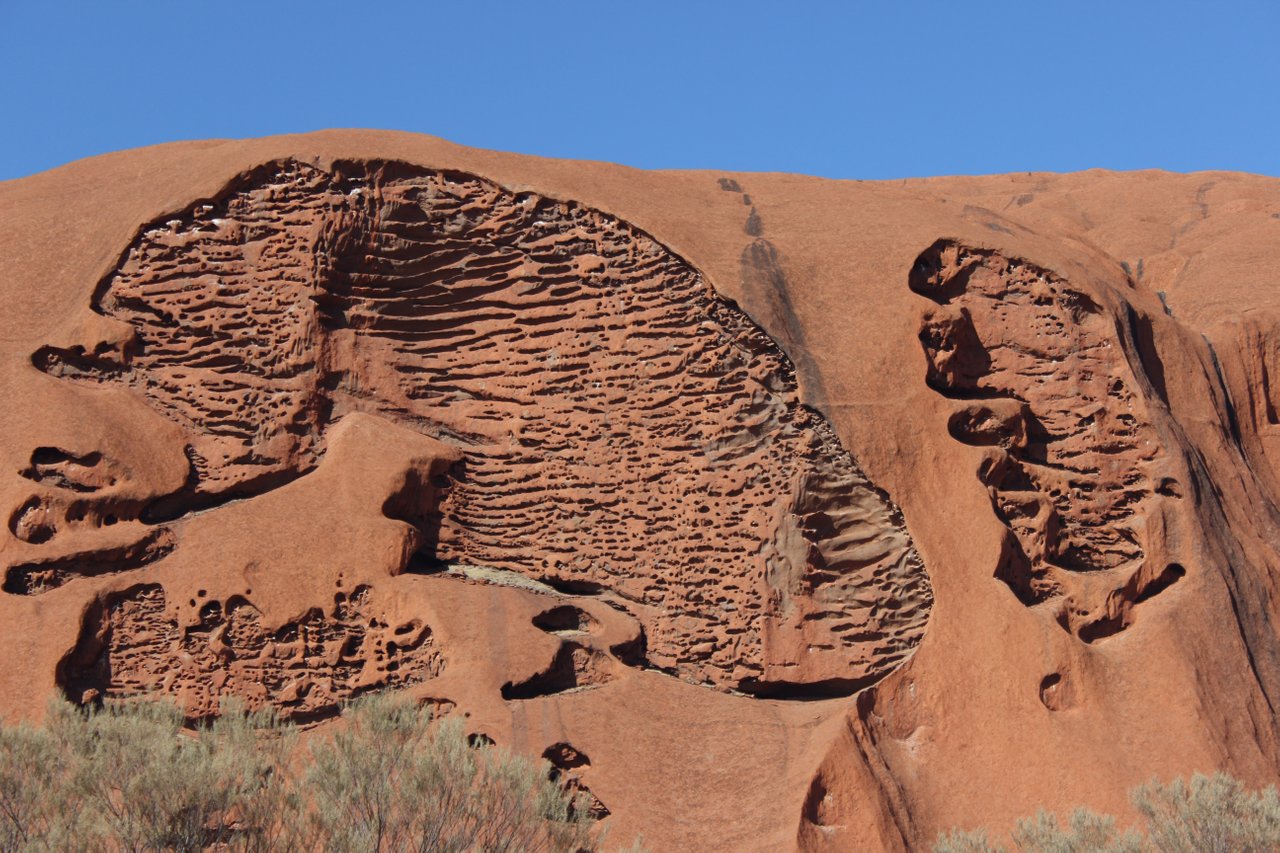 During the journey around there are spots that are considered especially sacred and you are asked not to take photographs or videos of these areas.
The base is dotted with caves and little holes, each one with ancient aboriginal cave paintings in them telling stories and passing down information from generation to generation.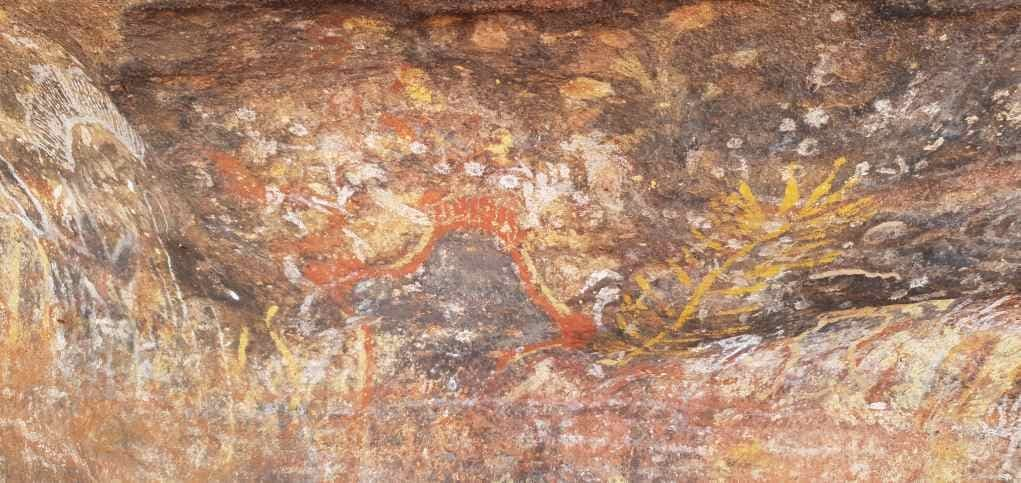 There are two different watering holes on opposite sides of the rock, both of which are fed by underground springs and bringing both the people and the animals of Uluru fresher water than can be found anywhere else for hundreds of kilometers. The first waterhole we came across was nestled in past caves full of paintings, some caves were designated for young boys, some for adult men, some for women and some for the elderly.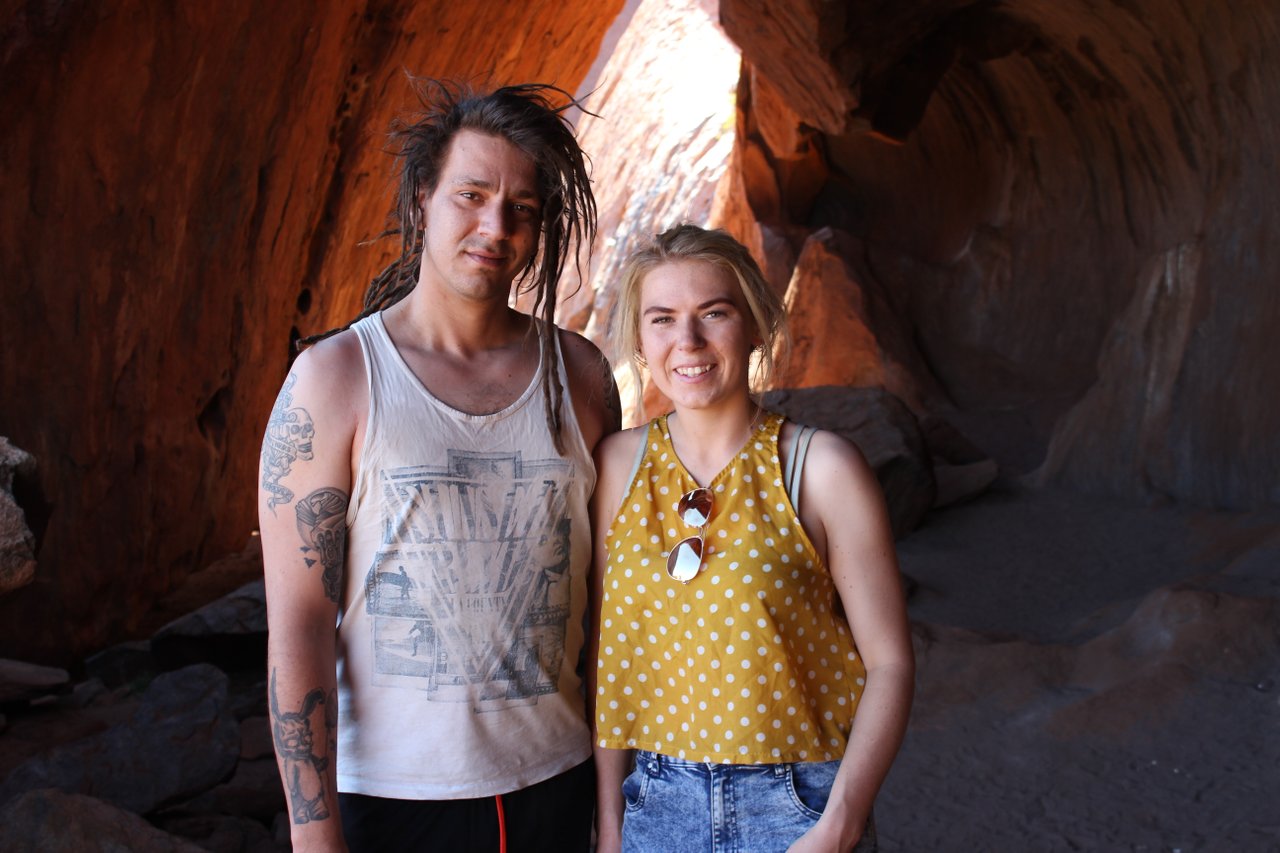 The next waterhole was down a path about 300m long, it wound through some of the only greenery we had seen in the area. As we walked through the tall bush gums you could hear the ambient noise from around us die away and a peaceful silence settled over the area. By the time we got to the waterhole it was silent except for the birds and the sound of Lydia's camera.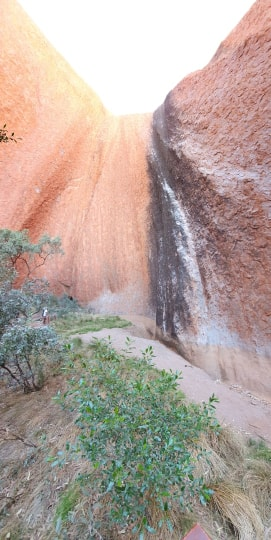 We sat on one of the carved benches and took in the peace and quiet, imagining animals coming here to drink and a thriving bush-land around it when it isn't in drought it did feel like a deeply spiritual place.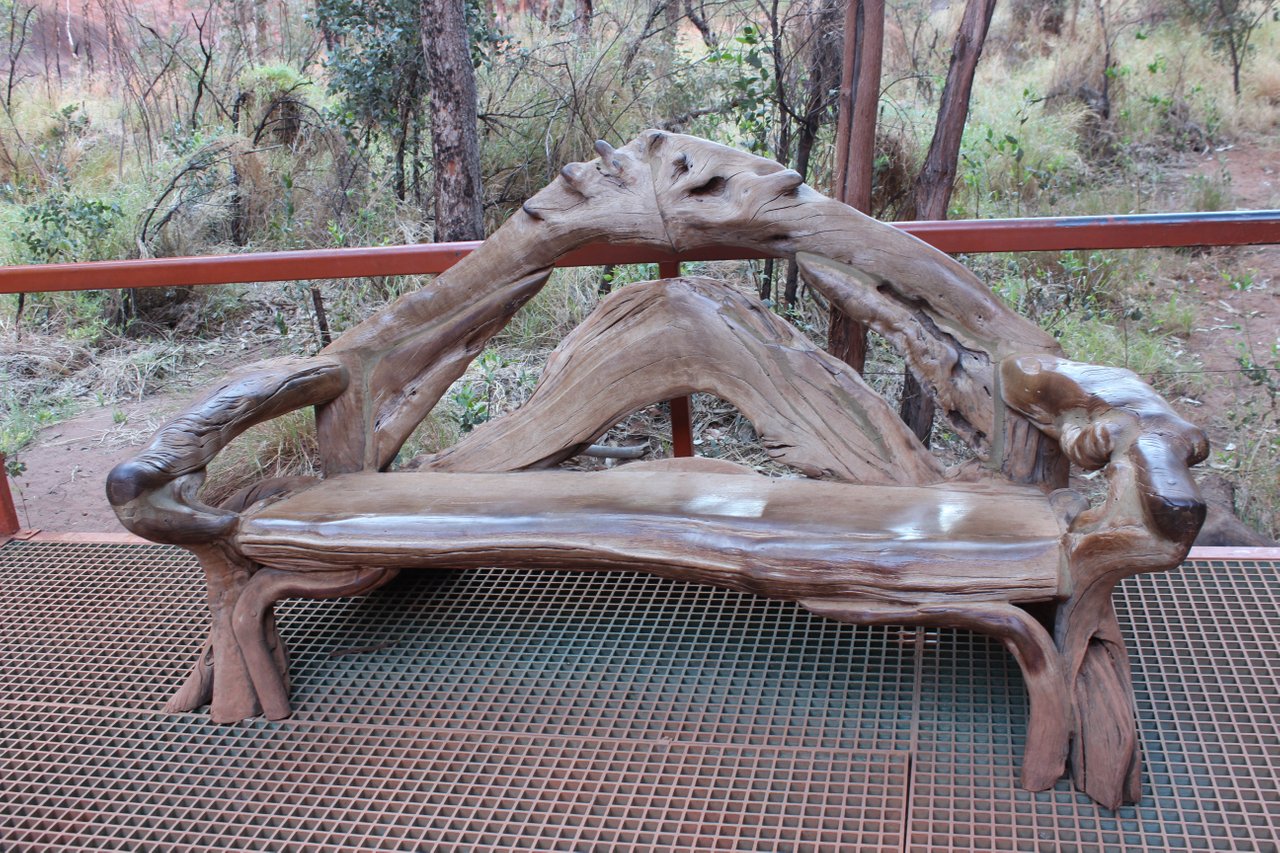 We finished our ride about 2 and a half hours after we started and given we had both done not much but sit in the car for a few days our legs were burning so we went back to the tent and lay down. We still had to climb the rock tomorrow so for today we would rest and visit the pool.
The climb
The next morning we were doing the climb with Lydia's mum. It's an approximately 3 hour climb to the top across and back to the base so we decided to meet at the base at 7.00, get a few photos and then head off and beat both the crowds and the heat.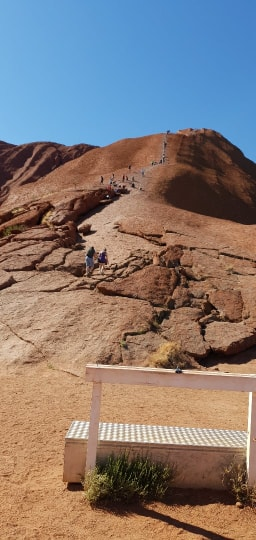 It was hard!! It's only 350 metres up but by god it is steep, some sections are a 10 degree angle, along the way there are metal poles with a large chain for you to hold onto and at some points that's all that keeps you up. For someone who is terrified of heights it was getting harder and harder.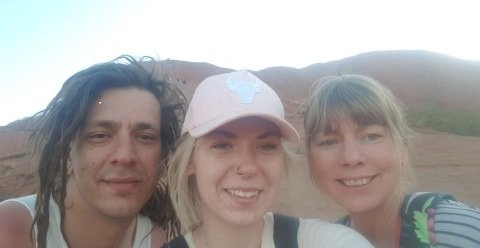 The path not only got steeper but what was a nice wide flat section at the beginning was fast narrowing and leaving only enough room for 3-4 people, though most were clung to the chain like their life depended on it. Lydia and her mum are both far fitter than me so I stopped for a rest first, probably only 100m up I at least made it past where most of the people stopped for their first break. Lydia and her mum stopped briefly but then continued powering on and I eventually rejoined them a little further up.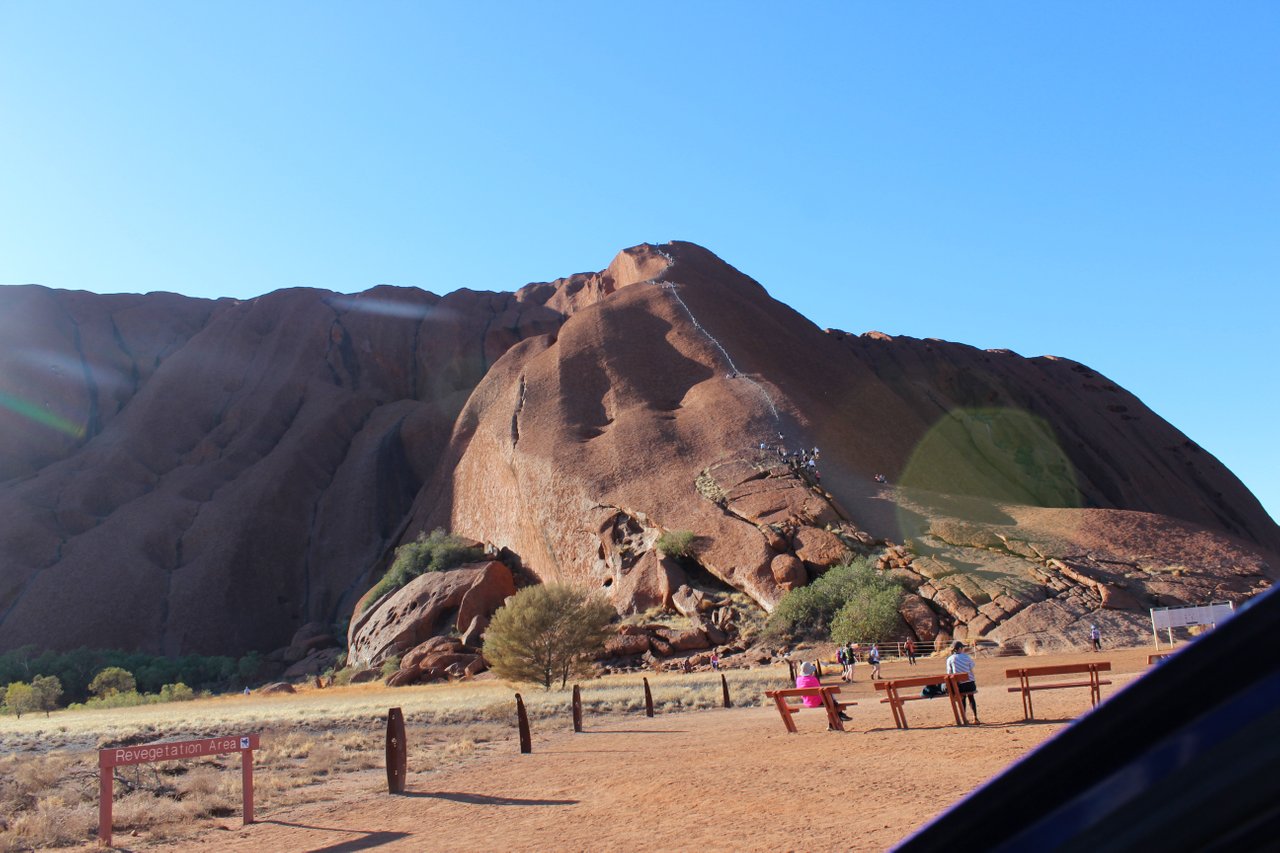 It was harder than I had expected, legs were burning, people around us were giving up and stopping, it was getting steeper and narrower and my fear of heights was really kicking in. We made it to the plateau that sits near the top. Only a short climb further to reach the top! Unfortunately I was unable to continue after this point. When we went to keep climbing the path became almost vertical and felt like you were abseiling with nothing but a chain to hold onto. As the ground started to become visible on my sides and the wind picked up the fear took over and I could not continue. R.I.P Chris.
Lydia was off to the peak!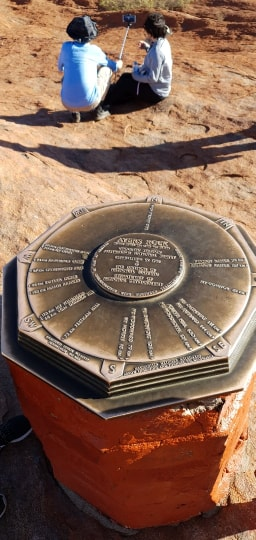 Luckily Chris didn't go further as it got worse and worse with some very nerve-wracking sections we finally made it to the top and across to the compass that sits in the middle. From here you can get a view in every direction as far as the eye can see, unencumbered by anything else.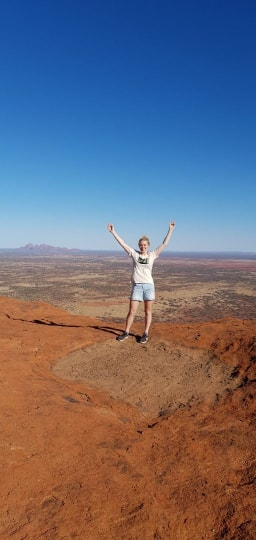 Chris rested for a while enjoying the view and then made his way back down which was much easier than anticipated, when Lydia and her mum Kaz made their way back there was one section of the path they refused to re-climb, a narrow bridge around a foot wide with sheer drops on either side they strayed from the path and found a safer spot to boost each other up and back to the path. The return journey was easier and helped by the fact you were looking out and could enjoy the view as opposed to staring at the rock in front of your face.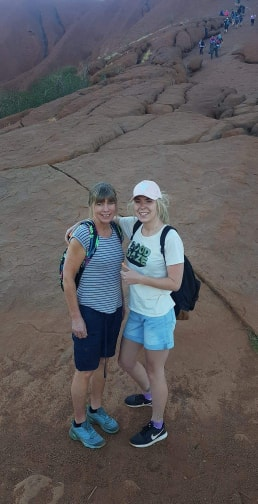 Everyone was a little relieved when they reached the bottom, especially since they seemed to of been gone for a long time and I was starting to worry they had fallen into a crevice :P.
After that we went out for lunch and headed back to camp for a well deserved rest whilst Lydia's parents went off to explore the base. It was quite an experience and I can see why people are so keen to see it, I wonder if it will remain as popular after they close the climb, even the base is worth seeing.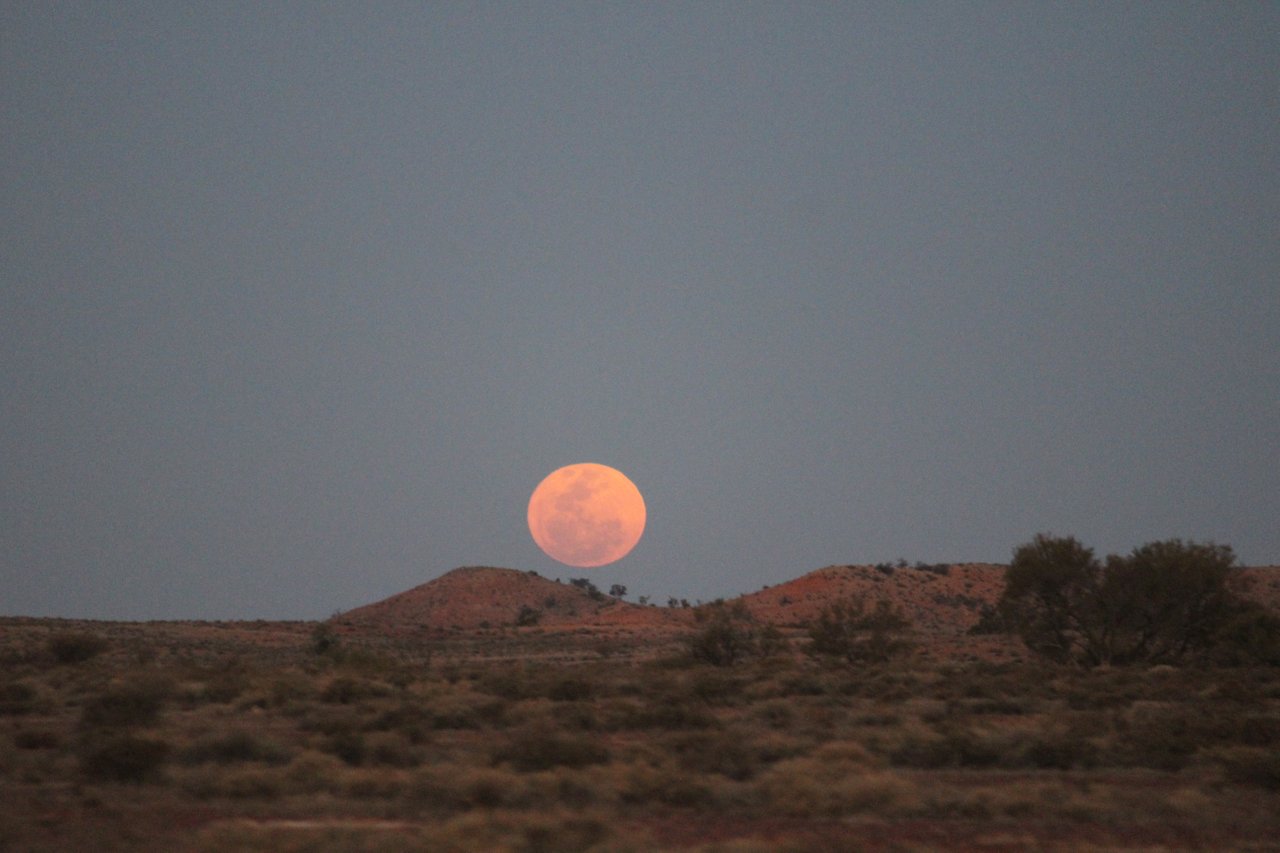 In the next post we will visit the Olga's a rock formation near Uluru, a camel farm with lots of animals and begin our scenic journey home.
Thanks for reading :)