There was a movie theater in my old neighborhood that I never stepped foot it. I was not old enough to enter nor did I practice the religion. I'm confusing you aren't I? Perhaps a little background information would help.
I grew up in Queens Village, New York. Honestly, I did not like the place. Never felt safe there. For whatever reason, the other kids in the neighborhood didn't like me, so much so that they threw rocks at my head and one tried to choke me while an adult walked on by. I tell you this so you don't get the impression that I miss the place.
There were some old buildings that I found intriguing whenever I walked past them. The most fascinating building was a movie theater at 219-36 Jamaica Avenue. I remember a wooden water tower always sat on it. Sadly, it was not a working "regular" theater when I lived in Queens Village. It was a place that showed adult entertainment. Hence the reason I wasn't old enough to enter. It still had a ticket booth and the elaborate marquee at the time. You think there would be posters of the X-rated films, but the posters behind the glass displays were in fact old regular movie posters. I do hope someone saved them. The photo below was uploaded to www.cinematreasures.org by Ed Solero. The photo is from 1993. This is how I remember the theater. By the way, I used to visit that Chinese take-out on a regular basis. I can still taste the sweet & sour chicken.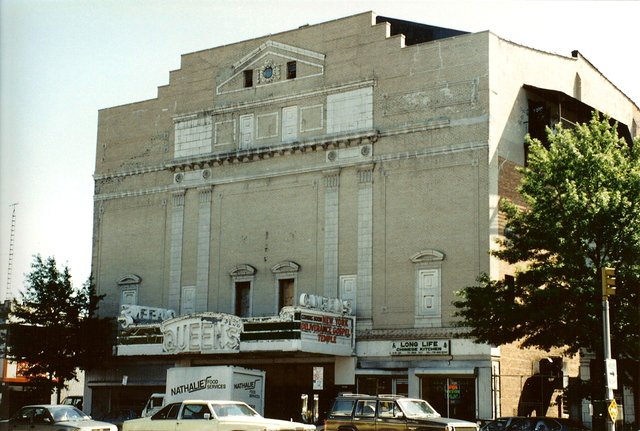 According to the Cinema Treasures website, the theater opened in 1927. The last regular movie was shown 1974. I'm uncertain when it became a XXX theater, but it stopped showing those films in 1989. I do not remember this, but it became a concert venue for a short while. However, I do see a picture in my head of the marquee displaying Kool & the Gang. Memories are strange like that. In the early 1990s it became a church. When I moved out of Queens in 1997, the theater was still occupied by a church.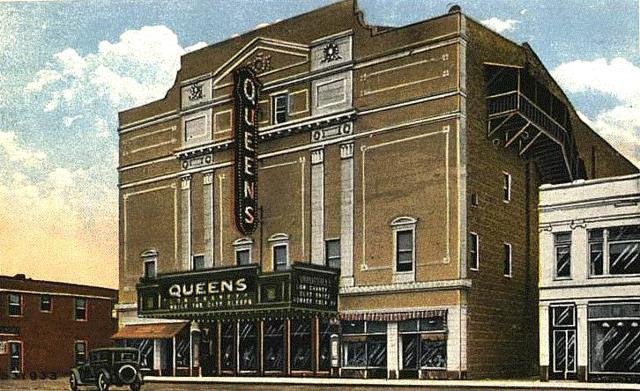 Postcard uploaded by Comfortably Cool
I recommend you visit the Cinema Treasures website to see some of the great photos. I'm astounded by how gorgeous it was. The place had a balcony, elaborate stage, curtains, and murals. It's still standing, though the outside has changed a bit, marquee has been removed, and I am afraid of what the interior may look like. The photo below was taken in June of 2019 via Google Maps. The theater is currently for sale.