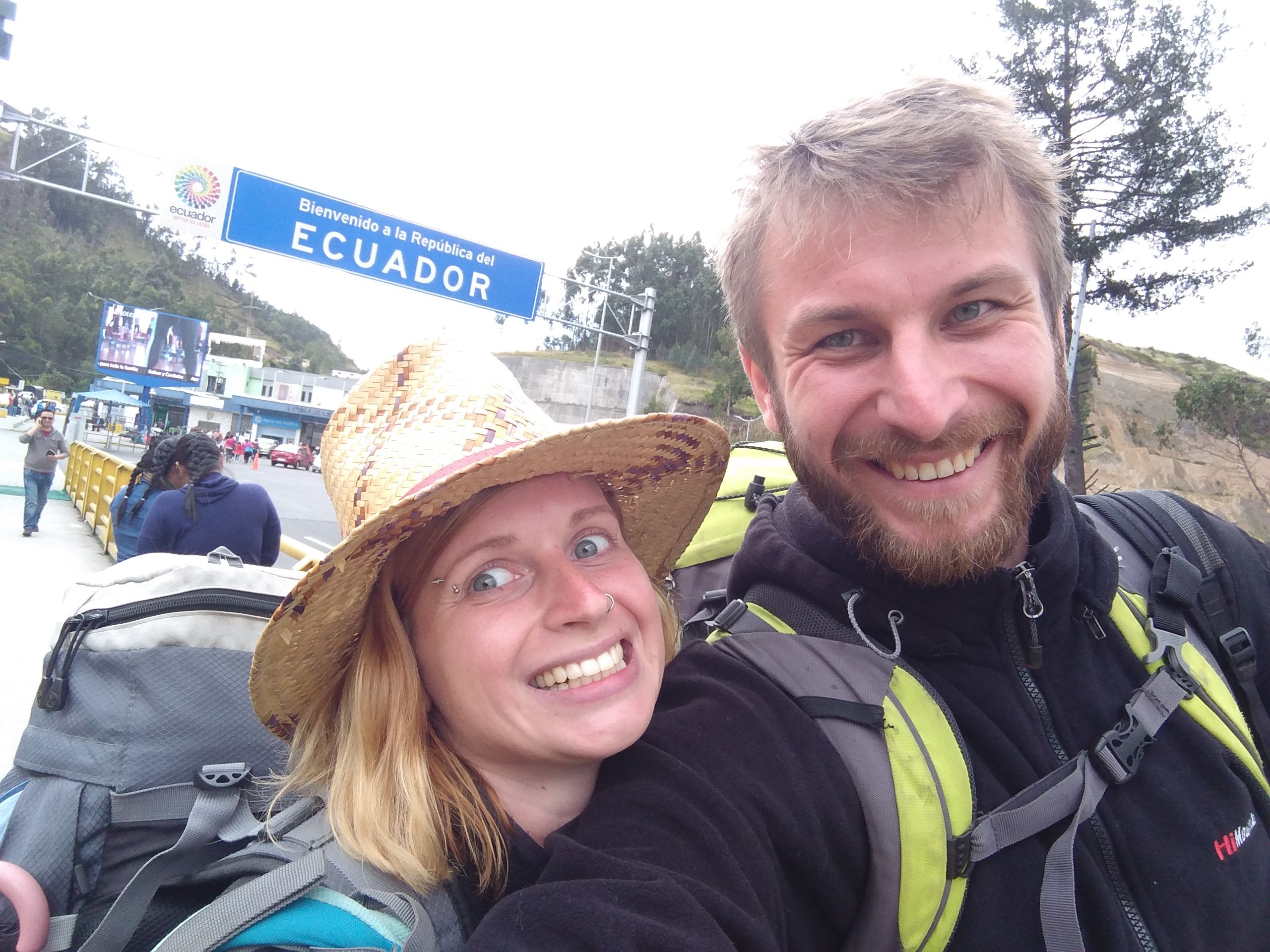 Because most of the European countries are in Schengen Zone, we forgot what border controls mean. For Europeans valid ID in the pocket is enough for travelling across the continent. When you travel by car, you might realise that you are in another country when road signs language changes - in practice there are no borders at all. In next paragraphs we will describe how it works in South and Central America.
Border #1 Europe – Mexico
Flying from Europe to the land of tabasco and tequila you must have a valid passport and ticket for onward travel. Without that employees of airline might deny boarding. If Mexican immigration officer will ask you for that and you don't provide it, they have right to deport you, of course at the expense of an airline. And airlines want to avoid that so they make sure that your papers are in order.
Before landing, cabin crew will provide you with immigration forms and you have to fill them out. In the form you'll find questions about your details like: name and surname, address where you'll stay, for example name, of the hostel and directions. Next form which you'll receive is for customs. If you have just personal items and no more than $10000 in cash, then there's nothing to worry about.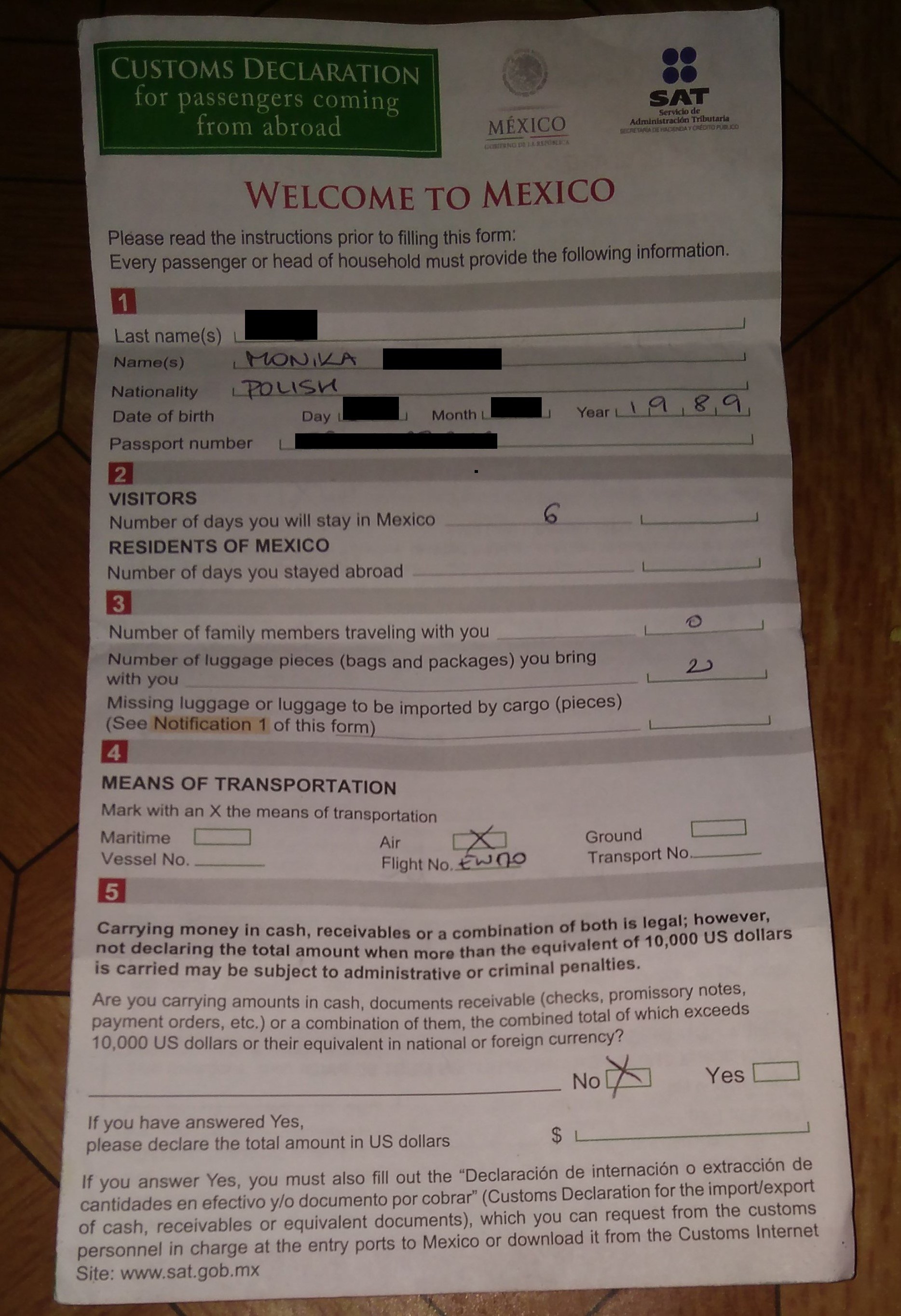 As a Europeans you can receive a tourist visa up to 180 days without any formalities. Remember everything depends from the officer and he can just give you a 90 days stamp with visa.
Border #2 Mexico – Cuba
Before air crew will let you board in, it is obligatory to buy, tarjeta de turista which is nothing more or less than a tourist visa. Some airlines will add it's cost to the ticket and will provide it before landing. Some other airlines, flying directly from Europe, requires this card before check in, which means you will have to visit Cuban embassy. It's relatively cheap, just 30$ and is valid for 30 days. Before landing, just like in Mexico, you will be asked to fill in immigration form in order to receive arrival stamp. Right before leaving the airport in Havana, your luggage will be x-rayed. It's important to keep your tourist card inside the passport, because when you lose it this might cause legal consequences. Unfortunately, communist bureaucracy is still alive over there.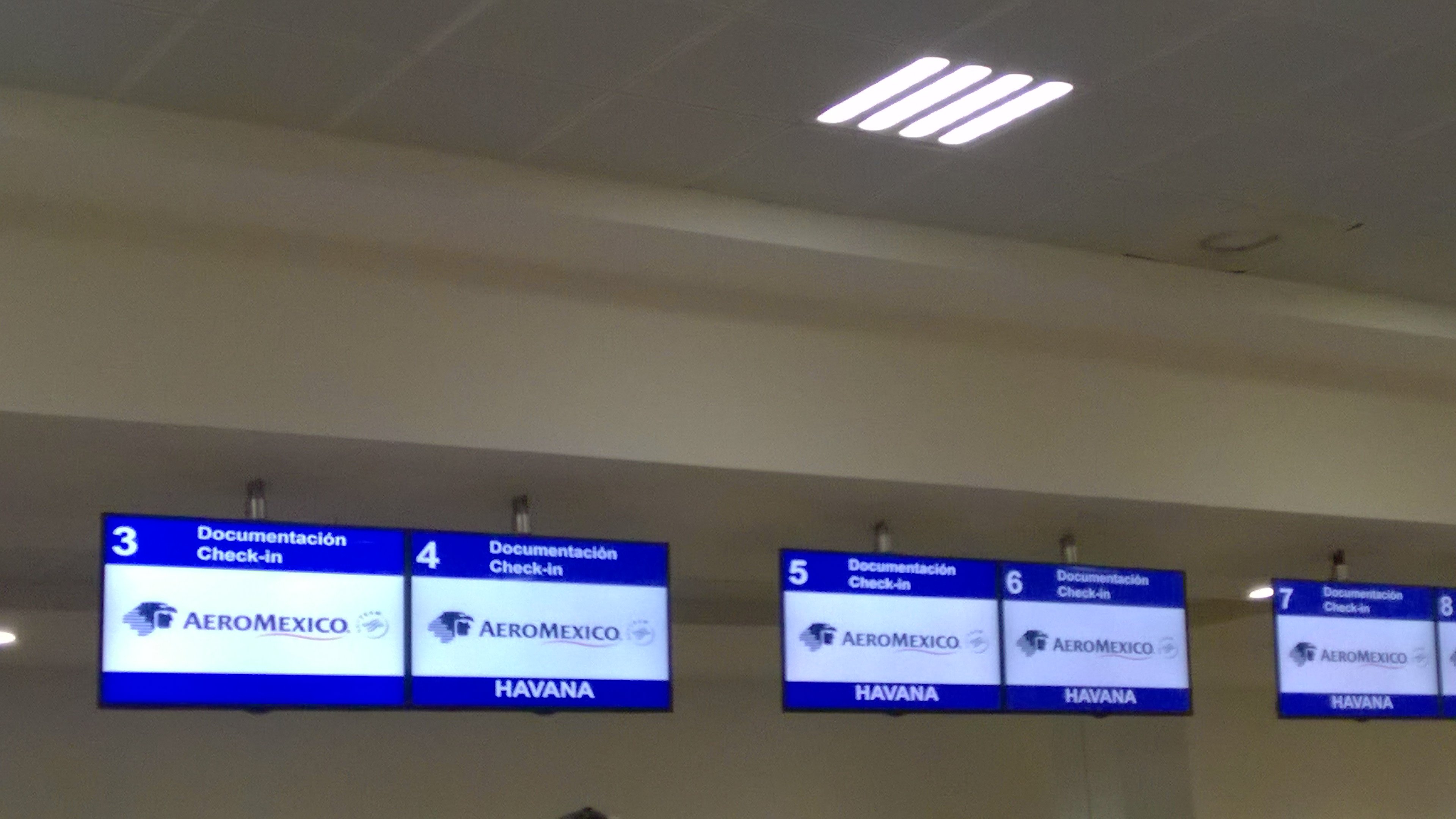 Border #3 Mexico - Belize
Here, the biggest surprise for us was the exit tax from Mexico which is 30$, normally airlines add it to final ticket price. When you cross their border by land, you have to pay it directly to immigration officer. Supposedly there's a law which says, that you can leave the country without paying this tax, when your stay was less than 7 days. This time we have been there just 4 days, but no one explained that to us before. Some sources says, if you want to grant this law, you must enter and leave the country through the same border crossing. This would explain validity in our case. Anyway, we didn't receive any receipt. Hopefully Mr. officer bought something nice for his kids.
Entering Belize is easy-peasy. Your visa will be granted according to the period you asked for on the immigration form. We asked for 14 days and got them. The longest you can ask and receive is 30 days.
Border #4 Belize – Guatemala
Here everything is clear: You must pay 20$ as an exit tax for leaving the country, receipt goes to your hand and leaving stamp lands into passport. To enter Guatemala, you just need a valid passport and there's no need to fill in any papers. European passport holders will get up to 90 days tourist visa on the spot. You don't have to pay anything while entering.
Border #5 Guatemala – Costa-Rica
At the airport without any issues you receive an exit stamp and you can board the plane. Costa-Rica like Mexico, requires a ticket for onward travel or return ticket to the country of your residency. Here everything depends on the immigration officer - one never knows if he's going to check that or not. Unfortunately, we didn't know that so we came unprepared. Monika and our friend passed easily through, but they stopped Daniel. He couldn't answer all of the questions asked by the lady from immigration: "Where exactly are you going next?", "How long you will stay in Costa-Rica?" and final one "Please show me your reservation for next travel". Daniel fell into pieces. She took his passport, put it aside and asked him to buy any ticket right now. Unfortunately on that particular day the cheapest bus company had issues with processing card payments and each attempt to pay was denied. So he had to figure out something. As always Google found a way. The website to generate fake ticket reservation from Expedia was a blessing. After entering all the details, lady officer accepted it and gave him 90 days visa.
Example fake reservation
Border #6 Costa-Rica – Panama
Before leaving "sloth country" by land you have to pay 7$ in cash as an exit tax. Panama, like Costa-Rica and Mexico, require a ticket for onward travel and filling in the immigration form. This time we were prepared and without any issues we got into Panama.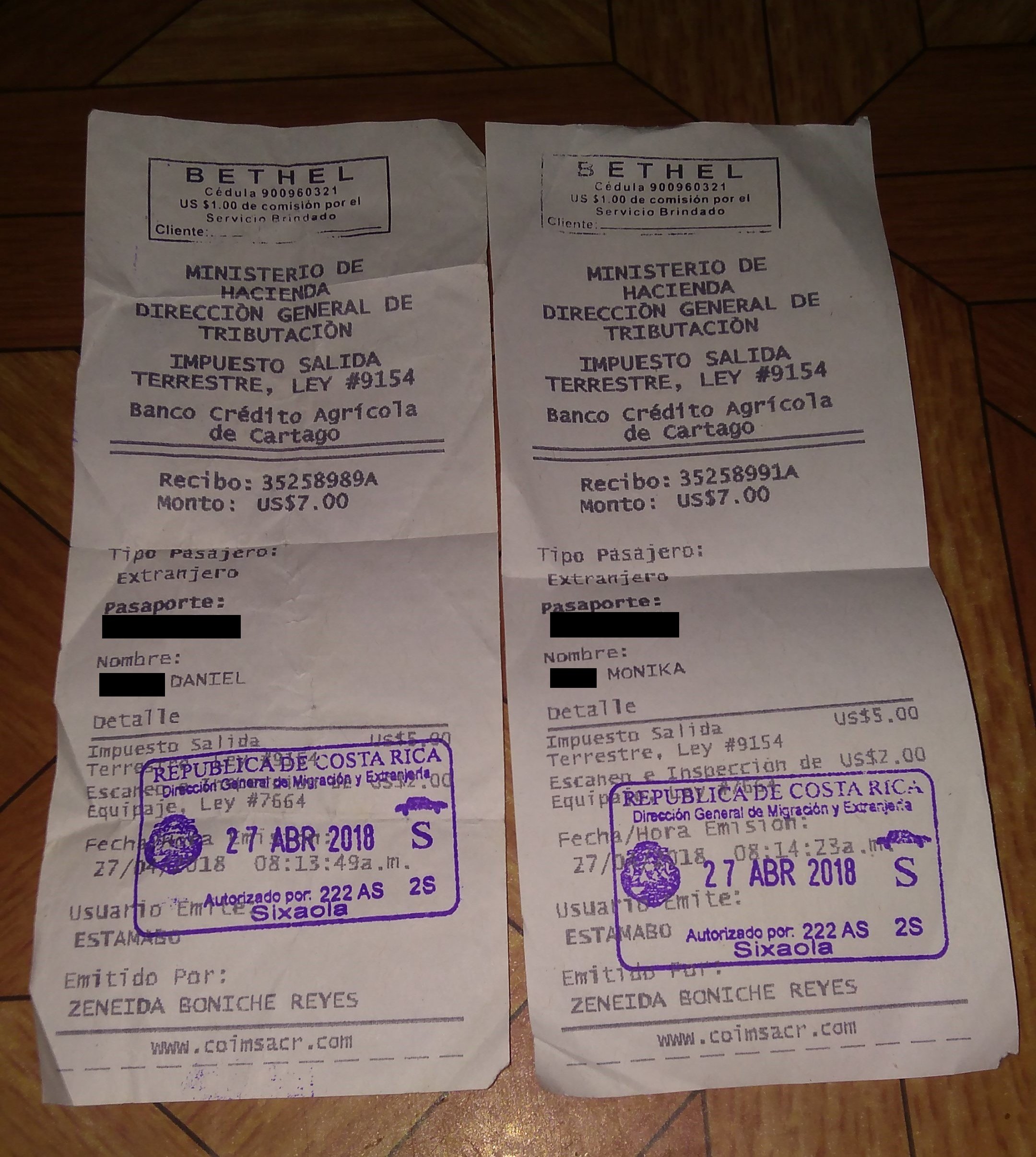 Border 7# Panama – Colombia
And again, before they let you leave Panama, employees of an airline can ask you for onward ticket or at least reservation confirming your leaving date from Colombia. As always, they have right to deny your boarding If you don't provide it. In Colombia nobody checks that. Like usual, fill in immigration form and 3 months visa goes to you.
One more reminder, like we mention in our previous post you can get free yellow fever vaccination, at El Dorado airport in Bogota. Without this certificate you might be deny to enter planes flying to, for ex. Costa-Rica, Mexico etc. from most of the South American countries. Vaccination is for lifetime, so it would be a shame not get it when it's completely free.
Border #8 Colombia – Ecuador
In Colombia there's no exit tax when you go by land, but you can spend hours waiting in line with Venezuelans trying to get into Colombia from Ecuador. Because of the economic crisis in their country, millions of people have emigrated looking for better life in Ecuador, Colombia, Peru, Panama and other countries including Europe.
To get in to Ecuador you need only passport and some patience. The whole procedure took us 10 minutes, but with waiting it was 5h 10 min.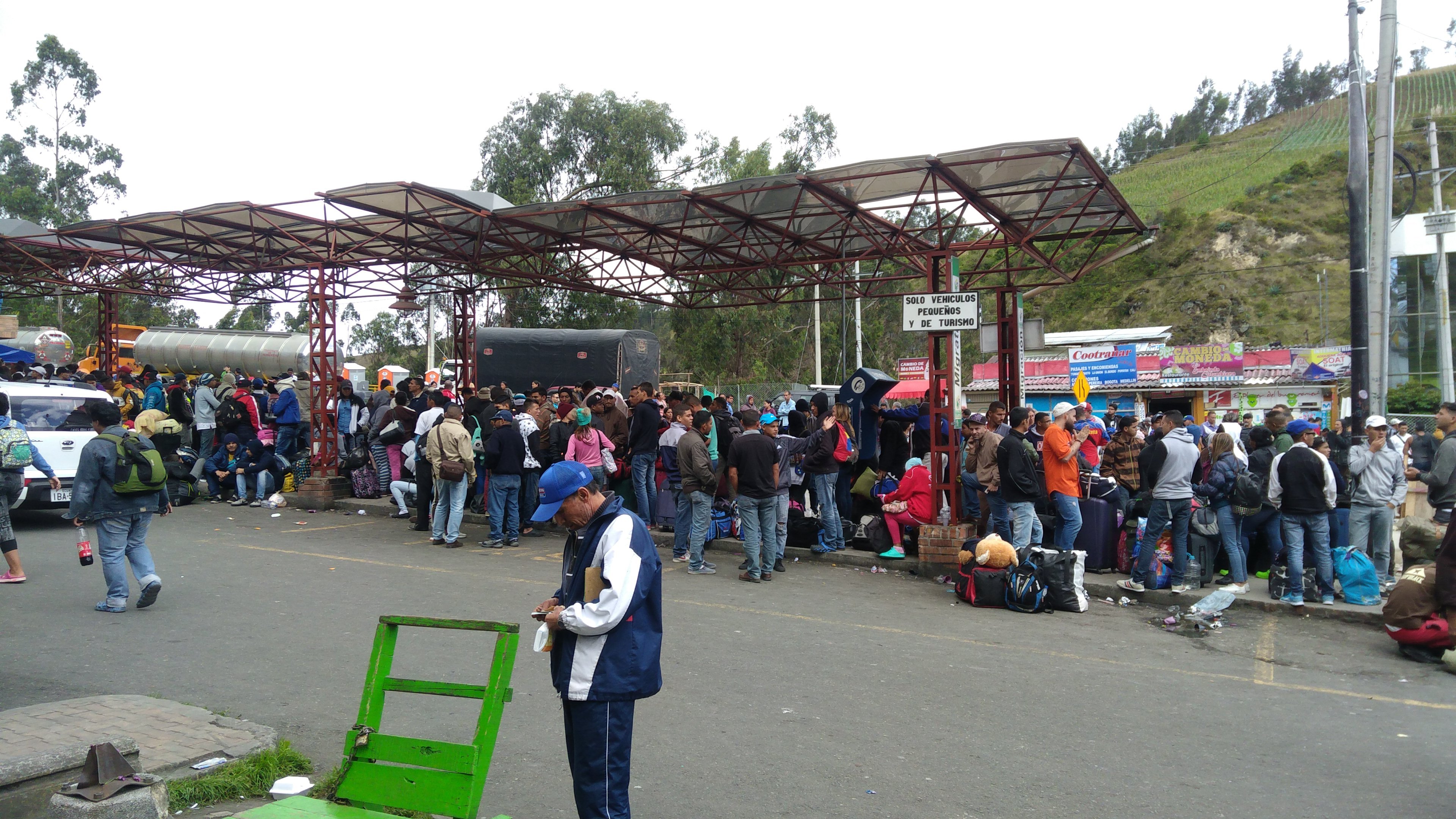 Waiting for better life
Border #9 Ecuador – Peru
We crossed the border in a very little village in the Amazon and the immigration officer only asked us to fill in the immigration form. Without any questions he gave us visas for the time we requested for, which was 30 days, but you can get up to 90 days. Easy-peasy 😊
Border #10 Peru – Mexico
Airline employees asked us for the yellow fever vaccination certificate at the check in counter. It was first and only time we needed it, so you never know. Normally they ask for a reservation for ongoing travel, but because we flew next day to Costa-Rica we skipped this part. In Mexico as always immigration form and visa.
Next day we checked in Costa-Rica, where we are living currently on a farm.
Hopefully some of this advice you'll find useful and will help you to prepare your next trip across this part of the world.
Pura Vida a todos!
M&D
Little bonus at the end: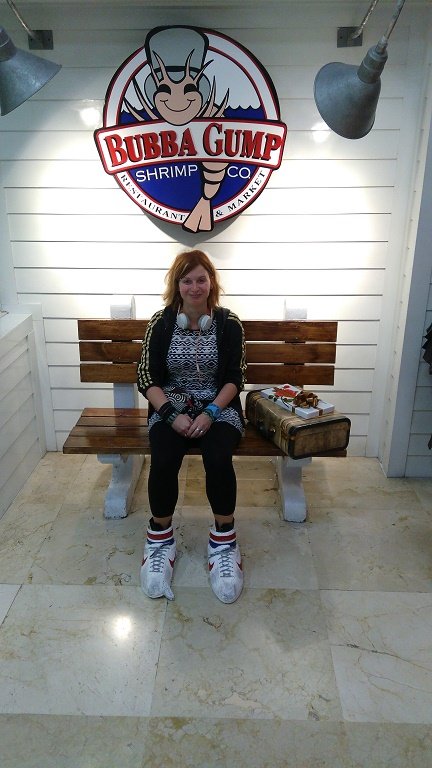 Monika in Forest Gump's shoes at the airport in Cancun