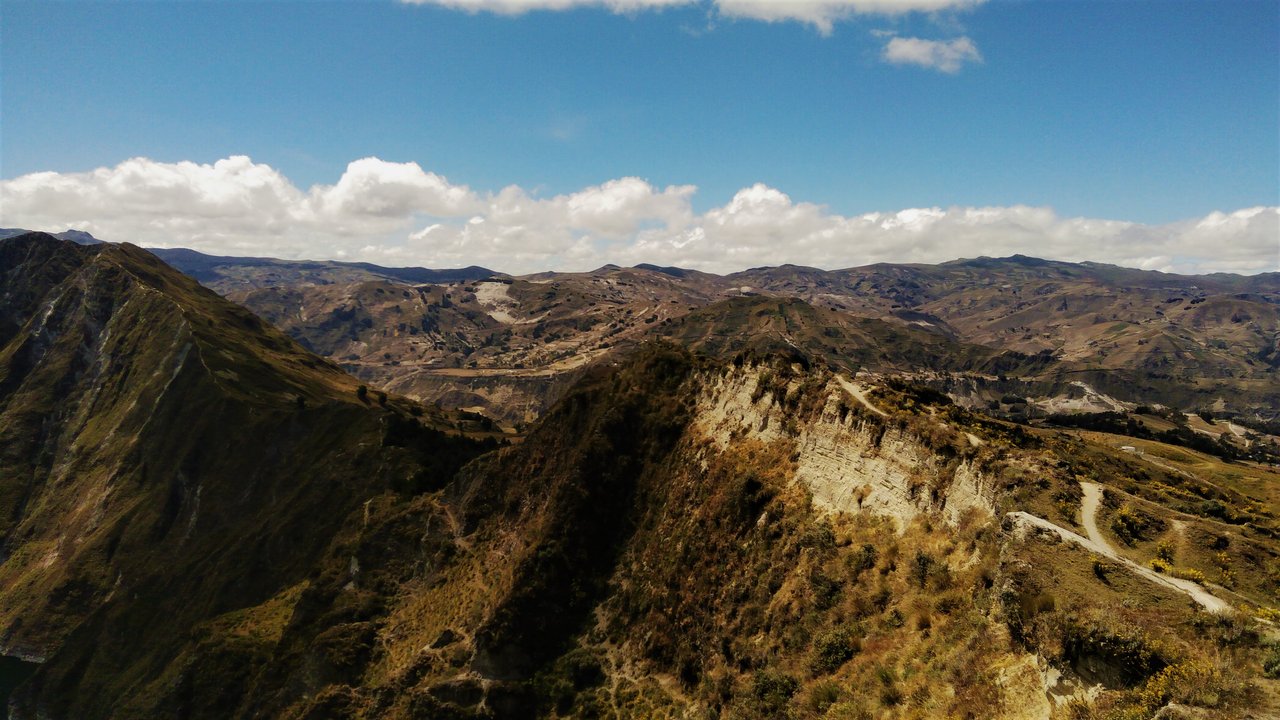 Hello dear Steemit friends!
First, we'd like to explain why we were so quiet here recently. Our trip to South America is over and we're in Poland since the 10th of December. As you can imagine, we have spent this time with our families and friends, so we couldn't write as often as we'd love to but finally, found some time. Are you ready for other breath-taking views and some adventures? Yes, we are ready too! Here we go 😊
In July we have visited Ecuador and we were hungry for seeing their volcanoes, so after some research, we have decided to check out the famous trekking The Quilotoa Loop. The day before trekking Monika got a little fever, so we had to postpone everything for one day to let her rest and get better. Because of that, we extended our stay in Latacunga where basically you won't find anything interesting. Unfortunately, she wasn't fully recovered, so we did only one-day trekking starting from Chugchilan and ending on the top of the Quilotoa volcano, wherein the crater you find its famous lake.
Arriving at Chugchilan we didn't feel that in a minute we'll be on this well-known route. Literally, there's nothing in the village. Almost no people, no stores and no clear signs where to start. Don't worry no one will let you get lost. Villagers seeing our white faces immediately showed us the right direction. Lovely people, we must admit that. Of course, knowing Spanish was our advantage. When we found the path, we followed it to the end.
Walking through deserted lands give you an opportunity to think about the meaning of life and why we are running every day to work to buy more and more things, which we don't need at the end. On our way we spotted kids, who were so happy because could have helped us to cross the backyard of their house. Somebody finally needed them and that was enough. Those were most precious and honest smiles on that planet. We paid back for their kindness in sweets and took a picture to keep this memory alive. From the other hand, we found kids who were begging for gifts, because their parents got infected by the materialism virus, which came with mass tourism. We have seen people living in small wooden houses, without conveniences of XXI century, sometimes even without running water inside. Hiking through such beautiful landscapes helped us to focus, talk and understand the meaning of life here, on the planet Earth.
Would you be able to live in such a deserted place, without Internet connection and electricity? Your only worry would be how to get your belly full every day and get some coins to buy things which you can't harvest yourself. We're curious about that, please let us know in comments.
Now please join us and let's hike together:
I don't need no arms around me
And I don't need no drugs to calm me.
I have seen the writing on the wall.
Don't think I need anything at all.
No! Don't think I'll need anything at all.
Another Brick in the Wall, Part 3
Do you agree with Roger Waters words?
After meeting people's life, we opened our eyes and appreciate even more what we have and what we can have. It's crazy how we're different. Who's happier then?
Guidebooks say that this walk should take around 5-6 hours. Because we have enjoyed views so much, we finished trail after 9 hours, right before the sunset. Due to the altitude, which starts from 3200 meters above sea level up to 4000 meters and changing weather conditions, we wore jackets with and exchanged them for t-shirts. During nights at Quilotoa temperature fell even to 0 Celsius near the ground. It was very important for us to get a warm room with heating and warm water, to not let Monika get sick again. And we found one 😊
Next day after breakfast, we went for a short walk around the edge of the volcano and hitch-hiked to Zumbahua to catch a bus to Latacunga.
Below you'll some pictures from the other side of Quilotoa:
Market in Zumbahua
Thank you for staying with us. We are pleased being able to share our memories and thoughts with you. We must admit that you guys rock! The best audience we ever had! All the best for you in next year, make your plans come true! Hope we could meet you at SteemFest 4! :D
M&D