Taking advantage of a day off from work today I went to Milan with my husband who had a quick commission to do in the city.
From this night a heavy rain is coming down on the city of Milan, and also on Bergamo which is the city where I live, and for this reason, at first I wasn't very convinced of making this short trip.
I don't like rain very much, or rather I love it when it rains and I love to hear the sound it produces as it comes down and gently settles on the roofs of the houses, on the cars and on the leaves of the trees but this only when I don't need to go out and I'm at home sitting on the couch with a cup of hot tea. When I'm walking in the streets of a city I prefer a clear sky to keep me company, or at most a few clouds and a dreary climate in general.
But there are places that, thanks to the rain, increase their suggestiveness, which is already very high.
One of these places is definitely the Monumental Cemetery of Milan.
Already gifted with great charm, with the rain and very few patrons due to the fact that today it is a weekday, I found myself for the first time in this cemetery, passing through its avenues bordered by centuries-old plants that in this period of end autumn are losing their foliage.
The first thing you notice when you arrive in front of the cemetery is the Famedio, an imposing neo-Gothic building of marble and brick.
In this building that was initially intended to be a church, are buried some of the most illustrious figures of the city of Milan, including the writer Alessandro Manzoni and the poet Salvatore Quasimodo.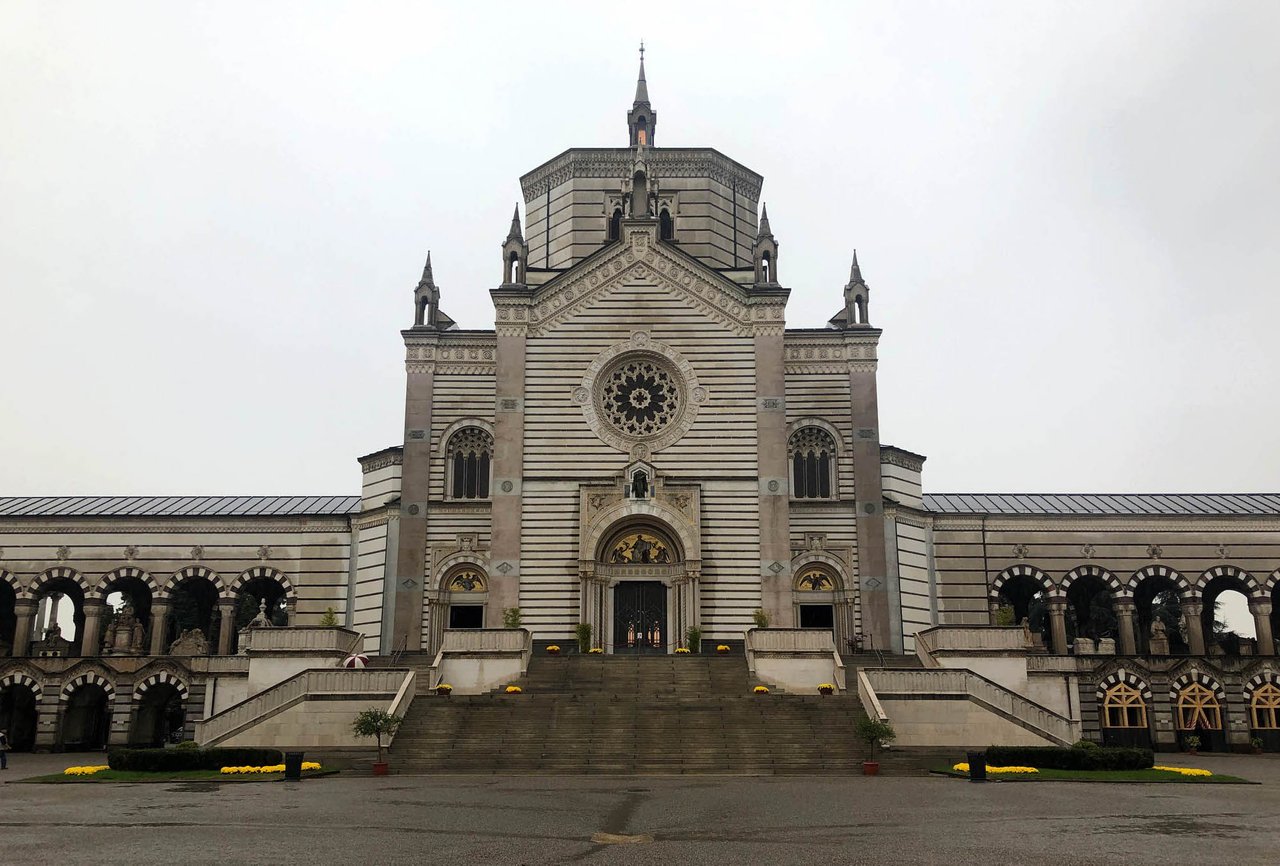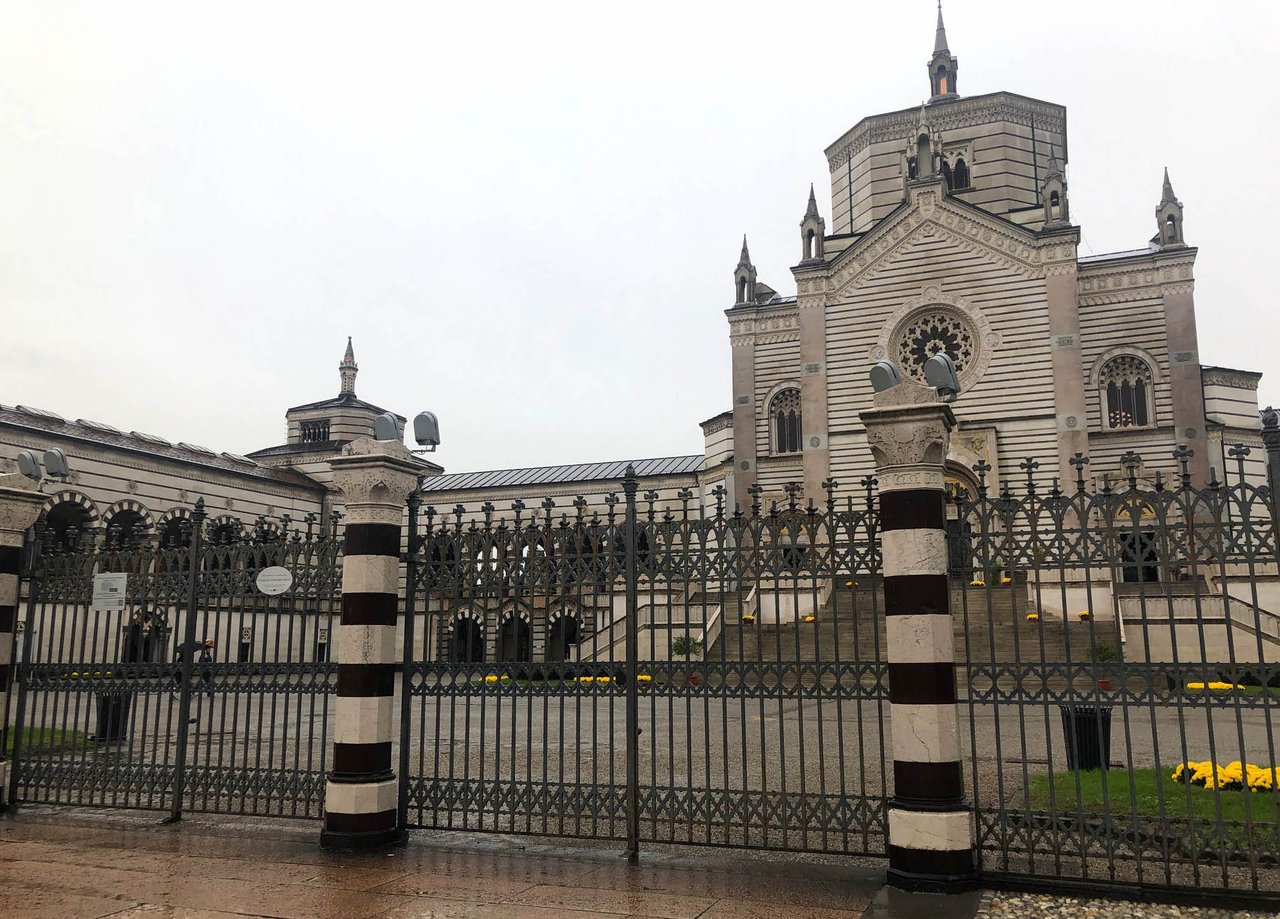 Honestly, I didn't want to take pictures of the tombs as I think that the pain resulting from a grief and the love that loved ones want to convey to the deceased through a tangible symbol like a tomb are too personal things to be stopped in an image and shared with people who are not part of this mourning.
I made only a quick shot to the so-called Crypt of the Famedio, located below the main building, where there are stone tablets walled to the walls in which the names of important figures of the city of Milan are engraved, and some other shots to the tree-lined avenues that untangle themselves throughout the cemetery.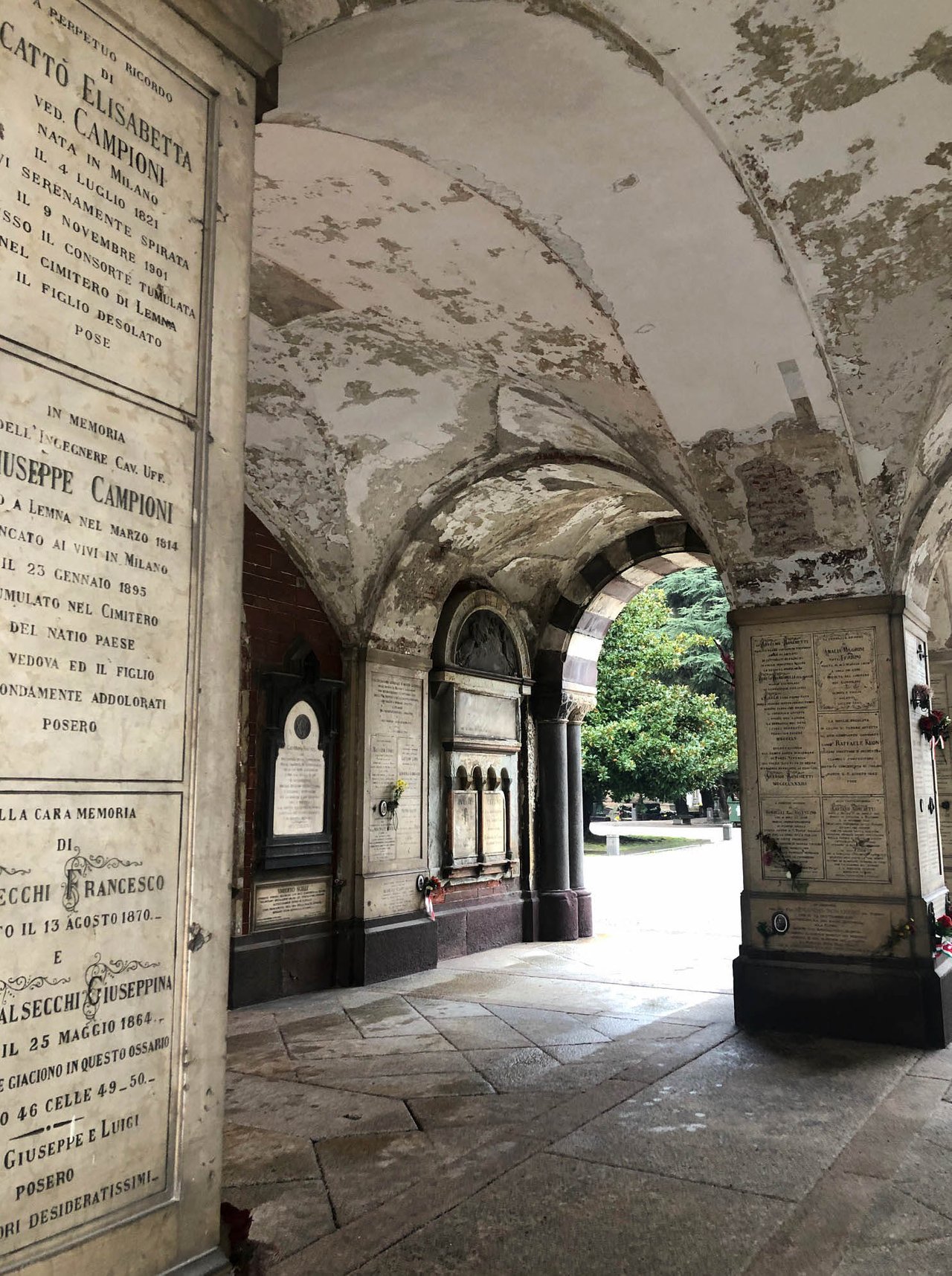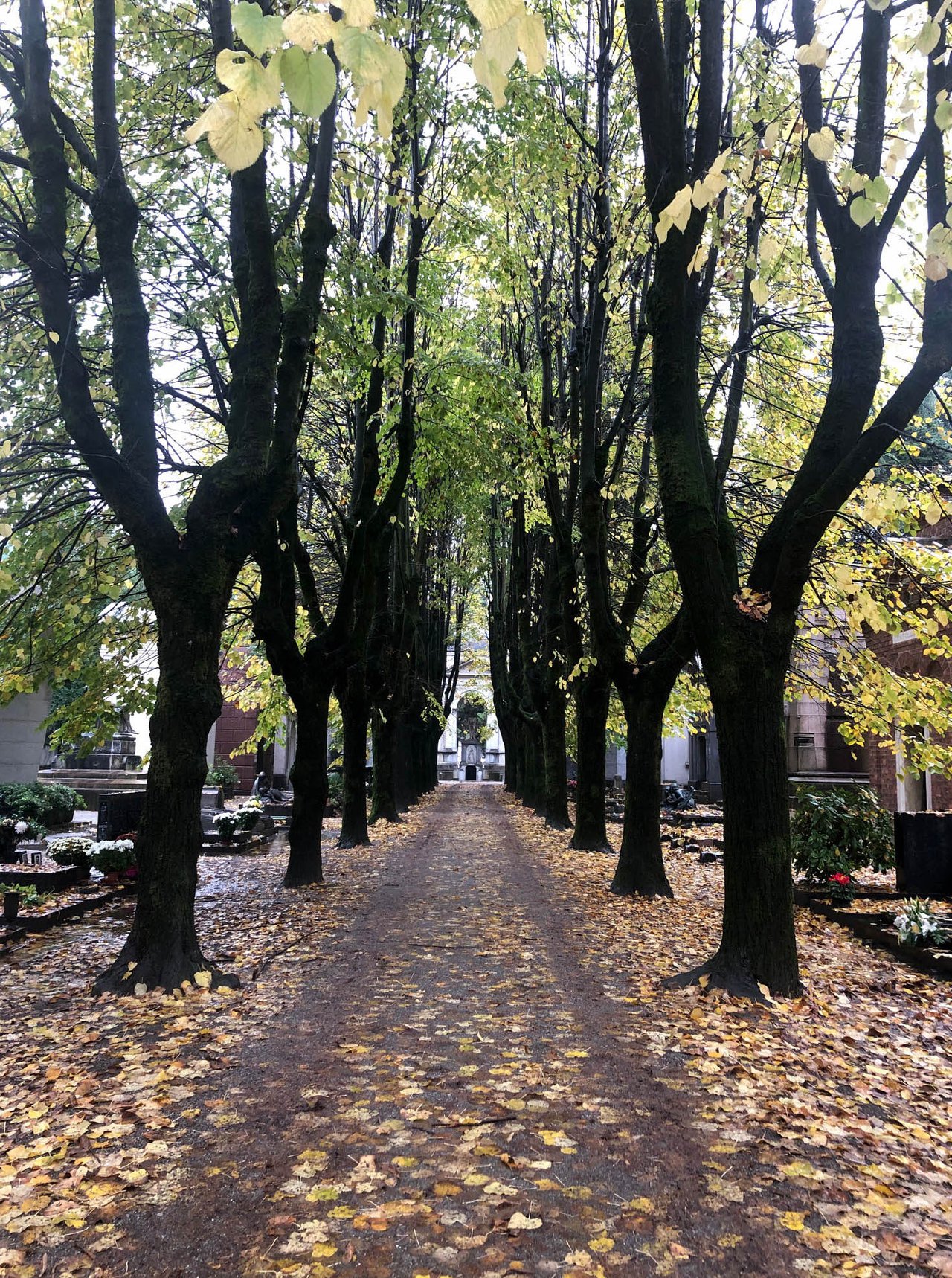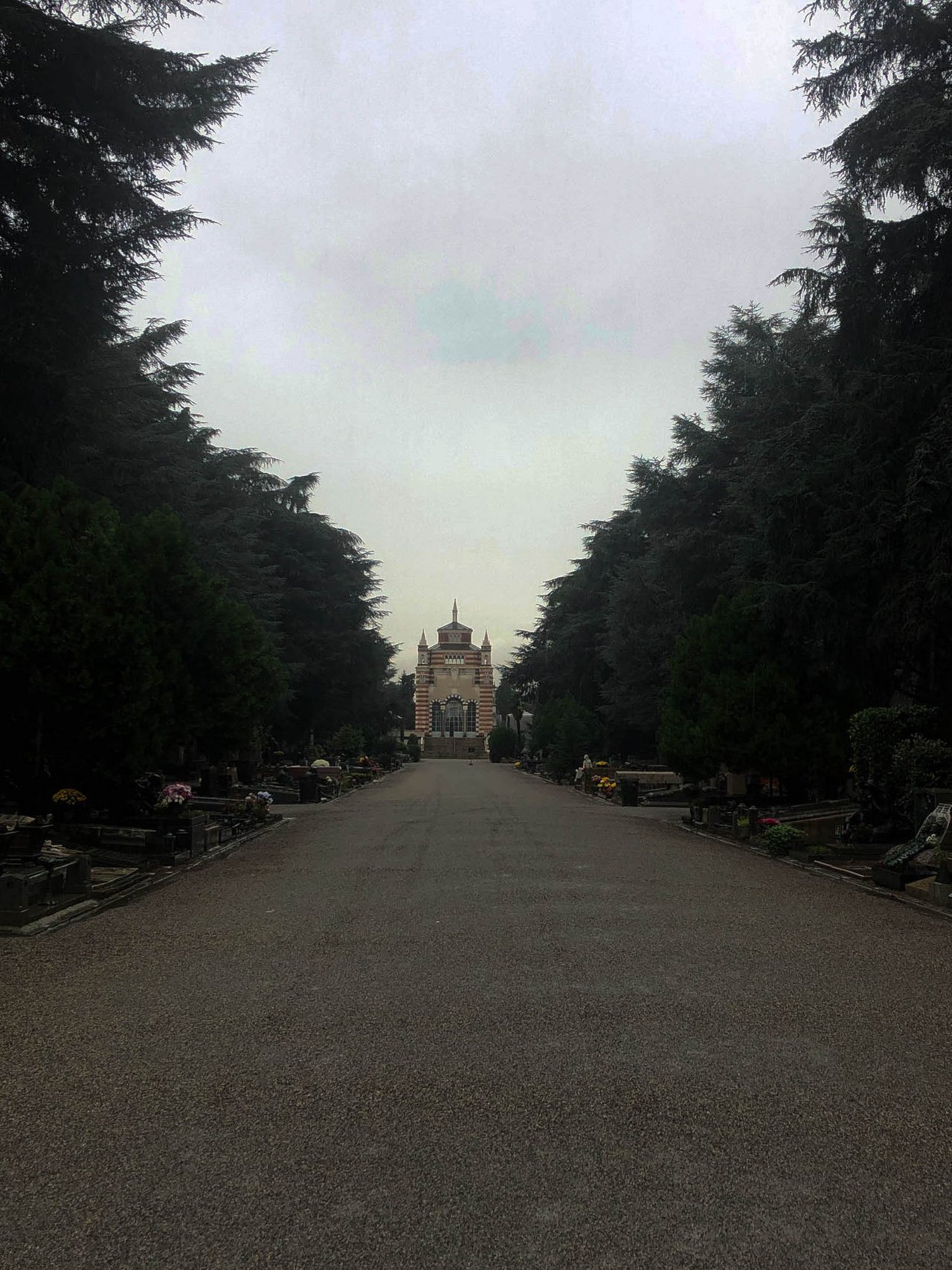 Even without showing it I can say that I was particularly struck by the tombs and mausoleums present throughout the cemetery, some buildings and statues were real works of art, leaving the viewer speechless.
As I said before, I didn't photograph them out of respect, but I definitely recommend a visit to this cemetery, perhaps on a quiet and rainy day like the one I was lucky enough to find myself.
Everything, however, always bearing in mind that it is a sacred place, erected to allow people to have a tangible place to cry their loved ones and for this reason it is absolutely necessary to approach them with the utmost respect and the utmost seriousness.
I hope to have been able to treat this subject gently and not to have disturbed anyone's sensibility. In case it happened I apologize profusely but with this post I simply wanted to honor this sacred place and its poignant beauty.
---
View this post on TravelFeed for the best experience.