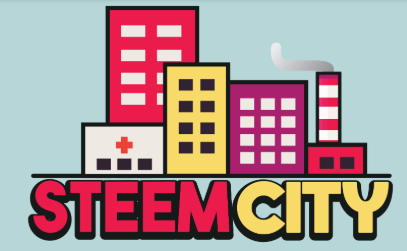 I'm not the only one who has been infected by the game fever, and more and more people are pouring into the game and with every player the popularity of steemcity is spreading.
And as more and more I have to hold back every day not to invest more steem in cards; to search the market for bargains and to sell my cards profitably at the market; so often I think about this game that has gripped me so much.
And these thoughts I would like to share with you; because...
... the potential of this game is, in my opinion, incredible.

What makes me think so?
As I follow the chat flow in Discord daily, I noticed that more and more "big steemians" are gathering there. This of course brings a lot of STEEM into the game, but it also helps to publicity. But that's not all; the one or other founders of different tokens or even tribes also appear.
And now I come to the thought that is driving me around all the time:
I think the game has the power to unite the entire Steem Universe!
Through the NFT it is already able to sell cards in the form of NFT against all tokens listed on Steemengine.
Not only that: @gerber also managed to generate a benefit for the game from the BEER token (@detlev): The BEERfestival -> You can trigger it by sending 5 BEER to @steemcityevent. This will result in increasing the popularity of the city by any value between 1-100.
As a result, the BEER token has seen a big plus due to increased demand.
What if this is applied to many more tokens?
Look at the Tribes and their drop in the value of their Tokens. The market is saturated and can only be counteracted (as LEO practices) by massive token burning.
Apart from the tribes, there is also hardly no more usecase of the tokens.
In order for prices to rise again, a demand for the tokens must first be generated and, analogous to this, a shortage of tokens must be created.
So what if tokens serve for "use cases" in steemcity and they could be brought "to new life" in this way.


Some spinning thoughts
A few spinning mills (I know that Gerber is about to release more features, so here's a look into the future):
... the city needs scientists. Advertise them and skills your techtree by using STEM Tokens (@themarkymark) and gain access to more functions
... instead of a BEER festival, a WEED festival will be celebrated in the city (@coffeebuds) – after sending to steemcitysim - the tokens needed for this will be "recycled" again and produced on your Weed Dispensary
... like every city, people need loans - doesn't this scream BANK OF NEOXIAN (@neoxian)?
... establishment of a casino - for all the gamblers among you - instead of a chip or a ticket - just buy an NFT? (Greetings to the tireless players of the UFM lottery ;-) @ecoinstant @raymonds @dera123 @tsnaks @rycharde )
... the Tributes of Panem were yesterday - but the districts (TRIBES) remain - Confirm your district (Stake Tokens of the respective Tribe (PAL, NEOXAG, LEO/ @neoxian, @khaleelkazi) and receive the respective Bonus/BOOST for your Tribe. You want more bonus? Then stake more tokens!
But everything has its price - pay your tributes as a collective, otherwise unpredictable events threaten ;-)
... SPORT: An event is coming to steemcity: The soccer world championship - build up your athletes by sending them ACTIFIT (@actifit) or send them to training camp, which you pay with SPORTS - become world champion and get rewards
... your workers should work faster and produce more SIM? - Just send them a COFFEA (@c0ff33a)
...corrupt police in your city? They let the criminals roam your city with impunity? Then bribe them with DPORN (@dporn)
... You want to advertise (for e.g. a steem - post of you or your participation in president election) the cities of the other? Then use the media and pay them in AAA (@jjm)
...your town is black and gray? All your people know is work and the mood is slowly changing... Give them a little more colour and treat them an art exhibition (CCC)
...you yourself find the appearance of your city boring? Then buy an individually designed wallpaper with CCC
... The founders of COLLATERAL BACKED INVESTMENT and SPInvest (@qam2112, @jk6276,) want to expand their portfolio and profitably invest the steem of their participants? And you have a few houses and factories too many? Then send them a few cards in their specially created city and receive CBI and SPI; become a shareholder and share in their profits!
A WIN-WIN situation for everyone: First, of course, the cards have to be bought (WIN Steemcity) and in return the tokens for the above mentioned actions will be burned - (WIN on the token side) All tokens will be burned or staked and the prices will rise again!


FUTURE
What if ALL STEEMIANS were to unite in this game. If STEEMCITY becomes our new home; a home where all tribes and tokens benefit...
Tell me what you think about it!
If you don´t know, what steemcity is, just take a look:
https://steemit.com/hive-167922/@gerber/announcing-steemcity-a-game-based-on-steem-engine-non-fungible-tokens-nft
or
https://steemit.com/gaming/@mfblack/4axdm8-hurry-up-steemcity-is-coming-get-your-airdrop-and-rewards-for-the-first-nft-based-game