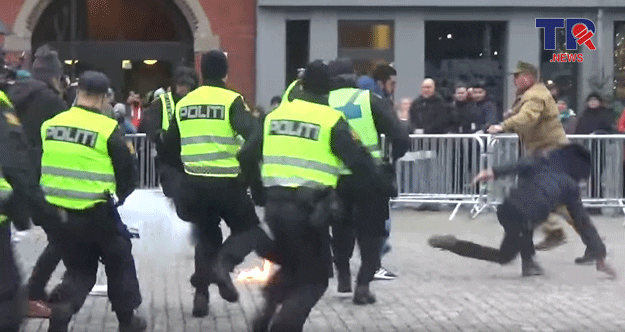 The leader of Stop Islamisation of Norway (SIAN), took up the fight for freedom of speech. RAIR Foundation Interviews Lena Andreassen About Quran Burning.
Burning Hate In Norway
The organisation Stop Islamisation of Norway held a demonstration in the city of Kristiansand, and it made international news, bringing with it international condemnation. The offence? - burning a book of Islamic supremacy, hatred and intolerance, a book containing religious dictates opposed to human rights and freedom of speech!
Lars Thorsen, the head of Stop Islamisation of Norway (SIAN), set fire to a Qur'an which drew the ire of some far-left demonstrators and a mob of local Muslims. The point of the Qur'an burning was simple; it was burned as an act of protest against the ongoing assault on free speech in the West and the special treatment/protections afforded to Islam, an ideology you cannot criticise without righteous retribution.
Our good friends over at RAIR Foundation interviewed Lena Andreassen about the SIAN demonstration, which was inevitably met with hostility and violence.
SIAN aims to educate the public on Islam, fight against Sharia and protect women, gays and ex-Muslims in Norway who are under attack by Islamic supremacists.
You can read the full article by clicking HERE.

---
Posted from TR.News with SteemPress : https://www.tr.news/rair-foundation-interviews-lena-andreassen-about-quran-burning/
---