Im going to ask @justinsunsteemit to please fly @cryptopie to thailand with his brother, or hongkong, to get better dialysis treatment and just some better care for whatever time he has left during his very difficult life with a very painful physical condition. With one click Justin could change his life using tron Foundation Funds for steemians and this could be the ultimate news media story I feel Justin would be like this idea, and it honestly wont cost that much money to take care of crypto pie and give him a nice treatment at a modern health clinic with whatever vacation can be accommodated for him, maybe spend $10,000 or $20,000, it wouldnt cost very much to change his life and it' make for a better news story to win over steemians and twitter, especially when they make a documentary about cryptopie with tron foundation.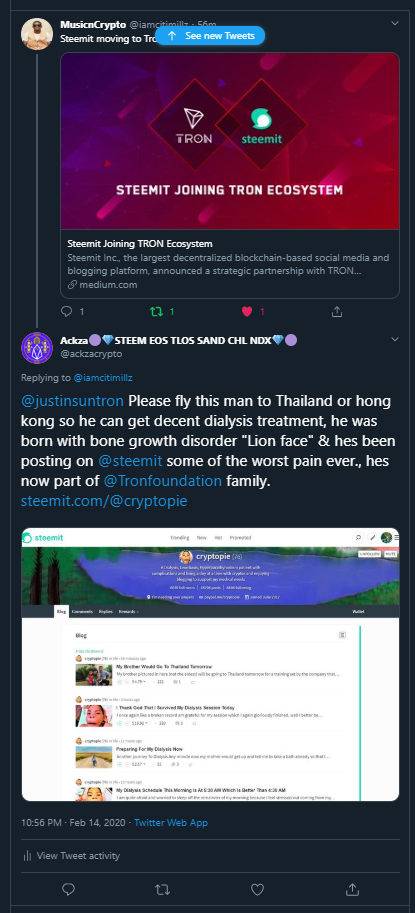 https://twitter.com/ackzacrypto/status/1228573680109703168
Help me get this post seen by the JustinSun Twitter @justinsun @tron @tronfoundation @ned
https://twitter.com/justinsuntron
The Publicity from spending $10,000 to $25,000 to even $50,000 or more on Crypto Pie so he can have a better life for at least a small time, would create a great story for steem, and Justin could take a camera crew and meet crypto pie and take him on a vacation to Thailand or Hongkong where he could stay somewhere and gets some world class healthcare and pain relief for his terrible condition. he could be a great success story since he has been hard at work making steemit content for years working through his hardships, and a big rewards like this would lift a great weight from all of our hearts and allow the Tron Foundation to win over all of Steem.
here's an old post I made showing my old dream of getting this man some help from the blockchain community, and asa story to promote Steemand TRX I think this one would help so much
https://busy.org/@ackza/photoshopped-version-of-cryptopie-to-visually-manifest-i-have-been-researching-the-bone-disorder-that-cryptpie-has-and-i-have
100% beneficiary rewards go to @cryptopie so for any upvotes you make on this post, ALL rewards automatically go to him