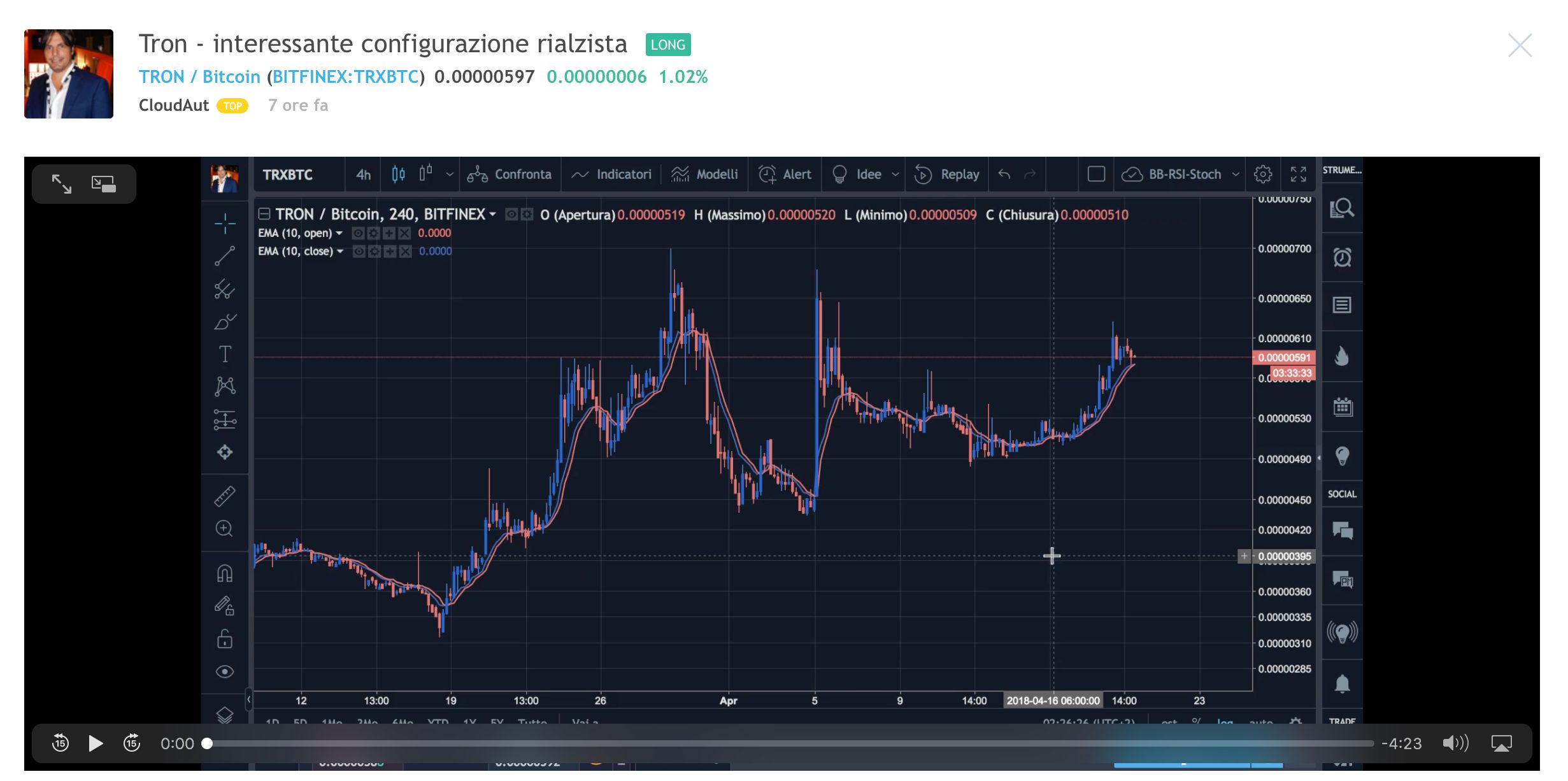 click on the image to access the video analysis - clicca sull'immagine per accedere alla video analisi
This night I did a very short video analysis on Tron.
As you all know, Tron is the cryptocurrency related to the blockchain of online entertainment, that is to say that it will deal with the management of streaming, games, gambling, etc.
In 2017 it has undergone a very strong appreciation, while, since January 2018, a bit like all other cryptocurrencies has gone through a bearish phase.
Now it seems to be recovering.
As can be seen from the video analysis, yesterday it broke through a good resistance and today has tested it again as a support.
From now on it could start a nice rally with the first goal at around 16% profit from now against a calculated minimum risk, practically just below the EMA10 indicated in the chart. The trigger for a Long input was given to me by my EMA10 strategy.
So now I will start to follow it by aiming for a target of + 16%, which could be achieved even in the short, and then not close the operation but follow it for a possible overrun.
Point out that mine is not a financial advice but it is my personal idea of ​​trading and therefore I feel relieved of any responsibility.
Tron: idea di trading del 20 aprile 2018 (video analisi)
Questa notte ho fatto una brevissima video analisi su Tron.
Come tutti sapete, Tron è la criptovaluta legata alla blockchain del intrattenimento online, vale a dire che si occuperà della gestione dello streaming, dei giochi, del gioco d'azzardo, ecc.
Nel 2017 ha subito un fortissimo apprezzamento, mentre, dal gennaio 2018, un pò come tutte le altre criptovalute ha attraversato una fase ribassista.
Adesso sembra essere in ripresa.
Come si evince dalla video analisi, ieri ha sfondato una bella resistenza ed oggi la ha testata nuovamente come supporto.
D'ora in avanti potrebbe partire un bel rally con il primo traguardo a circa il 16% di profitto da adesso a fronte di un rischio calcolato minimo , praticamente poco sotto la EMA10 indicata nel grafico. Il trigger per un ingresso Long mi è stato dato proprio dalla mia strategia EMA10.
Pertanto adesso comincerò a seguirlo puntando ad un target di +16%, che potrebbe essere raggiunto anche a breve, per poi non chiudere l'operazione ma seguirla per un eventuale superamento.
Preciso che il mio non è un consiglio finanziario ma è una mia personalissima idea di trading e pertanto mi ritengo sollevato da qualsiasi responsabilità.